Be Our Guest Review (Dinner at the Beast's Castle in Magic Kingdom)
"And now we invite you to relax, let us pull up a chair as the dining room proudly presents -your dinner." –Beauty and the Beast.
Since the restaurant opened ten years ago, reservations for Be Our Guest have been coveted by many. It was that one restaurant where everyone wanted to dine.
But after all this time (no pun intended), are dining reservations at Be our Guest still in high demand? Also, since the restaurant's menu and style have drastically changed in recent years, is it worth taking up an hour or more of your park time to dine here?
In this Be Our Guest review, we'll strive to answer those questions for you. We recently visited to see if the experience continues to live up to the hype and whether or not the prix fixe menu is worth the price.
So now, allow me to present–our dinner.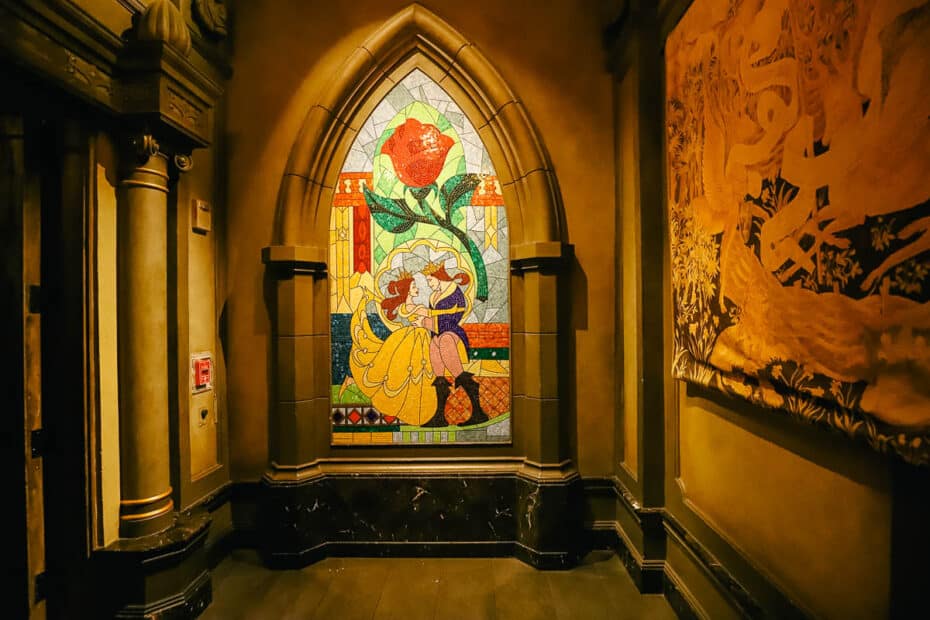 Be Our Guest Dinner Review
We arrived at Be Our Guest approximately five minutes early on a Sunday evening for a 6:05 p.m. dining reservation. Upon arrival, we checked in at the bridge that leads to the castle.
I'm joined by Kristen, Savannah, and Jamie of Firefly Travels for this review. They were in town for several resort tours and invited me to join them for dinner.
For reference, Be Our Guest is in New Fantasyland at Magic Kingdom. You'll find the restaurant across from the far side of Seven Dwarfs Mine Train. Beast's Castle sits perched on a hilltop high above.
When we arrived, a good many guests were waiting outside the castle. Typically, cast members won't let you check in until it's within about five minutes or so of your reservation.
After confirming that all members of our party were present, we were told we could head inside and wait in the castle's foyer. Additionally, we were asked to show our wristbands for the Christmas party since it was a party night.
Disclaimer–If you read my recent review of Mickey's Very Merry Christmas Party, you know I do not recommend dining at Be Our Guest during the party. So after reading about our experience, and the time it took, you'll get a better idea of why I feel this way.
After entering the castle, another cast member told us we could wait in one of the nearby rooms off to the side. We were also told they were running behind schedule and should expect a 20-minute wait.
Since a member of our group had never visited Be Our Guest, I suggested we tour the dining rooms while we waited.
Usually, you wouldn't walk around a restaurant while everyone was dining. But Be Our Guest is stupendous in size compared to most restaurants. So you won't be the lone guest walking through while everyone is eating.
Be Our Guest consists of three dining rooms:
The Grand Ballroom
The West Wing
The Castle Gallery
The Grand Ballroom is the larger of the three rooms. It also serves as the main dining room.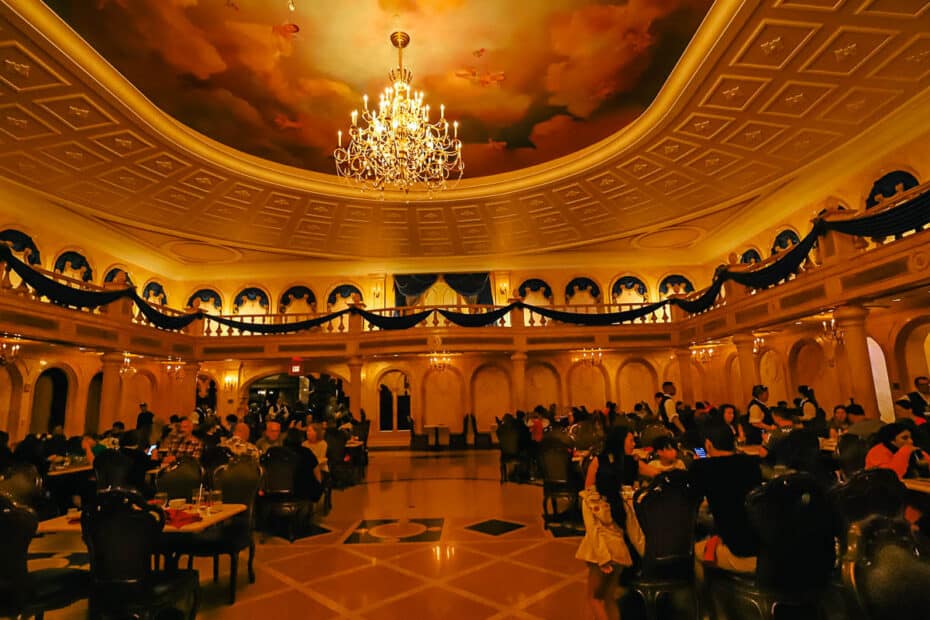 Toward the front of the ballroom, windows look to a nighttime scene where snow is falling.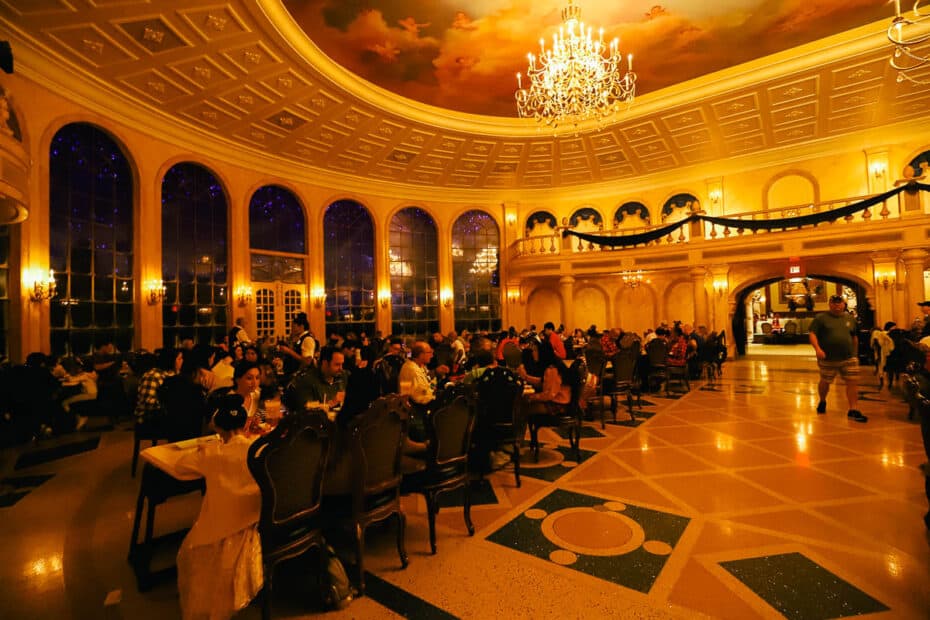 Next, there's The Castle Gallery, which is Belle's private library. Toward the center of the gallery, there's a larger-than-life music box featuring Belle dancing with the Beast.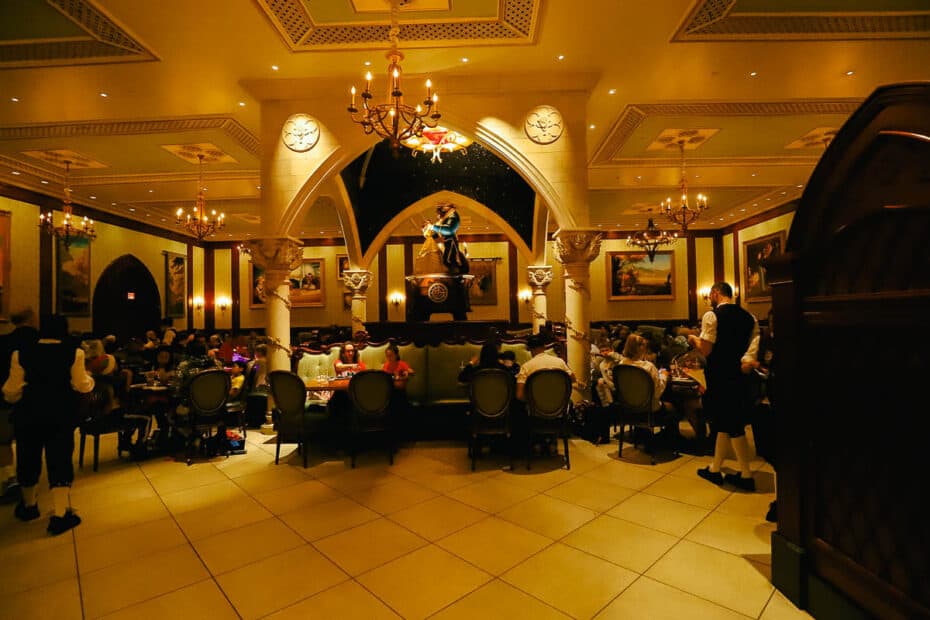 This is my favorite room in the castle because it's a little more spread out, which makes it feel private.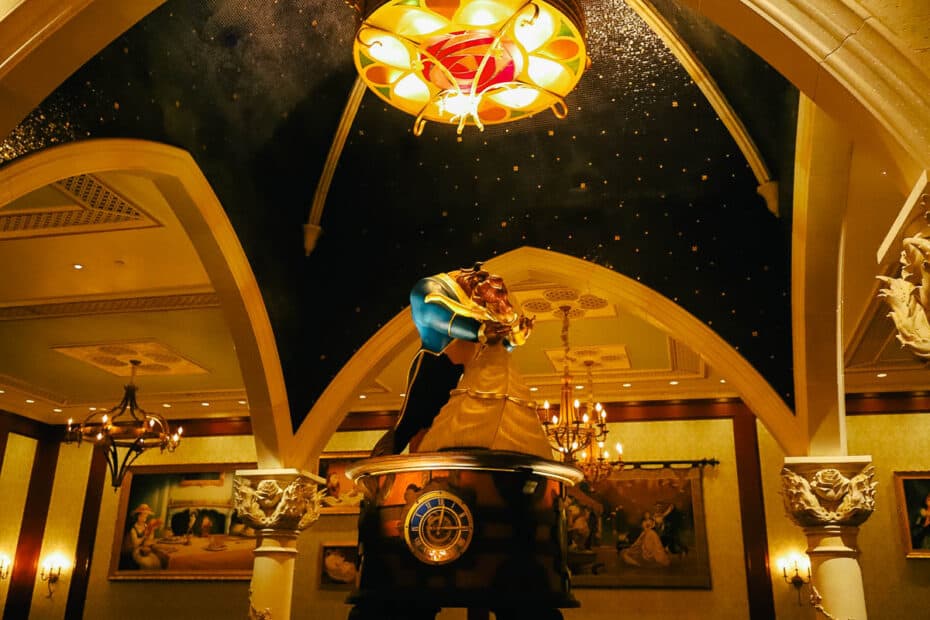 Finally, we have The West Wing. This, as well all know, is the forbidden area of the castle. However, Beast is kind enough to let guests dine here.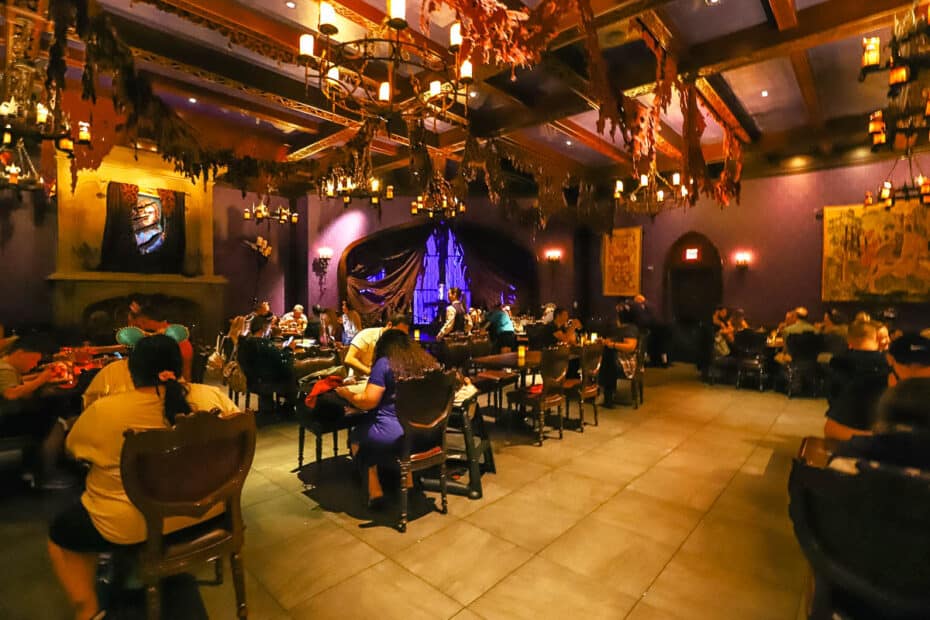 A portrait of the former prince hangs over the mantle. It appears to have been slashed with the Beast's claws in his fury.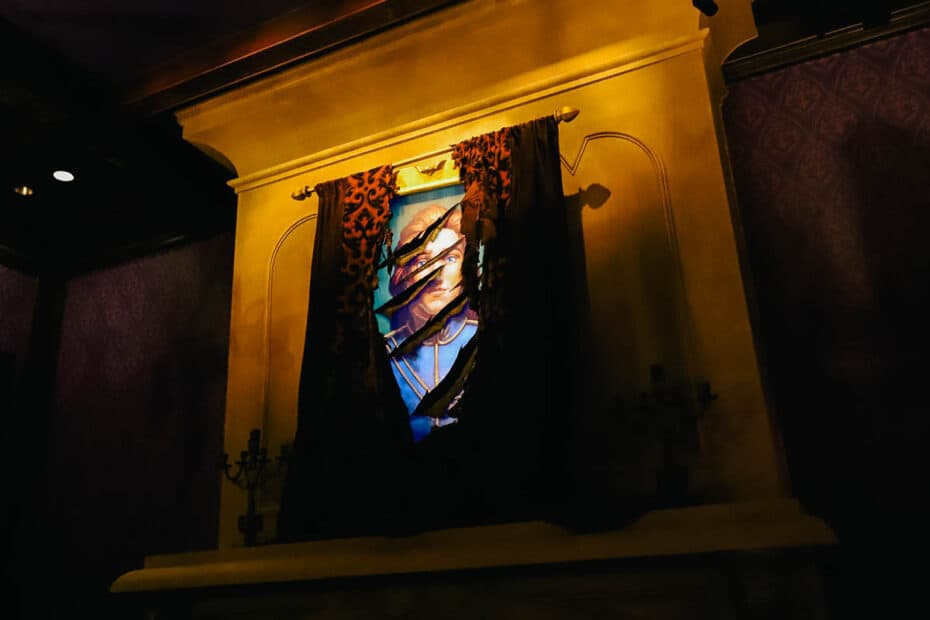 Of course, the West Wing is also where the enchanted rose resides. You'll find it safely guarded in the back corner of the room.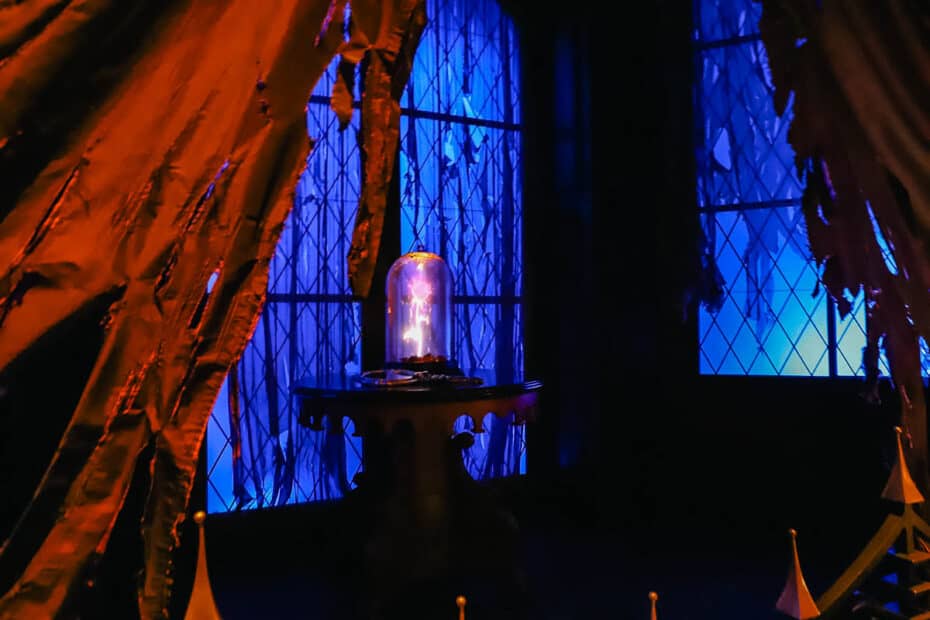 Every now and then, lightning strikes, and the lights in the room flicker. This signifies that another petal has fallen from the rose.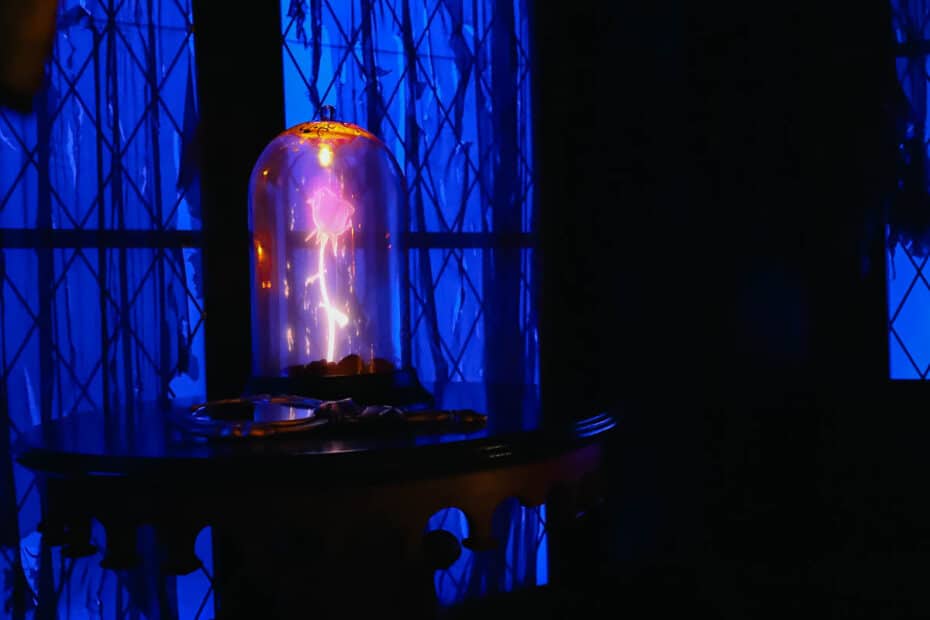 Now back to our review of dinner at Be Our Guest. After we walked through the dining rooms, we returned to the front of the restaurant and found a place to wait.
We ended up in the drawing room, where Beast used to greet guests after dinner. But, unfortunately, he no longer greets guests individually.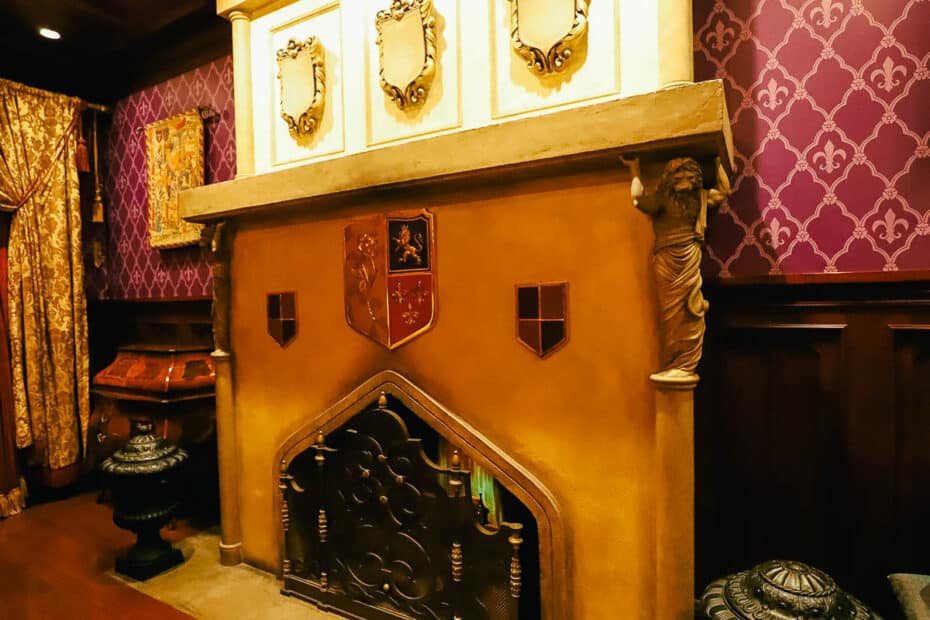 Additionally, this area was formerly a queue during lunch where guests would wait in line to order their food. After ordering, you were given a rose and allowed to choose any seat in the castle.
Kristen mentioned how the electronic rose would allow servers to find your table and deliver your meal. Formerly, lunch at Be Our Guest was a great opportunity to dine in the castle at a reasonable price point.
Unfortunately, Be Our Guest no longer offers a counter-service lunch option. Instead, both meals are now the same prix fixe menu we'll preview below.
So there is a considerable investment in dining here for lunch and dinner. Breakfast is no longer served.
How much of an investment? At the time of this article, both meals cost $67.00 per adult and $39.00 per child. Of course, you'll need to add tax and gratuity to that cost. Children are those between the ages of 3-9 years old.
You can preview the menu with the most up-to-date pricing here on Disney's site.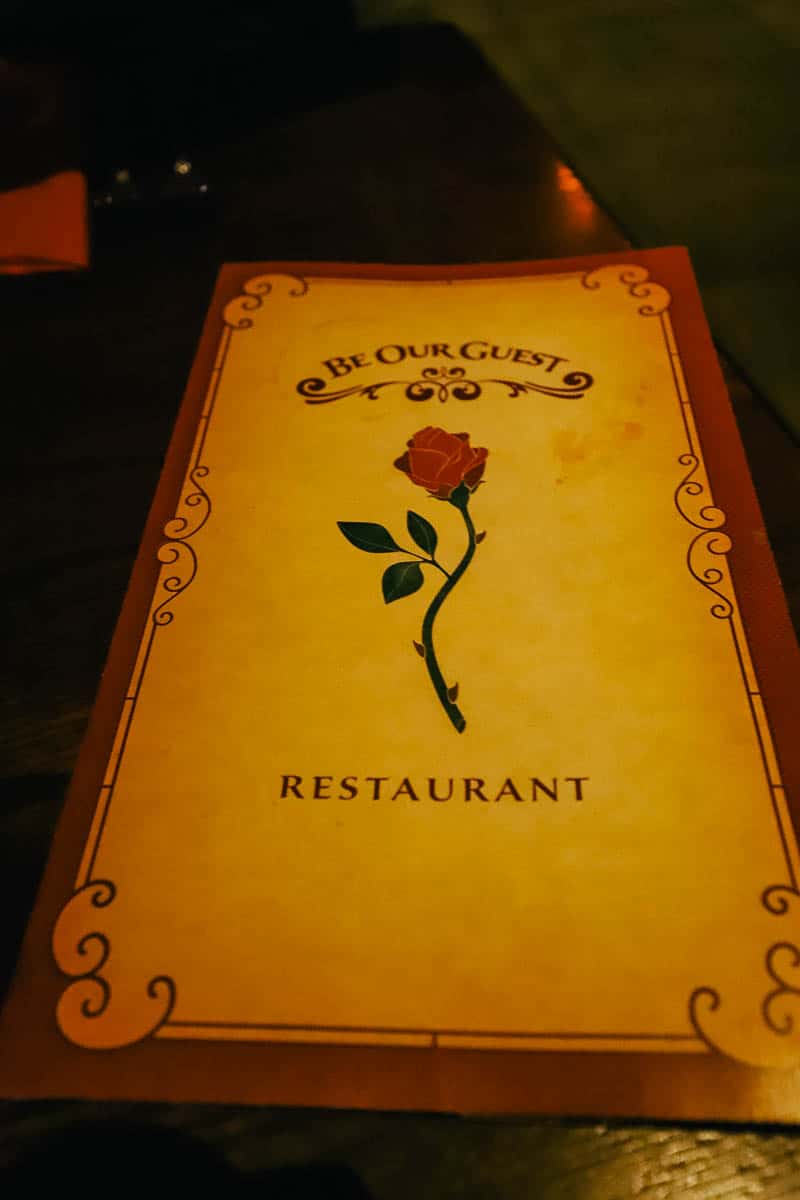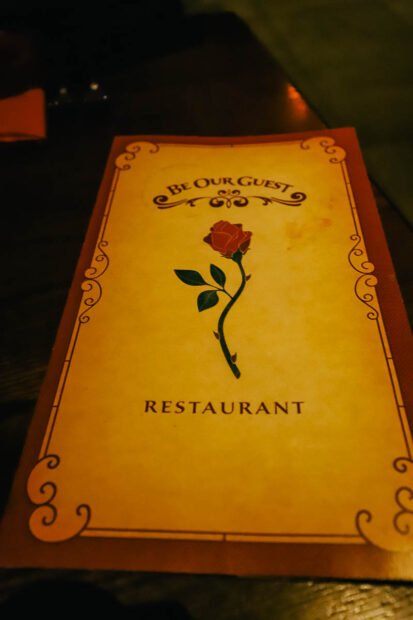 As mentioned earlier, our dining reservation was at 6:05 p.m., and we were seated in The West Wing at 6:27 p.m. So it was a total wait of 22 minutes to be seated after our arrival.
For this prix fixe menu, you are allowed one appetizer, an entree, and a trio of desserts. In addition to the dessert sampler, there was another plant-based dessert option.
Our server promptly greeted us and explained how the menu worked. She then brought a basket of dinner rolls to the table.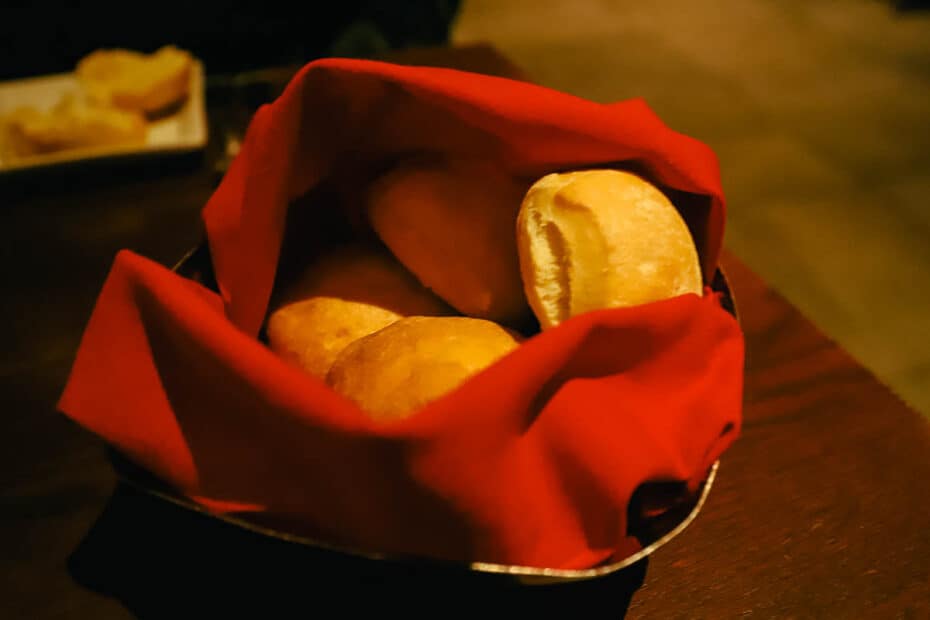 For appetizers, Savannah went with the French Onion Soup. She said it was served exceptionally hot and what she expected from French Onion Soup.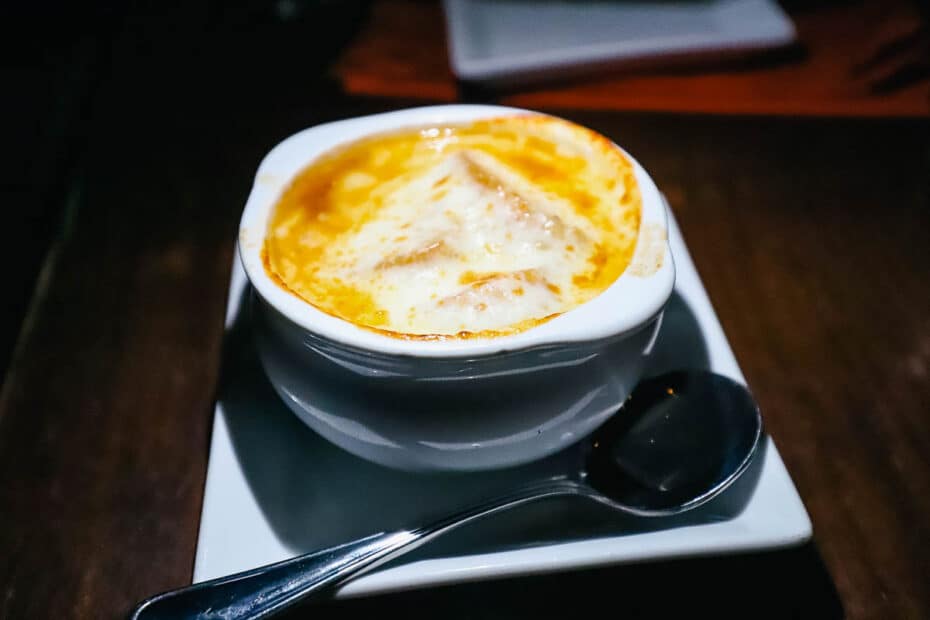 Jamie ordered the Country Pear Salad. Per the menu, it comes with Belgium Endive, petit lettuce, candied walnuts, and champagne vinaigrette. She said the salad was flavorful and delicious.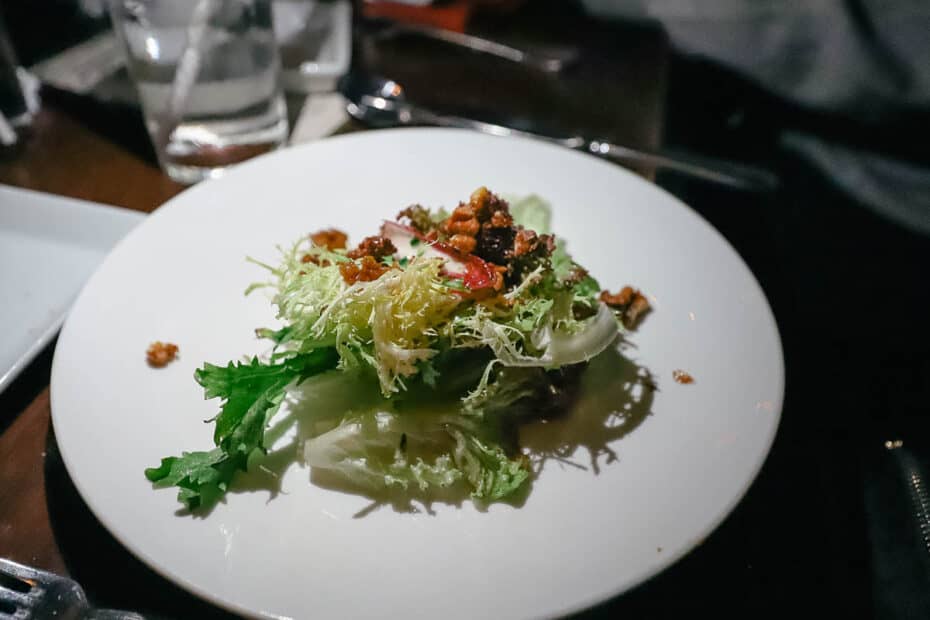 Kristen ordered the Escargot de Bourgogne. Per the menu, this dish was baked in herbed-garlic butter and served with a French baguette.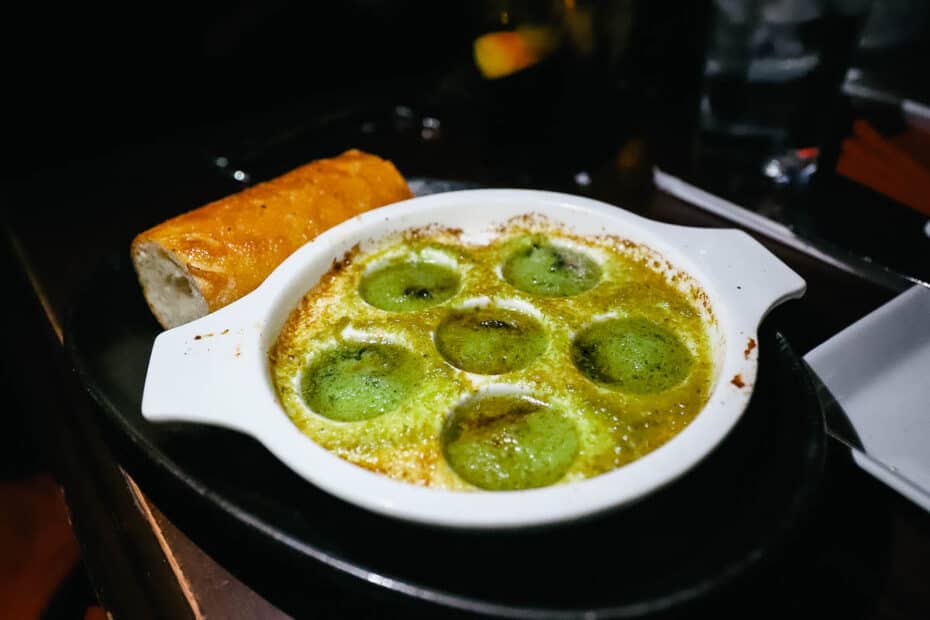 We both tried this dish and found the escargot scrumptious. However, this dish has a robust earthy flavor on top of the garlic and butter, so it might not be for everyone.
Lastly, I ordered the Potato-Leek Soup with Caviar. The soup is garnished with chives and Black Tobiko Caviar per the menu.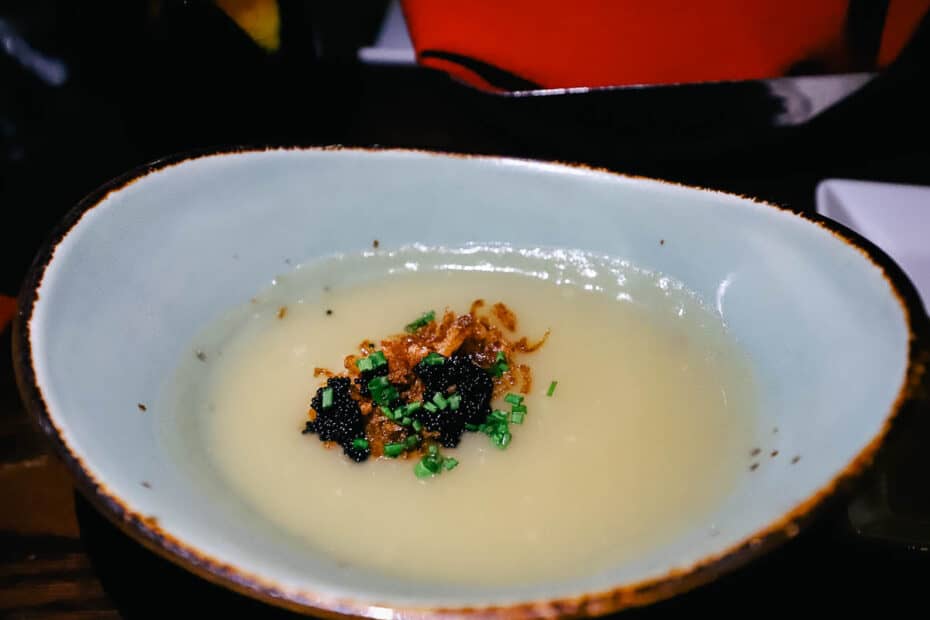 I was unsure about ordering this dish because I feared it might be a thick, chunky potato soup. However, it was thin and delicate, and I was impressed.
It was by no means the best soup I've ever had, but I would order it again on a return visit. Additionally, the caviar added a pleasant texture and a hint of acidity.
For her main entree, Savannah ordered the Poulet Rouge Chicken. Per the menu, the chicken comes with celery root puree, roasted root vegetables, and a Pinot Noir jus.
It was exceedingly dark in The West Wing, so these food photos aren't as quality as you or I would like. Nevertheless, this chicken was every bit as succulent as it looked.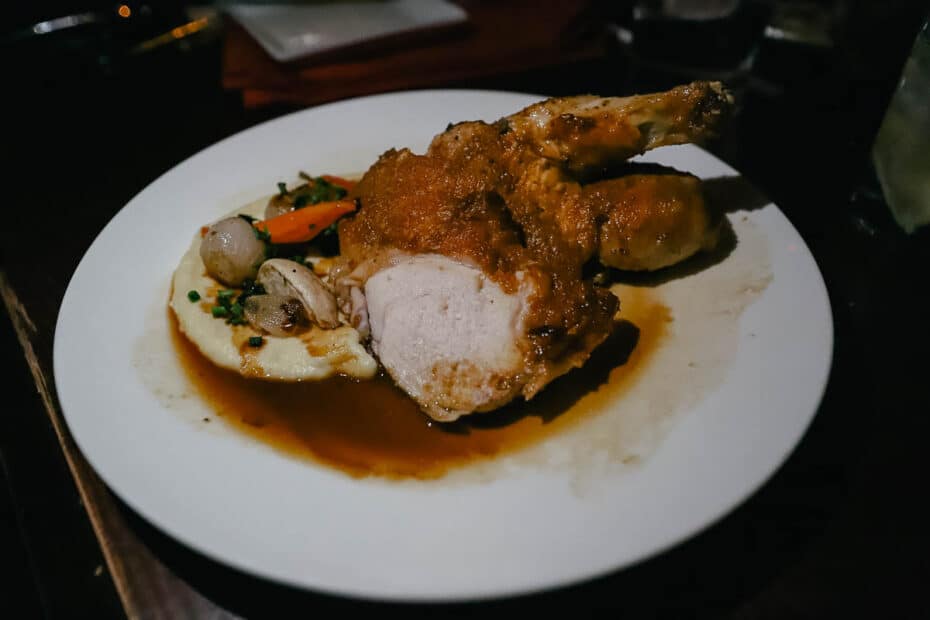 Additionally, this is the perfect dish to try if you are a not-so-adventurous eater. Savannah mentioned she was a picky eater and truly enjoyed this entree.
Jamie went with a classic, the center-cut Filet Mignon. Per the menu, the steak came with Yukon Gold potato puree and smoked tomato Bernaise sauce.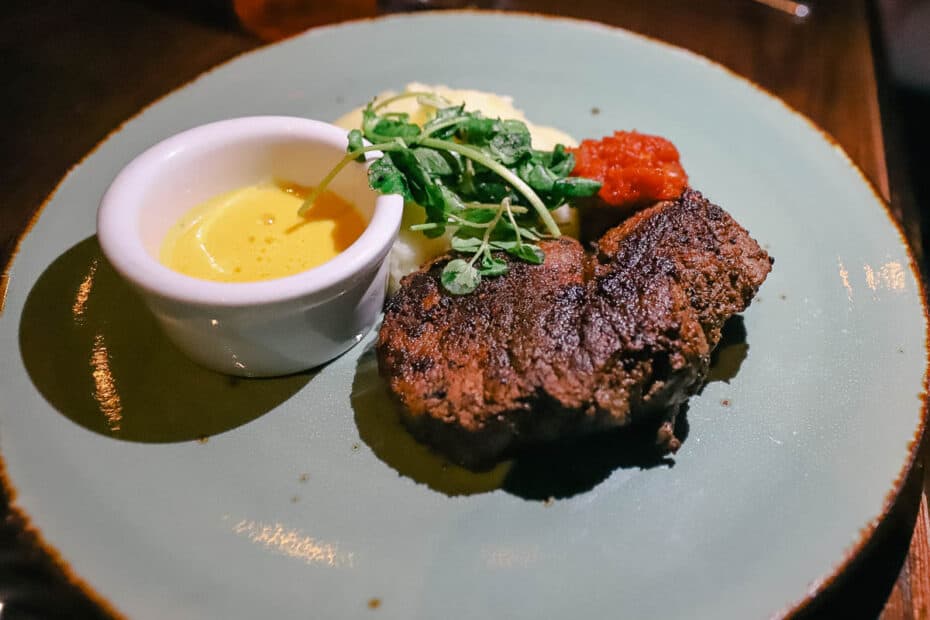 Jamie ordered her steak medium-well and noted that it was still tender. She also mentioned the sauce was delightful.
Kristen and I both ordered the Sustainable Market Fresh Fish. I had planned to order something different from everyone else.
However, when we asked the server about the fish selection, neither of us could resist her answer. We received two filets of Rainbow Trout that were sealed together by a crab and herb mixture. Our side was haricot verts, roasted green beans.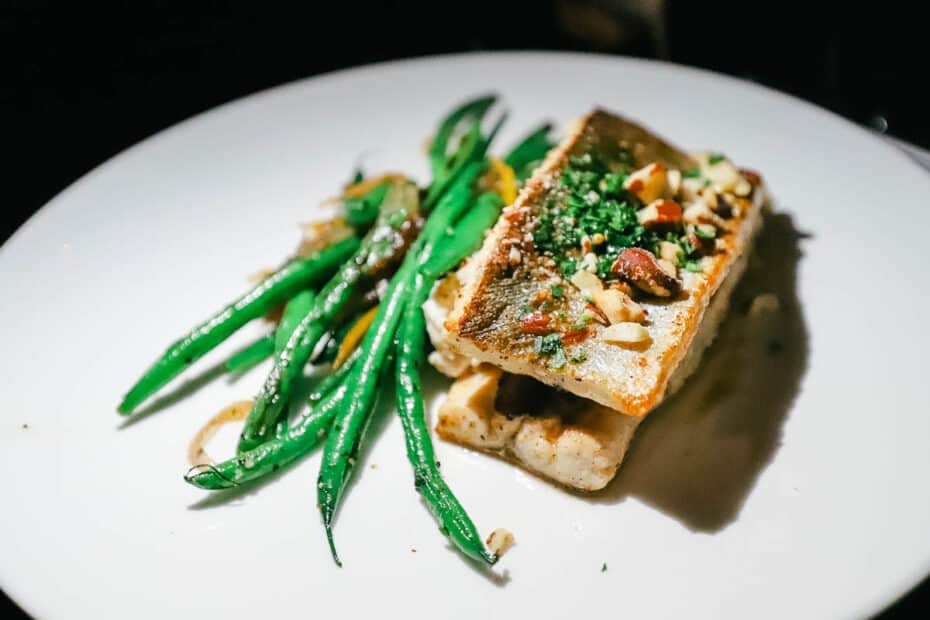 After a few bites, I mentioned that my only complaint was that it was a little on the salty side. But other than that, it was an excellent entree. We both ate every bite.
Kristen agreed about the saltiness but said it wasn't anything like the awful meal we'd had at Skipper Canteen a few months back. Unfortunately, our entrees at that meal were inedible.
Related: Skipper Canteen Review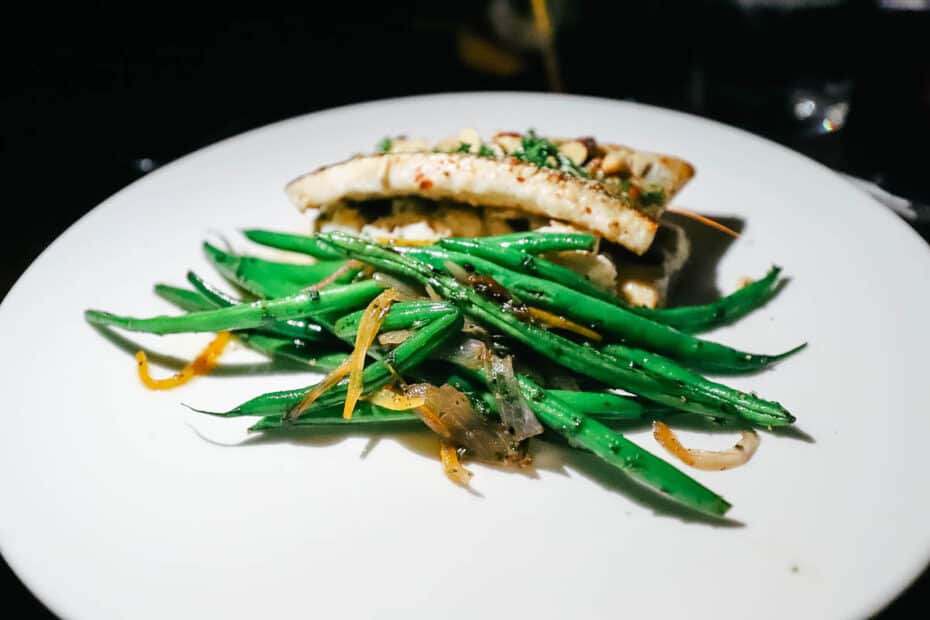 Finally, we have the last course of the meal, dessert. Everyone, except for me, went with the trio of desserts.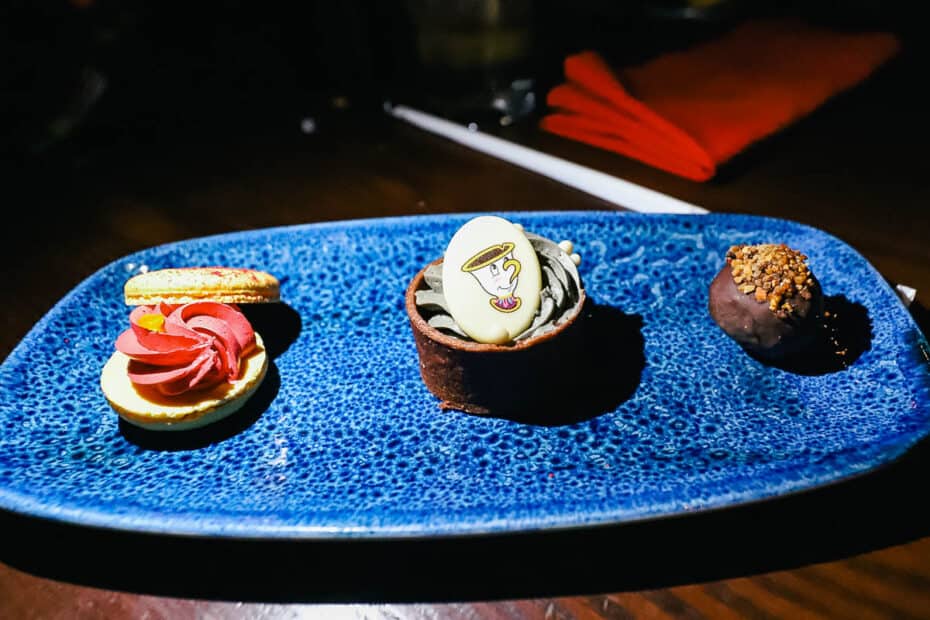 First, on the trio of desserts, we have a chocolate tart. This tart is comprised of a shell piped full of "the grey stuff." A white chocolate medallion sits delicately on top of the cream featuring Chip from Beauty and the Beast.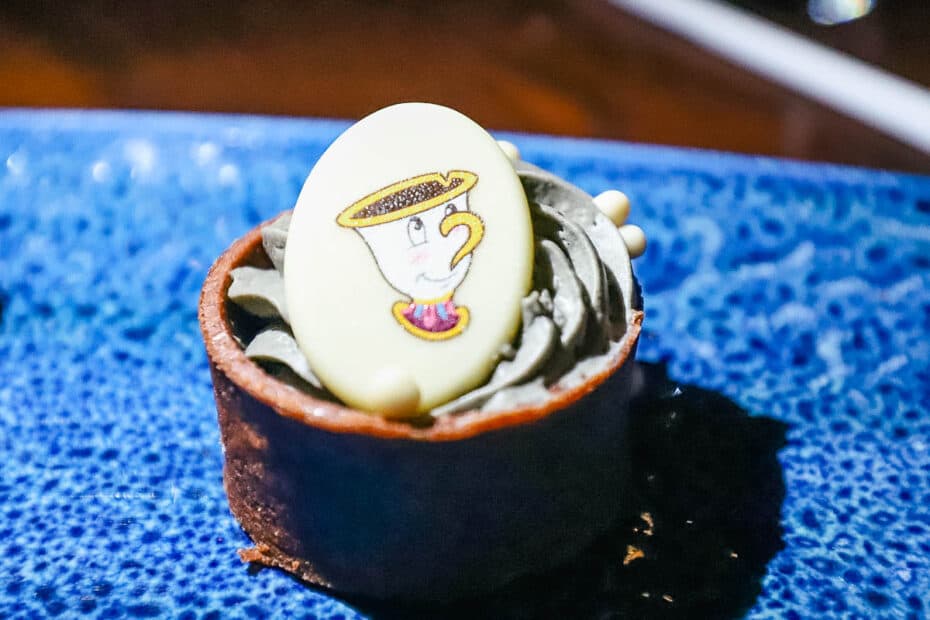 Our next dessert in the trio is the lemon jam macaron. This was the favorite bite for everyone who ordered it.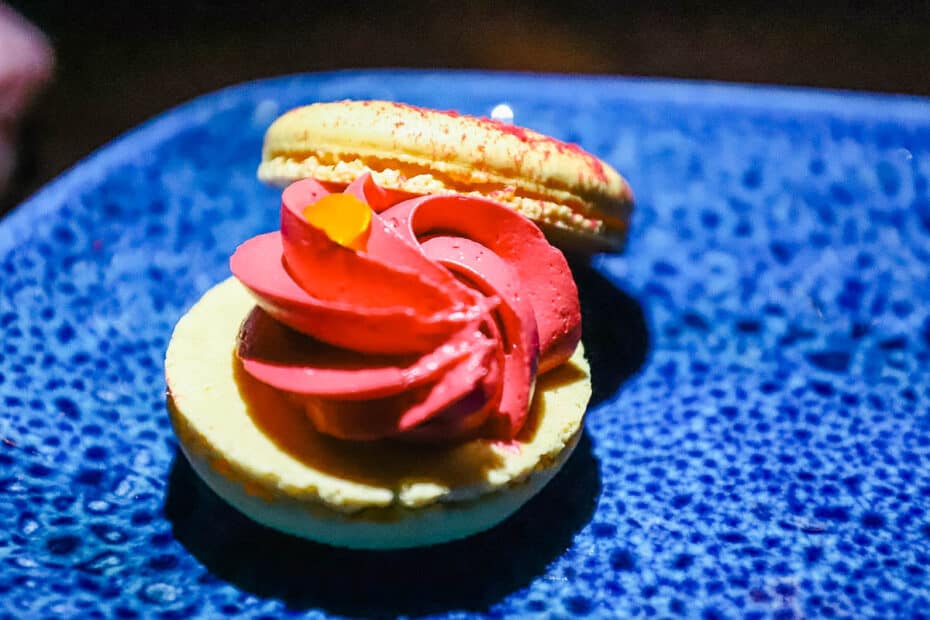 Lastly, there was a chocolate truffle filled with a dark chocolate Grand Marnier ganache. What's not to like about chocolate mixed with Grand Marnier?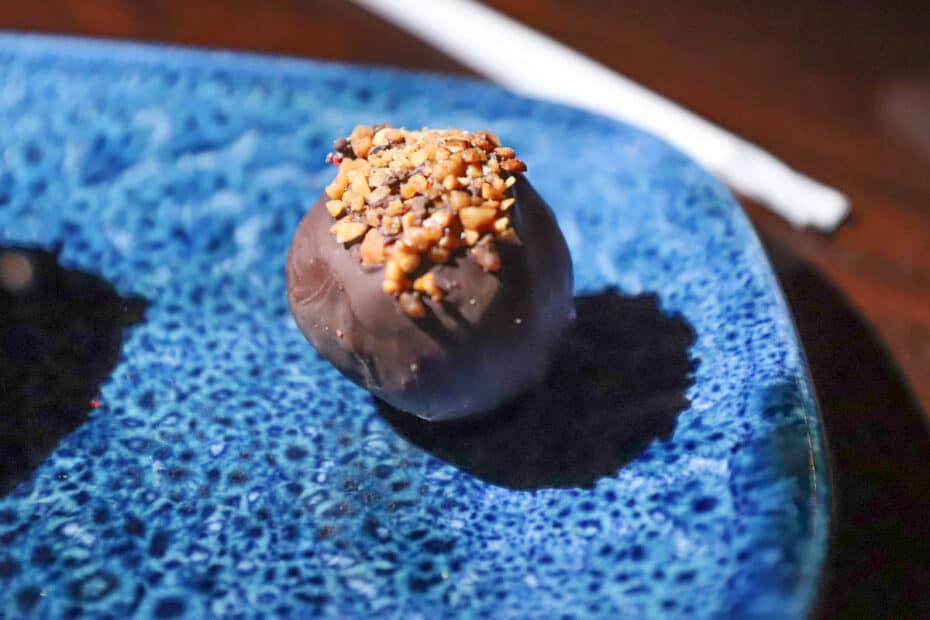 I ordered the vanilla cake with lemon curd, a plant-based option. However, when it was delivered, I didn't know what to expect.
The dessert was oddly plated toward one side of the dish and looked questionable. So much so that it made you think something was missing.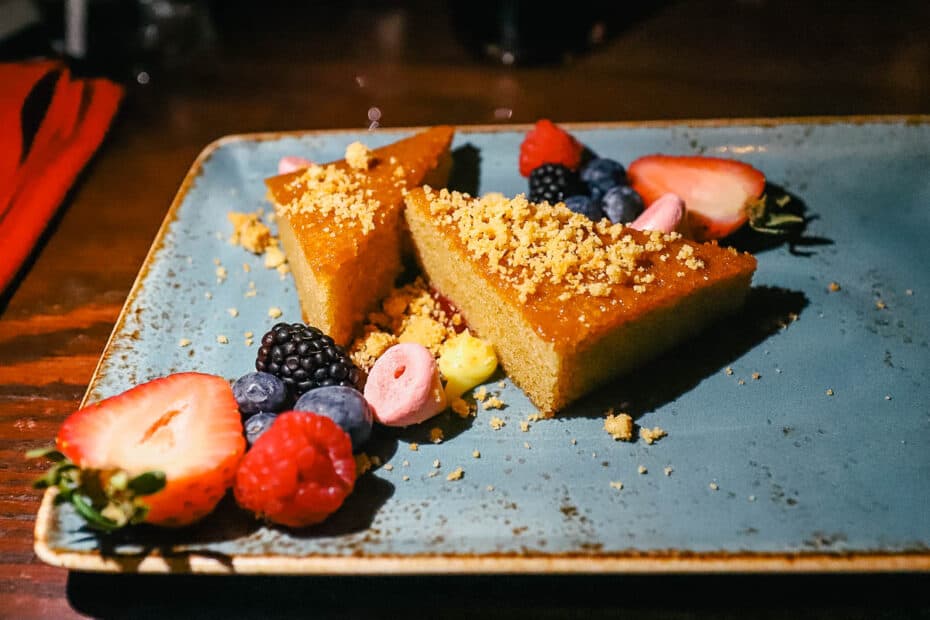 However, this was a divine dessert. Similar to the trout, it wasn't heavy, and I had no guilt for indulging in such a dessert. If I were to have to choose between the two options again, I would gladly pick this one.
In addition to our desserts, we received a small complimentary sample of the "grey stuff" shaped like a Mickey. Your server will gladly bring a sample to the table if requested.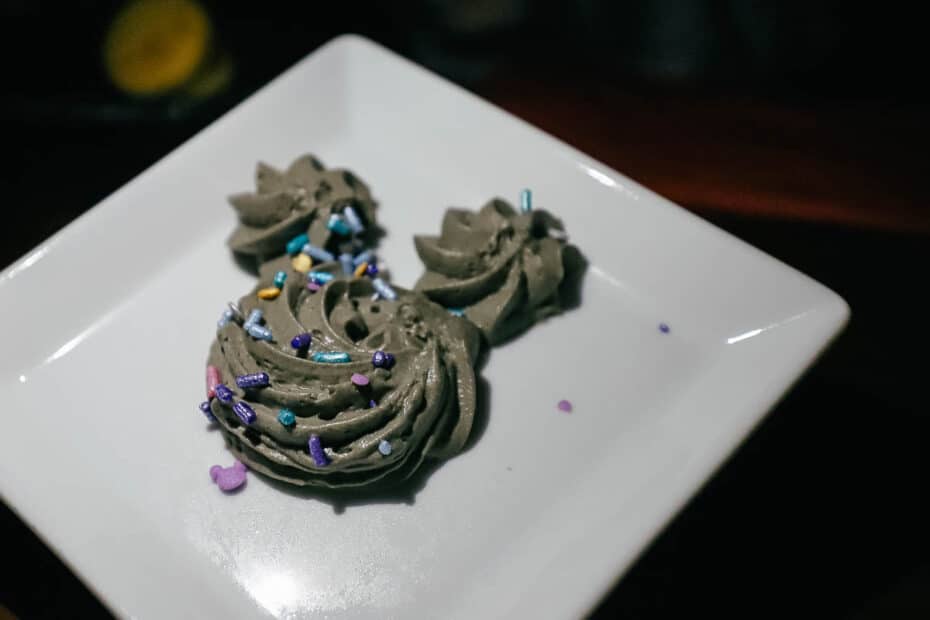 Video of the Beast at Be Our Guest
During our meal, the Beast made two appearances. However, this meal should not be considered character dining.
Instead of taking photos, I recorded the Beast's appearances in The West Wing. You'll know when the Beast is about to walk through the restaurant because there's a music change in the background, and an announcement is made over the intercom.
We also received an autograph card with the Beast's signature.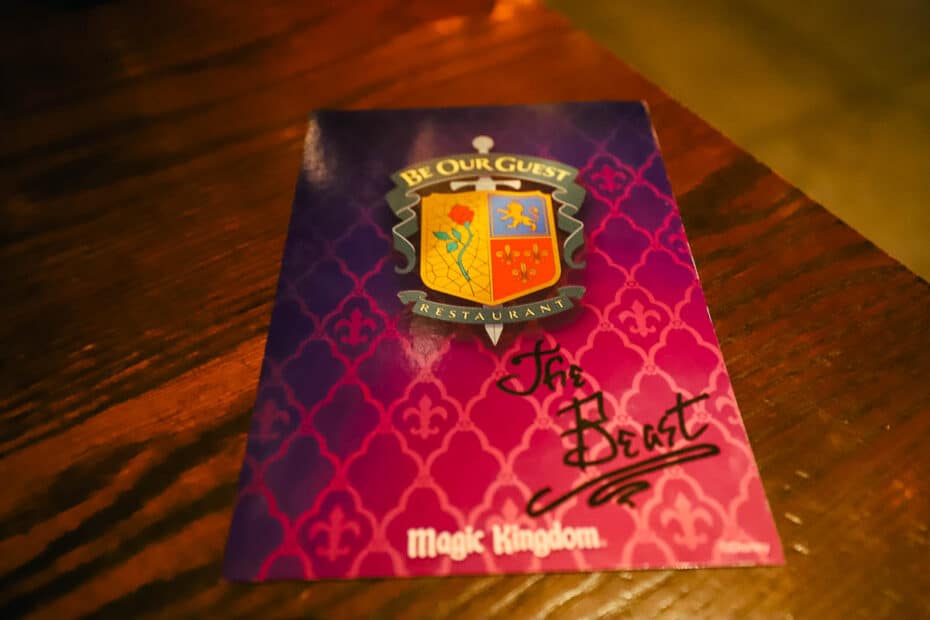 Here is the opposite side.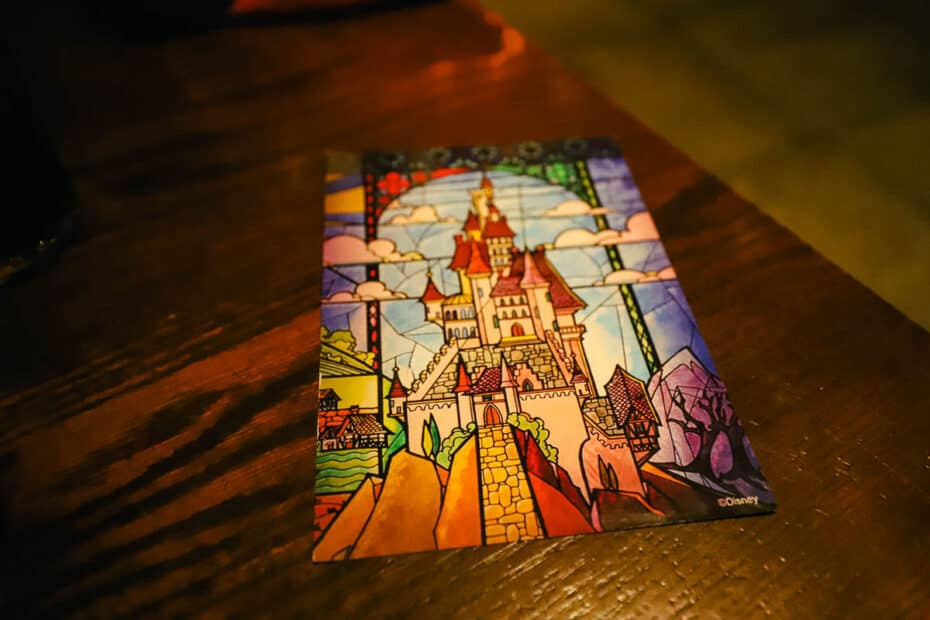 Final Thoughts on Dinner at Be Our Guest
Overall, we thought the food options at Be Our Guest were good, and we had excellent service. However, I wouldn't consider the quality of the food comparable to a meal at one of Disney's signature restaurants.
That said, the value felt reasonable at $67.00 for an appetizer, entree, dessert, and opportunity to see the Beast. Moreover, It felt feasible for someone who's never visited.
If you were a fan of Be Our Guest in the past, you'd want to go into this dining experience with an open mind. It's not comparable to what the restaurant initially set out to be. So I wouldn't plan to dine here with those expectations.
When we left the restaurant, it was approximately 7:45 p.m. That made our entire time investment 1 hour and 40 minutes. So we lost almost an hour of party time since the special offerings at the party begin at 7:00 p.m.
If we hadn't been to a previous party, we would have probably felt rushed and not enjoyed our meal. So consider that if you plan to dine here on an evening when you attend either of the seasonal parties offered for Halloween or Christmas.
Ultimately, I think Be Our Guest is a fun place to eat for those who have never dined here. It's also the only place to see the Beast outside the Festival of Fantasy Parade and Once Upon a Christmastime Parade.
For more dining with characters, you might enjoy the following:
In the Comments
What are your thoughts on this review of Be Our Guest? Have you ever dined here before? Do you miss the former breakfast and lunch offerings?