Where to Meet Anna and Elsa at Disney World (Epcot's Royal Sommerhus)
This article discusses where to meet Anna and Elsa at Disney World. First, we'll discuss their formal character meet-and-greet at Epcot's Royal Sommerhus. Then, we'll look at a few other places you can find the Frozen sisters.
Anna and Elsa are two of the most famous character meet-and-greets at Walt Disney World. Thankfully, there are several locations where you can find the pair.
For starters, the sisters share a character location at the Royal Sommerhus in Epcot's Norway Pavilion. When you reach Norway, their summer home is toward the front of the pavilion on the side closest to Mexico.
This article was updated on January 27, 2023.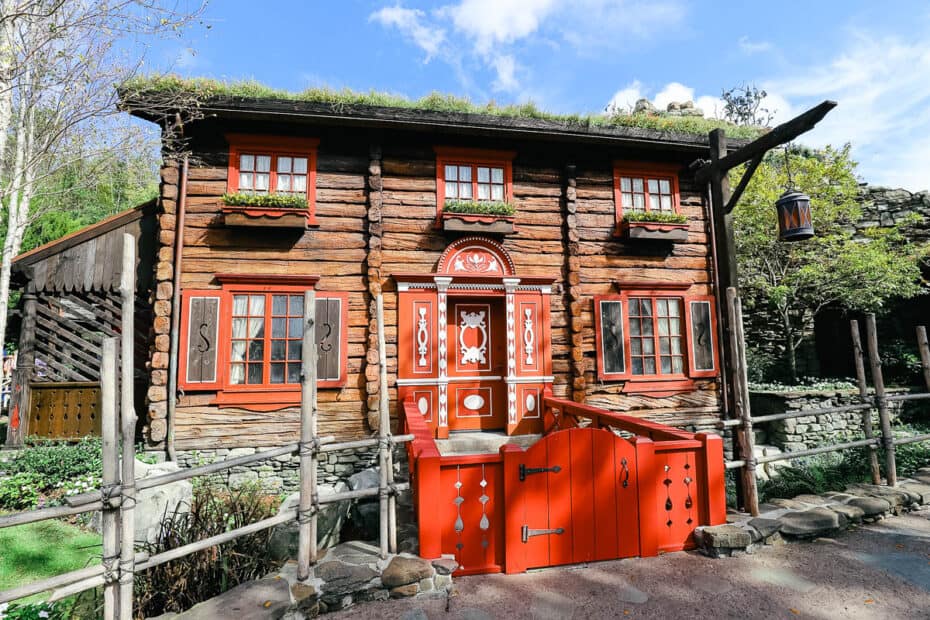 Anna and Elsa meet daily at the Royal Sommerhus between 9:15 a.m. and 6:30 p.m. This location is one of the few dedicated characters meets at Epcot, where the characters are available most of the day.
Most characters in the World Showcase meet for small increments here and there throughout the day. But you can find Anna and Elsa at this location anytime during their scheduled hours.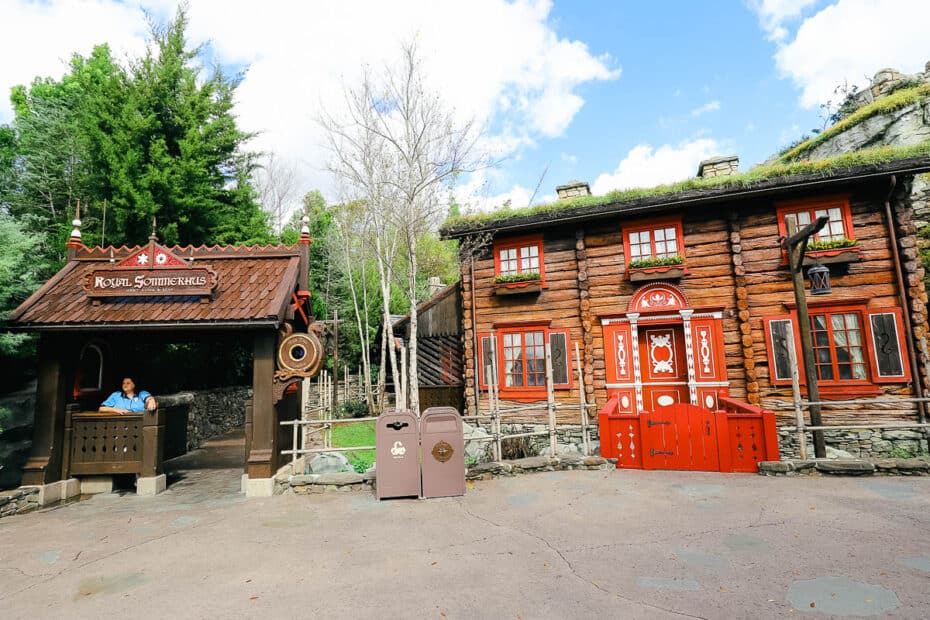 A wait time is posted at the queue's entrance. Part of the queue extends outside.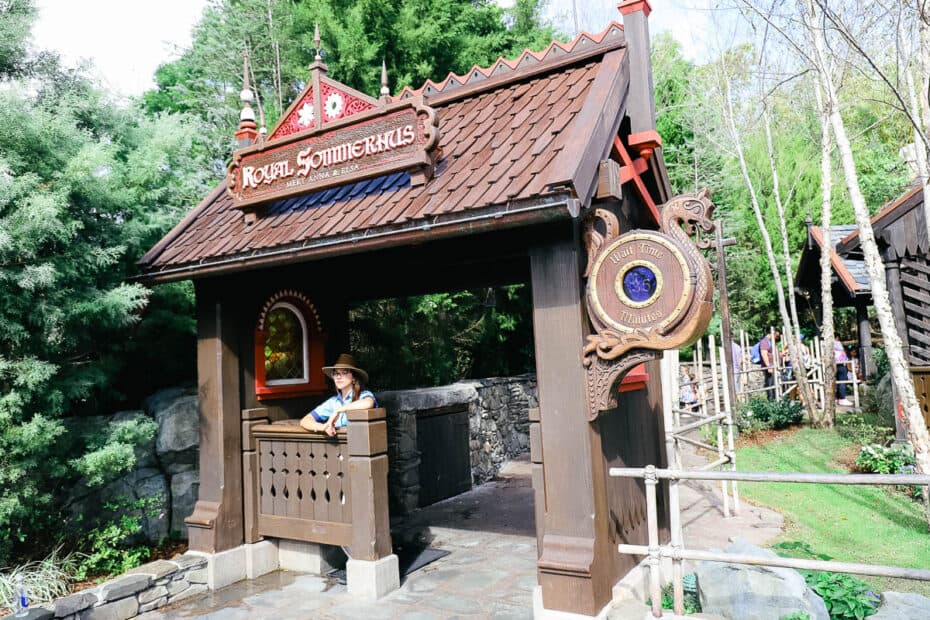 However, most of the queue is inside. When taking photos for this update, the line extended outside, so we decided to come back later in the afternoon.
Inside the Royal Sommerhus, there's darling decor and fun elements from the Frozen films. We always like to walk through slowly and check out the cottage's decor.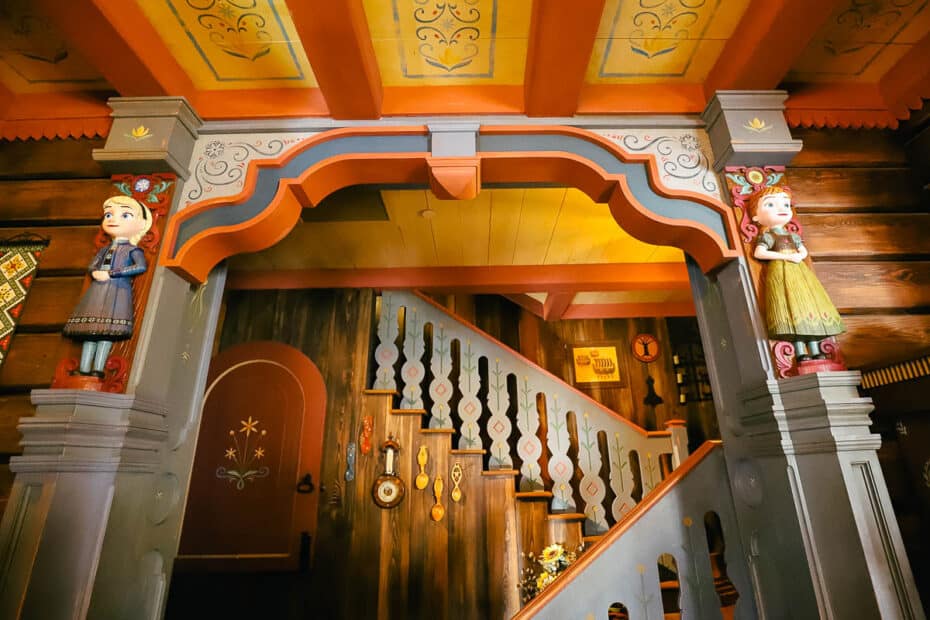 Inside the queue, there are two waiting rooms. You'll stand in line in the living room first. Then, you'll move ahead to another room. It has a fun painting of Anna, Elsa, and Olaf playing in the meadow outside of their summer cottage.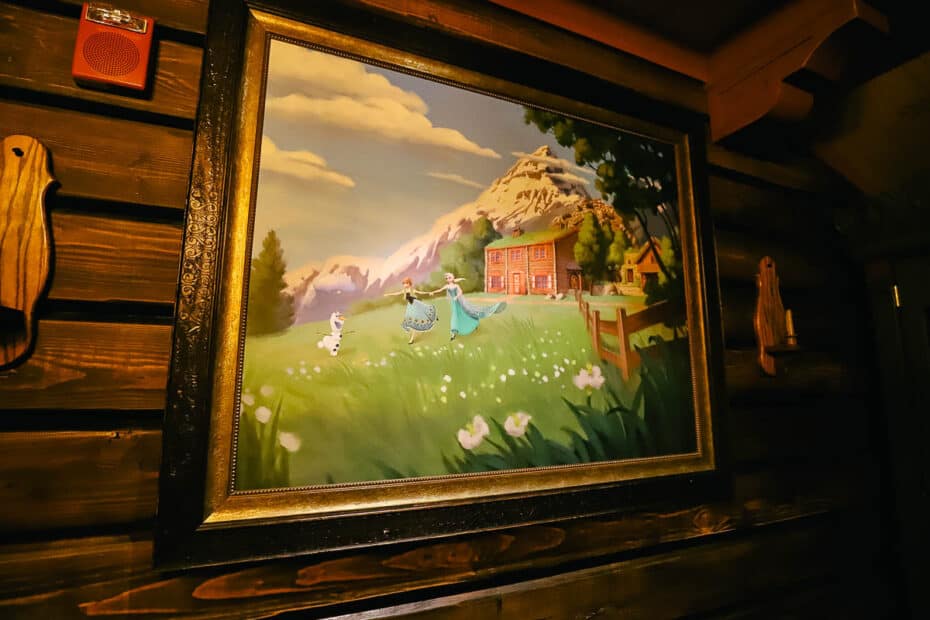 After that, you're invited into the meet-and-greet area with a few other guests. They usually let about five groups in at a time, depending on the number of people in each group.
Here you'll wait your turn to meet Elsa first. Then Anna is waiting to meet you next.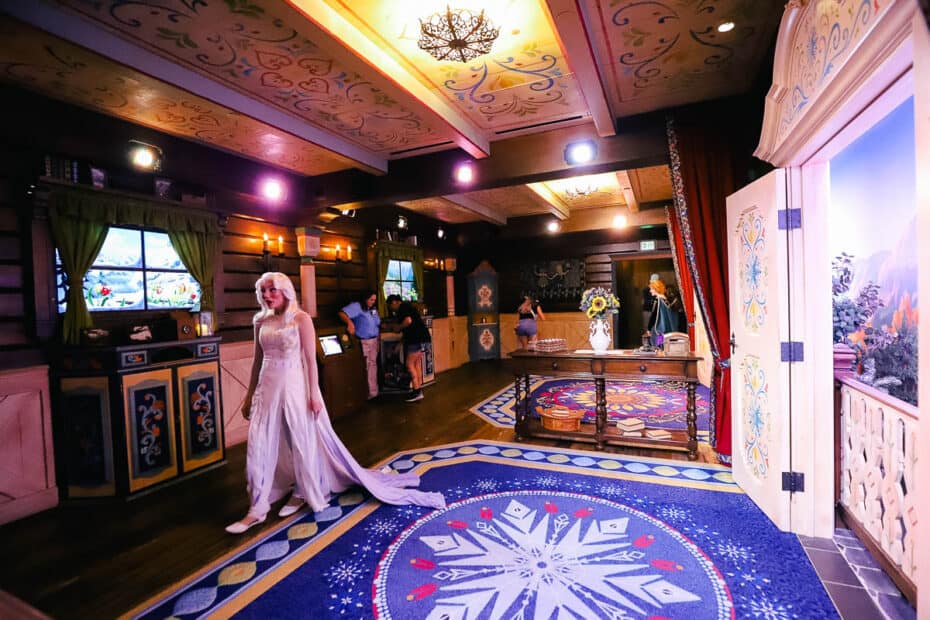 Elsa enjoys talking about Olaf, Gale, and her sister Anna. She told me that Gale had helped her fix her hair that morning.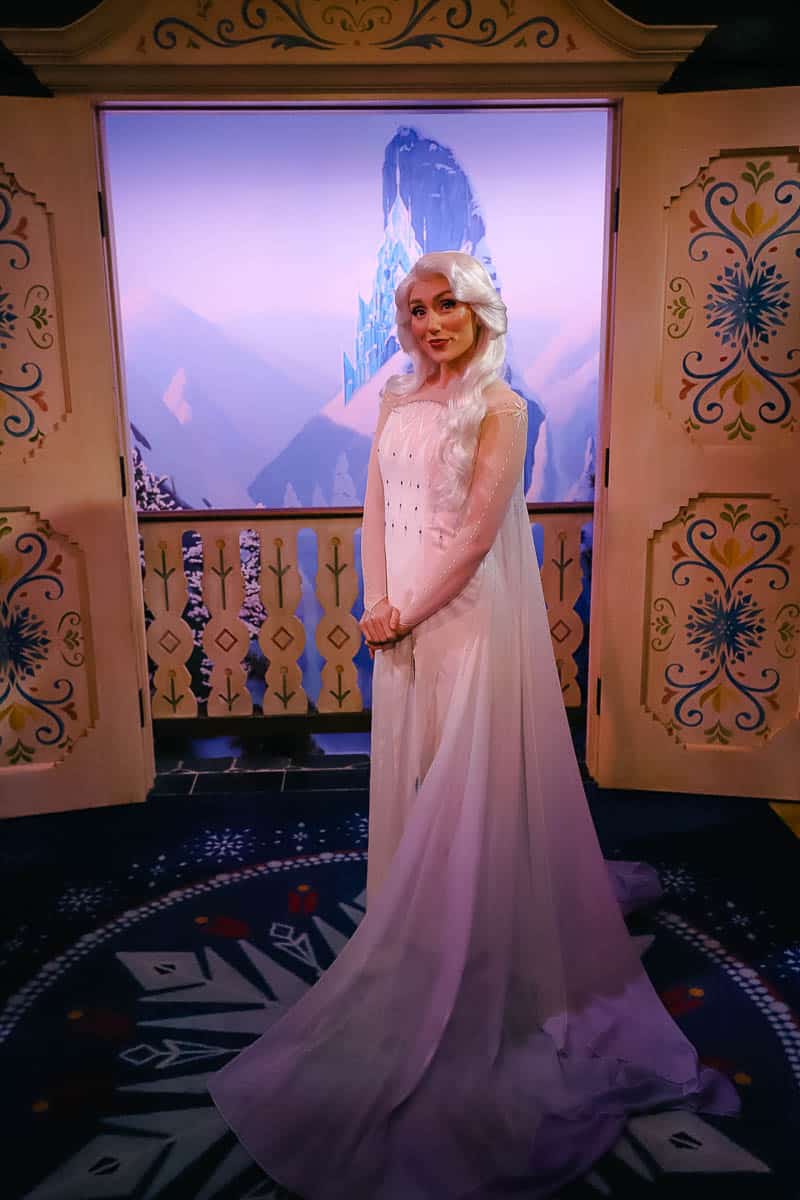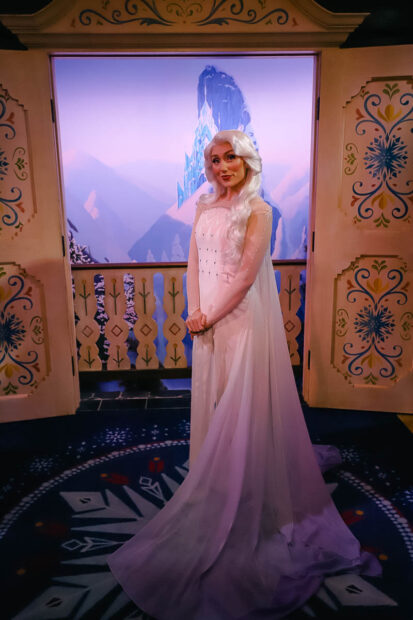 If you have an autograph book, Elsa will sign it first. Then the cast member will lay it on the table between the meets. While you're visiting with Elsa, Anna can sign her autograph, too.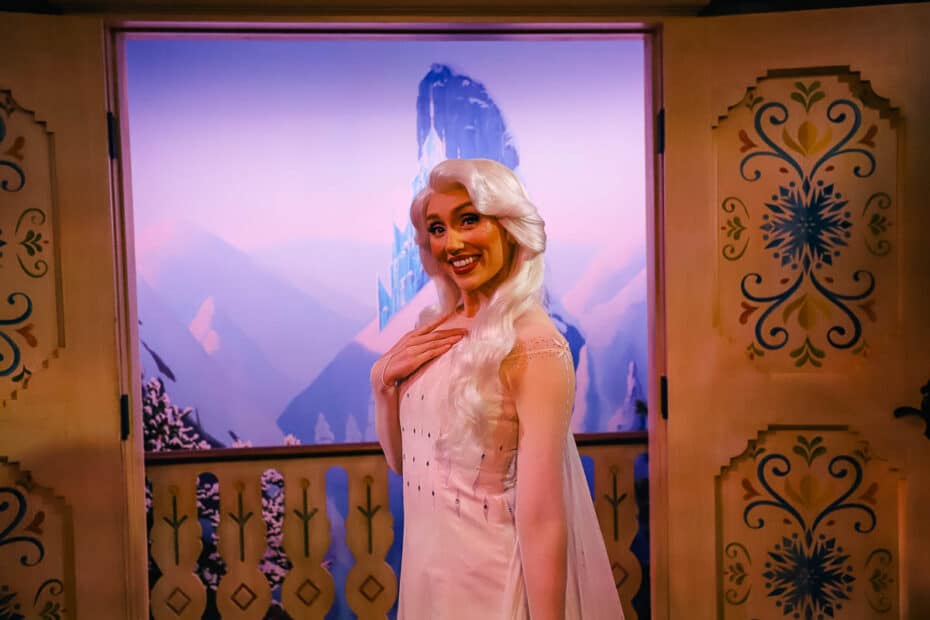 Elsa will then pose for a few photos with you and your group.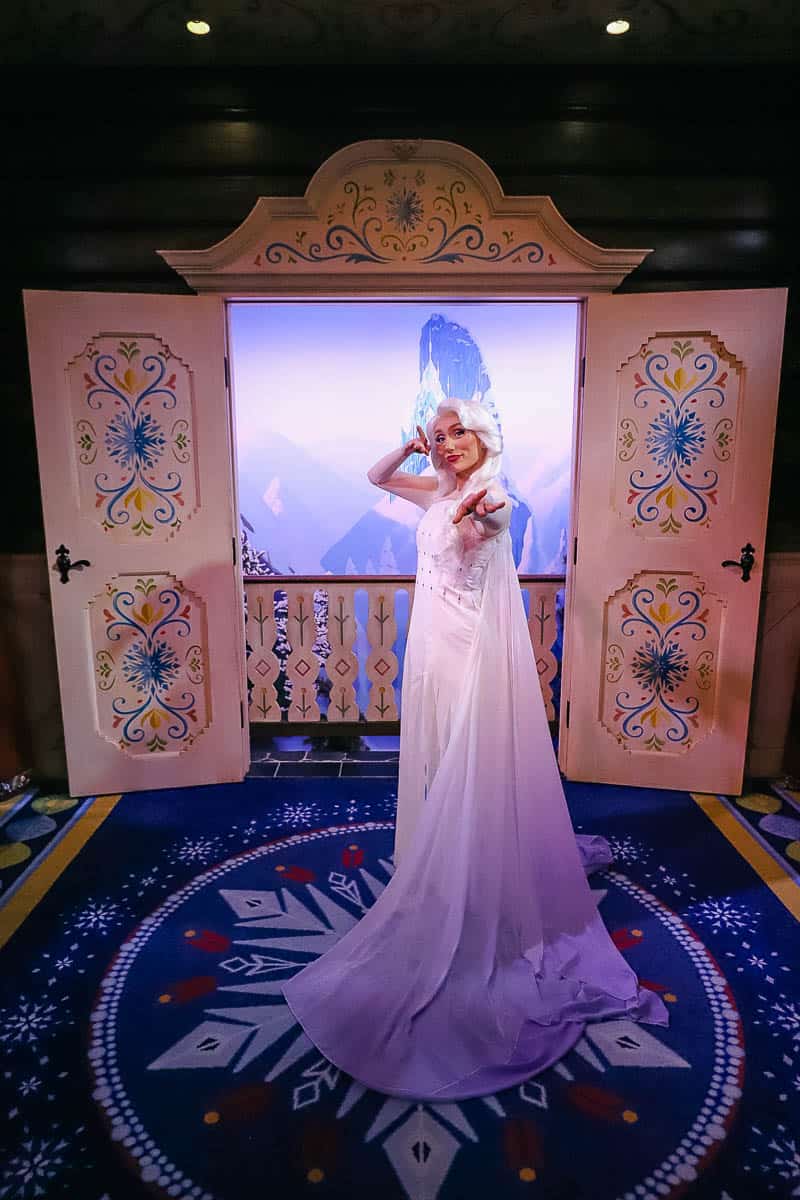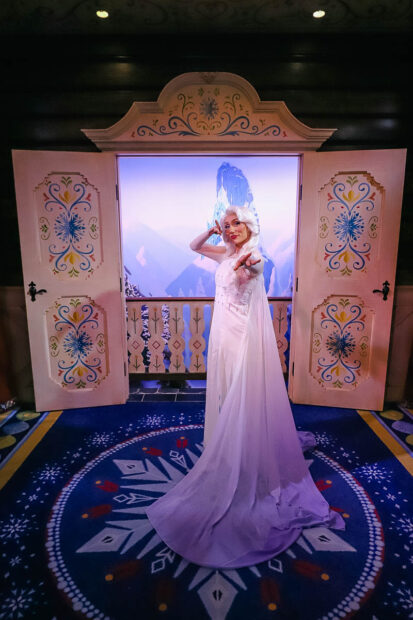 After that, you'll move over to meet Queen Anna of Arendelle.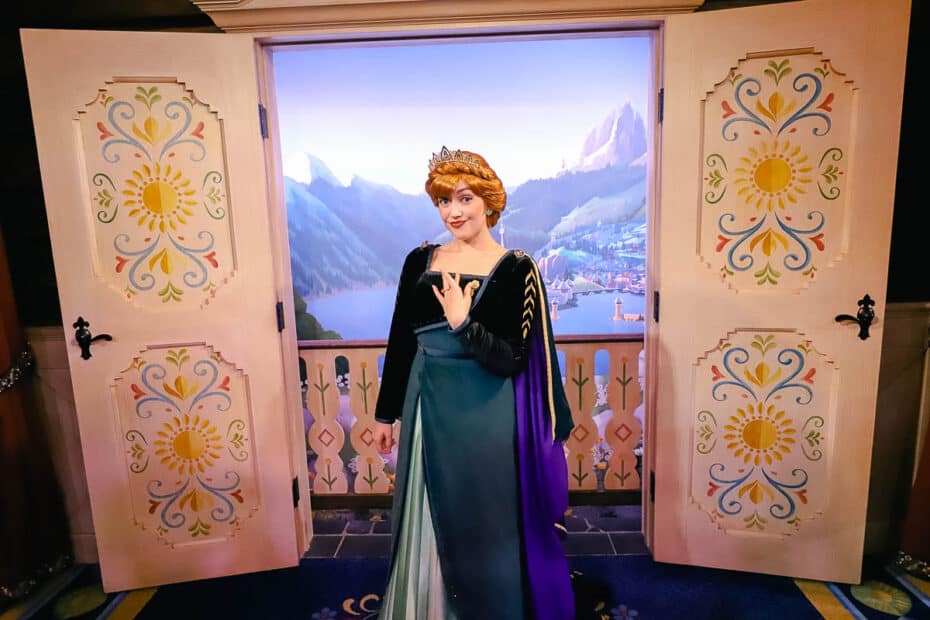 Anna enjoys talking about Kristoff and Sven.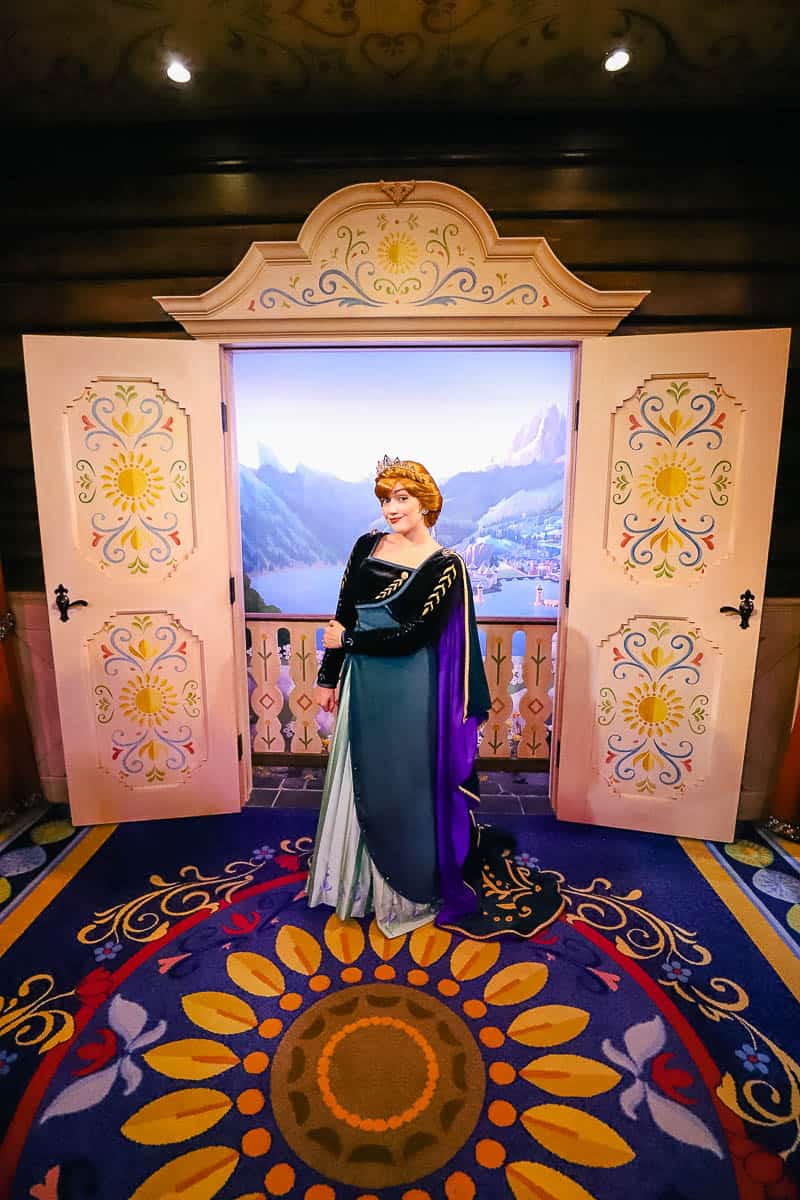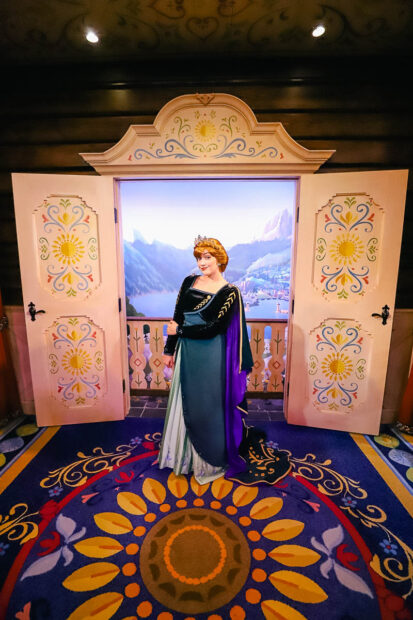 After you meet Anna, you'll exit into the Wandering Reindeer. This used to be a fantastic gift shop featuring all things Frozen. However, lately, it only serves as an exit.
Unfortunately, PhotoPass photographers are no longer present at this meet-and-greet. Instead, Disney has installed boxes that snap random photos while guests meet with the characters.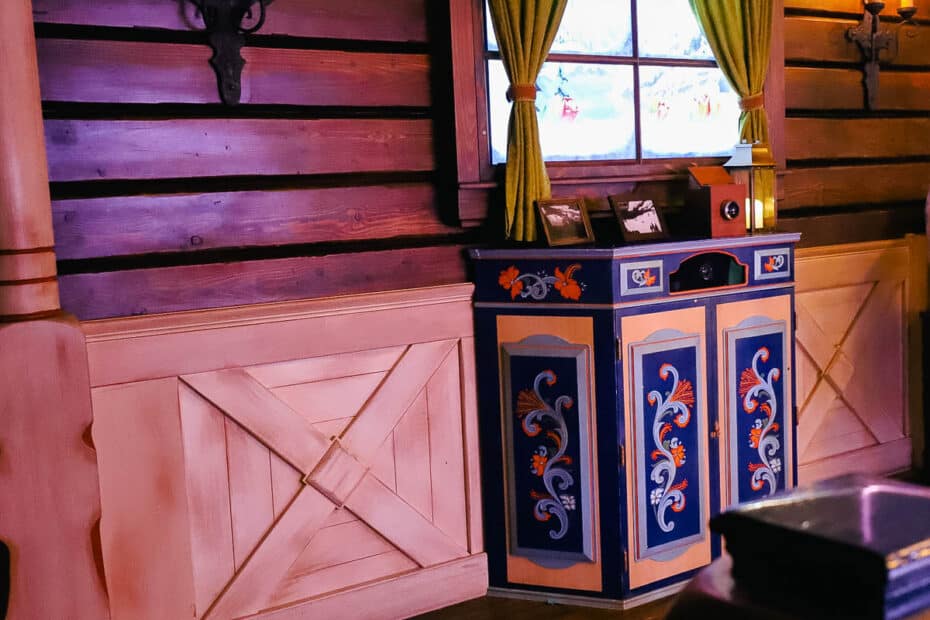 For instance, I was visiting this character meet to take a few updated photos for the website. Now I have a handful of pictures of my backside. I didn't want any photos of me, and it felt like I had no choice.
While it's not a big deal to me, if you pay to have these photos made, you might reconsider it. You pay a lot to have PhotoPass photographers take your picture.
However, you'll rarely find a photographer at any of the character's meets these days. So that service you paid for is left up to these random machines.
Oh, and you have to scan your band on another machine after exiting the meet-and-greet. If not, you won't get your photos.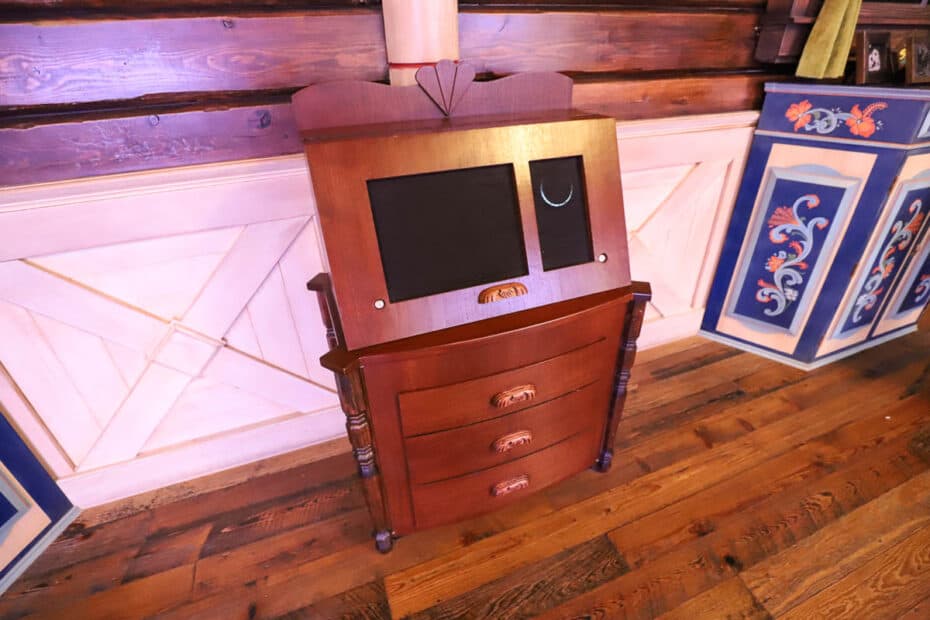 Unfortunately, these boxes are a detriment to character meets. First, they replace an actual human photographer. Secondly, the photos aren't great.
As for Anna and Elsa, the Royal Sommerhus is the only place to meet the sisters in Walt Disney World. We have found that the best time to meet them is usually first thing in the morning or after 4:00 p.m.
Below, we'll look at a few other locations where you might see Frozen characters in the parks.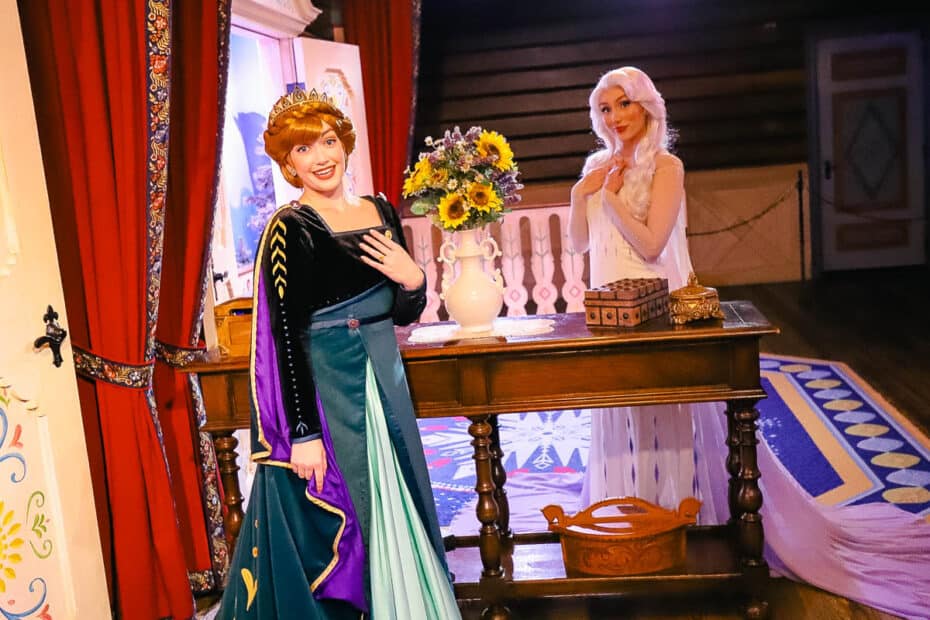 Other Places to See Anna and Elsa at Walt Disney World
In addition to their meet-and-greet at Epcot, there are several places you might run into Anna and Elsa during your Walt Disney World vacation.
First, there's Magic Kingdom. When Frozen first debuted, Anna and Elsa met at Princess Fairytale Hall. Disney couldn't build them their own meet-and-greet fast enough.
However, these days Cinderella, Elena, Rapunzel, and Tiana meet at Princess Fairytale Hall. But you can still find Anna and Elsa at various places around the park.
For instance, they take part in the daily Festival of Fantasy Parade. This parade usually runs twice daily. Times for the parade are listed in the My Disney Experience app.
One unique thing here is that Anna is Princess Anna, and Elsa is Queen Elsa in the parade.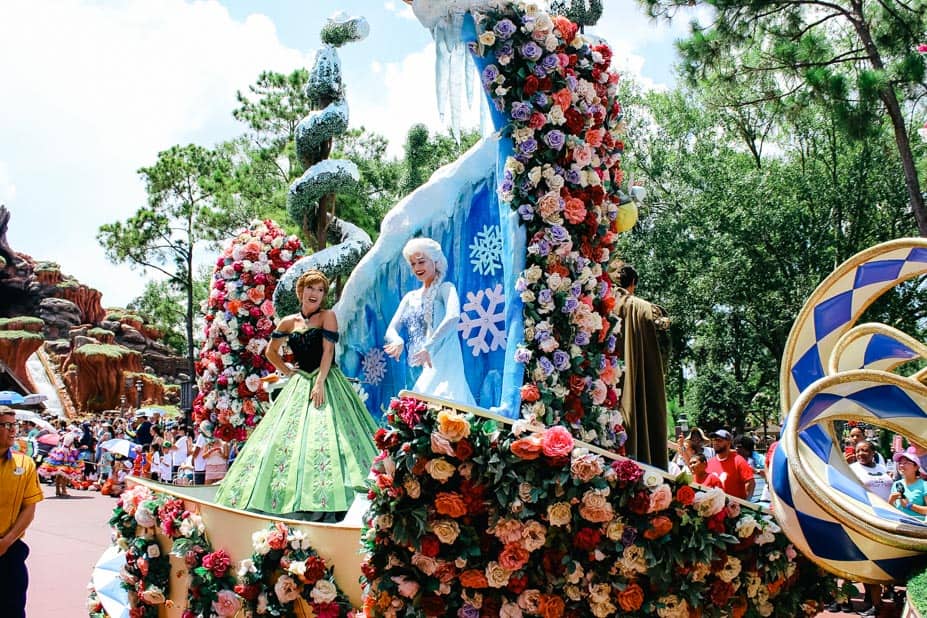 Additionally, Anna and Elsa have a segment in Mickey's Royal Friendship Faire. This is a show performed daily on the stage in front of Cinderella Castle.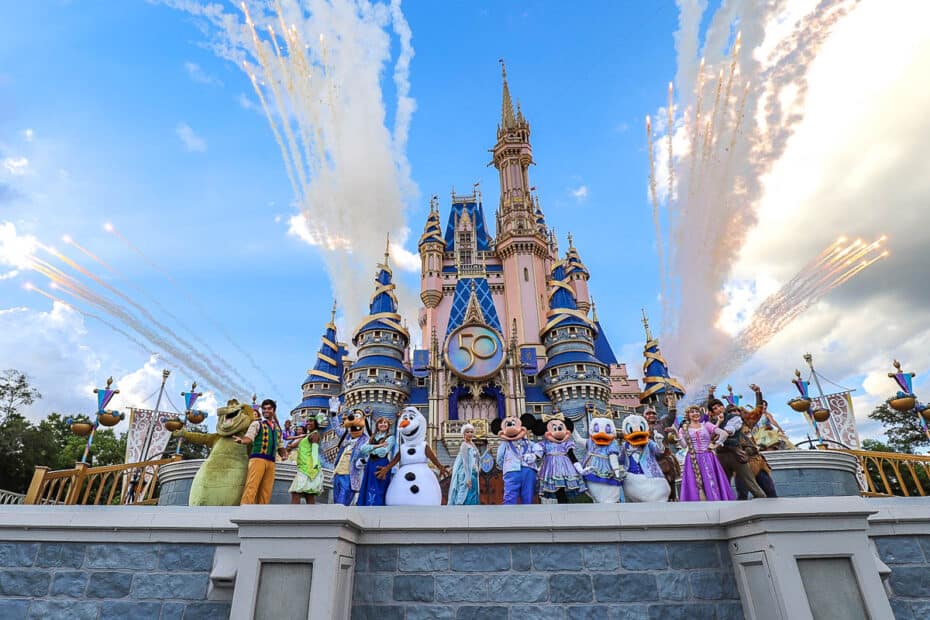 During the holidays, they participate in the Once Upon a Christmastime Parade at Mickey's Very Merry Christmas Party. We prefer to watch this parade from Main Street.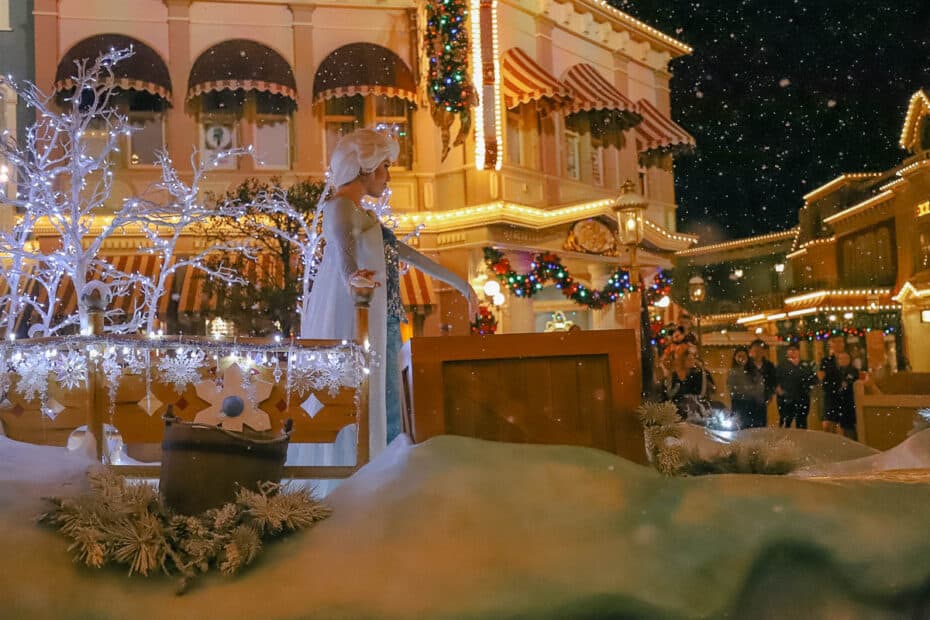 Unfortunately, we haven't seen a Frozen Holiday Wish performed during the holidays in several years. We'll see if it returns next November when the holiday season kicks off again, minus the 50th-anniversary celebration.
At Disney's Hollywood Studios, you can see Anna and Elsa in For the First Time in Forever: A Frozen Sing-Along Celebration at the Hyperion Theater. This is an excellent production well-suited for the whole family.
Royal Historians of Arendelle provide a comical narration of the original Frozen saga. If you're visiting in December, don't miss the special holiday ending. We have a video of the end tag in a separate article.
Related: Frozen Sing-Along Celebration at Disney World
Additionally, Olaf meets in a summer scene at Disney's Hollywood Studios.
Related: Meet Olaf at Hollywood Studios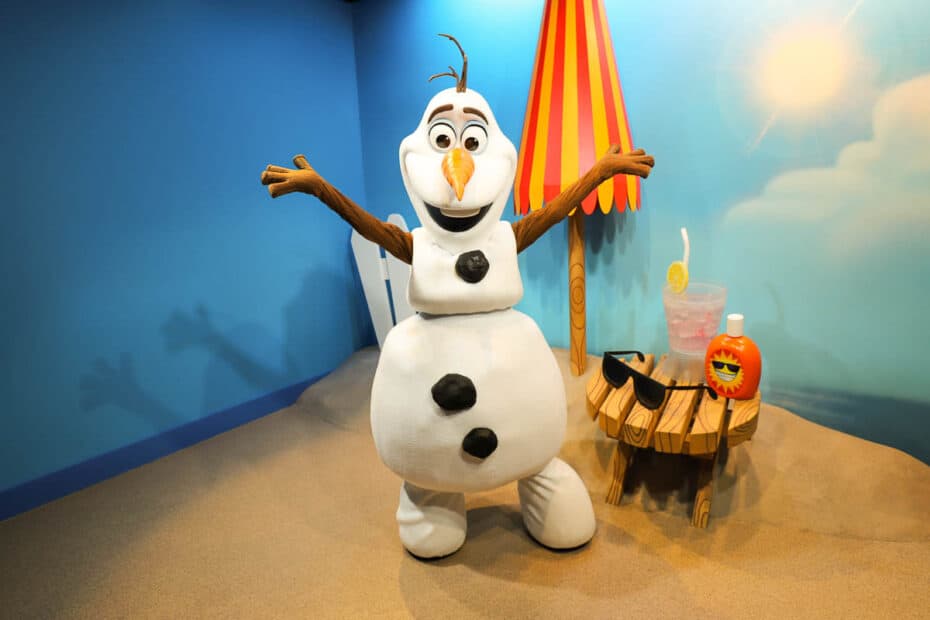 Lastly, while in the Norway Pavilion, you might enjoy riding Frozen Ever After.
Related: Frozen Ever Ride Review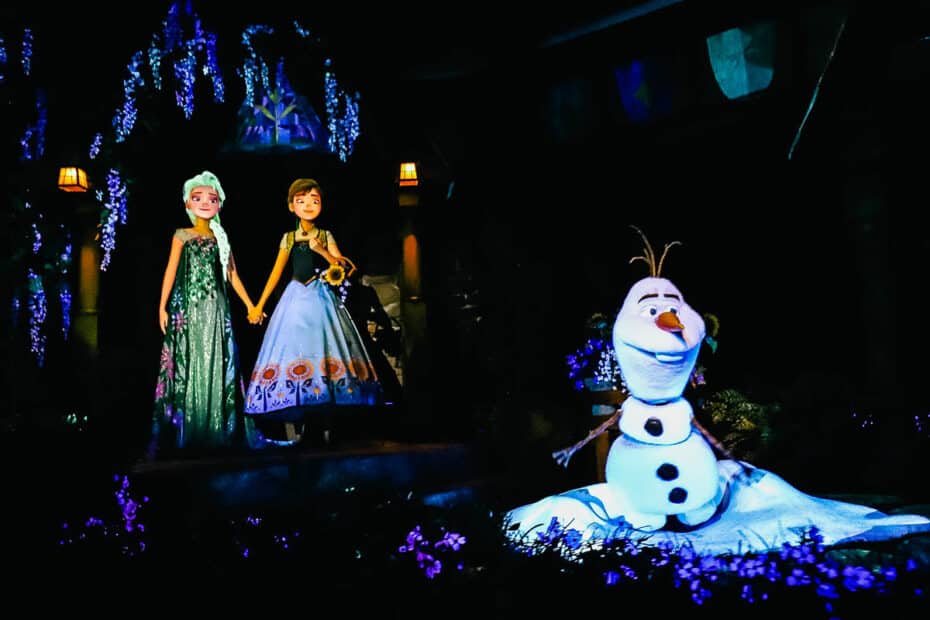 For more information on character meets at Epcot, try these articles:
You may also like to browse our entire list of characters at Disney World. Or try our Disney World Character Dining Guide if you're looking to plan a character meal for your next vacation.
In the Comments
Are you hoping to meet Anna and Elsa on your visit to Walt Disney World? Did this article help you locate them?
Planning a Walt Disney World or other Disney Destination vacation?
Our friends and travel partner, Firefly Travels, excels at doing Disney differently. You can fill out a plan your trip form on their website, and someone will reach out shortly to discuss the specifics.