Everything 'Frozen' at Walt Disney World
This article discusses attractions, character meet-and-greets, and other experiences at Walt Disney World related to the popular animated film, Frozen and Frozen 2.
Are you looking to see everything Frozen at Walt Disney World? You probably know that Disney's Frozen is one of the most popular animated films of the last decade.
When the movie came out, it was like an unusual Frozen phenomenon, or frenzy might be a better term. Years later, the franchise is still popular, followed by a second movie, Frozen 2.
More than likely, anyone traveling with children to Walt Disney World knows their kids will want to meet Frozen characters. Better yet, they'll want to ride their attraction, see Olaf, and pick out a few Frozen souvenirs.
With those things in mind, I felt it was an excellent time to put together a list of everything Frozen at Walt Disney World. This review will cover the items available in Disney Parks.
These items are based on my research and experiences in the parks. This article was updated on October 30, 2022.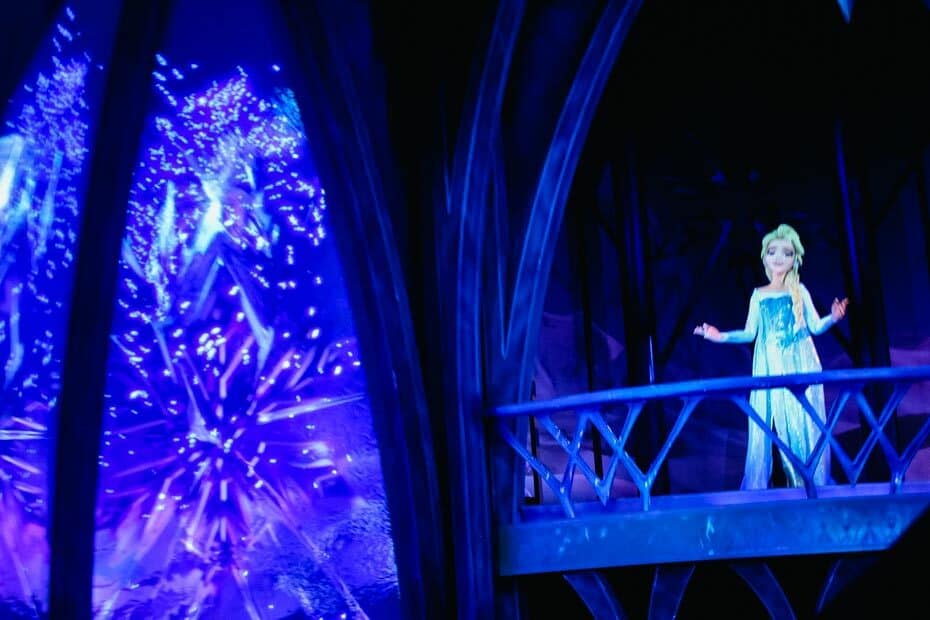 Frozen Ever After
For starters, there is one major attraction representing Frozen at Epcot. It's a dark boat ride called Frozen Ever After.
Frozen Ever After is located in the Norway Pavilion of the World Showcase. You'll find it directly behind Akershus Royal Banquet Hall.
This attraction is available daily from the park open until close. Additionally, this attraction offers Genie+ Lightning Lane availability.
Frozen Ever After was formerly a ride called Maelstrom. It features Anna and Elsa, along with everyone's favorite summer-loving snowman, Olaf.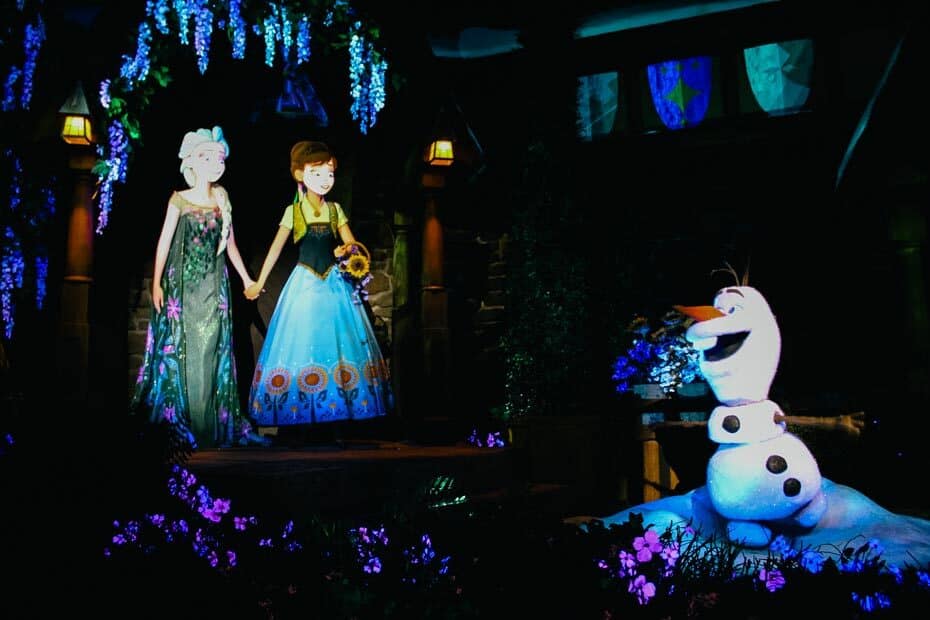 Frozen Ever After is a mild attraction with a surprise drop toward the end. However, the ride does not have a height requirement.
Expect long waits for this attraction if you elect to ride via the standby queue. Even during the extended park hours benefit for select resort guests, Frozen Ever After tends to have a relatively long line.
Related: Frozen Ever After Attraction at Epcot
Meet Anna and Elsa At Disney World
Anna and Elsa meet guests daily in their darling summer home, the Royal Sommerhus. This character meet is also located in the Norway Pavilion, near Frozen Ever After.
Royal Sommerhus is the most charming tiny country home with grass and wildflowers growing on the rooftop. Inside, you'll find casual decor and some items reflective of Anna and Elsa.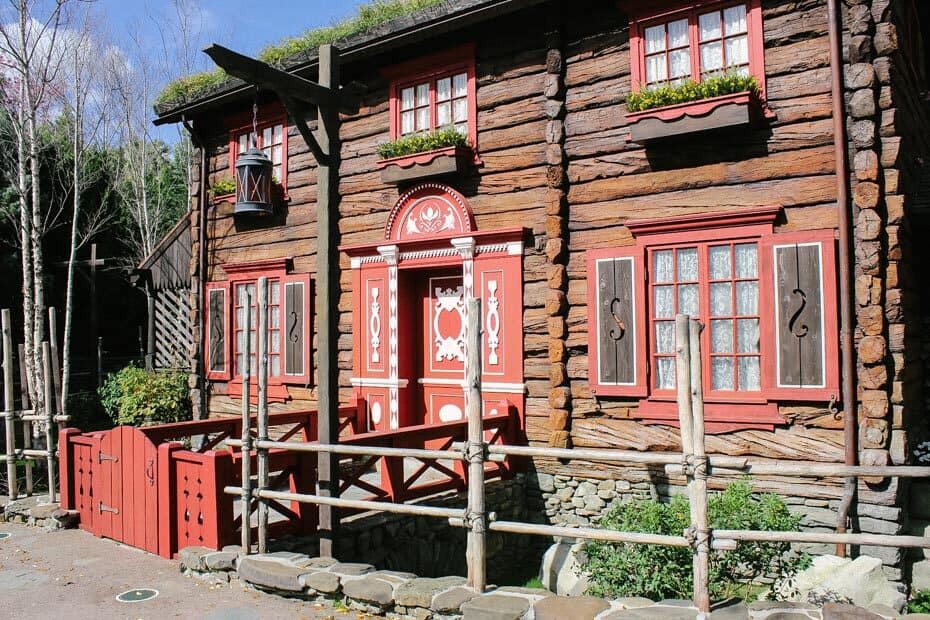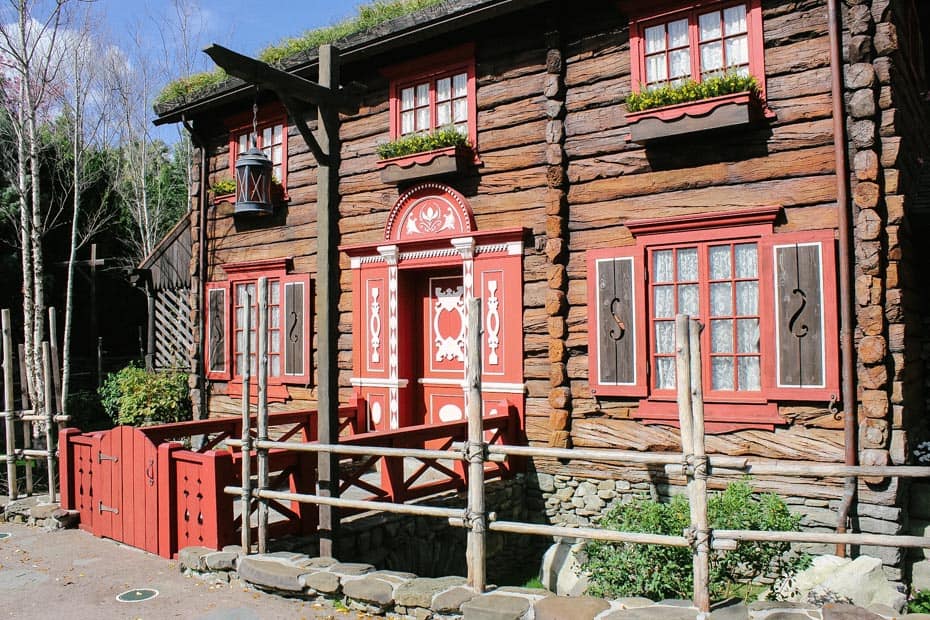 Since Anna and Elsa are among the more popular meet-and-greets, expect long wait times. This meet-and-greet is usually available from around 9:15 a.m. until 6:30 p.m.
You'll want to check the My Disney Experience app on the day of your visit for their exact times. I have found that it's easier to meet the sisters first thing in the morning or after 5:00 p.m.
Here is a look inside their character meet.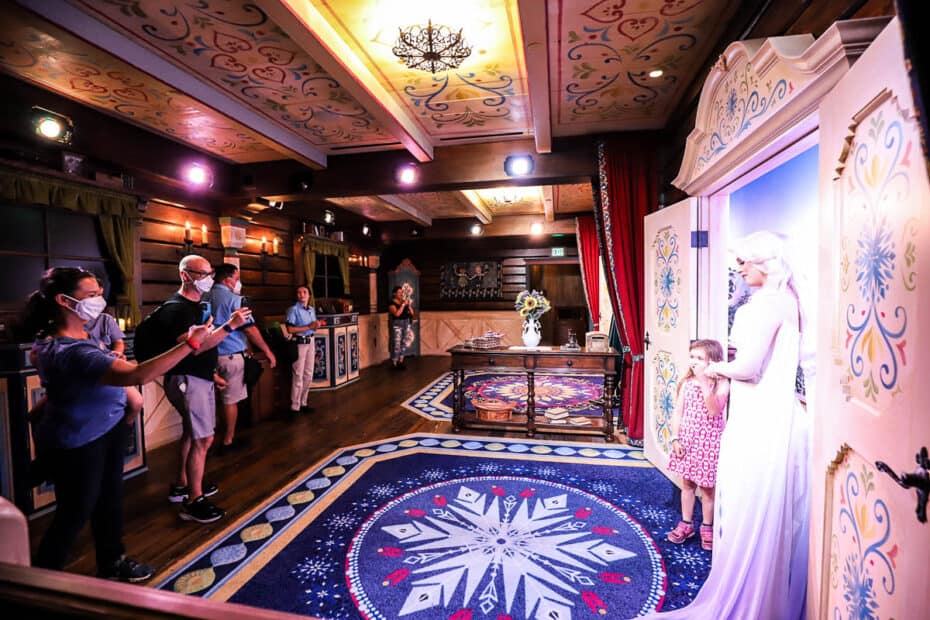 Anna, the queen of Arendelle, anxiously awaits guests.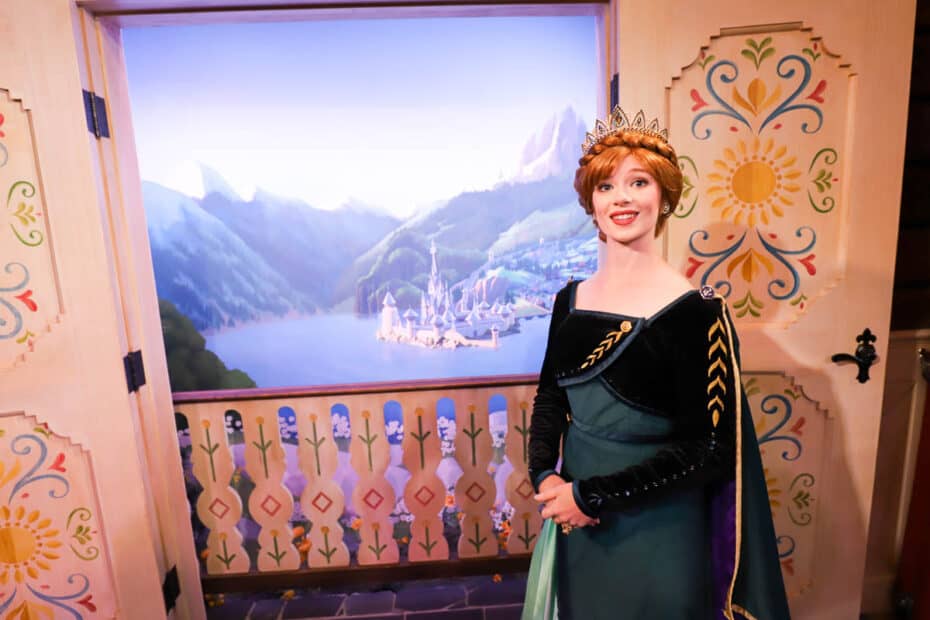 And here we have Elsa, the former queen of Arendelle.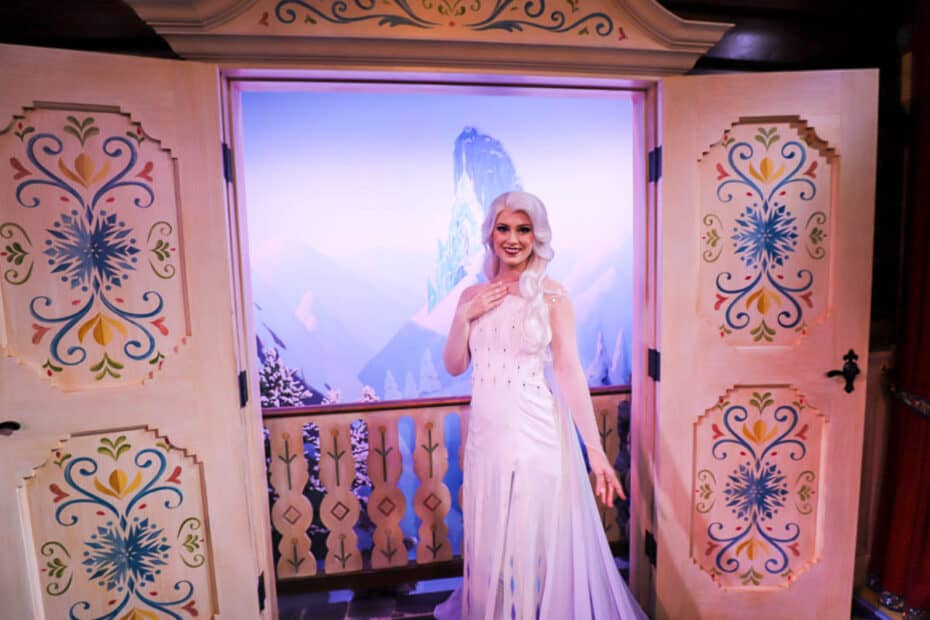 There are a few things you might want to know about this meet:
Both characters sign autographs.
Unfortunately, as of this last update, a photo box has taken the place of PhotoPass photographers at this location.
If you are having trouble starting a conversation, both sisters enjoy discussing the weather, Olaf and Sven. Anna especially enjoys talking about Kristoff, too.
Related: Meet Anna and Elsa at Epcot
The Wandering Reindeer will probably be your best bet if you're looking for Frozen-specific merchandise. This store is dedicated to mostly all things Frozen and is adjacent to the character meet.
For the First Time in Forever: A Frozen Sing-Along Celebration
If you didn't get your fill of Frozen over at Epcot, don't worry. There's plenty more to do at Hollywood Studios.
The Frozen Sing-A-Long is one of the most adorable comedy shows at Hollywood Studios! If you haven't seen the show, it is a must-do.
Over at the Hyperion Theater, the Frozen Sing-Along Celebration is offered daily, on the half-hour, from 9:30-6:30 p.m.
Check Disney's site here or the My Disney Experience app for exact times on the day of your visit. This performance is an excellent opportunity to see Anna, Elsa, Kristoff, and a few historians from Arendelle.
Below is a look at the theater before the show gets started. Smaller children might like to sit closer to the stage, but there's really not a bad seat in the place.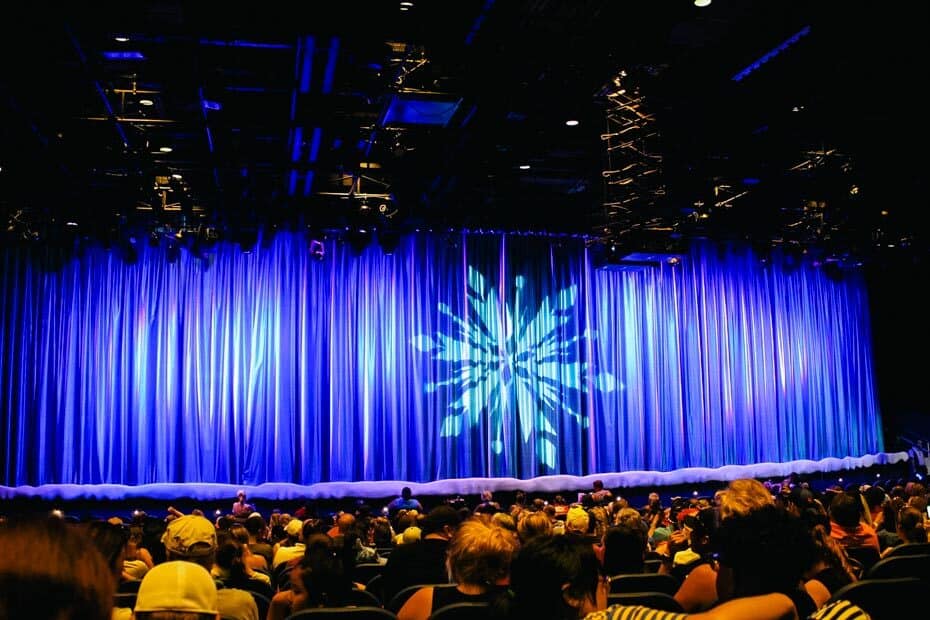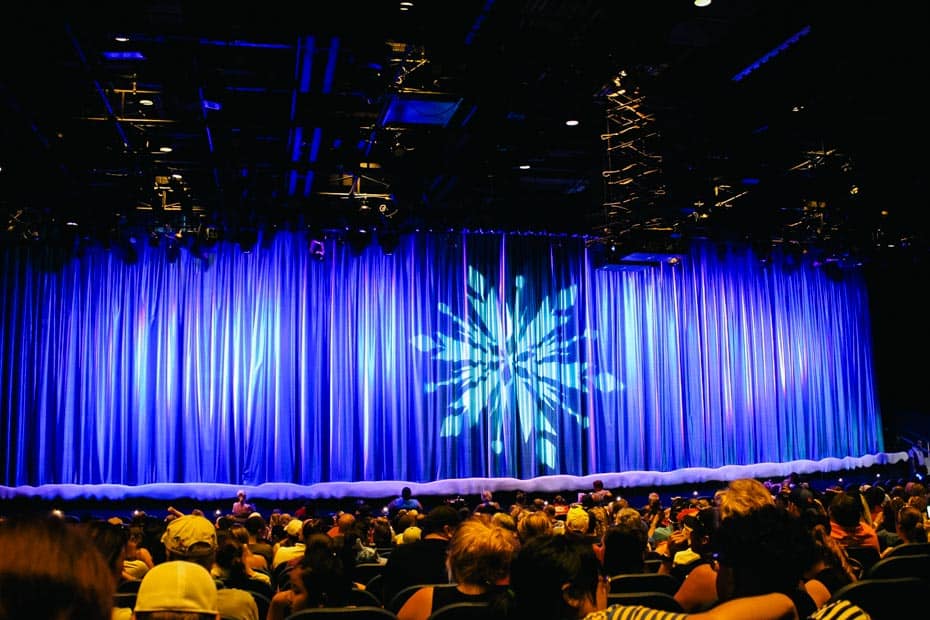 When the curtain opens, Anna comes out along with the historians of Arendelle. As usual, she is looking for Elsa and wants to know if anyone has seen her.
The historians tell how Anna and Elsa grew up together and how Elsa's special powers were hidden.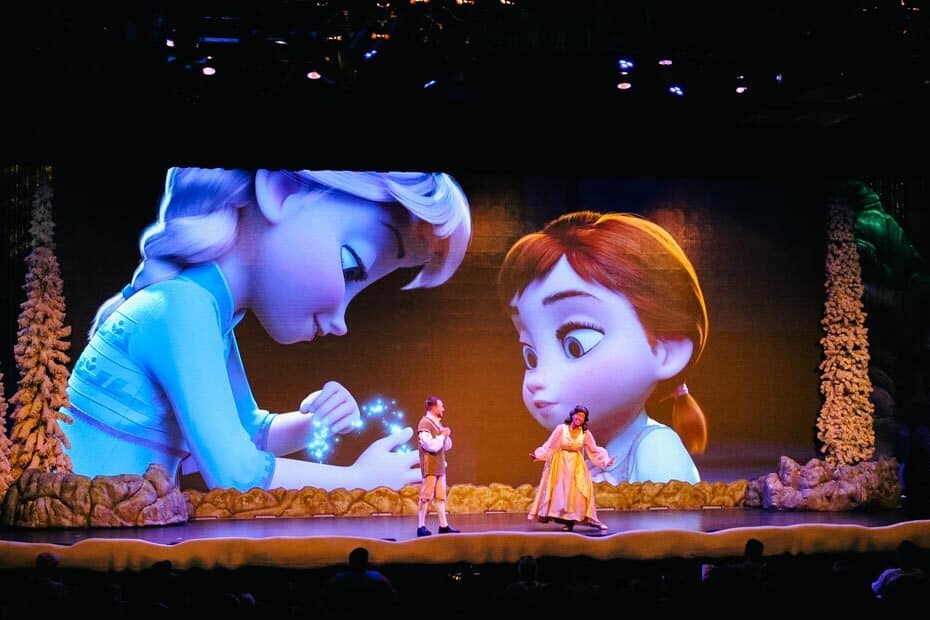 Surprisingly, the historians are hilarious and really make the show. They are constantly getting off track (I can relate) and then have to reign it back.
I feel like their humor keeps the adults interested and involved. This is one of those shows where you might think you don't want to spend much time here. But by the end, you'll be surprised at how much you enjoyed it.
Since this is a "sing-a-long" celebration, the audience is invited to sing along during specific moments. Below is an example of how the lyrics appear on the screen during the show.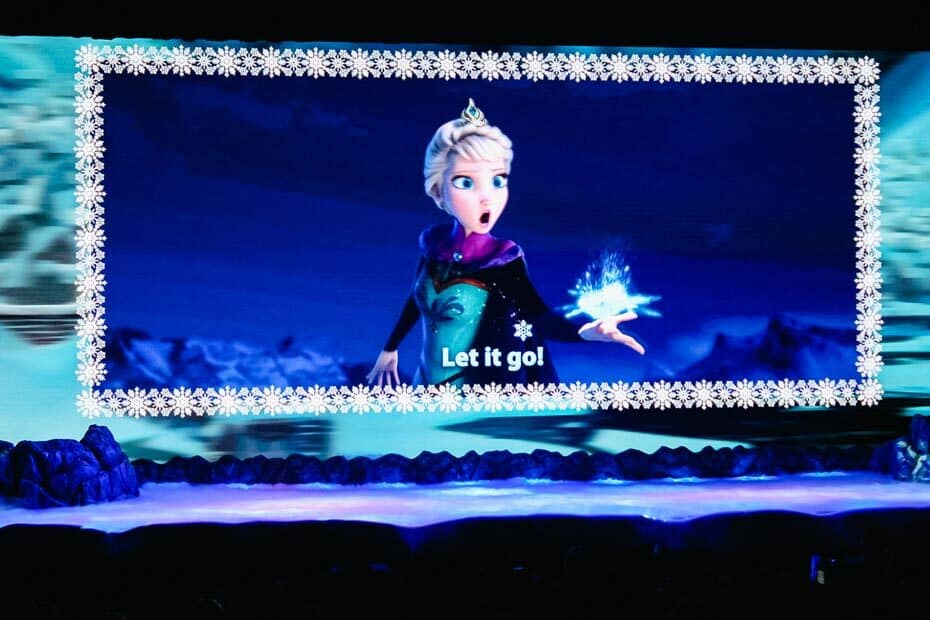 The audience seems to get into this whole "Let it go" number. If I were to guess, I think they probably don't need the words on the screen for it. Most middle-aged dads and grandparents know the words by heart.
Even Olaf makes an appearance.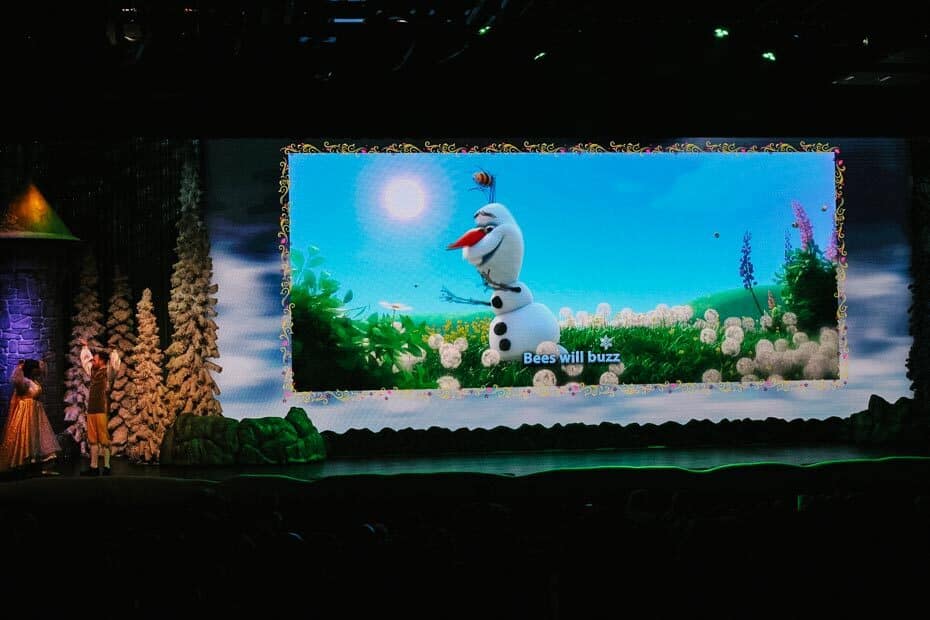 During the show, Kristoff shows up, and wouldn't you know it? He's looking for both Anna and Elsa! Those two are always up to something!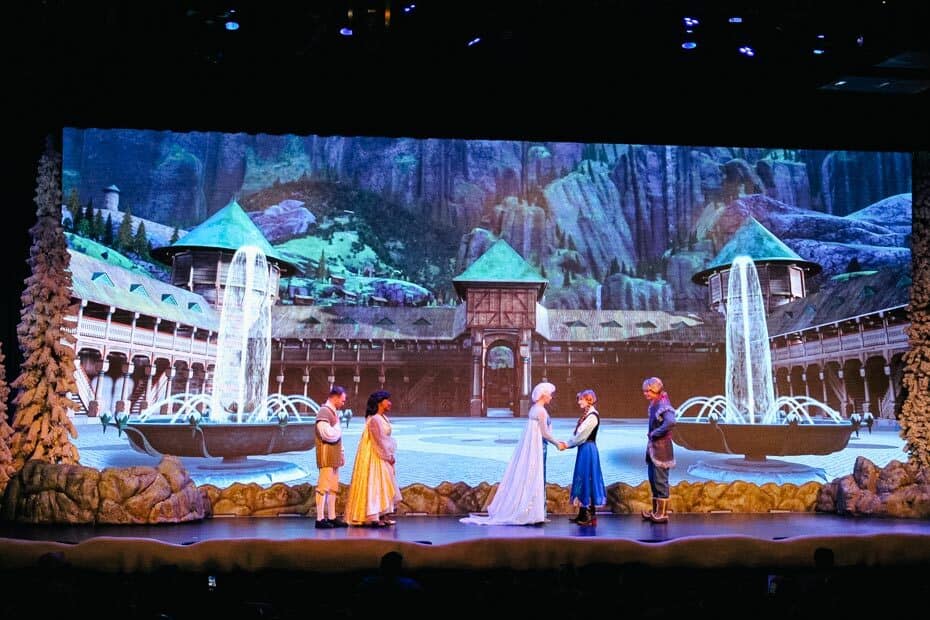 Before long, Elsa makes a grand entrance and addresses the crowd. She is so fancy and creates quite a snowstorm. Next thing you know, you will find yourself in for a surprise!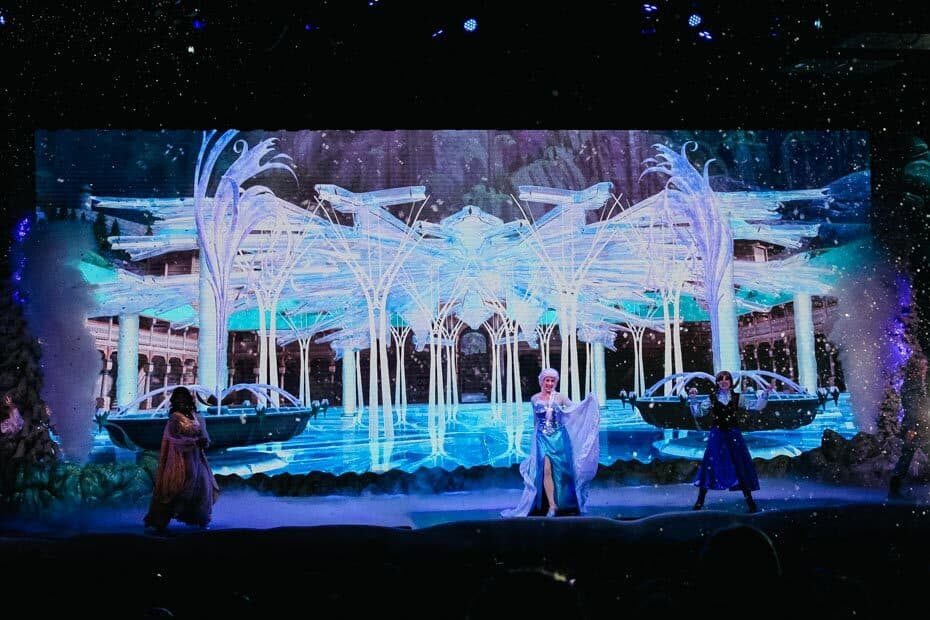 Sorry if I told you it wouldn't be a surprise.
Things to know about the Frozen Sing-A-Long:
Frozen Sing-A-Long offers a Lightning Lane via the Disney Genie+ service. However, in most instances, it's not needed.
This performance averages 30 minutes long. So try to see it in the hottest part of the day and bring a snack. (Disney prefers drinks with lids for this one!)
The Hyperion Theater is a great place to take a break for a child needing a possible nap.
Related: Frozen Sing-A-Long Celebration
Olaf Meet and Greet
Olaf's character meet is located near the exit of the Hyperion Theater. Outside, the sign says Celebrity Spotlight, as shown below.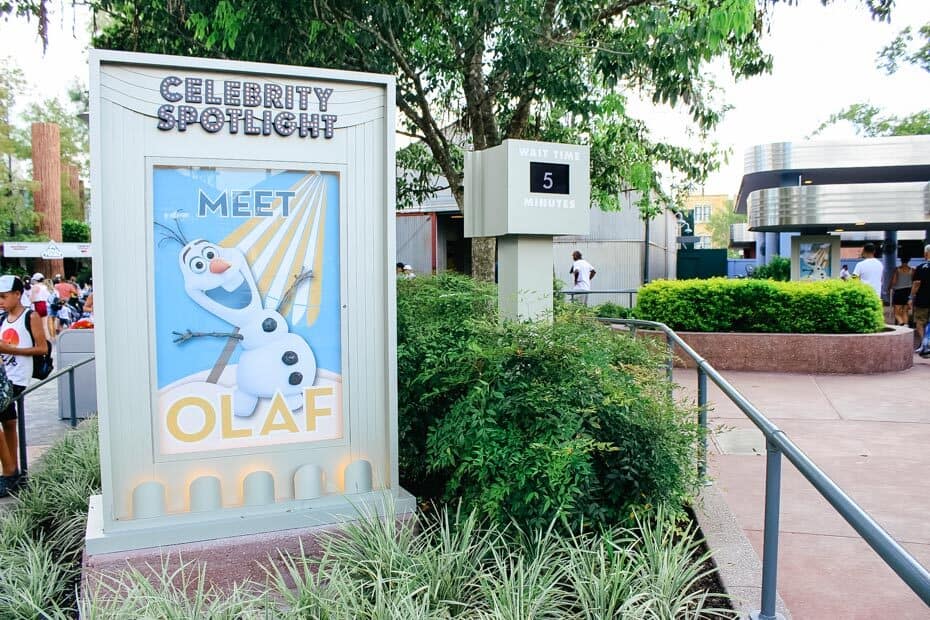 When you exit the Frozen Sing-a-long, it will likely be a good time to get in line to meet Olaf. His wait times usually average approximately 15 minutes.
We usually try to do this meet-and-greet when we exit the Frozen Sing-A-Long. It's convenient, and you're in the mood to meet Olaf after the show.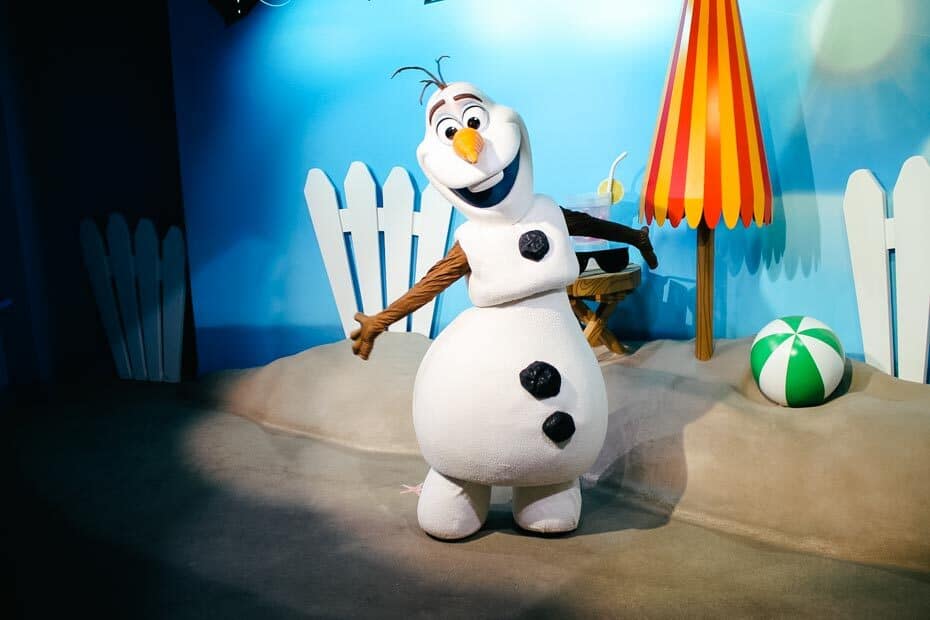 Things you might want to know about the Olaf Meet and Greet:
Does Olaf sign autographs? Unfortunately not, but he usually offers a card.
Olaf doesn't talk, so there is no need to worry about conversation starters.
There is a PhotoPass photographer here at this meet.
Related: Meet Olaf at Disney World
Everything Frozen at Magic Kingdom
Both of the Frozen sisters are usually available daily at Magic Kingdom. Unfortunately, they don't have a formal meet-and-greet at the park. However, there is a good opportunity to see them up close.
First, you might see Anna and Elsa daily during the Festival of Fantasy Parade at Magic Kingdom. They are on the back of the first float that comes out.
Related: Festival of Fantasy Parade at Magic Kingdom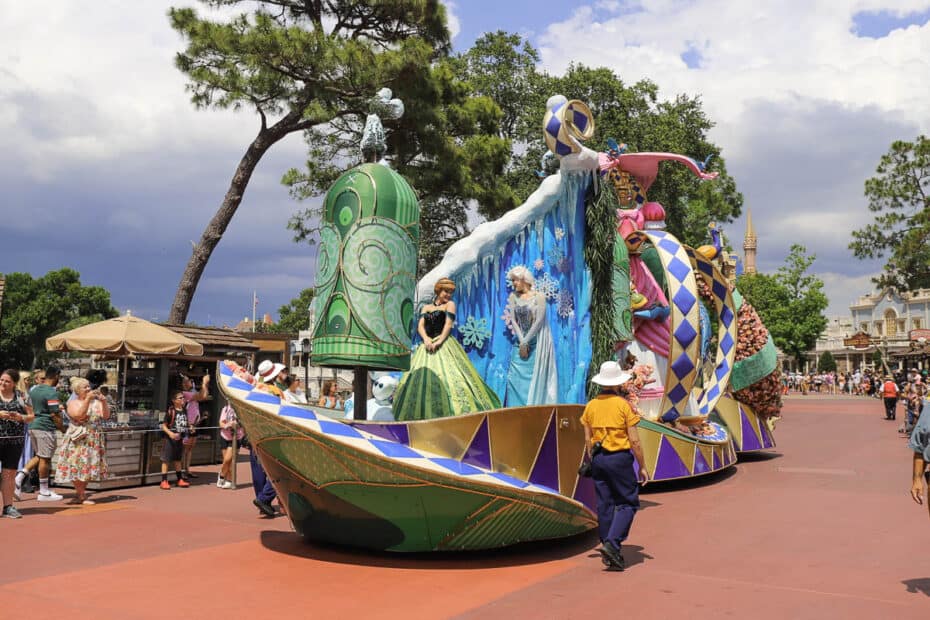 Anna and Elsa also appear in Mickey's Magical Friendship Faire. The performance is held multiple times per day on the castle stage, and it's an excellent opportunity to see the sisters.
Related: Mickey's Magical Friendship Faire at Magic Kingdom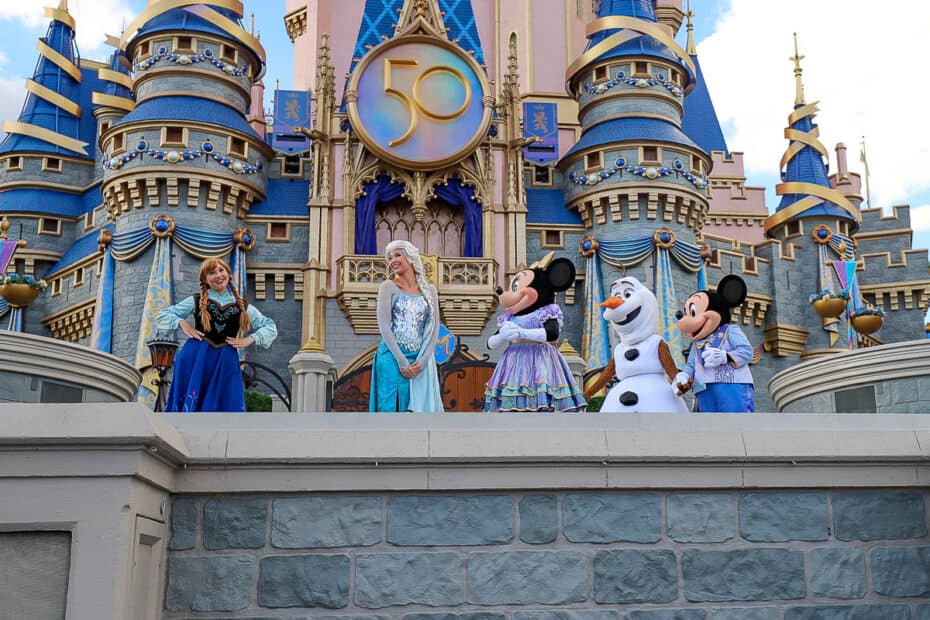 In the past, Elsa has taken center stage at Magic Kingdom over the holidays. If you are at Magic Kingdom during the Christmas season, make sure to check out the nightly castle lighting show.
Elsa comes out and creates a Frozen fury as she lights up the beautiful Cinderella Castle.
2022 Update: Unfortunately, this performance will not be available this year due to the 50th-anniversary celebration.
Frozen Extra-Ticketed Events at Disney World
From time to time, there are a few special offerings celebrating Frozen at Walt Disney World. In the past, we saw the Frozen Dessert Party at Epcot.
Frozen Dessert Party
Location: Epcot
Cost: $79 for ages ten and up/$47 kids 3-9 (Must have a valid theme park ticket for the day)
Includes Dessert Party, Special Fireworks Viewing, and a special escort to ride Frozen Ever After at the end of the evening.
2022–Unfortunately, this dessert party appears to have concluded.
Anna and Elsa at Mickey's Very Merry Christmas Party
Anna and Elsa are featured in the parade during Mickey's Very Merry Christmas Party.
Bibbidi Bobbodi Boutique
Bibbidi Bobbodi Boutique at Magic Kingdom offers Anna and Elsa princess makeover selections. This experience allows for a hairstyle, dress, photos, and more!
More information about the boutique is available here on Disney's site.
Final Thoughts on Frozen at Walt Disney World
Hopefully, this article has helped you locate a few Frozen things to take part in during your trip to Walt Disney World. Anna and Elsa are tons of fun, and it's always nice to see them in the parks.
For more planning information, you may enjoy the following popular articles:
In the Comments
Do you hope to do a few of these Frozen things on your next visit to Walt Disney World? If so, which ones?