Everything Frozen at Disney World
Are you looking to see everything Frozen at Walt Disney World? You probably know that Disney's Frozen is one of the most popular movies this decade. When the movie came out, it was like an unusual Frozen phenomenon, or frenzy might be a better term. Years later, the franchise is still popular and has been followed by a second movie, Frozen 2.
More than likely, anyone traveling with children to Walt Disney World knows their kids will want to meet Frozen characters. Better yet, ride their ride, see Olaf, and pick out a few of their own Frozen souvenirs on vacation.
With those things in mind, I felt like it would be a good time to put together a list of everything Frozen at Disney World. This review will cover the items available in the Disney parks. These items are based on my research and experiences in the parks.
2021 Update–Favorite character meets at Walt Disney World might not be available on your visit. Additionally, at the time of this update, FastPass has not returned. Keep these things in mind when planning your vacation. You can read my updates for characters on the Disney World Character List.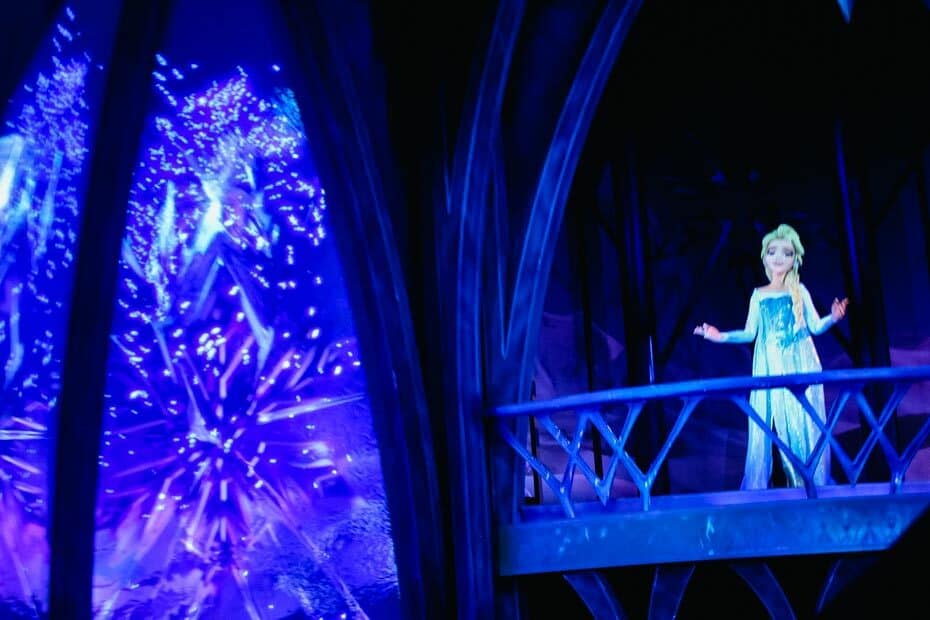 Frozen at Disney World
For starters, two major attractions are representing Frozen at Epcot. They are both located in the Norway Pavilion of the World Showcase. The World Showcase doesn't open until 11 a.m. daily. However, you can walk through the Mexico side to Norway before the World Showcase opening to access a few Frozen things.
The first attraction is Frozen Ever After. This boat ride was formerly Maelstrom, but Disney refurbished the ride completely to add a Frozen attraction to the pavilion.
Expect to see Anna, Elsa, and everyone's favorite summer-loving snowman–Olaf!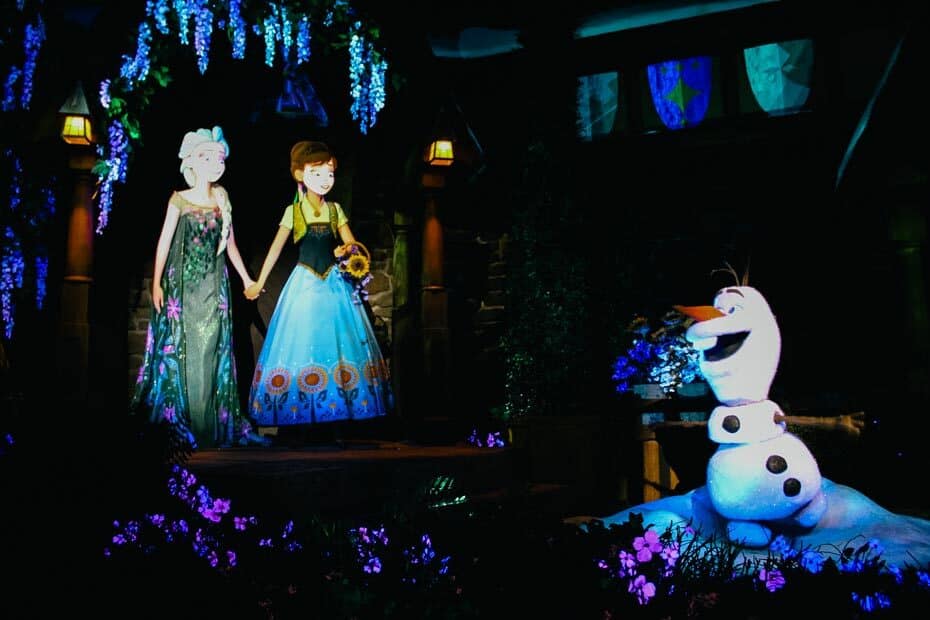 Frozen Ever After does offer FastPass+ and it's important to secure one if you want to experience this attraction without a long wait.
(Click the above link for updates)
The two Frozen sisters meet in their darling little summer home, the Royal Sommerhus, located in the Norway Pavilion. Their summer place is the most precious little country home with grass and wildflowers growing on the rooftop.
Sometimes when I'm in Norway (Epcot Norway, that is), I find myself wondering if you have to mow the roof on a grass-covered summer house? If you, by any chance, have the answer, please, let me know in the comments.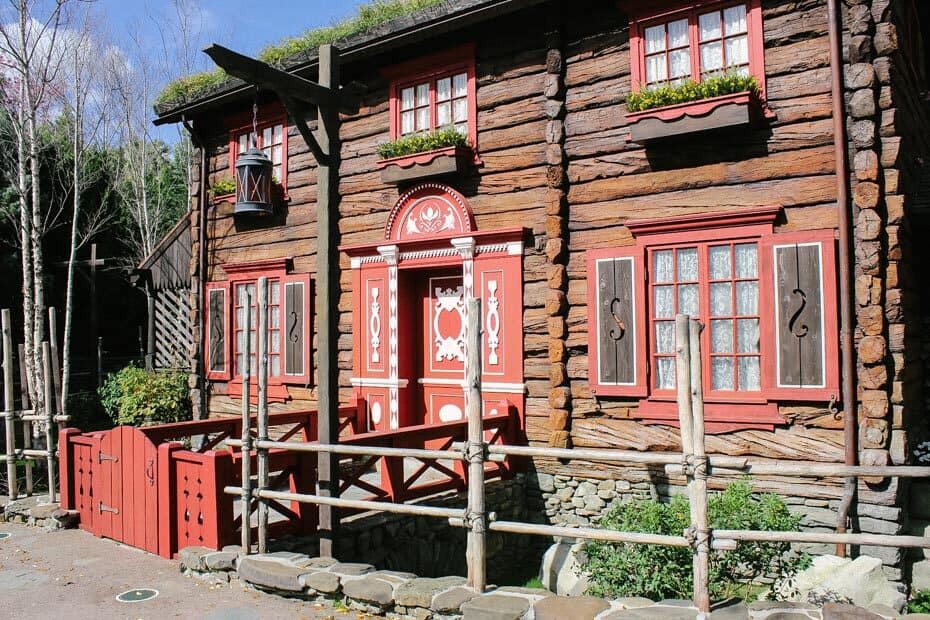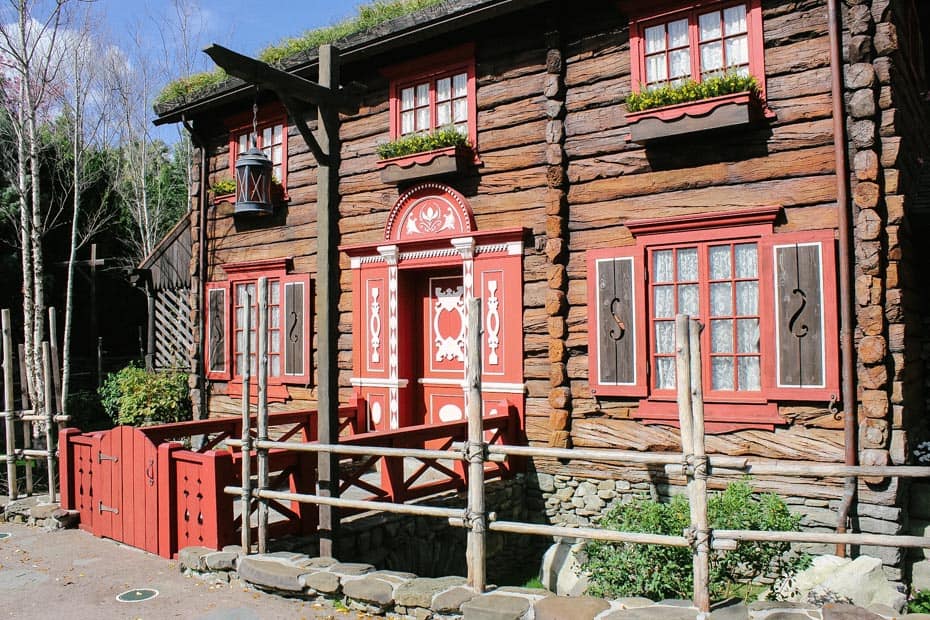 Anyway, this is a great meet. If it is a priority, I will try to get this one knocked out earlier in the day along with Frozen Ever After. With that being said, wait times around 5:00-7:00 p.m. are often fairly reasonable.
There is no FastPass+ for this meet, so make sure to take that into account. Also, check the My Disney Experience app on the day of your visit for exact times and fit the meet accordingly.
First up is Anna, Arendelle's most royal and kind queen.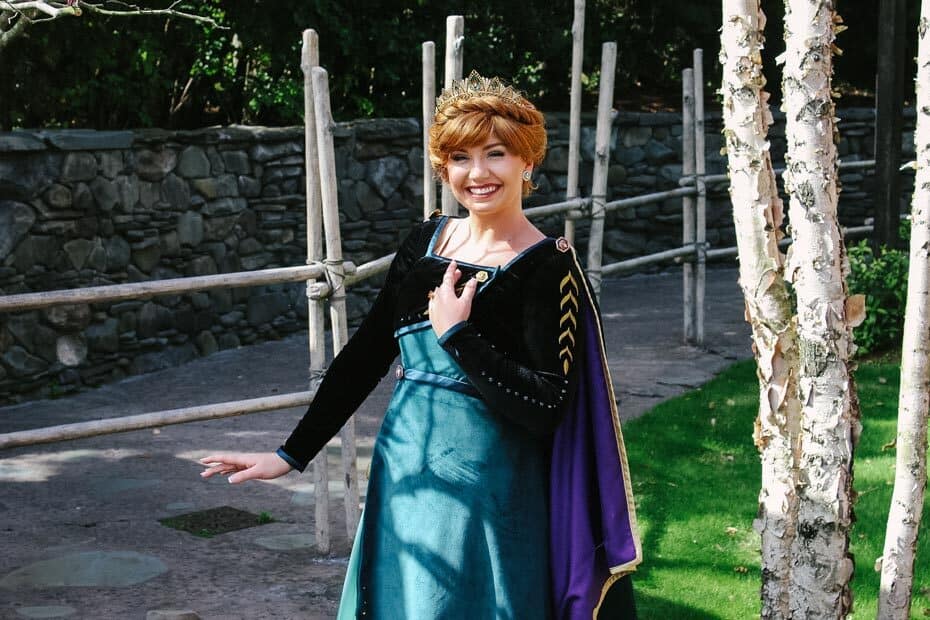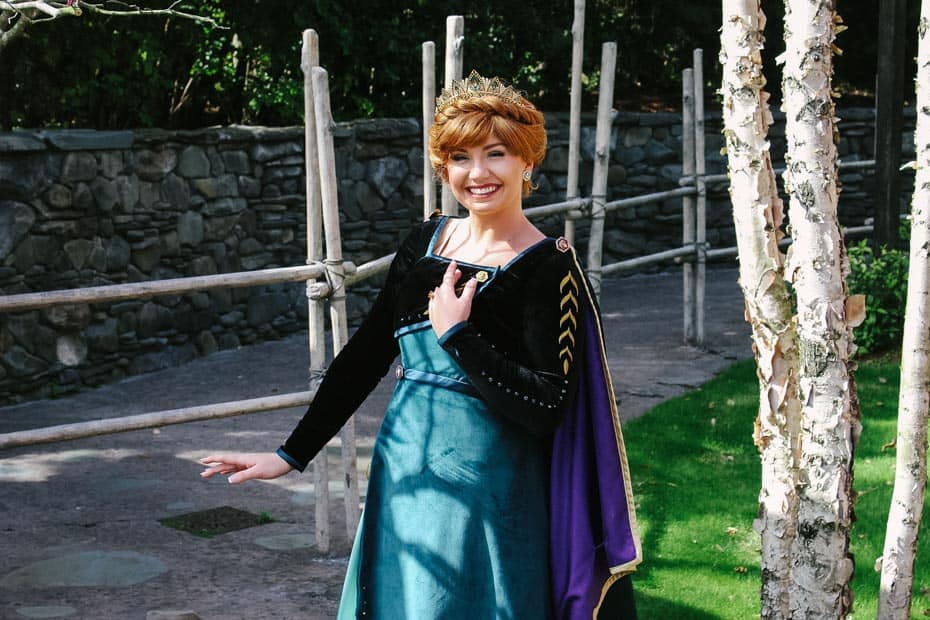 Just on the other side is her sister, Elsa.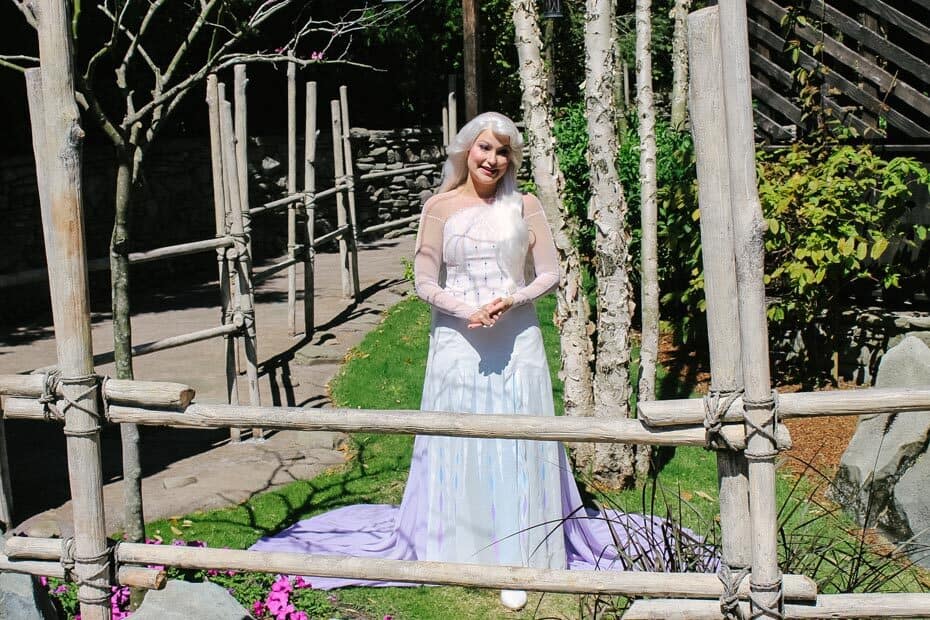 Things you might want to know about this meet:
They are both signing characters.
There is a PhotoPass photographer present.
Anna and Elsa both like to talk about the weather, Olaf and Sven if you are having trouble starting a conversation.
Looking for Frozen-specific merchandise on your vacation? The Wandering Reindeer is probably going to be your best bet. This store is dedicated to mostly all things Frozen. If you are doing the character meet, this is where you will end up after exiting the Royal Sommerhus.
If you didn't get your fill of Frozen over at Epcot, don't worry. There's plenty more to do at Hollywood Studios. In fact, the Frozen Sing-A-Long is one of the most adorable comedy shows at Hollywood Studios! If you haven't seen the show, it is a must-do.
Over at the Hyperion Theater, the Frozen Sing-Along Celebration shows daily on the half-hour from around 10:30-7:30 p.m. Check the My Disney Experience app for times on the day of your visit. This performance is a great opportunity to see Anna, Elsa, Kristoff, and a few historians from Arendelle.
Below is a look at the theater before the show gets started. I would think that smaller children might like to sit closer to the stage, but there's really not a bad seat in the place.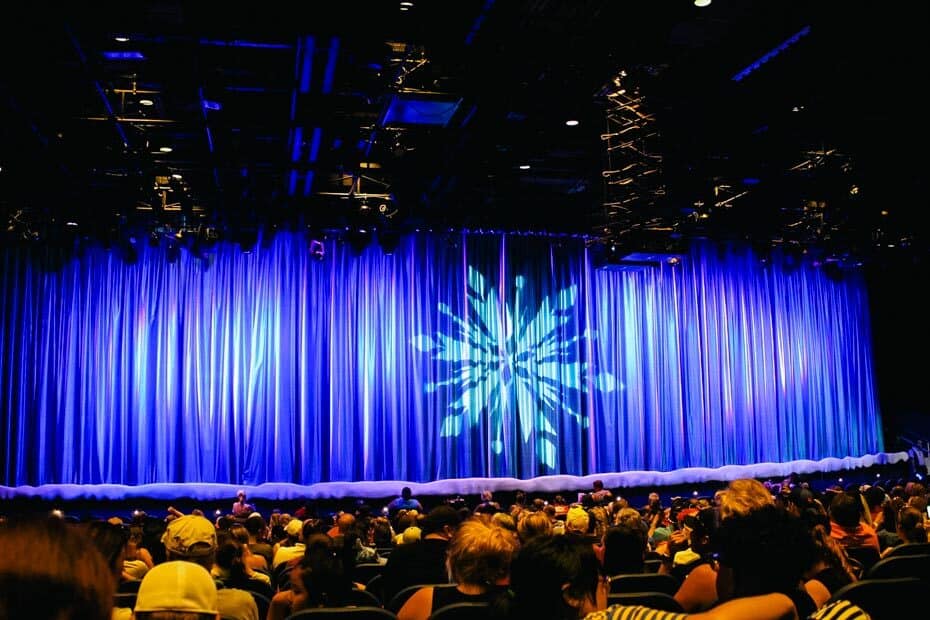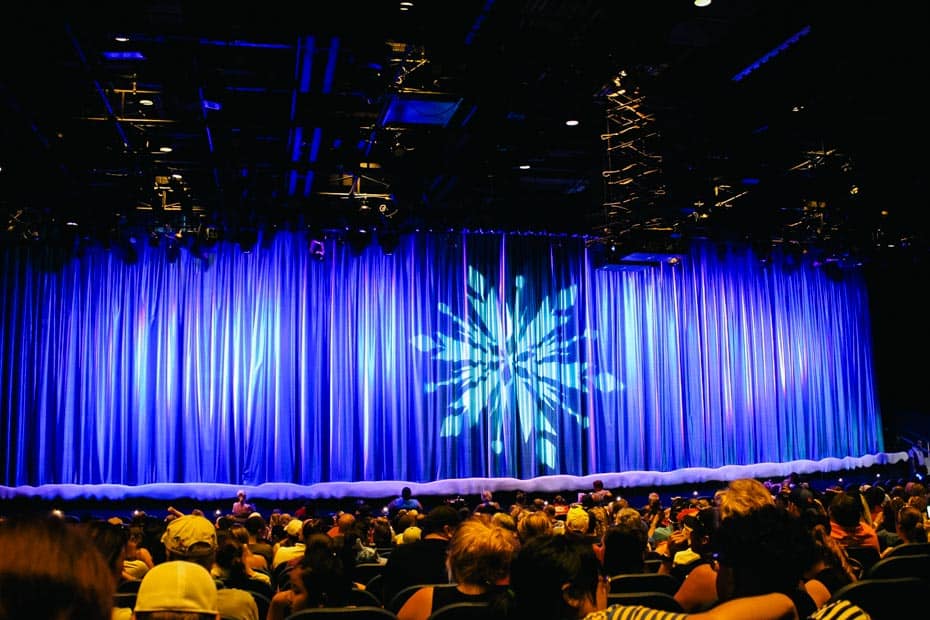 The curtain opens, and Anna comes out along with the historians of Arendelle. She is looking for Elsa as usual and wants to know if anyone has seen her.
The historians tell how Anna and Elsa grew up together and how Elsa's special powers were hidden.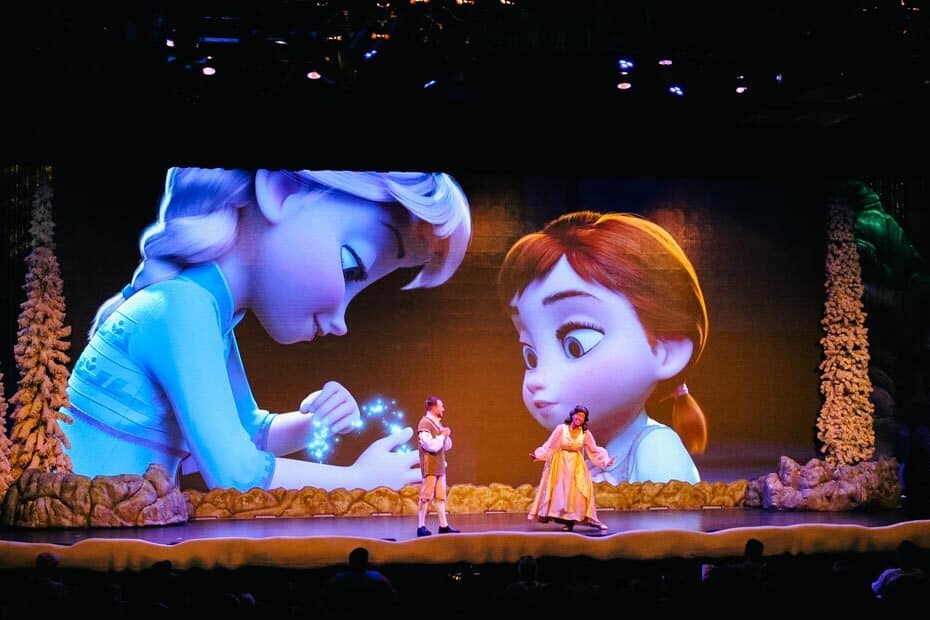 The historians are hilarious and really make the show. They are constantly getting off track (I can relate) and then have to reign it back. I feel like their humor really keeps the adults interested and involved. This is one of those shows where you might think, eh, I don't really want to spend so much time here, but end up surprised at how much you enjoyed it. You'll probably even recommend it to others.
The show is a Sing-A-Long. Below is an example of how the lyrics come up on the screen during the show. The audience really seems to get into this whole "Let it go" number. If I were to guess, I think they probably don't need the words on the screen for it. Most middle-aged dads and grandparents have this tune down pat.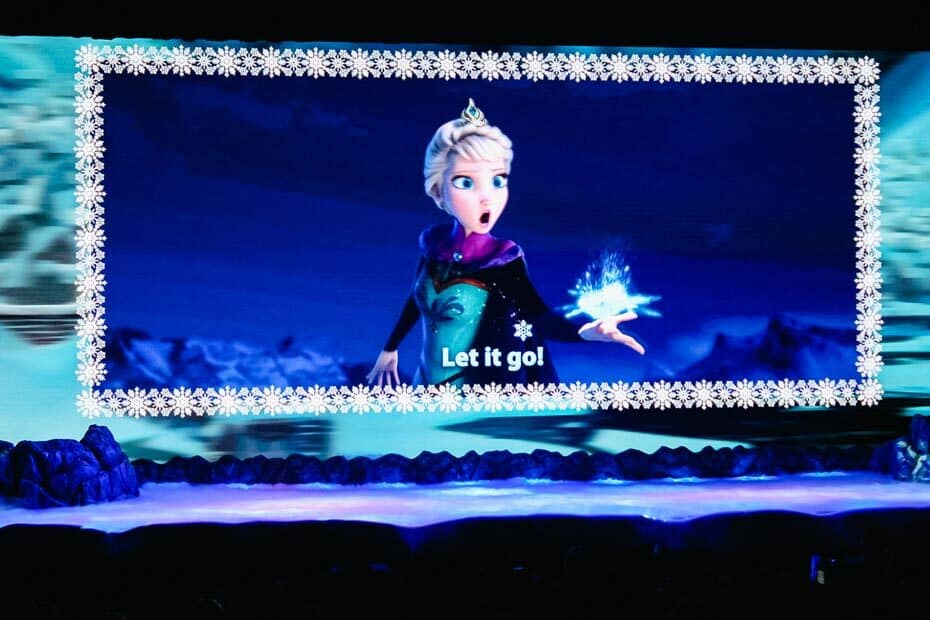 A couple of months ago, I took a personality test (Meyers-Briggs), and it told me I was an INFJ. So I did the Google thing and looked up what Disney character was also an INFJ, and guess who I got? Yep-Elsa. But the thing is, the cold really does bother me. I'm not too fond of it.
Truth be told, though, I do have an Olaf. And I kind of love snowmen. So there's that. And yes, as you can see below, he is in the show with his own song.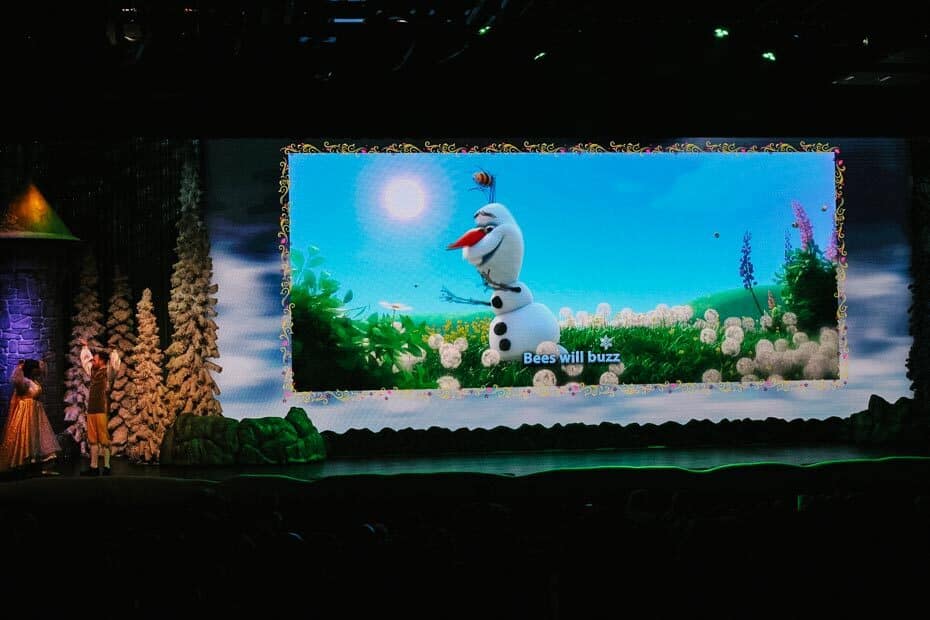 Finally, Kristoff shows up, and wouldn't you know it? He's looking for both Anna and Elsa! Always something with those two!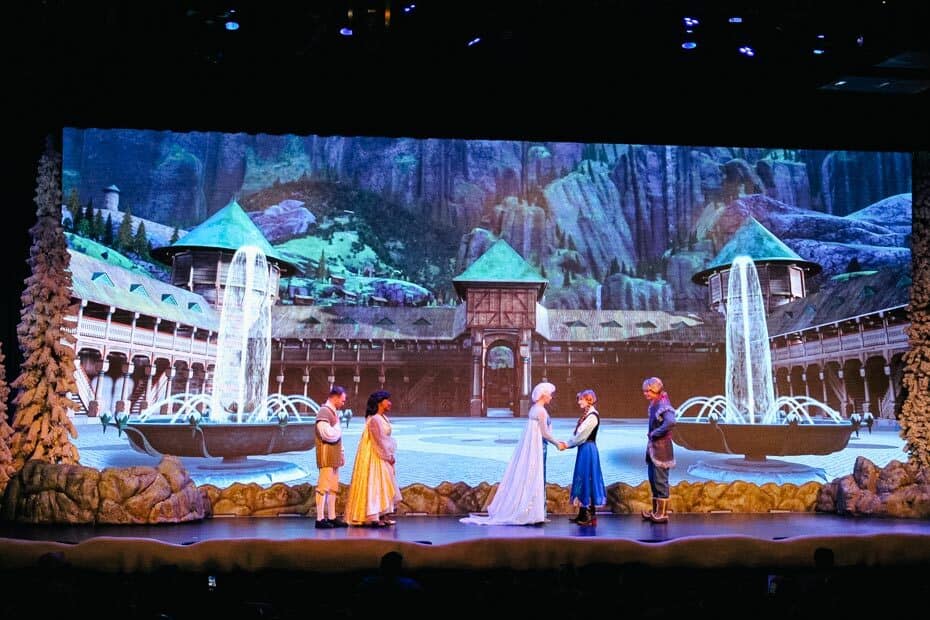 Before long, Elsa makes a grand entrance and addresses the crowd. She is so fancy and creates quite the snowstorm. Next thing you know, you will find yourself in for a surprise!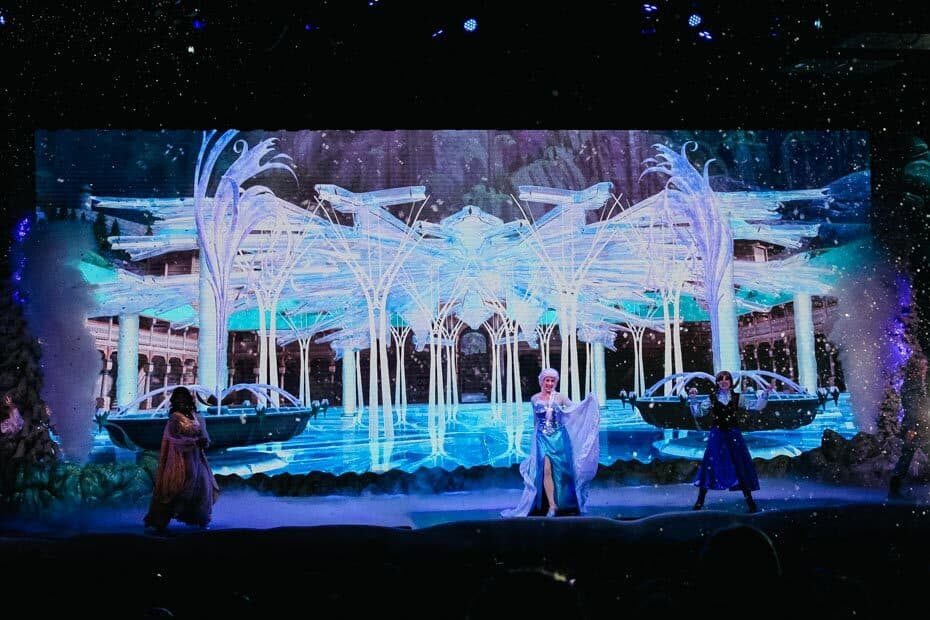 Sorry if I told you it wouldn't be a surprise. For sure, see the show on your Hollywood Studios touring day. It's worth it.
Things to know about the Frozen Sing-A-Long:
There is FastPass+ available. But you don't need it unless you are using it for a 5th or 6th FastPass+.
The show is 30 minutes long so try to see it in the hottest part of the day. (with a snack)
This is a great place to take a break for a child needing a possible nap.
The Olaf character meet is located just off the exit of the Hyperion Theater. Outside, the sign says Celebrity Spotlight, as shown below. When you exit the Frozen Sing-a-long, It will more than likely be a good time to get in line to meet Olaf. His wait times usually run about 15 minutes on average. I've met him a few times, and this most recent visit was a 5 minute wait time, as shown below.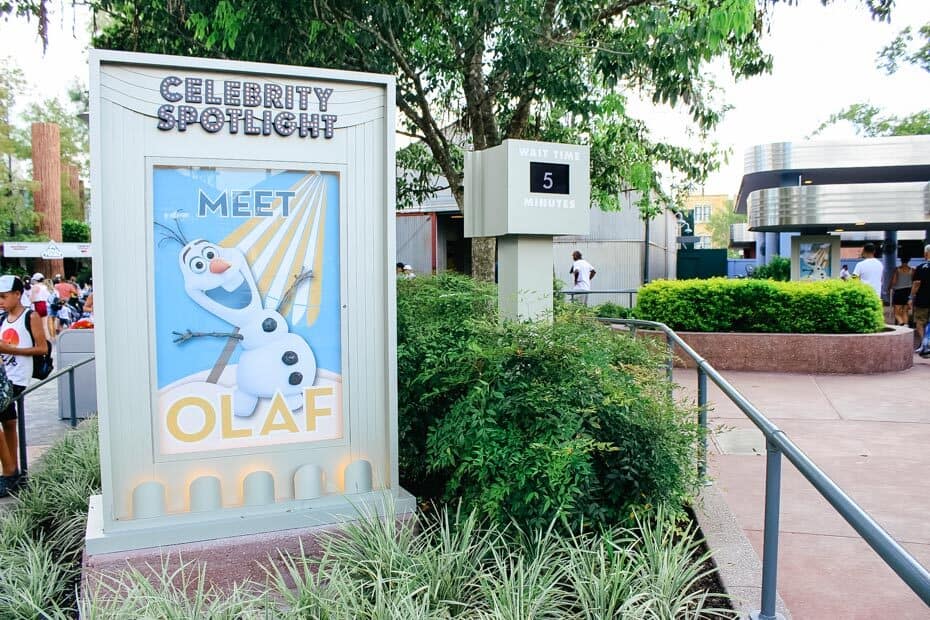 We did this as soon as we exited the Frozen Sing-A-Long, and there ended up being only one family in front of us. That made for a short wait, and we were happy to get a nice, long visit with our favorite snowman, Olaf.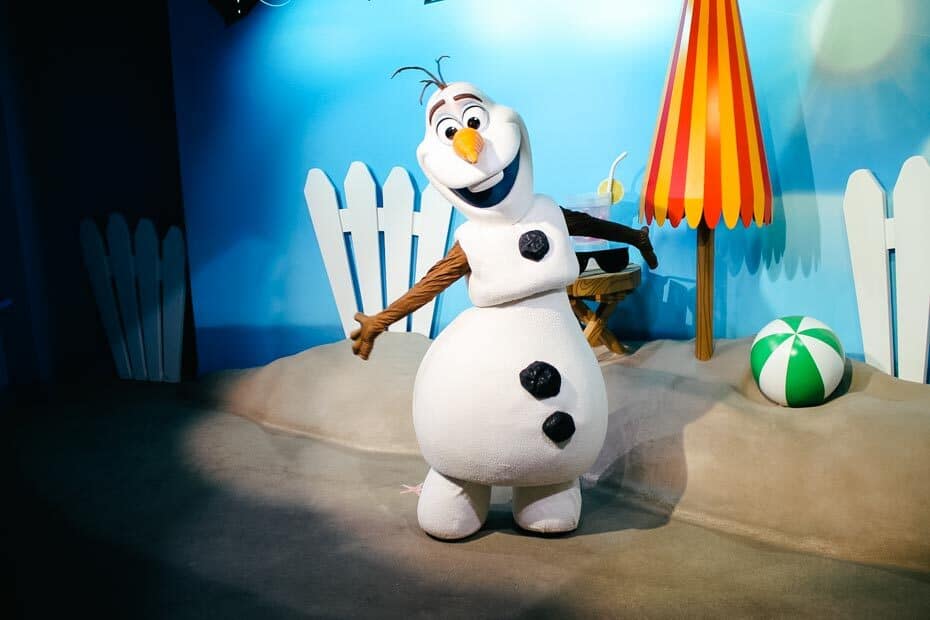 Things you might want to know about the Olaf Meet and Greet:
Does Olaf sign autographs? You might get a snowman drawing out of him if lucky so have your autograph book handy.
Olaf doesn't talk, so no need to worry about conversation starters.
There is a PhotoPass photographer here at this meet.
Everything Frozen at Magic Kingdom
The Frozen sisters can be found daily at Magic Kingdom in two different spots. While they don't have a formal meet here there is still a good opportunity to see them up close.
The first location to see Anna and Elsa is daily during the Festival of Fantasy parade. They are on the back of the first float that comes out. Below is a look at the parade float. This panel where they are standing on turns. They share it with Prince Naveen and Princess Tiana. That way, you have the opportunity to see both sets of characters as the parade passes.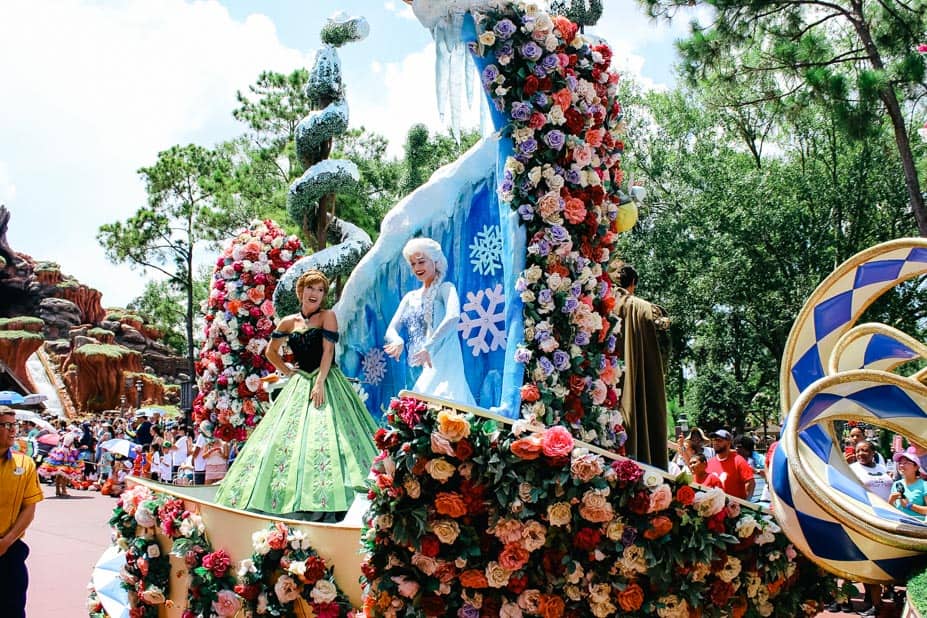 Anna and Elsa also both make an appearance in Mickey's Royal Friendship Faire. The performance is held multiple times per day on the castle stage, and it's a great opportunity to see them.
In the past, Elsa has taken center stage at Magic Kingdom over the holidays. If you are at Magic Kingdom during the Christmas season, make sure to check out the nightly castle lighting show. Elsa comes out and creates a Frozen fury as she lights up the beautiful Cinderella Castle.
Frozen Extra-Ticketed Events at Disney World
A few "special enhancements" type offerings either revolve around Frozen or include a nod in the sister's direction.
Frozen Dessert Party
Location: Epcot
Cost: $79 ages 10 and up/$47 kids 3-9 (Must have valid theme park ticket for the day)
Includes Dessert Party, Special Fireworks Viewing, Special escort to ride Frozen Ever After at end of the evening.
Anna & Elsa at Mickey's Very Merry Christmas Party
This ticketed event includes a nighttime parade at Magic Kingdom during the late Fall months up until Christmas. Anna and Elsa are typically pulled in a sleigh by a horse along the parade route. If you are a Frozen fan and have plans to attend the Christmas party, make sure not to miss this special parade.
Bibbidi Bobbodi Boutique
The Bibbidi Bobbodi Boutique at Magic Kingdom also offers Anna and Elsa princess makeover selections. This experience allows for a hairstyle, dress, photos, and more! If you are looking for more details on this option, Sugar, Spice, and Glitter review their personal experience here.
This wraps up our everything Frozen at Disney World coverage! Hopefully, you've learned how to add a little bit of the Frozen magic to your next vacation!