Meet Santa at Mickey's Very Merry Christmas Party
Merry Christmas! You'll be happy to know that a traditional Santa Claus meet has returned to Mickey's Very Merry Christmas Party in 2022.
Below we'll walk through Santa's meet-and-greet and look at a few photos. Before visiting this meet, I'll admit, it wasn't high on my list of priorities.
However, after spending a few moments in the charming queue and seeing Santa in his elegant attire, I was surprised. This meet-and-greet is now highly revered and a top priority on my Christmas list.
Let's look closer.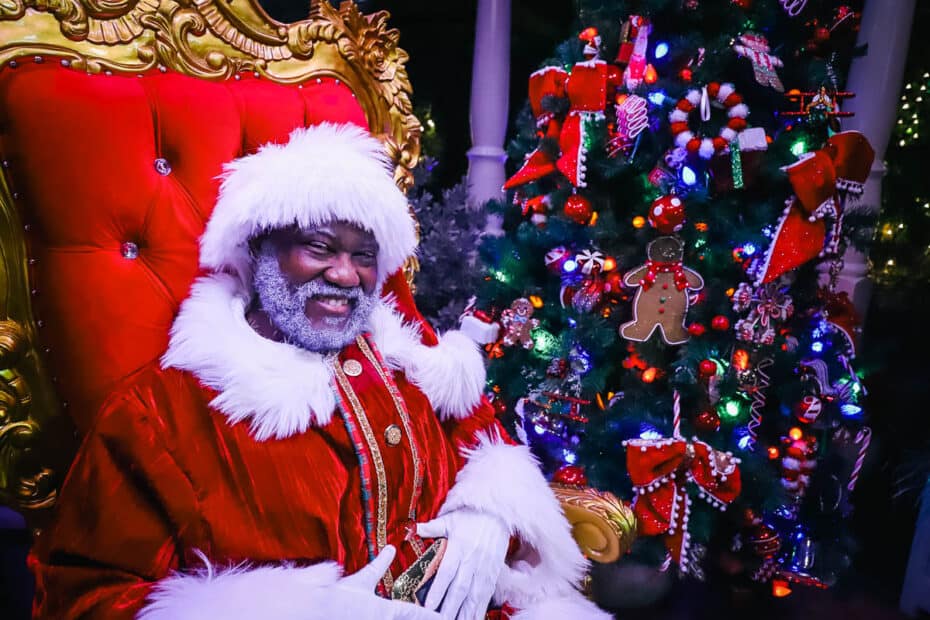 Santa's meet-and-greet is at the Enchanted Glade Gazebo in Liberty Square at Disney's Magic Kingdom. You may remember on my last visit to the Christmas Party, I suggested getting in line to meet a character as soon as the fireworks concluded.
Related: Guide to Meeting Characters at Mickey's Very Merry Christmas Party
So for this visit, I stood on the left side (facing) of the castle with the intention of heading straight to Santa's character meet after the show. Then I went directly toward Liberty Square and cut behind Ye Olde Christmas Shoppe.
Since the gazebo sits behind the Christmas Shoppe, it's a little off the beaten path. So when what to my wondering eyes did appear–but a well-lit path beaming with holiday cheer.
On a serious note, the entire queue for Santa's meet was delightful. It was decked out with twinkling lights and felt kind of dreamy.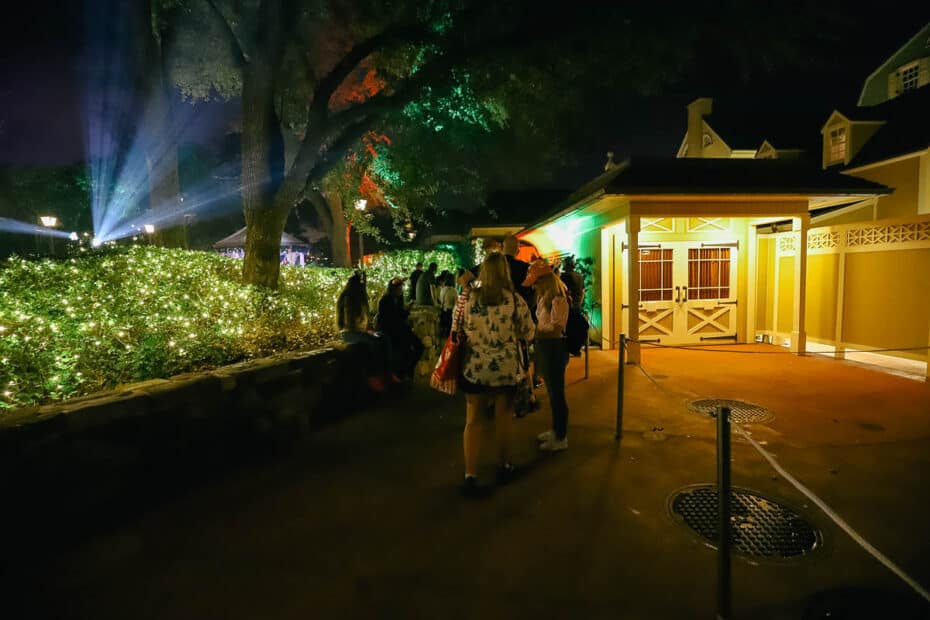 After the fireworks, I got in line for this character meet at 10:17 p.m. and met Santa at 10:34 p.m. A PhotoPass photographer was present at this location.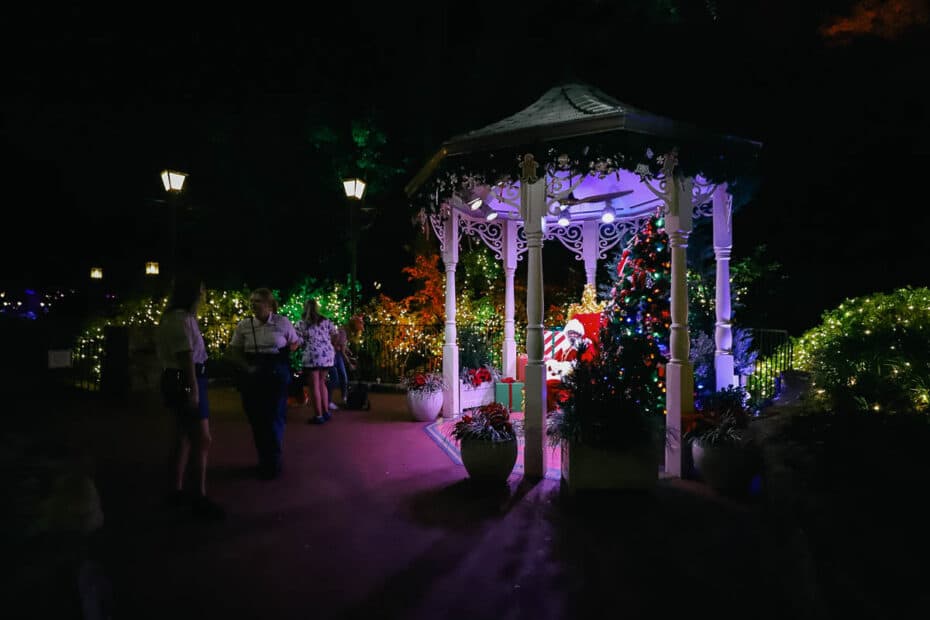 Santa sits at the front of the queue underneath the gazebo. It was stunning, and those SC initials were a nice touch.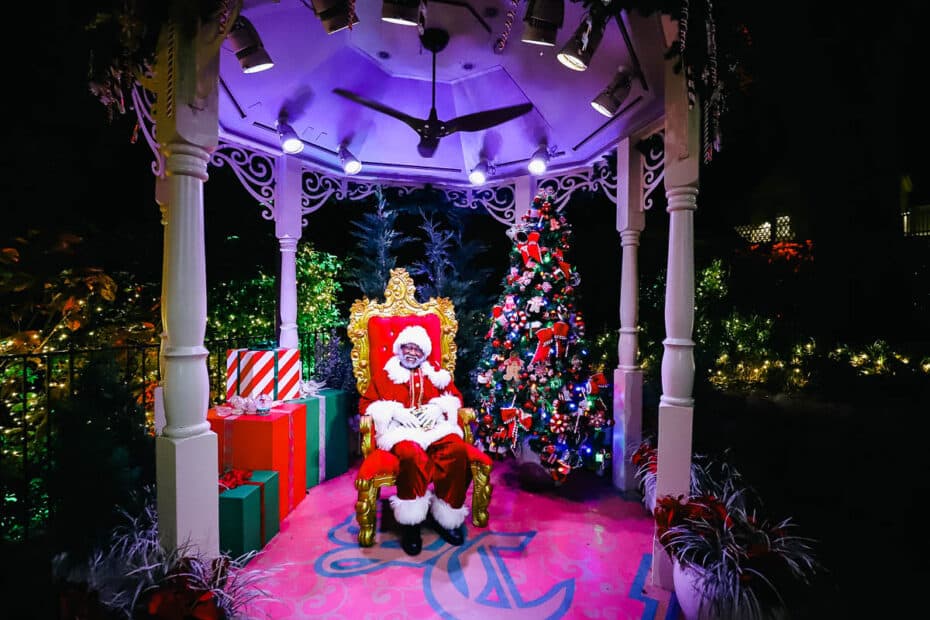 Of course, Santa will ask if you've been bad or good. Then you might go over a few items on your Christmas wish list.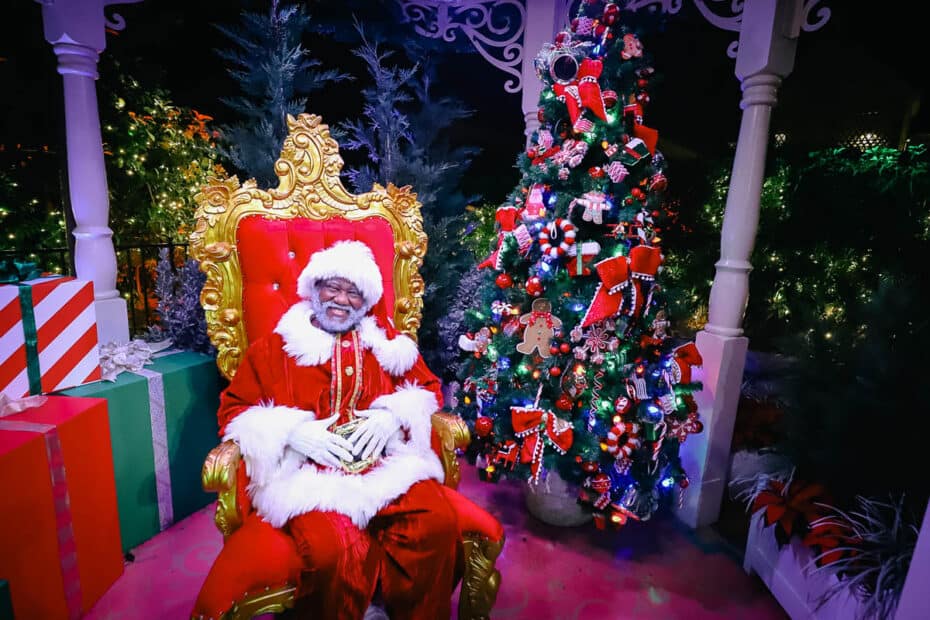 He won't make any promises, but he'll see what he can do.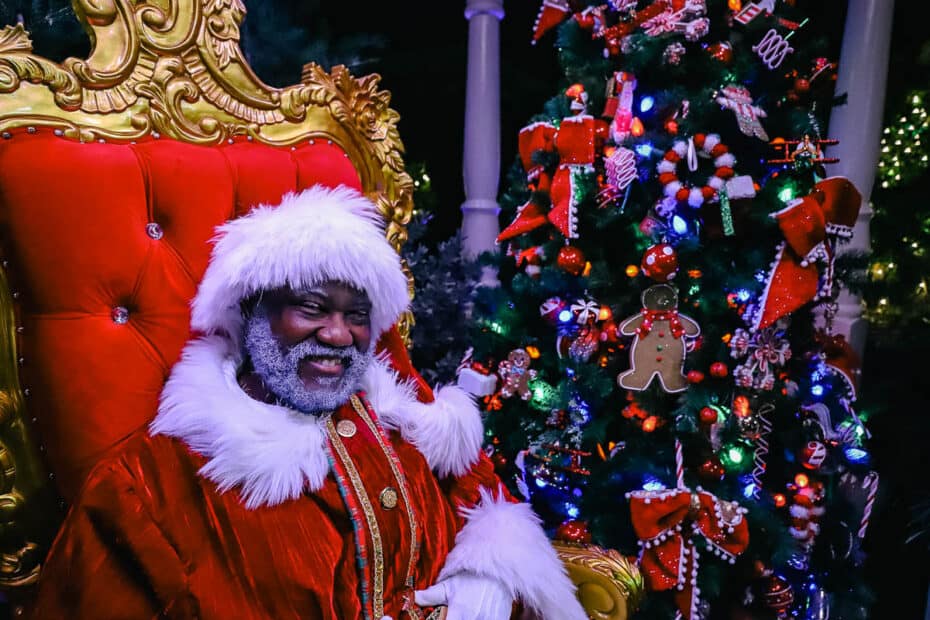 If you don't have the Memory Maker add-on, you can ask the cast member attending the meet if they'll take a few photos with your personal device. From my experience, they'll be more than happy to help.
Meeting Santa Claus at Mickey's Very Merry Christmas Party was a wonderful experience. If you have the time, this will make for an excellent family photo opportunity that doesn't necessarily scream Disney.
We also met a few other fun characters at the Christmas Party:
For other places to meet Santa, we have an entire guide:
Additionally, we recently enjoyed the character breakfast at Cape May Cafe. Most character meals at Walt Disney World have returned in recent months.
Related: Cape May Cafe Breakfast Review
In the Comments
Do you plan to meet Santa during your visit to Mickey's Very Merry Christmas Party?
Planning a Walt Disney World or other Disney Destination vacation?
Our friends and travel partner, Firefly Travels, excels at doing Disney differently. You can fill out a plan your trip form on their website, and someone will reach out shortly to discuss the specifics.