Meet Belle in Her Holiday Dress at Walt Disney World
Belle from Beauty and the Beast is again meeting in her holiday dress at Walt Disney World. I think most will agree. Her Christmas costume is stunning, even more so in person.
This article will look at a few photos of Belle in her Christmas dress. Additionally, I'll share where you can find her during your next visit to Walt Disney World.
At the moment, you will have to secure a ticket to Mickey's Very Merry Christmas Party to meet her. However, she has been known to make appearances at Epcot between Thanksgiving and Christmas.
So we'll revisit Epcot when the Festival of the Holidays approaches to see if we can find her there. In the meantime, let's discuss where you can meet her at Mickey's Very Merry Christmas Party.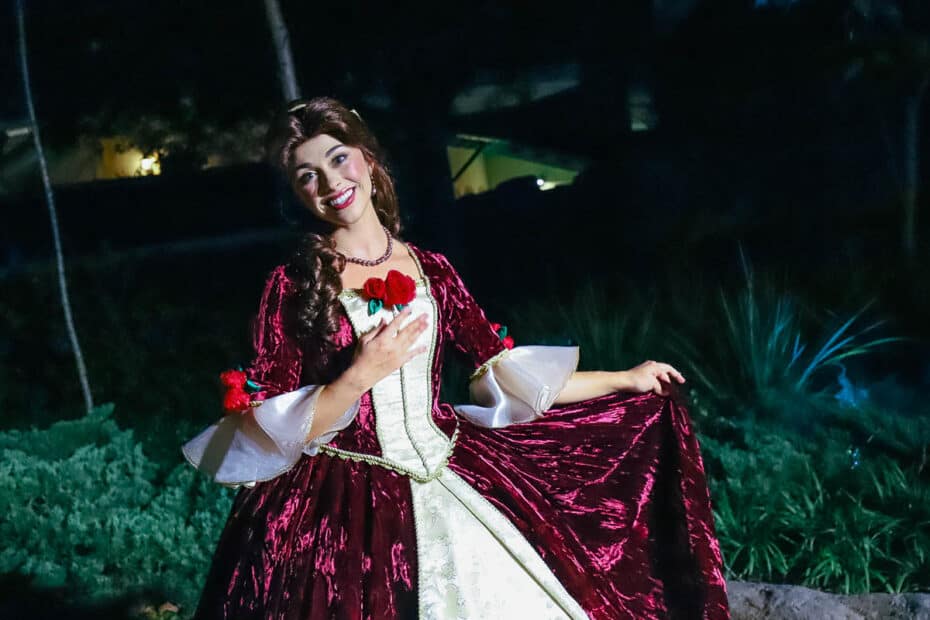 Belle meets outside of Maurice's cottage in New Fantasyland at Magic Kingdom. You'll walk down the pathway to Enchanted Tales with Belle, where the queue for her meet-and-greet forms.
Enchanted Tales with Belle, which has yet to reopen, is located past the carousel. You'll see the sign for it on the immediate left before you get to Be Our Guest restaurant.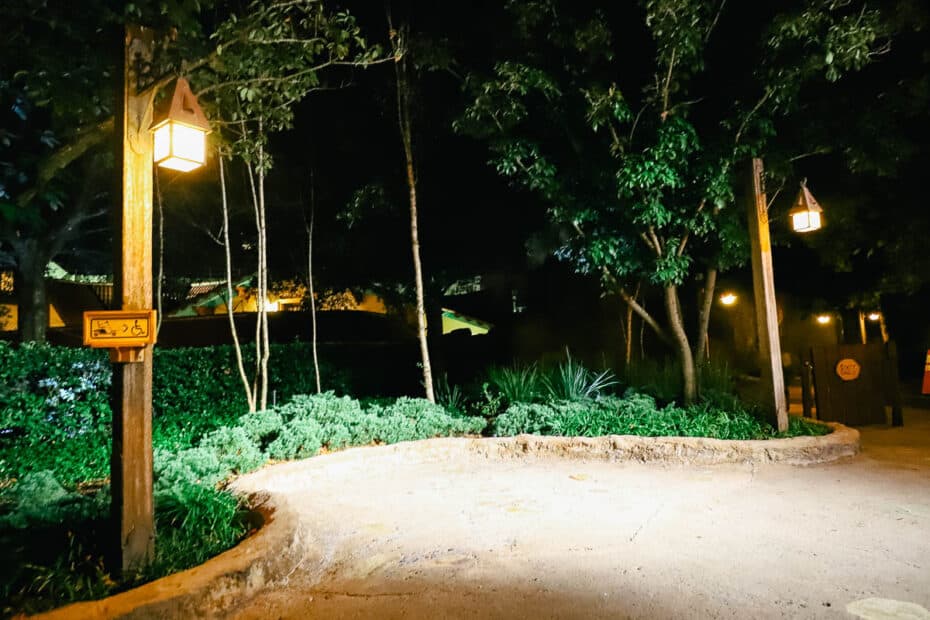 Belle meets guests in intervals between 7:00 p.m. and 12:00 a.m at the Christmas Party. She was more than happy to show off her holiday dress.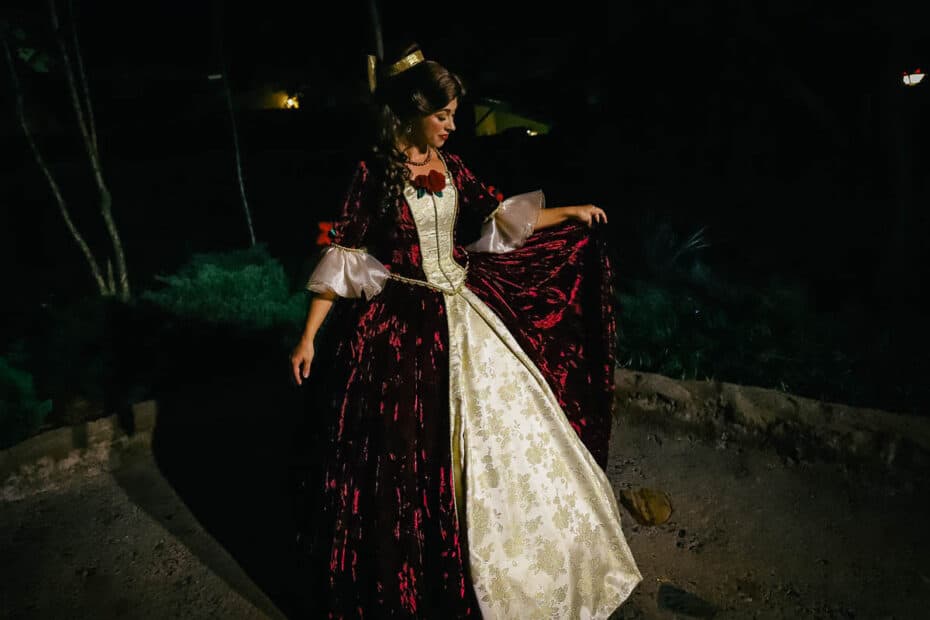 If you plan to meet Belle, she tends to hold an awfully long line. However, on this night, I waited until late to meet her.
She took a break at 11:00 p.m., and I was the first person to start the line for her next meet a few minutes later. Belle returned at precisely 11:20 p.m., and we had a lovely chat.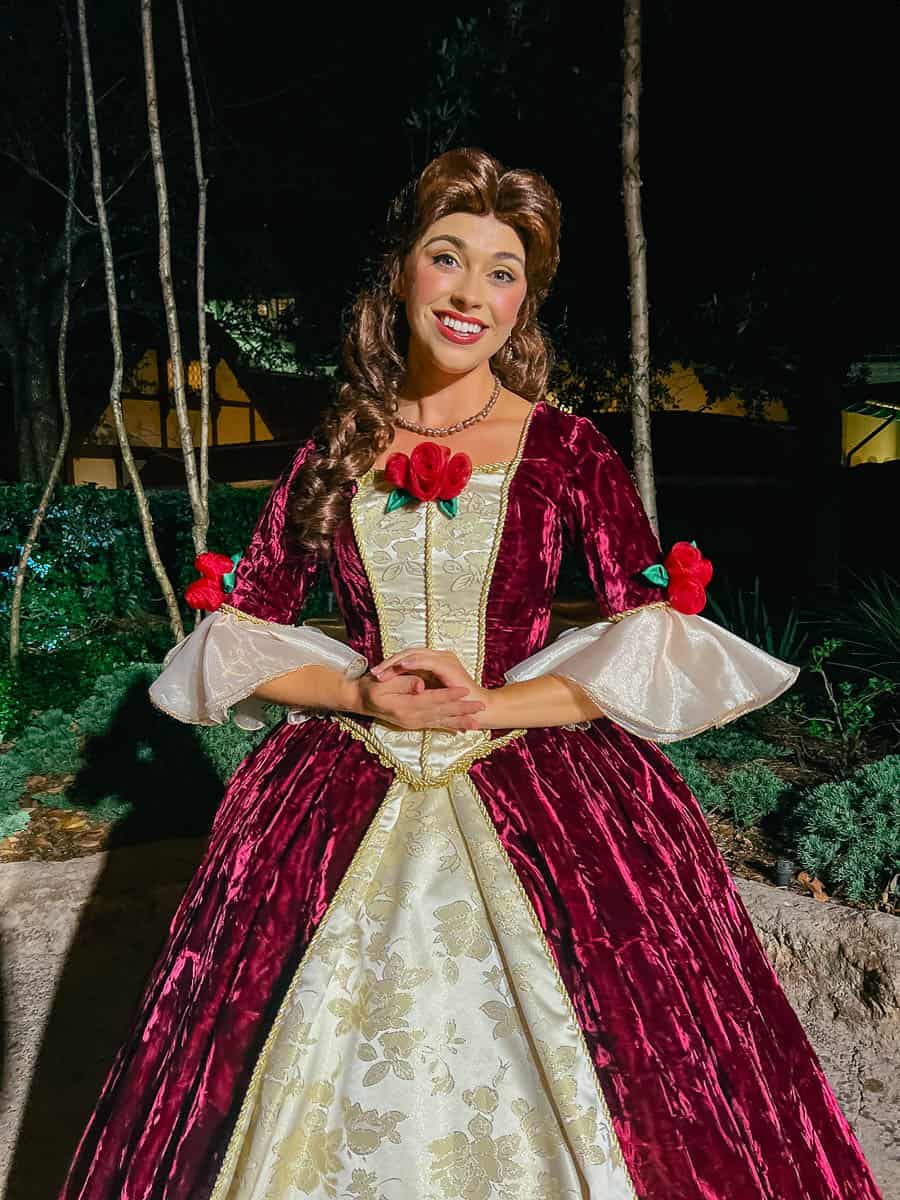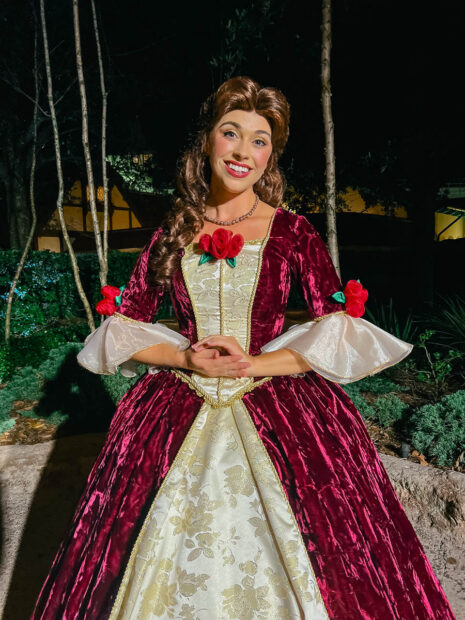 She pointed out the tiny details of her dress and mentioned her favorite part was the rosebuds. I was reminded once again of how endearing character meets are.
Usually, when I meet the character, I tell them I would love to take a couple of photos for my website. Naturally, they always oblige.
But they will often take a few moments to talk to me like Belle did this evening. And I think it's important to point out that not only do they work hard, but many of them go above and beyond the call of their job.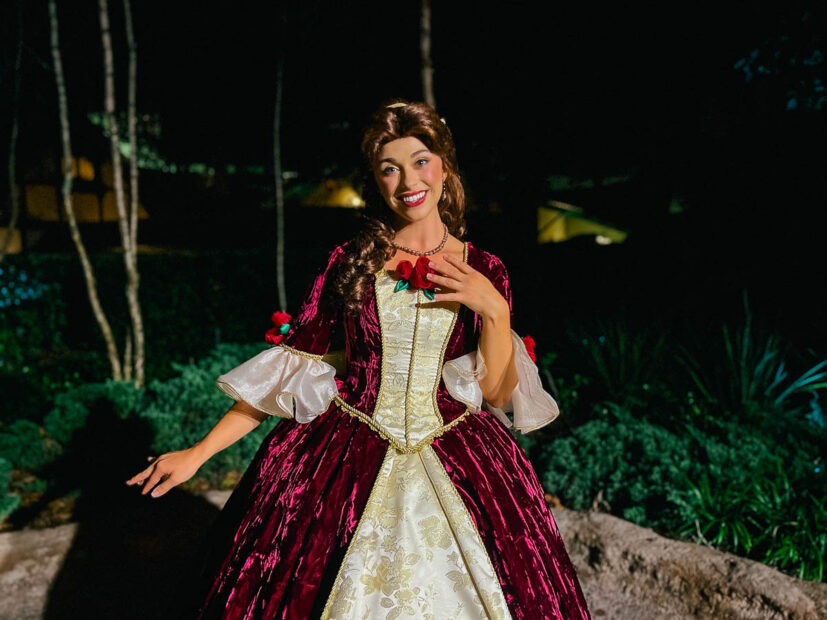 At this point, it was exceptionally late in the evening, and I was visibly weary. But I left this character meet surprised once again after all this time.
If you can attend the Christmas Party, I hope you'll take the time to meet Belle in her holiday dress. Or, you may enjoy previewing the other characters that attend the party:
For other character meets at Disney World, you may enjoy the following:
In the Comments
Do you hope to meet Belle in her holiday dress? Will you be attending this year's Christmas party at Magic Kingdom?