Meet Santa at Walt Disney World
Anyone looking to meet Santa at Walt Disney World is in luck! Thankfully, there are several opportunities to see him daily in the parks.
This review covers meeting Santa at Disney World. You'll need to be in the right place at the right time, or at least somewhere nearby.
Don't worry. It's not going to be as difficult as it sounds.
Besides, it's perfectly okay to get excited about seeing the one and only Santa, especially while in Walt Disney World!
This article was written for the 2020 holiday season. To find the most updated information, please refer to our Disney World Character List.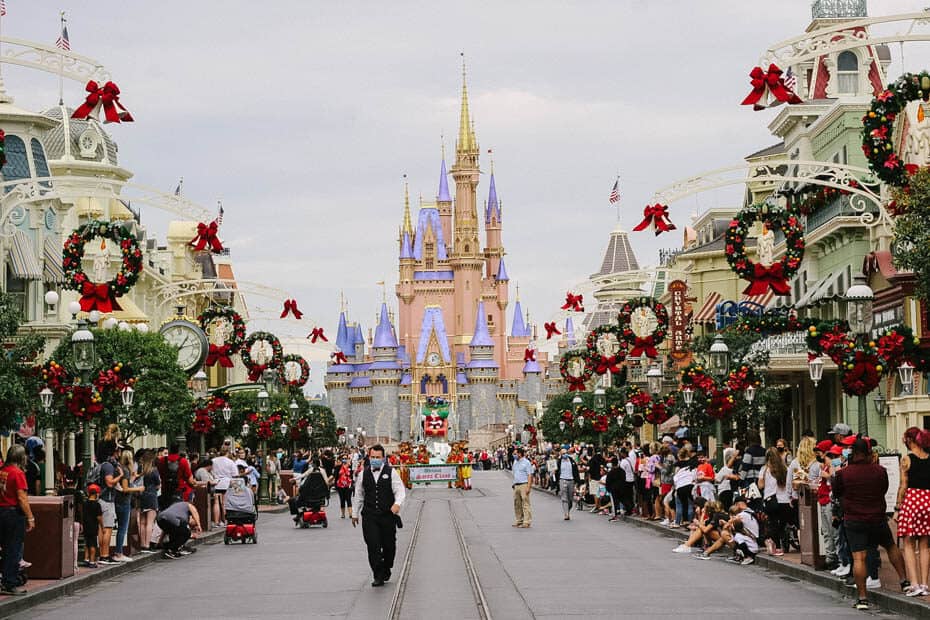 Each of the Walt Disney World parks offers an opportunity to see Santa Claus from a distance at various times throughout the day. Those visiting during the 2020 Christmas season will not want to miss these offerings.
Below we'll go over the four places to see Santa at Disney in full detail. Additionally, I'll add a few other options at the end of this review.
Santa at Disney's Animal Kingdom
First up, we'll look for Santa at Disney's Animal Kingdom. You may remember we covered character cruises in our Animal Kingdom Character reviews earlier this year.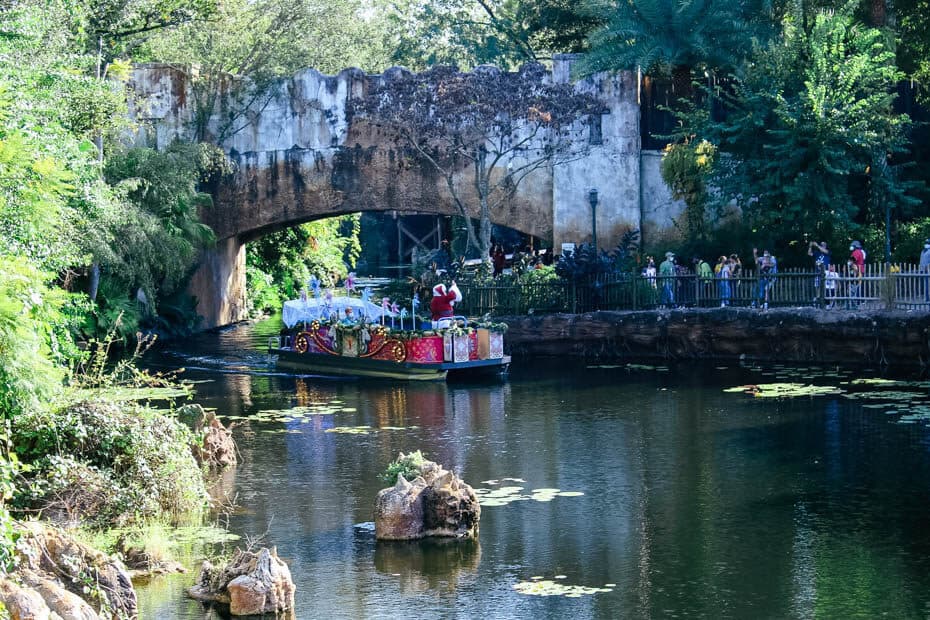 The cruises average about every 15 minutes or so throughout the day until sunset. However, there are periods where they break. So you might not see them for an hour or so at certain points of the day. There is no schedule.
These "festive flotillas" cruise the Discovery Island River. The river circles the entire inside of Animal Kingdom park. Therefore you will be able to see and hear them from the majority of the walkways and bridges in the park.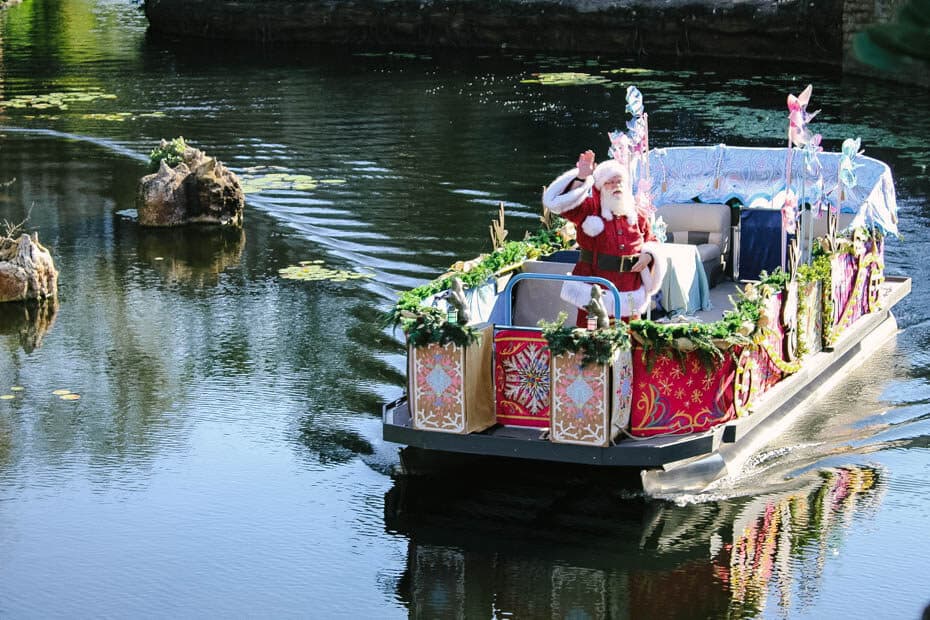 The key to seeing Santa at Animal Kingdom is to listen for those sleigh bells jingling. Then, you'll know when the music in the area changes, and you hear Santa coming.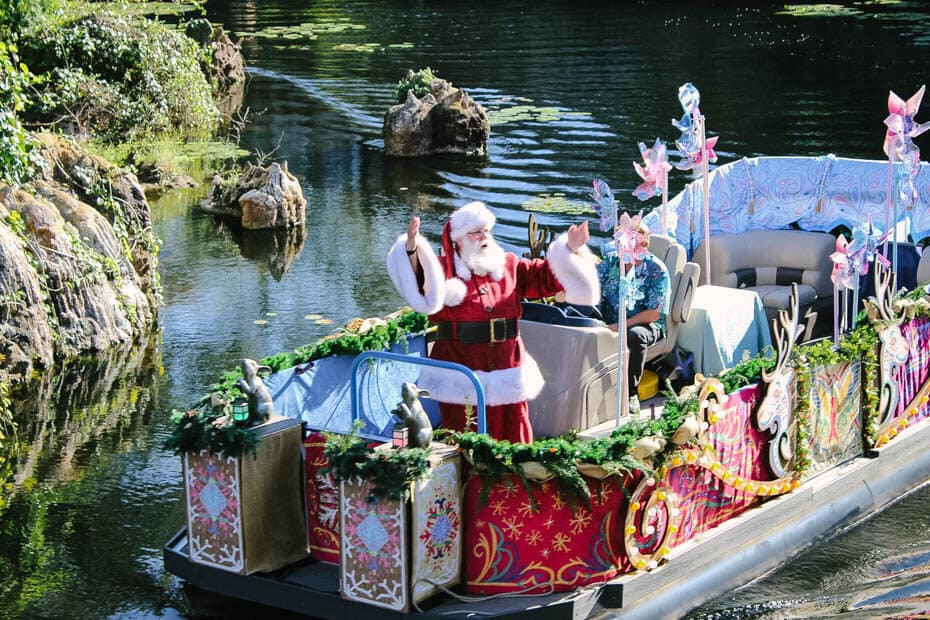 All you have to do is walk over to the nearest waterway, and you should be able to see Santa coming.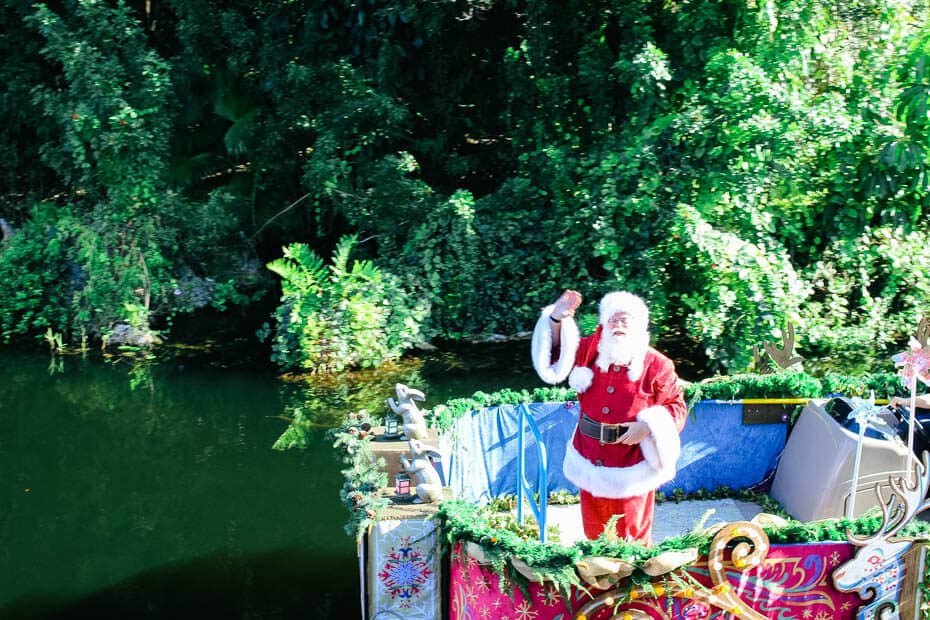 Tip: If you want to see all of the character cruises and need a break in the afternoon, a good spot to do both is at the former Rivers of Light theater in Asia.
All of the character cruises enter and exit through this area. So you can grab a bite to eat and relax while waiting on the different groups to come through.
While there's no guarantee as to how many you'll see, I saw about five cruises within less than an hour this past Saturday.
Santa at Disney's Hollywood Studios
Over at Disney's Hollywood Studios, you might have to look a little bit harder to see Santa. During the afternoon hours, Santa comes through multiple times in a character motorcade.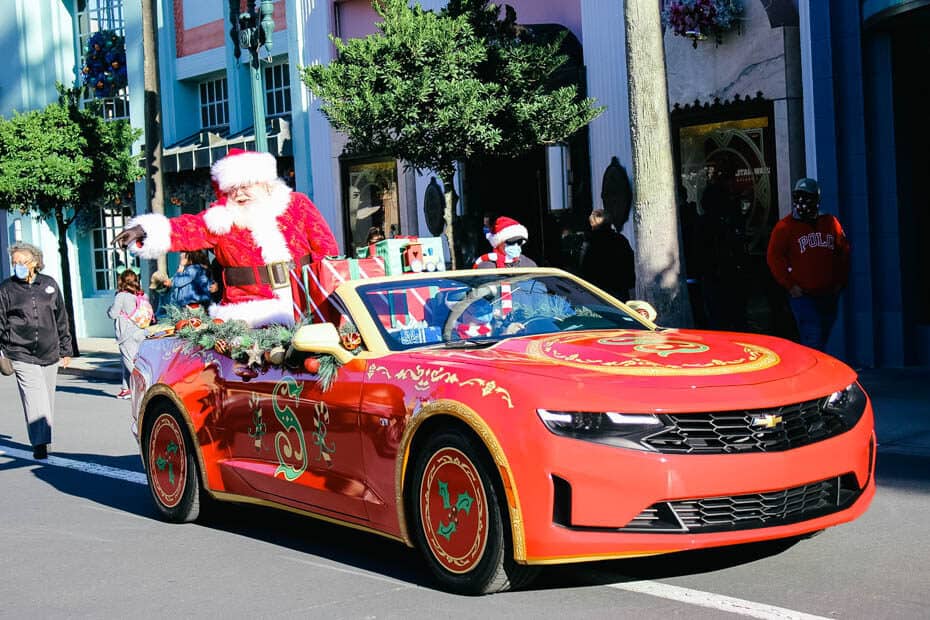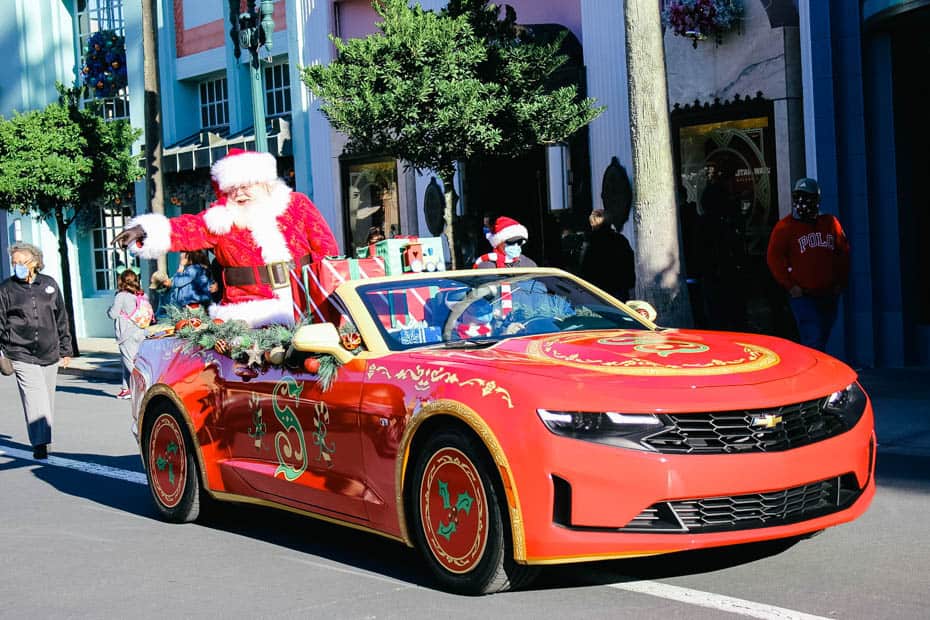 It's a lot of fun to see him coming down Hollywood Boulevard. This specific motorcade begins at the park entrance and travels toward the Chinese Theater, making a left. It then continues down nearly to Star Tours, where it exits at the Backlot Express.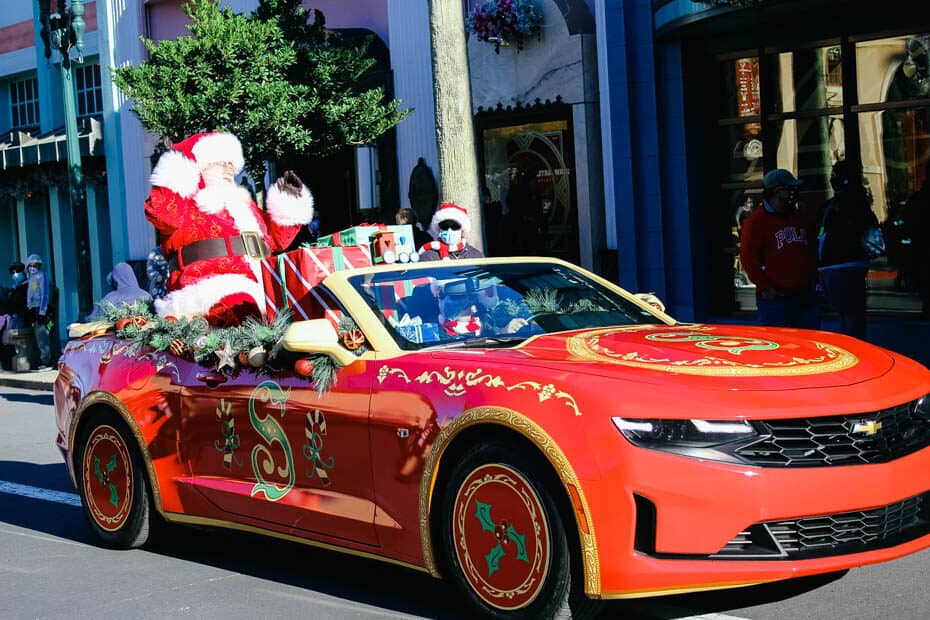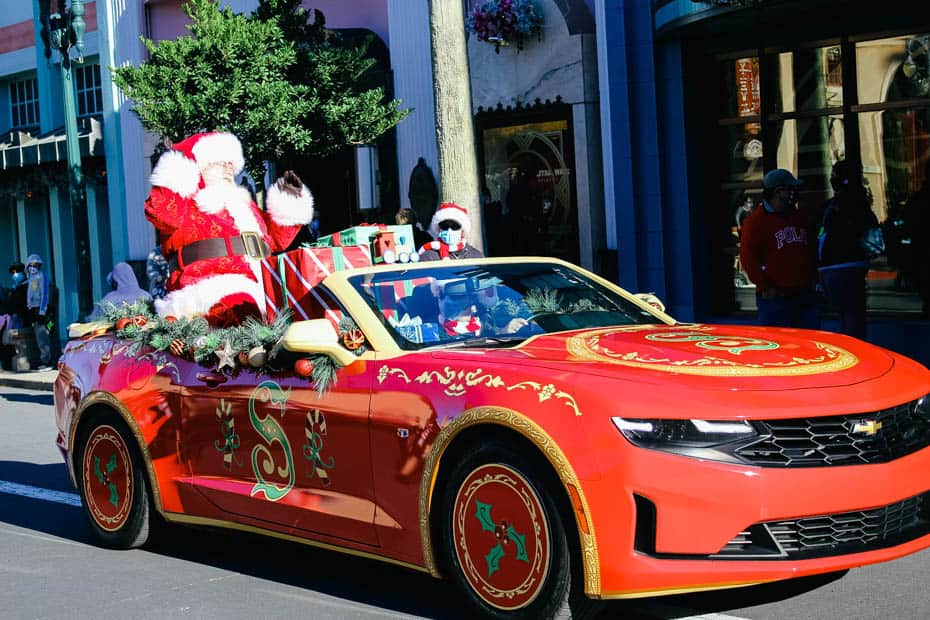 Even Santa's convertible is decked out in festive colors and decorations.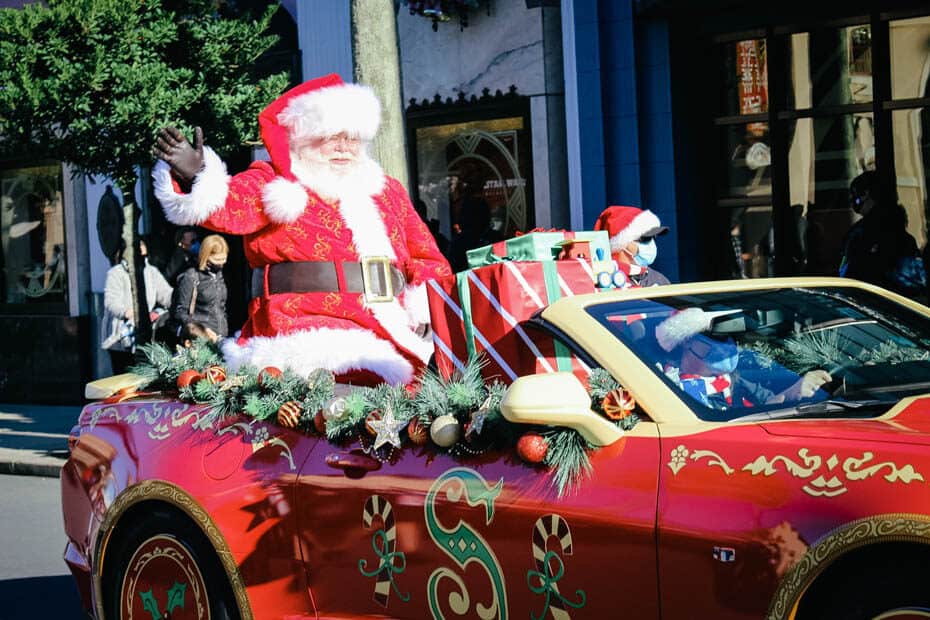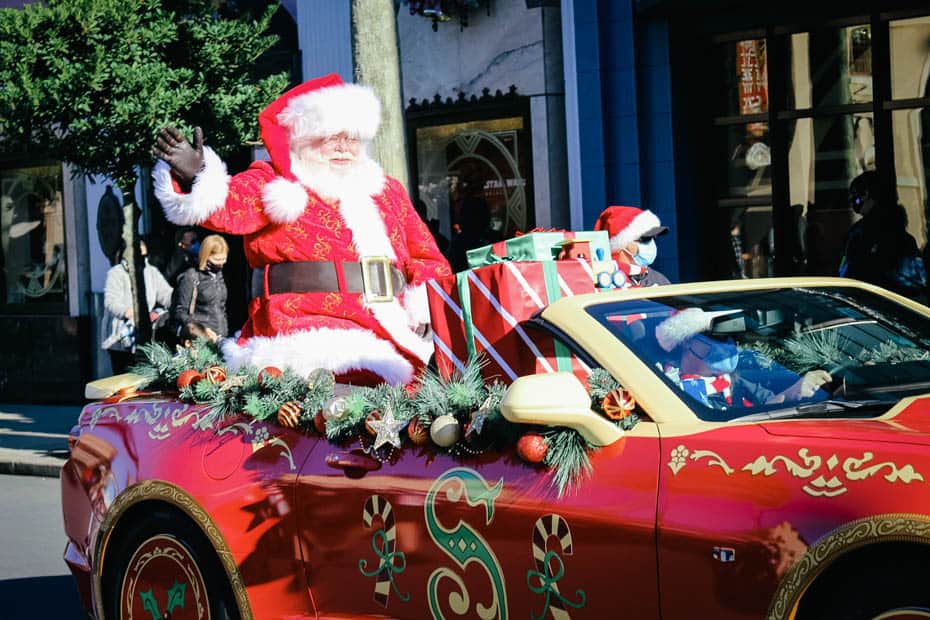 You do have to be in the area to have a chance to see the motorcades here at Hollywood Studios. But I think Santa is probably worth it!
Related: Hollywood Studios Character Guide
Santa at Epcot
Seeing Santa at Disney's Epcot park is one of the easier encounters. That is, as long as you're in the World Showcase. This Santa comes through in a horse-drawn carriage during the afternoon hours until sunset.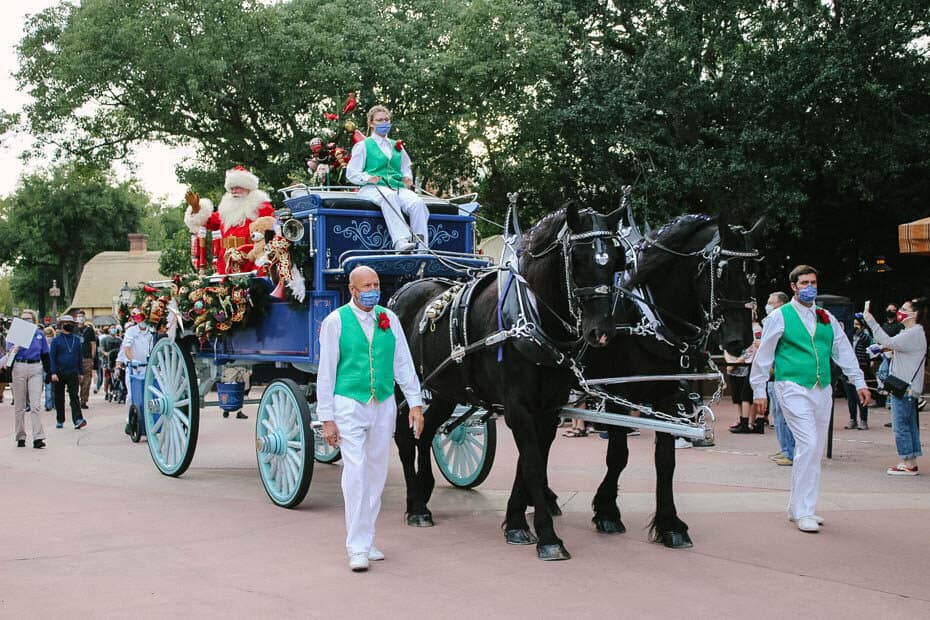 And he's something to see with the large Percheron horses pulling the way. The carriage is also quite the sight to behold.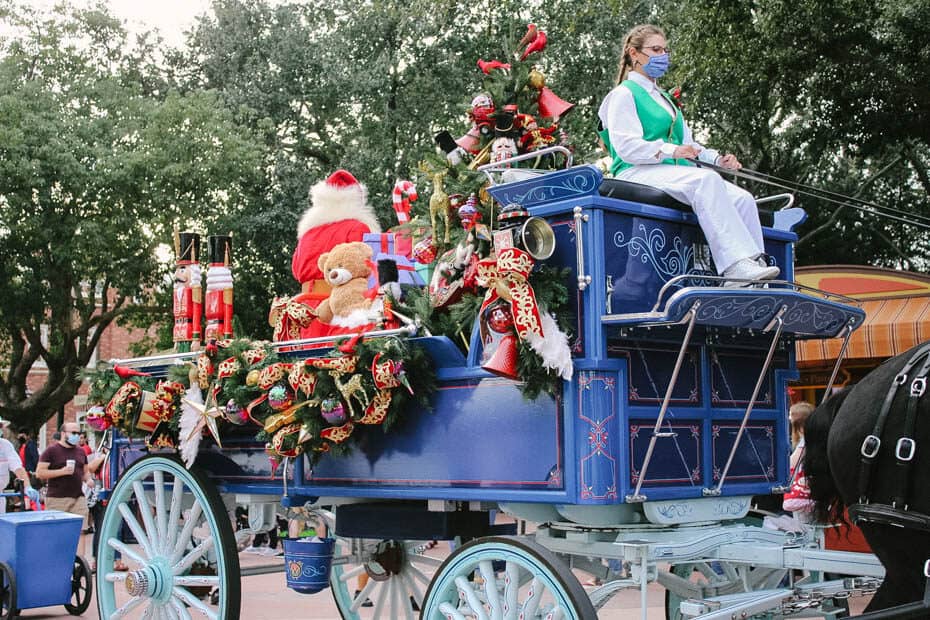 The Santa promenade starts at the American Adventure and travels full circle around the World Showcase. From what I've been able to tell, he comes through about 2-3 times per day.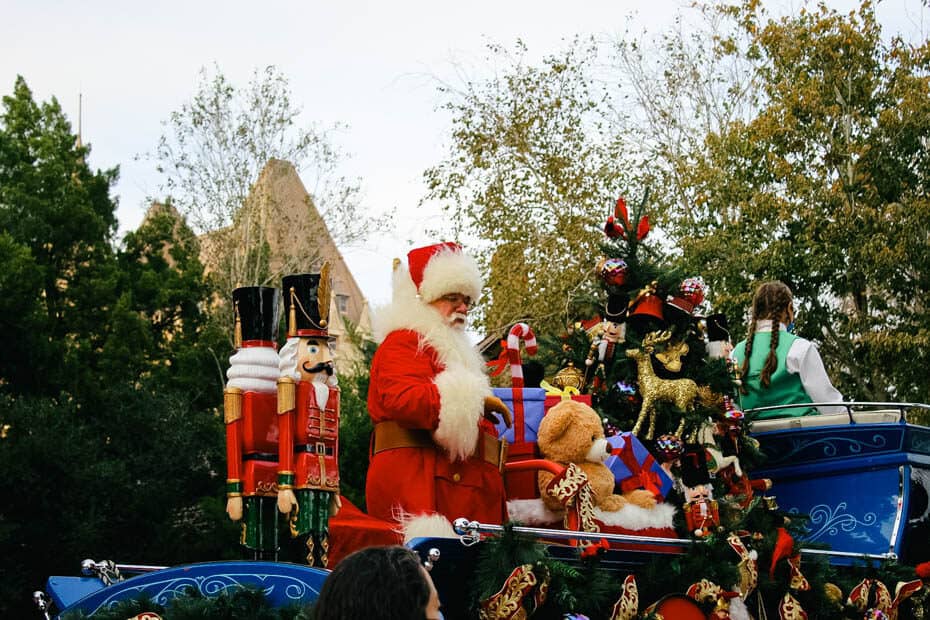 Furthermore, two other character promenades at Epcot come through during the afternoons. One is Frozen, and the other is Mickey and Friends, who are currently in holiday attire.
Related: Epcot Characters Guide
Santa at Disney's Magic Kingdom
Our last Santa is the one that comes down Main Street U.S.A. as a pop-up cavalcade. If you want to see a true, classic Santa at Disney, there's nothing better than doing it here.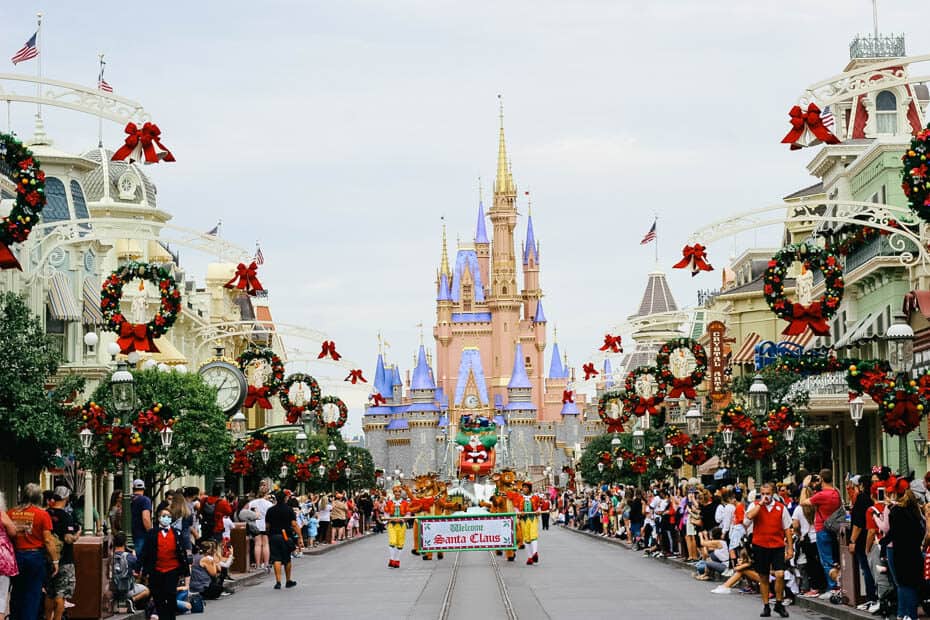 The Magic Kingdom cavalcades run from mid-morning until right before dark, when the castle projections begin. Santa's cavalcade steps off over in Frontierland before turning into Liberty Square. It circles the Cinderella Castle hub and straightens to make its way down Main Street.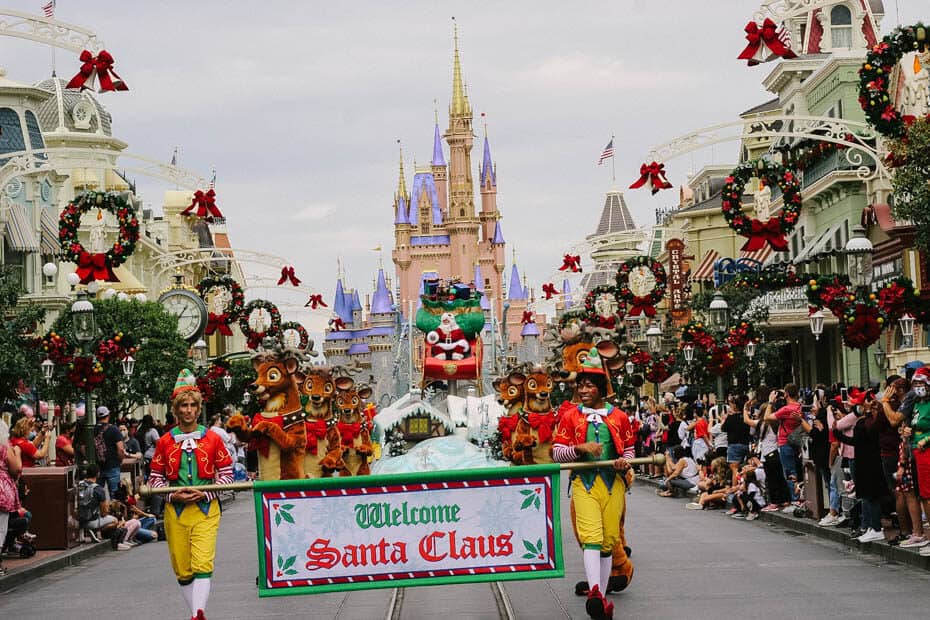 Santa comes along with his merry elves and reindeer leading the way. This is where the magic happens.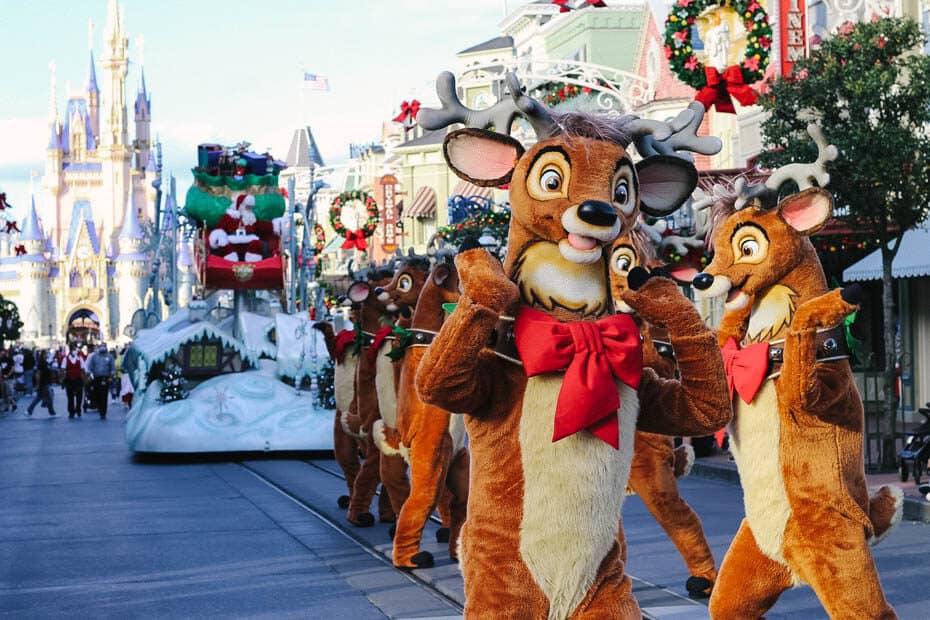 It should be fairly easy to grab a spot on the curb if you are in the immediate area. These are the type of experiences that I feel will make most guests' trips unforgettable.
They always have mine.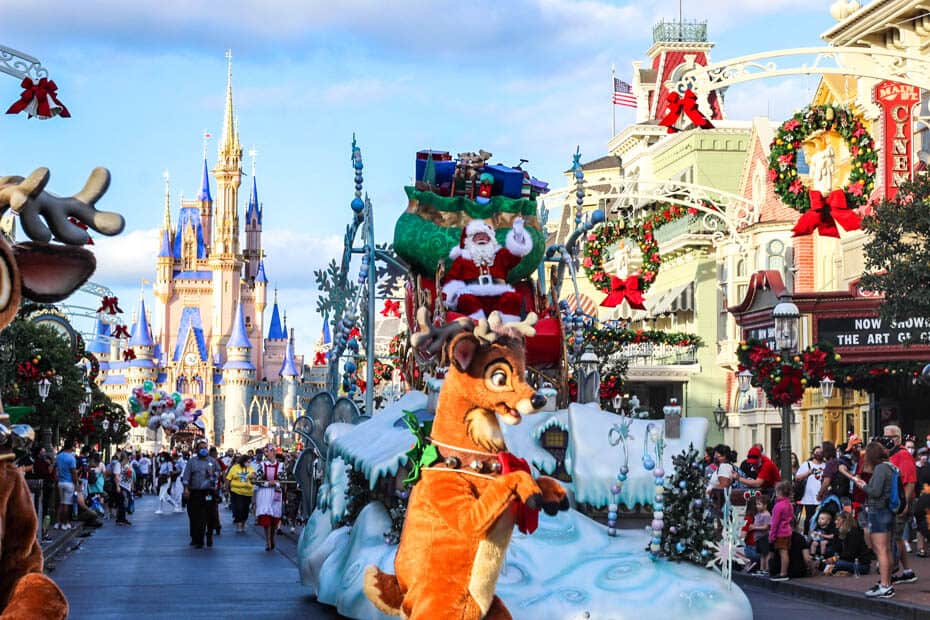 Not only that, but the parades encourage the kind of real social interaction that we all need. Whether you are waving hi to a character or sharing a brief conversation with the stranger next to you, it sure beats staring down at your phone.
Let us not forget that Santa knows exactly how much time we've spent on our electronic devices, myself included. It's probably why he doesn't have any presents for us adults in that toy sack.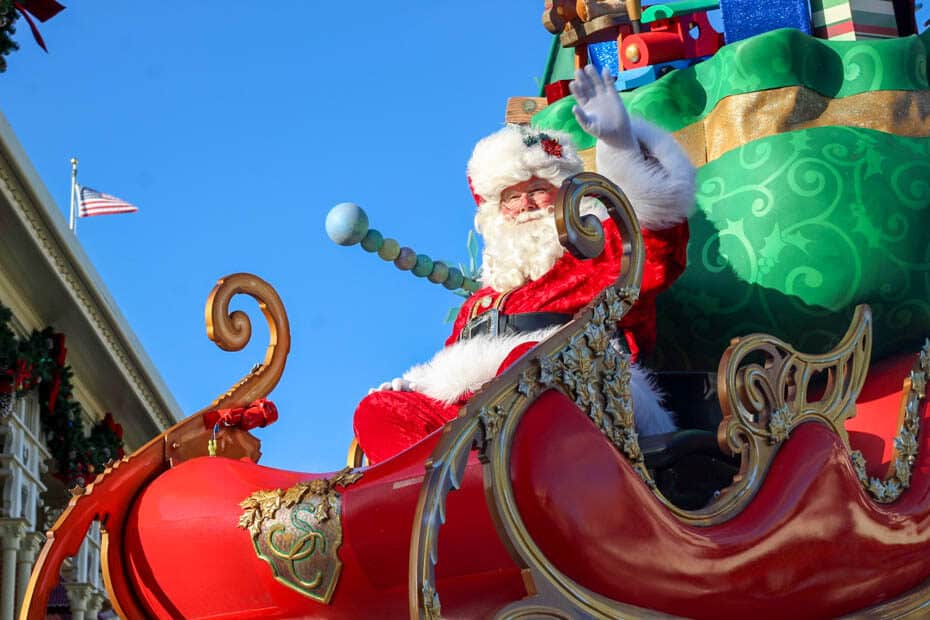 Anyway, it's worth hanging out in the Main Street area for about an hour or so in the afternoon to try and see all the different cavalcades. The Confectionery and Bakery are both offering seasonal treats along with their regular items if you would like a coffee or a little sugar while you wait.
Other Places to Meet Santa at Disney World
Additionally, for guests visiting Disney Springs, Santa can be seen from time to time on his Santa Winter Water-cade. From the shopping venue, guests will be able to see Santa and Mrs. Claus out on Lake Buena Vista in pontoon boats. You can reference the holiday details for Disney Springs here.
Lastly, Santa and Mrs. Clause are available for a few photo opportunities and special meets this year at the Swan and Dolphin Resorts. They are only available this year on select nights.
Related: Disney's Swan and Dolphin Review
I didn't make it over to the Swan and Dolphin this season. But I would say this is probably a really fun opportunity if seeing Santa is a big deal to you.
Final Thoughts on Santa at Disney World
Hopefully, these tips and photos will help you locate Santa at Disney World this holiday season. I've recently met guests at both Epcot and Animal Kingdom that didn't have a clue that the socially distant character greetings were available in those parks.
One even told me that they thought the only experiences like that happened at Magic Kingdom. And with these kinds of events not listed or scheduled, it's definitely become harder to find out about these kinds of things.
Merry Christmas! Make sure not to miss our guide to touring the Disney Resorts at Christmas!
Make sure to check out all of the reviews of characters at Disney on the site.
You might also enjoy learning about character dining meals at Disney World. That guide covers our top choices (spoiler: Topolino's breakfast A La Art meal is our favorite) for character dining at Disney.
Which Santa meet at Disney World is your favorite?