Meet Santa at Walt Disney World (with 2022 Updates)
If you're planning a trip to Walt Disney World over the holiday season, you'll probably want to know where to meet Santa. Thankfully, there are several locations between the parks and Disney Springs where Santa meets daily.
Below, we'll go over the details for each Santa Claus meet-and-greet at Walt Disney World. In some instances, you can only see Santa from a distance. However, those locations don't require much waiting or standing in line.
With that said, there are three formal Santa meet-and-greets available in 2022. You'll wait in line or in a virtual queue to meet Santa at each of these locations. Then, when it's your turn, you can personally meet Santa, talk with him, and have your photo taken.
*Santa will be available at the below-listed locations through December 24, 2022.
This article was updated on November 29, 2022.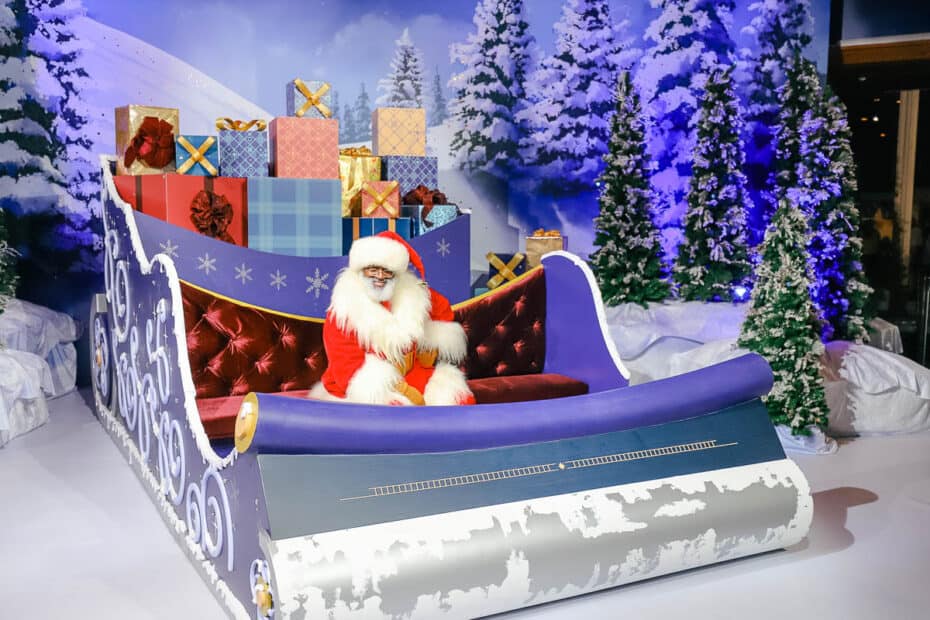 See Santa at Disney's Animal Kingdom
First, we'll stop in at Disney's Animal Kingdom to see where to find Santa Claus. You'll find jolly old Saint Nick on one of the character cruises.
Here are the listed times for the Santa Claus Flotilla at Disney's Animal Kingdom:
8:45 a.m.
9:45 a.m.
10:45 a.m.
11:45 a.m.
12:45 p.m.
1:45 p.m.
2:45 p.m.
3:45 p.m.
*You can check for Santa Claus's exact time on the My Disney Experience app on the day of your visit. First, you'll want to select "entertainment" from the drop-down list. Then filter for entertainment. After that, you can find Santa's listings and see the times.
Santa Claus's Festive Flotilla will be available through December 24, 2022. You can see the cruise from along any waterway in the park.
However, if you need a break, the outdoor theater (formerly for Rivers of Light) in Asia is a wonderful place to see multiple cruises come through. Additionally, if you watch the cruises from this area, you can see them enter the river and then return at the end.
Tip: Listen for those sleigh bells jingling when visiting Disney's Animal Kingdom. If you hear them, walk out to the nearest place along the Discovery River, and you'll likely see Santa Claus.
Related: Everything Christmas at Disney's Animal Kingdom in 2022
Santa at Disney's Hollywood Studios
Santa's Merry Motorcade returns to Disney's Hollywood Studios this holiday season. This mini pop-up parade requires minimal effort or time investment.
This special motorcade is held multiple times per day from morning until sunset.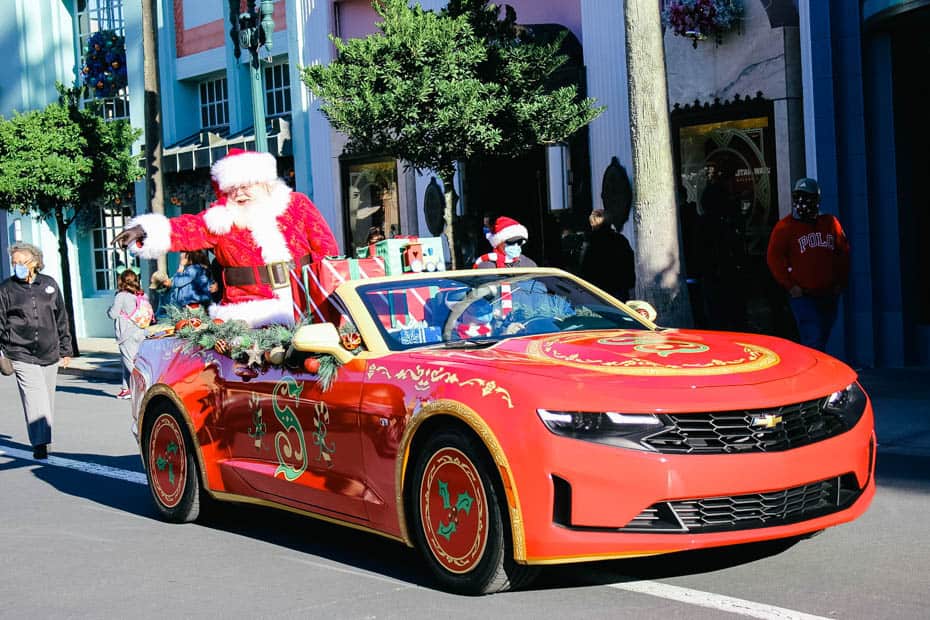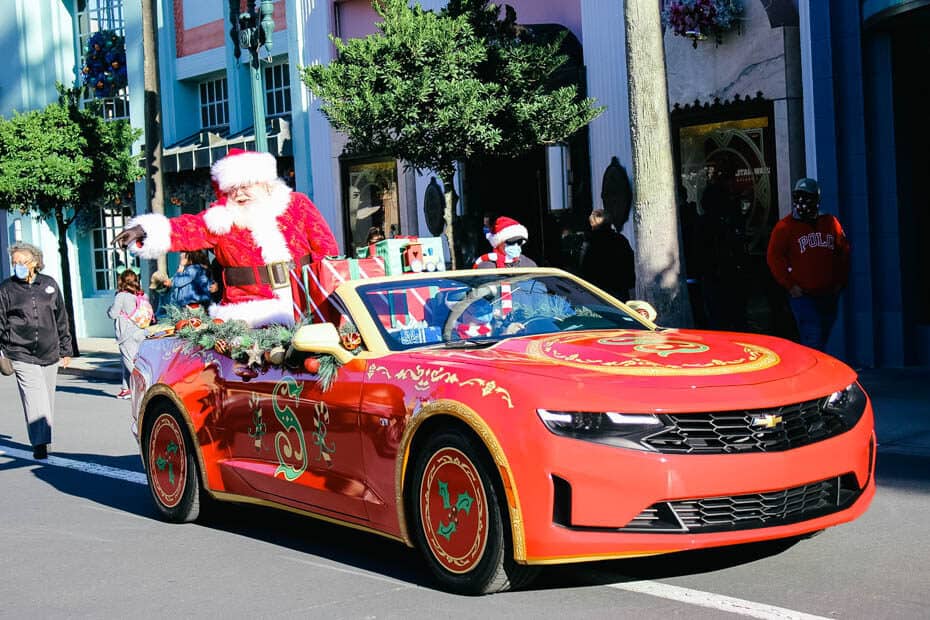 Here are the current times for the motorcade:
10:30 a.m.
11:30 a.m.
12:40 p.m.
2:50 p.m.
3:50 p.m.
5:10 p.m.
*Check the My Disney Experience app on the day of your visit for the exact timing.
Santa's Merry Motorcade is fun to see. It features Santa in a convertible driving down Hollywood Boulevard.
This specific motorcade begins at the park entrance and travels toward the Chinese Theater, where it makes a left turn. It then continues along until it reaches Backlot Express, where it exits.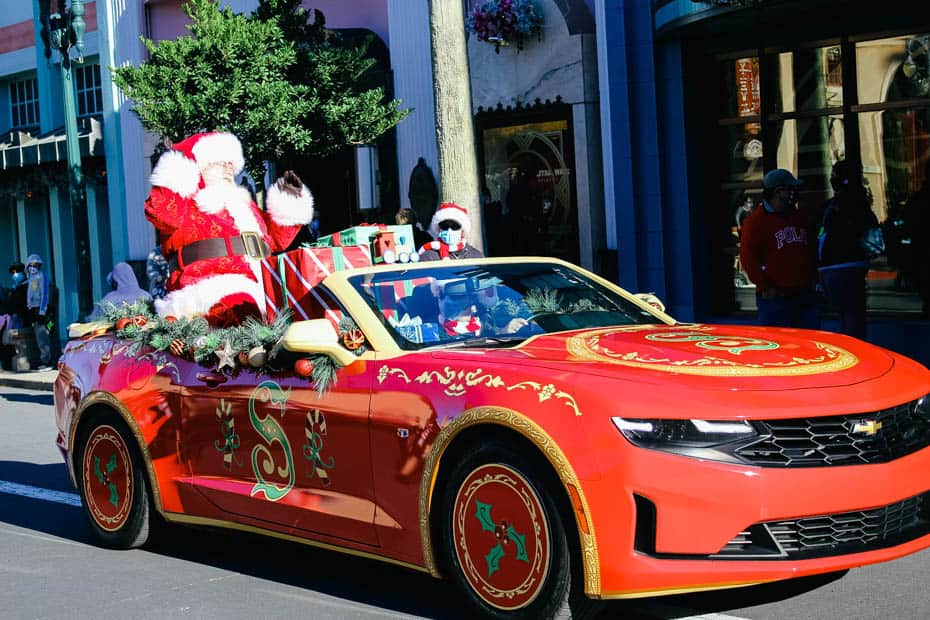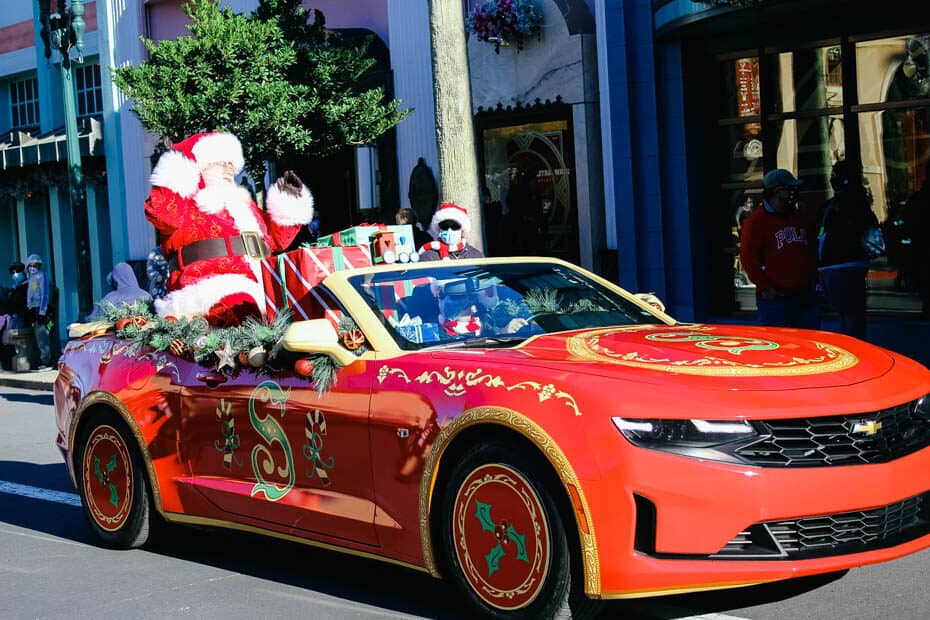 Even Santa's convertible is decked out in festive colors and decorations.
Related: Santa's Merry Motorcade at Hollywood Studios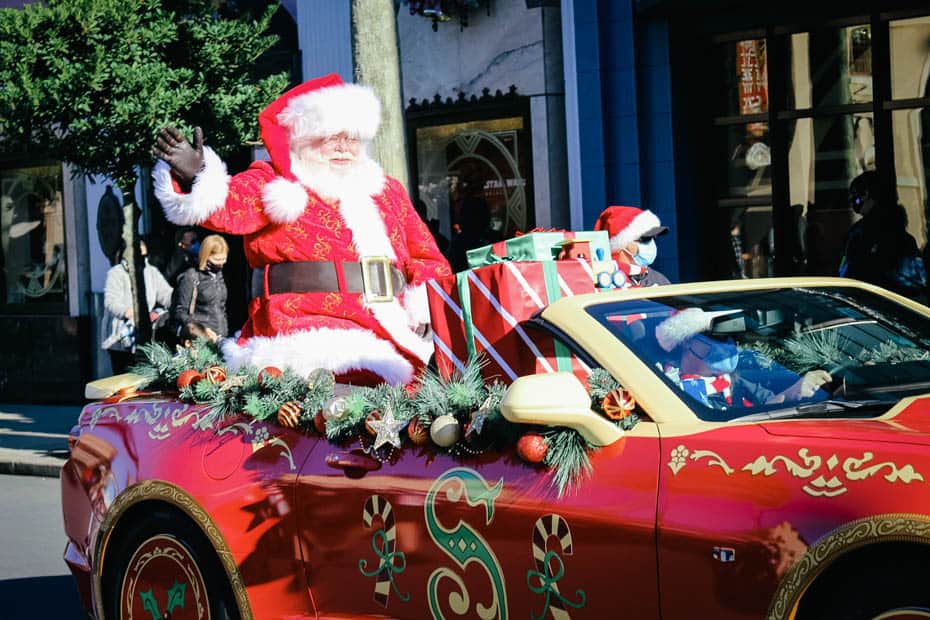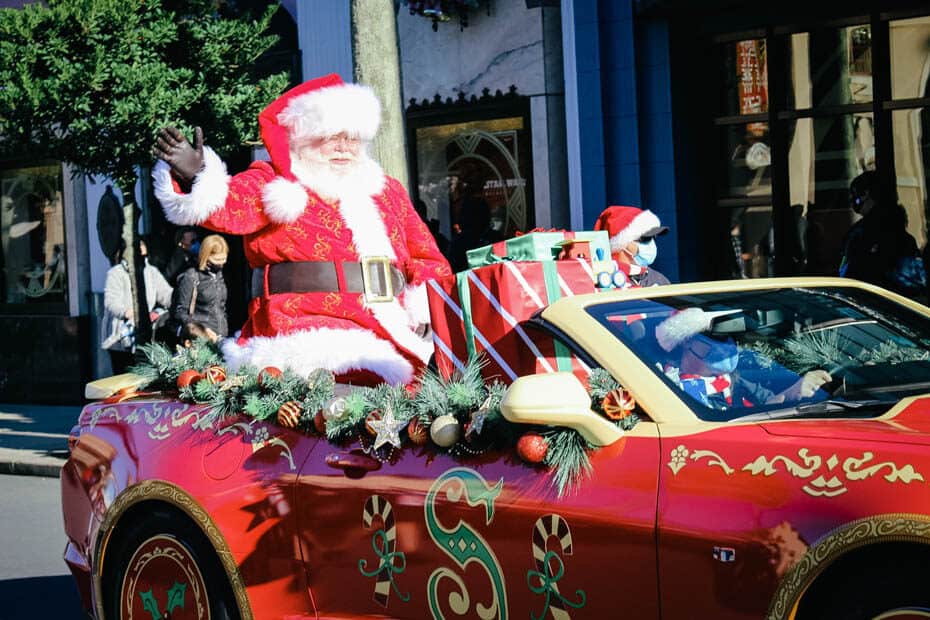 For more festive fun over the holidays, we have a complete guide to Christmas at Hollywood Studios. That article goes over everything you need to know about the holiday season at Hollywood Studios.
Santa at Epcot
Over at Epcot, there's a fun new opportunity to meet Santa Claus in 2022. Santa meets daily in The Odyssey at World Celebration.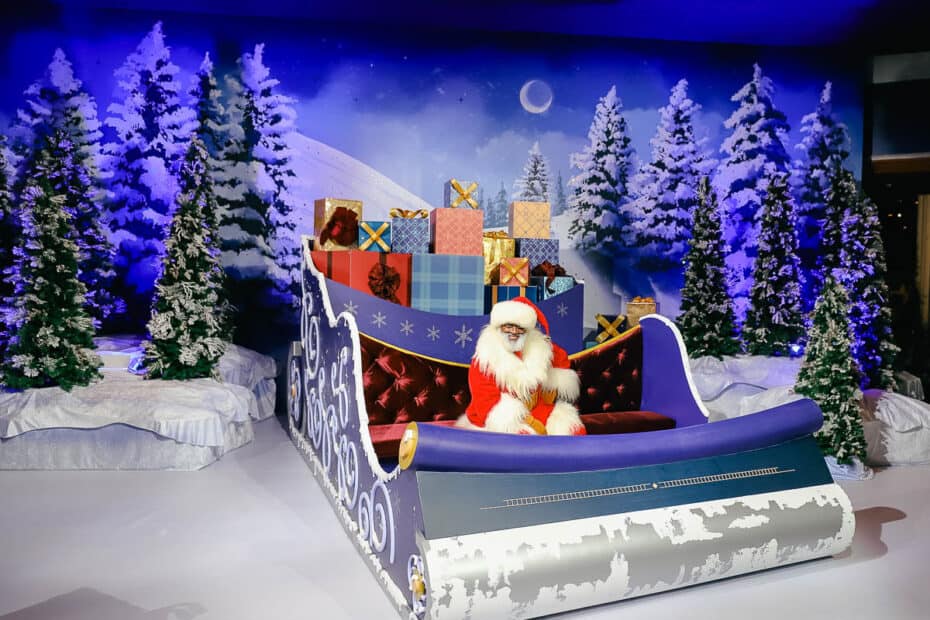 Here is a list of the current times for this meet-and-greet.
11:00 a.m.
12:00 p.m.
2:00 p.m.
3:30 p.m.
5:00 p.m.
6:30 p.m
You can find the exact times for this meet-and-greet listed in the My Disney Experience app. Or you might want to read our full article covering the experience.
Related: Meet Santa at Epcot in 2022
Meet Santa at Disney's Magic Kingdom
What would a holiday visit to Magic Kingdom be without a visit to see Santa Claus? In 2022, Santa has a new home in the Enchanted Glade Gazebo behind Liberty Square.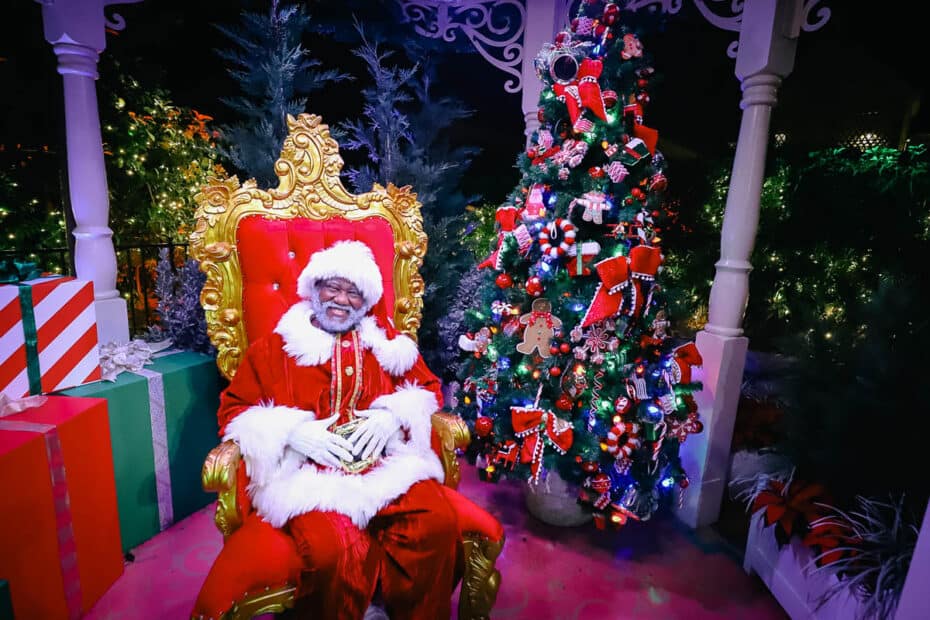 We met Santa during Mickey's Very Merry Christmas Party at Magic Kingdom. However, he meets with guests during non-party hours as well.
*Exact times for this meet-and-greet opportunity will be listed in the My Disney Experience app on the day of your visit.
In addition, party guests can see Santa Claus at Magic Kingdom in the Once Upon a Christmastime Parade. This parade will be available to all guests during the week of Christmas.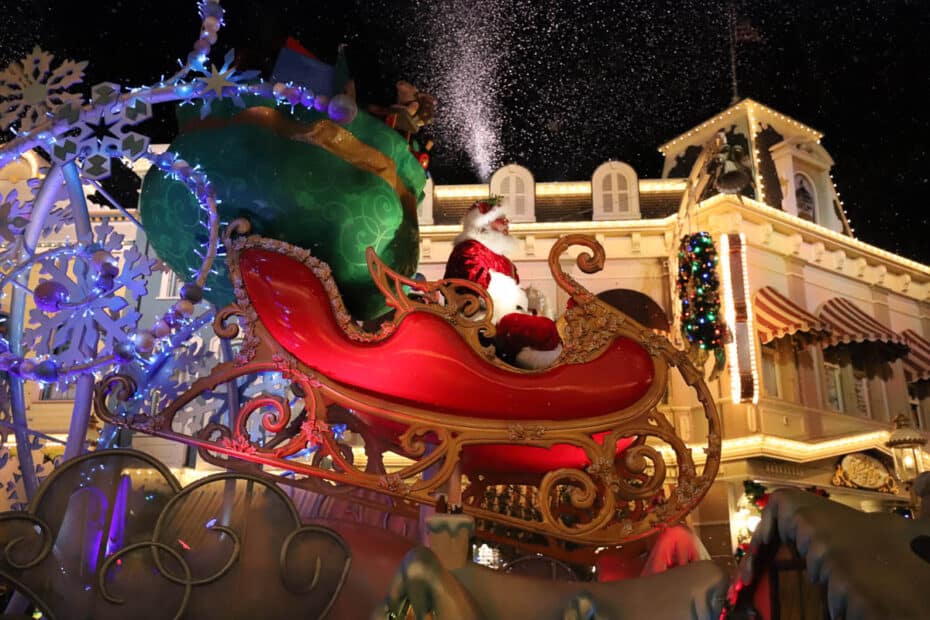 Santa Meet-and-Greet at Disney Springs
Lastly, Santa Claus has a meet-and-greet available at Disney Springs. This meet-and-greet is a little different because it offers a virtual queue.
Guests can use the My Disney Experience app to enter a virtual queue at the following times:
9:00 a.m.
12:00 p.m.
3:00 p.m.
6:00 p.m.
Unfortunately, there won't be a standby queue for this location. However, a virtual queue eliminates the long process of standing in line. That can only be a good thing at a venue as large as Disney Springs.
We recently visited Disney Springs to provide a full walk-through of this Santa meet-and-greet.
Related: Meet Santa at Disney Springs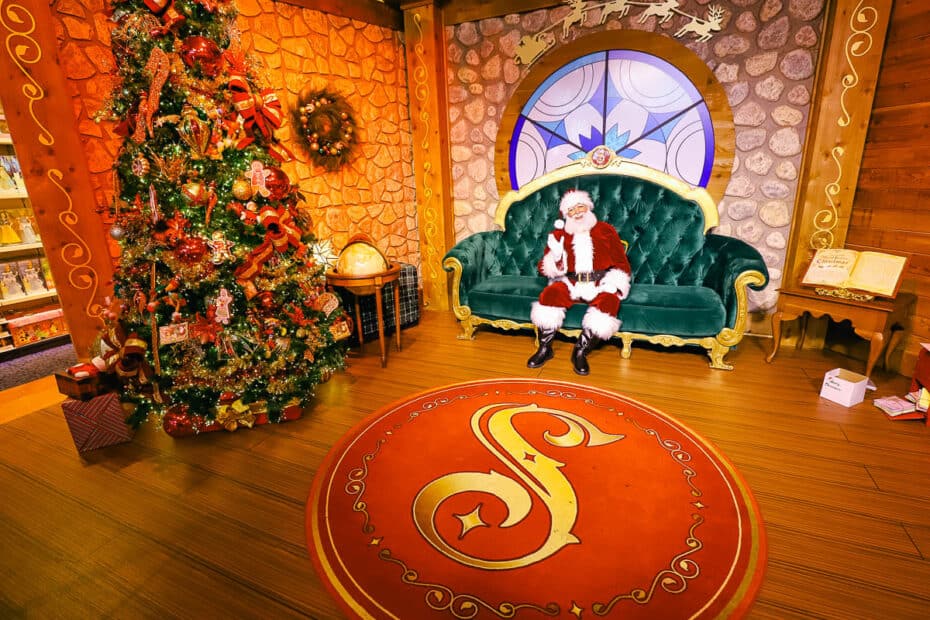 Santa Claus at Blizzard Beach
Additionally, Santa Claus is listed as meeting at Blizzard Beach this holiday season. So far, I've visited Blizzard Beach twice since it reopened and have yet to run into Santa.
But if you have plans to visit, you might run into him right past the park's entrance. He'll be the one in the tropical suit and sleigh!
Final Thoughts on Meeting Santa at Disney World
Hopefully, these tips and photos will help you locate Santa at Disney World this holiday season. Most of these meet-and-greets will make for fun family photos and memories you'll cherish for years to come.
For more details on experiencing Christmas at Walt Disney World, we have several popular articles:
For more details on characters, we have an extensive list of character meets at Disney World.
You might also enjoy learning about character dining meals at Disney World. That guide covers our top choices (spoiler: Topolino's breakfast A La Art meal is our favorite) for character dining at Disney.
In the Comments
Which Santa meet at Walt Disney World looks like your favorite? Do you take the time to meet Santa Claus when you visit?
Planning a Walt Disney World or other Disney Destination vacation?
Our friends and travel partner, Firefly Travels, excels at doing Disney differently. You can fill out a plan your trip form on their website, and someone will reach out shortly to discuss the specifics.