Disney's Deluxe Resorts are the finest hotels available at Walt Disney World. When choosing a hotel, a deluxe resort will offer the best location, amenity, dining, and recreation available.
These resorts are perfect for anyone wanting to truly invest in their Disney vacation. The only problem? Deciding which deluxe resort to choose!
Below you'll find a list of every Disney Deluxe Resort review available here on Resort's Gal. We've had multiple vacations at each of these resorts over the years and visit often to provide the most updated information possible.
Use these reviews to help determine which Disney deluxe hotel is right for your family. If you aren't sold on staying in a deluxe resort yet, I've provided an overview of each one further down.
Lastly, I've added a summary of the different benefits of Disney's deluxe resorts versus a moderate or value. If you looking for specific information you can use the table of contents below to quickly located it.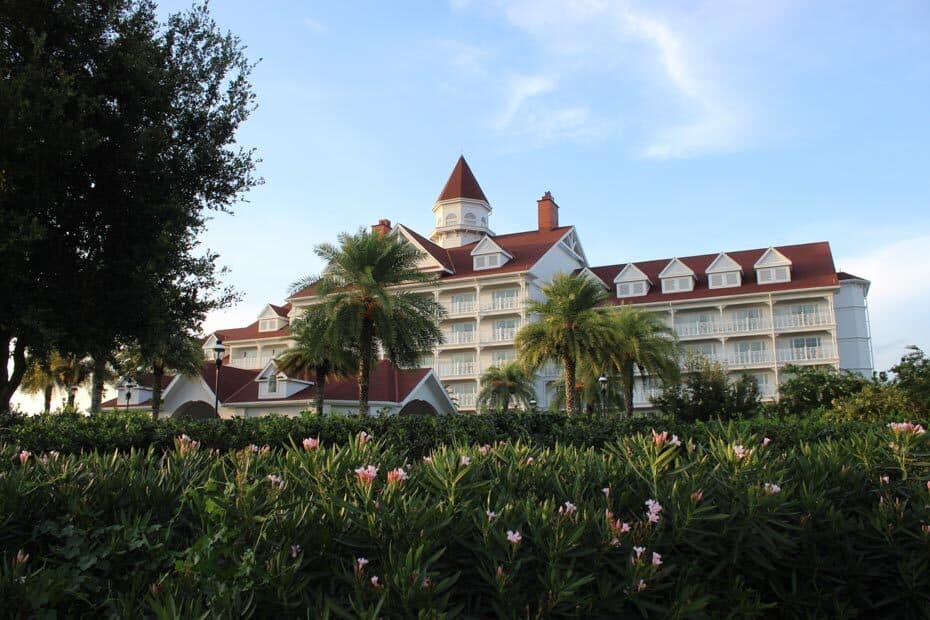 Disney Deluxe Resorts List
This list of Disney World Deluxe Resort's are divided into categories by their location. In addition, the Deluxe Villa Resort reviews we have available are listed toward the bottom. Those are part of the Disney Vacation Club Resort.
The above Disney Resorts are all within walking distance to Magic Kingdom, except for Disney's Wilderness Lodge.
Each Disney Resort hotel listed above is within walking distance to Disney's Hollywood Studios and Epcot.
Animal Kingdom Deluxe Resorts
Disney's Animal Kingdom Lodge sits next door to Disney's Animal Kingdom theme park. However, it does require bus transportation or personal vehicle to access the park
The above resorts are part of the Disney Vacation Club Resort.
Disney World Deluxe Resorts
The deluxe hotels at the Walt Disney World Resort provide a few perks that you won't typically find at the moderate or values. For starters, all of the deluxe resorts offer a luxurious feeling with interior hallways, club-level options, and higher-end amenities!
The different resort areas at Disney that include deluxe hotels are the Epcot Resorts area, Magic Kingdom Resorts area, and Animal Kingdom Resorts area. Additionally, some of these resorts offer Disney Vacation Club properties. The rooms at these resorts are considered deluxe villas.
Dining options at each deluxe resort hotel will be numerous in comparison to the other categories. For example, a value like Pop Century Resort (review) has one main food court and a pool bar. Moving up to a moderate resort like Caribbean Beach, you'll find a counter service, food court, pool bar, and table service dining.
When it comes to a Disney deluxe resort, there are multiple counter service options, pool bars, lounges, table service, and signature dining. Some of the deluxe resorts even participate in Disney World character dining.Similar to our top recommendation at Topolino's Terrace character breakfast which is available at the Disney's Riviera.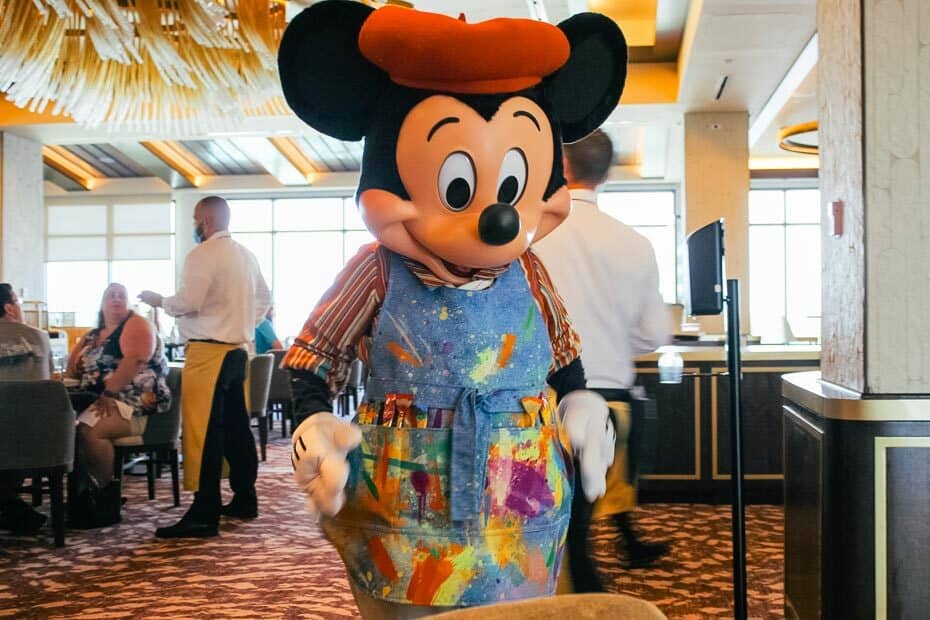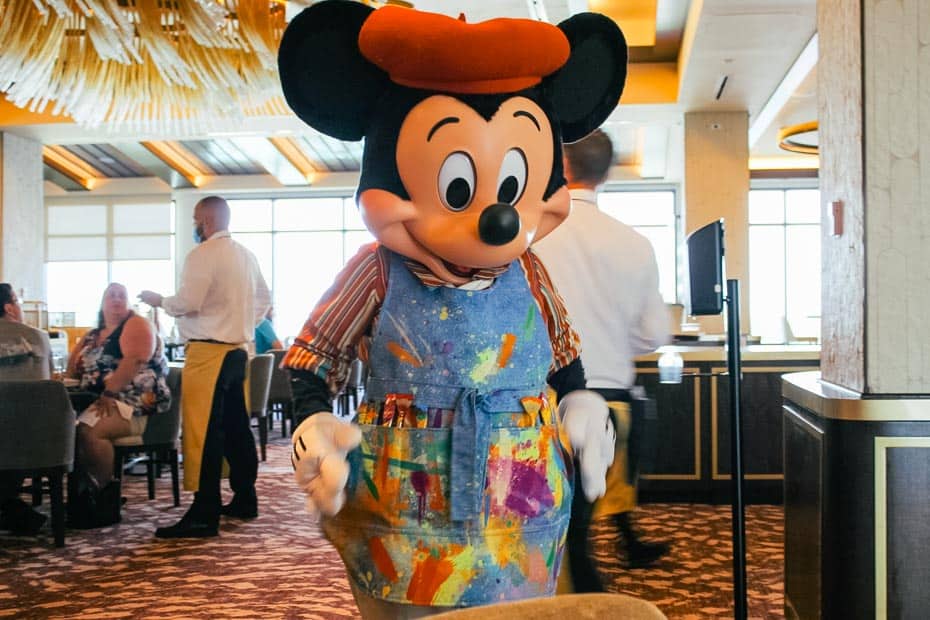 Next, we'll take a look at the differences in transportation options at these resorts. Deluxe resorts, in most cases, provide multiple forms of transportation. The only exception is Disney's Animal Kingdom Lodge. This deluxe only provides bus transportation.
Guests staying at one of the Magic Kingdom deluxe resorts can use the monorail to access Epcot and Magic Kingdom based upon availability.
Meanwhile, guests who stay at Beach Club, Yacht Club, Boardwalk Inn, or the Swan and Dolphin, can walk to Epcot and Hollywood Studios.
Why is this a big deal about walking to a theme park? You won't have to wait on a bus, boat, or in line at the Skyliner to get to one of the parks. Same goes for at the end of the night when the lines are filling up for transportation. You can take a leisurely stroll back to your cozy deluxe without all of the headache.
Additionally, those specific Epcot resorts provide boat transportation to Epcot and Hollywood Studios for those that don't care to walk. And bus service is available for the other parks and destinations.
As for using the Skyliner, the Riviera is considered a Disney deluxe villa resort and a Skyliner resort. This hotel has its own gondola station and sits adjacent to Disney's Caribbean Beach Resort.
While the Riviera is not within walking distance to a park, it does offer two forms of transportation. Additionally, you'll find some of the best resort dining options around at the Riviera. I wouldn't hesitate to plan a stay here if you are considering one of the deluxe hotels
Next, I want to take a brief look at the different area hotel and what they specifically have to offer.
If you are looking for charm, you might consider the Boardwalk Inn. This resort has a real Boardwalk sitting right outside its backdoor. The hotel is a bit of a destination with all of the dining, extra-curricular activities, and nightlife.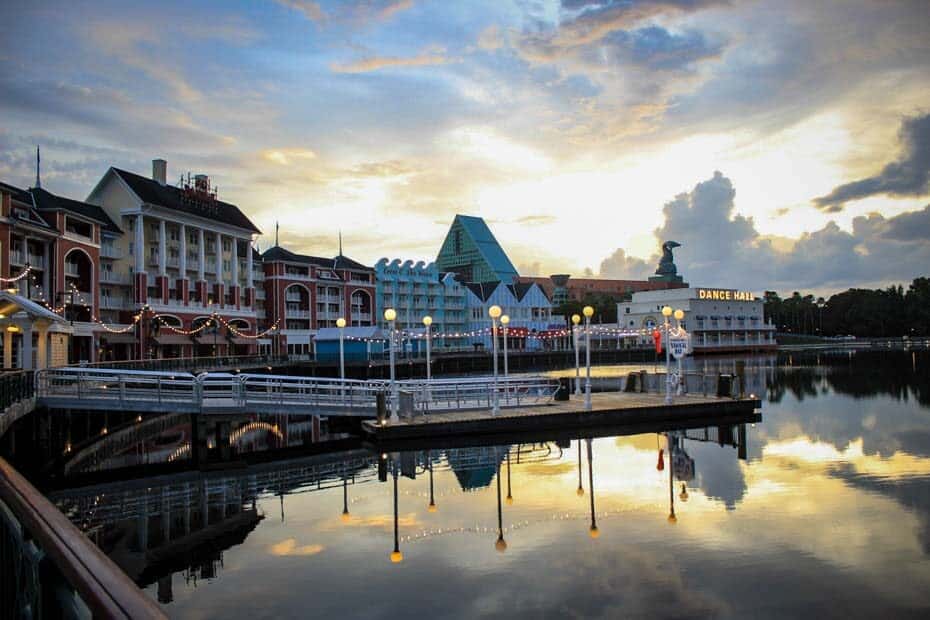 My personal top choice for a deluxe resort is Disney's Beach and Yacht Club. The Beach Club has a relaxed feel, while the Yacht is a little more formal. The Beach Club is also home to Disney's Beach Club Villas if you are looking for a room with some of the conveniences of home.
Either way, you can't go wrong here. And if you are a pool person, you'll want to look a little further into these sister deluxe resorts. They are home to Stormalong Bay. That's the feature pool that is really more of a water park. It's amazing!
While the Swan and Dolphin aren't owned and operated by Disney, you'll still find deluxe accommodations. Sometimes the pricing is more reasonable here. Just make sure to add in any hidden charges like daily resort fees when you stay here. Oh, and they have a really nice pool. You can check it out here.
Over at the Magic Kingdom Resorts area, there is the Wilderness Lodge, Grand Floridian, Contemporary, and the Polynesian.
Wilderness Lodge has a retreat-style feeling. For many, it's worth the visit over to the Wilderness Lodge to tour the resort. If you don't end up staying here, it's still nice to plan a meal at the deluxe. Hint: Geyser Point Bar & Grill is a great option.
The Grand Floridian Resort is a Disney deluxe that is Victorian in style with a somewhat formal feel. Thankfully, it's not too stuffy. Don't worry, you'll feel right at home. The majestic resort sits across Bay Lake from the Magic Kingdom. The resort offers monorail service and has a new walkway to access Magic Kingdom.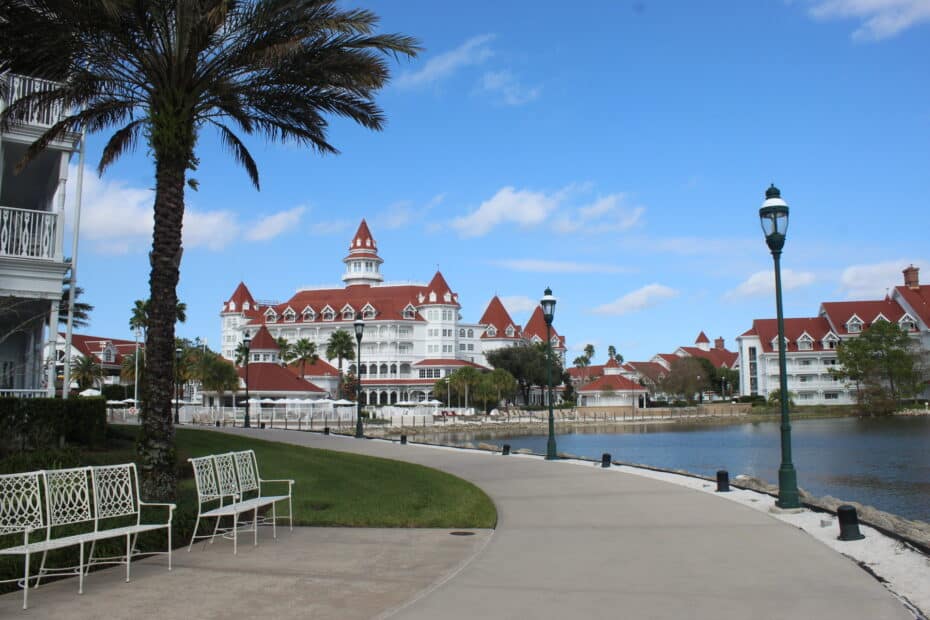 And a stay at Disney's Polynesian promotes relaxation with a Hawaiian vibe and luscious landscaping across the grounds. This original 1971 resort is a favorite for many. The Polynesian recently underwent a lengthy refurbishment that will bring Moana theming to the resort.
Perhaps, the most classic of all the Magic Kingdom Resorts is Disney's Contemporary. It's the one with a monorail running through it.
Not only that, but the Contemporary has a secret. It offers one of the best backyards in the entirety of Disney World. Guests get so caught up in being next door to the Magic Kingdom, that they hardly notice it!
Last but definitely not least is Disney's Animal Kingdom Lodge. If you dream of traveling to Africa, love animals, or are looking for a calming escape, this is it! The Animal Kingdom Lodge provides the opportunity to stay in a room that looks out onto a savanna of African animals! It doesn't get much better than that.
Best Disney Deluxe Resort
People commonly ask what the best Disney Deluxe Resorts are, and I feel like it's not a question that has a simple answer.
Have you looked at the price tag on these resorts? They are outrageous. Right now, a standard room at the Grand Floridian with a garden view is running near $700.00 per night. Of course, that's with no promos or discounts. At that rate, a 7-night vacation would run in excess of $5,000 after added taxes. And we haven't even added in park tickets!
By the time it's all said and done, you are easily looking at a $10,000 investment for a full week vacation. Expensive right? But where else can you visit that's anywhere near comparable to the Walt Disney World Resort?
Anyway, I think I've gotten on the subject of the most expensive Disney resort, which is the Grand Floridian. And the Polynesian and Riviera are not far behind.
The thing is, Disney does an excellent job with the theming of all their hotels. In order to determine what is the best deluxe, you need to decide what's most important to you and your family.
If waking up to views of the Magic Kingdom every morning sounds like a vacation that can't get any better, then yes, do Grand Floridian or the Polynesian. The resorts are only a few steps away from each other, and the monorail services both. Meaning you can easily access all of the dining options between them.
And the Polynesian is definitely where you want to go if you are dreaming about Hawaii more than you are Disney. It's so tropical.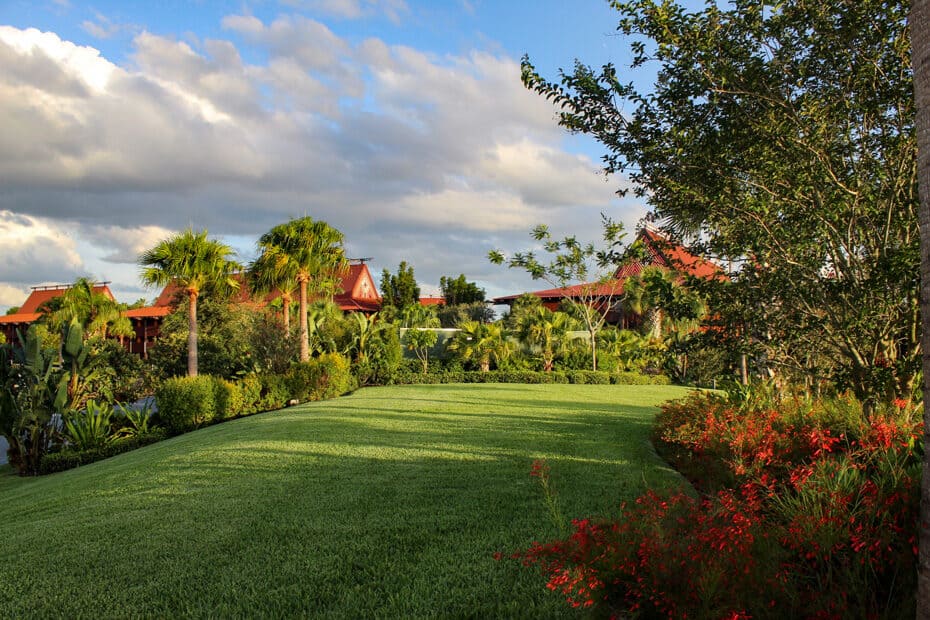 As mentioned earlier, my top Disney deluxe resort is always going to be Disney's Yacht and Beach Club. Both resorts resonate with me because of their location, setting, and amenities. We are pool people, and you won't find a better pool than the one these deluxe's share. Unfortunately, I don't love the quick service dining options at these resorts. But the table service and lounges make up for it.
My last pick for the "best" Disney Deluxe is most definitely Animal Kingdom Lodge. I have absolutely nothing against the resort. All of the dining options are wonderful. And the resort provides a unique habitat where guests can enjoy viewing animals from a distance.
I have spent a good deal of time at the Animal Kingdom Lodge and often overhear visitors saying, "We are staying here next time."
I can't say I blame them.
I'm sure someone will read this and say you didn't even mention Disney's Wilderness Lodge as one of the best deluxe resorts. Well yeah, it's pretty spectacular in its own right. They all are. It really comes down to what kind of vibe or theme you want to experience on your vacation.
When comparing the deluxe resorts, there is not one single thing that I can point out that would make one rank over another one. Except for the animals at the Animal Kingdom Lodge. Seriously, who else has that?
So maybe there's your answer, Animal Kingdom Lodge is the best Disney deluxe resort based on its uniqueness. Everything else comes in at a completely stay-able second place, depending on your fancy.
Before we wrap things up, I wanted to add back in those key points we covered that individualizes the deluxe resorts from the other categories:
These resorts offer multiple forms of transportation. The only exception being Disney's Animal Kingdom Lodge.
Disney deluxe resorts offer lounges, quick service, pool bars, table service, and signature dining.
Every deluxe resort has themed feature pool areas along with quiet pools. The feature pools all have water slides.
These resorts have a laundry room by the pool and, in some instances, within the hotels.
Deluxe resorts offer club level, which is a concierge floor with special privileges if you would like to upgrade. For more information on the club level, make sure to check out the review of Beach Club's Club Level here.
All of these resorts offer interior room access. By this I mean, you'll walk through a lobby and interior hallways to access your room.
Ready to get that room reserved? I recommend and personally use Firefly Travels for my Disney reservations. You can fill out a form below, and someone from their office will get back to you shortly.
---
Looking for more information on staying at a Disney resort? If you would like to know more about the differences between the resort categories, you might like to check the following reviews.
Disney Resort Reviews -Here, we share a summary of every single resort at Disney. Where applicable, this post links to specific resort reviews.
Moderate Resorts Reviews at Disney -This review contains information about all the resorts in the moderate category and links to specific reviews where available.
Disney Value Resort Reviews-In this review, we take a look at the value and value plus resorts at Walt Disney World. Value resorts are the lowest-priced rooms on Disney property.
Leave a comment below and let me know what you consider to be the best Disney Deluxe Resort.