DINOSAUR Ride Review at Disney's Animal Kingdom
Dinosaur is a thrill ride at Disney's Animal Kingdom Park in Walt Disney World. Specifically, you'll find this attraction in the Dinoland U.S.A. area of the park.
In this review of Dinosaur (DINOSAUR), we'll discuss the attraction in detail. We'll look at height requirements, the best times to ride, and whether or not this attraction is scary.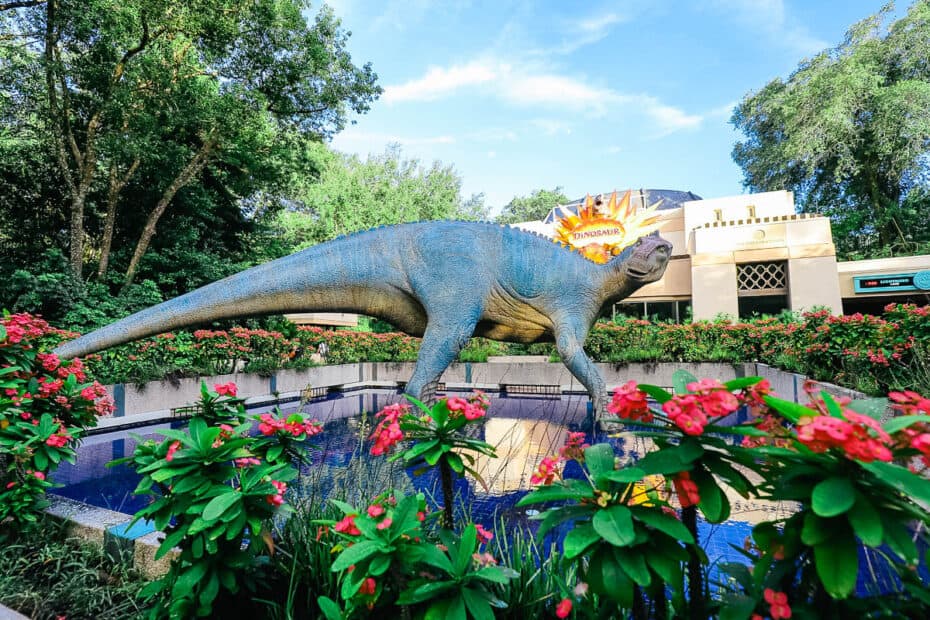 Here are a few quick references for Dinosaur:
Location: Dinoland U.S.A.
Disney Height Requirement: Yes, 40″
Lightning Lane Eligible: Yes via Disney Genie+ Service
Ride Type: Thrill
Seats Per Vehicle: Up to 6 guests per row
Rider Switch: Yes
Good For: Tweens, Teens, Adults
Scary Factor: Medium
Must-Do List: High Priority
Special Mention: You Make it!
DINOSAUR Ride at Disney World
Dinosaur is a dark ride that most will want to experience during their Walt Disney World vacation. It's the kind of attraction that tends to make guests laugh by the end of the ride.
You'll want to know that Dinosaur is a little off the beaten path. Once you enter Dinoland from Discovery Island, stay to the far right instead of entering the carnival area.
Eventually, you'll run into two columns that flank the entrance to the attraction.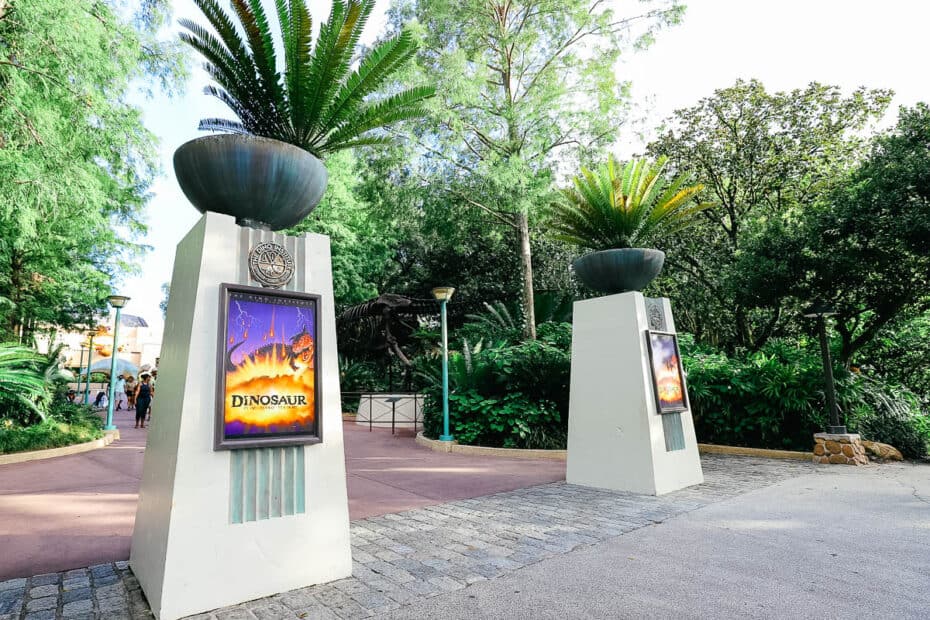 You'll head to the far right of the Iguanadon, which sits outside the attraction, to enter the queue.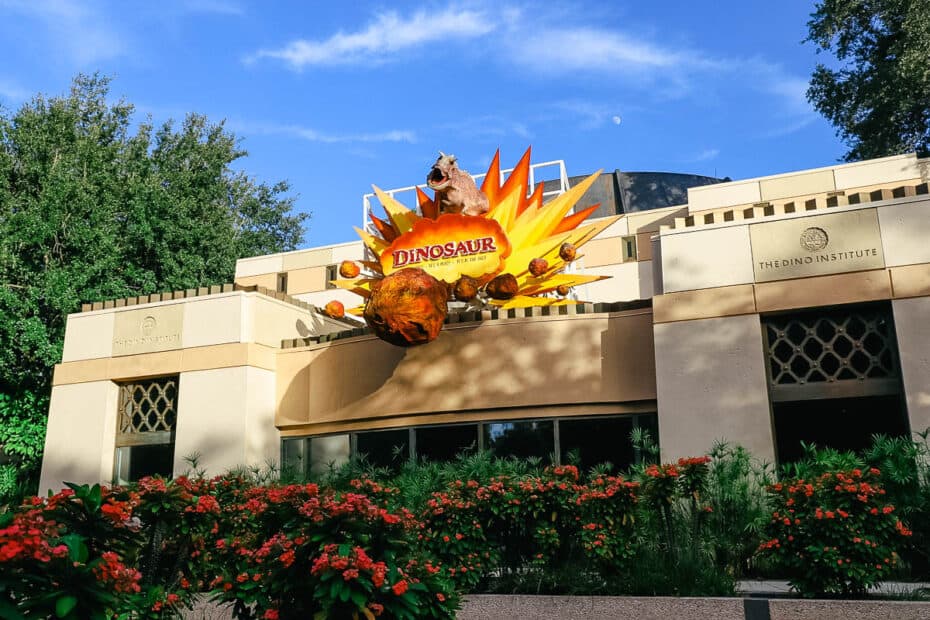 Outside the queue, there's a sign with warnings for the ride. While Dinosaur has no inversions or steep drops, it is an exceptionally bumpy ride. Make sure to heed any warnings before making the decision to ride.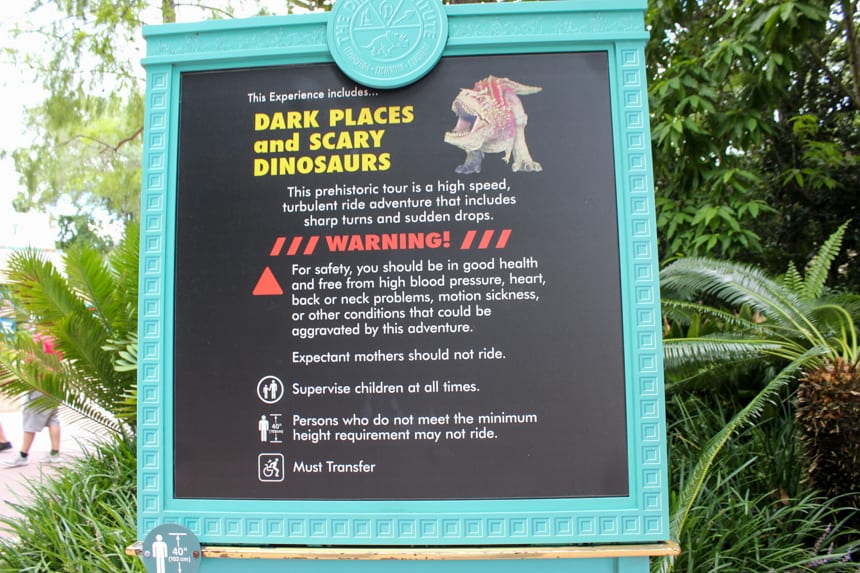 Those using a Lightning Lane for this attraction will need to scan their band on the left-hand side of the queue. Regular guests will enter the stand-by line on the right side.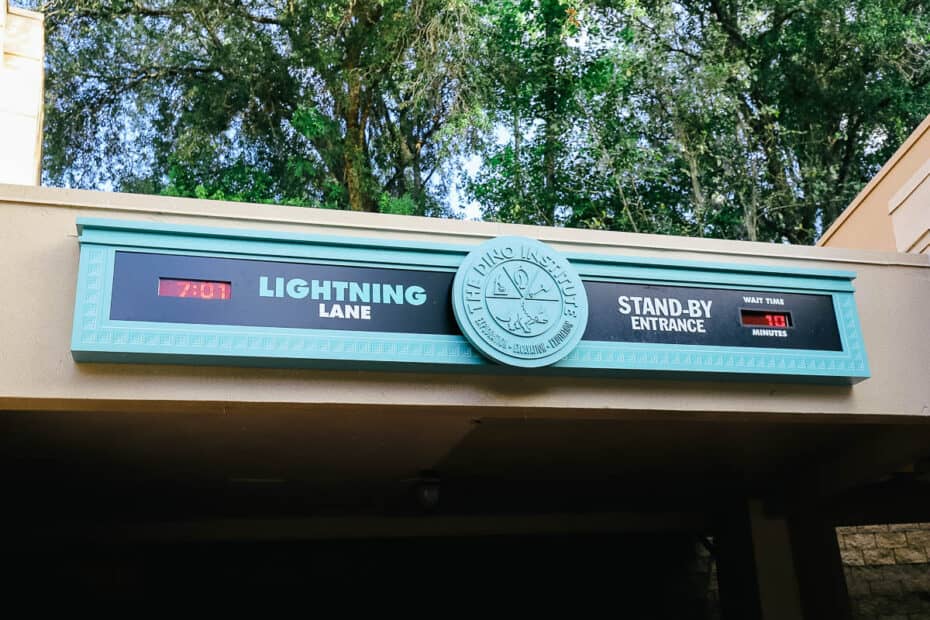 Inside the stand-by portion of the queue, you'll encounter a mini-museum with information about dinosaurs.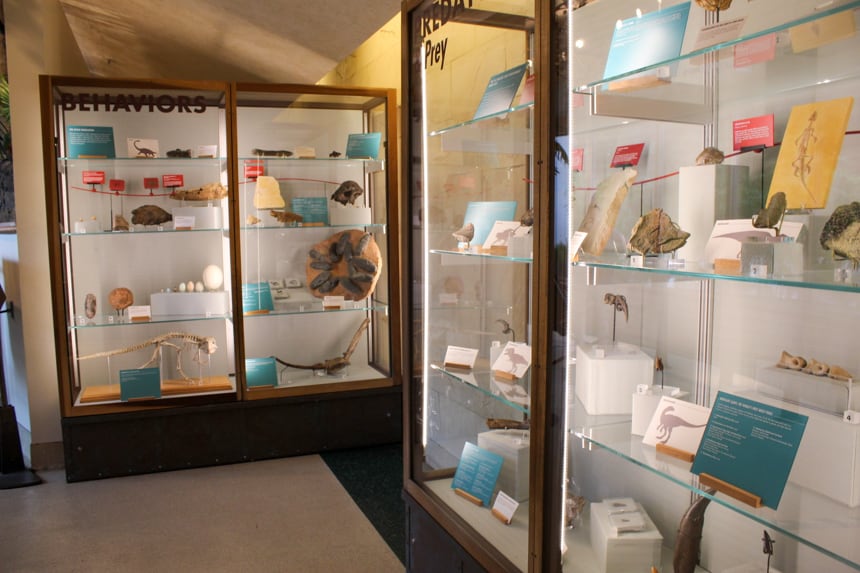 Like most of the queues at Disney, there are some interesting things to take in while you wait.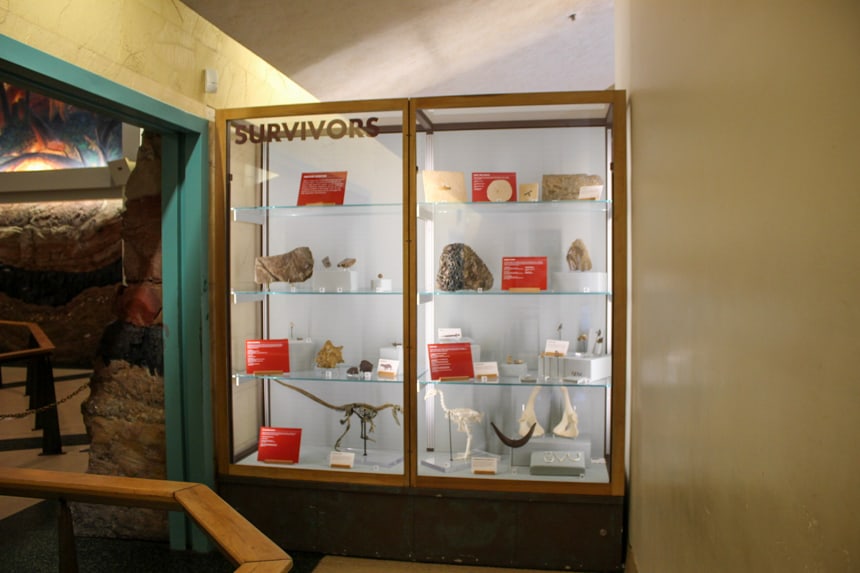 A majority of the queue for Dinosaur is inside. If you were to visit the attraction and find a long line spilling outside of the interior queue, it could be a long wait.
Wait times are usually posted above the entrance. It isn't uncommon for Dinosaurs to have a 45-50 minute wait during peak periods.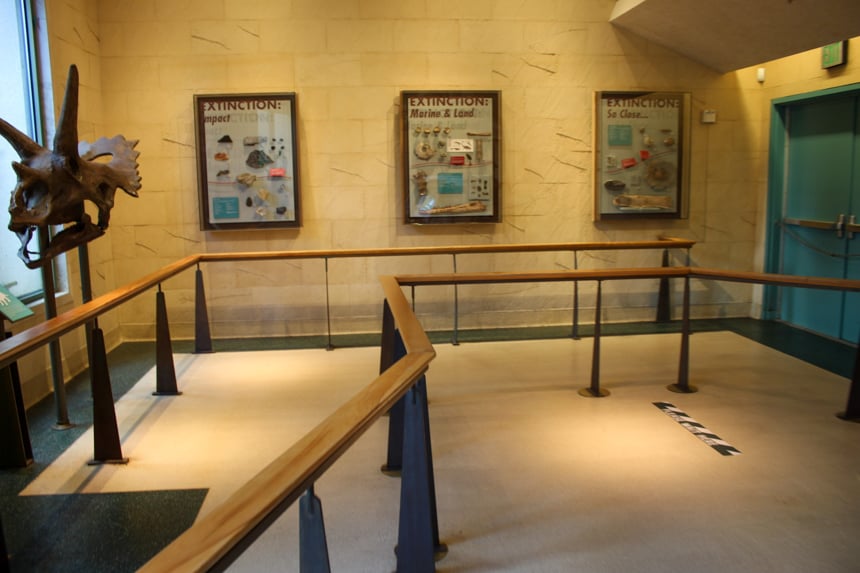 Before entering the pre-show, you'll come into this room with the dinosaur skeleton on display.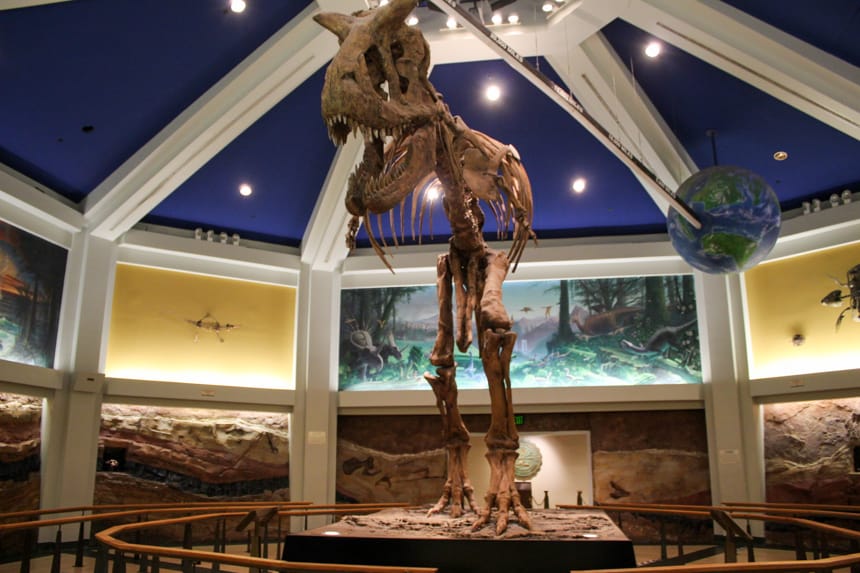 Once you enter the pre-show area, you'll stand in a large room and watch a video. About this time, Dr. Seeker, a paleontologist, comes on the screen as a tour guide.
However, he lets you in on a secret mission when he thinks no one is paying attention. You're about to board a time rover and embark on a mission in search of an Iguanadon right before a meteorite destroys it.
Sounds dangerous, doesn't it? Well, that's because it is.
Dr. Seeker is willing to put your safety and everyone else's at risk to bring an Iguanadon back from the land before time.
He leaves you with a line like, "Now, go get that dino!"
After the pre-show ends, a door opens, and you join a smaller waiting area that leads to the ride vehicle. Thankfully, this part of the queue moves swiftly.
Staircases (traveling down) make up this portion of the queue. A cast member will be in this area to assist anyone who needs to use an elevator.
When you exit the pre-show area, I recommend taking your time. Many guests express frustration here because they aren't expecting an additional line.
Usually, there are two pre-show theaters in session simultaneously. Often, they let out close to the same time. So it looks like a lot of traffic in a small area.
However, the process moves quickly since so many guests can board a ride vehicle.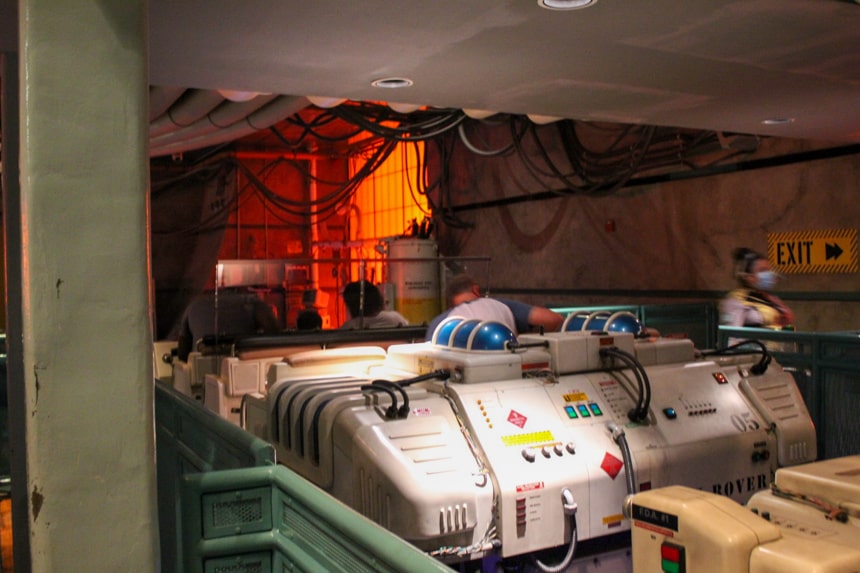 As you set off down an unseeable track, everything gets dark. Your time rover is traveling back to the early pre-historic era, after all.
Before you know it, you're mission to find an Iguanodon has turned into a bit of a wild dinosaur chase.
Between every twist and turn, dinosaurs are popping out all around you. Some are a little too close for comfort. And these fairly medium surprise factors might be enough to scare the kids.
There is also an on-ride photo opportunity right about the time T-Rex opens his mouth wide to scoop you up! However, this photo opportunity is a bit of a hoot!
It's always fun to see the variety of expressions on everyone's face as they look up at the towering dino. Make sure to have a pose in mind.
Even I'll admit, I'm usually holding on for dear life while thinking, "that's not our dino."
Lucky for you, the time rover pivots in enough time to not only avoid the dinosaur encounter but miss the incoming meteor shower as well.
But did you complete your mission and get the right dino? I'll let you figure that one out.
At the end of Dinosaur, you'll exit into a gift shop for the attraction. These shops are commonly referred to as dump shops because the ride dumps you into the shop.
Best Time to Ride DINOSAUR
Dinosaur often meets to long wait times during the day. Therefore you might consider using Lightning Lane for this attraction.
Lightning Lane for Dinosaur is offered through Disney's Genie+ service. It is not an a la carte selection where you can purchase it individually.
If you don't purchase Genie+, you might consider riding Dinosaur after 4:00 p.m. unless you are over this way earlier in the morning. However, most guests head straight to Flight of Passage and then on to Kilimanjaro Safaris first.
Hopefully, this article helped you get a good idea of whether Dinosaur was right for you or everyone in your group. If you've visited Disneyland, Indiana Jones Adventures uses the same ride system. So it will have a similar feel but a completely different theme.
Are you planning a Walt Disney World vacation? You might enjoy some of our favorite Disney World Hotel Reviews:
In the Comments:
As for DINOSAUR, do you have plans to ride it on your next vacation? What do you think about this type of attraction?