Review: DINOSAUR Ride at Disney World
DINOSAUR is a fun, thrill attraction located at Animal Kingdom park in Disney World. The attraction is located in Dinoland U.S.A and does have a height requirement.
One of the most common questions guests ask about this ride: Is DINOSAUR at Animal Kingdom scary? Yes, DINOSAUR can be scary for younger children due to darkness and potentially terrifying dinosaurs popping out of nowhere.
This review will cover everything you need to know to experience DINOSAUR on your Disney vacation.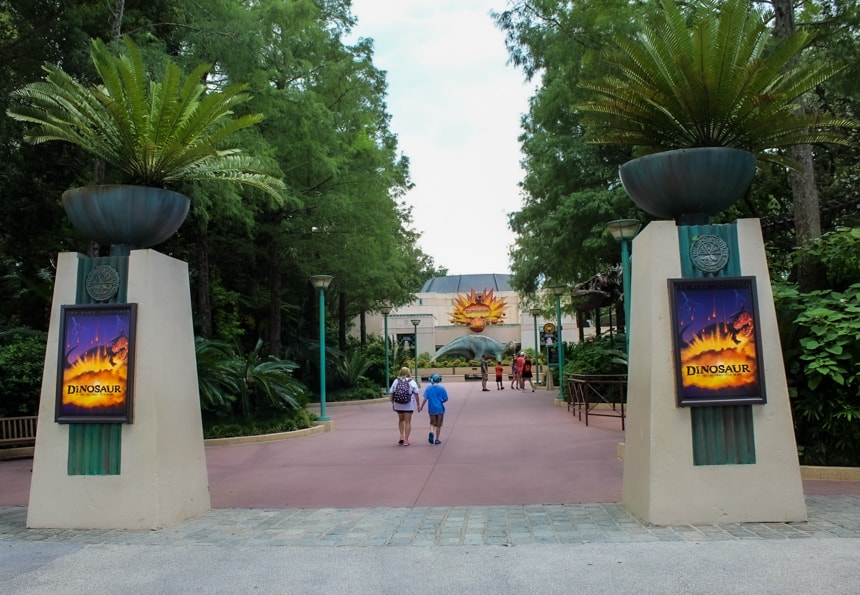 Here are the need to know details:
| DINOSAUR | ANIMAL KINGDOM |
| --- | --- |
| Location: | Dinoland U.S.A |
| Disney Height Requirement: | 40″ |
| FastPass at Animal Kingdom | Yes, when available |
| Ride Type: | Thrill |
| Seats Per Vehicle: | Up to 6 per row |
| Disney Rider Switch: | Yes |
| Extra Magic Hours: | Mornings, when available |
| Good For: | Tweens, Teens, and Adults |
| Scary Factor: | Medium |
| Must-Do List: | High Priority |
| Perfect For: | Tweens, Teens, and Adults |
| Special Mention: | On-Ride Photo Opportunity |
DINOSAUR Ride at Disney World
DINOSAUR is a dark, thrill ride that most people will want to enjoy during their Disney vacation. It's a lot of fun and the kind of attraction that typically makes people laugh from the overall experience.
The attraction is a little bit off the beaten path, as it's located in an area all to itself beyond Dinoland. When walking back to this area you'll notice it's completely separate. There is no carnival-feel like the land where it resides. You can kind of tell in the picture below how the area is more secluded than other attractions in the park.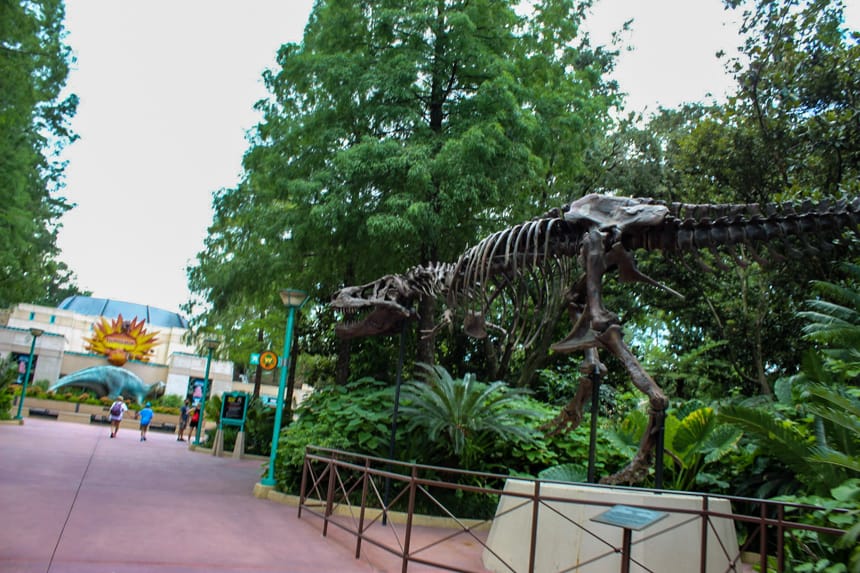 The entrance to the queue for this attraction is right around to the right of the large Iguanodon out front.
There are some fun photo opportunities outside the area. Especially if you were to visit on a day with low crowds.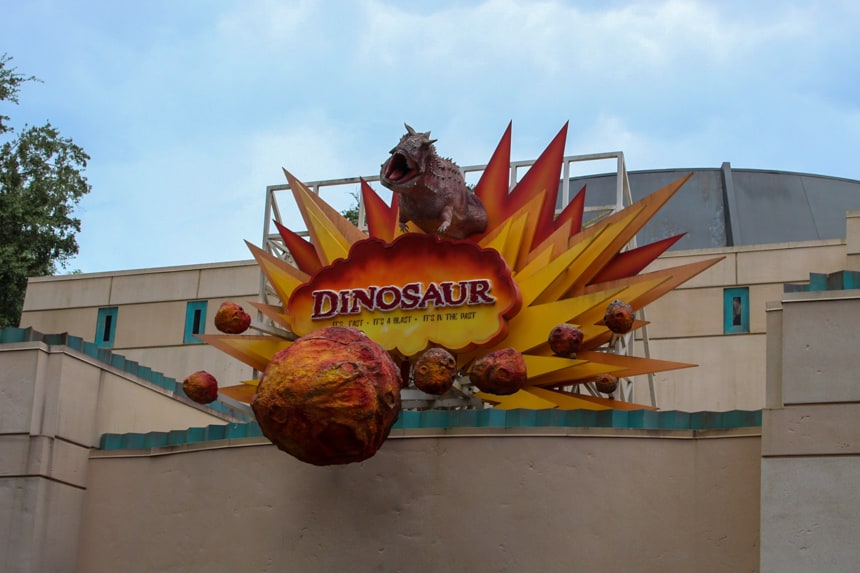 You'll encounter signage expressing a few warnings. Since this is considered a thrill ride you should definitely heed the warnings. But there are no inversions or steep drops on DINOSAUR. However, it's a fairly bumpy ride.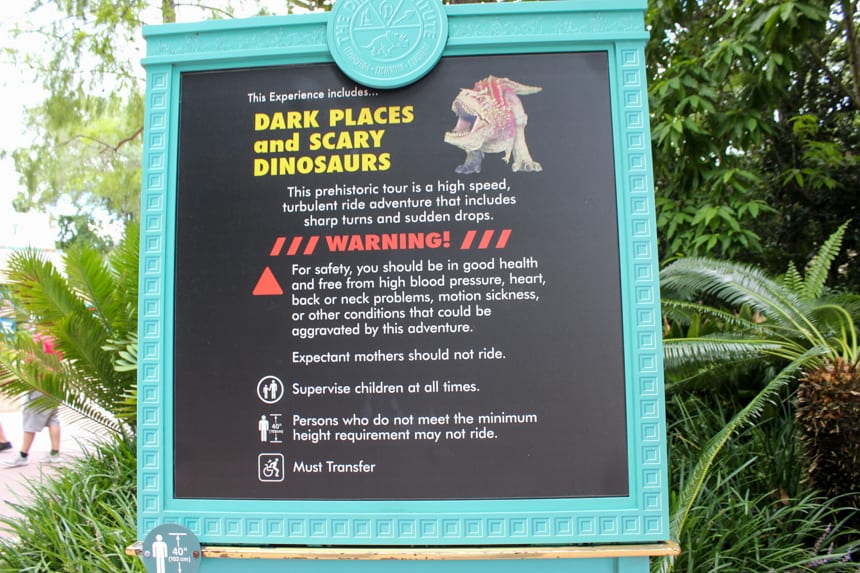 The standby queue offers museum-like displays with a good deal of information about dinosaurs.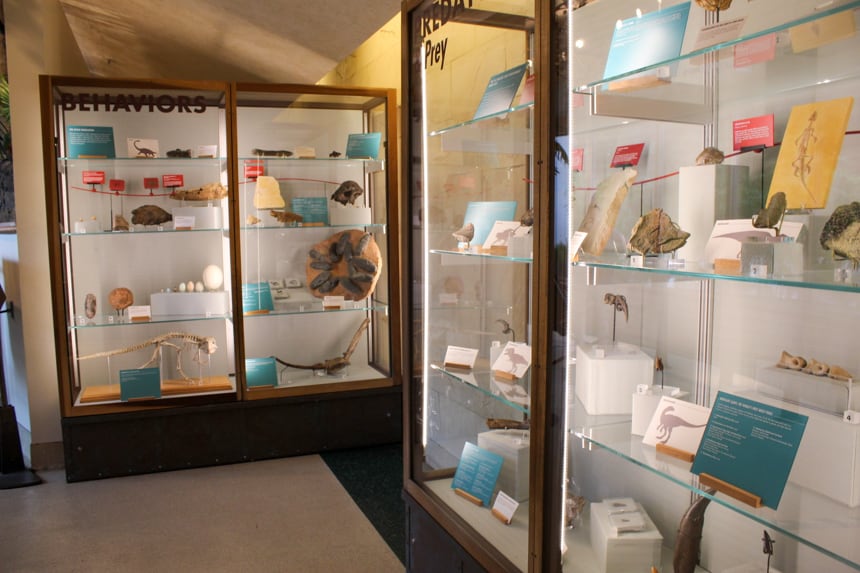 Like most of the queues at Disney, there are some interesting things to take in while you are waiting.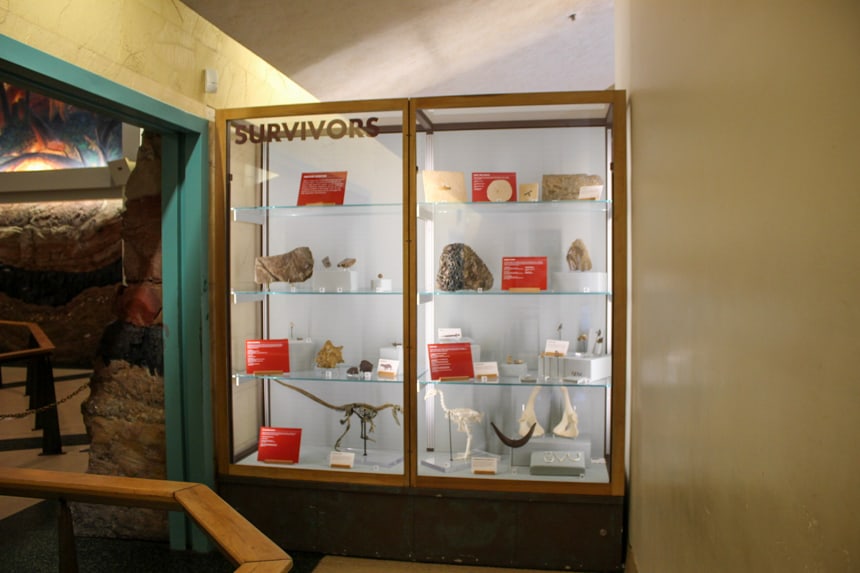 A majority of the queue is inside. If you were to come across a line that is stand still outside, you might be in for a bit of a wait. However, if the line is moving sometimes it just indicates a bit of a back up and will even back out.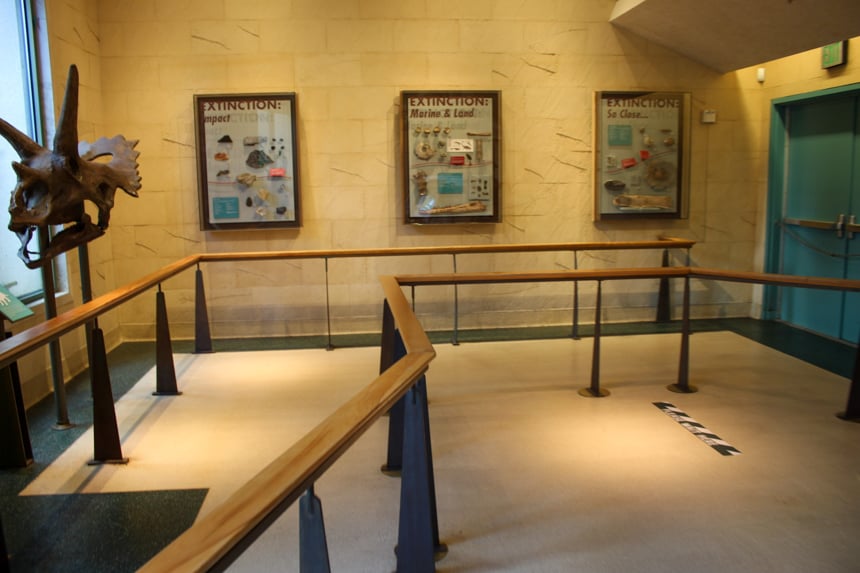 Here is the room where you will wait prior to joining the pre-show.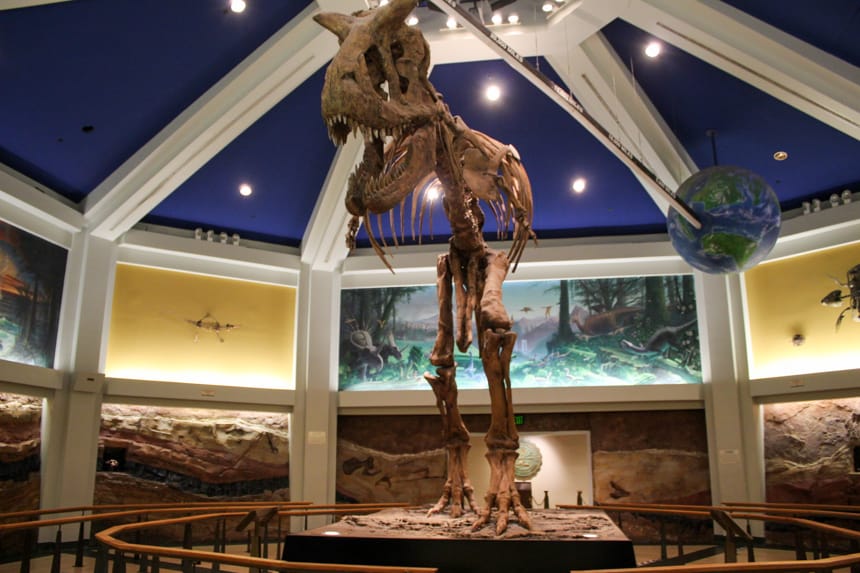 Here's a photo of the pre-show, the room is fairly dark hence the terrible photo. Right now given social distancing this room is just open too walk through. Normally, you would stop here and watch a little back story about the Iguanodon. Right before the end you find out you are on a secret mission. The plan is to board a time machine and get that dino!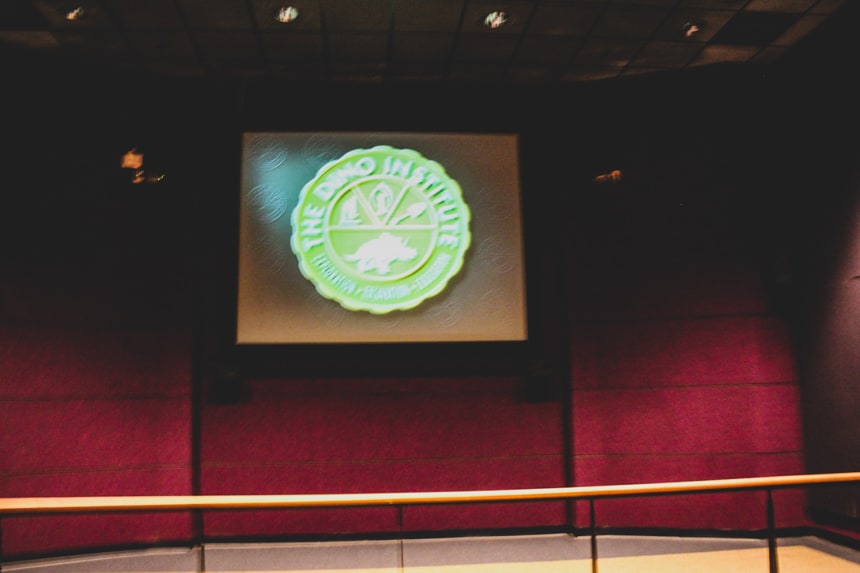 After the show is over the doors open and you join another waiting area. Thankfully, this part of the queue will move swiftly. There are staircases (traveling down) that make up part of the line. A cast member will also be here to assist anyone in need of an elevator.
When you exit the pre-show area I recommend taking your time. A lot of guests express frustration here because they aren't expecting an additional line. Usually, there are two pre-show theaters that let out pretty close together. This makes it seem like you might have another long wait then you actually will.
Here's a look at the ride vehicle. Guests will board their time rover. Right now they are boarding every other row.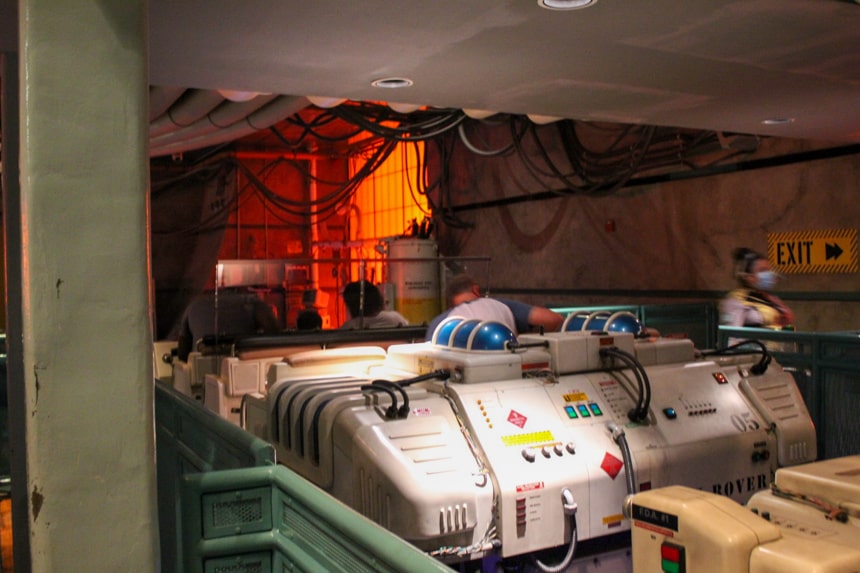 There is also a plexi-glass partition between the front row and the back. The restraint here is a standard seat belt with handles on the back of the seat ahead of you if needed.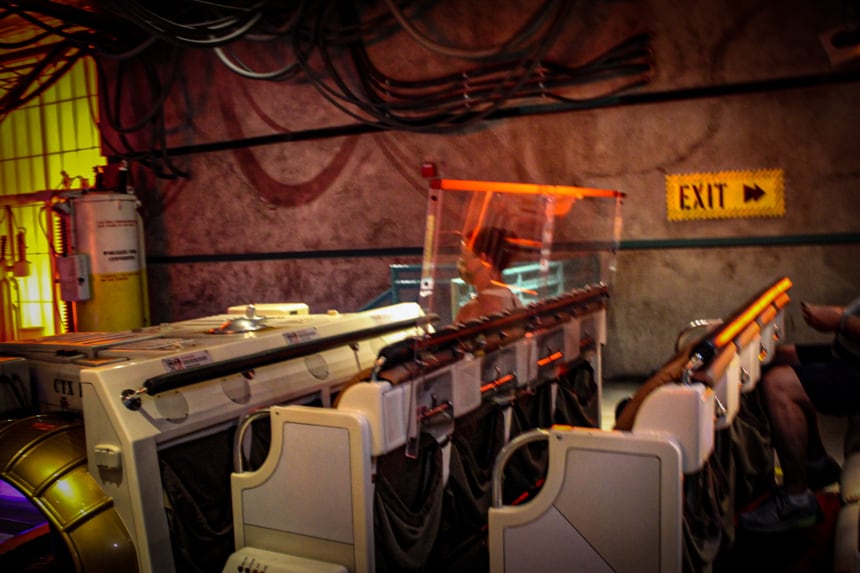 As you set off down an unseeable track everything gets very dark. Your time rover is traveling back to the early pre-historic era after all. Before you know it you're mission to find an Iguanodon has turned into a bit of a wild dinosaur chase.
Between every twist and turn dinosaurs are popping out all around you. Some are a little too close for comfort. And these fairly medium surprise factors might be enough to scare the kids.
There is also an on-ride photo opportunity right about the time T-Rex opens his mouth wide to scoop you up! The fun part here is the variety of expressions on everyone's face as they look up at the towering dino. Even I'll admit I'm usually holding on for dear life while simultaneously thinking, "that's not our dino."
Lucky for you, your time rover pivots in enough time to not only avoid the dinosaur encounter but miss the incoming meteor shower as well. But did you complete your mission and get the right dino? I'll let you figure that one out.
Best Time to Ride DINOSAUR
This ride does meet to long wait times during the day. While the attraction does offer FastPass (when available), I find that it's not worth using for an initial option. However, it is also often difficult to secure during peak times of crowded days.
I recommend trying to ride after 4:00 p.m. without a FastPass unless you are over this way earlier in the morning. But most guests head straight to Flight of Passage and then on to Kilimanjaro Safaris or Expedition Everest.
This does make for an excellent 4th or more FastPass when you can get it refreshing in the park on your visit. You can also often ride DINOSAUR late at night in the last hour or so of park operation with minimal wait times. There have been a few times we've been able to ride it back to back with no waits.
Storing Items on DINOSAUR
One important thing to mention when it comes to riding DINOSAUR is to remember to properly store items upon boarding.
The reason I'm mentioning this is that all ride vehicles, including DINOSAUR, have storage compartments for your belongings. They are there for a reason. So you won't lose your items, and for safety while experiencing the attraction. So make sure you take advantage of these areas and make a habit to retrieve your items before exiting any ride.
I have been in line for DINOSAUR before and someone on an attraction lost something of importance while on the ride. In the event, someone were to lose something like medicine or similar, they will shut down the ride to see if they can retrieve the items.
Now, this is not always typical. I've lost a hat and sunglasses prior to attractions at Disney. In those cases, my only remedy was to check back the next day. I assume that cast members have a list of items deemed important for these types of things.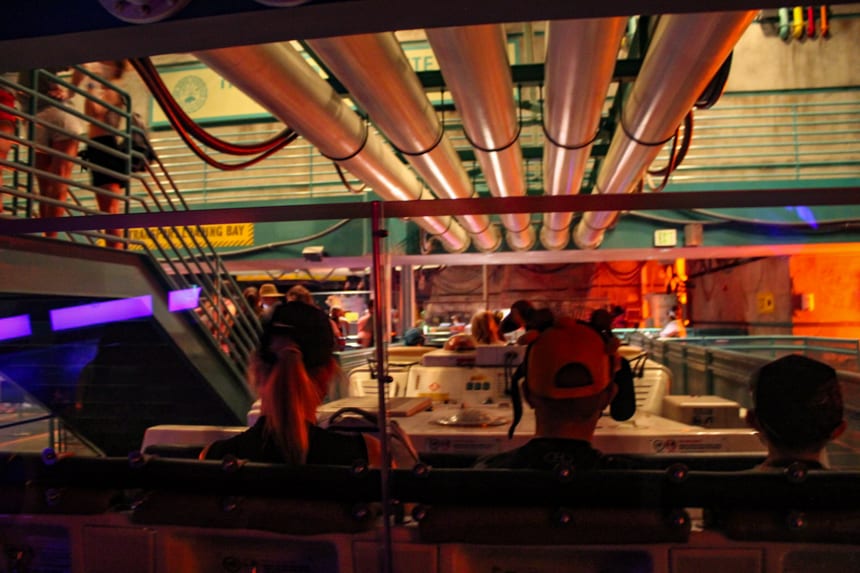 At the end of the attraction you'll exit into what most call a "dump shop."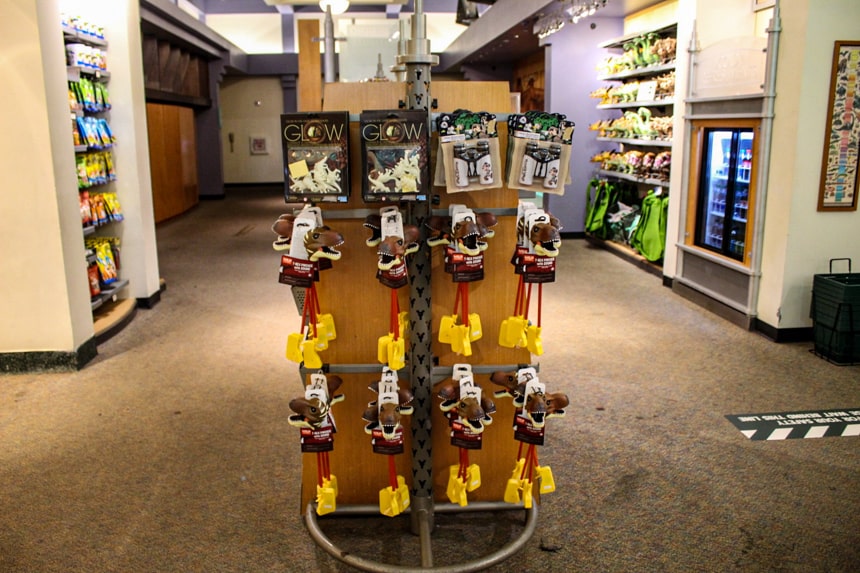 Meaning the ride dumps you into a retail store. It's a fairly common thing at Disney World.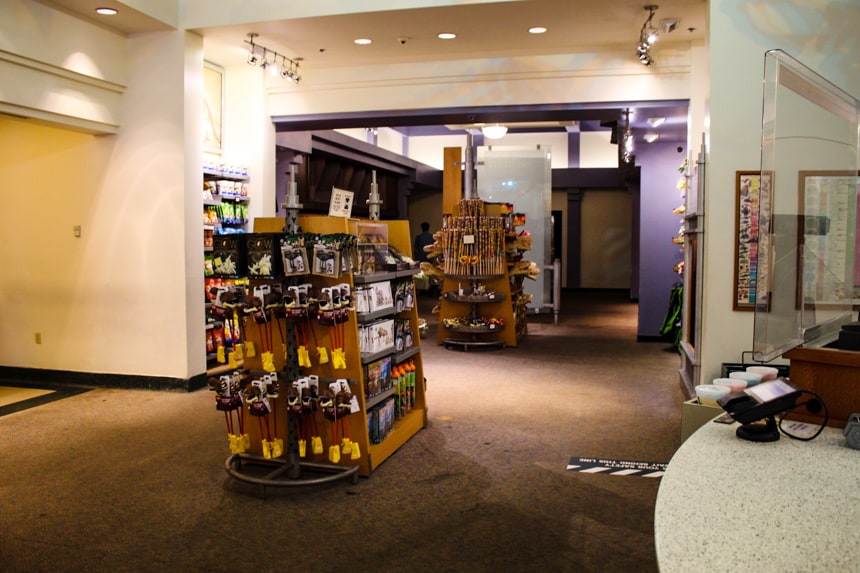 Fans of dinosaurs might want to take a look around.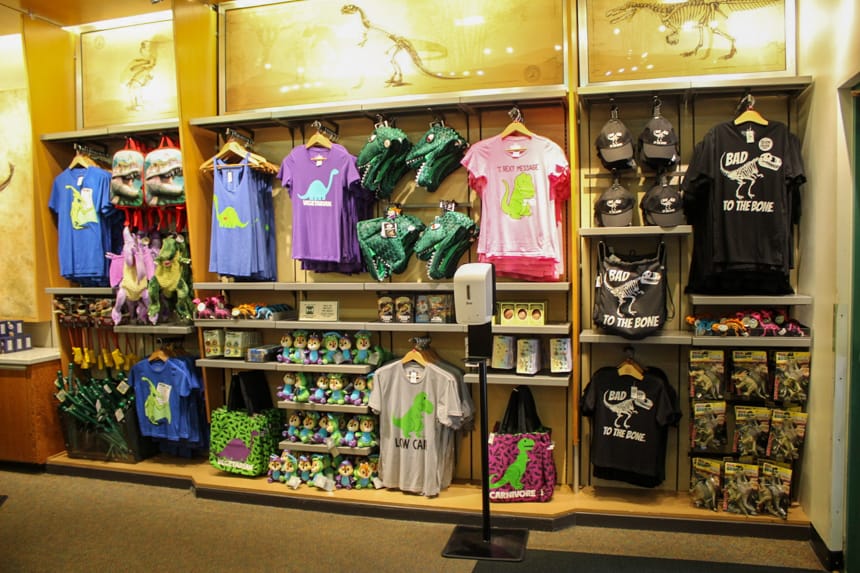 Additionally, you'll find there's a place to purchase the memory maker or separate ride photos. Dinosaur is one of the few attractions at Animal Kingdom that offers an on ride photo opportunity.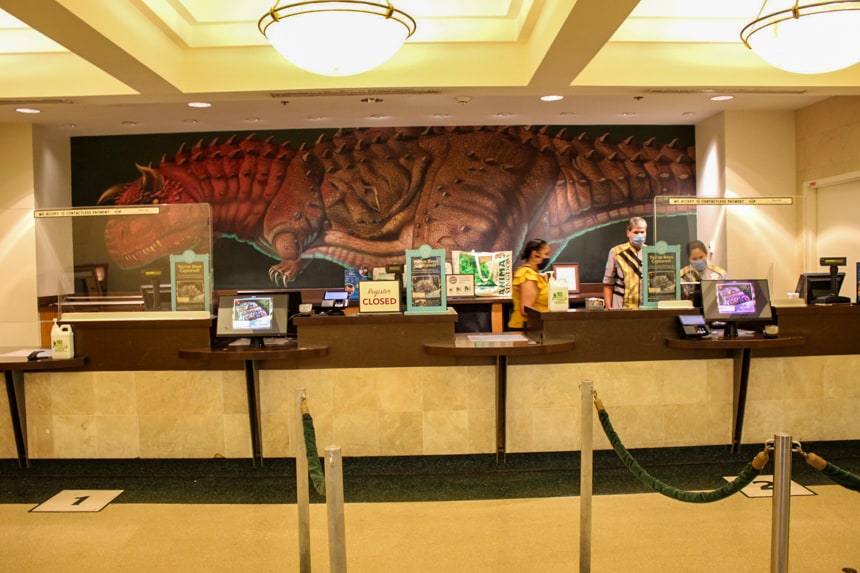 And after you exit the store, you'll find an outdoor pathway back to Dinoland U.S.A.
Planning a Disney vacation? Make sure to check out our full list of Disney World Hotel Reviews (Here) or you might enjoy some of these articles:
Our list of Disney Restaurant and Dining Reviews is also a great resource for planning reservations.
As for DINOSAUR, do you have plans to ride it on your next vacation?