Disney's Animal Kingdom Lodge Review (Jambo House)
This review of Disney's Animal Kingdom Lodge discusses the specifics of our stay. We'll look at what staying at Jambo House is like, including rooms, dining, recreation, transportation, and other resort amenities.
Disney's Animal Kingdom Lodge offers a unique opportunity to vacation in a setting unlike most of us will ever experience. It is so unique that it deserves distinction.
Anyone who's ever dreamed of going on safari or visiting Africa, in general, will likely find the resort captivating. The entire hotel is arguably in a class of its own.
Of course, that can be said about most of the resorts at Disney World. However, there's something extraordinary about waking up in the morning and sipping coffee on your balcony while giraffes frolic below.
For this review of the Animal Kingdom Lodge, we'll focus on Jambo House–the main lodge. If you're interested in a Disney Vacation Club Resort, we have a separate review of Kidani Village.
Kidani is part of the overall property and is a short walk from Jambo House. It is commonly referred to as Disney's Animal Kingdom Villas.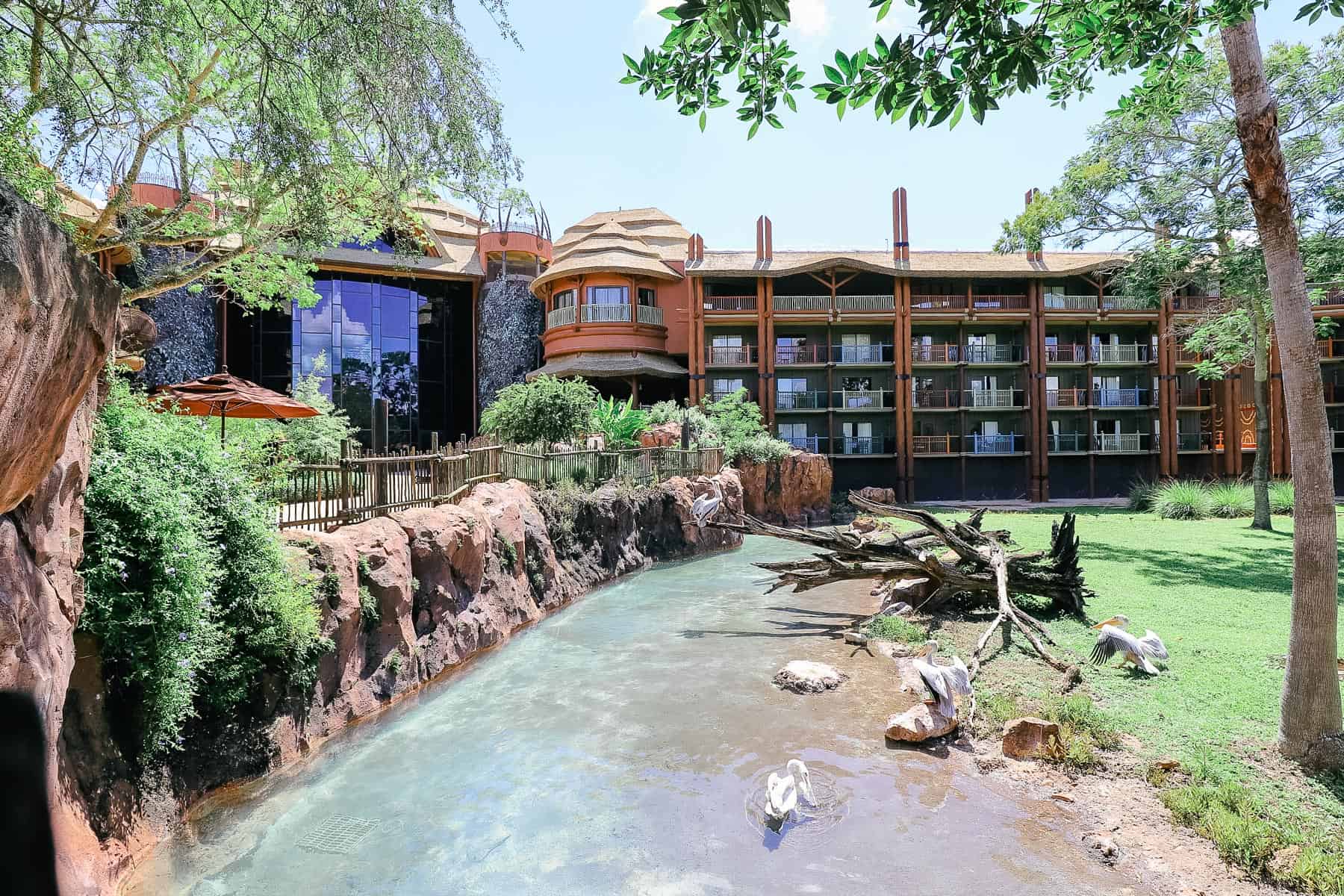 Jambo House Review
Disney's Animal Kingdom Lodge is located on the outskirts of Walt Disney World property. It sits adjacent to Disney's Animal Kingdom theme park, making it a less than 5-minute bus ride from the resort to the park.
Animal Kingdom Lodge's location is further out from the rest of Disney's theme parks to provide the space necessary for the African animals that call it home. Multiple savannas surround the resort, allowing guests to observe these beautiful animals during their stay.
Since Animal Kingdom Lodge is a little further out, it will add a few minutes of driving time to reach other on-property destinations. However, the privacy and serenity of the resort make up for it.
Disney's Animal Kingdom Lodge falls under the deluxe resort category. As a result, it has more guest rooms than any other resort within its category. Room rates at the resort are often more reasonable than the other deluxe hotels.
Those in the moderate resort range might want to consider Animal Kingdom Lodge when comparing prices. Often, the Lodge's standard view rooms are comparable to the price of a moderate resort.
When you enter the front doors of Jambo House, you're immediately greeted by its grand lobby. It demands a pause to survey your surroundings.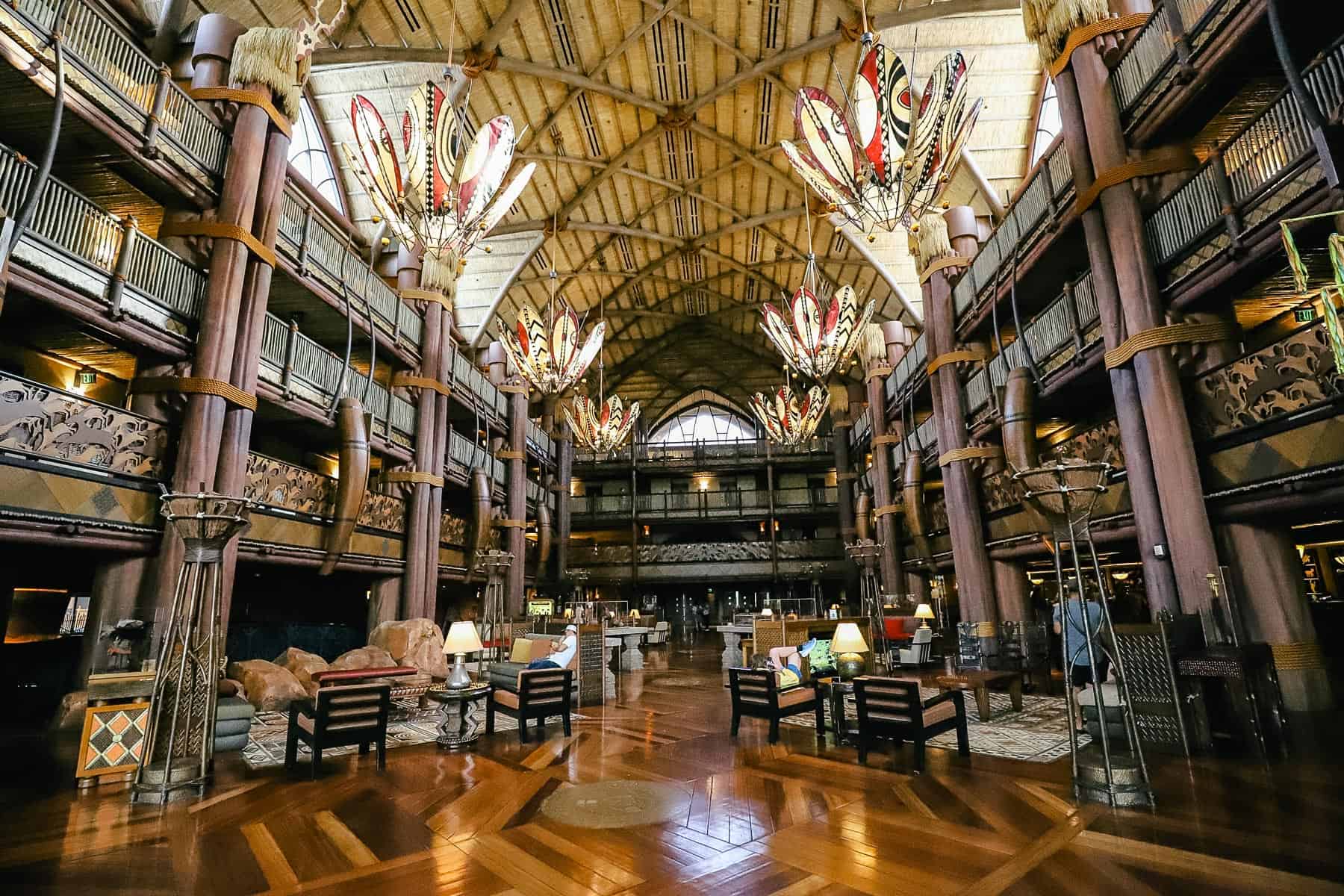 When you enter the resort, you're on the third floor. So, a couple of floors are located above and below you.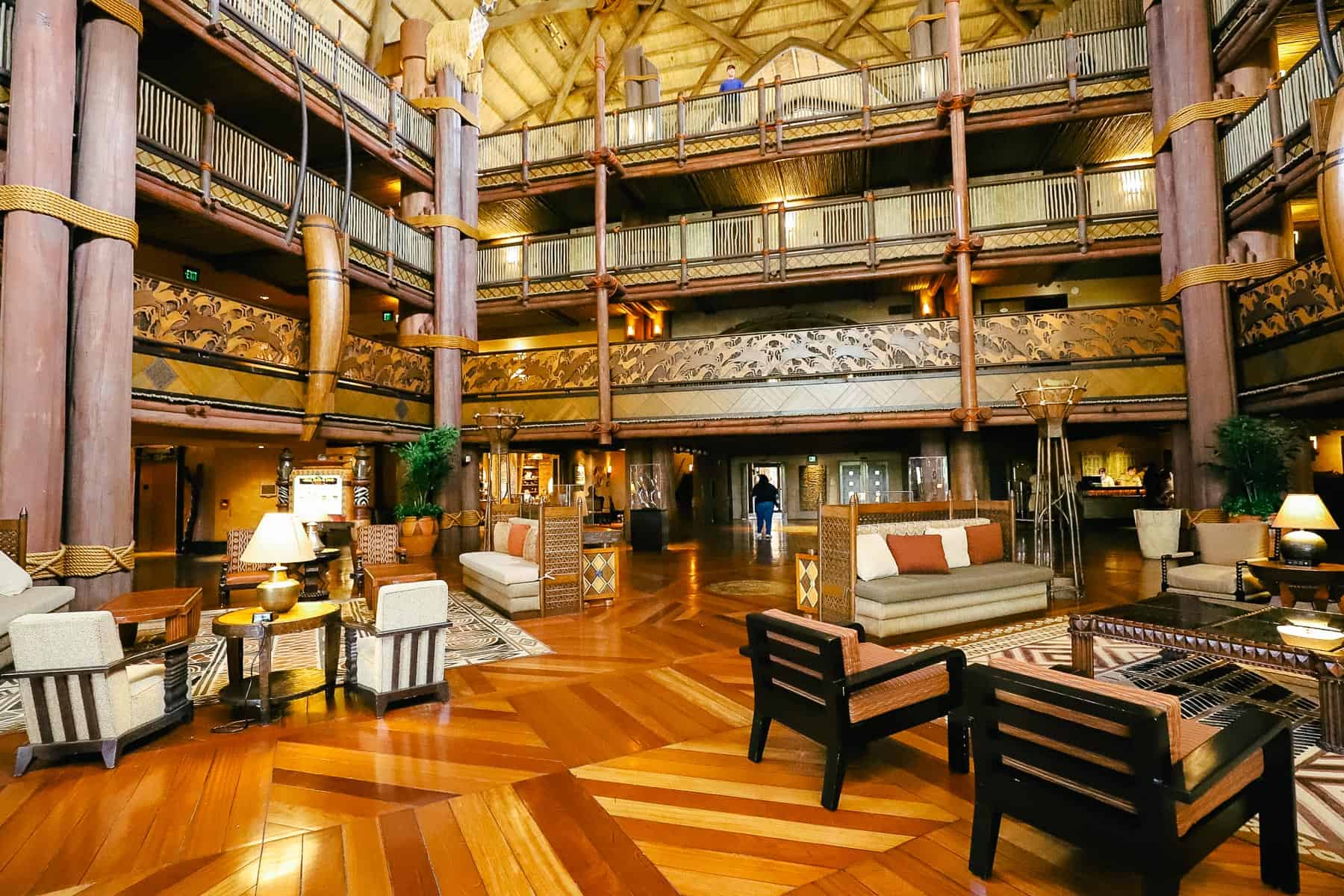 It's a tremendous lobby with plenty of seating arrangements.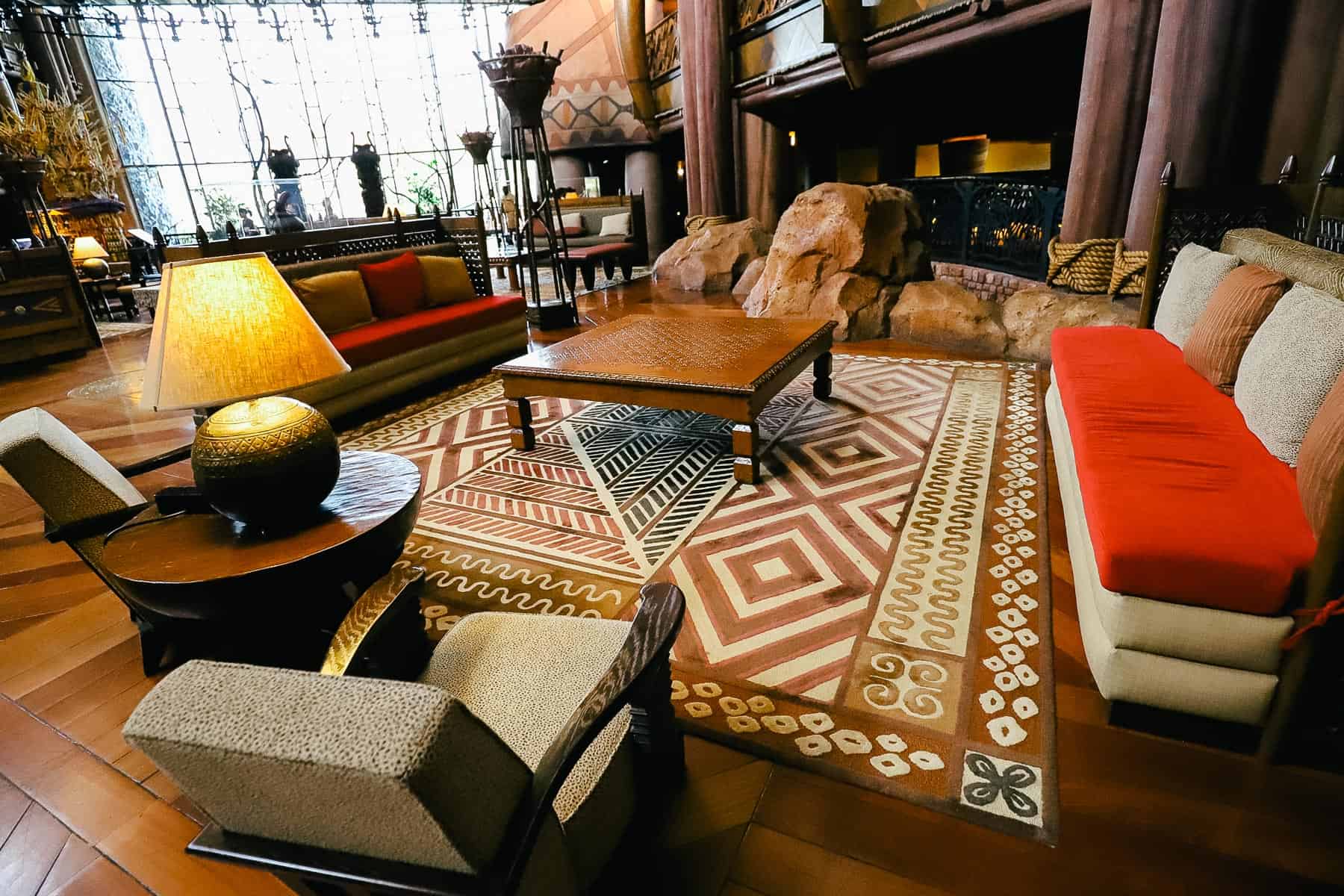 The lobby has gorgeous hardwood floors with medallions strategically placed throughout.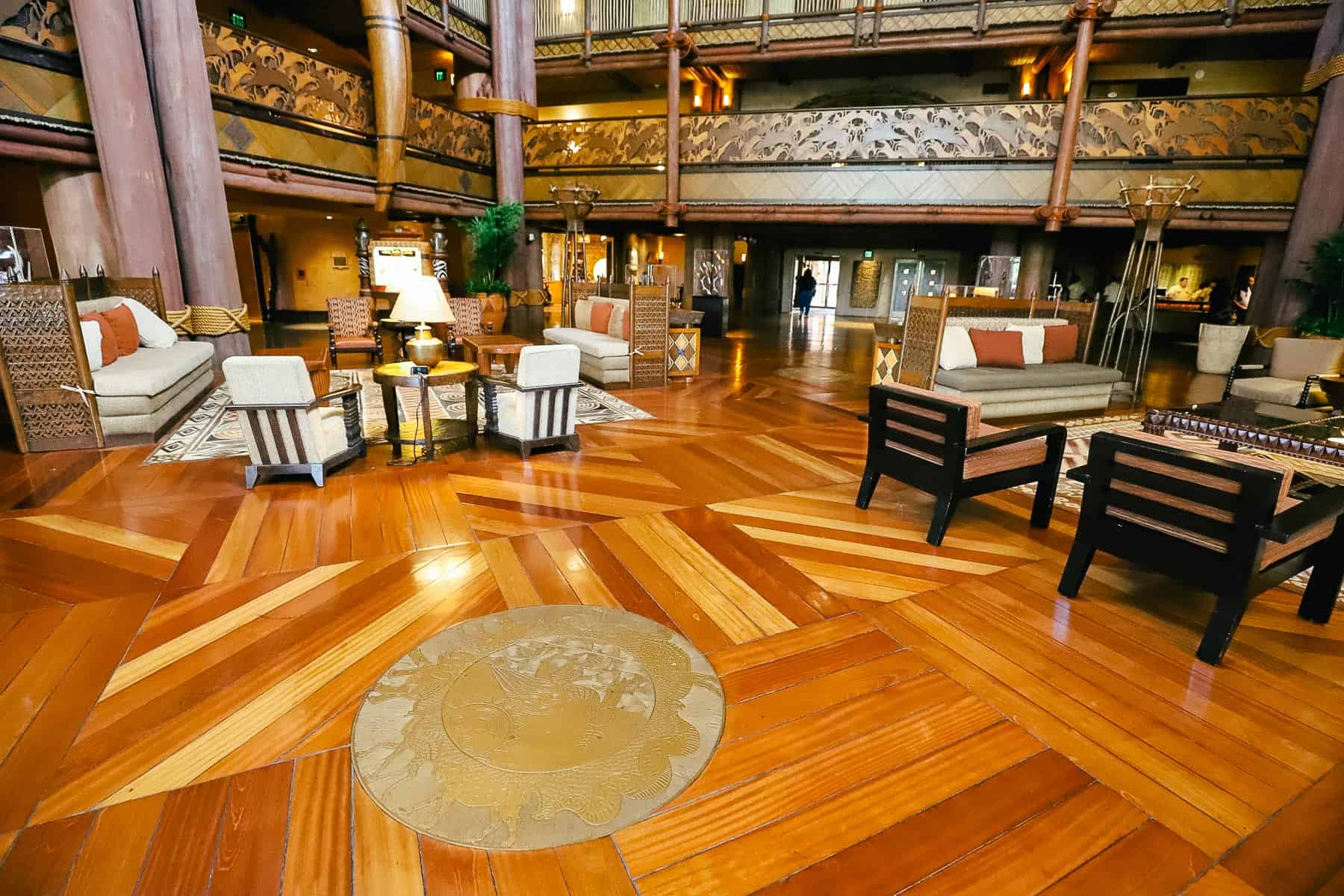 Here's a closer look. Each one is unique.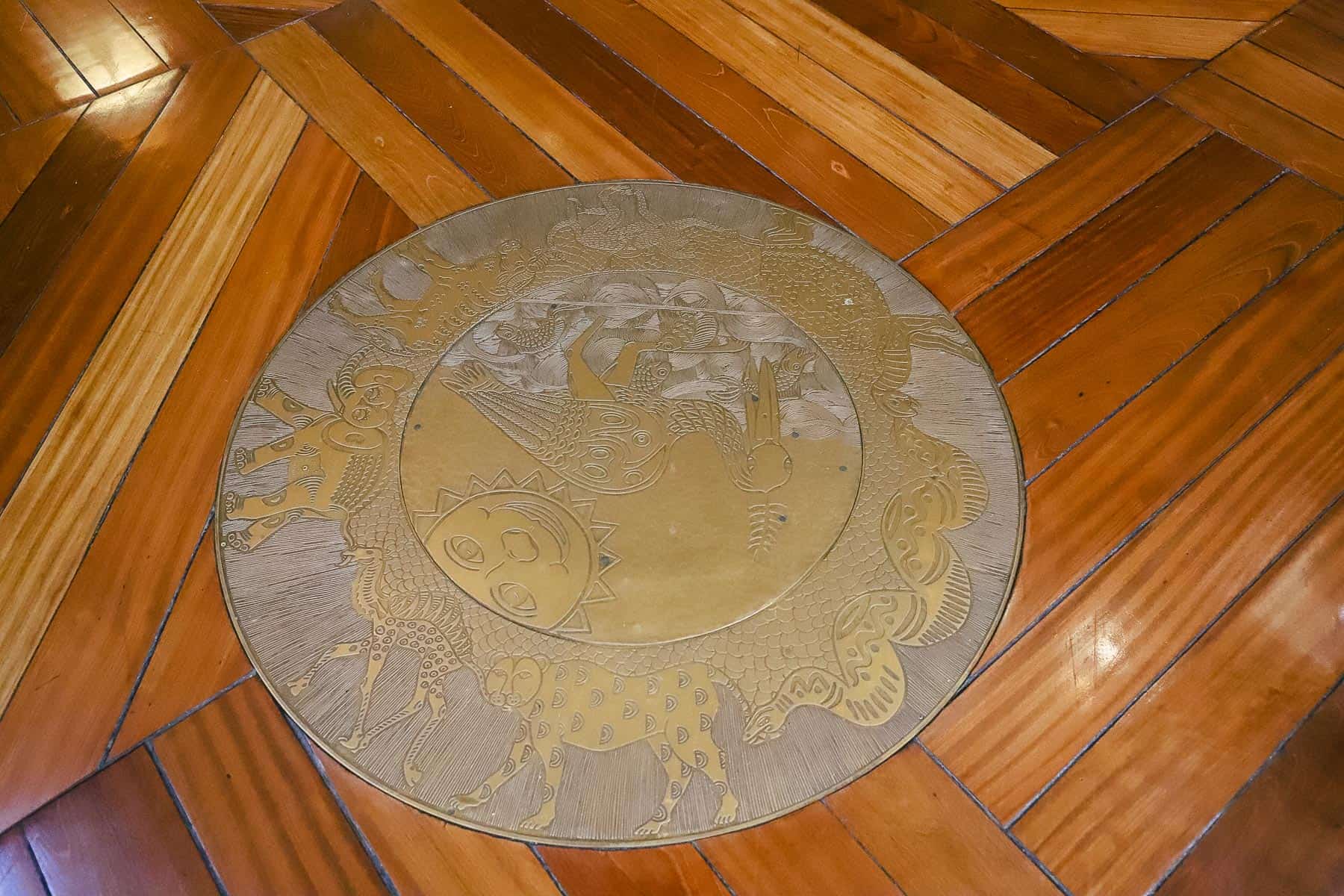 If you visit the resort, you might take the elevator up to the fifth floor to take in the views of the lobby from above.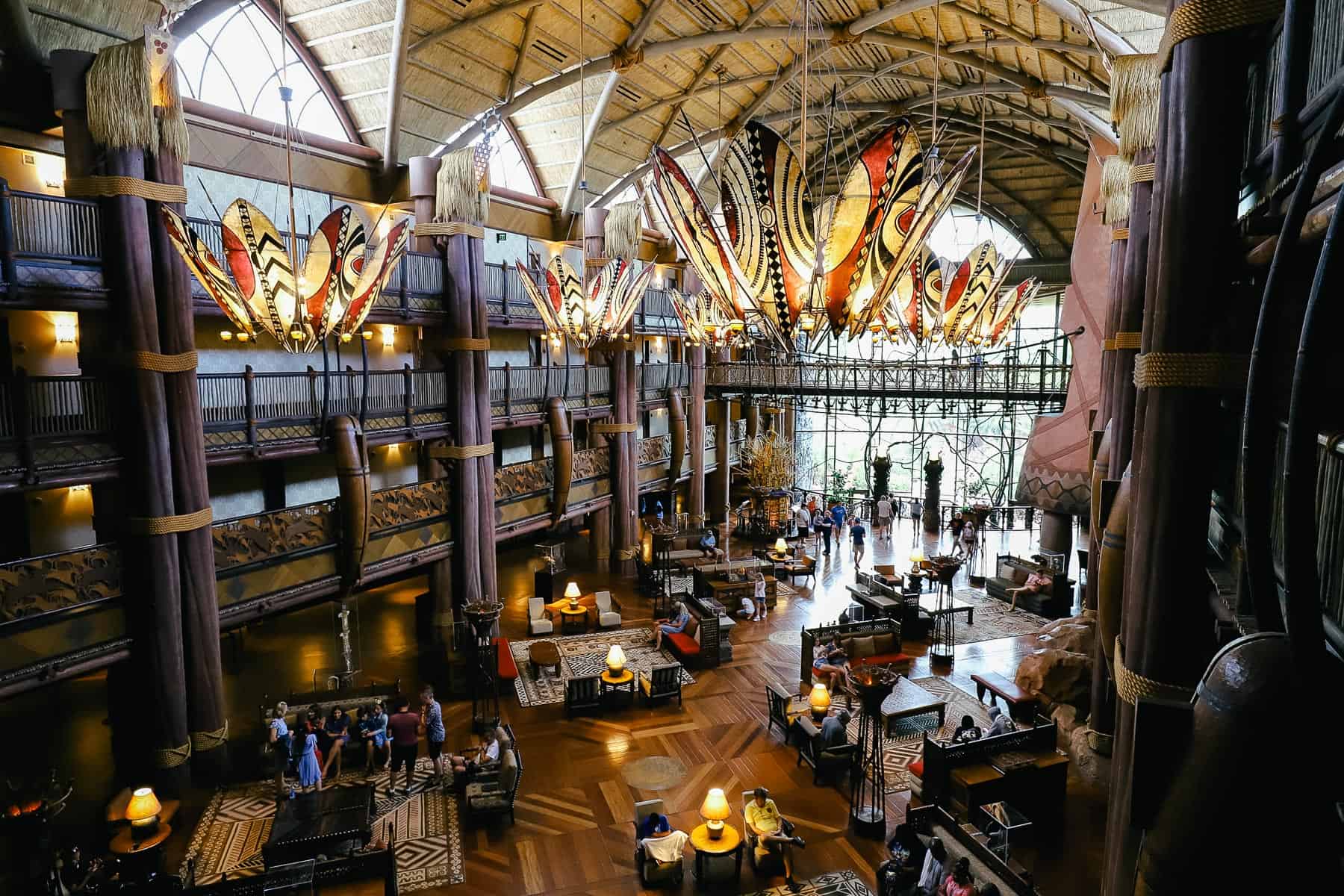 A bridge crosses the lobby.
The entire thing is gorgeous.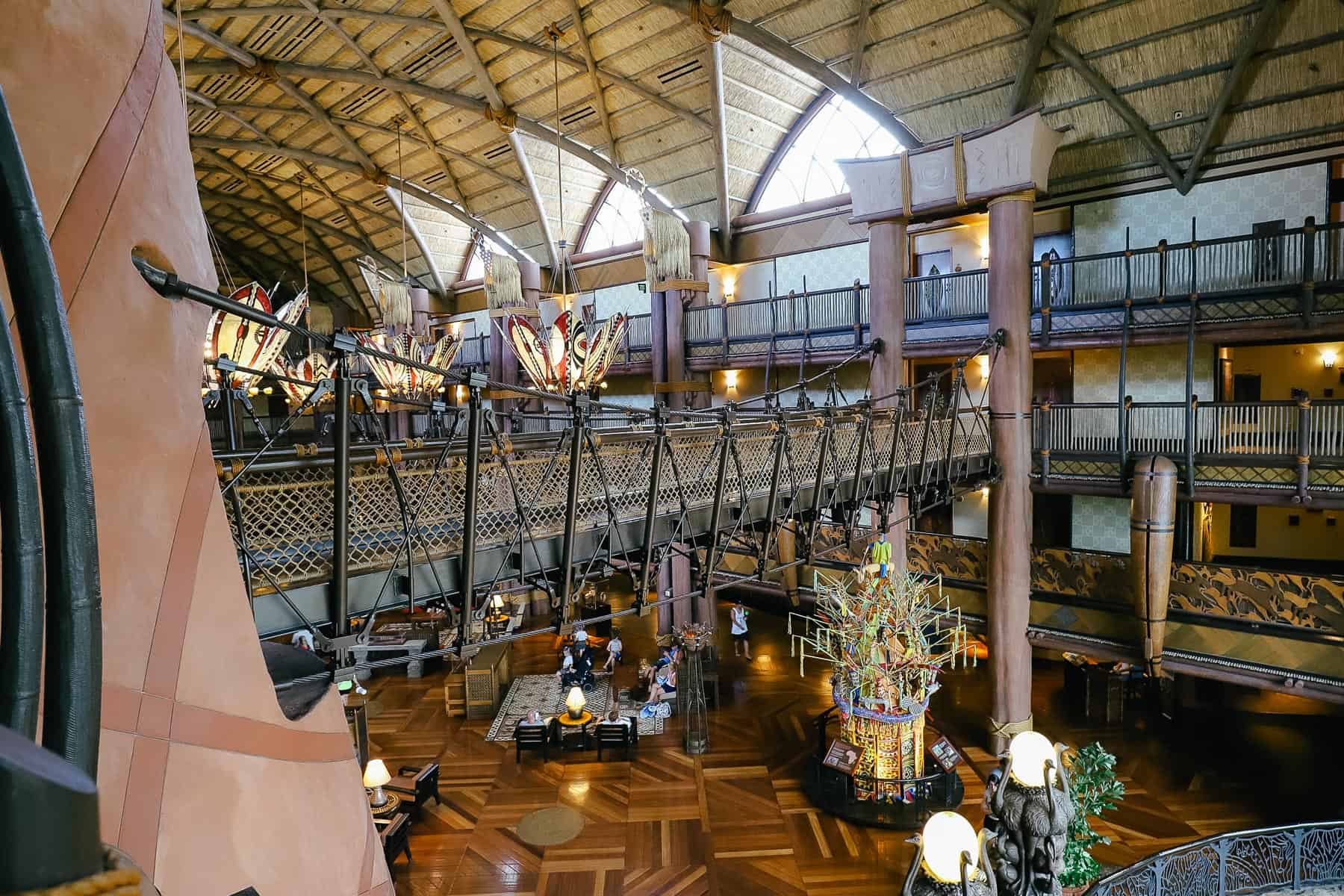 Here is a view looking toward the savannas from the bridge.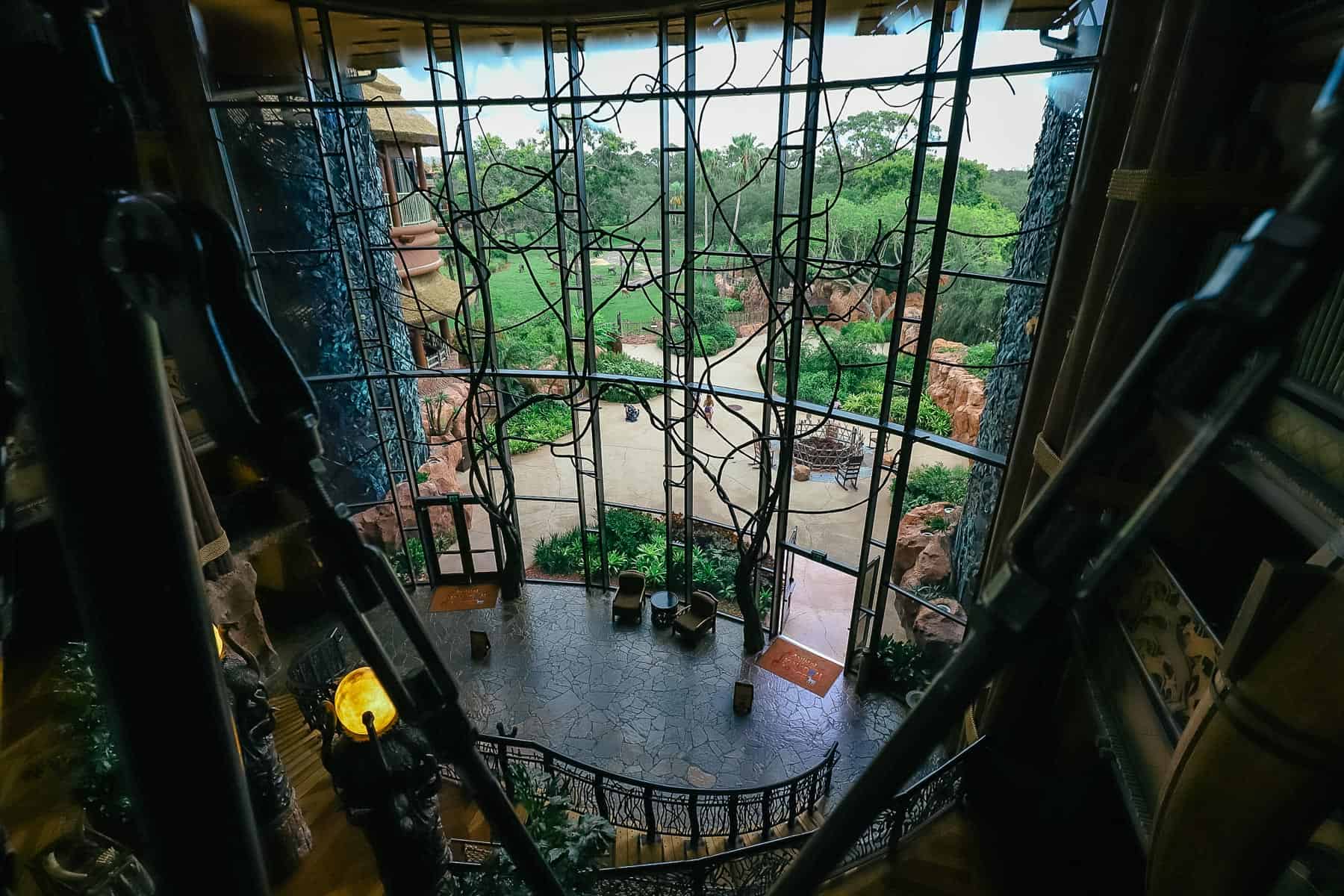 Often, cultural representatives are poised throughout the lobby and grounds, adding to the authenticity. The representatives are from various parts of Africa. They help educate guests by sharing stories about different aspects of their homeland.
A ljele mask sits in the lobby. This enormous structure is 16′ high and weighs 240 lbs. It was created in 1983 for exhibition in North America. It's a traditional mask intended to be carried on the head of a single dancer by the Igbo people of Nigeria.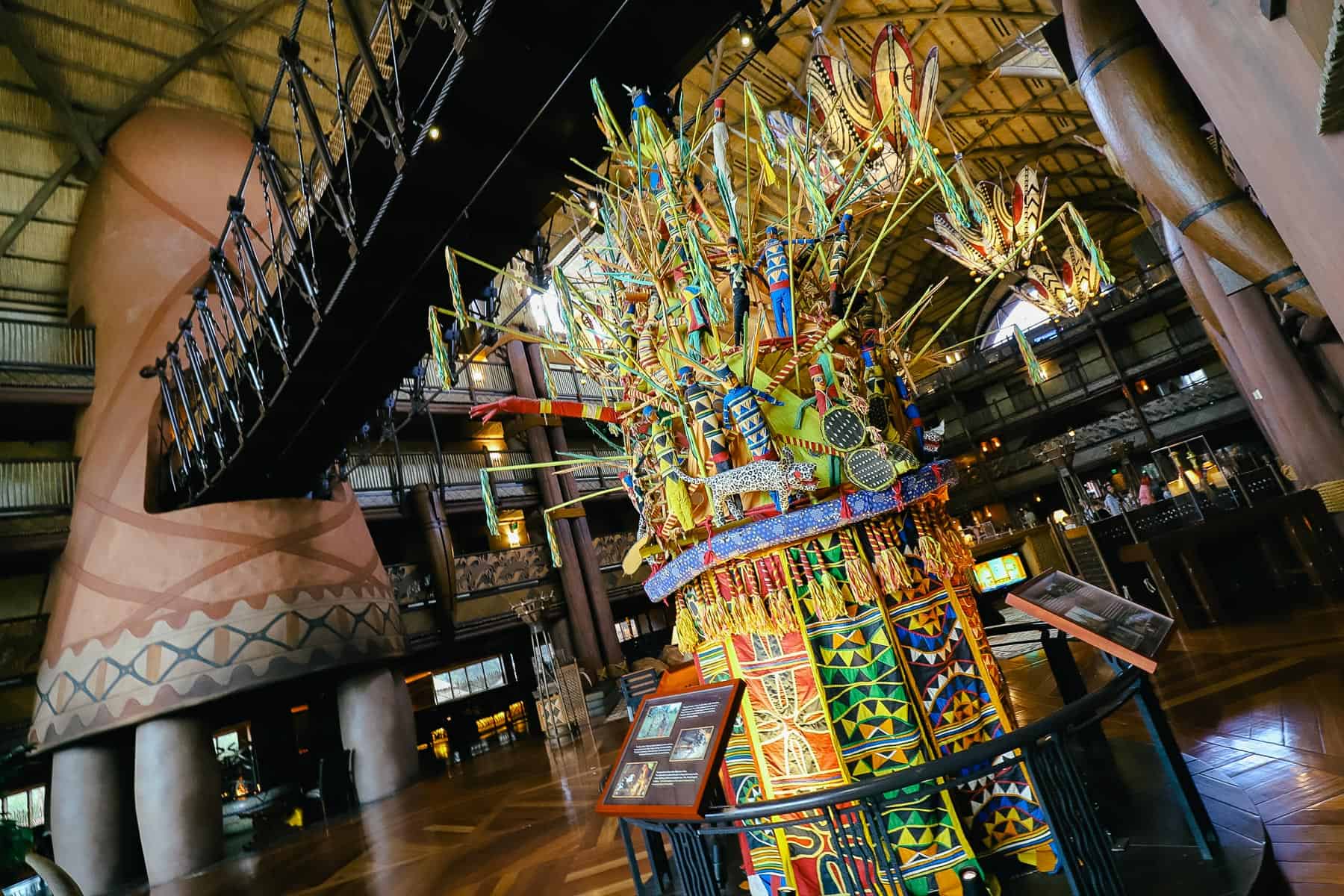 It's a stunning piece. Several displays featuring more details and photos surround it.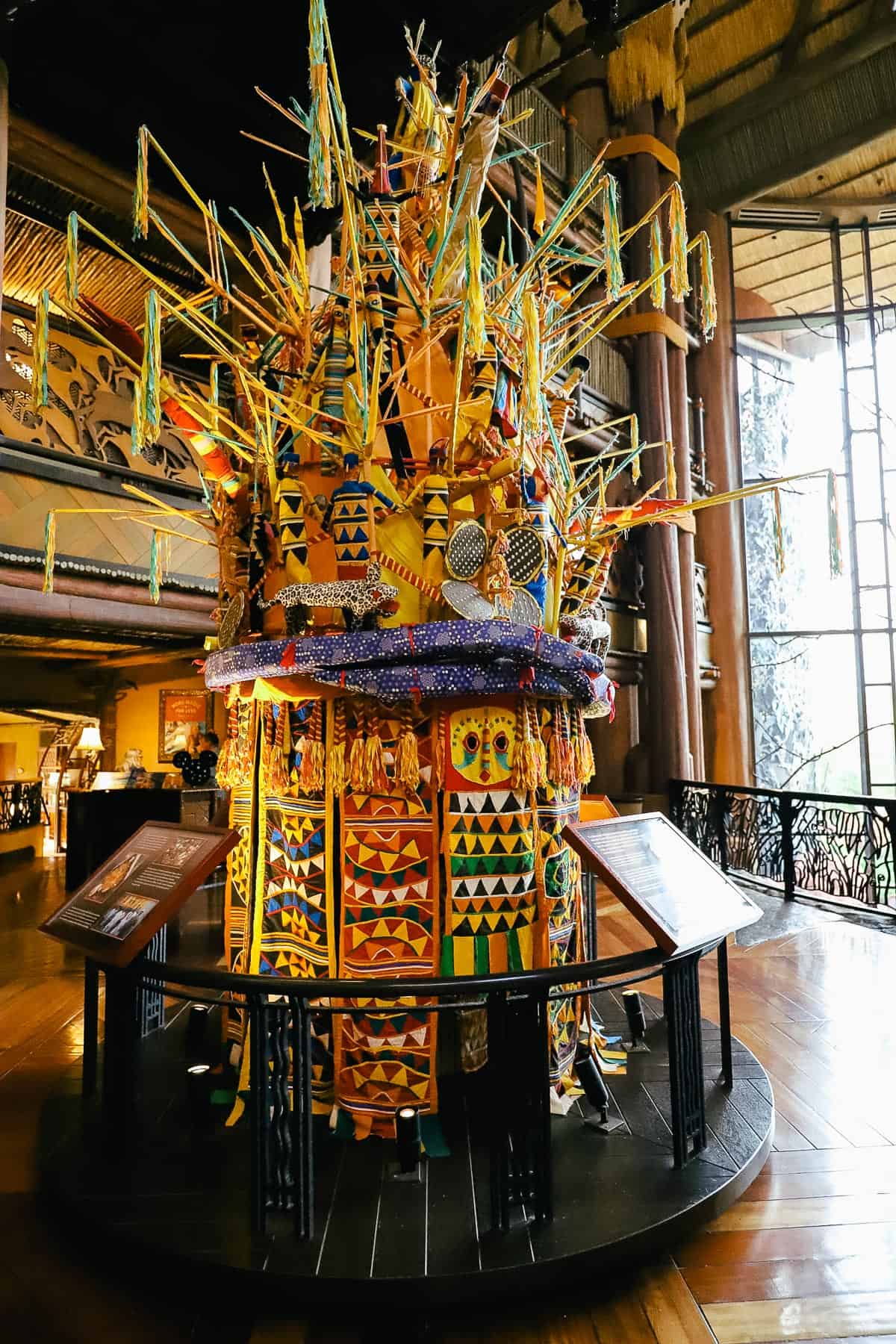 Fun Fact: Disney's Animal Kingdom Lodge is home to over 300 African Art pieces. The resort has the most extensive collection of African Art outside of Africa.
A set of stairs leads from the lobby to the resort's lower level. (Note: the two staircases in the lobby lead to entirely separate areas that are not accessible from each other. The one in the photo below leads to the Arusha Savanna, while the other staircase leads to the resort's restaurants, pool area, and Uzima Savanna.)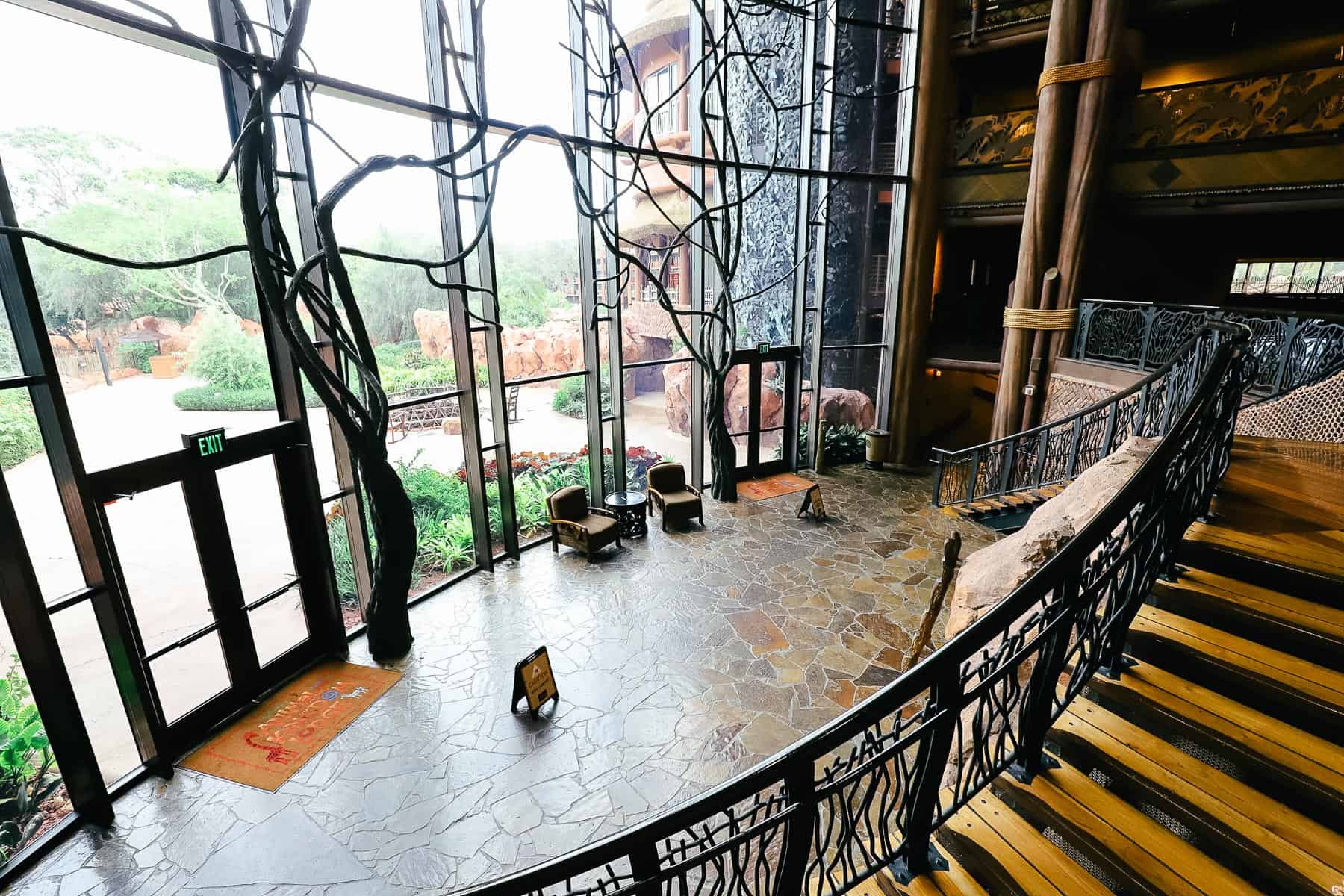 Tall floor-to-ceiling windows face the Arusha Savanna.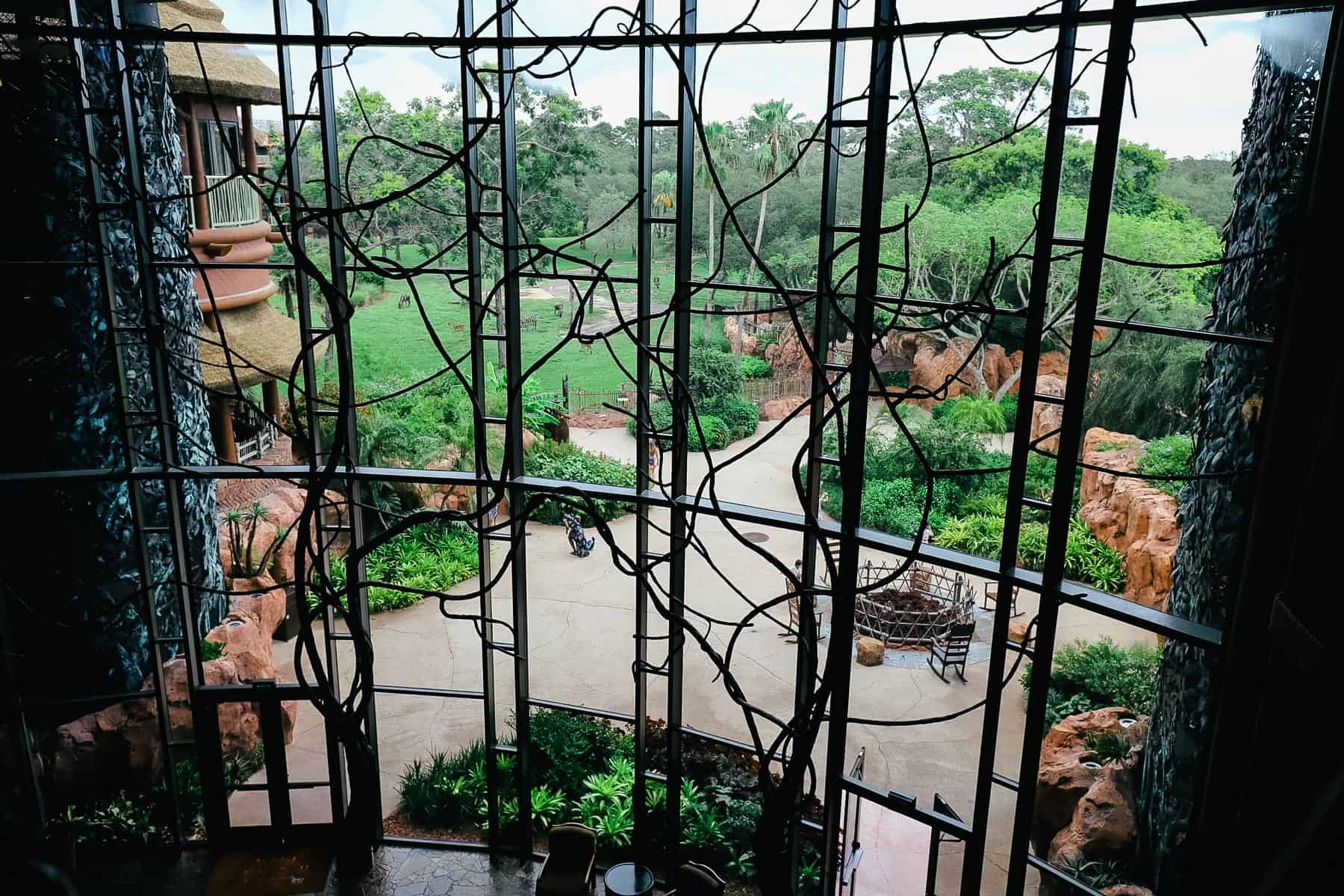 Here's a photo looking back toward the lobby.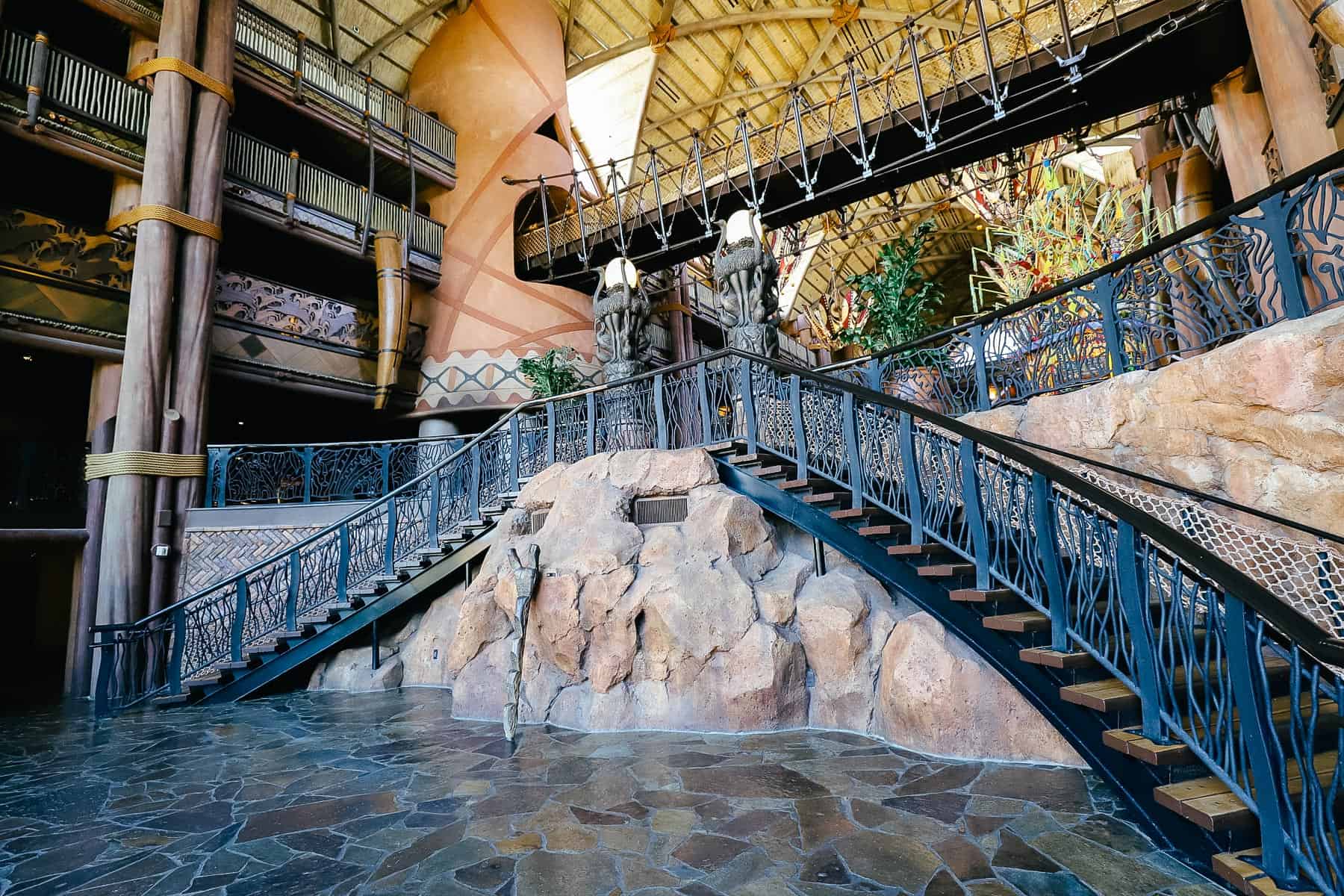 Back upstairs, a bridge crosses a spring on the far side of the lobby.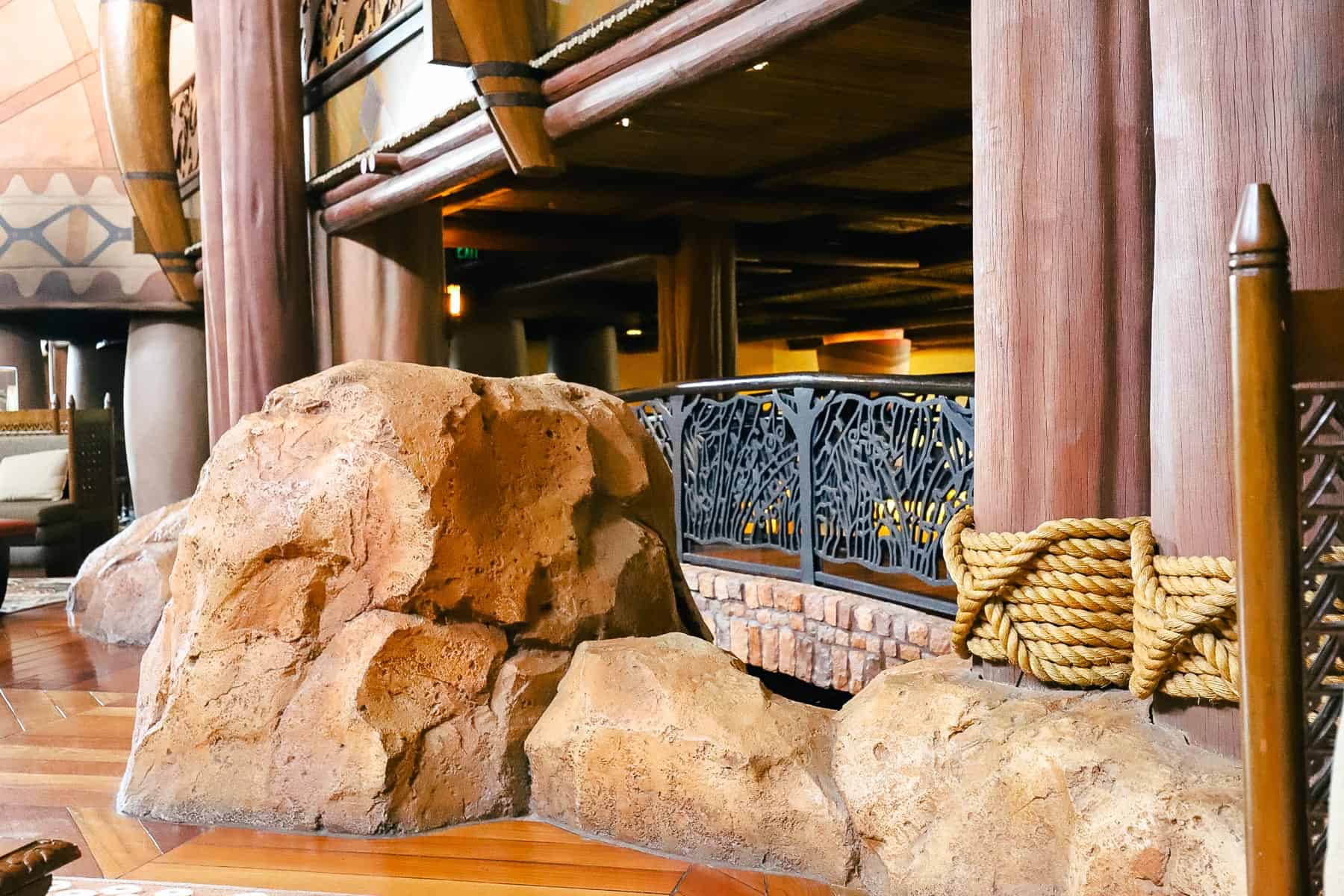 A fireplace sits directly behind the bridge. It's in an almost hidden location.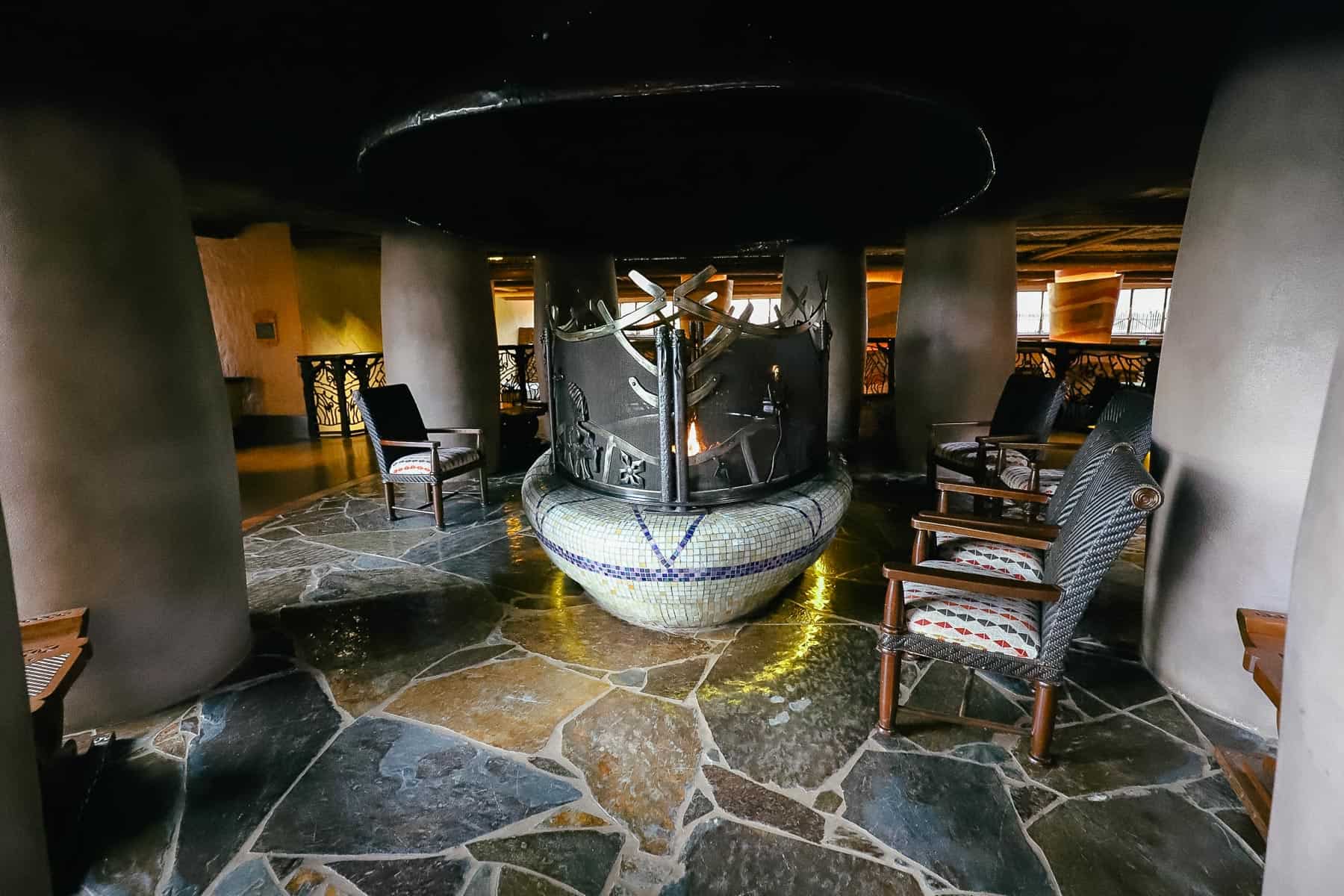 Speaking of hidden, a private library sits on the opposite side of the lobby.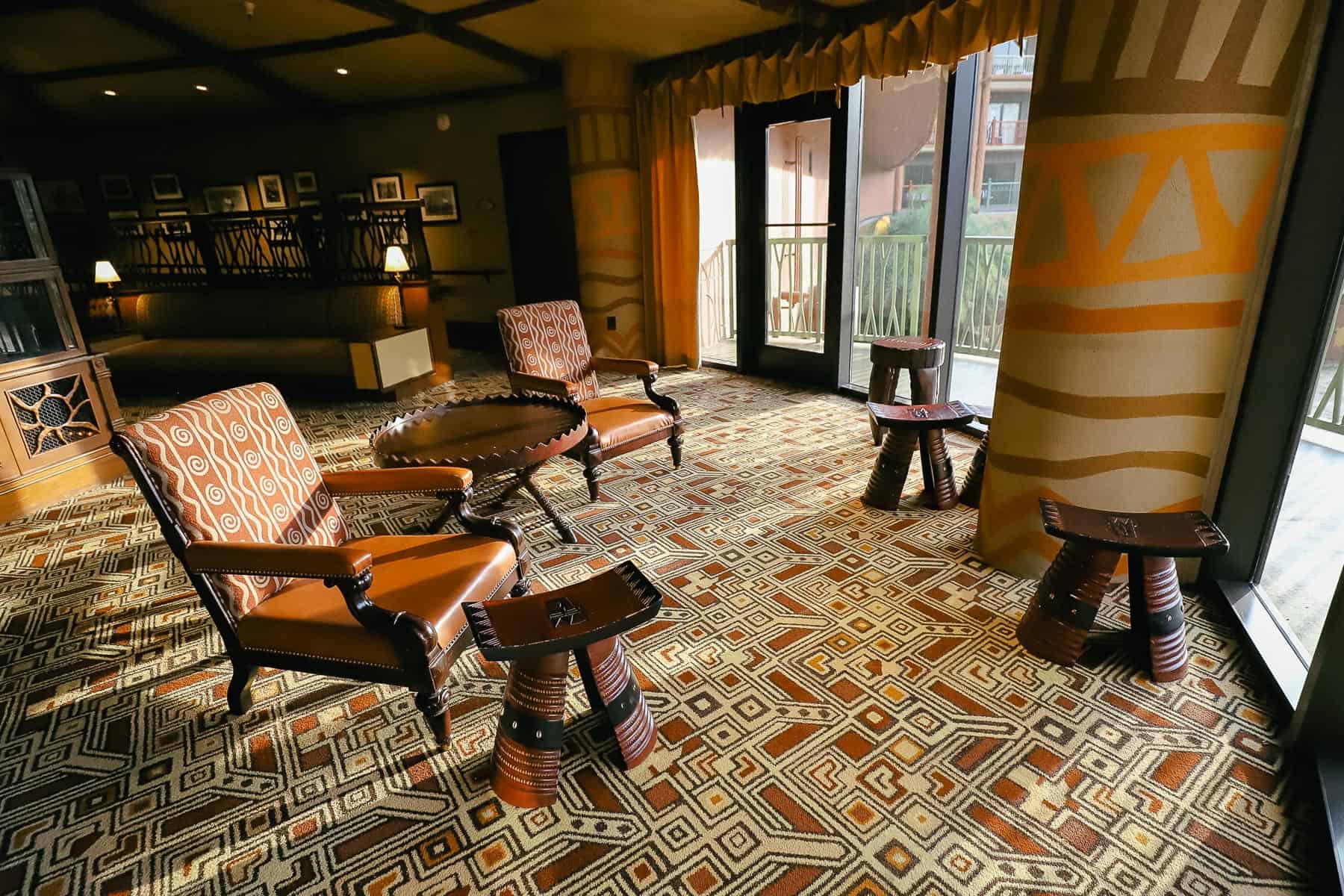 It's a wonderful place to explore. Several unique items are featured in the display. You'll find a few Disney references.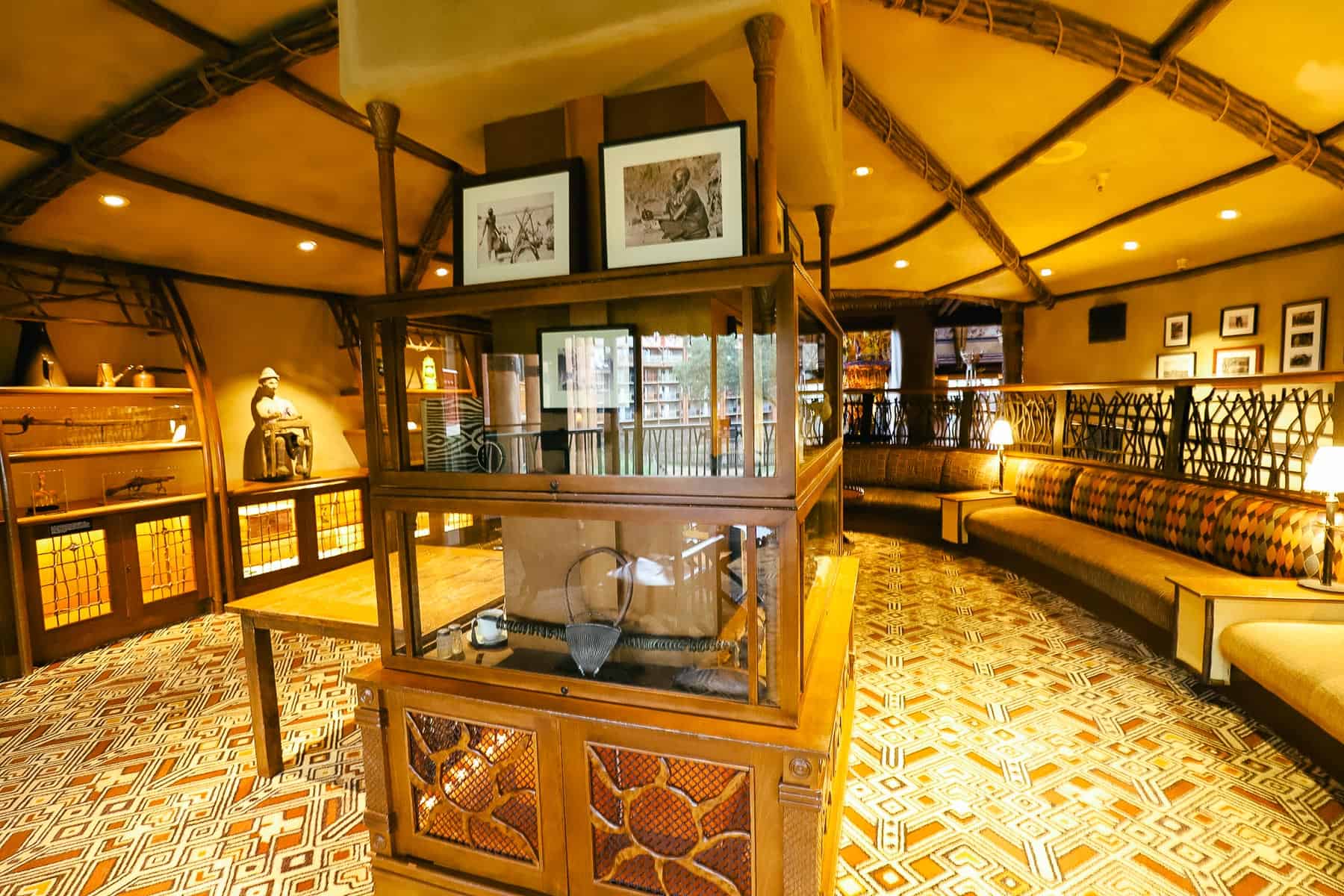 Or you could just sit and take in the views of the Sunset Savanna.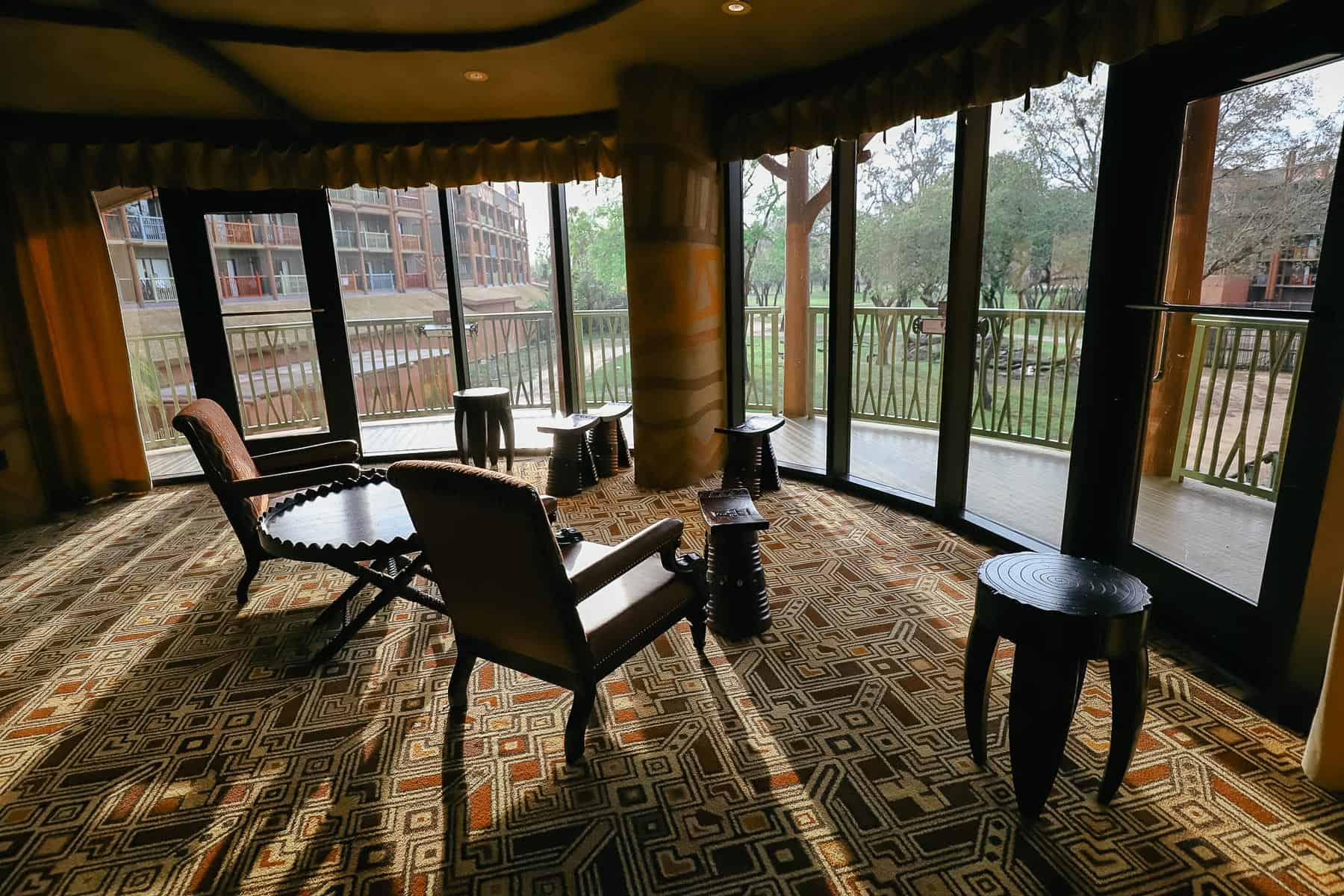 Savannas at Animal Kingdom Lodge
Most of us look forward to seeing the animals when staying at Disney's Animal Kingdom Lodge. When you take that second stairway from the lobby or elevator down to the resort's pool area, you'll see this area in the photo below.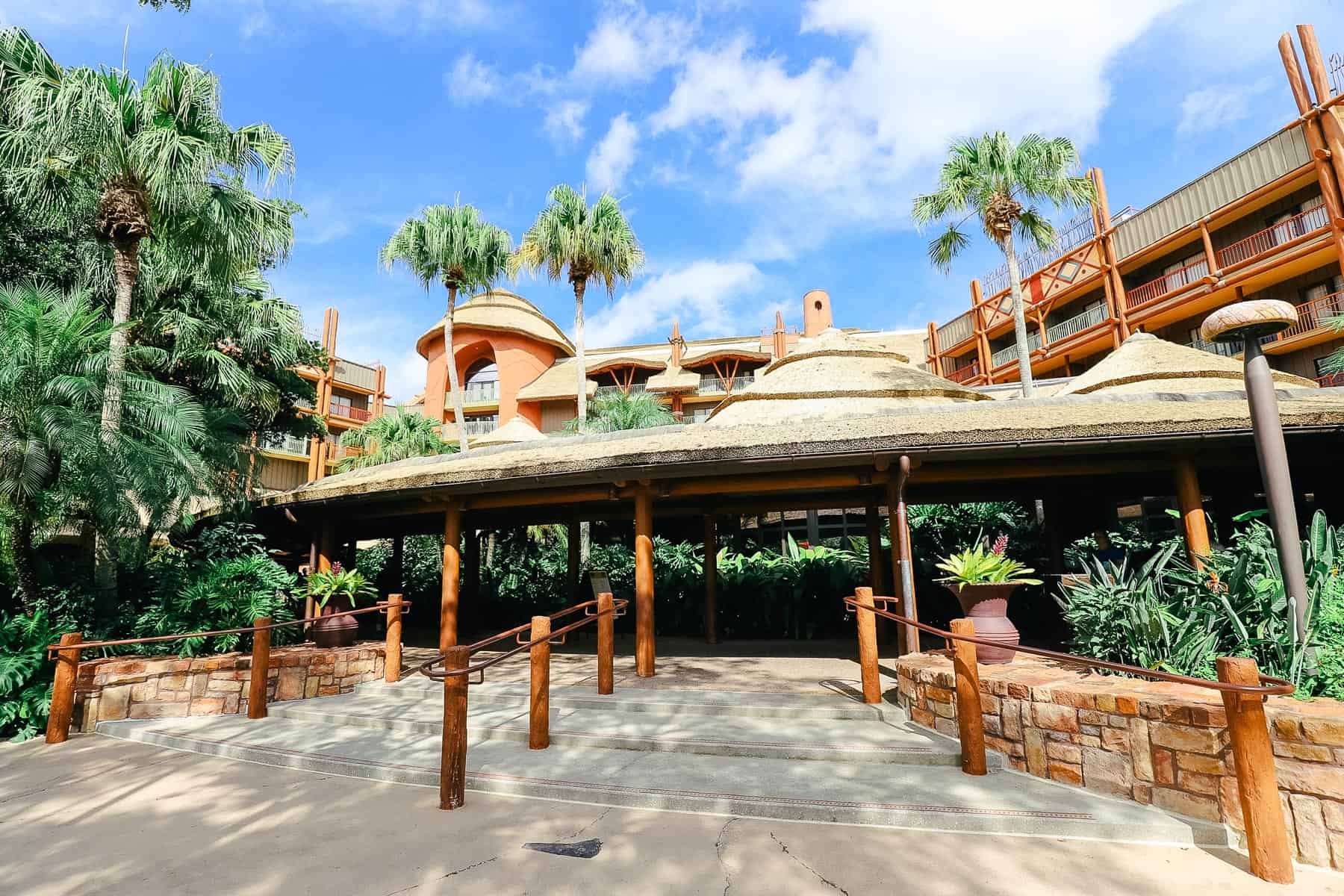 You can take the walkway to the right or left around the pool. It all comes out in the same place near this flamboyance of flamingos.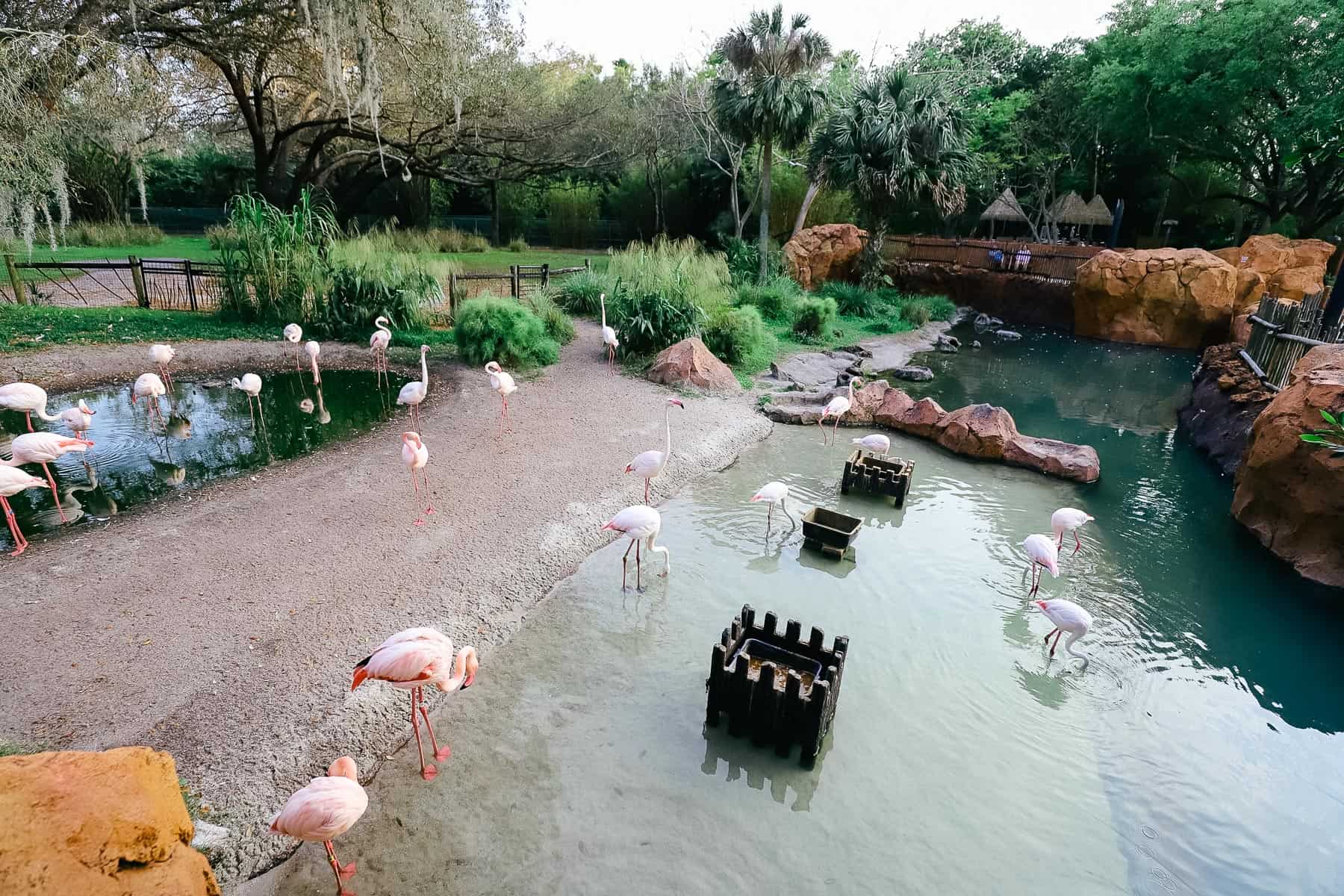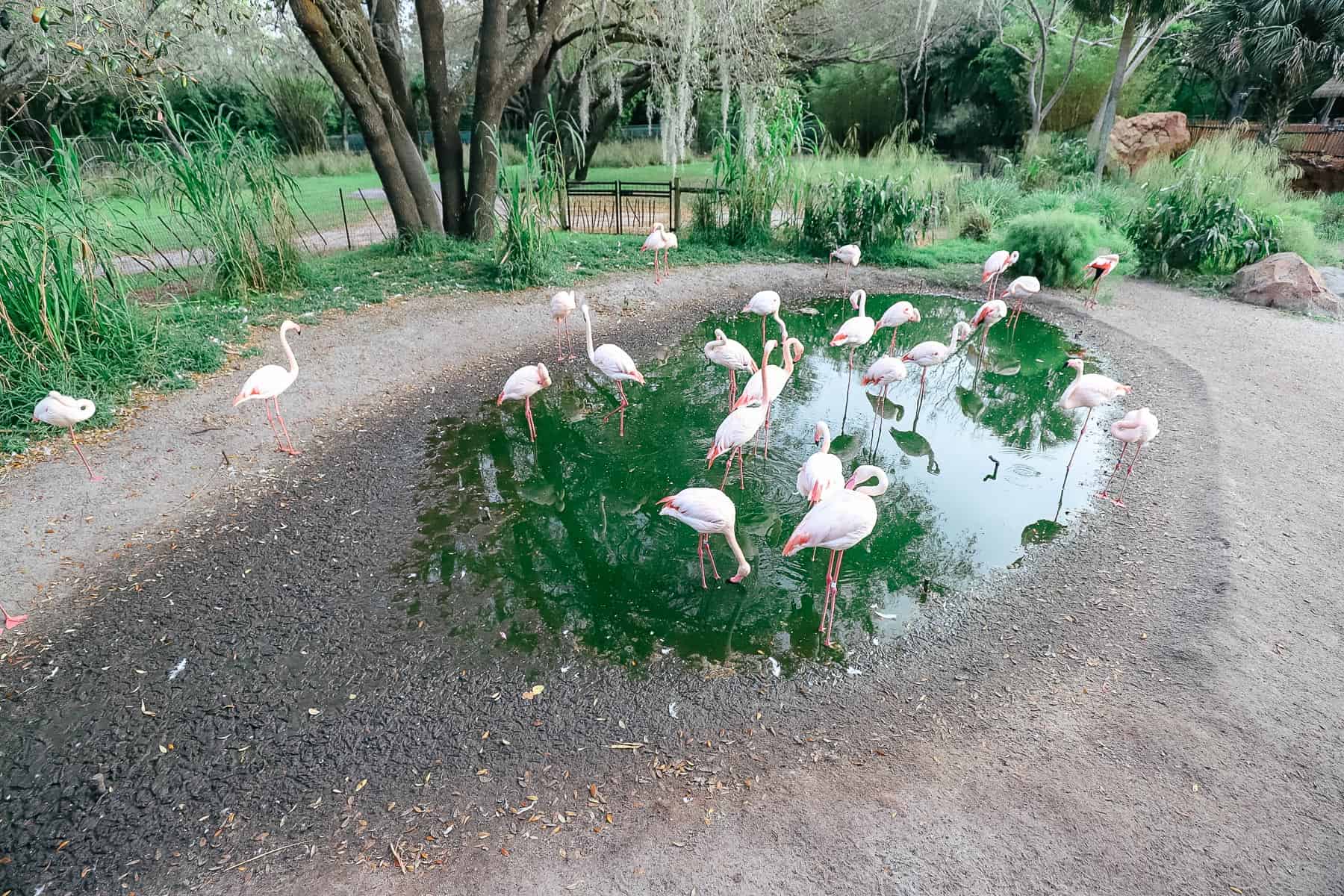 Past the pool, the walkway extends to another public viewing area.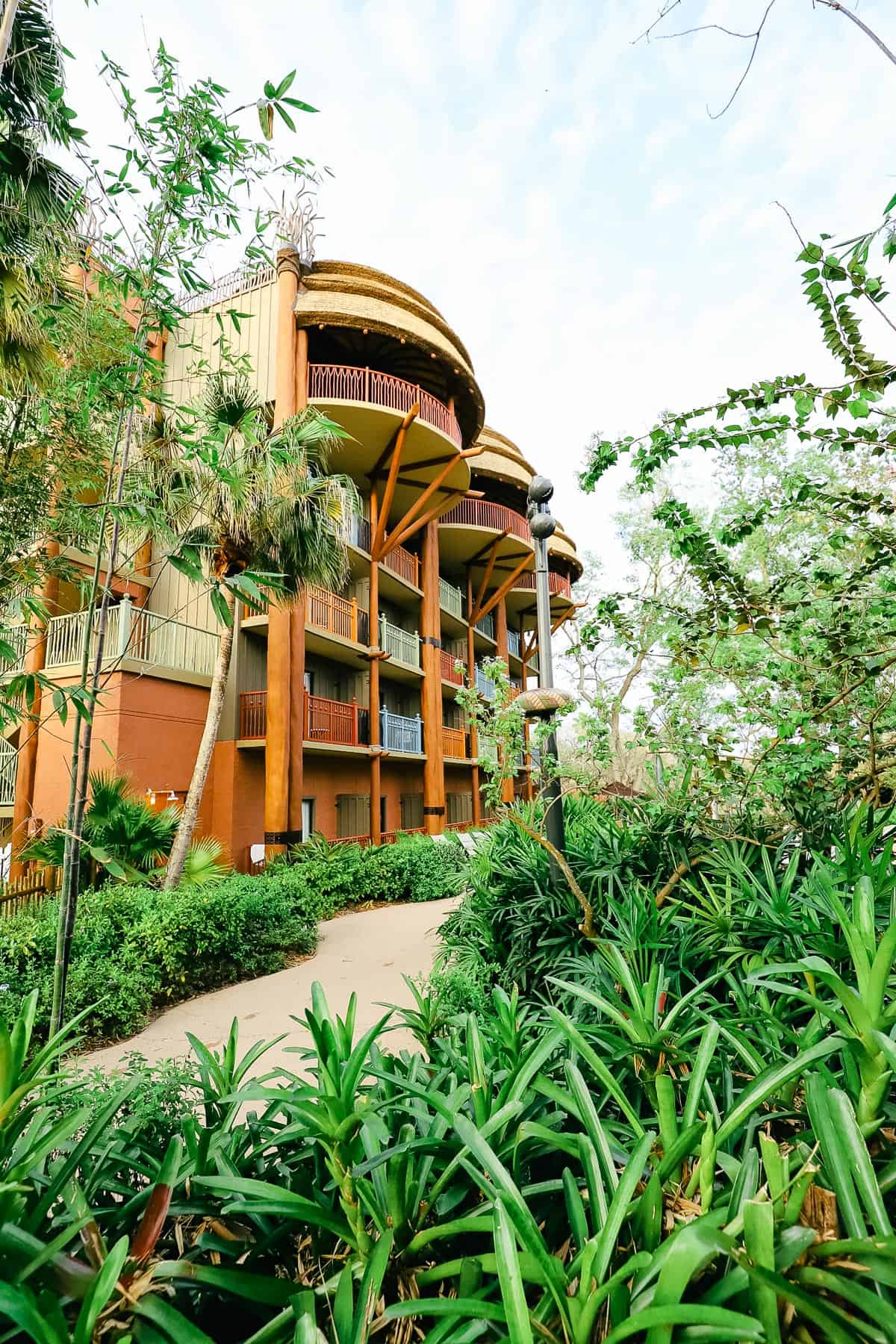 This area offers views of the Uzima Savanna.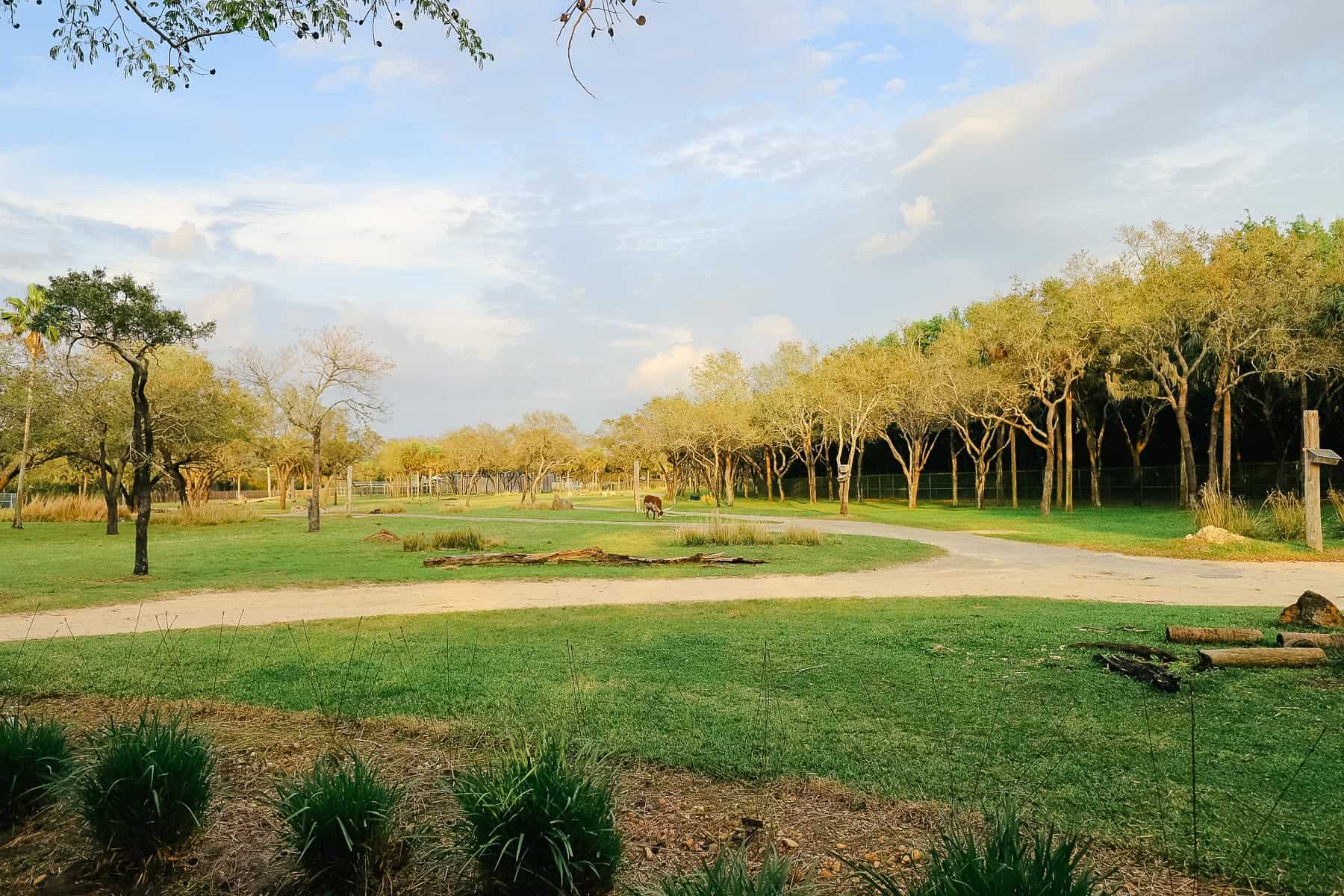 It's a small area, but nevertheless, it's an excellent place to see animals.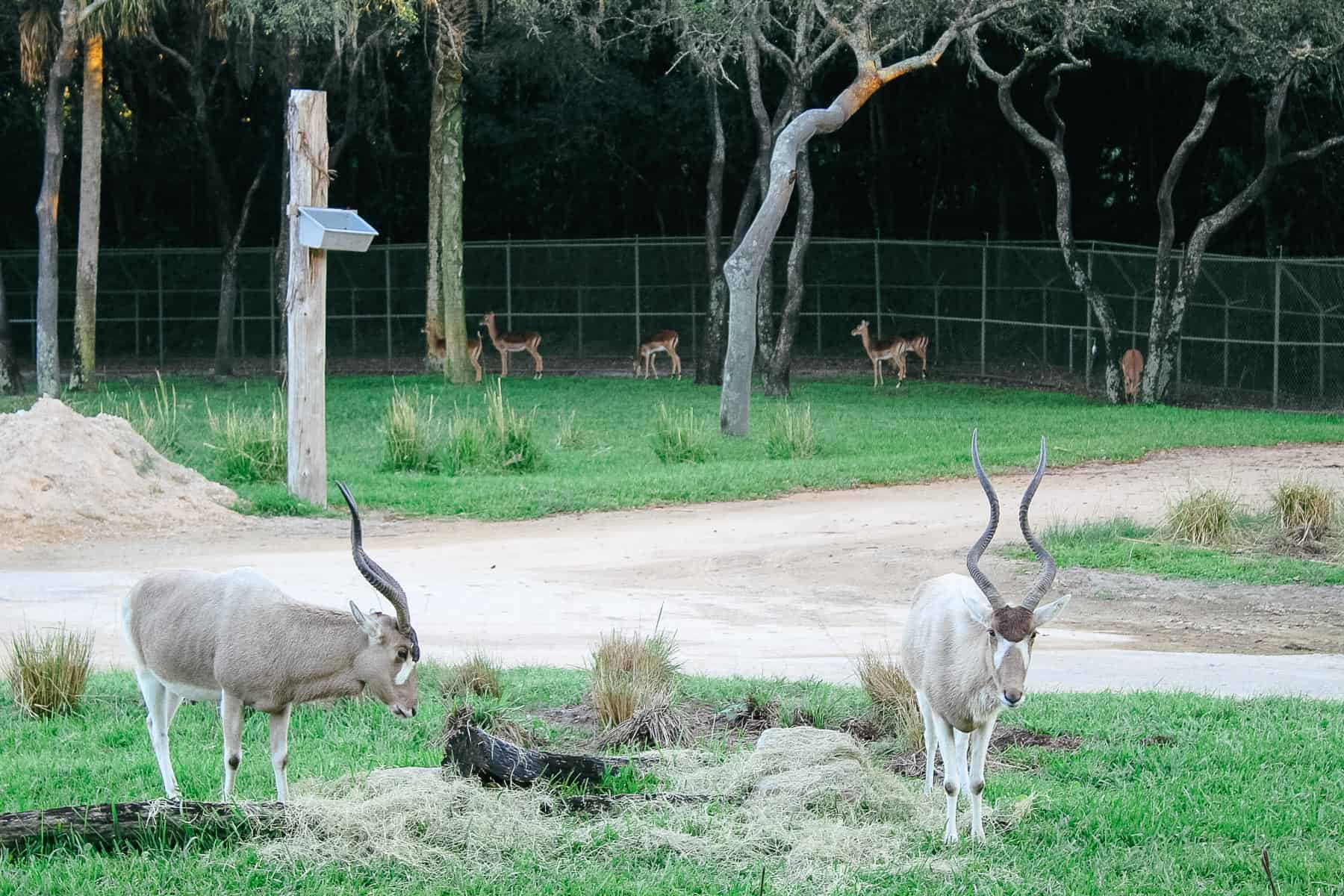 You'll come out in this area below when you take the lobby staircase to the Arusha Savanna. This entire space is dedicated to viewing the savanna.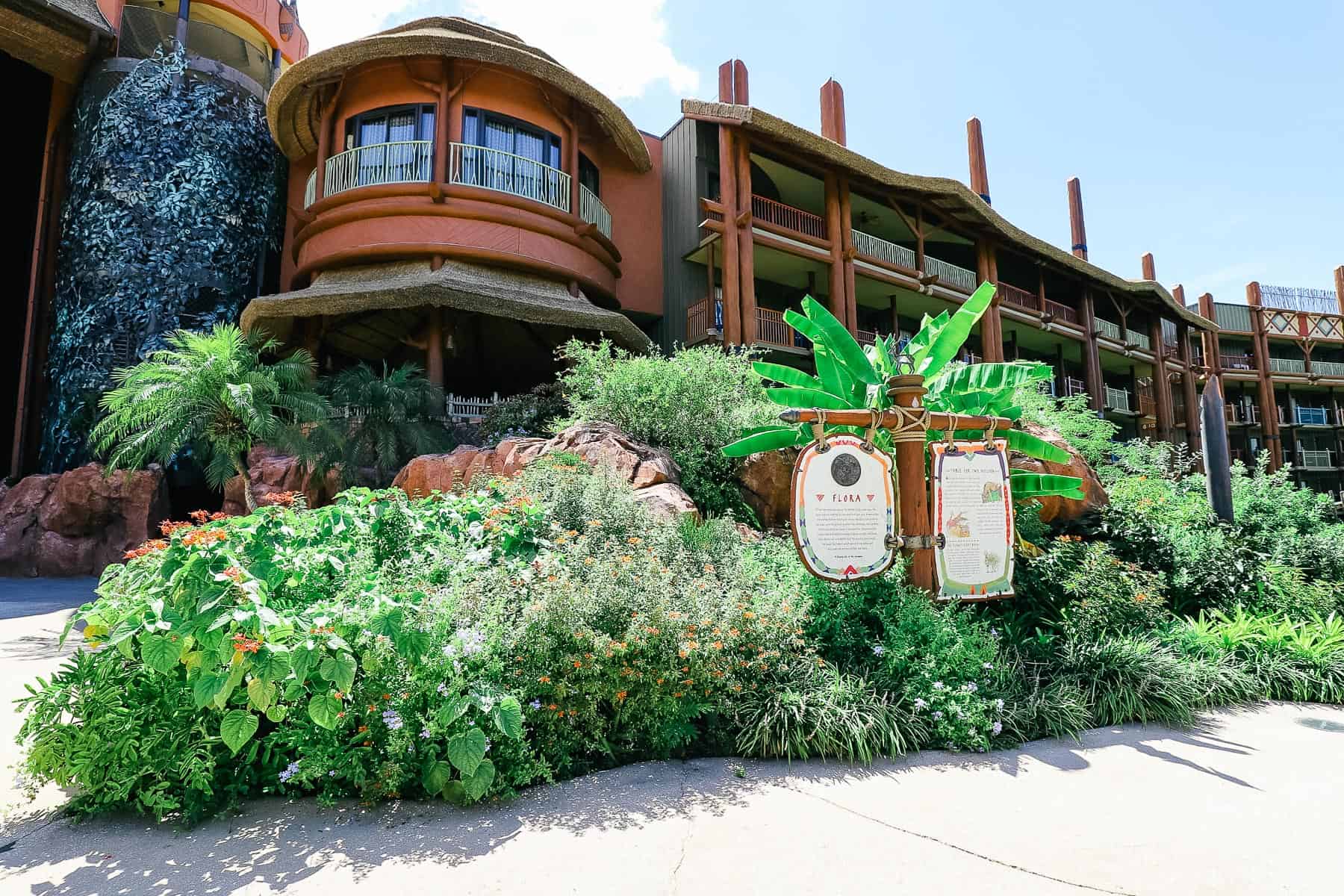 If you stay on the lobby level, you can see the entire savanna from a porch.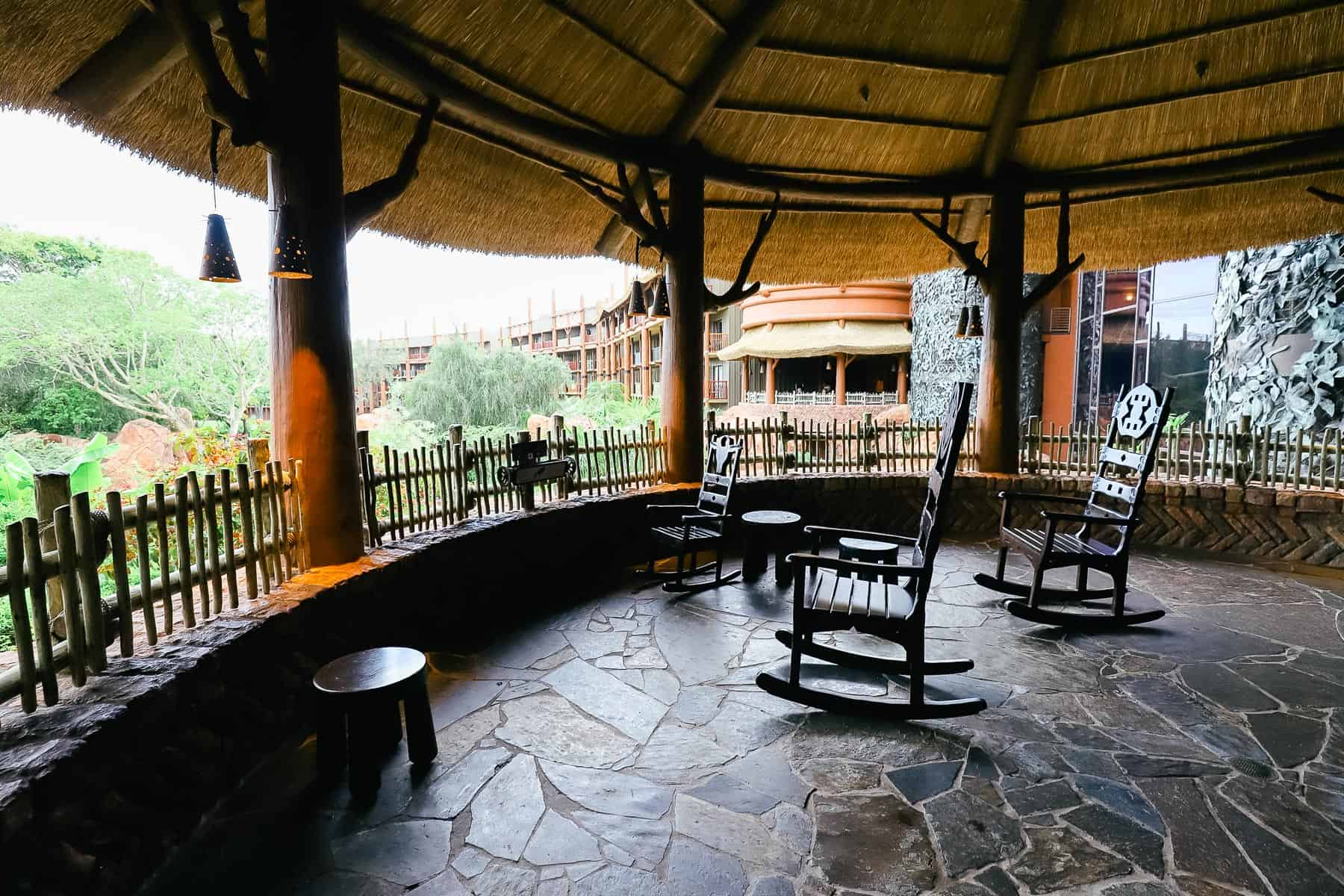 A couple of rocking chairs surround a firepit. They have a fire most evenings.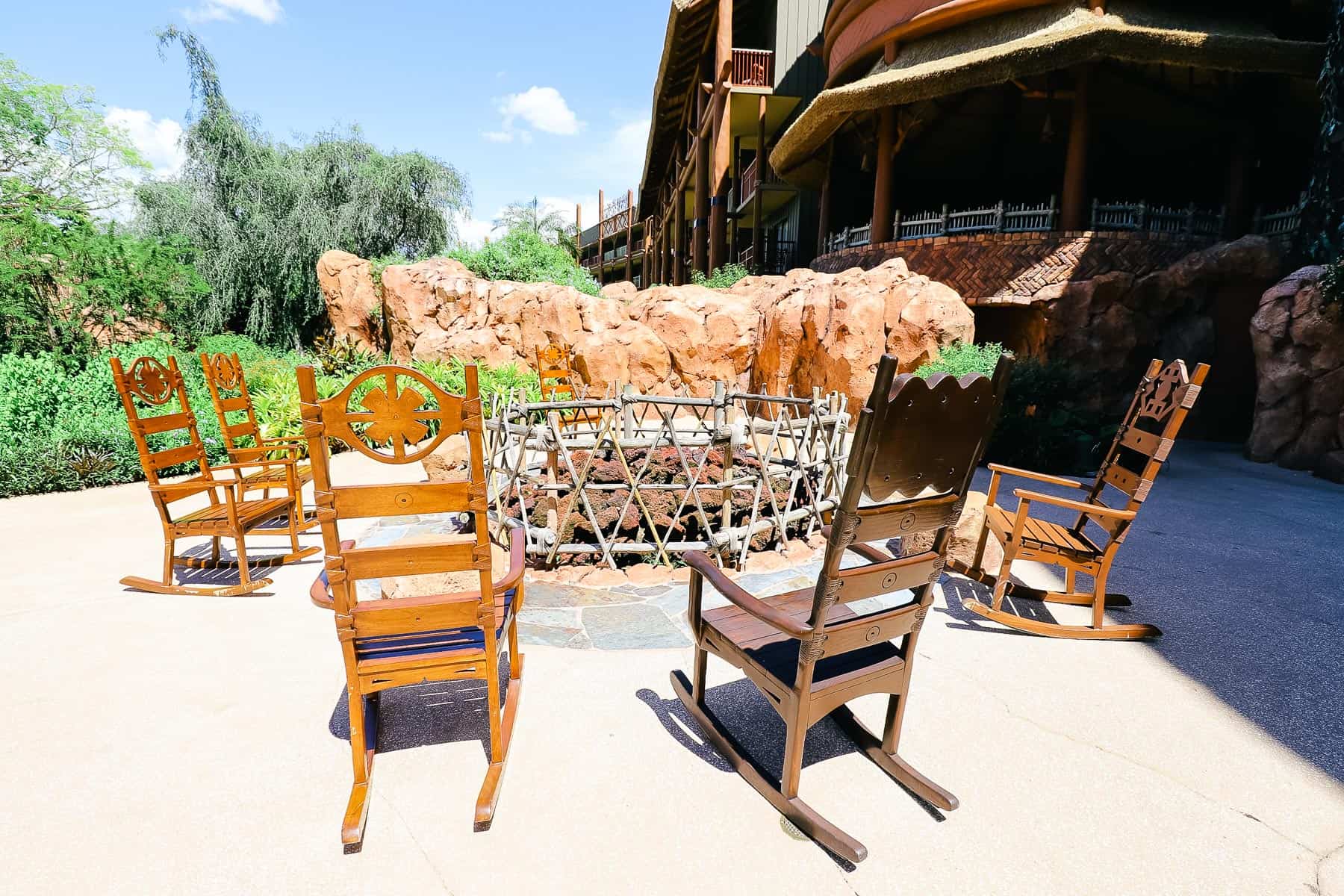 Here is a view looking out to the savanna.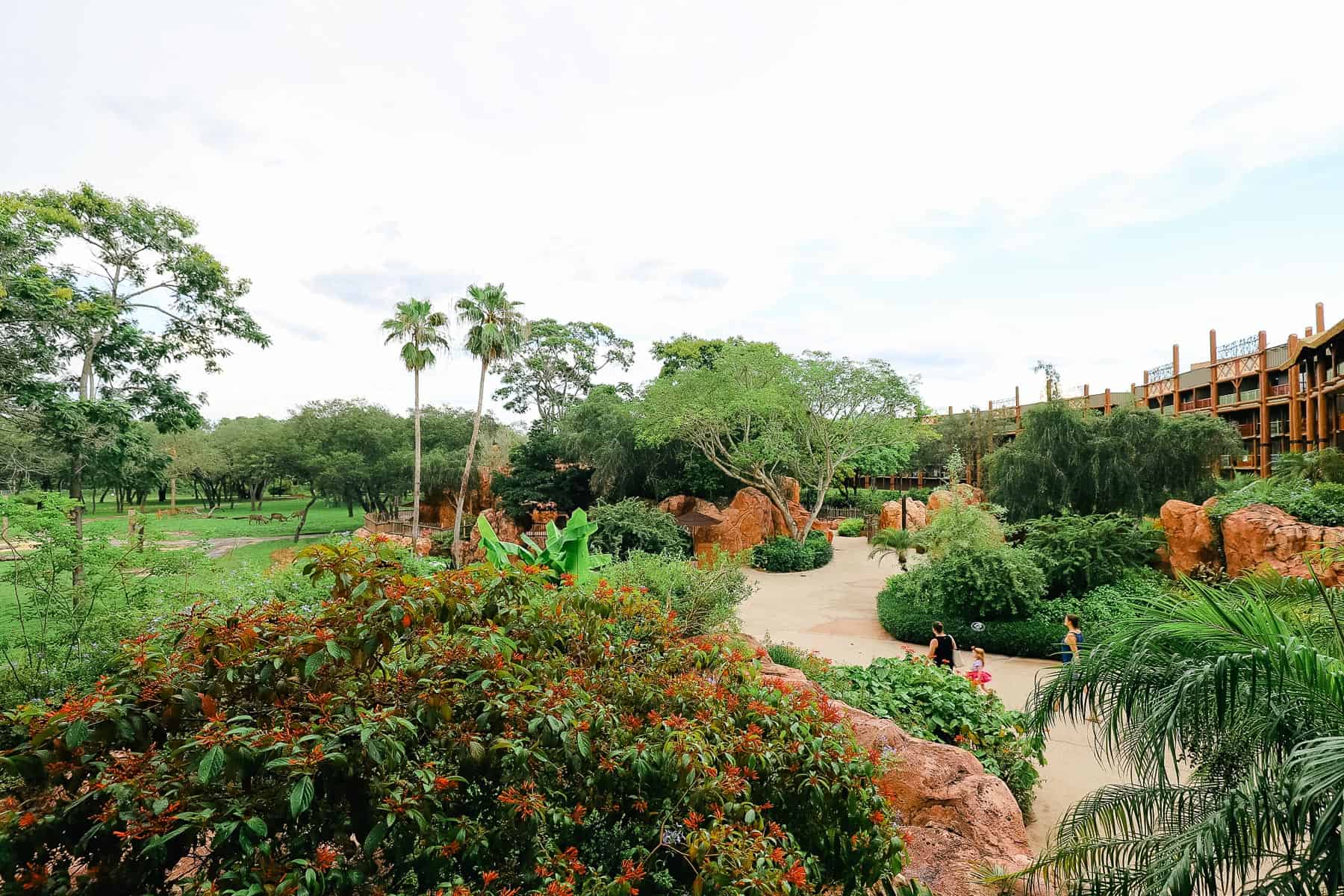 You can explore the entire area. Don't forget to look for hidden Mickey's.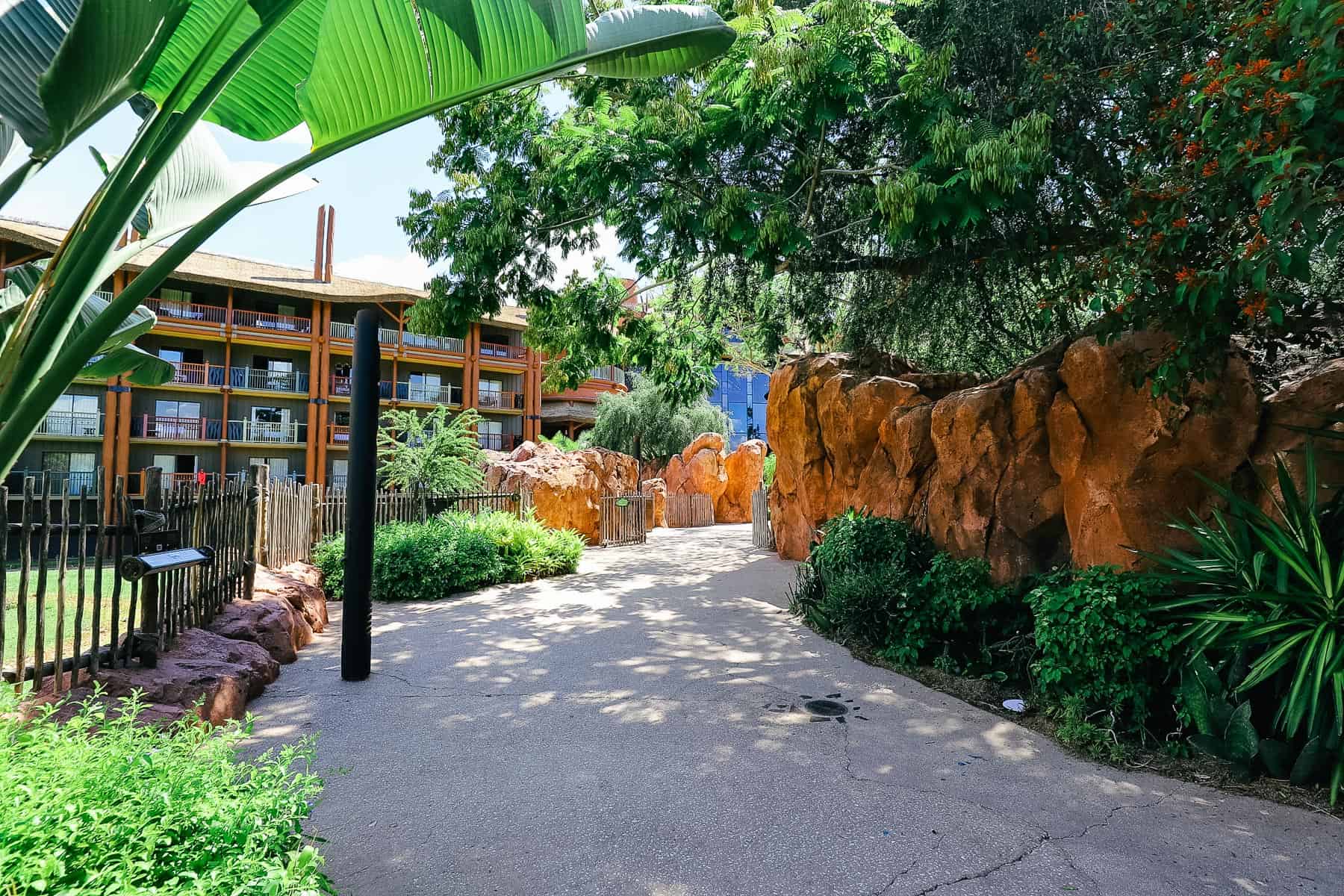 You can continue through the rock formation to see if any animals are out.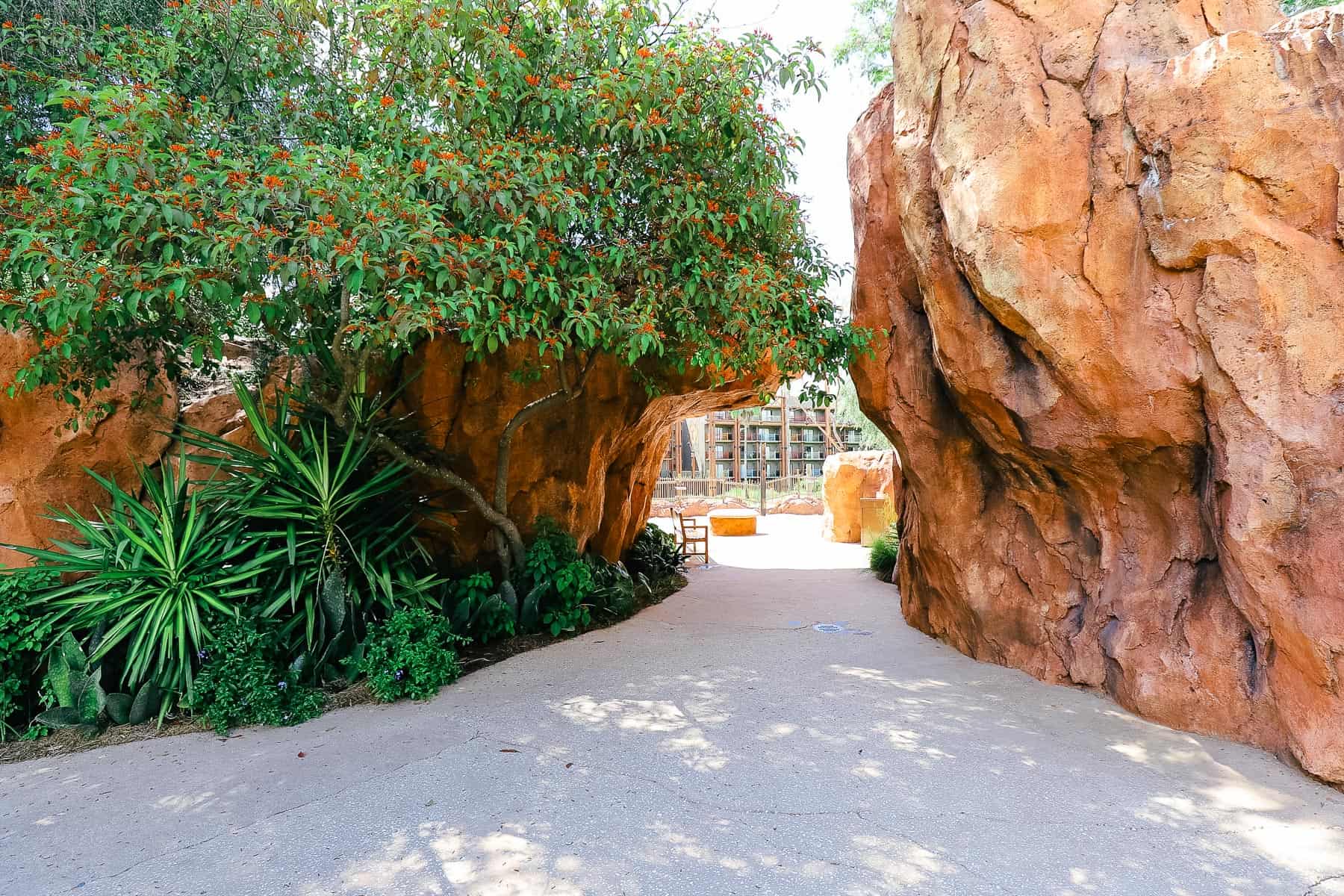 Various signs provide information about conservation and wildlife.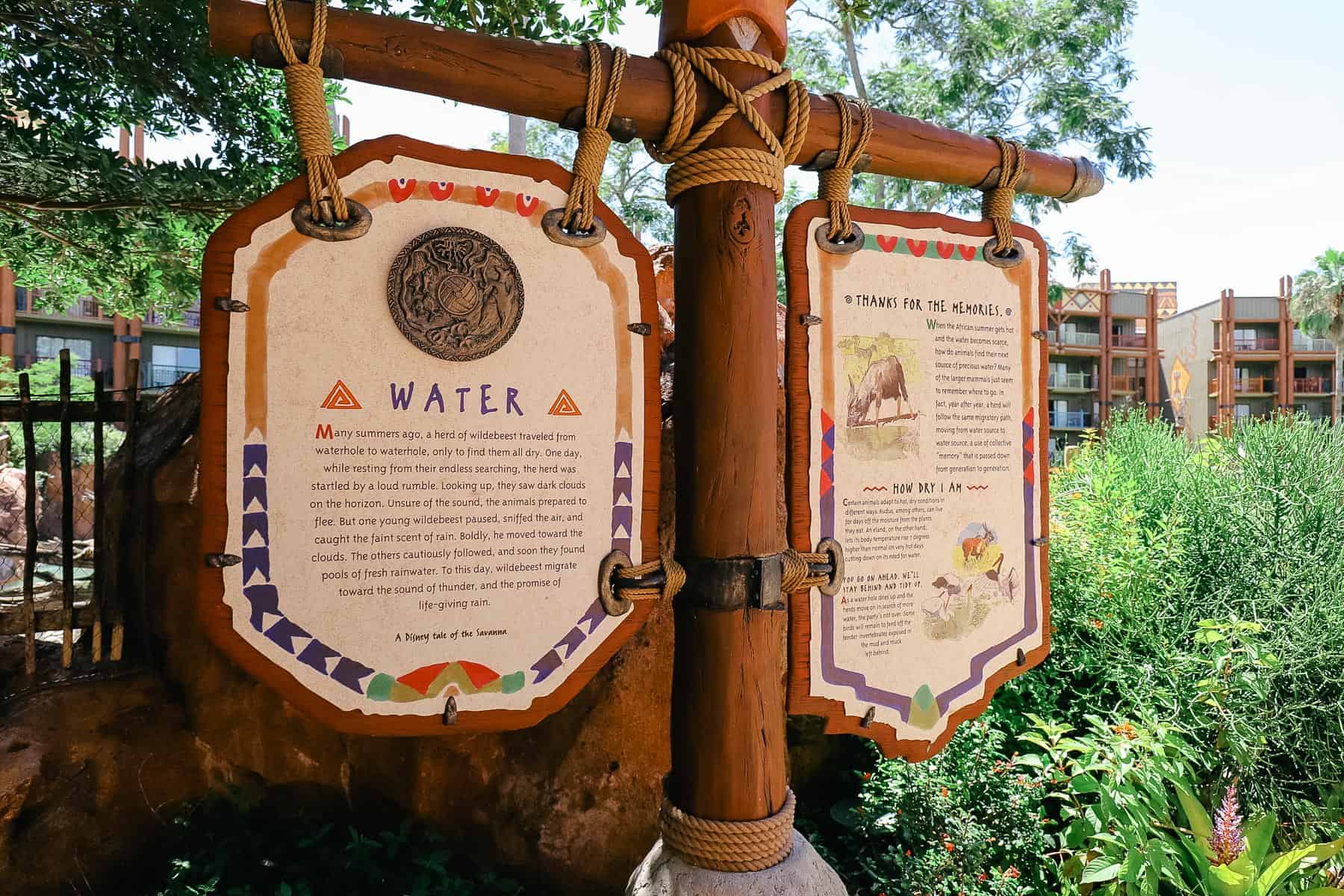 Plenty of photo spots are available.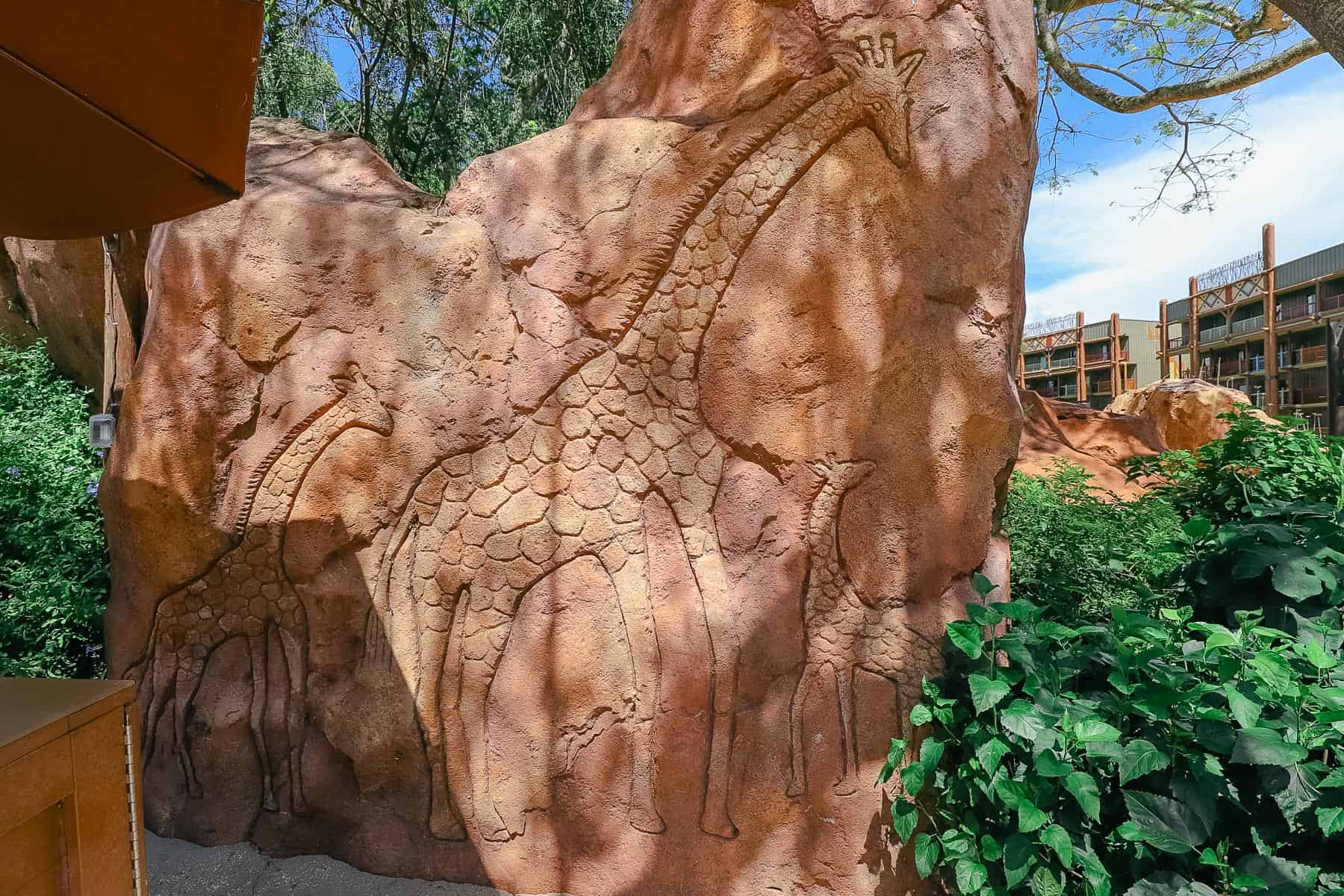 Usually, you can see a few pelicans around the water.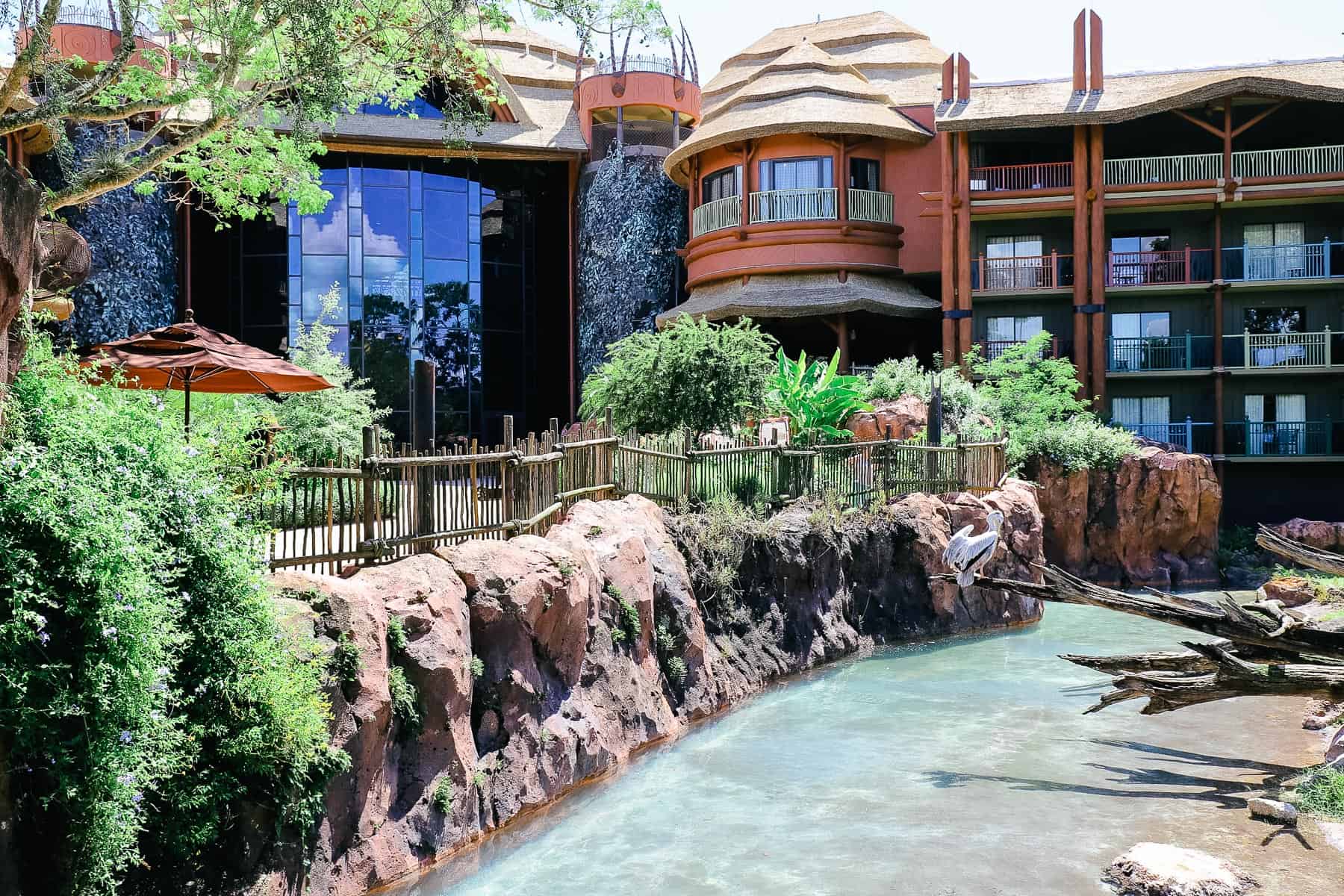 Here are a few perched on a tree limb.
Each wing of the resort is a trail. For instance, the hall toward the back right of the lobby is called the Zebra Trail. The Zebra Trail faces the Arusha Savanna on one side and the pool and Uzima Savanna on the opposite.
Occasionally, you'll come across public viewing areas throughout these trails. The one in the photo below was on the Kudu Trail, which faces the Arusha Savanna on the front and the Sunset Savanna on the back.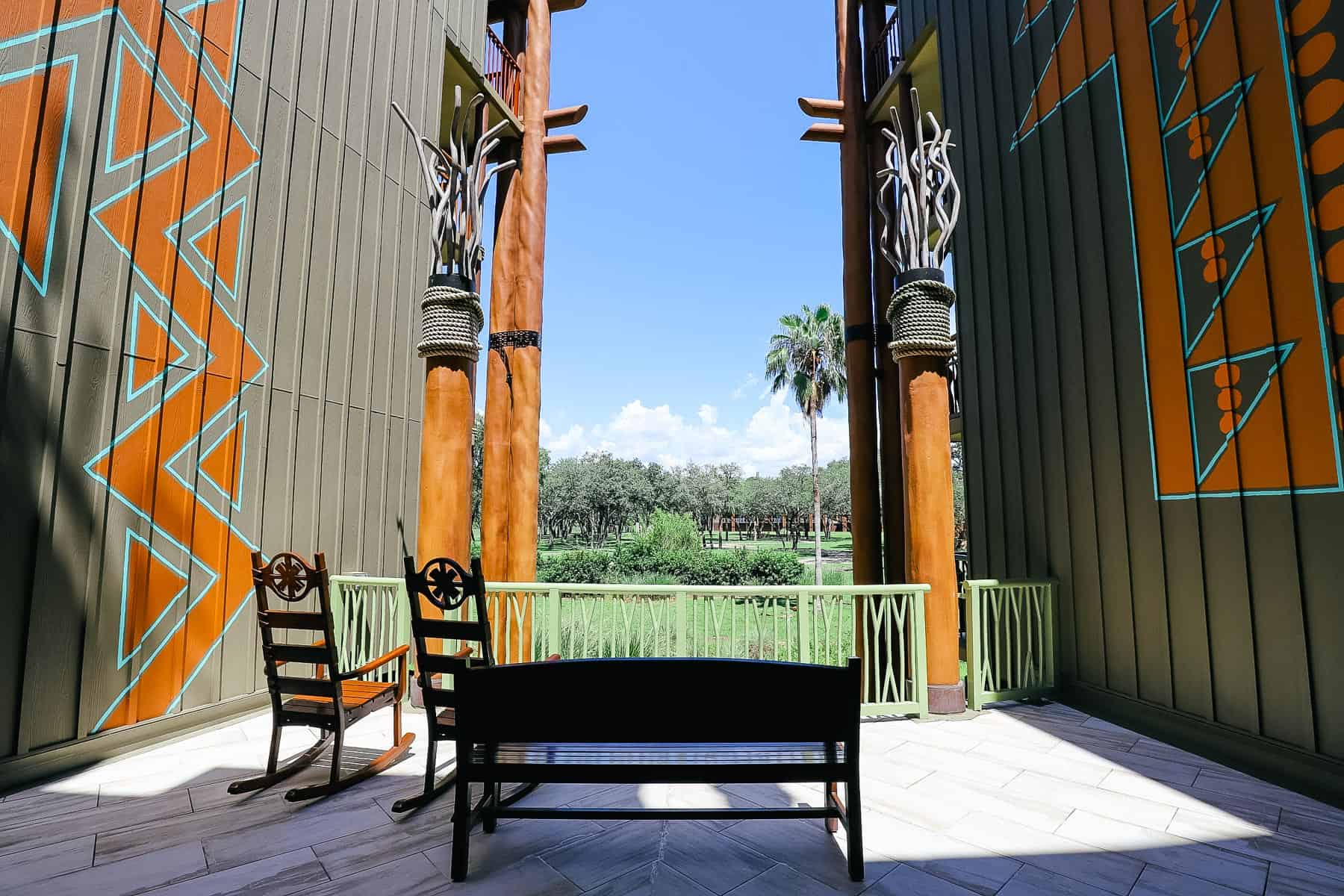 Here are a few more. Some are just large windows where you can look out to the savannas.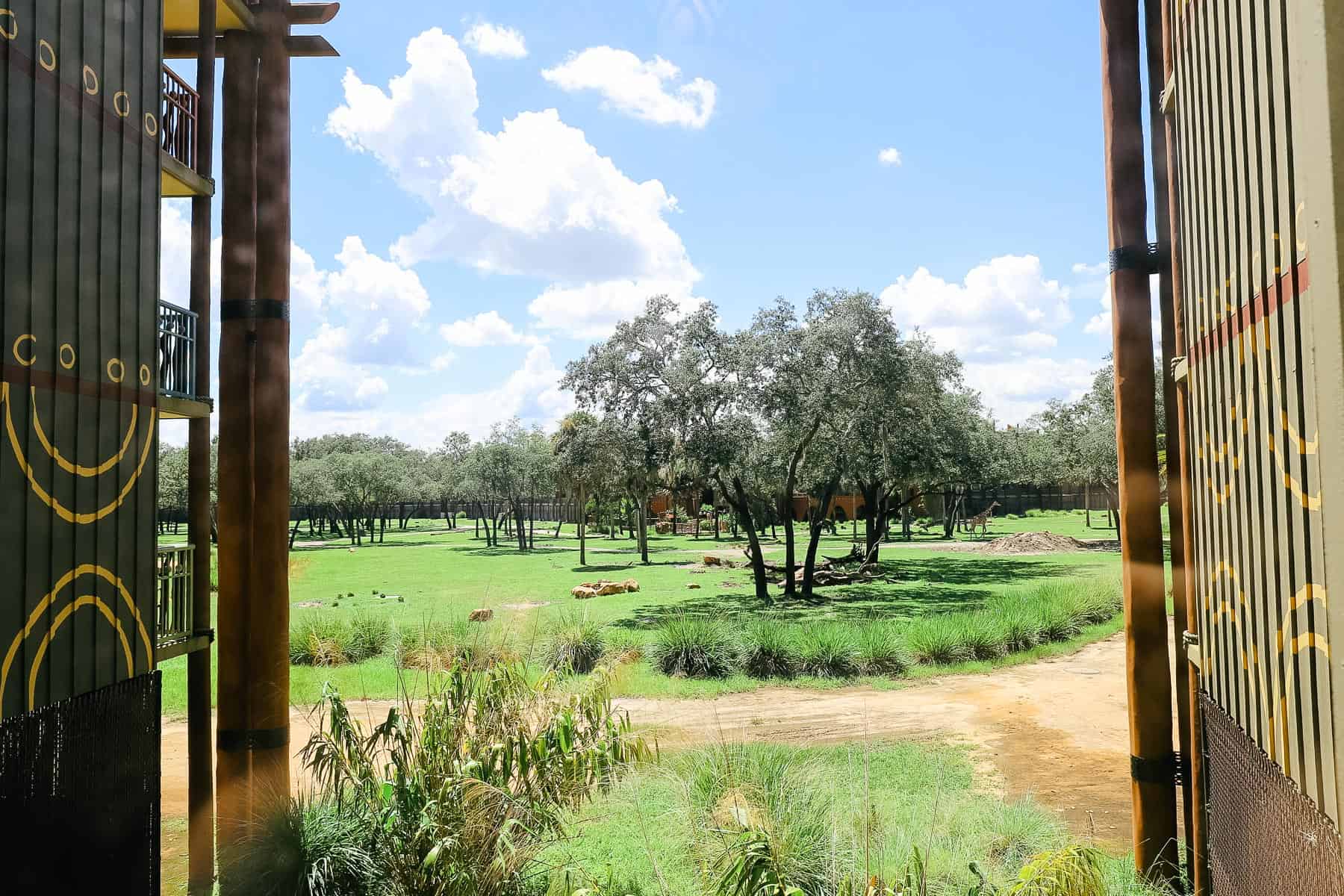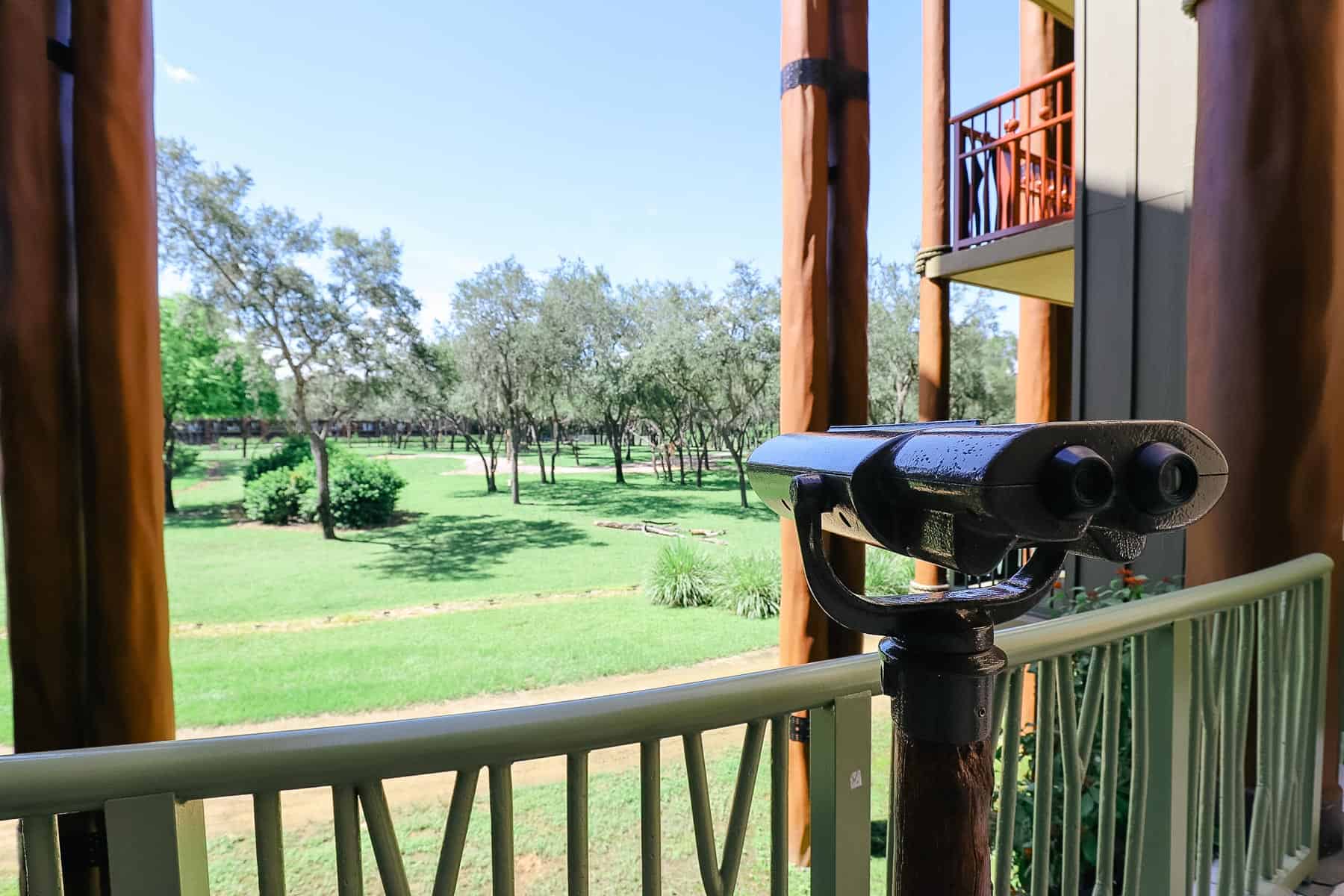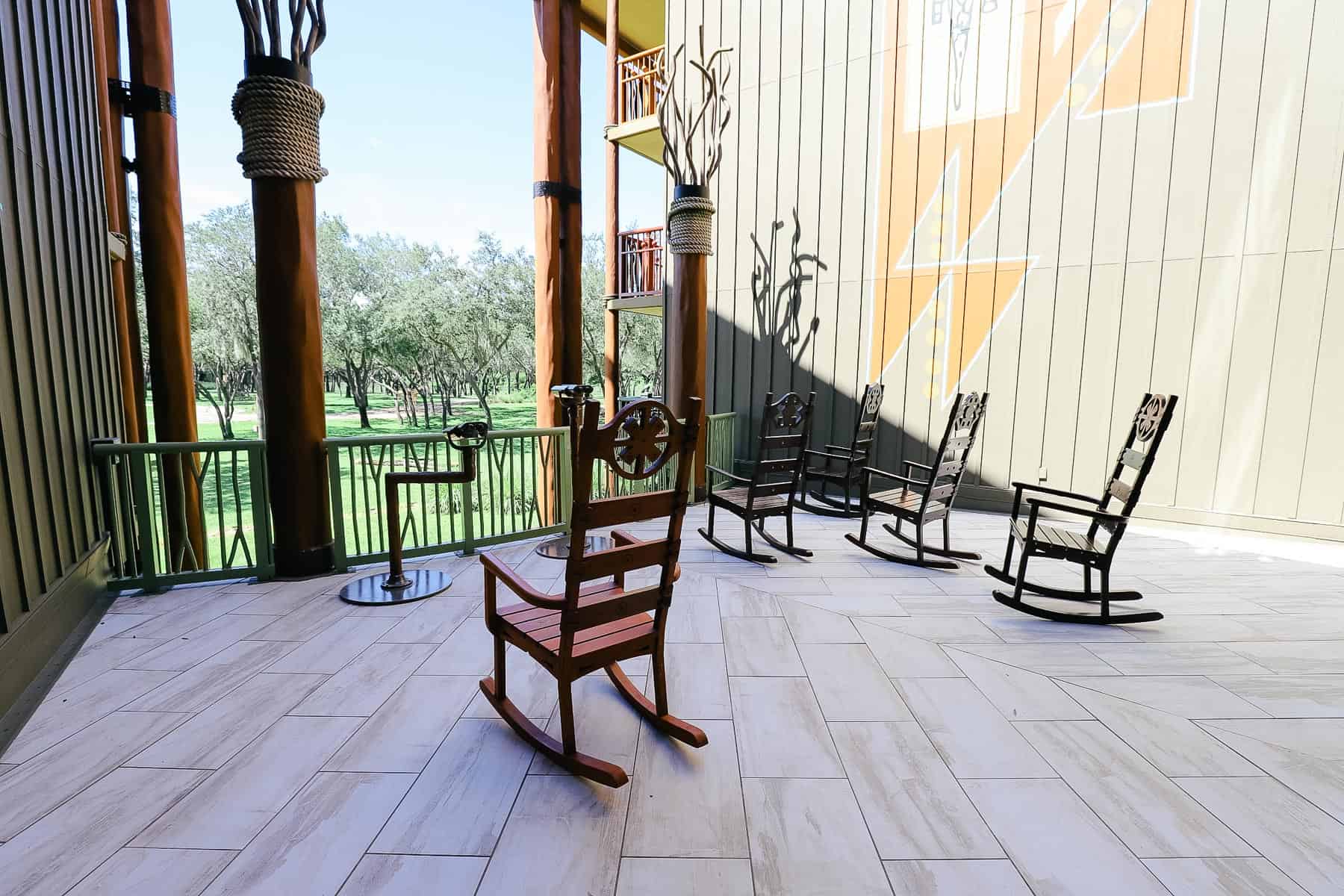 Rooms
Disney's Animal Kingdom Lodge has several room categories and view types. Most standard rooms will have two queen-size beds. A few have a queen-size bed with a set of bunk beds. A limited number of rooms with king-size beds are available, but an upgrade.
A standard view offers a view of the parking lot or roof lines. Savanna-view rooms are an upgrade.
As mentioned earlier, they look out onto one of the lodge's four savannas. So, a savanna view is worth it if you have anyone who will spend a significant amount of time in the room.
Pool view and club-level rooms are additional upgrades. Club-level service is when you stay on a private floor that offers access to a special lounge. The lounge provides food and beverage options throughout the day. In addition, complimentary concierge service is provided.
Kilimanjaro Club is the club level at Disney's Animal Kingdom Lodge. You can learn more about this experience from our club level stay at the Beach Club or our club level stay at Gran Destino Tower.
The following suites are also available at Animal Kingdom Lodge:
1 Bedroom
2 Bedroom
Royal Asante Presidential Suite
Jambo House has a separate Disney Vacation Club Wing, not to be confused with Kidani Village next door. Villa rooms are a little different in design, consisting of the following:
Deluxe Studio
1 Bedroom Villa
2 Bedroom Villa
3 Bedroom Grand Villa
All of the deluxe rooms come with a kitchenette at the minimum. In addition, a deluxe studio at Jambo House has a queen bed and a queen-size sleeper sofa. Below are a few photos from our stay.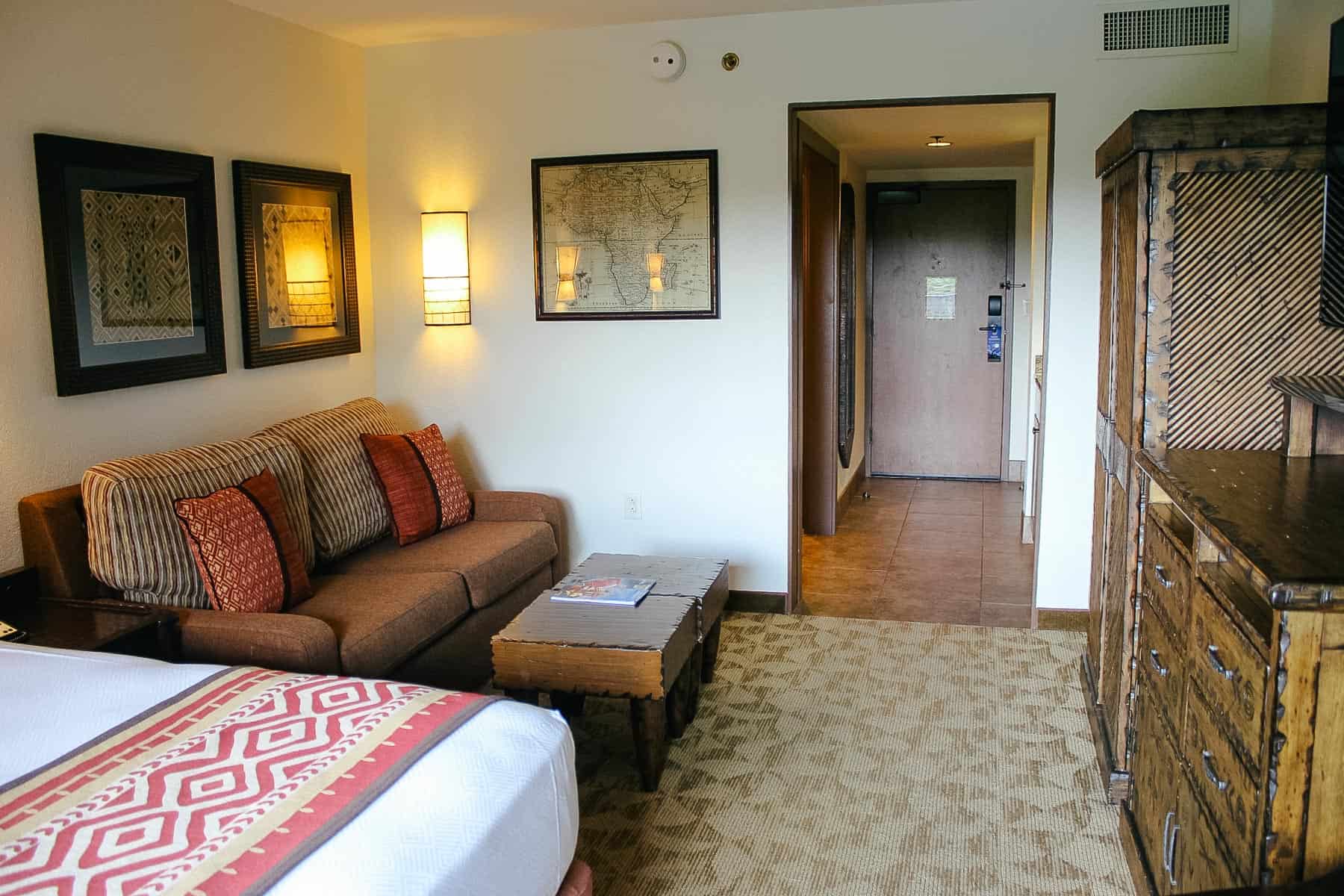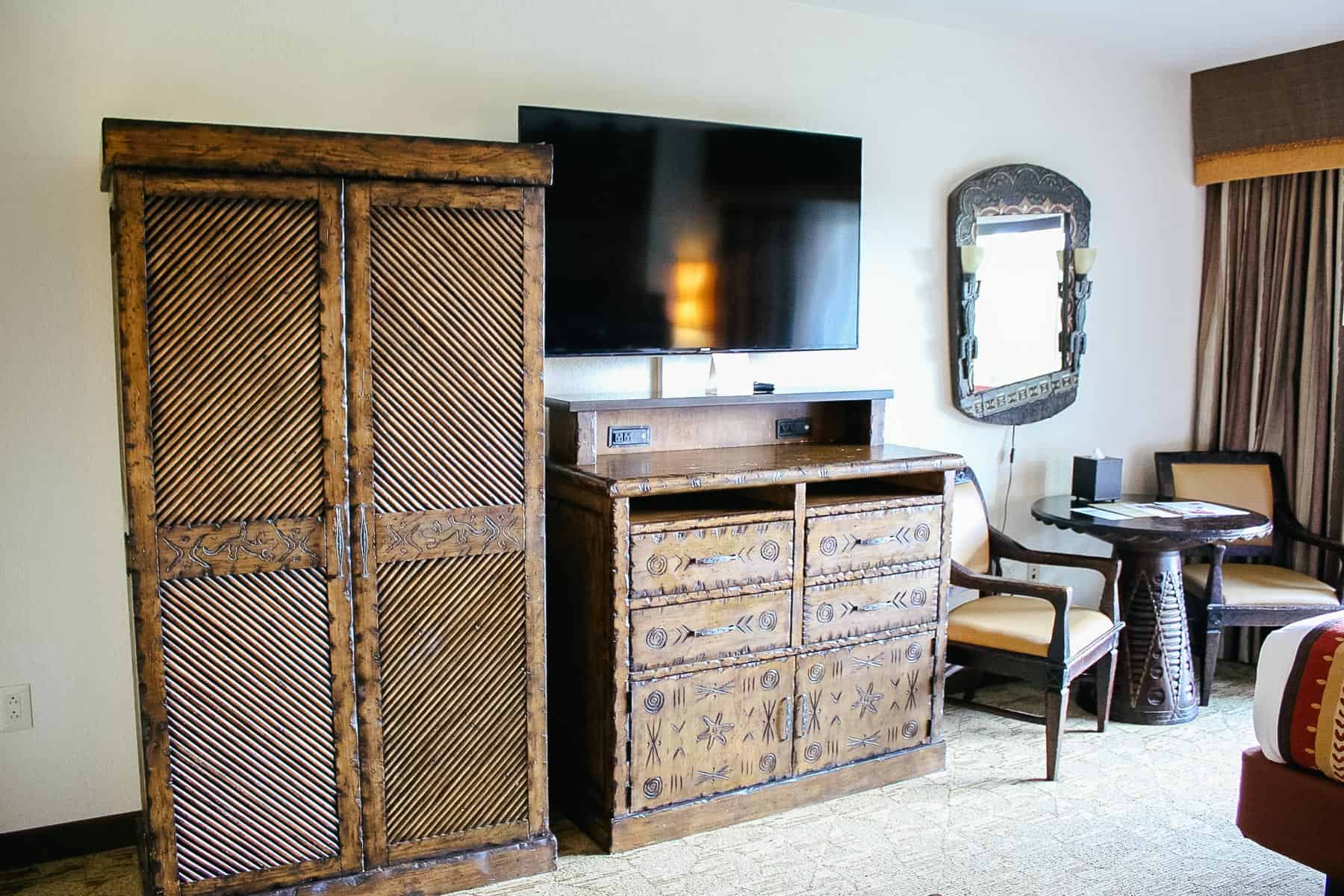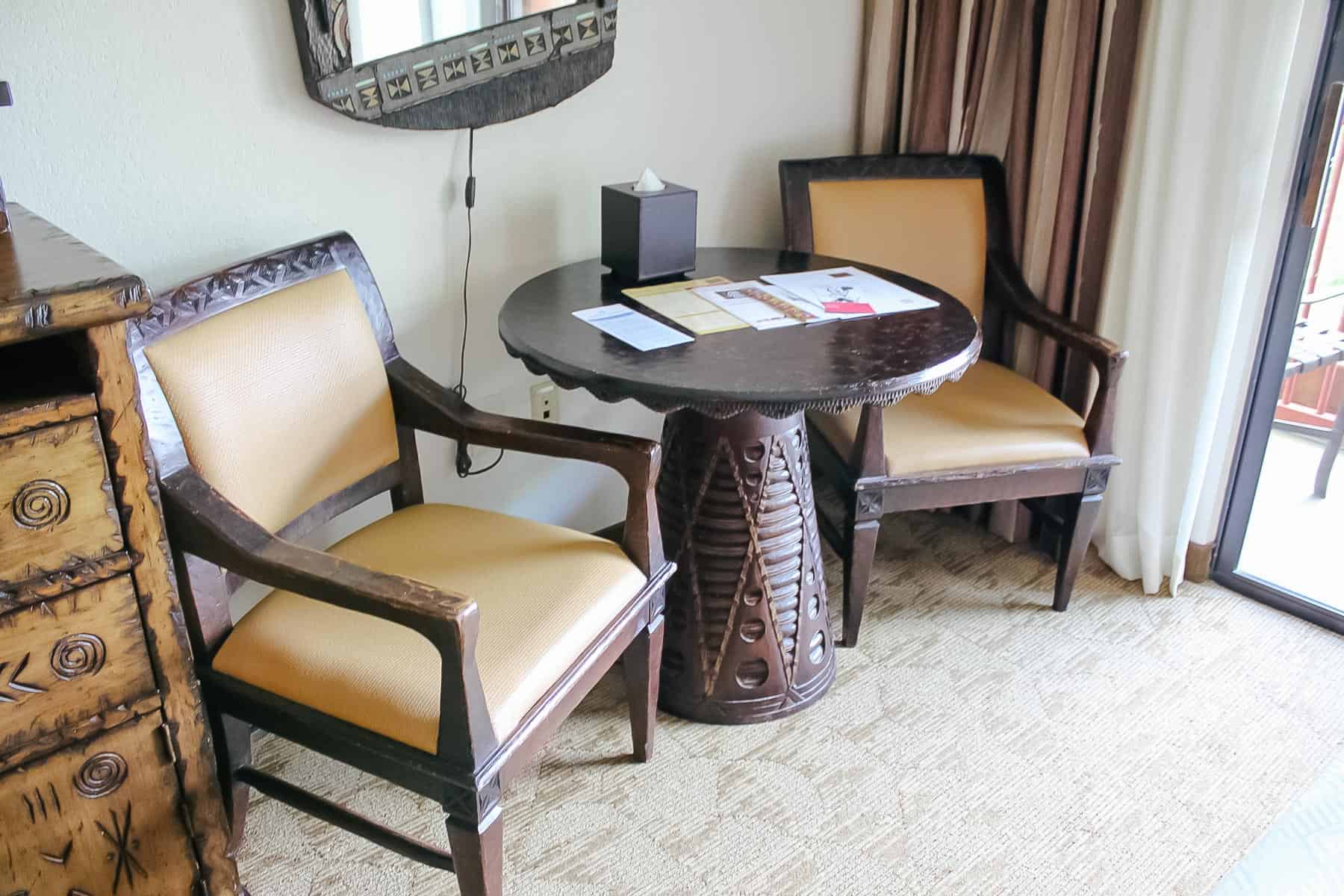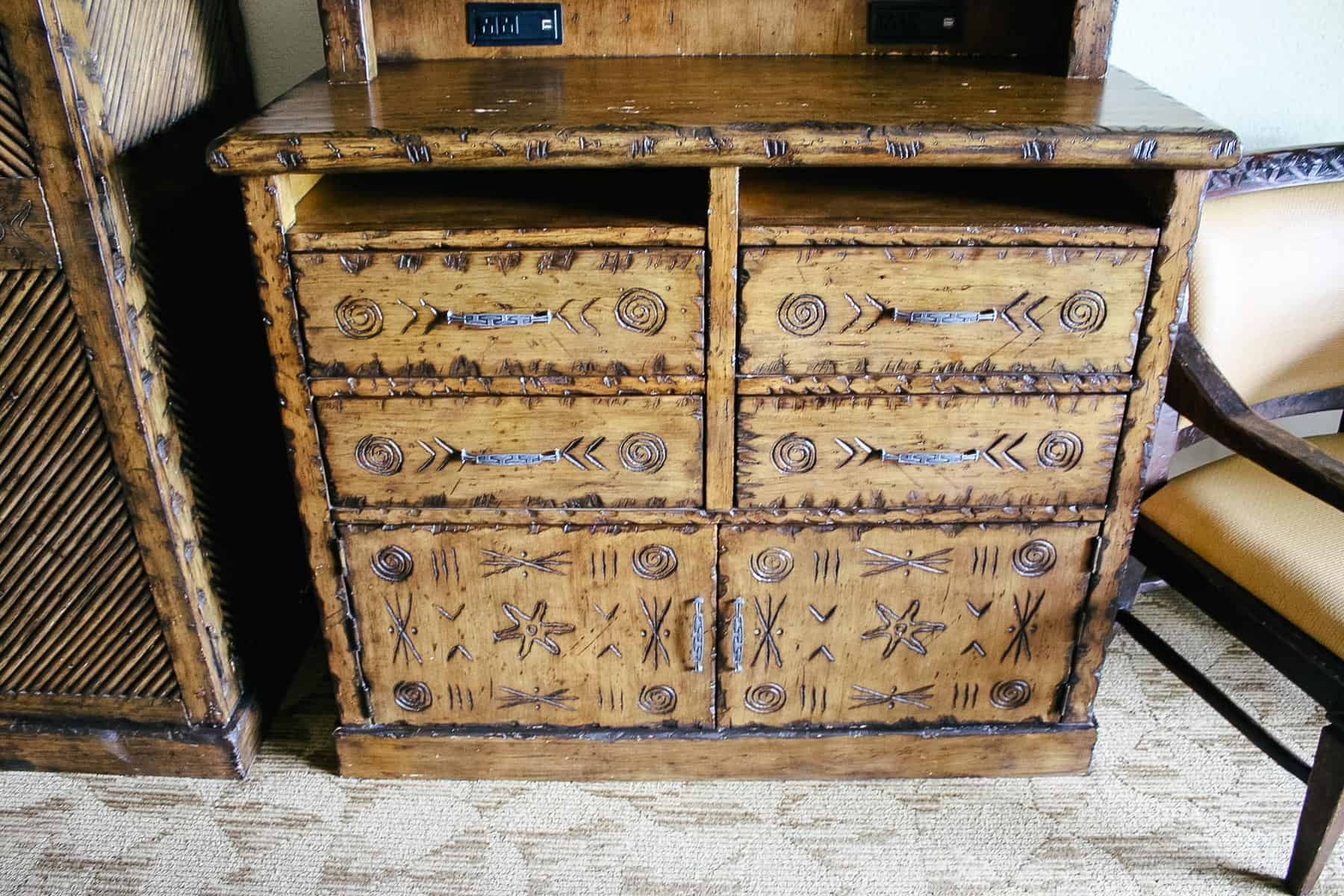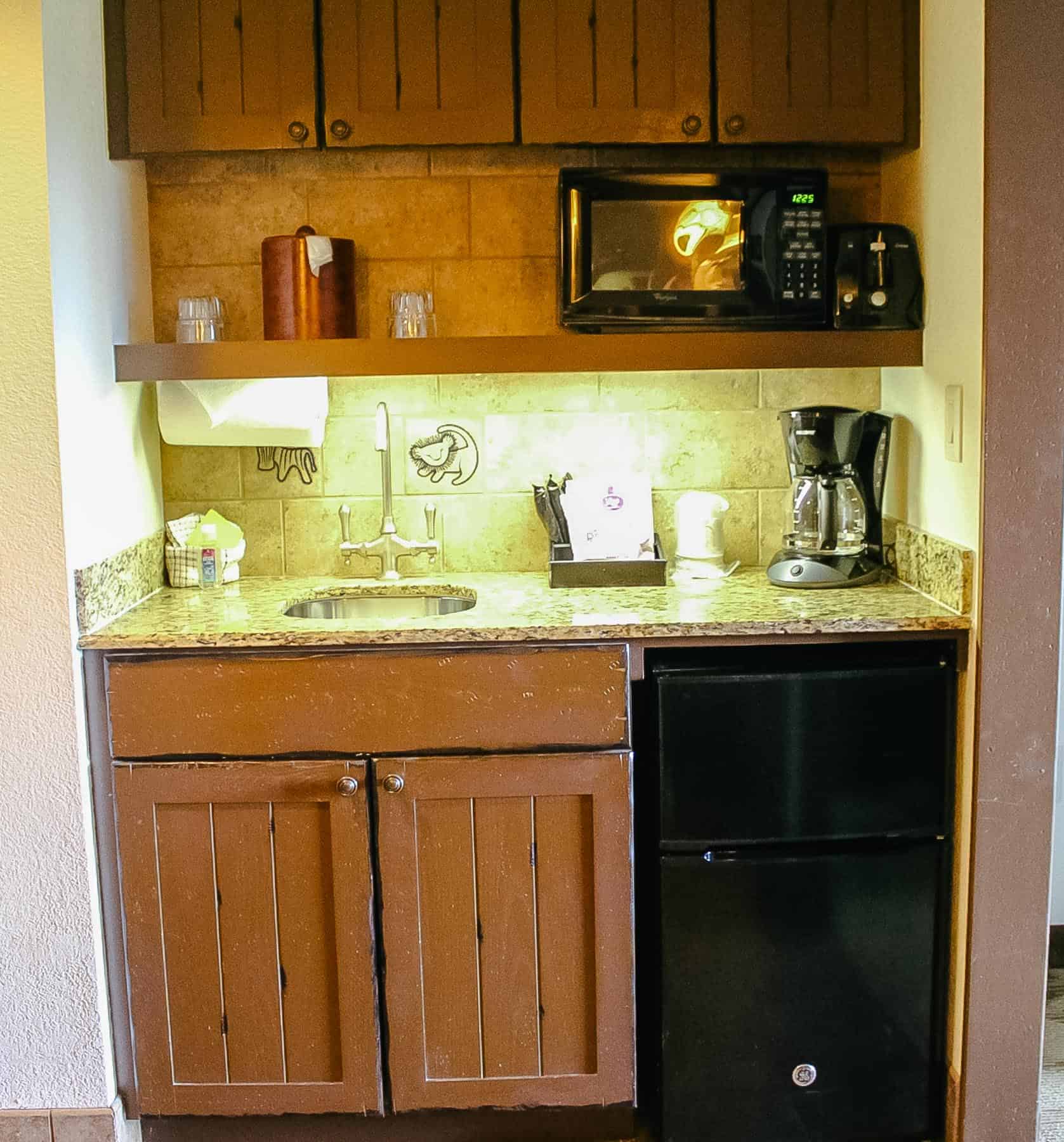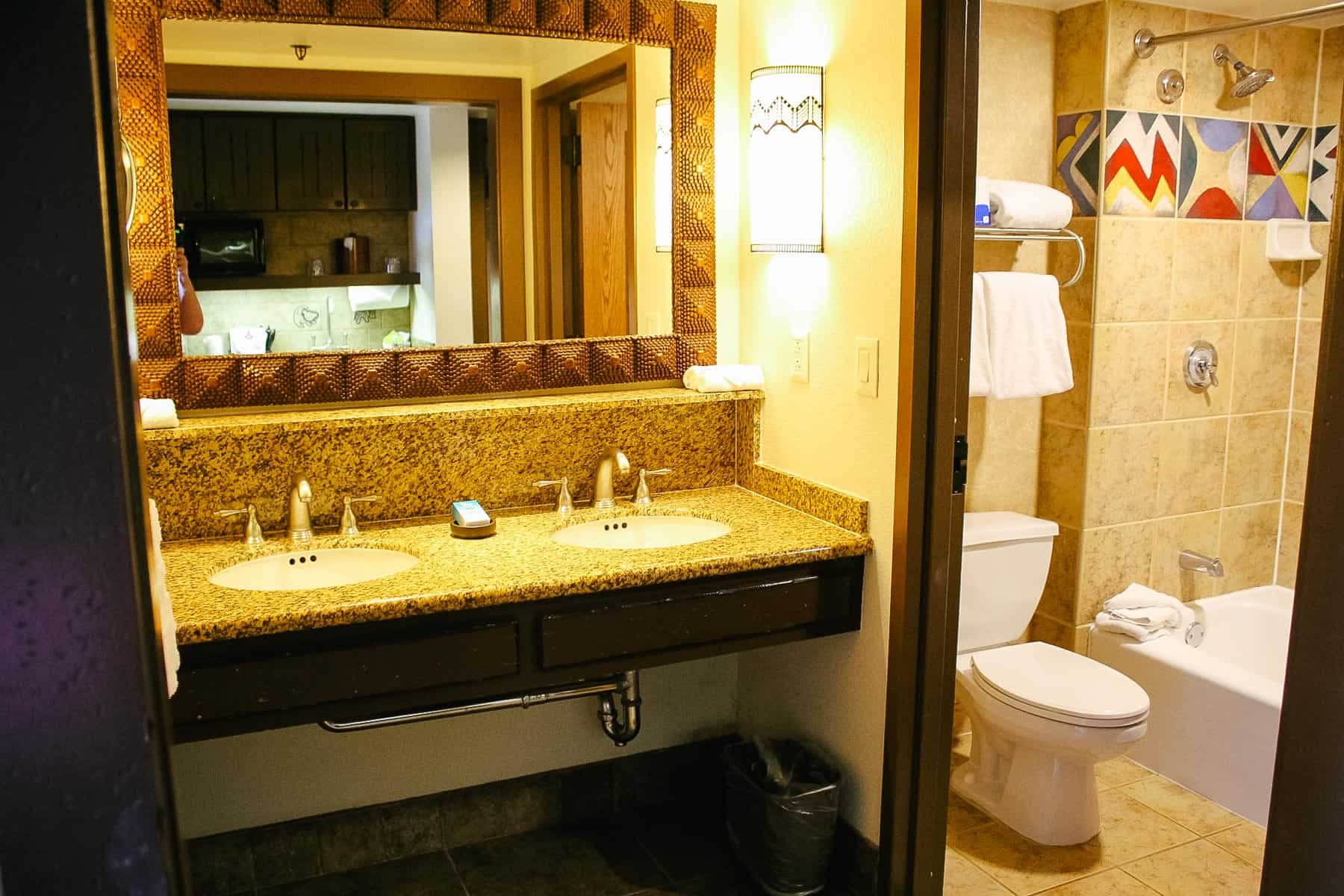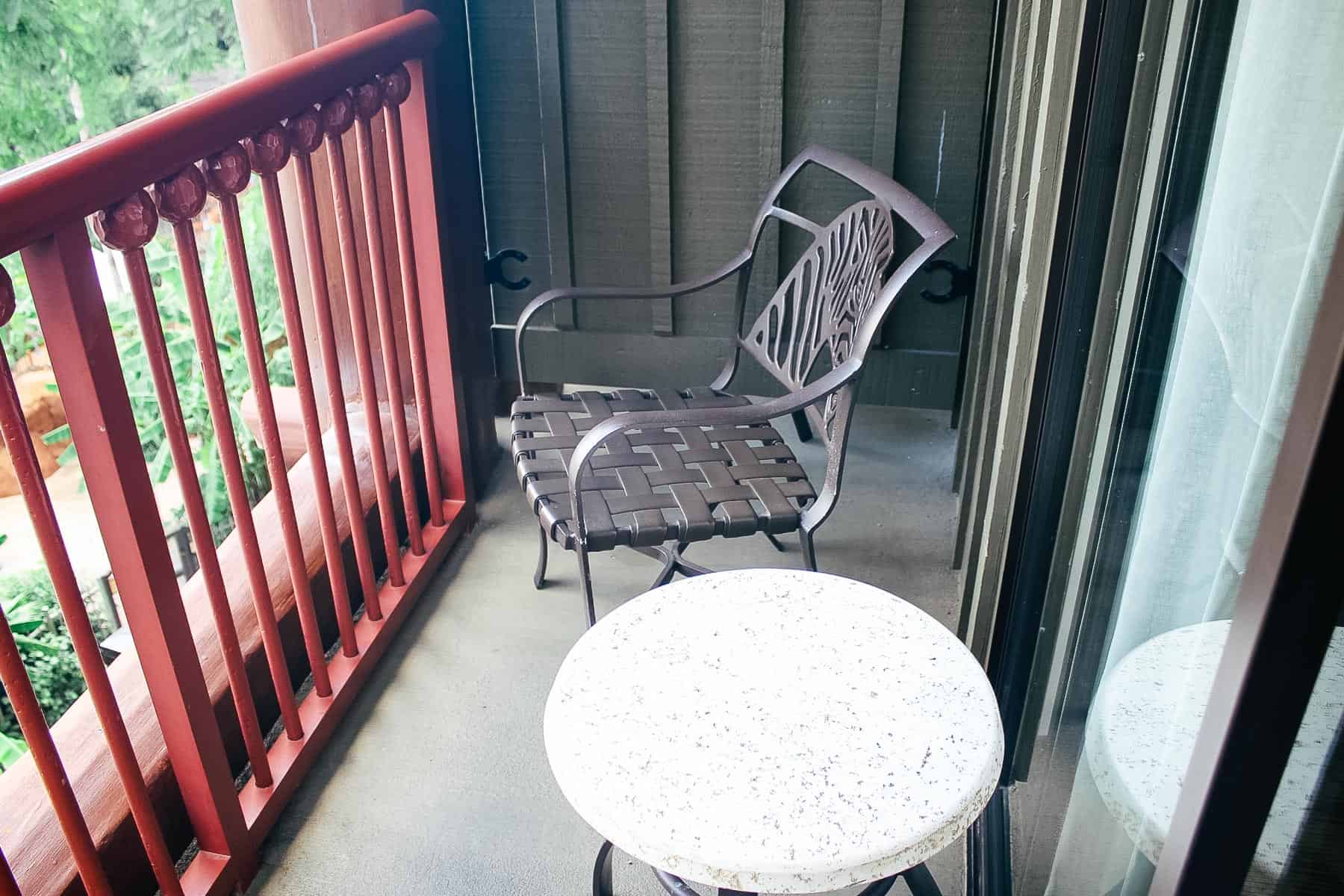 We had a water view room, which turned out to be a pool view. We were directly over the pool. It was busy at the pool most days during our stay. I noticed some noise mid-afternoon from the recreation going on at the pool. But other than that, it was a pleasant view.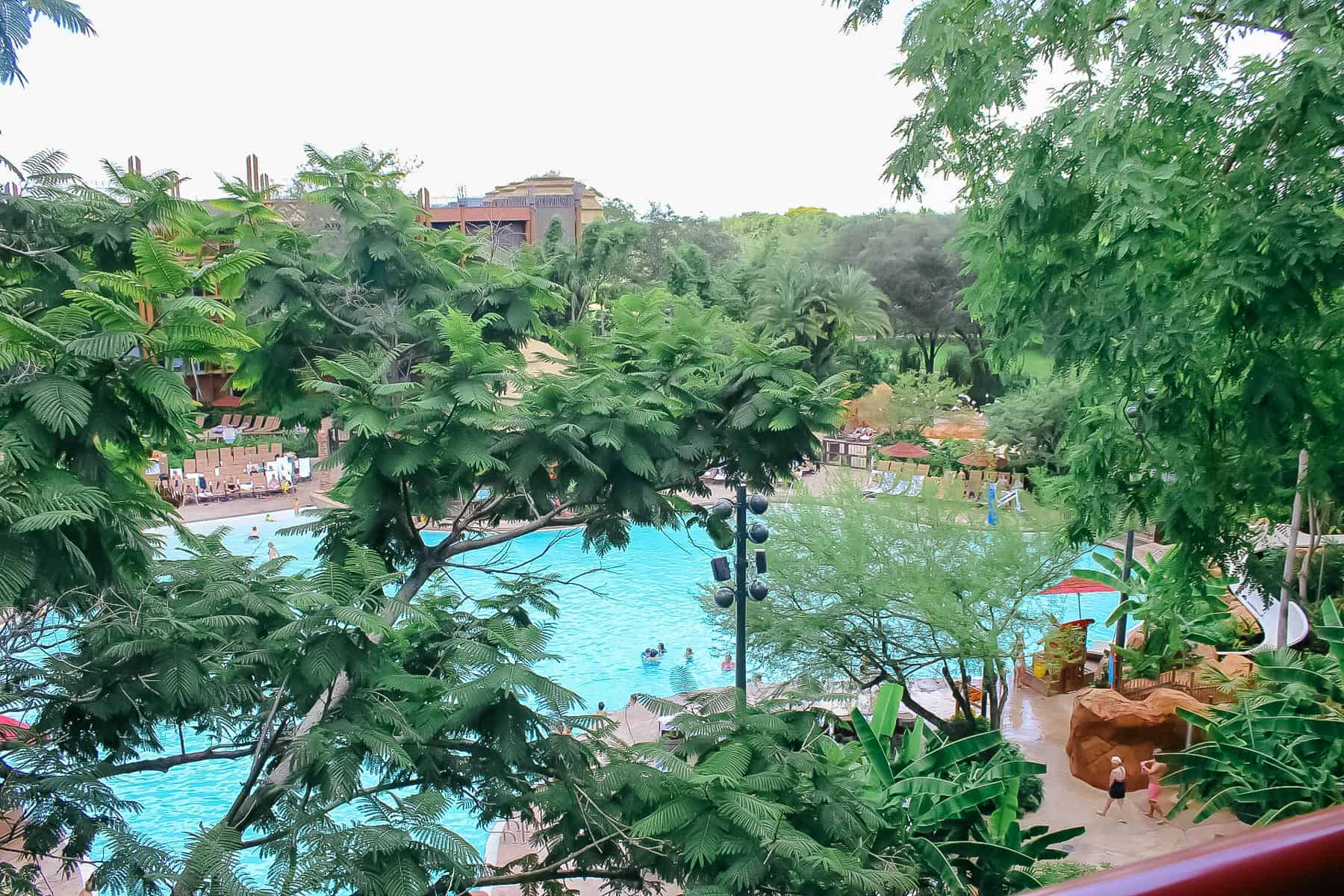 We were upgraded to a king-size bed with a savanna view on another visit. This was a nice upgrade, considering we had reserved a regular room.
This room was on the Sunset Savanna, the largest of the four lush savannas shared between Jambo House and Kidani Village.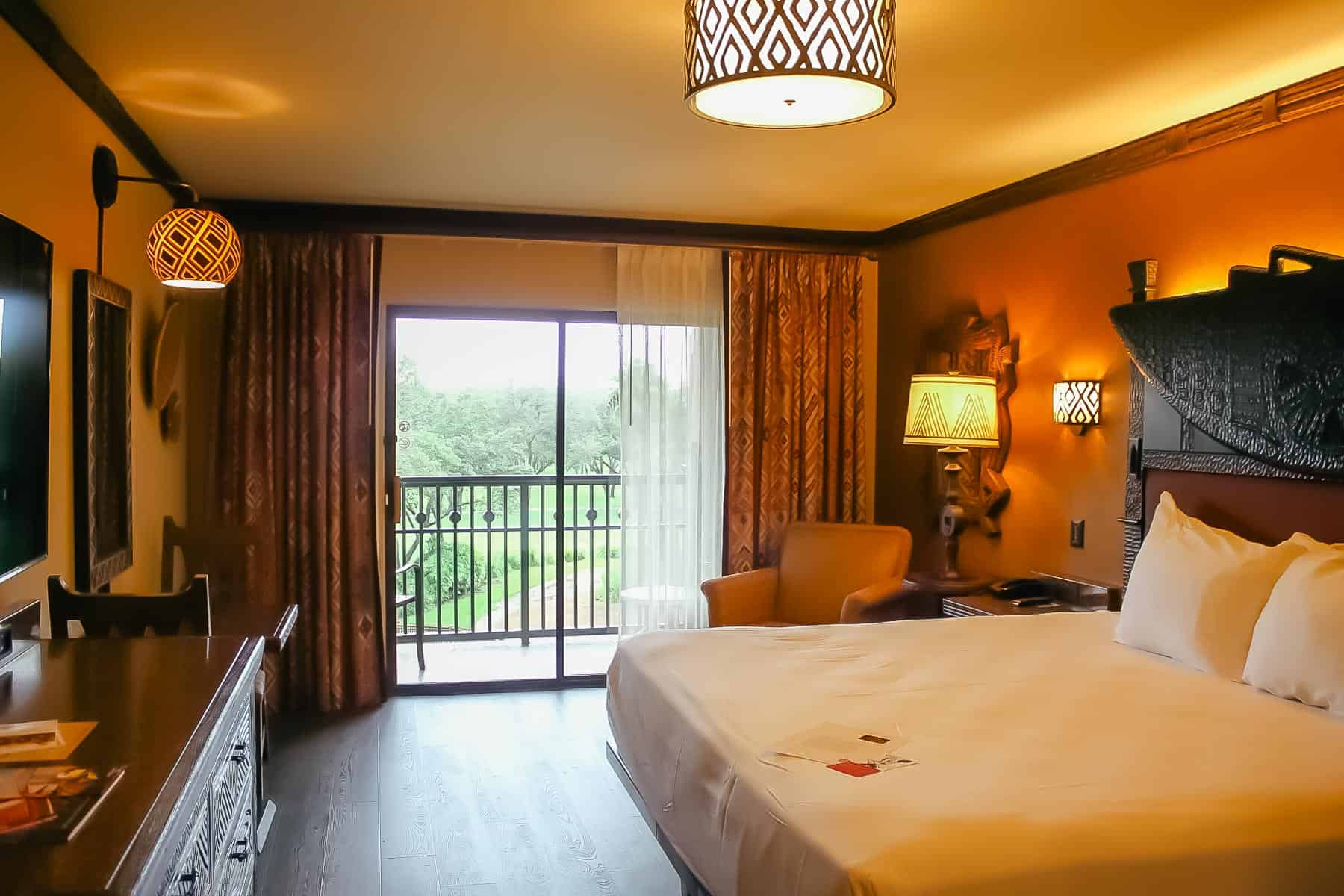 Here is a recap of the savannas at Animal Kingdom Lodge:
Arusha
Sunset
Pembe
Uzima
Two nightstands flanked the king bed. A reading chair with an ottoman and a side table sits in the corner.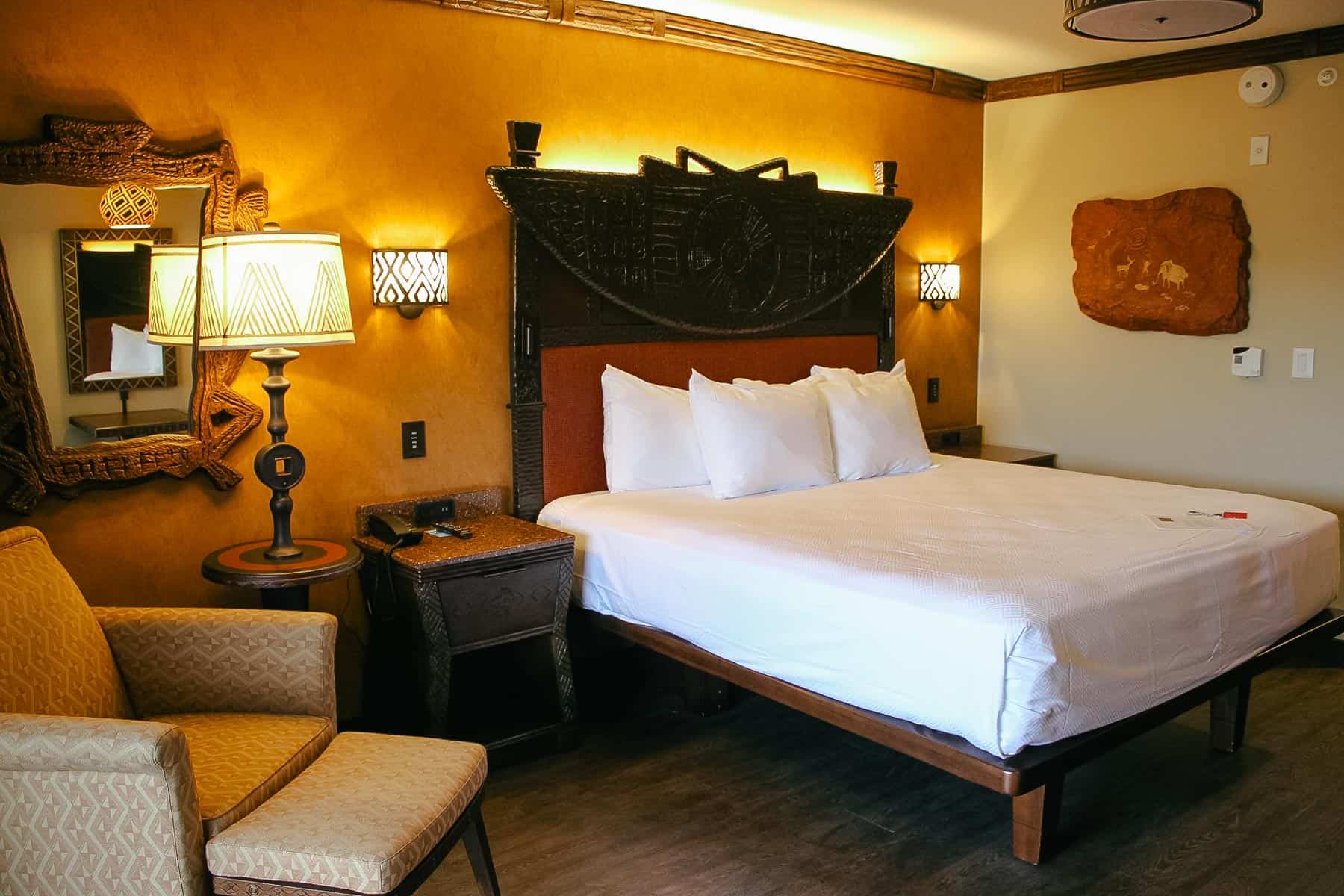 Below is a view of the foyer area.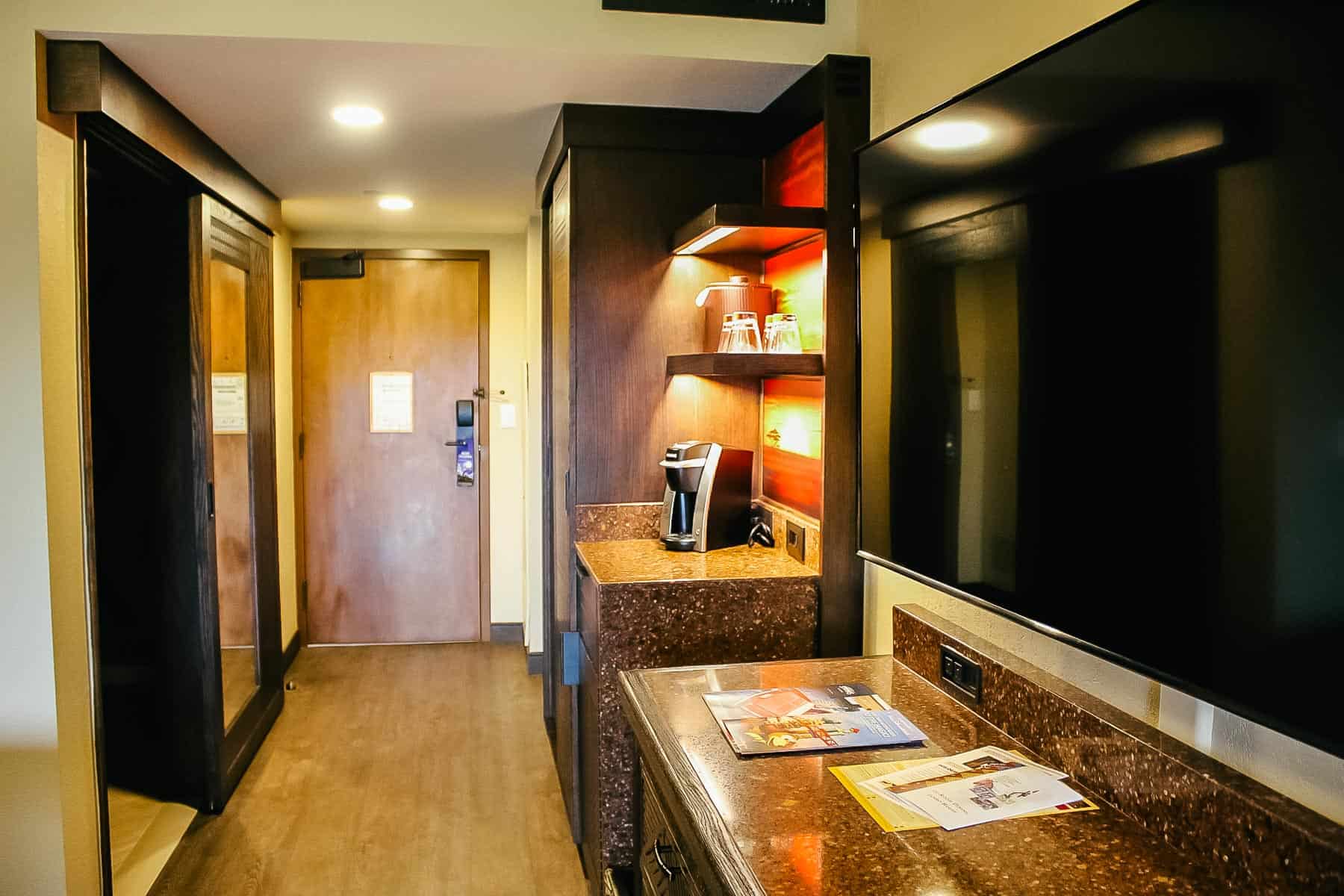 But, I must admit, the savanna view was the best part. Unfortunately, I never got a great photo because I had trouble with the lens fogging every time I took the camera outside to get a photo. We keep the room pretty cold.
We were here for almost a week and saw numerous giraffes and stunning sunsets throughout our stay. It was a memorable trip.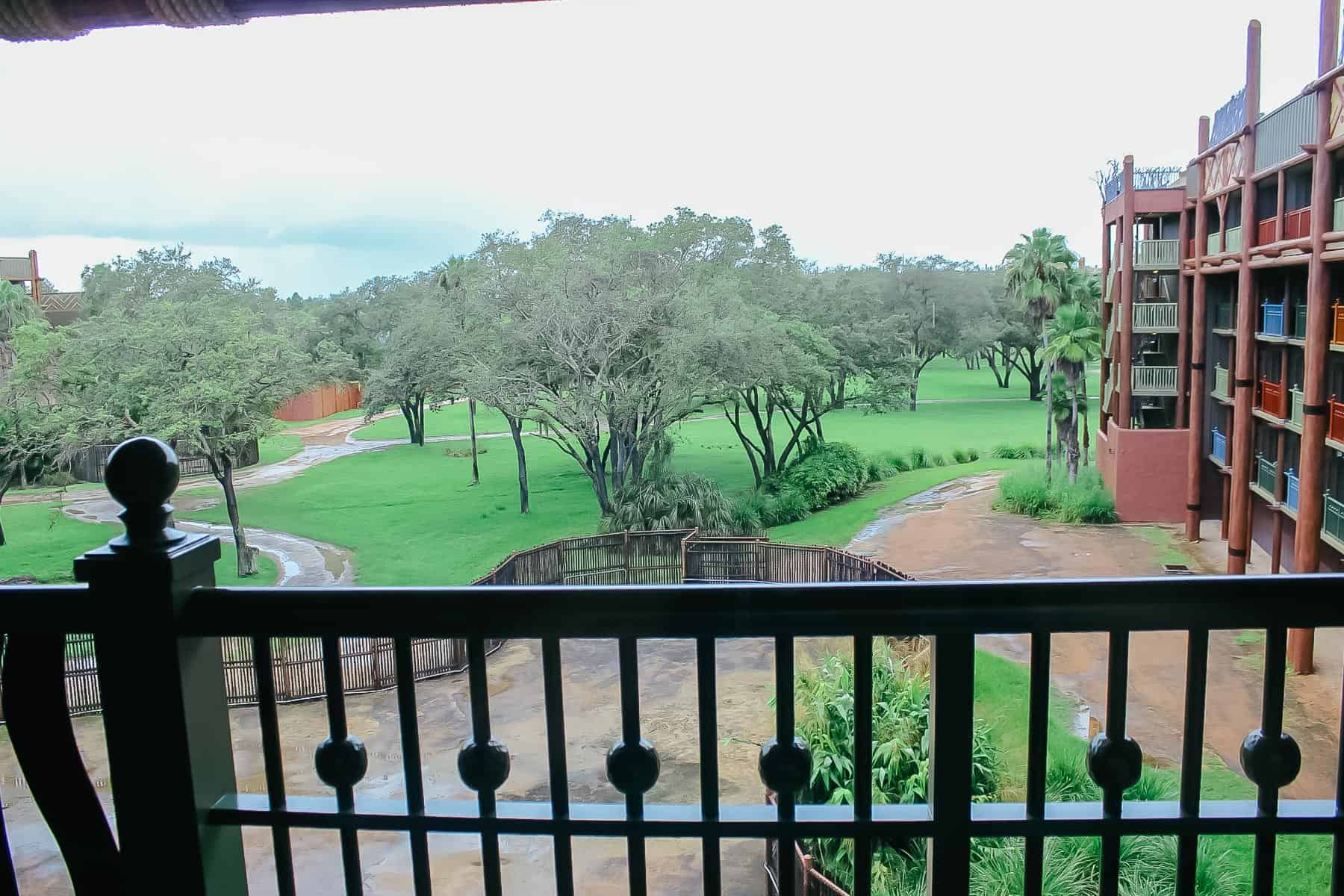 Additionally, this room had a table with chairs.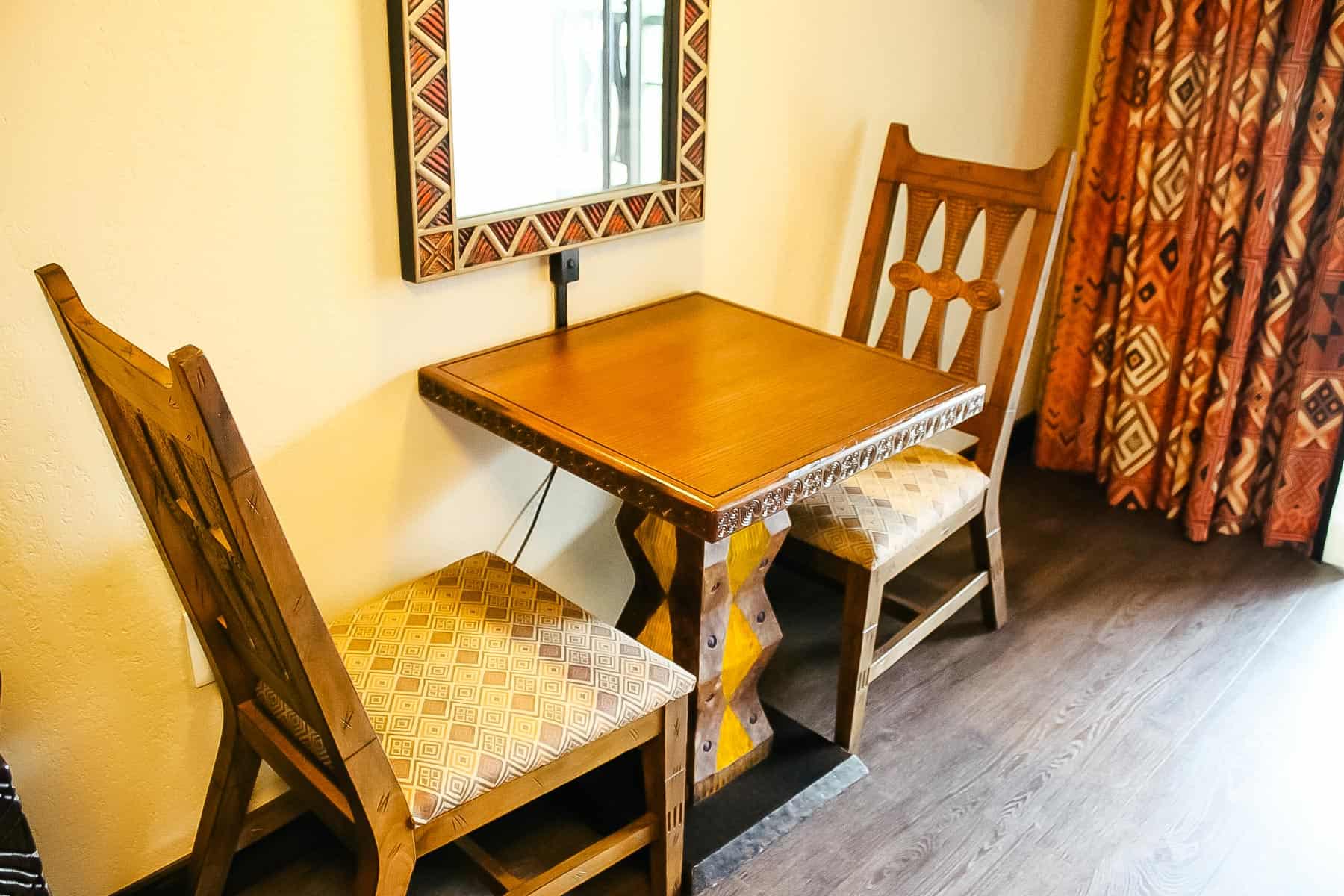 As far as storage goes, a large armoire provides plenty of space to hang clothes. At the top, there is an extra blanket that you will probably need if you are like me and turn the air down a bit at night.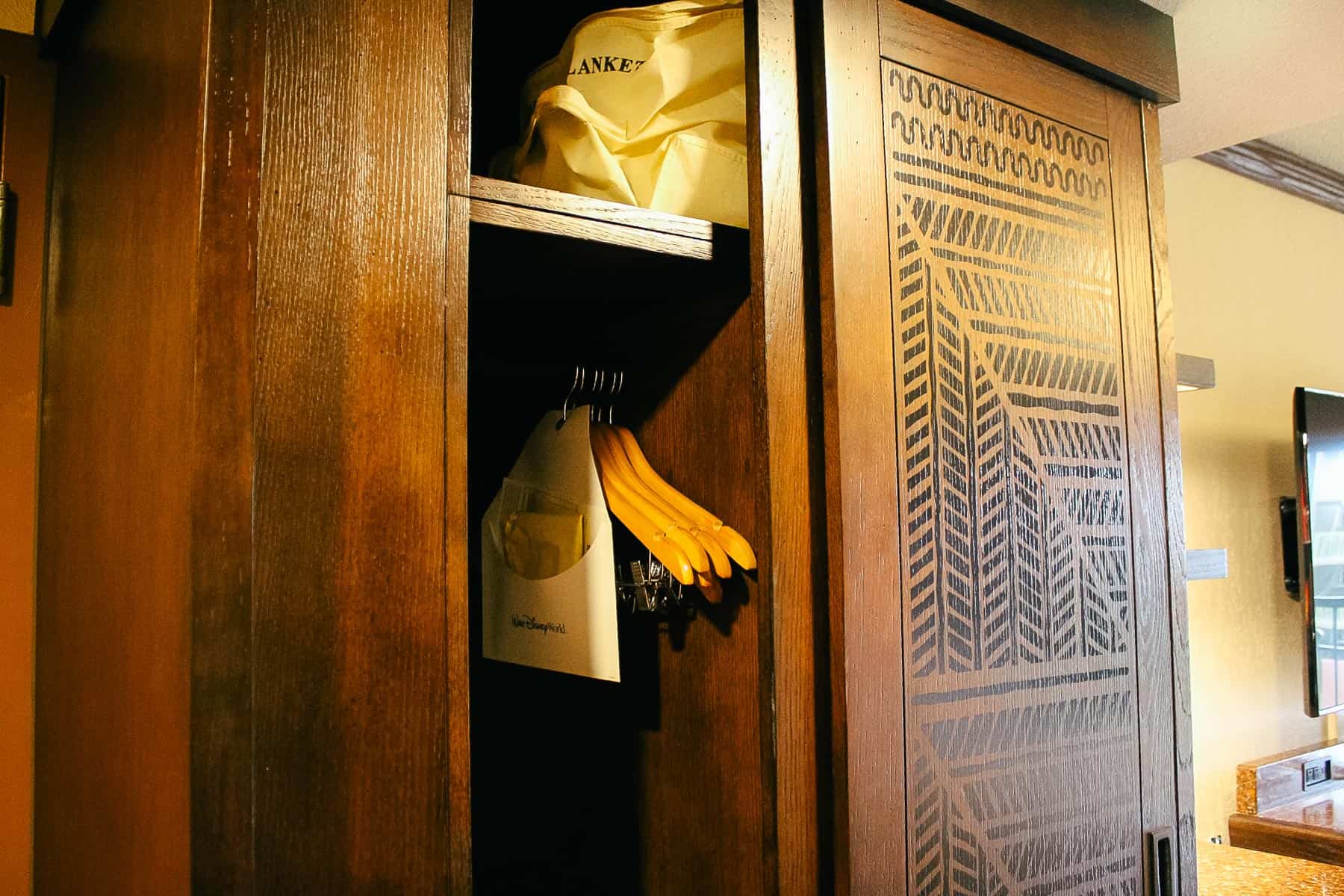 We had an individual cup coffee maker with accompaniments.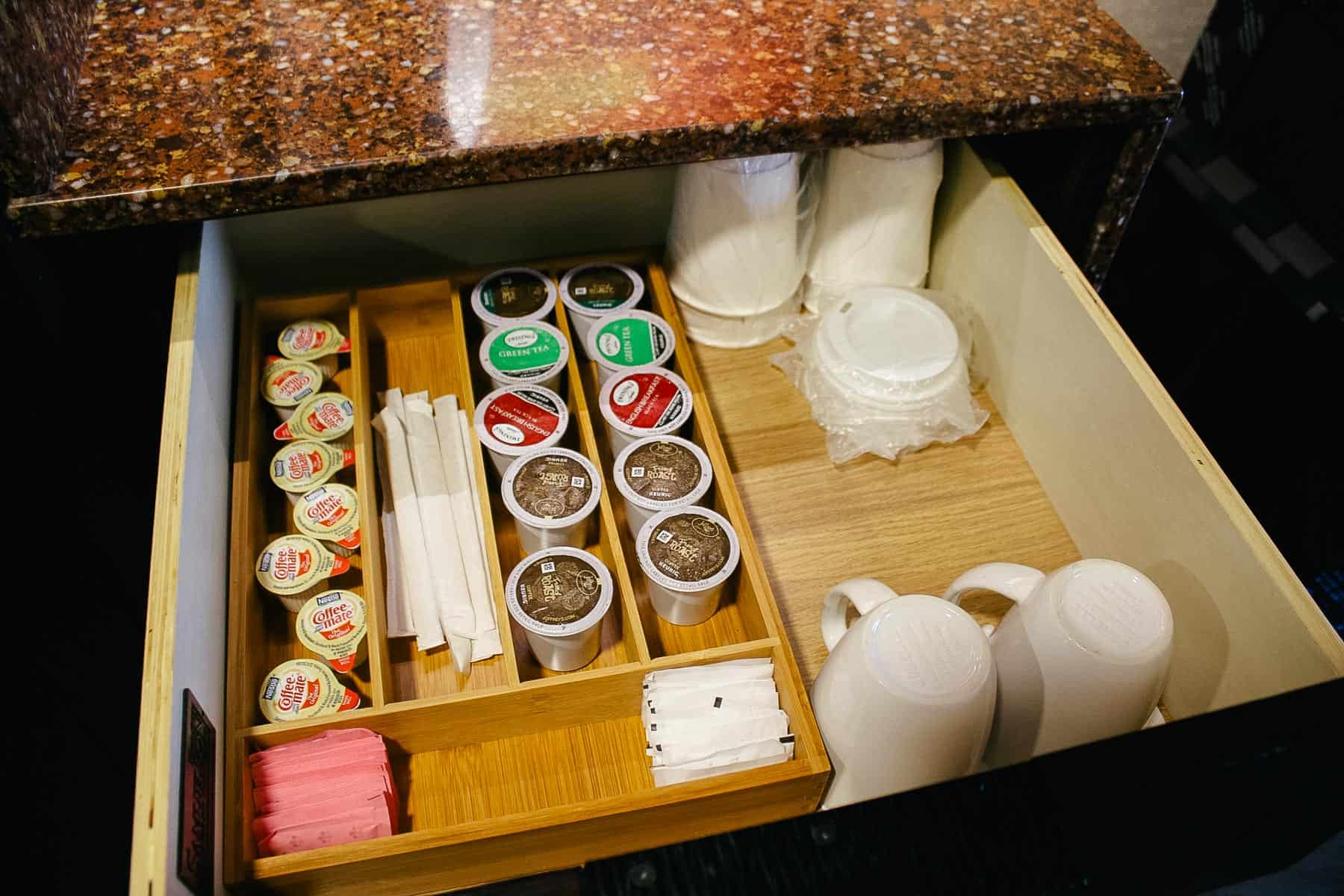 A beverage cooler was hidden behind a cabinet.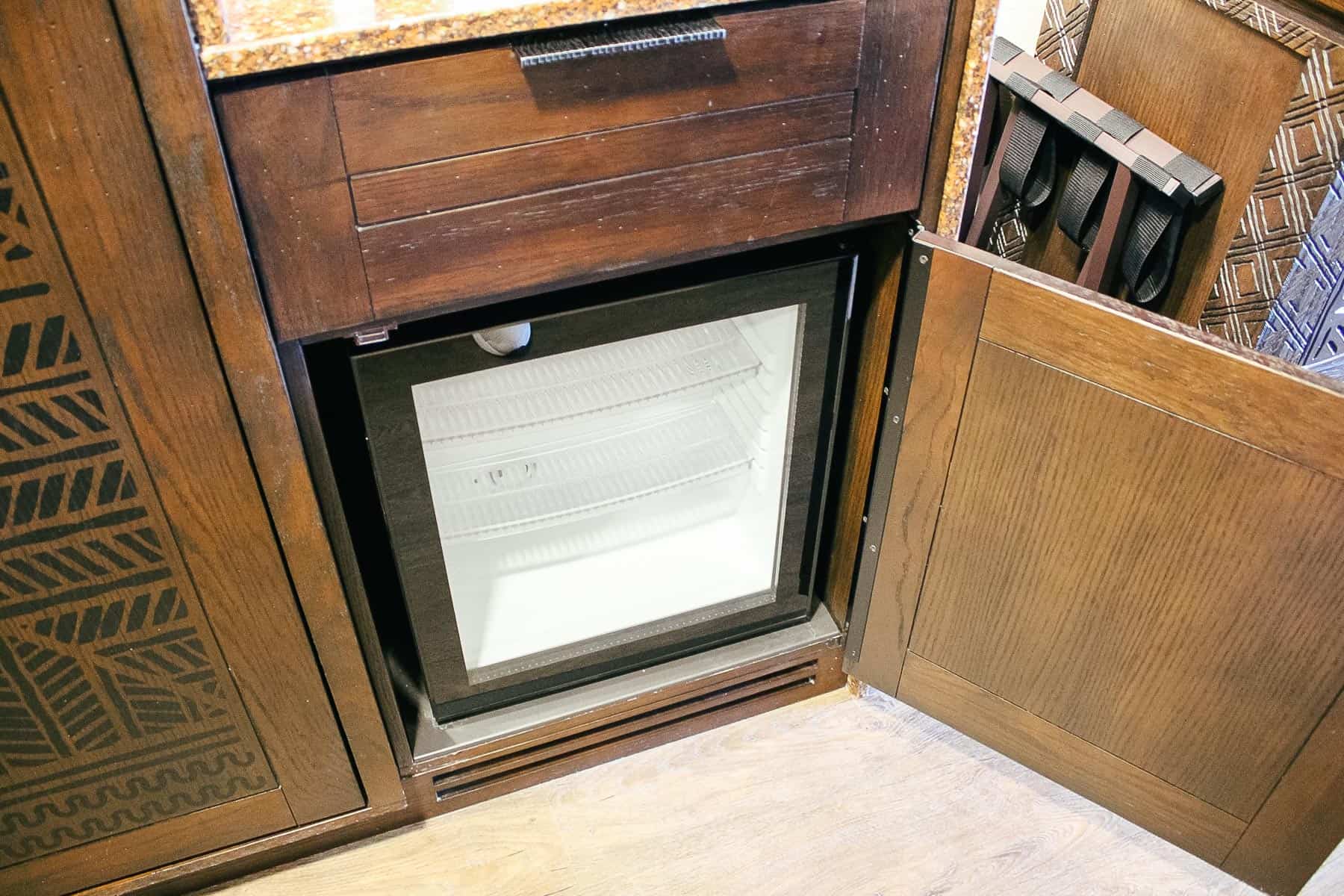 Below is the guest bath. It had double sinks and a ledge over the vanity to place personal items.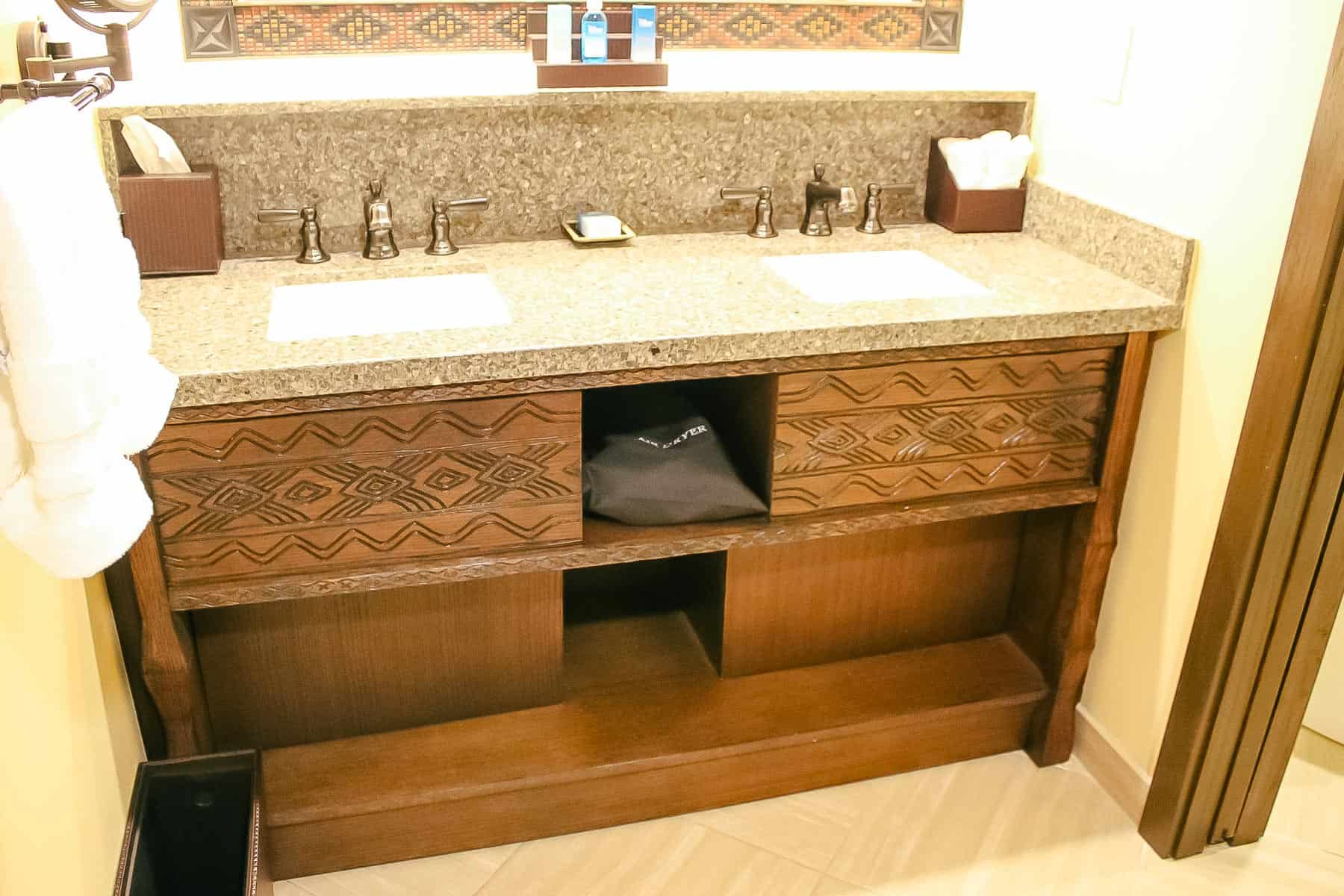 This guest bath had a walk-in shower with a removable shower head.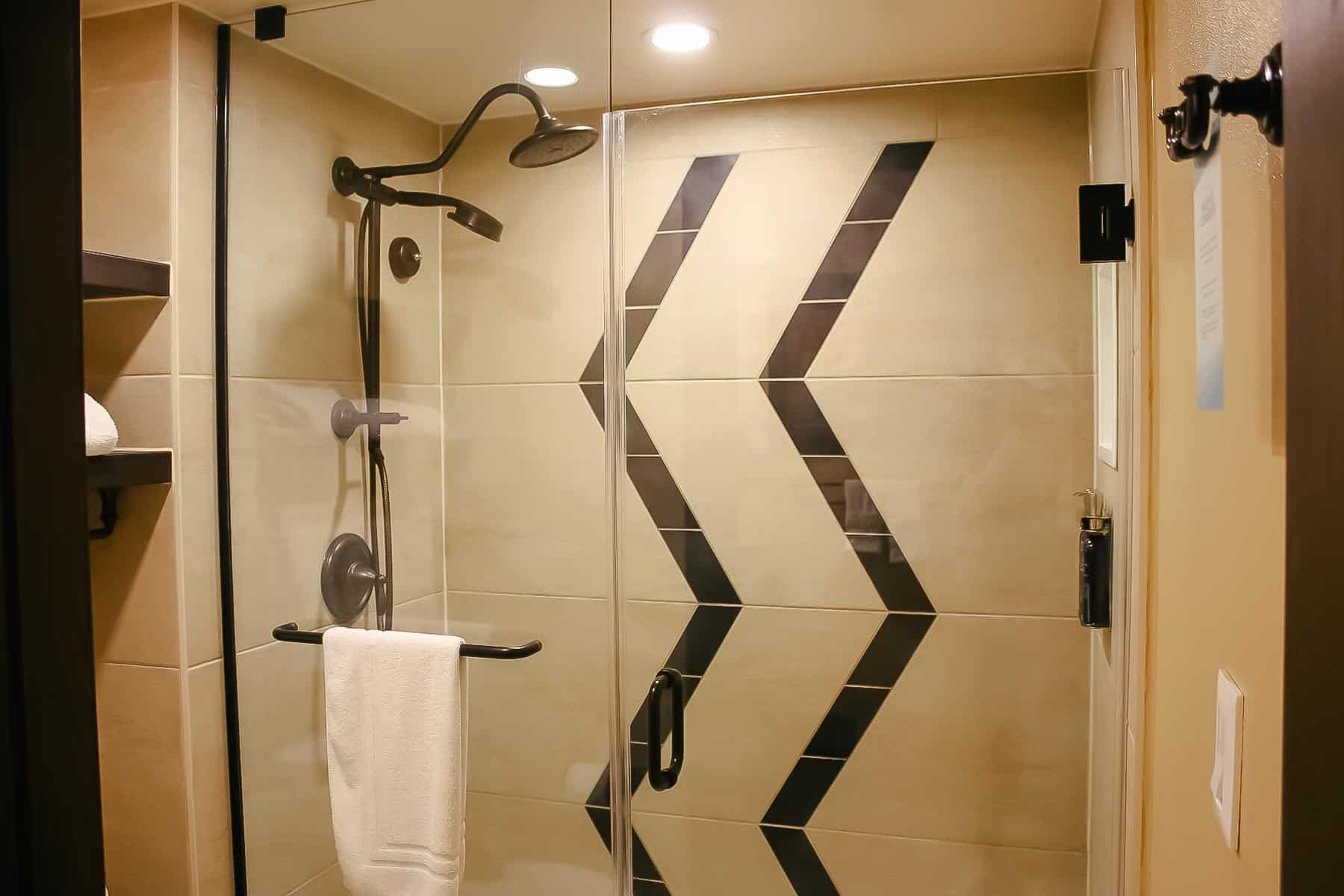 Disney provides built-in toiletries like body wash, shampoo, and conditioner. They are conveniently located in the shower.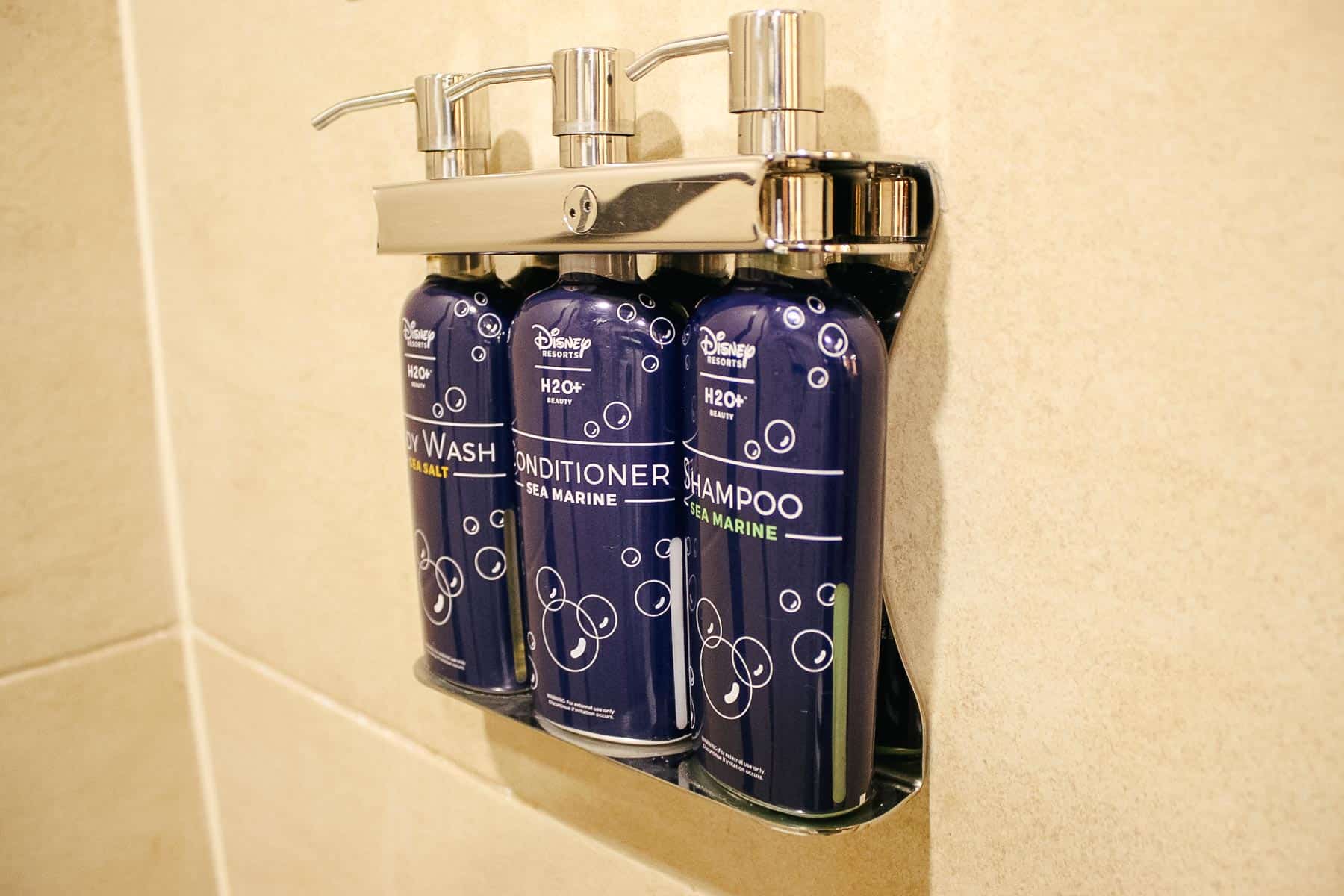 Recreation
If this review hasn't already sold you on a trip to Disney's Animal Kingdom Lodge, this next section will probably seal the deal. Animal Kingdom Lodge has a swimming pool, daily pool party, playground, game tables, and so much more.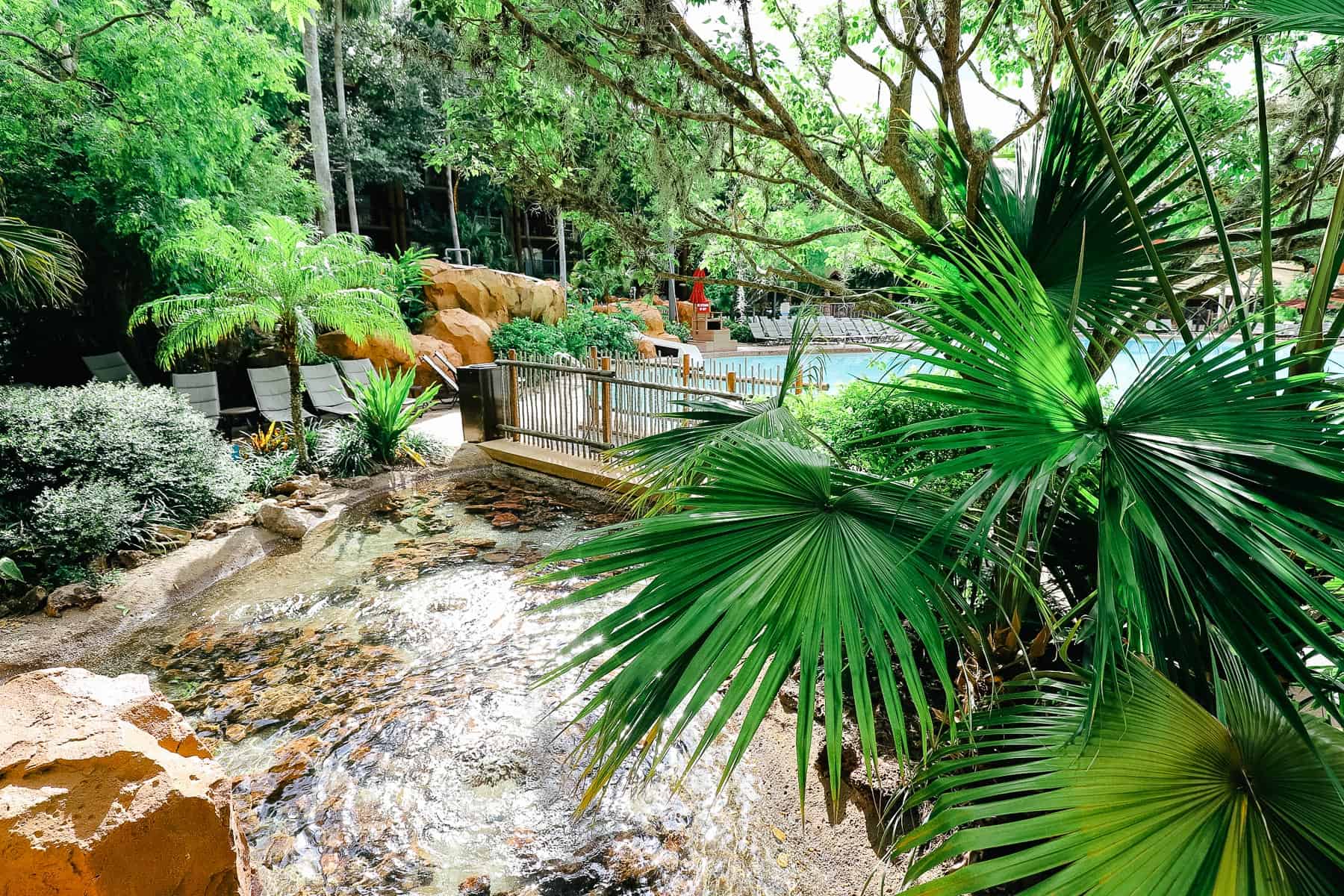 Unlike other Disney Resorts, Animal Kingdom Lodge does not have a quiet pool. The resort does not have a quiet pool because the land surrounding the resort is primarily savannas, where the animals graze.
However, the resort's feature pool, the Uzima Springs Pool, is more than adequate. It features a zero-entry area and a water slide.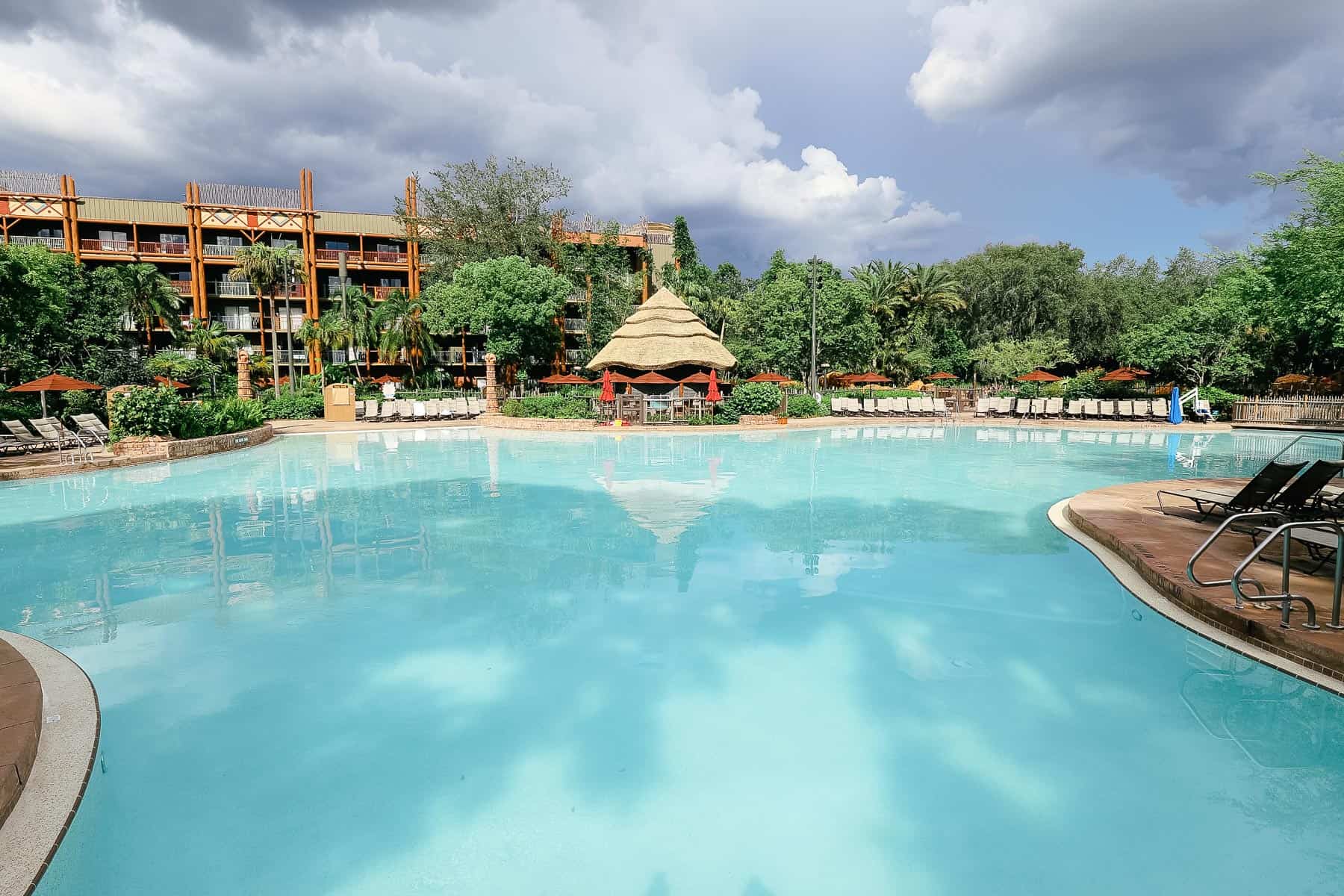 Most recreational activities at the resort are strategically located around the Uzima Springs Pool. Here is the pool's slide.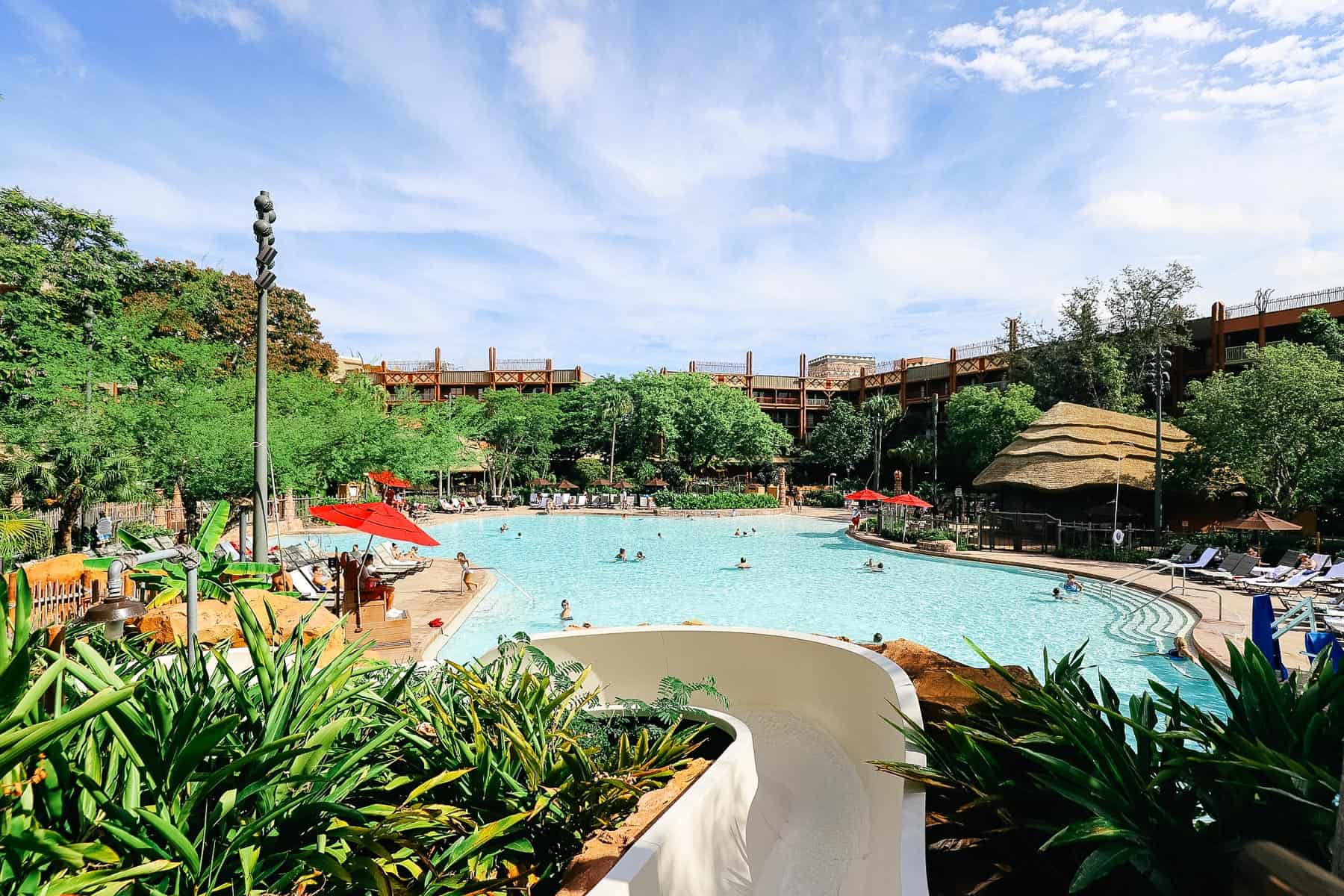 It's a beautiful place to spend an afternoon or an entire day.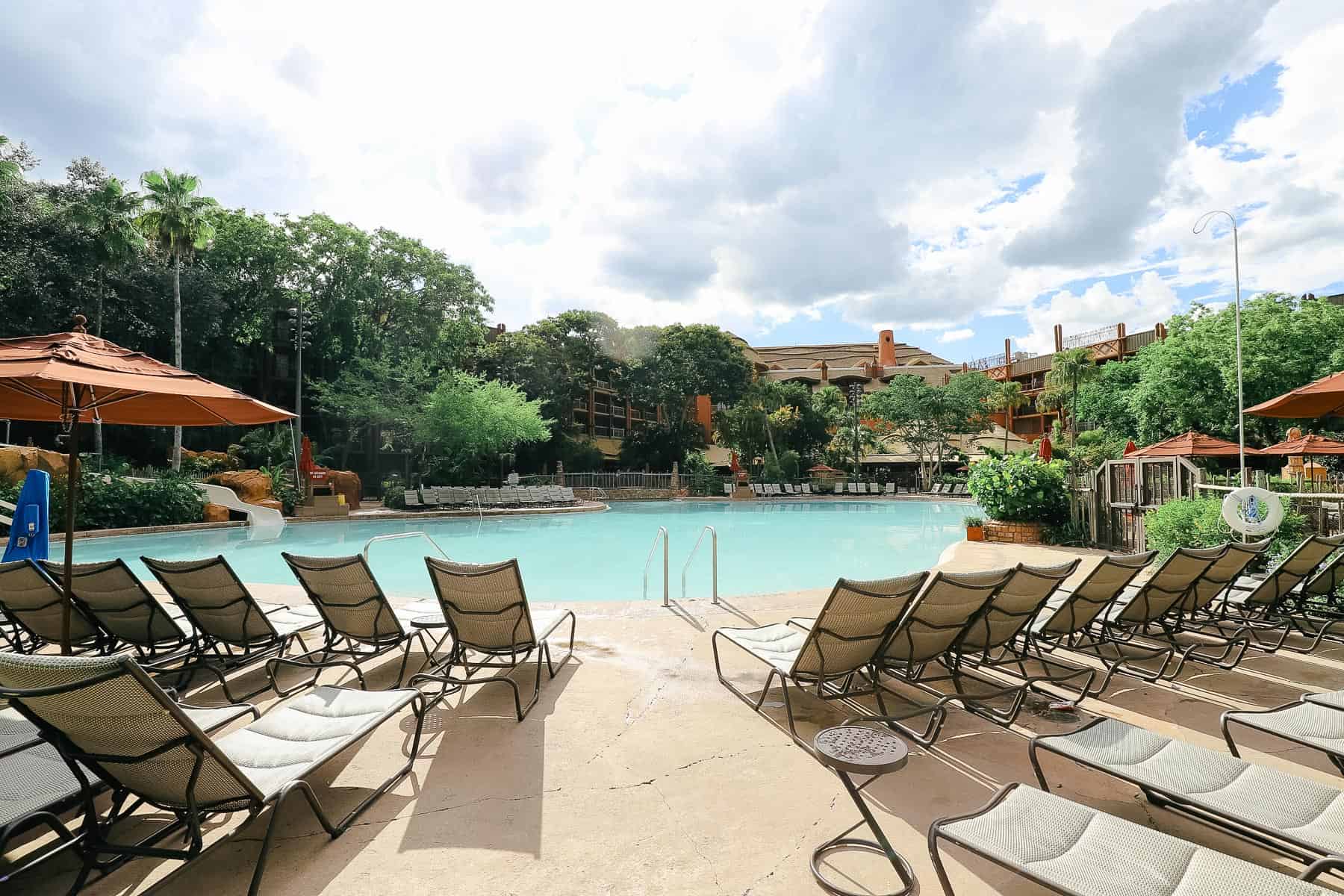 Fencing wraps around each area of the pool for safety measures. While landscaping contributes to the lush feel of the area.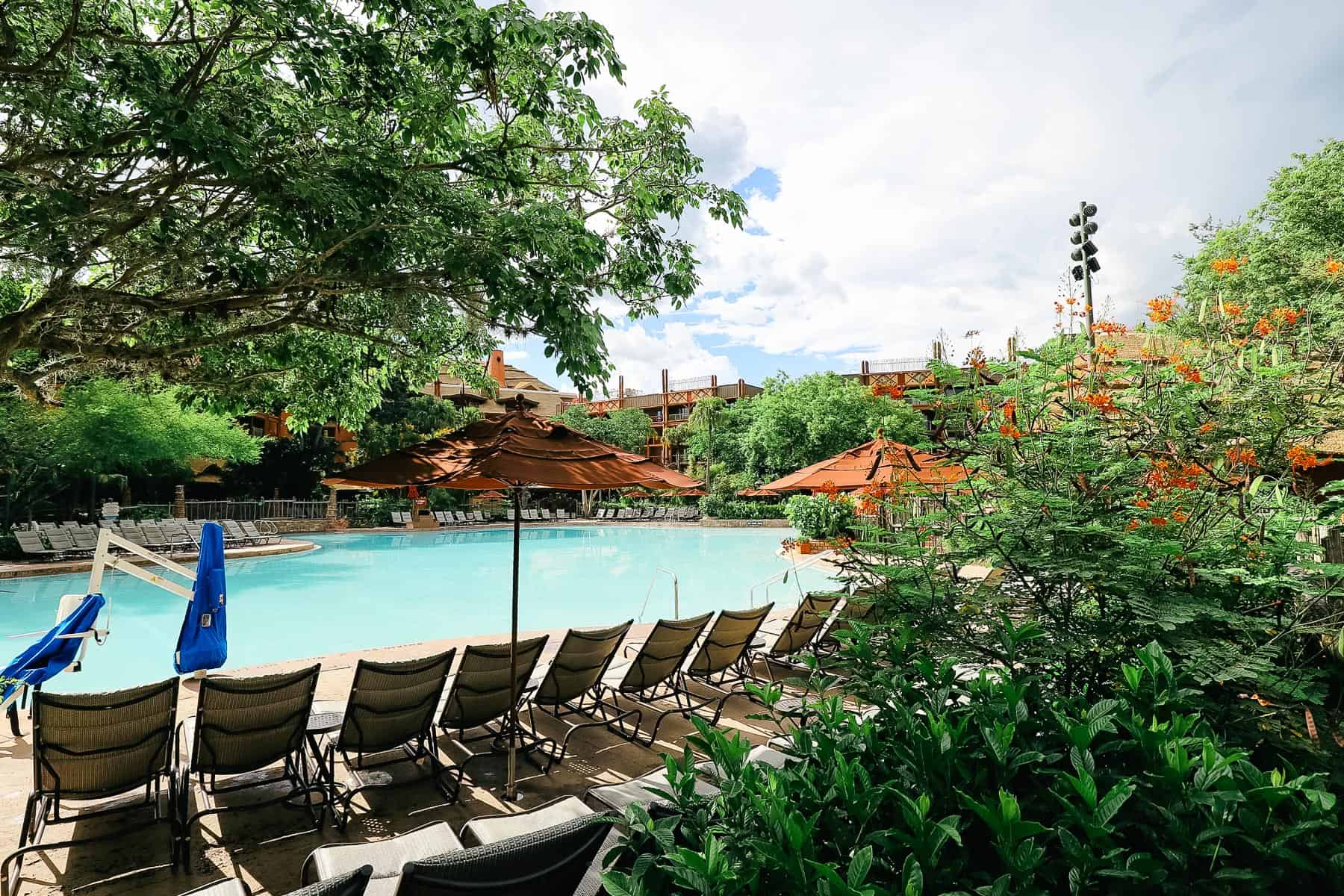 Two private hot tubs sit around the outskirts of the pool. Each is in a separately fenced area.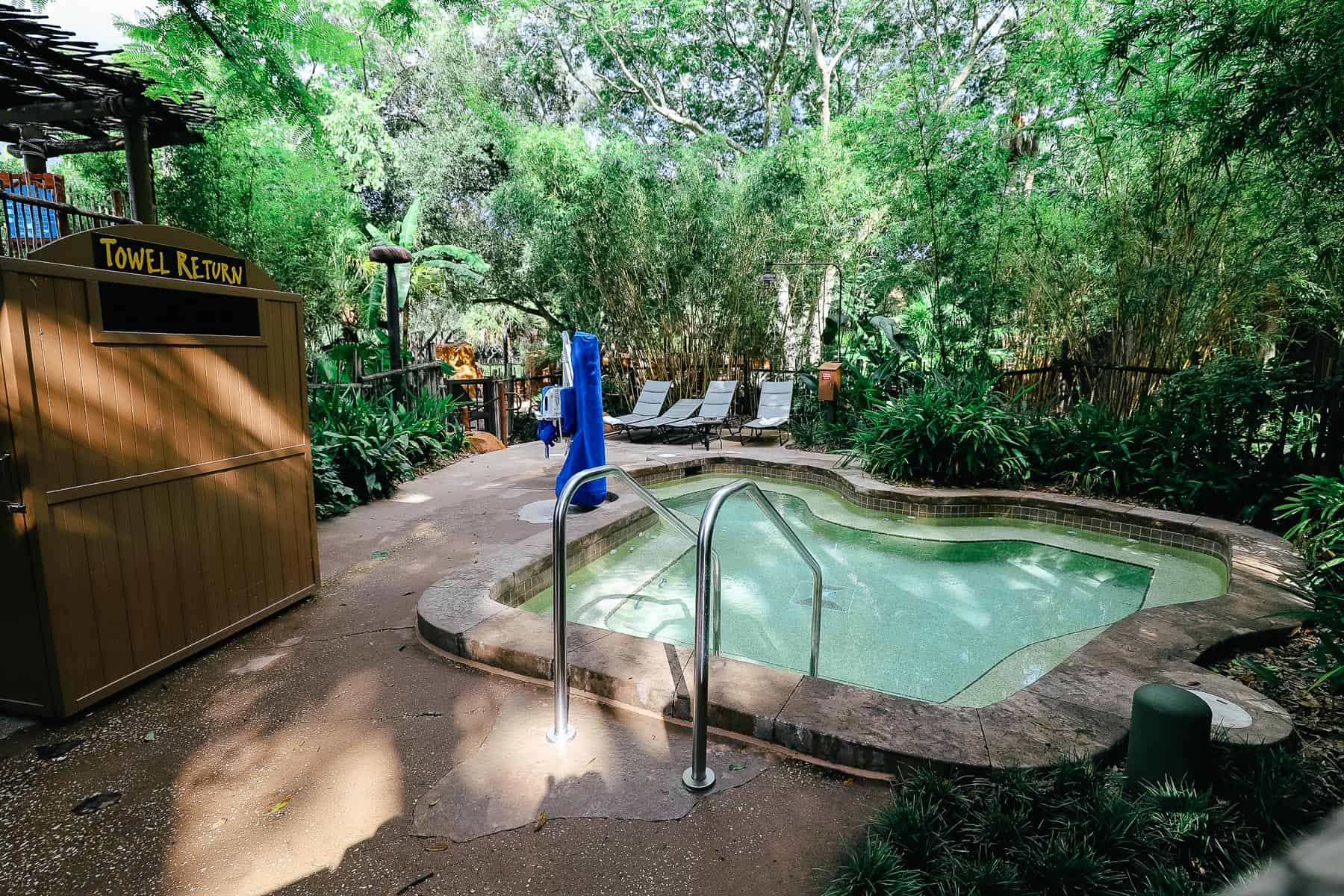 The one in the photo below sits near the savanna.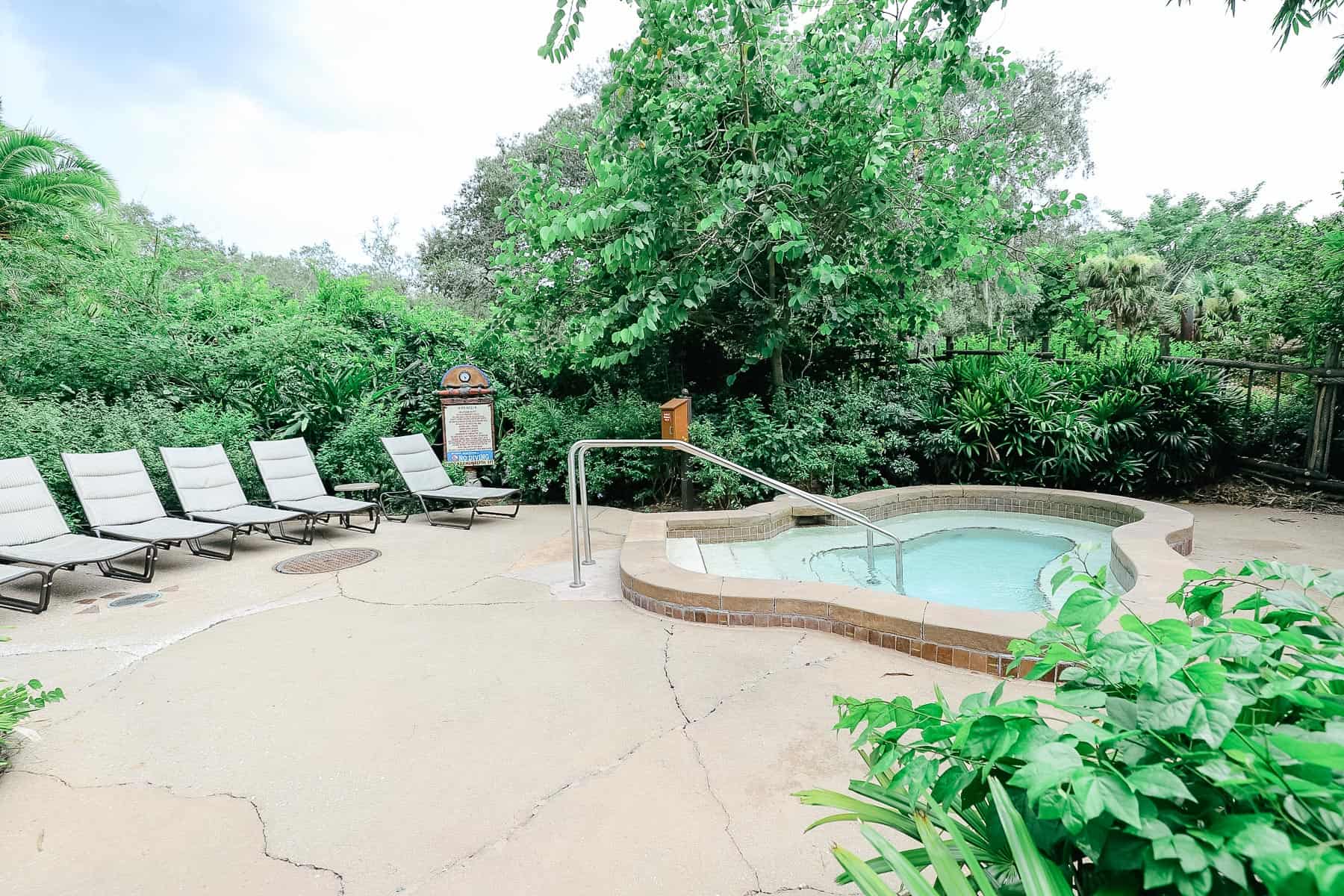 You might luck up and find a whirlpool tub all to yourself one evening. It will be relaxing after a long day in the theme parks.
Toward the front of the pool area, near The Mara, you'll find a kiddie pool. It, too, is in a separately fenced area.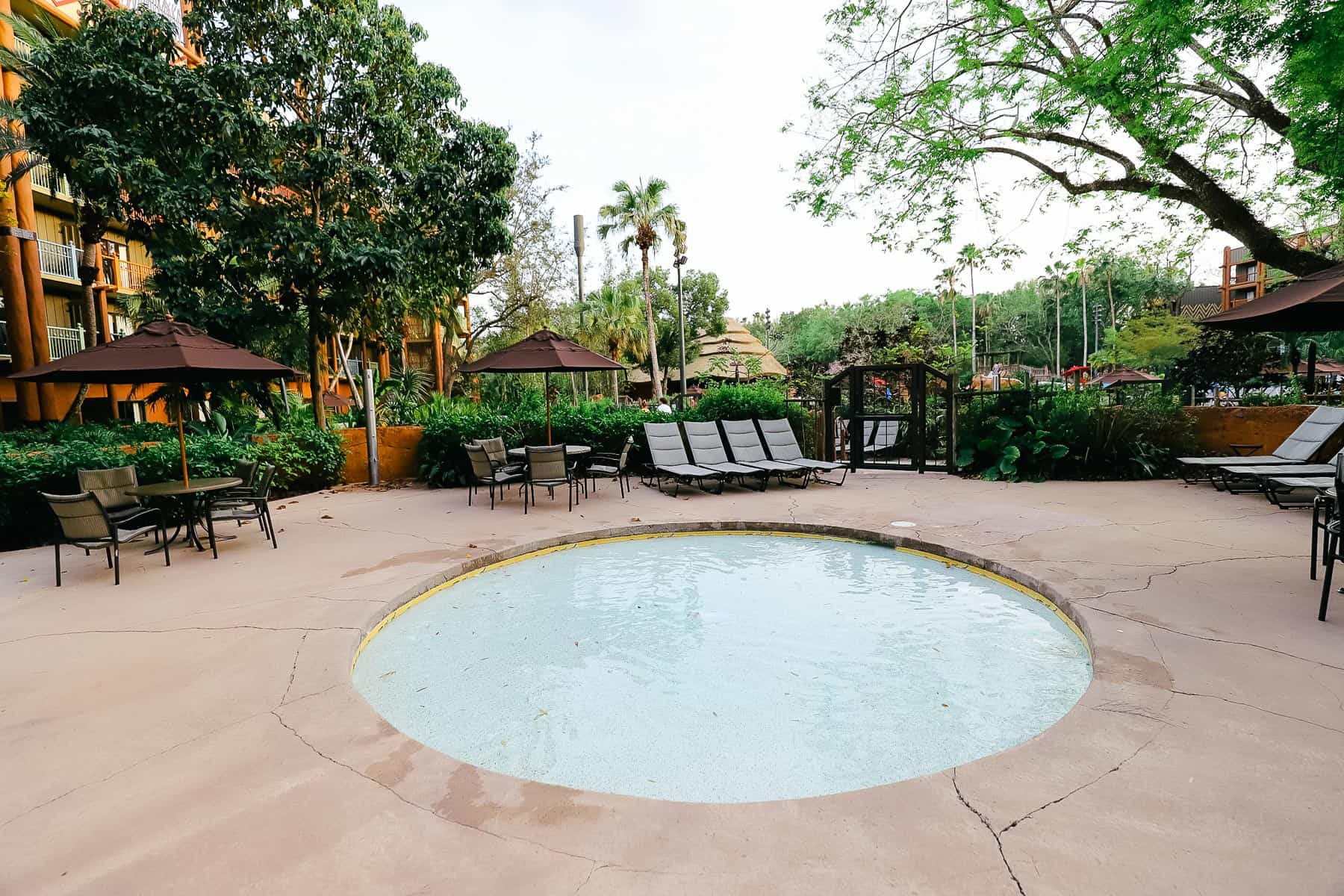 A second large feature pool, the Samawati Springs Pool, is also available at Kidani Village. This pool area has a substantial aquatic play area that children adore. Guests of both resorts are welcome to use either pool.
Zahanati Massage and Fitness Center is the hotel gym at Animal Kingdom Lodge. It's off the Giraffe Trail and faces the pool area.
Related: Fitness Centers at Disney World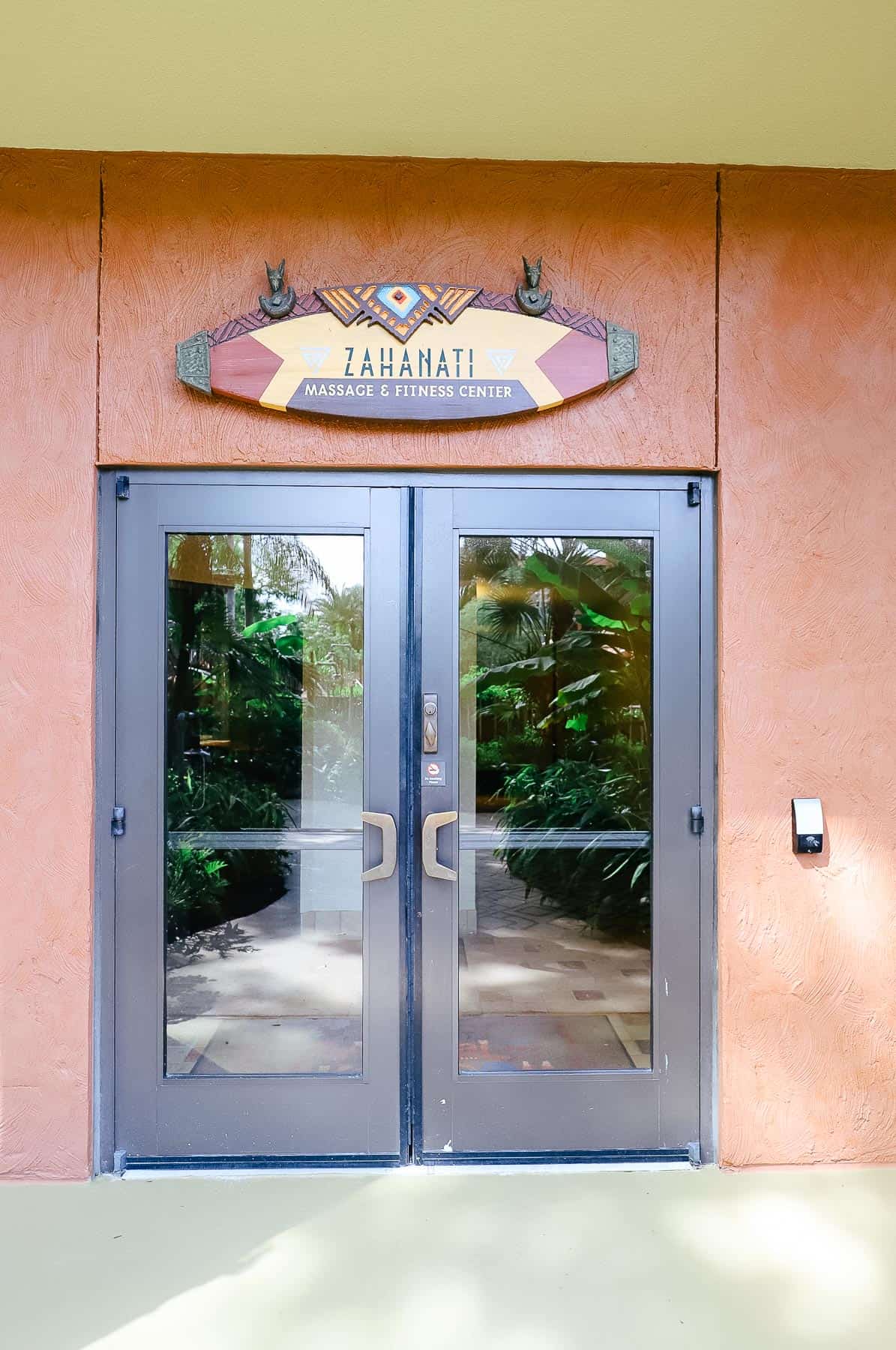 It's a sizable hotel gym offering everything one might need for a good workout.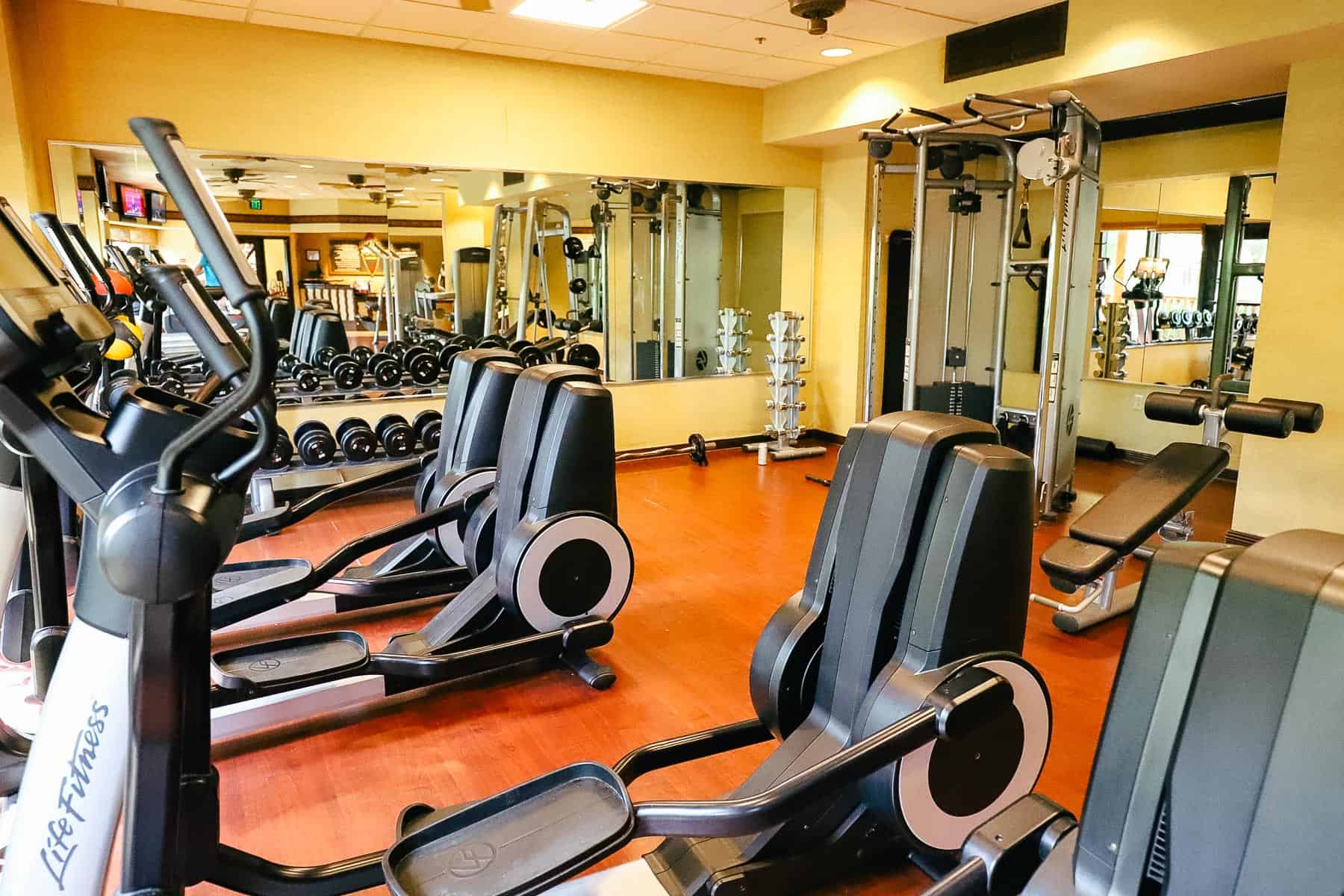 Several treadmills are available. Unfortunately, there isn't a great place to jog at the resort. You could jog between Jambo House and Kidani, but you'll have to cross the road in a few places.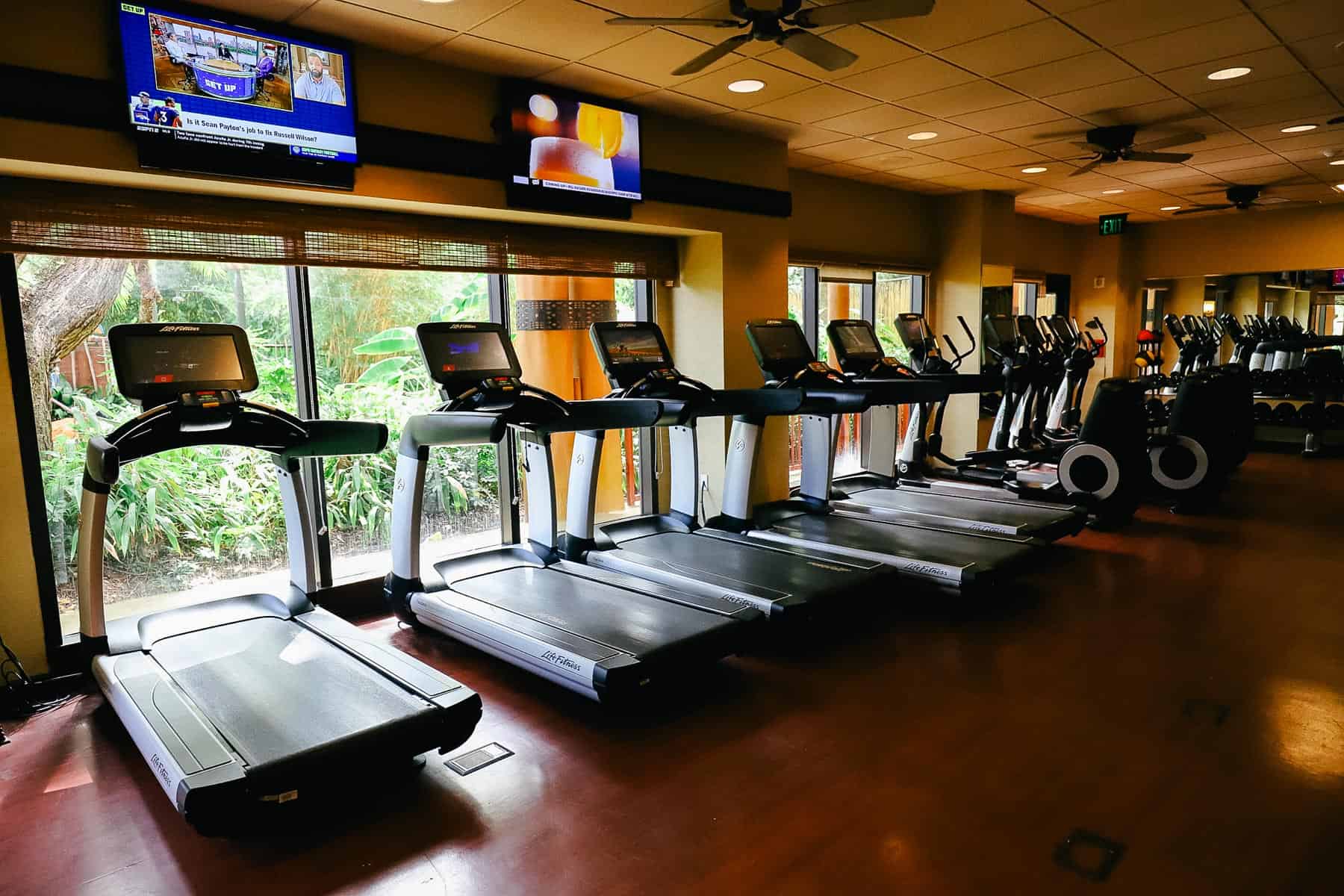 Here is a photo of the free weights.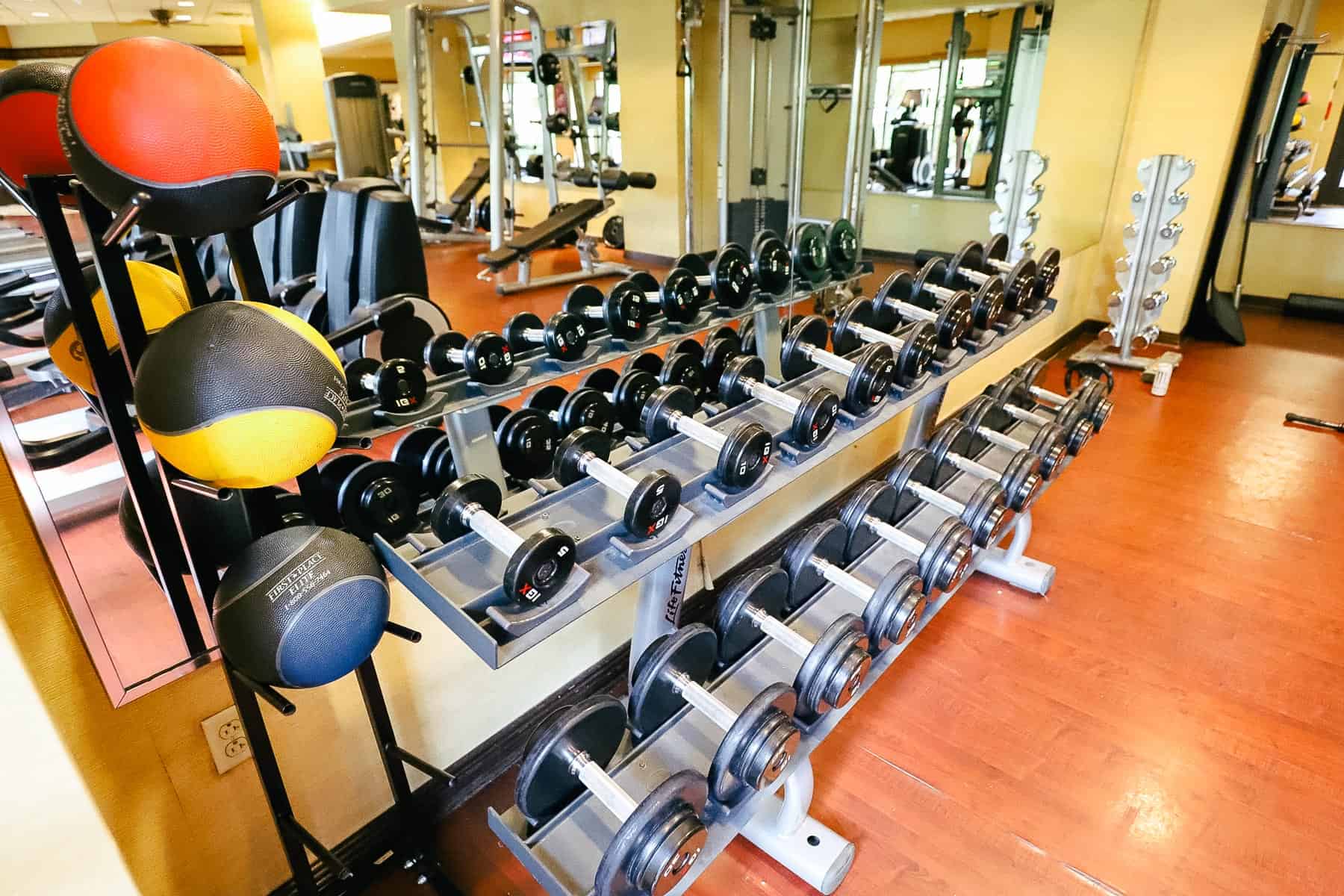 Zahanati offers more than meets the eye. It has a dry sauna, steam room, changing room, showers, and a bath tucked neatly behind the gym.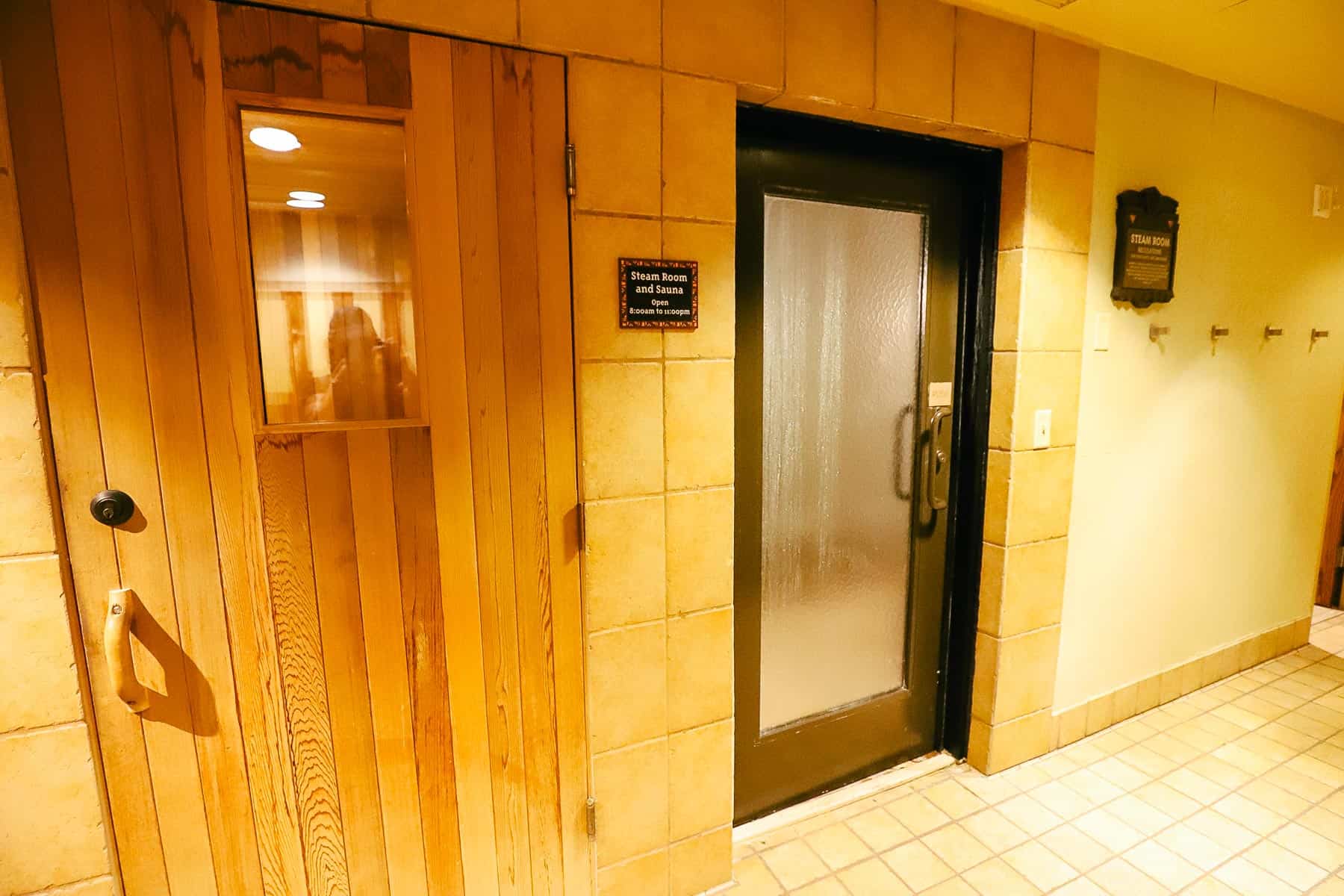 We had stayed here many times before I knew this place existed.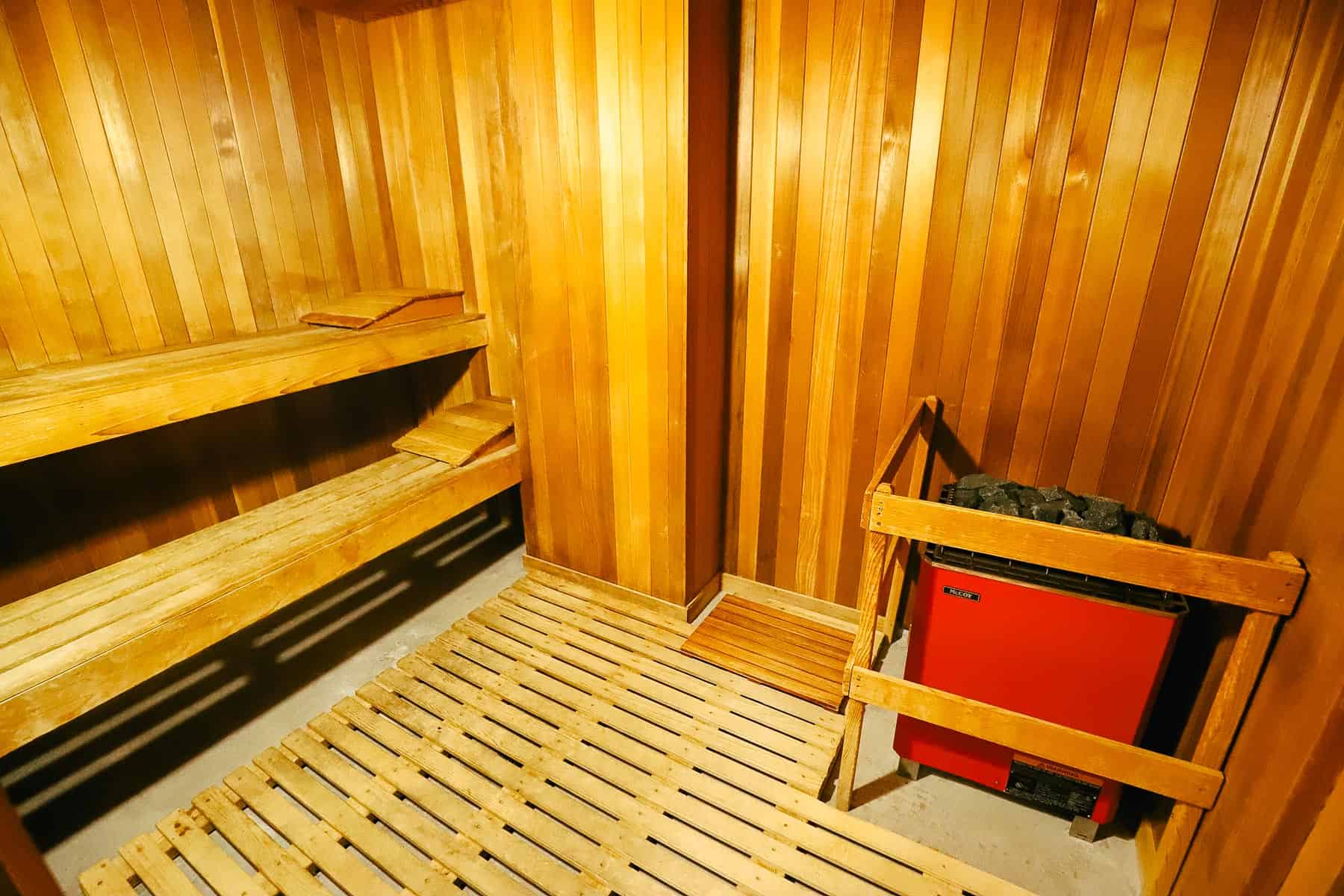 You might need to take advantage of this space if you use the gym or pool on a check-in or check-out day. Additional showers are also located at the poolside restrooms.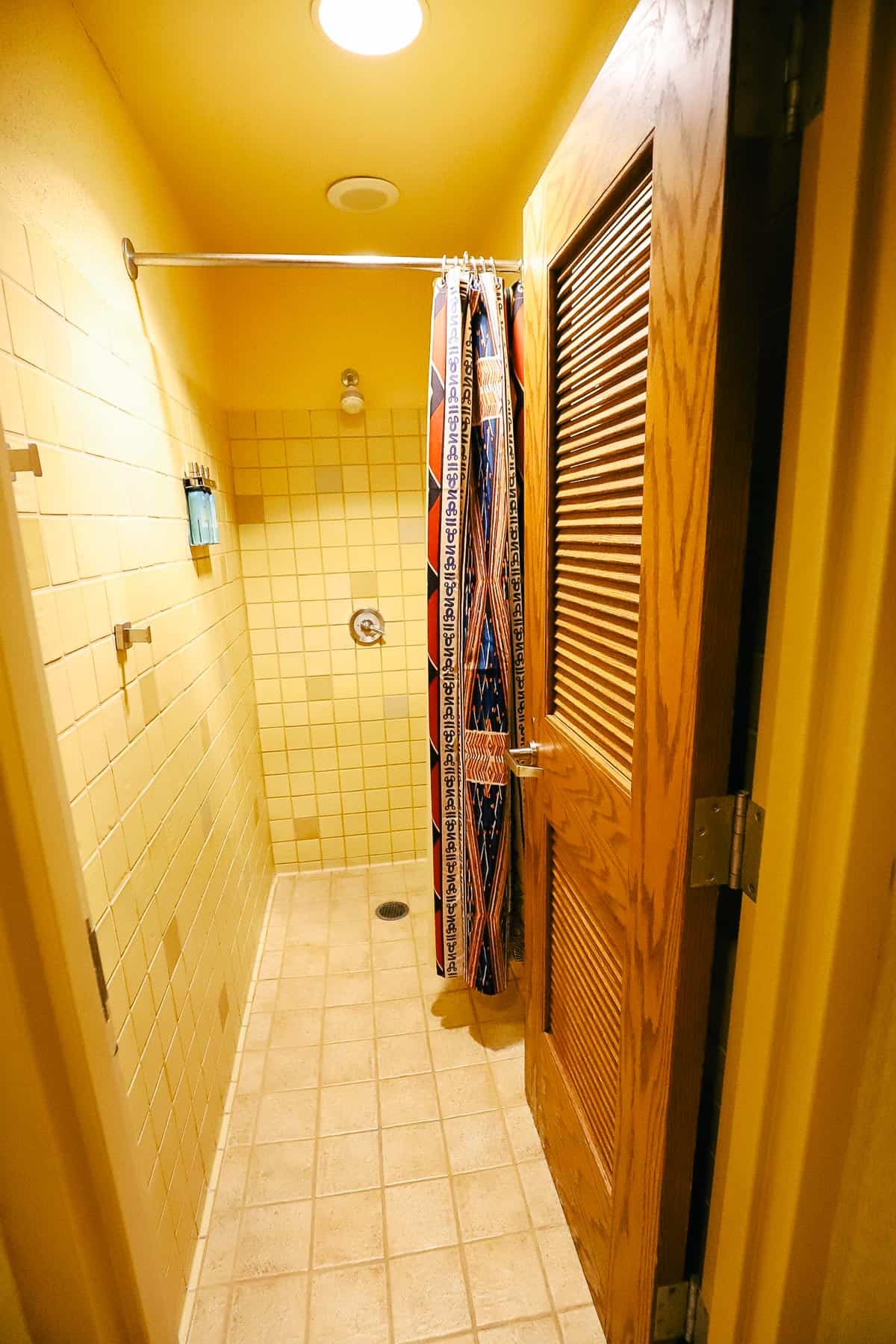 Animal Kingdom Lodge has an arcade around the outskirts of the pool. Pumbaa's Fun and Games is a relatively large arcade offering many arcade games. It's the perfect place to remember if you're at the resort on a rainy day.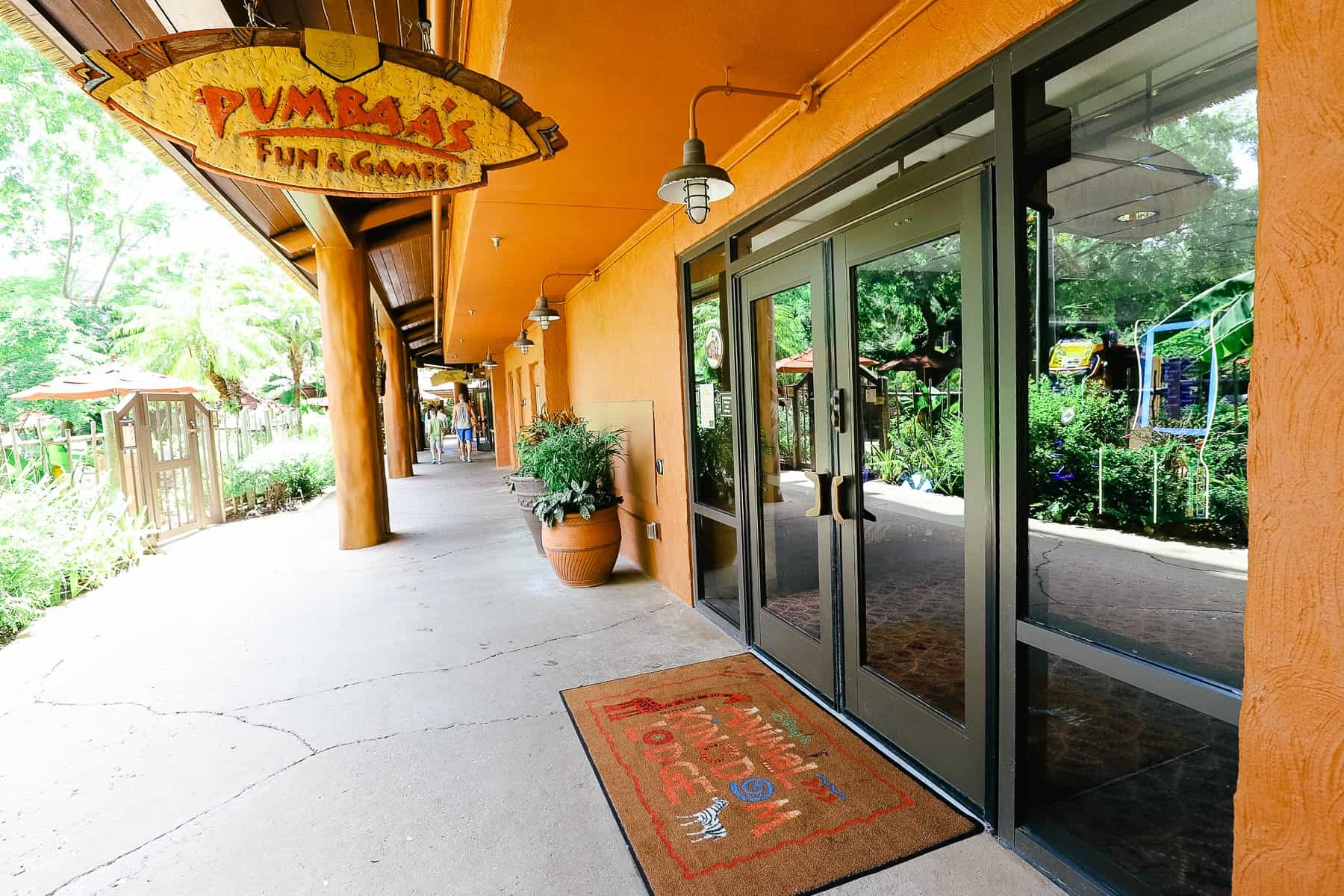 For the sake of this review, I stepped inside and took a photo of the space. This should give you an idea of what kind of games are available.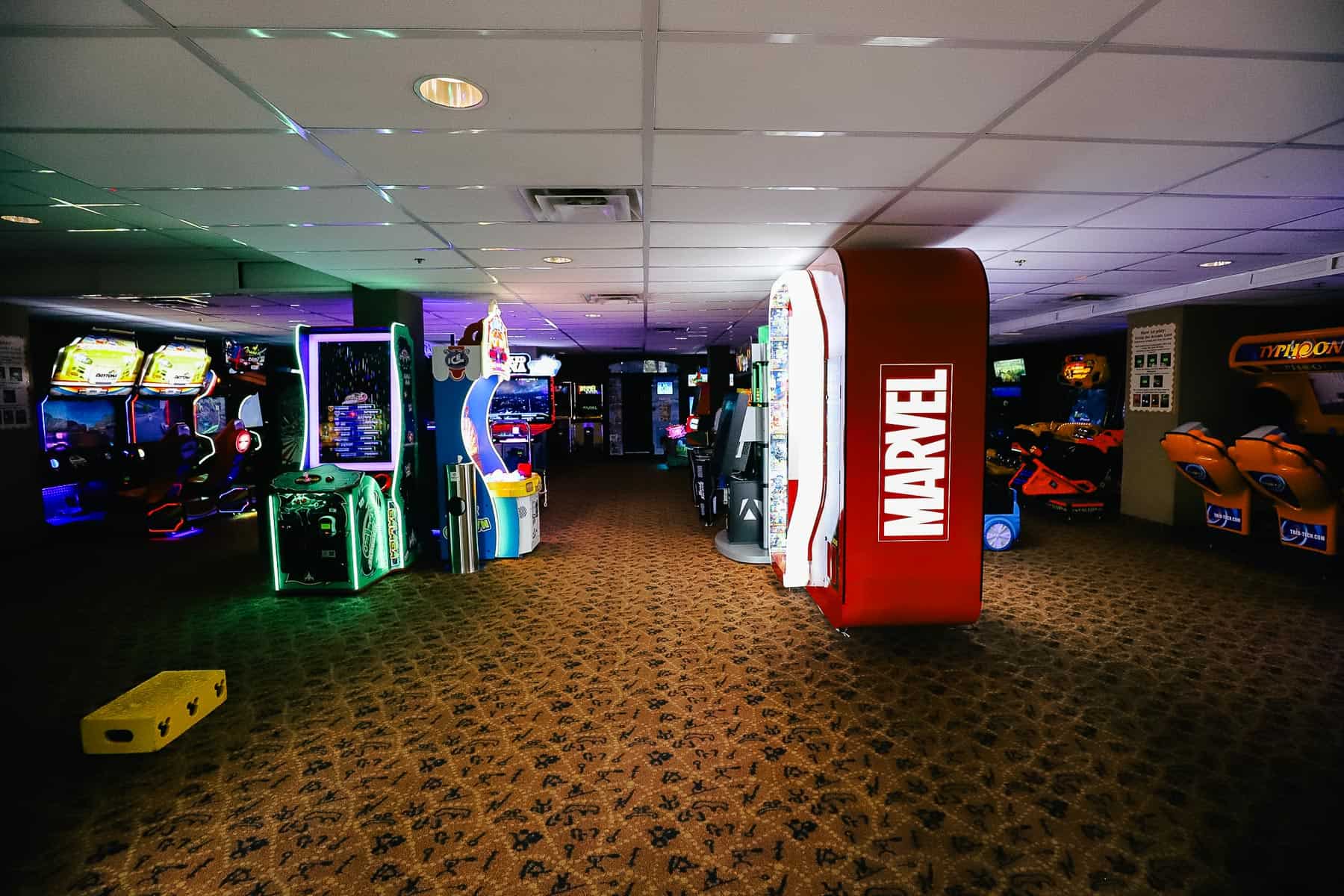 Lockers are located near the pool. They are free to use and a great place to store personal items at the pool.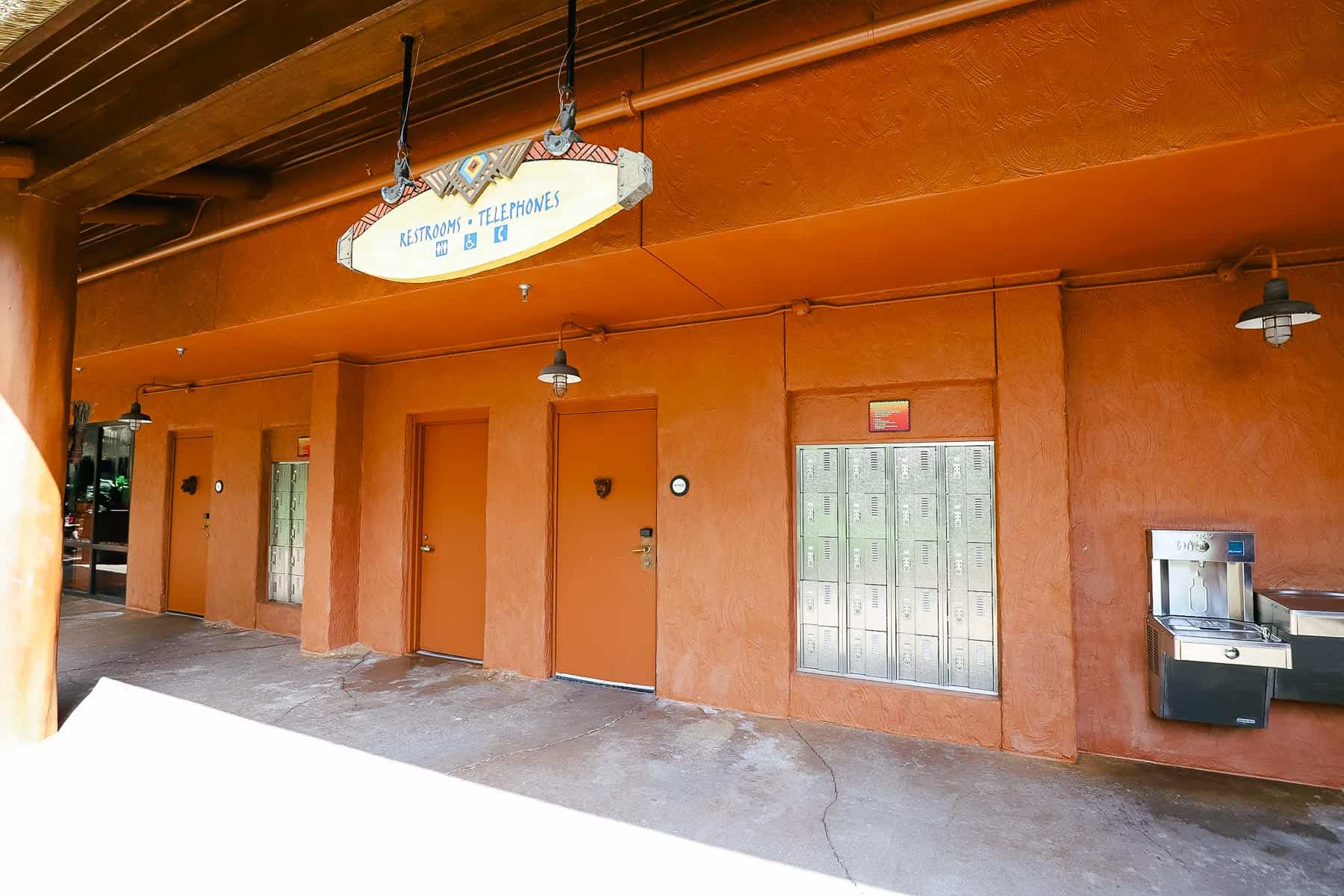 Several tabletop games are placed around the outskirts of the pool deck.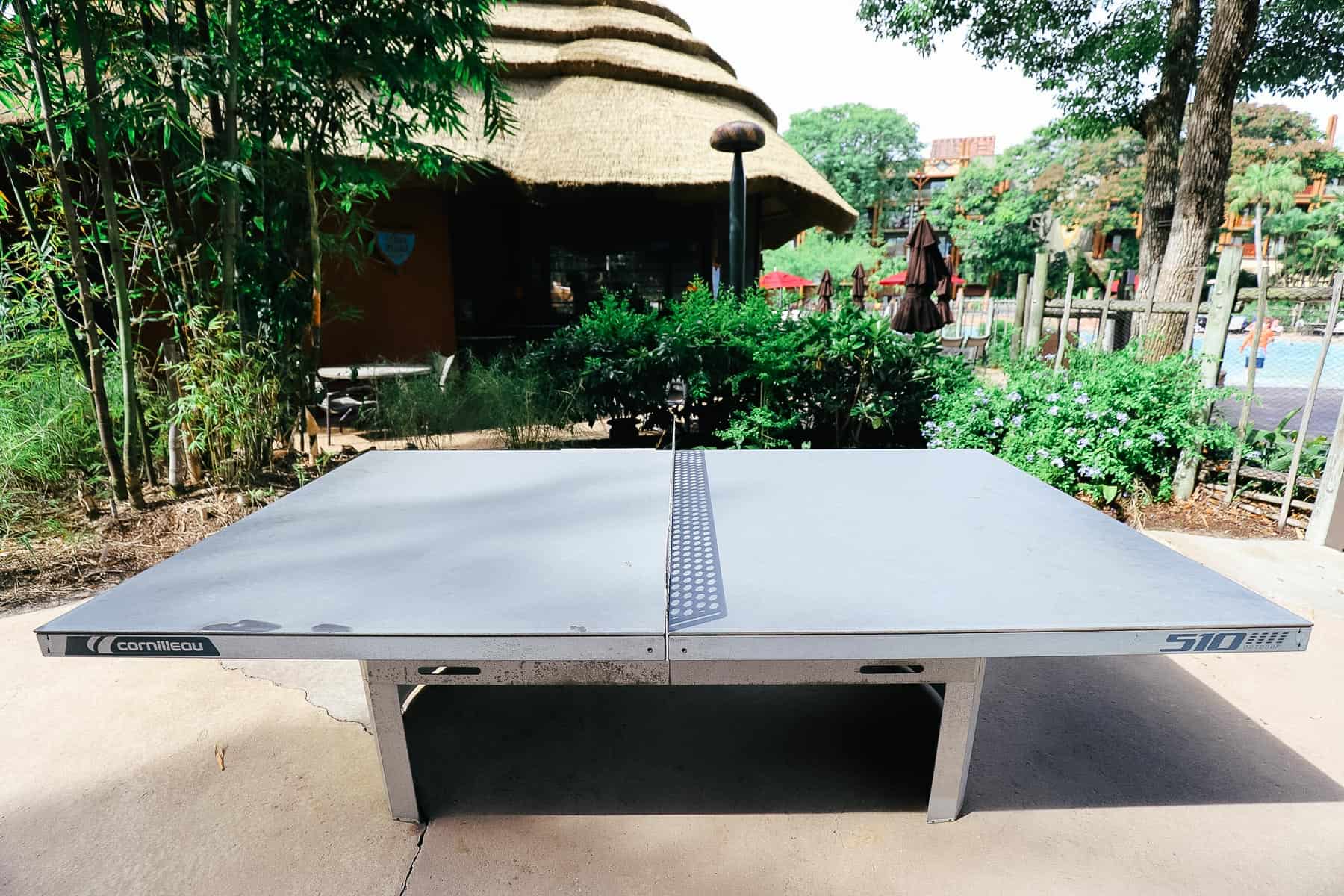 Other Activities
This wouldn't be a complete review of the Animal Kingdom Lodge without an overview of the cultural experiences. Cultural representatives are available throughout the day at most of these locations:
Jambo House Lobby
The Mara
Jambo House Sunset Lounge
Zawadi Marketplace
Asante Terrace
Arusha Rock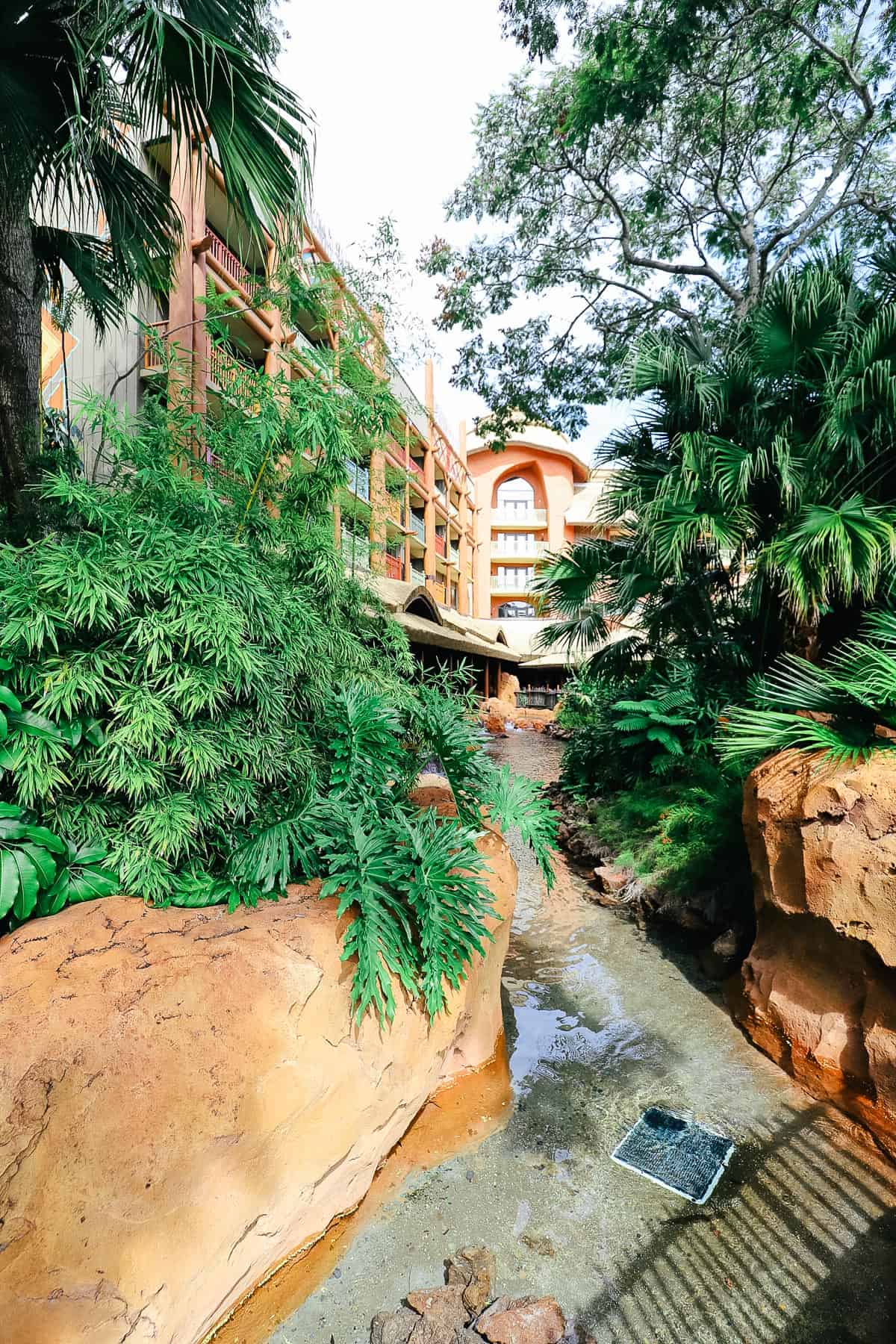 Hakuna Matata Playground
The Hakuna Matata playground is located toward the back of the Uzima Springs Pool. The playground equipment is friendly for all ages. It has rubber flooring.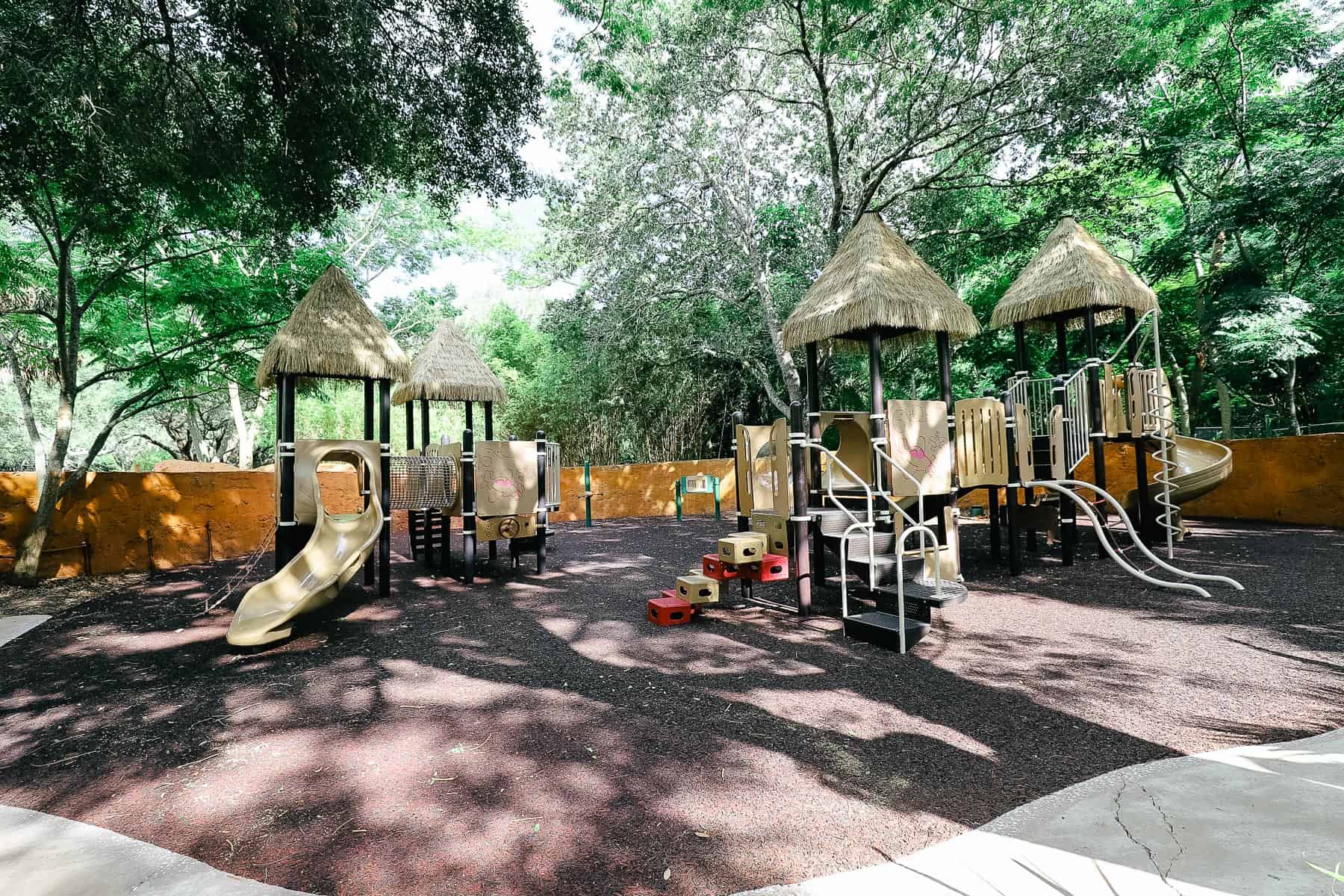 Movies Under the Stars at Animal Kingdom Lodge
Jambo House and Kidani Village participate in the popular Movies Under the Stars program. However, it is a little different here.
Jambo House hosts movies three nights a week, and Kidani Village hosts movies the other four nights. They rotate on an every-other-day schedule.
Movies Under the Stars is an excellent program and a great way to relax after a busy day in the parks. We post a copy of the monthly resort recreation calendar for the Disney World Resorts.
Usiku Festival
The Usiku Festival is an activity that is held nightly at Animal Kingdom Lodge. We briefly participated one evening and thought it was fun, especially for children.
The festival is held around the outskirts of the pool area. Cast members set up a speaker system with flashing lights and have fun glow-in-the-dark items for the whole family. They had glow necklaces, hula-hoops, dancing, and several glow crafts on this visit!
These simple things can make a child's vacation. Plus, if you are weary from your park day, there are plenty of lounge chairs to sit around and observe.
Note: This activity is located outside the pool's fence. So you don't have to worry as much about watching kids around the water.
Dining
Animal Kingdom Lodge is an excellent resort for foodies! We come here regularly to enjoy a meal. While there, we always take the time to tour the resort. No matter how often you visit, it's worth taking a little time to wander the property.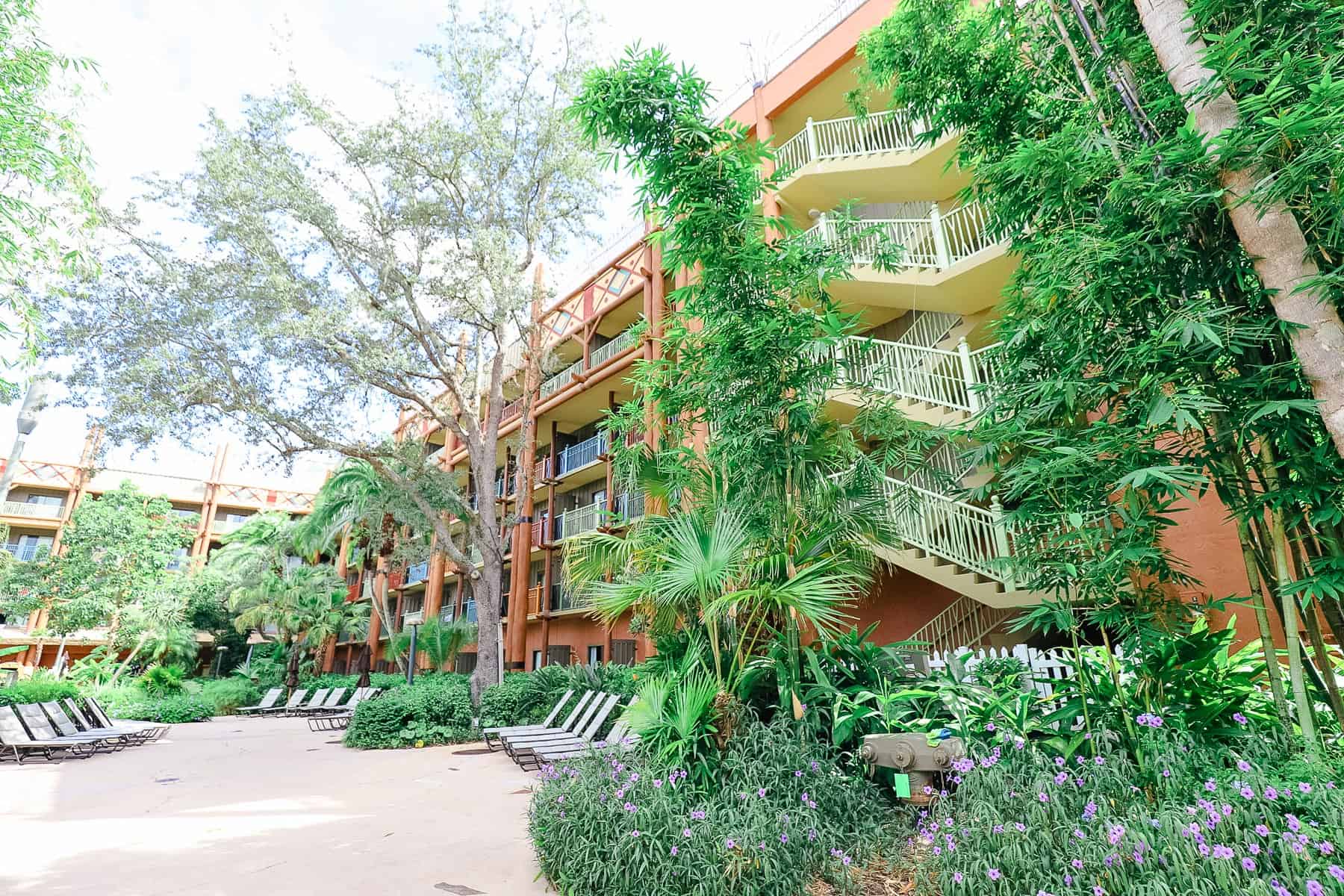 Regarding dining options, the resort has a counter service, a buffet-style restaurant, pool bars, lounges, and signature dining.
Jiko, The Cooking Place, is the resort's signature dining establishment. Jiko is located on the lower floor of Jambo House and faces out to the pool. It has a separate lounge, Cape Town Lounge and Wine Bar.
Boma, Flavors of Africa is a table-service restaurant that serves breakfast and dinner. They have a breakfast buffet that offers close to 75 individual items. It's so good, a true guilty pleasure. So be prepared and go on empty stomachs!
Related: Boma, Flavors of Africa Breakfast Review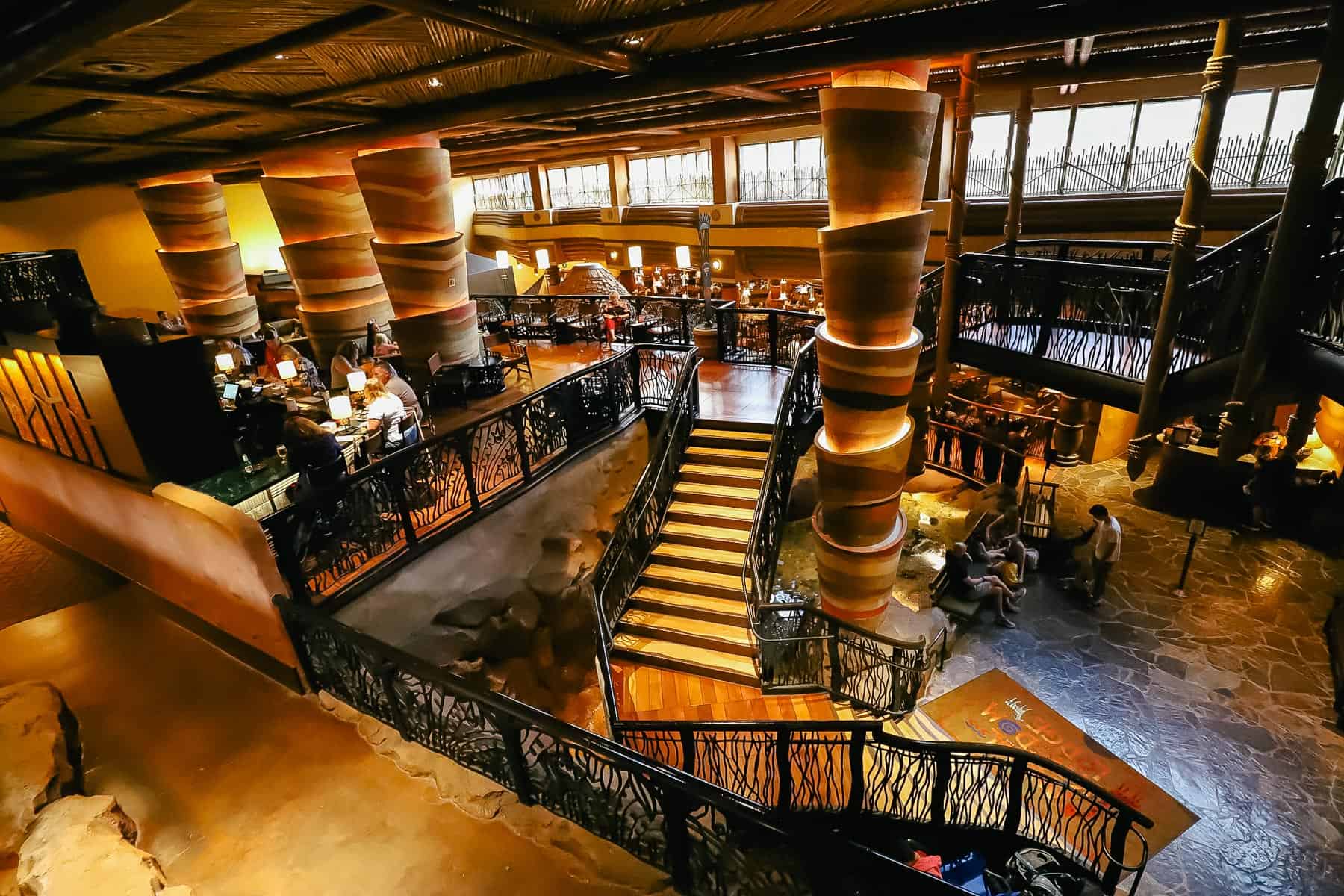 The Mara is a true hidden gem. It's one of the best quick services at the Walt Disney World Resort.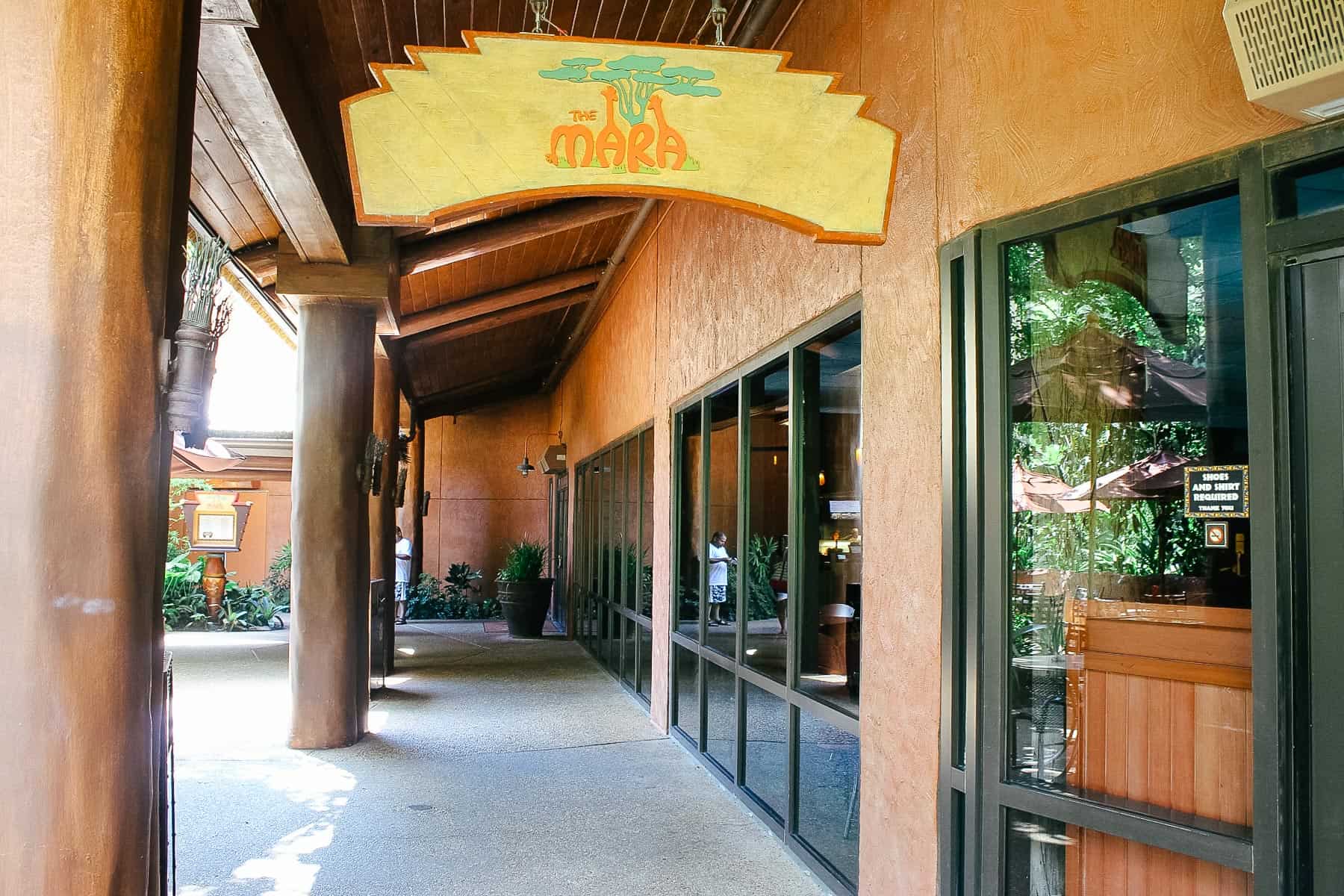 The Mara is near the pool. You can dine inside or have your order prepared to go.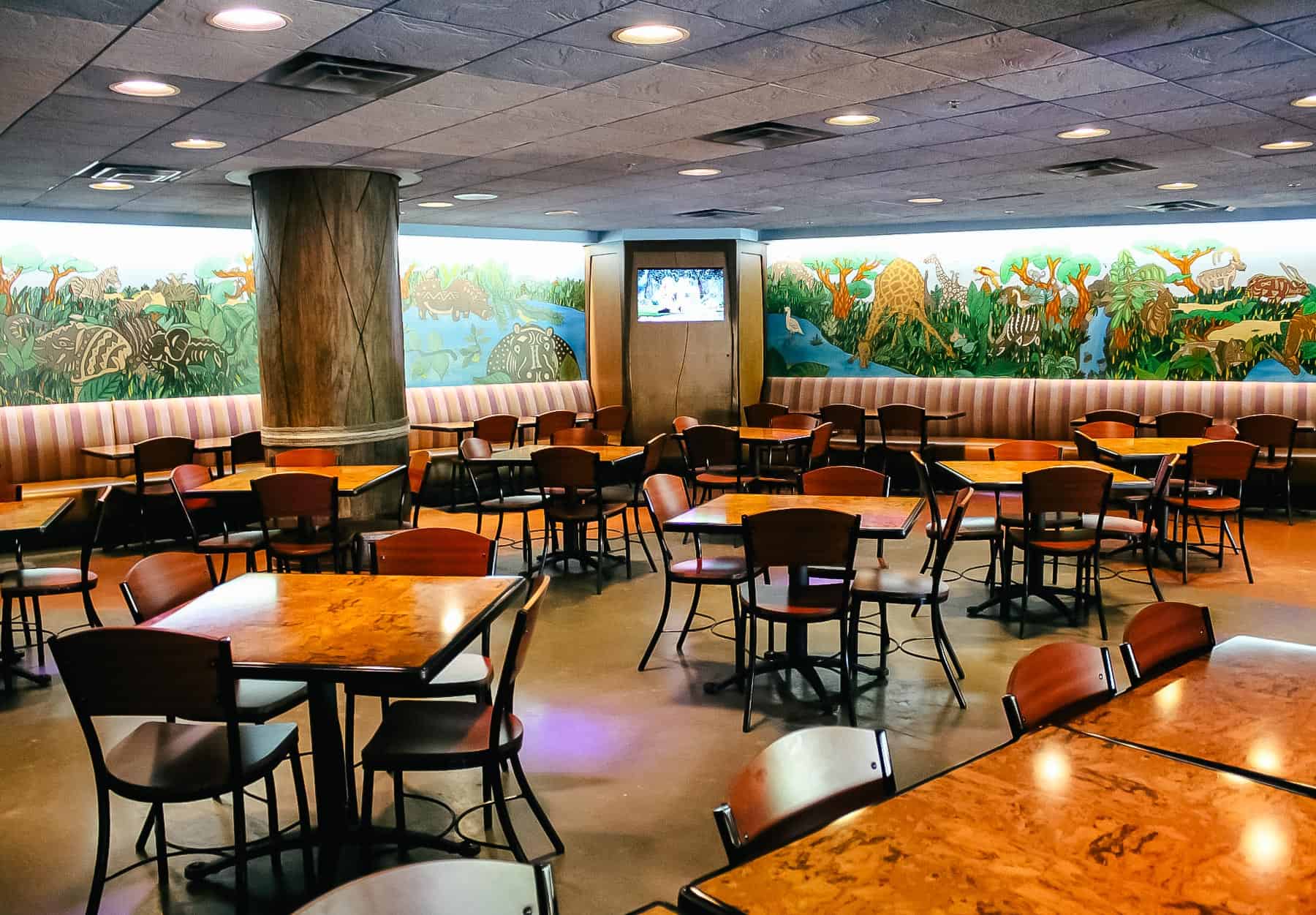 We prefer to enjoy a meal outside.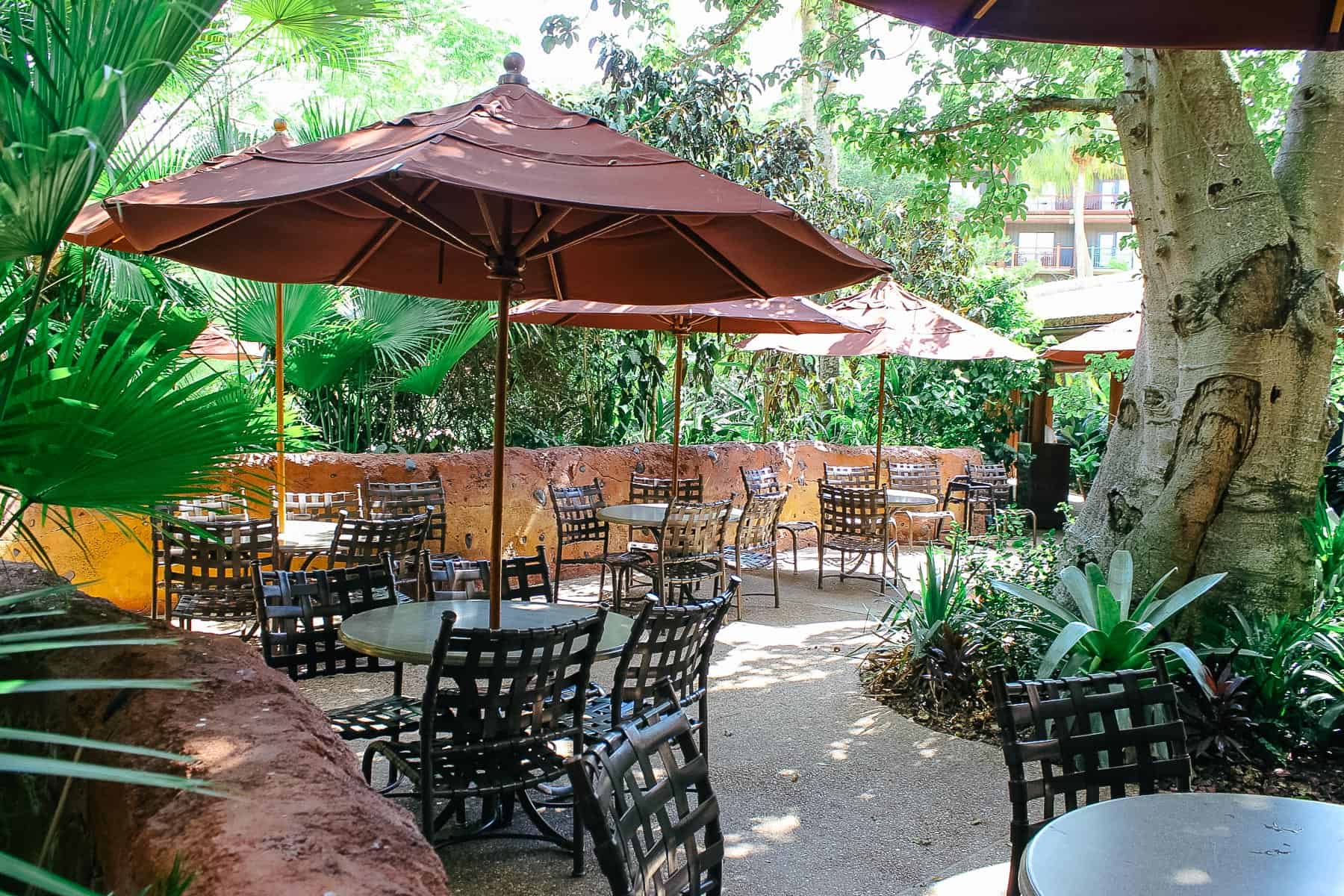 Next, we have Sanaa, a table service restaurant at Kidani Village. You can walk or take the resort's shuttle to visit Kidani Village. It's about a 10-minute walk.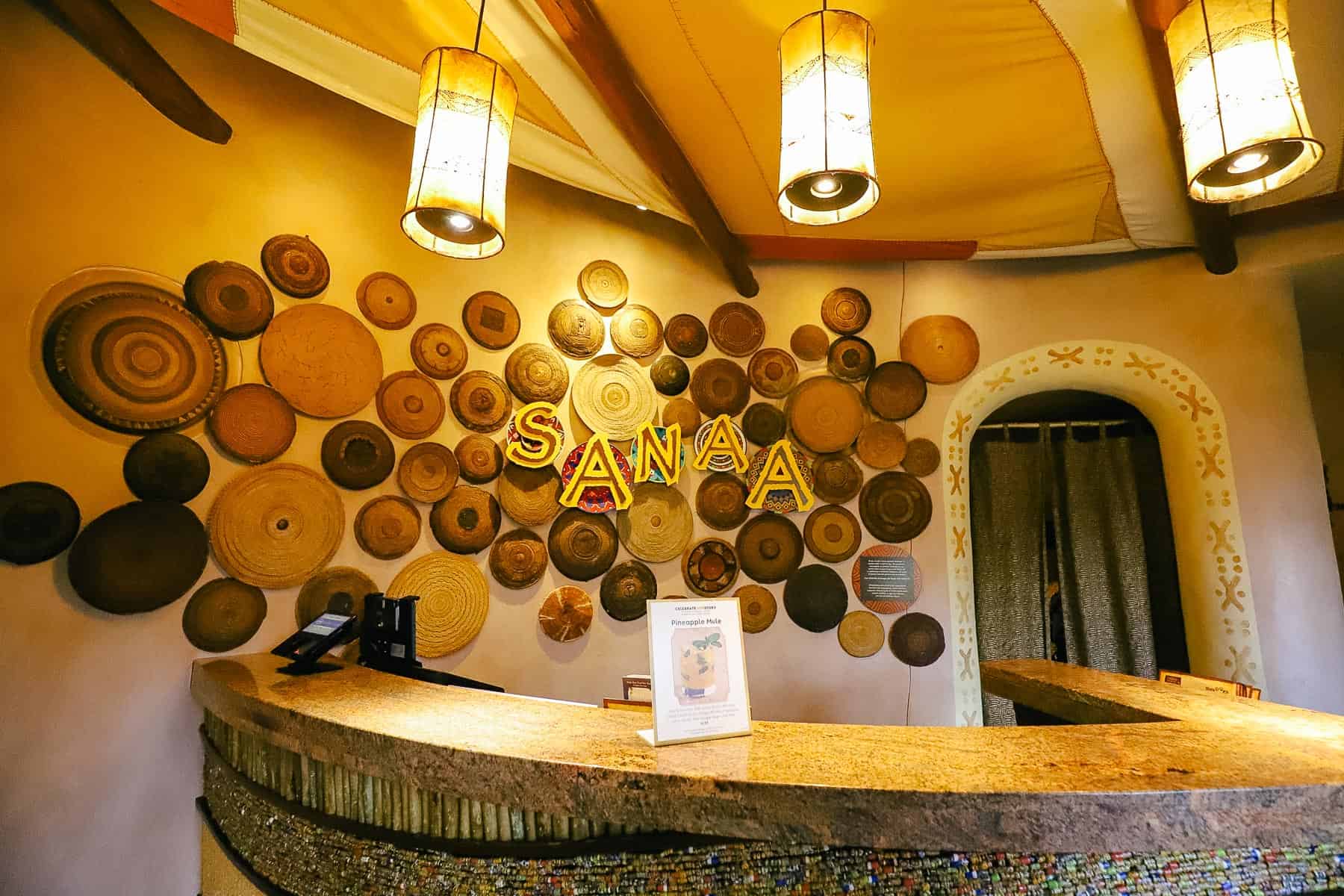 Sanaa is where you get the popular bread service with traditional African and Indian dipping sauces to sample.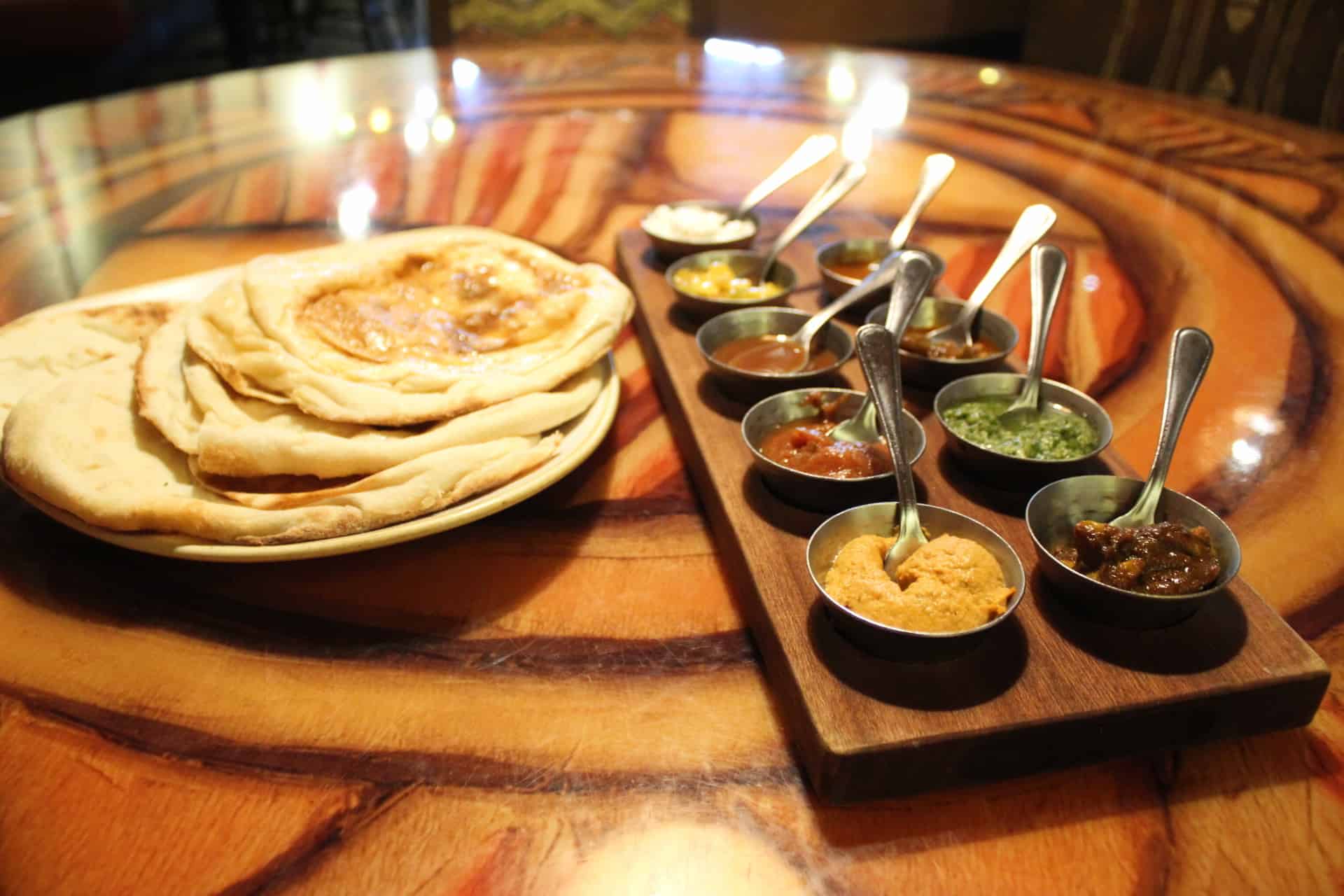 Meanwhile, back at Jambo House, you might care for a cocktail. Victoria Falls Lounge is a lovely lounge that sits between the lobby and ground floors of the resort.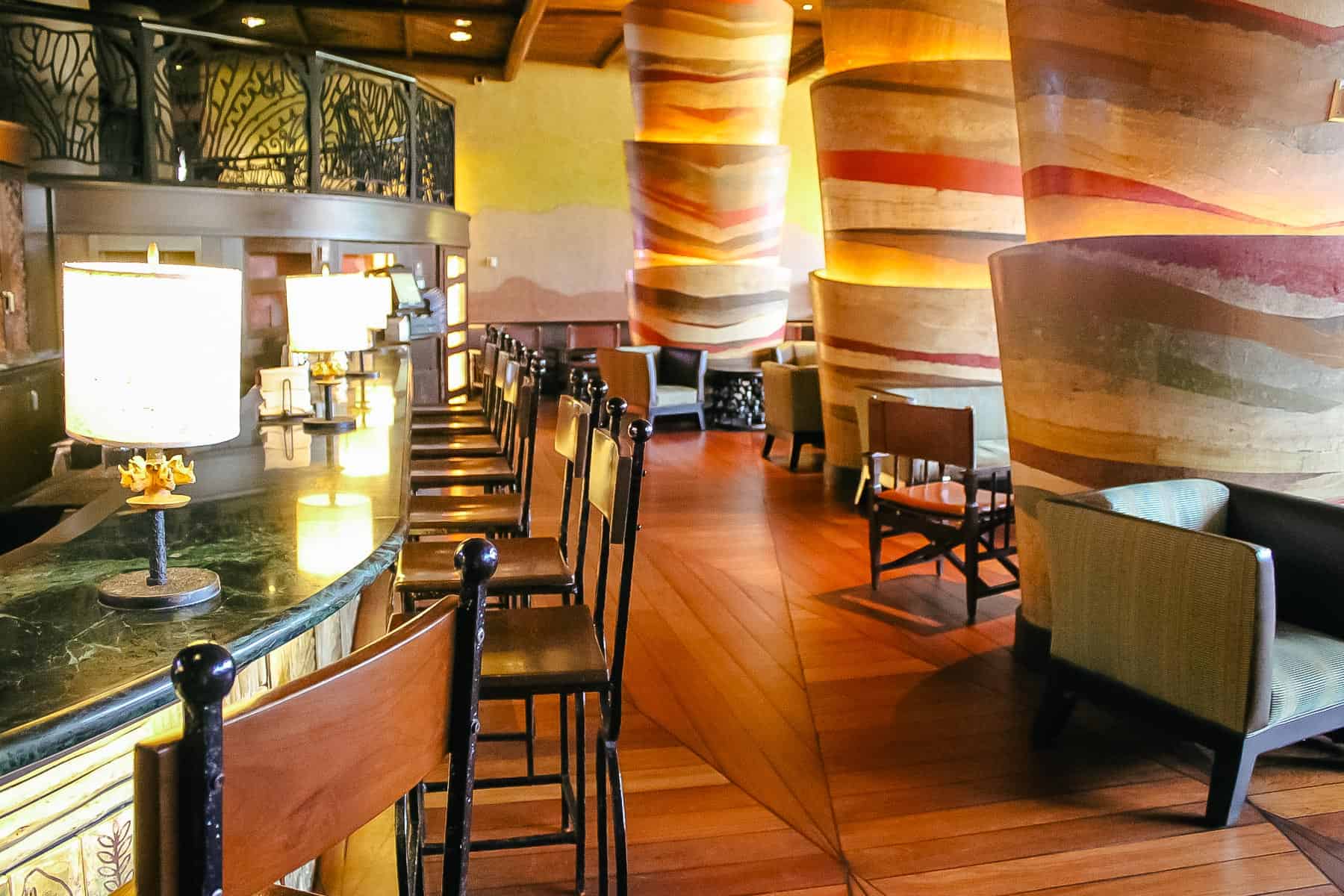 You will find the Uzima Springs pool bar in a separately fenced area near the pool.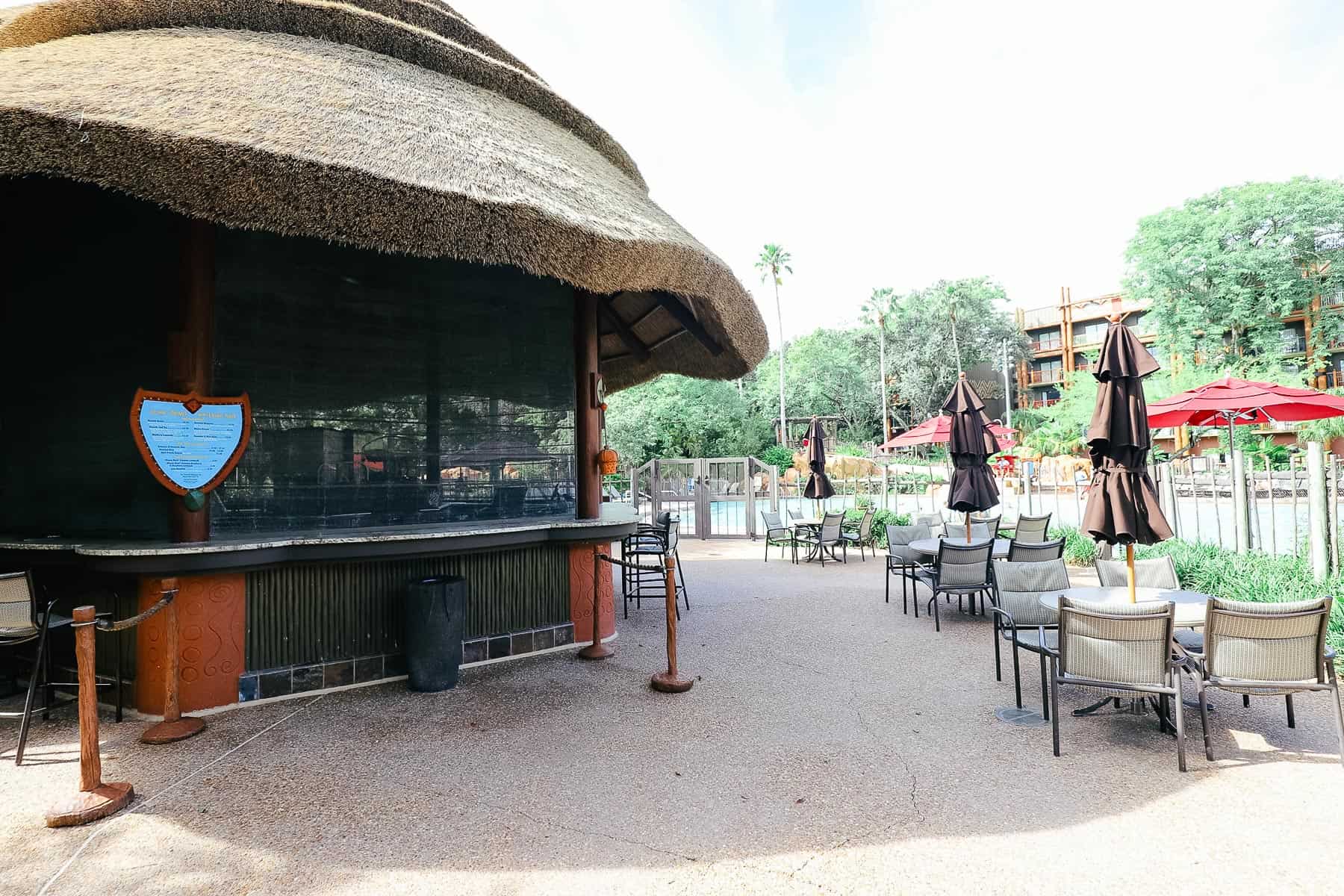 The pool bar has bar-style seating plus umbrella-covered tables and chairs. Below is a picture of the menu.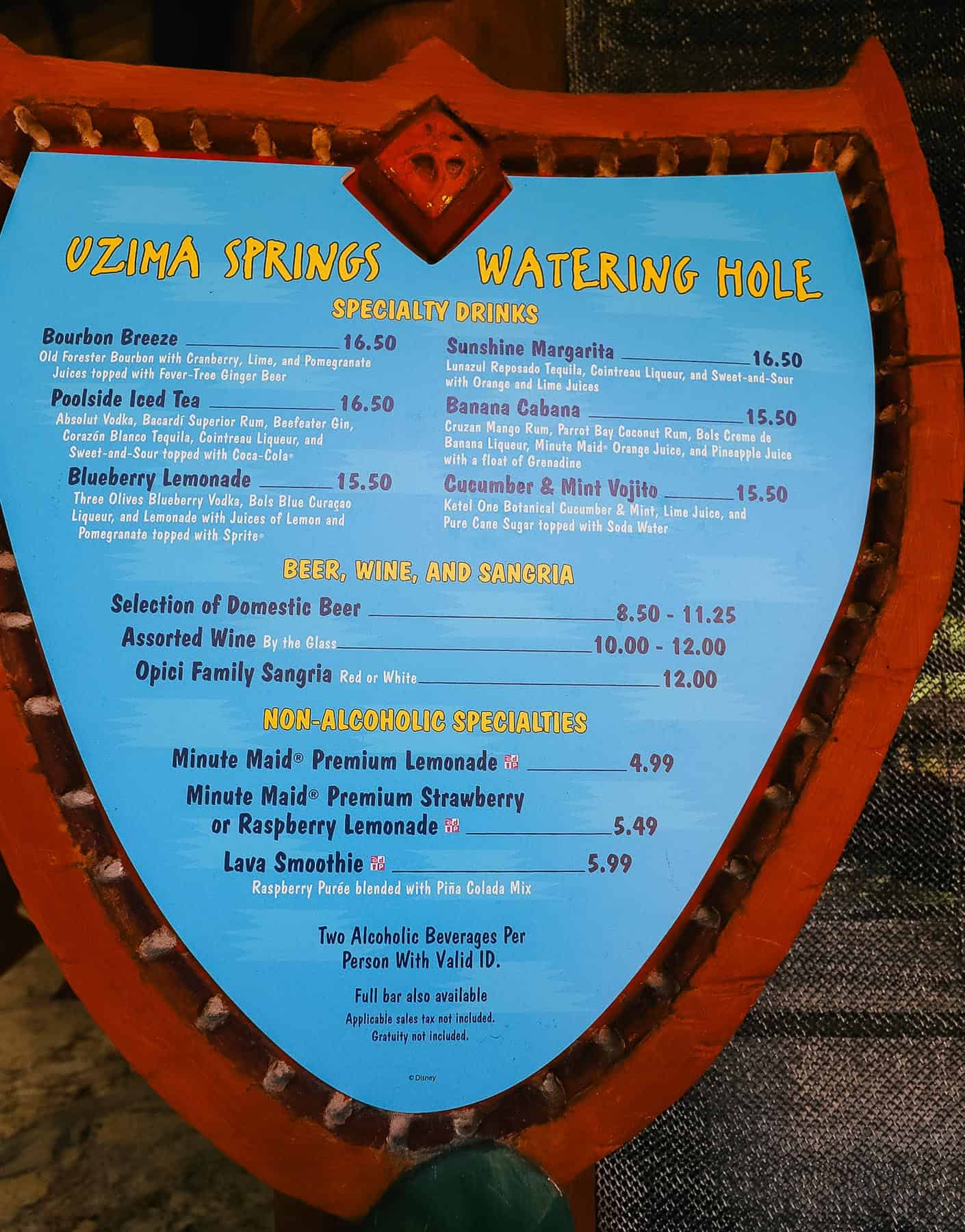 The Lava Smoothie is one of their popular kid-friendly poolside concoctions. It is a mix of raspberry puree, coconut, and pineapple. The smoothie was sweet yet enjoyable on a hot summer day.
For more specifics about dining, we have an Animal Kingdom Lodge Dining Guide.
Transportation
Disney's Animal Kingdom Lodge offers Disney's bus service to and from the theme parks and other destinations. Given the resort's overall location, it isn't near any other forms of Disney transportation.
This is not necessarily a complaint because there wouldn't be this kind of hotel without all the land surrounding it for the animals. So it's understandable.
Unfortunately, we have nearly always experienced slow bus service when staying at the resort. This is probably my only real complaint about the hotel.
Looking back on our stays, it's the one consistent negative factor. Granted, you could have excellent timing and luck up on a waiting bus every time you go to leave.
Buses usually stop at both Jambo House and Kidani Village. From there, they travel to:
Magic Kingdom
Epcot
Disney's Hollywood Studios
Disney's Animal Kingdom
Disney Springs
Typhoon Lagoon
Blizzard Beach
Related: Animal Kingdom Lodge Transportation Options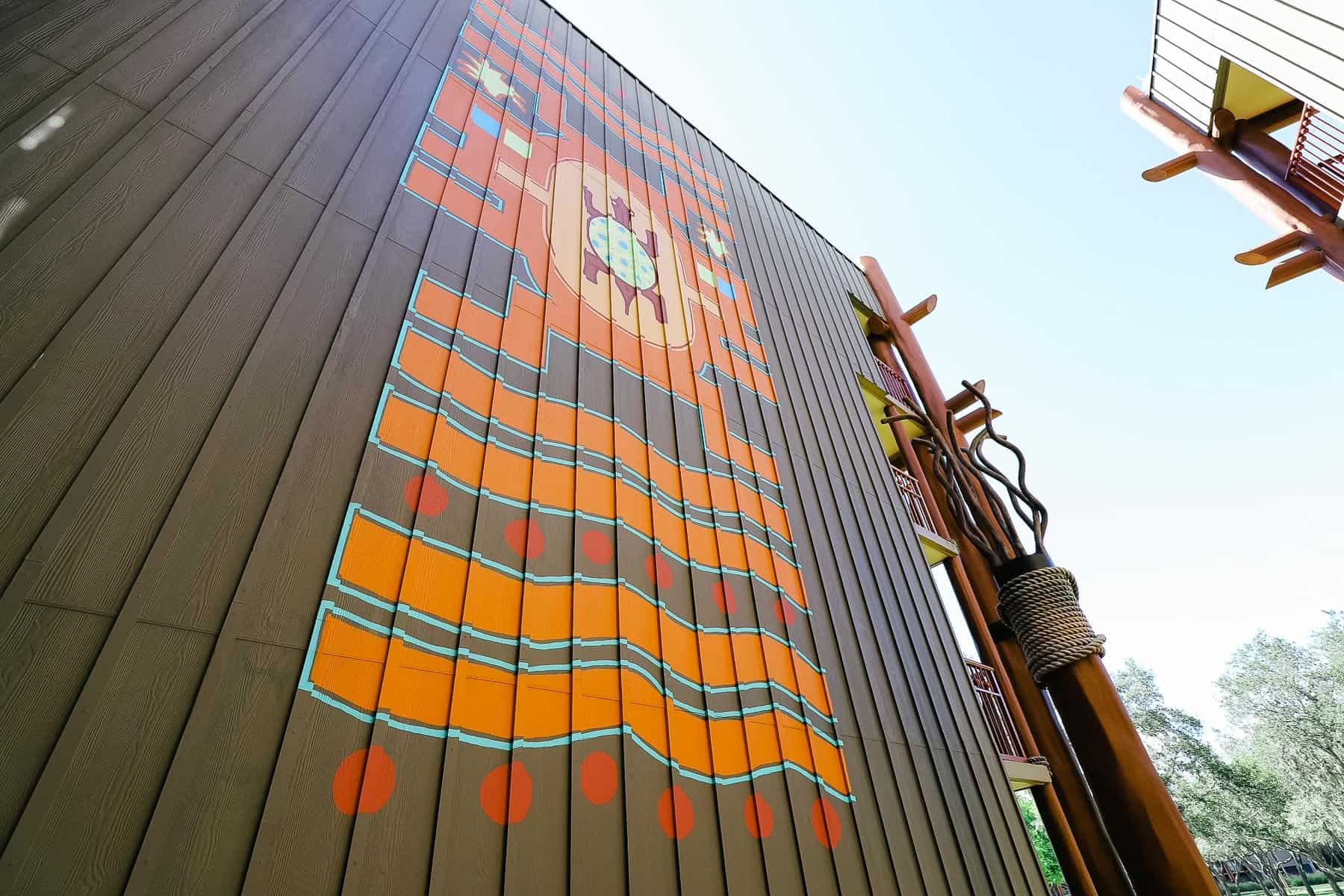 Gift Shop
Zawadi Marketplace is to the immediate right when entering Jambo House. A separate entrance is also available from the bus stop.
Zawadi Marketplace is usually open from 7:30 a.m. to 11:00 p.m. daily. It's an excellent place to pick up resort-specific merchandise.
It's one of the largest gift shops at the Disney Resorts. I like to stop in and browse from time to time. They have plenty of grocery and pantry-style items if you need something in a pinch.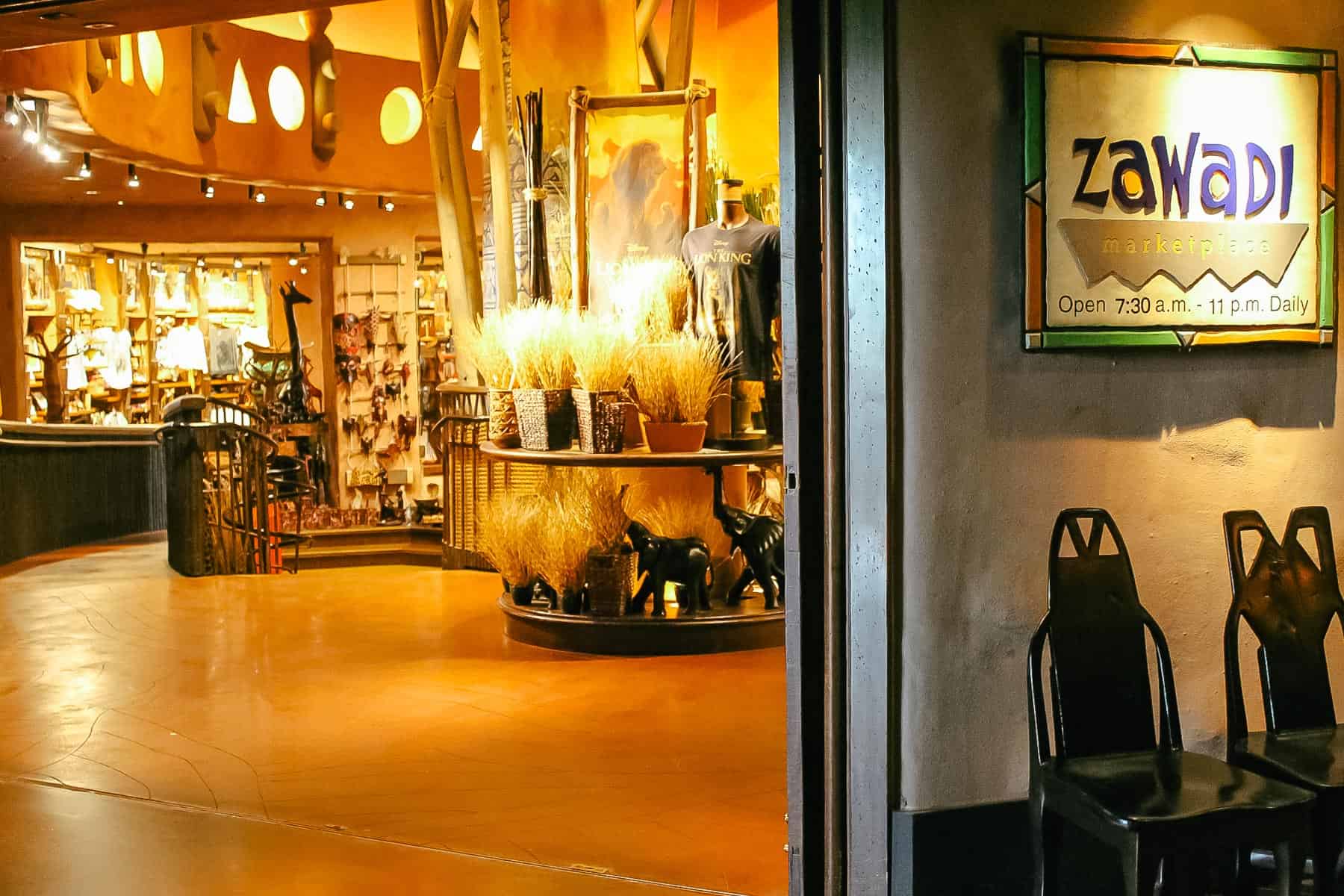 Laundry Facilities
Several laundry rooms are scattered throughout the resort. However, unlike most other Disney Resorts, the laundry areas are not at the pool.
The laundry rooms at Animal Kingdom Lodge are spaced out on different hotel floors:
Kudu Trail 2nd Floor Laundry Room
Simba's Clubhouse Laundry Room
Zebra Trail 5th Floor DVC Laundry Room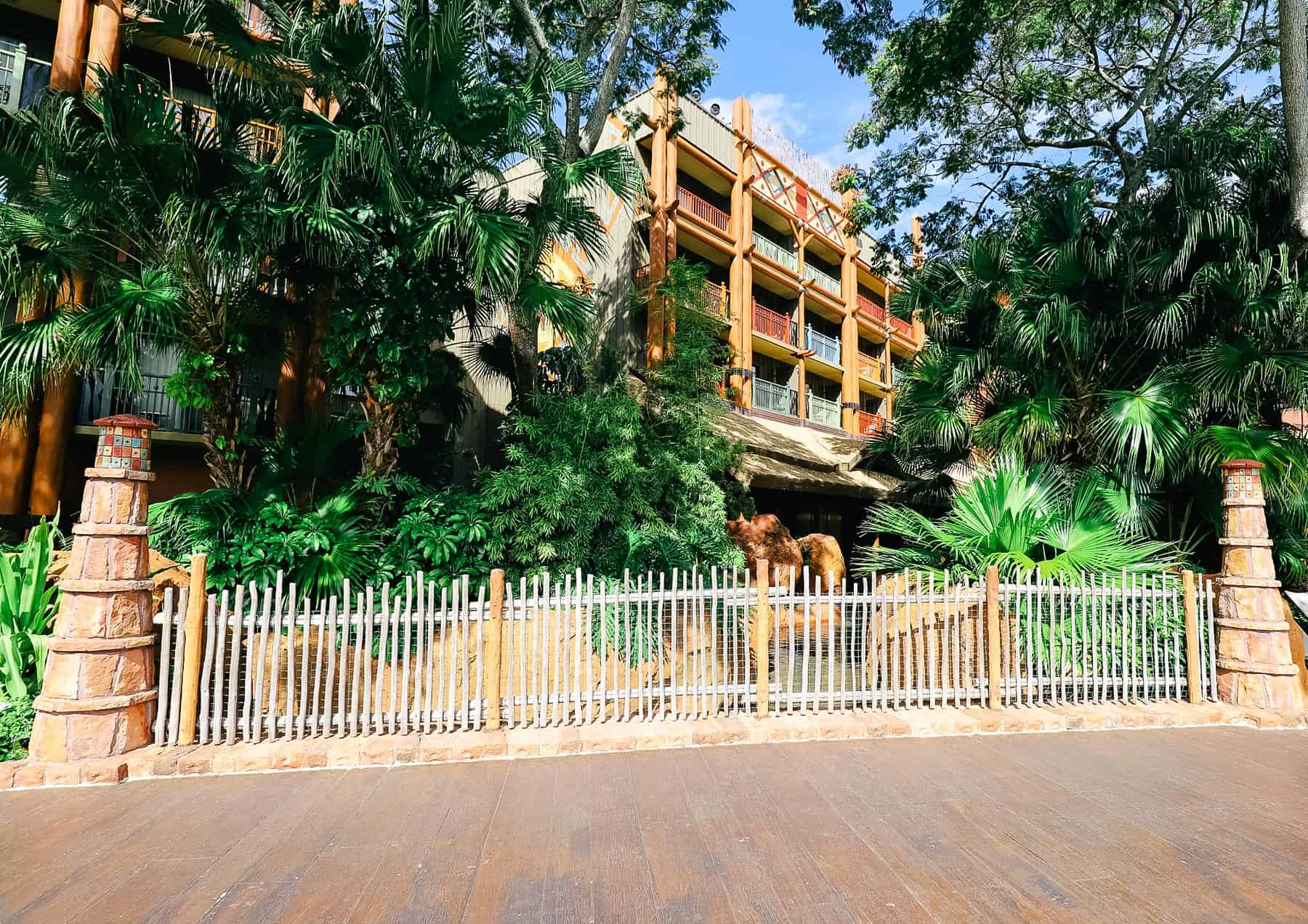 Animals at Animal Kingdom Lodge
Below is a copy of Disney's Animal Kingdom Lodge's Wildlife Spotting Guide.
Some of the animals you might see on Animal Kingdom Lodge's savannas include Ankole Cattle, Zebra, Somali Wild, Giraffe, Okapi, Red River Hog, Ruppell's Griffon Vulture, African Greater Flamingo, Waterfowl, Blue Crane, Grey Crowned Crane, Native Birds, African Spoonbill, Marabou Stork, Northern Ground Hornbill.
*An attendant usually has a pair of night-vision goggles in the evening in the public savanna areas.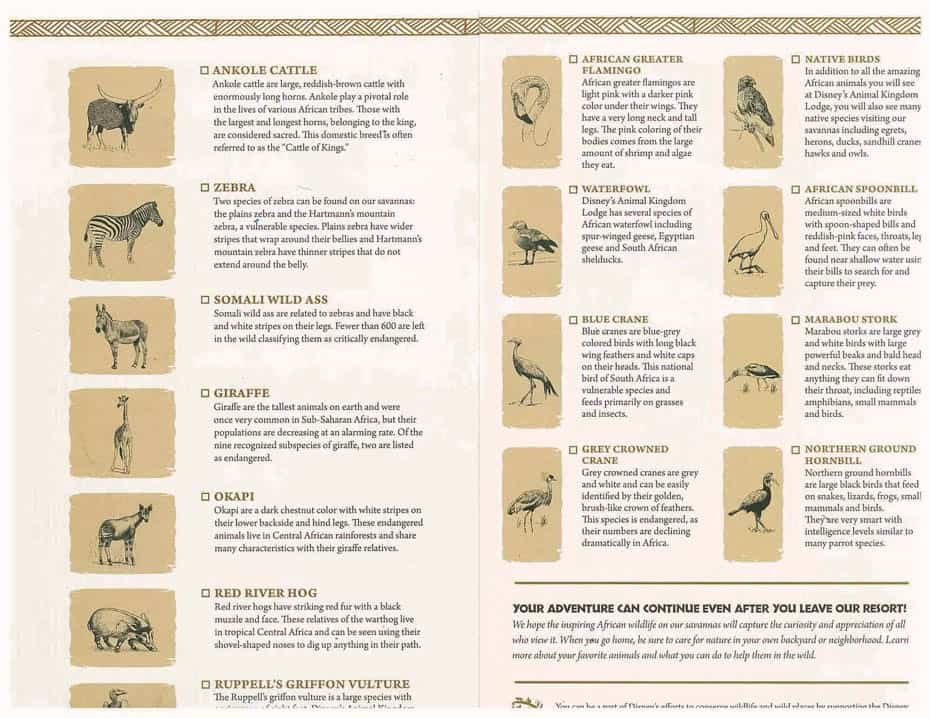 Final Thoughts
Disney's Animal Kingdom Lodge is a tremendous property offering unique amenities. It can also be commended for its functional layout, making it easy to get around.
But make no mistake, it's a massive resort. We highly encourage you to spend a day (or more) at the resort during your vacation. There is so much to see, and the views of the savanna are constantly changing.
No matter how many times we stay at the resort or how often I update this review, it always feels like I haven't done it full justice. And I probably never will. It's just that special of a place.
I could add many pictures of the animals on the savanna, resort grounds, lobby, and art displays. The list goes on and on. But I'll let you experience a few of those things for yourself. If you consider yourself a resort person, like me, you will find yourself happy here.
Or if you have dreams of one day visiting Africa, this is kind of a mini-experience with the benefits of modern convenience. I always find my mood much improved when I stay here.
For more information about the resort, try our guide:
What do you think?
Have you ever stayed at Disney's Animal Kingdom Lodge? Does this hotel look like your dream destination? Did this review answer your questions about the resort?