Expedition Everest Ride at Disney World
Expedition Everest is one of the most popular roller coaster attractions at Disney's Animal Kingdom. In addition to being a thrill ride, this attraction is exceptionally themed, offering unexpected surprises.
In this ride review, we'll take a detailed look at Expedition Everest. Additionally, I'll provide a few tips on the best time to ride this attraction, and we'll go over utilizing the single-rider line.
Are you ready to take on the Yeti?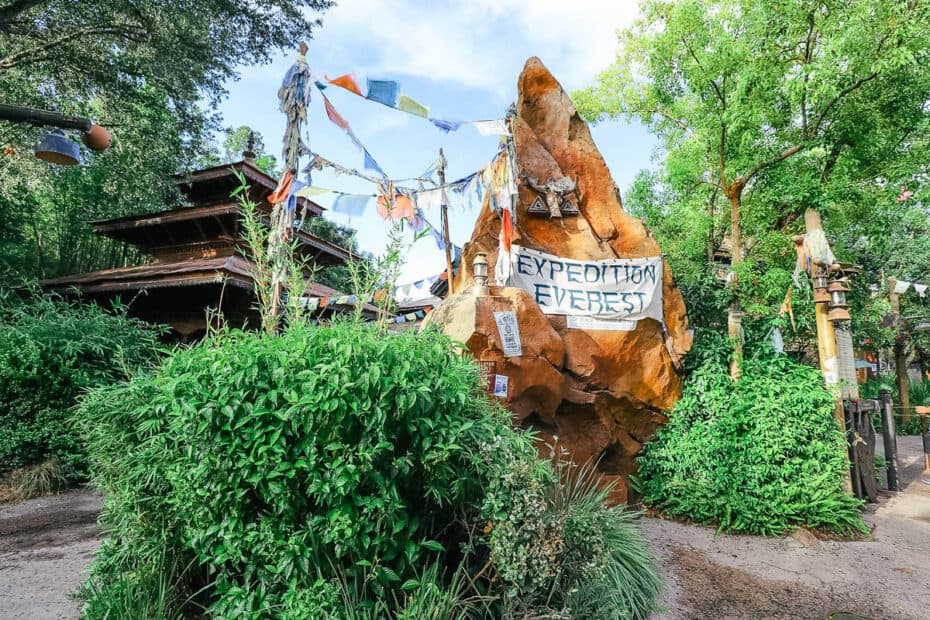 Below is a quick reference chart for experiencing Expedition Everest.
Expedition Everest
Animal Kingdom

Location:

Asia

Disney World Height Requirement:

44″

Genie + Animal Kingdom:

Yes, through Genie+ service.

Ride Type:

Rollercoaster

Seats Per Vehicle:

2

Rider Switch at Disney:

Yes

Good For:

Thrill Seekers

Scare Factor:

High, Large Drops

Must-Do List:

High Priority

Perfect For:

Tweens, Teens, and Adults

Special Mention:

*Single Rider Line
*On-Ride Photo Option
Expedition Everest, Legend of the Forbidden Mountain
Expedition Everest is a high-priority roller coaster attraction at Disney's Animal Kingdom. This attraction offers three lines-stand-by, Lightning Lane, and single rider.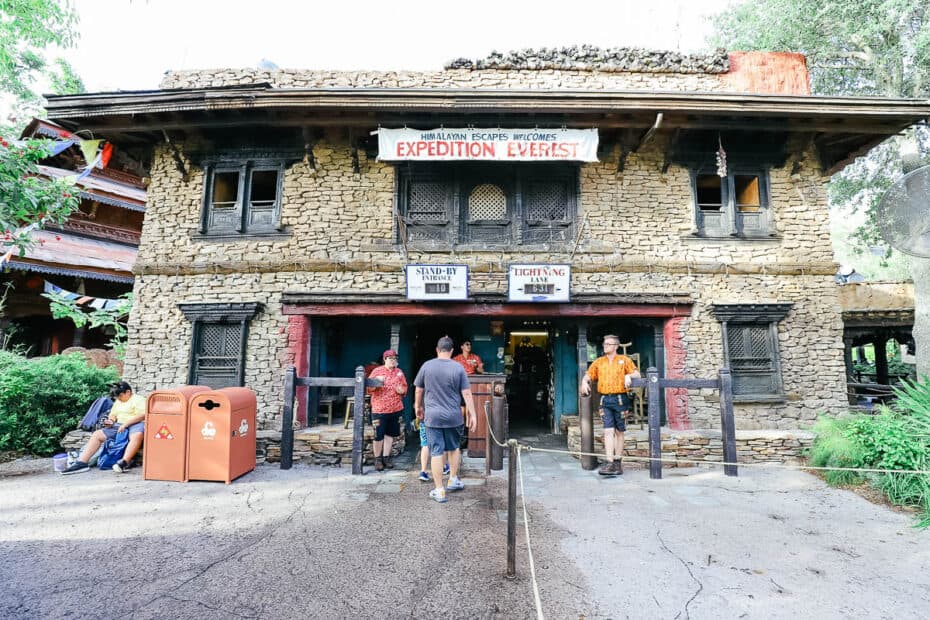 Expedition does have a 44″ height requirement. If anyone in your party looks anywhere near the questionable height, they will check before you enter the interior portion of the queue.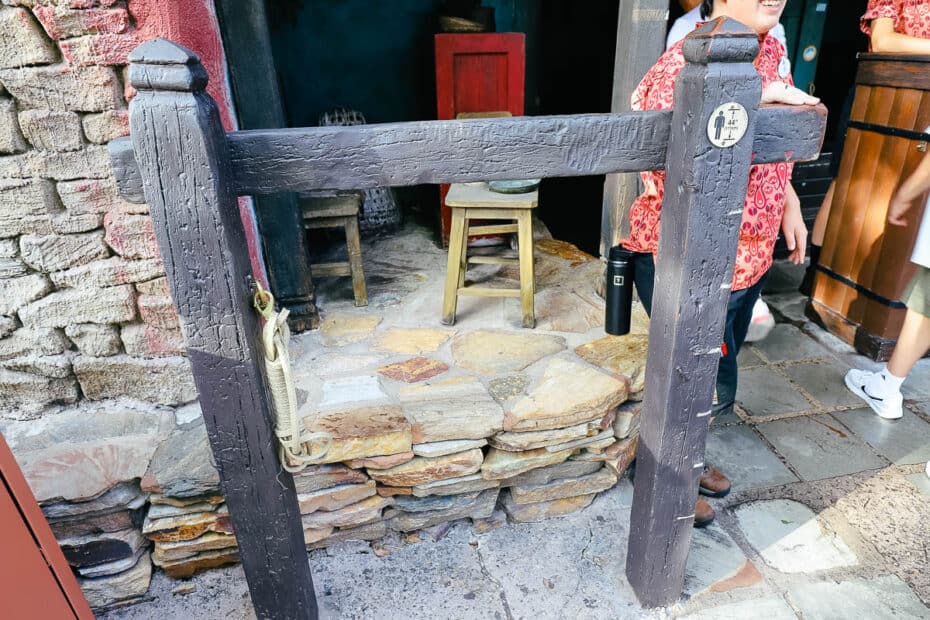 Most guests will likely want to experience Expedition Everest multiple times during their visit to Disney's Animal Kingdom. Since it's part of the paid Genie+ service, you can select to use it as one of your experiences if desired.
Of course, you'll have to purchase Genie+ service and check availability. If you don't purchase Genie+, you'll want to ride Expedition Everest as early or as late as possible to avoid long lines.
Unfortunately, it is not uncommon for this attraction to experience downtime. For instance, on a recent visit to Animal Kingdom, I received a notification from Disney apologizing that Expedition Everest was down.
Later that evening, close to closing, the park was pretty empty. However, the line for Expedition Everest was extreme.
That's because the ride was operating again. So everyone who wanted to ride or had selected it as one of their Genie+ experiences was trying to get their turn.
If a similar situation occurs during your visit, you could face long lines too toward the end of the evening. But on most days, wait times will significantly drop during the last hour of park operation.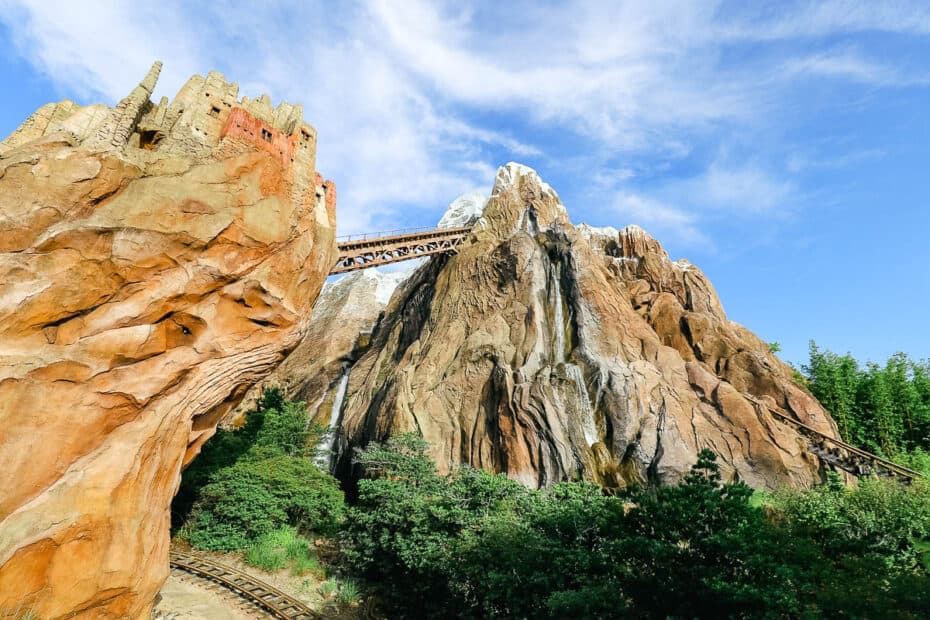 Expedition Everest Single Rider Line
Expedition Everest is one of a handful of attractions at Walt Disney World that offers a single rider line. Therefore, anyone who wants to ride Expedition Everest as many times as possible should take advantage of the single rider line.
You'll find the single rider queue on the far right-hand side of the attraction's entrance. It is entirely separate from the stand-by and Lightning Lane queue.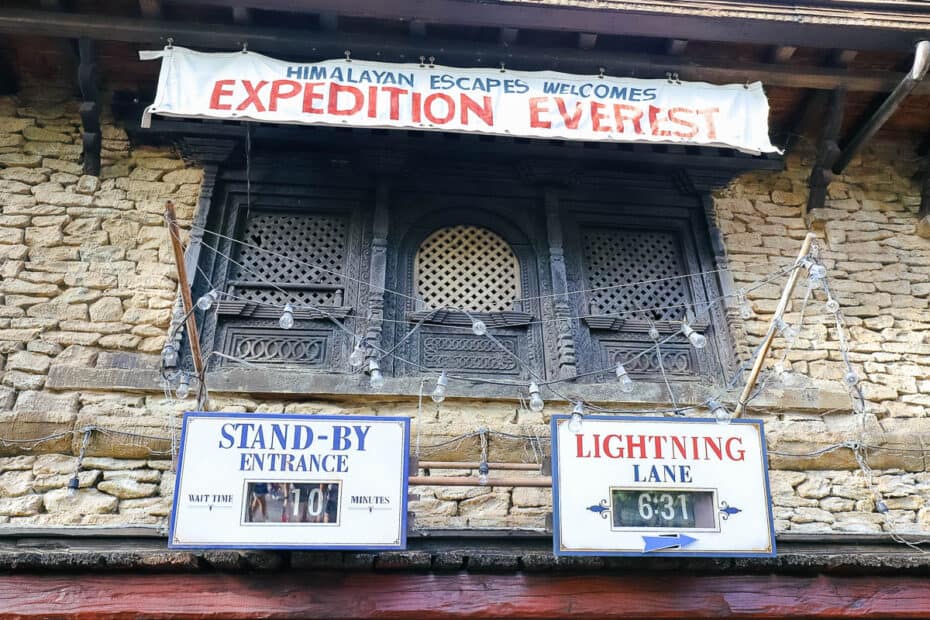 Usually, there is a posted wait time for the single rider line. However, it's not always accurate. Often, I see the sign indicating a 10 to 30-minute wait.
Since we've ridden Expedition Everest many times, we'll often select it as a Genie+ attraction for the first time. Then we'll rejoin the single ride line to ride it again.
Thankfully, Expedition Everest loads quickly, and every time an odd number group of guests comes up in the queue, cast members will add a single rider to make the number even.
This tends to keep the single rider line moving reasonably quickly.
Parents, if your children are old enough to ride alone, you can let them do the single rider line a few times. Meanwhile, there are plenty of areas to wait outside the attraction.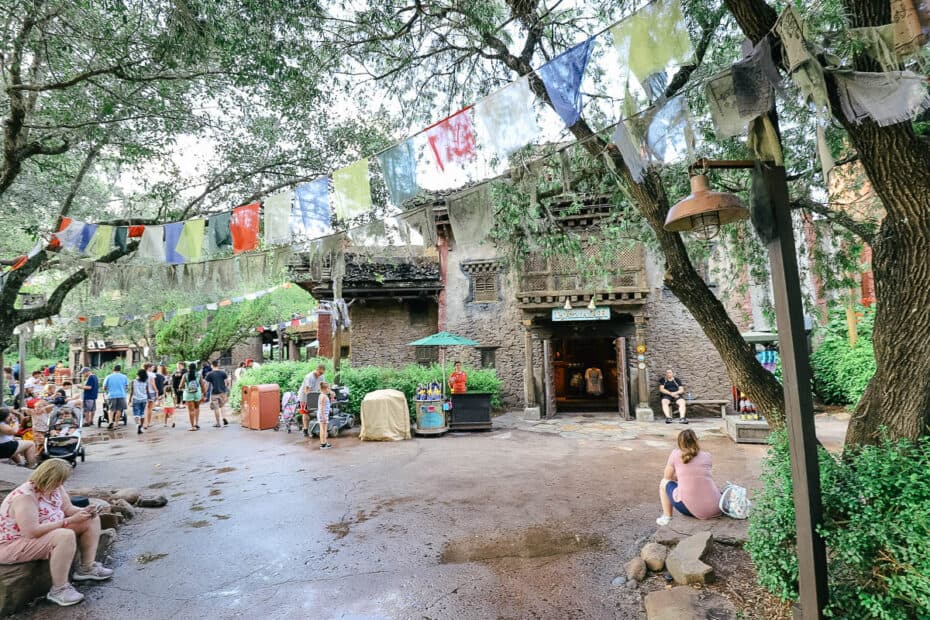 Is Expedition Everest scary?
While Expedition Everest doesn't have an inversion, it does have a steep drop and one surprise element. Unfortunately, I made one of my timid relatives ride it many years ago.
Warning, smaller children might be traumatized by a parent, or in my case, an aunt, forcing them to ride this type of attraction. To this day, I wish I had not made my relative ride this attraction.
So even if your child meets the height requirement, they may still feel uncomfortable.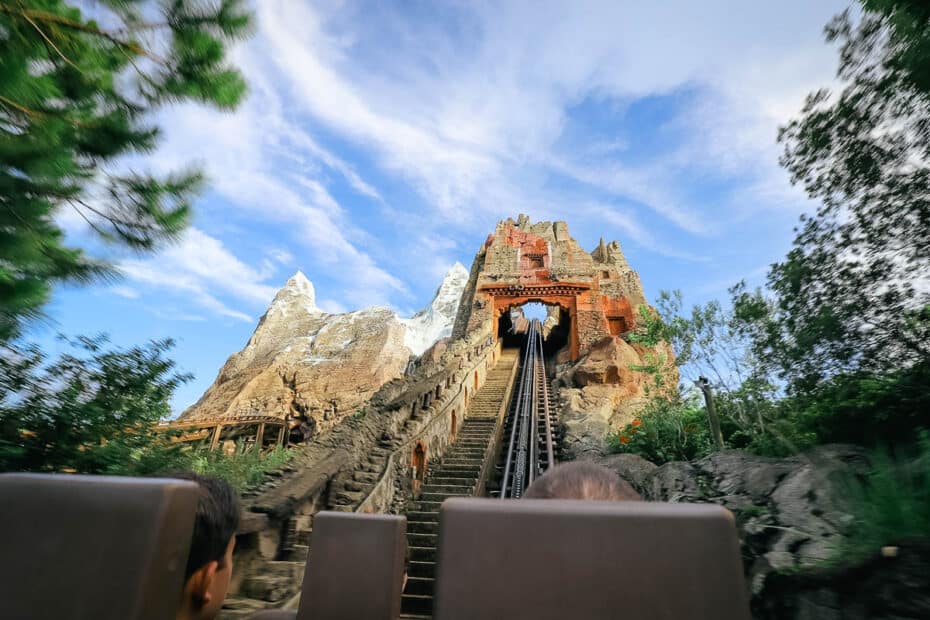 Additionally, you can see the drop and hear other guests screaming before you get in line for this attraction. Sometimes what might look like fun to you could intimidate a child.
Additionally, while riding the attraction, the tracks in front of you appear to run out. This is one of the surprise elements.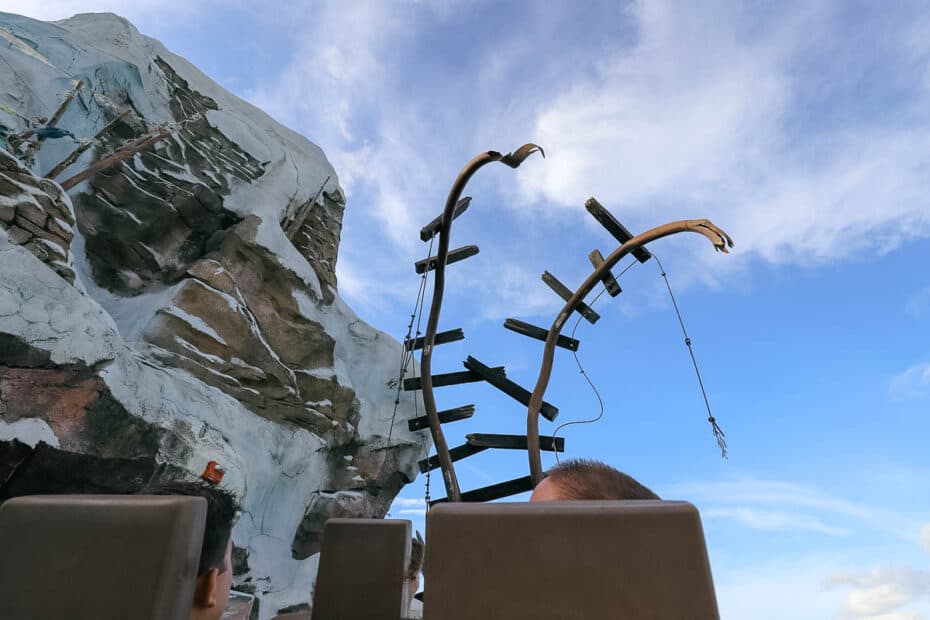 Similar to meeting characters, these kinds of things come off as "real" to children. I can't tell you how many times I've heard other kids express concern when they realize the roller coaster track has run out.
Overall, Expedition Everest offers steep drops, surprise elements, loud noises, and a glimpse at a potentially frightening creature. While this attraction is perfect for thrill-seekers, it is scary for others.
On-Ride Photos at Expedition Everest
Expedition Everest has an on-ride photo option. This photo opportunity is before the final drop. You'll pause for a moment before the drop.
As you head down the tracks, look up and smile or make your best silly face. Photos are displayed on screens at the end of the ride.
If you purchased the Memory Maker upgrade, the photo should automatically show up in your My Disney Experience account.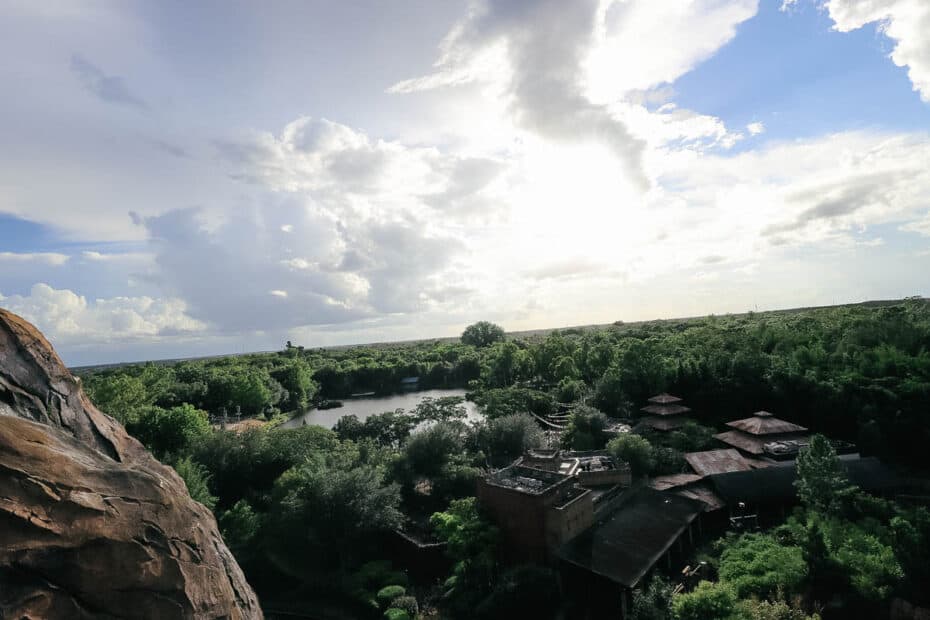 At the end of the attraction, you'll exit into a dump shop. From there, you can head to the stand-by or single-rider queue for another spin! That is if you think you can take on the Yeti again.
Oh, and don't forget to check out those views on the way up! I can see my neighborhood from way up here.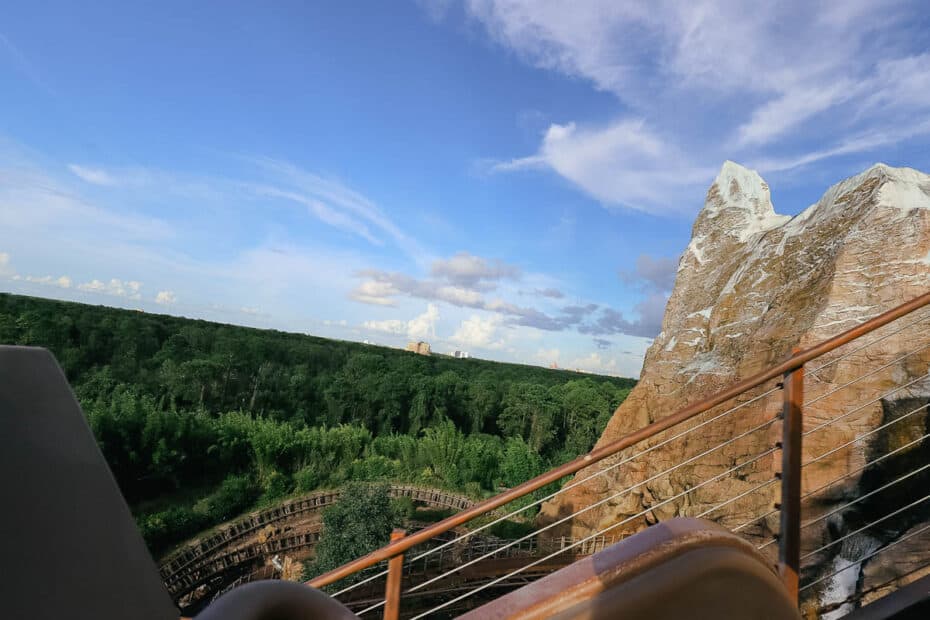 For more attractions at Disney's Animal Kingdom, you might enjoy some of these other ride reviews:
Additionally, Resorts Gal specializes in providing Disney World Hotel Reviews. Here are some of our articles discussing the different classes of resorts at Walt Disney World.
In the Comments
Do you plan to ride Expedition Everest when you visit Disney's Animal Kingdom? Will everyone in your group want to ride it?