Riding Expedition Everest at Disney World
Expedition Everest is one of the most popular roller coaster attractions, not only at Disney's Animal Kingdom, but in all of Walt Disney World. The attraction is extremely well-themed offering a bit of a surprise element, the Yeti.
This review will take a look at all the important details about Expedition Everest. We'll take a look at the best times to ride and also discuss the single rider line option.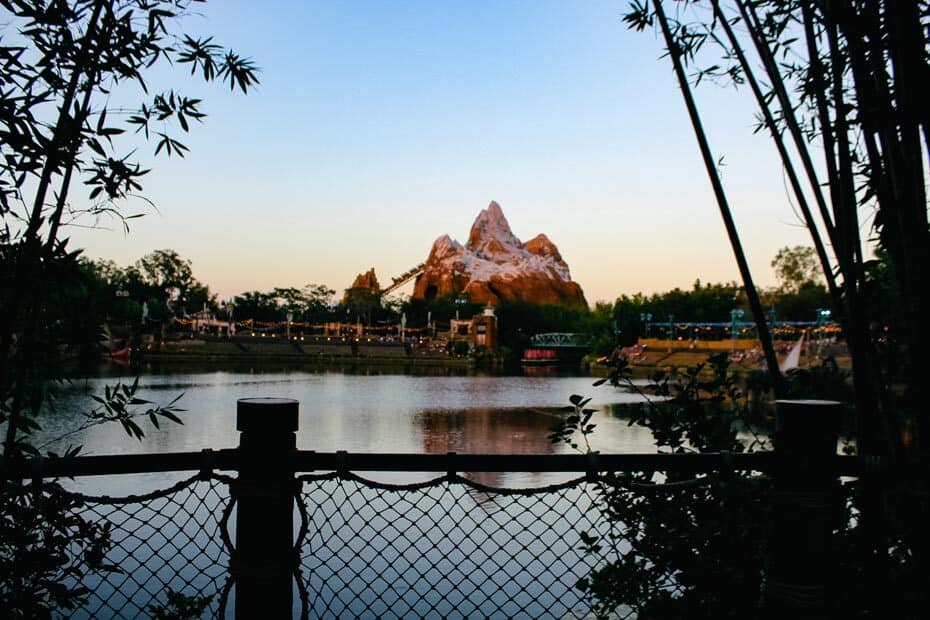 About that Yeti–Unfortunately, if you've heard of the Yeti, you more than likely know it's broken. It has been broken for quite a while. Even more unfortunately, there's no future plans to repair it.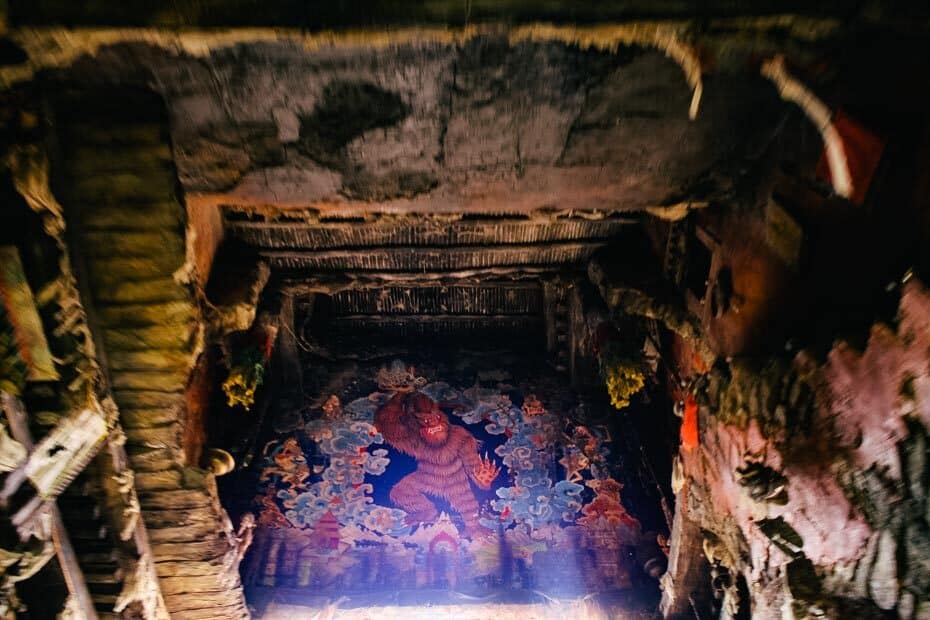 For a quick reference here is a chart covering the most important things you'll want to know about Expedition Everest.
Expedition Everest
Animal Kingdom

Location:

Asia

Disney World Height Requirement:

44″

Genie + Animal Kingdom:

Yes, when available.

Ride Type:

Rollercoaster

Seats Per Vehicle:

2

Rider Switch at Disney:

Yes

Extra Magic Hours:

Mornings (when available)

Good For:

Thrill Seekers

Scare Factor:

High, Large Drops

Must-Do List:

High Priority

Perfect For:

Tweens, Teens, and Adults

Special Mention:

*Single Rider Line
*On-Ride Photo Option
Expedition Everest, Legend of the Forbidden Mountain
Expedition Everest is a high-priority roller coaster attraction at Disney's Animal Kingdom. The roller coaster normally offers FastPass+ options and meets high wait times during the course of a regular day. Wait times for Expedition Everest tend to rise mid-morning and don't typically level off until after 6:00 p.m.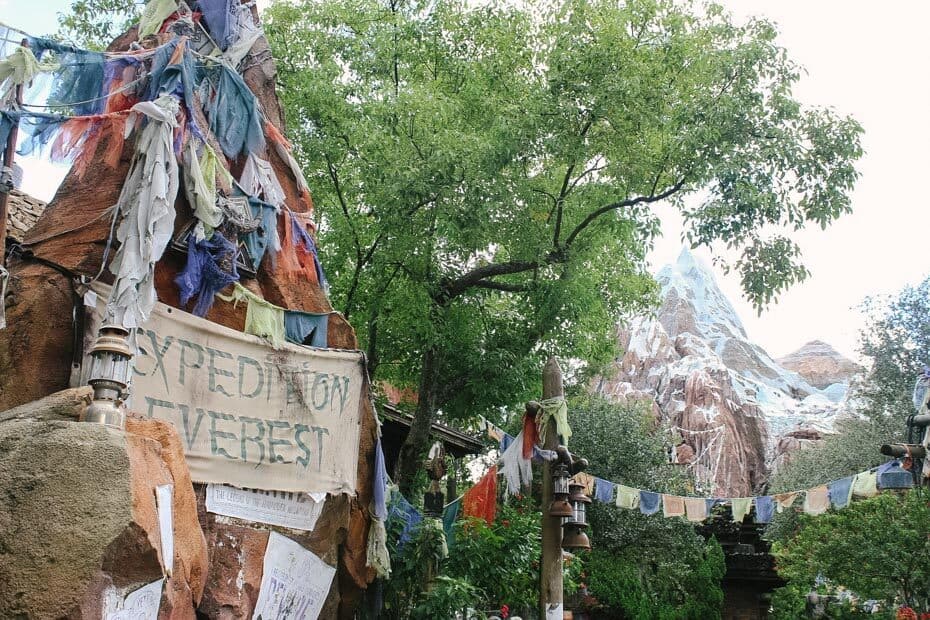 There is a height requirement as indicated in the chart above for this roller coaster. The queue for the attraction is outstanding and offers plenty of details to take in while you wait.
More than likely you'll want to ride Expedition Everest multiple times during your Animal Kingdom day. I recommend riding it early in the morning and then later in the day with FastPass+. Or you might elect to ride Expedition Everest sometime during the day with FastPass and then later in the evening when lines tend to slow down.
FastPass is currently not available, make sure to check and see if this service has returned to the parks prior to your next vacation.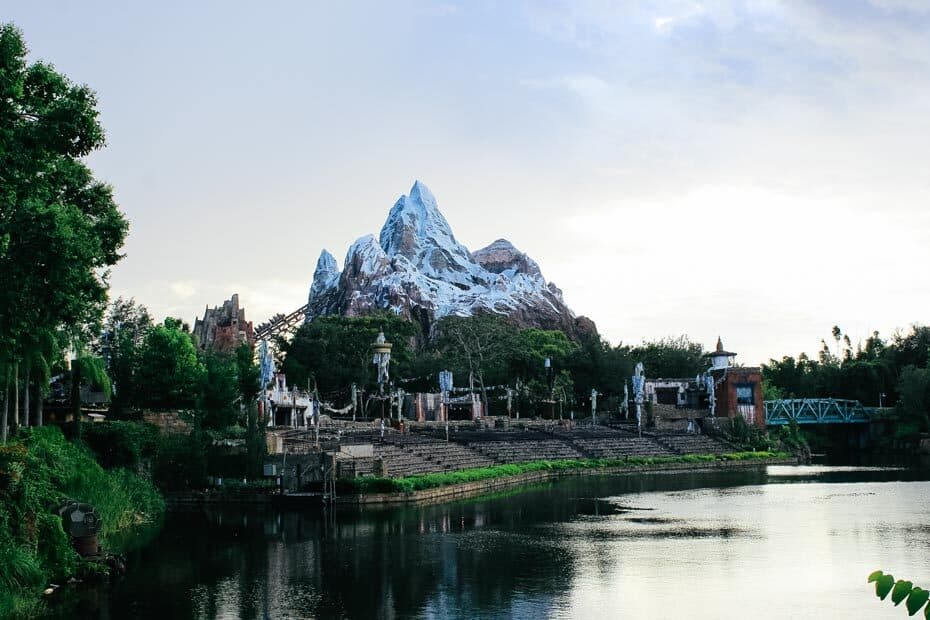 Expedition Everest Single Rider
Additionally, Expedition Everest offers a single rider line. This is one of the few attractions at Walt Disney World that has this special line. Anyone that wants to experience Expedition Everest multiple times should take advantage of the single rider line.
The queue for single rider begins over on the Bazaar side (right-hand-side) of the attraction's entrance. It is in a completely separate place from the standby and FastPass queue.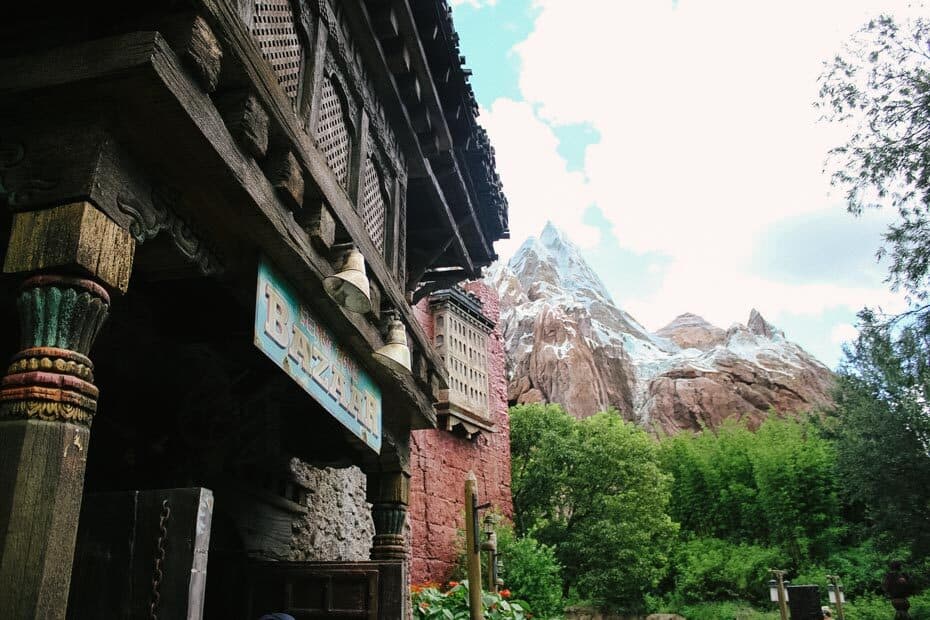 Typically, there will be a posted wait time for the single rider line. The sign usually indicates a 10-30 minute wait on most days. As for our group we've always enjoyed riding Expedition Everest multiple times via the single rider.
We've often cashed in our FastPass, disembarked the attraction, only to rejoin the single rider line where we could experience it again. This also works well for children and teens who are old enough and tall enough to ride by themselves. Parents if you don't want to ride again, you can wait outside while your child experiences the attraction.
Single Rider is currently not available, make sure to check and see if this offering has returned to the parks prior to your next vacation.
Is Expedition Everest scary?
While Expedition Everest doesn't have an inversion, one could easily say it is scary. Small children might be traumatized by a parent or aunt (me) forcing them on this attraction. I still feel really bad about it. Even if they meet the height requirement, if your child feels uncomfortable, I wouldn't recommend pushing.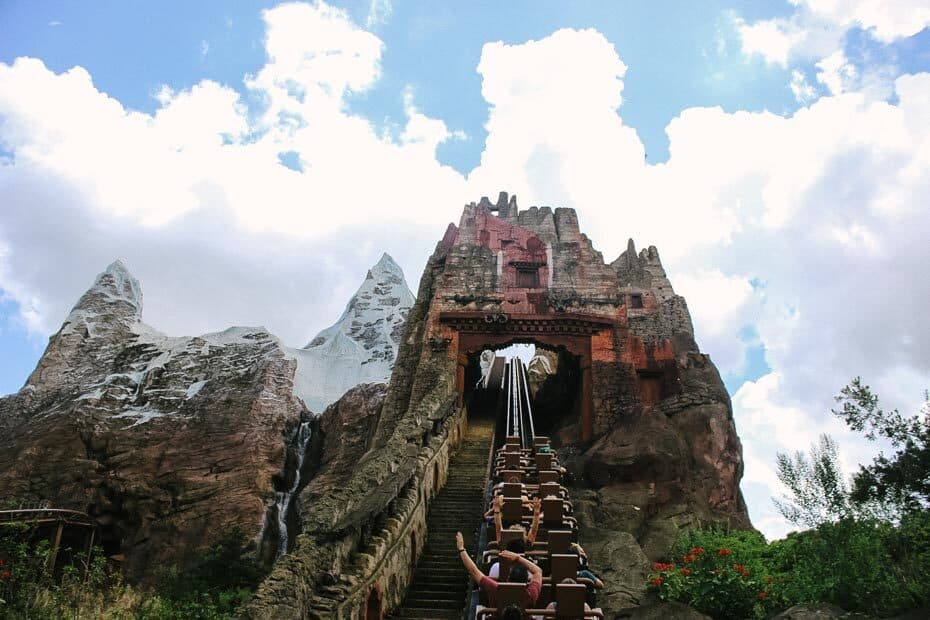 One of the scary things when riding a coaster like this is seeing and hearing the roller coaster in the distance along with screams. What might sound like fun to you, could sound like terror to a child. Expedition Everest does have a bit of a surprise element as well for those of you who haven't ridden it prior.
Overall the roller coaster offers extremely steep drops, surprise elements, loud noises, and a glimpse at a potentially frightening creature. This ride is perfect for thrill-seekers but scary for others.
On Ride Photos at Expedition Everest
Expedition Everest does have an on-ride photo option. After you see the Yeti and begin moving forward for the final extreme drop make sure to look up and smile. The photo will be displayed at the end of your ride. For anyone who has purchased the Memory Maker, it will show up in your My Disney Experience account.
Bonus: From time to time a little hawk flies out when you come to the top of the train tracks. Keep your eyes open for it, but don't be surprised if you don't see it either. It's one of the neat elements that unfortunately doesn't always work.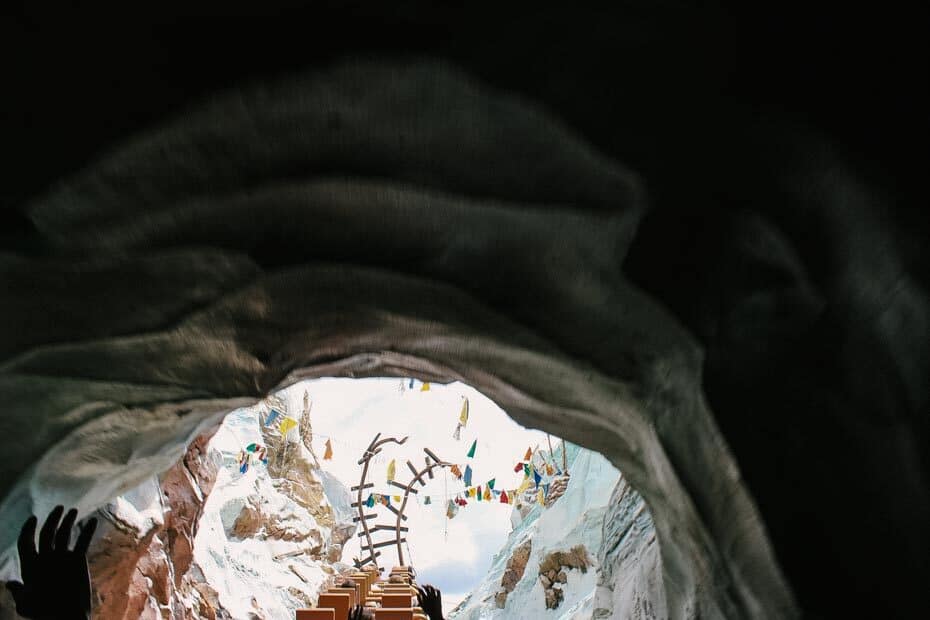 We had been riding Expedition Everest for many years. Suddenly one time we were riding and it just appeared out of nowhere. Not too long after it disappeared again. I'm convinced that it's something that has to be manually reset and no one has taken the time to walk up there and do it, but who knows?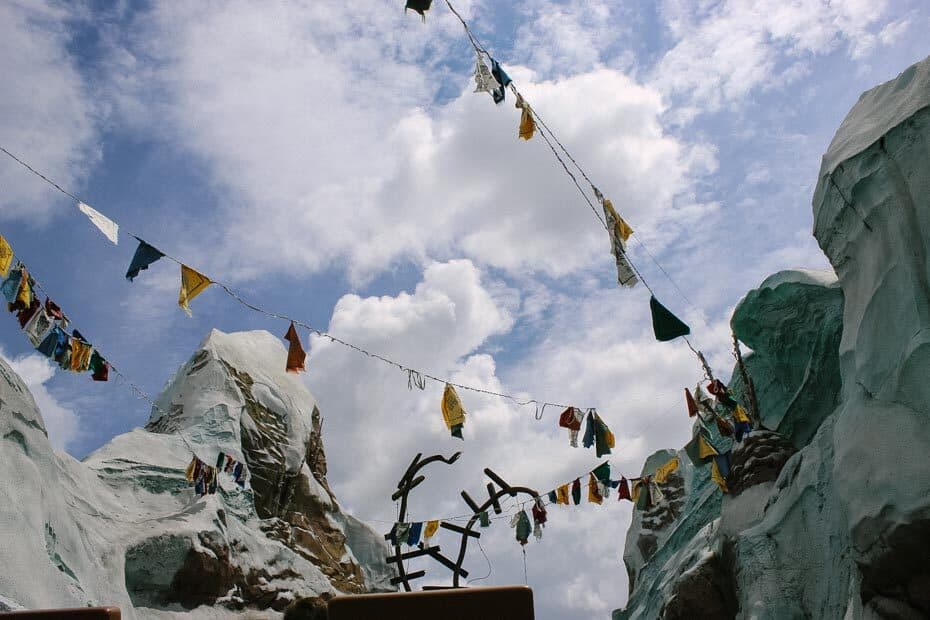 Lastly, there is a ride shop at the end of Expedition Everest, and the store has some cool pressed penny machines. If you like to browse Disney products, this is a great stop offering unique items. It's also a nice place to wait for someone who elected to ride via the single rider line.
Oh and don't forget to check out those views on the way up! I can see my neighborhood from way up here. I always enjoy visiting my neighborhood park too!
For more Walt Disney World planning, you might want to check out our review of Disney's Blizzard Beach Water Park. It covers the rides, dining, and everything else you'll need to know to plan a day at the water park.
Additionally, Resorts Gal specializes in providing Disney World Hotel Reviews. When staying on Disney property we recommend learning about the different types of hotels available. They are:
Now, do you plan to ride Expedition Everest on your next vacation? Let me know in the comments.