Disney's Animal Kingdom Quick Service Dining Guide
When it comes to quick-service at Disney's Animal Kingdom, you might be surprised by the number of choices available. There are over 20 different options to pick up a quick service meal or snack.
This review will look at all of the Animal Kingdom quick service dining locations. I'll also share what I consider to be the best quick service locations in the theme park.
This article was updated on March 10, 2022.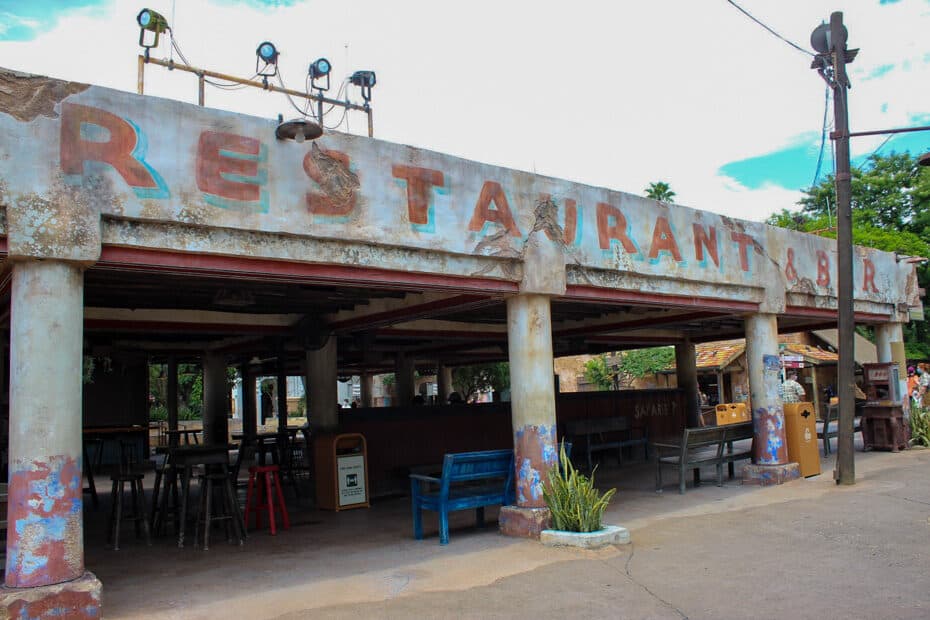 Animal Kingdom Quick Service Restaurants
Below you'll find a summary of every quick-service restaurant or kiosk in Disney's Animal Kingdom. In addition, I've provided a few pictures, menus, and specifics for each location.
Anandapur Ice Cream Truck
Our first quick-service stop is over in Asia, not far off from the entrance to Expedition Everest. Like almost everything else in the park, the Anandapur Ice Cream Truck is perfectly themed and offers a ton of charm.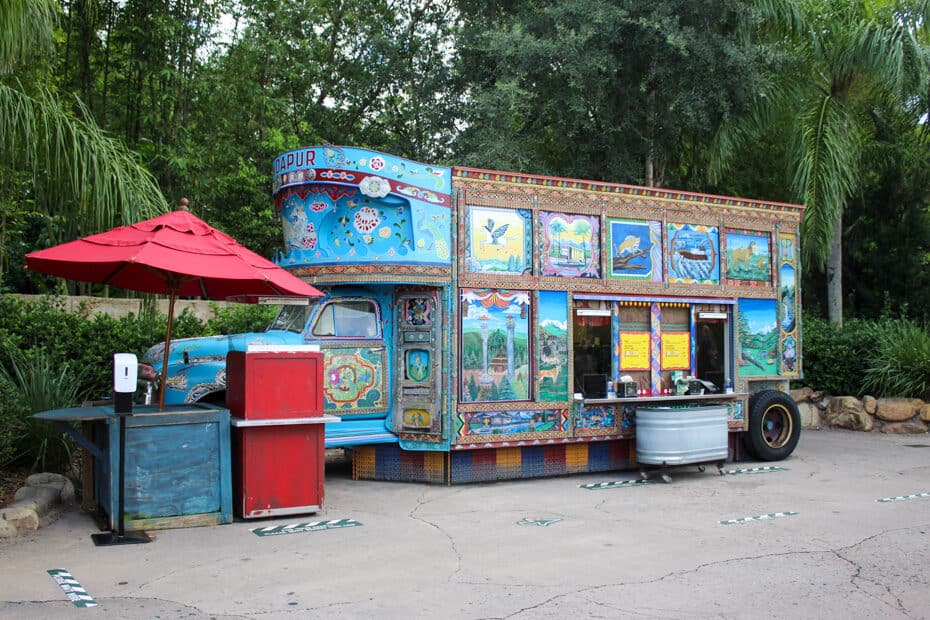 The ice cream truck has elaborate artwork and offers an excellent backdrop for photos.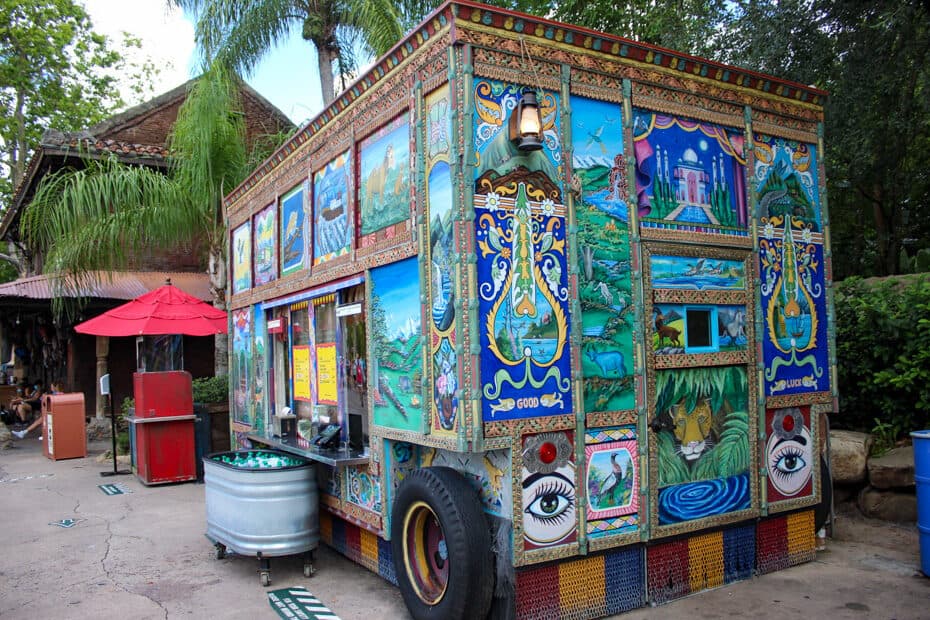 When you are in the area, you'll more than likely notice guests walking around with large chocolate and vanilla soft-serve ice cream cones. The Andanpur ice cream truck is where you can pick one up.
The posted menu indicates the different soft-serve options.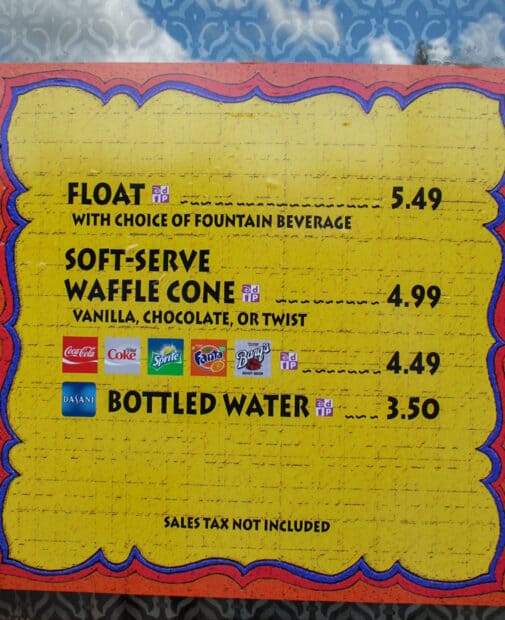 Offerings include a float, soft-serve waffle cone, soda, or water at the ice cream truck.
Caravan Road – Animal Kingdom Quick Service
Caravan Road is located across from the Tree of Life near the bridge to Asia.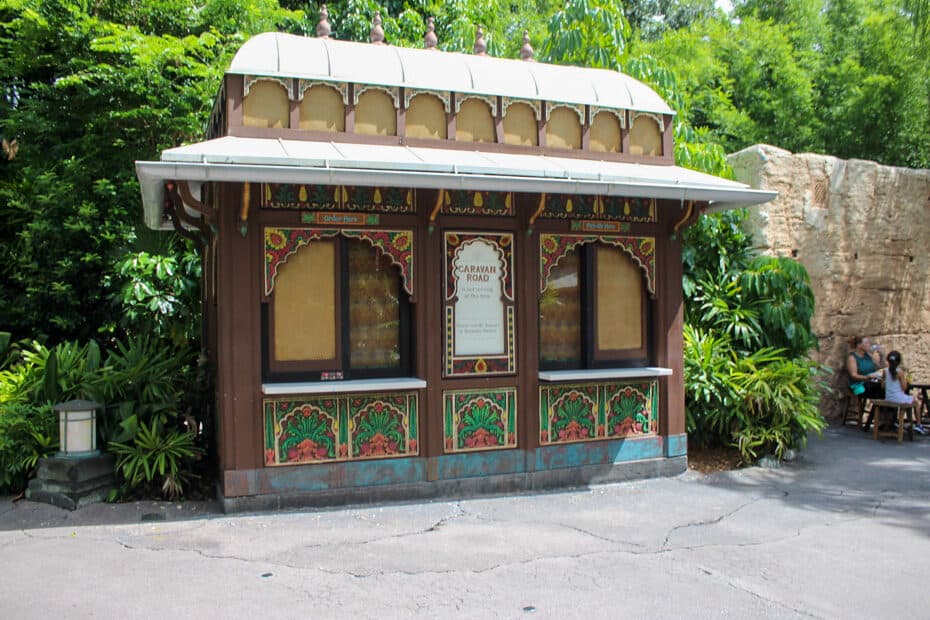 The quick-service kiosk usually offers Asian cuisine, a vegetarian dish, and an alternate item.
Creature Comforts (Starbucks)
As you probably already know, all of the Disney theme parks have a Starbucks location. Animal Kingdom's Starbucks is named Creature Comforts.
The quick-service coffee shop is located on the Africa side of Discovery Island just before the bridge.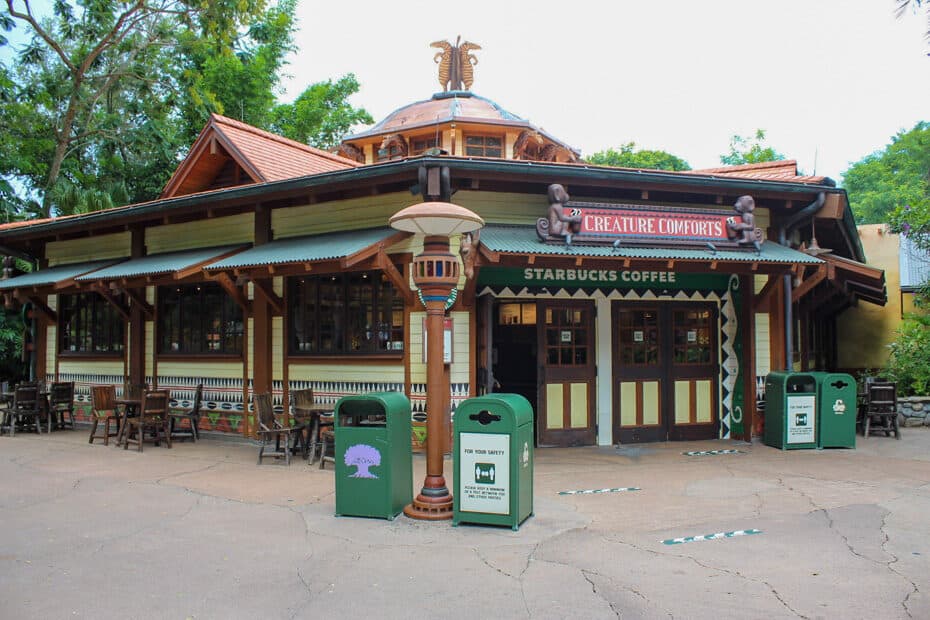 Below is one of the menus posted outside.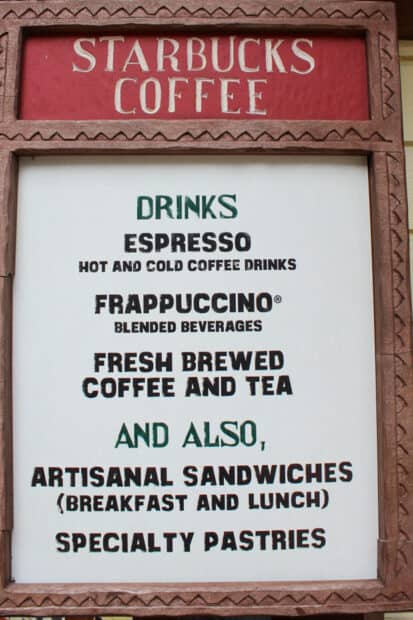 But if you're familiar with Starbucks, you know that the menu is significantly longer. You can view the extensive version here on Disney's site if desired.
Creature Comforts is an excellent place to pick up a treat or your favorite caffeinated beverage.
Dawa Bar – Quick Service at Animal Kingdom
Dawa Bar is a quick-service bar located in Africa outside of Tusker House restaurant. The photo below is of the large, covered outdoor bar area.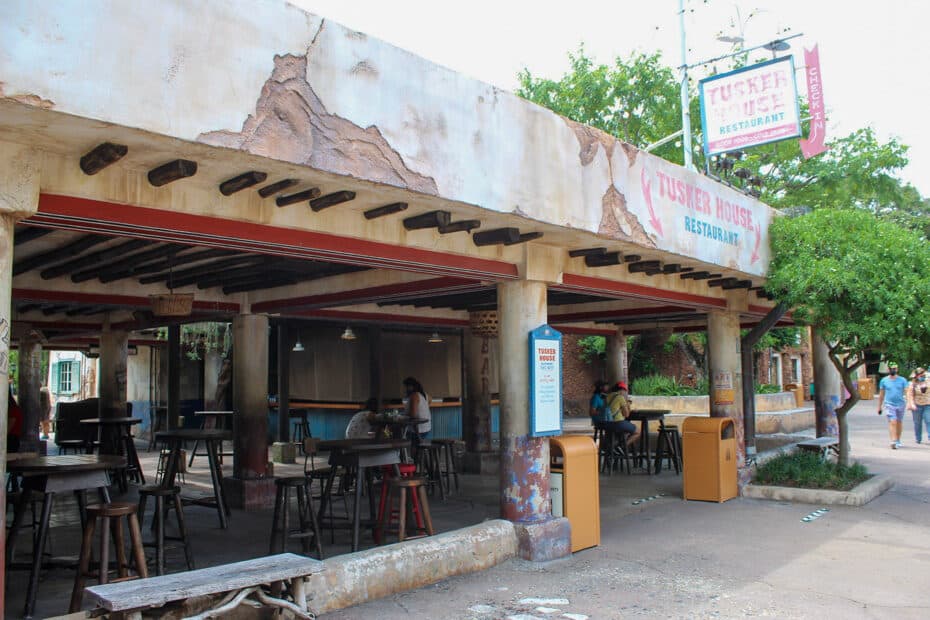 You can order a specialty cocktail here like an African Margarita, Jungle Juice, a Lost on Safari, or Harambe Iced Tea. There are also several options for wine and beer.
There are plenty of seating options in the above space, as you can probably tell. We always find Dawa Bar is a nice place to stop and wait out a small rain shower or take a break. There's no purchase necessary for grabbing a seat.
Dino Bites Snacks
When you visit Dinoland, you might find yourself in full-on carnival food mode.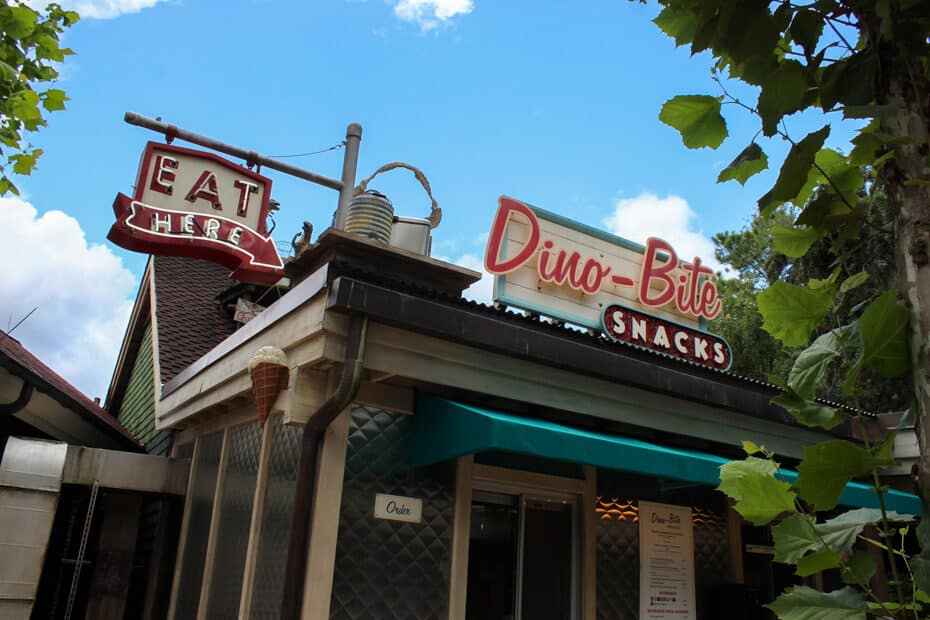 Thankfully, there are a few decent food stops in the area. Dino-Bite Snacks is one of them.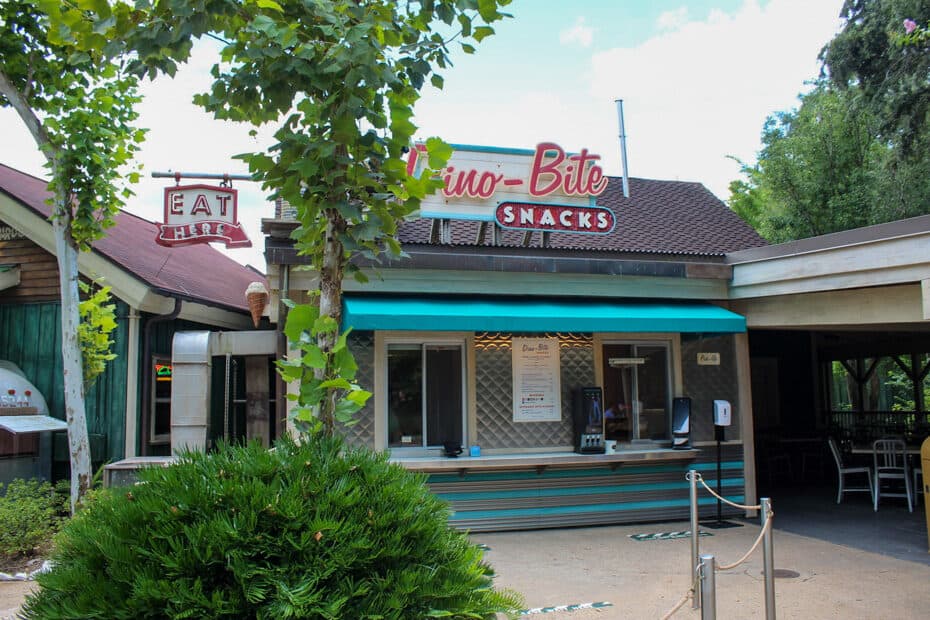 Per the menu, you can pick up hand-scooped ice cream. And it's not just any ice cream; it's Haagen-Dazs. You can get your ice cream in a waffle cone, sundae, float, or in between a few freshly baked chocolate chip cookies.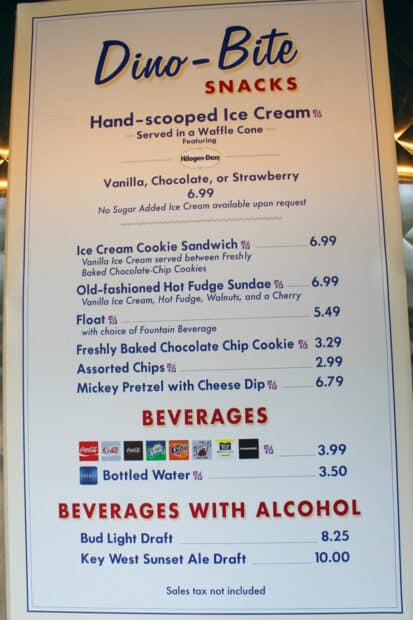 That's what the menu says anyway. It also indicates you can get a pretzel or bag of chips. Additionally, no-sugar-added ice cream is available upon request.
Dino Diner
What do you think a quick-service location that's shaped like a camper and goes by the name Dino Diner serves?
Corn chip pies and chili dogs, of course!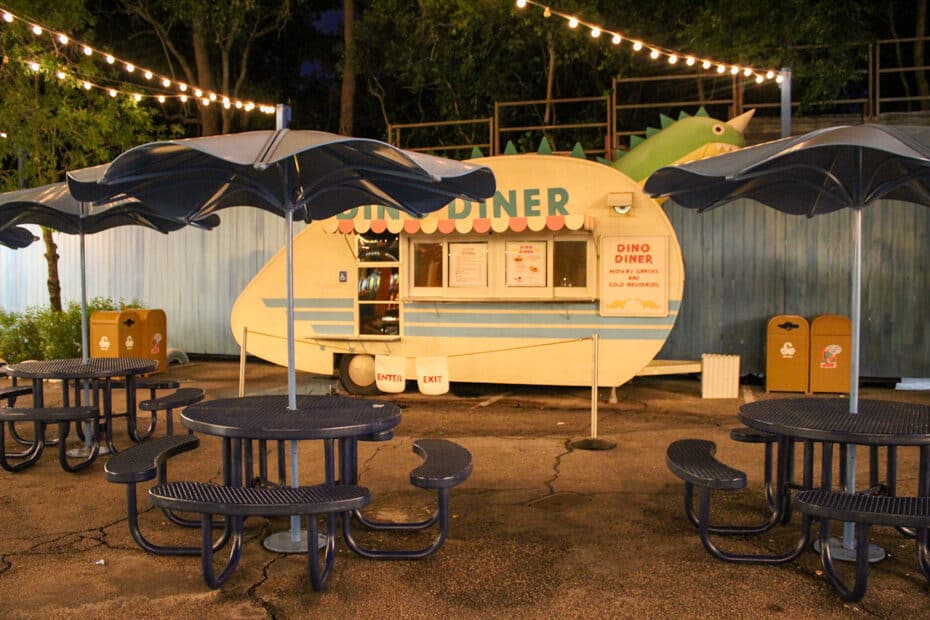 And that's precisely the kind of food you can expect in Dinoland. Of course, there are churros and frozen drinks, all a winning combination for carnival-themed food.
Drinkwallah
If you have ever visited Animal Kingdom on your way over the Asia Bridge toward Expedition Everest, then you've probably passed my soda cart.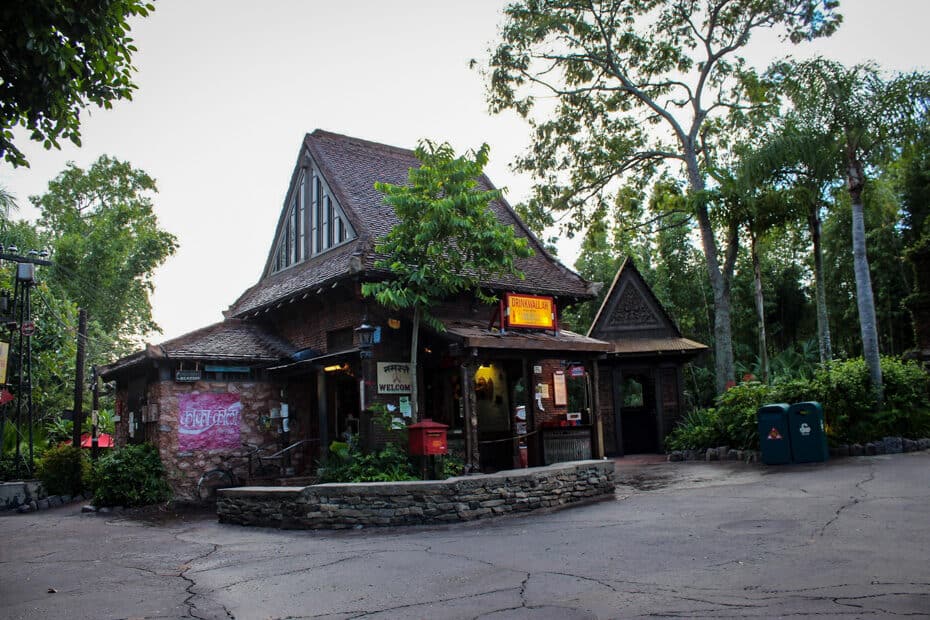 Usually, the soda cart sits out front so that you nearly run into it when you come around the corner to turn toward the forbidden mountain. So if you see the cart out, you'll know you are at Drinkwallah!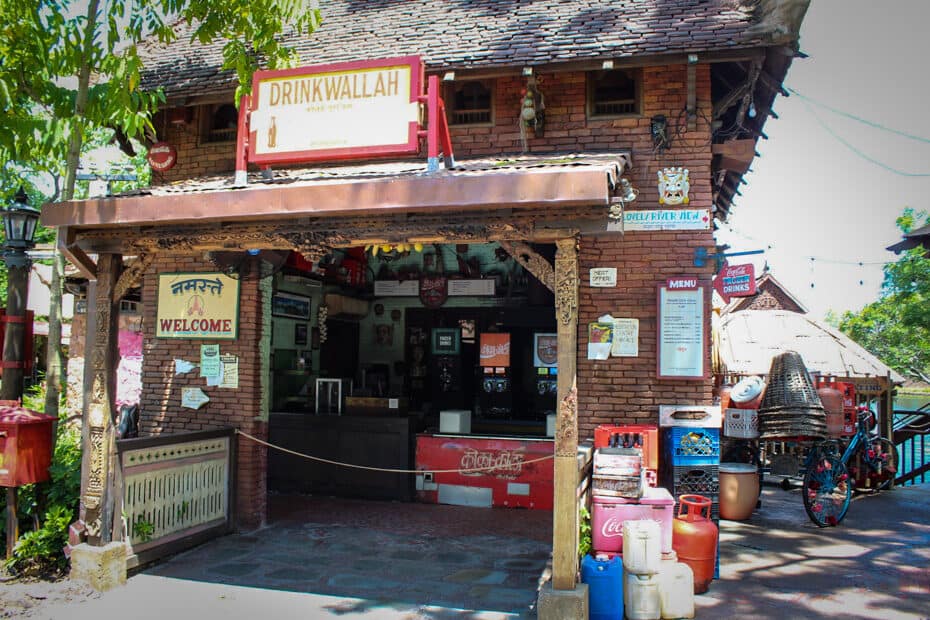 Isn't Drinkwallah a fun name? And the tiny quick-service location has so much going for it.
Here you can pick up a frozen coke with or without rum. In addition, Drinkwallah serves cinnamon nuts, chips, and regular drinks like soda and water.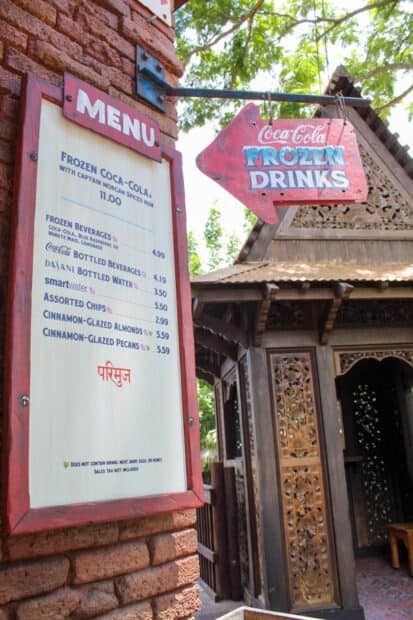 Make sure to take a good look around. Animal Kingdom is full of authentic theming. You never really question what kind of park it is when you're there.
You just know.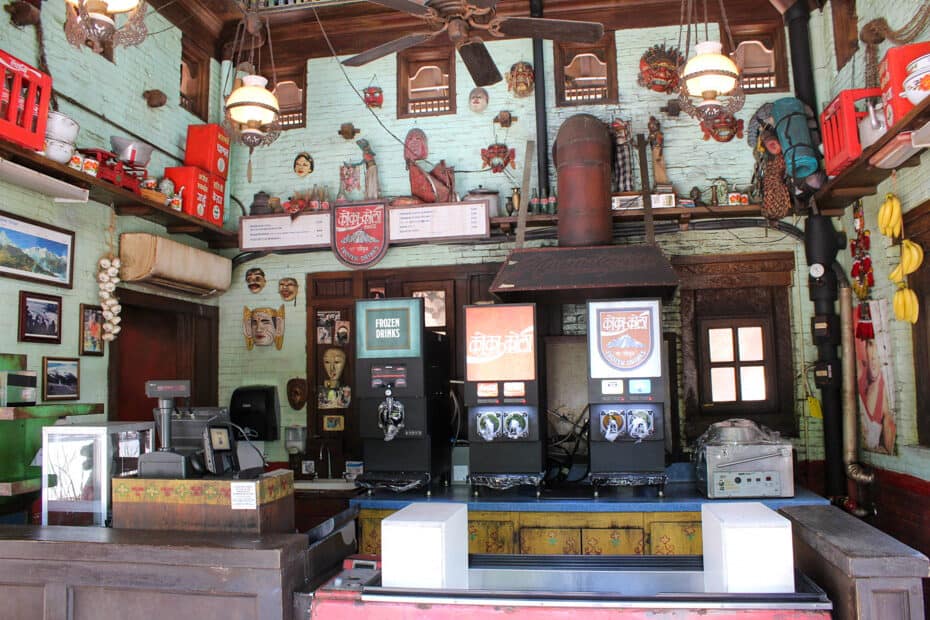 There's something that can be said about the safety of stability. I'm lucky to have the park as my neighbor when I'm in Kissimmee.
Eight Spoon Cafe
Eight Spoon Cafe is another kiosk on the Asia side of Discovery Island. This stop seems to be open on a seasonal basis.
If you are visiting during a higher crowd time, usually everything will be available.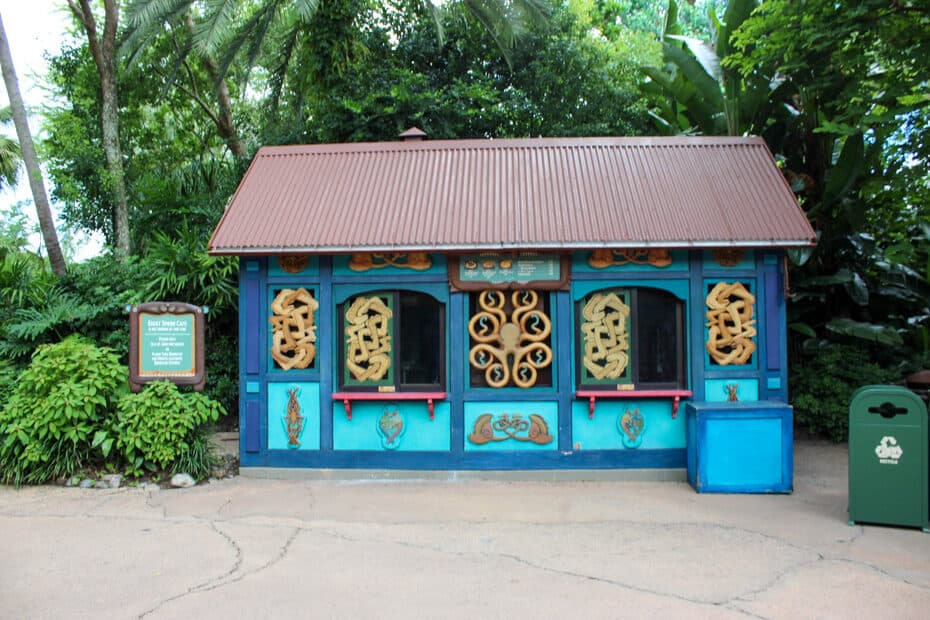 If they are open on your visit, you can pick up a quick service macaroni and cheese dish here.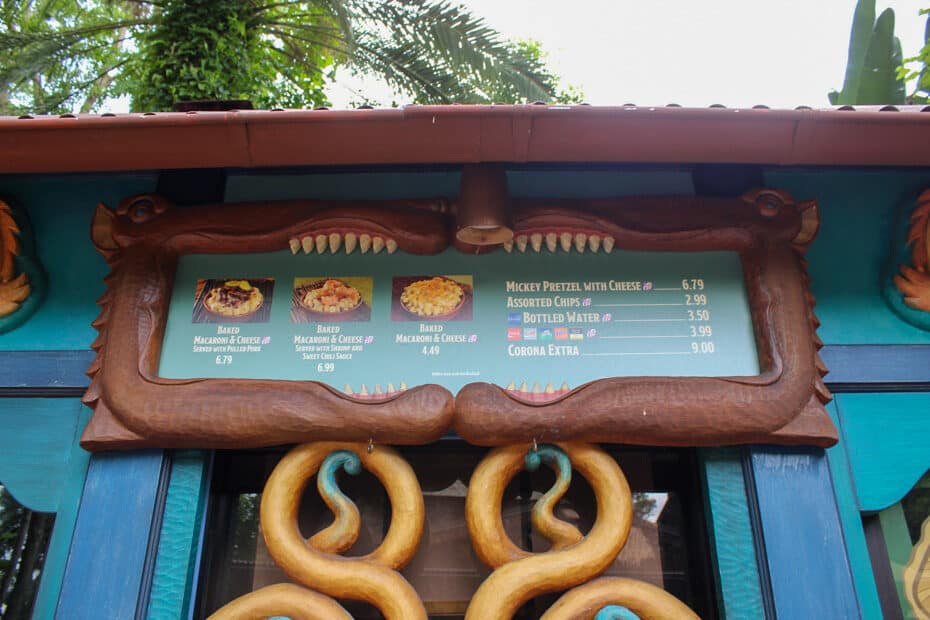 Flame Tree Barbecue
Flame Tree Barbecue is one of my favorite locations in Disney's Animal Kingdom to take a break. As far as food? It's good!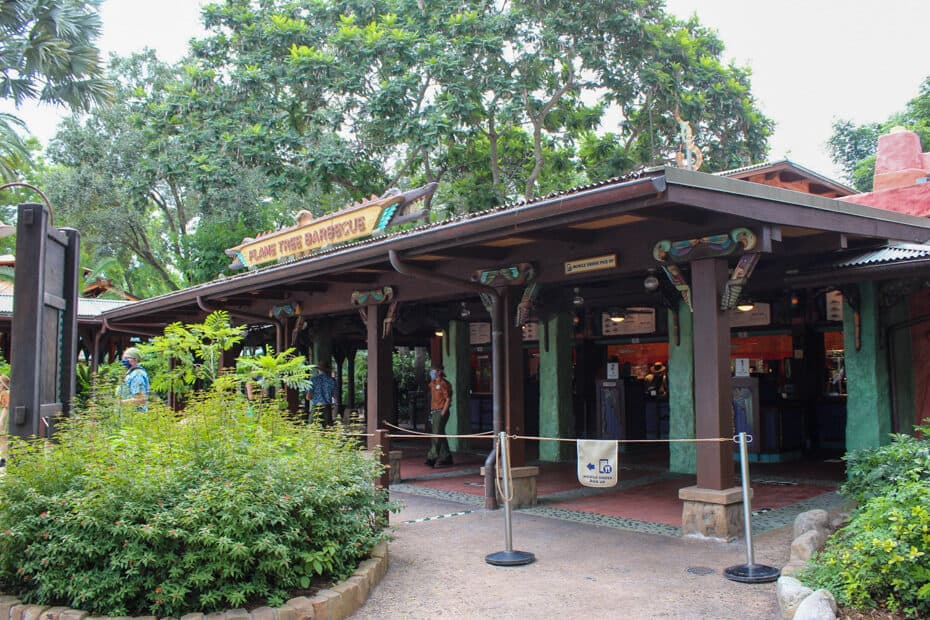 Here's a look at the menu. This Animal Kingdom quick service is a barbecue joint, and that's the only reason I rarely eat here. I'm from the land of barbecue, basically, so I rarely indulge when I'm in Florida.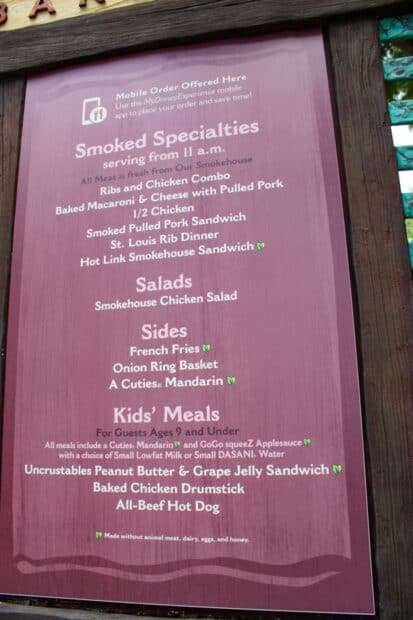 Besides, Satuli Canteen is the winner of my attention regarding quick service at Animal Kingdom, but we'll get to that.
But I don't think you can go wrong when it comes to Flame Tree, and the outdoor seating area is lovely. All the covered eating areas have wood carvings featuring hunters and their prey in the wild.
It definitely takes the win for the best quick-service seating area at Animal Kingdom.
Since I wrote this initial review, I've returned to Flame Tree for the vegan hot-links sandwich. If you are vegan or vegetarian, you'll want to add this to your list.
Related: Vegan Hot Links at Flame Tree Barbecue
Harambe Fruit Market
Up in Africa, close to the Kilimanjaro Safaris entrance, you'll come across the popular Harambe Fruit Market.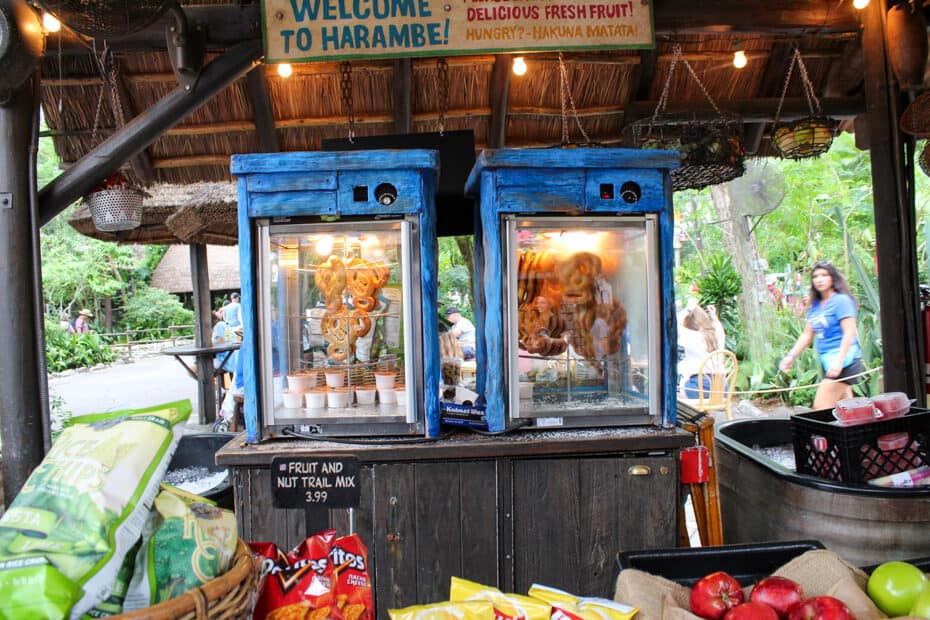 I wish there were more quick-service dining areas like this in the other parks. However, there's always a nice variety of fresh grab-and-go fruits and snacks.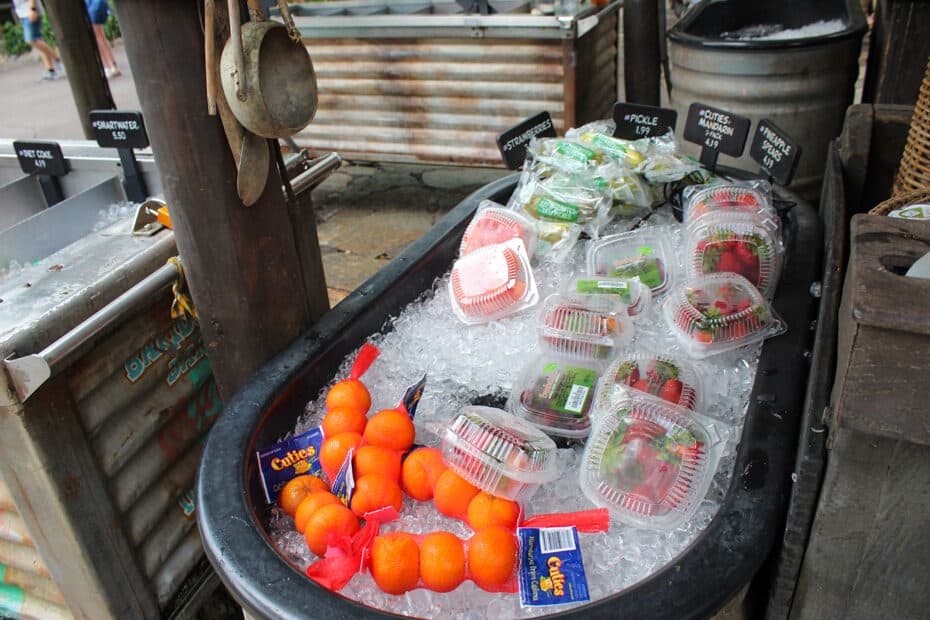 You can also get one of those tasty Mickey pretzels here as well.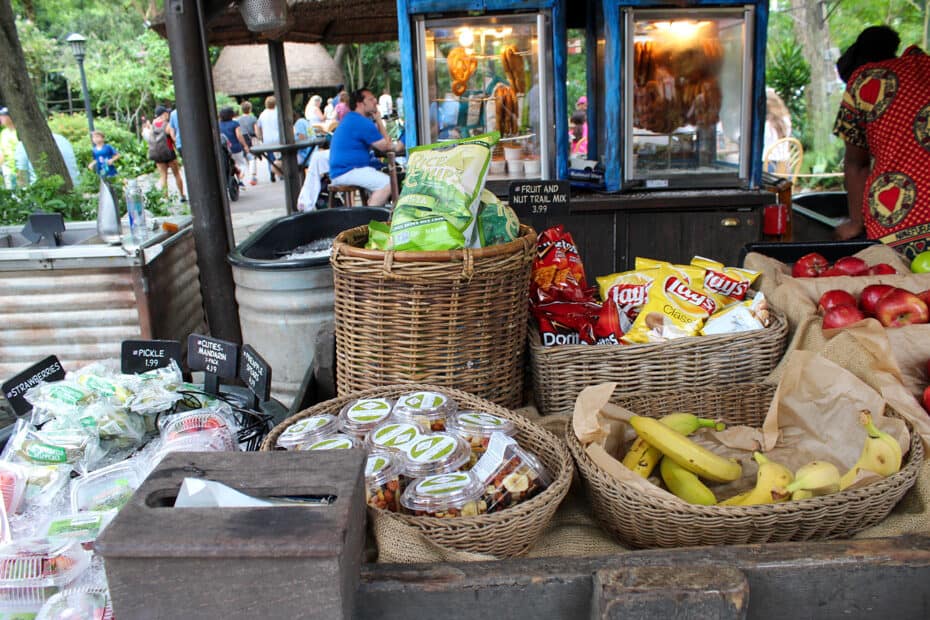 It comes with or without cheese dip.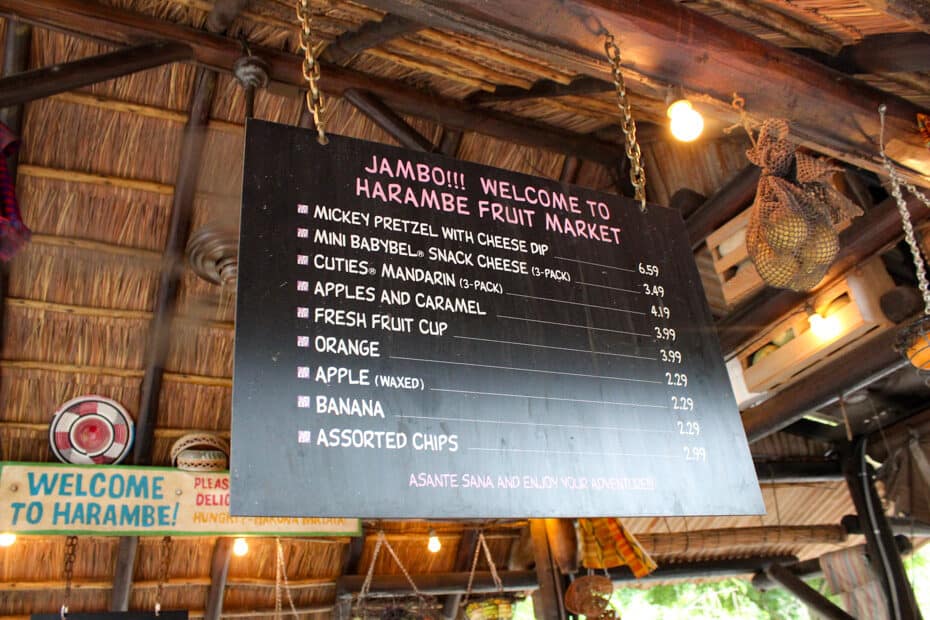 And this is also where you pick up the infamous theme park corn on the cob.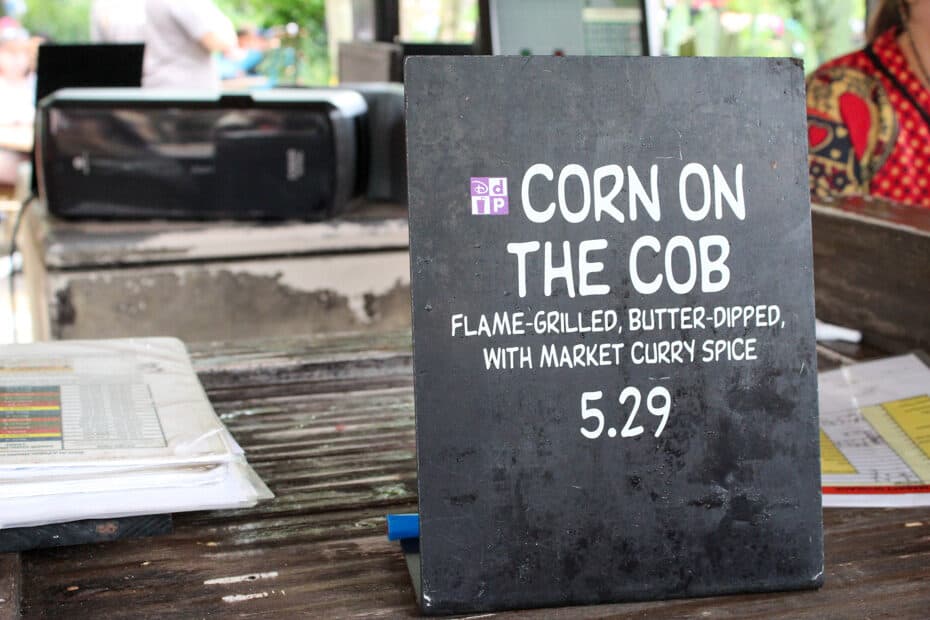 It's one of my favorite treats in the park. The corn comes off the grill and has this wonderful butter flavor with a spicy kick.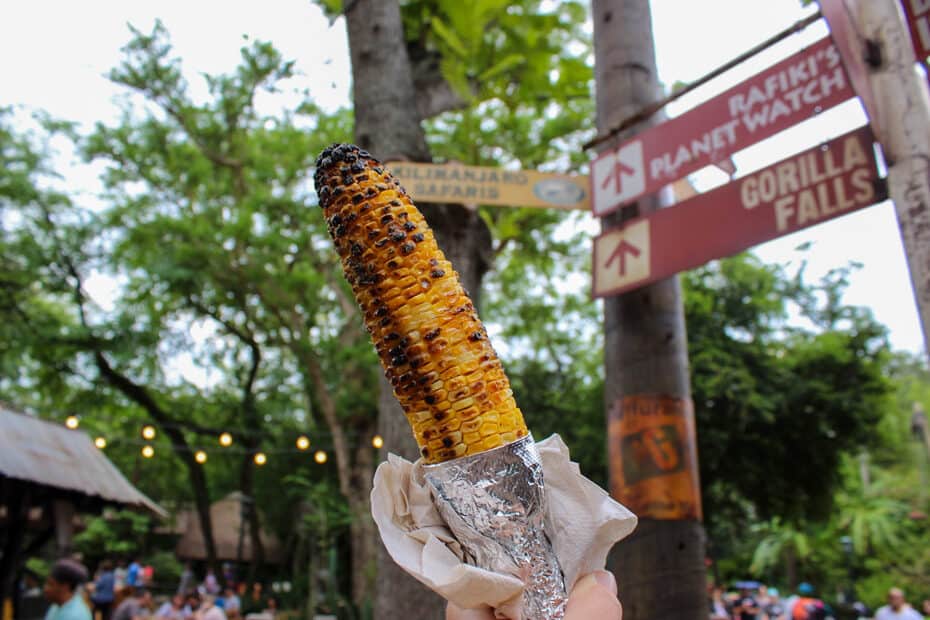 Make sure to pack your floss, but it's so worth it!
Harambe Market
Around the corner from the fruit market, you'll run into Animal Kingdom's large Harambe Market. Anyone who enjoys the theming of Animal Kingdom will want to, at the very least, take a walk around the area.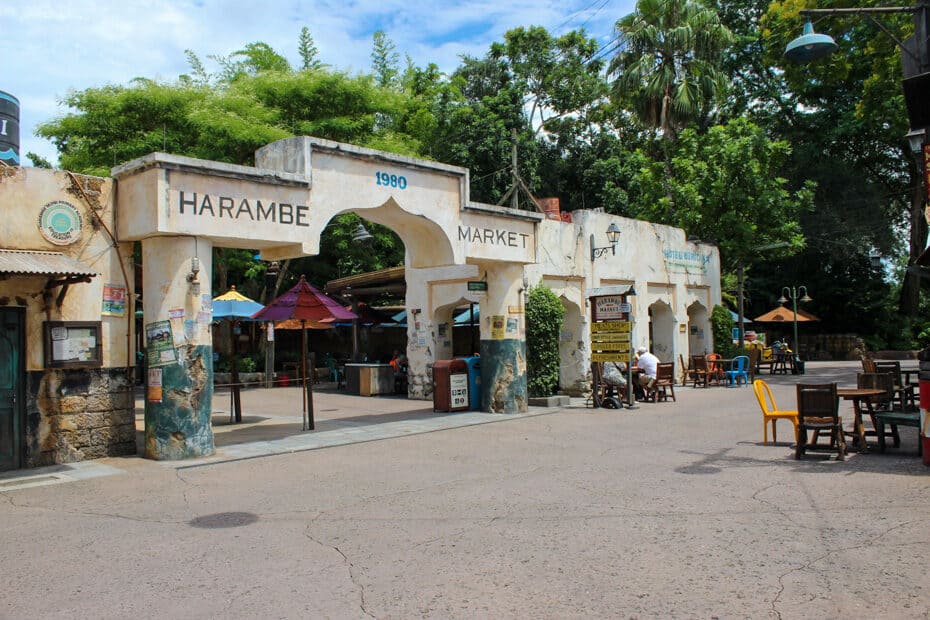 Once you enter the market, you'll be greeted by a variety of different quick-service dining locations.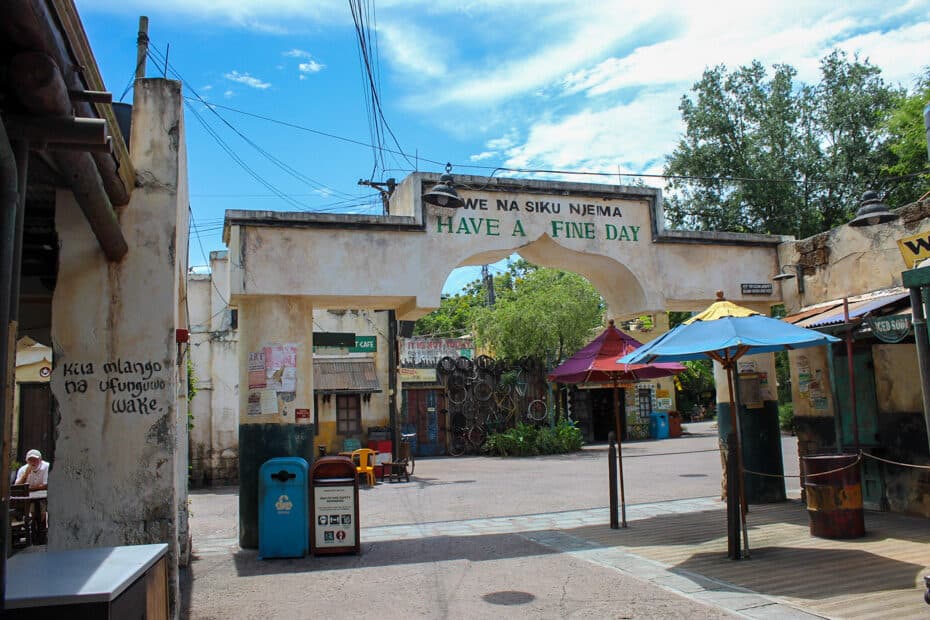 Unfortunately, Harambe Market is not open during lower crowd times.
The seating area, however, is always open. So you can walk that corn on the cob over here to enjoy it.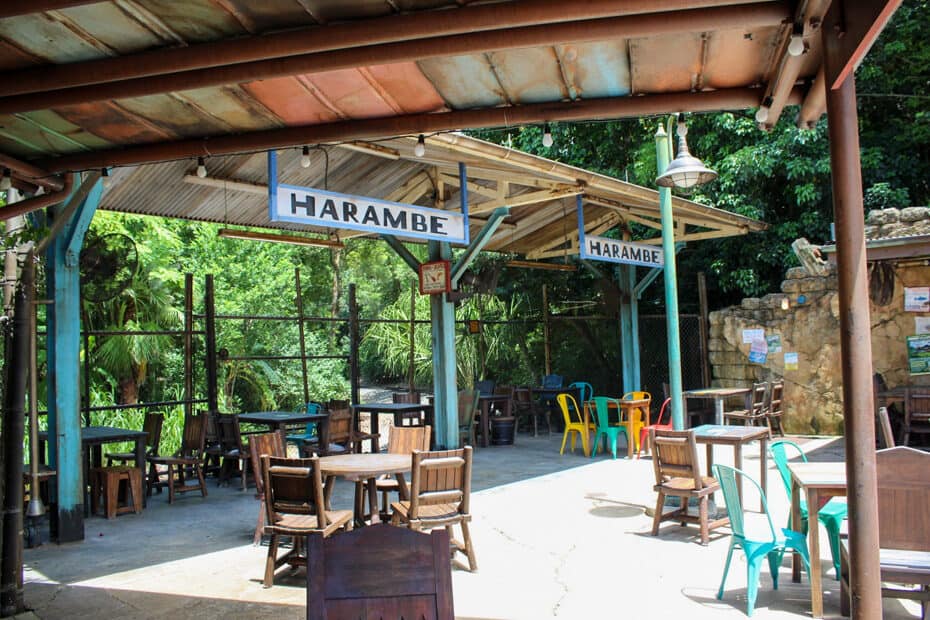 One of the walk-up windows is Chef Mwanga's in the Harambe Market. They offer a variety of bowls containing ribs, chicken, and a vegetable option.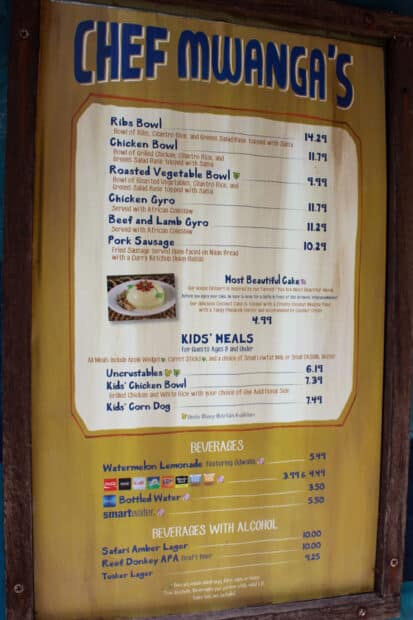 This is also where you might be able to pick up the "Most Beautiful Cake." Take it right on over to the matching wall for a picture.
Related: Photo Walk Around Animal Kingdom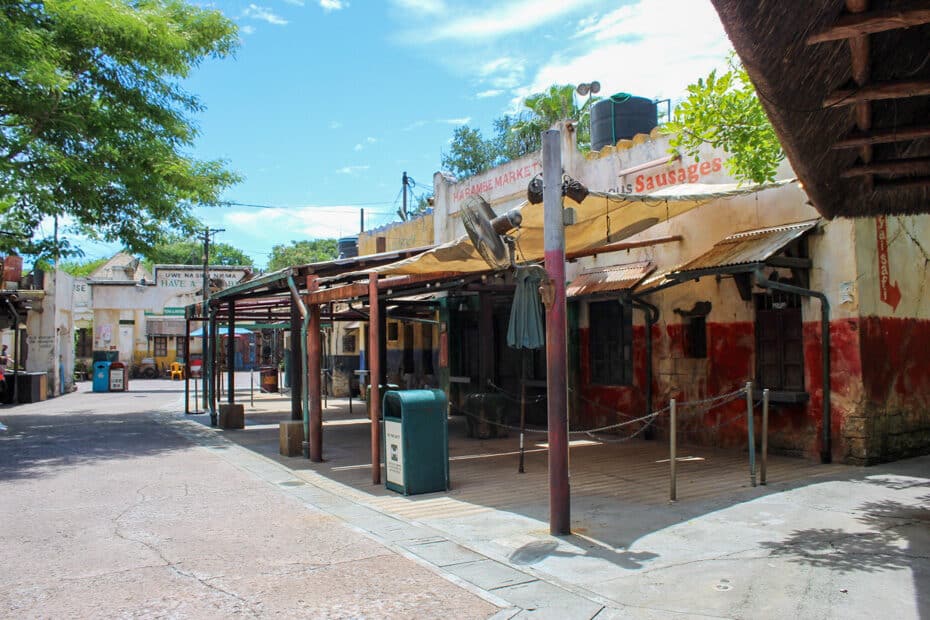 The area is well-themed, offering many exciting things to observe.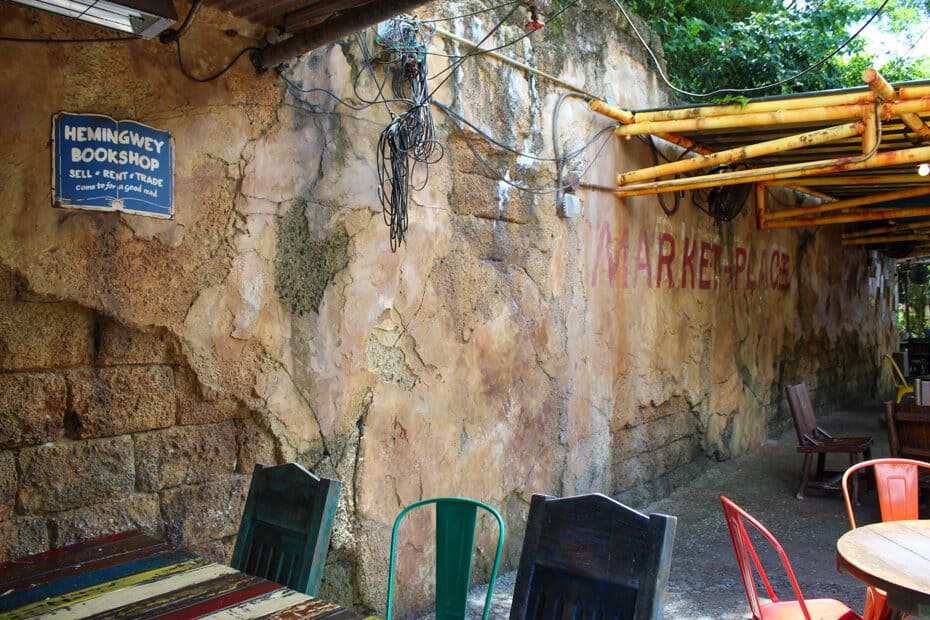 And all the bright pops of colors and plants in the area make it feel like you've stepped into another space in time.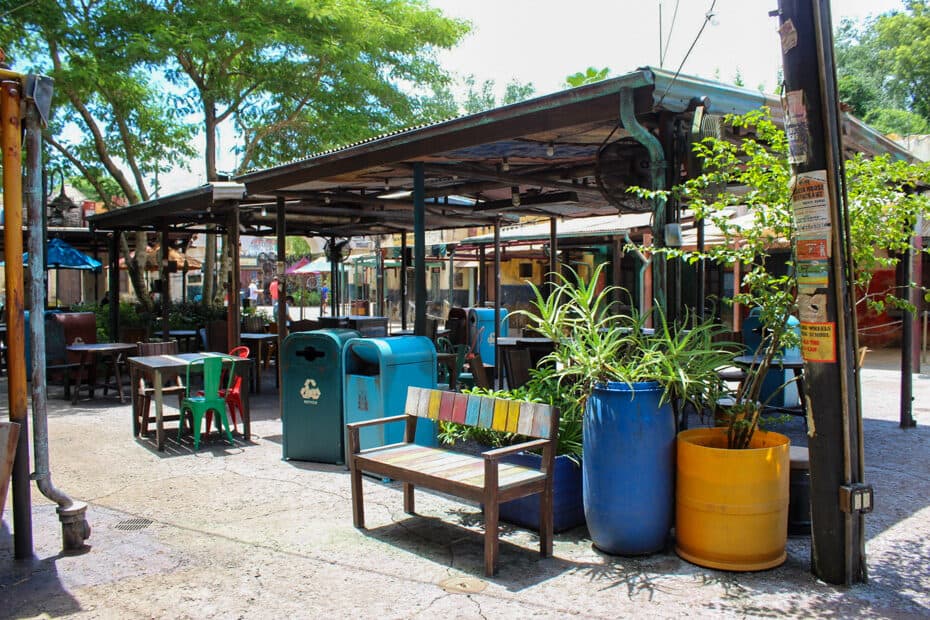 Toward the very back, you can even sit up against the chain-link fence and watch as the train from Rafiki's Planet comes into the station.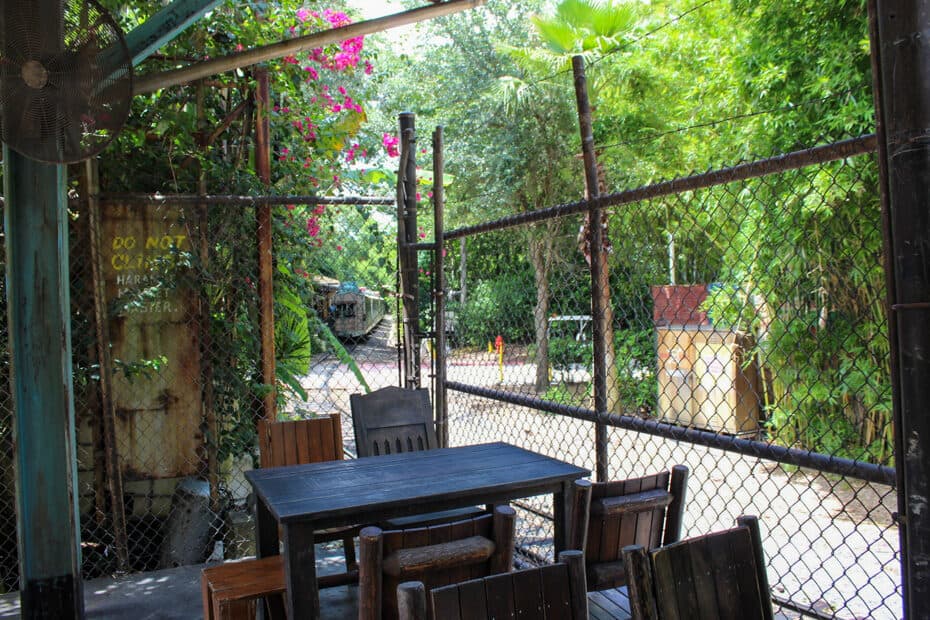 This area used to be elaborately themed, but the trade-off of extra seats with a view isn't too bad.
Isle of Java
The Isle of Java is where you'll find Joffrey's brand of coffee at Disney's Animal Kingdom. Like Starbucks, Joffrey's is also available in each of the four theme parks.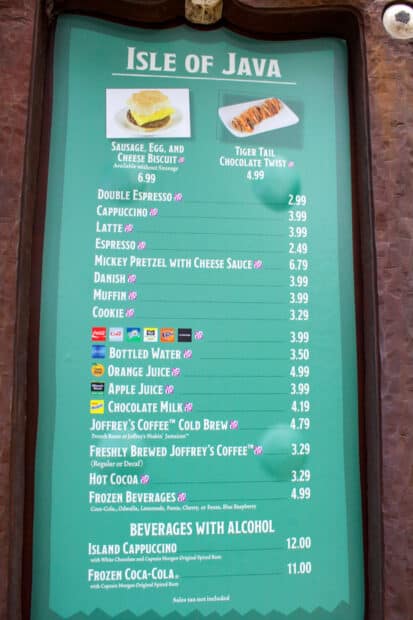 The Isle of Java also offers the popular tiger tail twist similar to the Cheshire tail over at Magic Kingdom. And you can pick up a bite for breakfast here with the sausage, egg, and cheese biscuit. However, at nearly $7, I might eat breakfast elsewhere.
Kusafiri Coffee Shop & Bakery
Kusafiri Coffee Shop and Bakery is located in Harambe and serves Joffrey's coffee and a few different snacks and pastries. You can preview their menu here on Disney's site if desired.
This location has a walk-up window and is right across from the walkway from Mombasa Marketplace.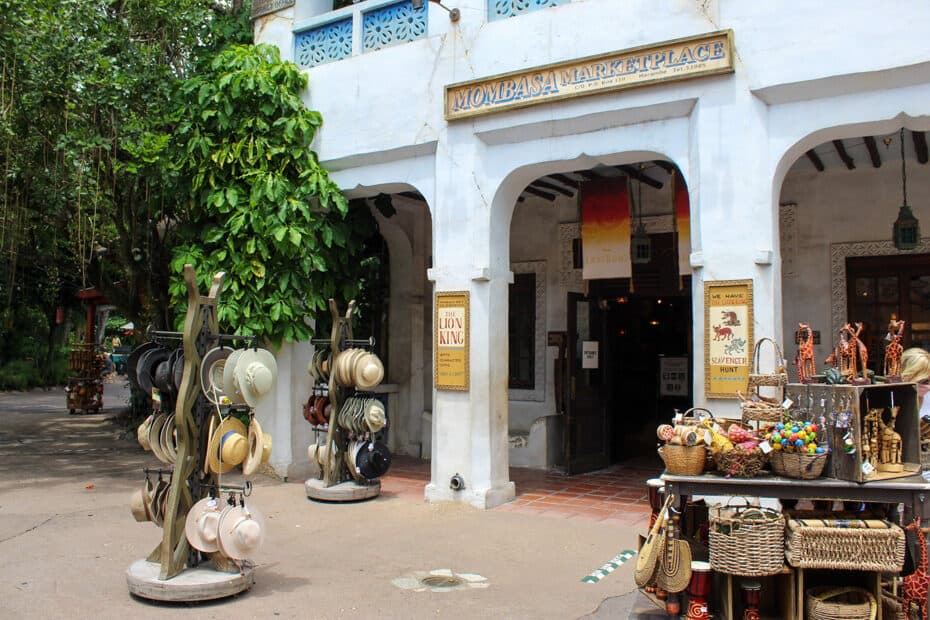 Mahindi
Mahindi is another quick-service kiosk located in the Africa section of Disney's Animal Kingdom.
In the meantime, you can preview the menu here if you like. The main offerings are popcorn and seasoned nuts.
Pizzafari
Typically, you can expect to get average theme park pizza at a restaurant like Pizzafari.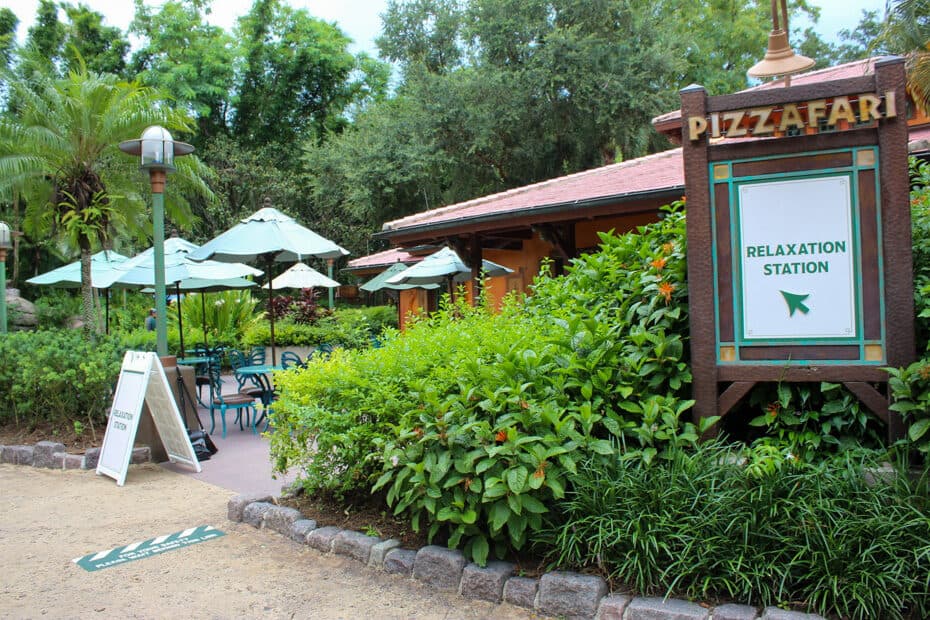 Pizzafari has once again opened to regular guests.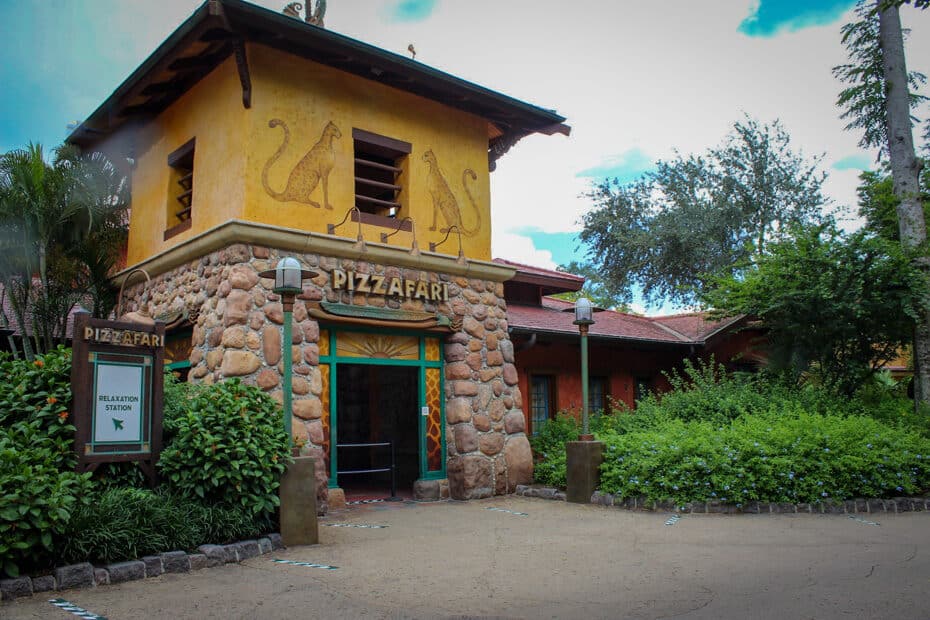 Here's a look inside.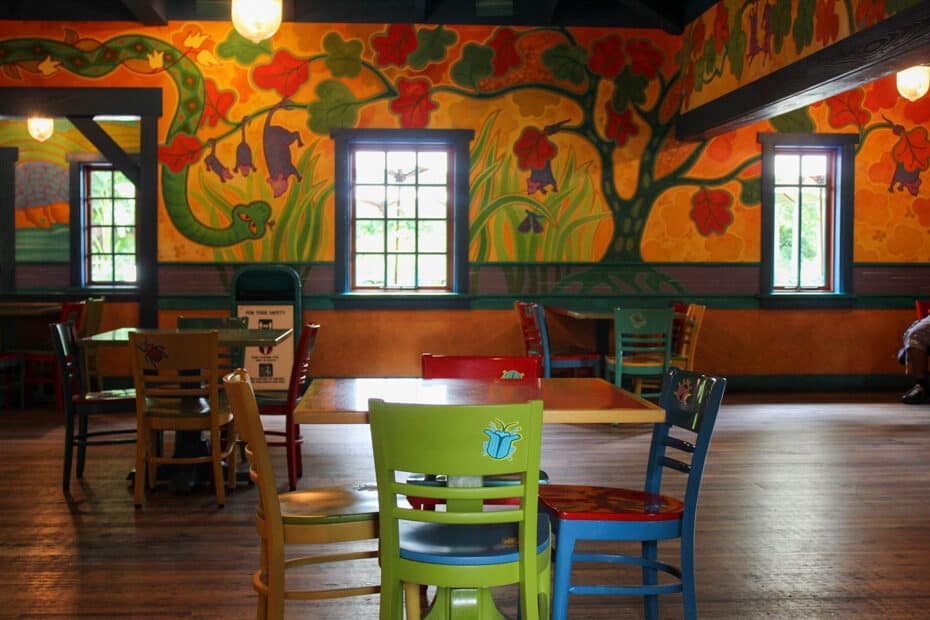 The menu is available here.
Pongu Pongu
Over in Pandora, you can stop in for a few fun drinks and snacks at Pongu Pongu.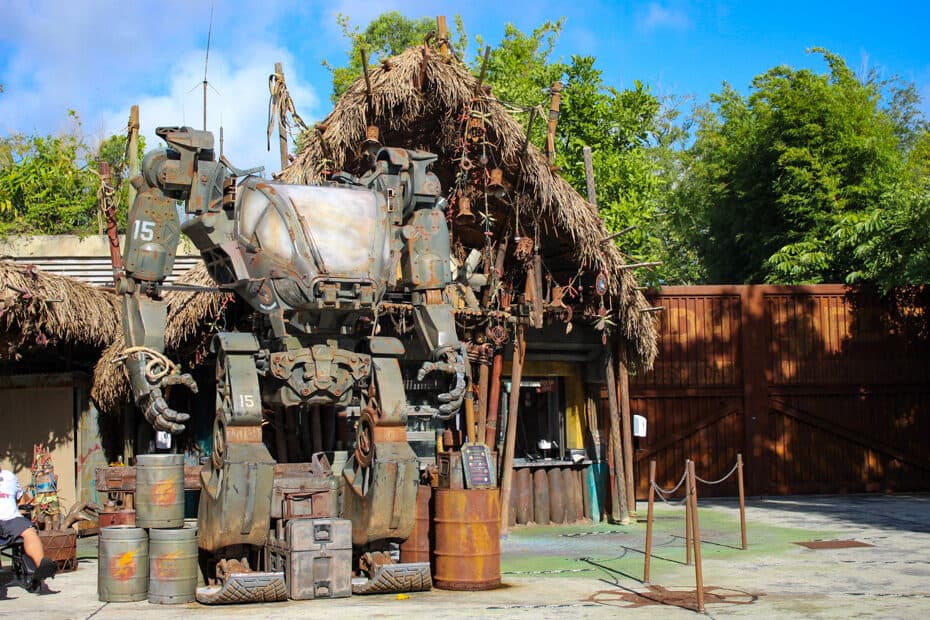 This location is where you'll find the extremely popular Pongu Lumpia. The lumpia is a cream cheese, and pineapple stuffed spring roll served warm.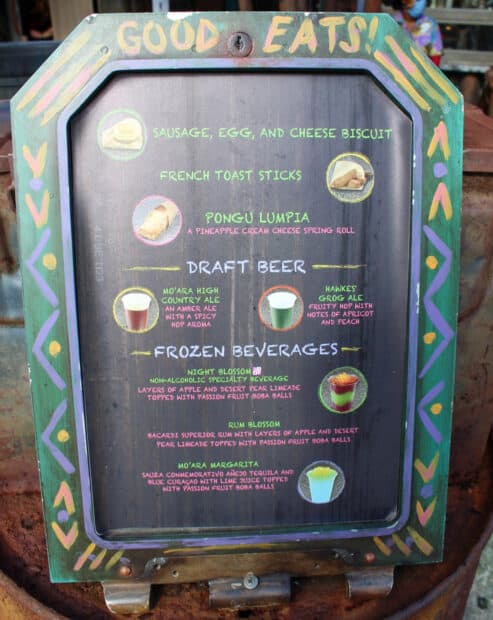 You might also want to pick up the Night Blossom, another reasonably popular menu item here that's non-alcoholic. Additionally, there's the Mo'ara Margarita and Rum Blossom.
On the downside, they offer the same sausage biscuit that's served all over the park for breakfast. With all the different quick-service dining options here at Animal Kingdom, it seems they could do a little better for breakfast.
Restaurantosaurus
Back over in Dinoland, you might find Restaurantosaurus a good stop for lunch.
It's located on the pathway toward the DINOSAUR attraction. They also have a lounge area offering cocktails, wine, and beer.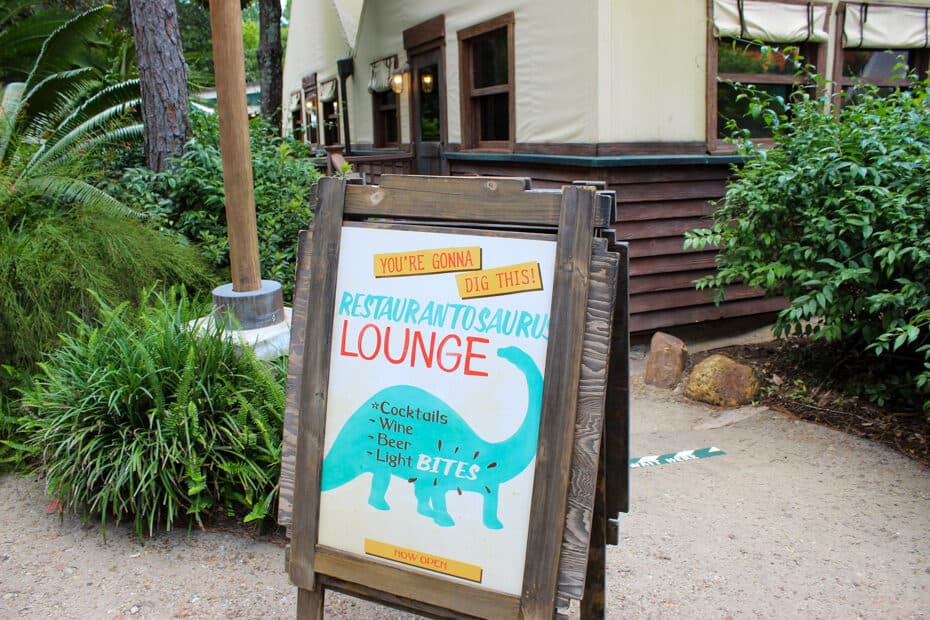 The menu at this quick service is similar to what you would expect in any theme park. There are burgers, chicken nuggets, and a shrimp plate. Those looking for a vegan option might elect to order an Impossible burger.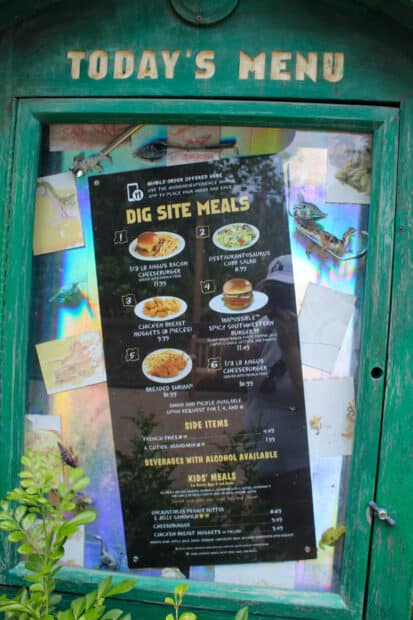 Impossible has become Disney's choice vegan burger within the last year, and I have been pleased with my experiences. I recently had one for dinner at the Grand Floridian Cafe.
Related: Grand Floridian Cafe Review
Royal Anandapur Tea Company
This location carries a variety of coffee, tea, beverages, unique cocktails, and pastries. Those wanting to pick up their daily chai latte will want to make a special stop at this popular Animal Kingdom quick service.
Satu'li Canteen
Satu'li Canteen is the location I deem to be the best quick service dining at Disney's Animal Kingdom. And I think that would be the opinion of most guests who have had the opportunity to try out Satu'li.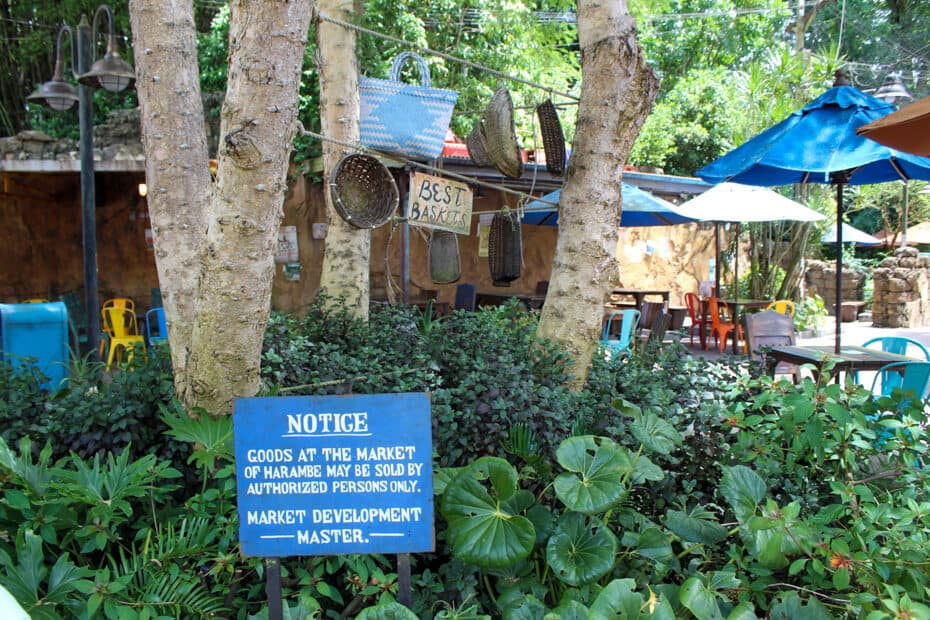 Guests can elect to eat inside the large dining hall or outside. The menu offers a variety of different build-your-own-bowl and salad options. First, you choose a protein option, then add a base and sauce.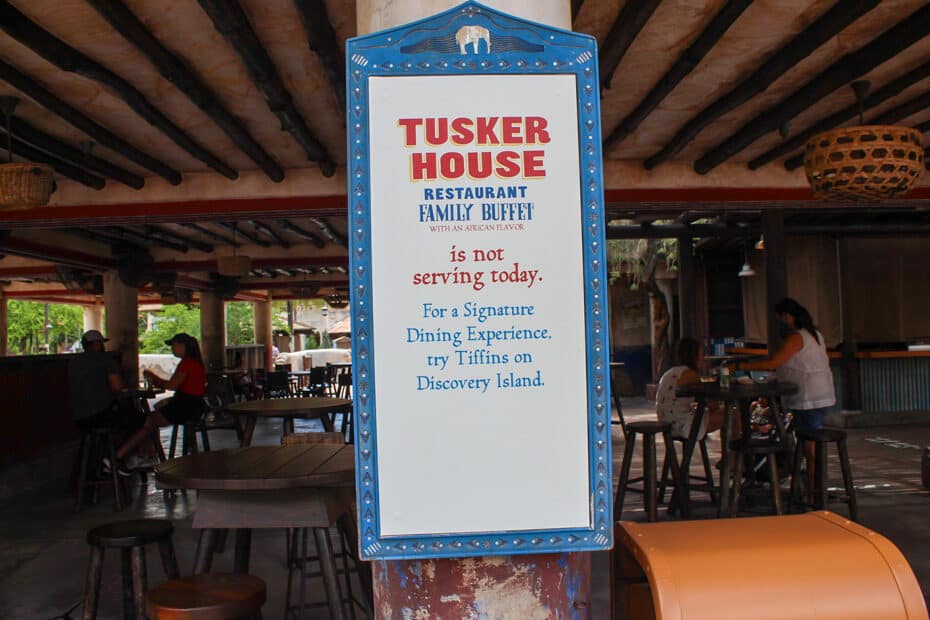 Satu'li Canteen offers a popular cheeseburger pod kids' meals.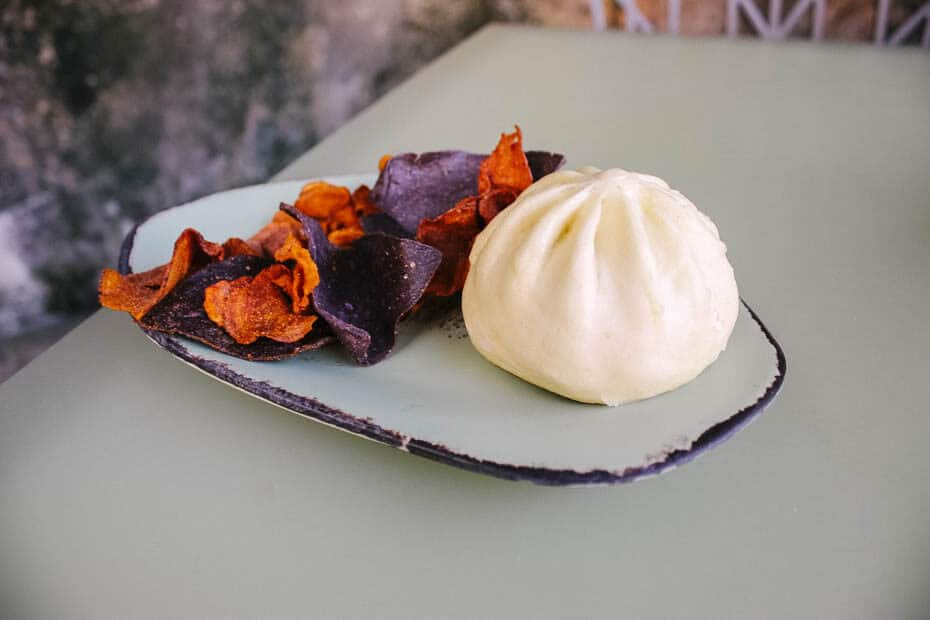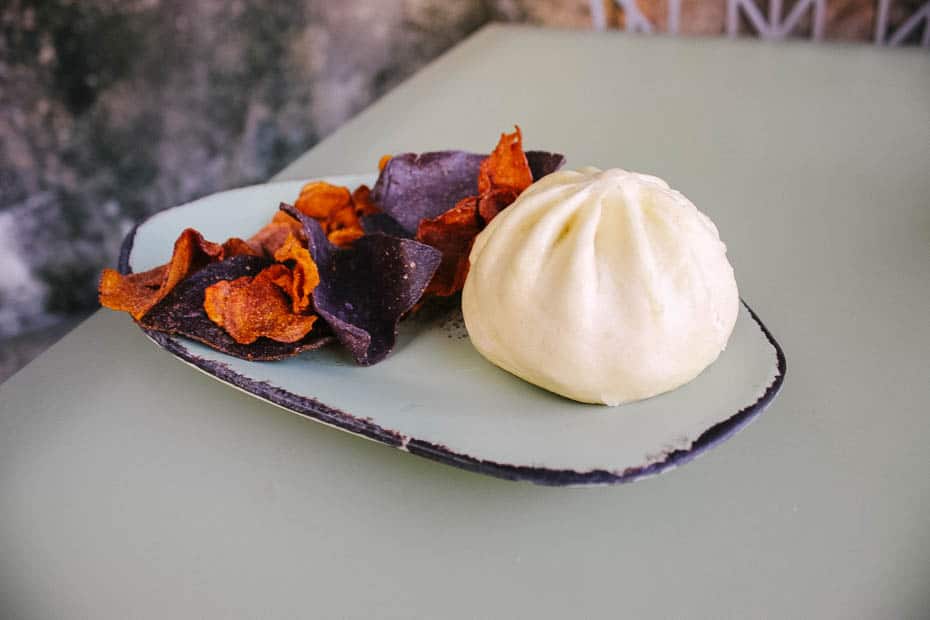 Below is a look at the shrimp protein with noodles combination. I ordered this with the charred green onion vinaigrette on the side.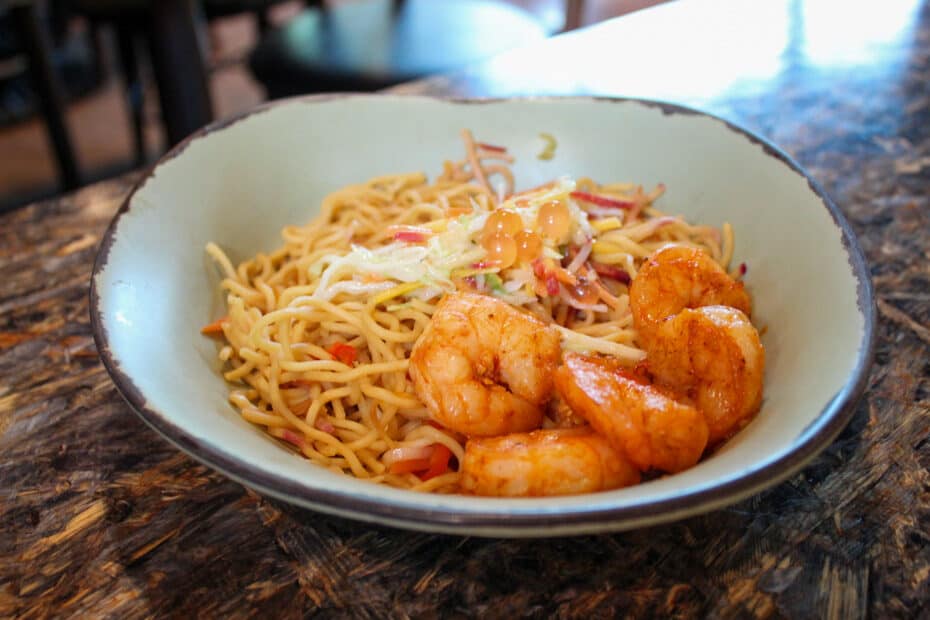 An outdoor dining area is a great option when the weather is nice. There's not a lot of shade out here, though.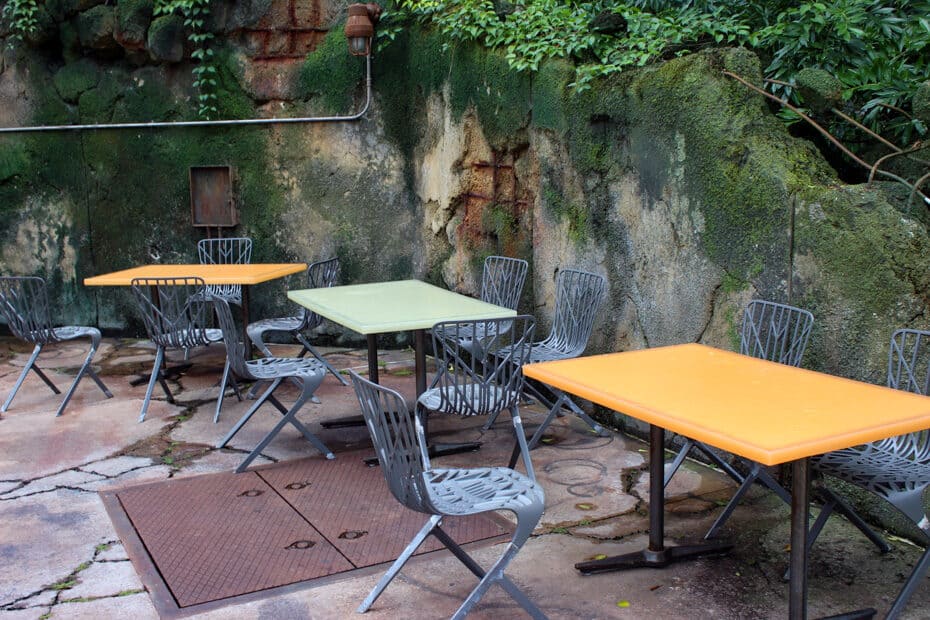 Related: Satu'li Canteen Review
The Smiling Crocodile
Smiling Crocodile is another one of those kiosks that usually only open during higher crowd times. So it may or may not be open when you visit.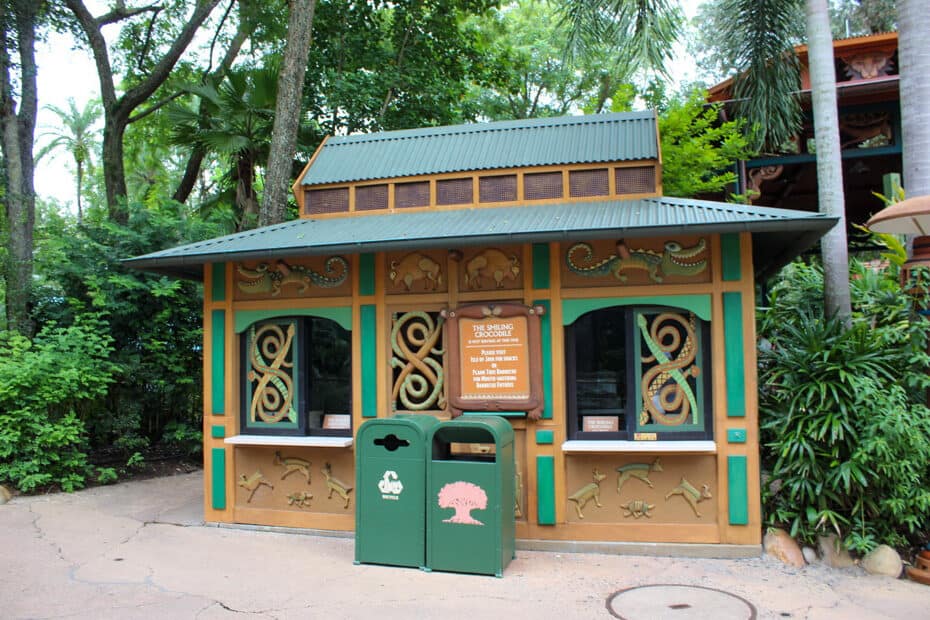 The Feeding Ground is in the same vicinity and offers popcorn and a souvenir canteen-style drink.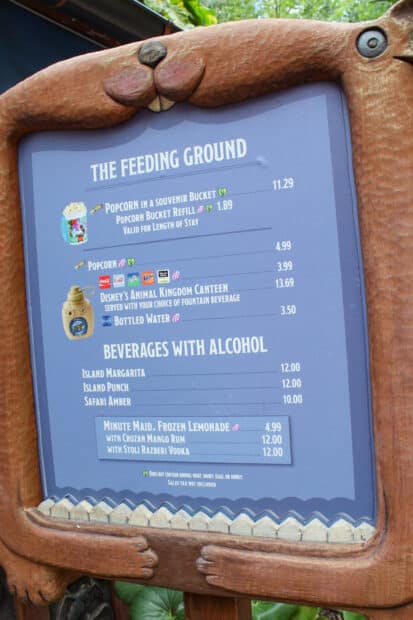 Tamu Tamu Refreshments
Tamu Tamu is a popular quick service at Disney's Animal Kingdom. You'll find the restaurant in the Africa section of the park close to Harambe.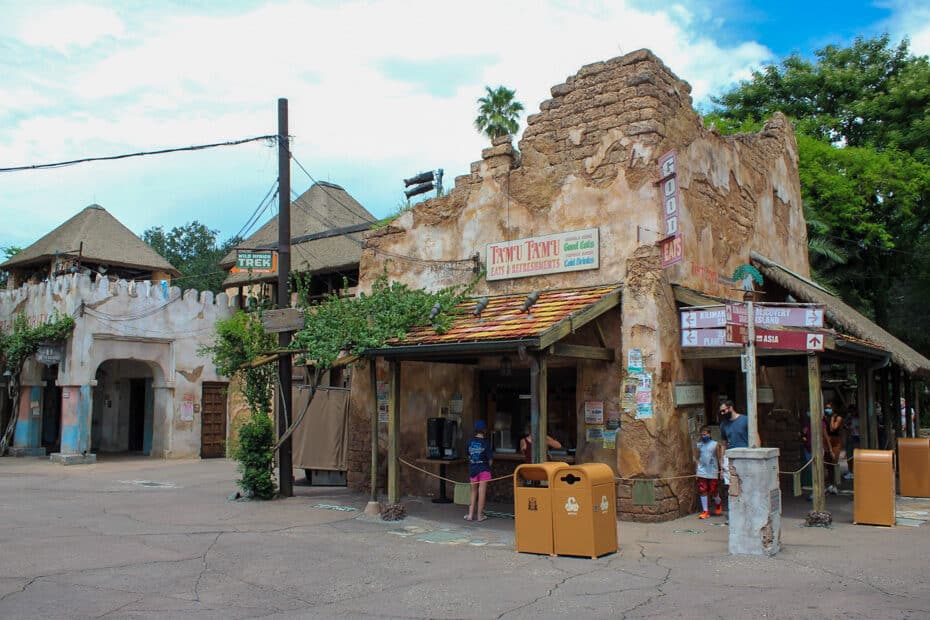 Tamu Tamu is vastly popular because they offer Dole Whip. Disney fans usually know where their Dole Whip stop is in every park.
They are also very eager, generally speaking, to try out the latest rendition of the dairy-less soft serve. With that being said, not all menu items with Dole Whip are dairy-less.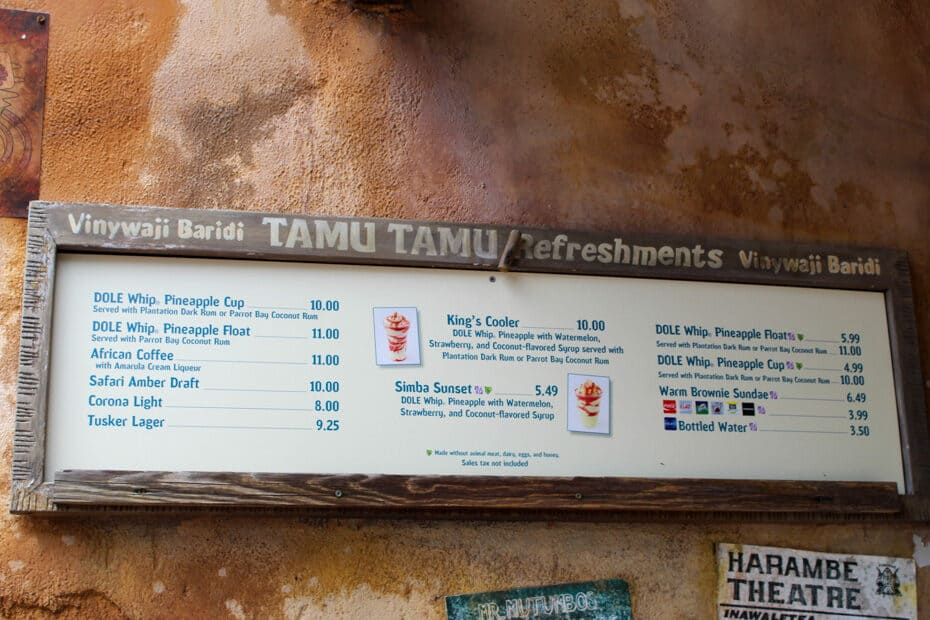 Currently, you can pick up a cup of Dole Whip, float, King's Cooler, or Simba Sunset at Tamu Tamu Refreshments.
Make sure to check out the Strawberry Dole Whip at Magic Kingdom when it's available.
Terra Treats
Terra Treats, when available, is a kiosk on Discovery Island and has small pizzas and cupcakes. You can view their menu here.
Thirsty River Bar and Trek Snacks
Thirsty River Bar and Trek Snacks are located toward the back of the park next to Expedition Everest. You can see the prayer flags from Expedition Everest below continuing in this direction.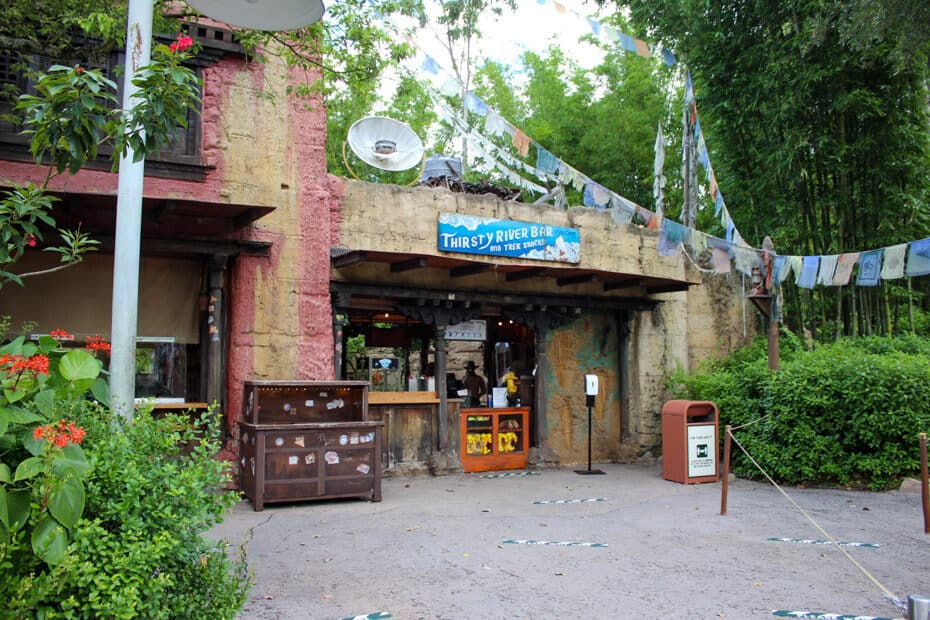 This bar is a well-known quick service location for picking up a Mickey ice cream bar, popcorn, pretzel, or frozen treats.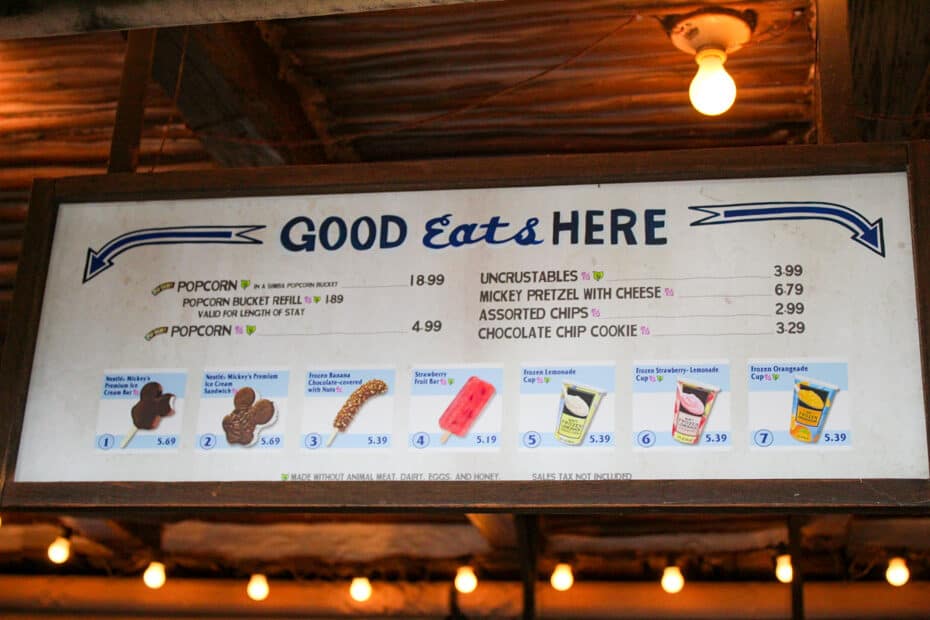 They usually offer the latest popcorn bucket like the baby Simba one below.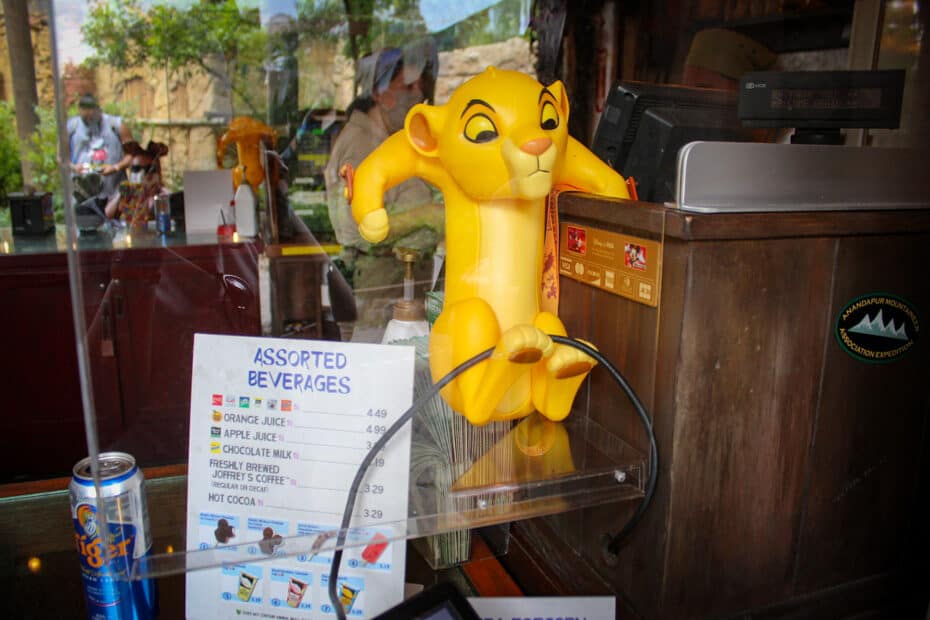 If you aren't familiar, guests can purchase a "length of stay" popcorn bucket and pay a minimal charge to have it refilled with fresh popcorn during their vacation. If you have a place to store your popcorn bucket (aka a stroller) quickly, it seems to be a fairly decent deal.
Trilo Bites
Trilo Bites is located on the main walkway from Discovery Island into Dinoland. This Animal Kingdom quick service has a walk-up window with no seating area.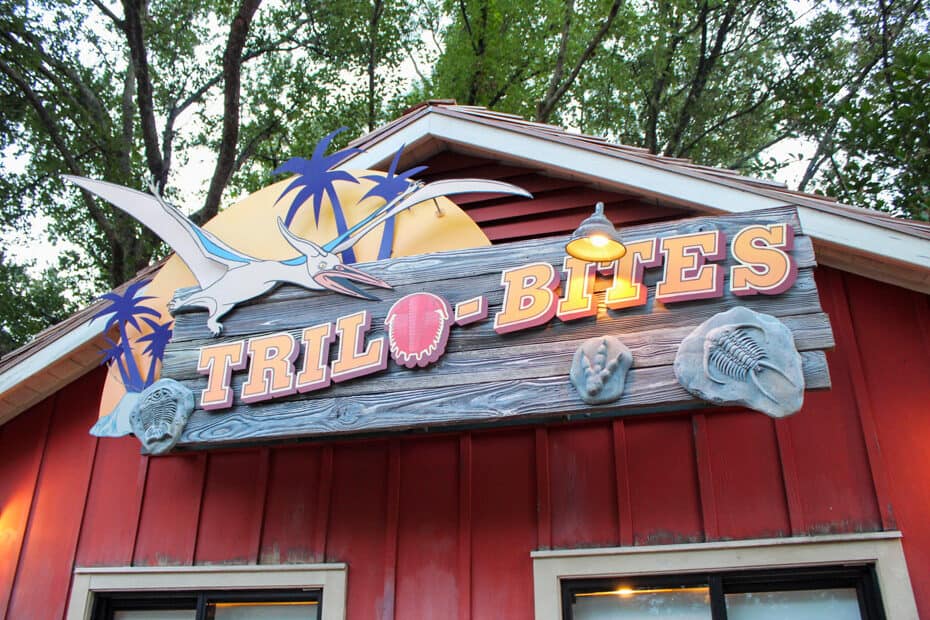 Here's a look at Trilo Bites. Do you know what trilobites are? Yeah, I don't either.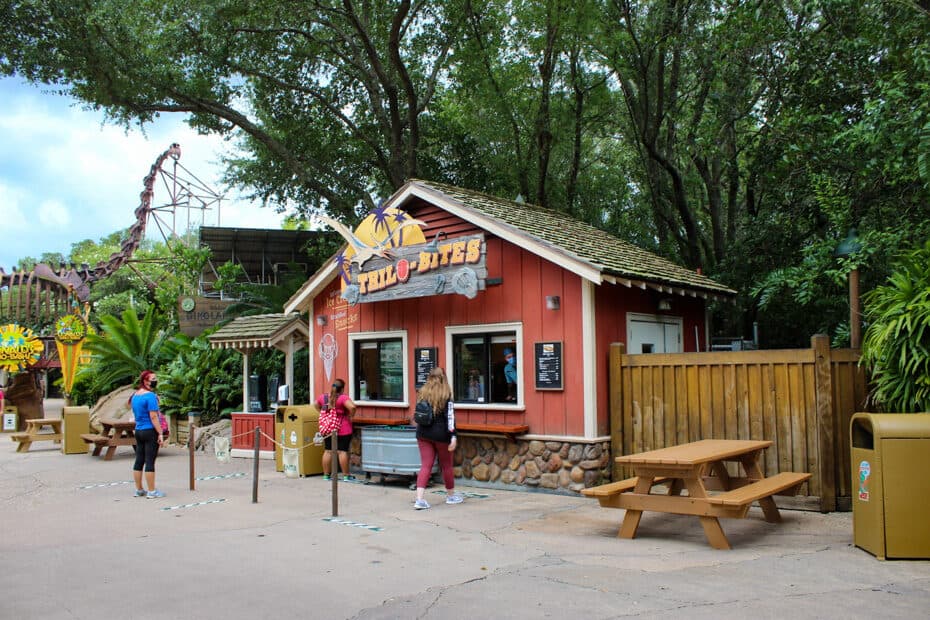 I'm just kidding. Trilobites are three-lobed arthropods supposedly dating back over something like 500 million years ago.
If you already knew that, you might not know that you can pick up a soft-serve ice cream, milkshake (oreo), and an order of buffalo chicken chips at Animal Kingdom's Trilo Bites.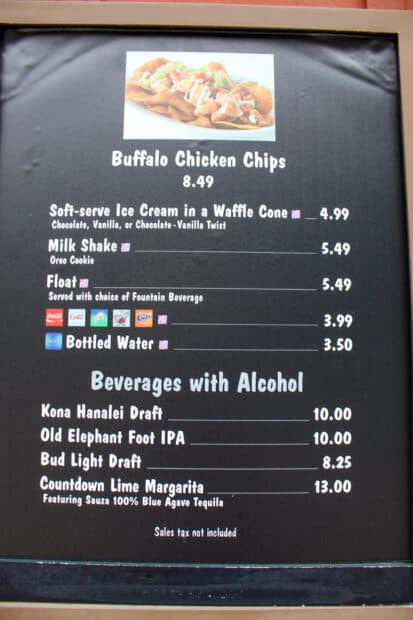 Apparently, these items all go together. So make sure to hop on Tricera Tops Spin as soon as you finish. Or don't.
Warung Outpost
Warung Outpost is a kiosk located on the walkway between Africa and Asia. It sits out in front of the theater where Feathered Friends in Flight is held.
When open, Warung serves pretzels, chips, sodas, and various cocktails.
Zuri's Sweets
The Disney parks have a confectionery-like stop for those of you with a sweet tooth. These kinds of places provide those good vacation memories that you look forward to on your next visit.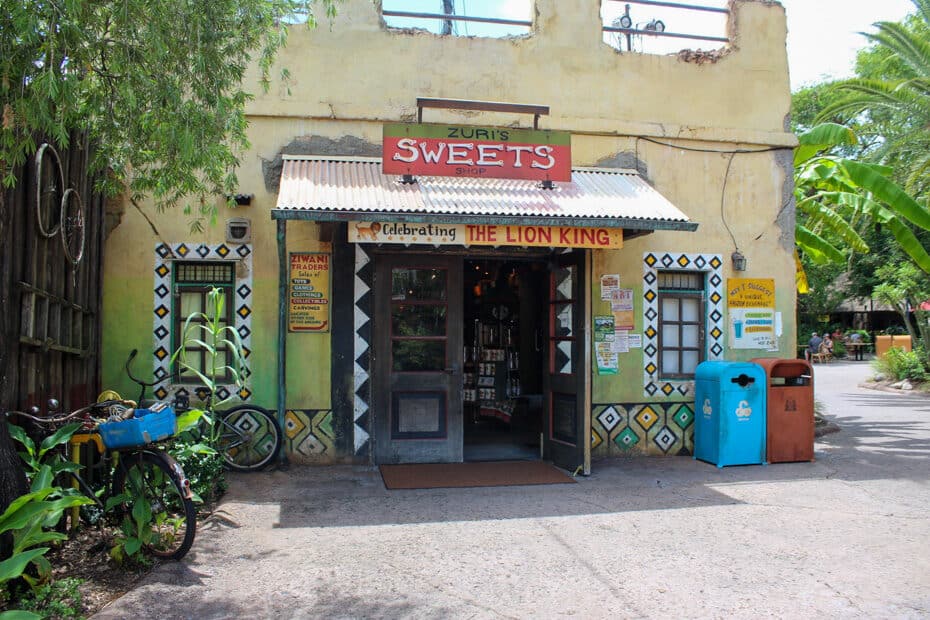 It's where you get that massive caramel apple, the one shaped like a Mickey Mouse. Or that dipped crispy rice treat that you find yourself craving anytime you see a friend post on their social media that they're in Disney.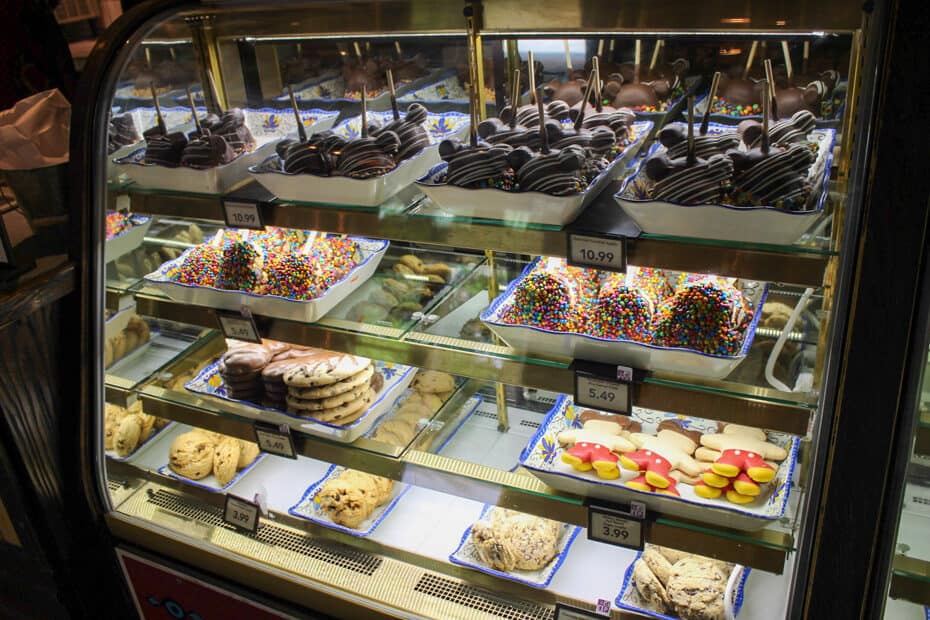 Maybe you're the type that picks up a slice of fudge on day one and savors it in tiny slices each night of vacation before bed. I am.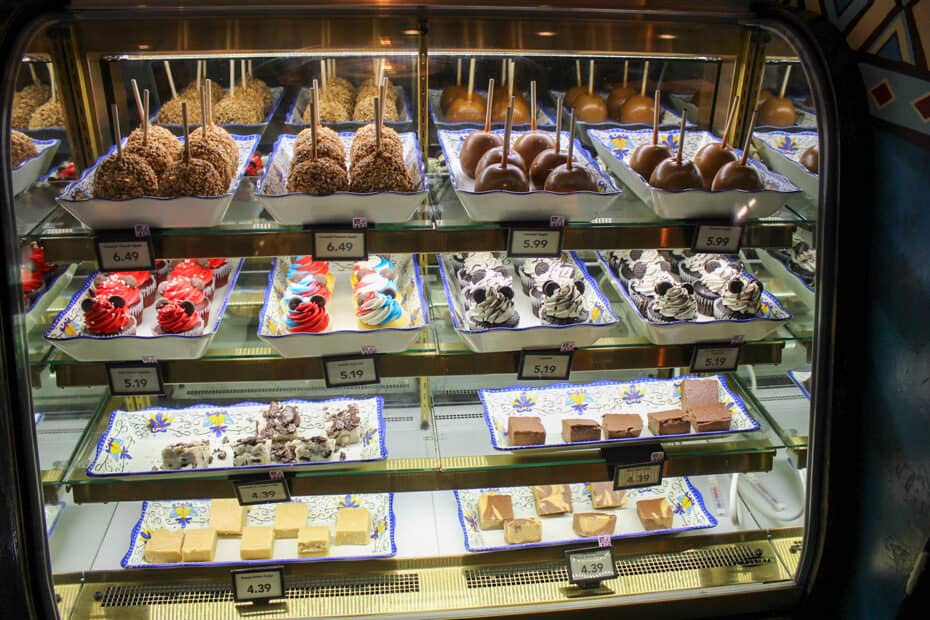 And then there's cupcakes, cookies, and all sorts of pre-packaged candy.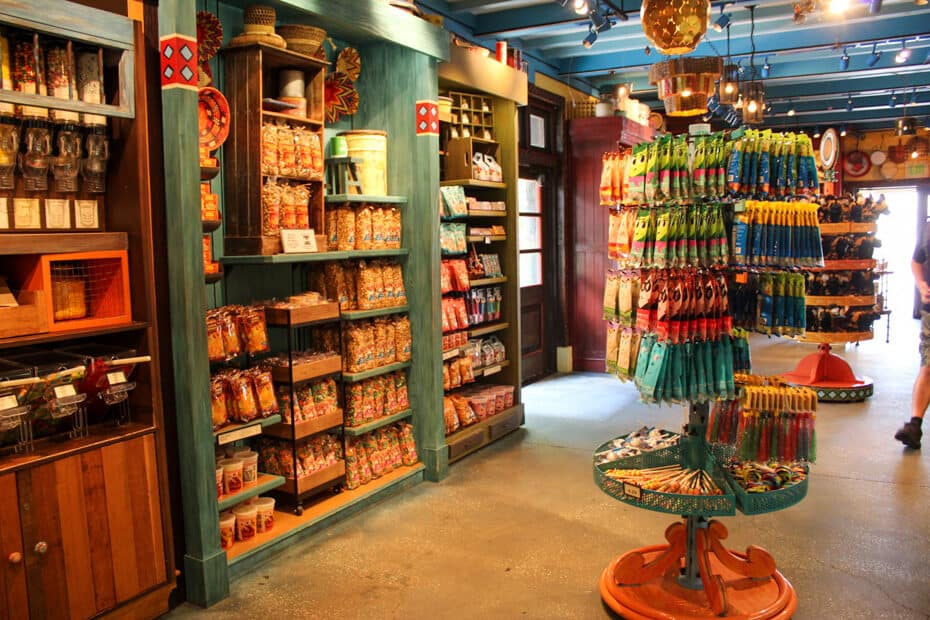 At Animal Kingdom, that quick service is known as Zuri's Sweets. It's located in the very back of Africa nearby the safari. You can go through the main entrance or cut through Mombasa Marketplace to find it.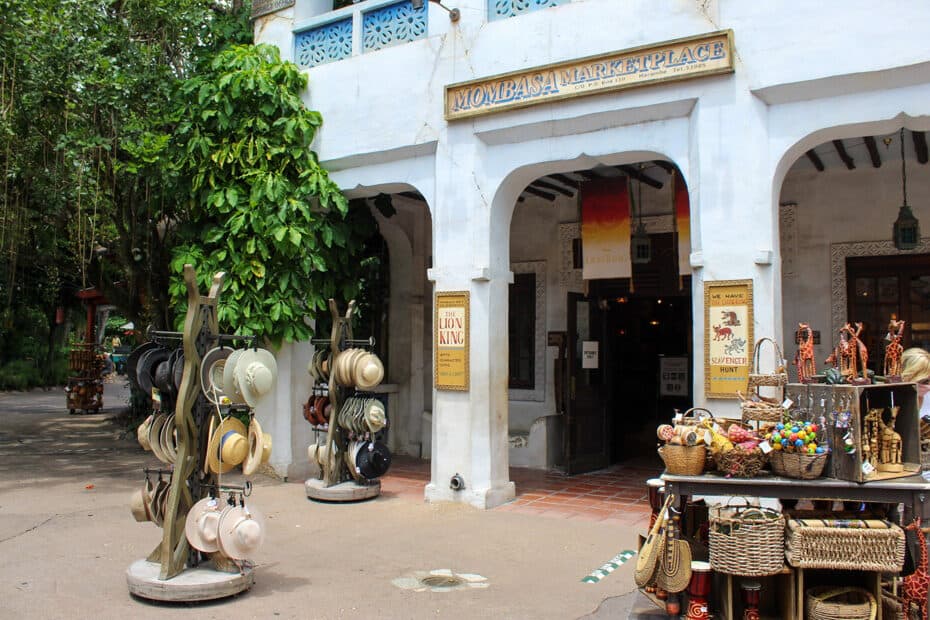 Zuri's is the best quick service option for delectable sweet snacks.
Yak & Yeti Local
Last and not least, we have another one of my top recommendations for quick service at Animal Kingdom. You might remember I recently reviewed Disney's Yak and Yeti here on the site.
That review goes over dining in the table service portion of the restaurant.
Related: Disney's Yak and Yeti Review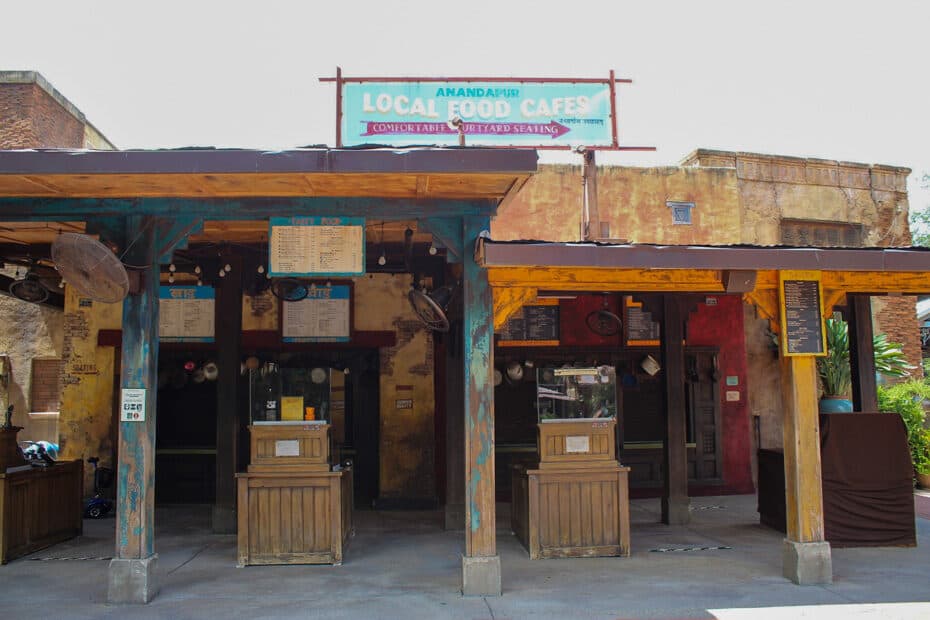 The main restaurant offers a quick service option outside to the left. This location offers a carton of fried rice, egg rolls, and various cuisines. This would be my next choice if I weren't eating quick service at Satu'li.
Here are the items you can expect to find: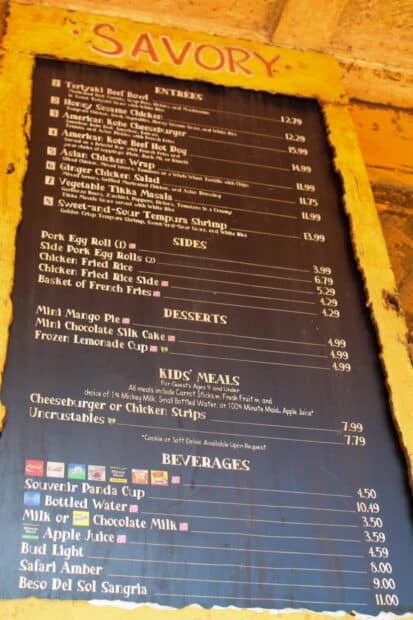 Final Thoughts on Animal Kingdom Quick Service
I hope this Animal Kingdom quick service review gave you some good ideas about where to eat on your next vacation. There are just so many options that it's tough to know what is the best. And a dining establishment that one group may love might not work well for another group.
Make sure to jot down a few of these places that you know will work for your family. I usually like to use the notes app on my phone to makes notes for each park day. It usually goes something like:
Things we have to do
Things we would like to do
Another point I wanted to make is that vacation time is precious. I always recommend that those who aren't familiar with the parks go in with a loose plan. Then try your best to tour where you're at as you work your way around the park. And that goes for adding in dining plans as well.
Whatever you decide, I hope you enjoy your day at Disney's Animal Kingdom.
You can view all of the Disney Dining reviews here on the site, or you might enjoy these selections:
or try these other specific dining sections
Leave me a comment and let me know your favorite quick service dining at Disney's Animal Kingdom!