Wilderness Explorers at Disney's Animal Kingdom
The Wilderness Explorers Program is located at Animal Kingdom park in Walt Disney World. This experience is a self-paced attraction of sorts. When you enter the park you can pick up a Wilderness Explorer handbook. The idea is to collect as many badges as possible so you can earn the title of Wilderness Explorer.
Disney will have a kiosk set up toward the front of the park. It is located on the right-hand side when you come out of the Oasis Exhibits. You will see it when the Tree of Life first comes into view. Here's a picture below of the Wilderness Explorer Headquarters. A cast member attending the area will be glad to go over the program with you.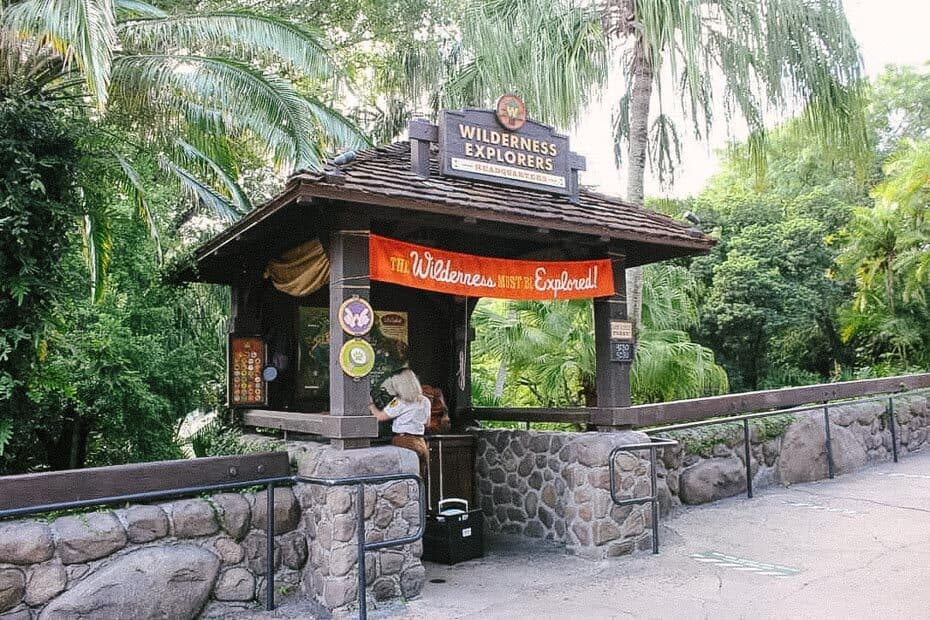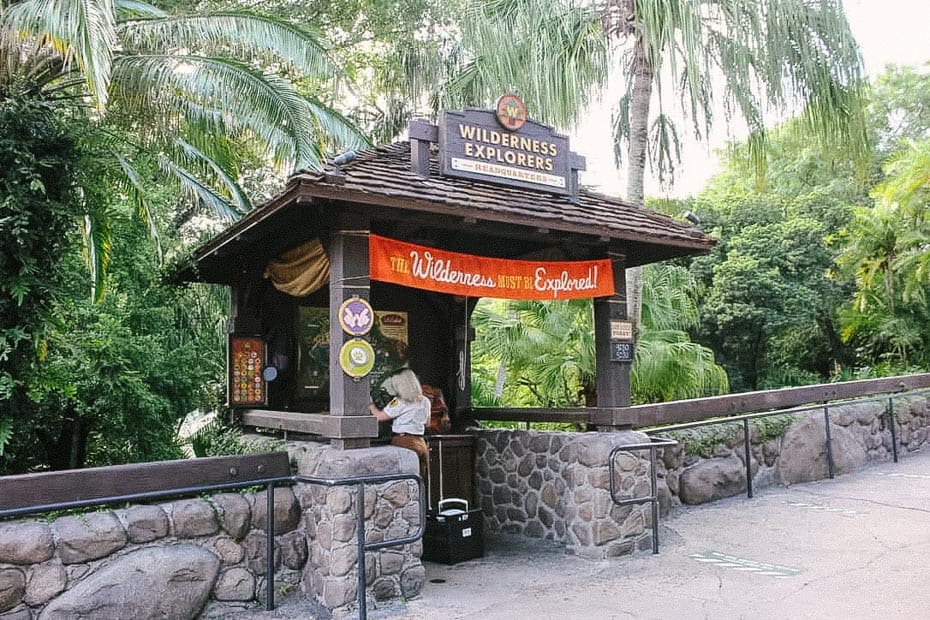 Feel free to take one whether you plan to do the entire tour or not. It would probably be difficult to complete every badge during your day (we never have). But since it's self-paced you can use it here and there throughout the day.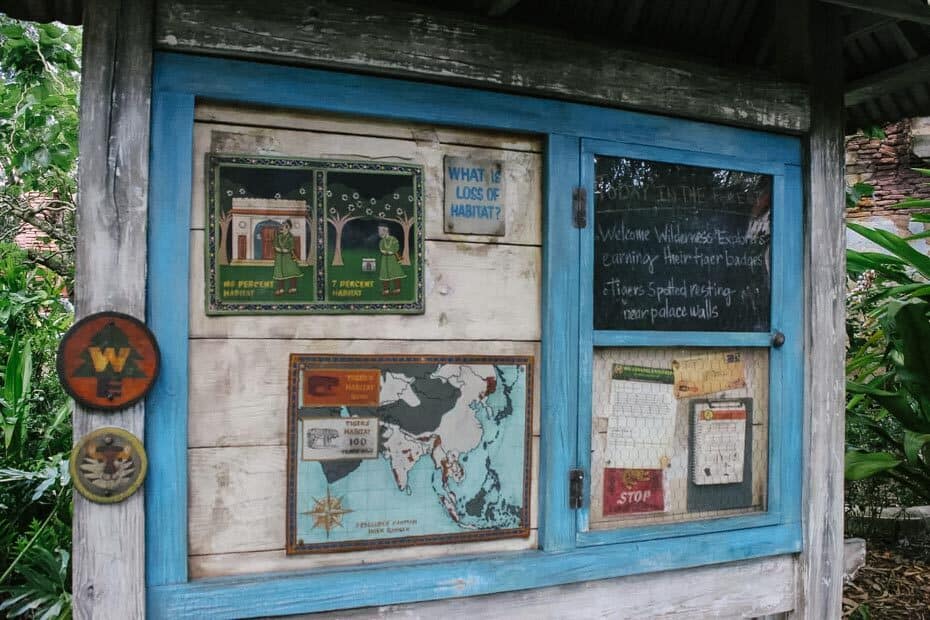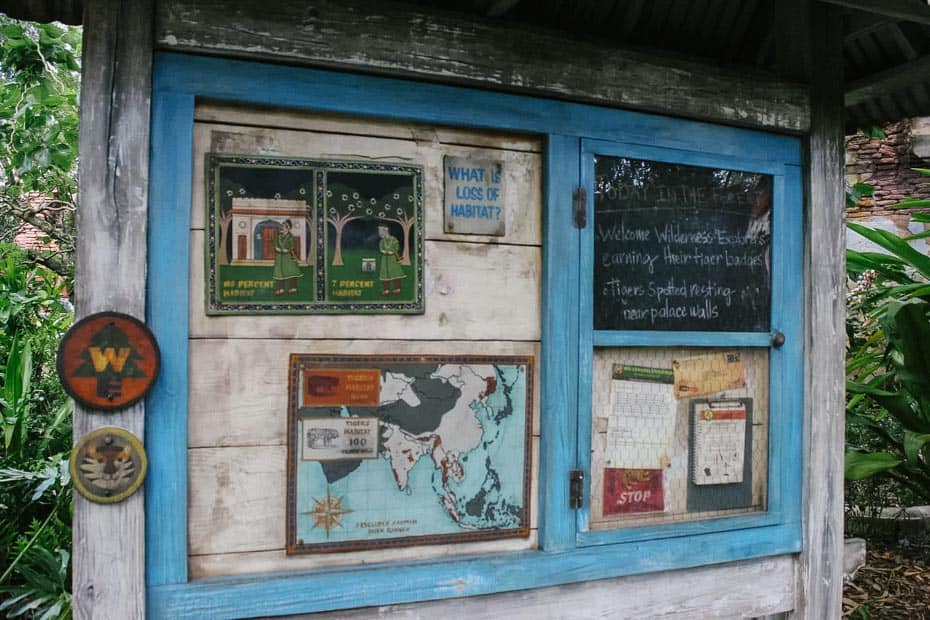 Below are the quick reference details for the Wilderness Explorers program.
Wilderness Explorers
Animal Kingdom

Location:

Multiple Locations

Height Requirement:

None

Animal Kingdom FastPass:

N/A

Ride Type:

Self-Paced Throughout Park

Seats Per Vehicle:

N/A

Rider Switch:

None

Extra Magic Hours:

None

Good For:

Children

Scary Factor:

None

Must-Do List:

Low Priority

Perfect For:

All Ages

Special Mention:
This is wonderful educational
activity for children.
Wilderness Explorer
Once you collect your Wilderness Explorer handbook you can begin searching for special missions in whatever area of the park you are touring. You'll find activities scattered all over the Animal Kingdom.
Some of the locations for these activities include:
All in all, there are over 25 different Wilderness Explorer activities to complete in the park. The activities you complete will teach you about anything from animals in the wild to important skills to use in the wilderness.
Here is a look at one of the stations in the Asia area of the park. Notice there are badges (stickers) for the children to add to their books after the learning session is complete.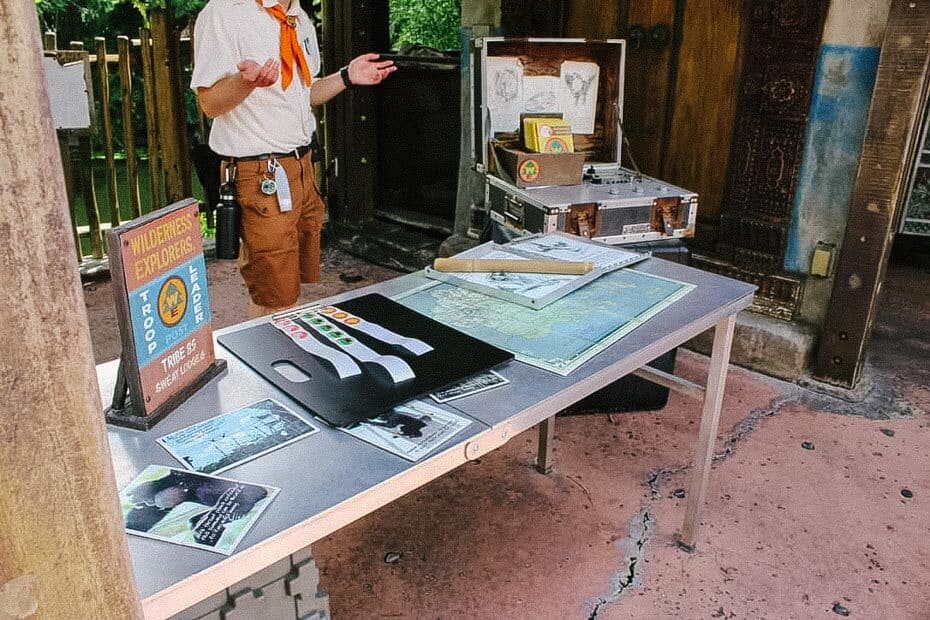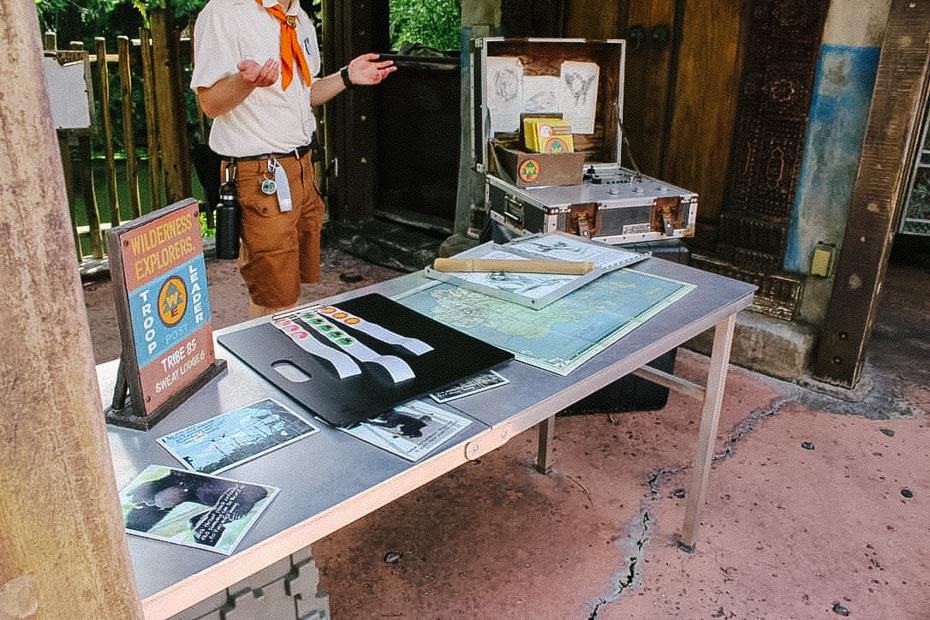 As far as my personal take on the Wilderness Explorers program, I have a niece who loves animals and science. She is a collector of rocks and random wild pets from time to time. We have worked on the Wilderness Explorer Handbook on several occasions.
Unfortunately, we haven't had the opportunity to complete all of the badges yet. But it is something that I slide into my backpack when she's touring the parks with me. From my experience, if we try to do too many it becomes a little bit much and she loses interest. As with most children, she'll be really interested for a while, but then that interest wears off. And that's okay. We can always work on it some other time.
Most of our favorite times at the Animal Kingdom together have been the days where we didn't really ride anything and just hung out with the animals. And those days are pretty memorable.
So pick up a Wilderness Explorer handbook for your child when you enter the park, and let them collect a few stickers. If it gets to be too much store it away for your next visit, whether it's later on in the week or possibly a few years down the road. We've had ours since way back in 2016!
Make sure to check out our full list of Disney World Hotel Reviews if you are trying to decide where to stay on your next vacation. Some of our favorites include:
You might also enjoy our guide to Blizzard Beach Water Park with Rides and the Loungefly Disney backpacks list is one of our most popular articles.
Let me know in the comments below if you've had the opportunity to participate in the Wilderness Explorers program!