A Rendezvous to Epcot's France Pavilion
It is not every day that I suggest a rendezvous, but when we are talking about Epcot's France Pavilion, what could possibly go wrong? Well, the Beauty and the Beast Sing-Along is pretty bad, but it's not necessarily French either. We'll get to that further down.
The France Pavilion is part of eleven countries represented in the World Showcase at Epcot. The pavilion itself represents what you might find in a local Parisian neighborhood where the Eiffel Tower is always distantly in view.
Features include fountains, trees, and landscaping that are meant to look like an average street in Paris. The country invites you to venture in and enjoy shopping, dining, and activities. This review will discuss all the items you might encounter on your next visit to Epcot's France Pavilion.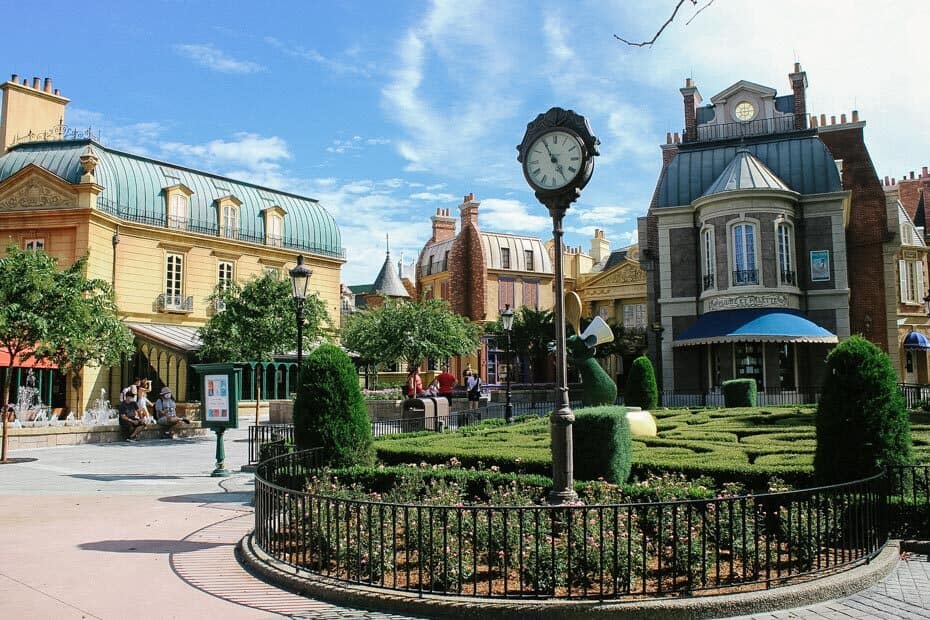 Epcot's France Pavilion
To get started, here's a shortlist of what you can expect to find while touring the France Pavilion at Epcot.
Architectural Influence
Eiffel Tower Replica
Parisian Neighborhood
Attractions
Impressions de France
Beauty and the Beast Sing-Along
Remy's Ratatouille Adventure (October 2021)
Entertainment
Meet Belle
Meet Aurora
Serveur Amusant
Dining
Chefs de France (Table Service)
Crepes de Chefs de France (Quick Service)
L'Artisan des Glaces (Quick Service)
Les Halles Boulangerie Patisserie (Quick Service)
Les Vins Chefs de France (Quick Service)
Monsieur Paul (Signature Dining)
La Creperie de Paris
Retail
La Signature
L'Esprit de la Provence
Les Vins de France
Plume et Palette
Souvenirs de France
Obviously, the main architectural reference in the France Pavilion is the replica of the Eiffel Tower. The original is one of the most iconic structures in the world that immediately resonates with the city that is Paris.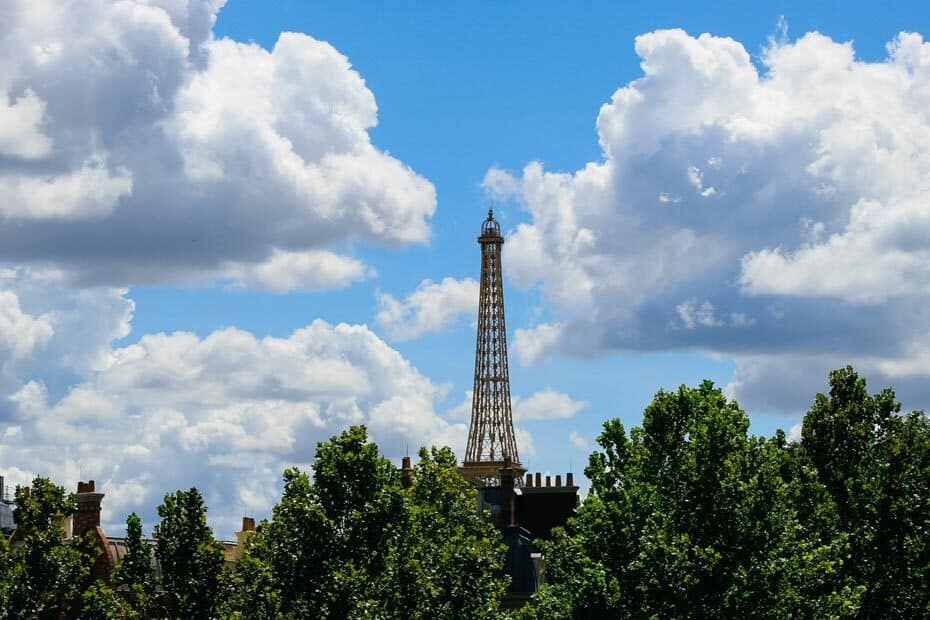 Disney used forced perspective when designing their Eiffel Tower model. Forced perspective is a trick or illusion used to make objects appear either larger or closer than they really are or smaller and further away. This concept is used a good deal throughout the parks. Think Beast's Castle in New Fantasyland as another example.
Posters of art are displayed on these smaller towers throughout the pavilion. I'm not really sure the formal name of them. But they are very pretty.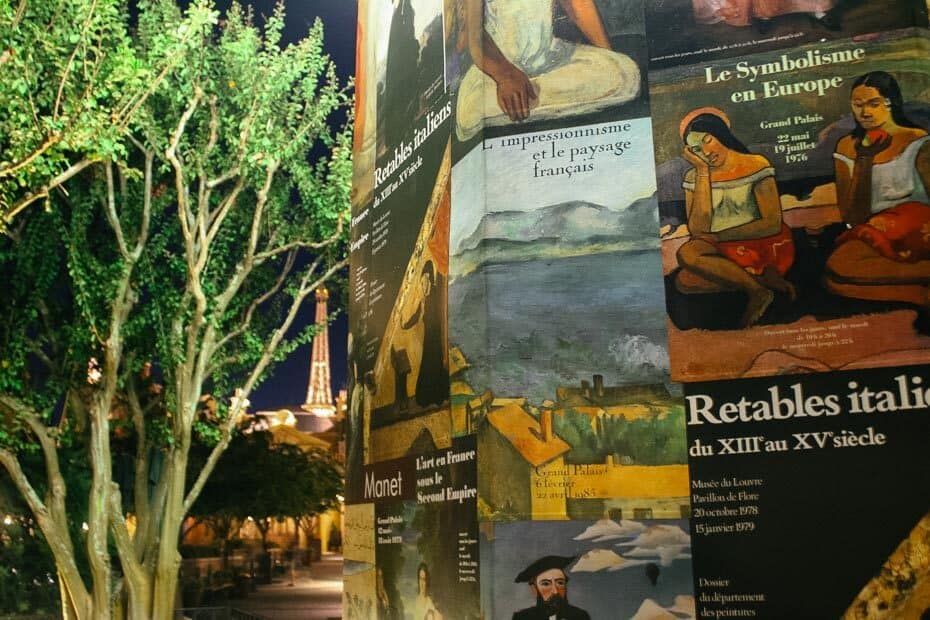 This specific area reminds me of a work of art surrounded by trees. These are crepe myrtles that, if allowed, grow to become beautiful flowering trees.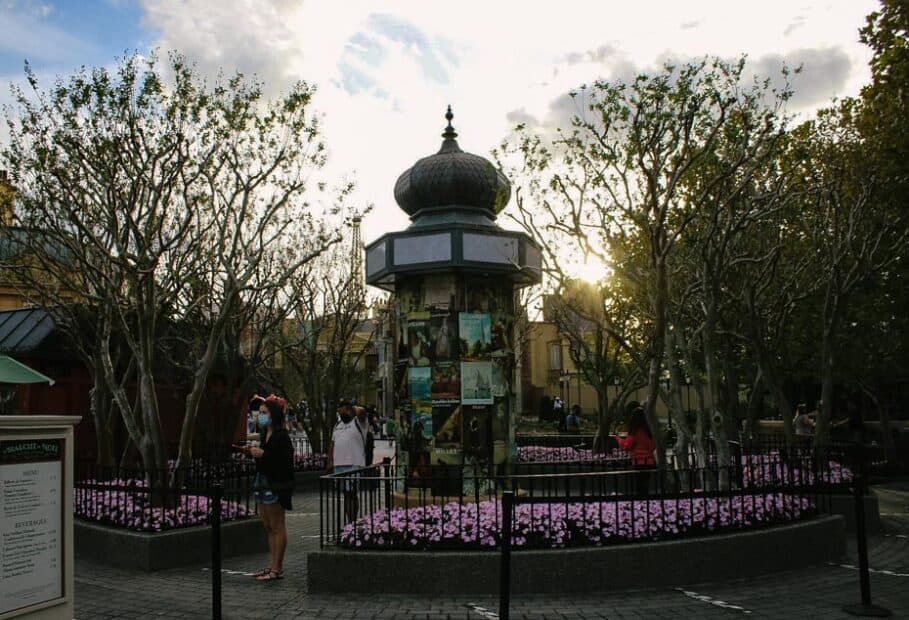 If you walk out toward the waterfront of the France pavilion you'll see several art displays that are pretty unique. Sometimes you might even run into an artist drawing pictures.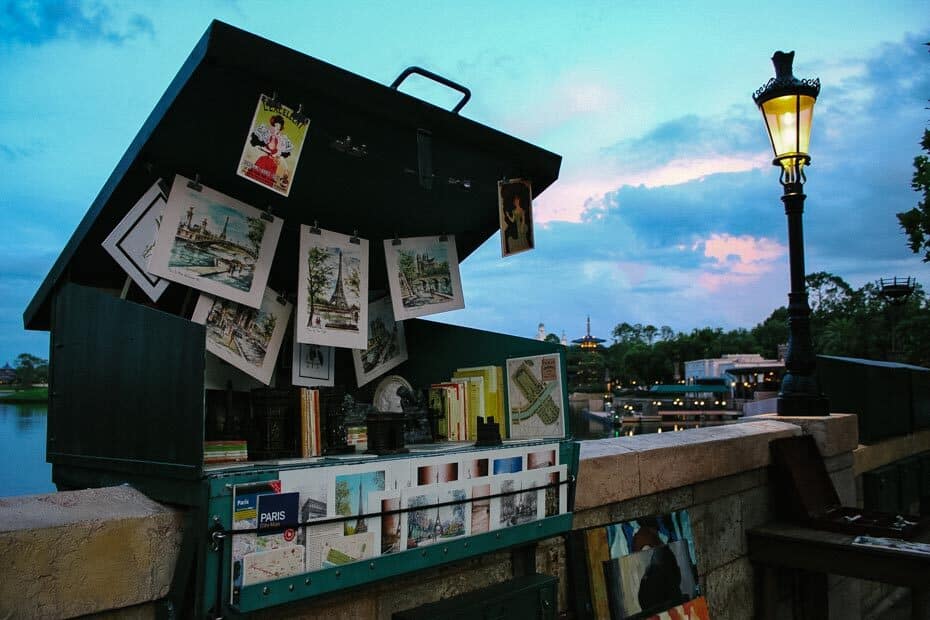 The France Pavilion has one of the longest-running attractions in Epcot with Impressions de France. During my research, I discovered that the film had another record as well. According to the Guinness World Records:
"The longest-running daily screening of a film in the same theatre is 35 years and was achieved by Impressions de France shown in the France Pavilion of Epcot's World Showcase at Walt Disney World, Florida, USA, as of October 1, 2017.
Impressions de France has been shown multiple times every day in the France Pavilion at Disney's EPCOT, from 1 October 1982, for the past 35 years and counting as of 1 October 2017. Making it the longest daily running in a single theater, of the same unmodified film of any length, feature or short."
You can reference that article here.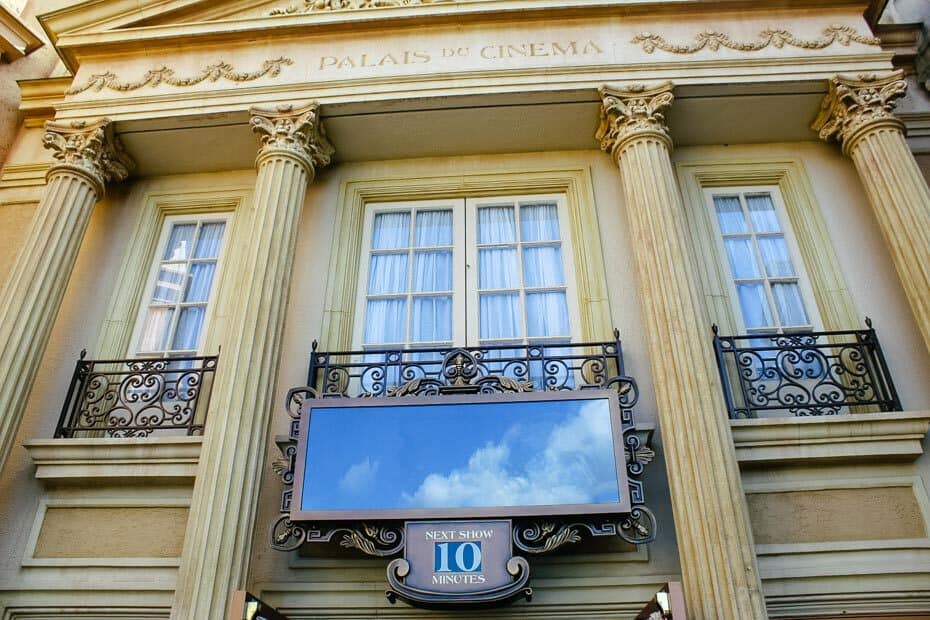 The film is an 18-minutes long and available for limited hours. Those hours are usually between 7:30 p.m. to 9:00 p.m. at half-hour intervals.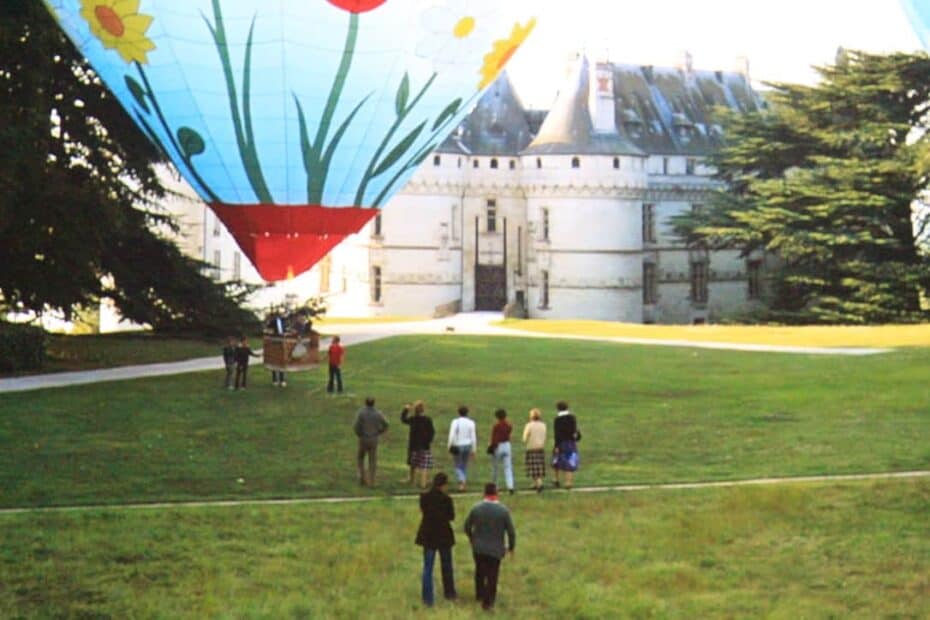 While the film is older, I highly recommend taking the opportunity to see it on your next visit. It's my favorite of the country's films in the World Showcase. The different films are designed to inspire tourism in said country and this one does it for me. I think most guests will enjoy it.
Now on to the Beauty and the Beast Sing-Along. Looking back to when Disney released this new film in early 2020, we should have known things were going downhill. There is, however, one upside to all of it. And that's the costume displays that were installed in the waiting area. Here's a preview of what you can expect.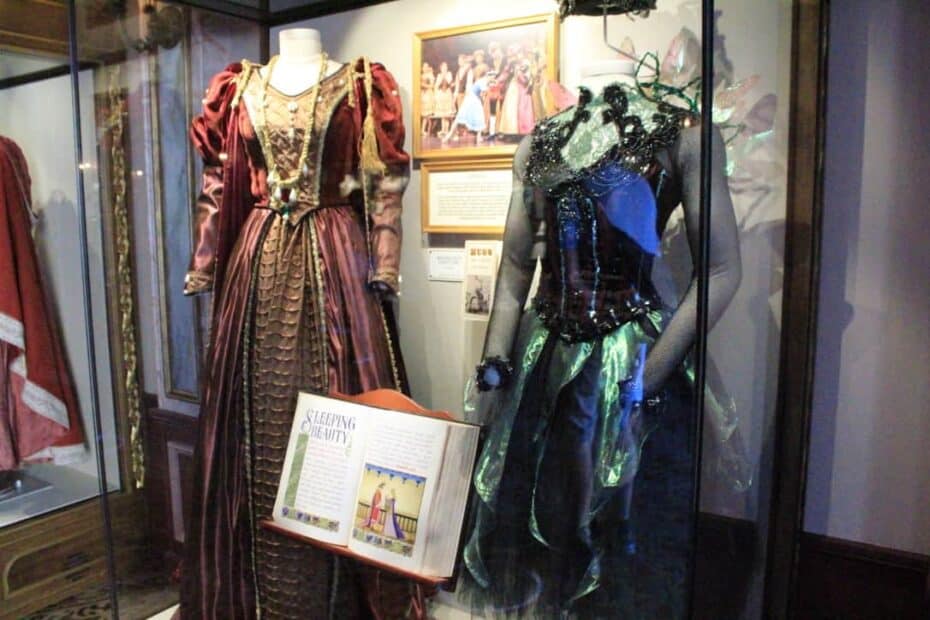 After initially seeing the Sing-Along, I was left wondering if anyone in charge at Disney had actually seen it before the release. The storyline is terrible, and about halfway through the show, Belle appears to have gotten a makeover at the Bonjour! plastic surgeon's office.
Truthfully, it's probably not as horrible as I'm making it out to be. But I think it's a disgrace toward humanity in general. It feels very unprofessional and does nothing to educate guests or inspire anything of value.
Fortunately, there is good news for the France Pavilion when it comes to attractions. The new Remy's Ratatouille Adventure opens on October 1, 2021. Not only that, a whole new guest area is being added to accommodate capacity.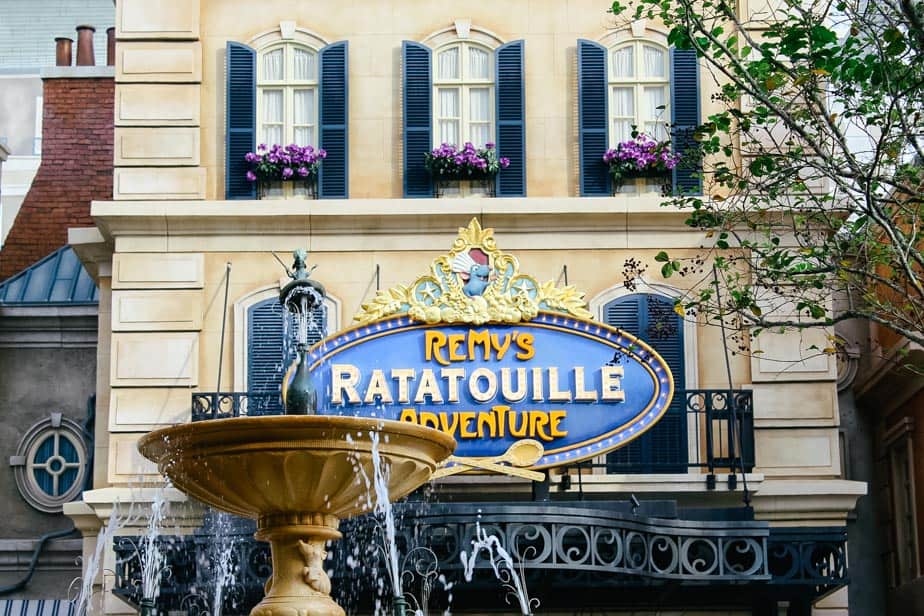 And here's a picture from the Skyliner where you can see how it appears to be a fairly large addition to the pavilion.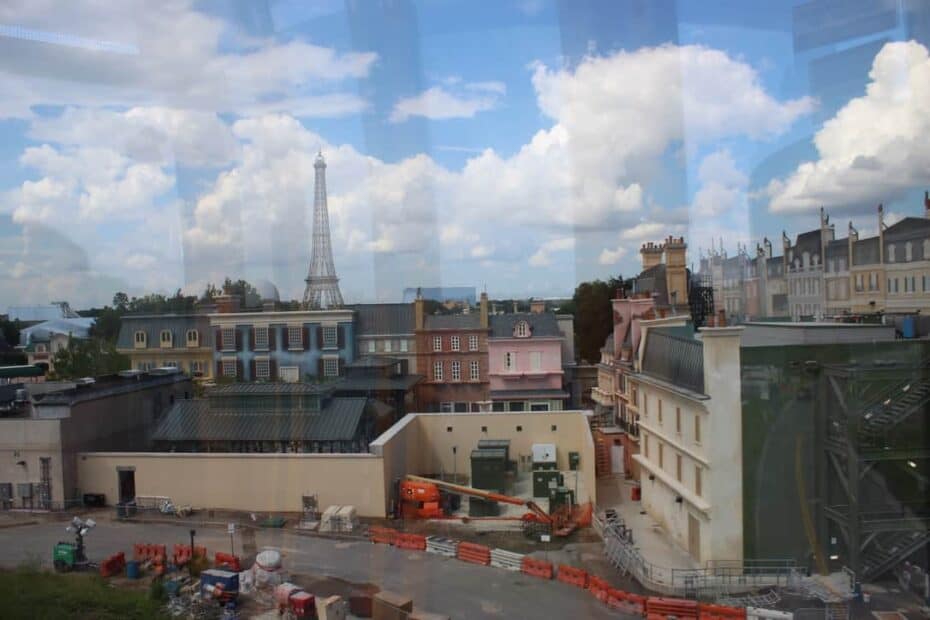 It is really exciting to take the Skyliner from the International Gateway and look down into all the work being done on the pavilion.
We now have a full-ride review of Remy's Ratatouille Adventure if you would like to learn more.
France Pavilion Entertainment
Like the other countries in the World Showcase, a majority of the entertainment is unavailable at this time. Usually, you might find Belle in her yellow ballgown or Princess Aurora from Sleeping Beauty. They meet at the gazebo below.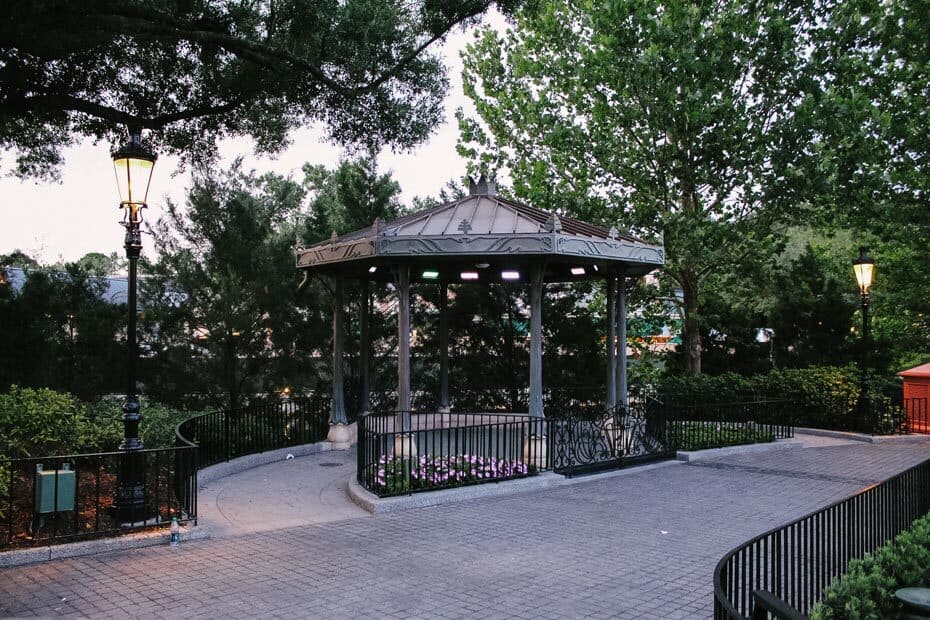 Sometimes during the holidays, Belle meets guests in her red velveteen gown. Or you might find her down by the water greeting guests in her blue village dress.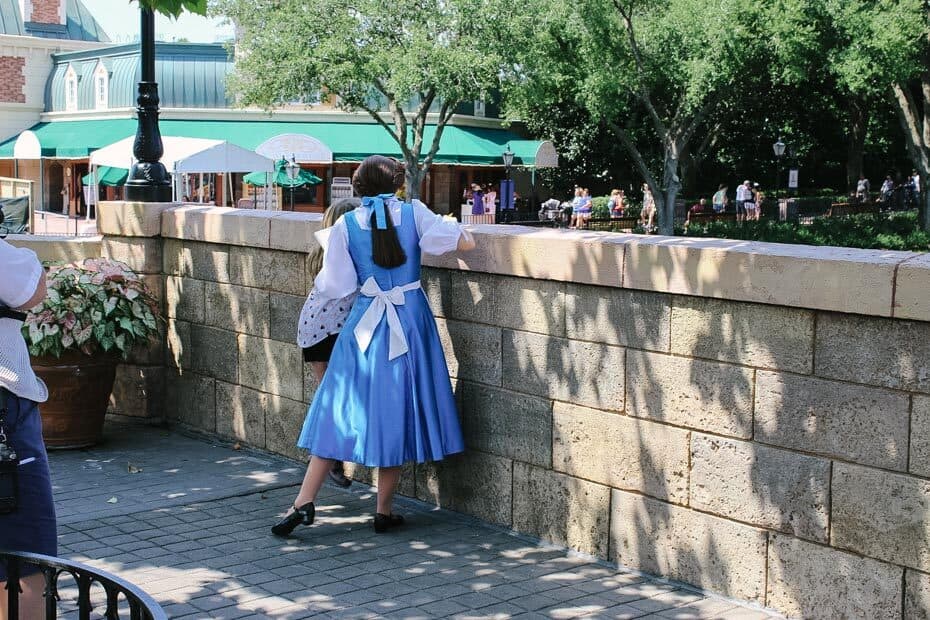 If you would like to learn more about the current socially distanced character meets available at Epcot, visit our list of Disney World Characters. I have the socially distanced character reviews that are available at this time listed toward the top.
For a full list of places to meet Belle at Disney World try here.
Dining at the France Pavilion
One of the things the France Pavilion has going for it is the variety of places to dine. From table service to ice cream, drink carts, and even a signature dining location, the pavilion has you covered.
First, we have Chefs de France which is a table service dining location in France. The restaurant does require a reservation. They are fairly easy to obtain given the variety of dining options at Epcot.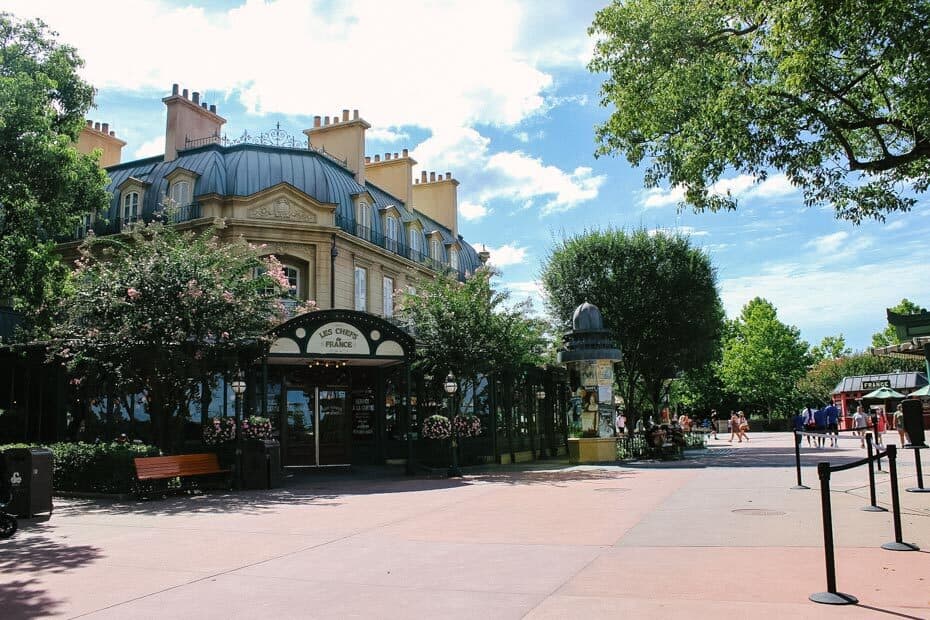 You can preview the menu for Chefs de France here on Disney's site.
Next, we have the famous Crepes de Chefs de France. The cart sits out alongside the water across the Promenade from Chefs de France. This is where you'll pick up that ice cream sandwich of sorts that you have probably heard about a million times from your cousin Ira who visited Epcot about 10 years ago. They tend to have a good reputation.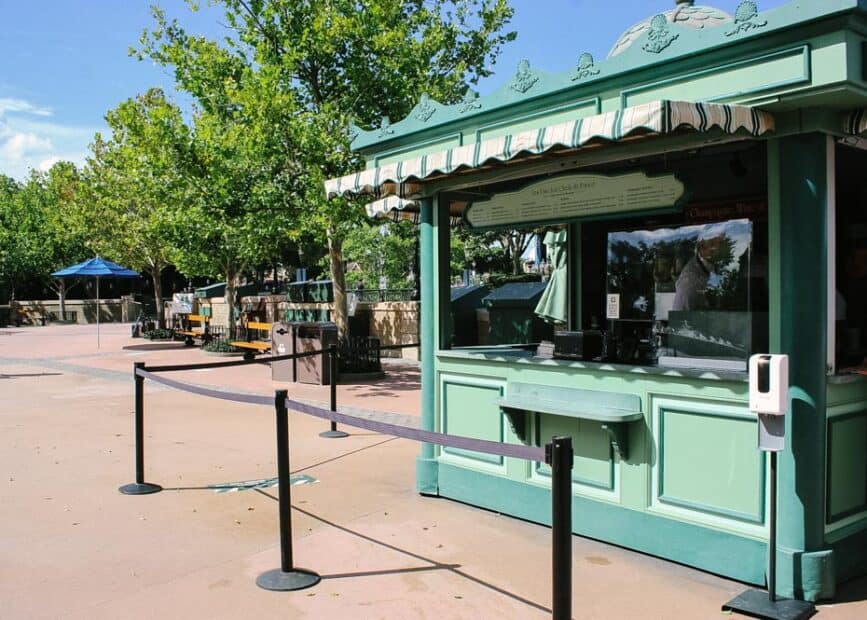 But in recent years, it seems that the go-to item at the France Pavilion has become whatever flavor of frozen vodka slushy they are offering.
Below is the lemon flavor that you can pick up at Les Vins de Chefs de France. The orange flavor that is made with Grand Marnier seems to be the most popular. If you visit during Food and Wine, the France booth typically offers a distinct flavor as well.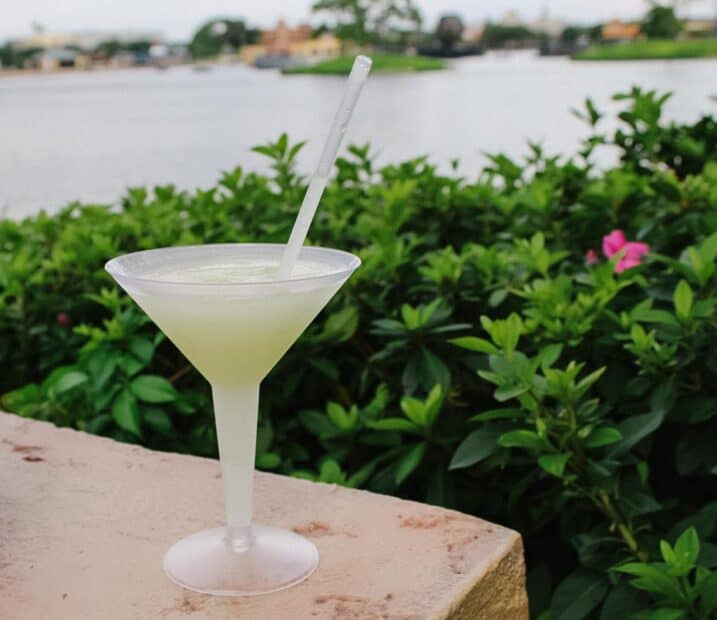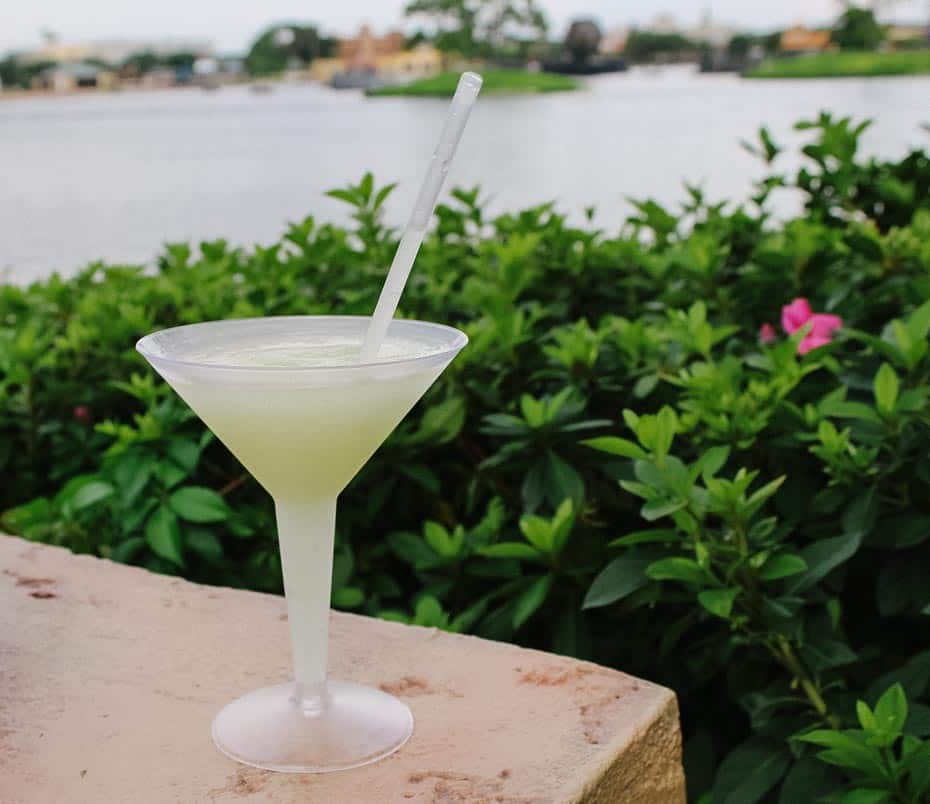 Anyone searching for an ice cream treat will want to check out L'Artisan Des Glaces toward the back of the pavilion. Here you'll find 16 flavors of handcrafted ice cream.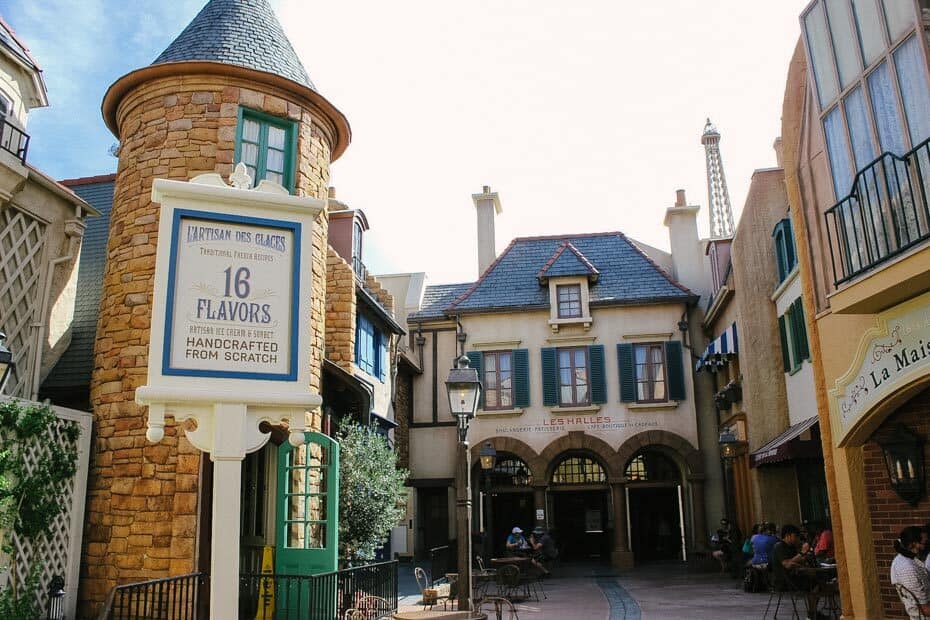 You can order a scoop or select a specialty item from the menu. They have some pretty unique flavors and sometimes offer seasonal flavors during the holidays.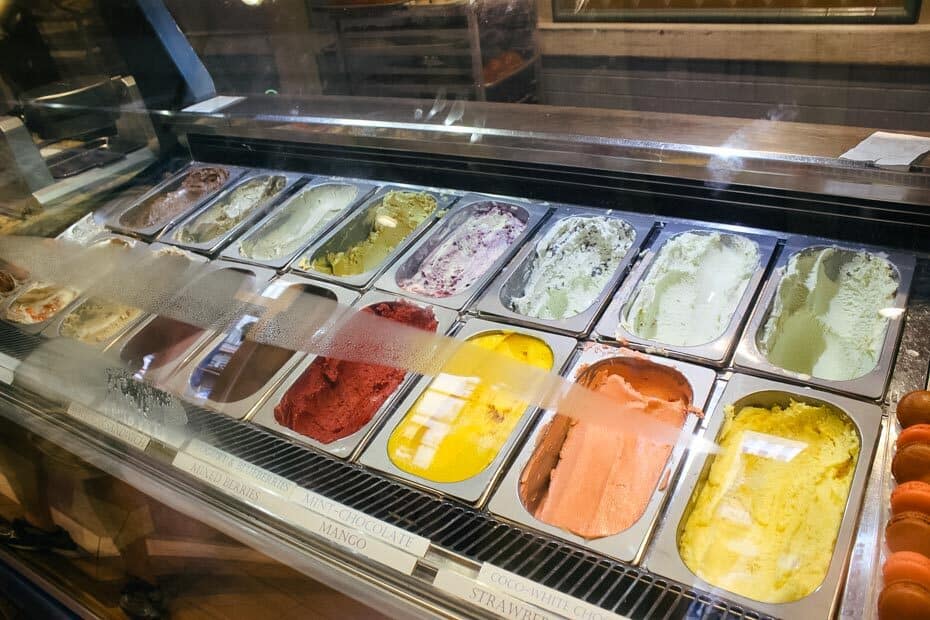 Probably the most popular counter service in the World Showcase is Les Halles Boulangerie. It's also the only counter service that's open all day in the World Showcase.
If you enter through the International Gateway, you can walk over the bridge into France for breakfast. When Epcot operates under normal circumstances, the World Showcase is roped off past France until 11:00 a.m.
Right now, Epcot doesn't open until 11:00 a.m., so you might end up having lunch or dinner here instead.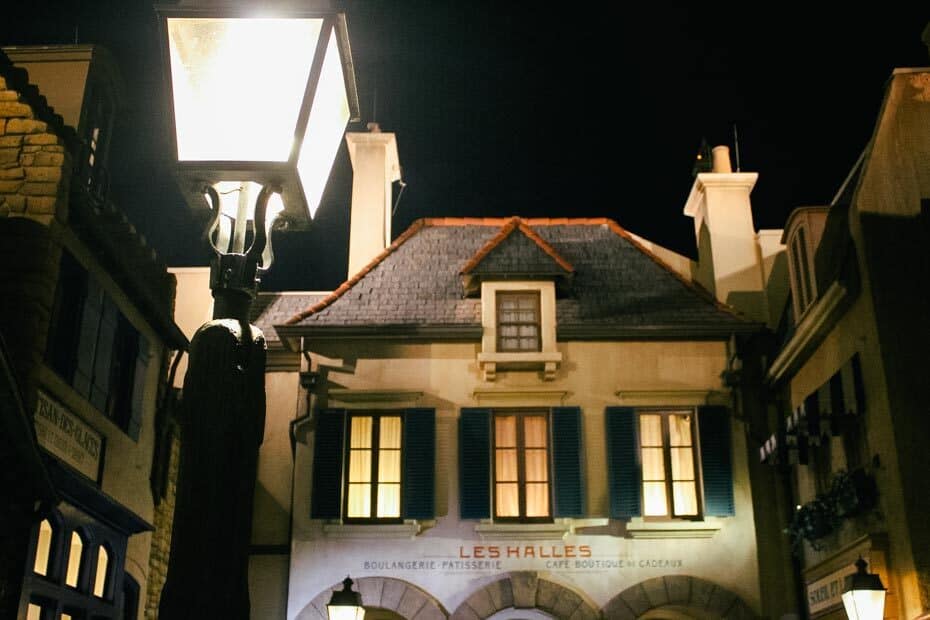 Here's a look inside the French bakery. Guests enter down the middle and are called to either the right or left side as they approach the counter. Each side is identical with the same offerings, so it doesn't matter which way you are directed.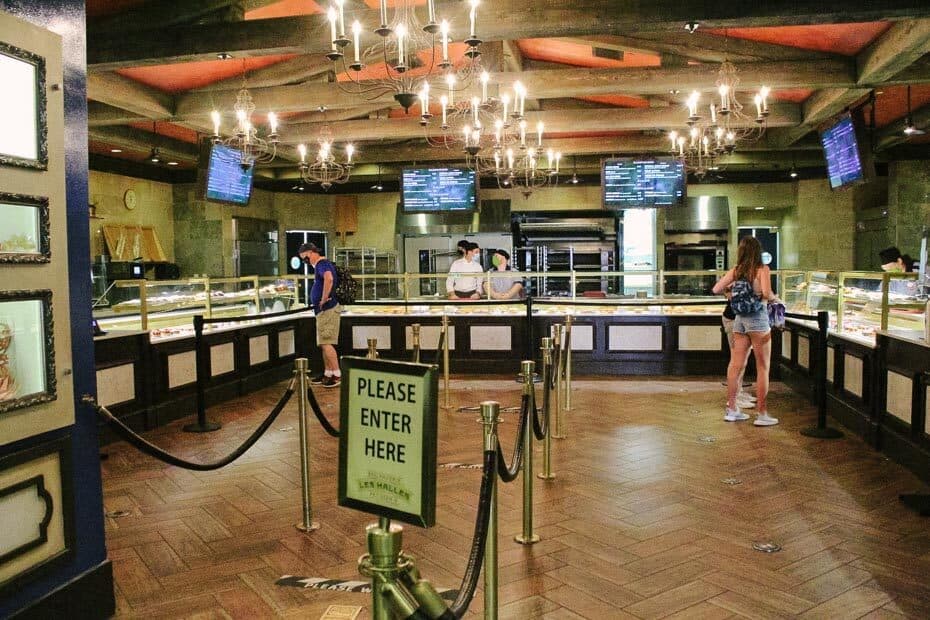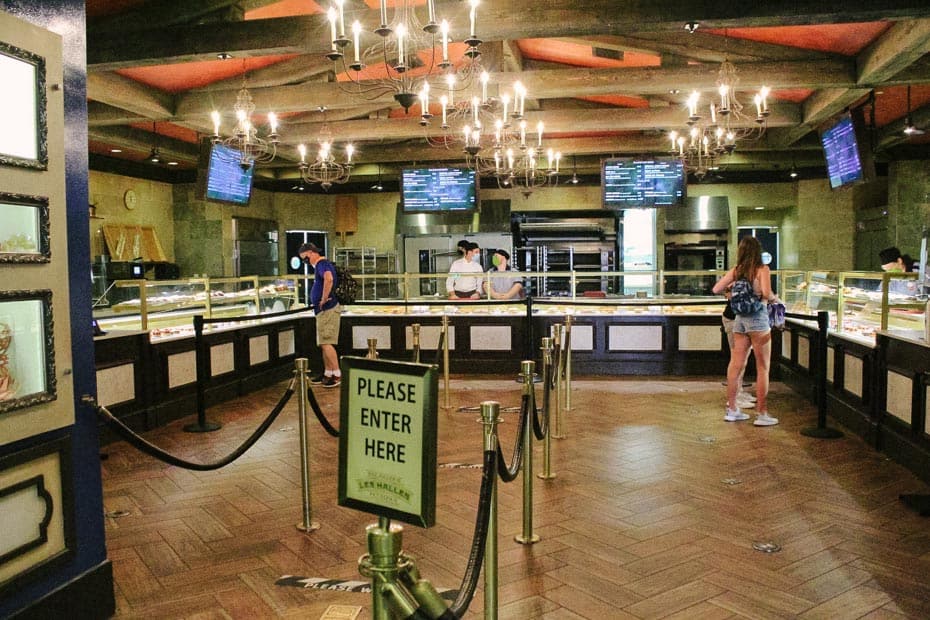 My favorite thing here is the strawberry tart, you can thank me for the recommendation later.
The Boulangerie menu is available here on Disney's site.
Additionally, La Creperie de Paris is scheduled to open in the near future.
Lastly, Monsieur Paul is one of the few signature dining locations at Epcot. You can expect higher-end French cuisine here. If you are looking to add something slightly different to your next Epcot visit, this might be it. Preview their menu here.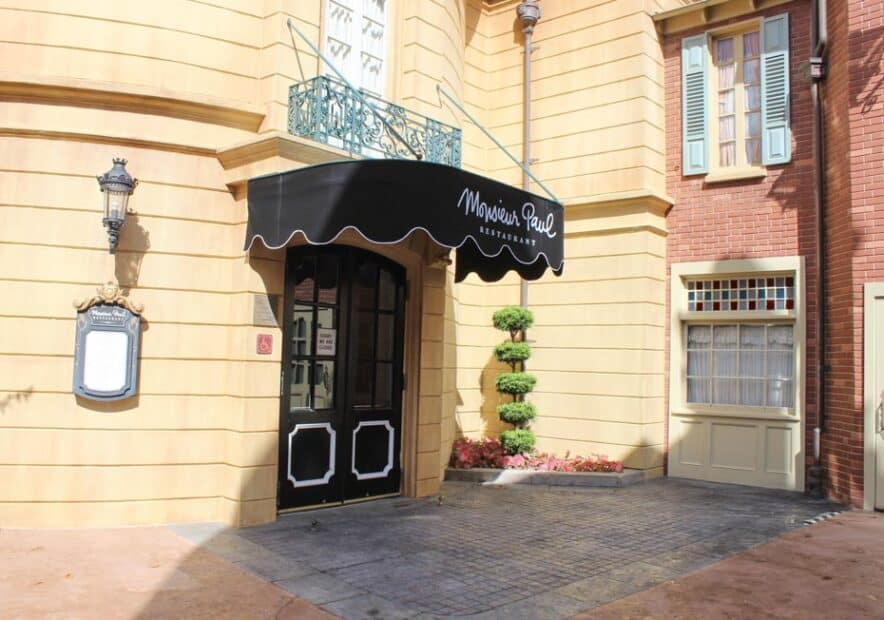 I also recommend following L'Artisan Des Glaces on Instagram here. They often share new treats and specials you might find in the France Pavilion.
Lastly, a new creperie is opening as part of the France Pavilion expansion. La Creperie de Paris will offer a table service dining location with an a la carte menu and prix fixe menu option. Additionally, the creperie will have a walk-up counter service window.
If you would like to dine inside the new restaurant, you'll need to know that it will be on a first-come, first-served basis. You can read our full review of La Creperie de Paris.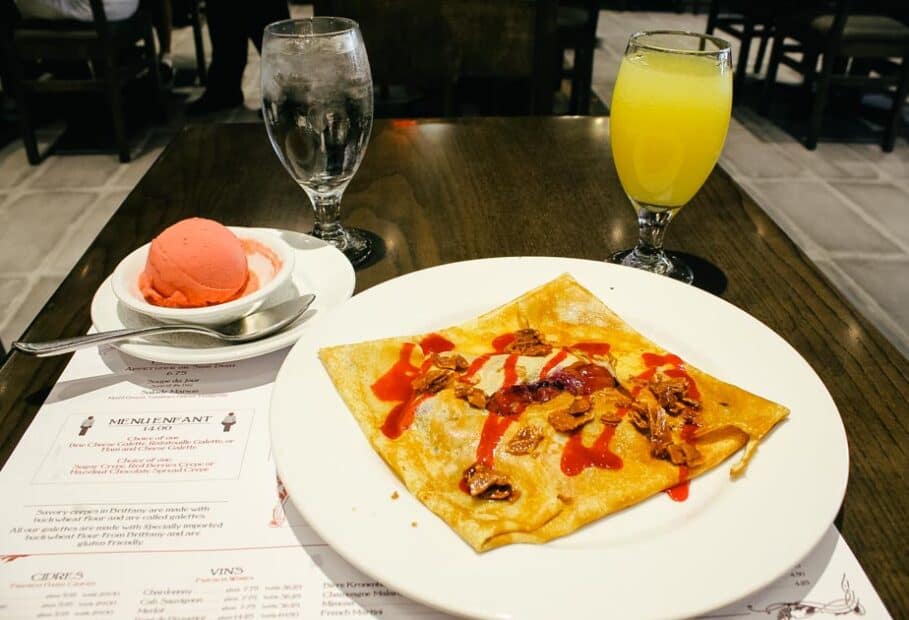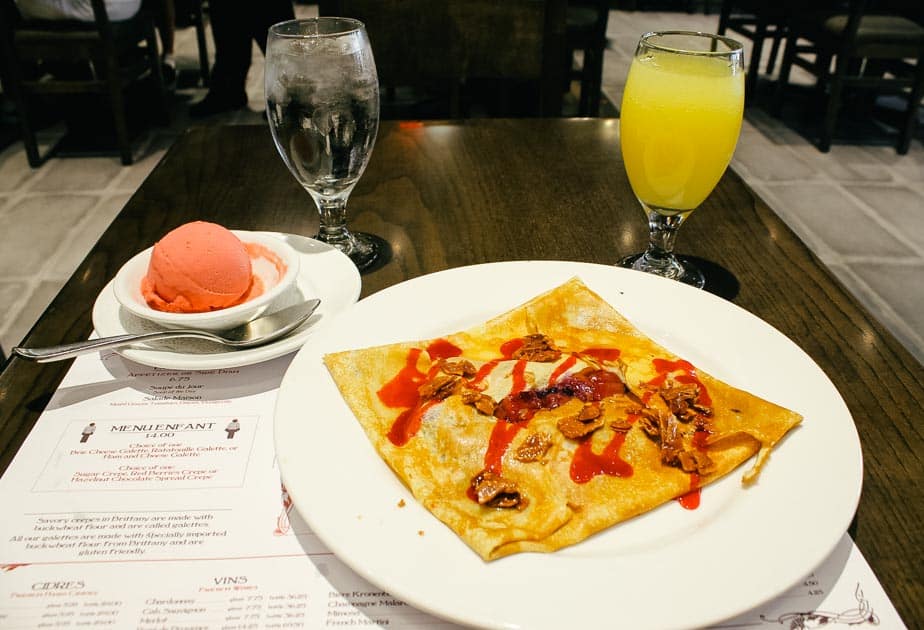 It was really good!
Shops in Epcot's France Pavilion
Epcot's France has a variety of stores to browse while touring the area. La'Signature offers French cosmetics and perfumes.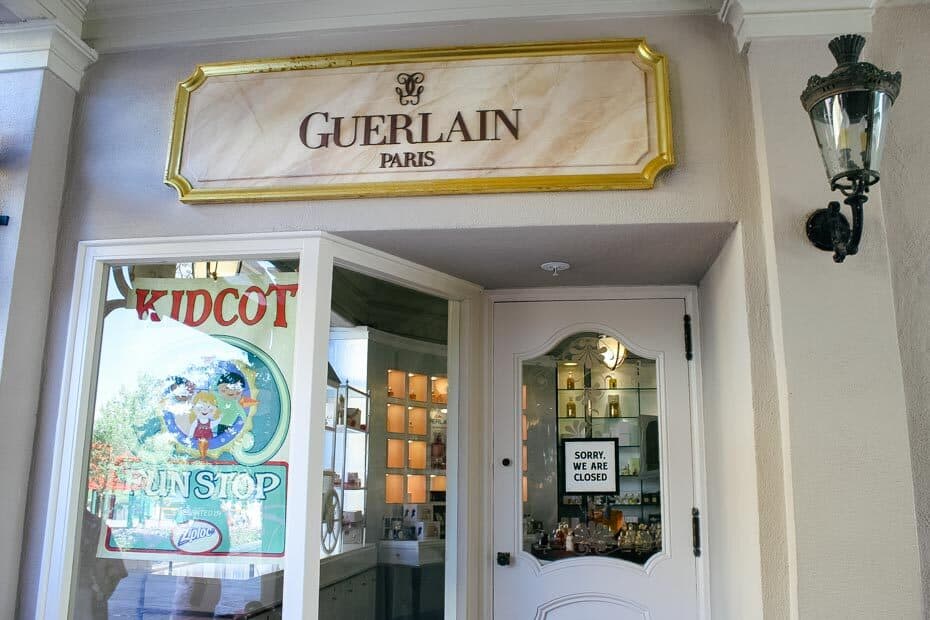 Across the way is the Plume et Palette offering designer bags and fragrances.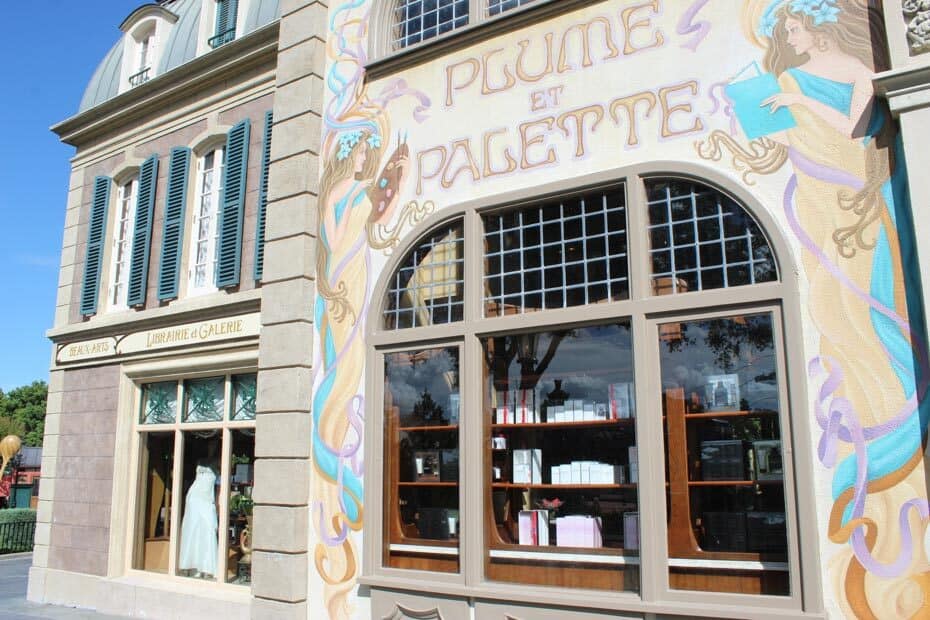 There is also L'Esprit de la Provence that has a variety of different home good selections. Inside you'll also find Les Vins de France, where you can pick up a bottle of wine or glass at the counter if you like.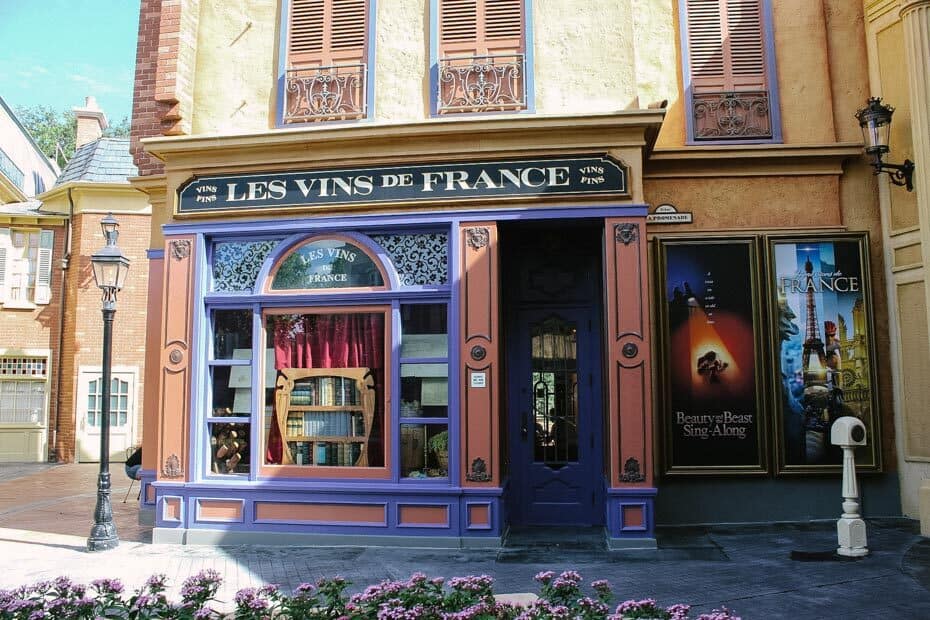 This is where you can begin the wine walk that is offered in the World Showcase. There will be a sign posted at the counter indicating if it's available.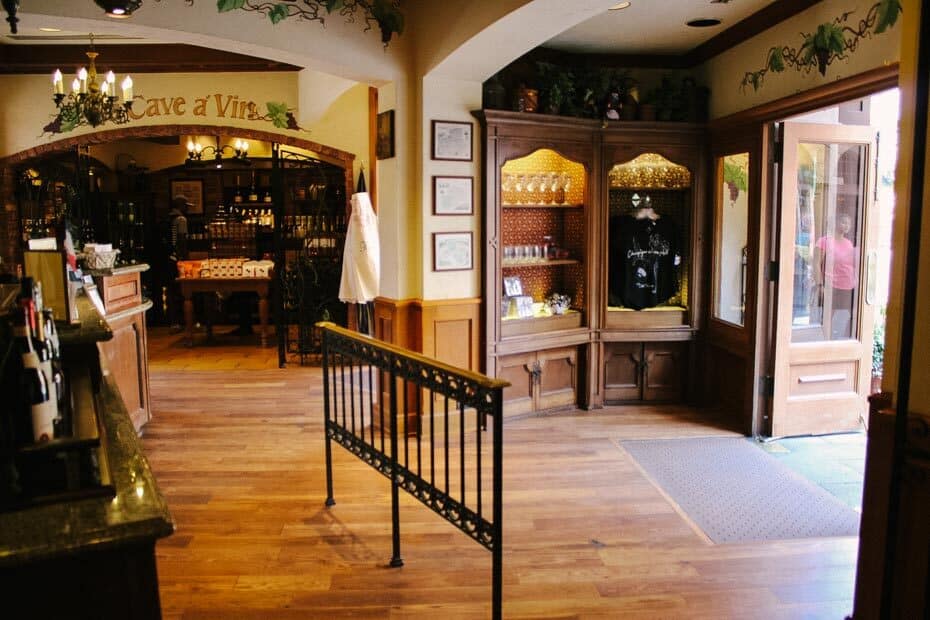 These are the types of items you'll find in the shop. Anyone who enjoys cooking will want to take a few moments to check it out.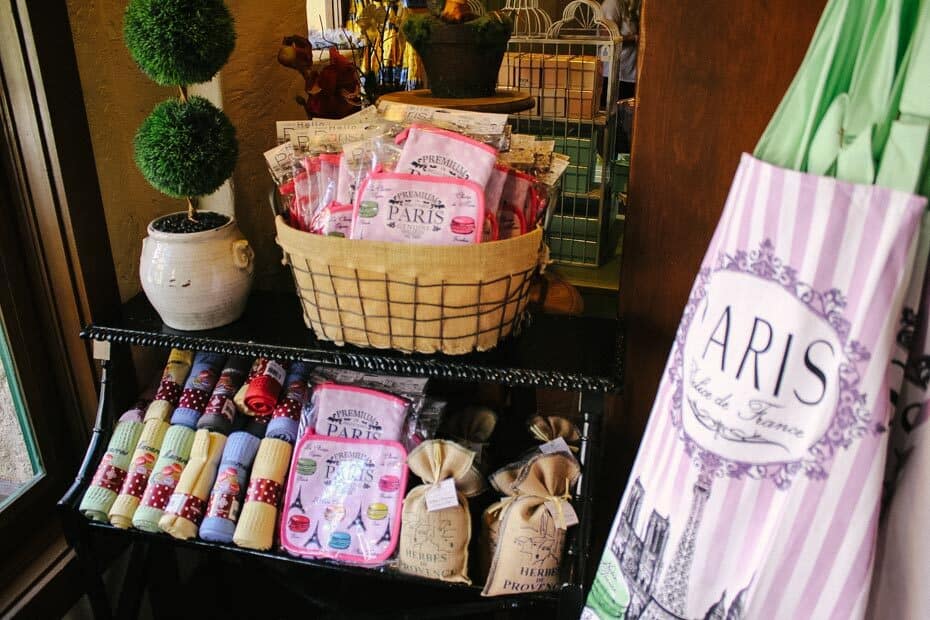 I thought these tiny soaps showcased as a box of macarons were adorable.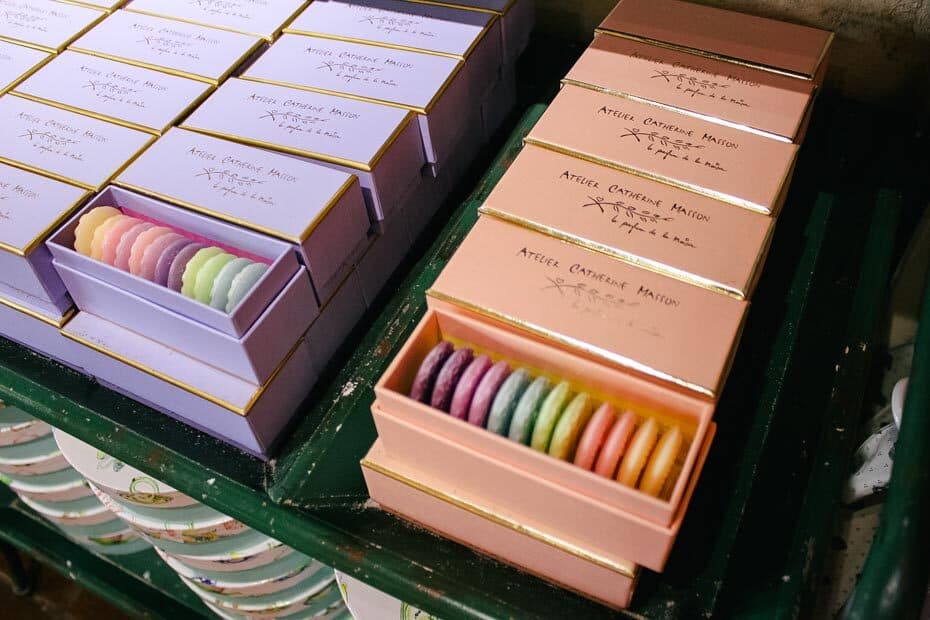 Lastly, in front of Les Halles Boulangerie is the Souvenirs de France shop. This area is more of a something-for-everyone type store. You'll find Disney-themed merchandise with a French flair like ear headbands, shirts, and other items.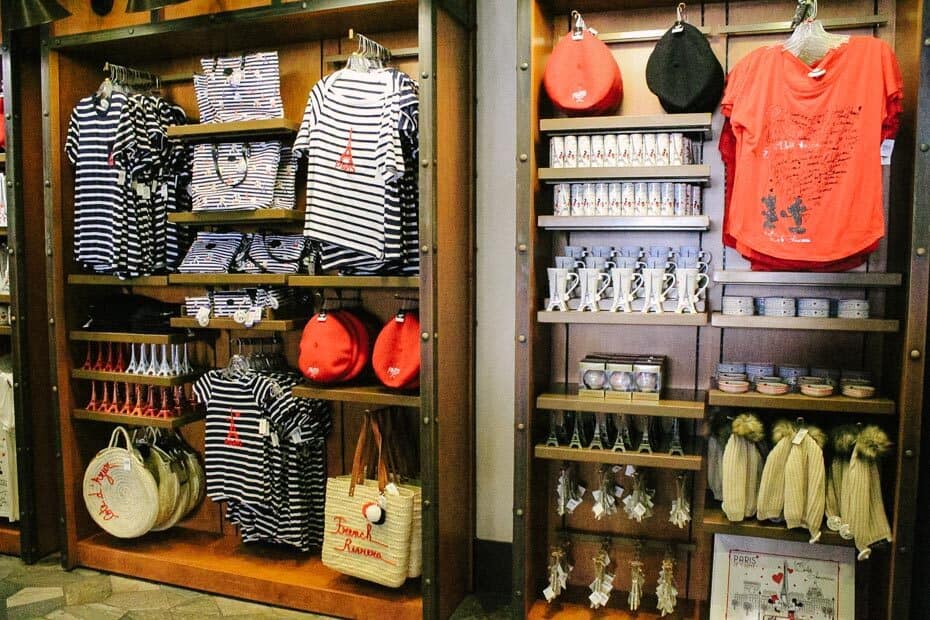 One of my favorite items is the miniature Eiffel towers. In fact, I purchased one like these below for a birthday gift a few years back. If memory serves correctly, they run about $50. They are quality and quite heavy.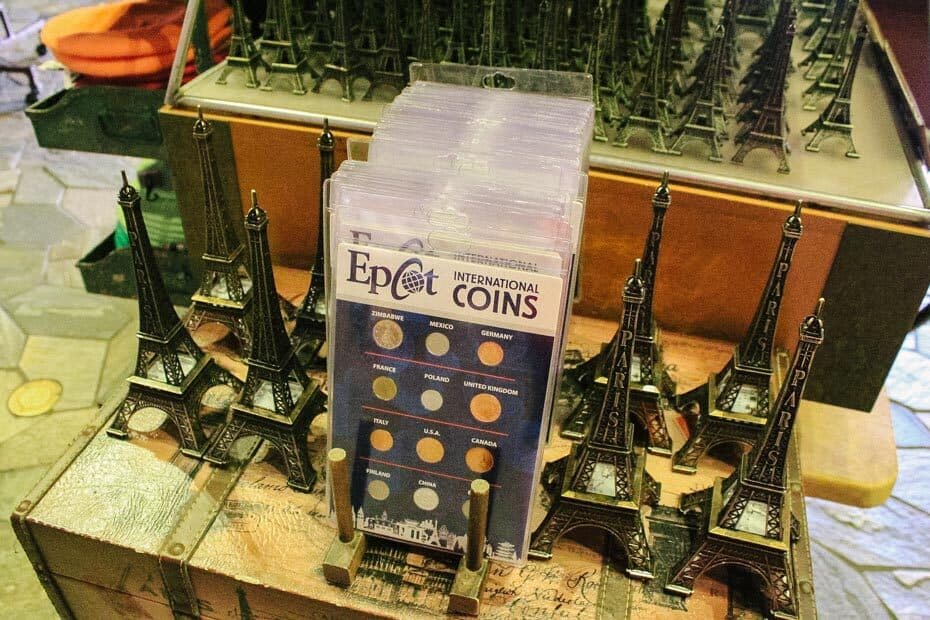 Each style comes in various sizes and a few in different colors. I opted to get the one that lights up. It's really a nice piece and does a good job mimicking the Eiffel Tower. And it turned out to be a great gift that is still treasured.
Here's another look at the store. There's a pressed penny machine in the back of the store where the people are standing.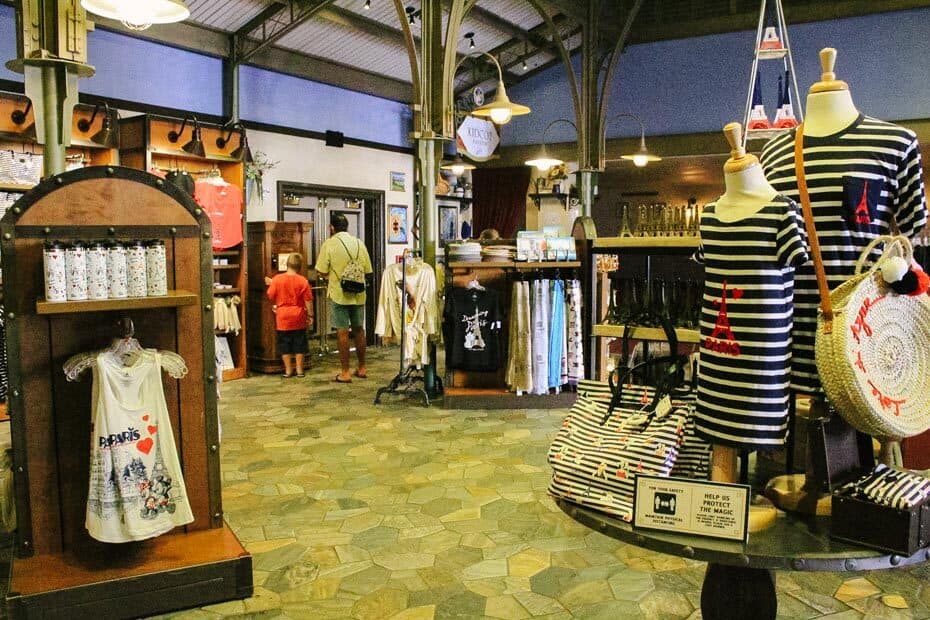 Before we wrap things up, this Kidcot Fun Stop has recently found a new home in France. It's located in the archway outside the La'Signature cosmetic shop.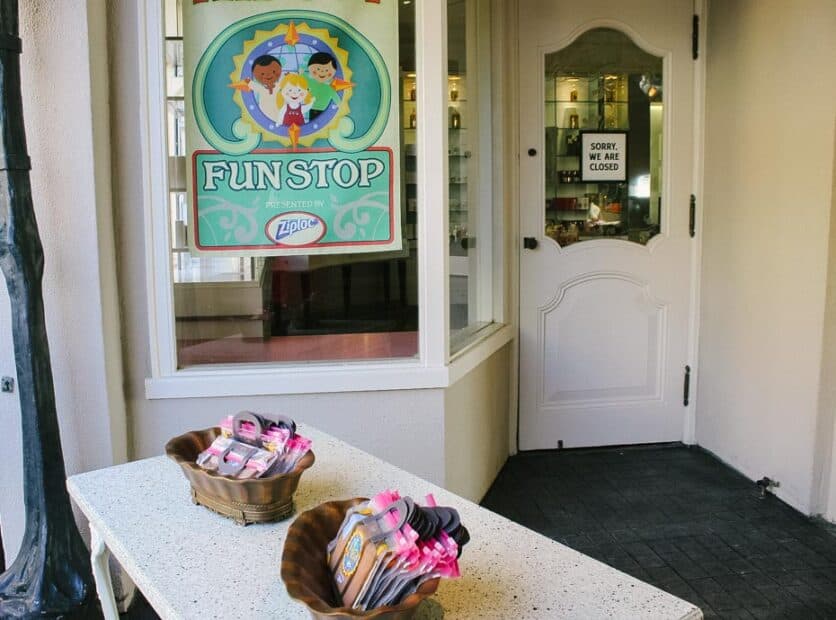 Every country in the World Showcase offers a Kidcot activity. It's fun for children to locate something specifically for them to do while touring each country.
Epcot's France is a beautiful pavilion nestled between Morocco's Pavilion and the International Gateway. As you can see, there's quite a lot to do here and even more coming to the pavilion soon.
Often, I pick up a treat at Les Halles and find a seat out by the fountain to enjoy it. The pavilion offers a pleasant taste of the finer things we might all delight in if we were to visit France.
And don't forget to pay attention to the background music playing as well. These types of things add so much to the overall World Showcase experience.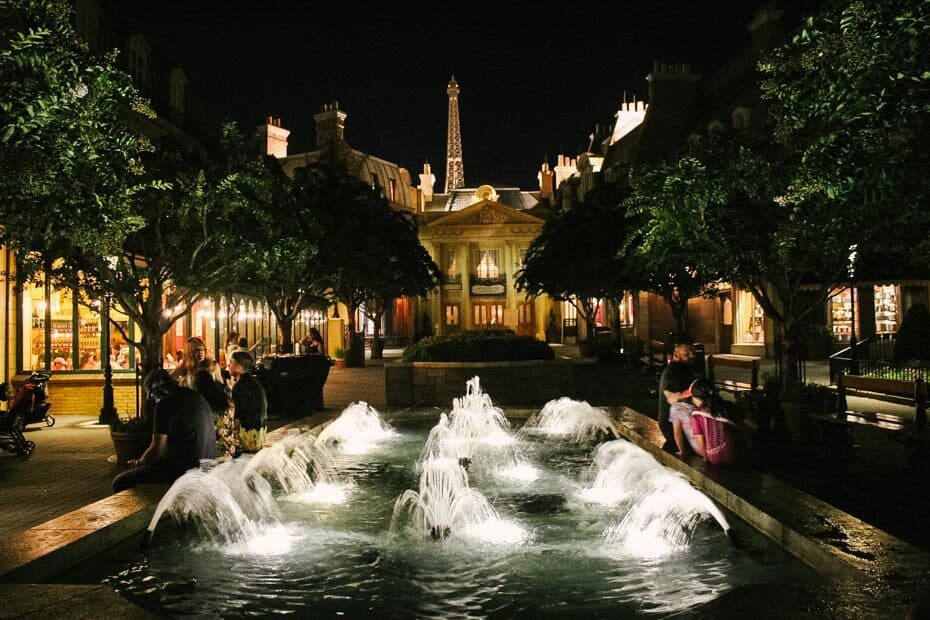 If you want to learn more about different countries and what they have to offer, you might enjoy these reviews:
Here are a few more photos of the France Pavilion.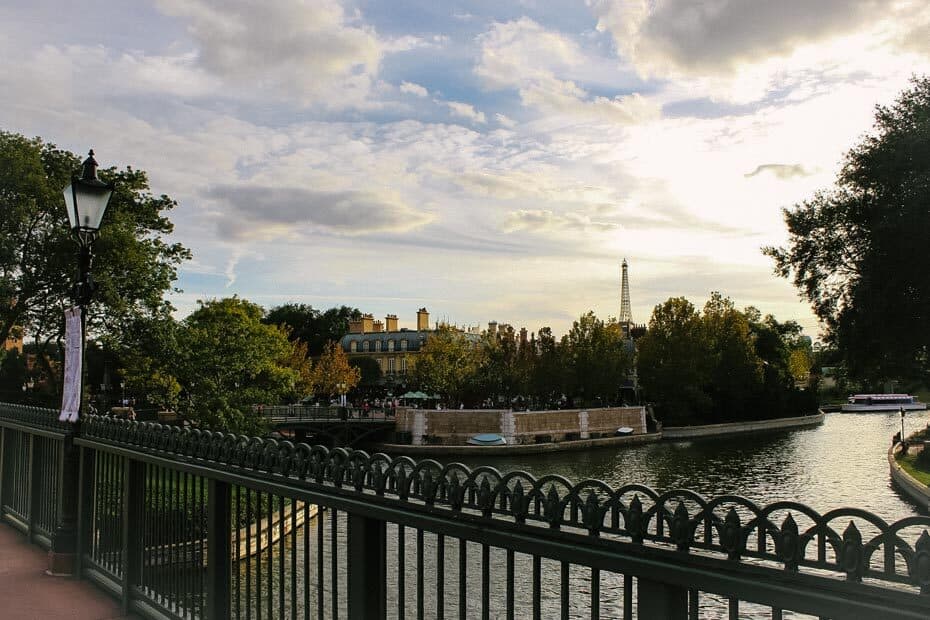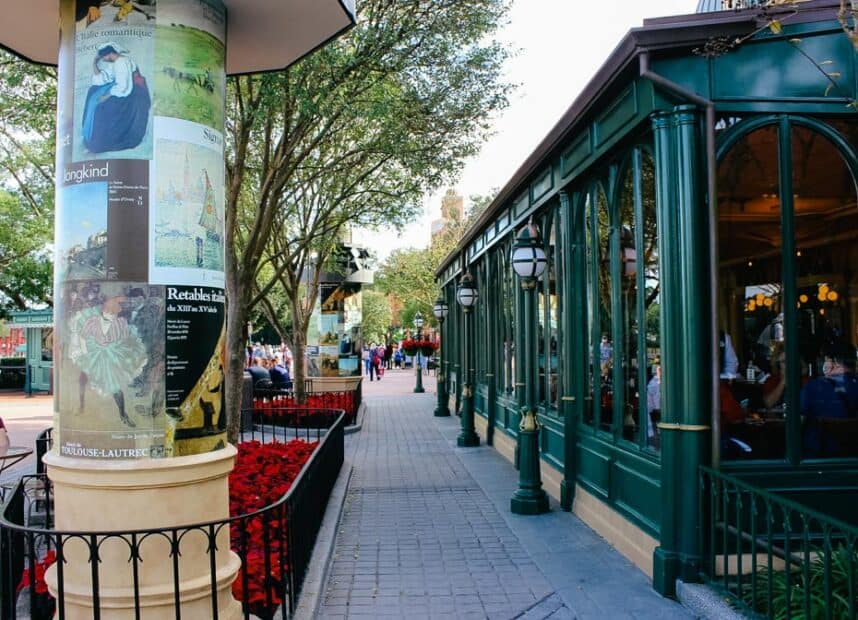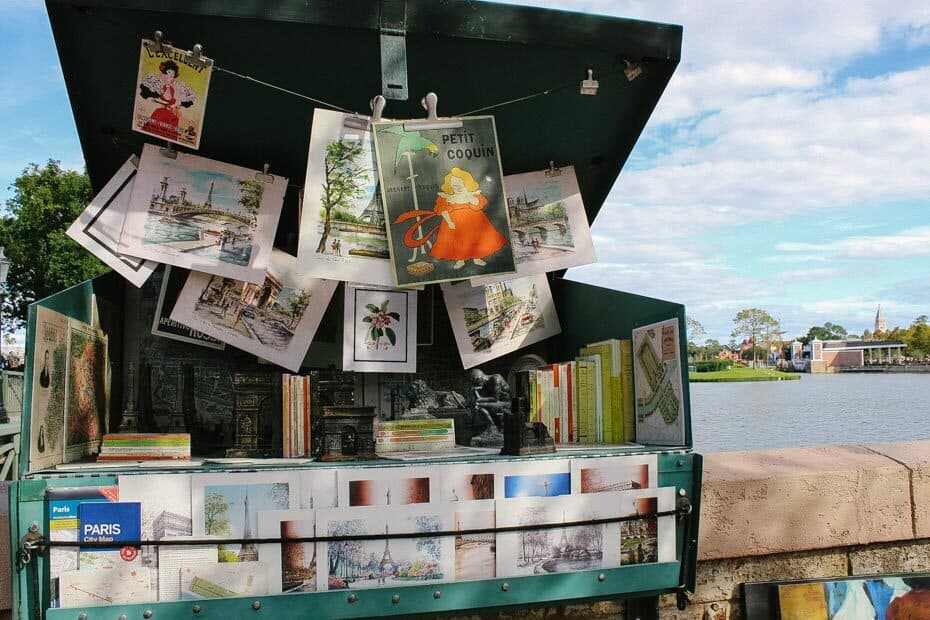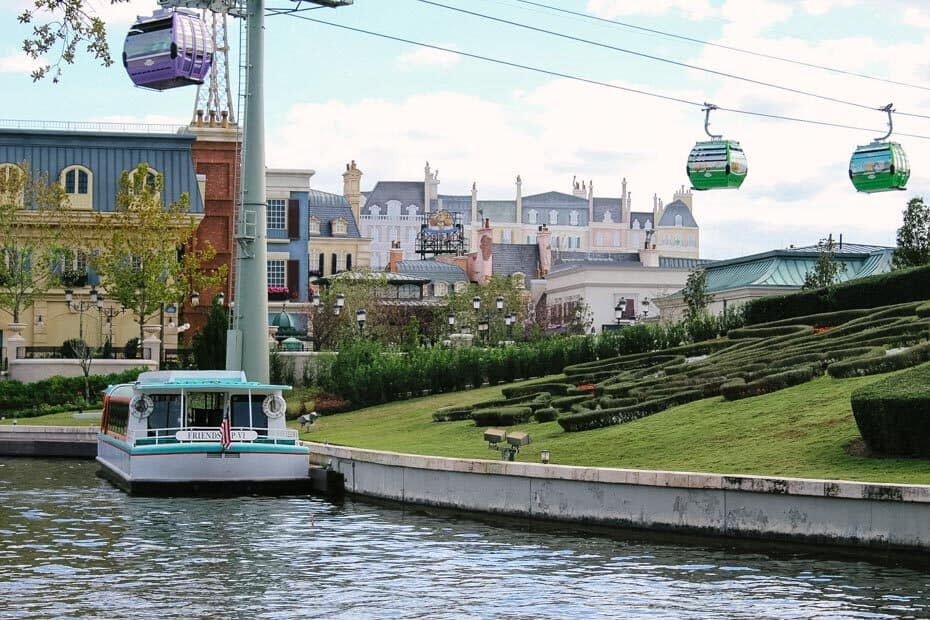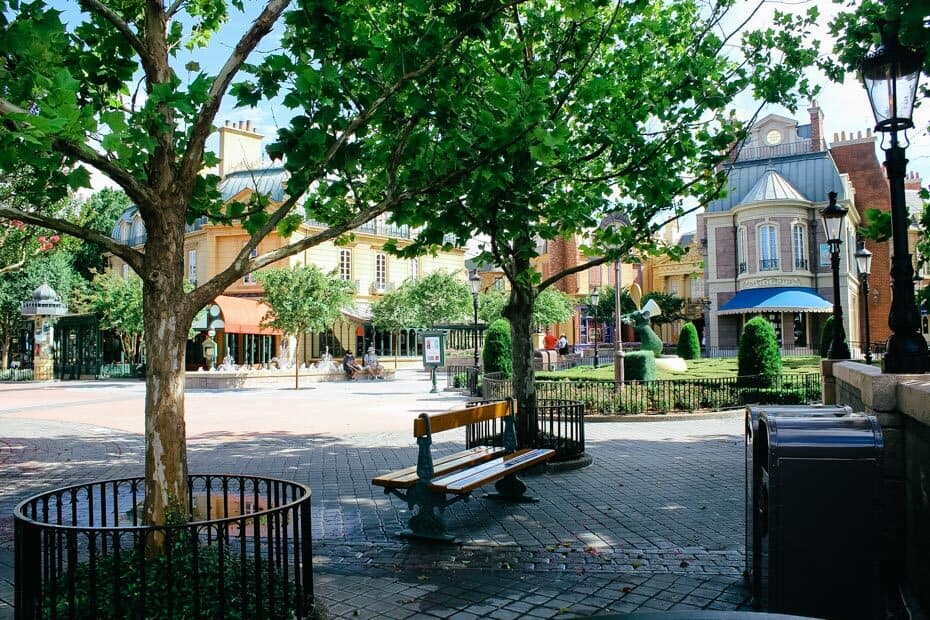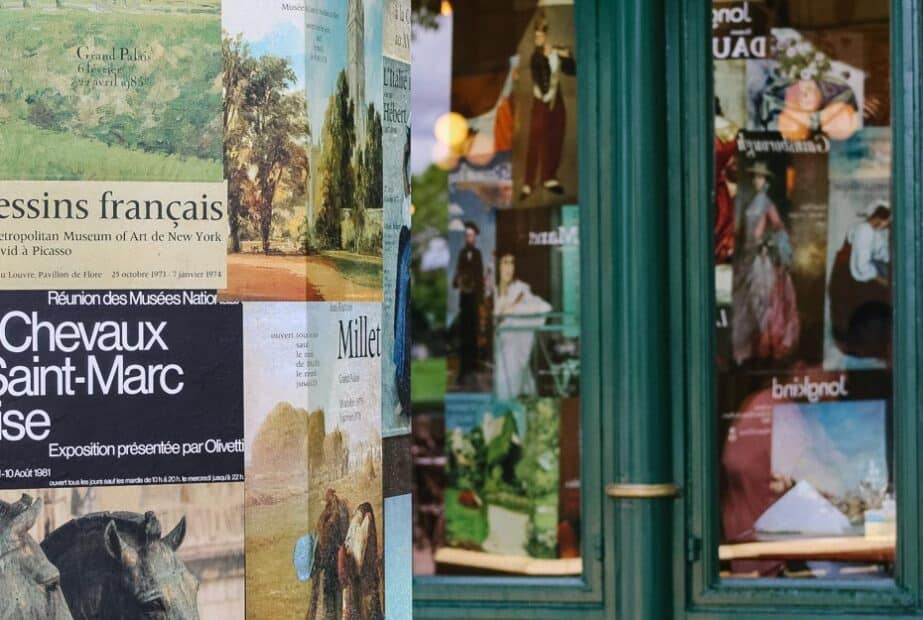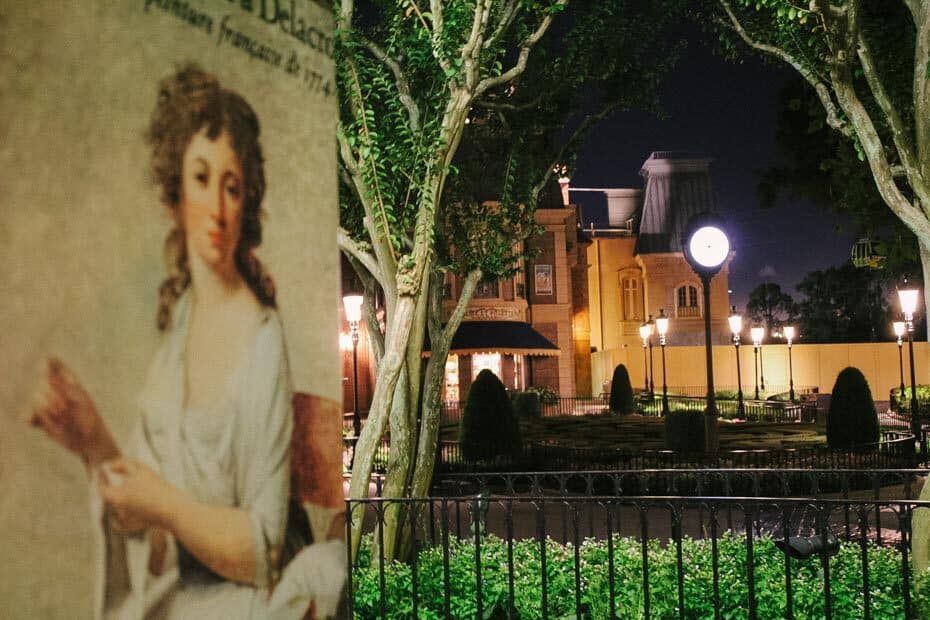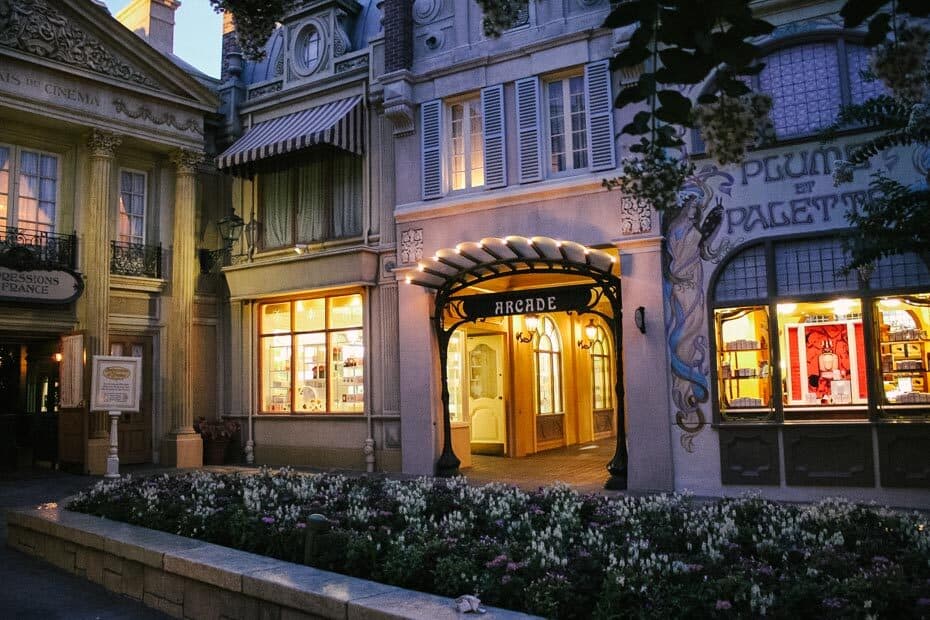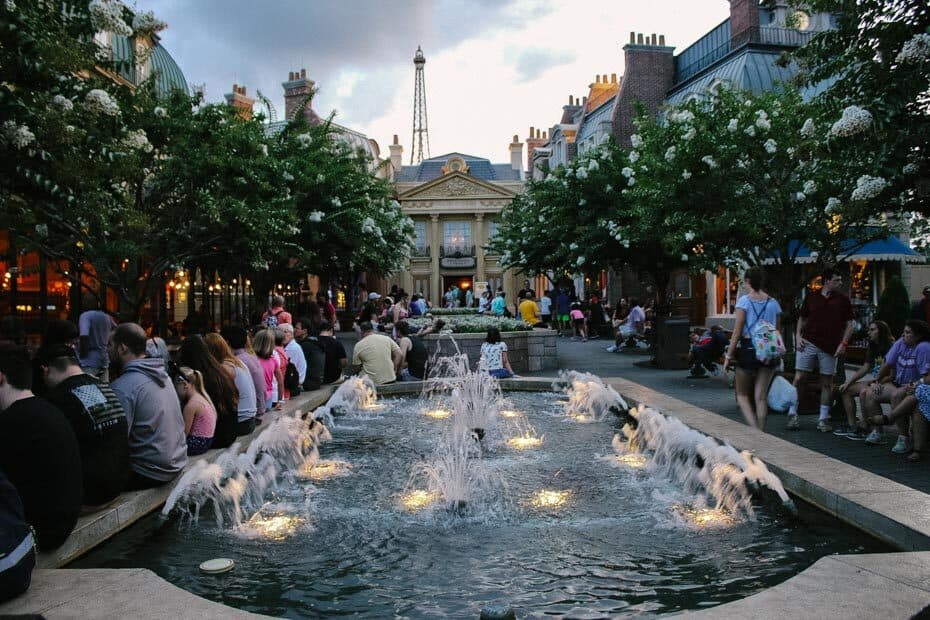 If you are looking to stay at one of the Epcot Resorts, you might enjoy these other reviews:
One of the nice things about the France Pavilion is that you can walk over (with valid park admission) in the morning from any of the above resorts and enjoy breakfast at Les Halles Boulangerie.
Do you have a favorite item you like to try when you visit the France Pavilion? Let me know in the comments below.