A Rendezvous to Epcot's France Pavilion
We're off on a rendezvous to Epcot's France Pavilion! We'll preview the attractions, entertainment, dining, and shopping options available within the pavilion.
It is not every day that I suggest a rendezvous. But when it comes to touring the France Pavilion, what could possibly go wrong?
There's champagne, savory and sweet crepes, chocolate, and more! You can hardly take two steps without running into someone carrying an orange slush.
But Epcot's France isn't entirely about fabulous food and cocktails. There's an engaging film offered in the pavilion's theatre each evening and several other forms of entertainment and attractions.
France is one of eleven countries represented in the World Showcase at Epcot. Below, we'll explore the pavilion's charming Parisian neighborhood, where a replica of the Eiffel Tower stands tall in the distance.
This article was updated on February 13, 2023.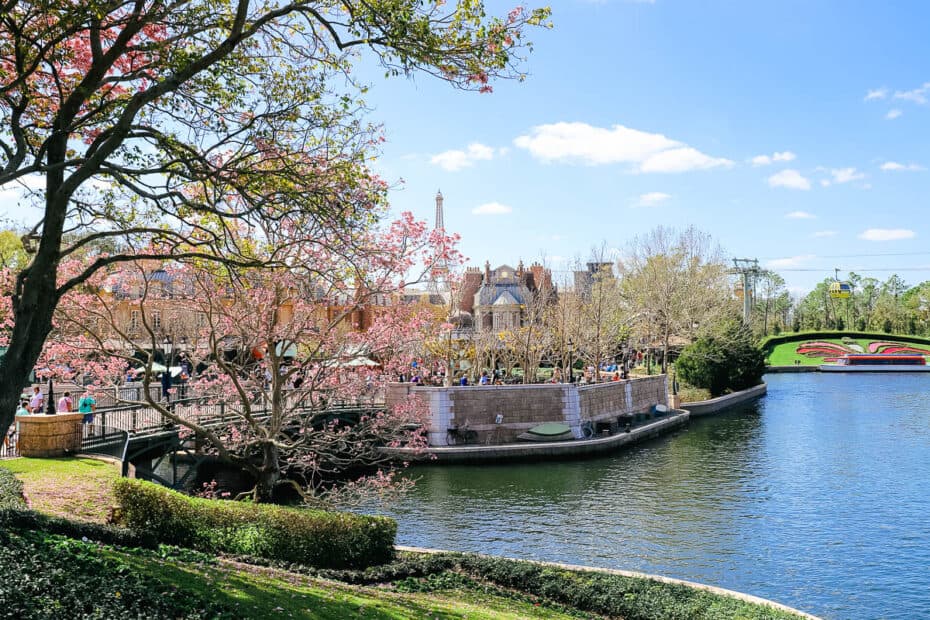 Epcot's France Pavilion
To get started, here's a list of what you can expect to find while touring the France Pavilion at Epcot.
Architectural Influence
Eiffel Tower Replica
Parisian Neighborhood
Attractions
Impressions de France
Tale as Old as Time: French Storytelling Exhibit
Beauty and the Beast Sing-Along
Remy's Ratatouille Adventure
Entertainment
Dining
Chefs de France (Table-Service Restaurant)
Les Vins des Chefs de France (Quick Service)
L'Artisan des Glaces (Quick Service)
Les Halles Boulangerie Patisserie (Quick Service)
Les Vins De France (Champagne)
Monsieur Paul (Signature Dining)
La Crêperie de Paris (Table-Service and Quick Service)
Shops
La Signature
L'Esprit de la Provence
Les Vins de France
Plume et Palette
Souvenirs de France
Kidcot Fun Stop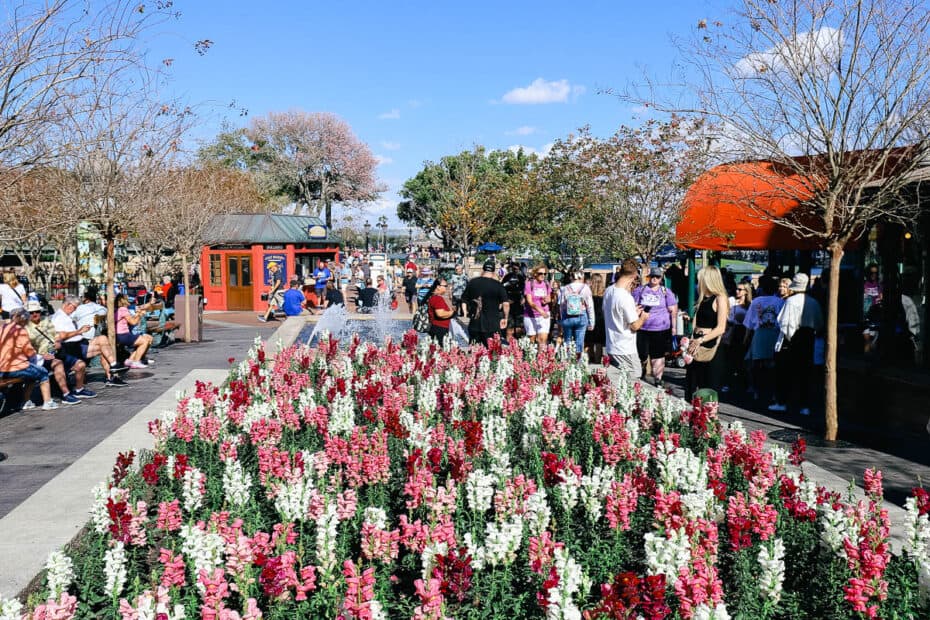 Epcot's replica of the Eiffel Tower is the most notable architectural reference in the France Pavilion. Of course, the original is one of the most iconic structures in the world. You can't see it without thinking of Paris.
Disney used forced perspective when designing their model. Forced perspective is a trick or illusion used to make objects appear either larger or closer than they really are or smaller and further away.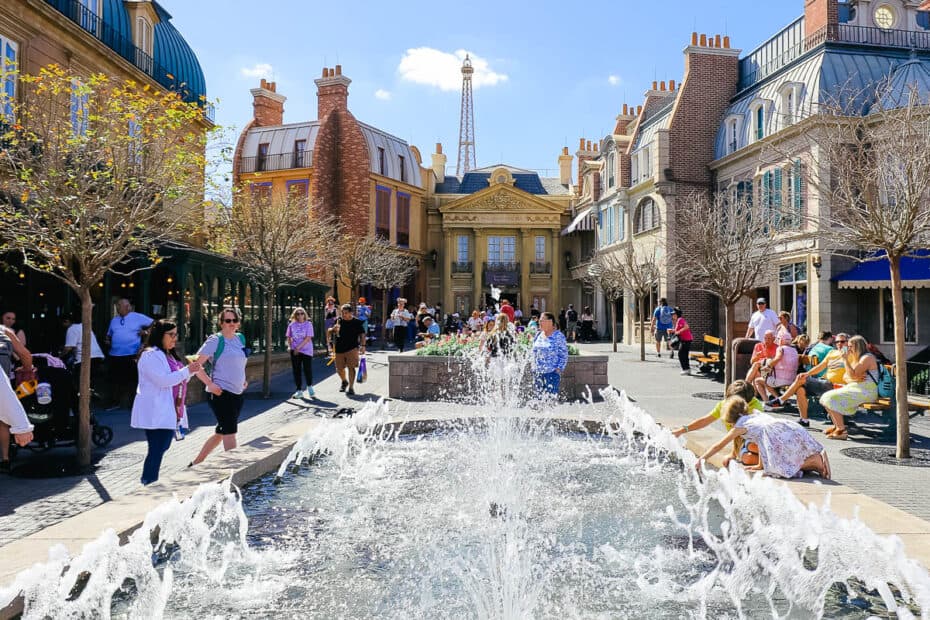 In addition to the Eiffel Tower, the entire pavilion is designed to have the look and feel of a busy Parisian neighborhood.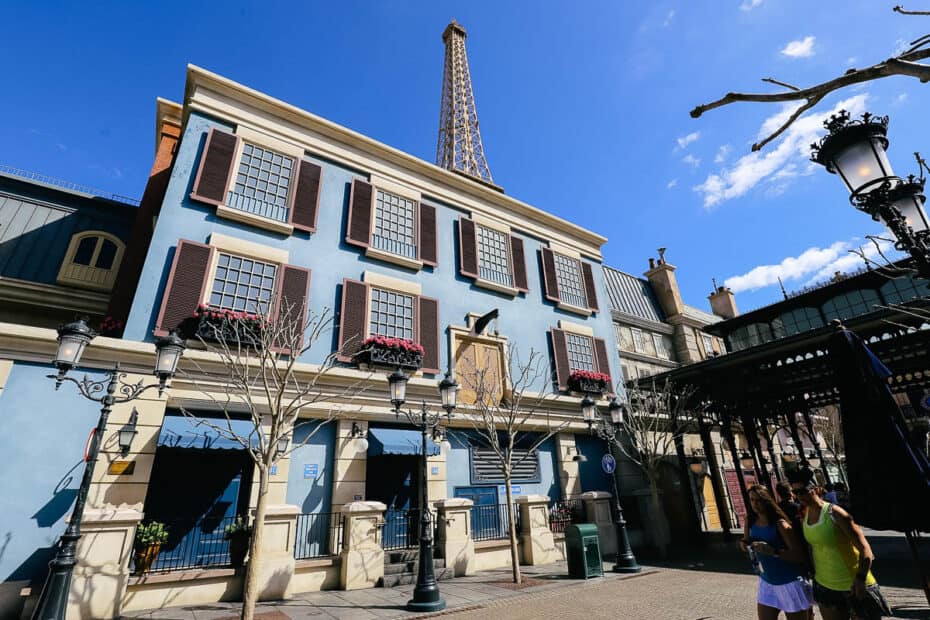 Features include fountains, trees, shops, and charming facades.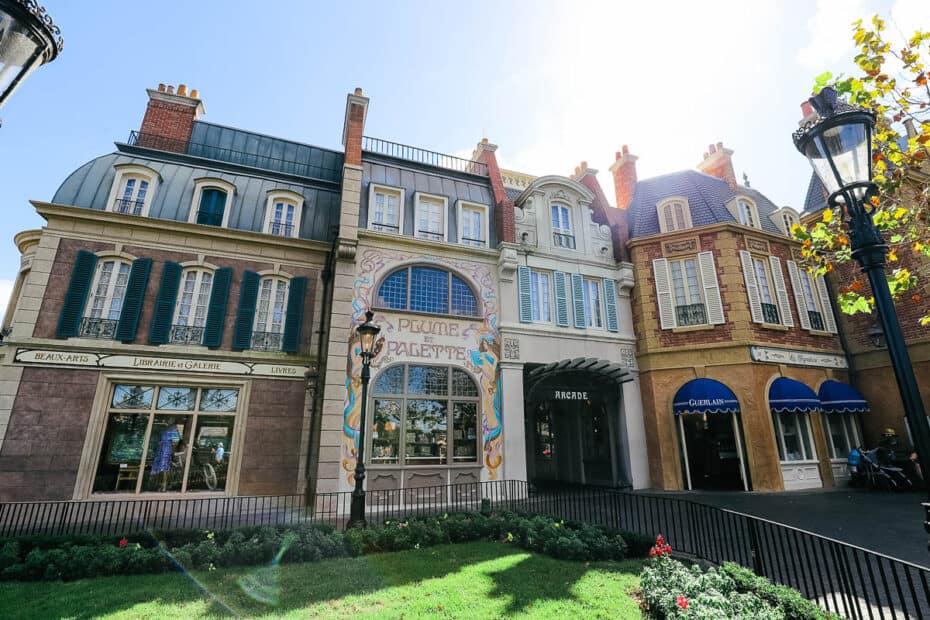 Toward the front of the pavilion, there's a garden maze with a clock.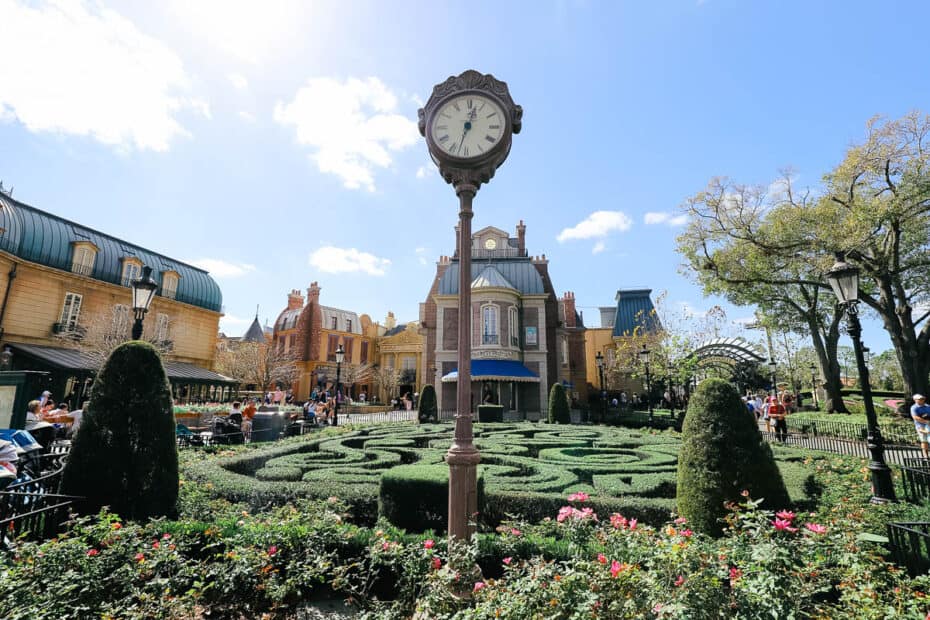 Artwork is displayed on small towers throughout the pavilion. This area is surrounded by crepe myrtles, which grow into beautiful flowering trees.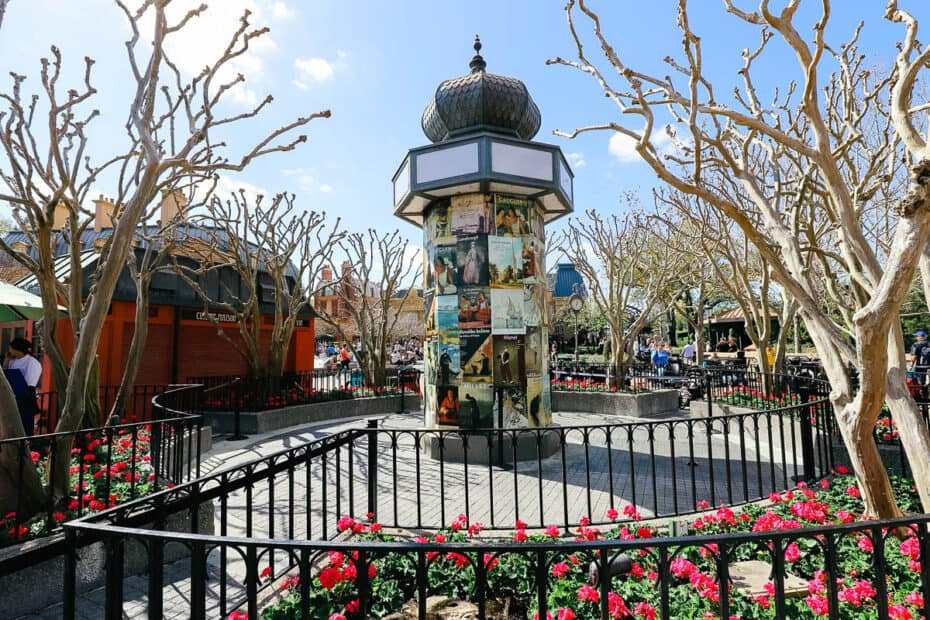 Along the lagoon side of the France Pavilion, there are several art displays, including the one in the photo below. It's fun to stop and browse the art box.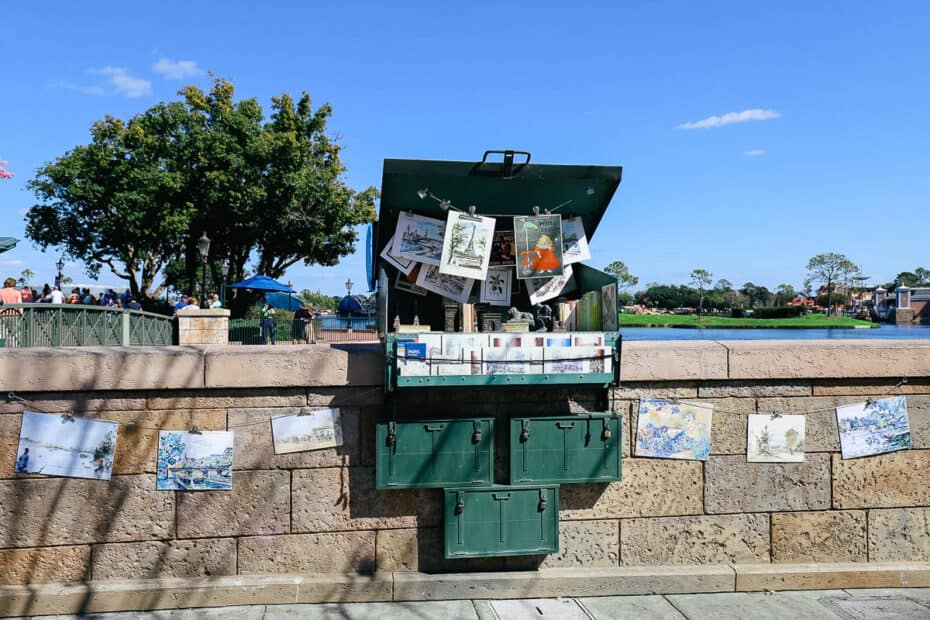 Here's a closer look.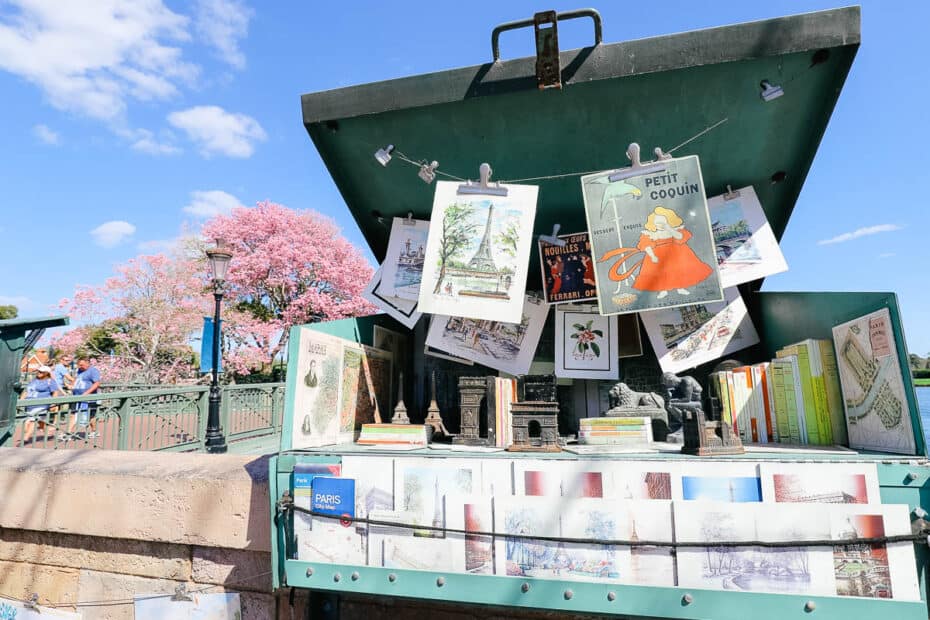 Since the expansion of the France Pavilion, you can look toward the International Gateway and see the Friendship Boats as they come and go from the dock.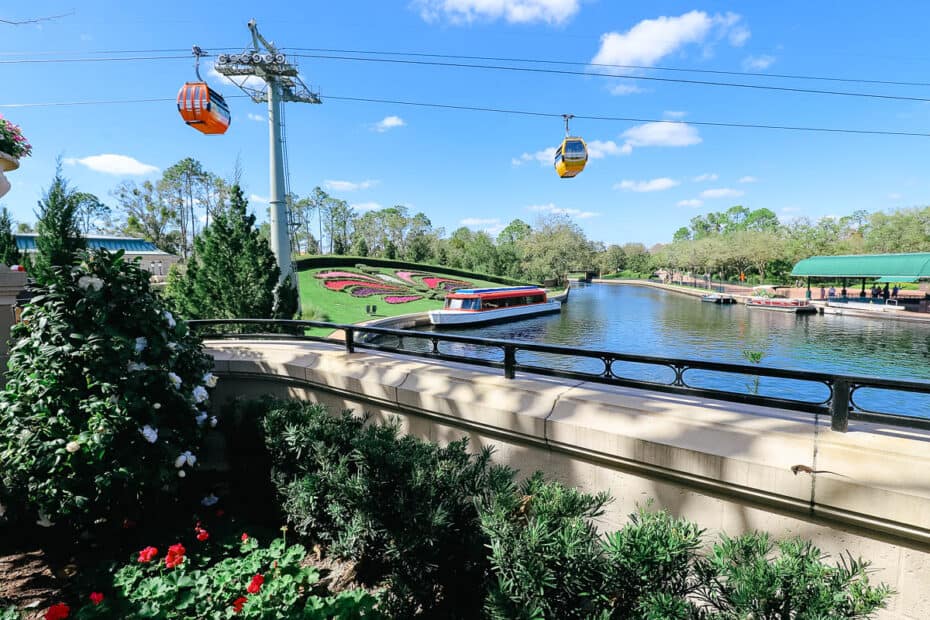 France Pavilion Attractions
France has more to do than most countries in the World Showcase. For example, the pavilion is home to one of the newest rides at Epcot, along with two films and an exhibit.
Here is the marquee for that newer Epcot attraction, Remy's Ratatouille Adventure. This attraction is original to Disneyland Paris and only opened at the Walt Disney World Resort a few years ago.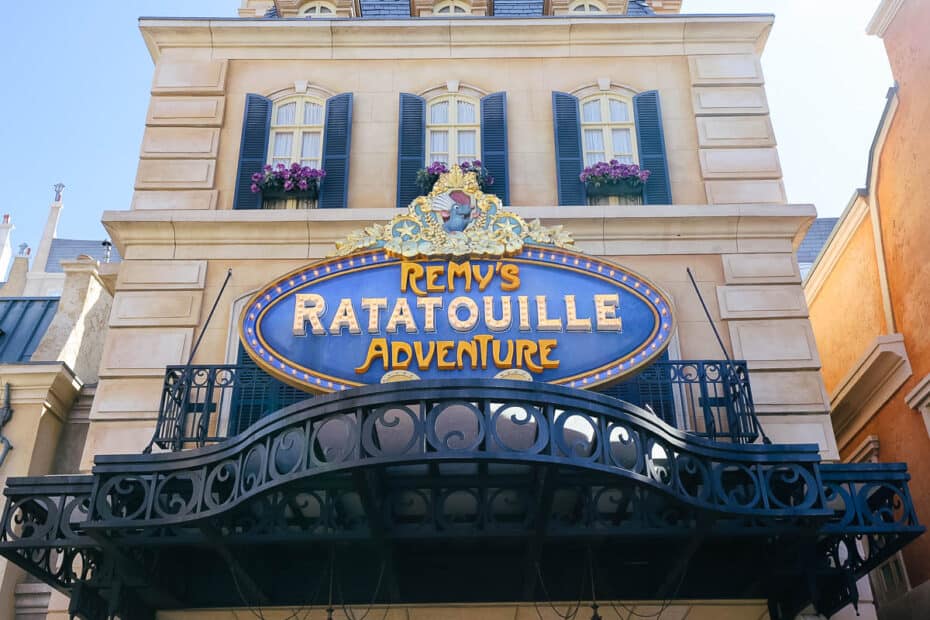 Impressions de France
We'll start with the longest-running attraction in the France Pavilion, Impressions de France. During my research, I discovered that the film also had another record.
According to the Guinness World Records:
"Impressions de France is the longest-running daily film screening in the same theatre."
There's a reason it's the longest-running film. It's an endearing show that most guests will enjoy. The film debuted at Epcot's opening on October 1, 1982.
Unfortunately, when the Beauty and the Beast Sing-Along debuted a few years ago, Impressions de France showtimes were drastically cut. As a result, you can now only see the film in the evenings.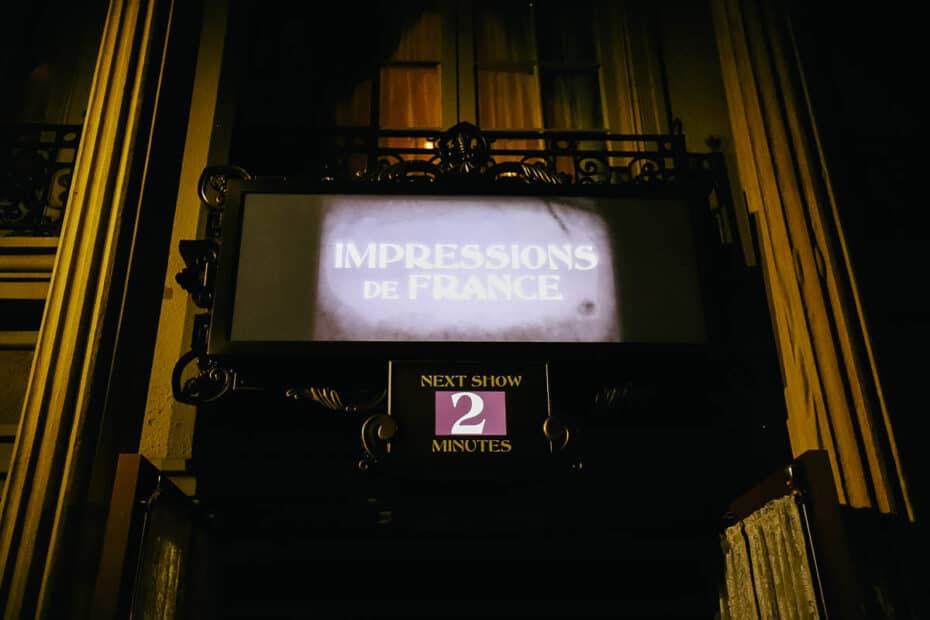 Impressions de France is in the Palais du Cinema which sits toward the center of the pavilion. It's an 18-minute long film that plays in half-hour intervals starting at 6:30 p.m. each evening.
As always, you'll want to check the My Disney Experience app on the day of your visit for exact showtimes.
Impressions de France visits many famous French landmarks, including the gardens and palace of Versailles. Not only are the visuals stunning, but the film's soundtrack features a mix of music by several famous French composers.
Related: Impressions de France at Epcot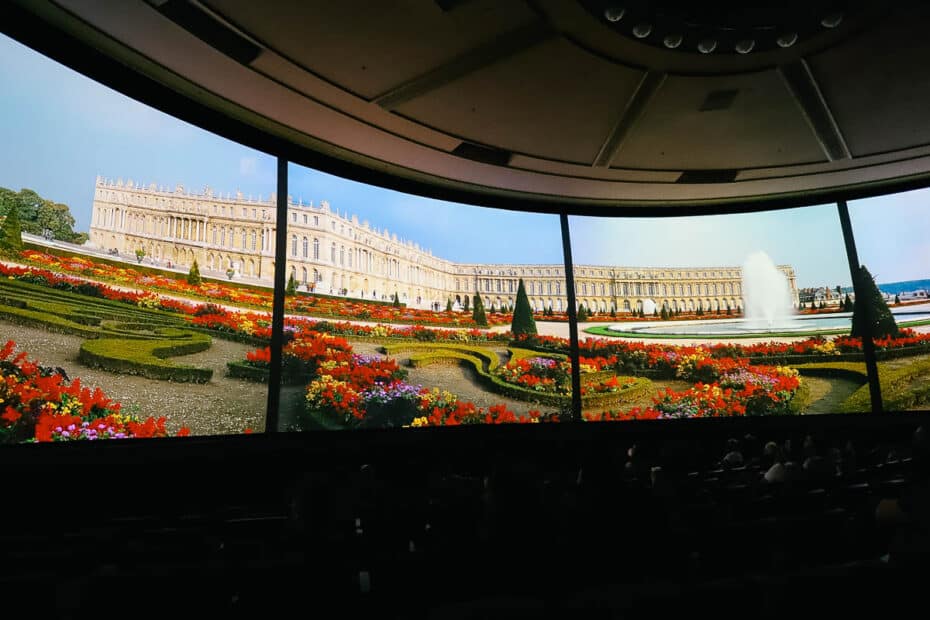 Tale as Old as Time: French Storytelling On Stage and Screen
Inside the theater's lobby, there's an exhibit called Tale as Old as Time: French Storytelling On Stage and Screen. This exhibit features six displays that honor the costumes, music, and artwork that brought French literature to life through cinema, theater, ballet, and opera.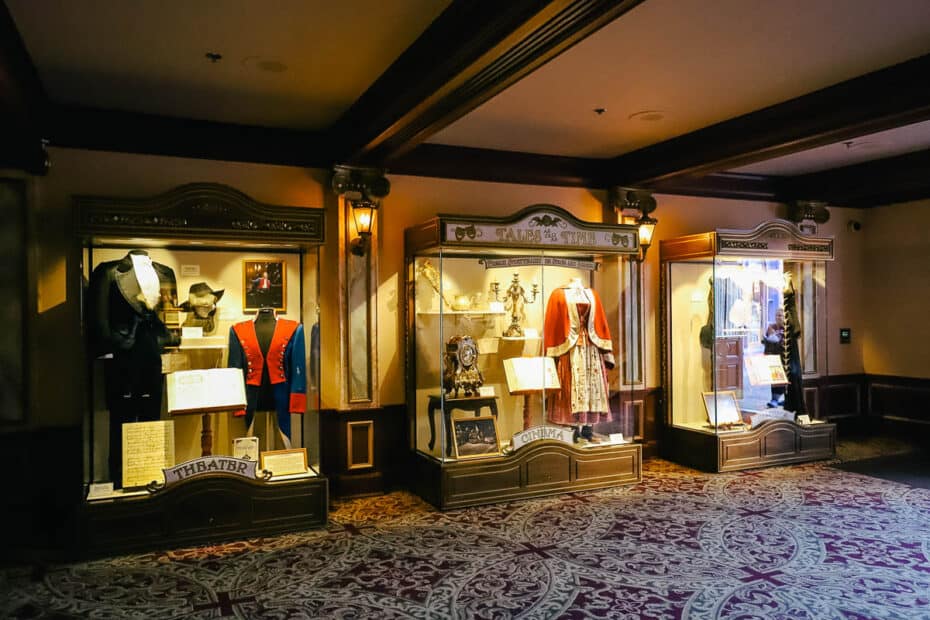 Actual pieces in the display are from various plays, movies, and operas. For example, below, we have costumes and accessories used in the live-action Beauty and the Beast. Other displays include pieces from the live-action Cinderella and Maleficent.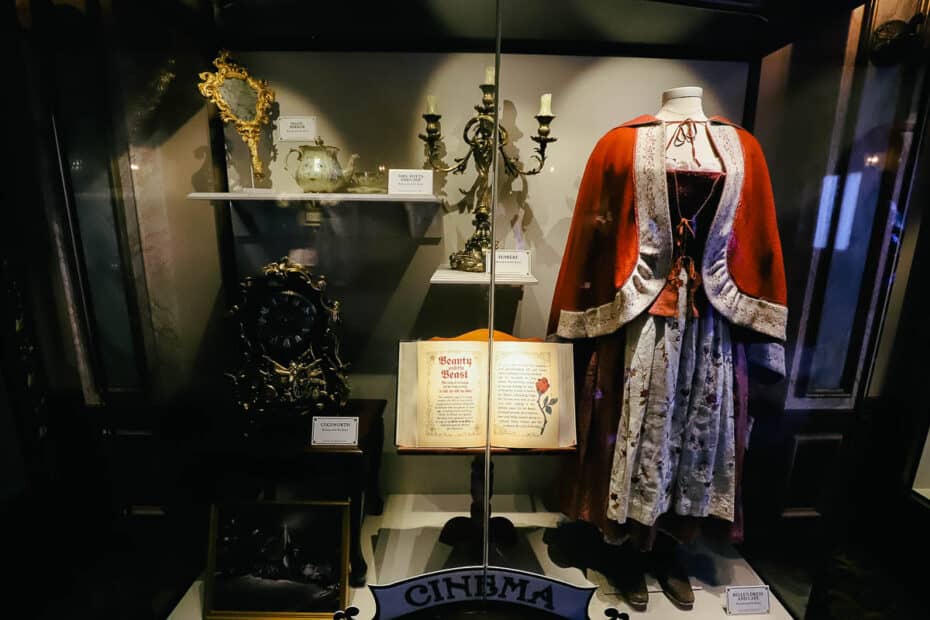 Beauty and the Beast Sing-Along
The Beauty and the Beast Sing-along is a 15-minute cartoon available most of the day in the Palais du Cinema. You'll enter the theater and sing along with the cartoon, which features significant changes to the original animated film.
In a nutshell, Lefou becomes the hero, and he's the reason Belle and the Beast got together in the first place. We have a full review if you would like to read more about the sing-along. That article includes pictures of each gallery in the French Storytelling exhibit.
Related: Beauty and the Beast Sing-Along at Epcot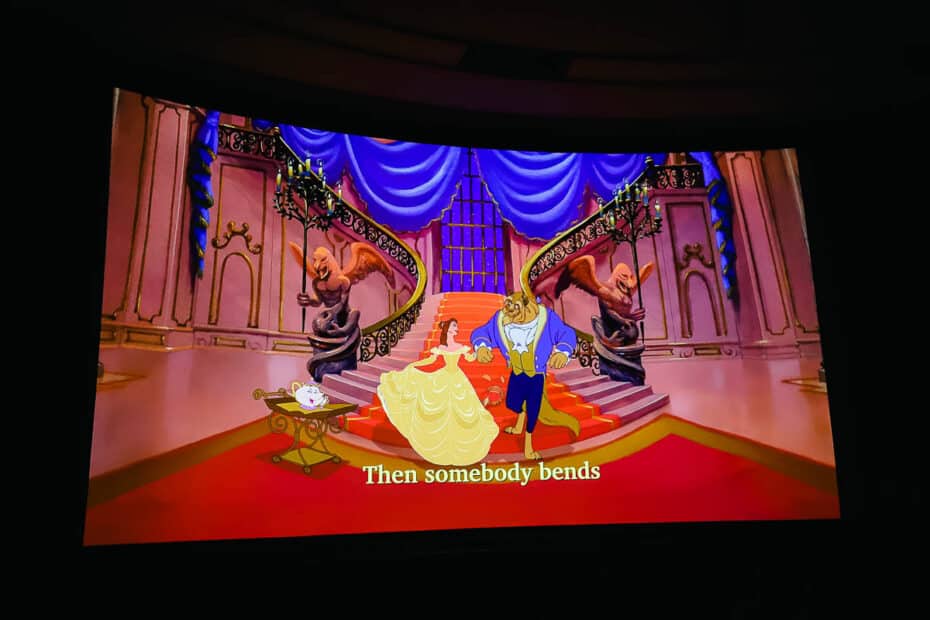 Remy's Ratatouille Adventure
Lastly, we have Remy's Ratatouille Adventure in the line of attractions in the France Pavilion. This attraction debuted in the fall of 2021 and has been well-received.
You'll join the standby or Lightning Lane queue as you head off to Gusteau's Restaurant. At the time of this update, this attraction offers individual Lightning Lane, which must be purchased separately from Genie+.
After you board a rat mobile, you're shrunk to become a little chef. While you're Chef Remy size, you'll gain a new perspective of the kitchen, which leads to an exciting adventure.
Remy's Ratatouille Adventure is a 4D attraction that requires 3D glasses.
Related: Remy's Ratatouille Adventure Ride Review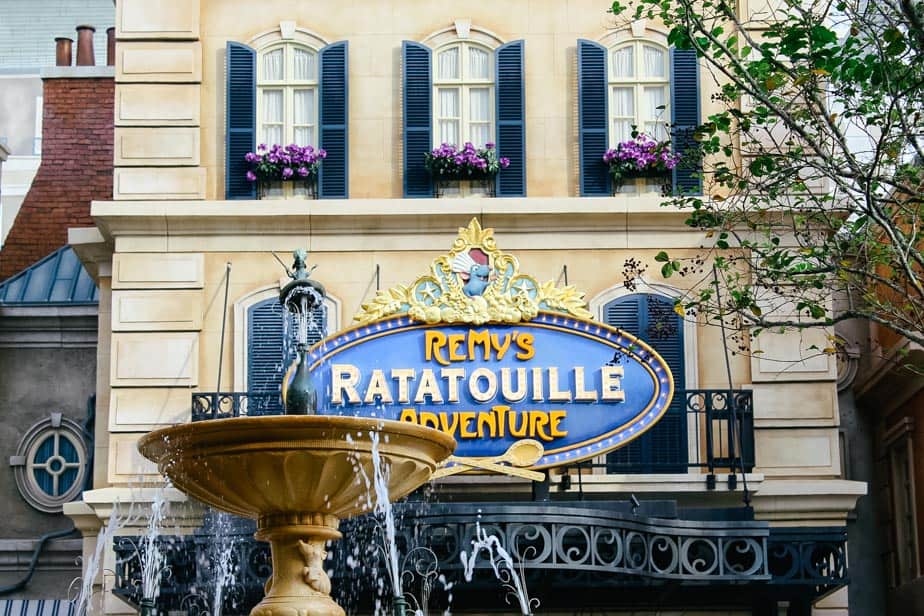 France Pavilion Entertainment
Unfortunately, we haven't seen the return of formal entertainment in the France Pavilion. Formerly, Serveur Amusant performed a balancing act several times throughout the day.
However, France is home to two character meets. Each of these Disney princesses meets daily within the pavilion.
First, we have Aurora from Sleeping Beauty, who meets in the gazebo. It's located on the far right side of the pavilion.
Related: Meet Princess Aurora at Epcot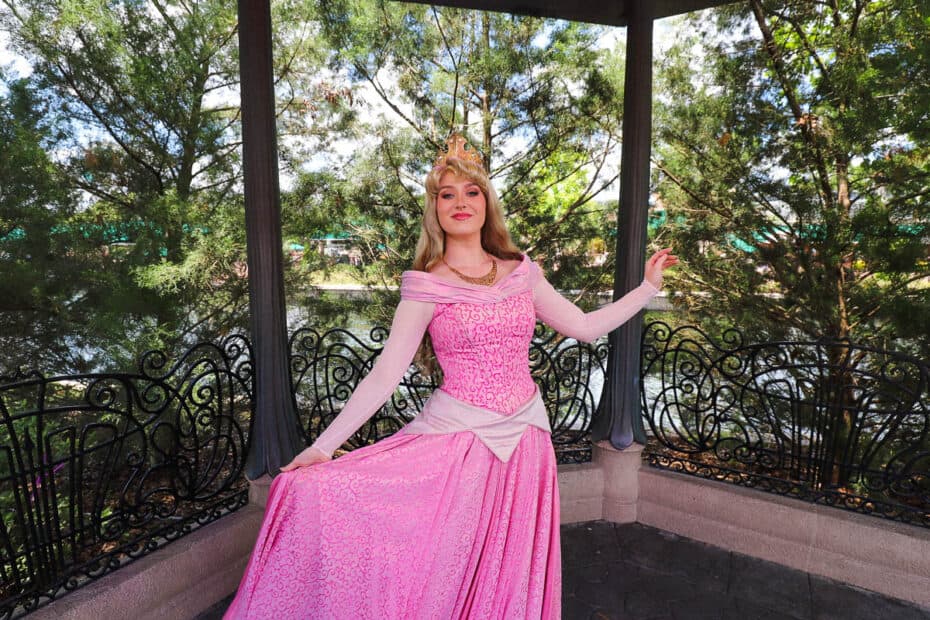 Belle meets along the lagoon side of the France Pavilion. She wears her blue village dress at this meet-and-greet location.
Related: Meet Belle at Disney World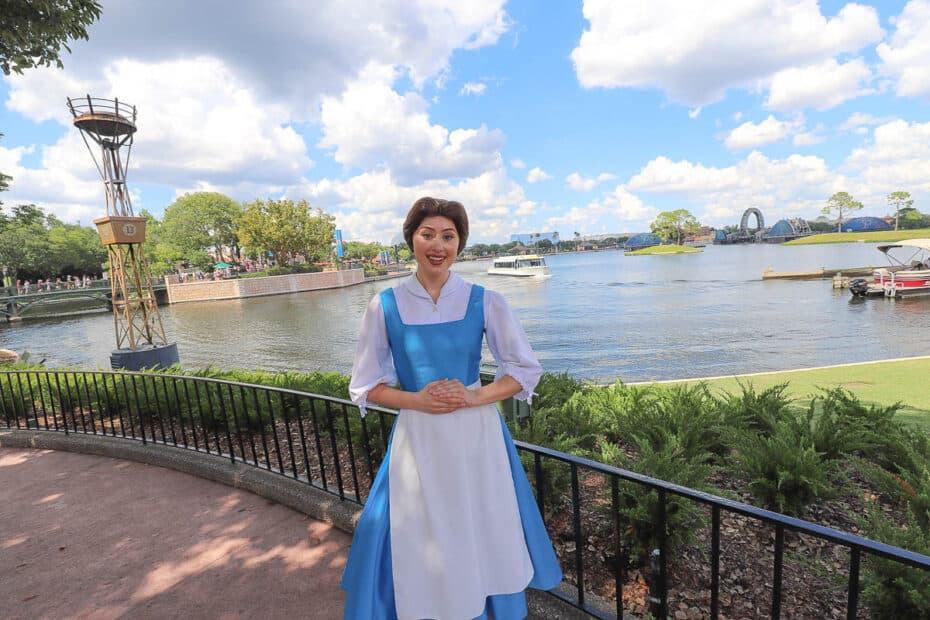 Dining at the France Pavilion
One of the things the France Pavilion has going for it is the variety of places to dine. The pavilion has you covered from table service to ice cream, drink carts, and even a signature dining location.
Chefs de France
First, we have Chefs de France, a table-service dining location in the France Pavilion. This restaurant requires a reservation. However, they will take walk-ups based on availability.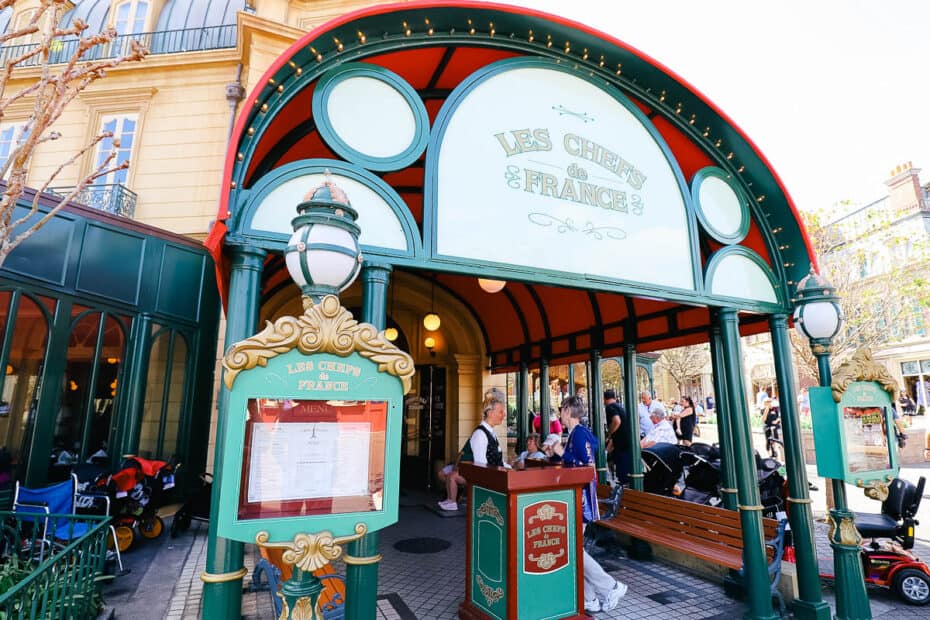 Their menu is made up of various French cuisine. Most guests go with the prix fixe menu, which currently costs $67.95 and includes one appetizer, one entree, one dessert, and one glass of a specific wine or non-alcoholic beverage.
You can preview the menu for Chefs de France here on Disney's site.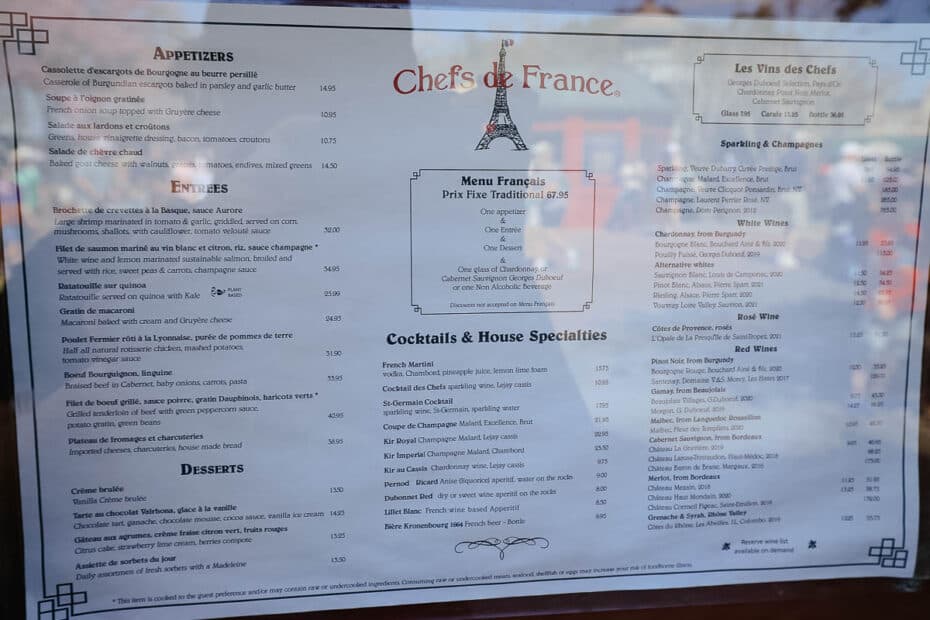 Les Vins Des Chefs De France
Next, we have the popular Les Vins Des Chefs De France, which is a kiosk that sits on the lagoon side of the pavilion. It's directly across the walkway from Chefs de France.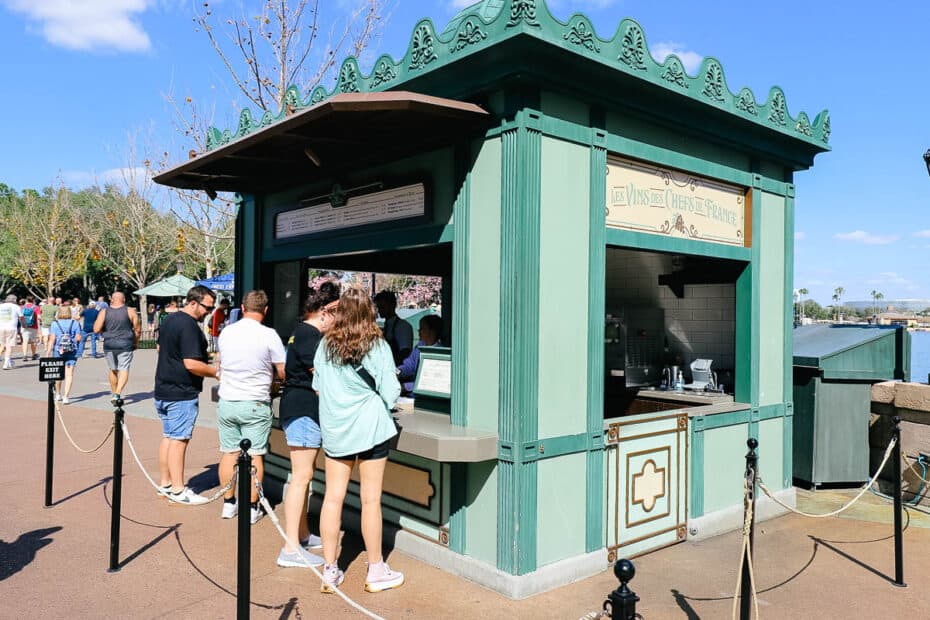 This is where you'll pick up that famous orange slush.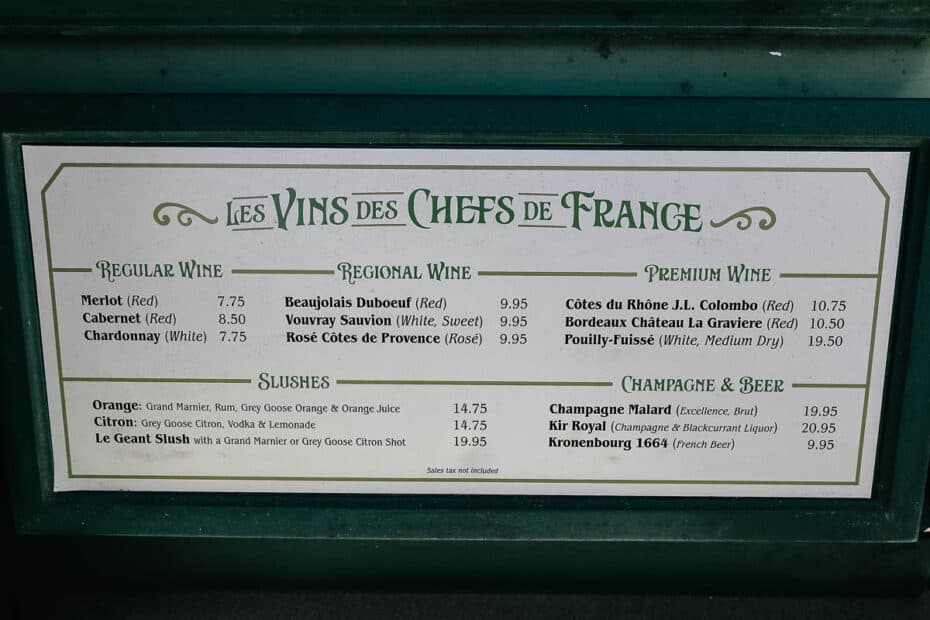 Below is a photo of the citron version we tried more years ago than I would admit. Most will likely prefer the sweeter taste of the orange version, which includes Grand Marnier.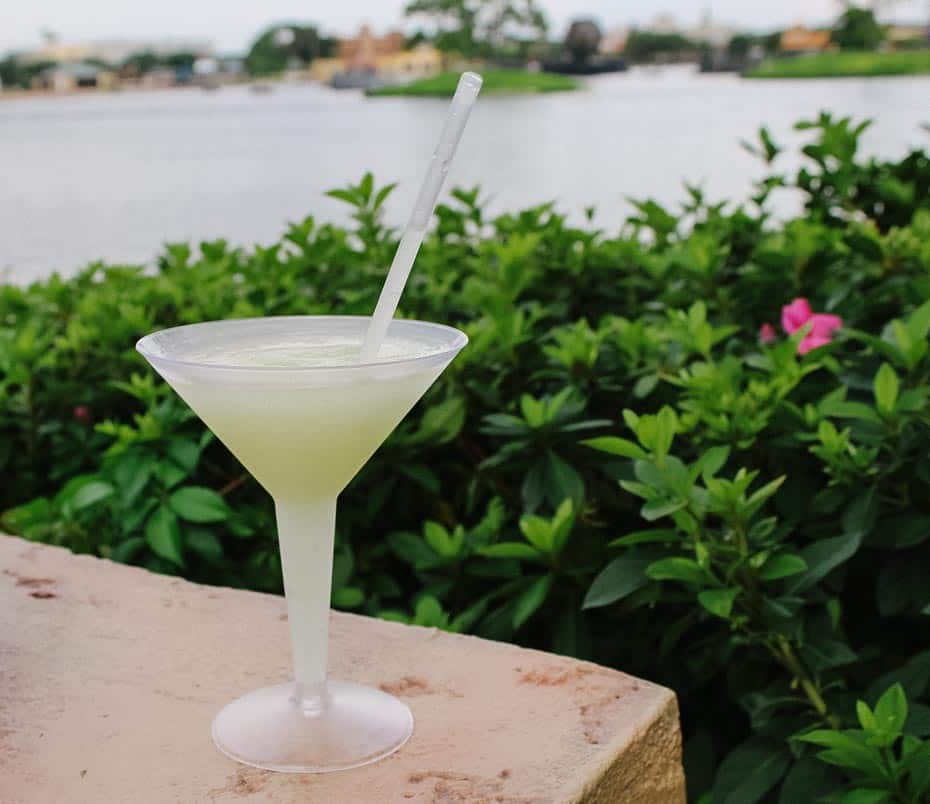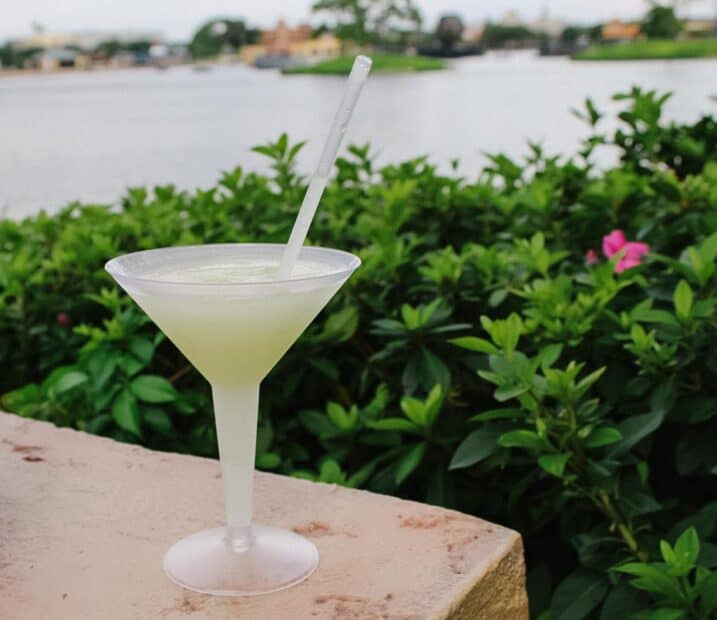 L'Artisan Des Glaces
Anyone searching for an ice cream treat will want to check out L'Artisan Des Glaces toward the back of the pavilion. Here you'll find 16 flavors of handcrafted ice cream.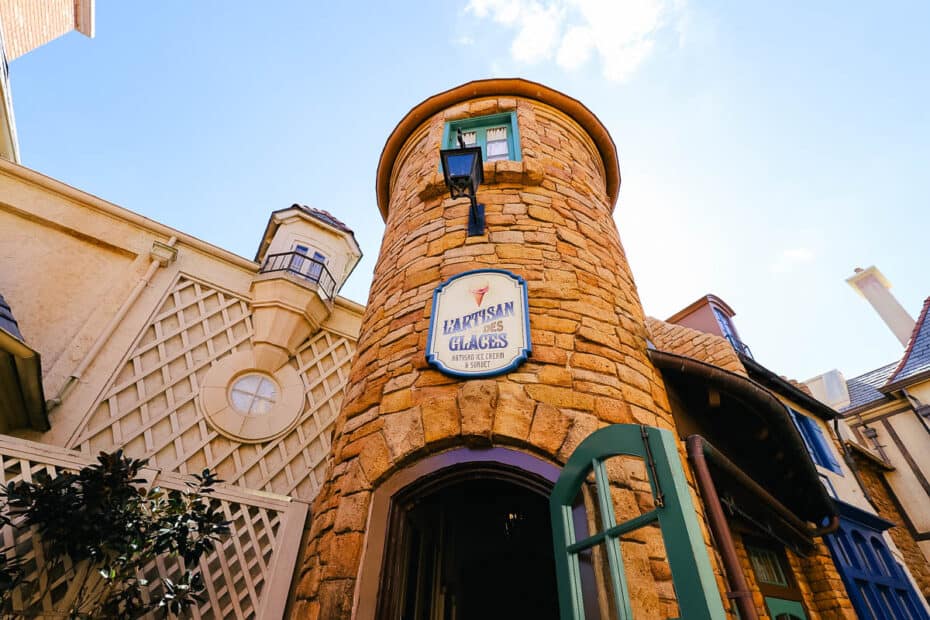 Below is a list of the available flavors on my last visit.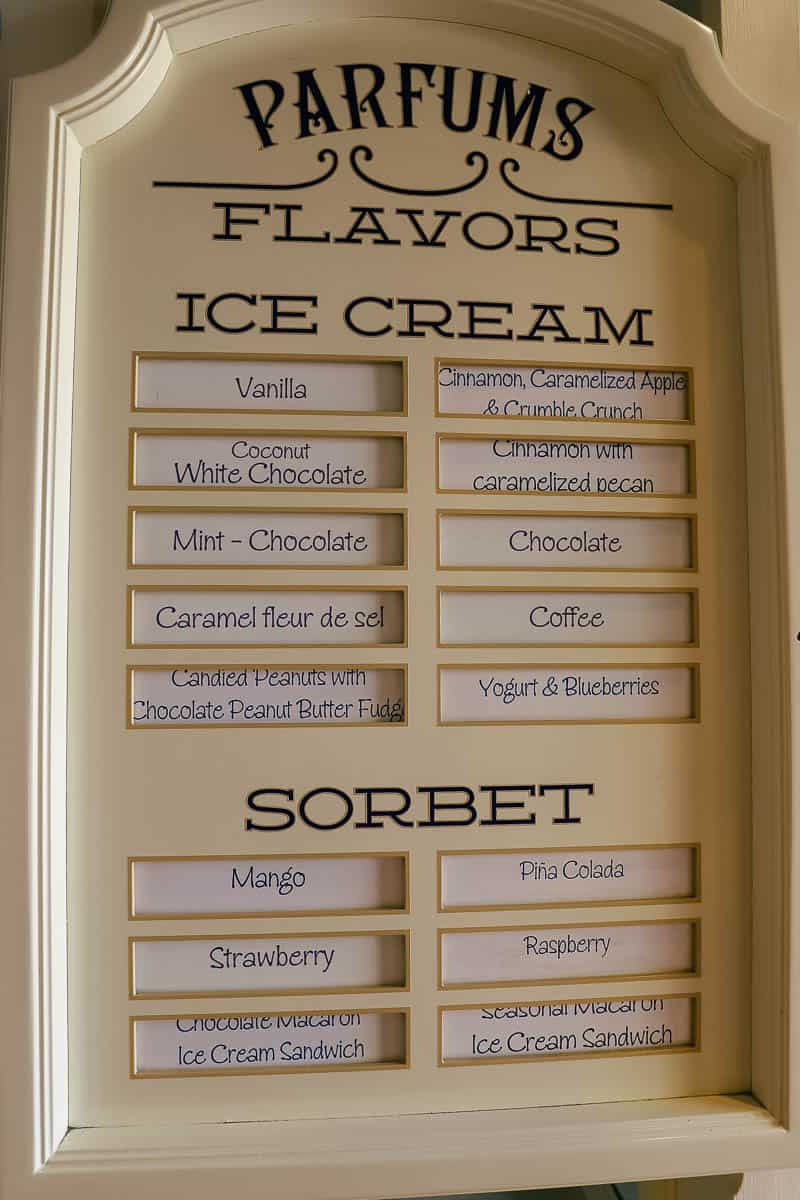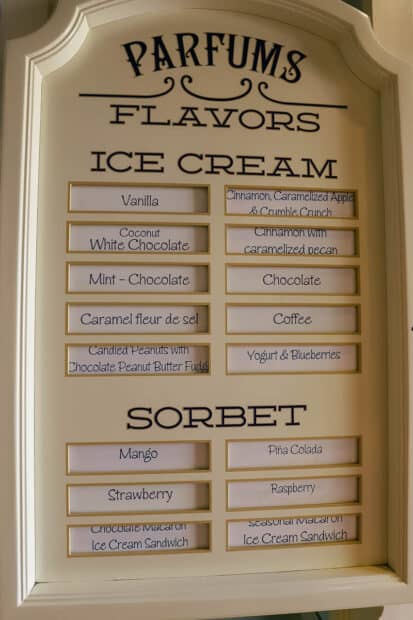 When I was taking photos to update this article, I had one scoop of Yogurt and Blueberries. It was delicious. Several sorbets are also available.
L'Artisan is where you can get a variety of popular treats. First, you order a single or double scoop in a waffle or a cone. Or you select a macaron, croque glace, cafe glace, coupe du dimanche, or an ice cream martini.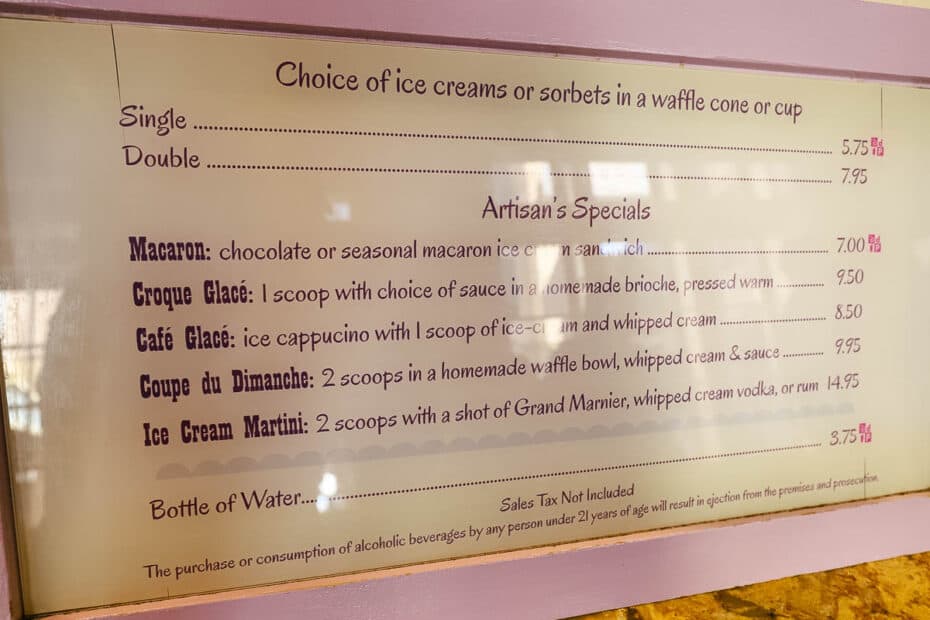 For reference, the macaron is an ice cream sandwich. You choose the chocolate or seasonal macaron and what ice cream you want in the middle.
However, the croque glace is the most popular dish here. That's where you choose one scoop of ice cream, and the cast member presses it between two slices of warm homemade brioche.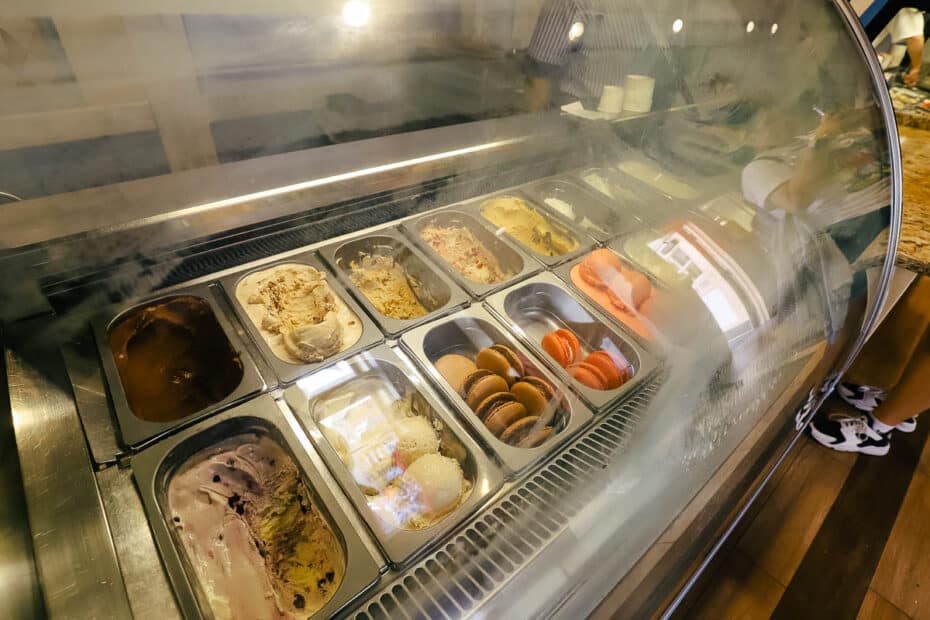 Les Halles Boulangerie
Probably the most popular counter service in the World Showcase is Les Halles Boulangerie. It's also usually the only counter service that's open all day in the World Showcase.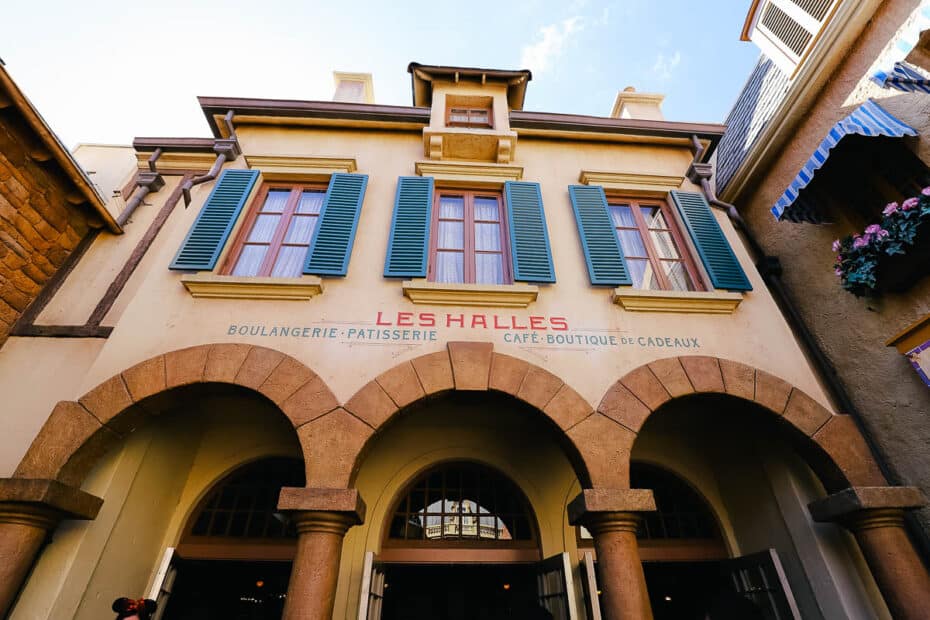 Here's a look inside the French bakery. Guests enter down the middle and are called to either the right or left side as they approach the counter. Each side is identical with the same offerings, so it doesn't matter which way you are directed.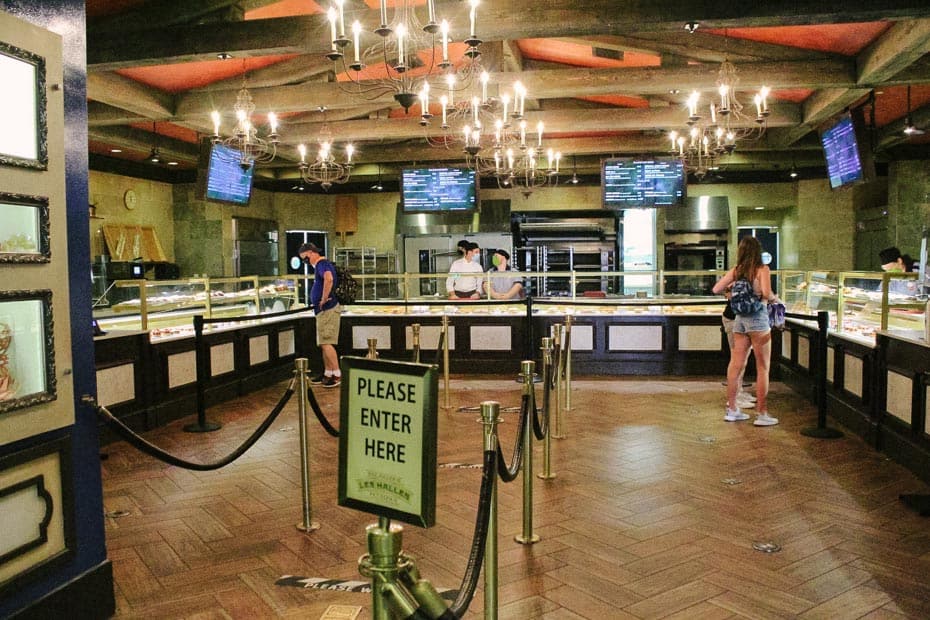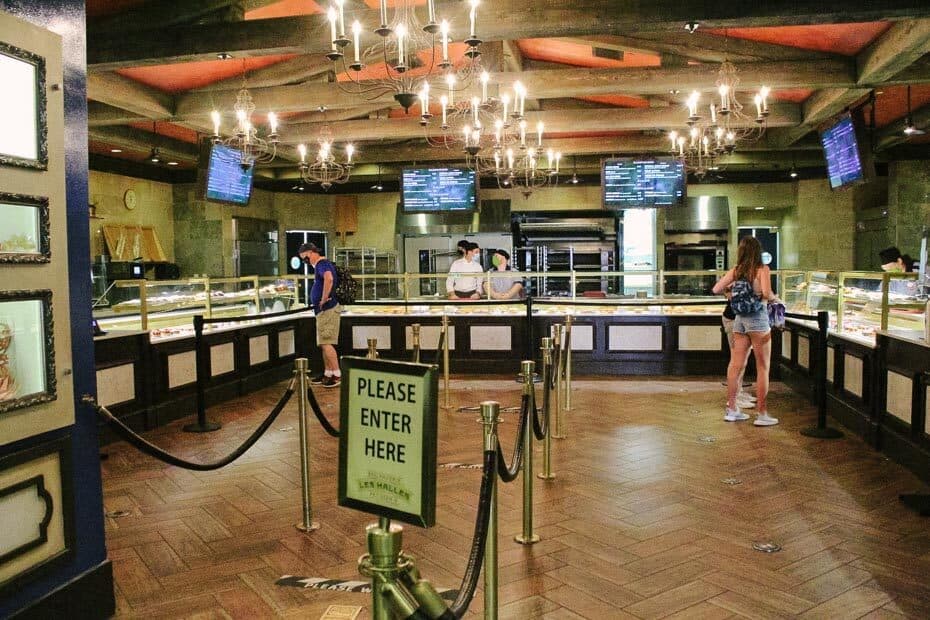 There are a ton of menu items. Below we see a list of pastries including tarts and desserts.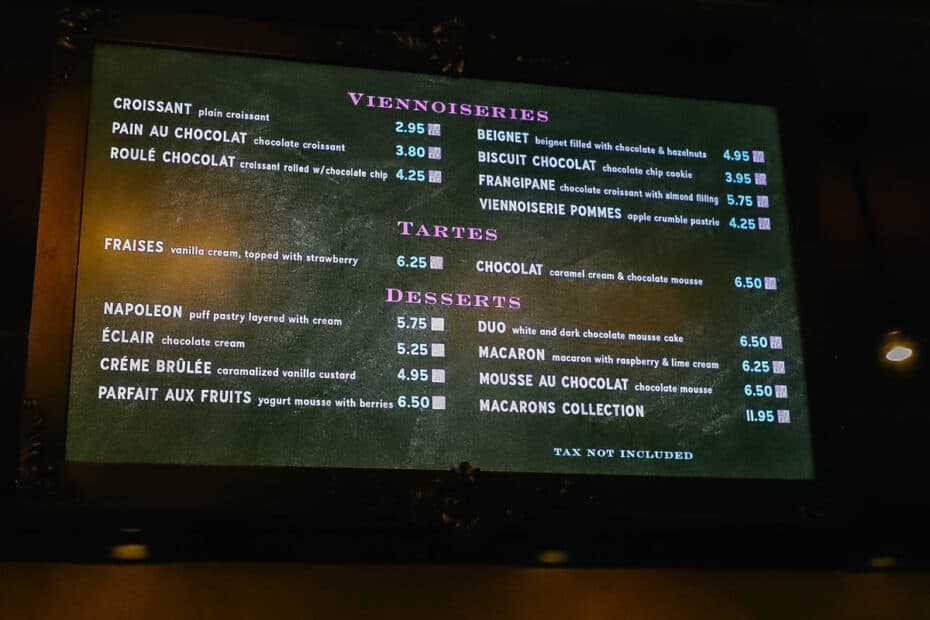 Several coffee, juice, wine, and champagne selections are available.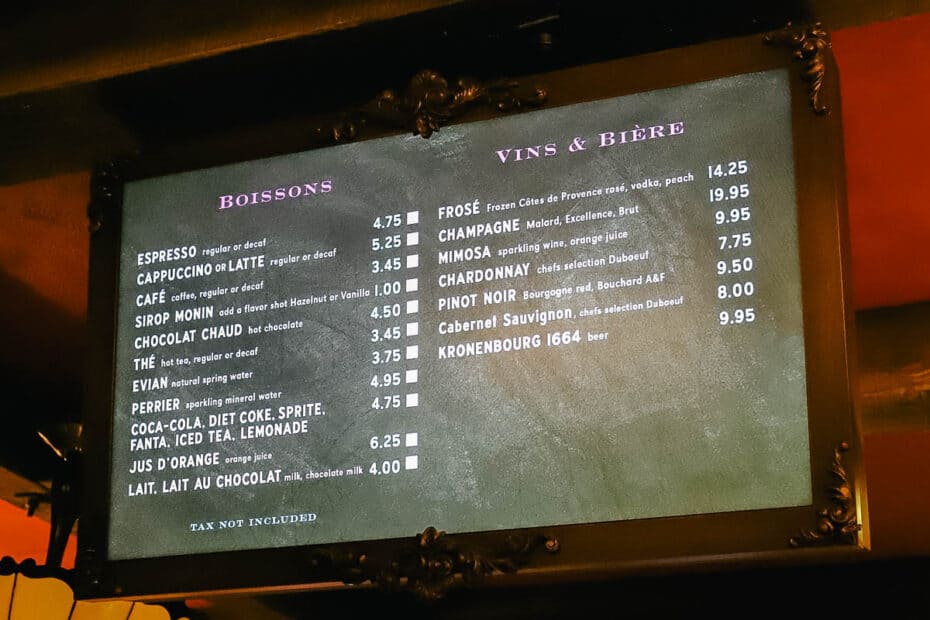 Here is a menu listing sandwiches, quiche, and other specialties.
The entire Boulangerie menu with prices is available here on Disney's site.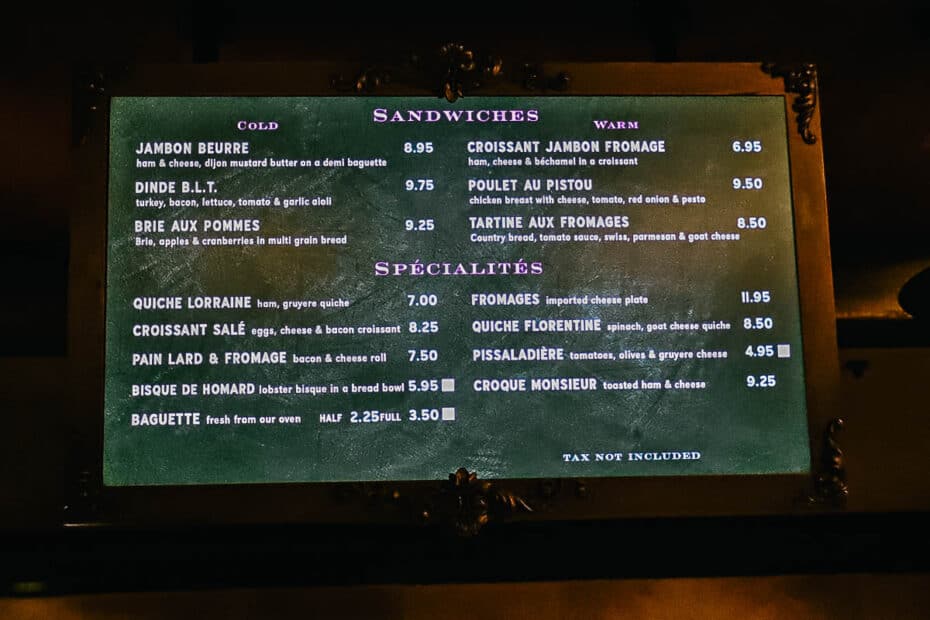 I took a few photos of the various cases.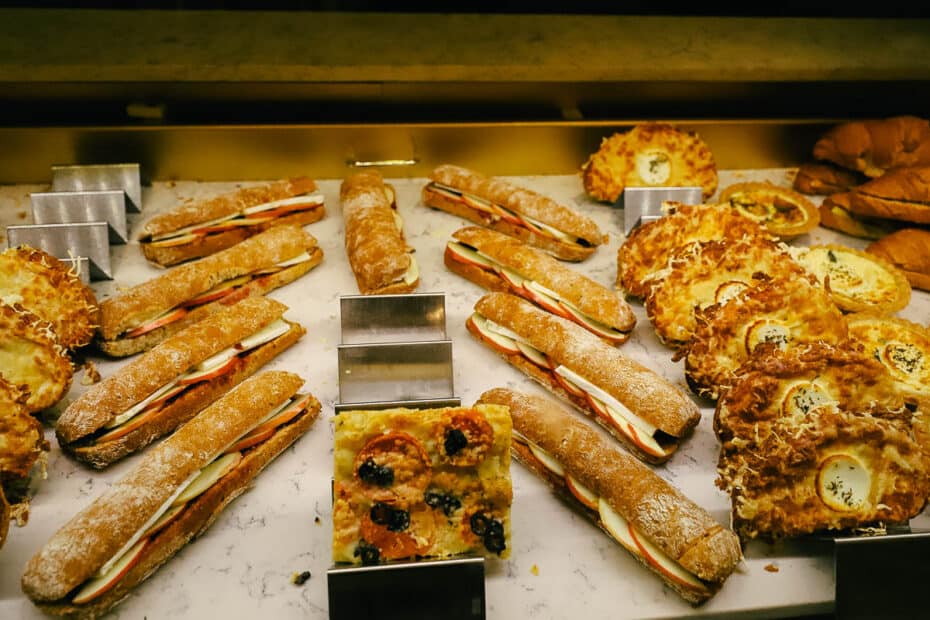 They will reheat any of the entree items.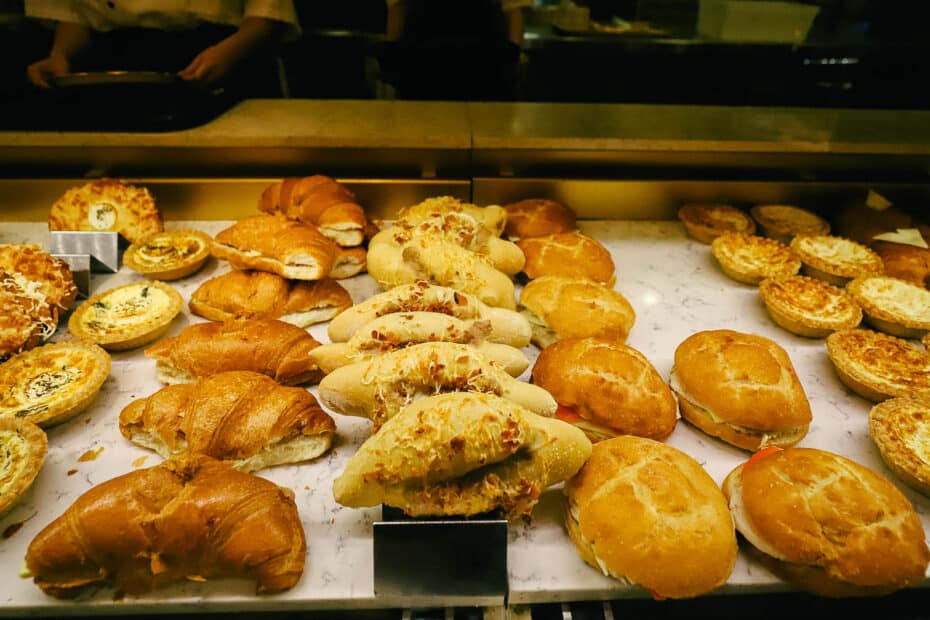 Here we have baguettes with jams, and a lobster bisque is available.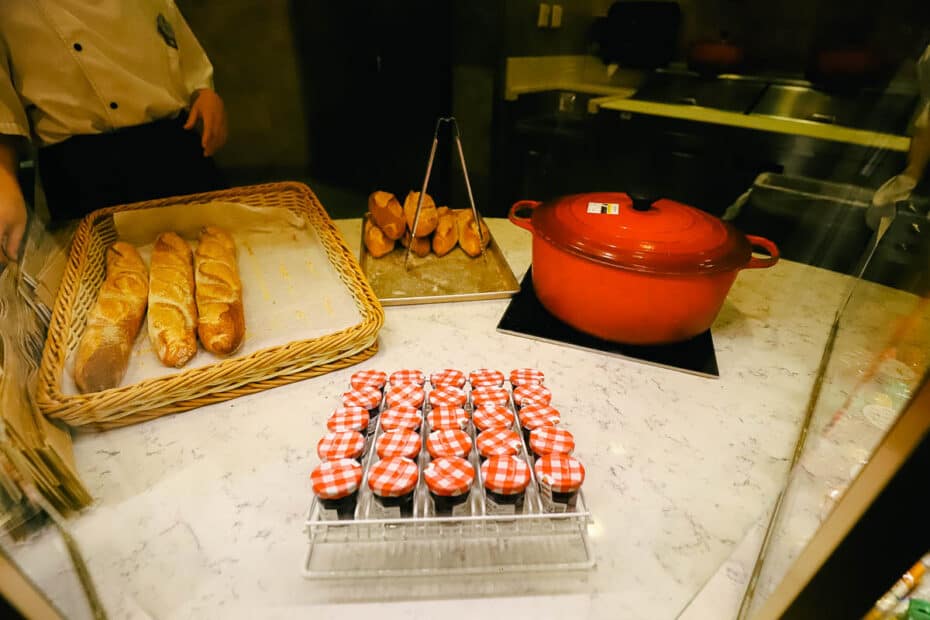 Then there are the dessert cases.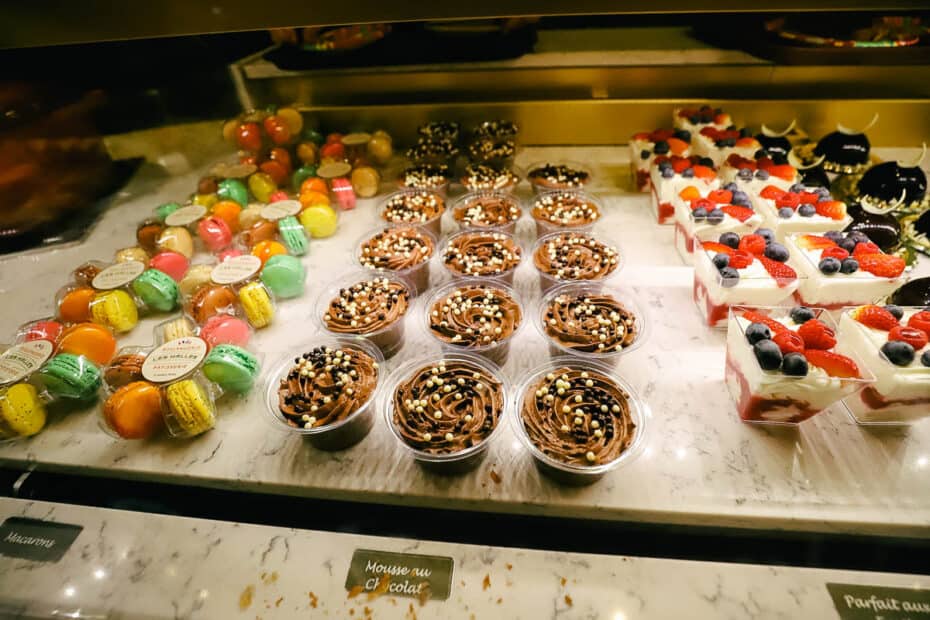 It's so difficult to make a selection.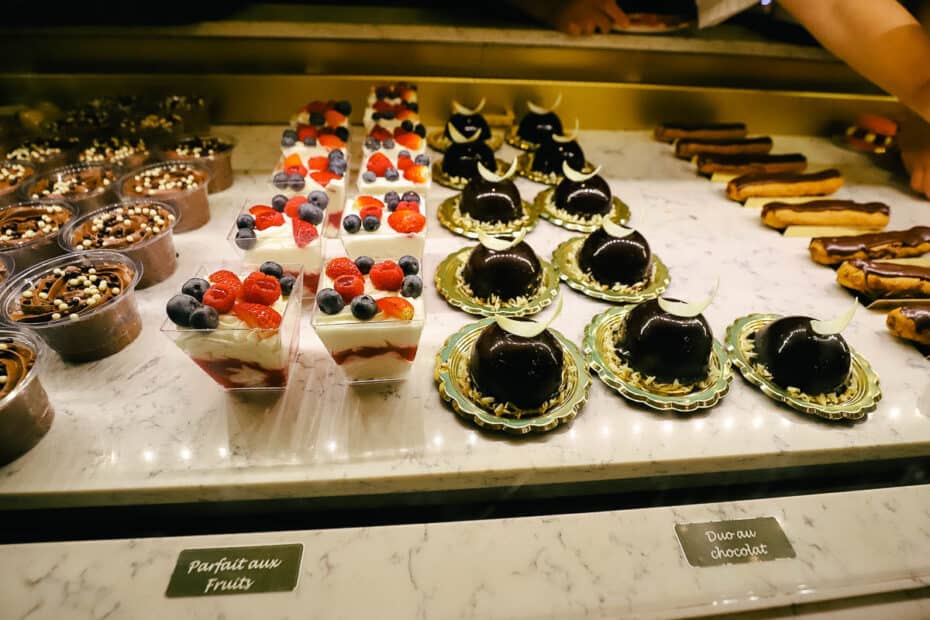 While we haven't had everything here, we have tried several items.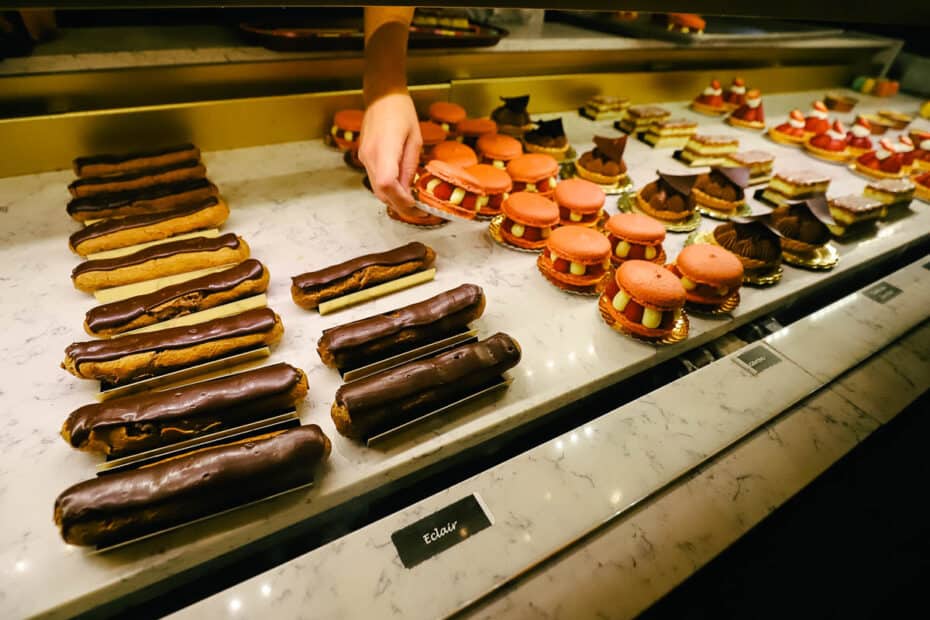 I imagine the giant macaron is one of the most popular items. We see it often.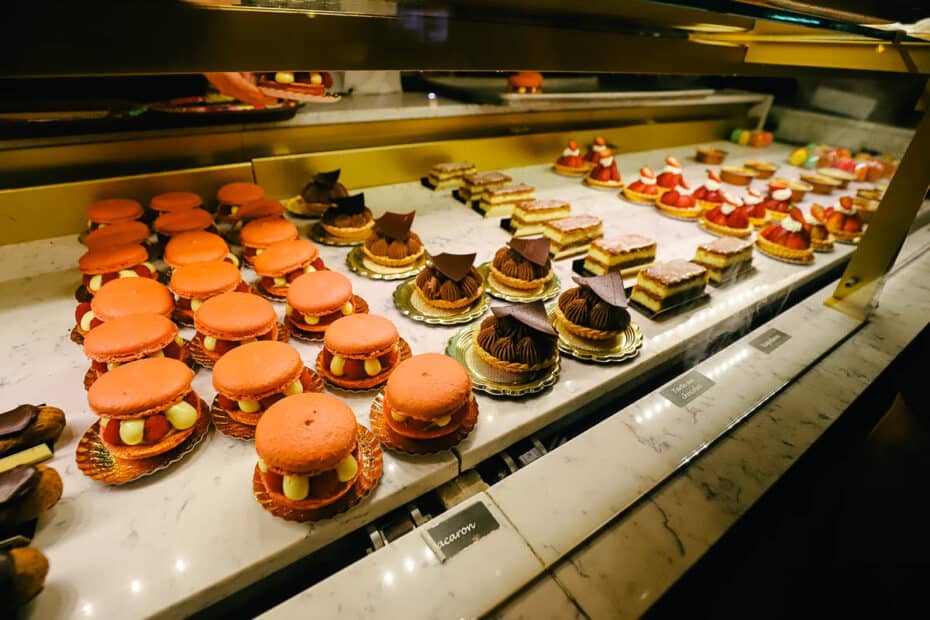 On this visit, we tried the chocolate tart. As a lover of chocolate, I thoroughly enjoyed it.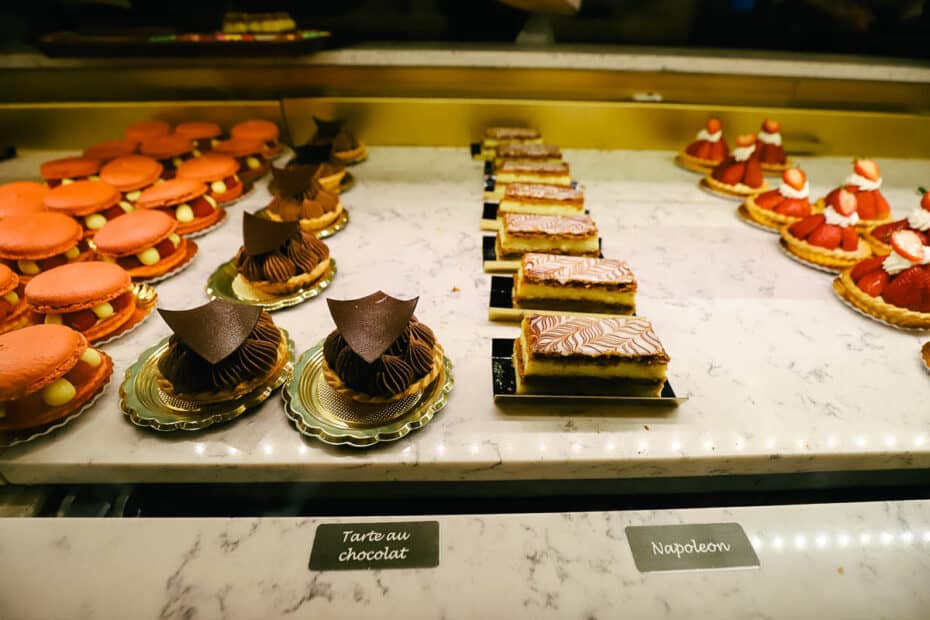 However, this strawberry tart is my favorite dessert in all of Epcot. It is simple, filling, and offers an outstanding burst of flavor.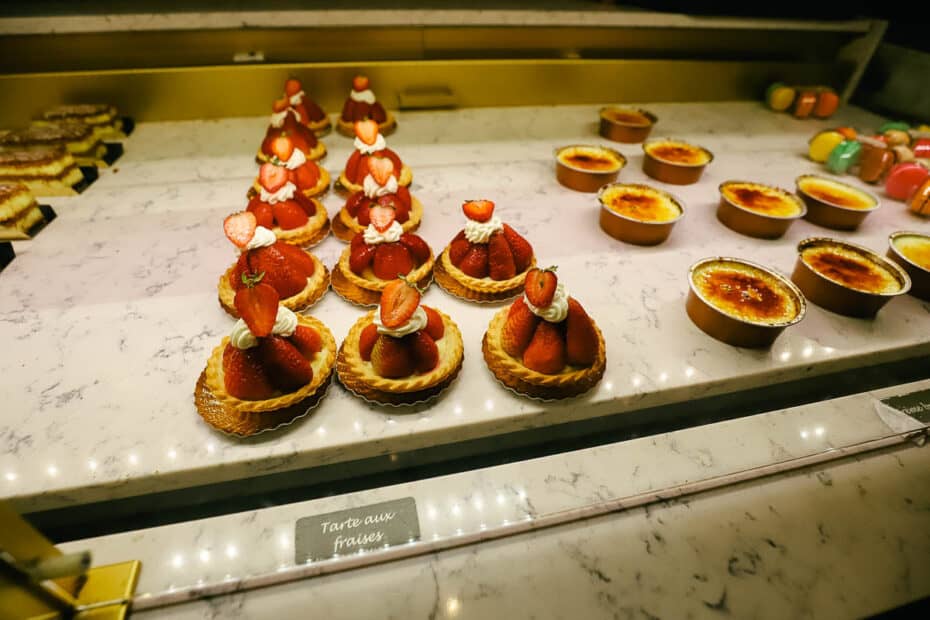 These hazelnut beignets looked scrumptious.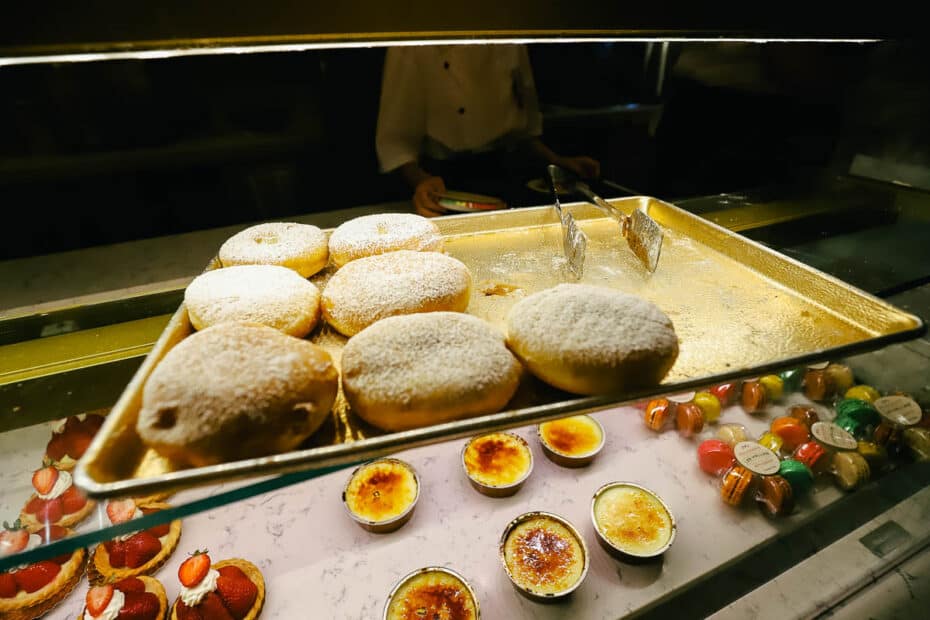 If you have kids begging for a macaron, from my experience, it might be better to purchase the package than the individual pink one.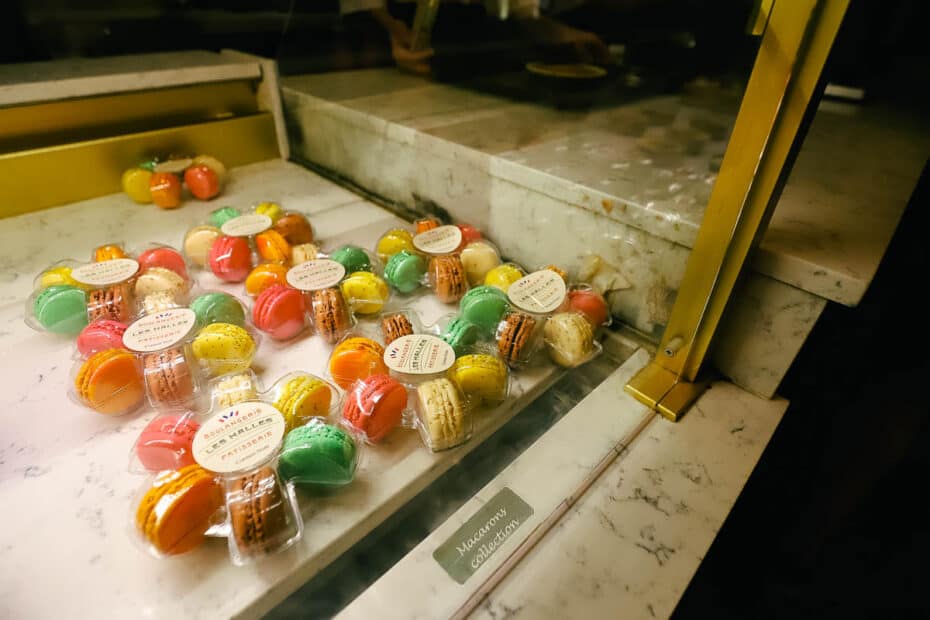 Les Vins de France (Quick Service)
Les Vins de France is a gift shop inside the France Pavilion. However, this is a popular location for champagne and wine.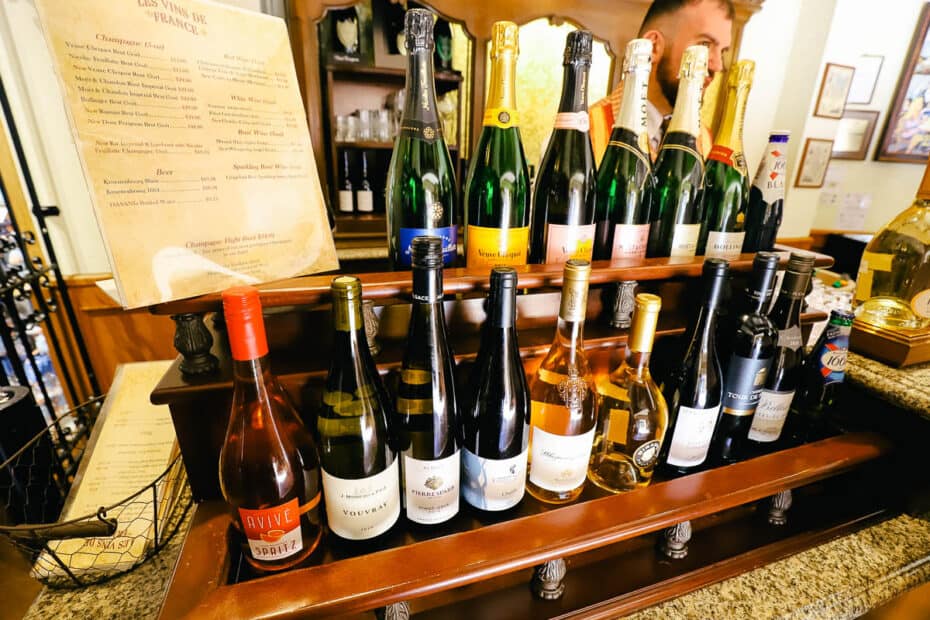 Most guests carrying a flute around the pavilion have purchased it from this shop.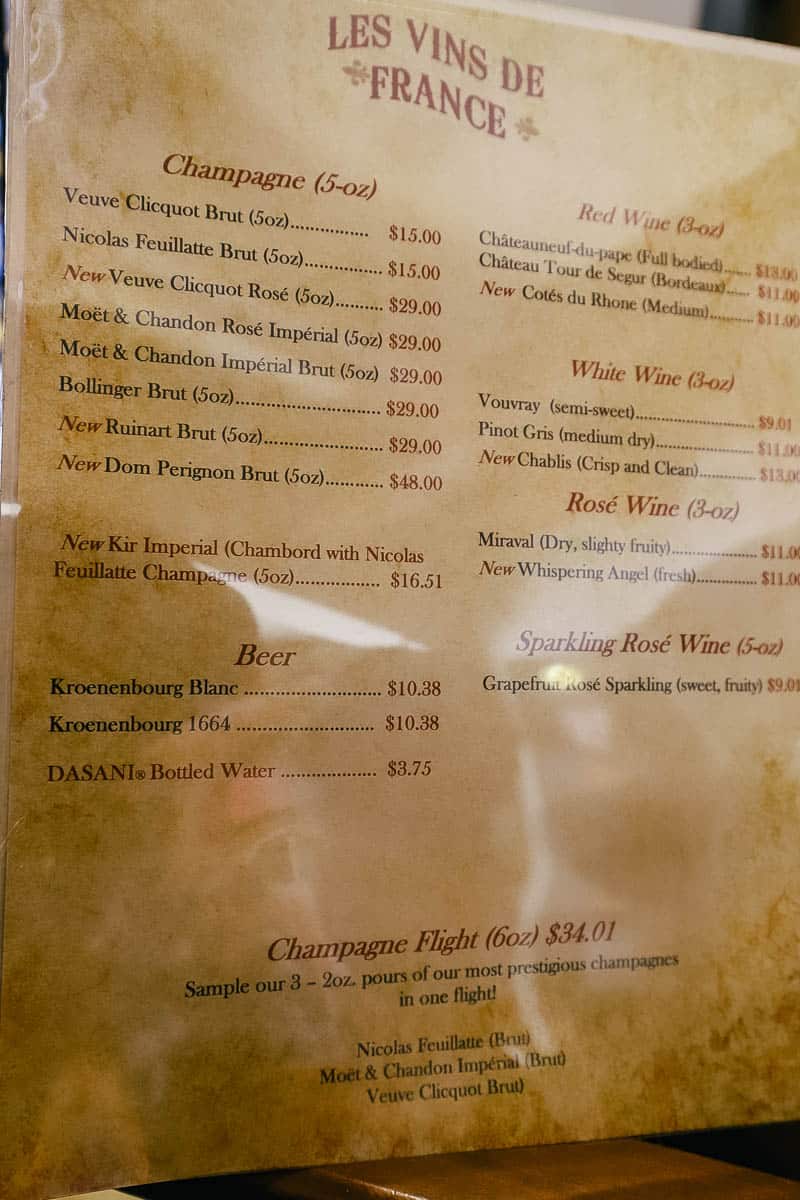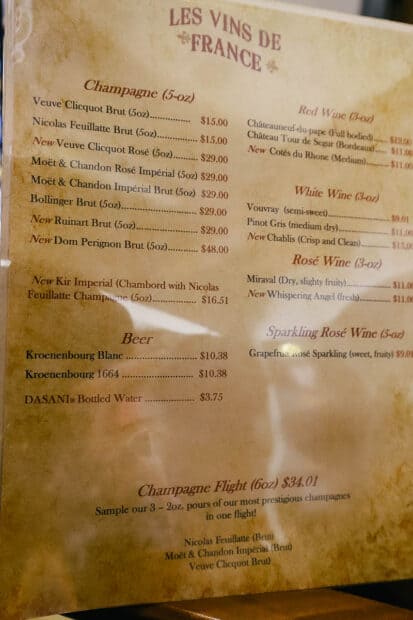 Additionally, they have a champagne flight that comes with three (2 oz.) pours of champagne.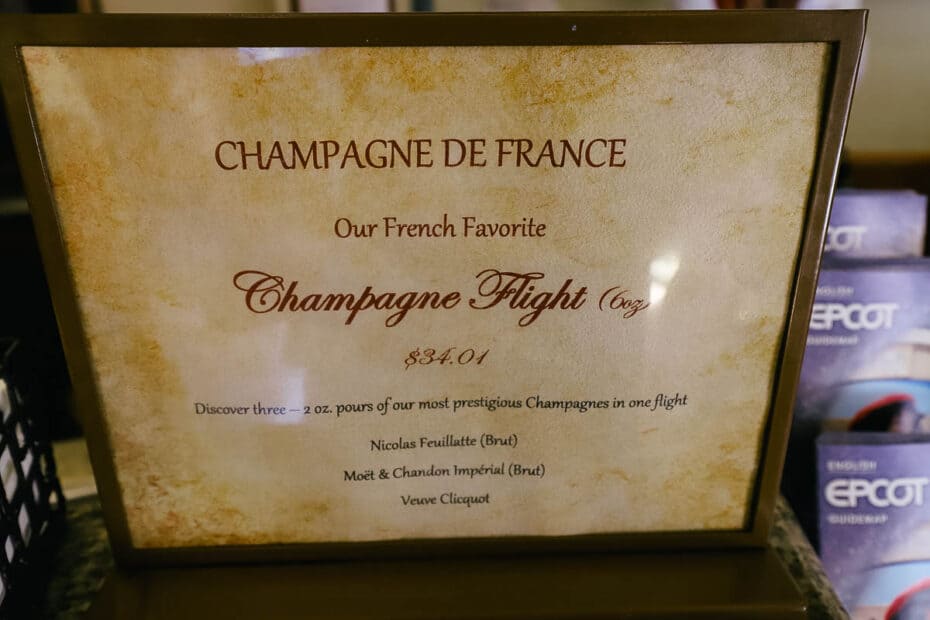 Monsieur Paul
Monsieur Paul is a signature dining location in the France Pavilion. It was named after one of its founders, Chef Paul Bocuse.
You can expect high-end French cuisine at Monsieur Paul. Preview their menu here on Disney's site.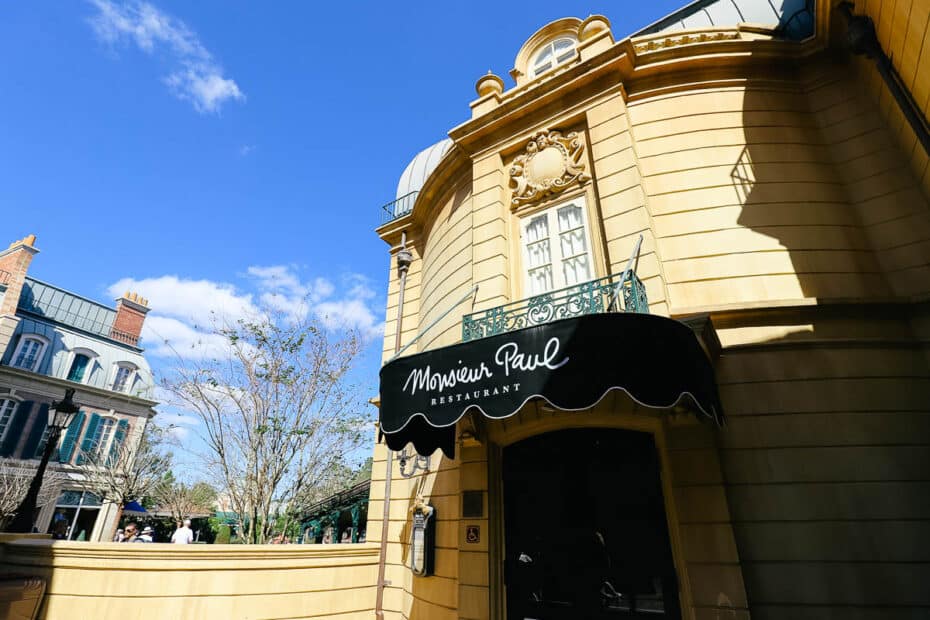 La Creperie de Paris
Lastly, La Creperie de Paris opened a few years ago as part of the France Pavilion expansion. La Creperie de Paris is a table service dining location with an a la carte menu and a prix fixe menu option.
Related: La Creperie de Paris Review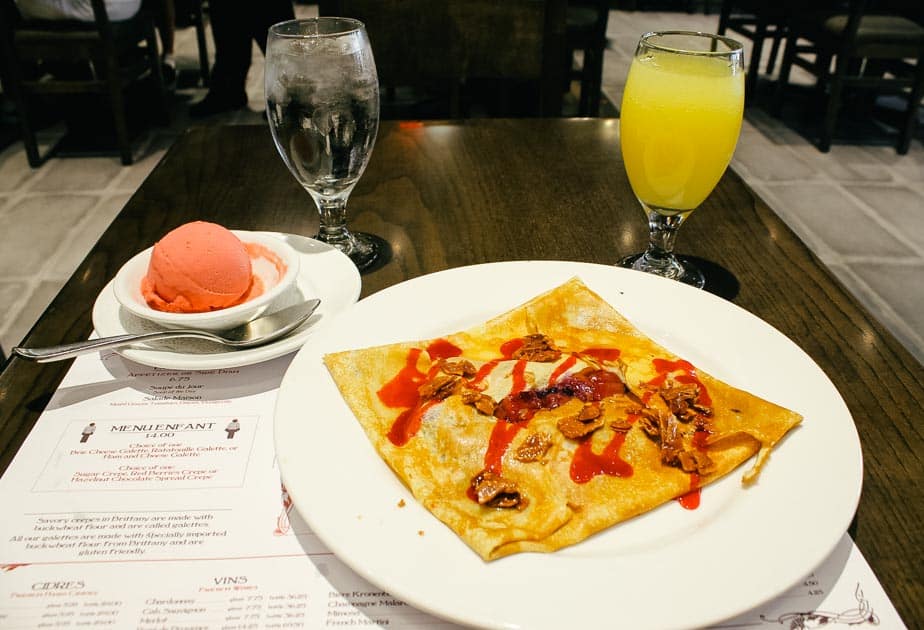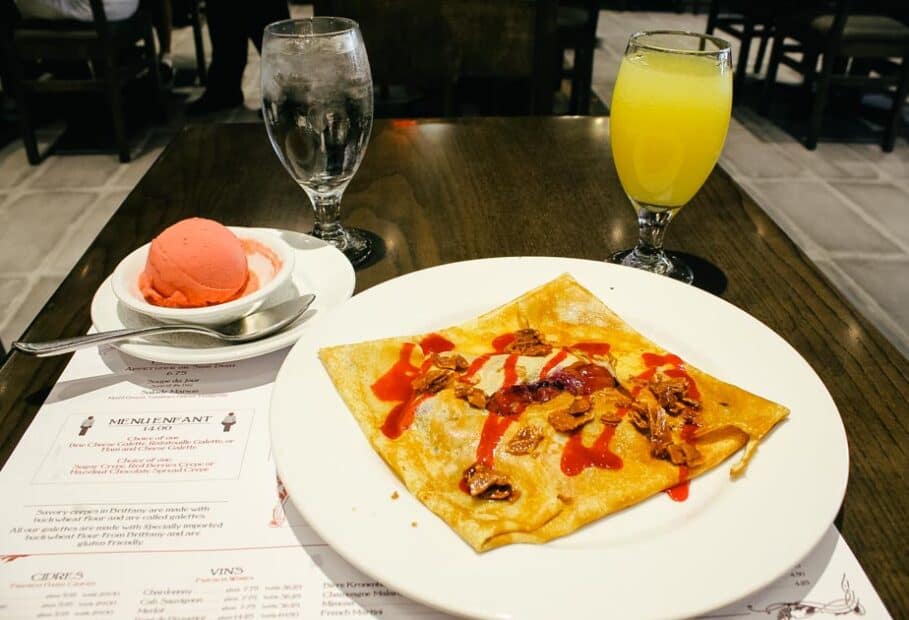 Additionally, the creperie has a walk-up counter service window toward the far side of the building.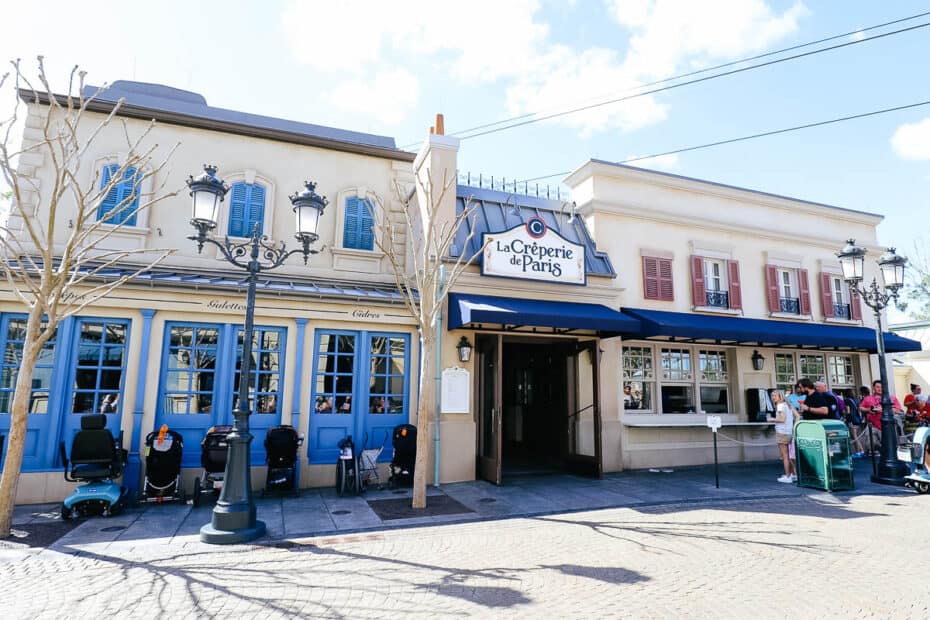 Shops in Epcot's France Pavilion
Before we wrap things up, we'll look at the shops in the France Pavilion. Surprisingly, the pavilion didn't get a new shop with the recent expansion. However, there is a kiosk with merchandise from Disney's Pixar Ratatouille.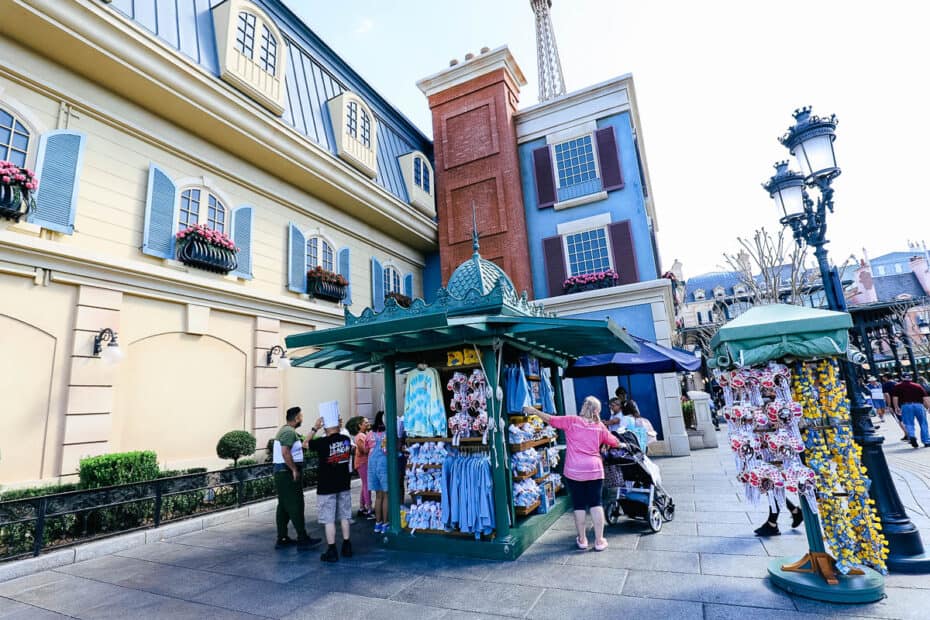 This chef hat is pretty popular.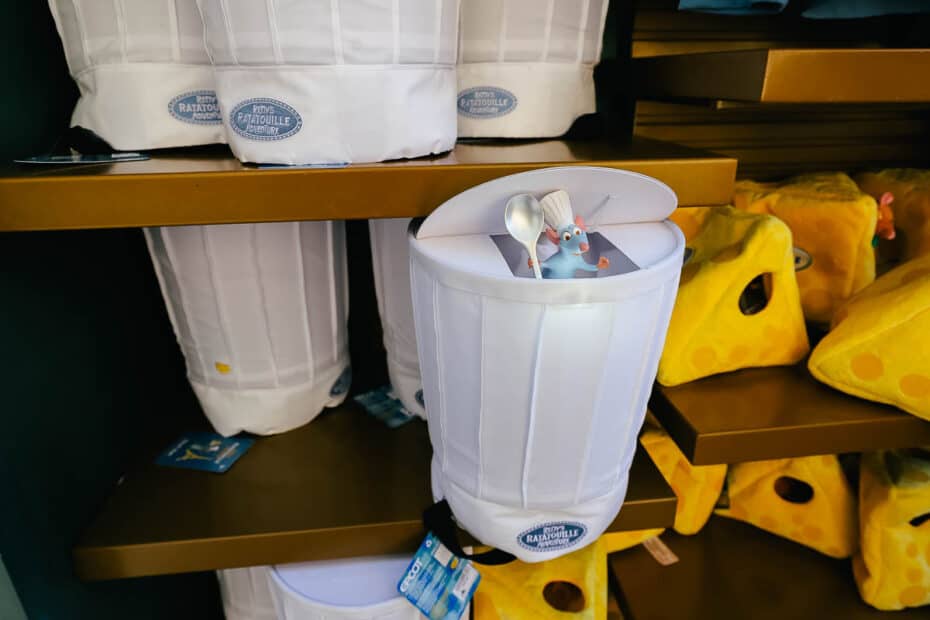 La'Signature is home to Guerlain Paris products and offers a variety of other French cosmetics and perfumes.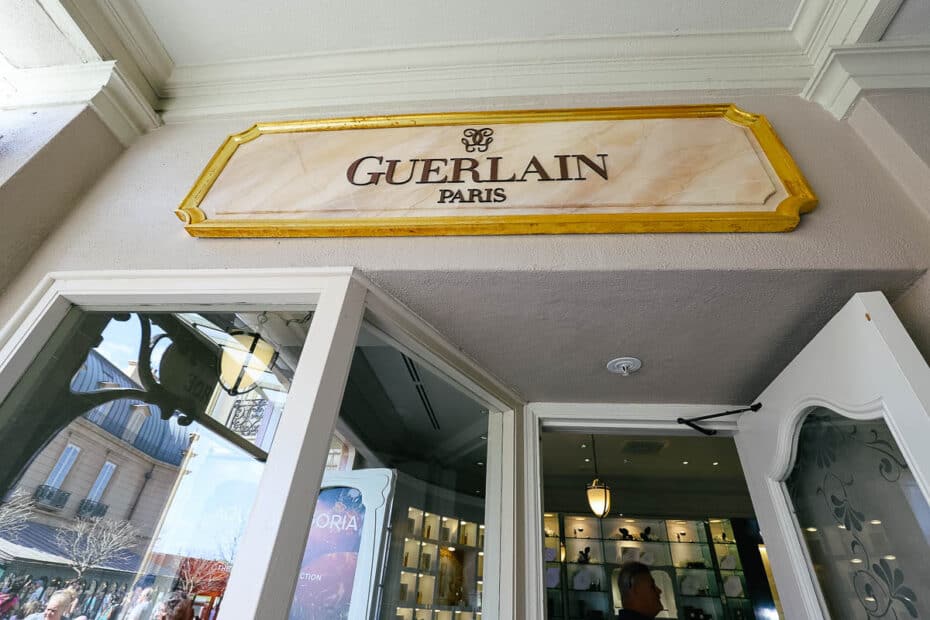 Here's a look inside the store.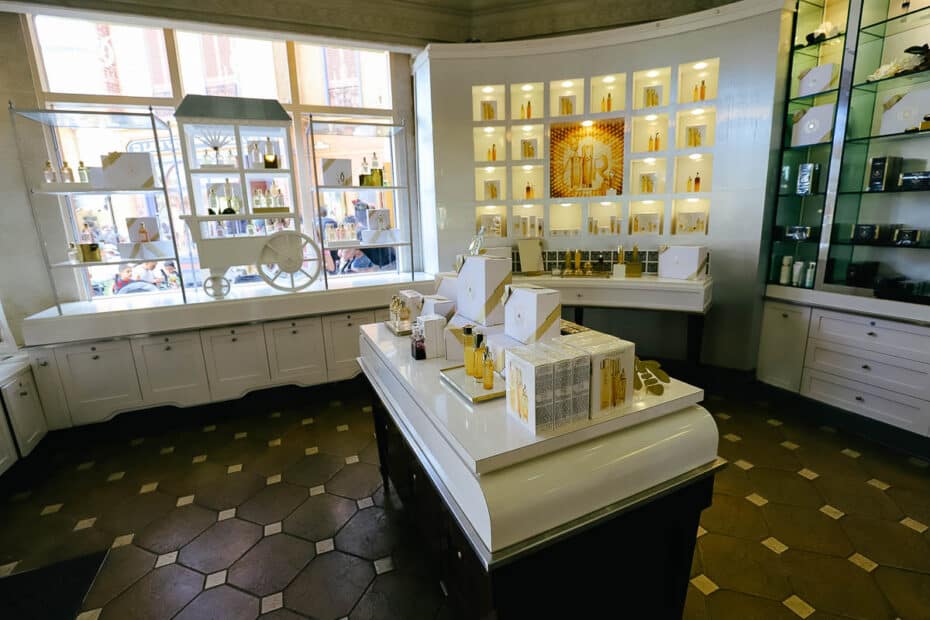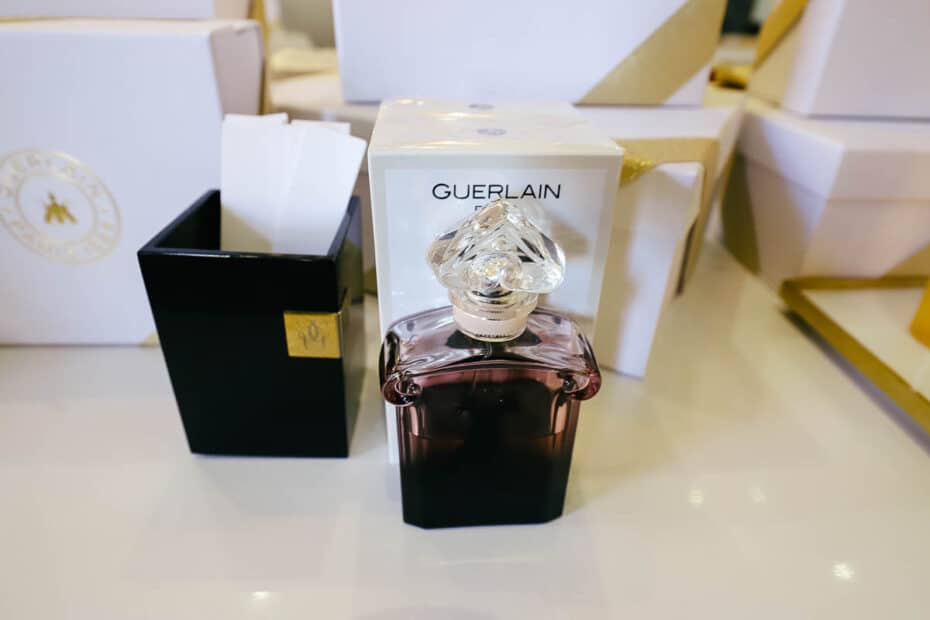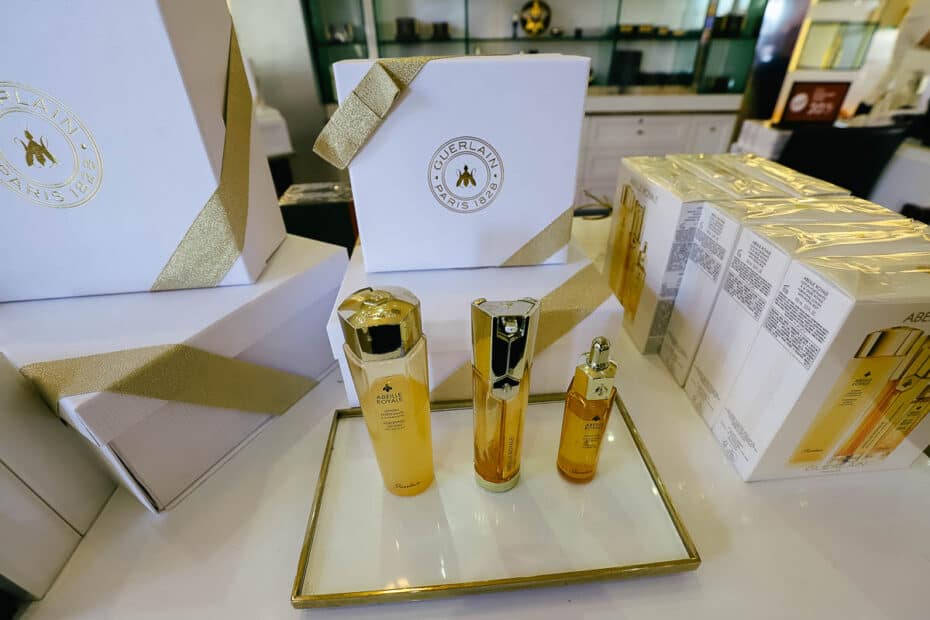 Across the arcade is Plume et Palette offering designer bags, fragrances, and other merchandise.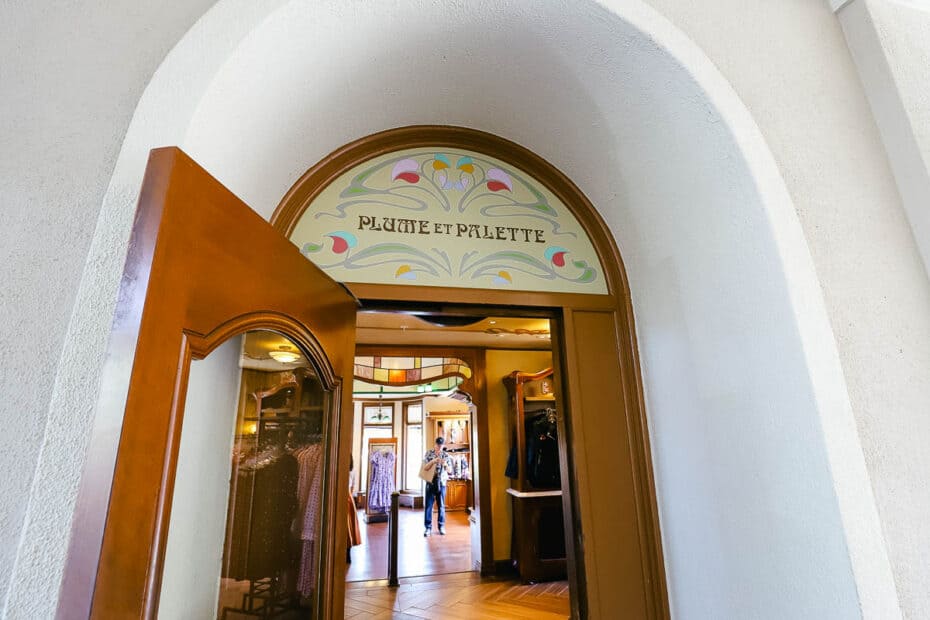 Here are a few photos of the items.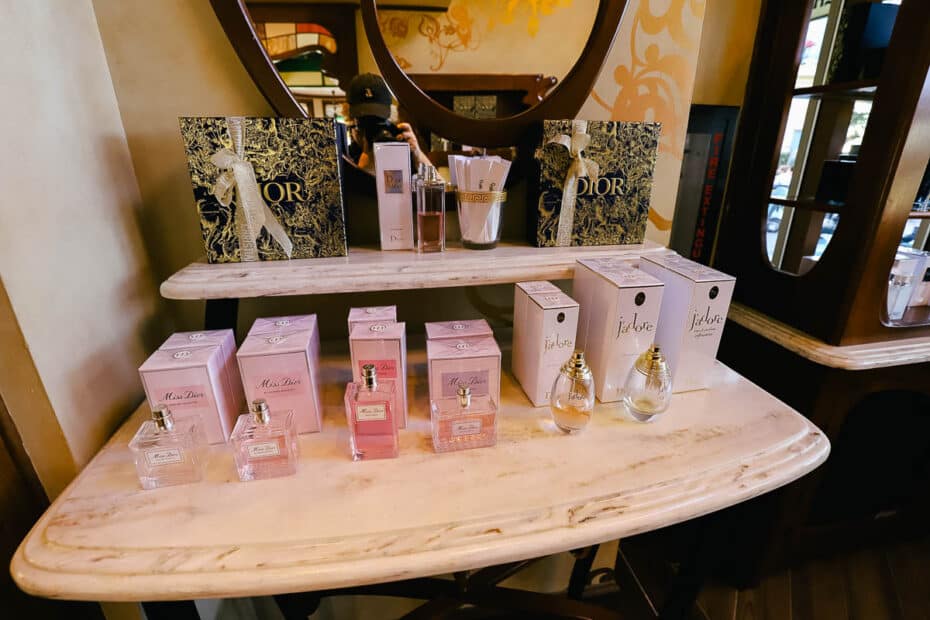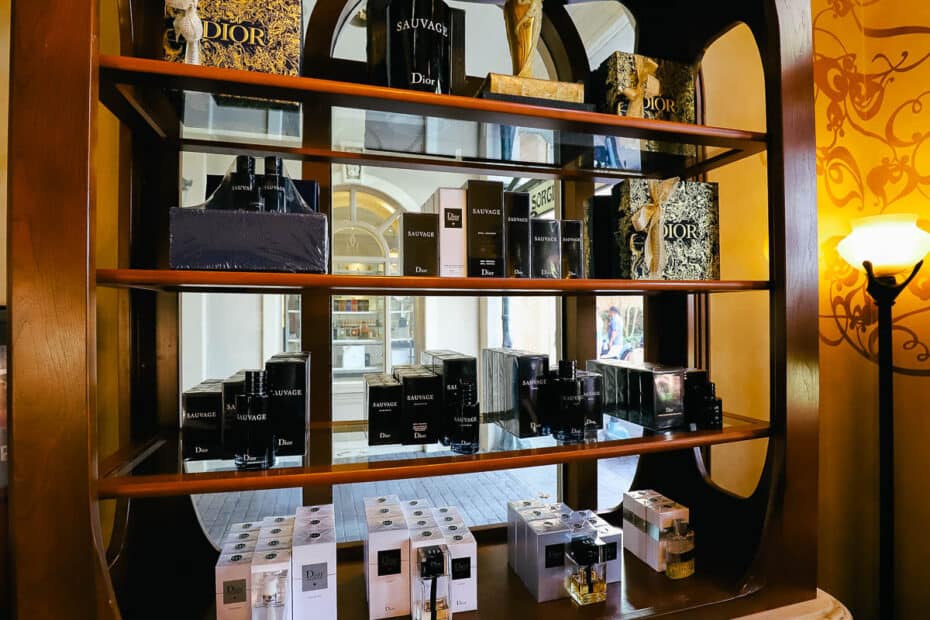 They also have a variety of pajamas and women's apparel with accessories.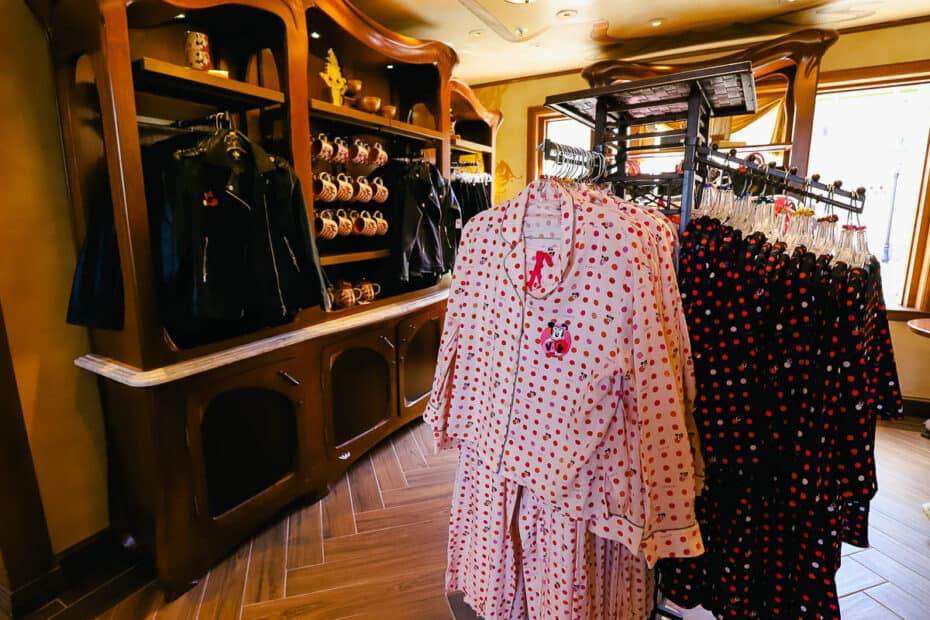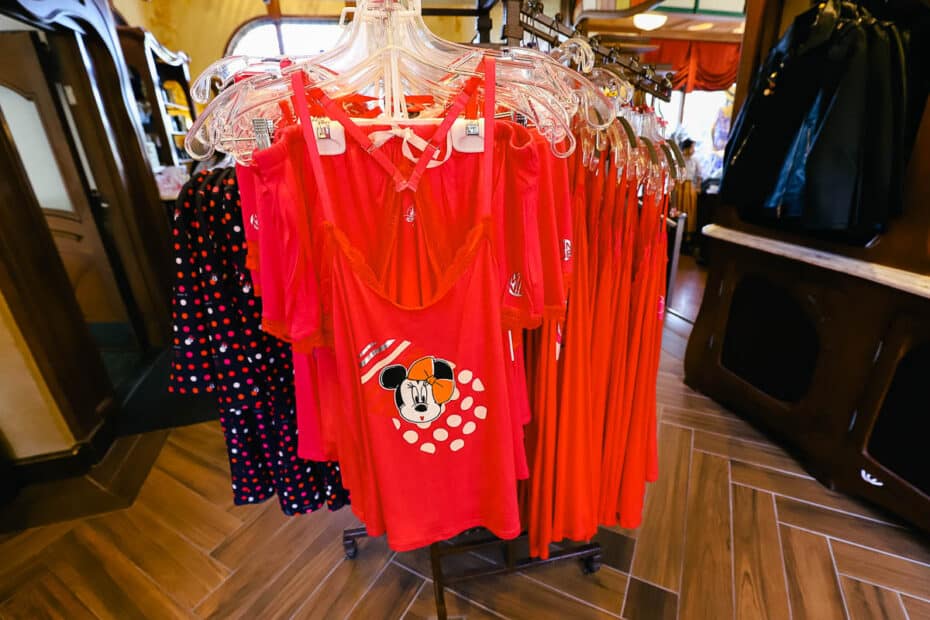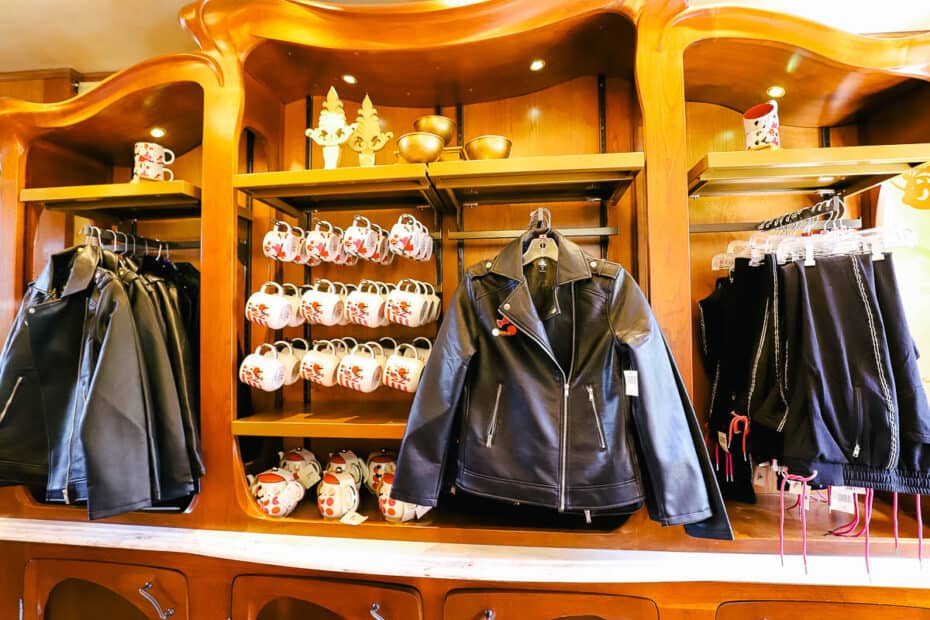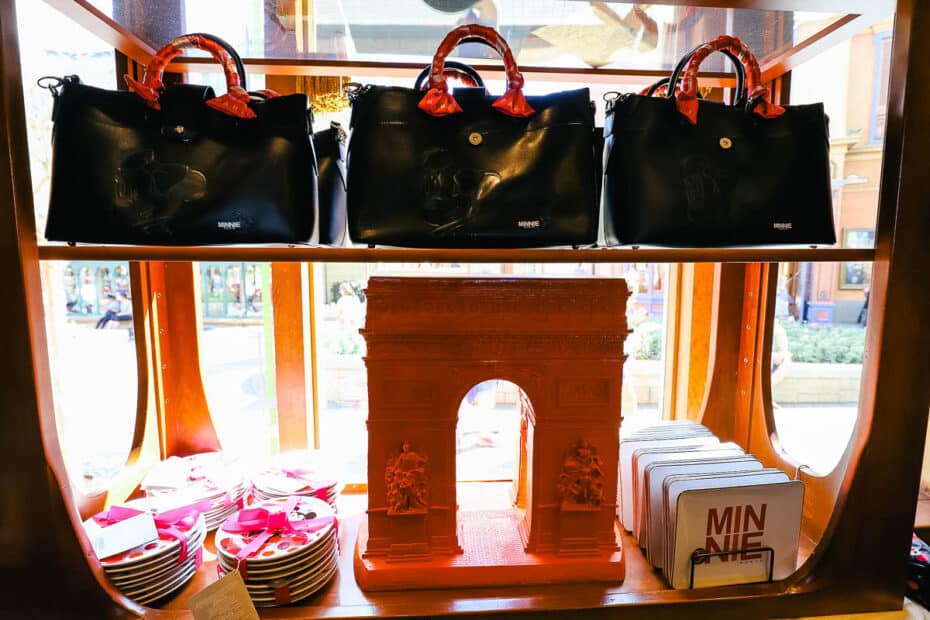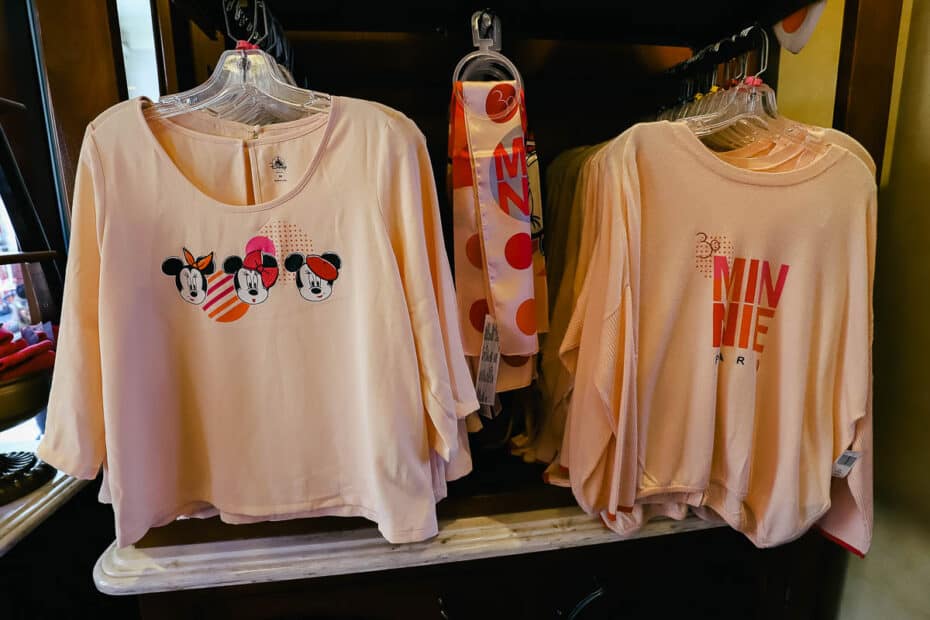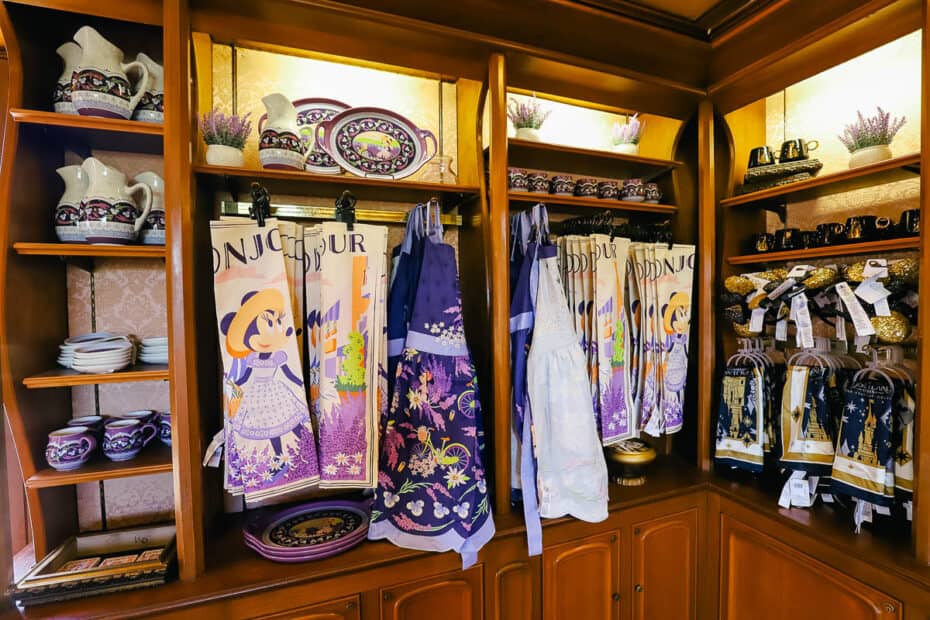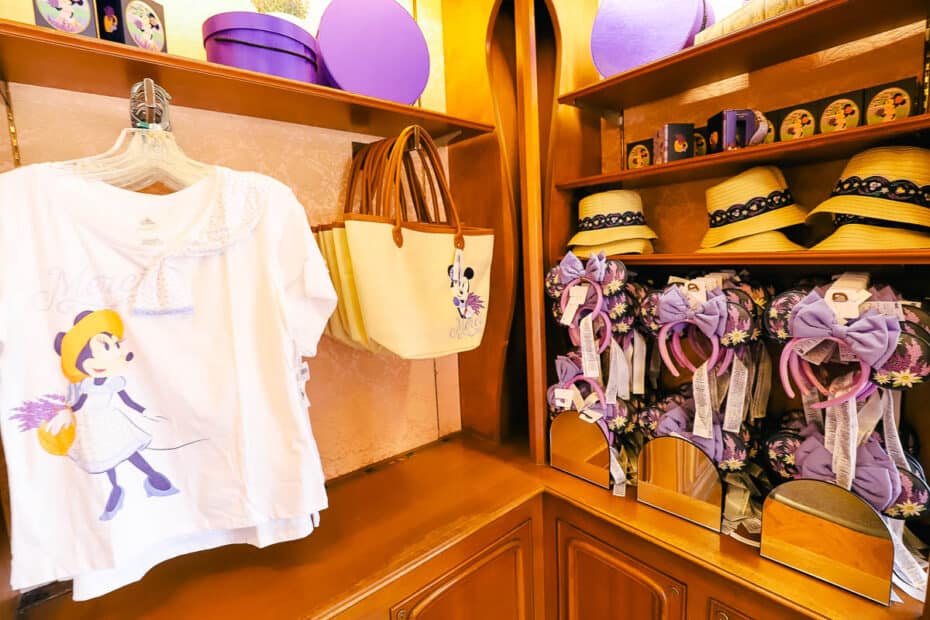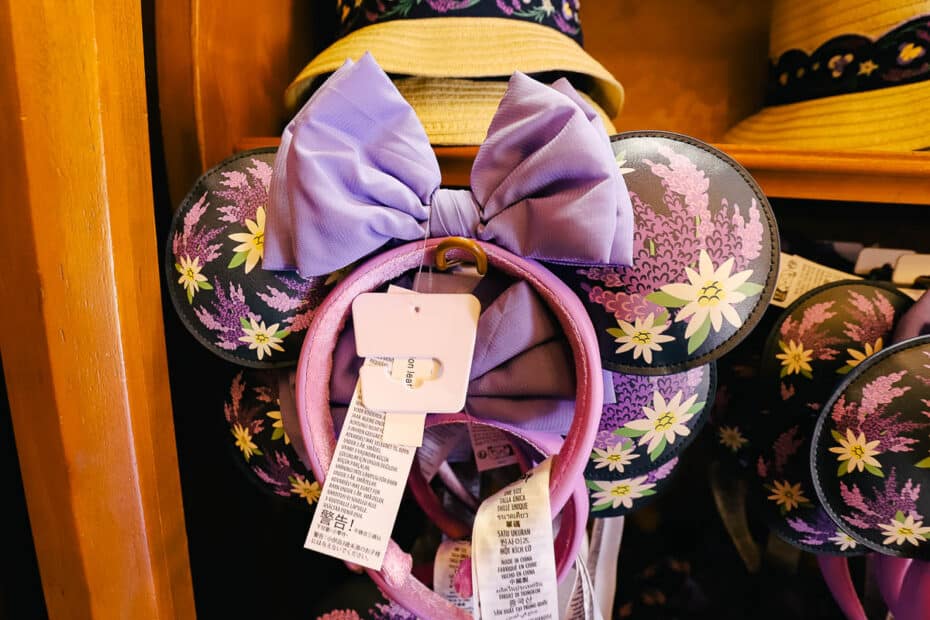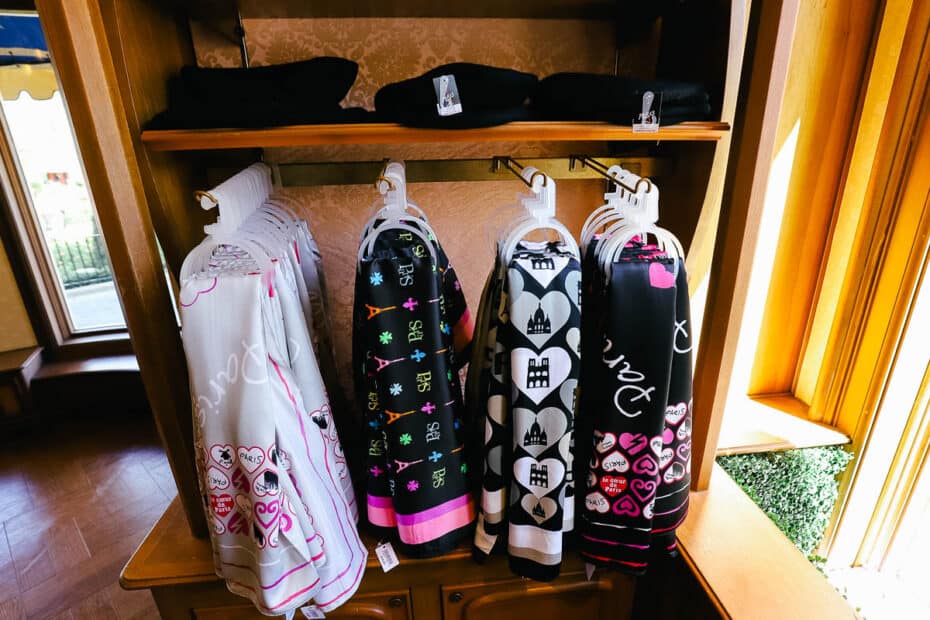 Don't forget to look up. The boutique is much larger than it appears.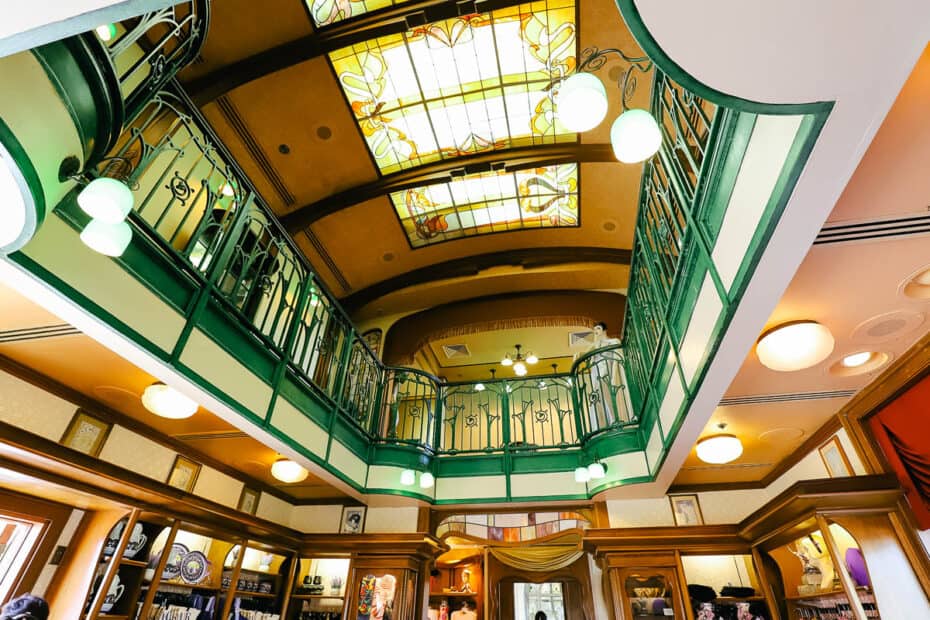 There is also L'Esprit de la Provence which has a variety of different home goods selections. Well, they did. Lately, it's turned into a bit of a Ratatouille gift shop.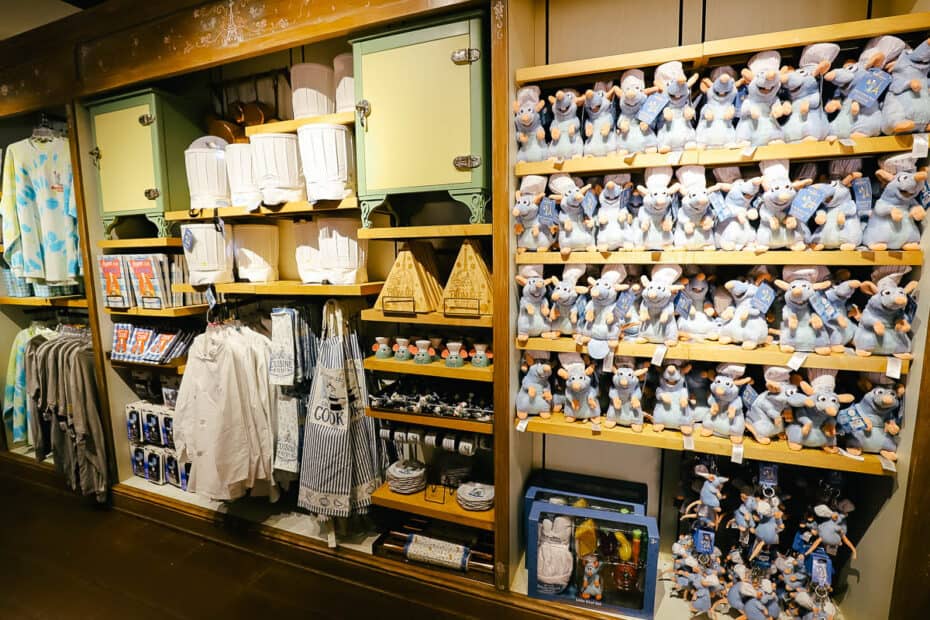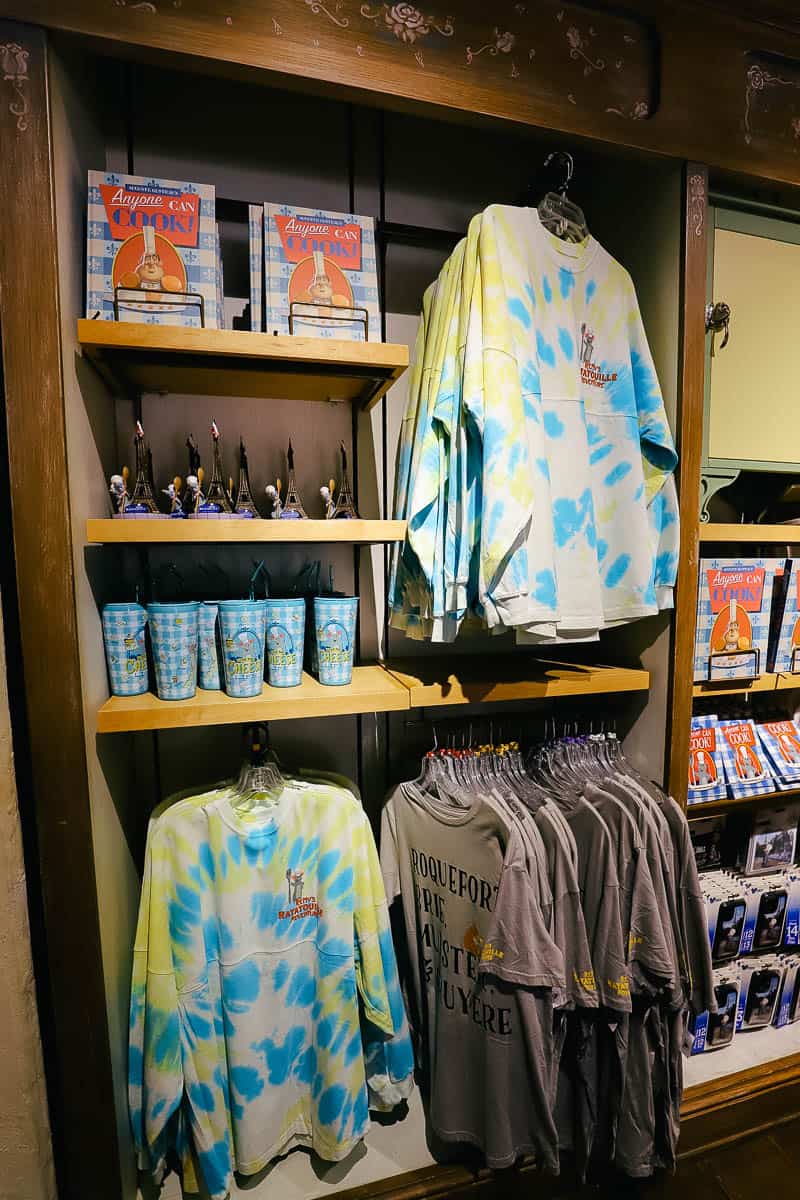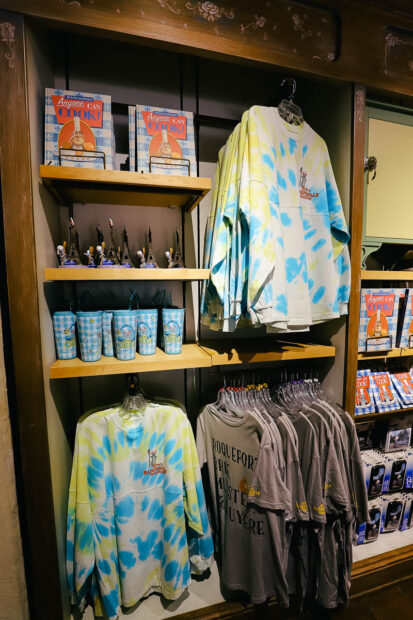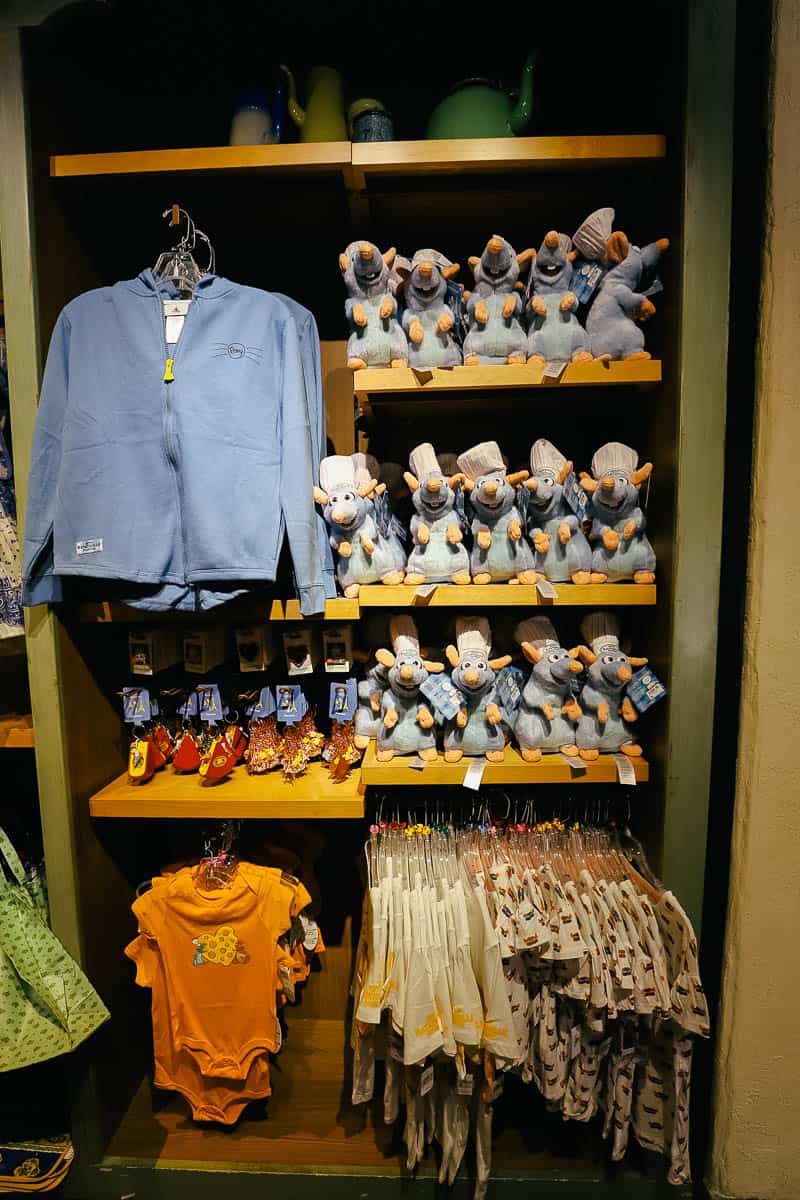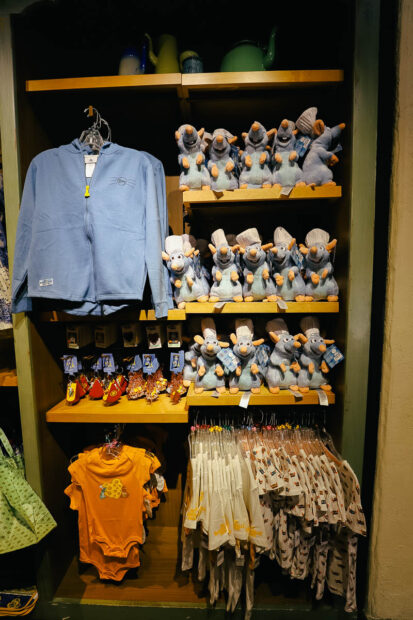 However, a few odds and ends featured Marie and The Aristocats in the back corner.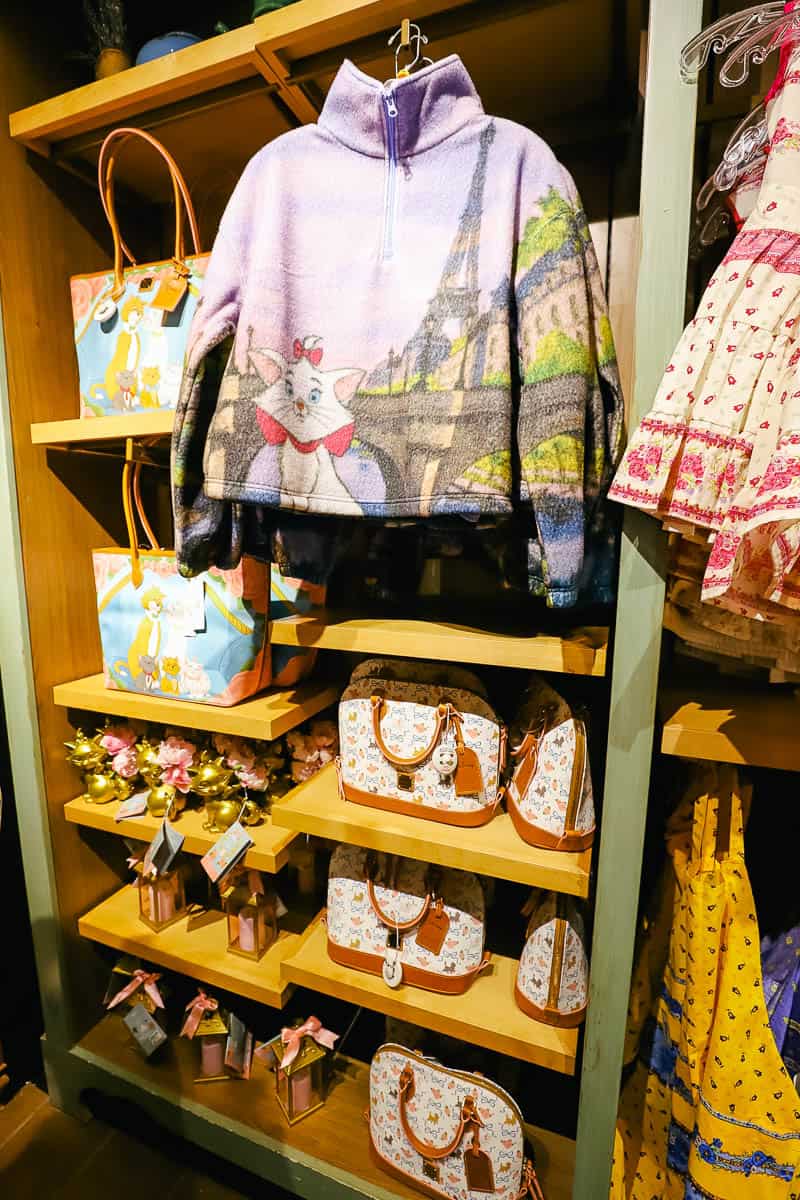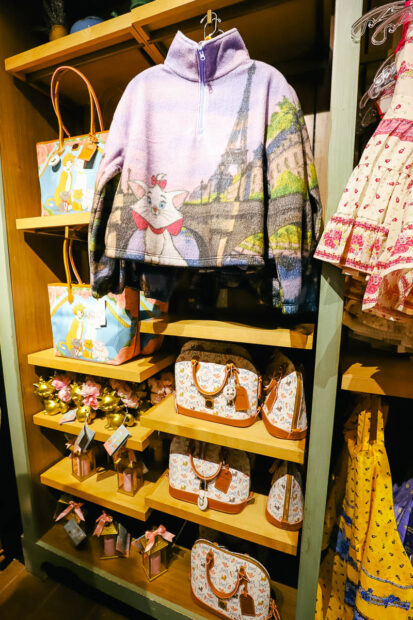 Hopefully, this shop will get back to its former glory eventually.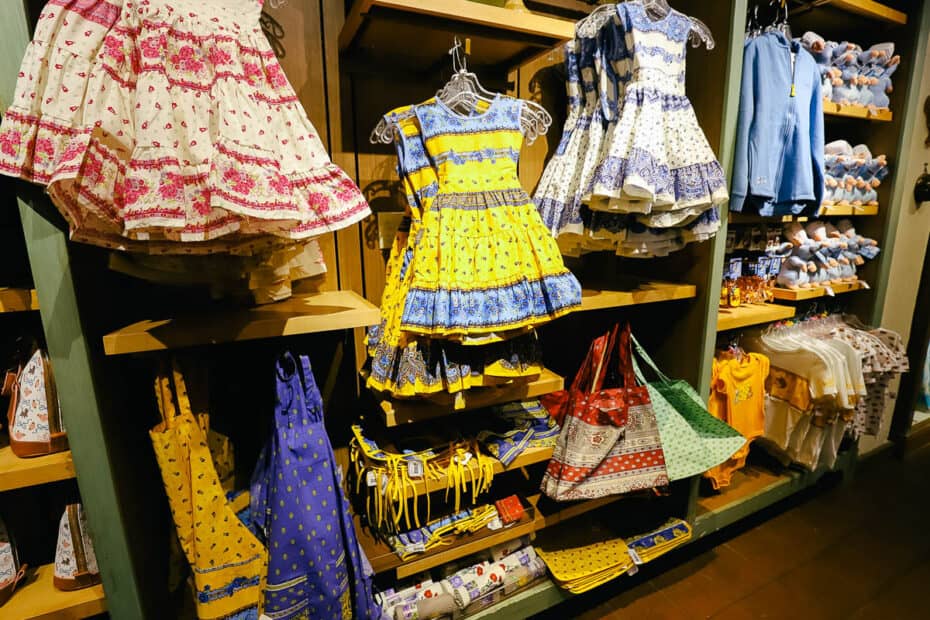 Les Vins De France is connected to L'Esprit de la Provence. This is where you can pick up a flute of champagne, among other things.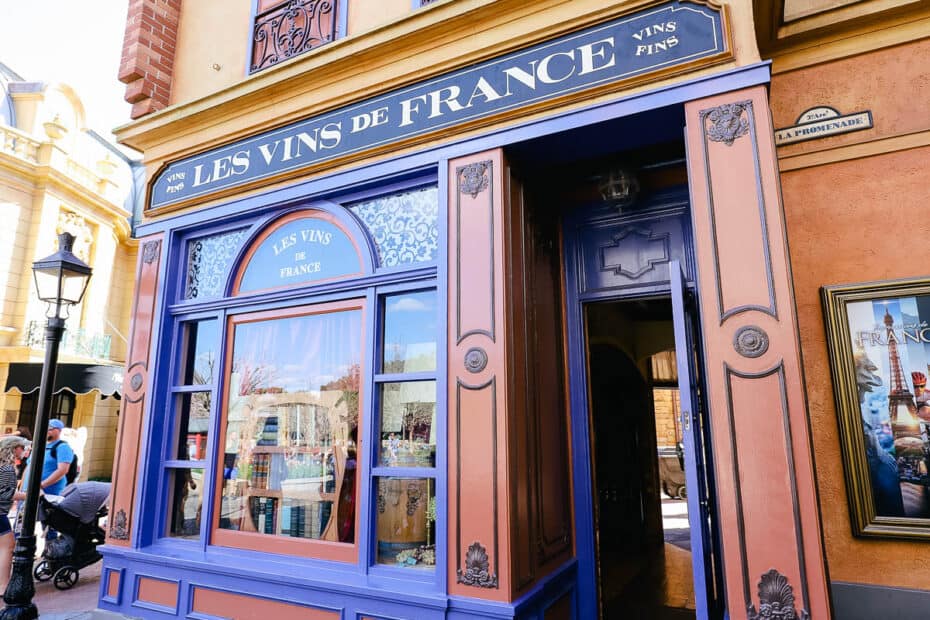 They have a decent selection of wine.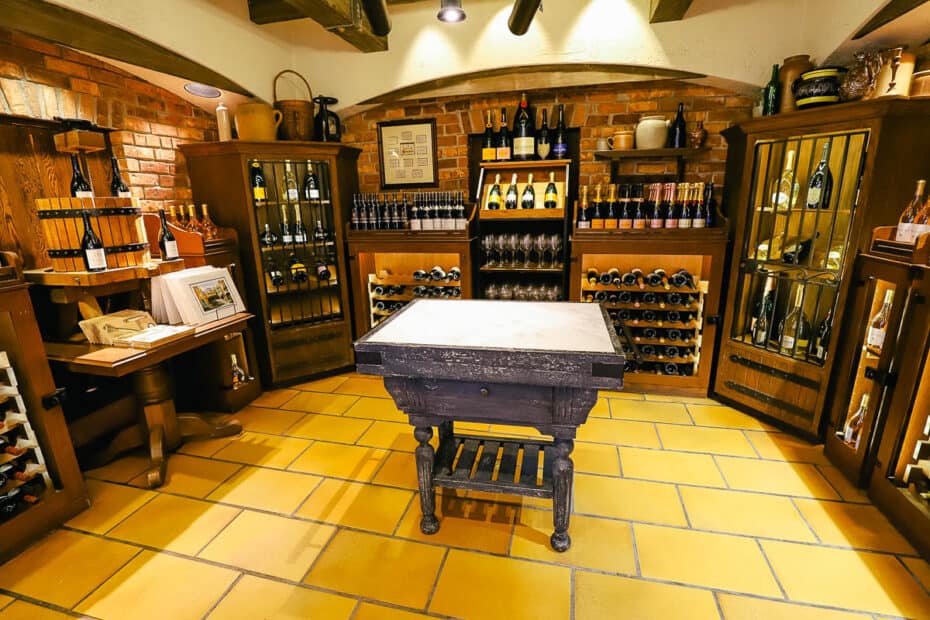 Lastly, you'll find Souvenirs de France in the front of Les Halles Boulangerie. This area is more of a something-for-everyone type of store. They have Disney-themed merchandise with a French flair, like ear headbands, shirts, and other items.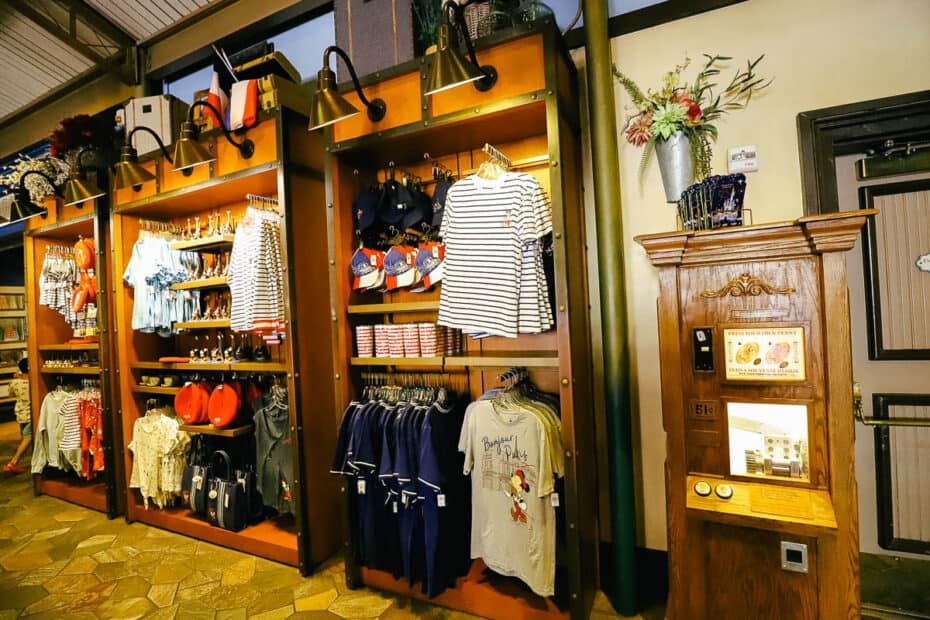 One of my favorite items are the miniature Eiffel Towers. In fact, I purchased one for a birthday gift a few years back. But, unfortunately, they don't have as many to choose from as they did.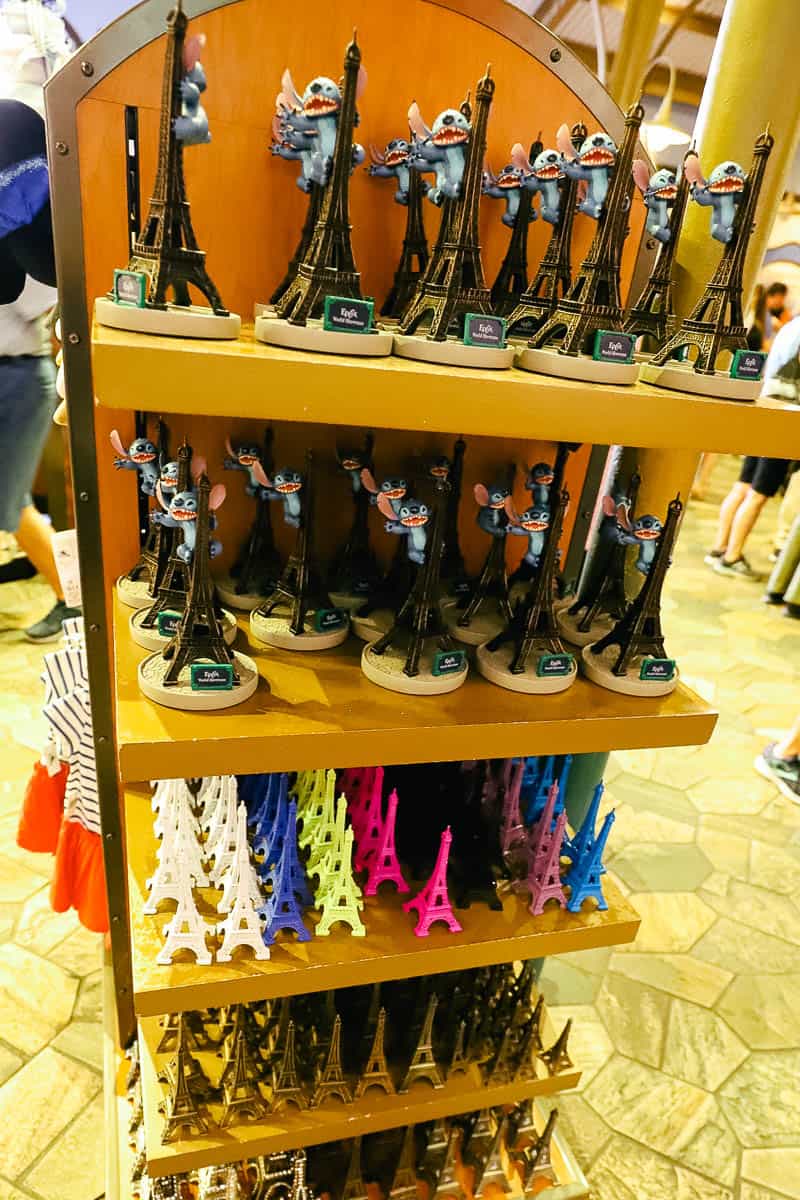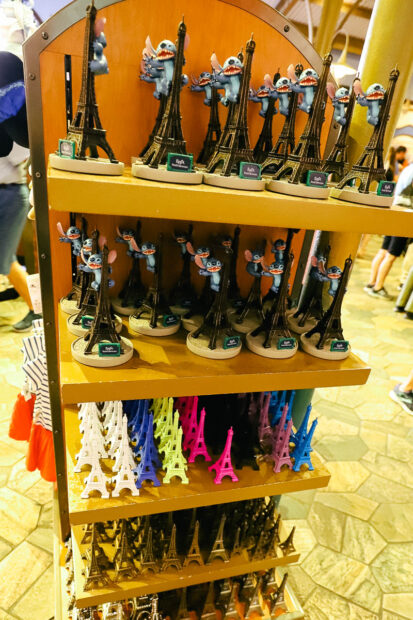 Here are a few more items.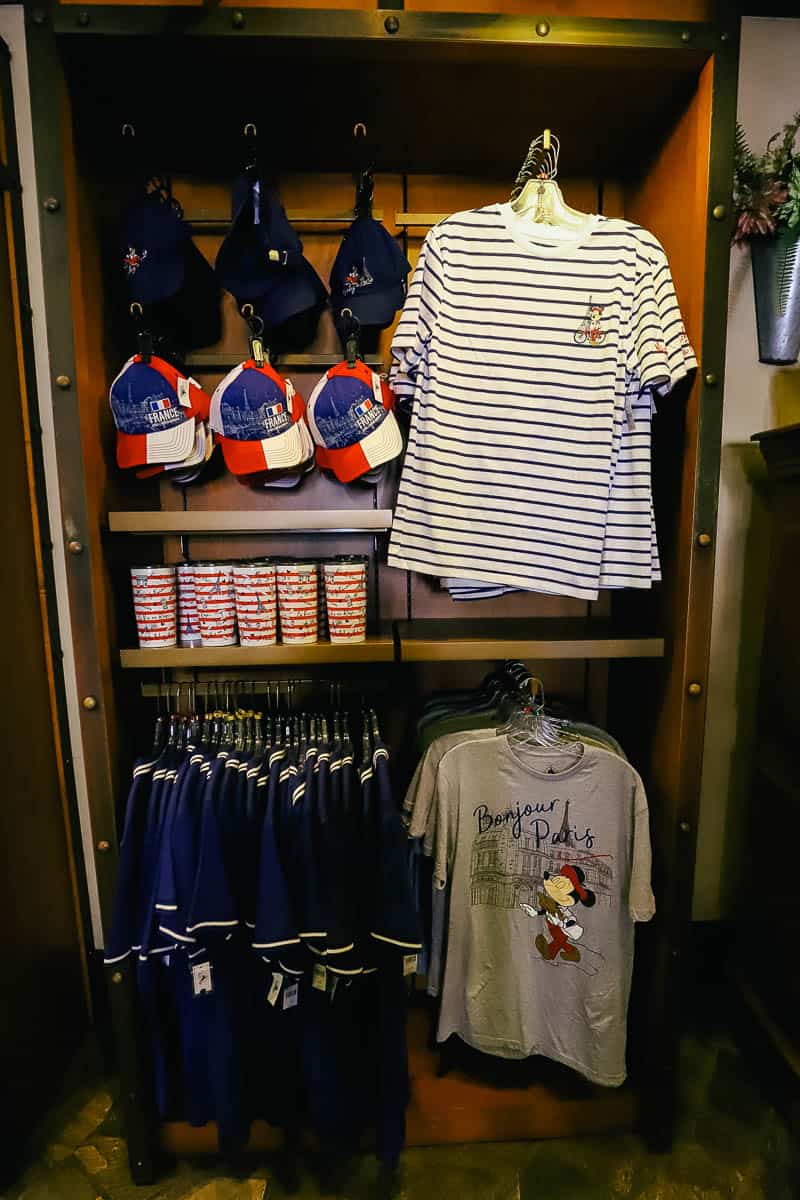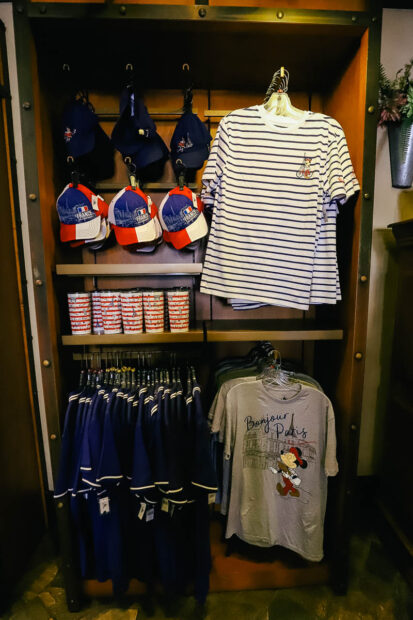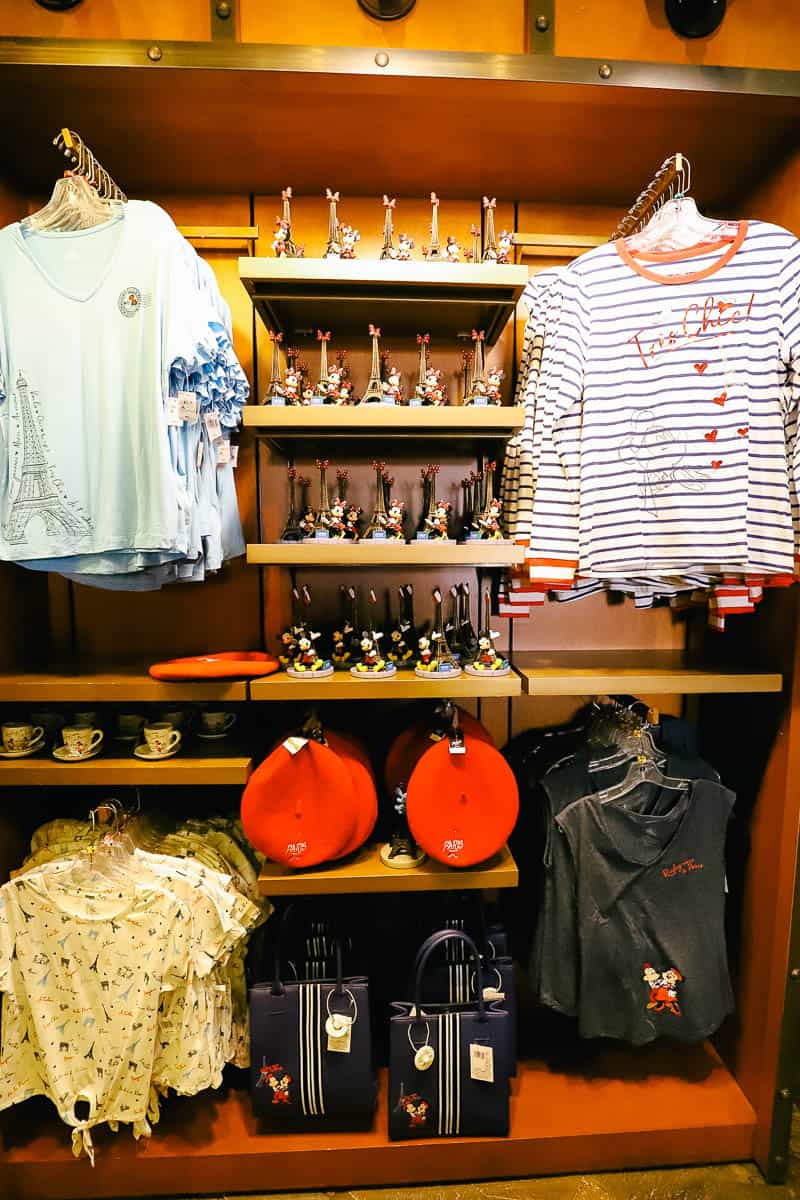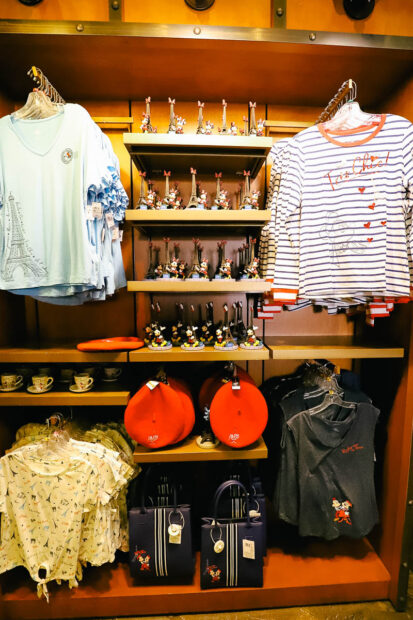 This pavilion has a Disney Sketchbook ornament.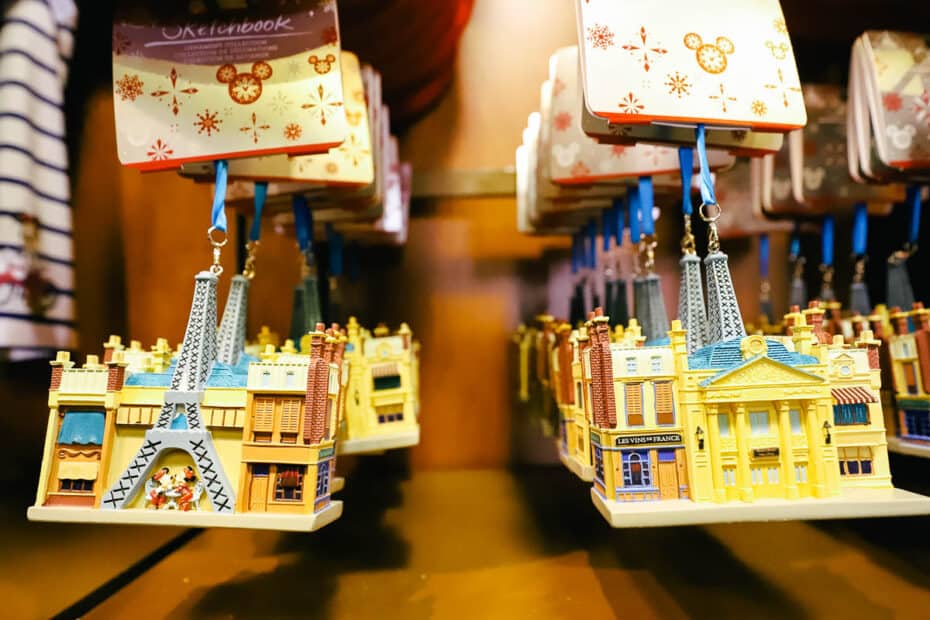 Macaron-shaped items are always fun.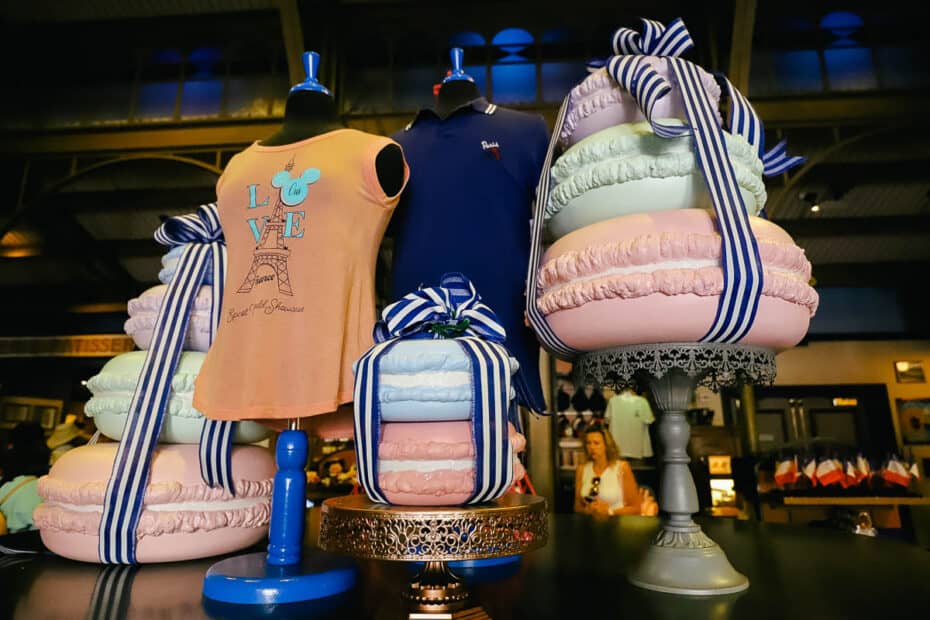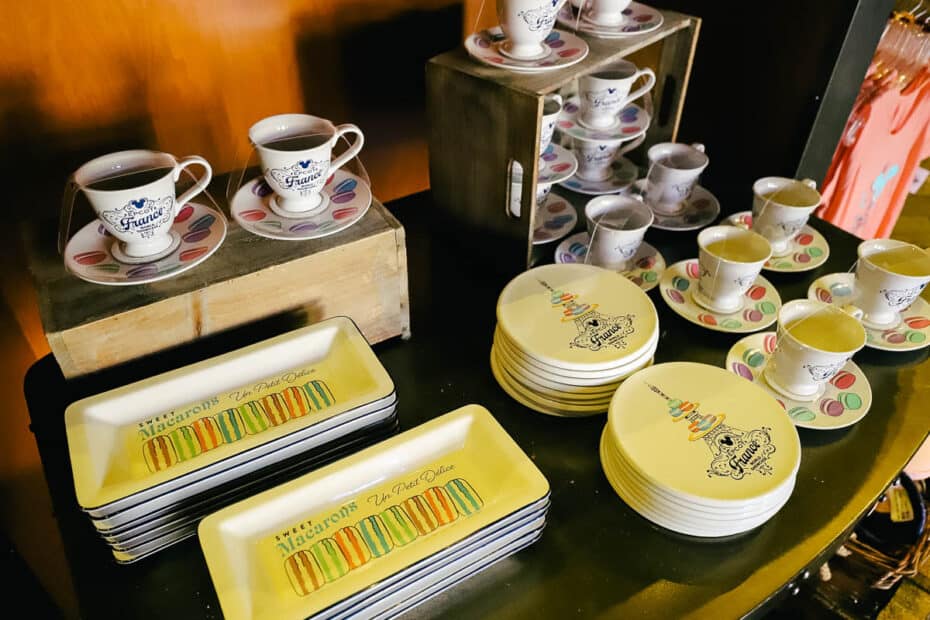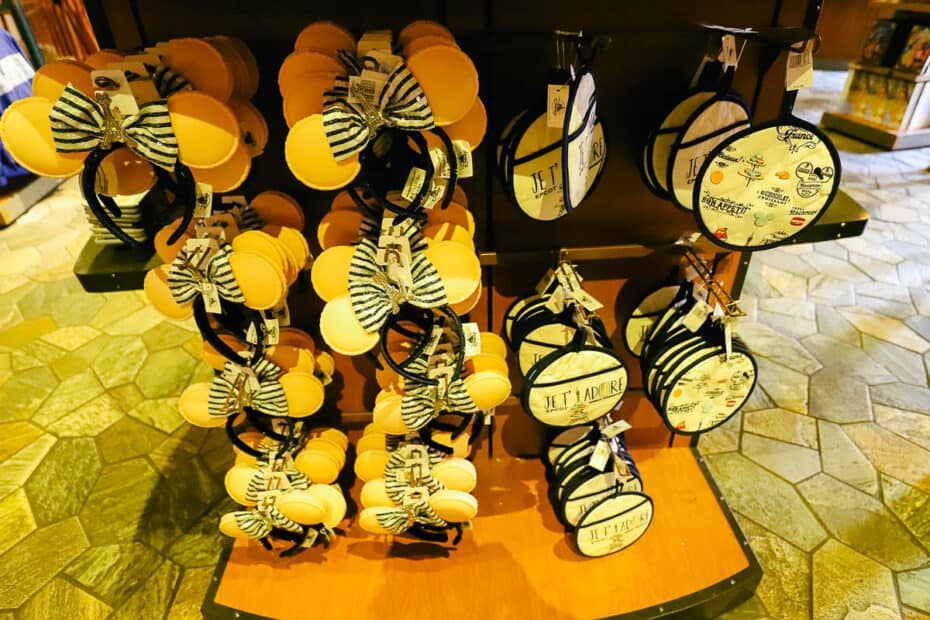 A machine is available inside the gift shop for those who collect pressed pennies.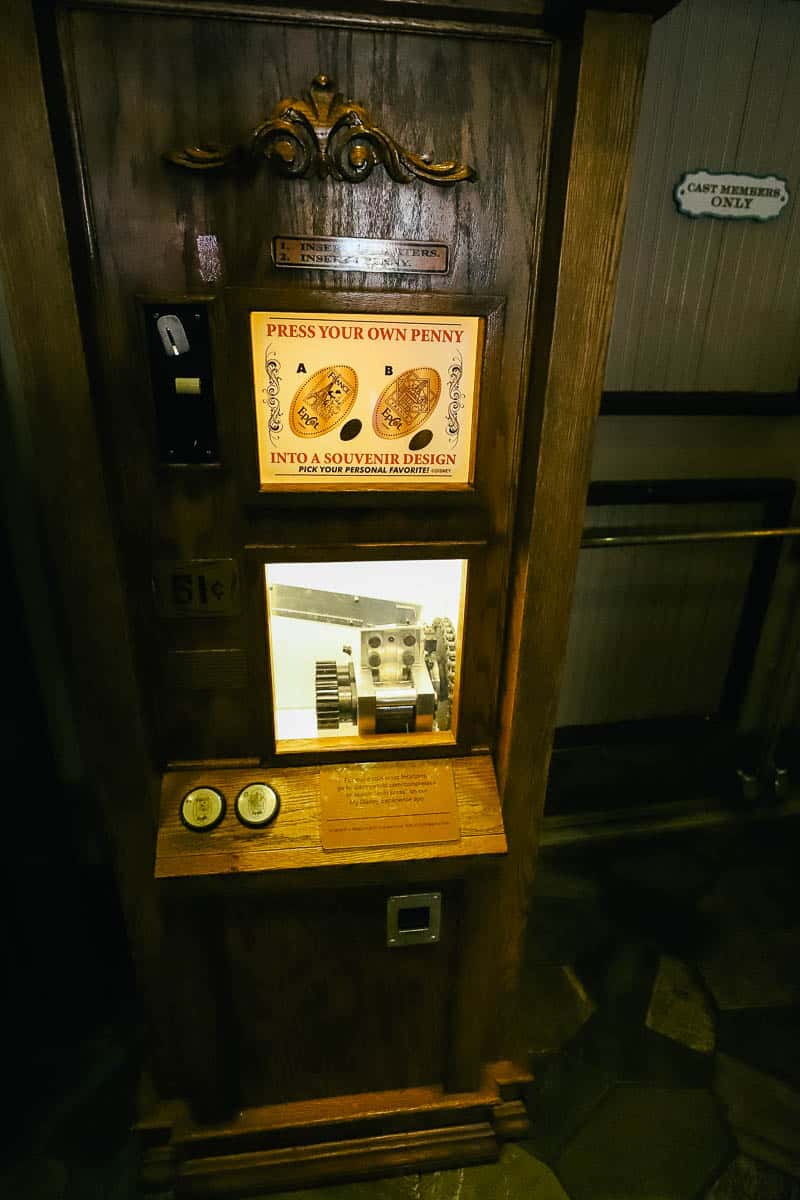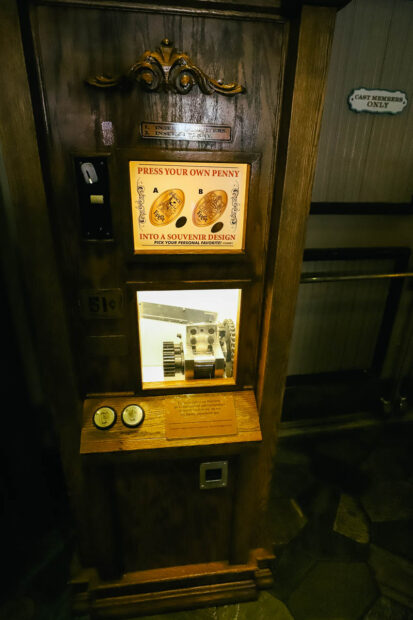 Here are your options.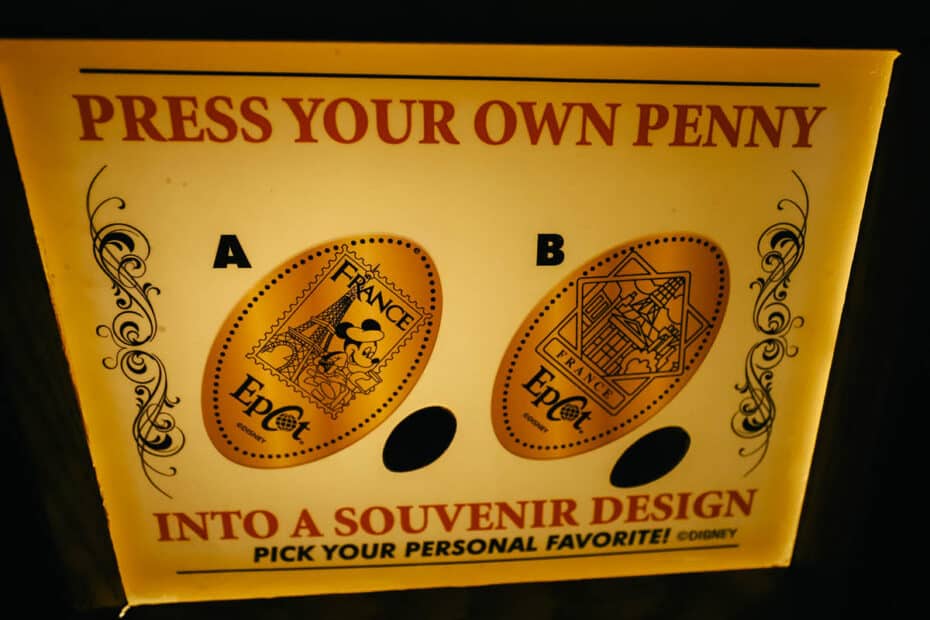 Epcot Kidcot Fun Stop
Additionally, the souvenir shop is where you'll find the Kidcot Fun Stop for the France Pavilion.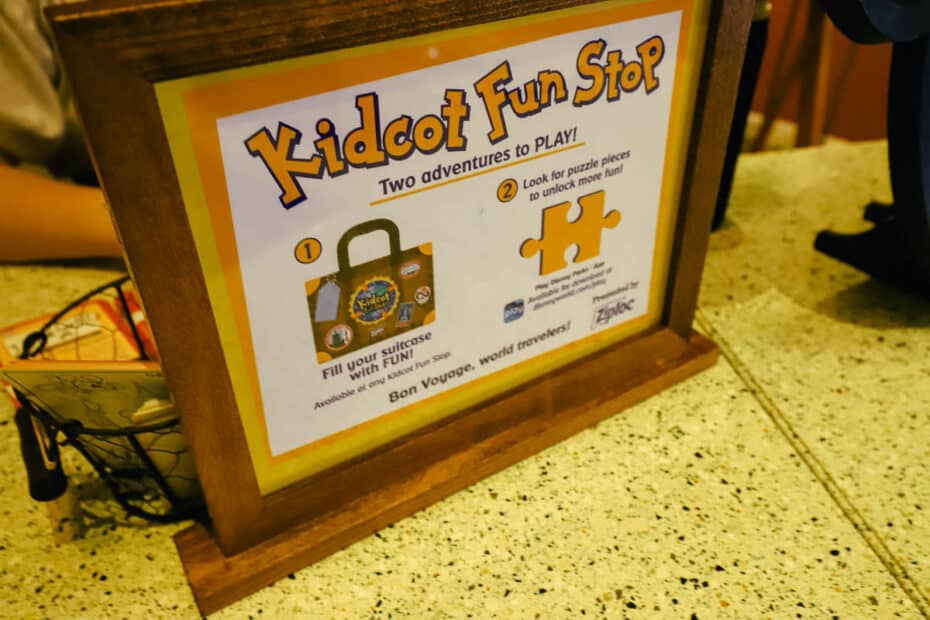 Every country in the World Showcase offers a Kidcot activity. It's fun for children to have something specifically for them to do while touring each country.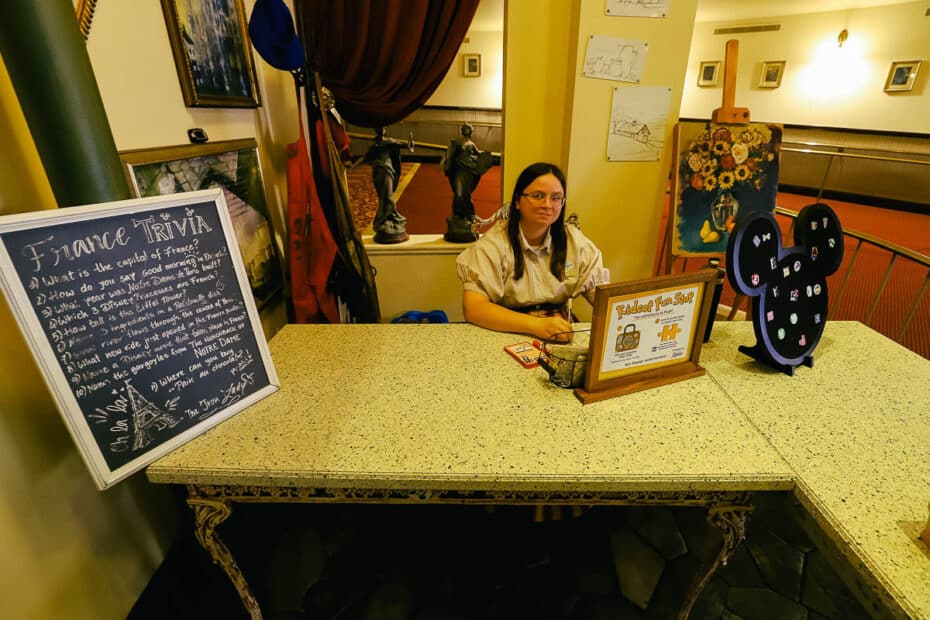 Final Thoughts
Epcot's France is a beautiful pavilion between Morocco's Pavilion and the International Gateway. You could easily spend several hours here if you take the time to do everything the pavilion offers.
Often, we enjoy picking up a treat at Les Halles and finding a seat near the fountain. Sometimes it's the little things that end up being the most delightful.
And don't forget to pay attention to the background music playing. These types of things add so much to the overall World Showcase experience.
Oh and don't forget to see Impressions de France in the evening! It's worth it.
If you want to learn more about different countries and what they have to offer, you might enjoy these reviews:
If you are looking to stay at one of the Epcot Resorts, you might enjoy these other reviews:
One of the nice things about the France Pavilion is that you can walk over (with valid park admission and a theme park reservation) in the morning from any of the above resorts and enjoy breakfast at Les Halles Boulangerie.
In the Comments
Do you have a favorite item you like to try when you visit the France Pavilion? Do you enjoy spending time here?