Review of La Creperie de Paris at Epcot
La Creperie de Paris is a new restaurant in the France Pavilion at Epcot. The restaurant features a table service dining experience along with a walk-up window for counter service orders.
Last week, during our preview of Remy's Ratatouille Adventure, I had an opportunity to try Le Creperie de Paris. The restaurant officially opens on October 1, 2021, along with the new attraction.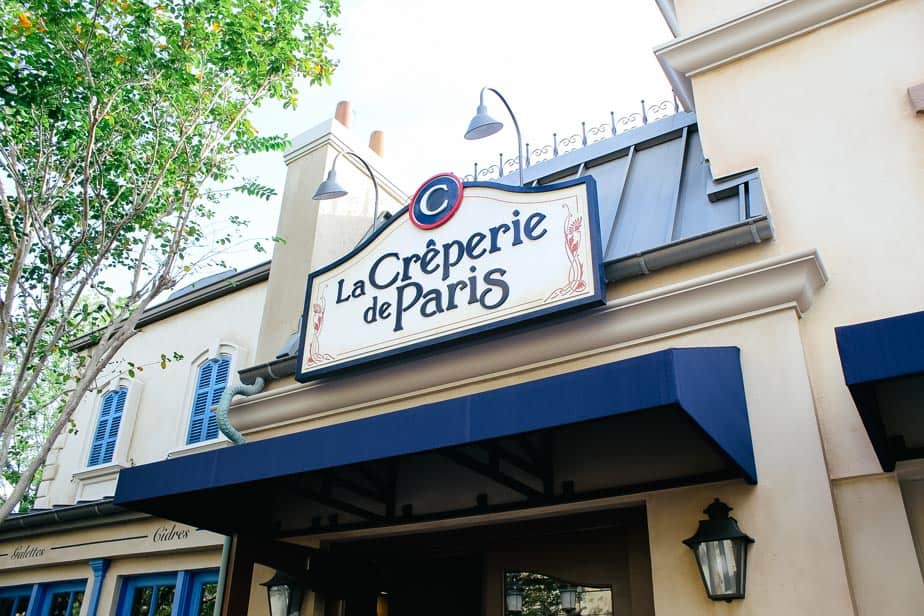 When I arrived at Epcot that evening, I only had the intention of experiencing Ratatouille. So I was shocked to find so many people waiting in line for crepes! The picture below shows the line for the counter service window.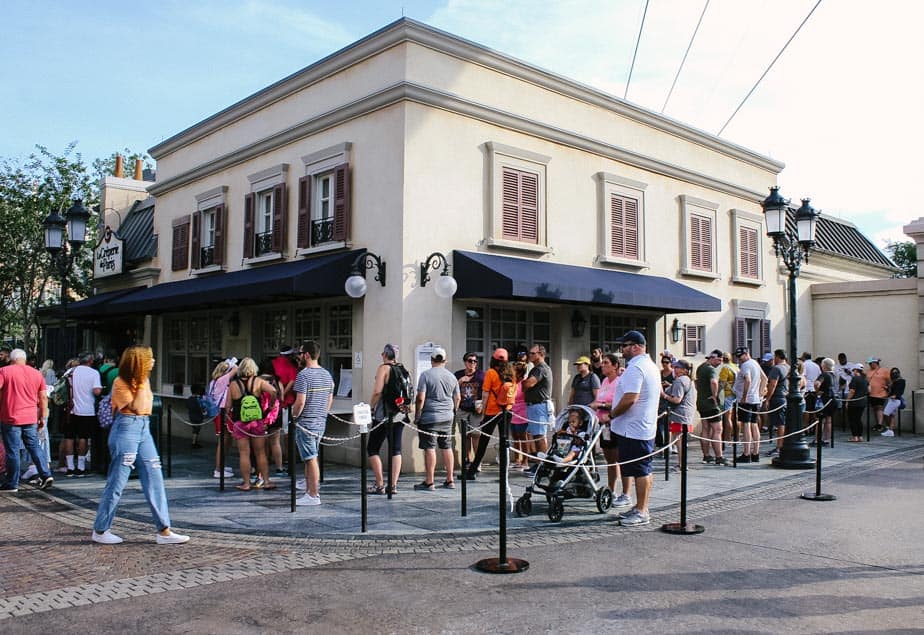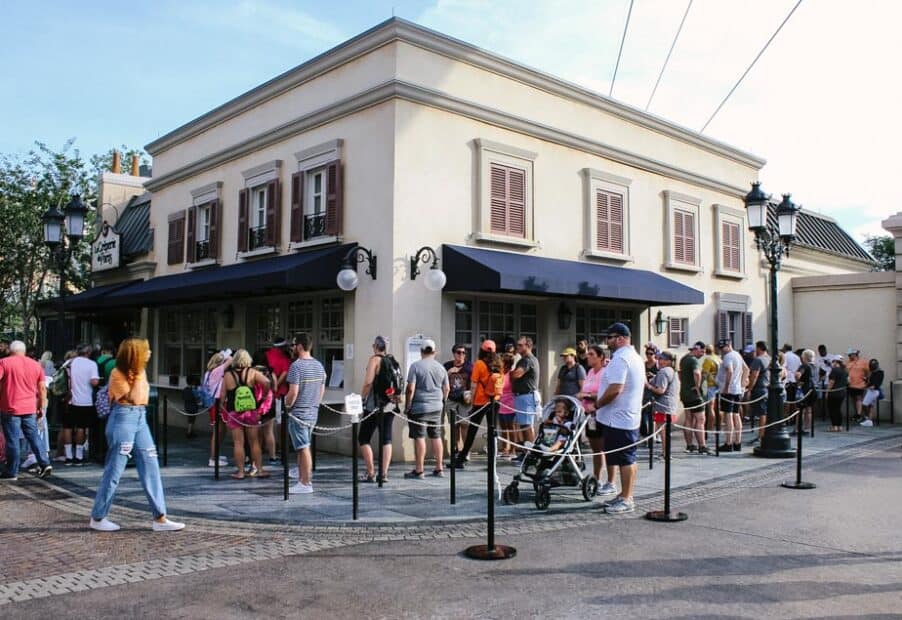 The following galettes and crepes are available to order at the counter service window.
Galettes (Savory)
Cream of Brie Cheese Galette
Ratatouille Galette: tomato, zucchini, eggplant
Bechamel, Cheese & Ham Galette
Crepes (Sweet)
Butter & Sugar Crêpe
Hazelnut & Chocolate Spread Crêpe
Red Berries Crêpe
Vanilla or Chocolate Ice Cream Crêpe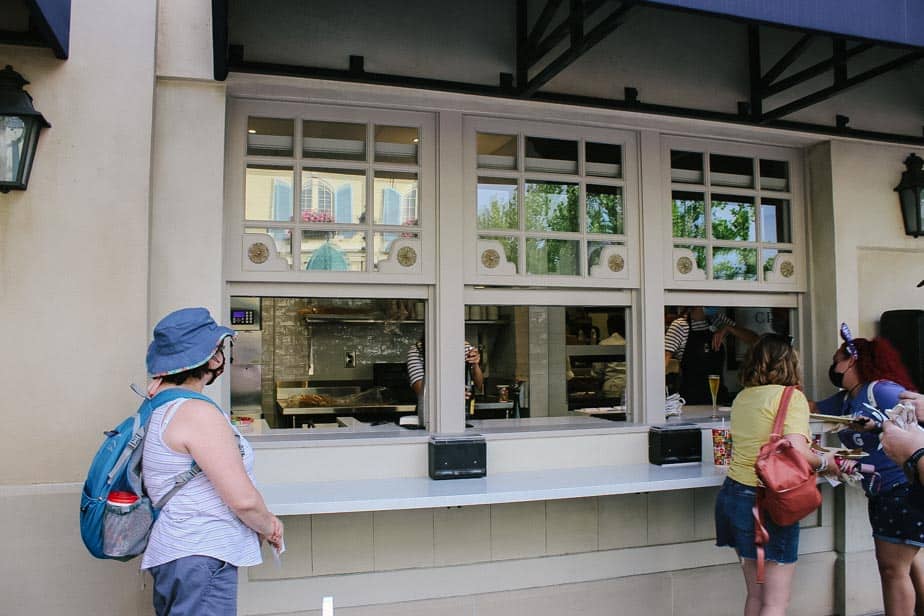 After experiencing the new attraction, I decided to check out the menu for the table service restaurant. It was posted outside.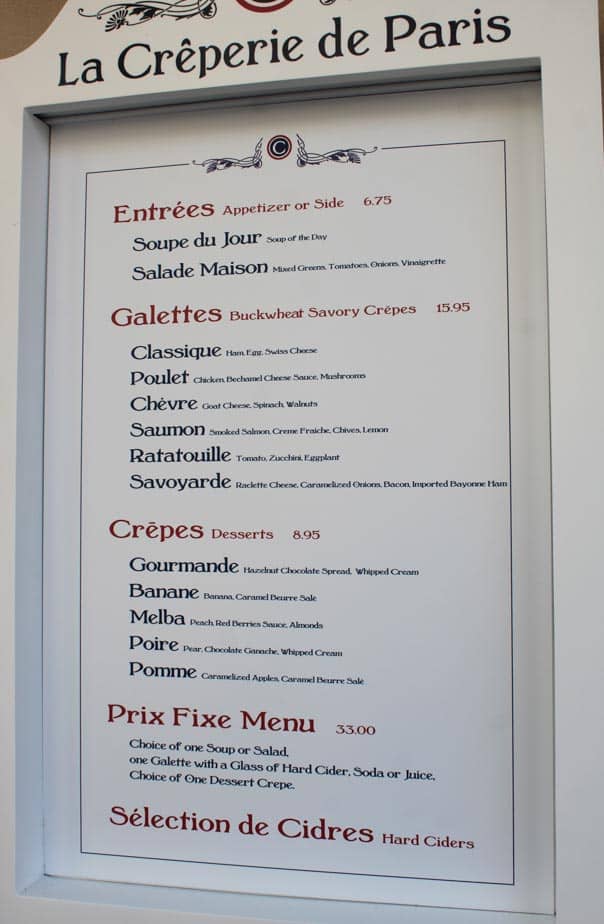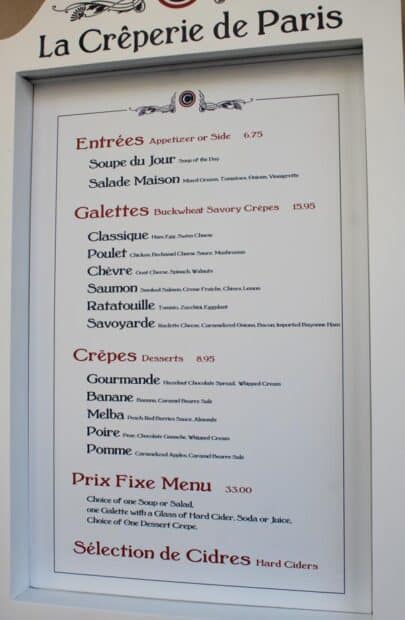 While taking a few photos, I noticed that only a few people were waiting to have dinner inside. Additionally, I could tell there were plenty of empty tables. So when I saw that I could order one crepe without all of the fuss of waiting in line, I decided why not?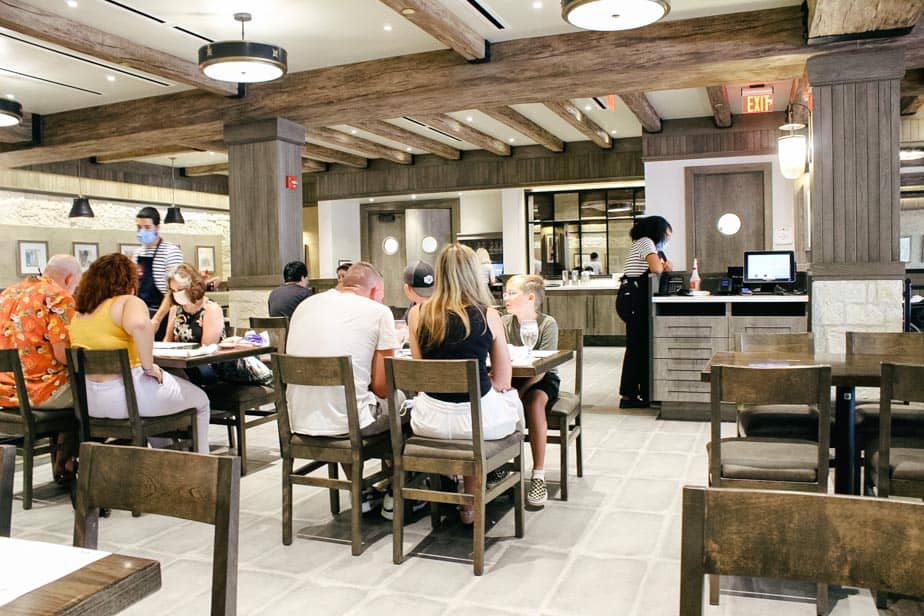 Within a few minutes, I was sitting at a table and presented with a menu.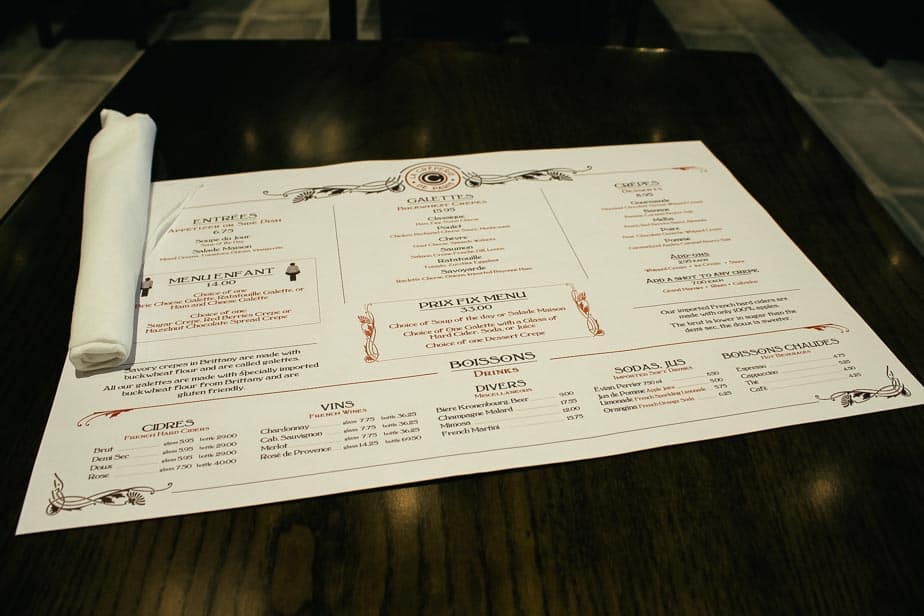 The galettes and crepes at the restaurant portion of La Creperie de Paris are slightly different from the ones available at the counter service.
Galettes (Savory)
Classique: ham, egg, Swiss cheese
Poulet: chicken, bechamel cheese sauce, mushrooms
Chèvre: goat cheese, spinach, walnuts
Saumon: smoked salmon, crème fraiche, chives, lemon
Ratatouille: tomato, zucchini, eggplant
Savoyarde: Raclette cheese, onions, imported Bayonne ham
Crepes (Sweet)
Gourmande: hazelnut chocolate spread, whipped cream
Banane: banana, caramel beurre salé
Melba: peach, red berries sauce, almonds
Poire: pear, chocolate ganache, whipped cream
Pomme: caramelized apples, caramel beurre sale
Additionally, La Creperie has a prix fixe menu. Per the menu, you can get the following items with this meal:
One choice of Soup or Salad
One savory Galette
One choice of Cider, Soda, or Water
One choice of Dessert Crepe
The prix fixe option costs $33.00 per person. Had I known this would be such a great experience, I would have ordered the special menu.
When the server first took my drink order, she suggested trying one of the French sodas available on the menu. There was a choice between Limonade and this Orangina pictured that I ended up ordering.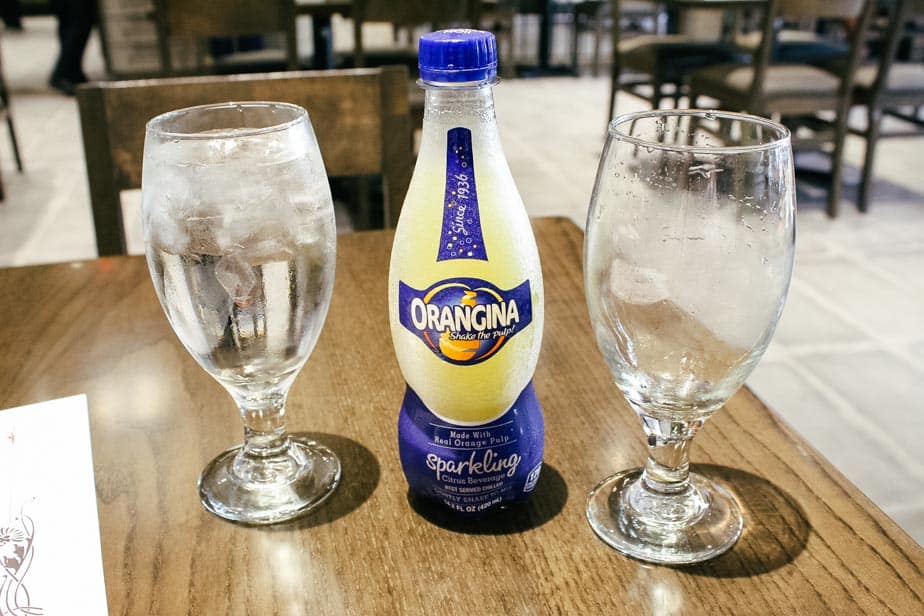 The Orangina was a sparkling orange juice that was refreshing. In addition, it went nicely with the items I ended up ordering.
After perusing the menu, I decided to order a dessert crepe. I had a tough time deciding between the Melba and the Poire. Since I nearly always go with chocolate, I changed things up and ordered the Melba. The Melba consists of peaches, red berry sauce, and almonds.
My server suggested pairing it with raspberry sorbet. I now recommend that you pair your dessert crepe with sorbet as well. It was a delightful match.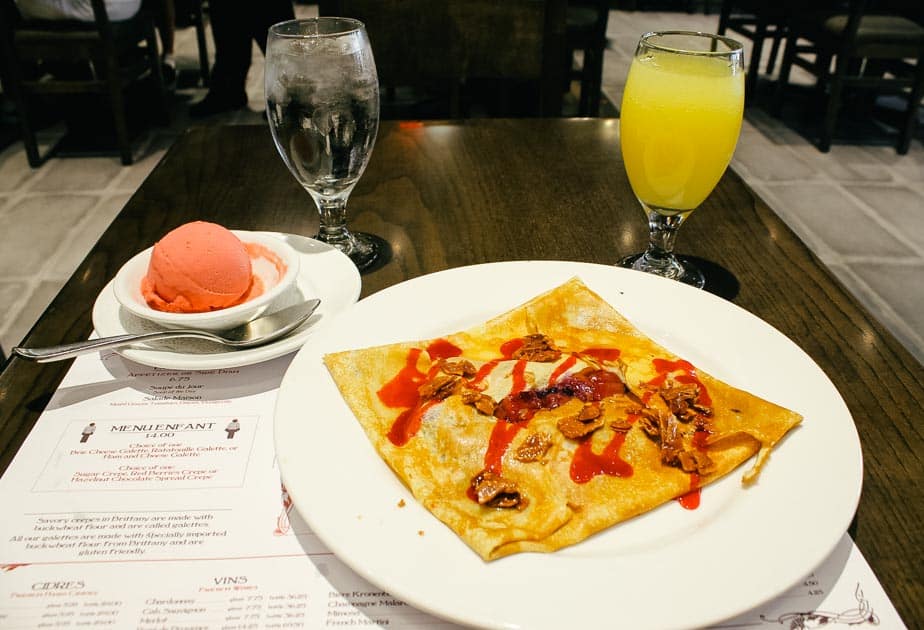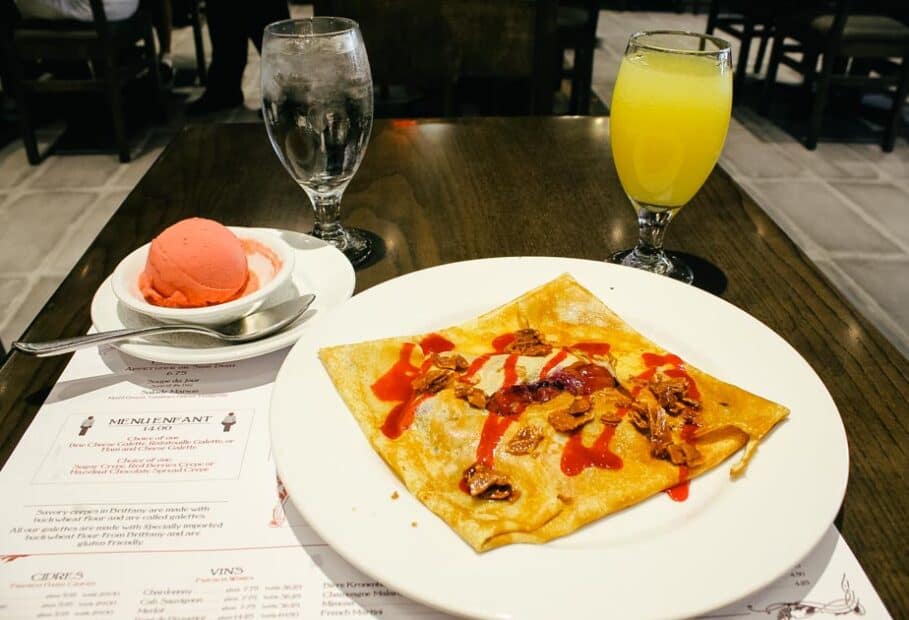 As for the crepe, it was perfectly thin and delicate as crepes should be. This almond crisp on the top was divine. It was one of my favorite components of the dish.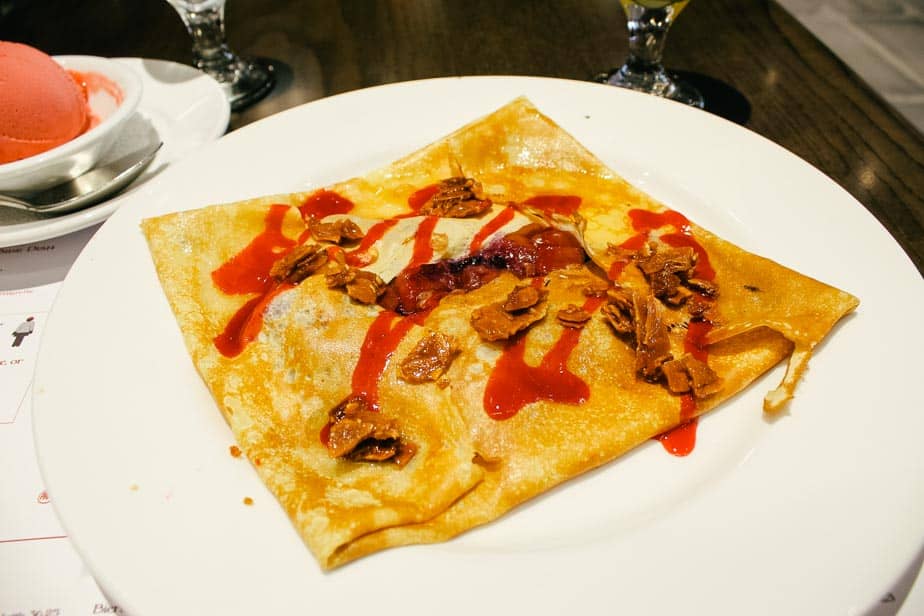 My only complaint was that I wish I had ordered more. I felt the price for the prix fixe menu was a great value, given you receive a galette, savory crepe, soda, and soup or salad.
To make matters worse, the table next to me ordered everything on the menu. They were so kind and offered to share with me, but I didn't want to intrude. However, it made me wish I had someone along with me to try a few more items. Maybe someday.
Anyway, if you are visiting Epcot and love all the foodie things, I recommend taking the time to enjoy a meal here. From my understanding, La Creperie de Paris will be taking walk-ups based on a first-come, first-served basis inside the table service location.
Or you can always enjoy a crepe from the counter service location. But I think after my experience, I'll be more prone to step inside for a meal.
For more information on dining at Disney World, you might enjoy one of these other articles:
What do you think about Le Creperie de Paris? Do you have plans to eat here? If so, which crepes or galettes sound appealing to you?