Guardians of the Galaxy: Cosmic Rewind (The Full Walk-Through)
Guardians of the Galaxy: Cosmic Rewind is the newest attraction at Epcot in Walt Disney World. Cosmic Rewind, for short, is an indoor roller-coaster that uses some of the same technology as Disney's Omnimover ride system.
This Omnicoaster is the first of its kind and is one of the longest indoor roller coasters in the world. So naturally, you're most likely going to want to ride it. However, there might be a few exceptions.
Below, we'll look at the details for experiencing Guardians of the Galaxy: Cosmic Rewind. We'll walk through the queue, check out the height requirements, and I'll describe my initial spin on the roller coaster.
So close your eyes (or pretend it's dark), put on the Guardians Awesome Mix Soundtrack in the background, and get ready for the ride of a lifetime. That's the best way to describe this riveting roller-coaster ride.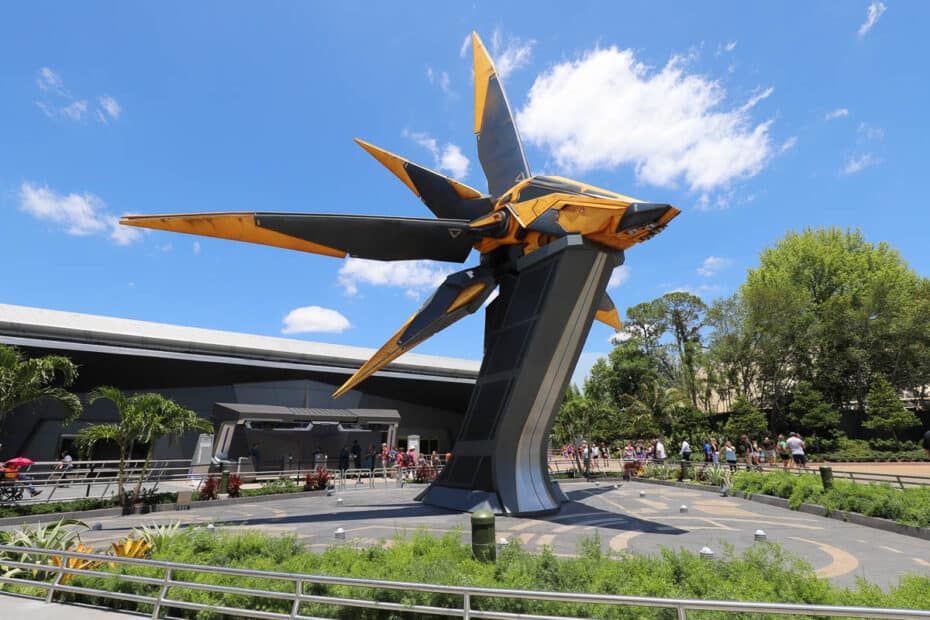 Here is a quick-reference chart for experiencing this attraction.
| | |
| --- | --- |
| Guardians of the Galaxy: Cosmic Rewind | Epcot Attractions |
| Location: | World Discovery |
| Disney Height Requirement: | 42 inches or taller |
| Genie + Eligible: | Lightning Lane |
| Ride Type: | Roller Coaster |
| Seats Per Vehicle: | 2 per row, 4 per car |
| Disney Rider Switch | Yes |
| Good For: | Thrill-seekers |
| Scare Factor: | Medium |
| Must-Do List: | High |
| Special Mention: | This ride utilizes a virtual queue system. |
Guardians of the Galaxy: Cosmic Rewind
Cosmic Rewind is located inside the Wonders of Xandar Pavilion at Epcot's World Discovery. The area was home to the former Universe of Energy Pavilion.
The Guardians of the Galaxy Starship resides at the entrance of this new other-worldly area. On the right-hand side of the Starship, a PhotoPass area is set up if you would like to have your photo taken.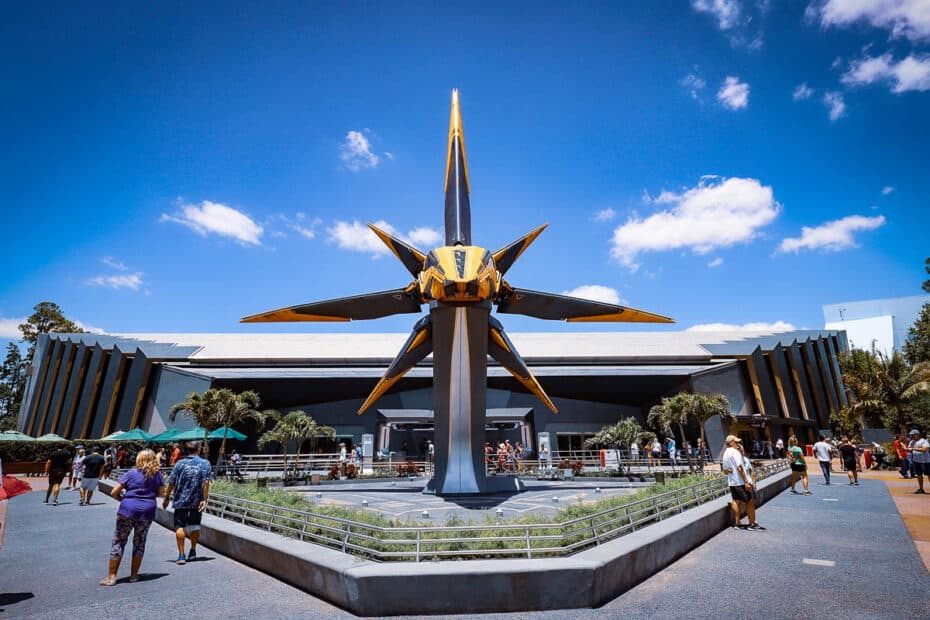 You'll head toward the left side of the Starship to join either queue for this attraction. There is a virtual queue entrance and a separate entrance for those who purchase a Lightning Lane.
The interior portion of the queue, which doubles as an exhibit, doesn't appear to have a lengthy holding area. However, given the virtual queue procedure to experience this attraction, it rarely backs up outside the interior portion of the queue.
Here is the back of the Starship.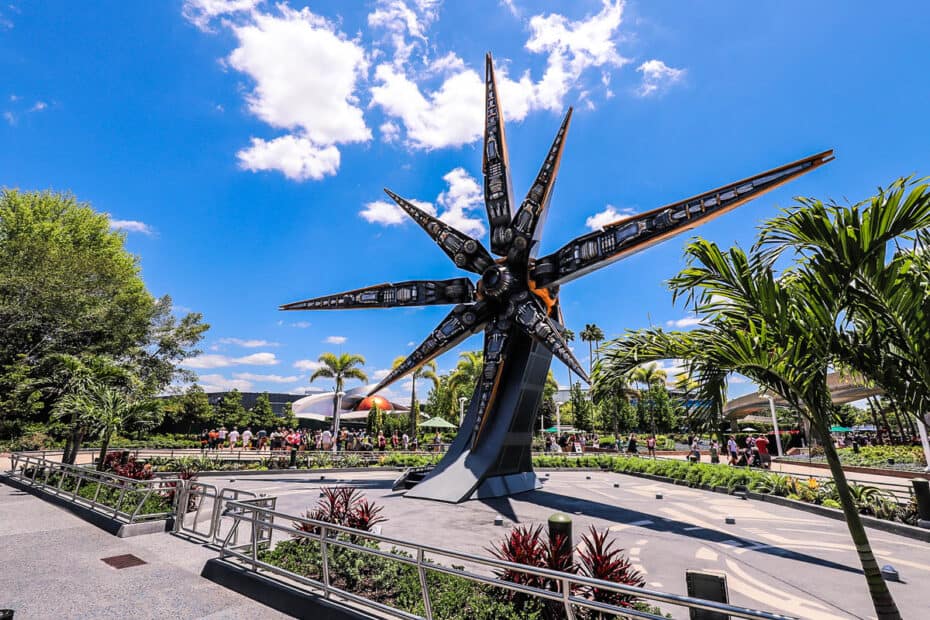 Disney calls the interior portion of the queue a Galaxarium. The Galaxarium compares the similarities and differences between our world and the galaxy of Xandar.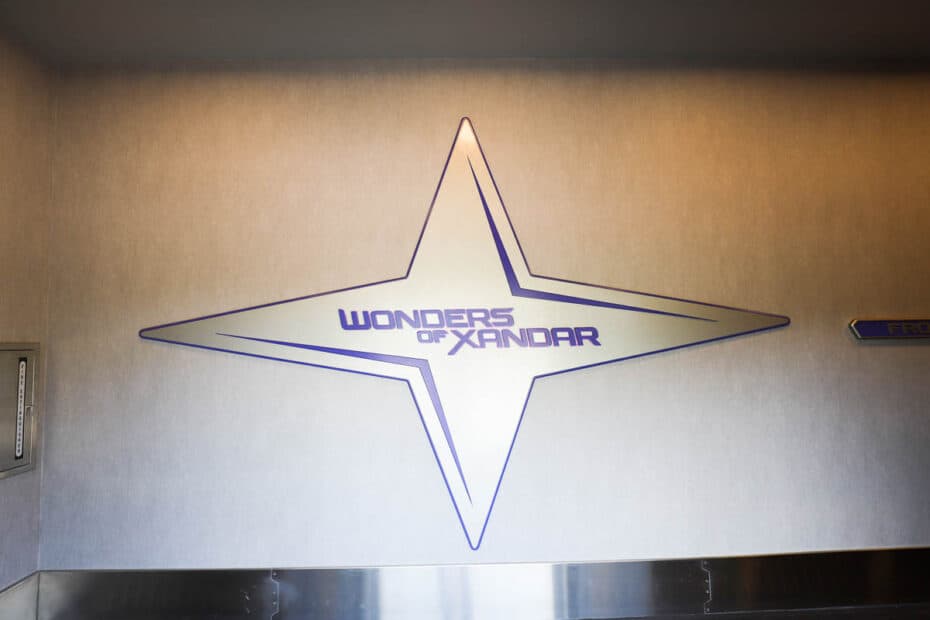 This large screen on the ceiling is pretty impressive. That's a glimpse of a turkey leg as the narrator shares how we "Terrans" enjoy this type of theme park snack.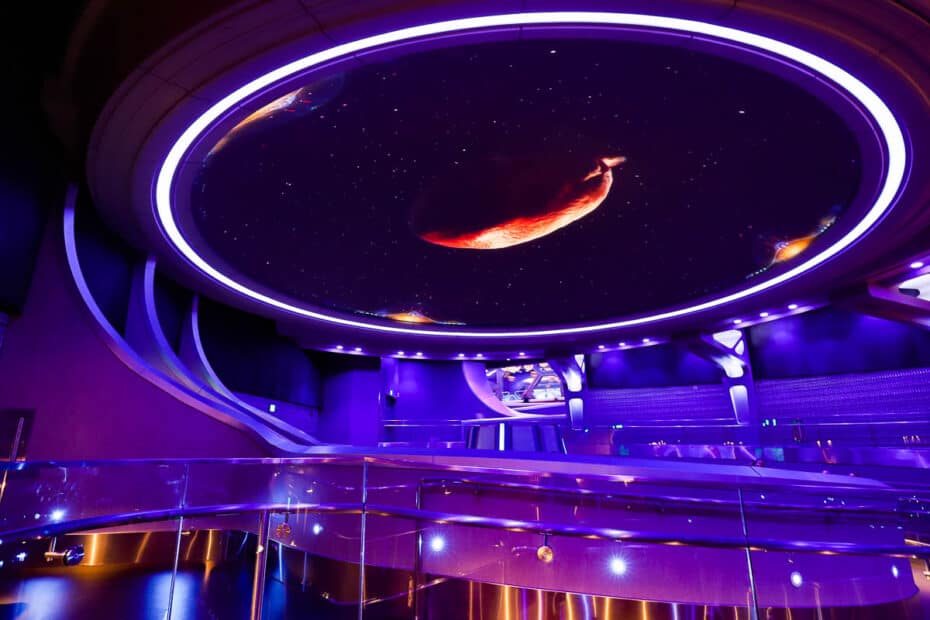 For the record, planet earth is called Terra in galaxy-speak, and we humans are considered Terrans.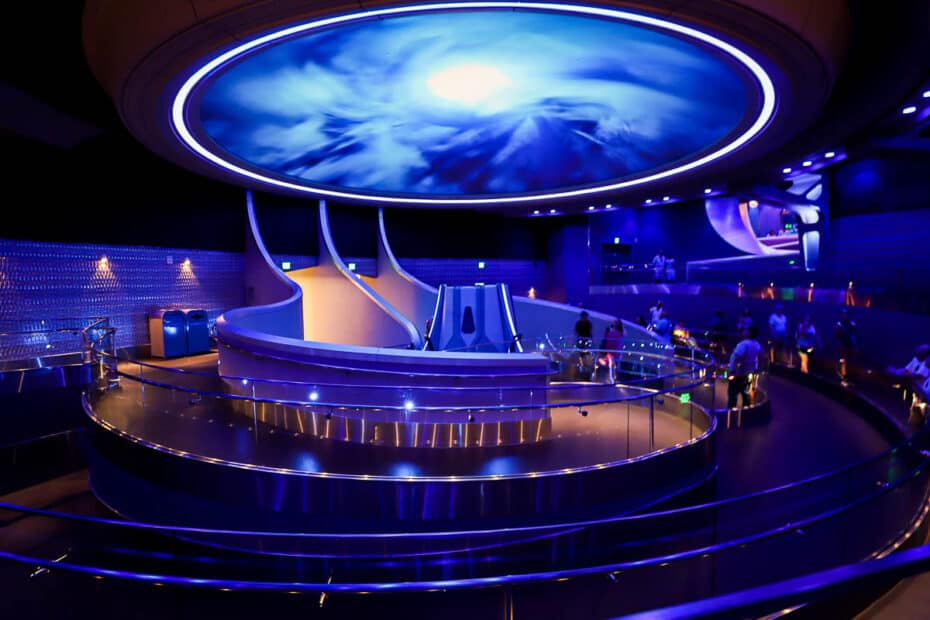 The queue circles around, providing a backstory of how things supposedly came into existence plays overhead. I say supposedly because there's mention of the Big Bang.
As a Christian, I believe in God and His creation. Don't get me wrong, I wasn't offended by the queue, and I'm not making a big deal of it, but I felt like it was worth the mention.
If you ever rode Ellen's Energy Adventure, you pretty much got the same spiel.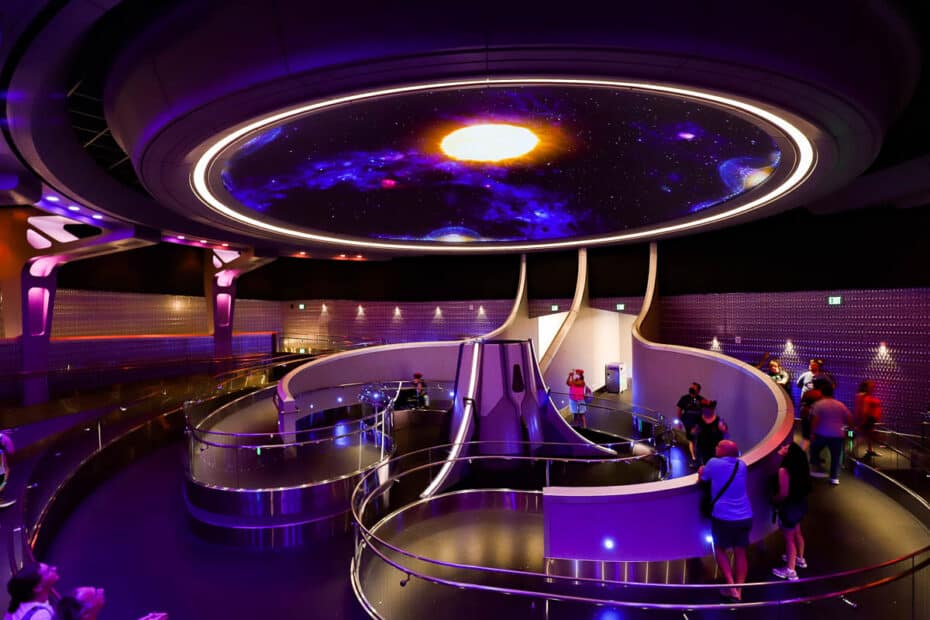 Anyway, the queue continues into a room with several exhibits.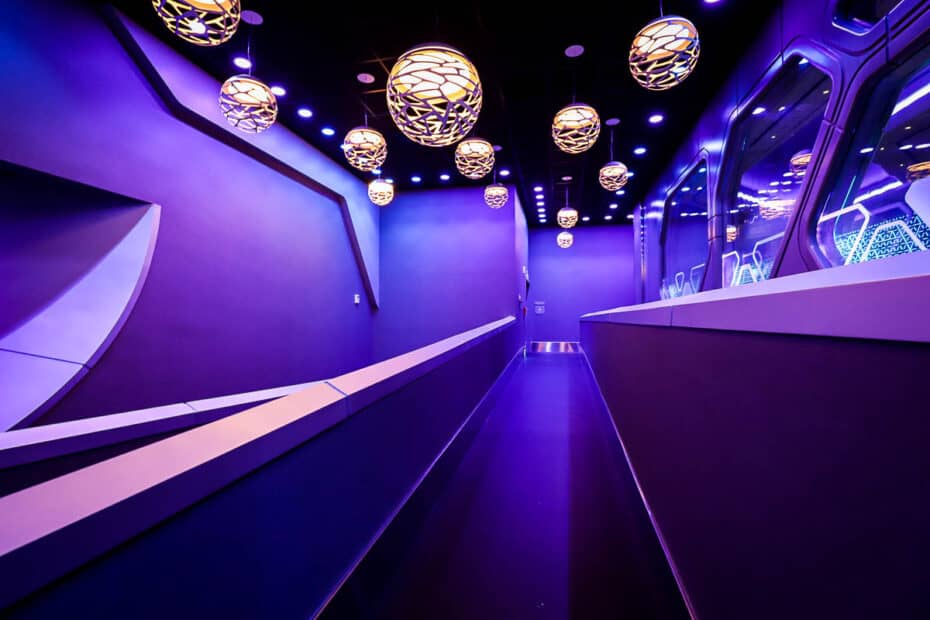 There are maps of the galaxy.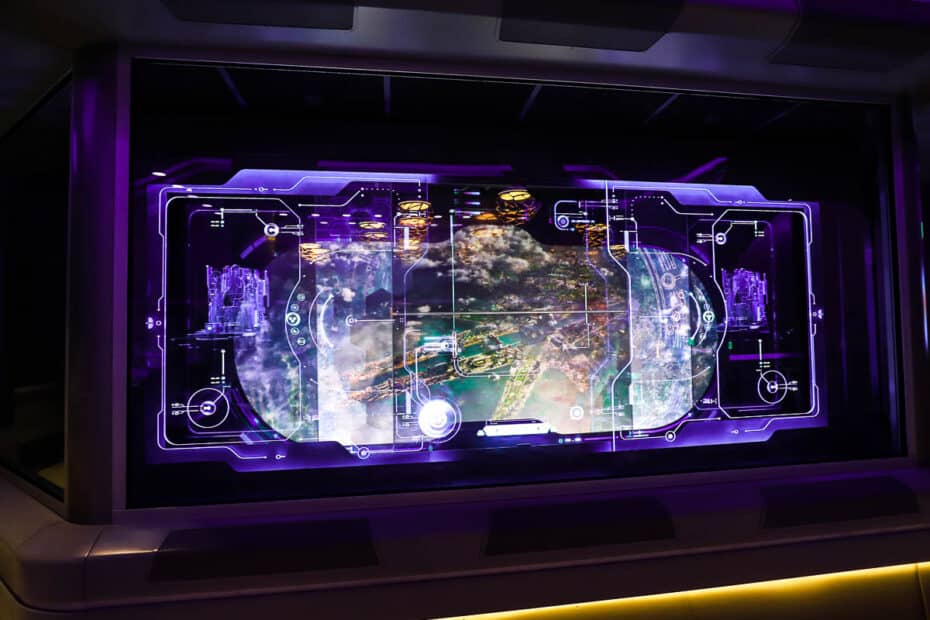 And there is a fabulous scale model of a city in Xandar.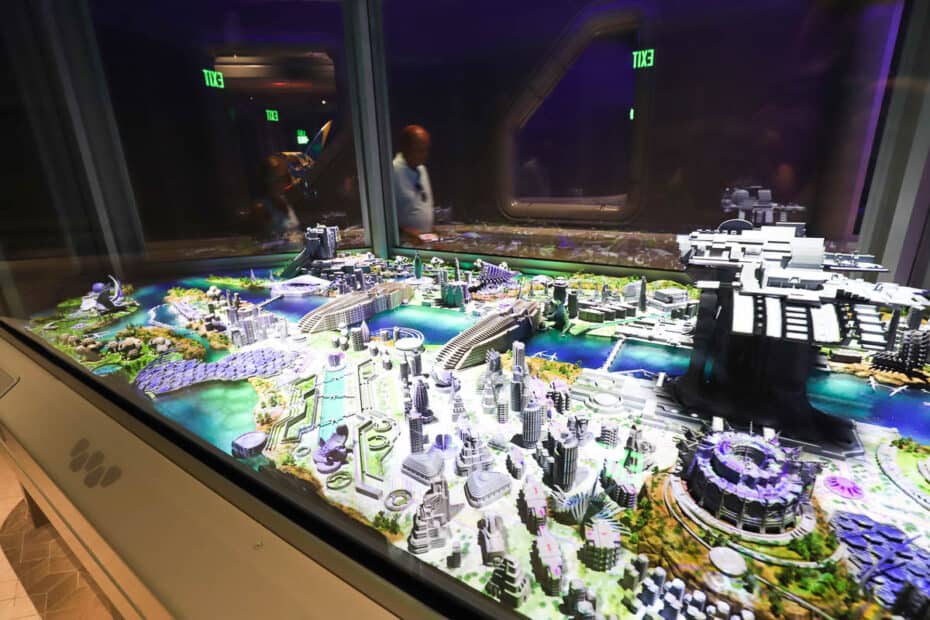 The starship model sits on the opposite side.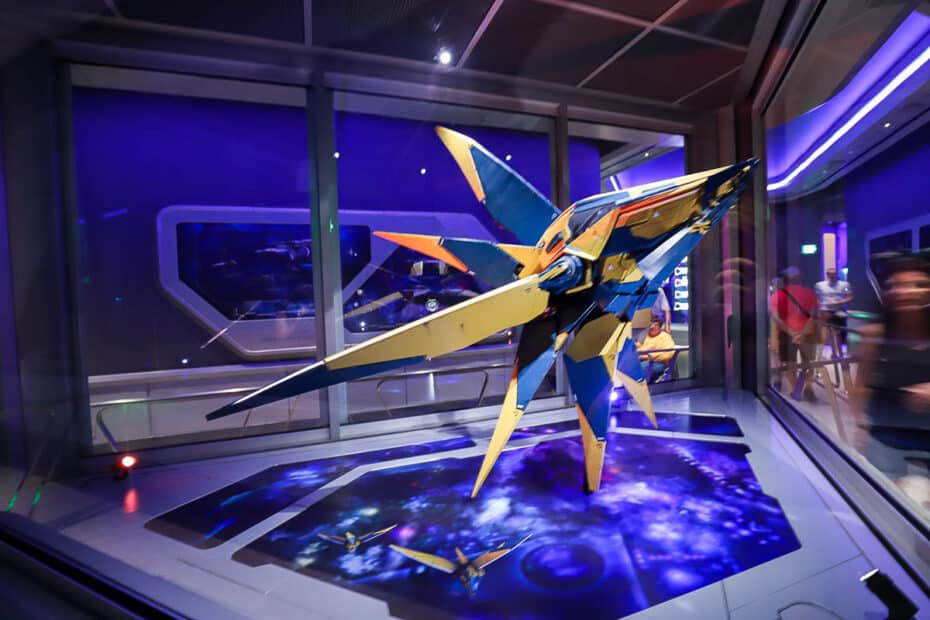 My favorite thing about the queue is these screens that have various characters pop-up relaying messages.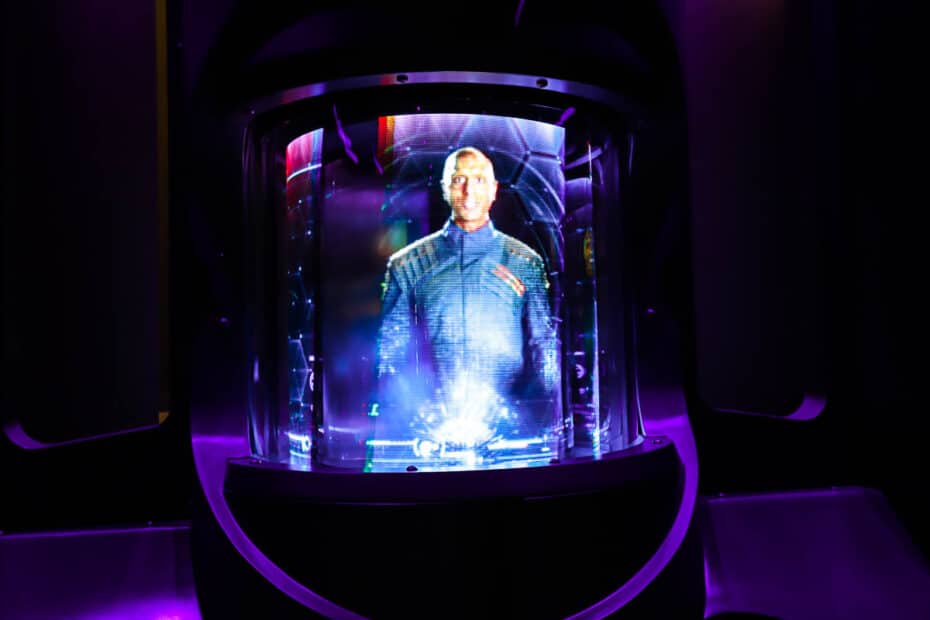 You'll see Rocket and Groot. They are interviewed about how they helped save the galaxy.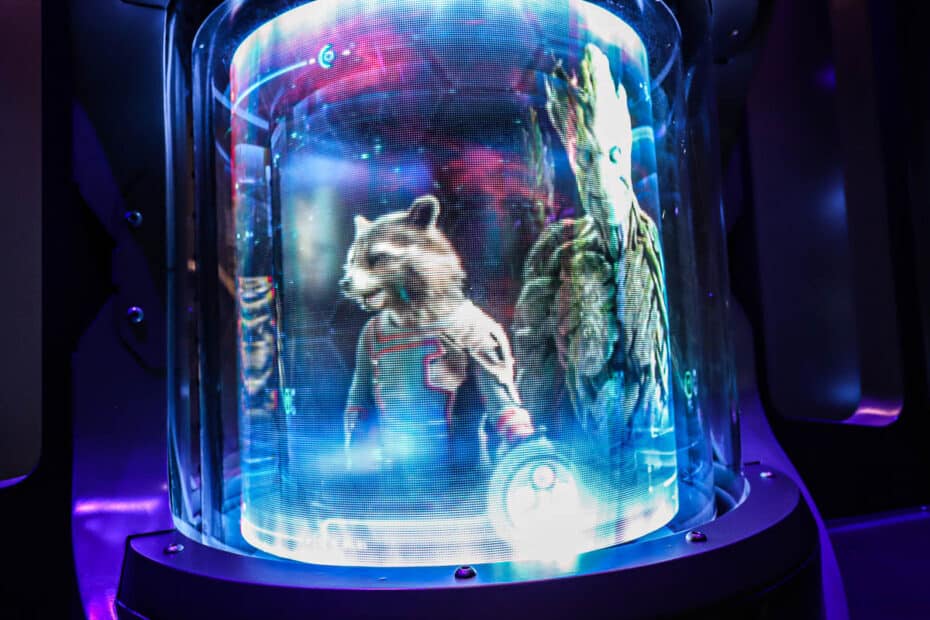 Groot said something along the lines of, "I am Groot."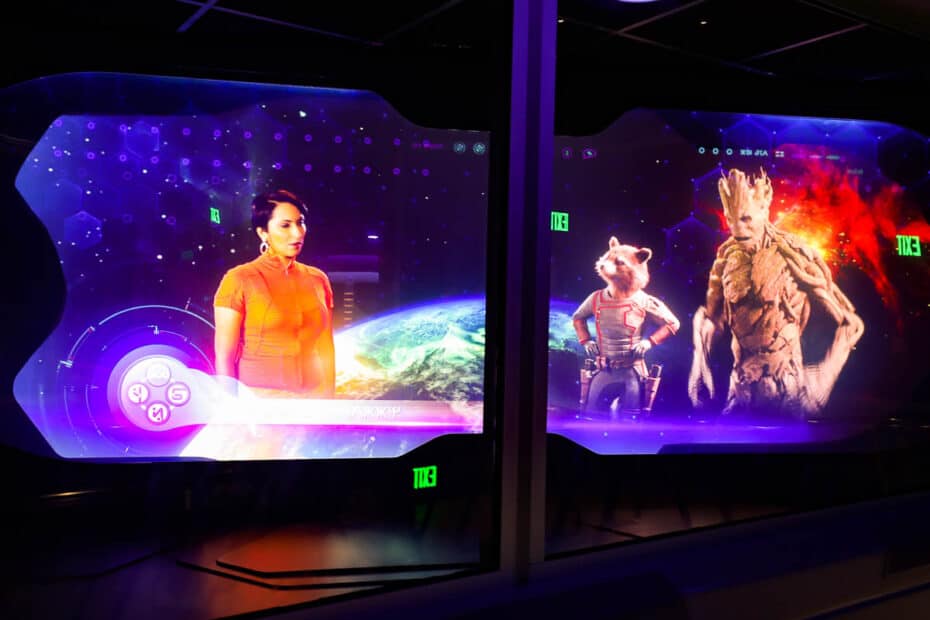 Most will find the entire interior portion of the queue entertaining. Better yet, it's air-conditioned.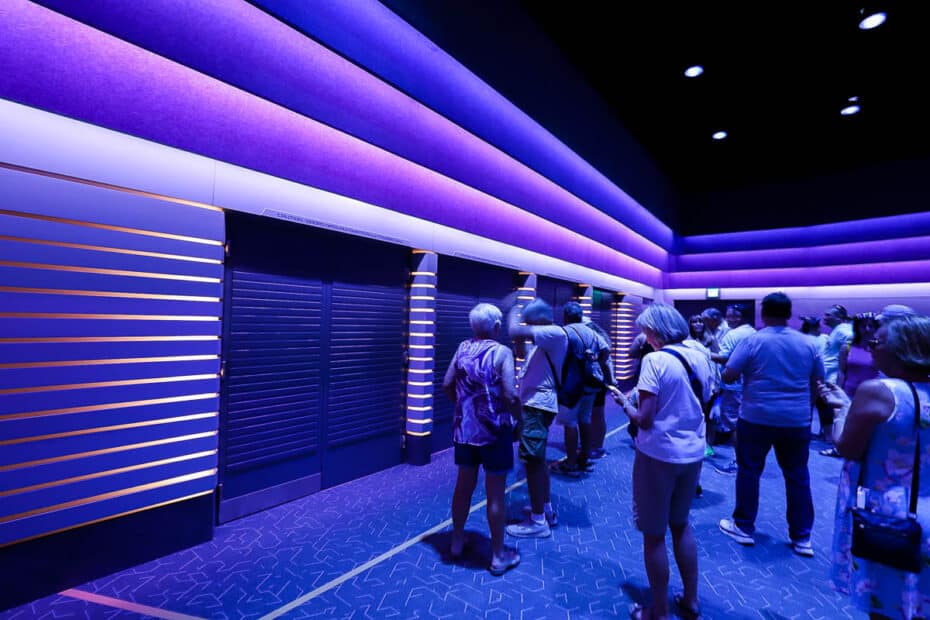 As you approach the ride, you'll enter a pre-show area. Glenn Close and Terry Crews appear on screen as Nova Prime and Centurion Tal Marik.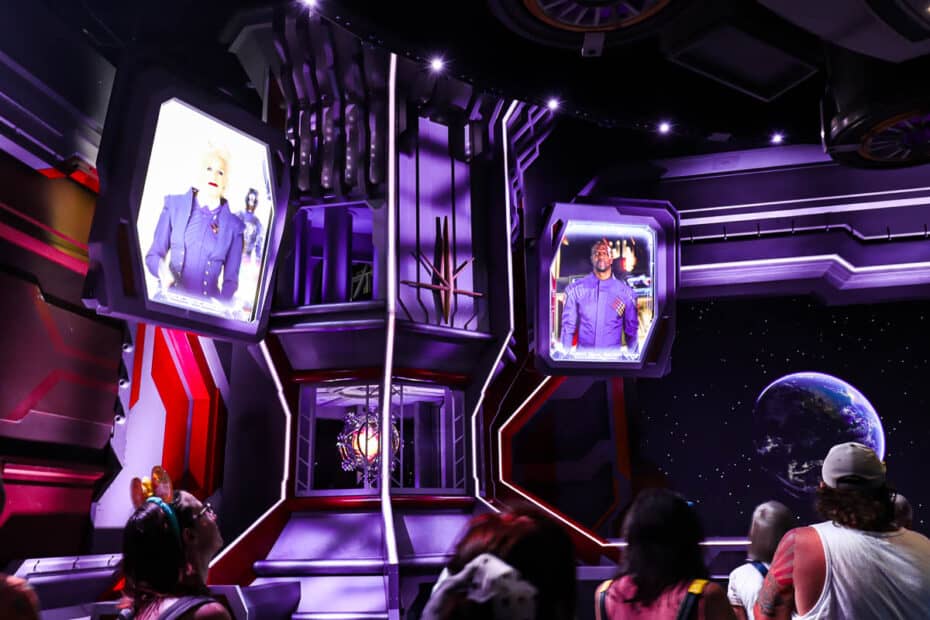 They'll share your mission and a few ride details. Then, before heading into the loading area, you'll see some of Disney's warning signs for the attraction.
Remember that Cosmic Rewind has a 42″ height requirement. Also, Disney has ride rules when it comes to riding with children.
"All children under the age of 7 years old must be accompanied by a person age 14 years or older."
Other warnings and advisories are listed, including those in a wheelchair or ECV must transfer to the ride vehicle. Accessibility information is available here on Disney's site if you would like to learn more.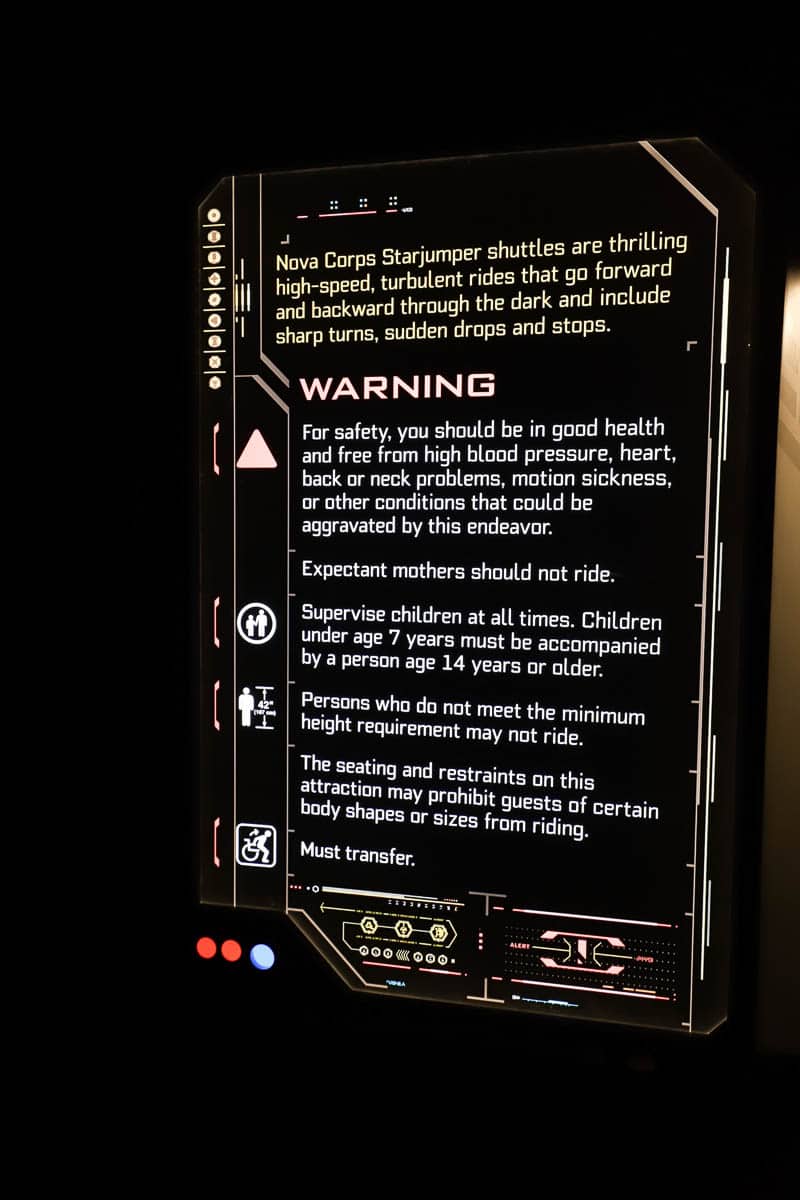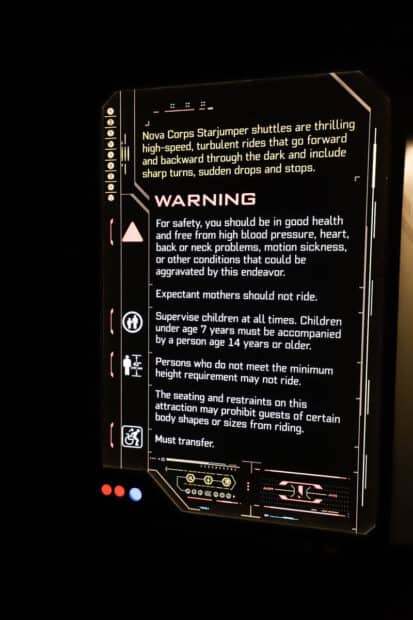 Then you'll enter this long hallway that looks down to the loading area on each side. A cast member will direct you to either the right or left side. Both sides are the same, so it doesn't matter which one you board.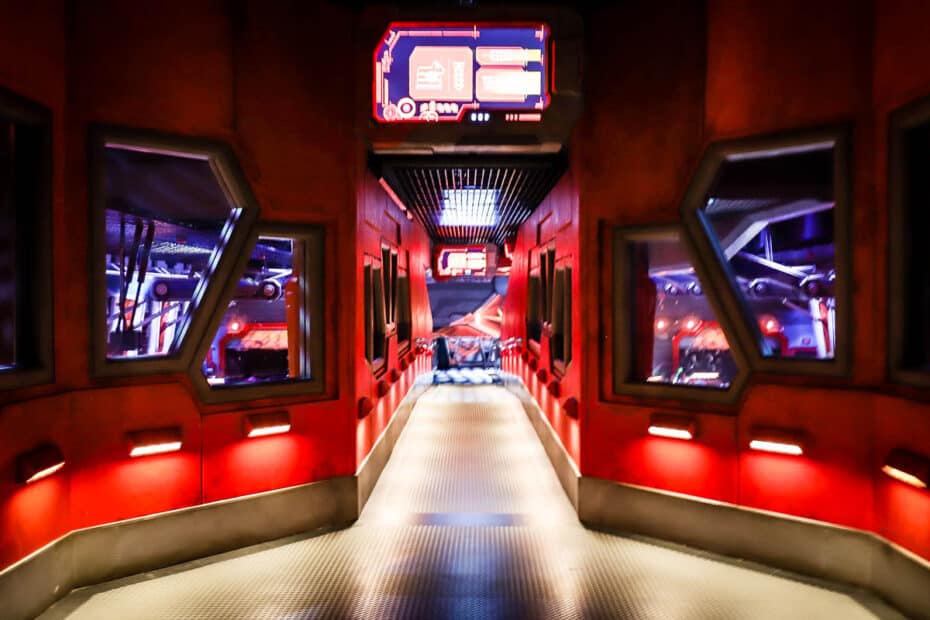 And then it's time to ride!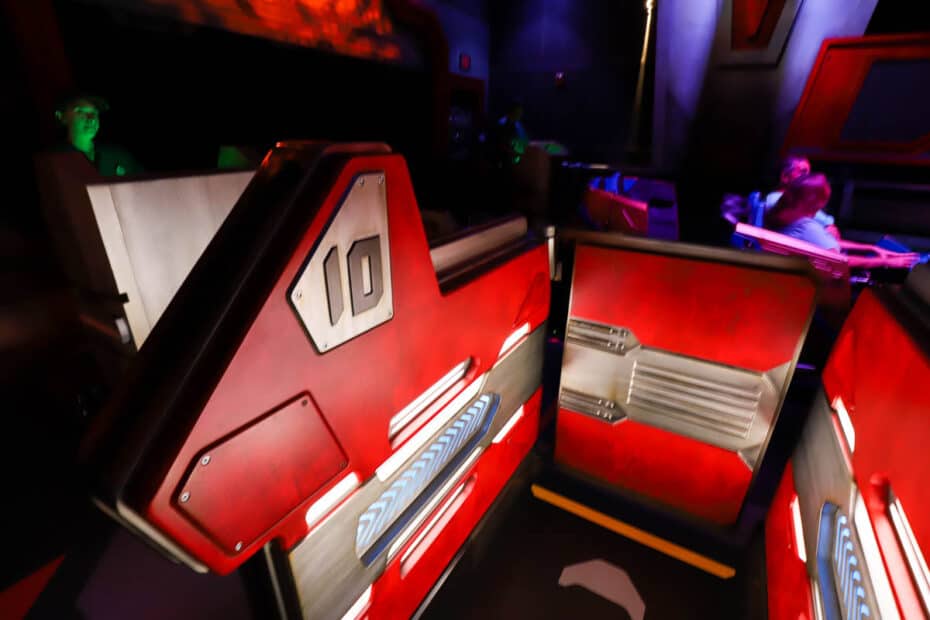 Each set of cars holds four guests, with two riders per row. The ride vehicle has a front row and a back row.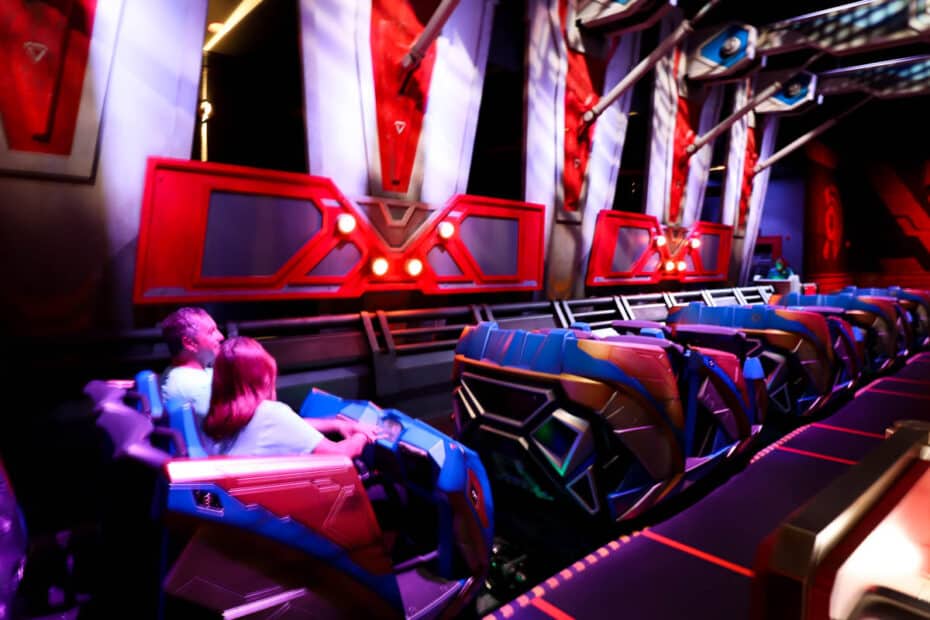 There is a lap restraint that you'll pull down over you. A cast member will come by to double-check.
Then you're off on the ride of a lifetime! Initially, you'll move forward and around an upcoming bend on the track before entering the galaxy.
After that, there's a brief pause where it appears you're straightening up. That's where the bad guy, Celestial Eson, appears.
In my opinion, this part was not scary.
Before you know it, you're launching backward in a "cosmic rewind," and one of the following songs comes on in the background:
"September" by Earth, Wind & Fire
"Disco Inferno" by The Trammps
"Conga" by Gloria Estefan, Miami Sound Machine
"Everybody Wants to Rule the World" by Tears for Fears
"I Ran" by A Flock of Seagulls
"One Way or Another" by Blondie
Other than the reverse launch, the surprise factor is that your car spins from side to side, potentially resulting in motion sickness for some.
While I've had some dealings with vertigo and motion sickness, I didn't have any issues with the ride. The best way I know how to describe this attraction is that I felt like I was swinging from side to side while continuing on a roller coaster track.
However, I had a bit of a headache and wondered if the ride caused it later. I rarely have headaches, so it was something I noticed.
The most significant impact was how the background music enhanced the ride. My song was "Everybody Wants to Rule the World," and it was unlike anything I've ever experienced.
Children might get scared because most of the ride is pitch black, and you cannot see the track ahead. However, there are no inversions or large drops.
If you're visiting Epcot, make sure you're aware that Disney utilizes a virtual queue for Guardians of the Galaxy: Cosmic Rewind. Unfortunately, that means there will not be an option to join a stand-by line for this attraction.
The most up-to-date instructions for the opportunity to secure a virtual queue are available here on Disney's site.
Additionally, guests will have the opportunity to purchase an individual Lightning Lane for Cosmic Rewind. Details for Lightning Lane are available here.
Overall, this ride is a job well-done for Disney World. I, for one, cannot wait to experience Cosmic Rewind again.
For more Epcot attractions, try the following:
In the comments
Have you ridden the new Guardians of the Galaxy: Cosmic Rewind roller coaster yet? If so, what did you think? What song did you get?