Smugglers Run Ride Review (Millennium Falcon)
Millennium Falcon: Smugglers Run is an attraction in Hollywood Studios at Walt Disney World in Orlando, Florida. This attraction is specifically located in Galaxy's Edge and offers guests the opportunity to pilot the Millennium Falcon.
This Smugglers Run ride review will cover what you can expect with the attraction along with some practical advice and tips for planning it into your Hollywood Studios day.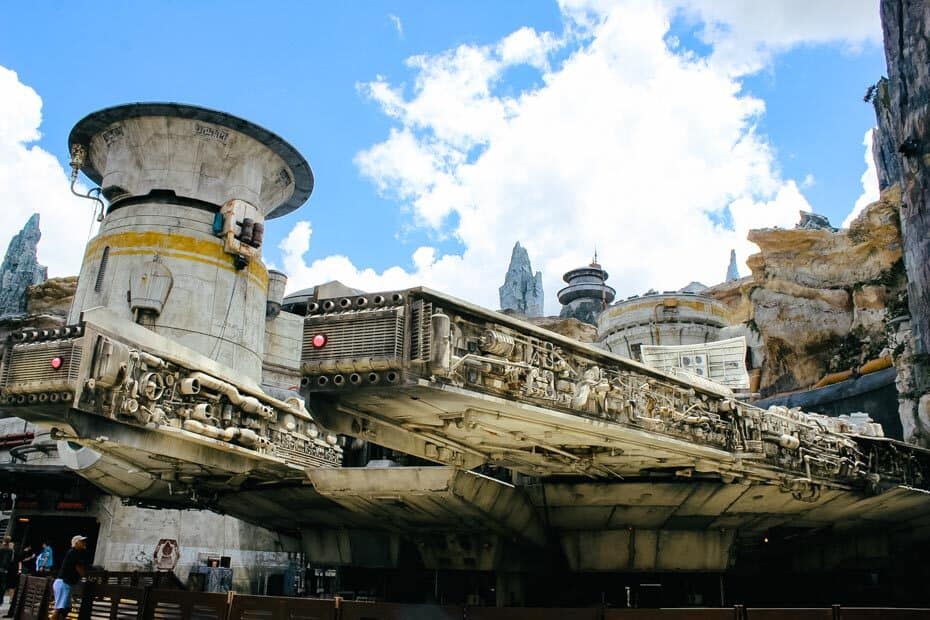 Below you'll find the quick reference chart listing specifics for Smugglers Run.
Millennium Falcon: Smugglers Run
Hollywood Studios Attractions

Location:

Galaxy's Edge

Height Requirements at Disney World:

38″

Hollywood Studios FastPass:

Currently Not Available

Ride Type:

Interactive

Seats Per Vehicle:

Six

Rider Switch at Disney:

Yes

Extra Magic Hours:

Yes

Good For:

Star Wars Fans
Tweens, Teens, Adults

Scary Factor:

Mild

Must-Do List:

High Priority

Perfect For:

Star Wars Fans

Special Mention:

Make sure to take your picture at the
Holochess table before boarding.
Disney's Smugglers Run Ride Review
Seeing the Millennium Falcon: Smugglers Run ride at Disney's Hollywood Studios for the first time is one of those blow-you-away type moments. The "hunk of junk" is positioned in the back of the new land and is quite jaw-dropping to see in real life.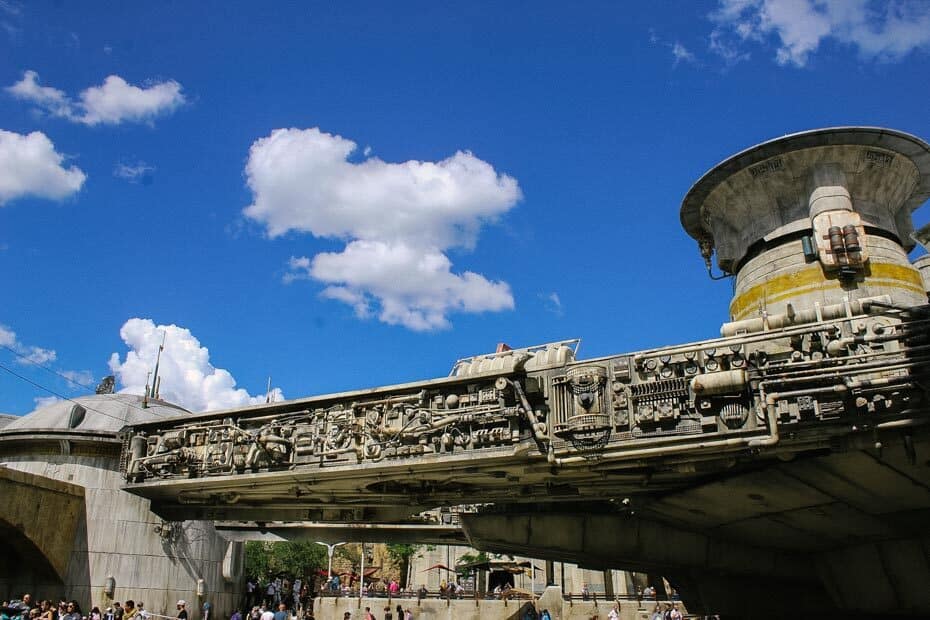 You might find yourself a bit surprised at the emotion you feel when you first see the Falcon. I grew up watching the Star Wars films and this moment made me really teary-eyed when Galaxy's Edge actually became a real place I had visited.
If you pick up a guide map of the new land on your arrival one of the items listed is Millennium Falcon: Smugglers Run. As you probably know, the Millennium Falcon is a big deal when it comes to all things Star Wars.
The starship was represented in episodes four through seven of the original Star Wars trilogy that came out in the late '70s. Nowadays, new age Star Wars fans know it best as Rey's ship that she co-piloted with Hans Solo.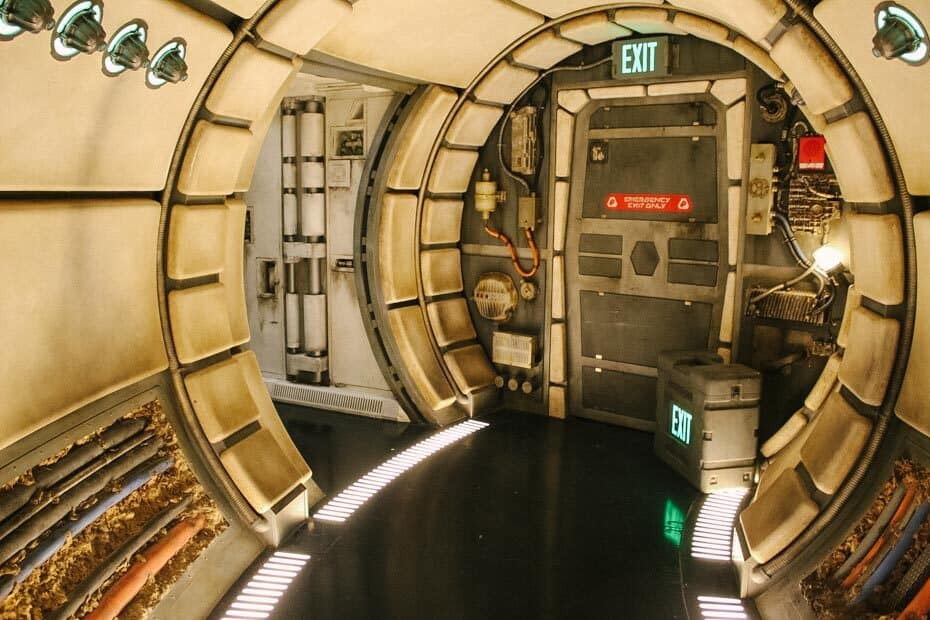 The Millennium Falcon is massive. I can almost guarantee that you will somewhat forget about the rest of the land when you are in this area.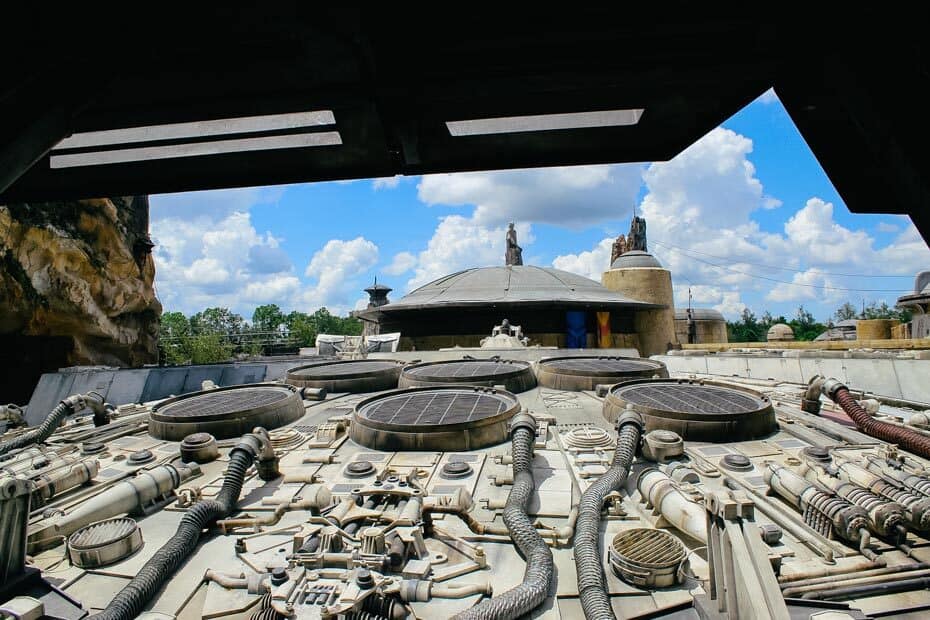 There are quite a few things you will want to know in advance for experiencing Smugglers Run.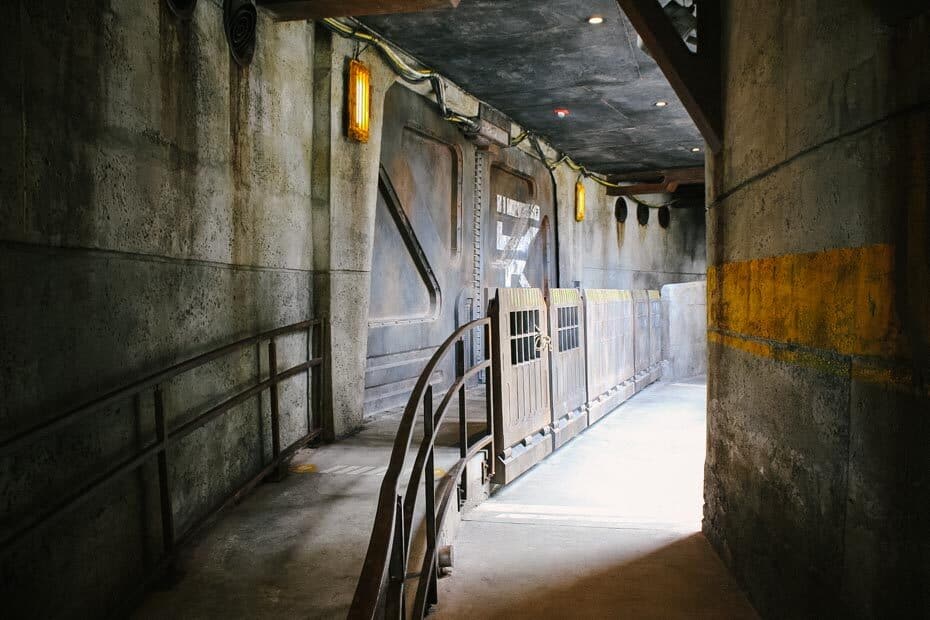 2021 Update – However, at this time, not all of these may apply to you personally. When reviewing these tips keep in mind that the FastPass system might not be available on your visit.
Anticipate High Waits in Standby–Expect long wait times during the morning through the early evening in the standby queue for Smugglers Run.
Millennium Falcon: Smugglers Run normally offers FastPass+– Smugglers Run is a priority Tier 1 FastPass experience at Hollywood Studios.
Single Rider Line for Millennium Falcon: Smugglers Run- If you take the single rider line, it bypasses most of the queue. Guests in single rider will not see any of the pre-show or queue effects when taking this route. However, the wait to experience the attraction will be shorter. This might not be available on your visit.
When electing to go single rider, guests will be reminded that they'll be separated from their party when entering the queue. Guests can expect in most cases to receive the engineer role when electing to go the single rider route.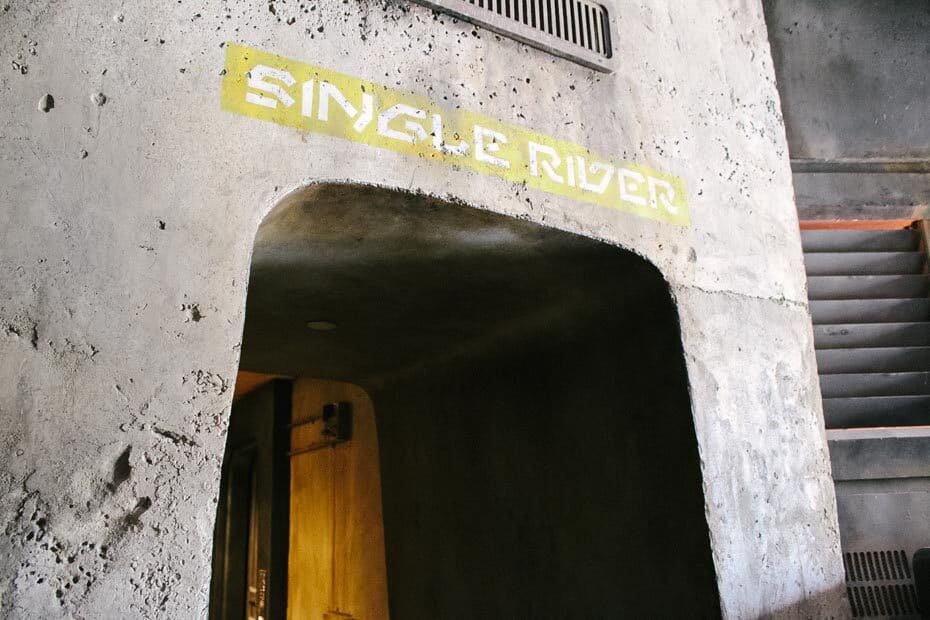 When you enter the single rider line and get to a divided area there will be an option to go right or left up a set of staircases. If there is no one already waiting in the area, guests will have the tendency to go to the right.
Most do not realize there is a second single rider line to their immediate left. This means that side will usually be shorter.
However, if the line is slow-moving, this should be highly noticeable. A question of should you go left or right in the single rider queue probably won't make a difference.
How to get the pilot role for Millennium Falcon: Smugglers Run
When you are in the standby queue for Smugglers Run, you will get to the top, and a cast member will hand you a "role" card. If you do not receive the card you want, there might be a few options to change.
The roles fo Smugglers Run are as follows: two pilots, two gunners, and two engineers.
First, you can ask to trade roles with the people in your party. From my experience, they handed a younger child in my party a pilot card, but she didn't want to be a pilot. So her party traded cards with me, and I was able to pilot.
Another option is to ask to be the pilot. If so, you will be held back 1-2 groups and then a cast member will allow you to take the pilot card and move forward. So you are basically trading a few moments longer wait for the pilot card.
This is not set in stone, so during high volume cases moving forward, it might not be an option. If having a specific role is a big deal to someone in your party I recommend asking the cast member. It never hurts to ask and if it doesn't work out, don't be too disappointed.
There is a special line for Rider Swap and Disability Access.
When you enter the queue the standby line is on the right-hand side and the single rider line is on the left-hand side. You will notice what looks like a FastPass+ line in the middle.
This is actually the line for Disney's Rider Switch program and Disability Access. If you have more interest in learning about these options you can visit Disney's site here for disability access information.
What if I only want to see the queue?
You have two options here as well. The first option is to go through the standby line like a regular guest and see all of the features and pre-show.
Additionally, you can go through the single rider line and only see the waiting room at the top with the Dejarik Star Wars Holochess game table. When you get to the top let the cast member know you don't want a role card for the ride.
A cast member will allow you to visit the area and then show you to the exit when you are ready to leave.
Here is a look at the entrance of the attraction. Guests electing to ride via standby will go to the right. Guests wanting to participate in single rider will head toward the left.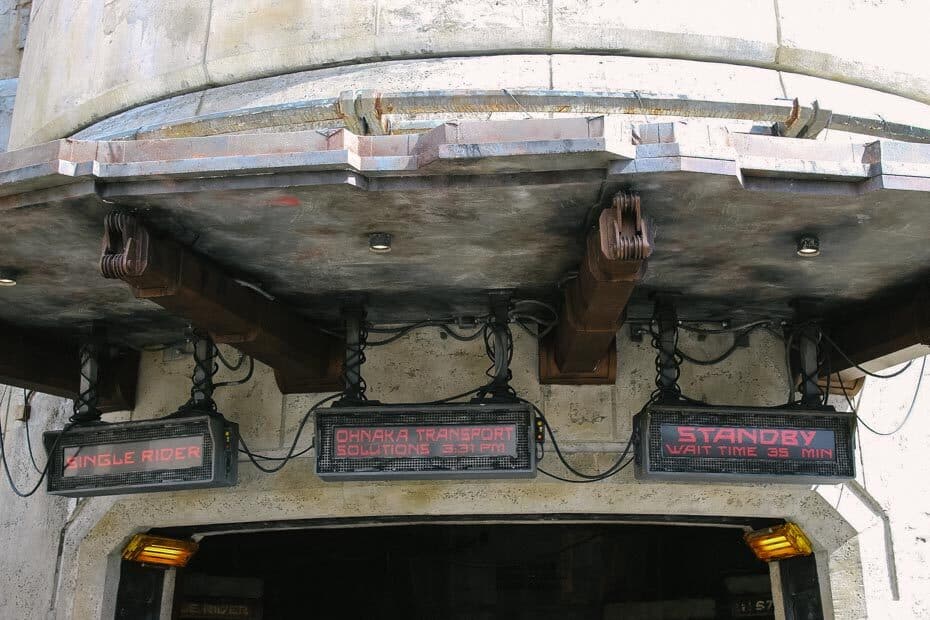 If you participate in Rider Swap or Disability Access you'll want to see the cast member positioned out front.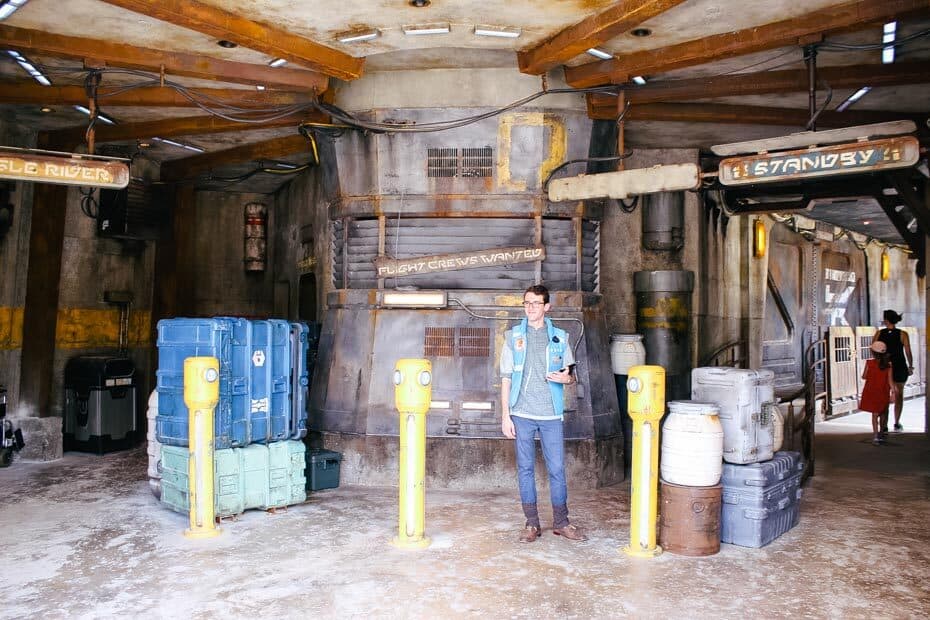 The Smugglers Run standby queue is really something that most fans will want to experience on an initial visit. However, I realize that none of us are probably fans of standing in line. The queue does, fortunately, offer some neat detailing.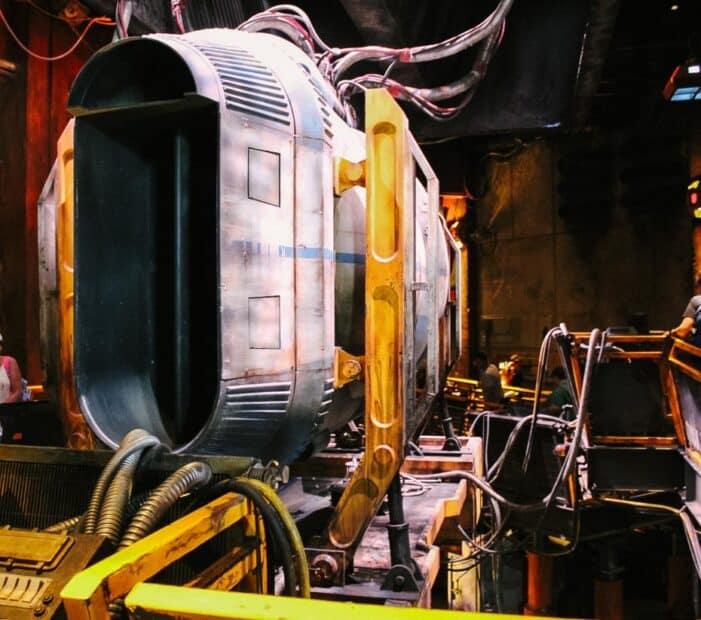 The majority of the line is indoors as well, offering a little relief on a hot, sunny day.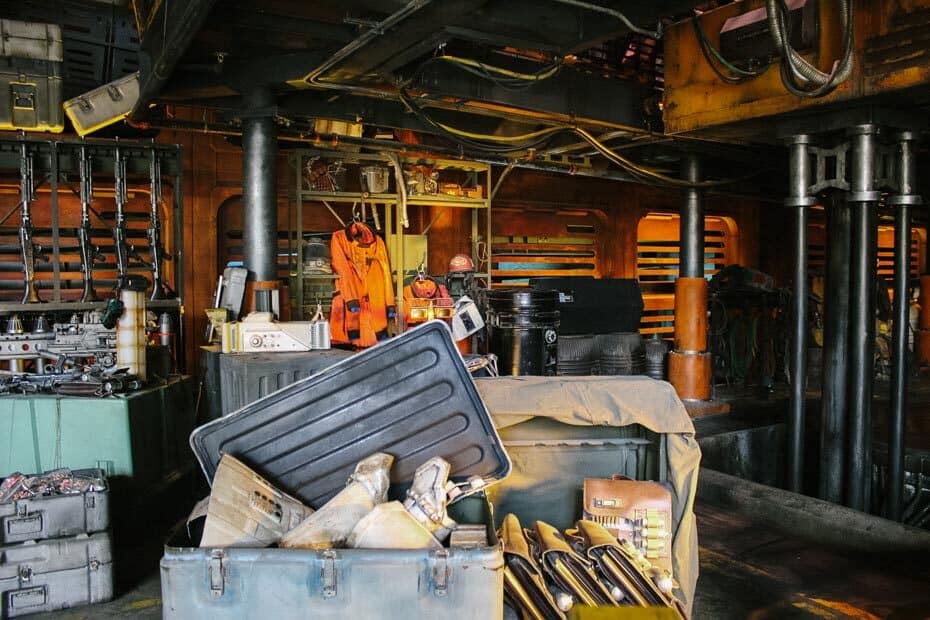 But you could end up waiting for a while in the exterior portion of the queue on busier days.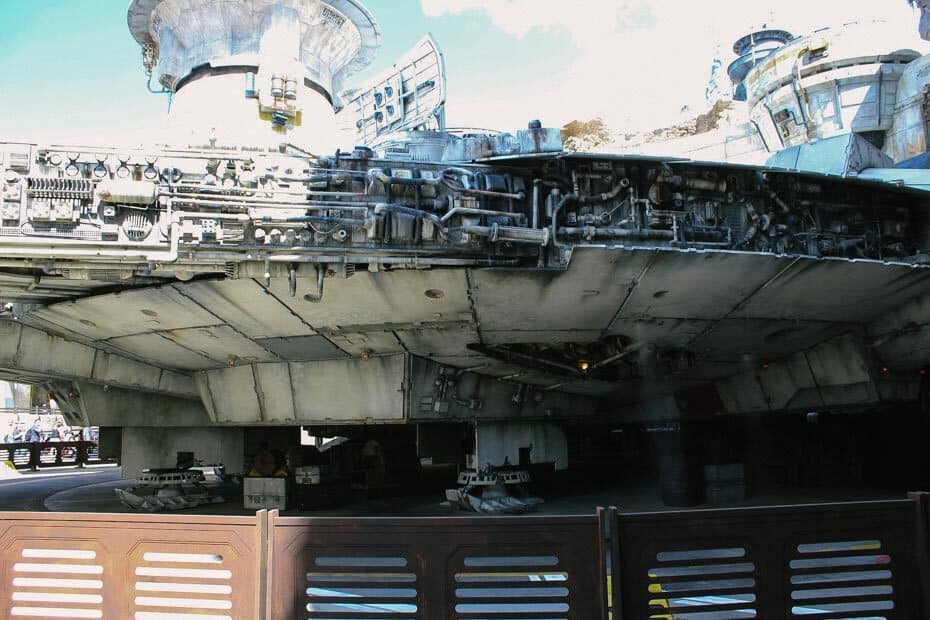 The Smugglers Run queue kind of has a winding walkway that gradually elevates. Thankfully, there isn't a lot of direct physical challenges.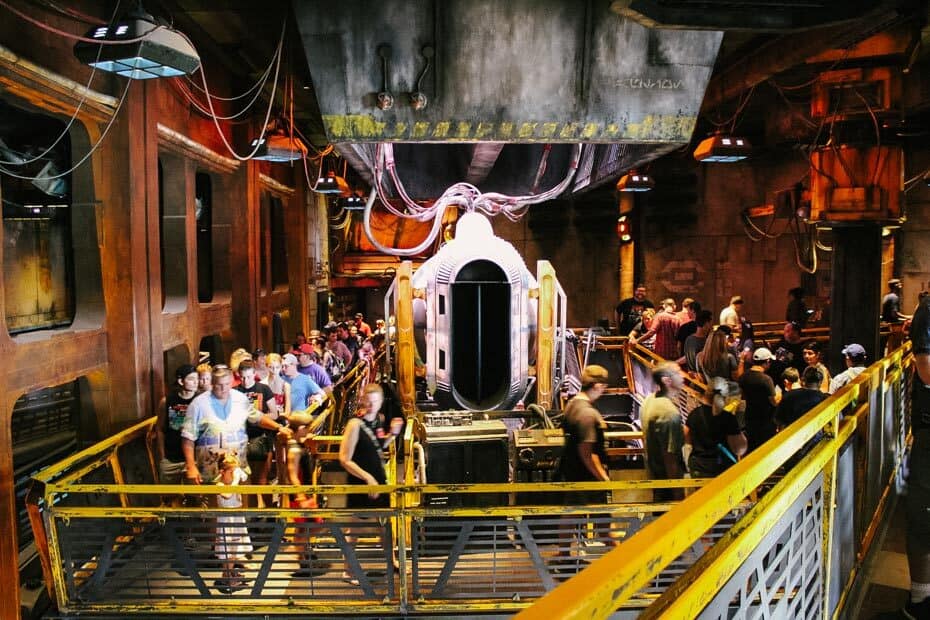 As you ascend to a higher level you will eventually be able to take in some amazing views of the Millennium Falcon.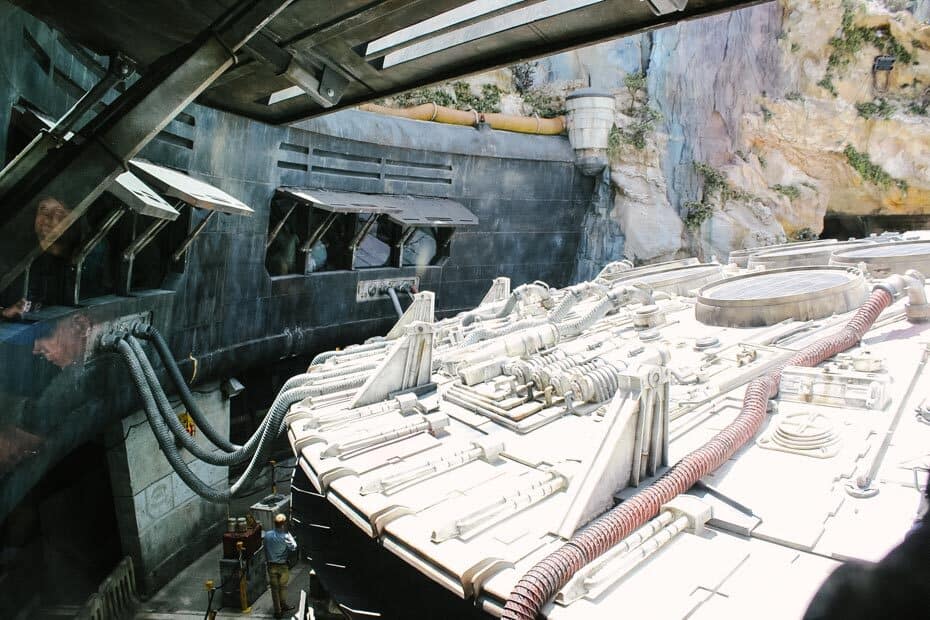 Upon reaching the end of the Smugglers Run queue, you will be invited into a pre-show. Most guests are probably going to want to see this portion.
It is presented by Hondo Ohnaka, most commonly known from Disney Channel's Star Wars: Clone War series. Hondo is a Weequay pirate and is sending you on a mission called "Smugglers Run."
Chewbacca makes an on-screen appearance during the pre-show arguing with Hondo. He states that maybe it isn't the best idea to send you out on this mission. But eventually, the space-pirate wins out on the argument and you are headed into another small waiting area.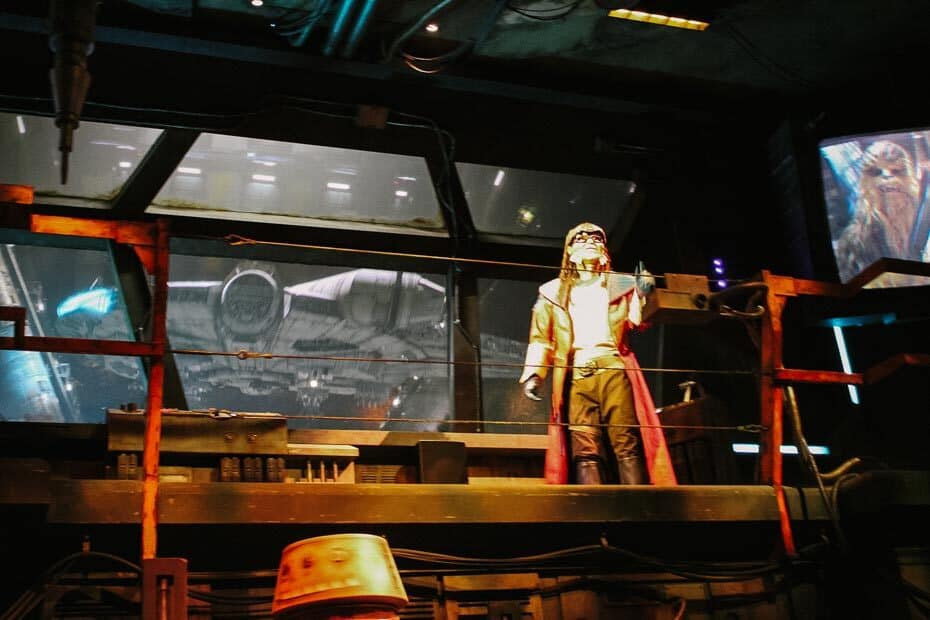 Here your excitement will really start to grow as you begin to feel like you are really inside the Millennium Falcon.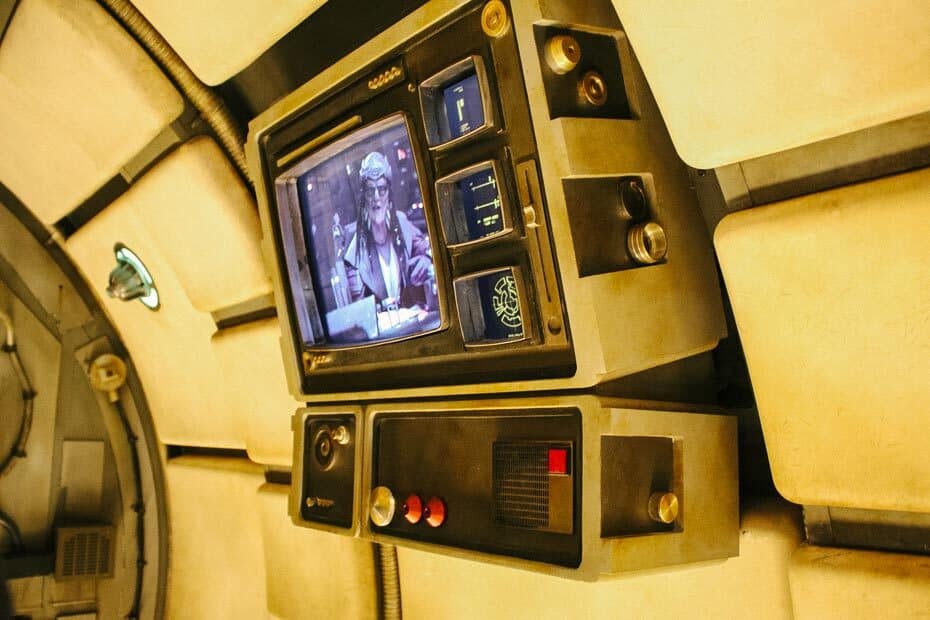 The boarding area is where you will receive a role card for your experience. The role cards come in different colors. Everyone in your party should have the same color. There will be two pilots, two gunners, and two engineers per cockpit.
Your party will walk down a hallway of the Millennium Falcon. There you will gather with other parties in a larger, more open room that contains the Dejarik Holochess game table.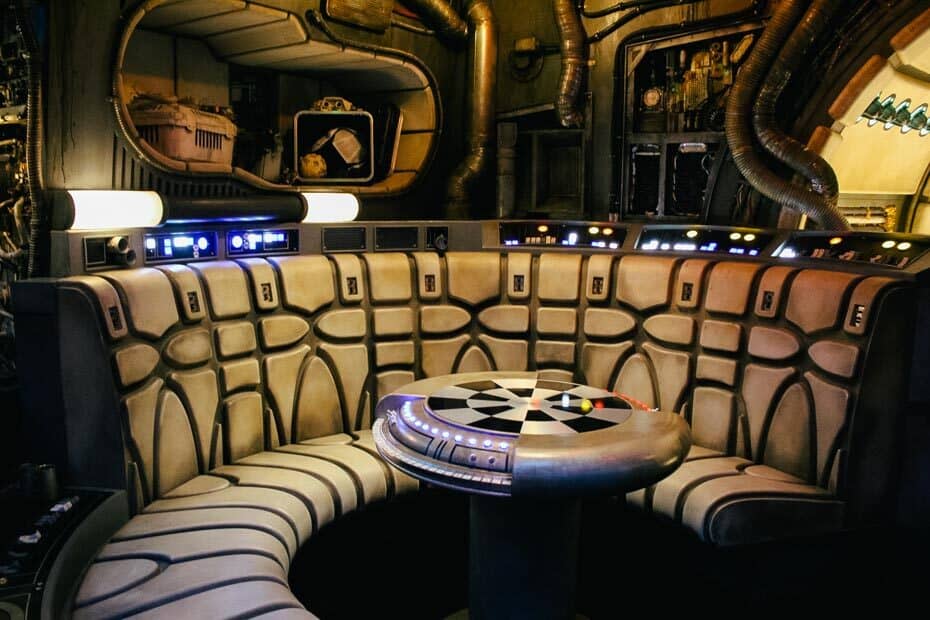 Unfortunately, you won't have a lot of time to enjoy the area. If it's a "must-do" then try to get over to the chess table first and get a picture. But when your group is called (by the color of your role card) it's time for your ride experience.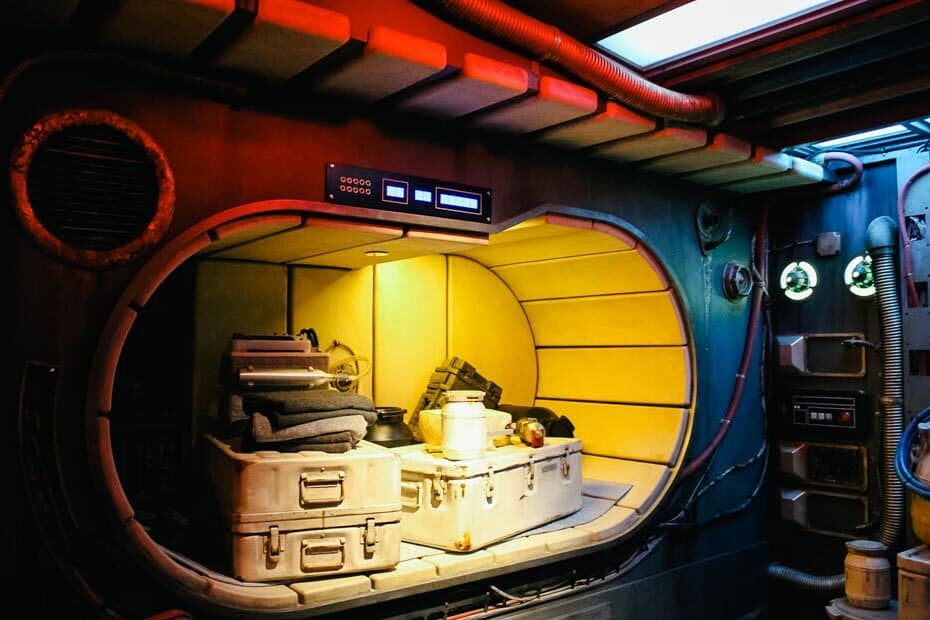 Note here if your group is called and you somehow were to miss it then you will have to wait even longer. They are going to make it pretty clear when it's time for your group.
And if any empty seats are left that means a longer wait for everyone standing in line. So it is of extreme importance to pay attention here.
When you enter the Millennium Falcon cockpit, you might get a little choked up. It really feels and looks like everything that it's supposed to.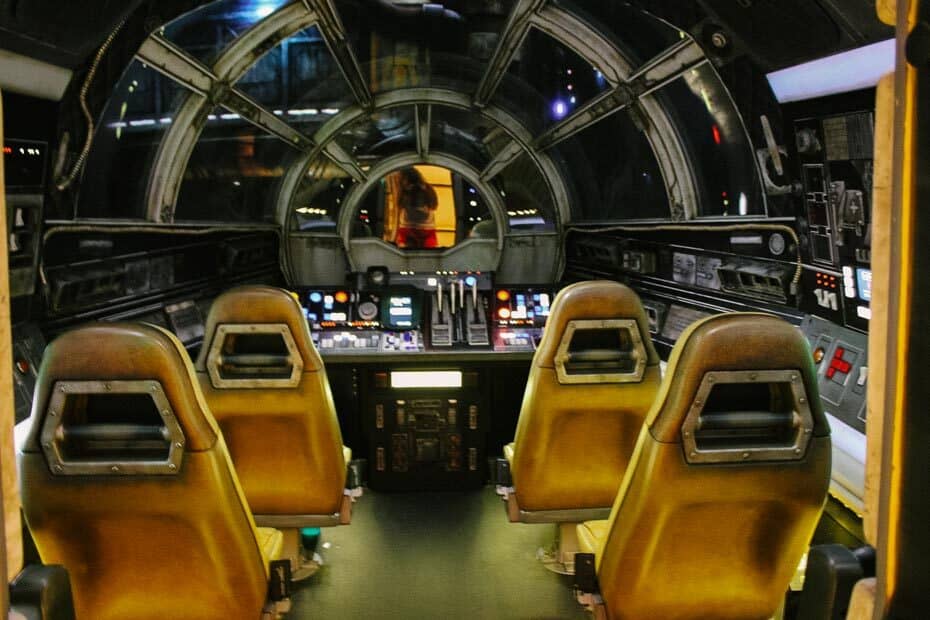 The cockpit has three rows that seat two people on each side. The first two rows are for the pilots. On the right-hand side is the main pilot which controls the up and down movements of the spaceship. This works like an airplane. Pull the control toward you to go up and away from you to go down.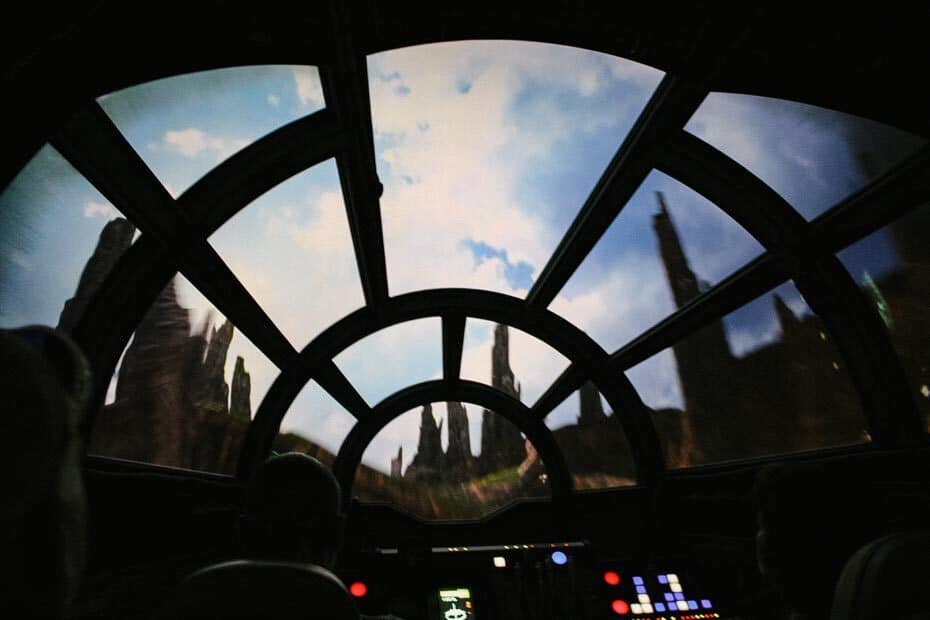 The pilot on the left-hand side is the right/left controller. This works standard, right to go right, left to go left. There is also a shift for the up and down pilot to make during the ride and a flashing button for the right and left pilot to hit.
I was really concentrating on my first go-around about the overall experience. Then I realized I was being prompted by my co-pilot to "HIT THE BUTTON!" It was actually all in good fun. They had promised not to judge me poorly for my mad piloting skills.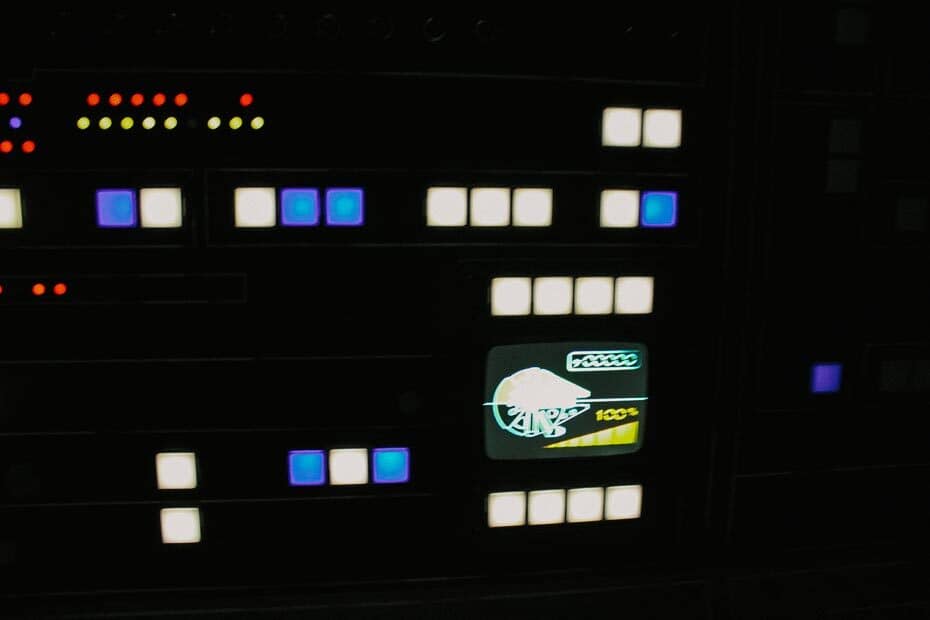 If you were to miss a control or something it's not a deal-breaker. Unless your family is extremely judgmental and will never let you forget how you basically crashed the ride after waiting in line for hours.
If that's the case, play sick and sneak into the single rider line while they are waiting. Meet them outside later when they exit pretending to feel better. Chances are 50/50 you will get a better group. I am only joking.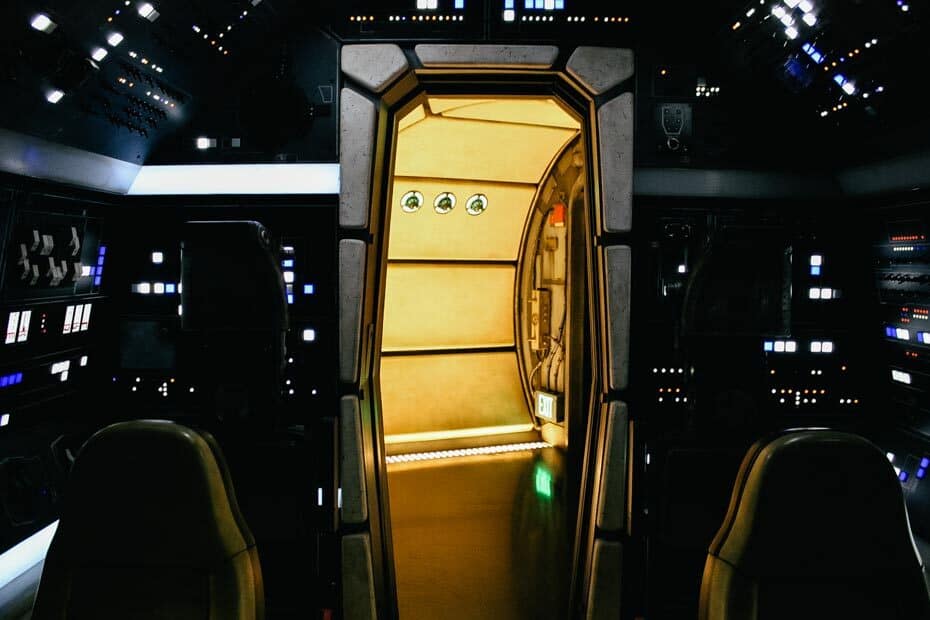 Will I experience motion sickness on the Millennium Falcon: Smugglers Run?
I think that most guests will not experience motion sickness on Smugglers Run. Here's why.
The ride is simulated enough not to completely crash from the start. But it's fair to say after two rides I do feel the pilot has a large amount of control.
To explain what the ride felt like to me is similar to riding in a car. When I was the pilot, I felt like I was the driver and didn't feel a ton of movement and/or jerking motions.
When taking on the engineer role in the last row, I felt a lot more movement. That ride was bumpy and shifted you around a bit more than the pilot.
As far as restraints, there is one single buckle across your lap as if you are riding in a car with a lap belt. So obviously, this is more of a "feeling" ride than an actual true motion.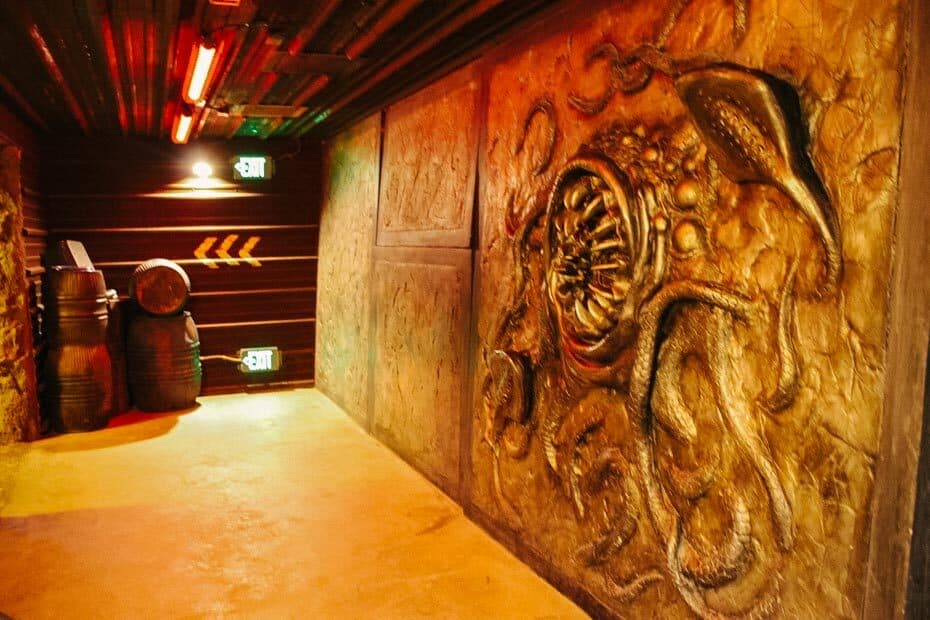 Final Thoughts on Smugglers Run
The Millennium Falcon: Smugglers Run ride is an exciting experience at Disney's Hollywood Studios. I would say it's definitely worth the wait to ride it at least once on your vacation.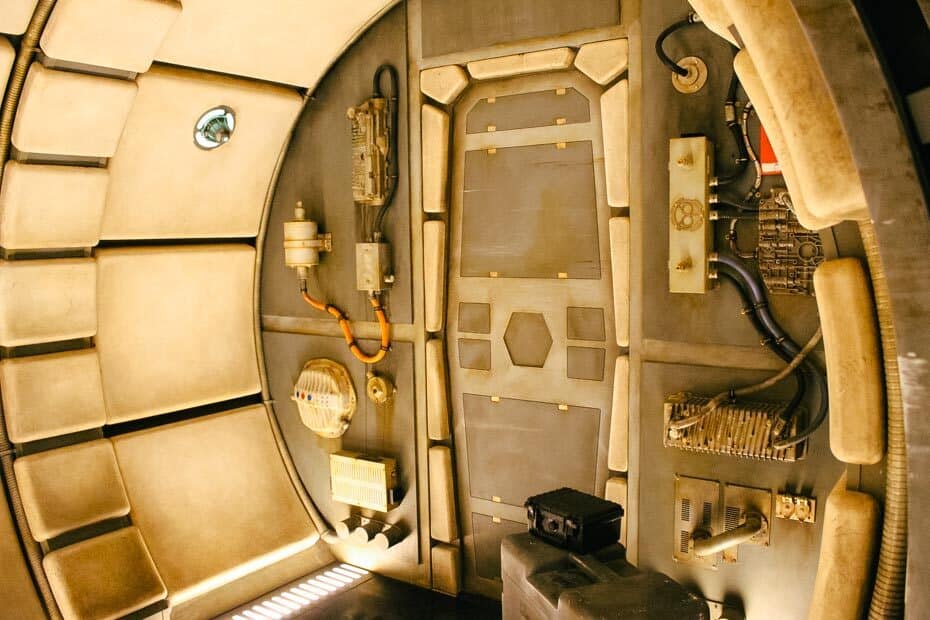 After that, you can decide if you want to do it additional times or maybe try the single rider line.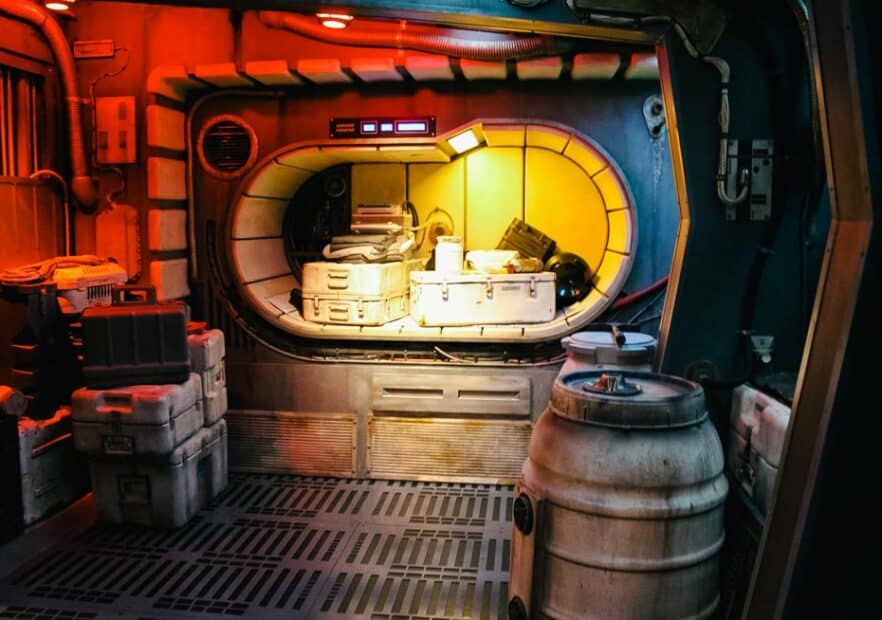 Whatever you decide, have fun, enjoy the experience and pause to mentally record those moments of riding the Millennium Falcon ride for the first time!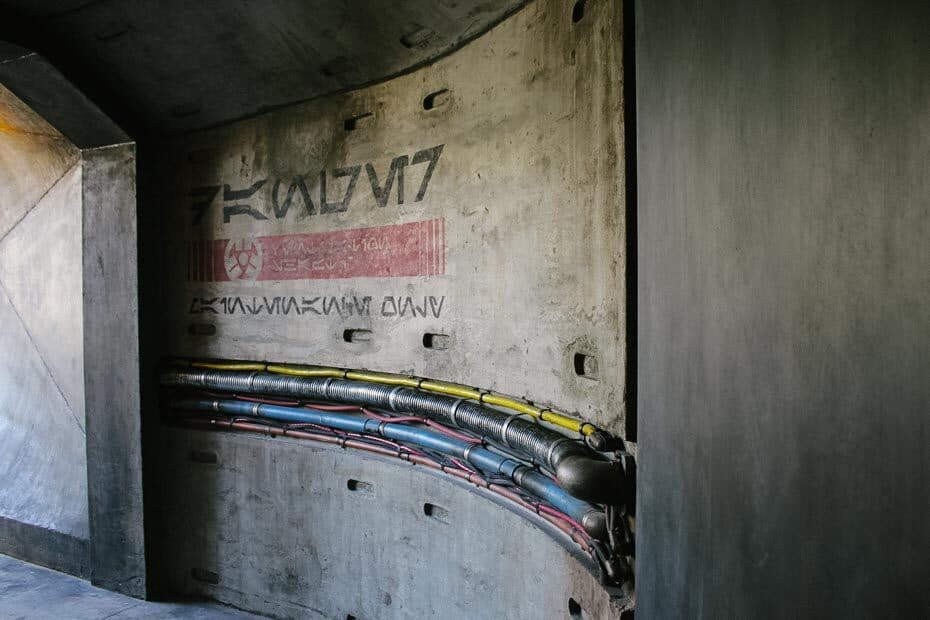 Remember to leave me a comment below and let me know your thoughts on Smugglers Run!
You might also be interested in these other Hollywood Studios attraction reviews:
Rise of the Resistance Boarding Groups and Height Requirements