Star Wars Characters at Disney World (Where to Find Them)
We get a lot of questions about where to find roaming Star Wars characters at Walt Disney World. Unfortunately, it's a question I'm often hesitant to answer because there are no guarantees.
Lately, we've spent some extra time at Galaxy's Edge at Walt Disney World in hopes of providing a better idea of who you can expect to see. Our efforts have left me a little frustrated.
So below, we'll go over our experiences. But I want to stress that your experience could be entirely different.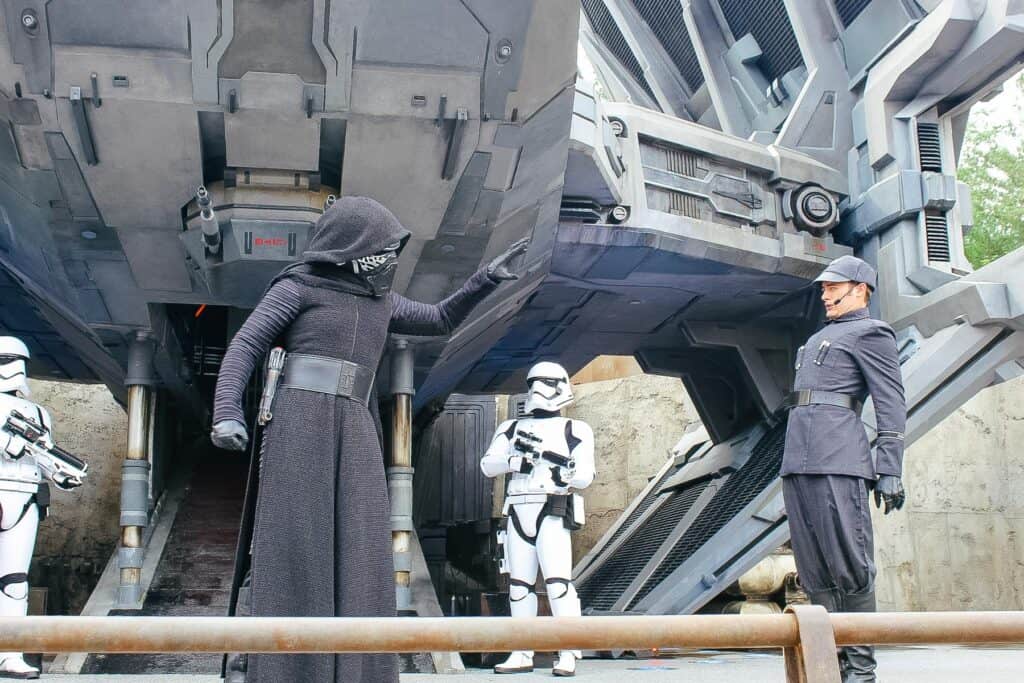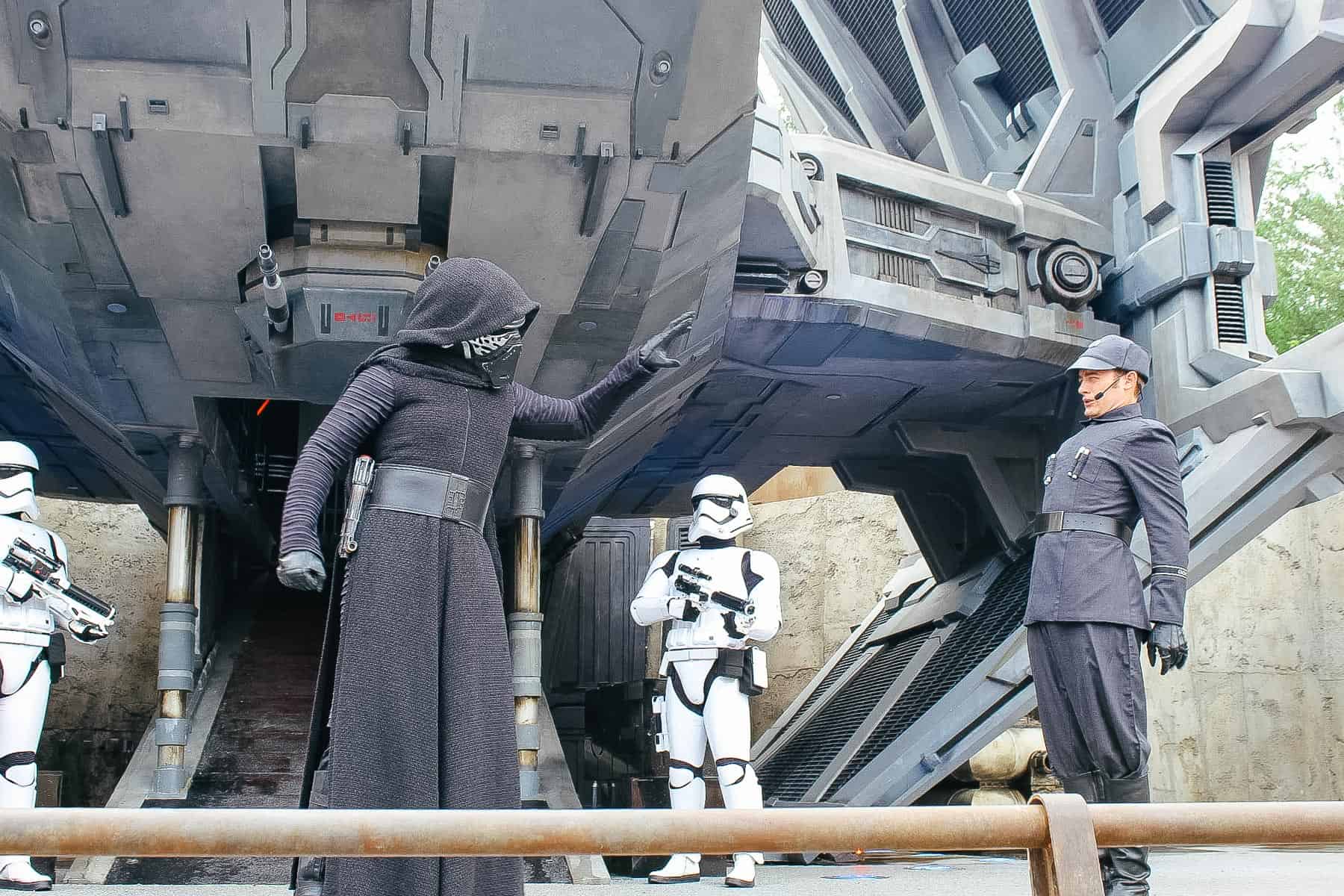 For example, recently, we spent the better part of a day in Galaxy's Edge, hoping to see the familiar characters. During the day, we ran into Chewbacca, Rey, Vi Moradi, and a few Stormtroopers.
The Mandalorian also made several appearances. But the crowds were so insane it was difficult to get near him. Unfortunately, we never ran into Kylo Ren. However, another guest we talked with said she had seen him earlier that day.
Ultimately, all the Star Wars characters we hoped to see appeared. But since they are roaming, we didn't know when or where they might appear.
This makes things difficult for a guest who only has one or two days at Hollywood Studios. At one point, we had circled the area where The Mandalorian often comes out for almost two hours without seeing him. We noted that several of the same guests were patiently standing in the area waiting all that time with no guarantees.
It's one thing to stand in line when you know a character will be waiting at the end of it. But when you only hope to see someone, it doesn't make for the best guest experience if that character doesn't appear.
Or you find yourself in what feels like a throng of guests willing to trample everyone to have their photo made with the special character. Meeting a character shouldn't be nerve-wracking.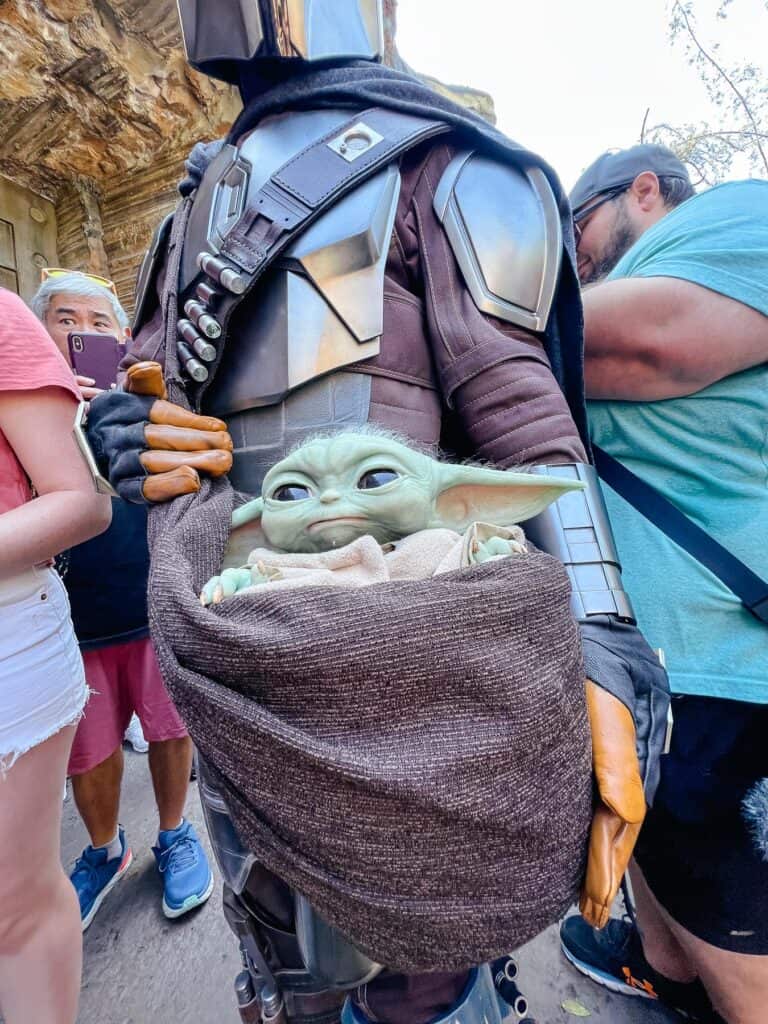 Star Wars Characters at Disney World List
Here are the characters you can expect (hope) to see on an average day at Walt Disney World:
BB-8
Chewbacca
Darth Vader
Grogu and Din Djarin (The Mandalorian)
Kylo Ren
Rey
Stormtroopers
Vi Moradi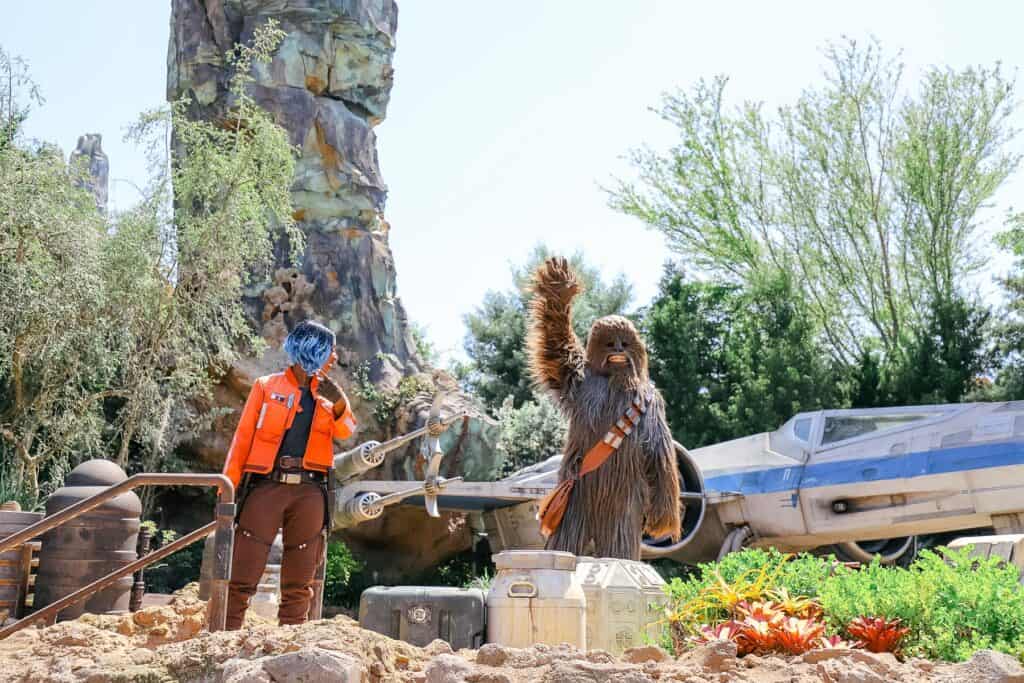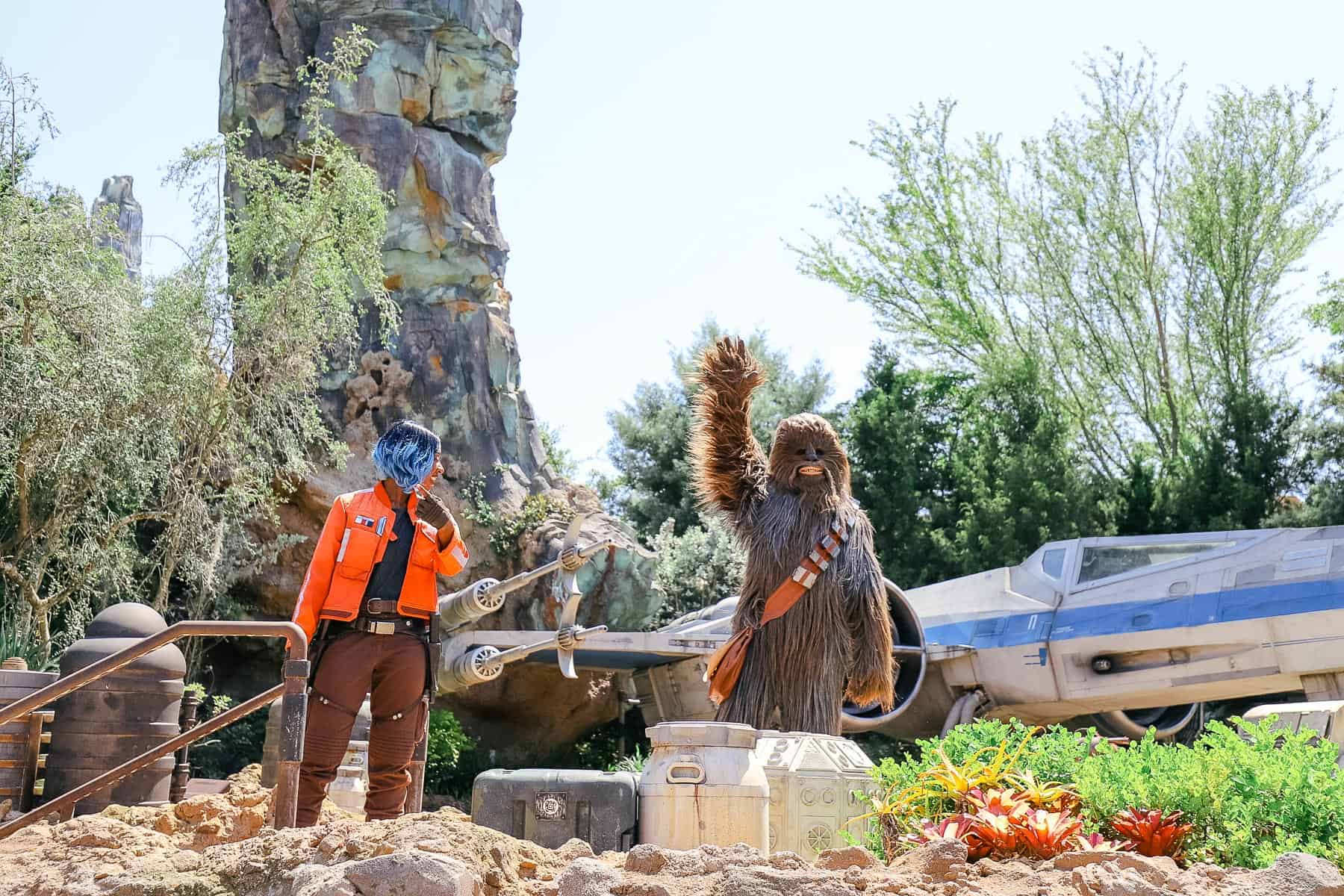 Star Wars Characters (You Probably Won't See at Disney World)
From time to time, other famous Star Wars characters have made appearances in various Disney Parks. For example, Boba Fett and Fennec Shand have surprised guests at Galaxy's Edge in Disneyland. Additionally, R2-D2 occasionally makes appearances but is rare.
In the past, Star Wars characters, including the Jawas, C-3PO, Darth Maul, and Captain Phasma, made daily appearances at Hollywood Studios. Captain Phasma once lead the March of the First Order down Hollywood Boulevard.
However, those meets concluded when Galaxy's Edge opened.
Parents once broke their necks in the morning to sign their children up for Jedi Training Academy: Trials of the Temple. Later, those lucky children participated in an on-stage lightsaber battle against Darth Vader.
This experience is also no longer offered.
Unfortunately, you won't find characters like Princess Leia, Luke, Hans Solo, Poe Dameron, and Finn in the parks. However, many years ago, in a galaxy far (far) away, Disney's Hollywood Studios held what was called Star Wars Weekends.
Those weekends were before the time of some favorite Star Wars characters we know and love today. It was also a time when Star Wars fans gathered to do more than cosplay (no offense to the cosplayers) but a time when the force felt balanced among fans.
If you want to reminisce on that glorious time in the fandom, you might watch a few YouTube videos. MouseSteps has an excellent video of the Star Wars Weekend Parade on their channel.
Roaming Characters in Galaxy's Edge
Below, we'll look at some character interactions you might have in Galaxy's Edge. A few of these characters are listed in the My Disney Experience app as meeting daily. So if you hang out long enough, you will probably run into them.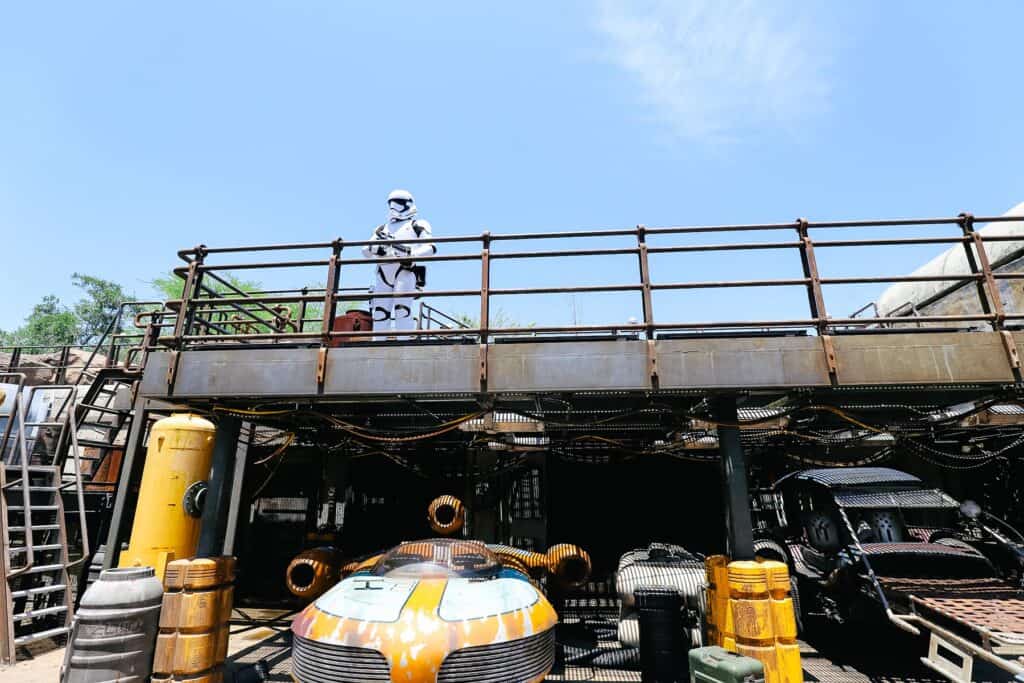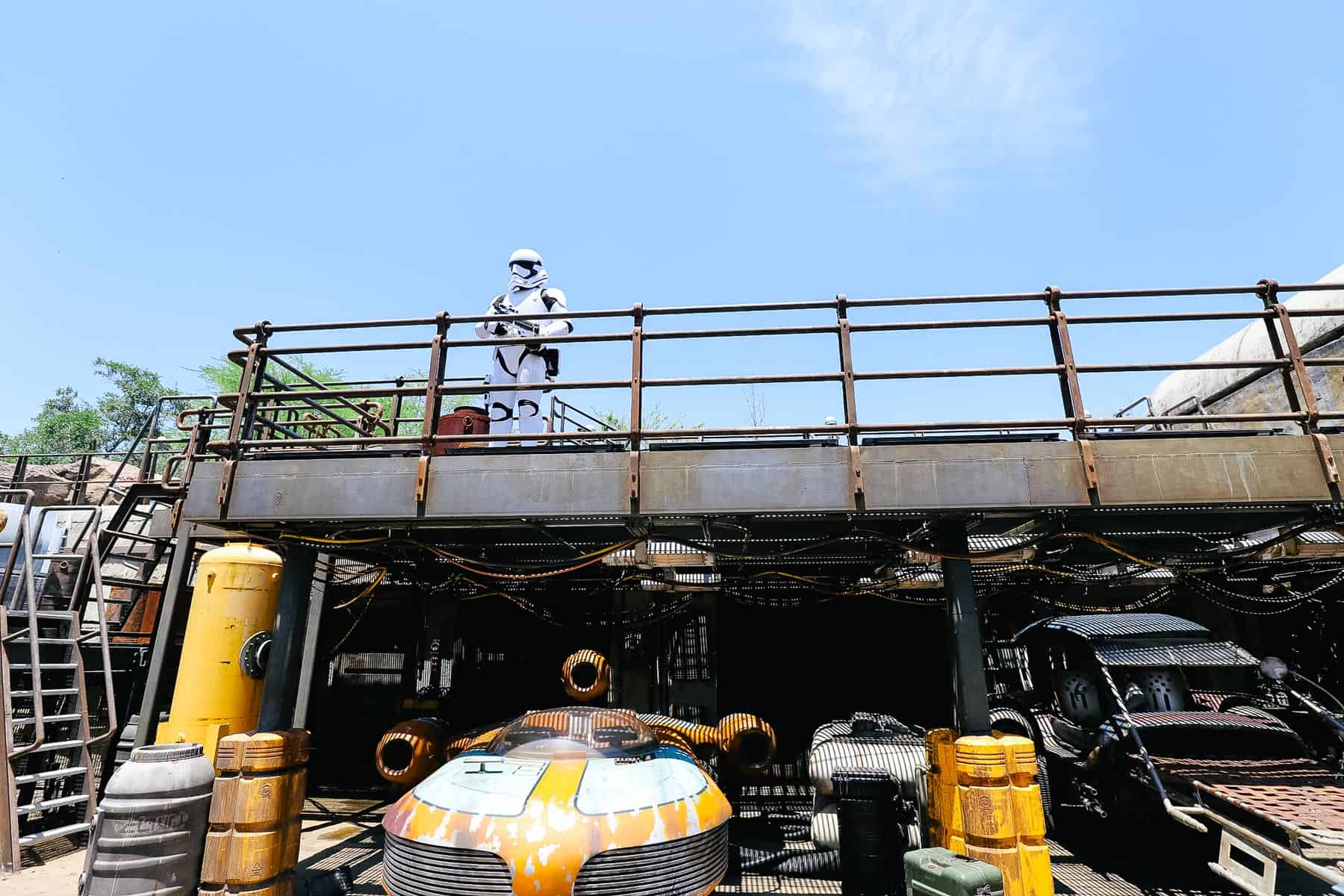 Grogu and The Mandalorian
Din Djarin and Grogu (AKA The Mandalorian and Baby Yoda) have become regulars on the planet of Batuu. They are the hottest commodity in the galaxy.
Unfortunately, they are not listed in the My Disney Experience app, but they have been making regular daily appearances for several months. My best advice for finding them is the earlier, the better.
They can typically be found toward the edge of the Black Spire Outpost Market. This location is on the left past Rise of the Resistance and immediately before the entrance to the market.
Related: Meet The Mandalorian and Grogu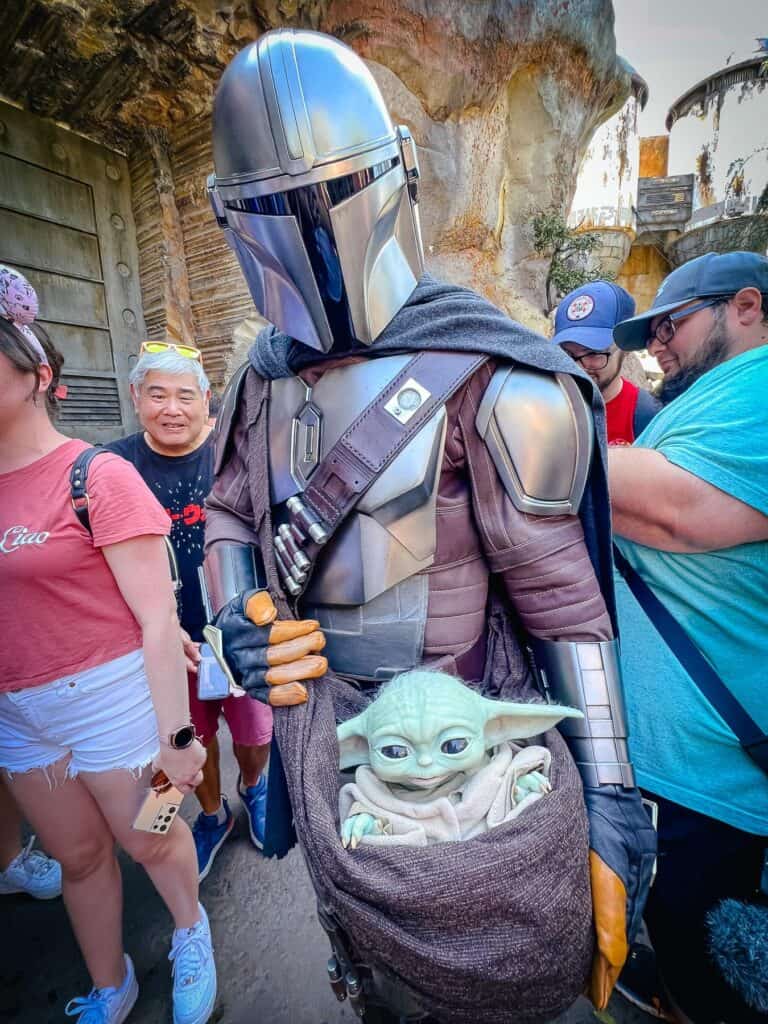 Rey
Rey of the last trilogy in the Skywalker Star Wars saga is a regular roaming character in Galaxy's Edge. She is often listed in the My Disney Experience app as making appearances between 9:00 a.m. through the park's closing time.
Usually, she is out around the Millennium Falcon immediately next to Smugglers Run. We have found her fairly easy to run into on our visits.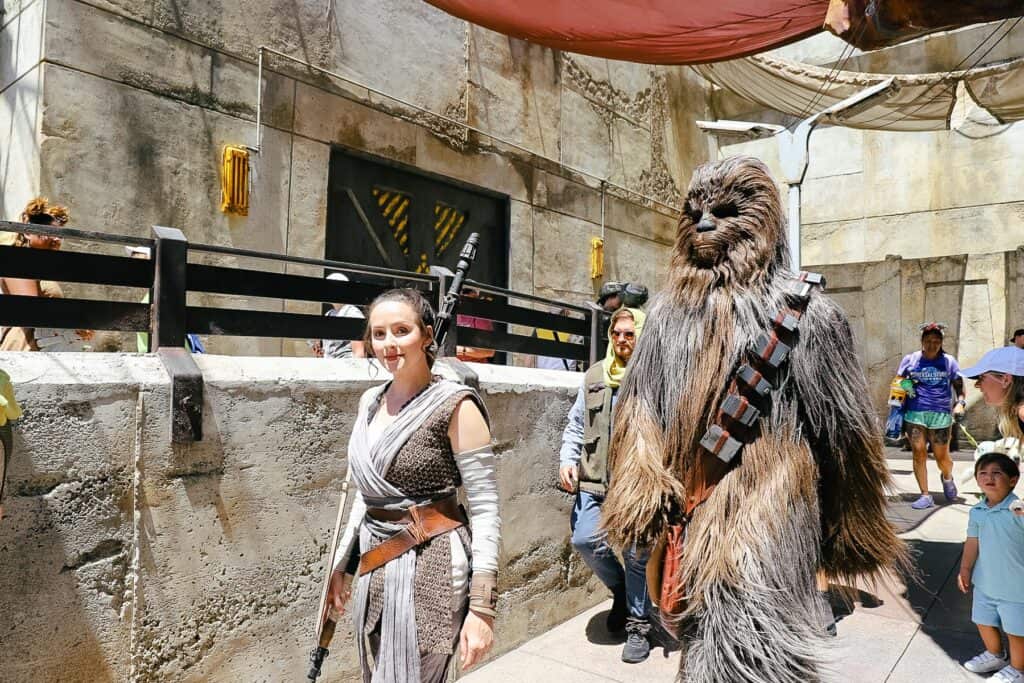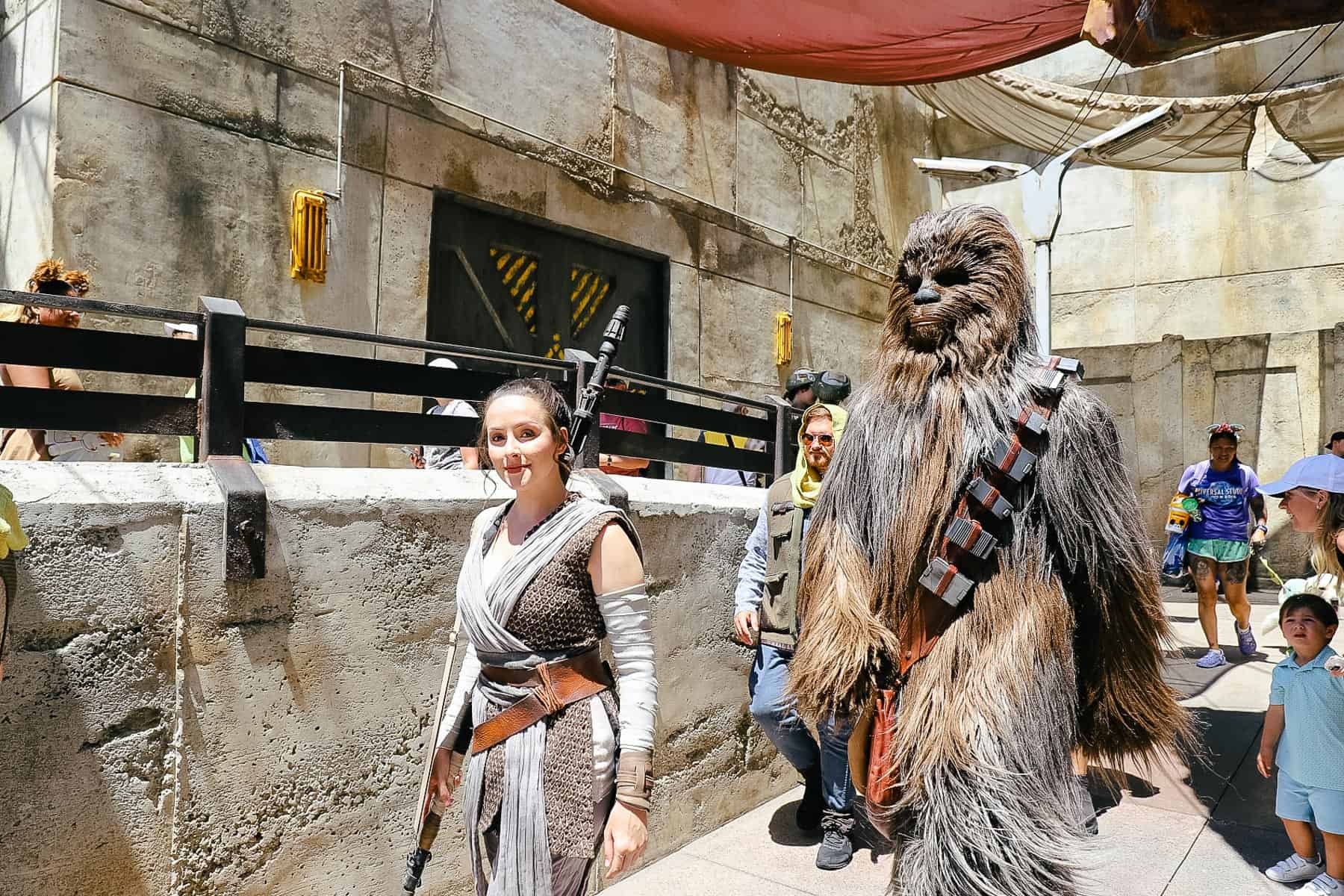 Kylo Ren
Kylo Ren also makes appearances on the planet Batuu. Occasionally, you might hear his ship landing near First Order Cargo.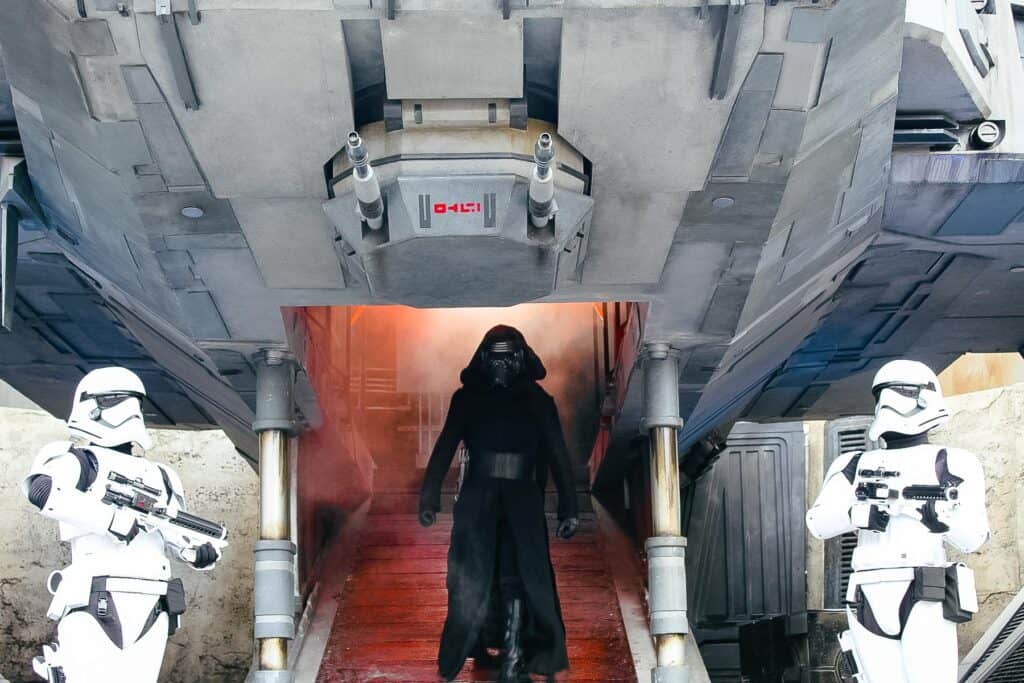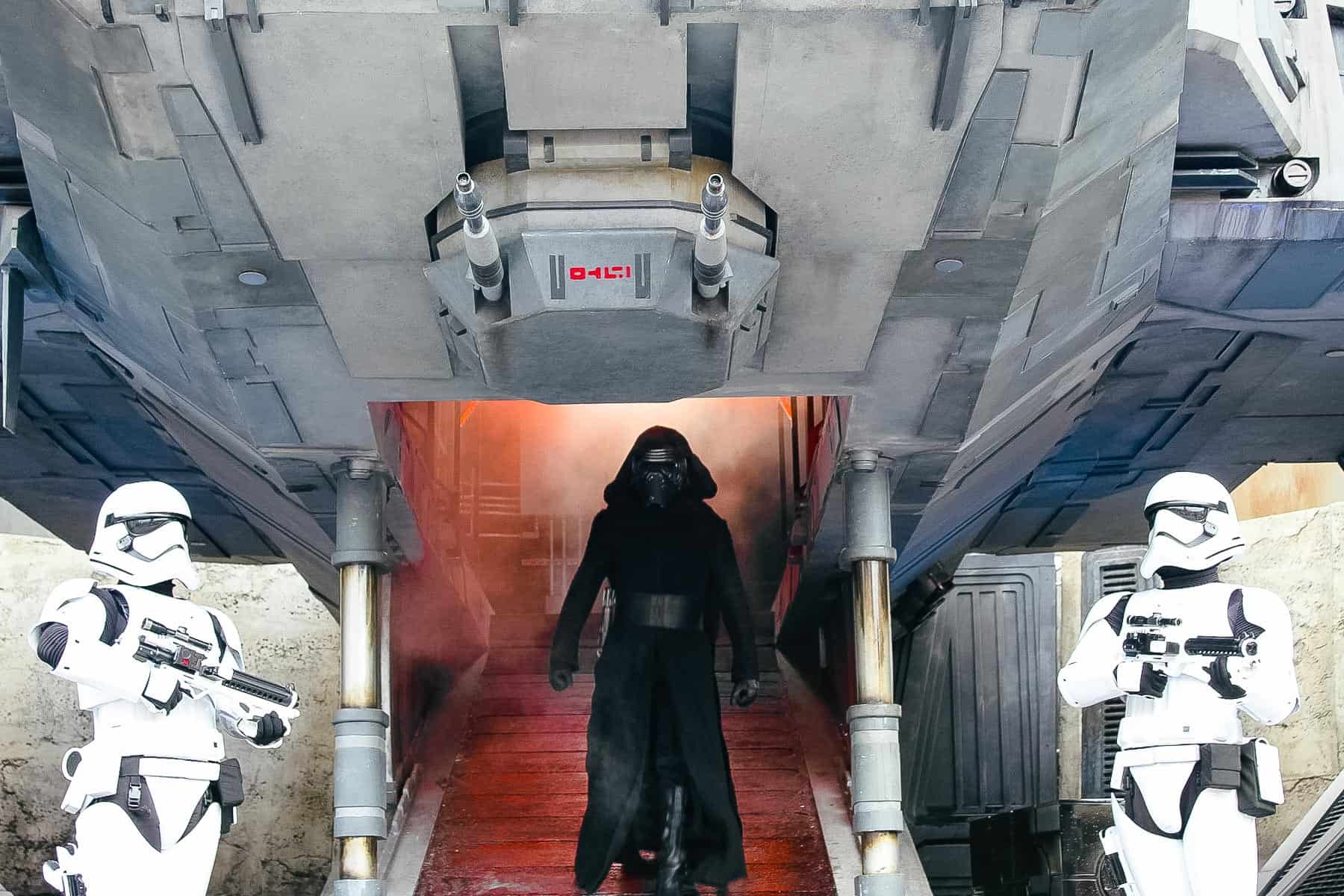 He makes a pretty big entrance and is usually surrounded by a couple of Stormtroopers. Kylo Ren is listed in the My Disney Experience app as appearing most of the day.
However, it could just be our timing, but we rarely run into him. When Galaxy's Edge first opened, we ran into him often.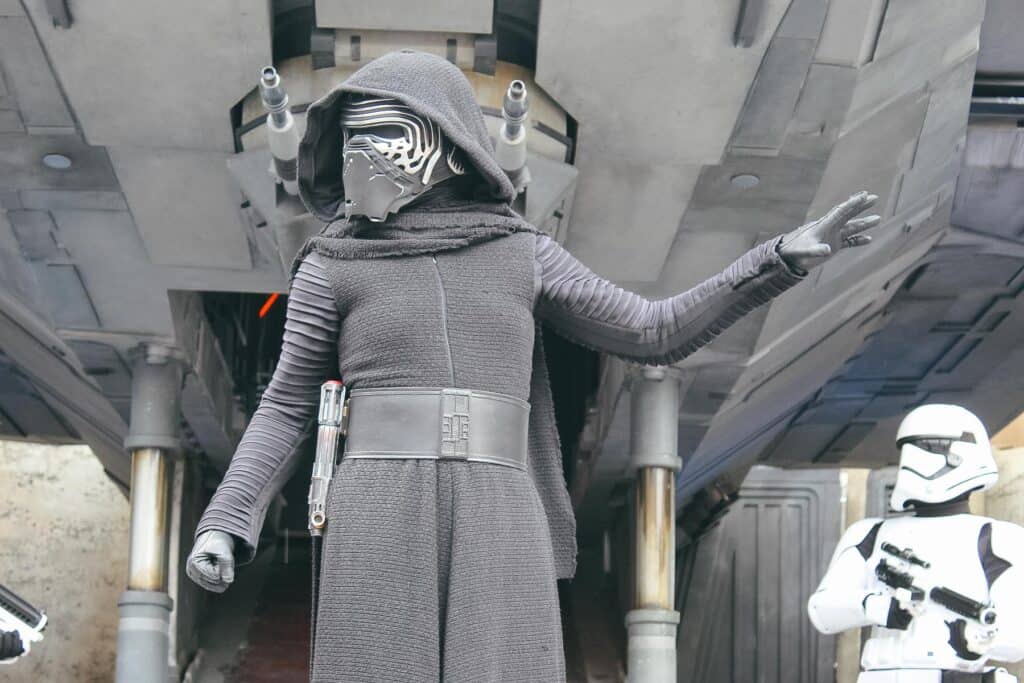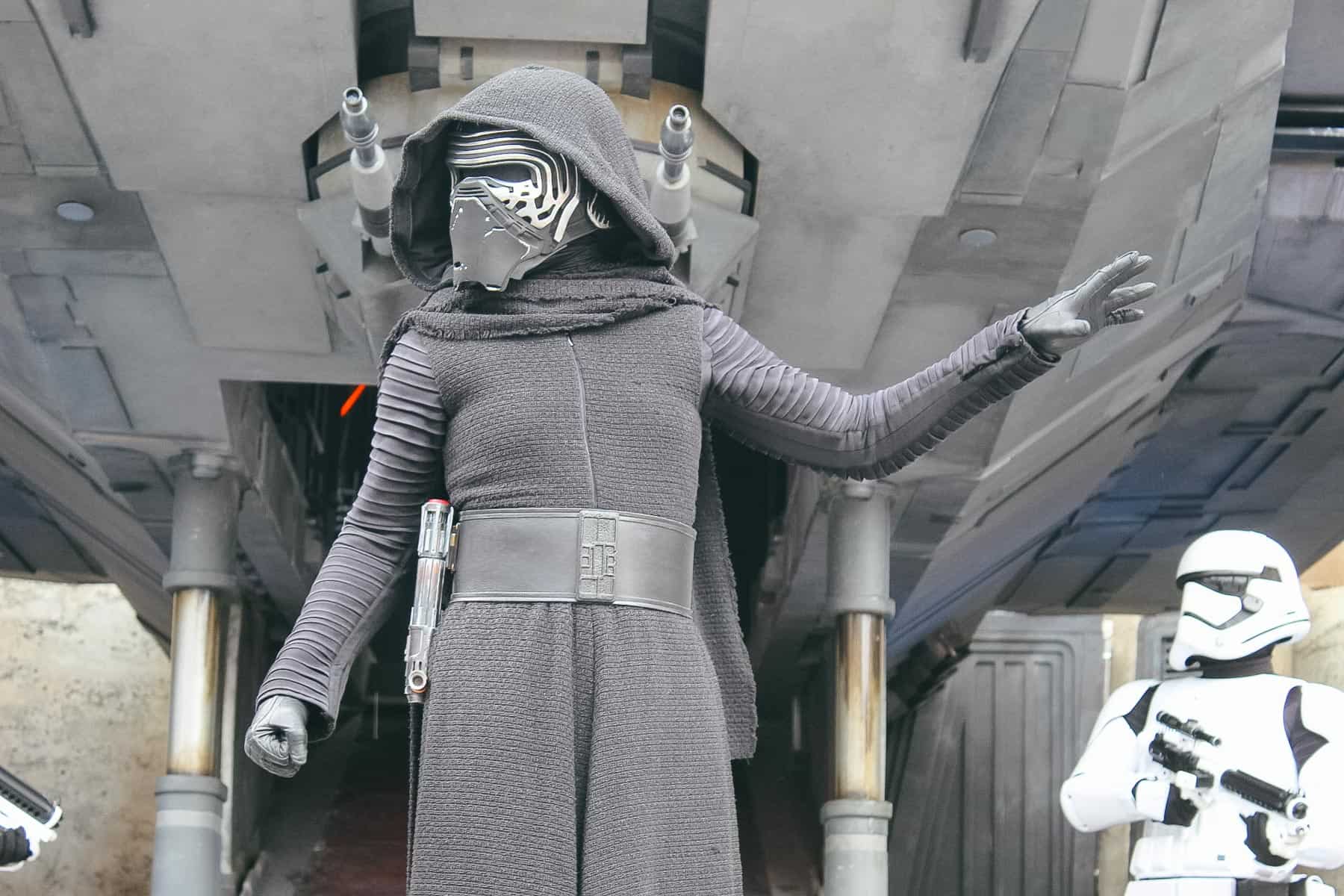 In addition to his stage theatrics, you might run into Kylo Ren roaming the land. Don't be surprised if he tries to use the force to get you to tell him where the rebel spy is hiding.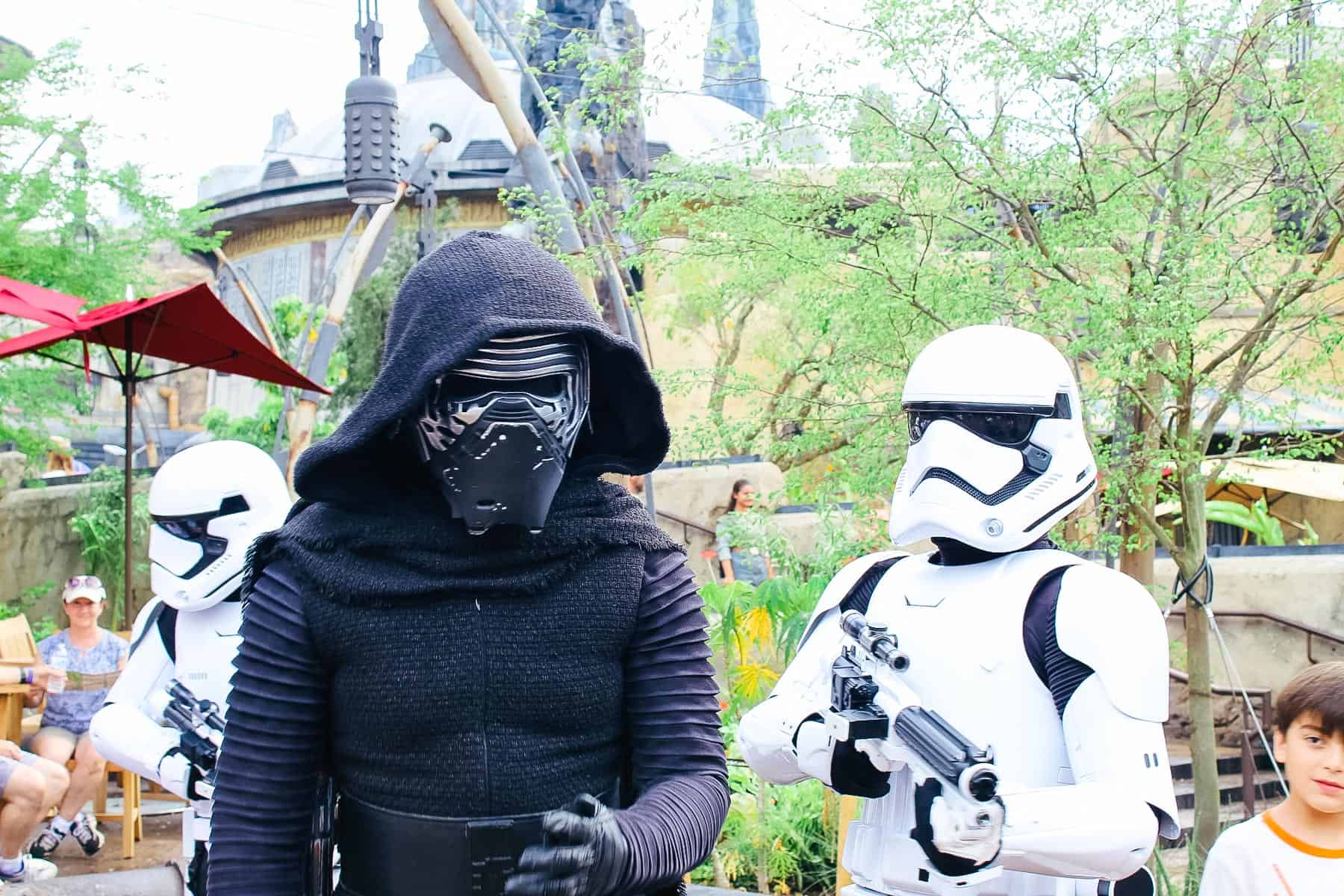 Vi Moradi
Speaking of rebel spies, Vi Moradi is often out roaming Batuu. You might see her captured by Stormtroopers dragging her away or find her hiding around various props in the land.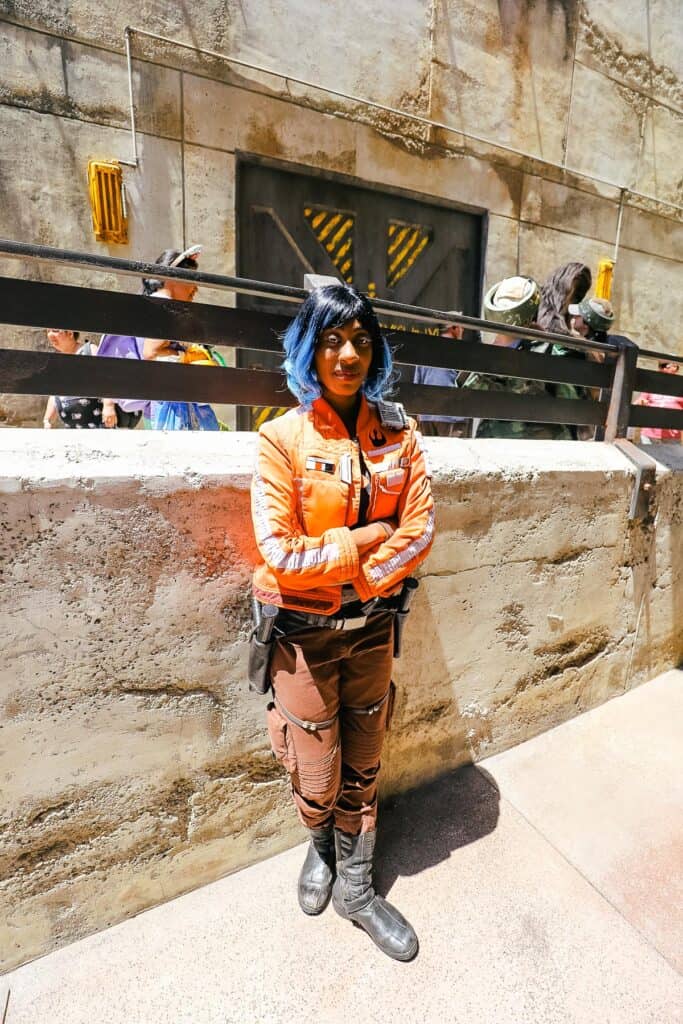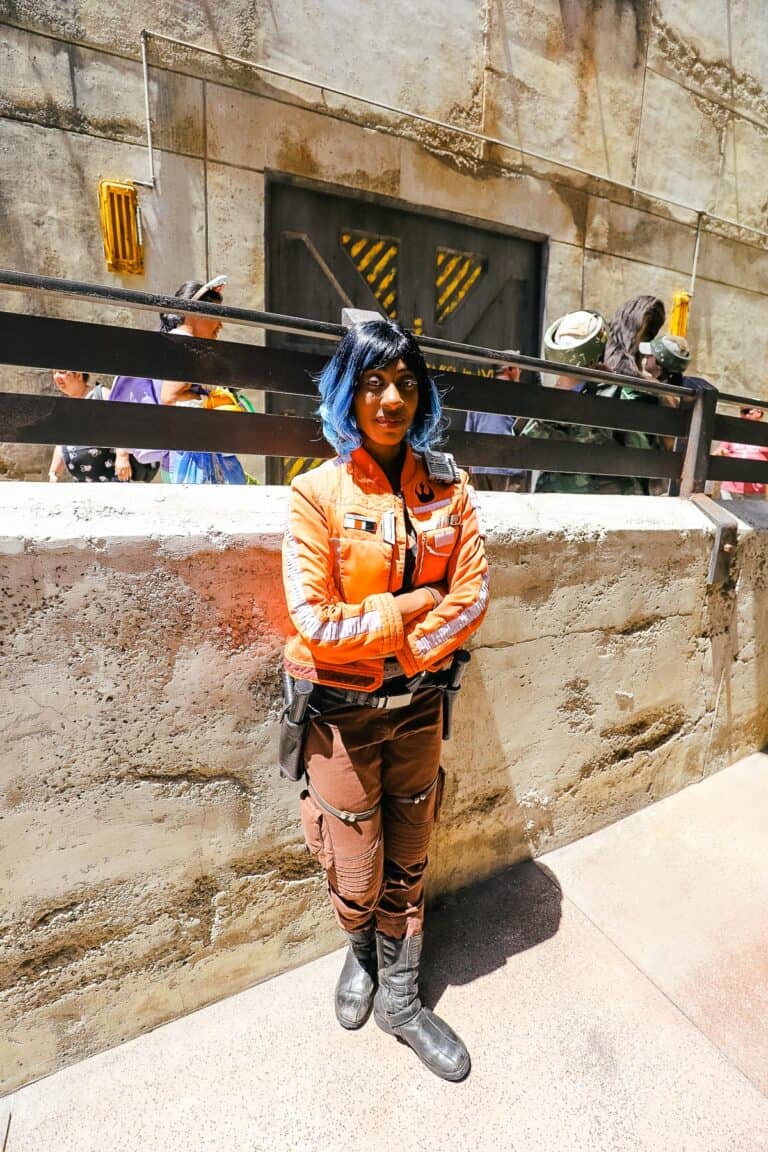 She will likely ask you which side you're on–the good guys or the bad?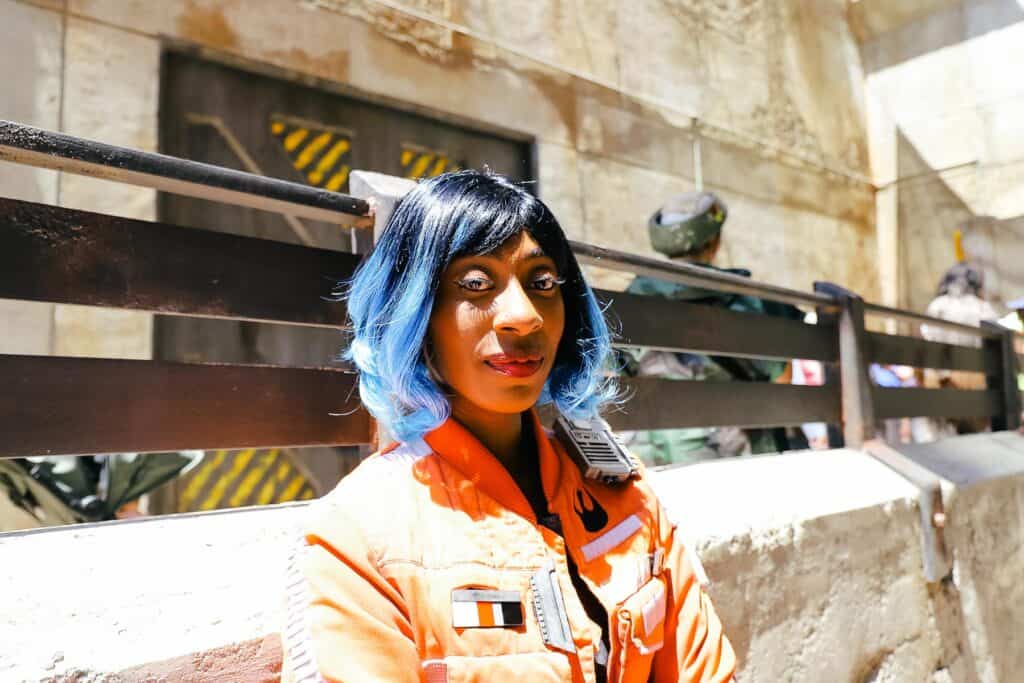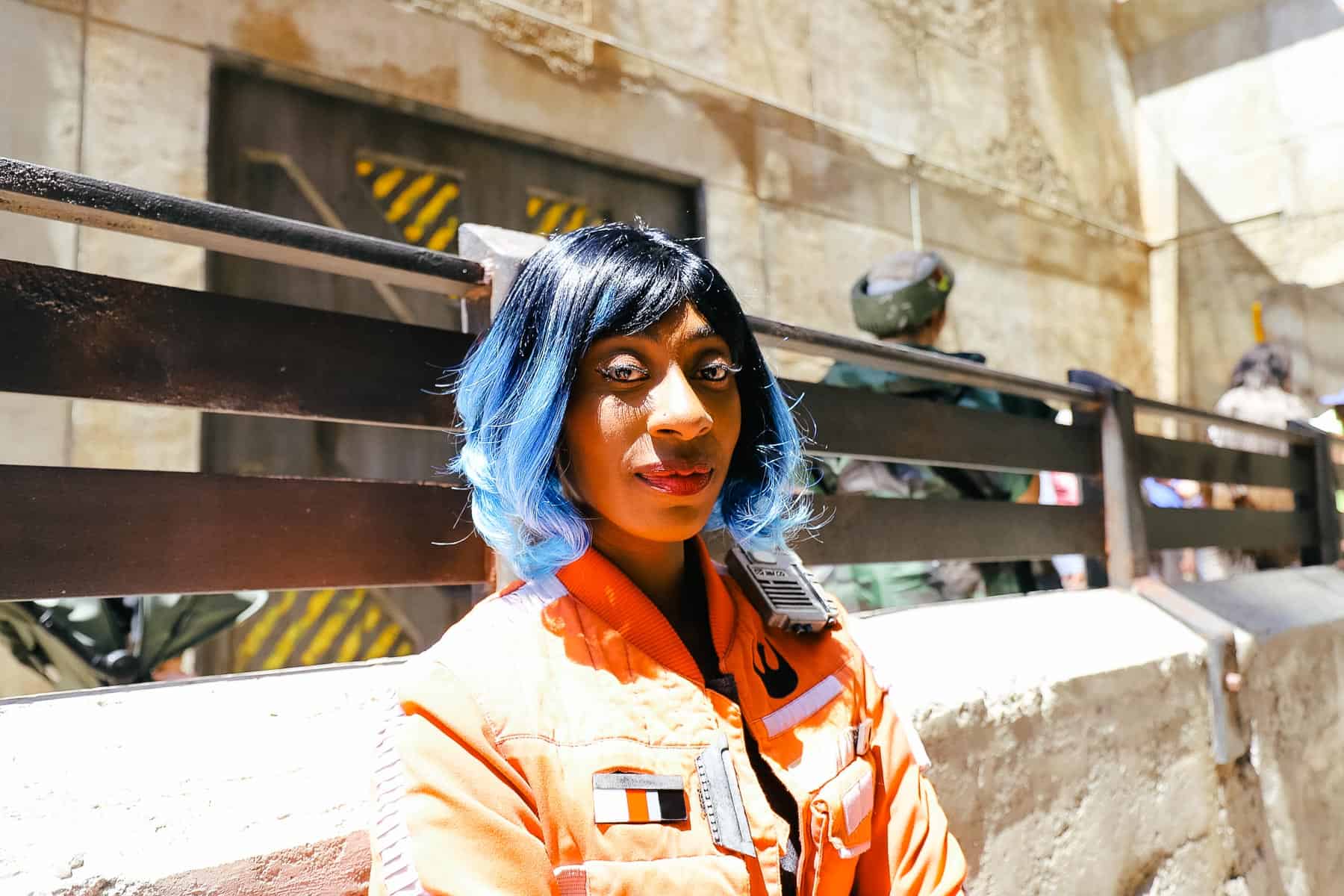 Chewbacca
Chewbacca is out from time to time in Galaxy's Edge. However, since his regular meet returned to Star Wars Launch Bay, we don't see him roaming the land as often. If meeting him is important to you, we'll discuss his formal character meet a little further down.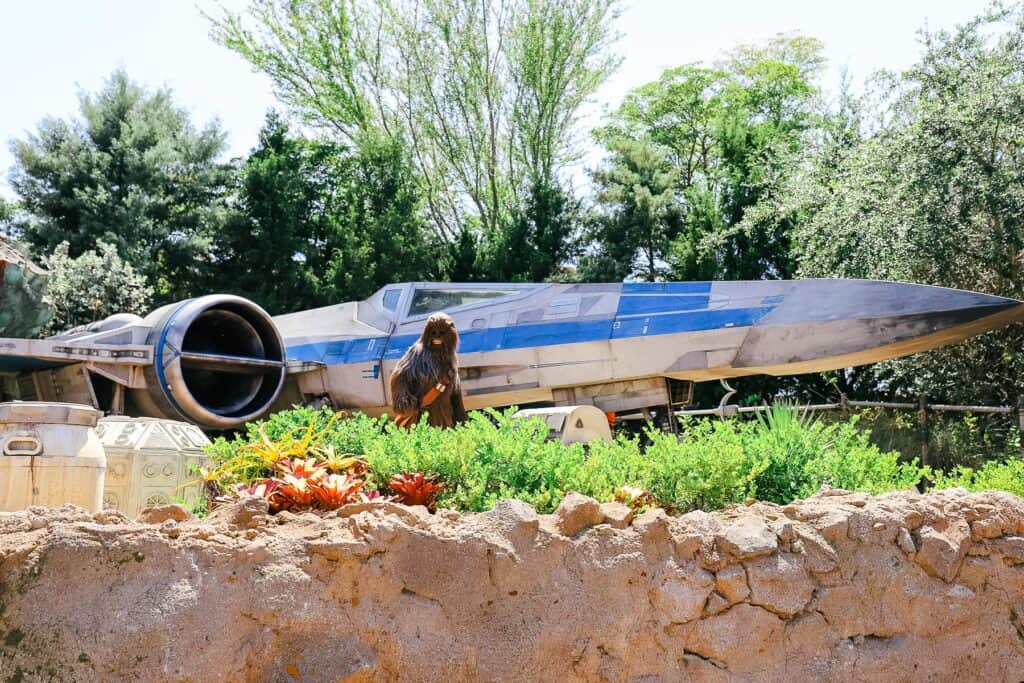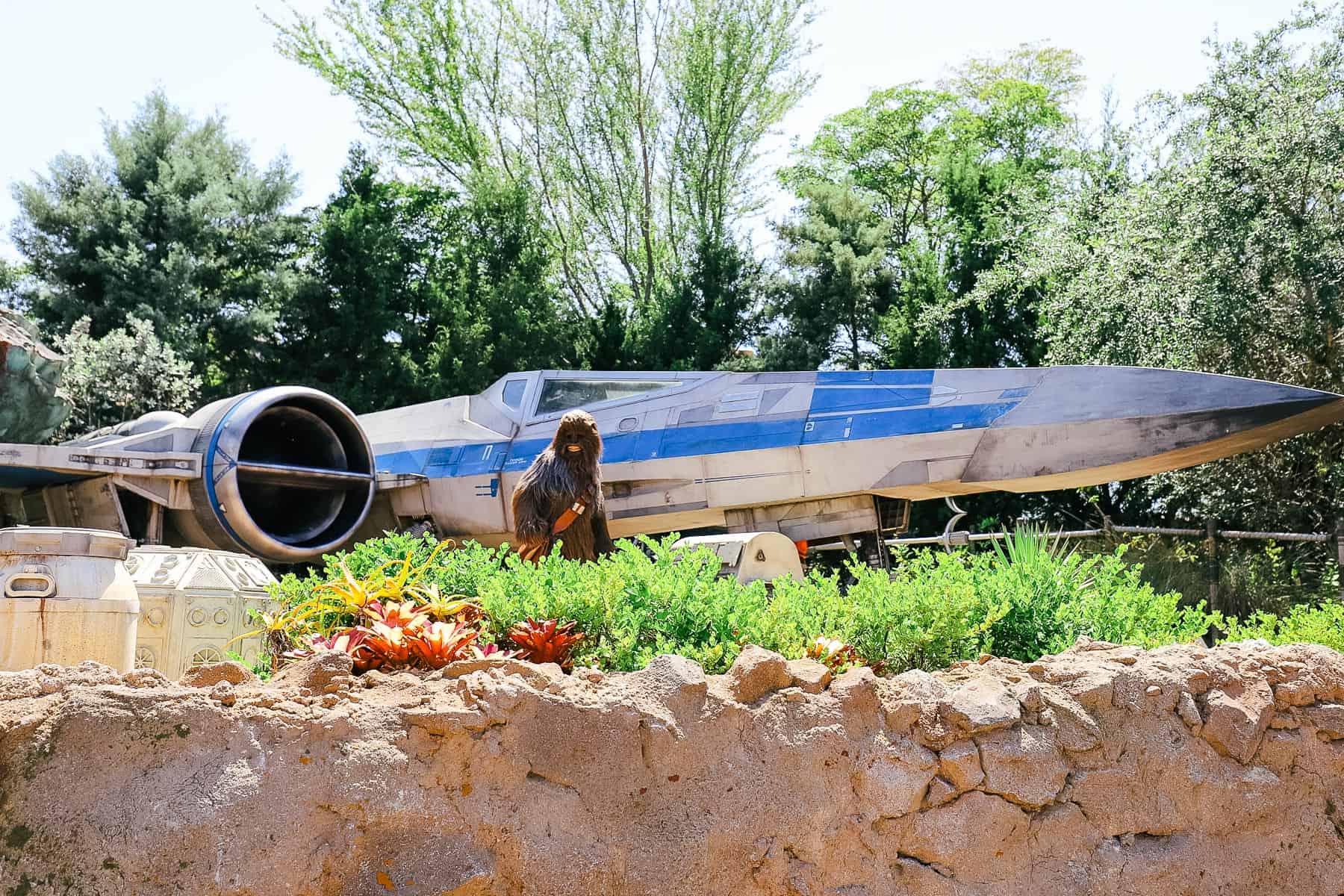 Stormtroopers
Of all the characters roaming Galaxy's Edge, the Stormtroopers are the most common. They are so common that it would be uncommon not to see them.
I can't tell you how many times I've encountered them stopping guests, wanting to know what they're doing with their data pads (cell phones).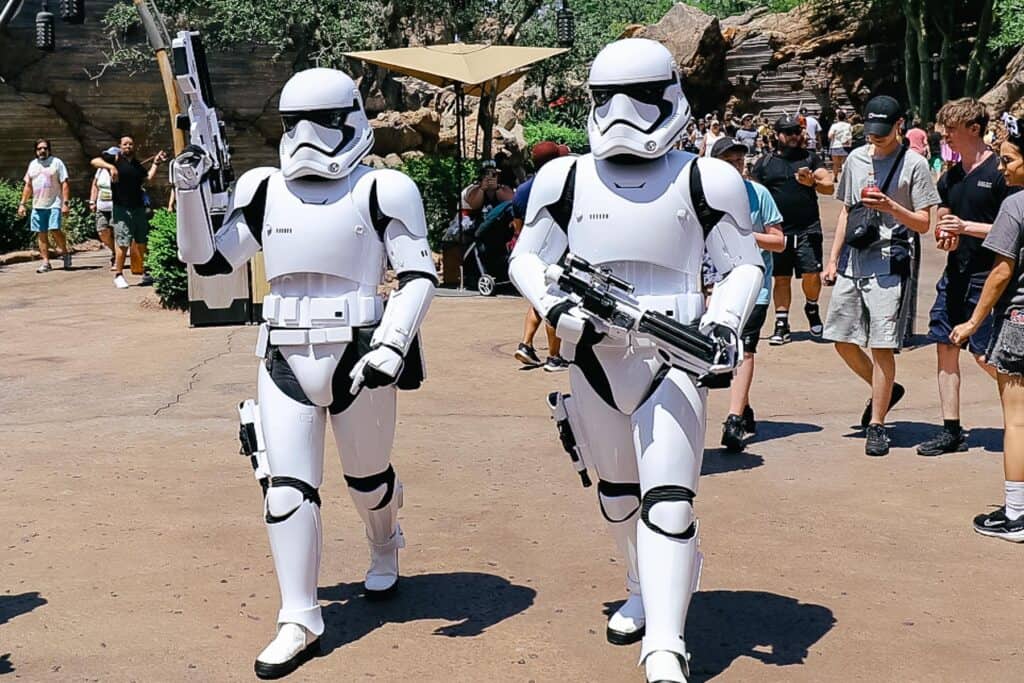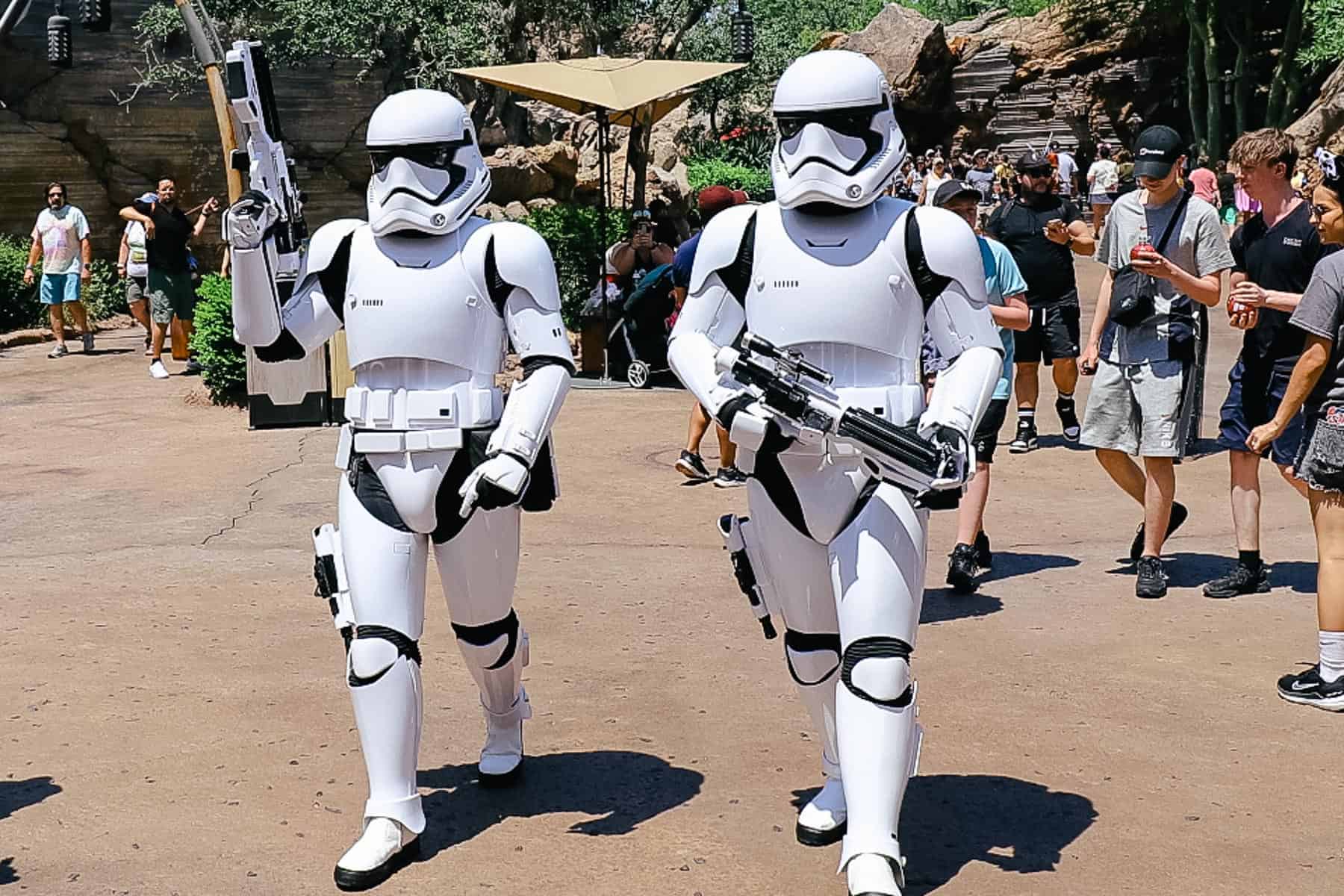 Characters at Star Wars Launch Bay
In addition to Galaxy's Edge, several Star Wars characters have traditional meets at Star Wars Launch Bay. This meet-and-greet is at the back of the Animation Courtyard off Hollywood Boulevard.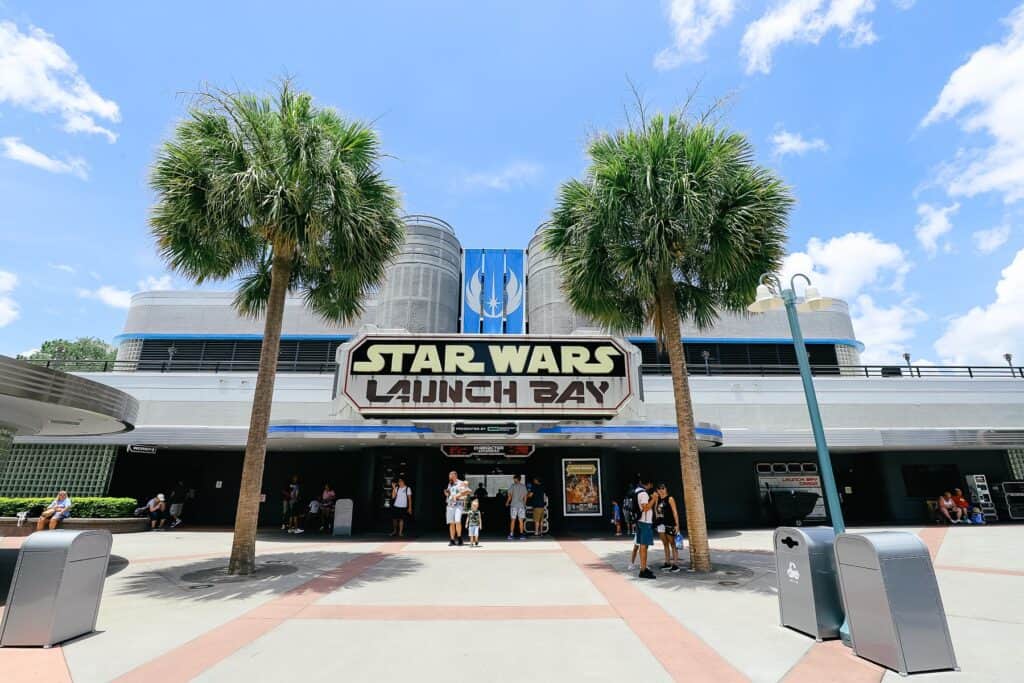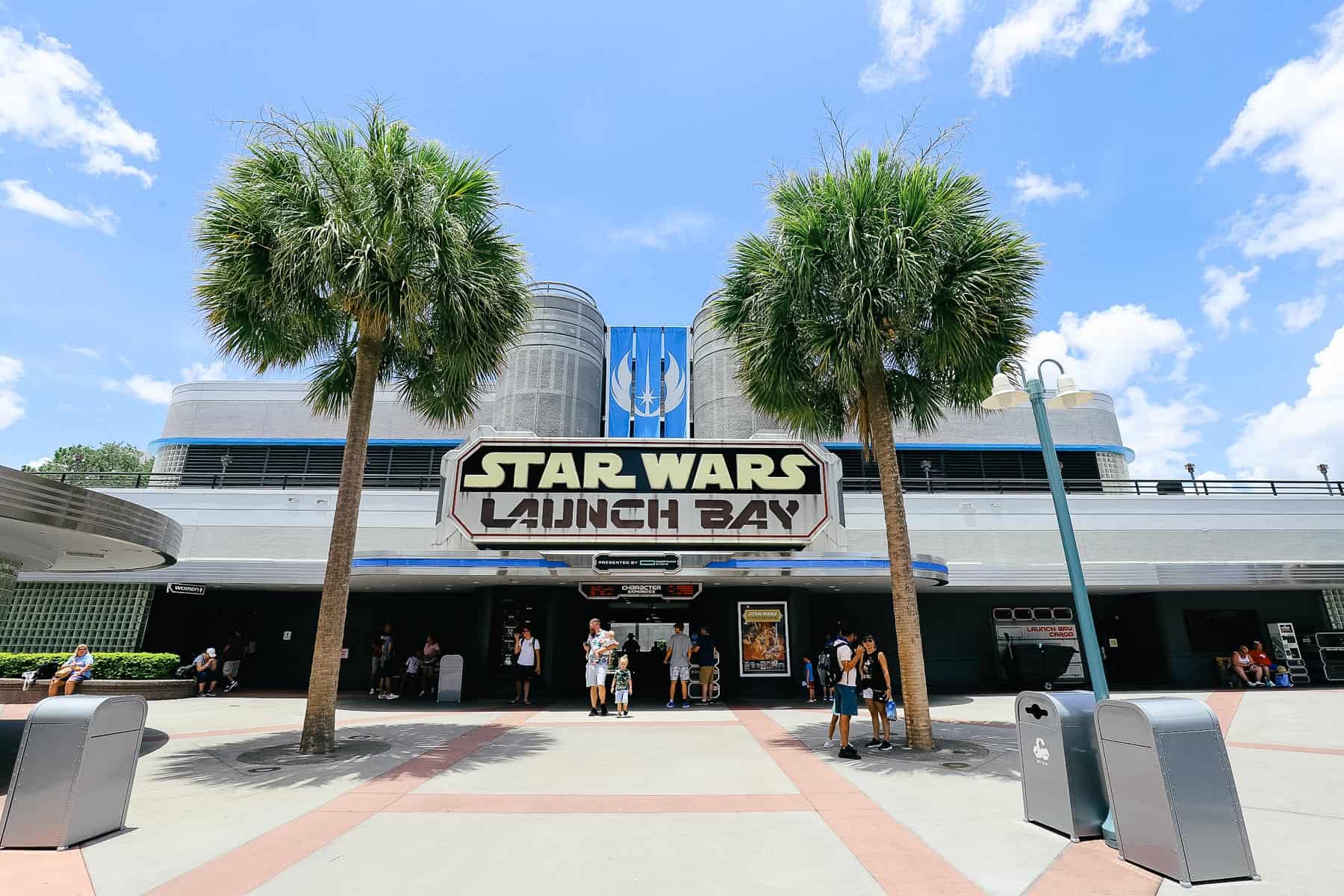 BB-8
BB-8 meets daily at Launch Bay. He is such an entertaining meet and asks the funniest questions. Thankfully, a cast member is usually nearby to help him translate.
Related: Meet BB-8 at Disney's Hollywood Studios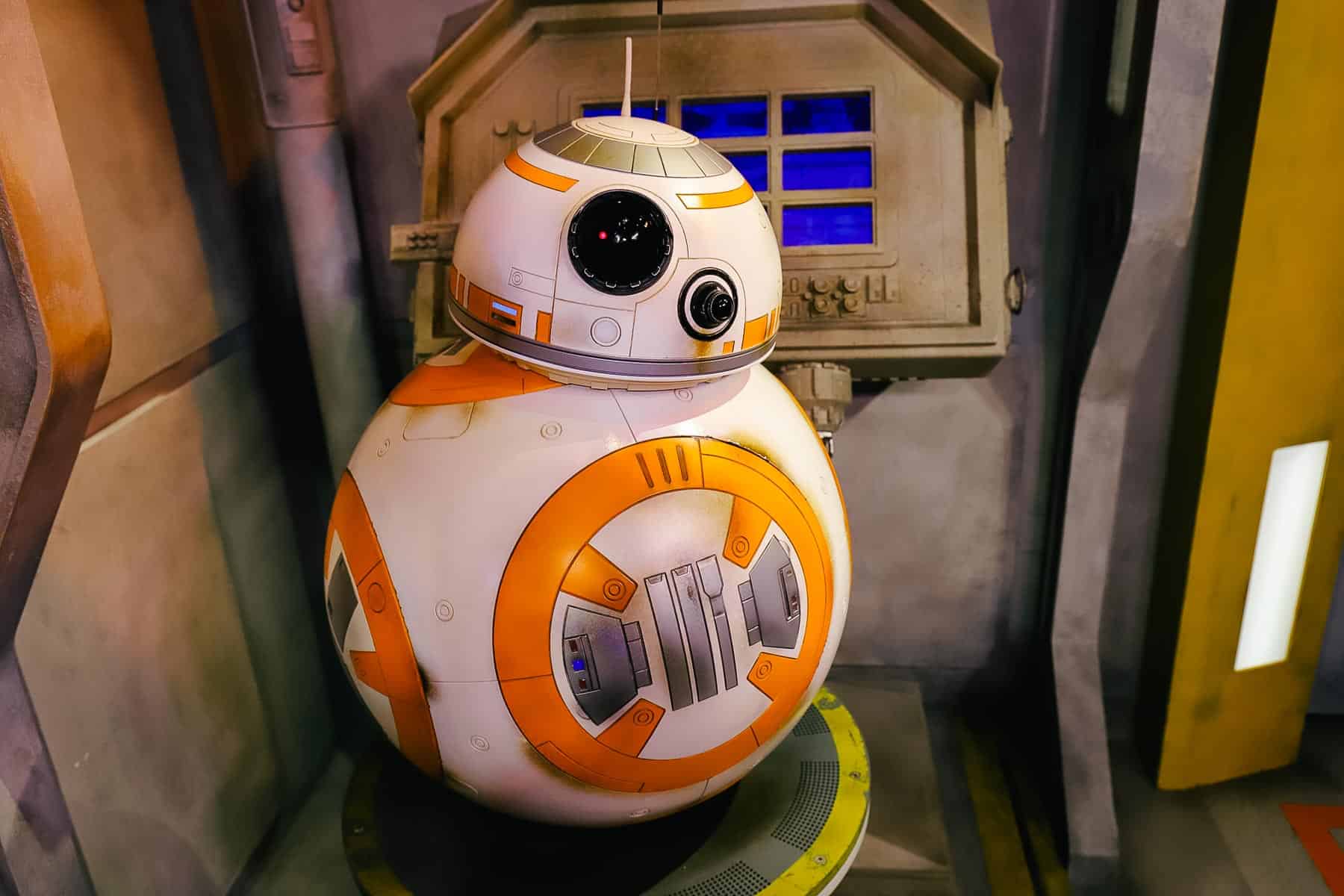 Darth Vader
Darth Vader also meets at Star Wars Launch Bay. This meet is one of the best, but word of warning, all these characters stay "in character."
So this meet-and-greet could be intimidating for smaller children. However, this is an excellent place to have a family photo taken. Darth Vader will ensure that everyone cooperates.
Related: Meet Darth Vader at Hollywood Studios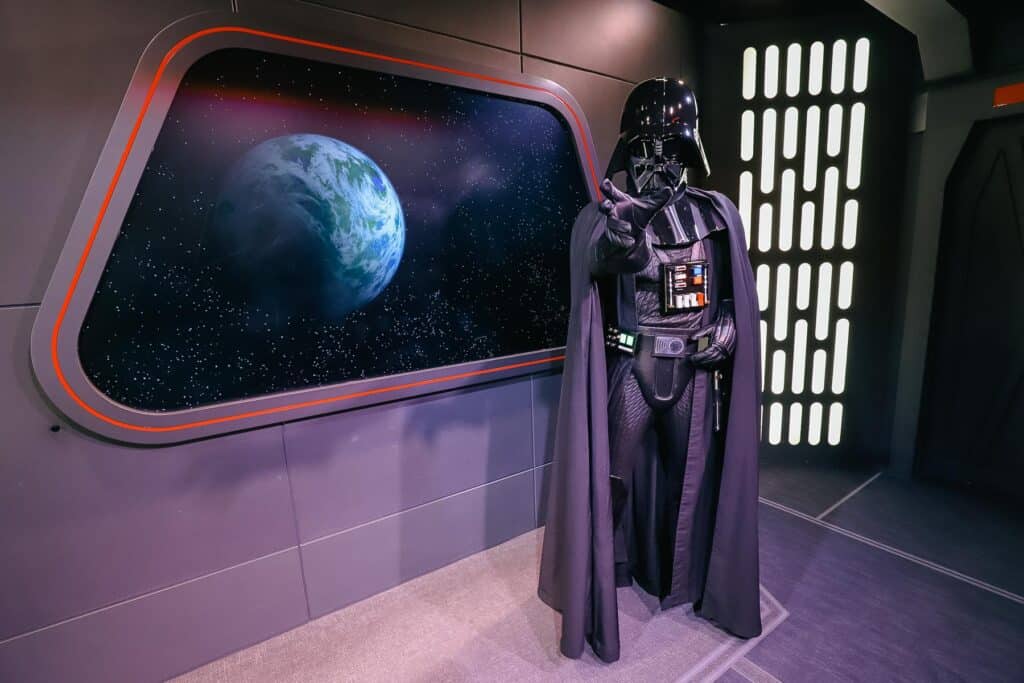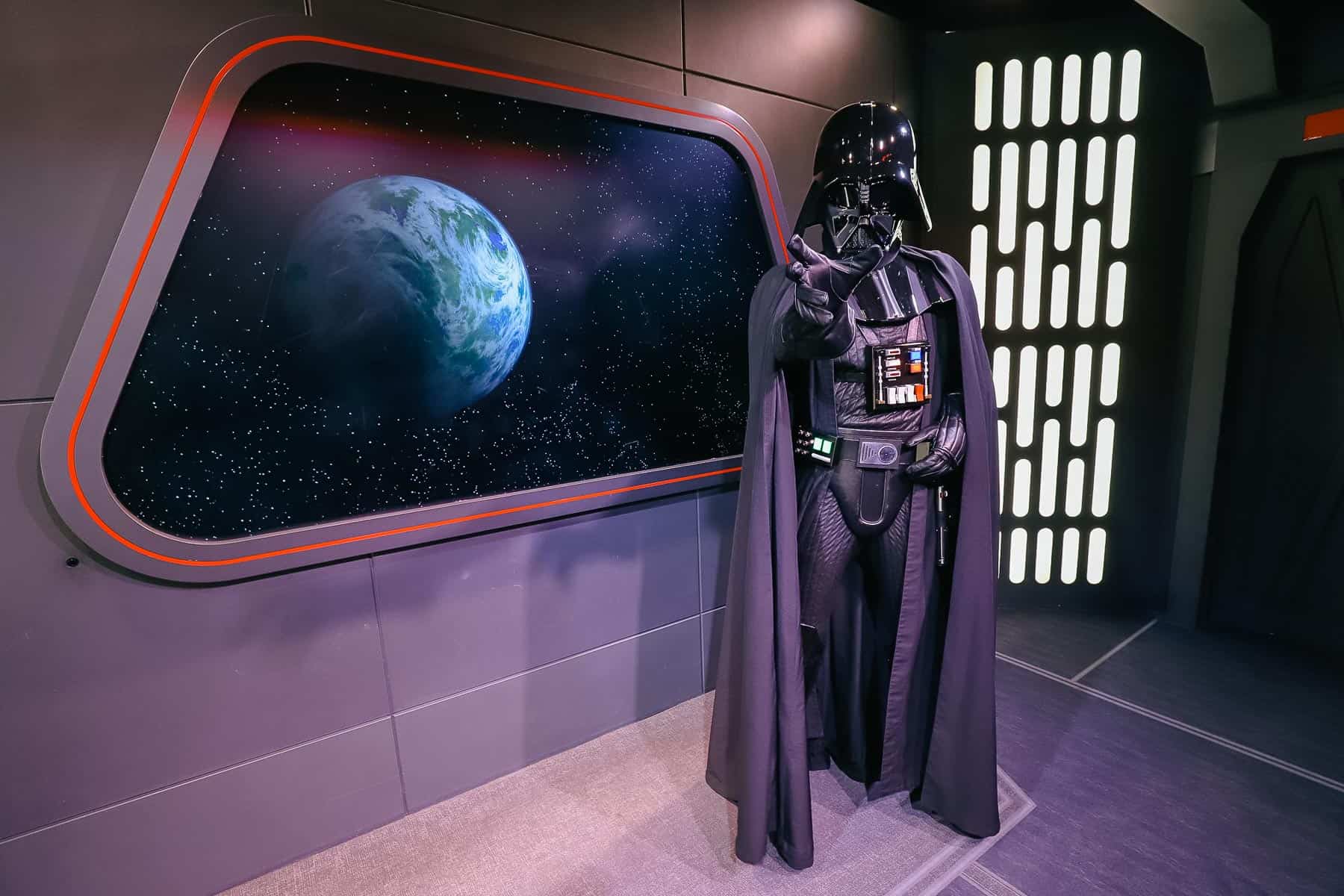 Chewbacca
Chewbacca, the Wookie, also meets daily at Star Wars Launch Bay. While Chewbacca is the friendliest character, his appearance can also be intimidating. Expect big hugs from this endearing character meet-and-greet.
Times for all Star Wars Launch Bay characters are listed in the My Disney Experience app. It is common for these characters to average 30-45 minute waits during the busier portions of the day.
Related: Meet Chewbacca at Hollywood Studios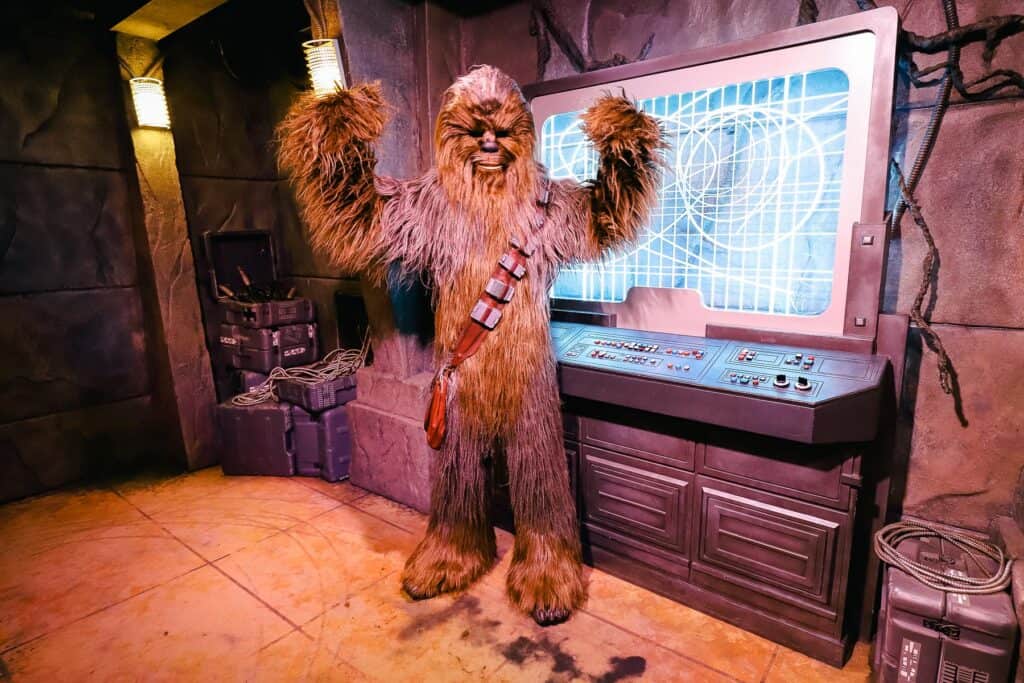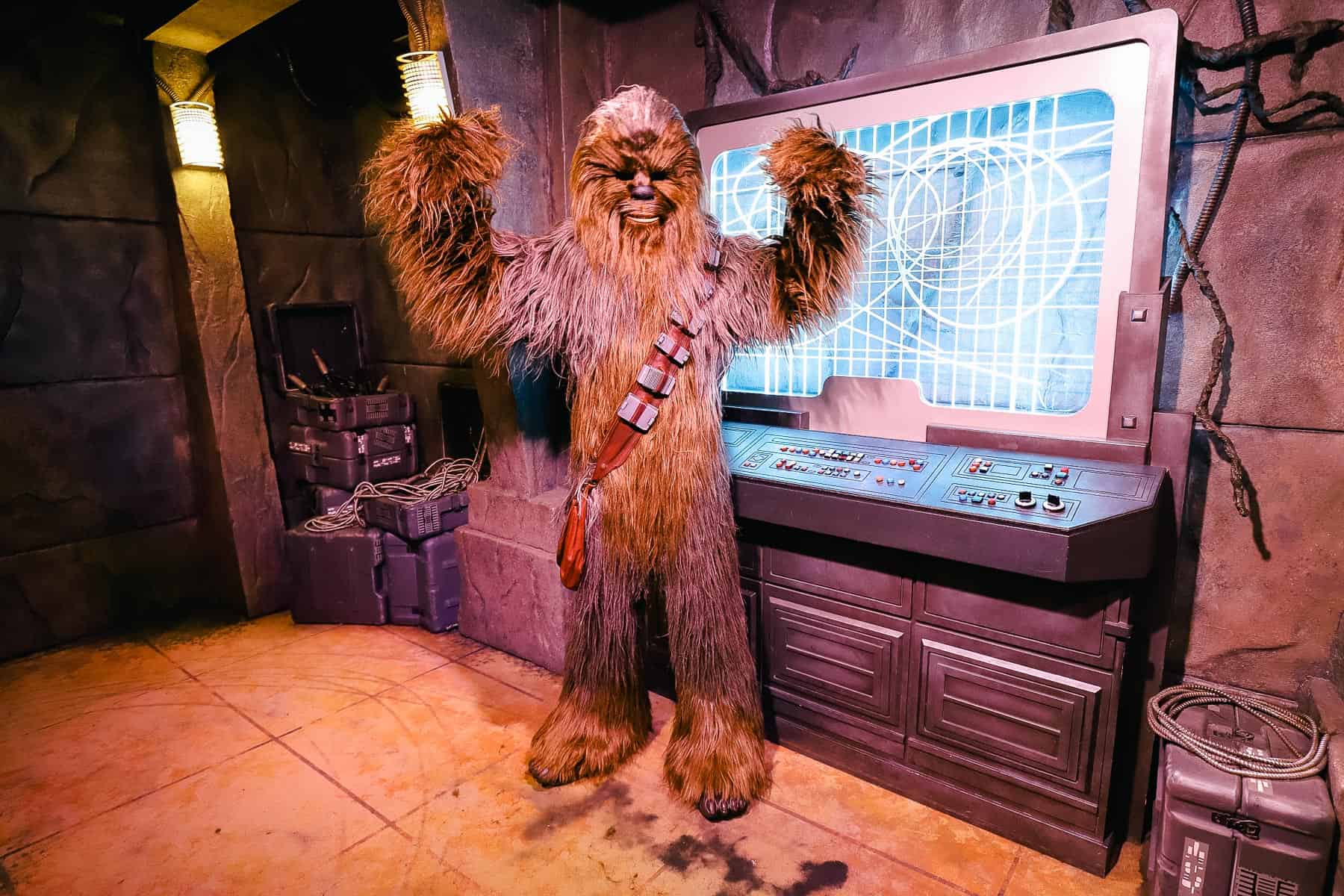 Final Thoughts on Star Wars Characters at Disney World
Hopefully, this article gave you an idea of where to find Star Wars characters at Walt Disney World. Unfortunately, there are currently no options to dine with Star Wars characters in the parks.
For more Star Wars at Walt Disney World, you might like the following articles:
Additionally, we have a ton of Disney World character information on the site. Here are our character guides for each park:
In the Comments
Which Star Wars characters are you hoping to meet at Disney World? Do you have any questions about these meet-and-greets?