Star Wars Rise of the Resistance Review at Disney World
Star Wars: Rise of the Resistance is a popular attraction at Walt Disney World in Orlando, Florida. Specifically, Rise of the Resistance is located in Galaxy's Edge at Disney's Hollywood Studios.
When Rise of the Resistance first opened, it was one of the most highly anticipated attractions in Disney's history. Fortunately, it still lives up to the hype, making the attraction a sought-after experience.
In this ride review of Star Wars: Rise of the Resistance, we'll discuss the attraction in detail. You may remember when it first opened that guests needed a join a virtual queue to experience the attraction.
While boarding groups are no longer required, securing an a la carte Lightning Lane is always a good idea. Or else you might spend a significant portion of your day waiting to experience this attraction.
May the force be with you!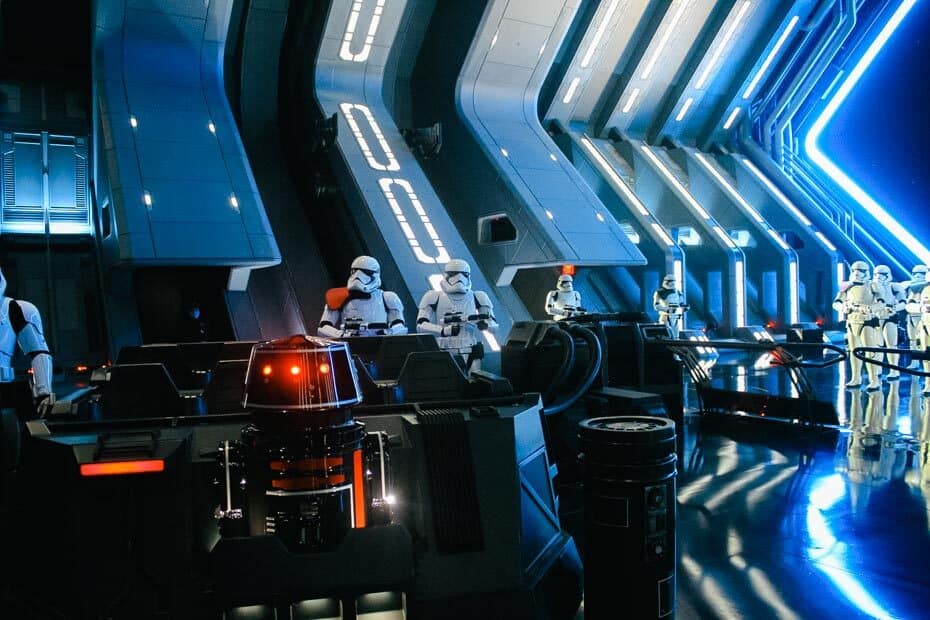 Here is a quick reference chart for Rise of the Resistance.
| | |
| --- | --- |
| Star Wars: Rise of the Resistance | Hollywood Studios |
| Location: | Galaxy's Edge |
| Height Requirement: | 40″ |
| Disney Genie/Lightning Lane | Lightning Lane (a la carte purchase) |
| Ride Type: | Immersive, Highly-Themed, Thrill |
| Seats Per Vehicle: | Two rows that seat four each. |
| Rider Switch: | Yes |
| Good For: | Everyone who meets the height requirement. |
| Scare Factor: | Medium |
| Must-Do List: | High Priority |
| Perfect For: | Star Wars Fans |
| Special Mention: | It's worth it. |
Star Wars: Rise of the Resistance Review
Rise of the Resistance is the top priority attraction for nearly 100% of guests visiting Walt Disney World. Formerly, guests had to obtain a boarding group to experience Rise of the Resistance.
Now you can experience this attraction via the standby lane or purchase a Lightning Lane to skip the line. Here are the details based on how you are visiting the parks.
Resort guests who want the opportunity to purchase Lightning Lane can secure one starting at 7:00 a.m. on the day of your park visit via the My Disney Experience app.
Additionally, you can use the 30-minute resort early theme park benefit to experience the attraction without Lightning Lane at the park's opening. You'll probably want to get to the park's entrance close to an hour before opening.
Lastly, you can get in line at, say, 8:55 p.m. on an evening the park closes at 9:00 p.m. While you will still have to wait, the time should drop considerably after the park closes.
Related: Benefits of Staying at a Disney Resort Hotel
Guests not staying at a Disney Resort Hotel can purchase a Lightning Lane at the park opening. However, they go quickly, so you'll want to have the My Disney Experience app open and ready to purchase one.
Non-Disney Resort guests will have the best opportunity for riding this attraction at the end of the evening versus first thing in the morning. However, if you don't feel like staying in the park that late (and can't get a Lightning Lane), your best bet is to get in line as early as possible and wait.
Related: The Best Off-Site Hotels Near Disney World
*Pricing to secure a Lightning Lane for Rise of the Resistance will vary day-to-day.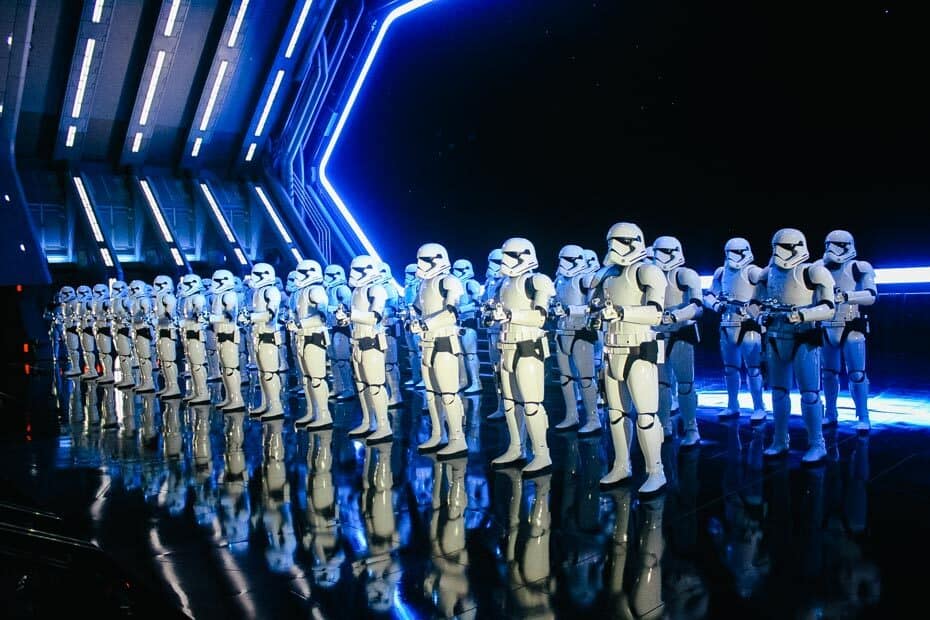 What kind of ride is Rise of the Resistance? 
This attraction is a highly immersive experience, more so than your typical ride. Many people expect Rise of the Resistance to be a roller coaster.
However, it isn't. There isn't even a track involved.
Trackless ride systems are the latest thing in theme park entertainment. You'll encounter trackless rides within Walt Disney World at attractions like Mickey and Minnie's Runaway Railway and Remy's Ratatouille Adventure at Epcot.
After experiencing Rise of the Resistance for the first time, I was blown away by the technology. The ride had me thinking about how far things have advanced in recent years.
It's pretty amazing what Disney's been able to do with these types of attractions. And I can see how improvements can and potentially will be added in the future.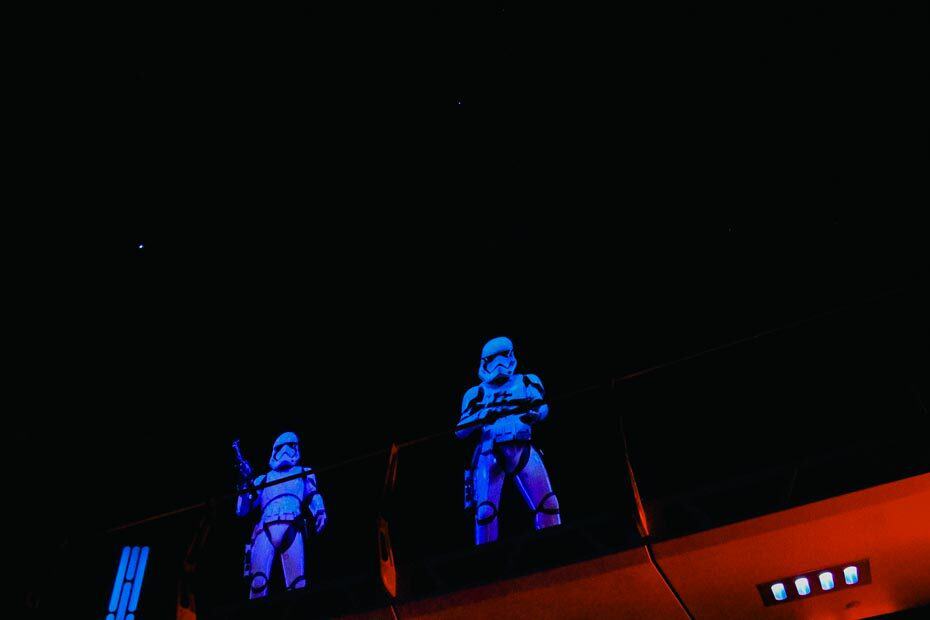 Experiencing Star Wars: Rise of the Resistance
We have reached the part of this review where I will walk you through the actual ride experience. If you haven't had an opportunity to experience this attraction, be warned. There are spoilers ahead.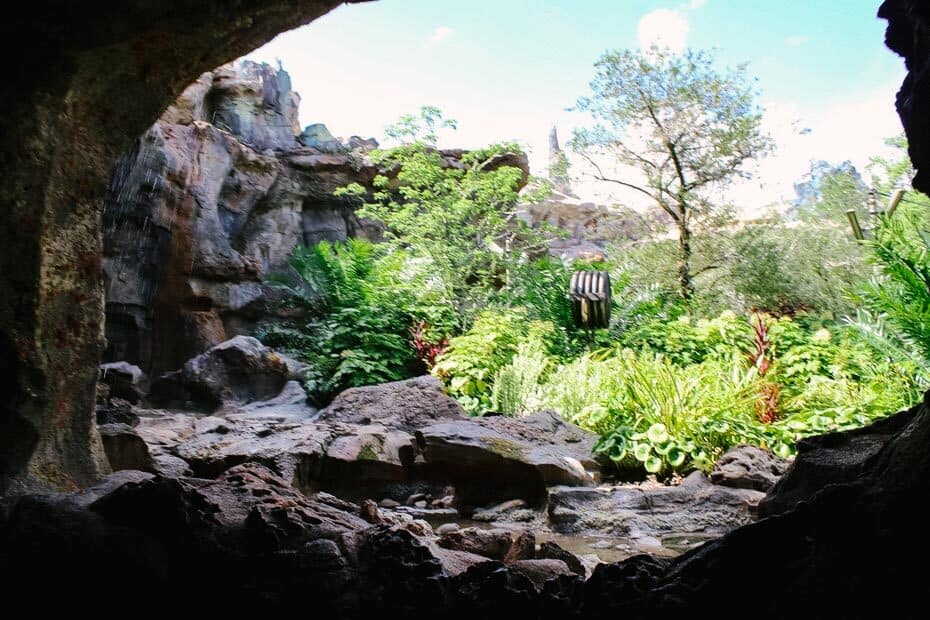 First, the queue for Rise of the Resistance is long and winding. It begins outside where you're forced to deal with the elements when the line extends that far out. Rest assured, it almost always does.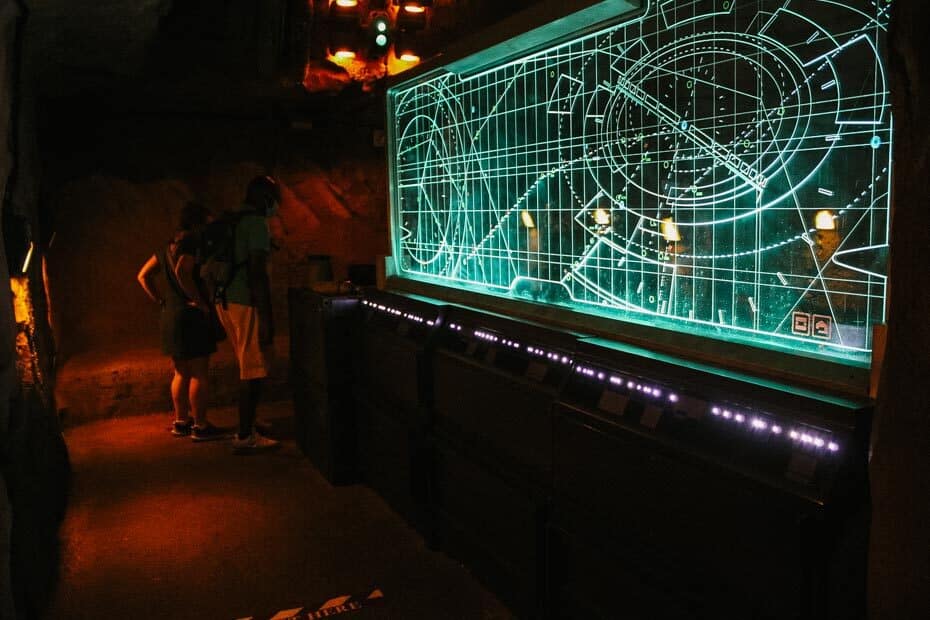 Inside, the queue feels almost like a cave as you slowly approach the Resistance Headquarters. There you will be greeted by Rey Skywalker. She appears as a hologram and petitions for your help on the next Resistance mission.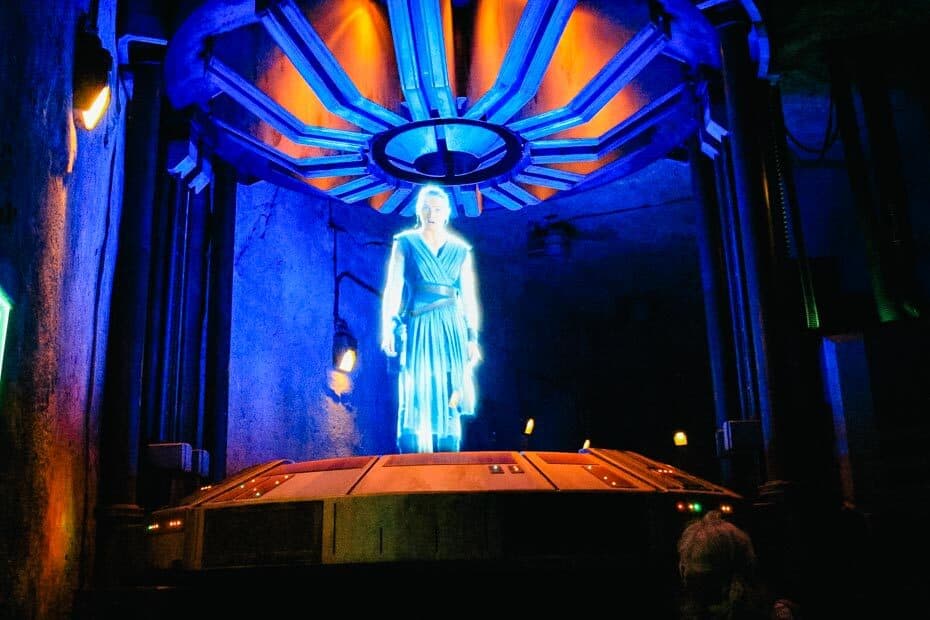 BB-8 makes an appearance as well.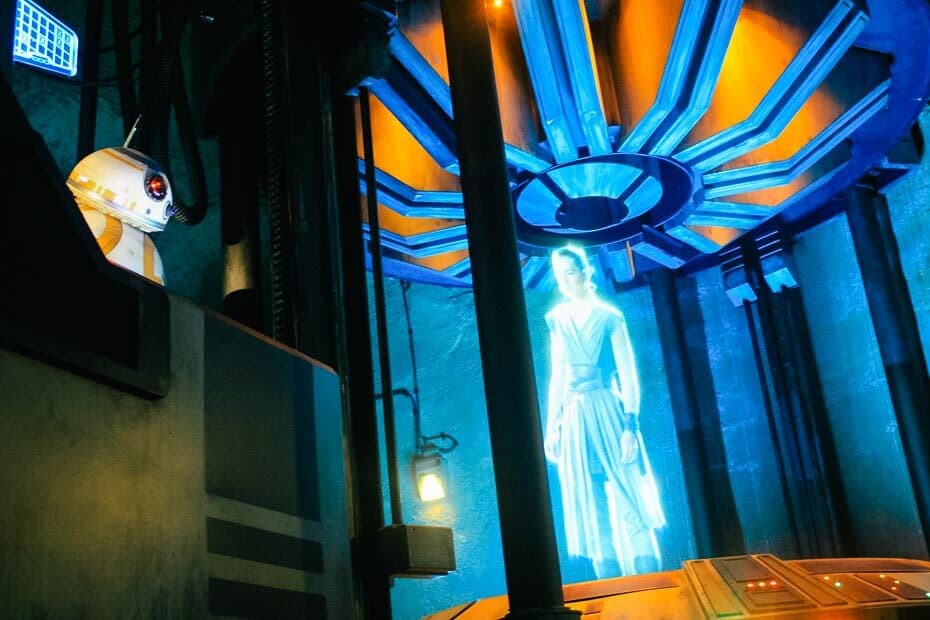 You'll also see a few other well-known characters from the Star Wars franchise.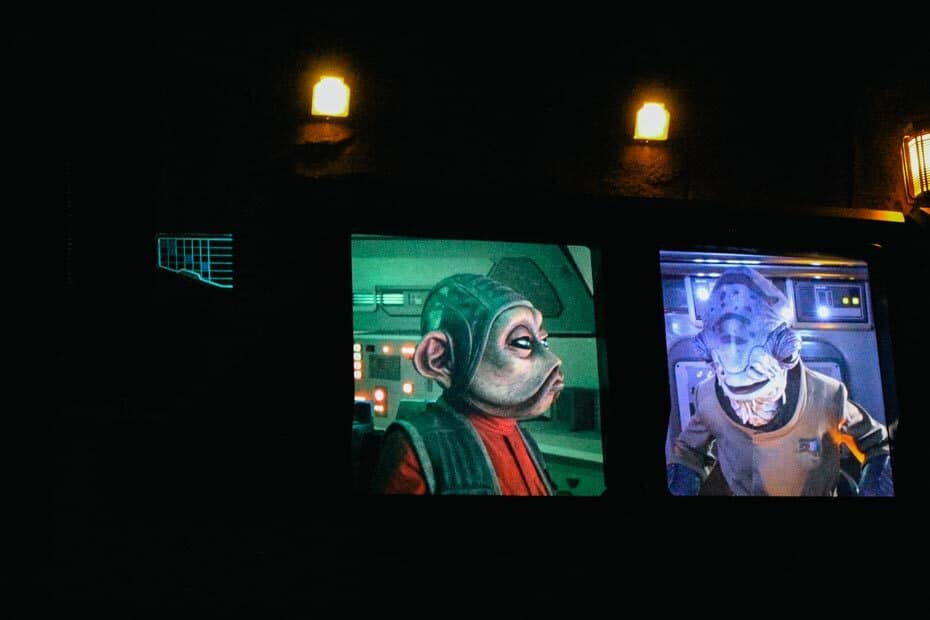 After your rendevous with Rey, the doors open and you board a Resistance fleet ship.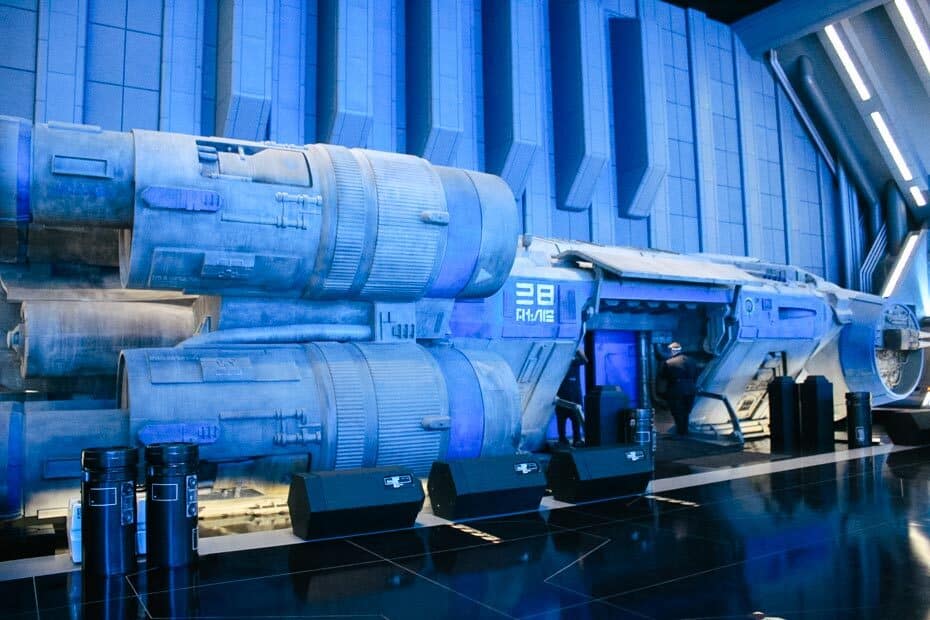 Inside the starship, you'll be asked to hold on or lean on something to keep your balance. After takeoff, you'll experience a bit of movement. This is a light-simulated motion with minimal gravity loss. I don't think it would bother anyone, but you might not expect it.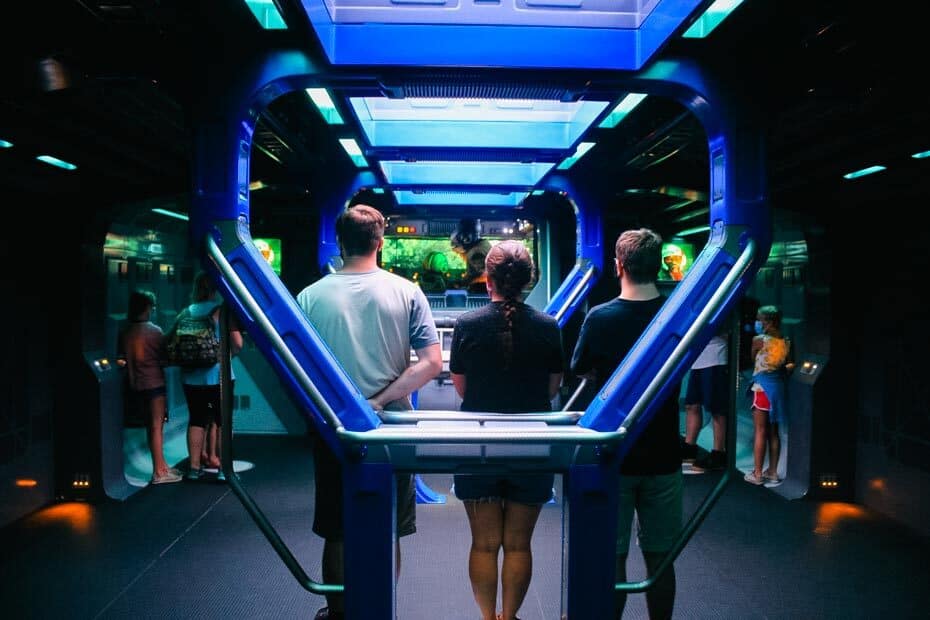 The scene changes from flying off the luscious planet, jumping to light speed, and then approaching the Star Destroyer. Think Star Wars movie where you get too close and they pull your ship in for examination. Yeah, big-time trouble!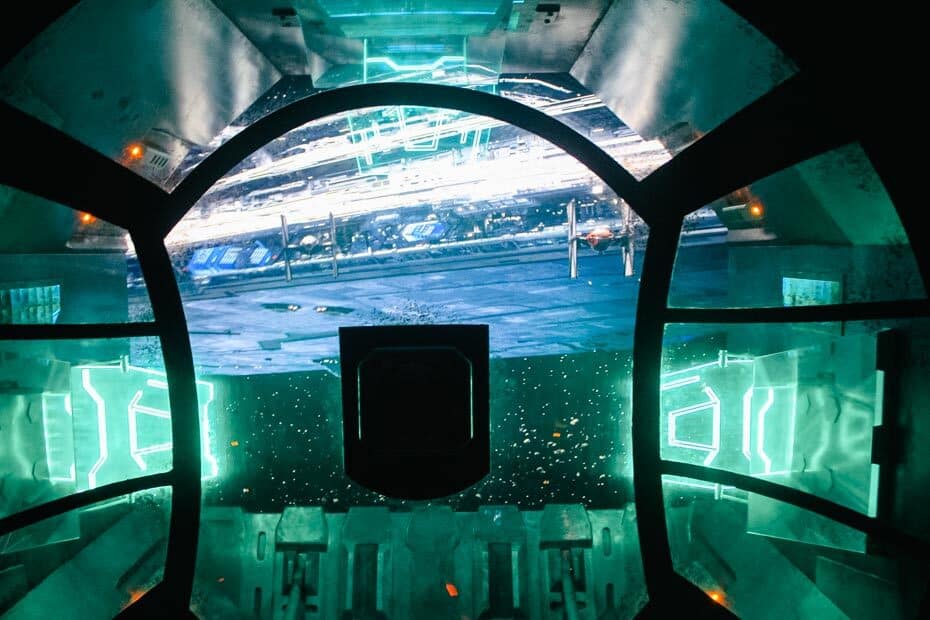 From the ship, you can see out the window to outer space. Unfortunately, it doesn't take long for the Empire to seize your ship.
I guess someone in your group should have remembered that clearance code.
Things go from exciting to intimidating as you disembark to an army of stormtroopers. While these are animatronics, make sure to pay close attention to their subtle movements.
Imagine the attraction breaking down right here and spending an hour and a half with these guys staring you down. (It happens.)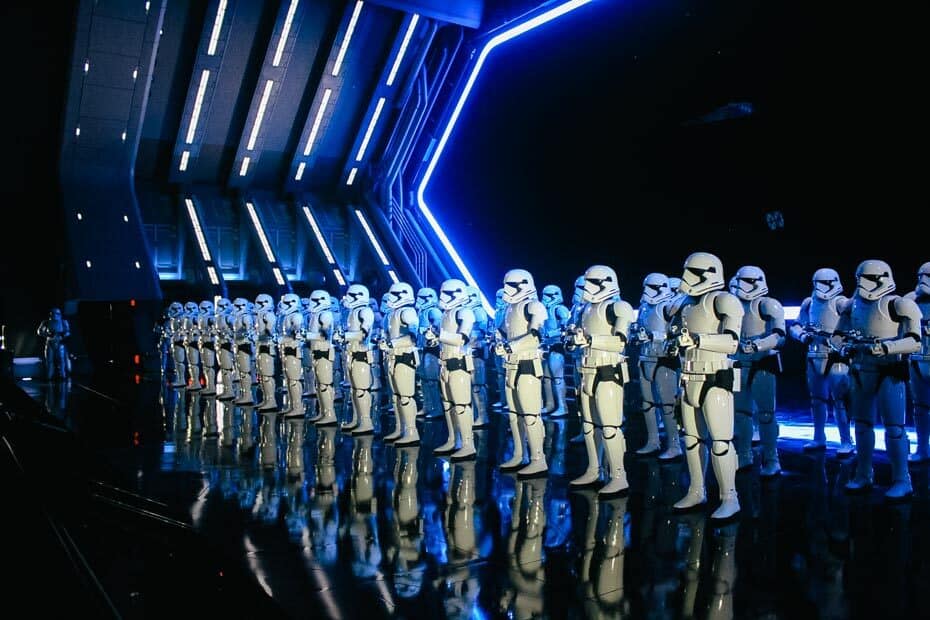 Eventually, you'll be called into a holding area as you wait for interrogation. Here's a look at the holding area.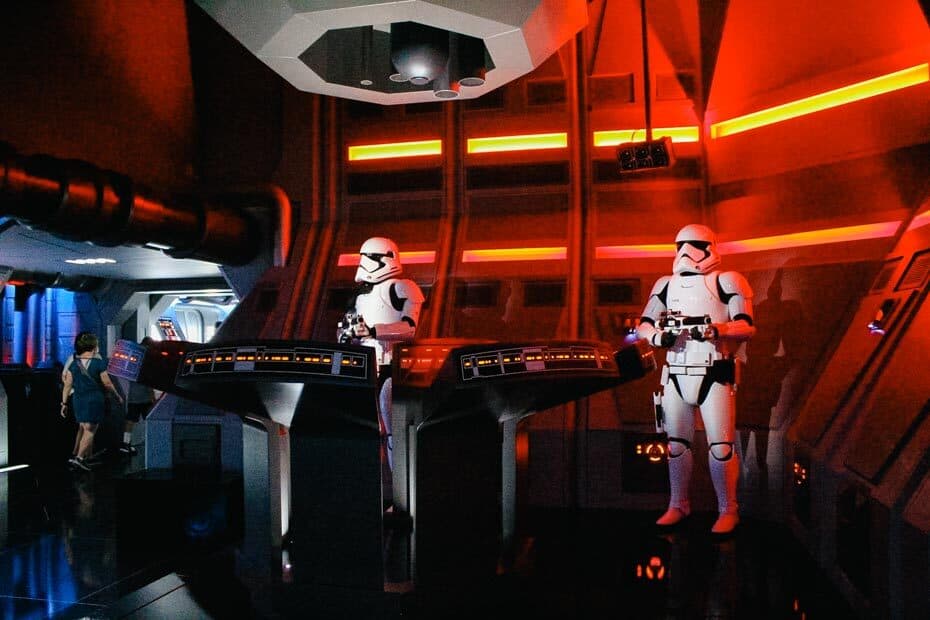 Once inside the containment room, a stormtrooper is assigned to guard you.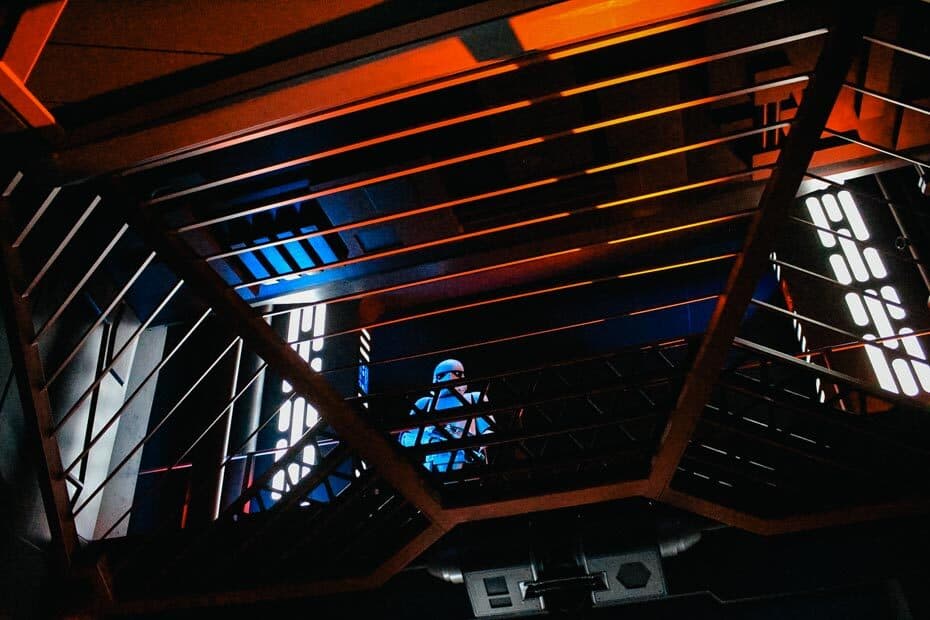 Before long, General Hux and Kylo Ren show up to apply pressure. Thankfully, an issue occurs that causes them to leave you briefly alone.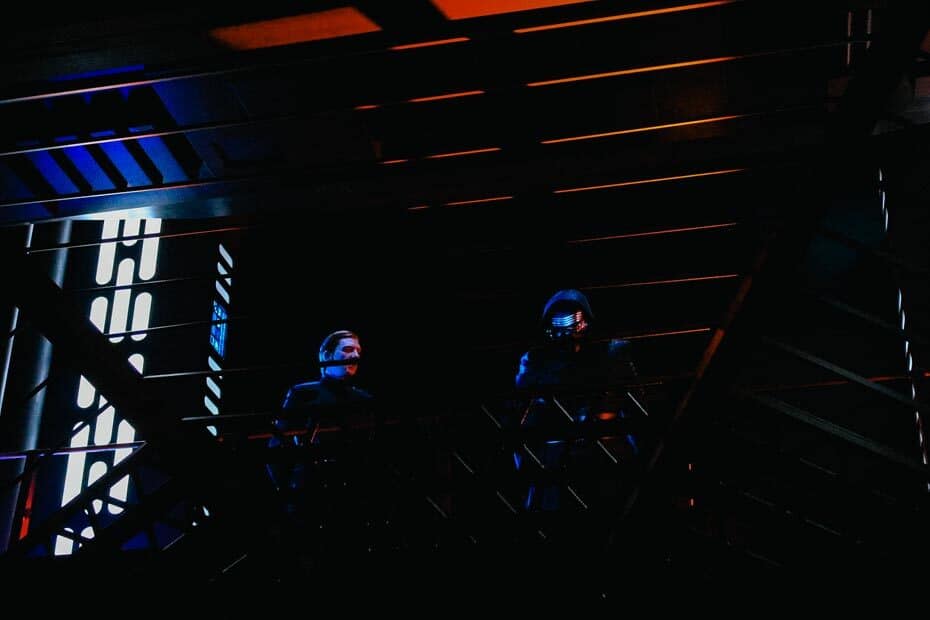 As you wait for the pair to return, things seem dire. It's probably a good time to practice using the force.
About that time, a laser starts to cut through the wall. Right when you think Kylo Ren is going to destroy you with his saber, some random guy steps through the wall.
It's the Resistance and they've come to rescue you. Somehow, they have taken over the system's mainframe and have secured droids to help you reach the escape fleet.
It's all very emotional.
This baby droid is your new best friend as he whisks you away to safety. Along the way, you'll find yourself dipping and dodging through some of the most recognizable Star Wars weaponry.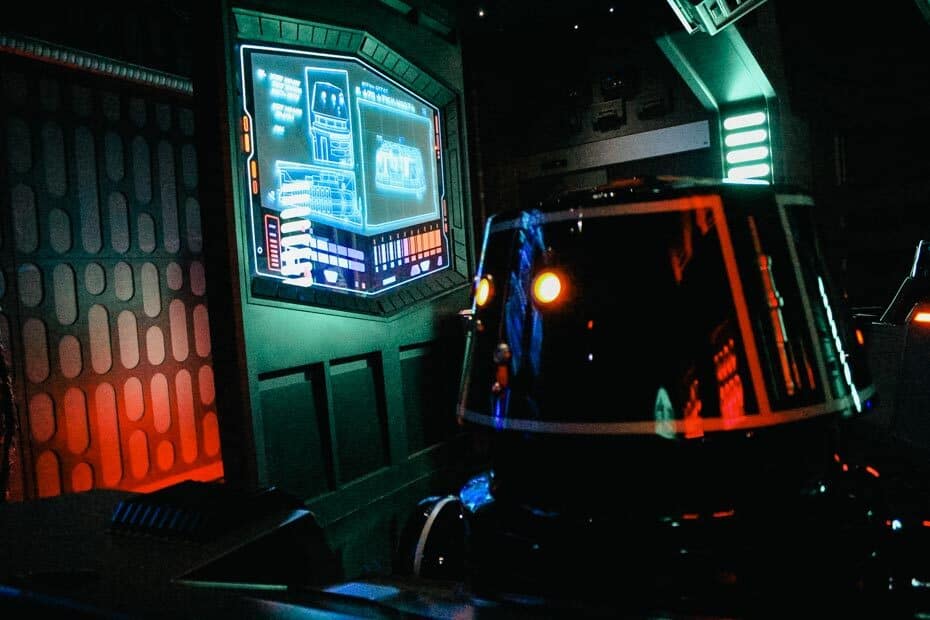 Expect an elevator-style drop and surprise lift during the experience. Truly, it's all thrilling, and I am somewhat excited writing about the whole thing.
But when I say thrilling, I don't mean it's scary.
However, I can see how the attraction could be intimidating to a smaller child. But I think most will do fine once on board.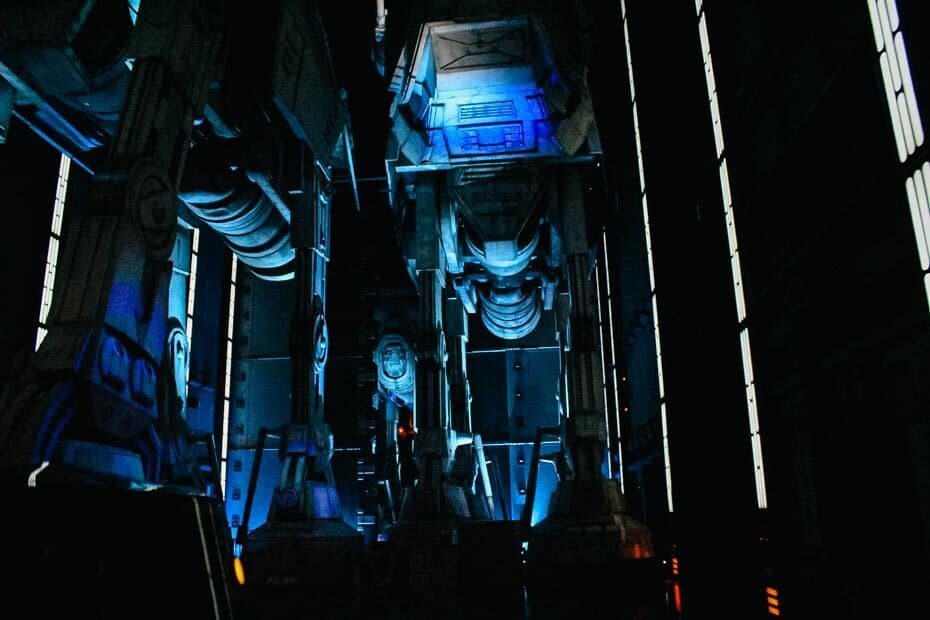 As a lifelong fan of Star Wars, I can say that the experience is like stepping onto the set of a the movie. You'll truly feel immersed and vested in the entire ride.
Unfortunately, along the escape route, the droid takes a wrong turn and lands you back on the main bridge of the Destroyer.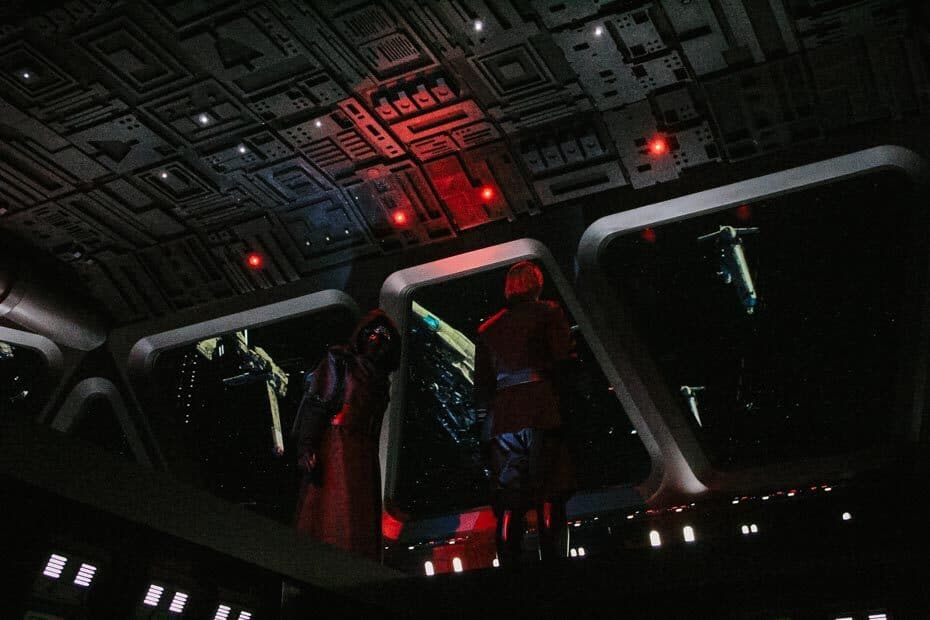 Kylo Ren is not happy. He's determined to put an end to the entire fiasco. Imagine him coming after you, and your only protection is a confused droid.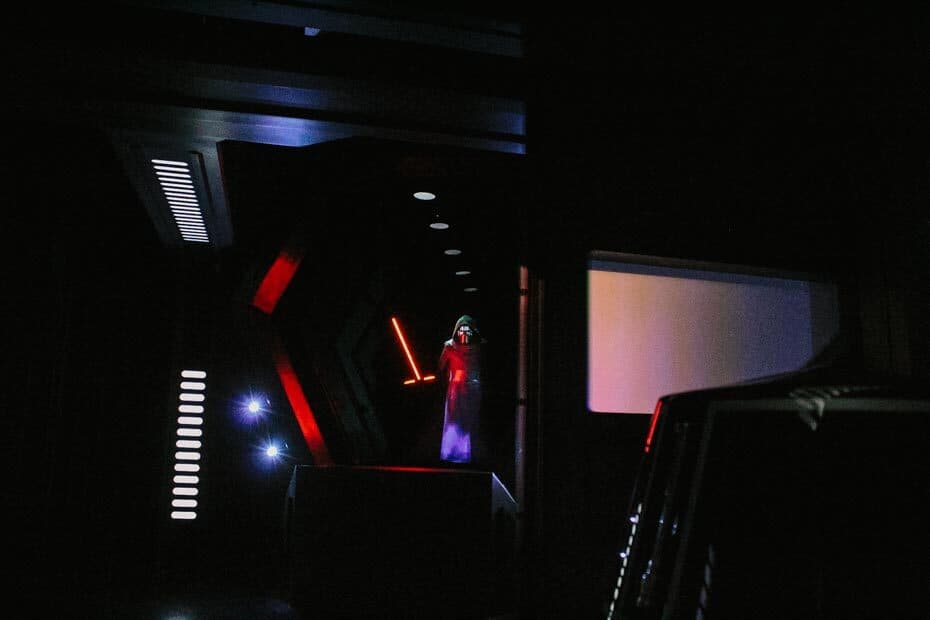 Thankfully, the droid narrowly escapes again, but as you can see, Kylo Ren isn't far behind.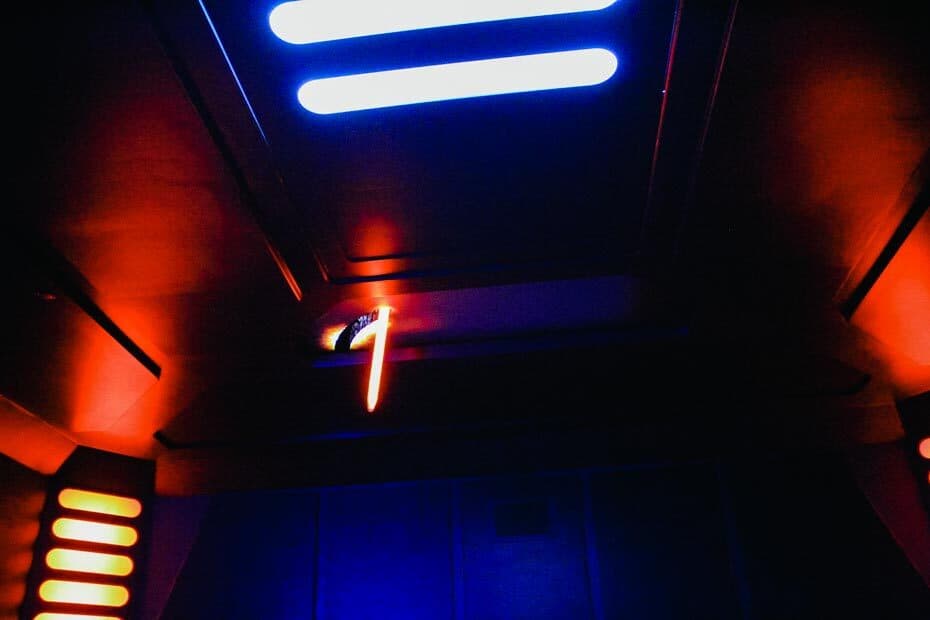 In all the commotion, a window shatters causing Kylo Ren to use the force to keep from being sucked out.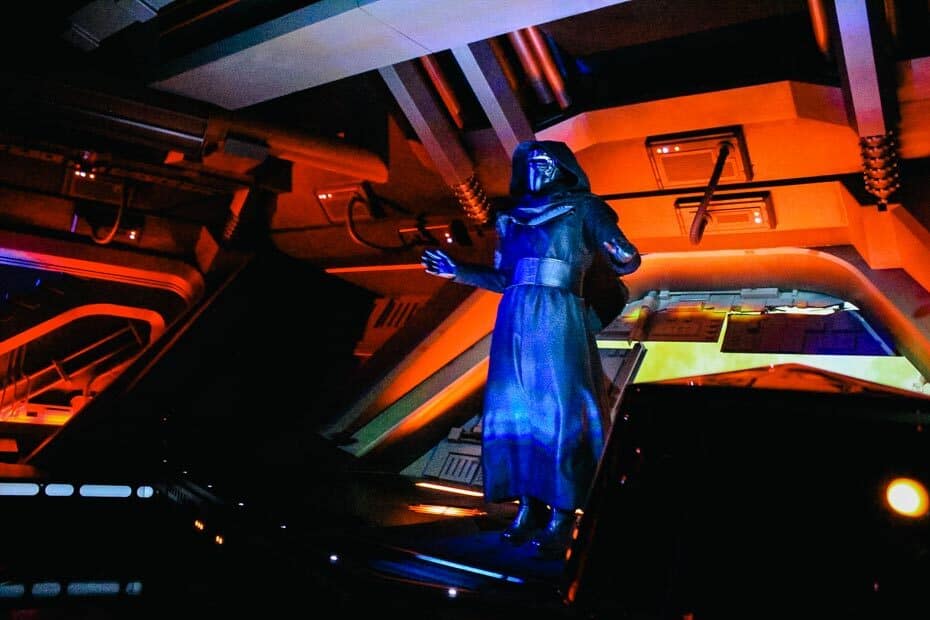 While he's distracted, you reach the launch pods and quickly take off by jumping into light speed. (While exciting, you will remain in your droid vehicle the entire time.)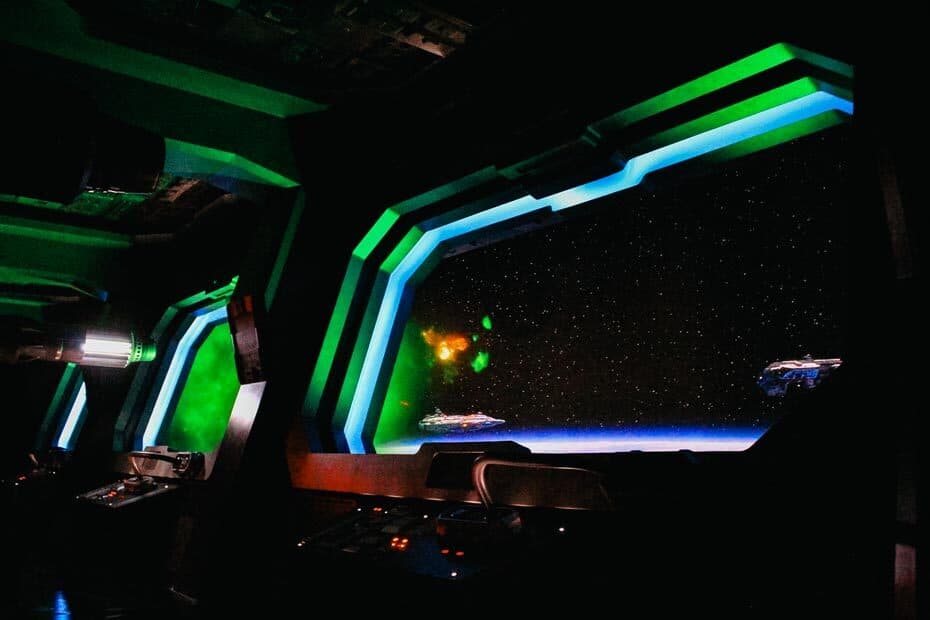 And next thing you know, you are safely back at Resistance Headquarters.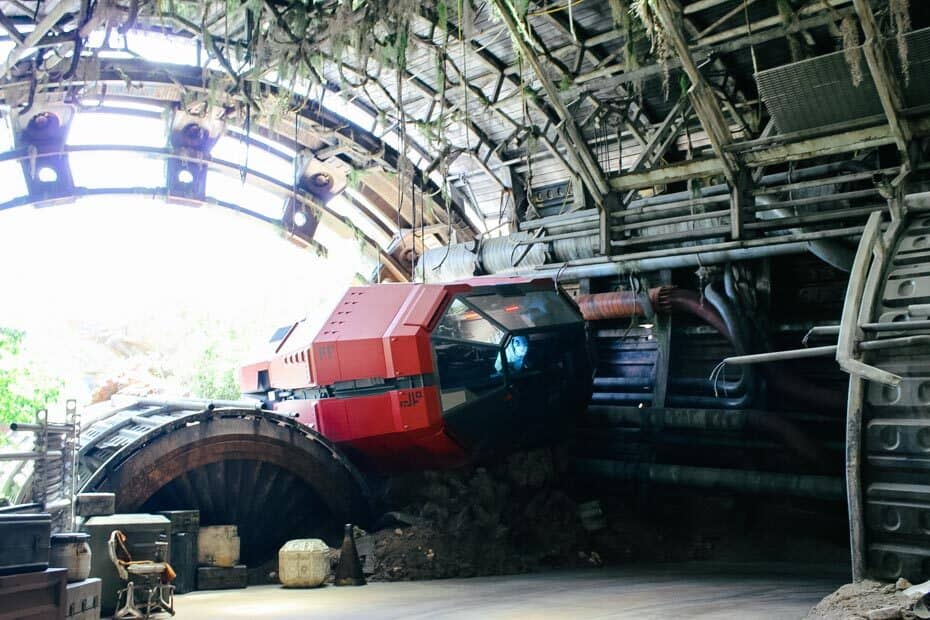 So as you can see, there's quite a lot that goes on during the entirety of the experience. Most guests will be blown away by the technology. But it really takes experiencing the attraction a few times to grasp the entire concept.
Additionally, you'll notice the cast members do an astonishing job at role-playing. These fine touches and extra elements really help make Rise of the Resistance come to life.
And now for the question…
Is riding Rise of the Resistance worth it?
Yes, and I would try to experience it twice if possible. You'll want to ride Rise of the Resistance either first thing in the morning or later in the evening. I would also purchase a Lightning Lane for this attraction.
Final Thoughts on Riding Star Wars: Rise of the Resistance
Disney did a phenomenal job creating Star Wars: Rise of the Resistance. It's one of those attractions that every guest should get to experience at least once. But most of us will want to ride it time and time again.
For more Galaxy's Edge info, check out these other reviews:
Resorts Gal specializes in providing reviews of the Disney World Resorts. If you plan to spend several days at Hollywood Studios during your vacation, you might consider one of these options within walking distance:
Have you had the chance to ride Star Wars: Rise of the Resistance? What are your thoughts about this attraction?