A Walk Around Cinderella Castle at Magic Kingdom with Photos
Cinderella Castle stands tall as the central hub of Magic Kingdom in Walt Disney World. In this review, we'll take a closer look at Cinderella Castle, all her angles, and her new paint job.
While there's not a lot to actually do at Cinderella Castle, there is the ability to walk through it at certain times of the day.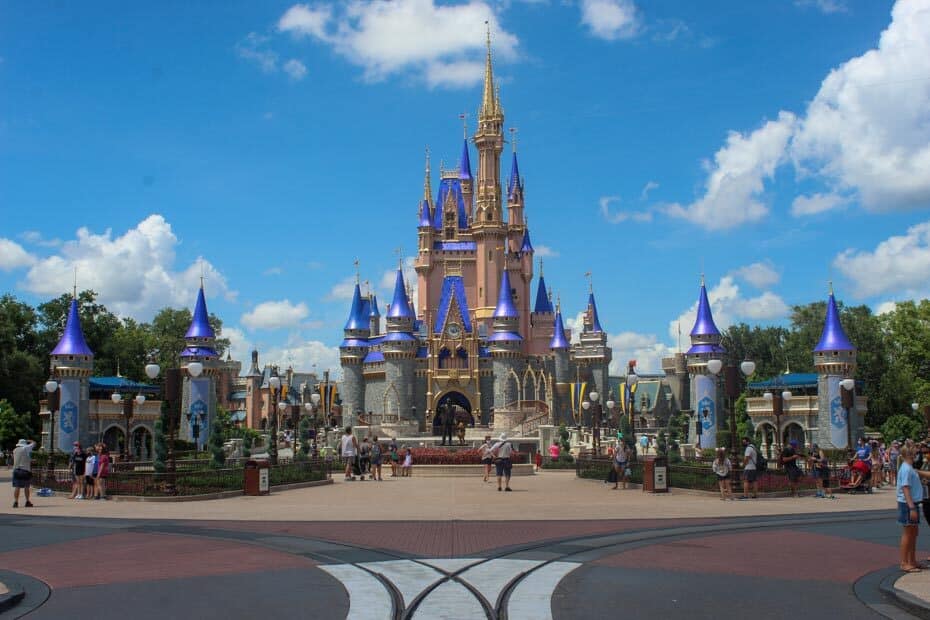 With that being said, Cinderella Castle is one of the most photographed icons in the entire world. Most of you will want to have your picture made in front of the castle on multiple occasions when you visit the park.
In fact, it would be extremely rare for even me to visit Magic Kingdom without at least taking a few pictures of the castle.
Here's a chart with all the details for Cinderella Castle.
| | |
| --- | --- |
| Cinderella Castle | Magic Kingdom |
| Location: | Fantasyland |
| Height Requirement: | None |
| Eligible for Disney Genie+ | NA |
| Ride Type: | Walk Through Only |
| Seats Per Vehicle: | None |
| Rider Switch: | None |
| Good For: | Seeing the castle up close. |
| Scare Factor: | None |
| Must-Do List: | High |
| Perfect For: | All Ages |
| Special Mention: | Murals inside the castle tell the story of Cinderella. |
Magic Kingdom's Cinderella Castle
Magic Kingdom's Cinderella Castle recently underwent a full makeover. The castle was painted a pinkish color complemented by royal blues and lots of gold.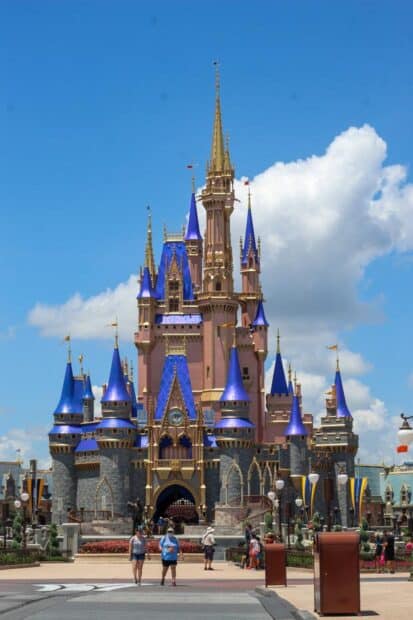 At first, I wasn't crazy about the idea, but I must admit it really did all come together nicely.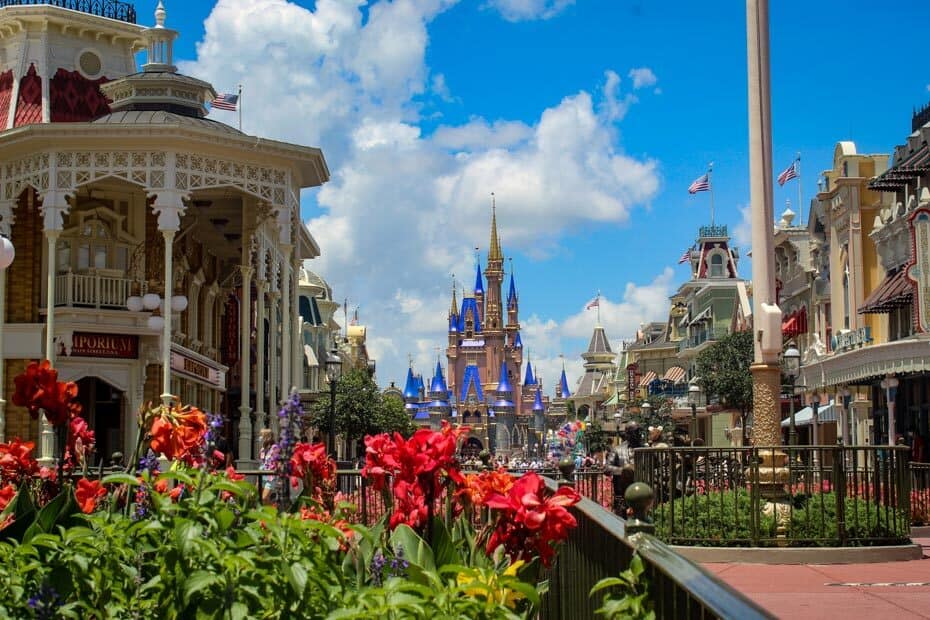 My main concern was that it would stick out like a sore thumb at the end of Main Street U.S.A.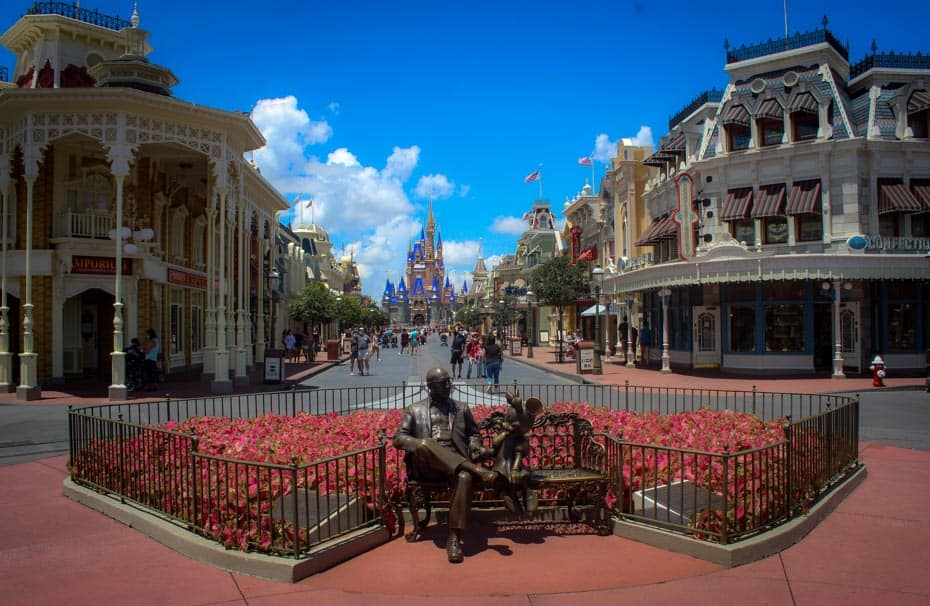 But it doesn't. In fact, it really gives the entire space a refreshing look.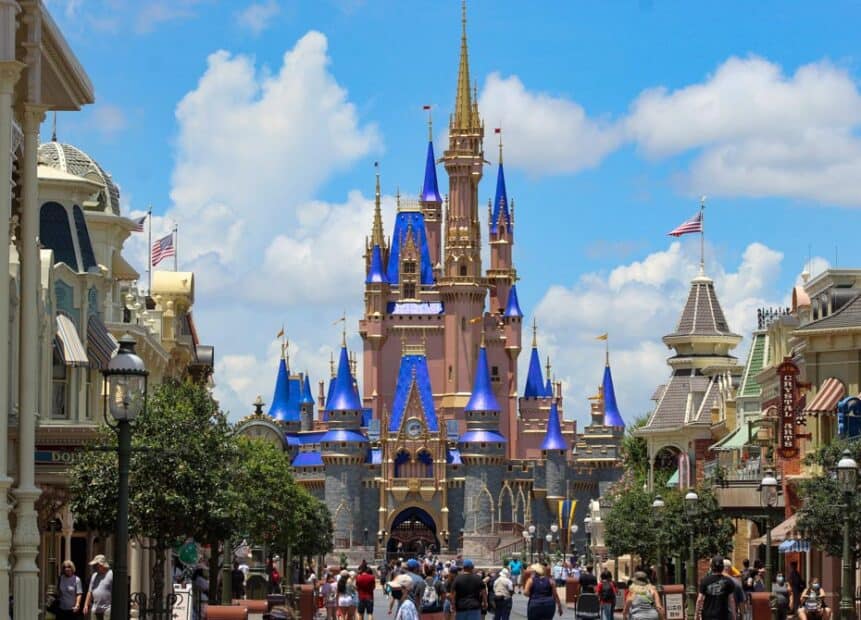 And as you get closer, you'll be able to tell that it all works well.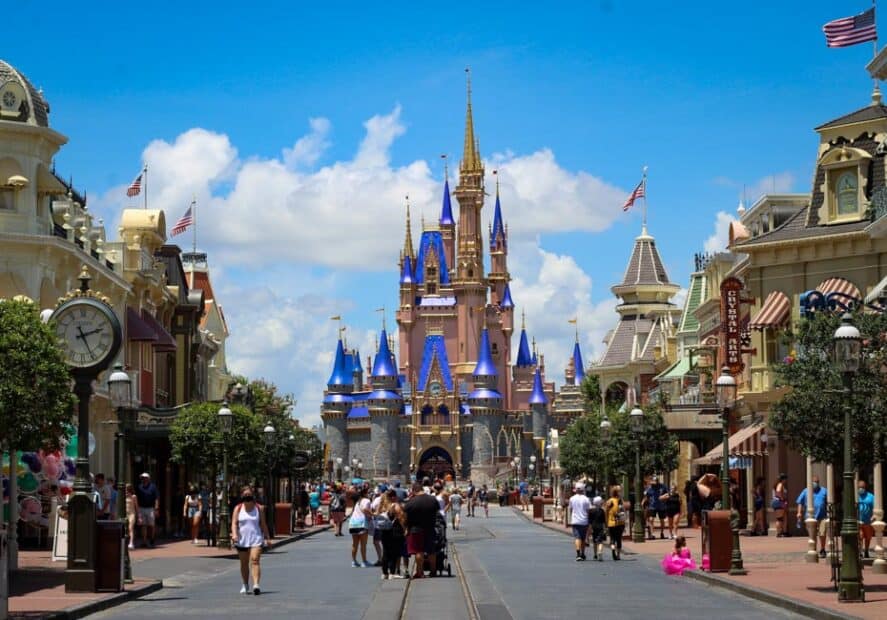 Even when you get on past Main Street, everything feels fresh and new with the flat pink and sharp contrasting colors.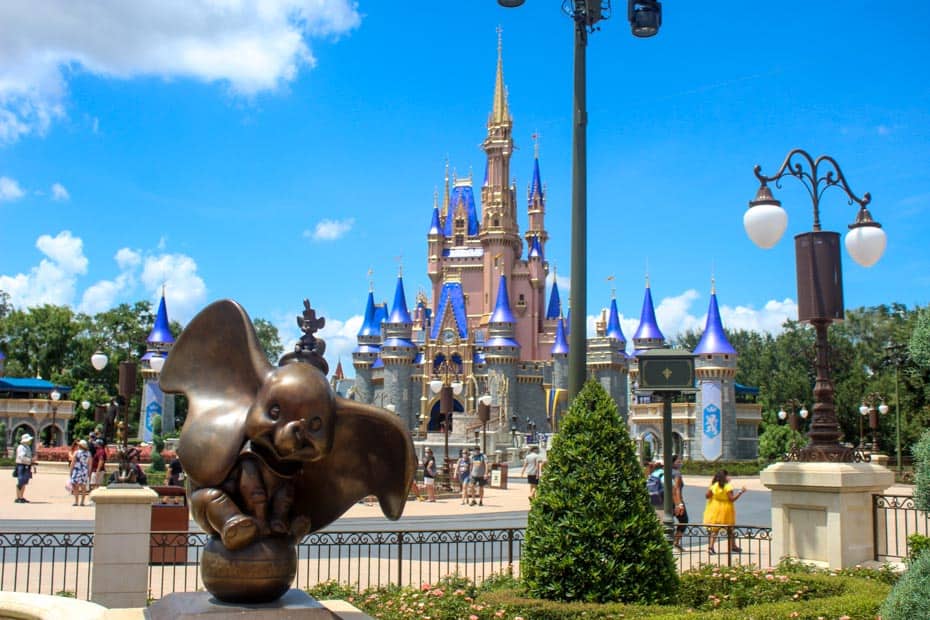 The fountains around the castle also look nice with the new paint job. It's almost as if it were planned this way from the very beginning.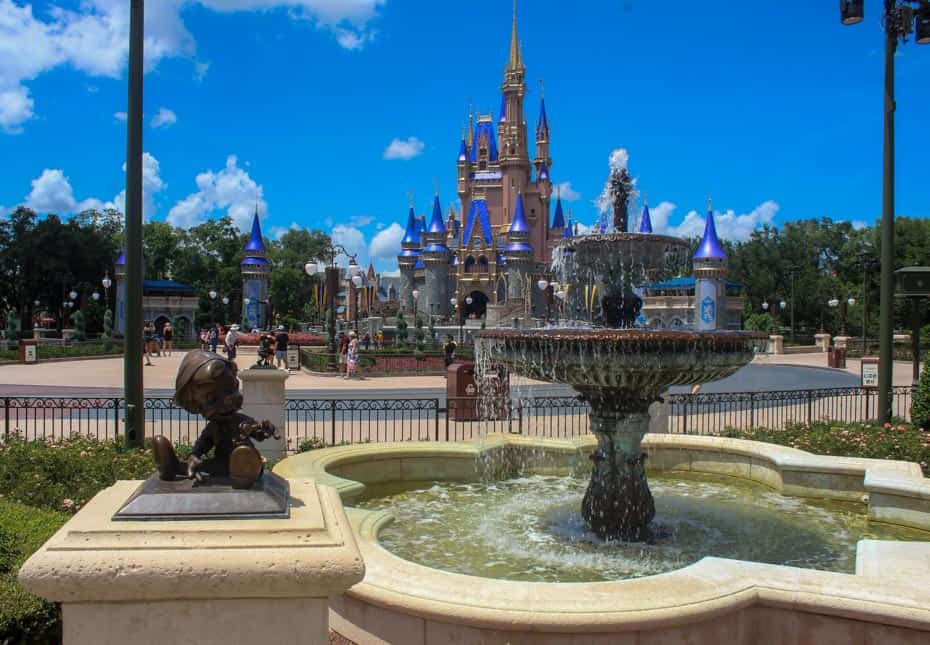 As we continue our walk around Cinderella Castle, you might notice the gold accents on the turrets that were added.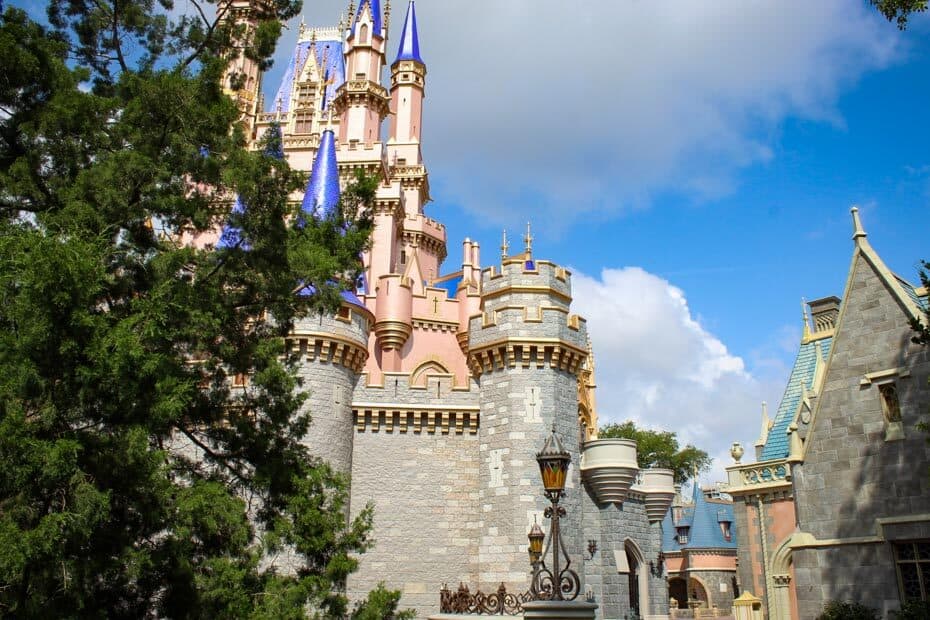 The area around the Cinderella Wishing Well has even been freshened up a bit.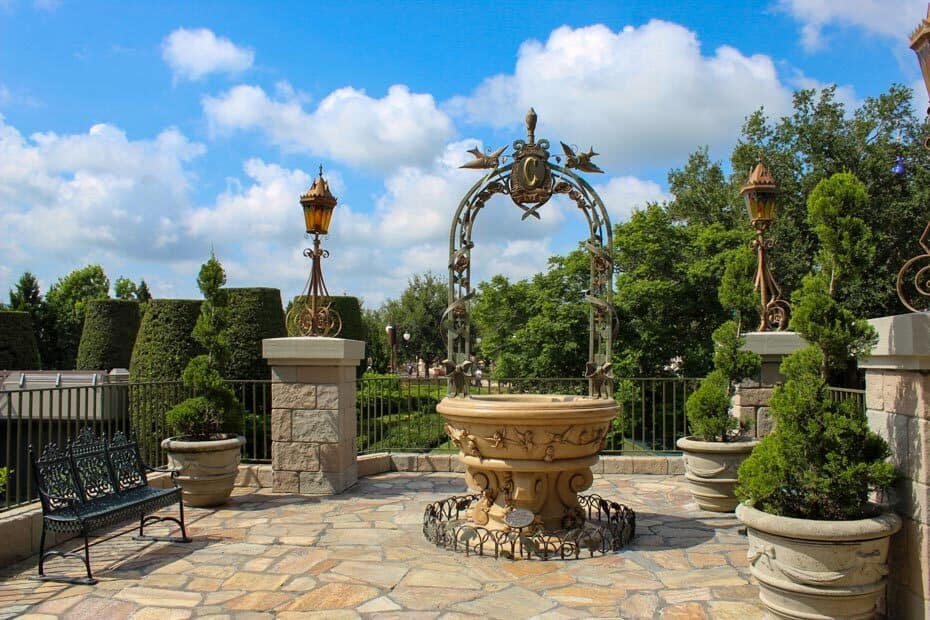 The wishing well makes for a beautiful photo spot if you have time.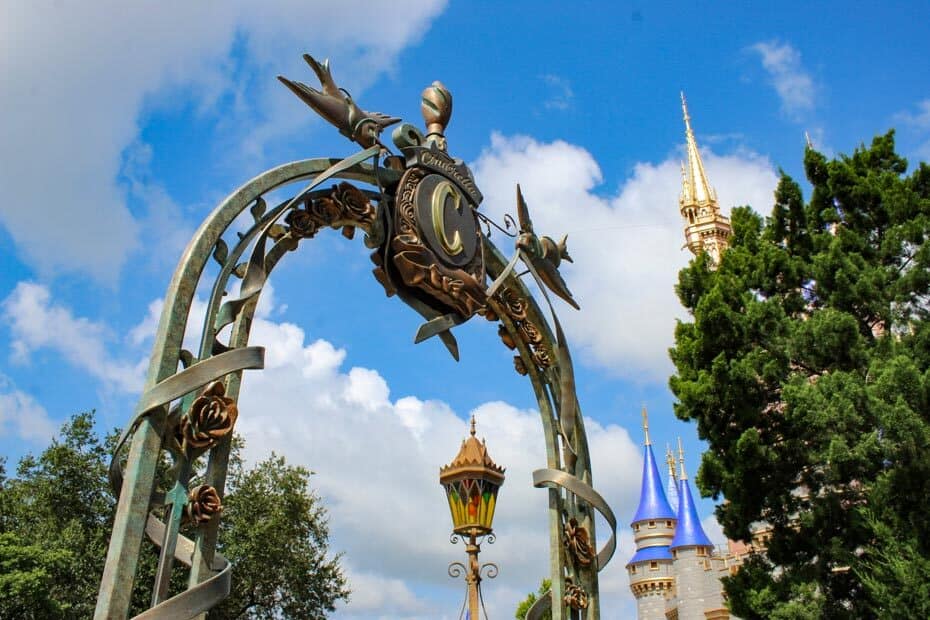 And here's a side-angle look at Cinderella Castle.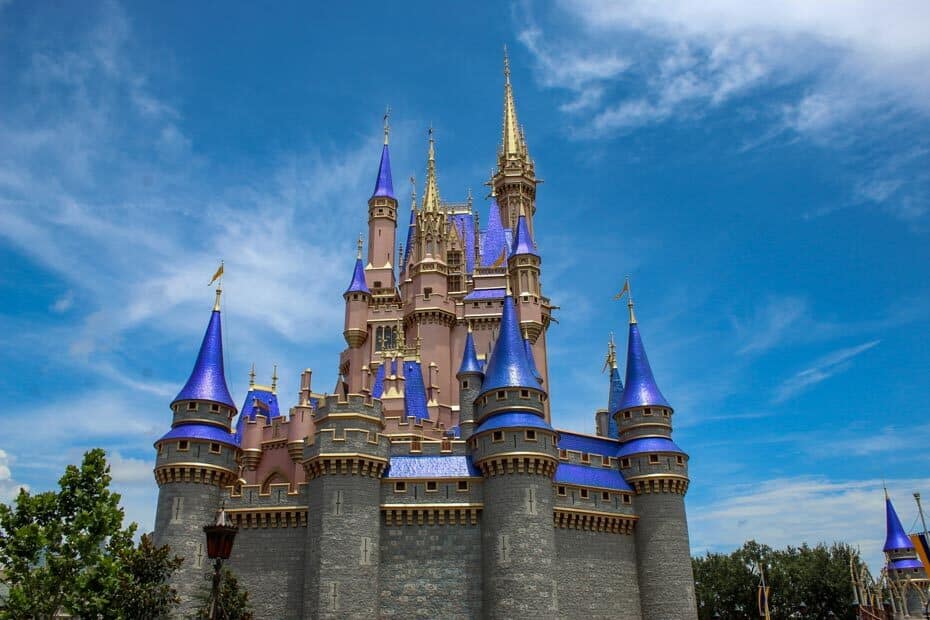 Moving on around the back, you'll notice that all the inlay work in the pavement really stands out now. With crowds being so low since the reopening, I've been able to take a few rare photos with no guests in them.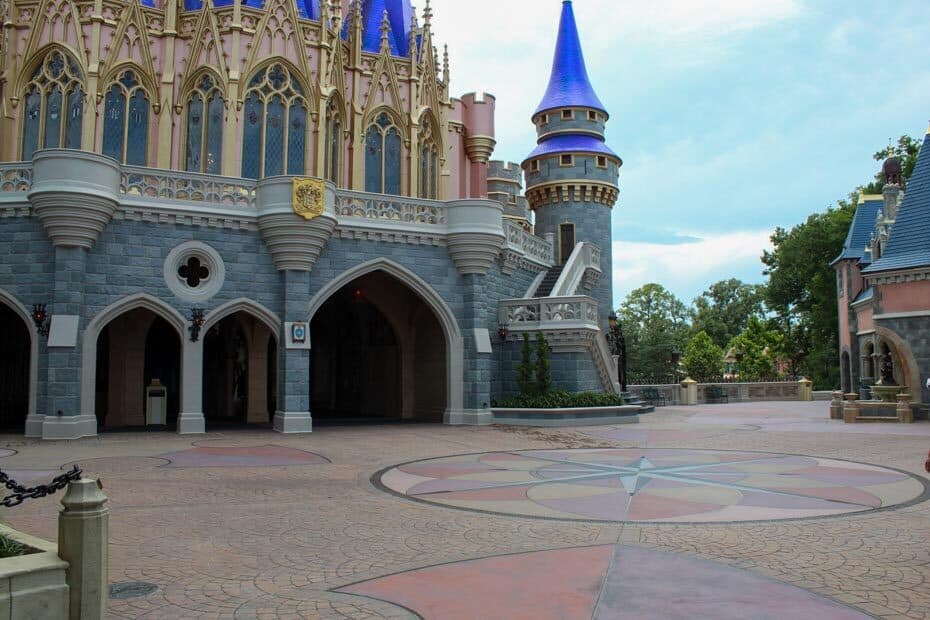 Every single area around Cinderella Castle has been retouched to ensure that it all blends effortlessly together.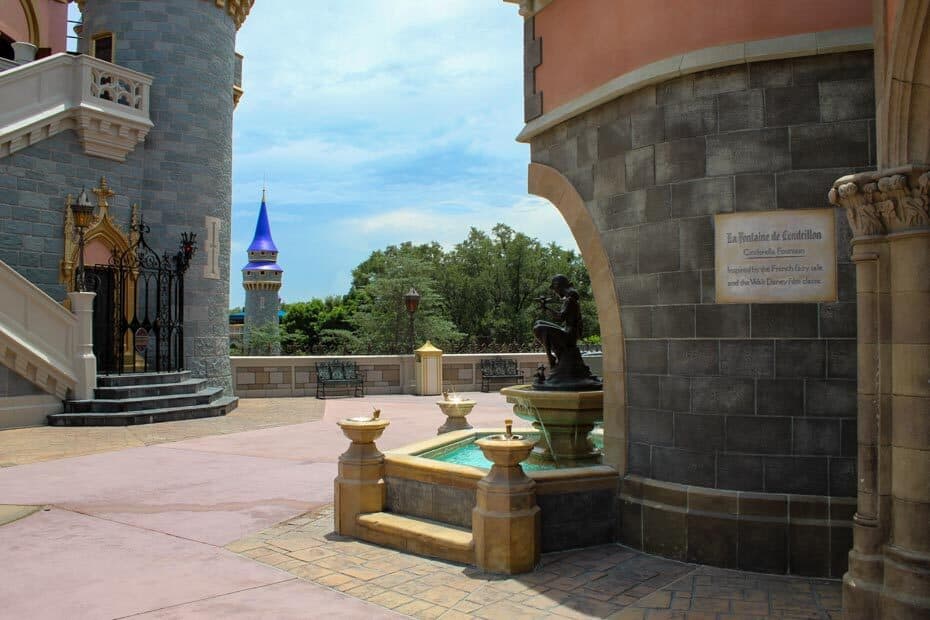 Even Cinderella's fountain is a little more dazzling than usual.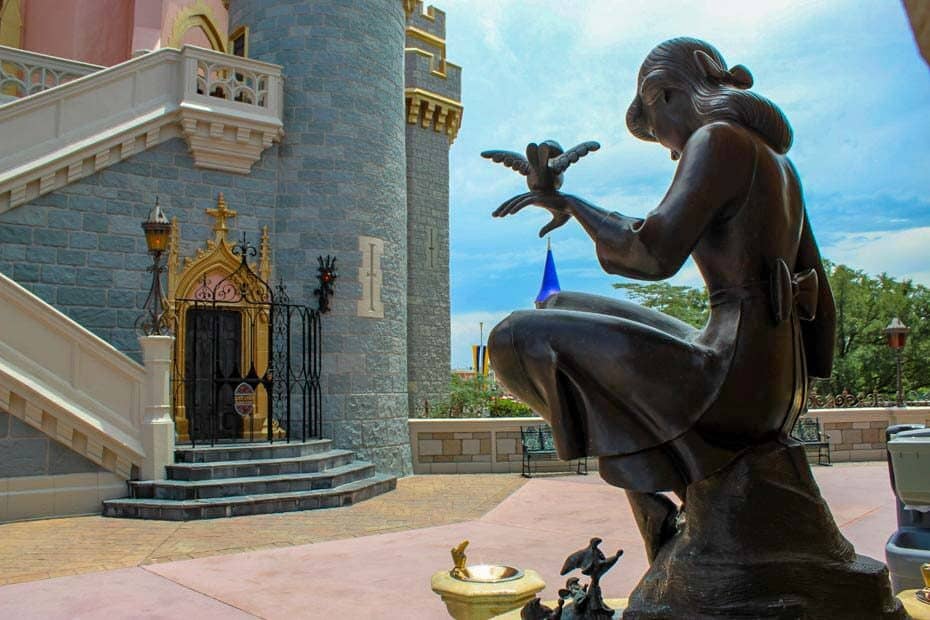 The backside of the castle has always been my personal favorite viewpoint. The attention to detail here is absolute perfection.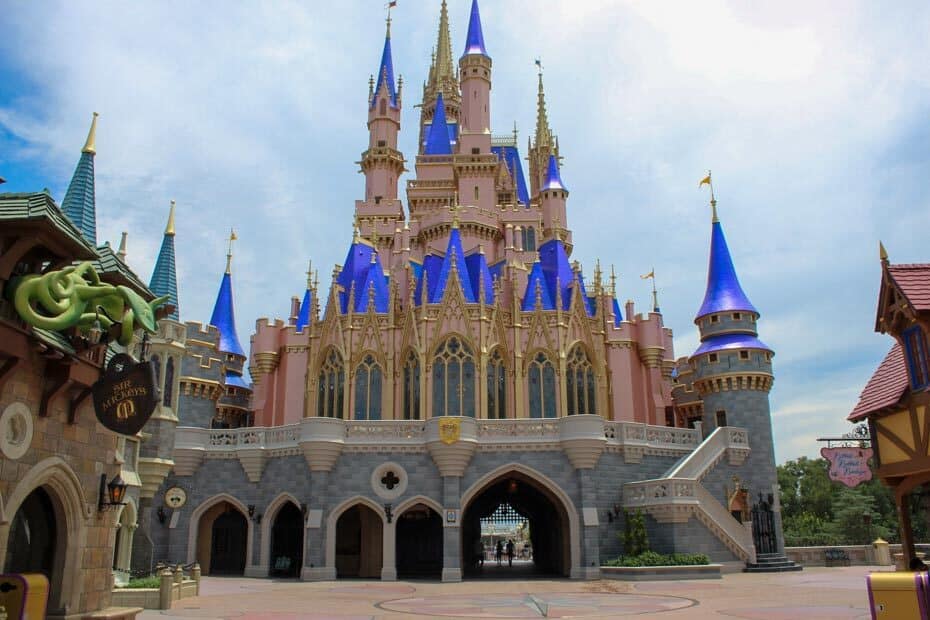 From my understanding, these colors will likely fade somewhat over time in the Florida sunshine. Time will tell what the future holds.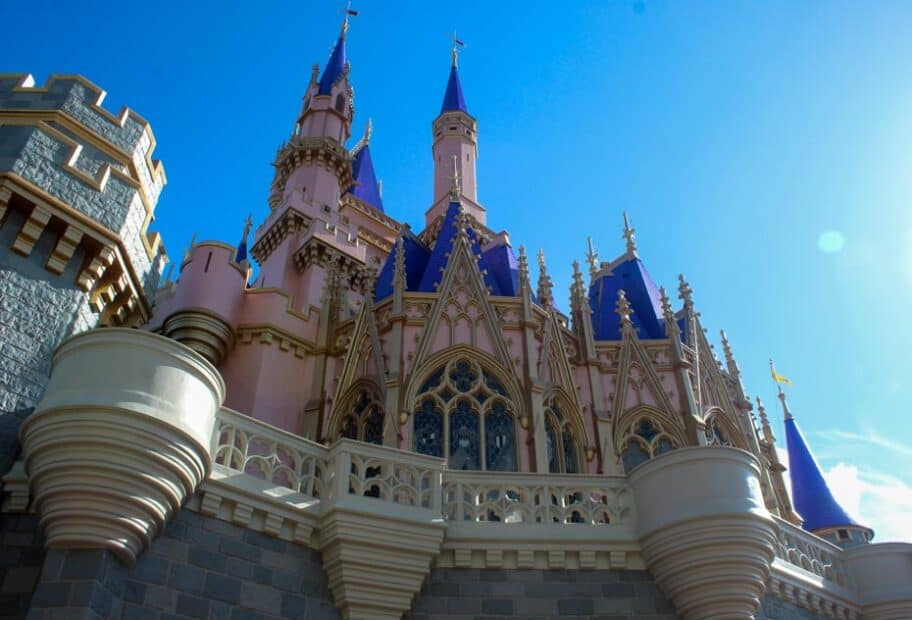 Inside Cinderella Castle, you'll find the paneled murals that tell the story of Cinderella and the trials she conquered.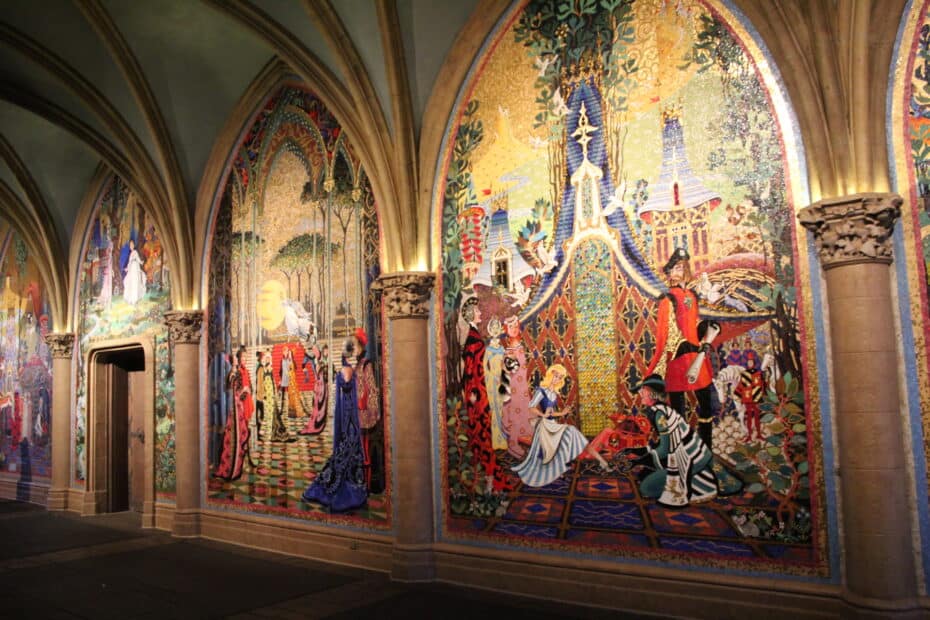 While we're checking out the murals, allow me to let you in on a little secret.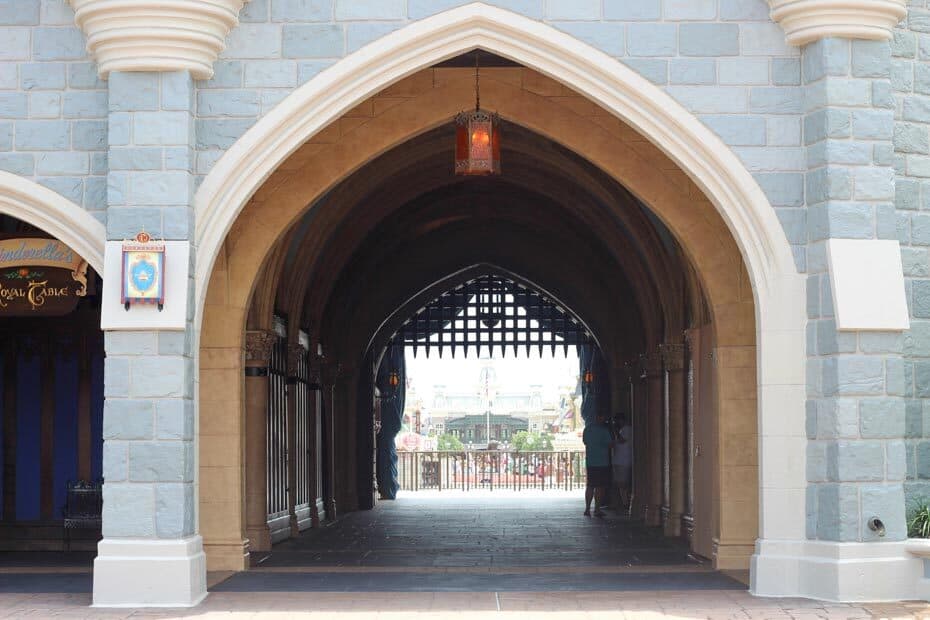 The views from the castle are really the ones that are worth it.
See what I mean? If you spend all your time focused on that one thing (the castle, in this instance), you'll miss all of this.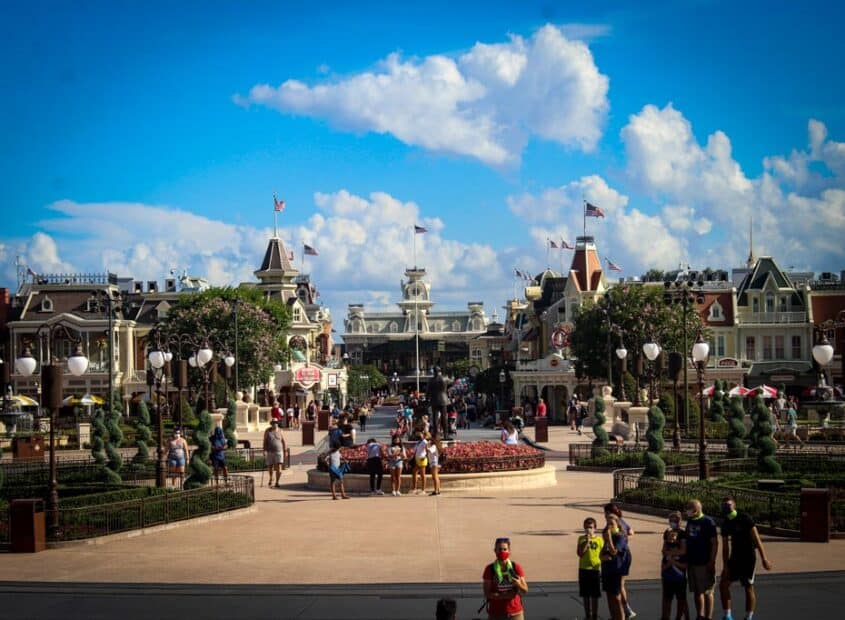 The Kingdom where Cinderella Castle resides.
And that would be a shame because sometimes there's a lot coming from the inside than just a pretty look on the outside.
And when you walk out to take in that view of Magic Kingdom, don't forget to turn around and look up.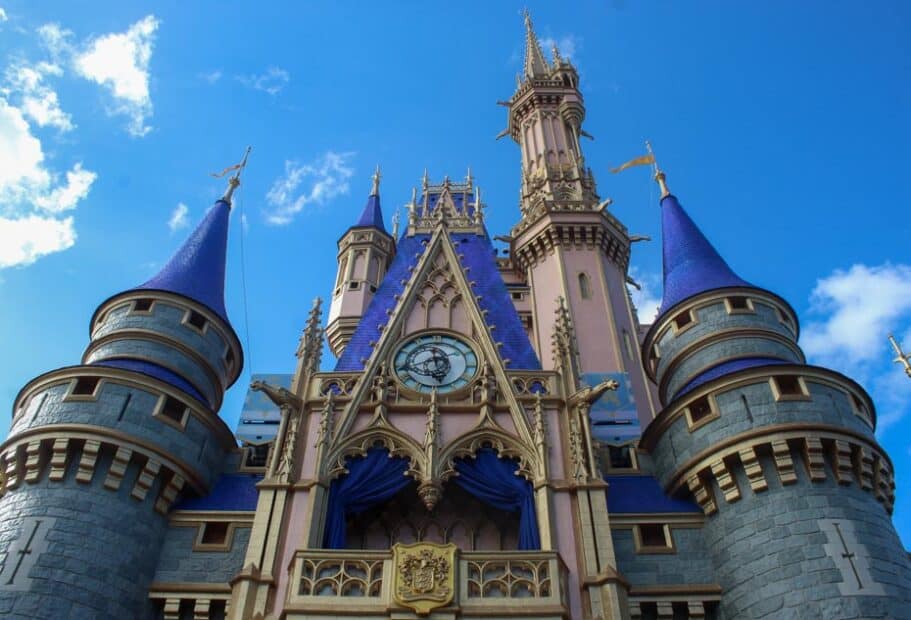 And say a prayer of thanks for all God has provided you with, including the opportunity to be there, especially if that time is with your loved ones.
Times are hard enough as it is. Make sure to take advantage of every moment you have with your people. What would you do without them?
Thanks for allowing me a moment to express myself here today. I hope that you enjoyed our little walk around Cinderella Castle. I sure enjoyed taking these photos and am truly thankful for my time and memories at Walt Disney World.
Not being able to be there (or anywhere) as often as I would like this year has reminded me of who I am at the core of my being.
I'm sure most of you can relate.
Resorts Gal specializes in Disney World Resorts, Characters, and Dining. Make sure to check out some of our resources, like the list of Walt Disney World Resorts. That article gives a brief overview of every resort at Disney.
And we have several resources for planning a stay off-site. Check out our best off-site hotels near Disney World article to get started.
Some of our favorites include:
For planning dining reservations, we have a full list of our Disney restaurant reviews available. Normally, we recommend planning at least one Disney World character dining meal and a Disney signature dining reservation.
If you are planning to meet characters in the parks, I keep an updated list of Disney World Characters. That review links to every meet available in each of the four parks.
Check out our most popular reviews, including the best restaurants at Disney Springs.
Have you had the chance to see Cinderella Castle in person since the updates?