Walt Disney World Height Requirements
Walt Disney World height requirements are among the most important things to be aware of when planning a Disney vacation with younger children. You don't want to visit the parks with a family of four and constantly miss out on attractions or get divided up because one of the kids can't ride.
It's also a good idea to plan and know how things work in the Disney parks. That way, you can make the best use of your vacation time. You spent a lot of money on this trip, so you want to make sure everyone, including you, has a good time.
This review will go over all of the Disney World height requirements. In addition, I've included some tools you can use to give you a little help planning and for a quick reference while in the parks.
Update: The height requirement downloads below include FastPass and Extra Magic Hours references. Unfortunately, these items are no longer available.
Related: Early Theme Park Benefits for Resort Guests
Disney World Height Requirements
We'll start with a photo of one of my favorite height requirement indicators. This sign is actually for Slinky Dog Dash, a ride that nearly every child will want to experience when they watch from a distance.
It's an excellent kiddie coaster. However, it does have a height requirement.
And if you have read any of my prior reviews about Toy Story Land, you know that I mention how rigorously cast members check for height requirements.
Often, I see cast checking height at the ride entrance. Then they will check gain for kids that look of questionable height before boarding.
It would be terrible to miss the initial height check and wait a long time in line just to be turned away. Fortunately, Disney cares about safety, and these height requirements are put in place for a reason.
All four Disney theme parks have different height requirements for specific attractions. Below we'll go over them for each park.
You'll find a downloadable PDF handout with the Disney World height requirements per theme park in each section. I had these designed per park, so you could save them to your phone for reference while you are in each park.
Magic Kingdom Height Requirements
Magic Kingdom is the park with the largest number of attractions. There are six different rides at Magic Kingdom that have height requirements.
Those rides are:
You can select any of the rides above if you would like a more in-depth review of what to expect with each ride.
Here is the handout with the height requirements listed for each attraction.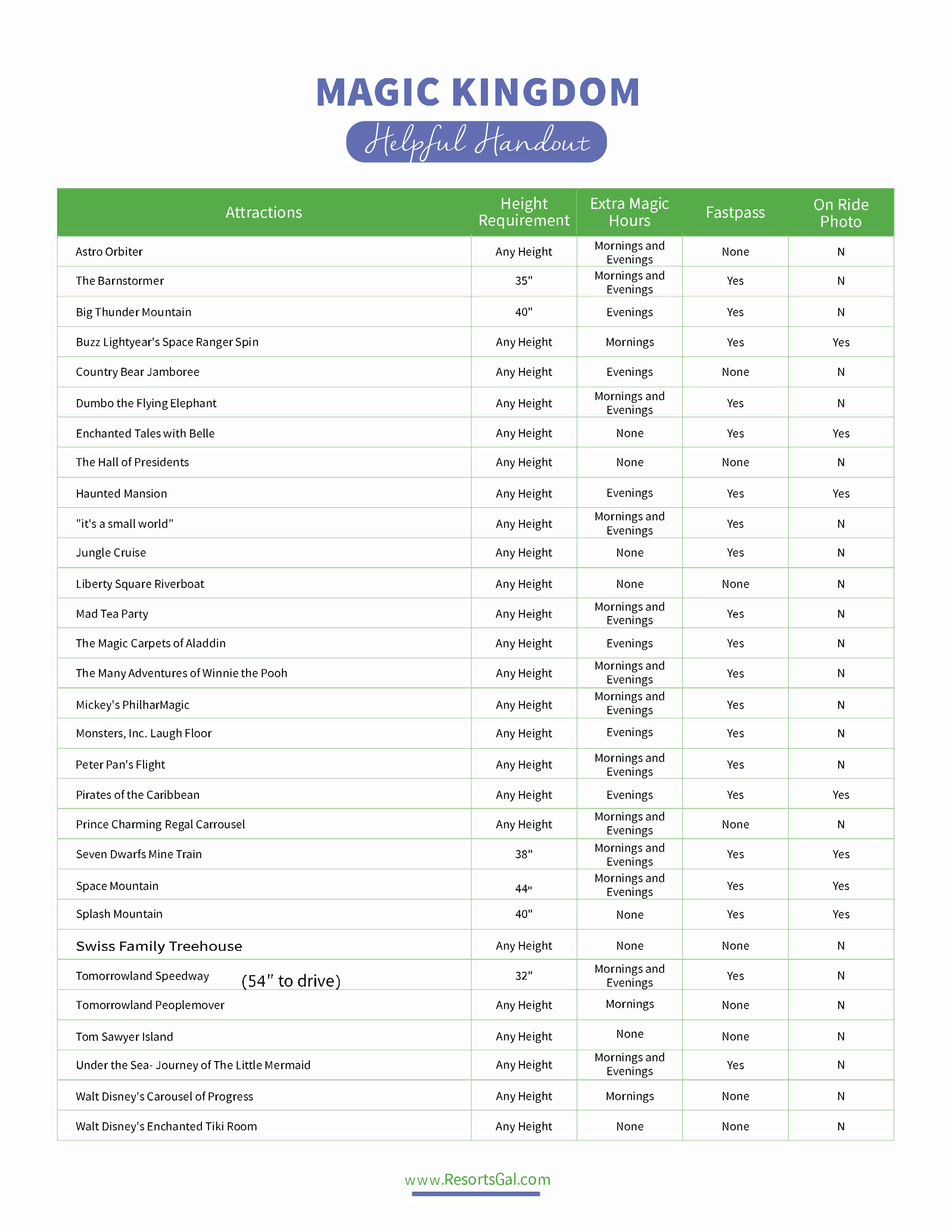 You can download the pdf version here.
All of these attractions offer Genie + or Lightning Lane.
Epcot Height Requirements
At Epcot, there are only three attractions that have height requirements. When touring, I think of Epcot as more of a park than a theme park.
Epcot is a great park for small children because the different areas are child-friendly. The park reminds me of the combination of a science museum and cultural center.
For many, the heart of Epcot is all the combined children's activities you'll find throughout the park.
As far as height requirements at Epcot go, you'll run into these three:
Here's your guide for Epcot.
You can download this helpful handout in a pdf version for Epcot here.
All of these attractions offer Genie + or Lightning Lane.
Hollywood Studios Height Requirements
Height Requirements at Hollywood Studios have changed drastically over the past few years with all the new additions. Surprisingly, the park has more rides with height requirements than Magic Kingdom.
They are:
All of these attractions offer Genie + or Lightning Lane at Hollywood Studios.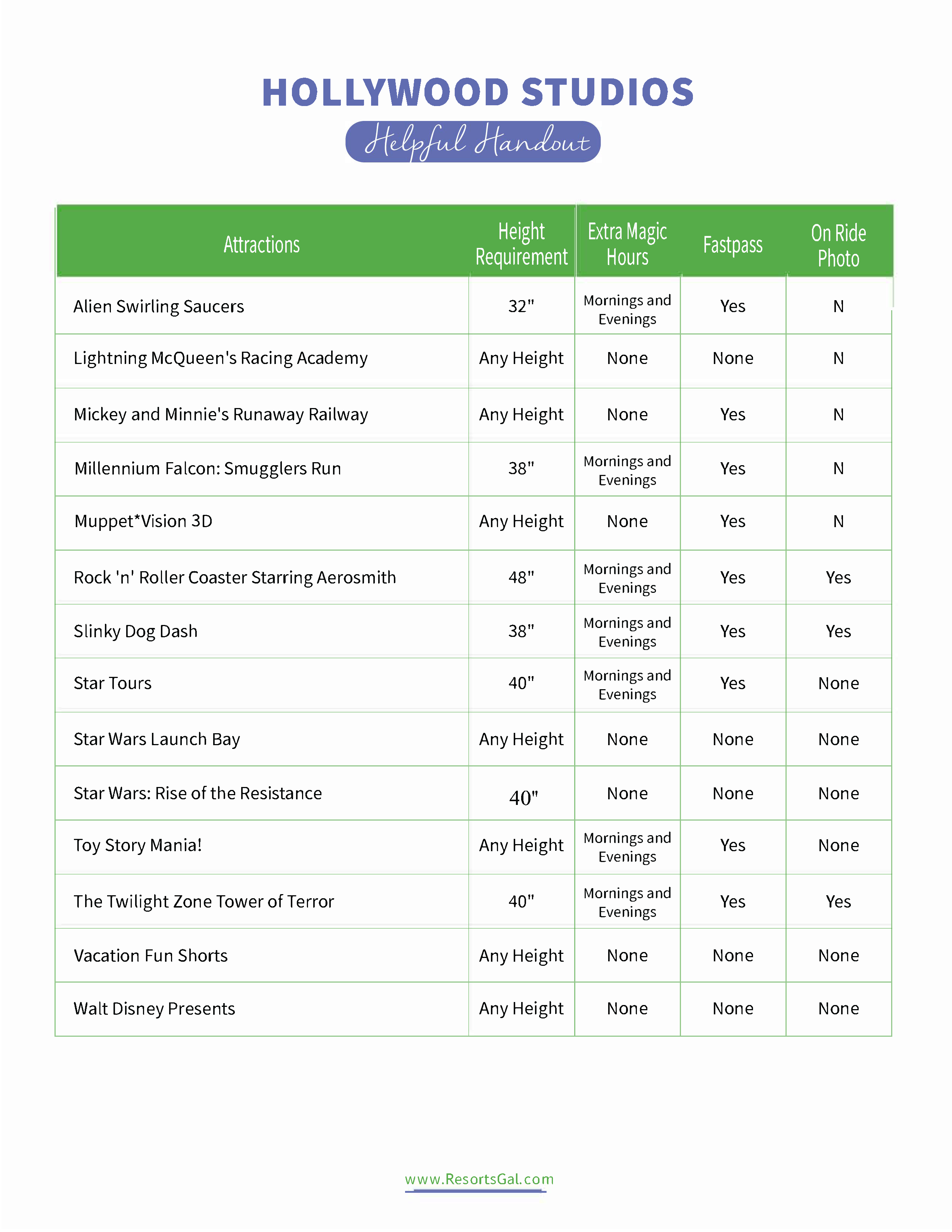 Fun Fact: Rock 'n' Roller Coaster at Hollywood Studios has the tallest height requirement at Walt Disney World.
Animal Kingdom Height Requirements
Animal Kingdom only has a few rides with minimum heights. These attractions include: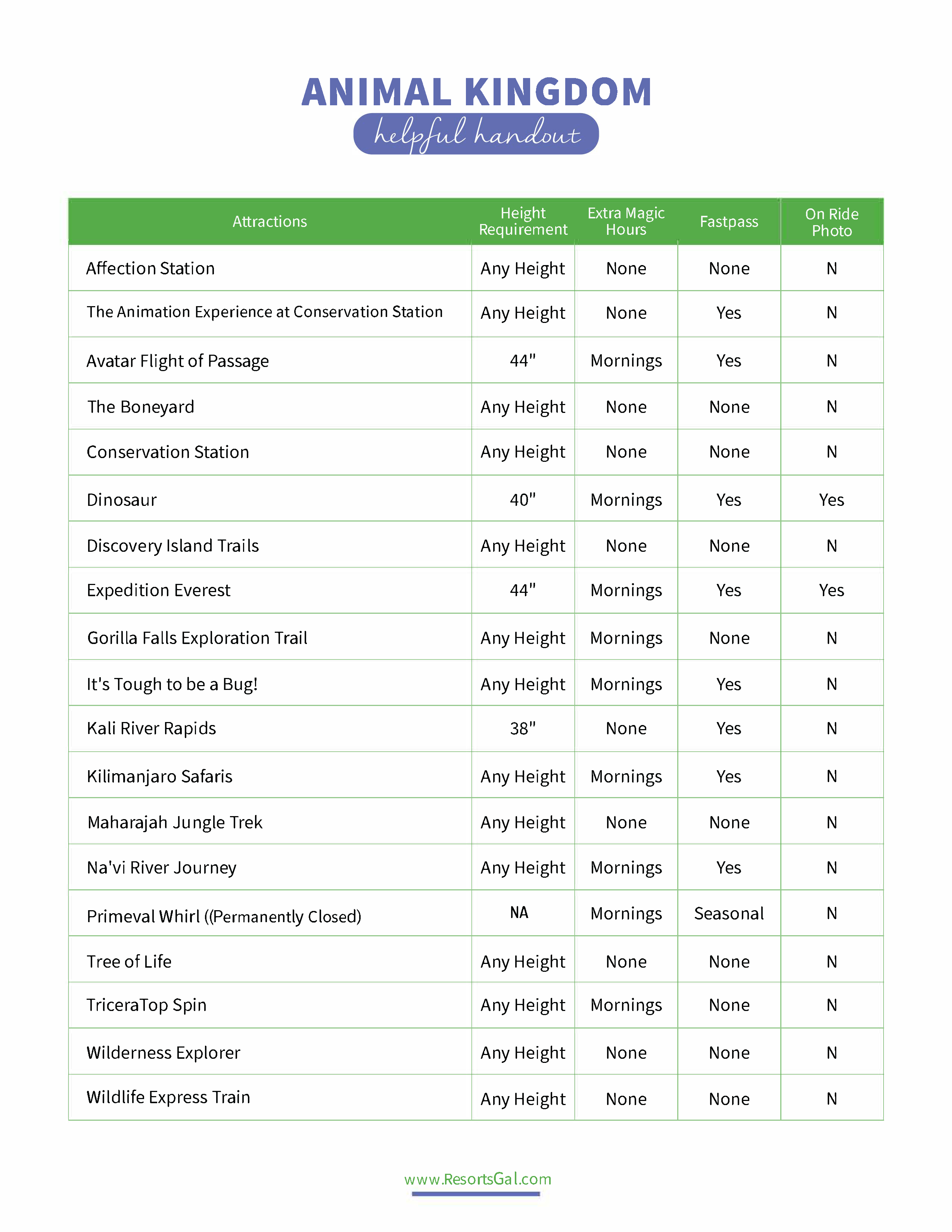 Here is the PDF version of the height requirements for Animal Kingdom.
Height Requirements for Disney Water Parks
Lastly, we have a list of height requirements for the two water parks at Walt Disney World. Unfortunately, I don't have a download for these two parks.
However, we've spent a good deal of time touring both water parks over the years.
I recommend anyone interested in visiting a Disney water park choose a park and take at least one day to have fun here on your vacation. And for those with extra time, spend one day at each of the water parks.
Both water parks are entirely different in theming and provide the opportunity to either be highly active or relaxingly chill. We tend to tour a water park until lunch and then spend the afternoons relaxing in the lazy river and wave pool.
Typhoon Lagoon Rides
Crush 'n' Gusher (48″)
Humunga Kowabunga (48″)
Miss Adventure Falls requires you have to be tall enough to sit down in the float on your own.
Maximum Height Requirements at Typhoon Lagoon
Bay Slides (minimum of 60″ or shorter)
Ketchakiddee Creek (minimum of 48″ or shorter)
Blizzard Beach Rides
Chairlift (32″)
Downhill Double Dipper (48″)
Slush Gusher (48″)
Summit Plummet (48″)
Tike's Peak (48″)
For any of you planning future trips to Walt Disney World, here are a few up and coming attractions that will have height requirements:
Tron at Magic Kingdom
Guardians of the Galaxy Coaster at Epcot
Final Thoughts: Disney World Height Requirements
Now that you know which attractions have height requirements at Disney World, it's essential to understand the best way for your group to plan.
Additionally, the actual height of your child doesn't reflect whether or not they are prepared to experience a ride.
Speaking from experience, I recommend positive encouragement but not forcing. Not everyone loves to be thrilled, and for some, a thrill can be terrifying, even if it is your child.
Keep these things in mind while touring. And remember to make time for the things you as an adult are too big for but that your child will remember forever. Those things include play areas and character meet and greets.
Remember, your child's time to enjoy these things is minimal. And I would imagine if you are reading this review, that's who you have in mind when planning your trip.
If you've gotten through this review and realized you have a member of your party that doesn't meet the majority of height requirements, head over to the Disney Rider Switch guide. This guide will help you prepare so your group can maximize rides while accommodating children.
Related: Rider Switch at Disney World
Make sure to check out our printable Disney World Packing List as well!
While we cover a good deal of information on the site, Resorts Gal specializes in providing detailed information about the Walt Disney World Resorts. Some favorites include:
Don't miss out on our complete list of Disney restaurant reviews. They include character dining, signature dining, table service, and quick service. One of our top recommendations for character dining is the character breakfast at Riviera's Topolino's Terrace.
If you have any questions or comments about Disney World Height Requirements, feel free to leave them below. I'll be happy to answer them based on our experiences.