Country Bear Jamboree at Magic Kingdom
Country Bear Jamboree is an attraction featuring audio-animatronics in Frontierland at Magic Kingdom. It was an opening day attraction for Walt Disney World in 1971.
Initially, the Country Bears were Walt Disney's idea to be incorporated into a ski resort in Mineral King, California. So Imagineer Marc Davis began working on Walt's idea to create a show that would include many bears.
Unfortunately, the ski resort never came to fruition, and sadly Walt Disney died before the Country Bears ever found a permanent home. Today, the Country Bears reside in Grizzly Hall in Magic Kingdom's Frontierland.
A total of 18 bears perform daily inside the theater. Below, we'll look at a few specifics for enjoying the Country Bear Jamboree on your next visit.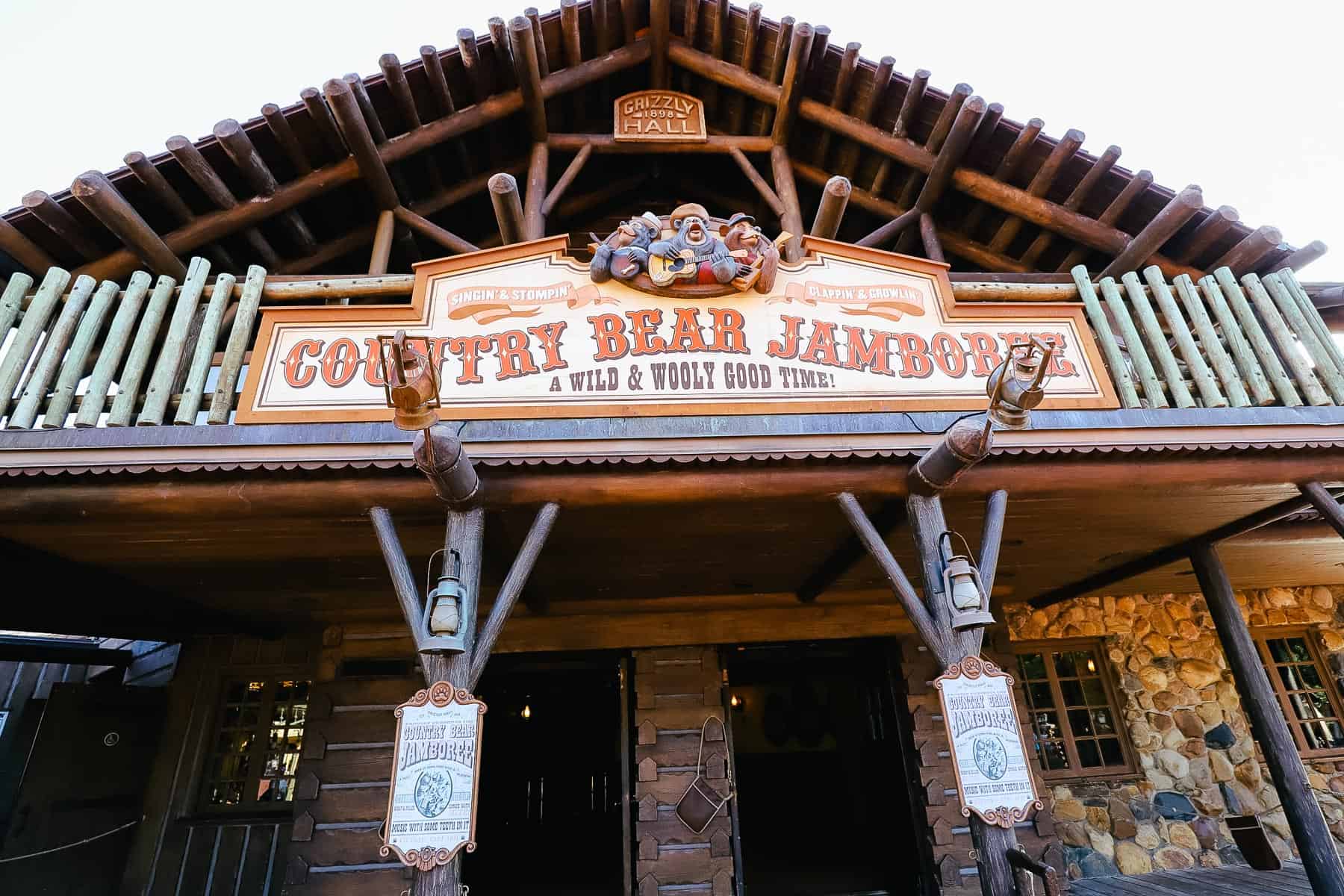 Below is a quick reference chart for the Country Bear Jamboree.
Country Bear Jamboree
Magic Kingdom

Location:

Frontierland

Disney Height Requirement:

None

Disney Genie+ Eligible
NA

Ride Type:

Theater Audience

Seats Per Vehicle:

Rows in Theater

Duration:

Approx. 16 minutes

Rider Switch at Disney World:

No

Good For:

Everyone

Scare Factor:

None

Must-Do List:

Low Priority

Perfect For:

Inclement Weather
Nostalgia Seekers

Special Mention:

The longest wait time should be
for the next performance to begin.
*Guests may remain in wheelchairs or ECVS. Additionally, assistive listening devices and handheld captioning are available.
Country Bear Jamboree
Country Bear Jamboree is one of the first attractions you'll meet as you leave Liberty Square and set foot in Frontierland. It's just past Frontierland Shootin' Arcade and the Frontierland Trading Post.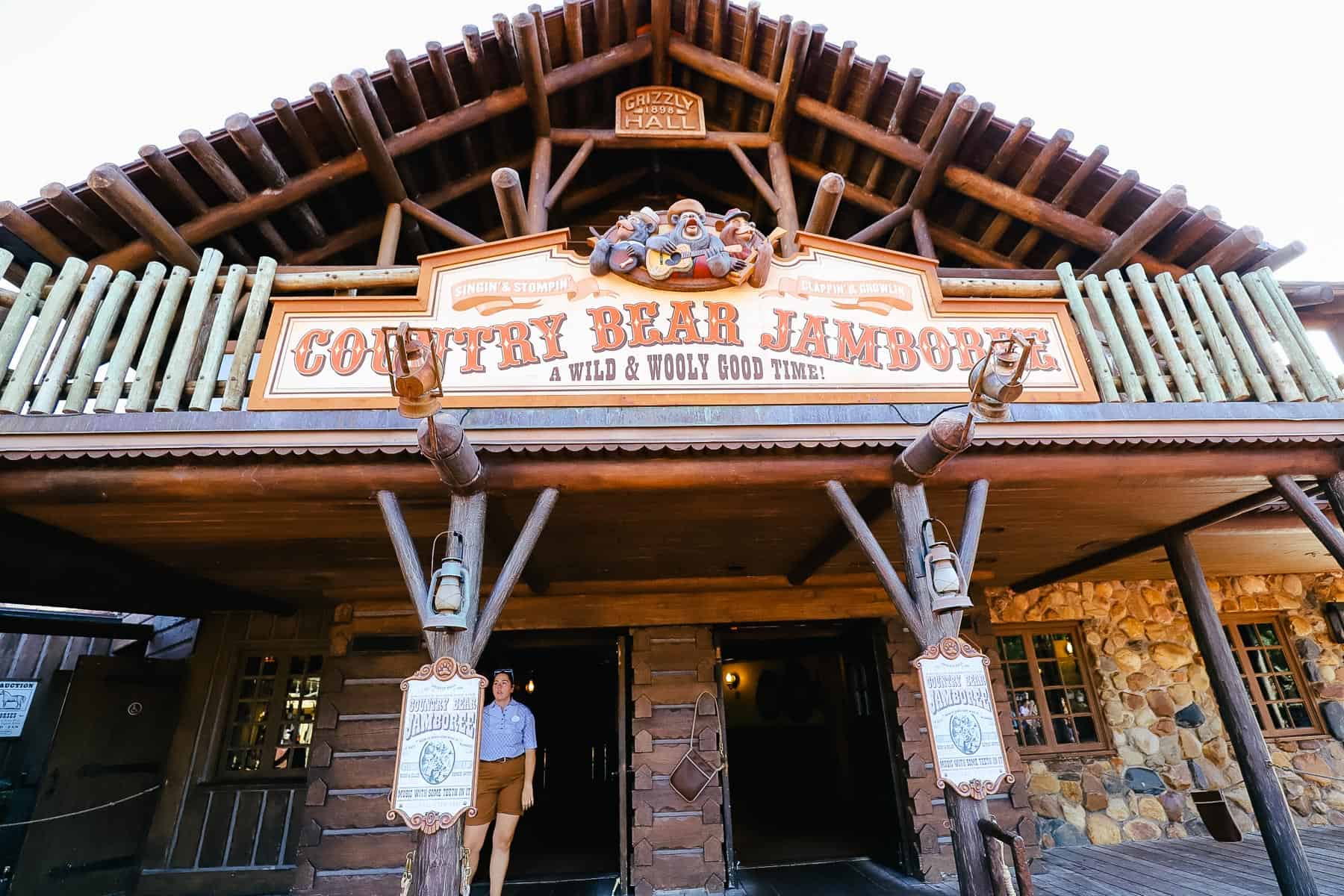 An attraction poster hangs outside the entrance of Grizzly Hall.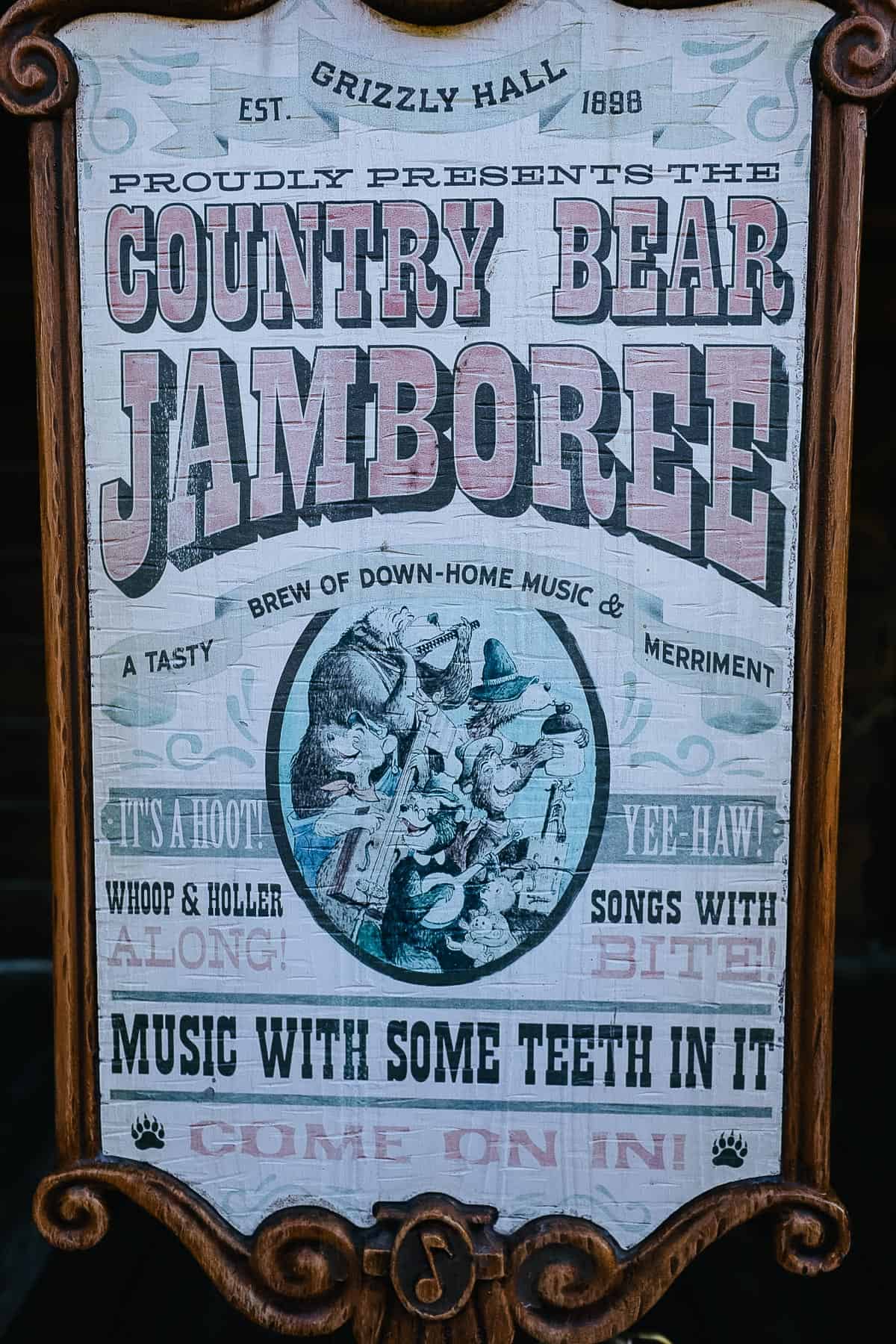 A sign is also posted letting guests know the time until the next performance. On the day of this visit, Country Bear Jamboree was running continuously from 11:00 a.m. to 8:00 p.m.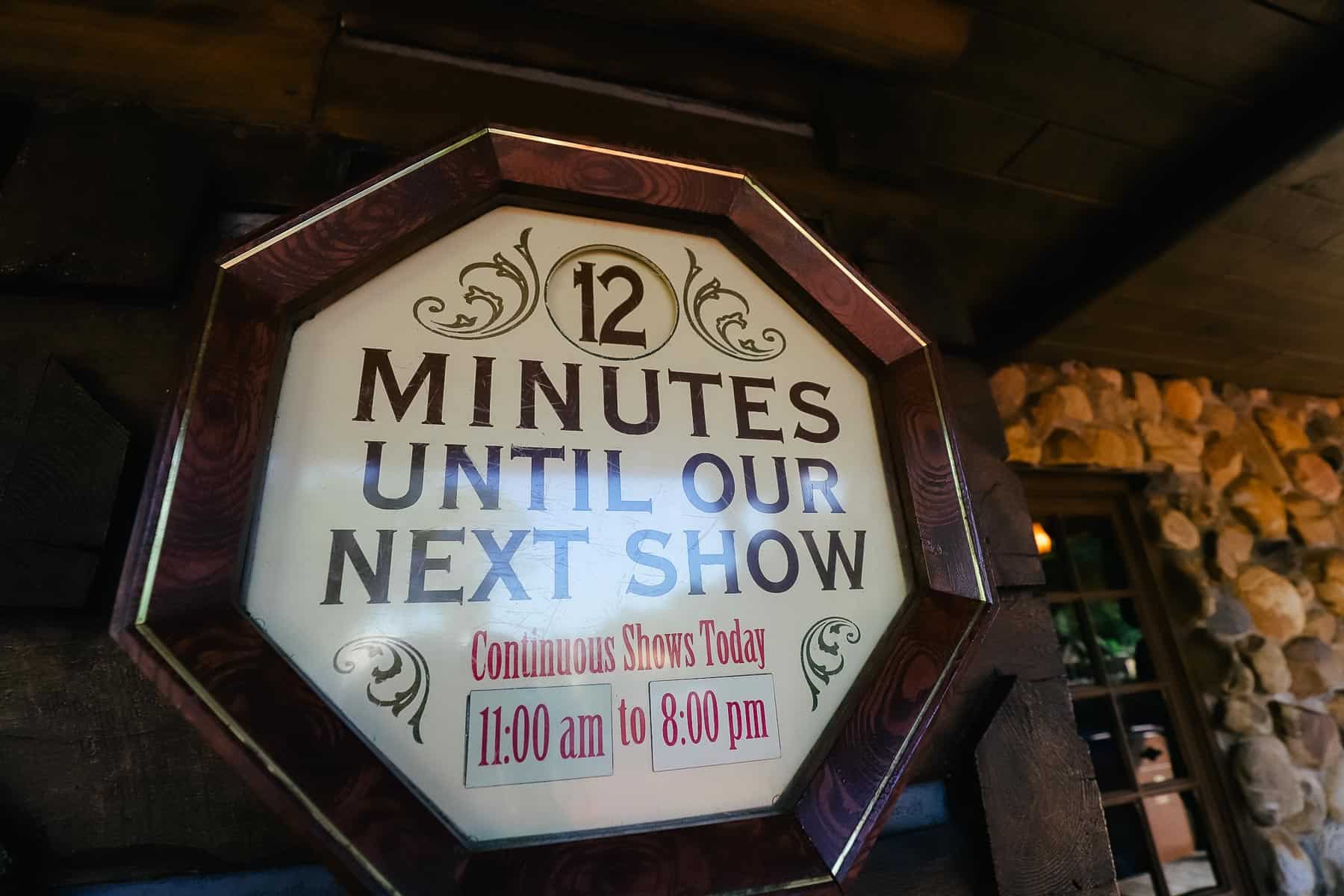 A few benches are around the parameter of the lobby. Guests in wheelchairs and ECVs have a separate waiting area.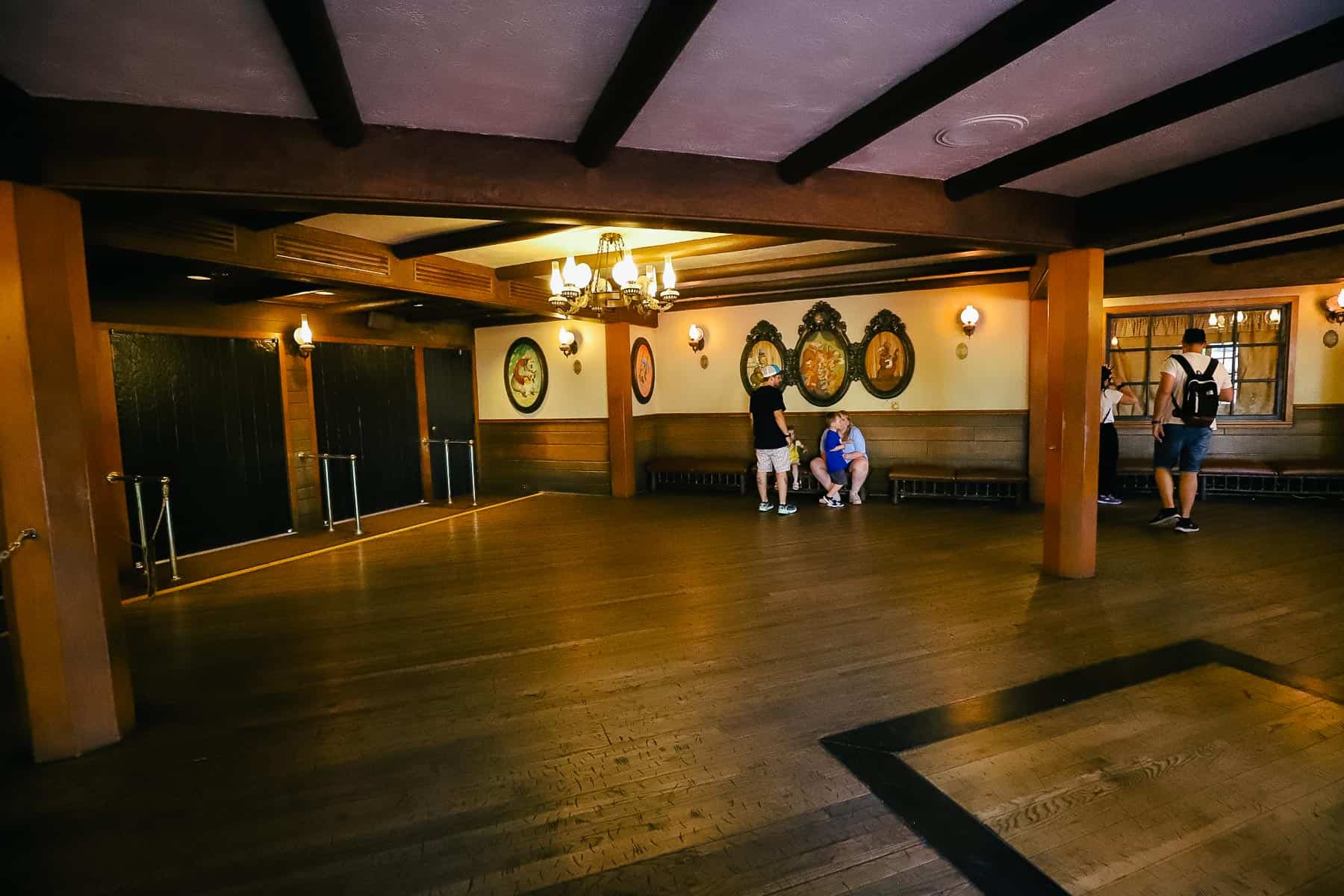 If you're a fan of the Country Bears, a few pressed pennies are available in the lobby. These include Brother Ted, Cousin Zeb, Henry and Sammy, Wendell, Liver Lips, Big Al, Teddi Barra, and Terrence. Of course, that's only a few of our beloved Country Bears.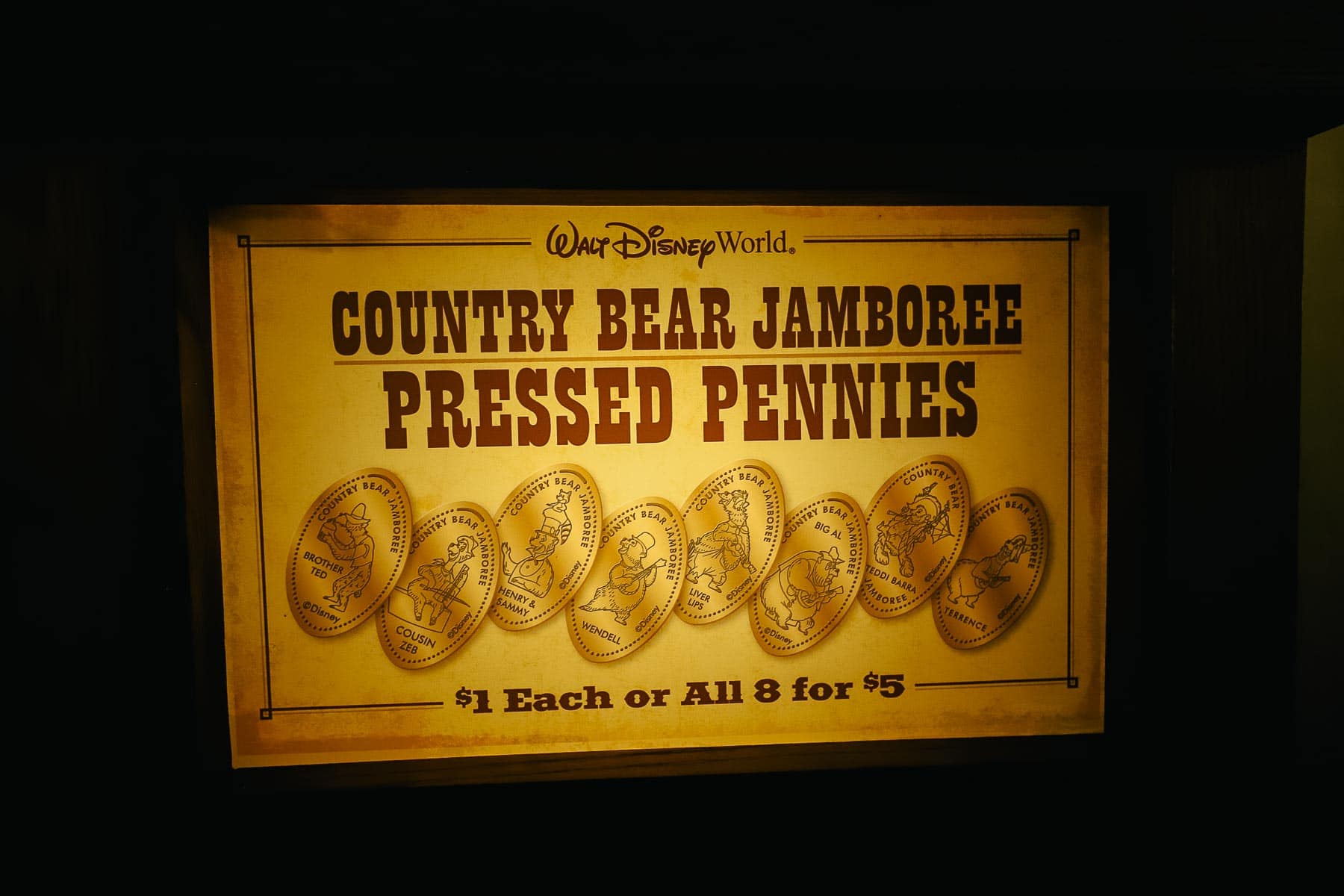 When it's time for the next show, a cast member will drop the ropes and allow guests to enter the theater. Seats on the front row are dedicated to guests with wheelchairs and ECVS.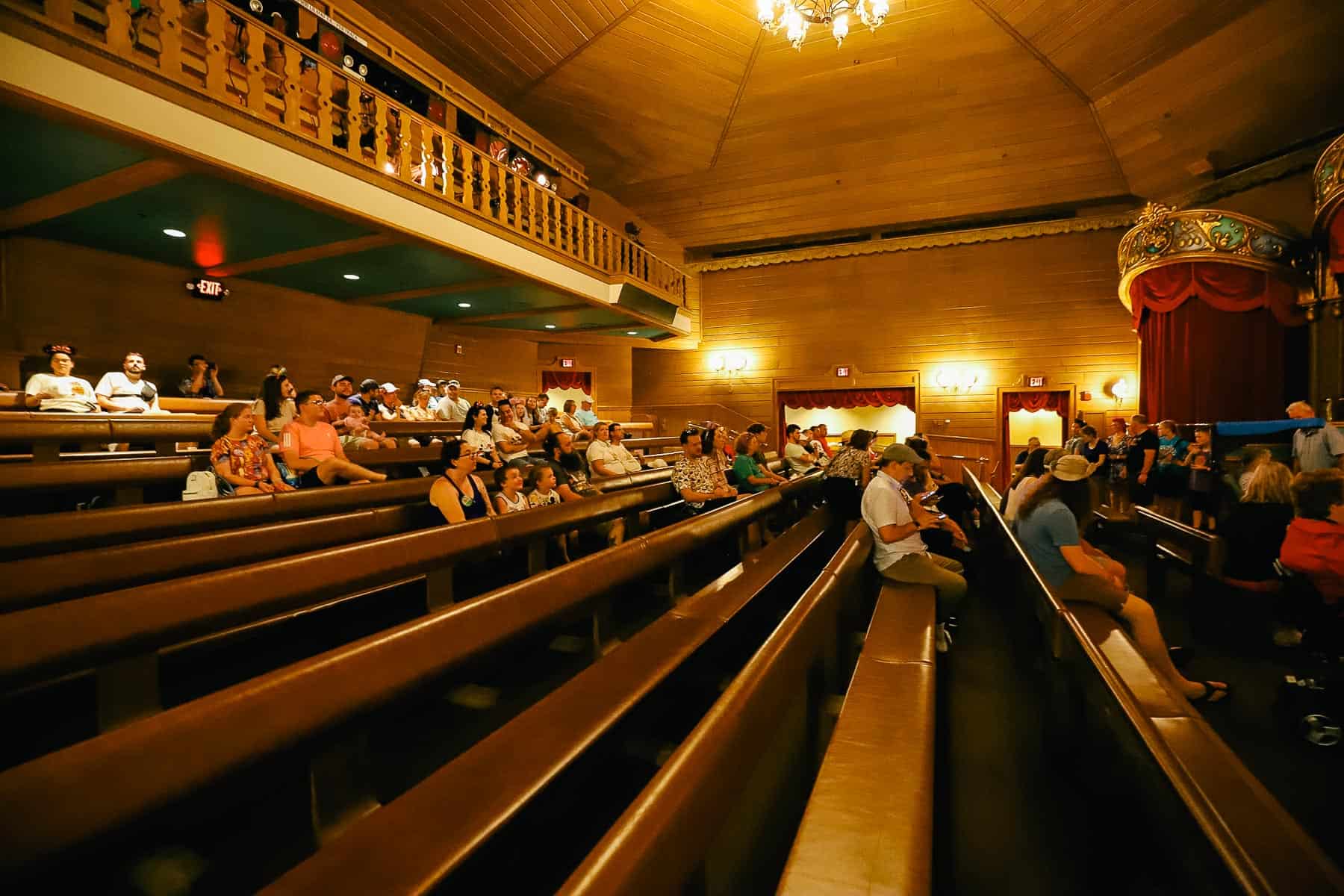 Before long, the theater darkens as the Country Bears prepare to take the stage.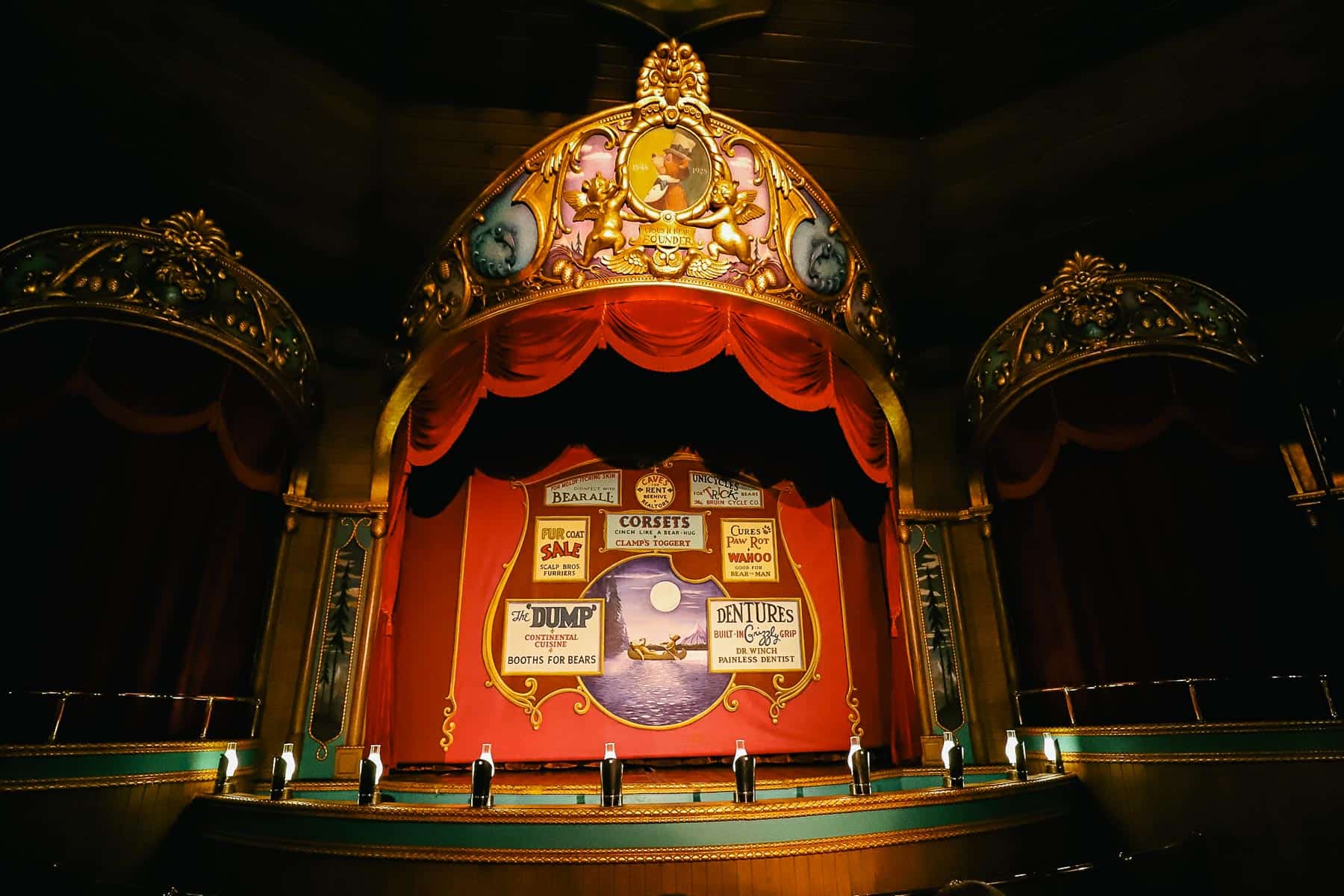 A few taxidermies on the wall provide commentary. Taxidermy includes a buffalo (Buff), a moose (Melvin), and a stag deer (Max).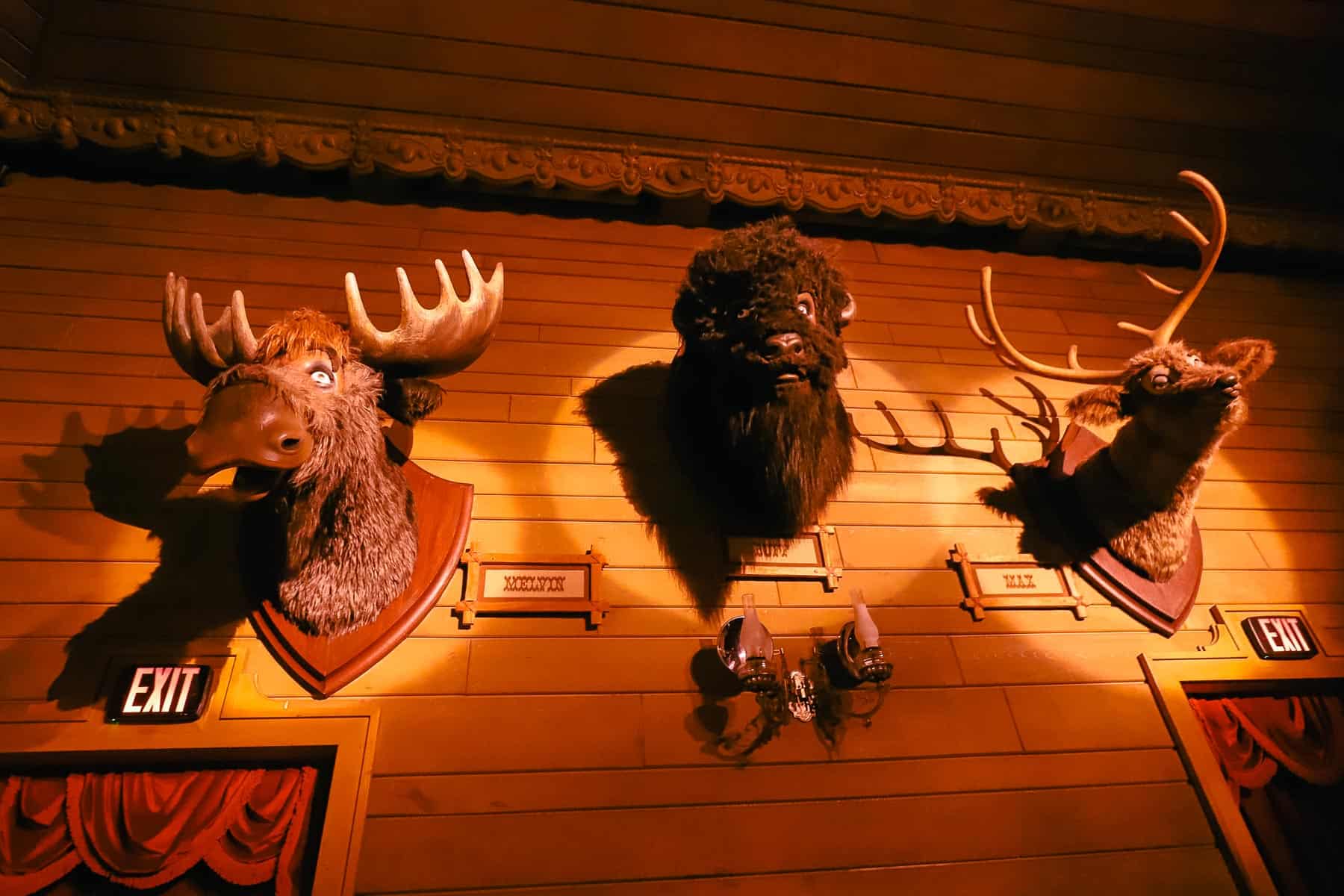 Henry serves as the host of the Country Bear Jamboree. He pops up from time to time, introducing the various numbers.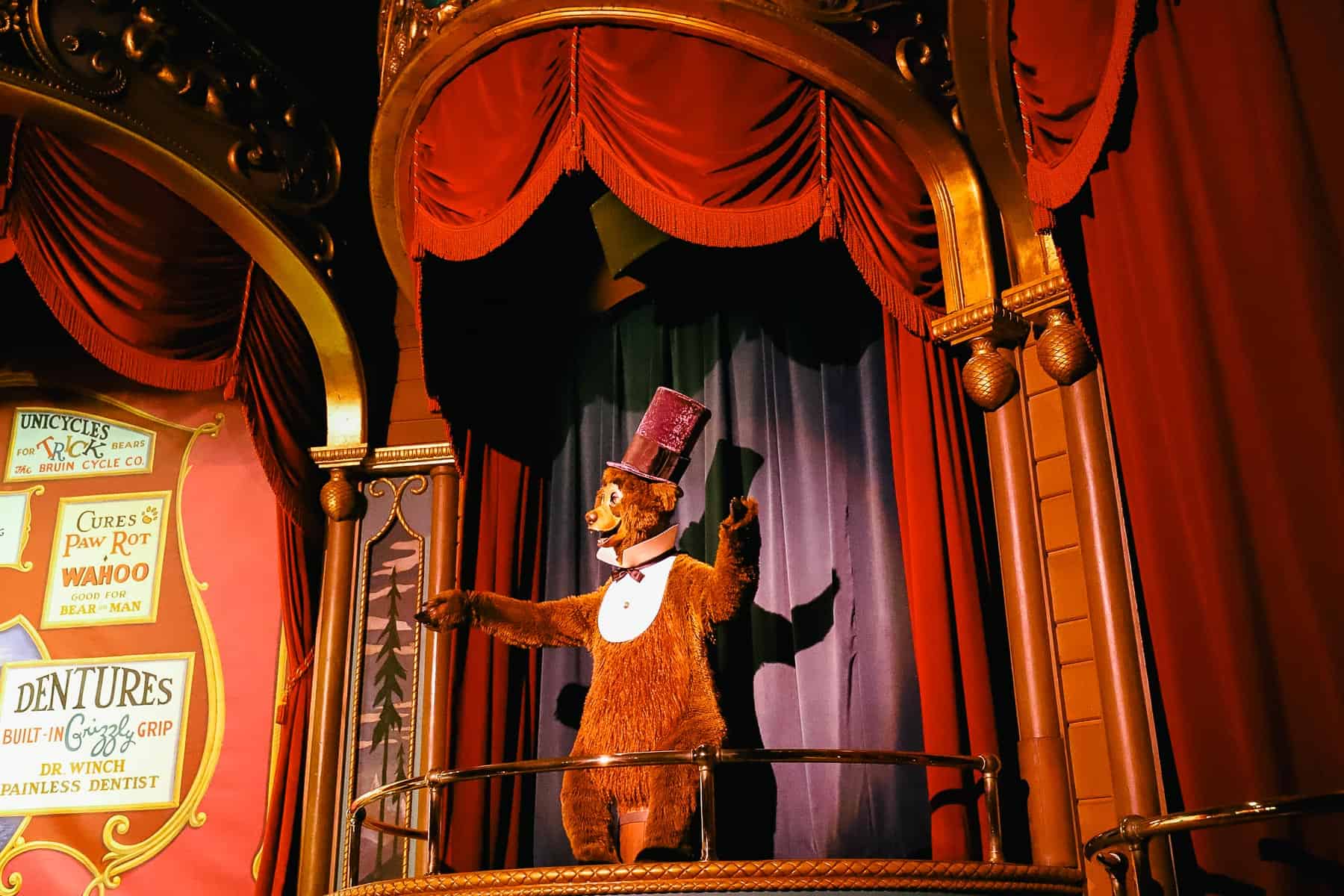 We then see the Five Bear Rugs take the stage as the performance starts. The Five Bear Rugs consist of Zeke and Zed, Ted and Fred, and a bear named Tennessee. Meanwhile, Baby Oscar sits on the stage with his teddy bear.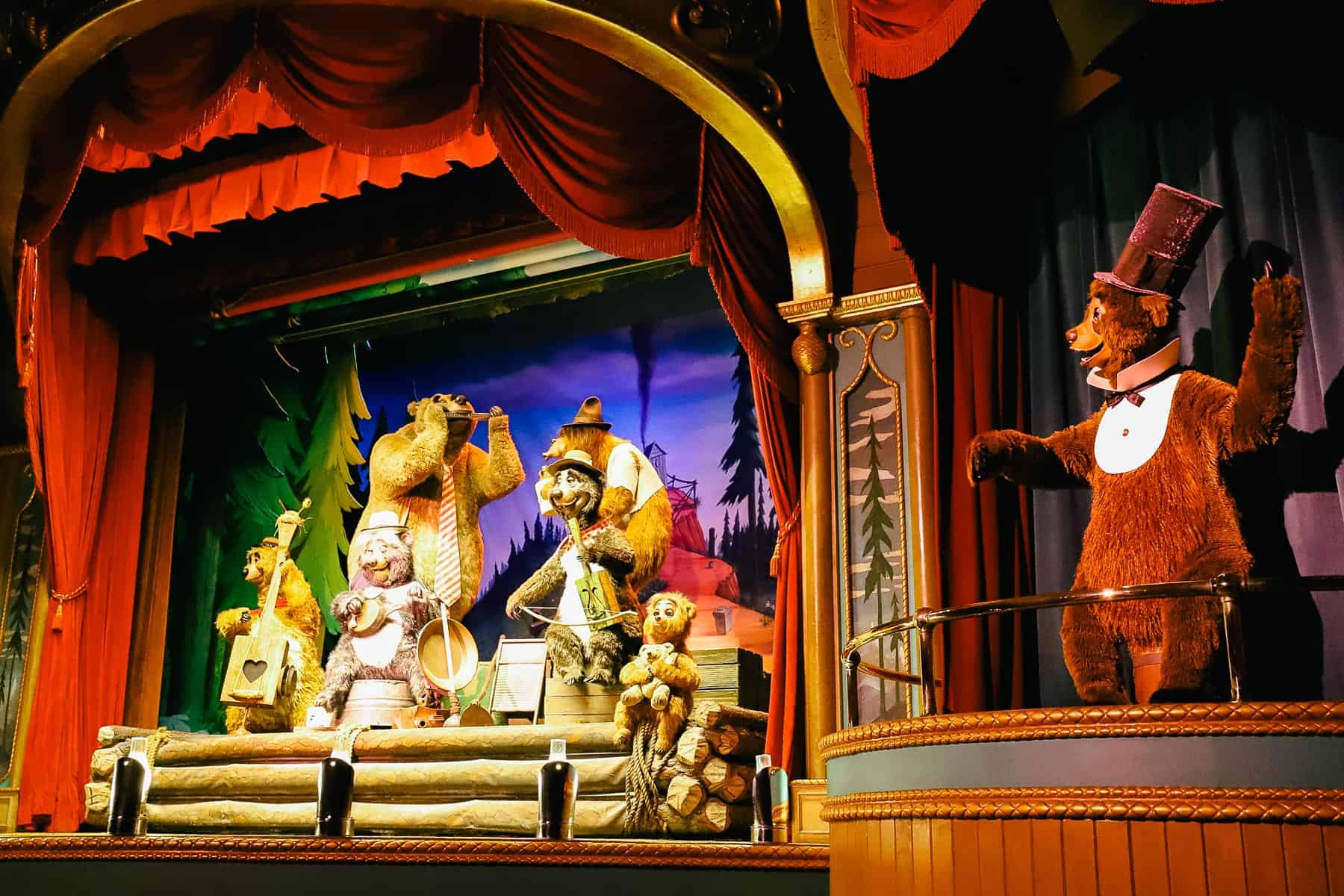 Throughout the show, various panels open, revealing new acts. Liver Lips McGrowl sings My Woman Aint Pretty, But She Don't Swear None.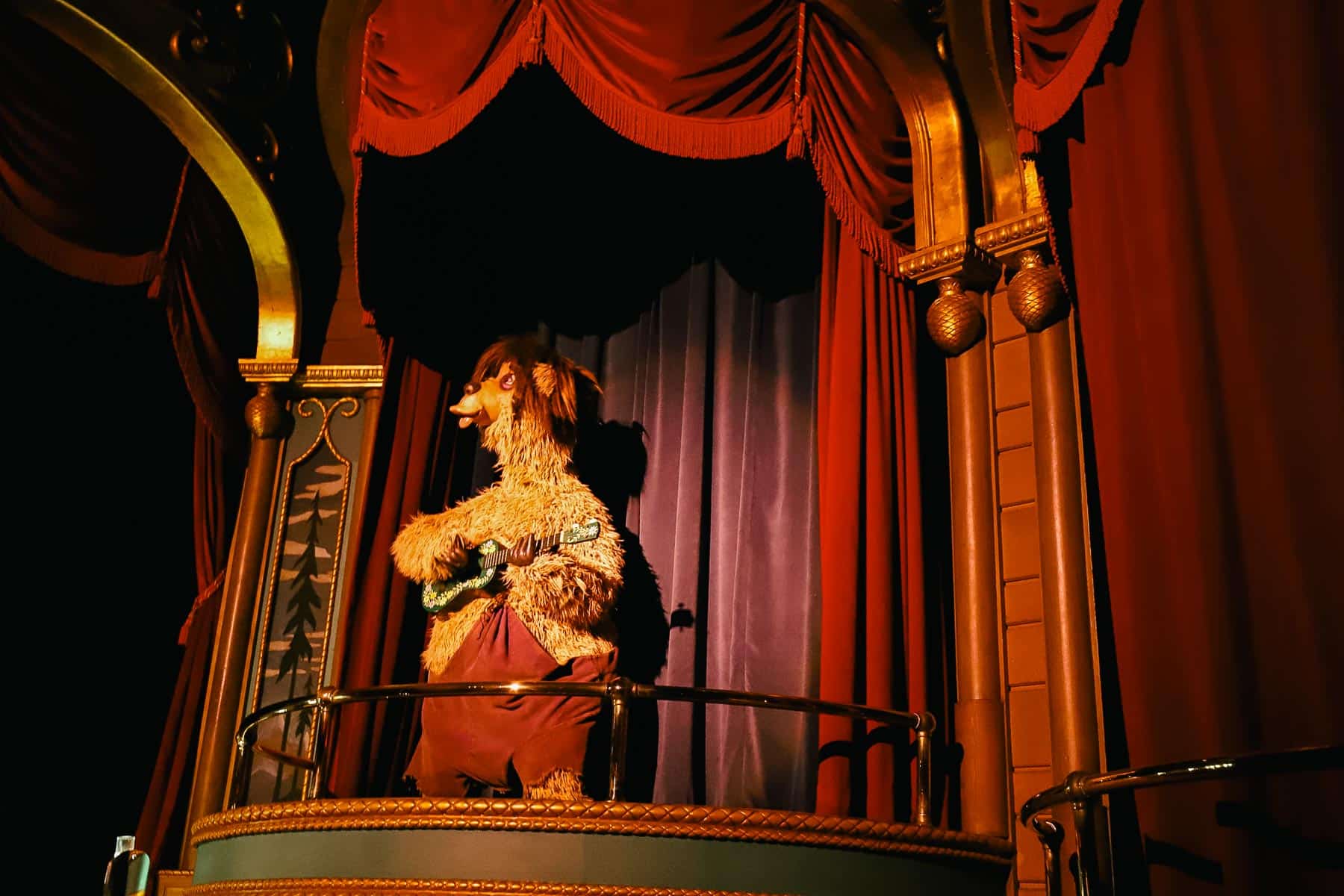 Here is Wendell performing Mama Don't Whip Little Buford.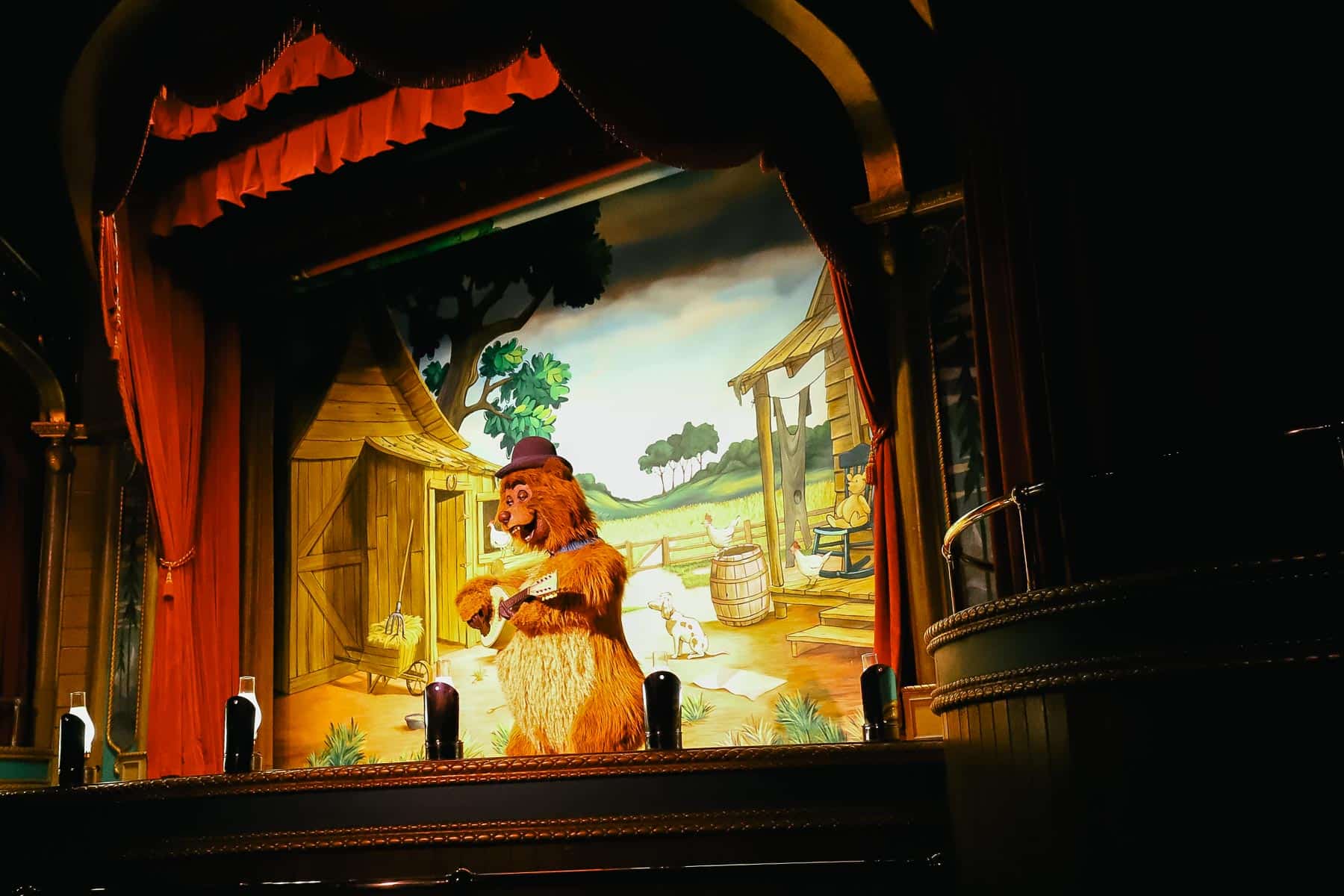 Trixie joins the bear crew and sings, Tears Will Be the Chaser for My Wine. She has a glass of wine that she sloshes around. It always amazes me how she never spills a drop.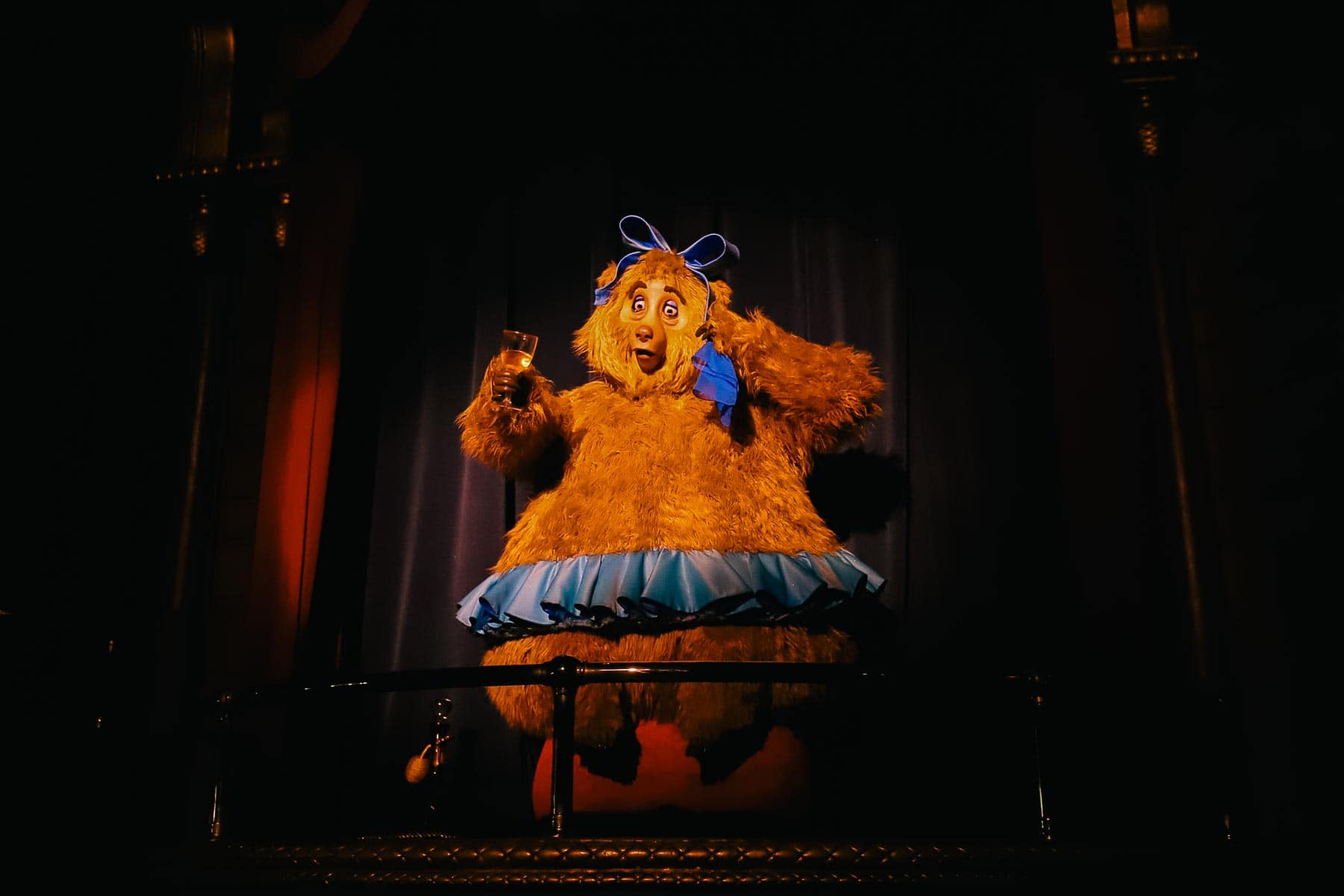 The Sun Bonnets (Bunny, Bubbles, and Beulah) take the stage with All the Guys That Turn Me On Turn Me Down.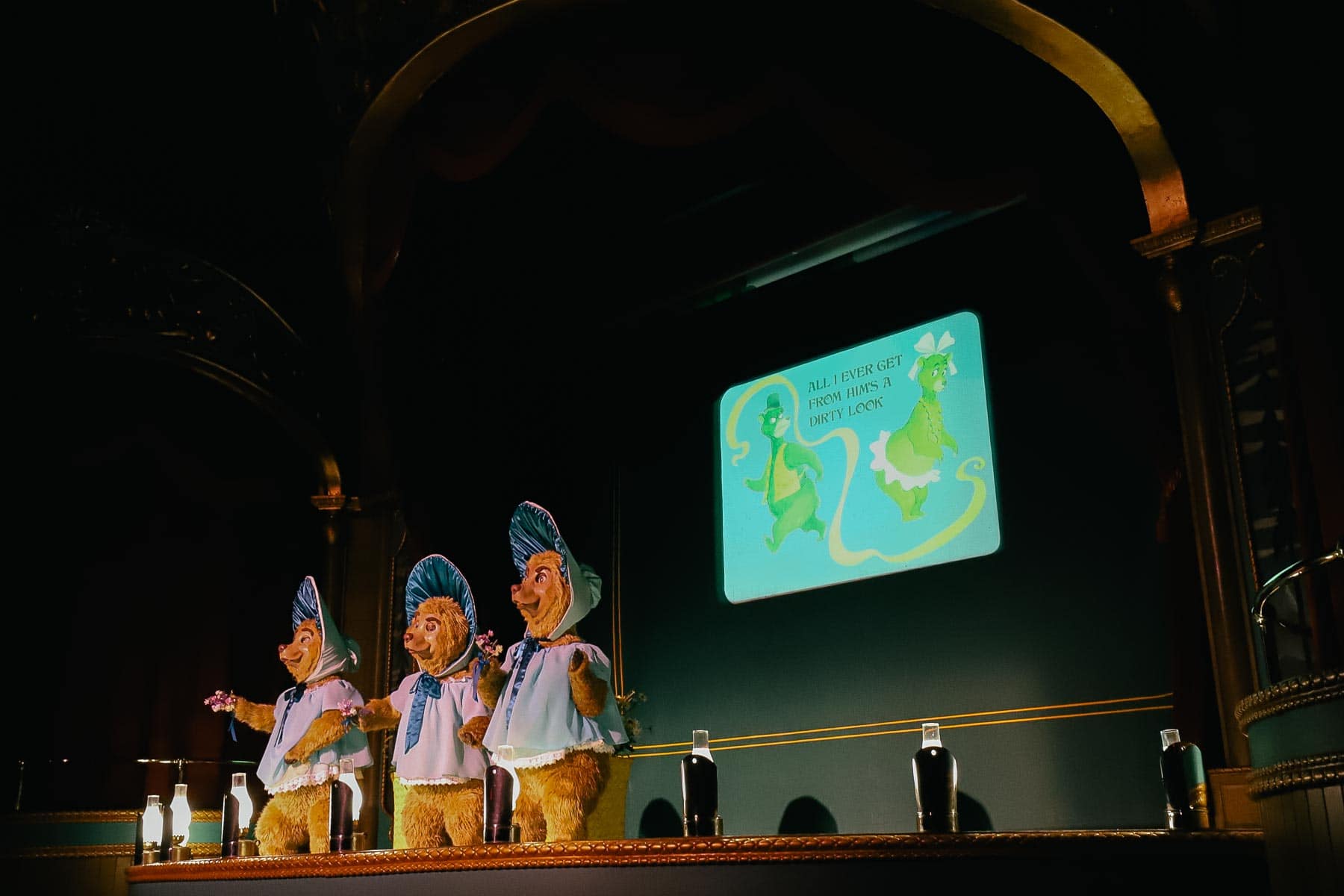 Teddi Barra descends from the ceiling in a swing, singing Heart We Did All That We Could.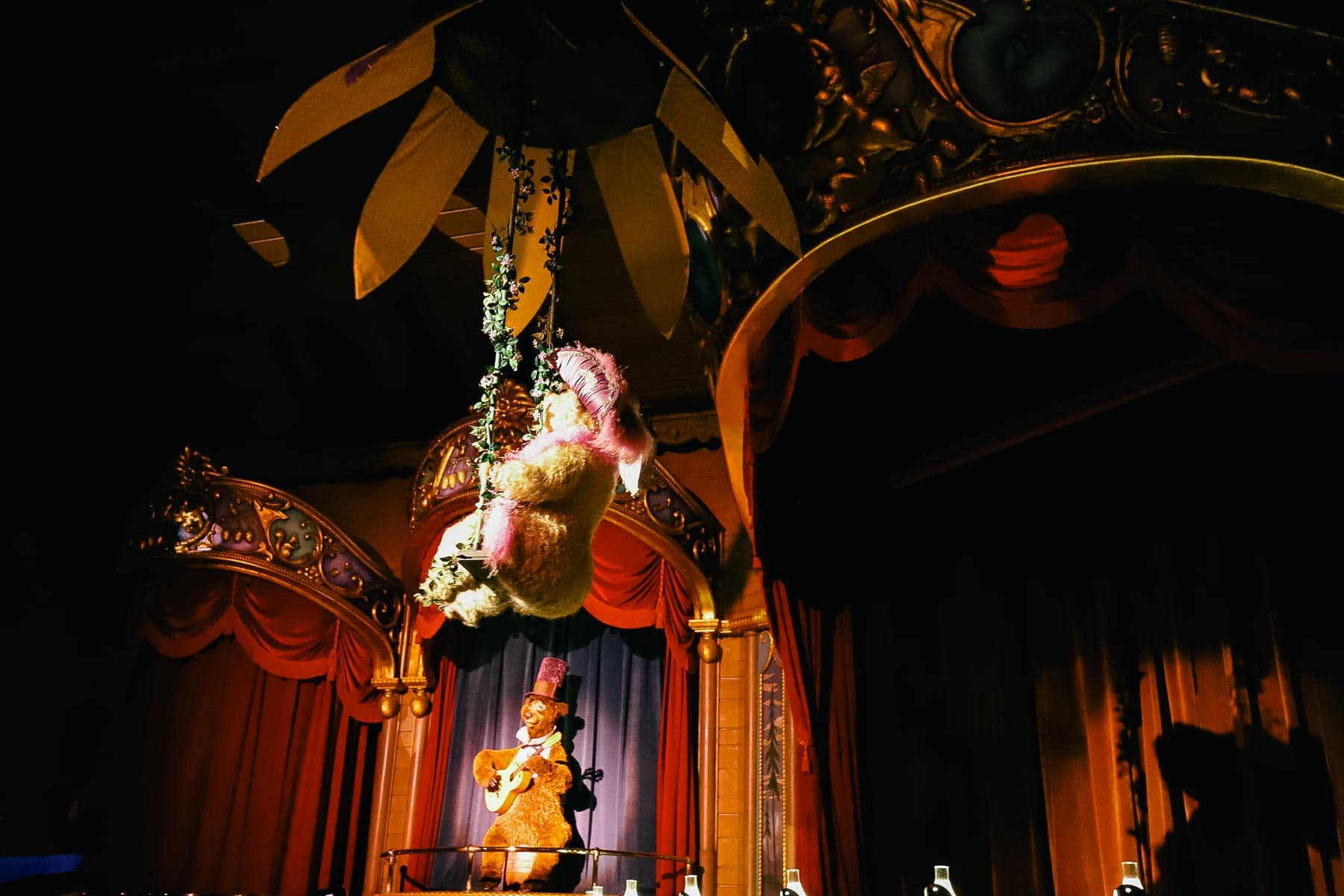 Unfortunately, Big Al, who's not pictured, briefly takes the stage with a version of Blood on the Saddle. Toward the end, Henry returns with a raccoon on his hat as he performs the Ballad of Davy Crockett.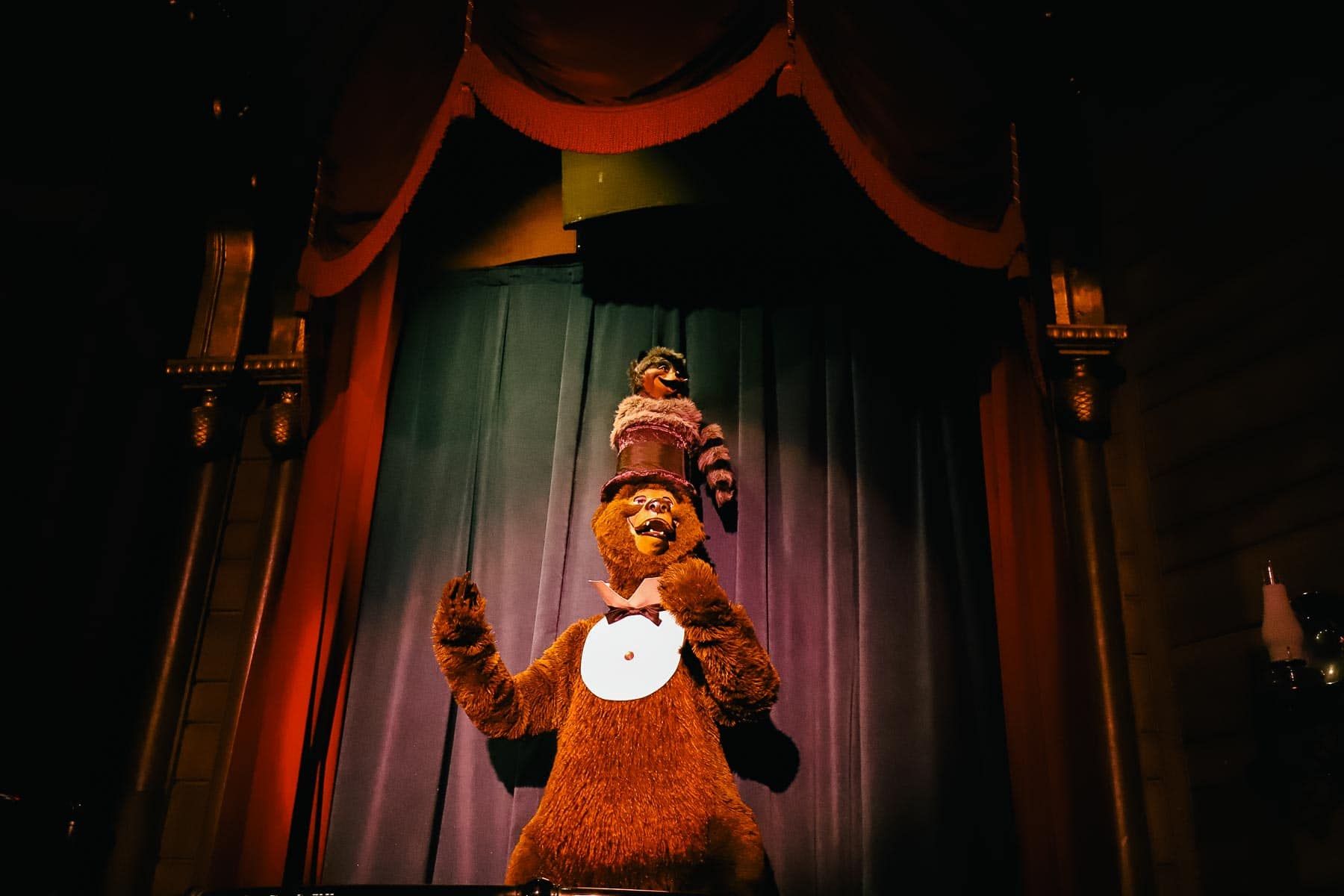 As the show ends, guests can gather their belongings and exit the theater. Overall, the Country Bear Jamboree is probably a low priority for the average family visiting.
It is meant to be considered comical, and being purposefully dated is part of its charm. We enjoy the Country Bears, but having seen the performance multiple times, we don't feel the need to revisit it often.
When we choose to see the show, it's usually because the weather has taken a turn for the worse, and we happen to be in that area of the park.
With that said, Country Bear Jamboree is endearing and quite humorous. The good thing about the Country Bears is they are pretty relatable to at least one point in everyone's life. Well, except for Big Al's whole Blood on the Saddle song, which usually has the audience bursting with laughter.
Country Bears is an anytime attraction near a few similar style attractions like The Hall of Presidents in Liberty Square and Enchanted Tiki Room at Adventureland. So if you are on this side of the park during a total downpour, you might enjoy a few of these attractions inspired by Walt Disney.
Or you might enjoy a few other Magic Kingdom rides in the immediate area:
For characters, you might enjoy:
Resorts Gal specializes in Disney World Resort Reviews. These resorts are all located in the Magic Kingdom area:
In the Comments
So do you have a favorite performance in the Country Bear Jamboree? Are any of these bears relatable?
Planning a Walt Disney World or other Disney Destination vacation?
Our friends and travel partner, Firefly Travels, excels at doing Disney differently. You can fill out a plan your trip form on their website, and someone will reach out shortly to discuss the specifics.