Country Bear Jamboree at Magic Kingdom
Country Bear Jamboree is an attraction at Magic Kingdom park in Walt Disney World. This attraction is a theater performance where the actors are animatronics.
And those animatronics are Country Bears.
This review covers everything you need to know about seeing the Country Bear Jamboree at Magic Kingdom.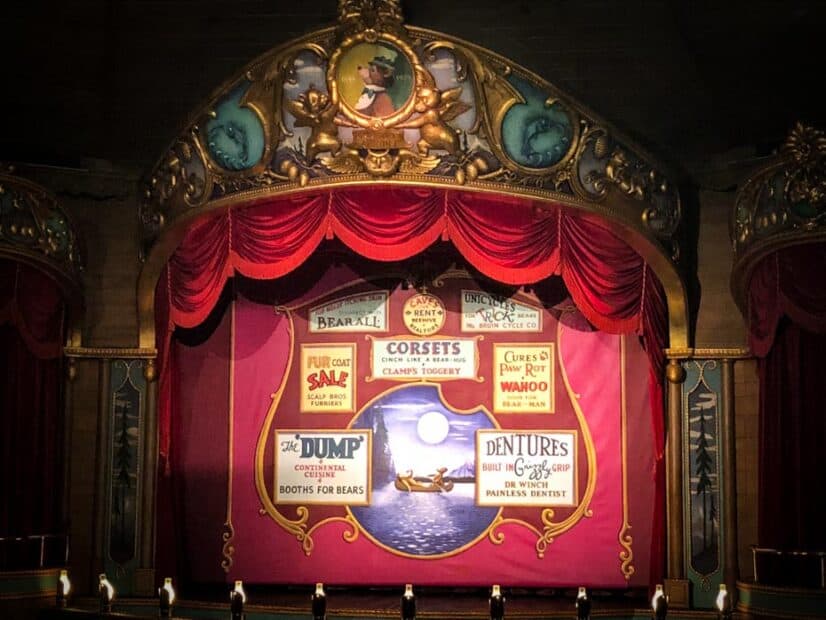 Below is a quick reference chart highlighting need-to-know details.
Country Bear Jamboree
Magic Kingdom

Location:

Frontierland

Disney Height Requirement:

None

Disney Genie+ Eligible
NA

Ride Type:

Theater Audience

Seats Per Vehicle:

Rows in Theater

Duration:

Approx. 16 minutes

Rider Switch at Disney World:

No

Good For:

Everyone

Scare Factor:

None

Must-Do List:

Low Priority

Perfect For:

Inclement Weather
Nostalgia Seekers

Special Mention:

The longest wait time should be
for the next performance to begin.
Country Bear Jamboree
Anyone interested in Disney history, including classic attractions, will appreciate a visit to the Country Bear Jamboree. When the Jamboree was initially built, it was intended to be used in a ski resort out in California. But unfortunately, that ski resort never came to fruition.
Walt Disney himself had a hand in creating this audio-animatronic performance that features a total of 18 bears. The Country Bears now reside at Grizzly Hall over in Frontierland.
Make sure to pay attention to your surroundings in the Country Bear Jamboree. Even a few audience members play a part in the performance, like these members of the taxidermy family below.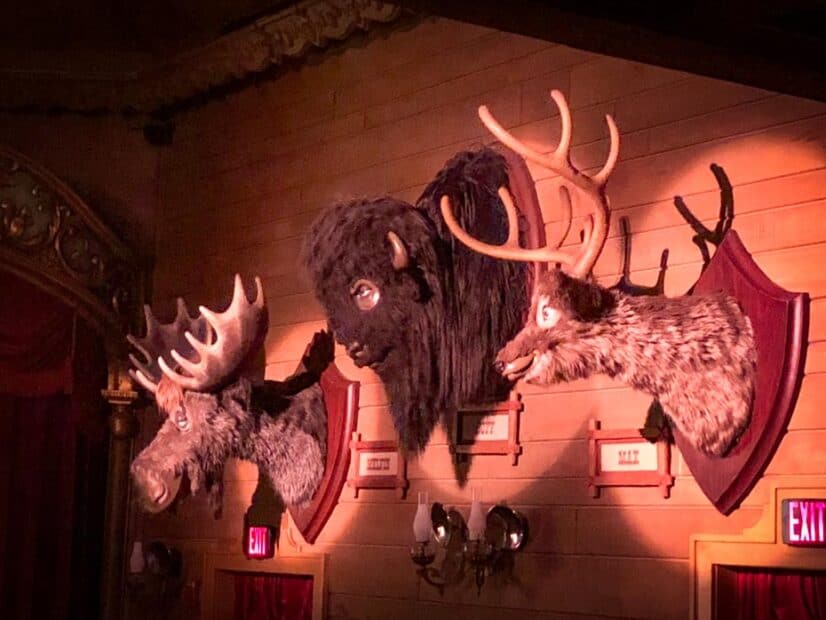 The Country Bear Jamboree is probably a low priority for the average family visiting, especially if you want to experience all the main event-type attractions.
We enjoy the Country Bears, but having seen the performance multiple times, we don't feel the need to revisit it often.
When we choose to see the show, it's usually because the weather has taken a turn for the worse, and we happen to be in that area of the park.
With all that being said, Country Bear Jamboree is endearing and quite humorous. The good thing about the Country Bears is they are pretty relatable to at least some point in everyone's life.
Therefore, if life has you down and luck maybe not be on your side lately, Grizzly Hall might have you feeling right at home.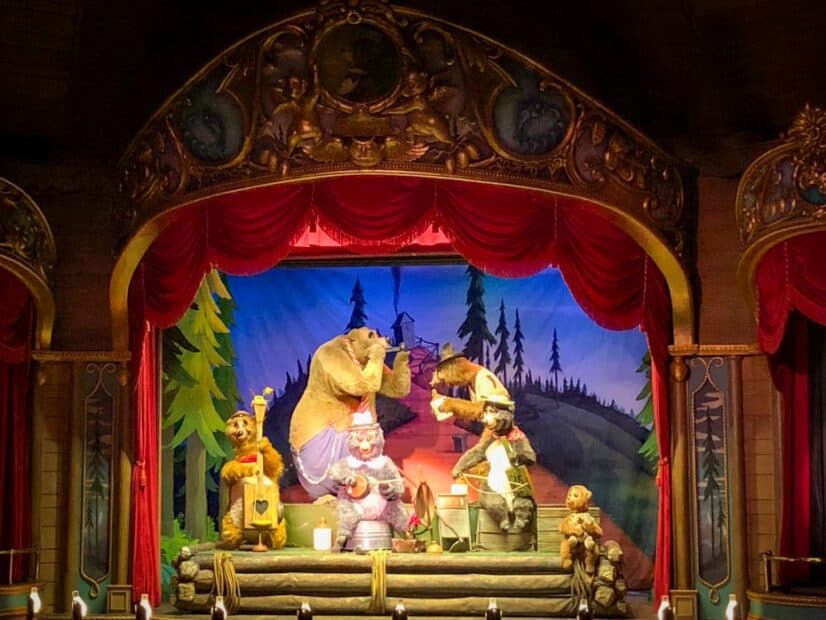 Country Bears is an anytime attraction located near a few other similar style attractions like The Hall of Presidents and Enchanted Tiki Room. So if you are on this side of the park during a total downpour, know you have a few options that will buy you a little time.
Orlando often has pop-up showers that pass reasonably quickly during the hotter months. Then the day returns to being a hot and sticky mess. It's just part of it.
If you are planning your visit and want to know more, make sure to check out these rides in the same area of the park as Country Bear Jamboree:
Or you can view the complete list of Magic Kingdom Rides.
For characters, you might enjoy:
Resorts Gal specializes in Disney World Resort Reviews. These resorts are all located in the Magic Kingdom area:
So do you have a favorite Country Bear in the Jamboree? I know I do! Do tell me in the comments below.