Walt Disney's Enchanted Tiki Room at the Magic Kingdom
Walt Disney's Enchanted Tiki Room is in Adventureland at Magic Kingdom Park. You'll find the Enchanted Tiki Room directly behind Aladdin's Magic Carpets.
Below, we'll look at the specifics for visiting Walt Disney's Enchanted Tiki Room on your next Walt Disney World vacation. Fans of Walt Disney will likely want to see a performance since this was one of his original attractions.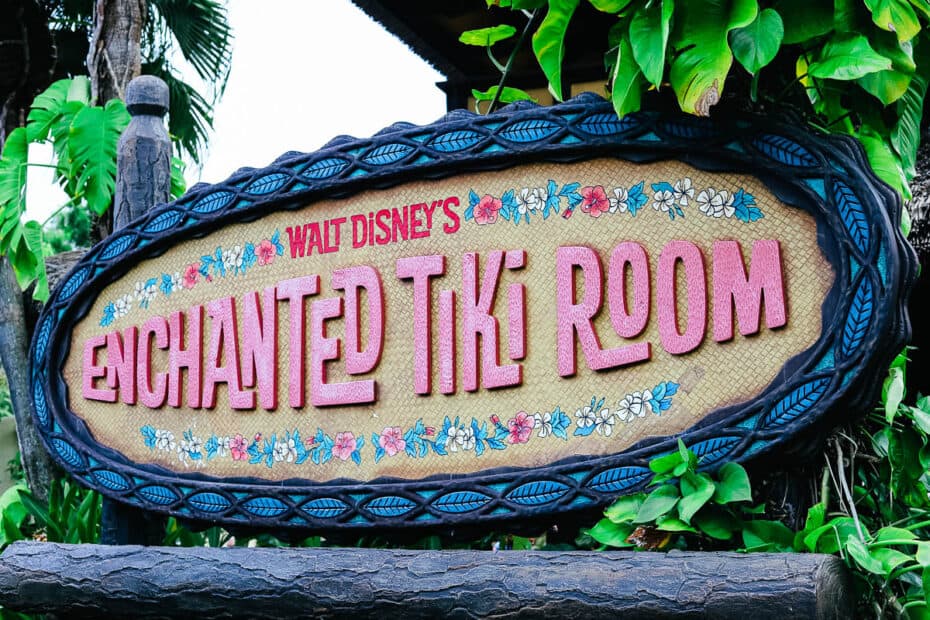 Here's a quick reference chart for Walt Disney's Enchanted Tiki Room.
Walt Disney's Enchanted Tiki Room
Magic Kingdom

Location:

Adventureland

Height Requirement:

None

Disney Genie+ Eligible:

NA

Ride Type:

Theatrical Performance

Duration:

Approx 15 minutes

Seats Per Vehicle:

Theater

Rider Switch:

None

Good For:

Nostalgia
Inclement Weather

Scare Factor:

None

Must-Do List:

Low Priority

Perfect For:

All Ages

Special Mention:

This is a Walt Disney-inspired attraction, and the concept introduced animatronics to the world.
Walt Disney's Enchanted Tiki Room
Anyone seeking nostalgia will want to stop in the Enchanted Tiki Room during their vacation. Walt Disney created and designed the concept of this attraction.
Enchanted Tiki Room originally debuted at Disneyland Park when it first opened. These were some of the first animatronics ever created.
Animatronics are also used in many other Disney attractions worldwide, like the Carousel of Progress and the Haunted Mansion.
Enchanted Tiki Room is not an actual ride. Instead, it's an animatronic performance.
Therefore, the longest wait time should be for the next show to begin.
You'll wait in a covered outdoor queue. Before entering the theater, a pre-show lasts about four minutes.
Then the theater doors will open, and you'll take a moment to secure a seat on the benches inside. After that, the performance begins, lasting approximately 15 minutes.
Enchanted Tiki Room is charming and has a lot of character. In addition, the music is relatively catchy.
With that said, Walt Disney's Enchanted Tiki Room is not a must-do attraction. So don't feel bad if you can't get around to it.
But if you've never done it, it's worth seeing. We visit this attraction maybe once every couple of years.
You might also like these other Magic Kingdom rides in the same immediate area of the park:
Resorts Gal specializes in Disney World Resorts, Characters, and Dining. Check out some of our resources, like the list of Disney World Resort Reviews. That article provides a list of every resort review we have available on the site.
Additionally, you might enjoy our review of the best off-site hotels near Disney World. Some of our favorites include our list of the best Marriott hotels close to Disney.
We have a complete list of Disney restaurant reviews available for planning dining reservations. We usually recommend scheduling at least one Disney World character dining meal and one signature dining reservation.
Additionally, there's a list of the best Disney signature dining options here.
If you plan to meet characters in the parks, we keep an updated list of Disney World Characters. That review will link to every meet available in the parks. Or you might like to review the Magic Kingdom characters guide.
Lastly, our most popular reviews include the best restaurants at Disney Springs, and I keep a timeline going of Disney Loungefly mini-backpacks.
Do you ever take the time to do the Enchanted Tiki Room on your Disney vacation?