The Best Marriott Hotels Near Disney World
Are you looking for the best Marriott hotels near Walt Disney World? With so many options, it's challenging to know which hotel will work best for your next vacation.
This article will preview the best Marriott hotels near Disney World. I'll cover a few factors you'll want to consider, like proximity to the theme parks, amenities, and pricing.
Marriott has a reputation for being one of the best hotel brands around, not only in the Orlando area but in the world.
Given the amount of time I've spent in Orlando over the last ten years, I've stayed at quite a few Marriott hotels. And there's one in particular, Disney's Swan and Dolphin, that I've visited countless times.
In addition, a few of my go-to choices for a budget-friendly off-property hotel falls under the Marriot brand. Those hotel choices are all located at Flamingo Crossings, which sits right outside Disney's gates. We'll learn more about these hotels below.
Disclosure: Some of the links in this article direct you to Marriott's website. These links are considered affiliate links. If you were to reserve a hotel through one of these links, we may receive a small referral fee from Marriott. This comes at no cost to you and helps support our business.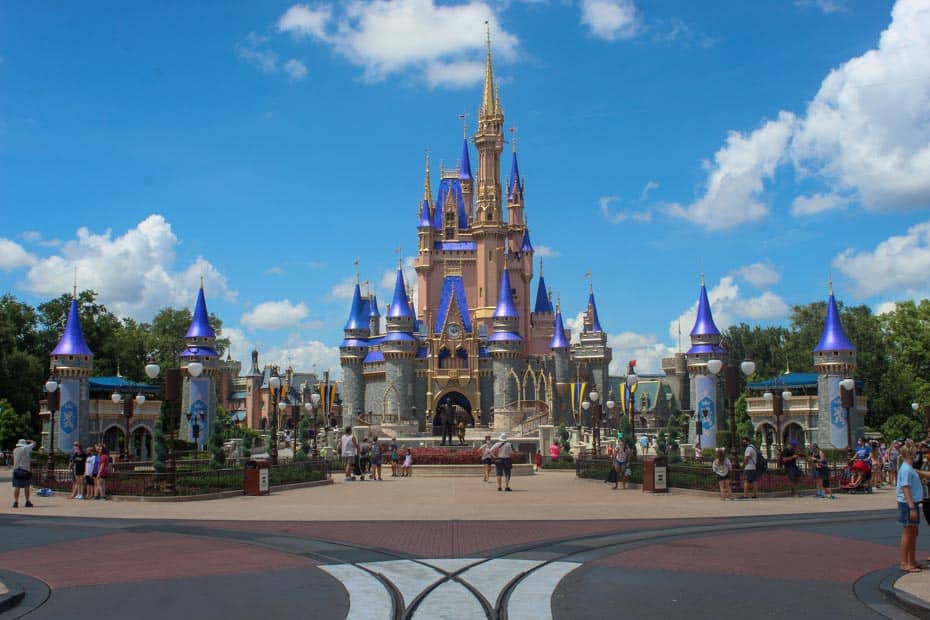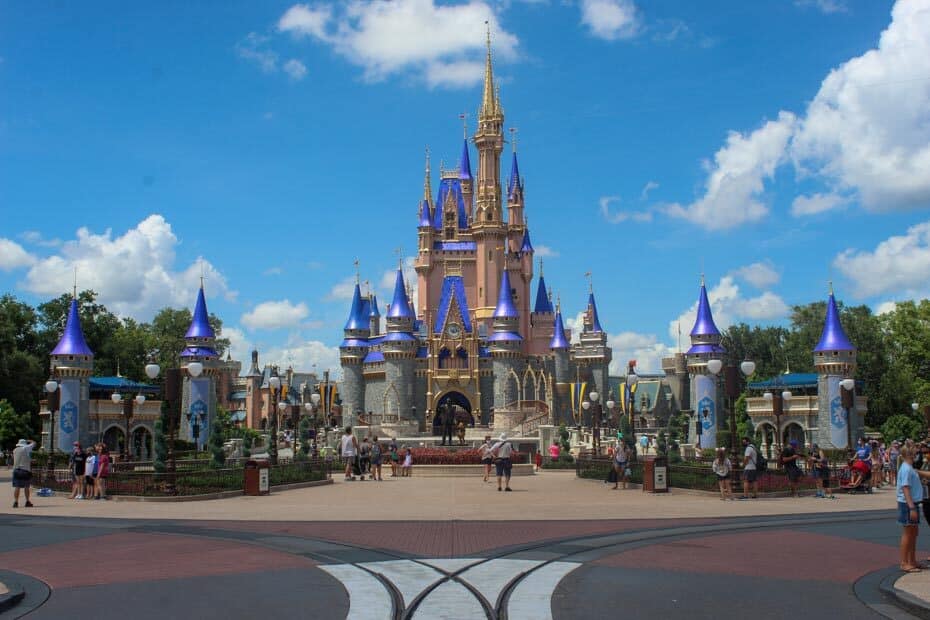 All of the hotels, reviews, and experiences noted below were paid for out-of-pocket by Resorts Gal.
As you are probably aware, location is one of the most important factors when choosing a hotel. And when you get outside the Disney bubble, you can quickly end up in a highly touristy or transitional area.
I'll be the first to admit some of these areas I adore. But there are a few areas I wouldn't want to stay in for the entirety of my trip, and neither would you.
When you hop on Google and search "Marriott near Disney World," you'll find that something like 100+ hotels will pop up. So, naturally, they are all competing to win your reservation.
It can take a long time to filter out the results. And you'll probably be overwhelmed and confused when you close the browser.
Many of the hotels appear to be located near Walt Disney World. But unfortunately, they're not.
Between location and traffic patterns, you can easily reserve a resort with a considerable daily commute back and forth to the theme parks.
It's no telling where you might end up if you aren't familiar with the area.
So for this article, I've put together a list of the best Marriott hotels near Disney World. Below we'll look at budget-friendly options, moderately-priced hotels, and even a few luxury resorts.
You'll get a good idea of which Marriott will be the best fit for your next vacation.
Best Budget-Friendly Marriotts Near Disney World
We'll start with my top choices for budget-friendly hotels near Disney World. The bonus? These two sit outside the Disney World gates on Western Way.
For reference, Disney's Coronado Springs Resort sits on the opposite corner of Western Way. So both of these Marriotts are within about a mile of Disney Resorts.
Fairfield Inn and Suites (Budget Friendly Marriott by Disney)
The first of these hotels is the Fairfield Inn and Suites at Flamingo Crossings.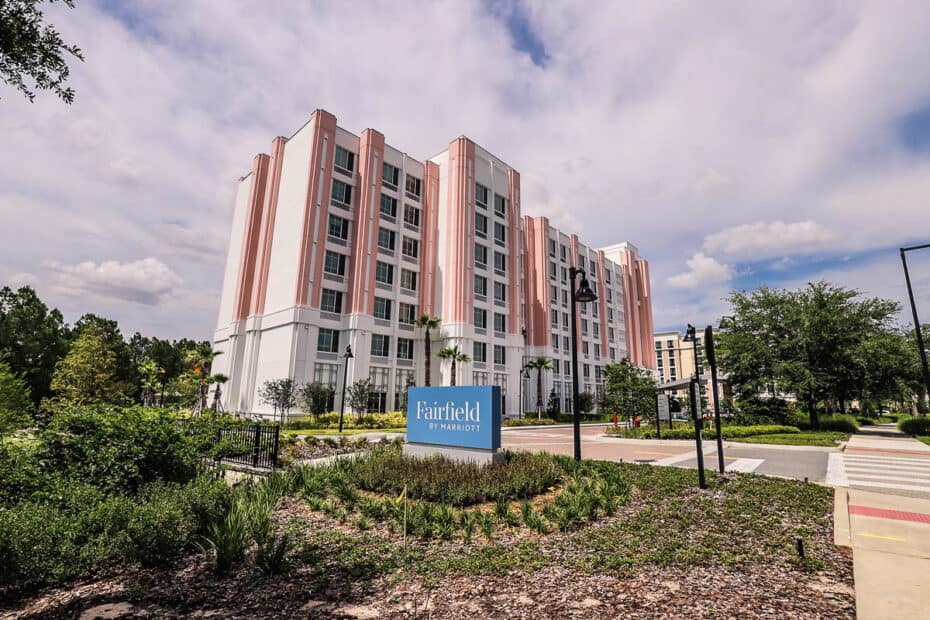 This is a newer and impressive hotel considering the reasonable rates and amenities. Here's a look at a standard guest room.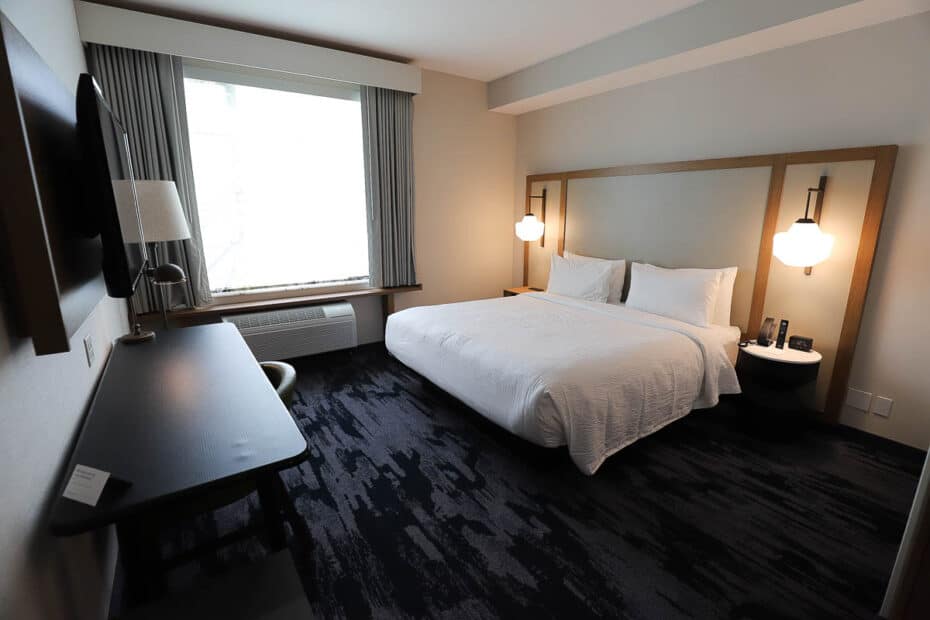 Marriott's Fairfield Inn offers plenty of amenities, including a free breakfast buffet every morning that includes make-your-own Mickey waffles.
Between the reasonable rates, proximity to Disney World, and free breakfast, this hotel is tough to beat. And don't forget you're racking up Marriott Bonvoy points during your stay!
Check the rate for this hotel here on Marriott's site.
Related: Fairfield Inn and Suites Review (Flamingo Crossings)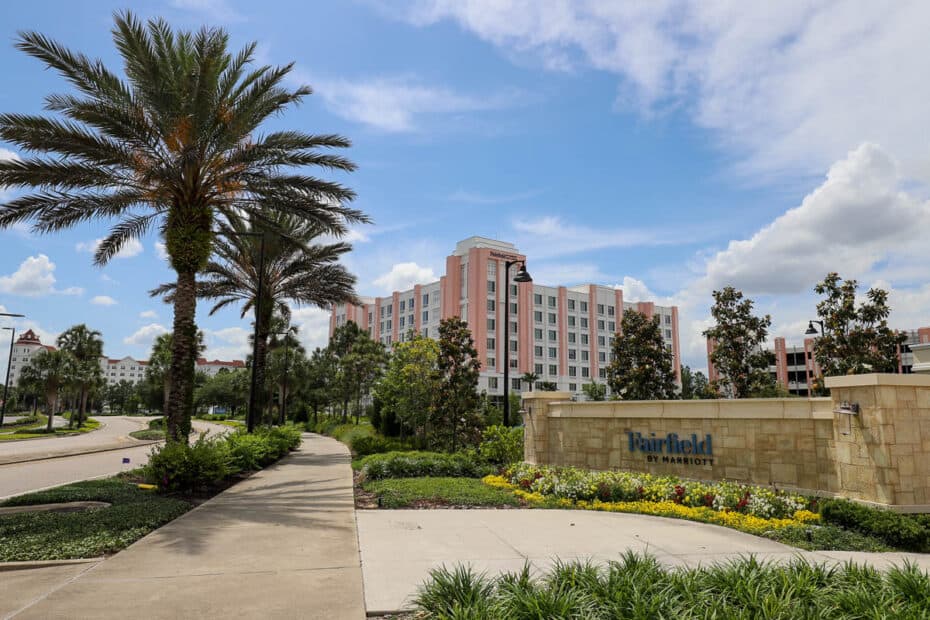 Towneplace Suites by Marriott (Pet-Friendly on a Budget)
Our next best Marriott hotel choice is pet-friendly. In addition, the hotel has everything you need to stay on budget, including a small, fully-equipped kitchen area.
A stay at Towneplace Suites will be slightly higher in price than some of the other hotels in the immediate area due to upgrades. However, these upgrades are suitable for anyone wanting to save money by preparing a few meals in the room.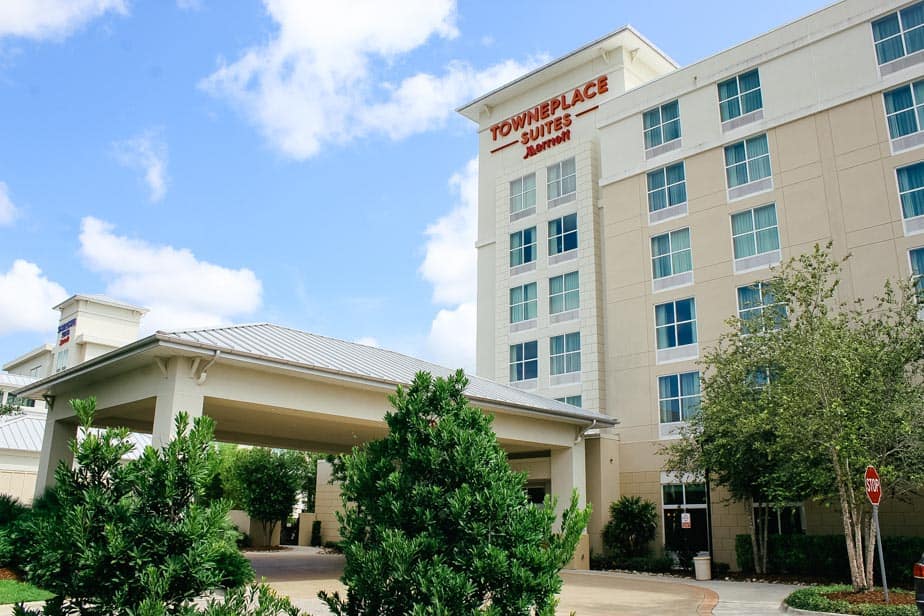 Additionally, Towneplace Suites has amenities that include an on-site restaurant, a swimming pool, and a fully equipped gym. A complimentary breakfast is also included.
Check the rate here on Marriott's site.
Related: Towneplace Suites Marriott at Flamingo Crossings Review
Springhill Suites by Marriott (Budget Friendly Near Disney World)
Next door to Towneplace Suites is another recommendation for the best budget-friendly Marriott hotel near Disney World, the Springhill Suites by Marriott.
Both hotels sit on adjoining property and share recreational amenities. However, they are considerably different when it comes to rooms.
This Springhill is one of my go-to hotels for a first-night stay before moving on property the next day. So, needless to say, I've spent a reasonable amount of time here.
In December, I had a room identical to the one in the photo below before moving to Disney's Caribbean Beach. While I enjoyed my stay at the Caribbean Beach, I realized I would have been much better off staying here at Springhill Suites for the week.
My room at Springhill provided much more space than the standard-size room at Disney.
Related: Disney's Caribbean Beach Resort Review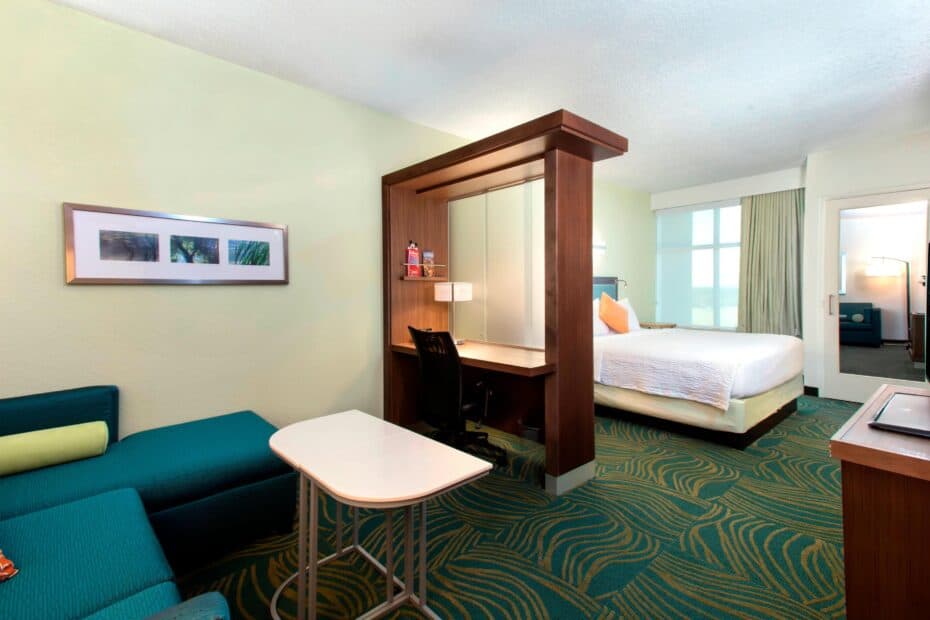 One of the most significant advantages of staying on Disney property is having access to their transportation system. But during my stay, the Skyliner went down several times. So most days, I felt more comfortable driving my car to the theme parks.
As for the Springhill Suites Marriott, the hotel provides complimentary breakfast every morning. There are pastries, fresh fruit, cereal, and various hot offerings. Hot items included scrambled eggs and Canadian bacon.
So while I think you should still enjoy a nice breakfast or two at Disney, it's nice to have a simple option in your hotel lobby every morning.
Other than budget, the best perk of these Marriott hotels is the proximity to Walt Disney World. It takes less than a minute to drive under the gates of Walt Disney World property from these hotels at Flamingo Crossings.
It then takes anywhere from 10 to 15 minutes to reach the four theme parks. Of course, that depends on whether or not you run into any traffic.
Another plus is that there are no parking charges or resort fees at any of the Marriott's at Flamingo Crossing. Unfortunately, most of the hotels in the Orlando area have these exorbitant extra fees these days.
Check the rate here on Marriott's site.
Related: Parking Costs at Disney World
Residence Inn (Budget Friendly Marriott Close to Disney with a Kitchen)
Since I wrote this article, several new Marriott's have popped up within the Disney World area. This fancy Residence Inn with a Grand Floridian-esque look is one of them.
After spending ten days at Flamingo Crossing's Residence Inn, this hotel quickly became my top choice for the best budget-friendly Marriott near Disney World. It has all the bells and whistles.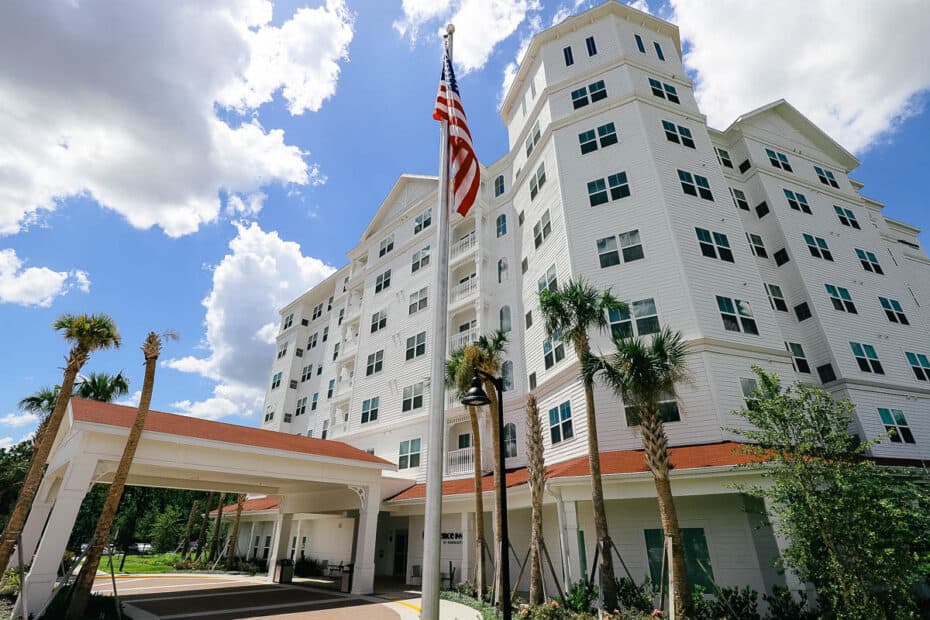 This hotel has two room options: a standard king deluxe suite and a one-bedroom suite with two queen beds. My room was the deluxe suite. It offered so many of the comforts of home that I felt I could live here full-time.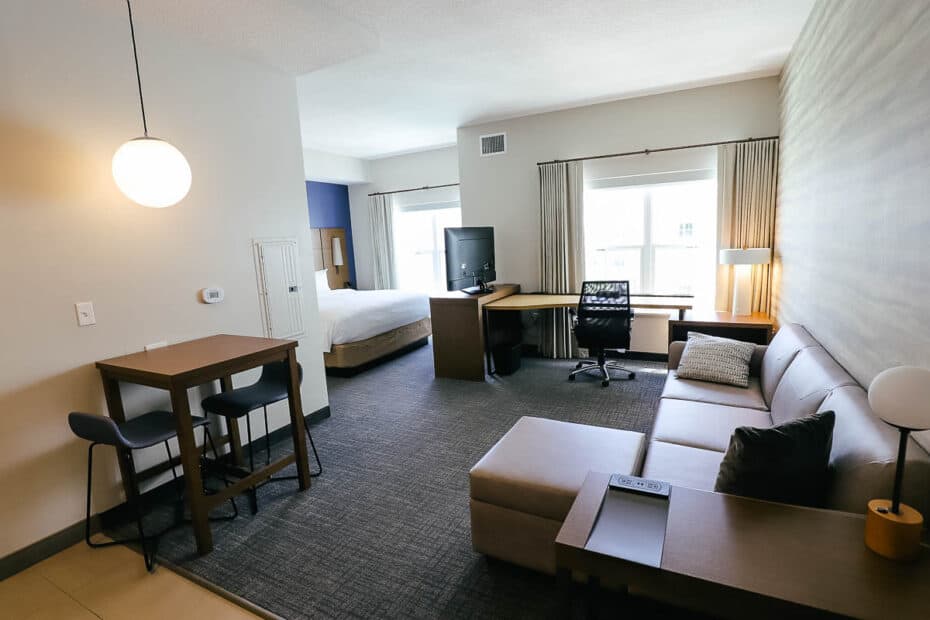 Here is the kitchen in the studio. Not only did the room have an adequate kitchen, but the hotel also offers a complimentary breakfast each morning.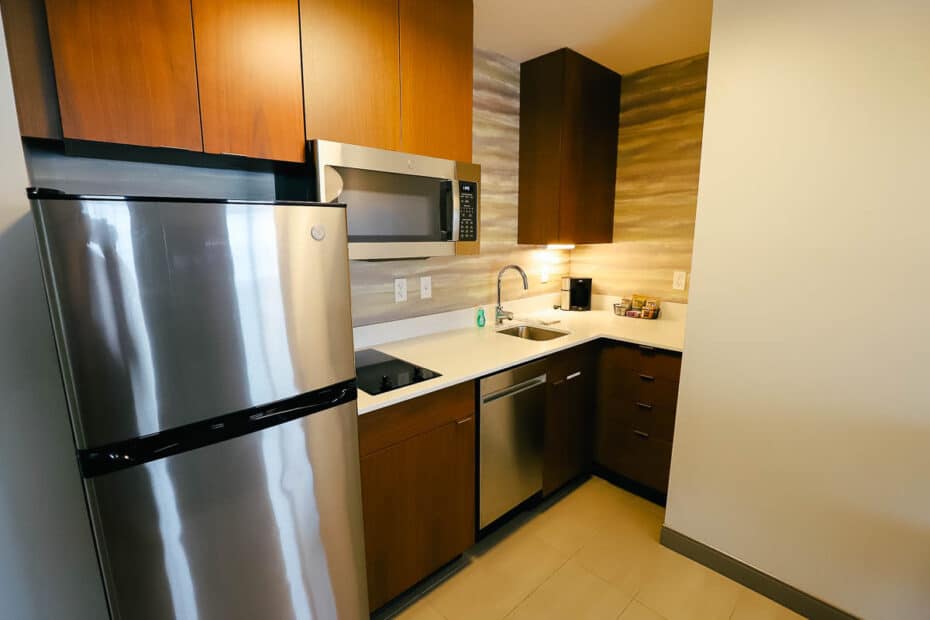 For the price, I don't think you will ever be able to find a better option.
Check the rate for this hotel here on Marriott's site.
Related: Residence Inn Flamingo Crossings Review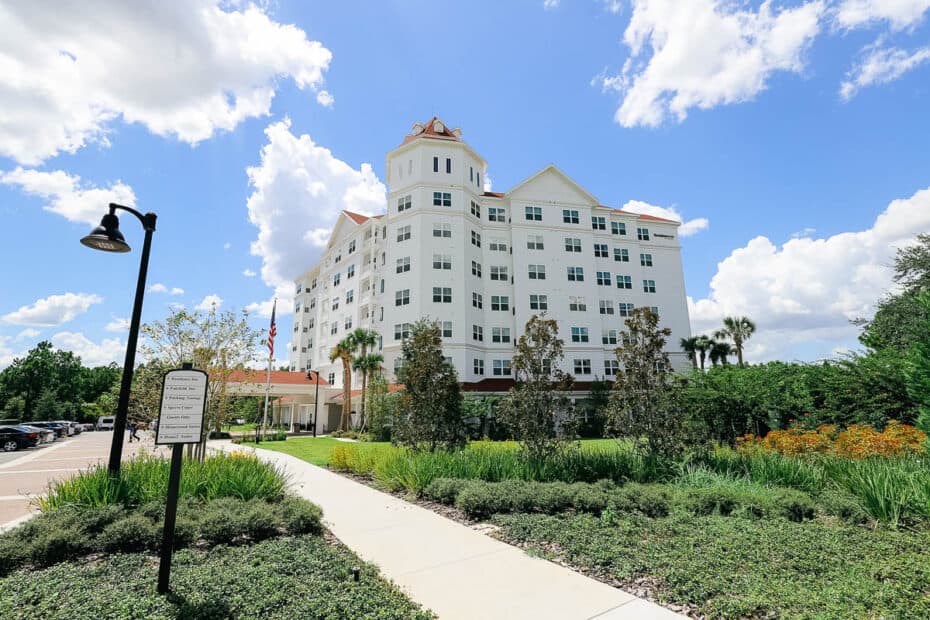 Best Marriott Hotels Near Disney World
Next, we'll check out what I consider the best all-around Marriott hotels near Disney World. While these hotels might not be the most budget conscientious, they are still within reason. And they are excellent options.
Since these hotels are all larger resorts with various recreation options, you'll probably want to plan a resort day during your stay. If you are paying to stay somewhere nice, by all means, slow down and enjoy what the resort has to offer.
Gaylord Palms (Best Marriott Near Disney World with Amenities)
Our first Marriott is the Kissimmee-based Gaylord Palms. This resort is centrally located off Osceola Parkway.
Those familiar with the area know Hollywood Studios sits close to the parkway, and the other end dead-ends into Disney's Animal Kingdom. So the location factor alone makes this resort a convenient option for visiting Disney World.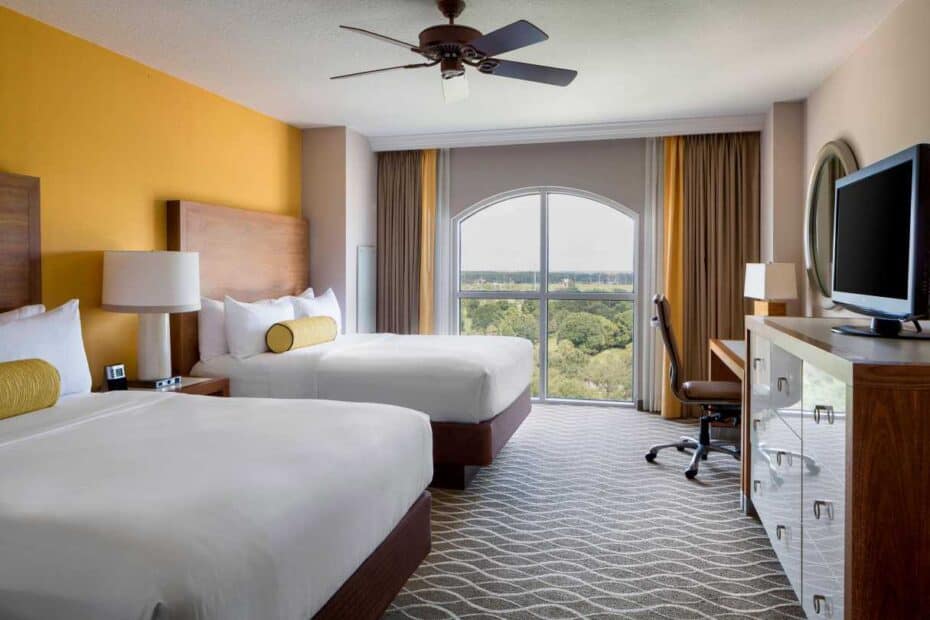 If you've stayed at a Gaylord Palms Resort, you probably already know what to expect. The hotels are designed to keep guests at the resort. Why leave when your hotel has dining, recreation, and a water park at your fingertips?
Of course, there are a few extra charges like resort fees with these cater-to-you resorts packed with amenities. Gaylord Palm's resort fee is approximately $30.00 per day, and you'll pay $28.00 per day to park if you have a car.
Consider using a car service or the hotel shuttle to avoid parking fees at the theme parks when staying here. The last thing anyone wants is to pay for parking at the hotel plus an additional cost to park at a theme park all on the same day.
Rates for the Gaylord Palms Orlando are available here on Marriott's site.
JW Marriott Bonnet Creek (Best Luxury Marriott Close to Disney)
This next option is one of the newer Marriott hotels near Disney World, the JW Marriott Orlando Bonnet Creek Resort and Spa.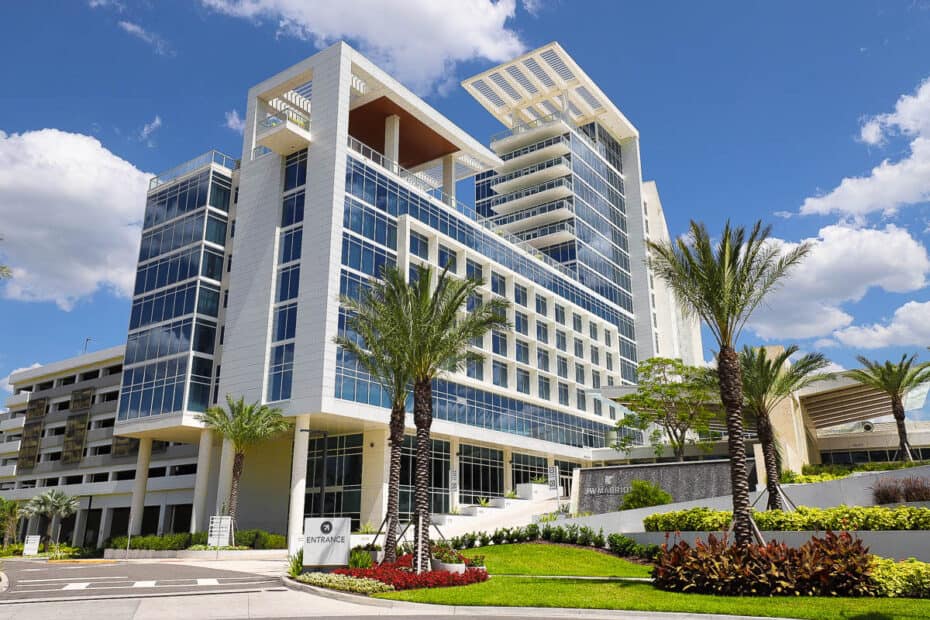 Bonnet Creek is surrounded by Walt Disney World property on three sides. With close proximity to everything, you'll never know you're not staying at Disney World.
We recently stayed at Bonnet Creek's JW Marriott, and it was one of the best hotel stays I've ever experienced. Between feeling pampered, enjoying room service, and relaxing at the stunning pool area, it was the ultimate luxury hotel experience.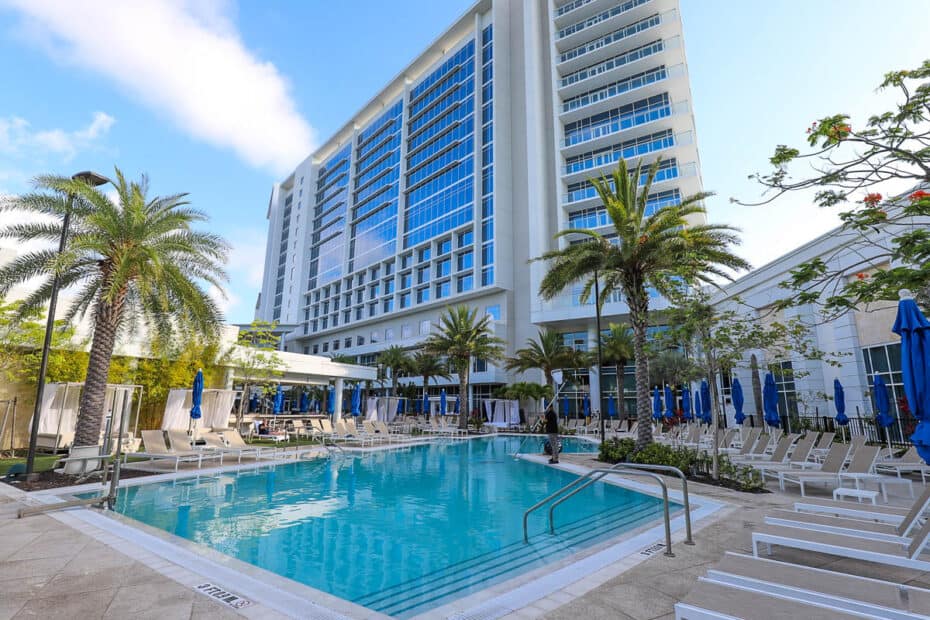 With neighbors like the Wyndham Grand Orlando, Signia by Hilton Bonnet Creek, and the Waldorf Astoria Orlando, you will likely be happy with your stay here.
I can't wait to return. Make sure to read our full review below for details about our stay.
Rates for the JW Marriott at Bonnet Creek are available here on Marriott's site.
Related: JW Bonnet Creek Marriott Review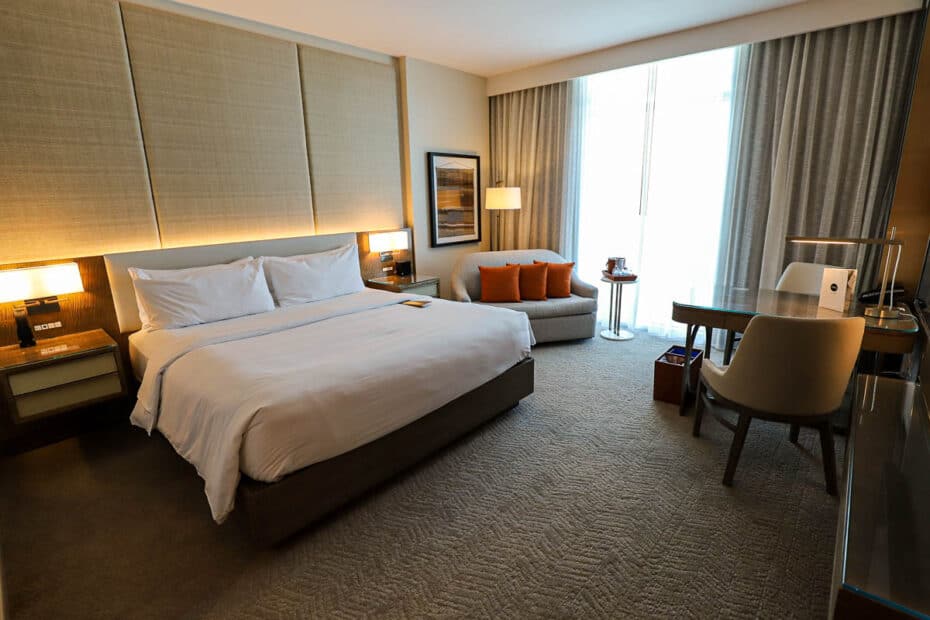 Marriott Hotels on Disney World Property
Our last option for the best Marriott hotel is unique because it's located on Disney property, the Walt Disney World Swan and Dolphin. These resorts are located in the Epcot Resorts Area.
Disney's Swan and Dolphin (Marriott at Disney World)
The Swan and Dolphin are comparable to Disney's deluxe category of resorts. Additionally, the resorts are within walking distance of two Disney theme parks, Epcot, and Hollywood Studios.
Related: Resorts Within Walking Distance of Disney Parks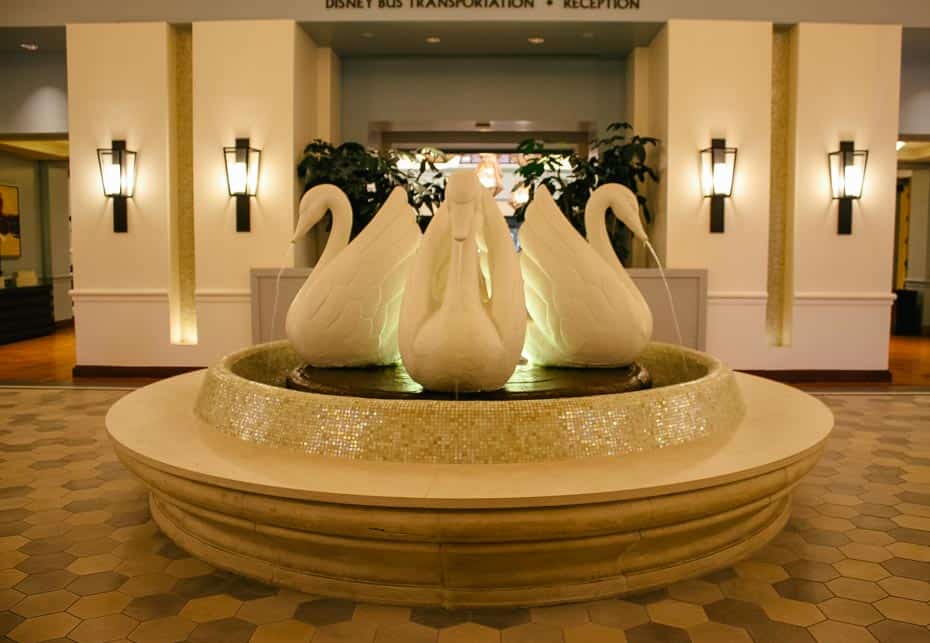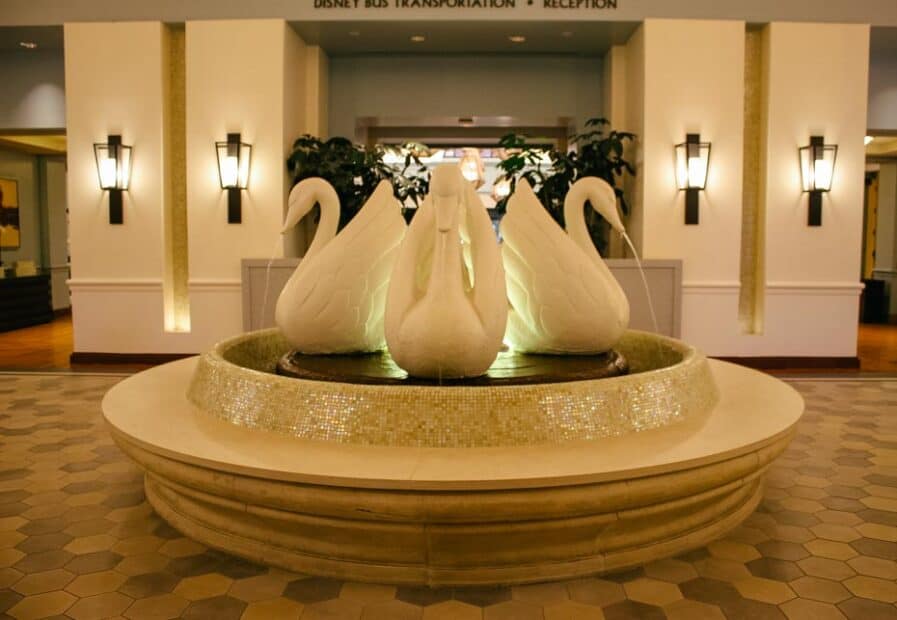 Like most hotels, you will encounter a resort and parking fee at these Marriott Resorts. However, the overall pricing will often win out compared to the neighboring on-property Disney hotels.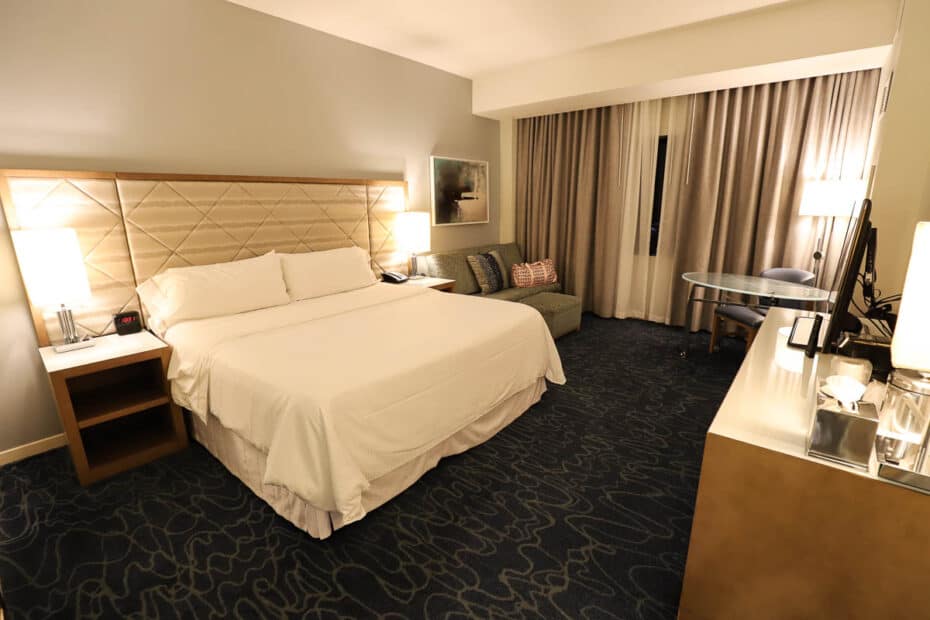 Disney's Swan and Dolphin boast numerous dining options. Between the resorts, there are four signature dining options, multiple table service, a cafeteria, counter service, and a poolside bar and grill.
Related: Disney's Swan and Dolphin Restaurant Guide
Additionally, the Grotto Pool is included in our list of the best pools at Disney World. Now that's saying something.
Related: The Pools at Disney's Swan and Dolphin
Regarding the main differences between the two, the Swan has a boutique feel. Meanwhile, the Dolphin accommodates larger crowds and serves as a convention resort.
Other perks include the use of Disney Friendship boat transportation. This is an excellent option for those who don't care to walk to the two neighboring parks.
Additionally, there is a shuttle service to Magic Kingdom, Disney's Animal Kingdom, and Disney Springs. So most guests that stay here never know they aren't at a Disney-owned and operated resort.
And if you're looking for something new, the Swan Reserve is the newest Marriott hotel near Disney World. It's located next door to the Swan and Dolphin. Disney's Swan Reserve opened last year. We did a photo tour when it initially opened.
Related: Swan Reserve Photos
Guests of the Swan Reserve can walk over and use the Grotto Pool area at the Swan and Dolphin. However, the resort has a beautiful pool.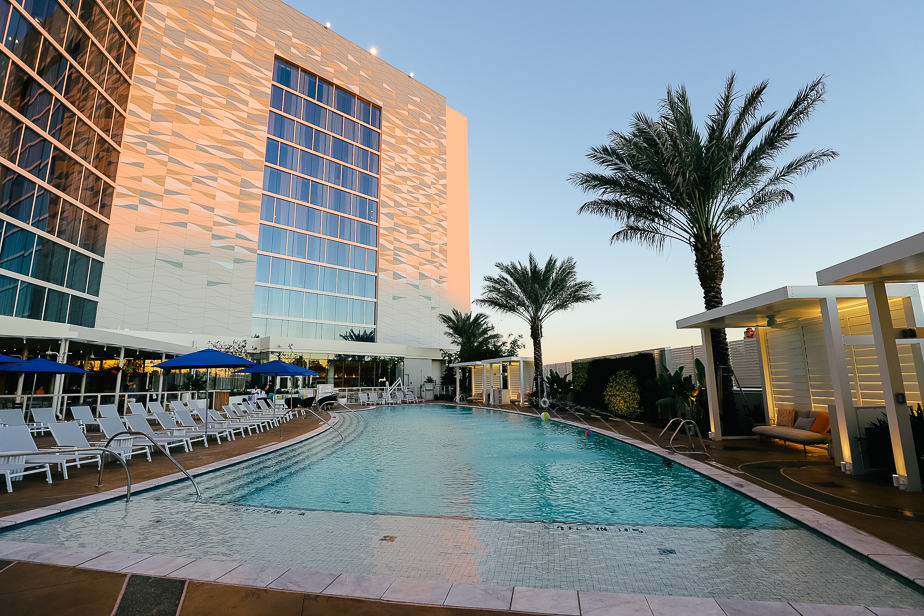 In the meantime, there's a full review of the Swan and Dolphin hotel if you want to learn more. It includes a list of the Disney amenities you can expect when staying here.
You can check rates for the Swan here on Marriott's website. Rates for the Dolphin are available here. Swan Reserve's rates are listed here.
Related: Benefits of Staying at a Walt Disney World Resort Hotel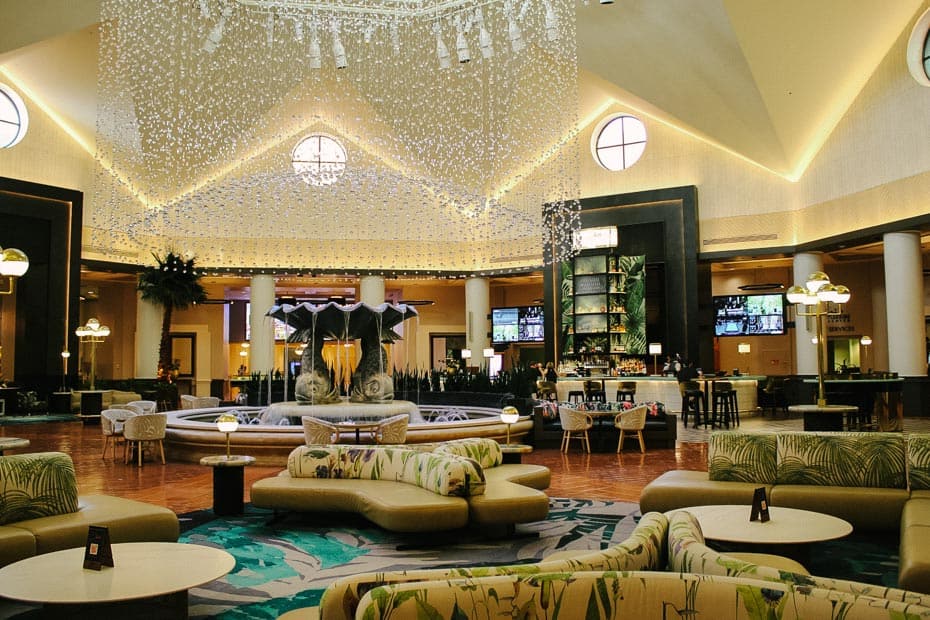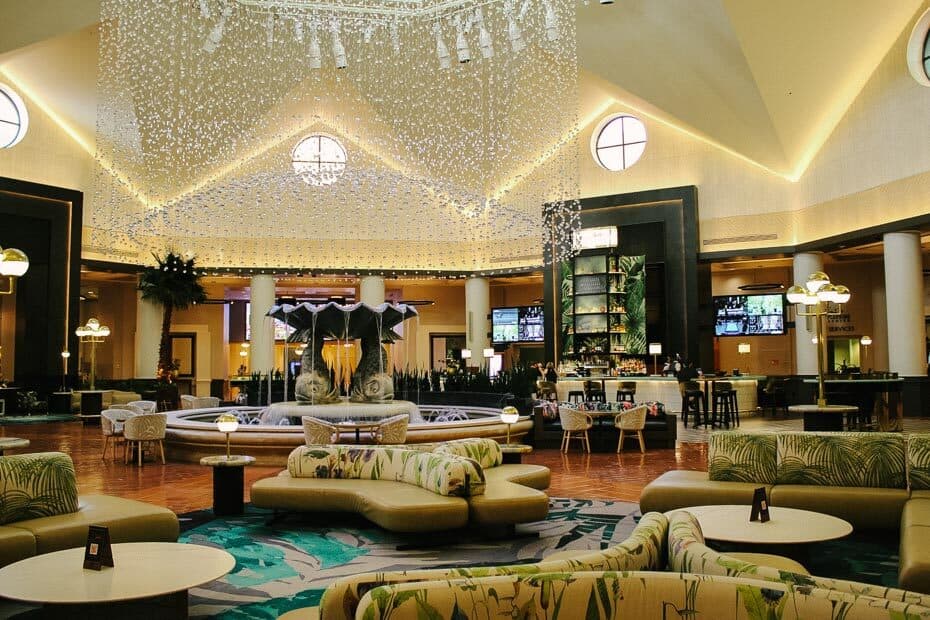 Final Thoughts: Best Marriotts Close to Disney World
Hopefully, this preview of the best Marriott hotels near Disney World gave you an idea of which one might work best for your vacation. As we stay at more Marriotts in the surrounding area, we'll continue to update this article as we see fit.
Usually, our process begins with identifying potential hotels near Disney World to review. Then we'll drive by while in the area to verify the location. After that, we will add it to a list of hotels to review in the future.
As time and budget allow, we'll stay at these new hotels to provide a thorough review. Obviously, the resorts at Disney World take precedence over off-property options. But I try to provide as many off-site options as possible.
For more Disney World planning advice, you might like to browse our complete list of Disney World Hotel Reviews. It includes a list of every resort-related article we have on the site.
Or you can preview our list of the best off-site Disney World Hotels. It includes a few other options:
Additionally, some of our popular dining articles include:
In the comments:
Have you stayed at any of these best Marriott hotels near Disney World? Do you have a preference or any questions about any of these resorts?