The Hall of Presidents at Magic Kingdom
The Hall of Presidents is an attraction at Magic Kingdom in Walt Disney World. This attraction is a 25-minute-long animatronic performance located in the Liberty Square area of the park.
This review provides information for experiencing The Hall of Presidents on your vacation. While The Hall of Presidents is a considerable time commitment, history buffs and those interested in patriotism will want to check it out.
The performance also provides a great place to shelter in a storm or heavy rains.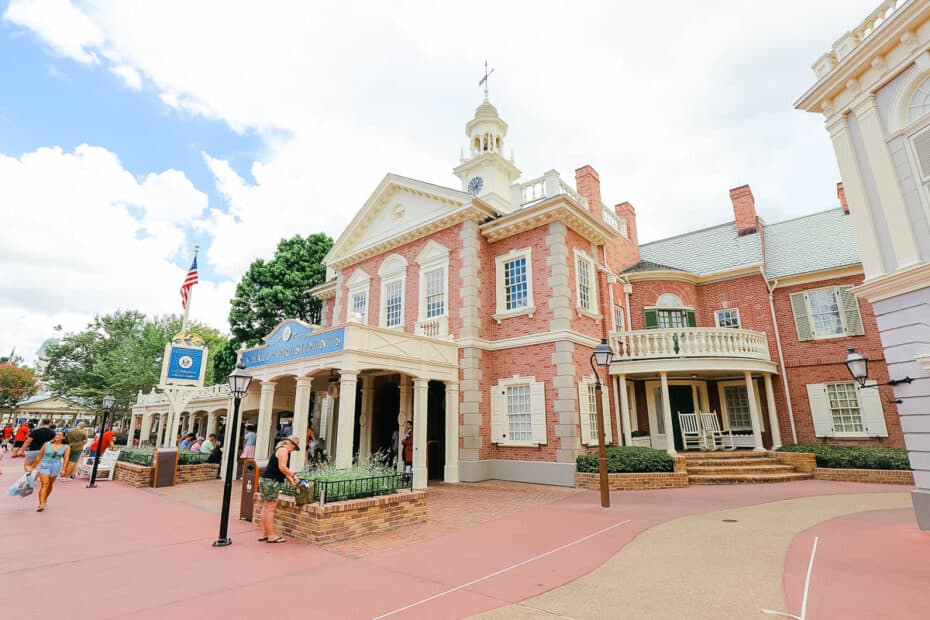 Here is a quick reference chart with information about The Hall of Presidents.
The Hall of Presidents
Magic Kingdom

Location:

Liberty Square

Disney Height Requirement:

None

Disney Genie+ Eligible

NA

Duration:

Approx. 25 minutes

Ride Type:

Show

Seats Per Vehicle:

Theater Rows

Rider Switch:

None

Extra Magic Hours:

None

Good For:

Inclement Weather
Taking a Break

Scare Factor:

None

Must-Do List:

Low Priority

Perfect For:

Nostalgia
Patriots

Special Mention:

This is a Walt Disney-inspired attraction.
The Hall of Presidents
History buffs, patriots, and fans of original Walt Disney attractions will love The Hall of Presidents. The theater is quite impressive, along with the representation of each United States President in animatronic form.
The Hall of Presidents is a full 25 minutes long, and you might have to wait for the current show to let out. In addition, compromising your time here can be difficult, depending on your touring circumstances.
If you have more than one day planned at the Magic Kingdom and are interested, I would recommend seeing the performance.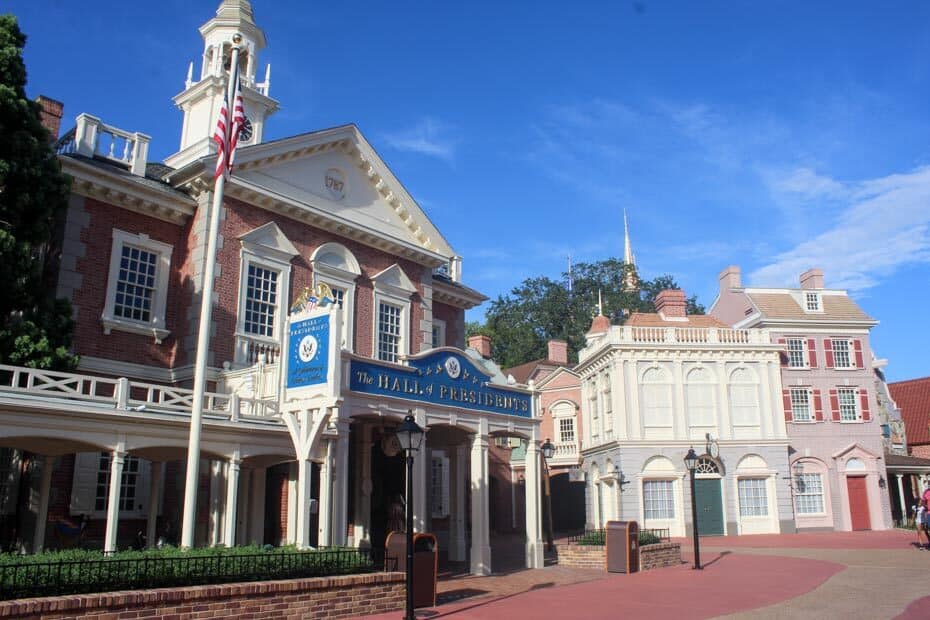 The Hall of Presidents is really well done. But if you are strapped for time and have a hankering to hit up all the rides, maybe leave it for a future trip.
Best Time to Experience Hall of Presidents: This is one of those perfect attractions for inclement weather. However, remember that most anyone in the area will flock to the theater to escape rain or storms.
Sometimes those people like to stand in the theater lobby and browse the displays. If this happens to you, I recommend going on when the next performance opens up and seeing the show.
Fun Fact: Every time a new president is elected, the show closes for some time. During this time, Disney installs an animatronic figure representing the new president.
Fun Fact: While there have been 45 terms as president to date, there are only 44 animatronics of presidents. This is because Grover Cleveland actually served two non-consecutive terms as president.
These attractions are located nearby:
Or you can preview the complete list of rides at Magic Kingdom.
Resorts Gal specializes in Disney World Resorts, Characters, and Dining. Check out some of our resources, like the Disney World Resort Reviews. That article provides every single resort-related review on the site.
For the Magic Kingdom Resorts, you might consider one of the following:
We have a complete list of our Disney restaurant reviews available for planning dining reservations.
Usually, we recommend planning at least one Disney World character dining meal. However, for Magic Kingdom, I recommend a meal at Skipper Canteen.
Related: Skipper Canteen Review
Additionally, familiarize yourself with how to use the transportation at Disney World. You might enjoy these articles:
Lastly, our most popular reviews include the best restaurants at Disney Springs, and there is an ultimate list of Disney Backpacks.
What do you think about the Hall of Presidents at Magic Kingdom? Are you a history buff? Is this sort of attraction your thing or not? Let me know in the comments below.