Disney's Bay Lake Tower Review
Bay Lake Tower is a modern resort that sits adjacent to Disney's Contemporary Resort. Guests of Bay Lake Tower have access to the resort amenities available at the Contemporary.
In this Bay Lake Tower review, we'll examine the rooms and other amenities available to guests. A stay here will be slightly different from a regular resort considering that Bay Lake Tower is a dedicated Disney Vacation Club Resort (DVC).
Like most vacation clubs, members use points to book stays at this resort. However, you don't have to be a DVC member to reserve a stay here. Disney rents these rooms to guests based on availability.
Related: Disney World Villas Resorts
This article was last updated on January 20, 2022.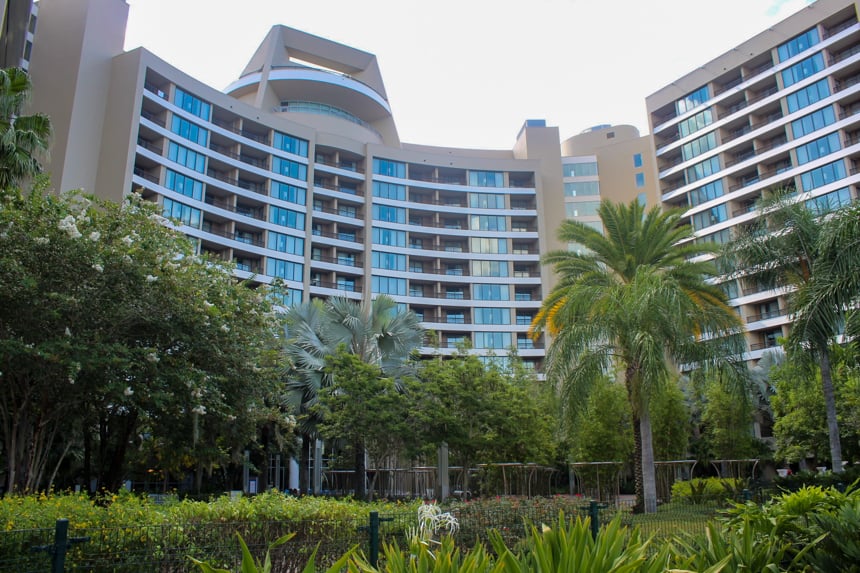 Bay Lake Tower Review
While there are many benefits to staying at Bay Lake Tower, there's one huge factor. And that's being within walking distance to Magic Kingdom park. It's a very reasonable 10-minute walk out of the lobby to the theme park entrance.
When I'm at Bay Lake Tower, I feel like I'm in Florida. This Disney Vacation Club Resort has a very specific look with its modern architecture.
However, the grounds around the property offer a variety of palm trees and southern shrubs. The unconventional mix of landscaping manages to work well for the property.
In fact, it's pleasant in a unique and unexpected way. This view below is the backyard of the resort that it shares with Disney's Contemporary Resort. When you stay at either, you'll have access to both resort's amenities.
Related: Disney's Contemporary Resort Review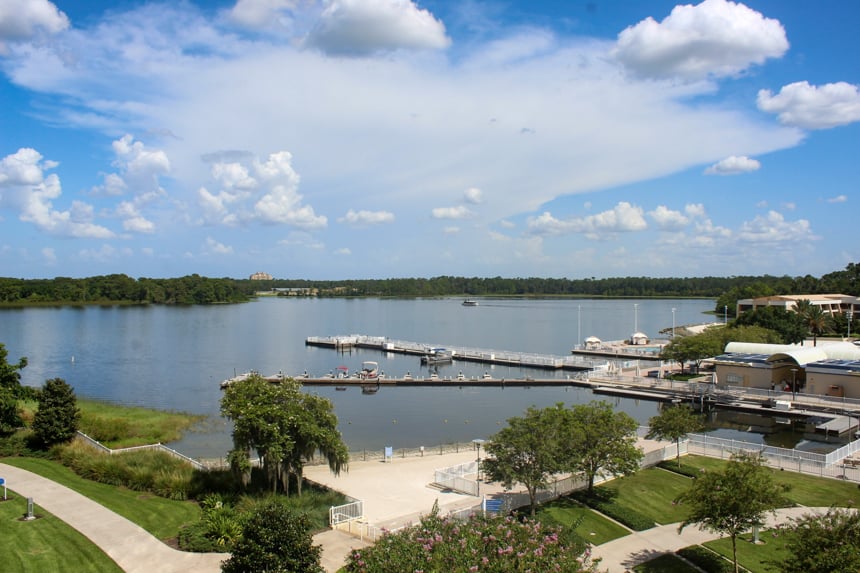 Speaking of both, you can easily walk over to the Contemporary by taking the bridge on the fourth floor. The SkyWay bridge is impressive with its curvy details.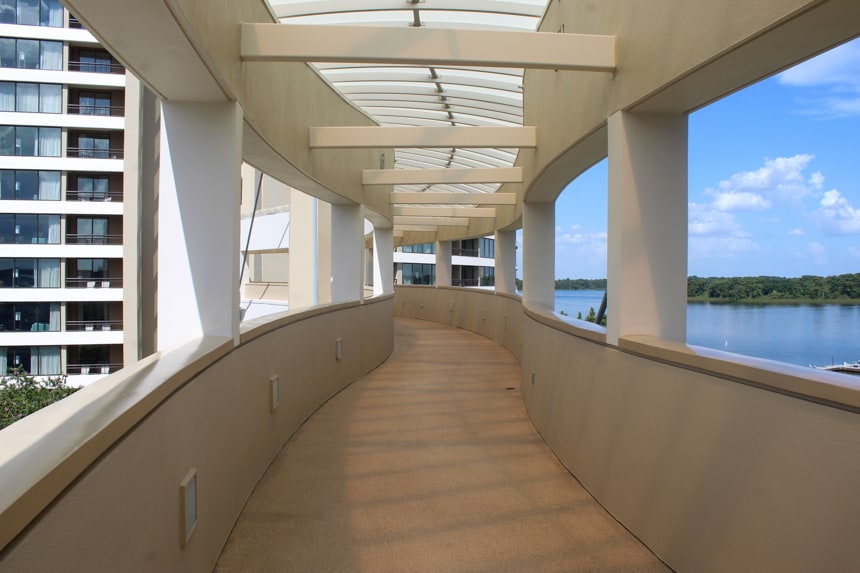 You'll often find guests out on the bridge taking in the views throughout the day. And it's an excellent place to observe Magic Kingdom fireworks in the evening.
Here's a view of the monorail coming by as I face Magic Kingdom from the bridge.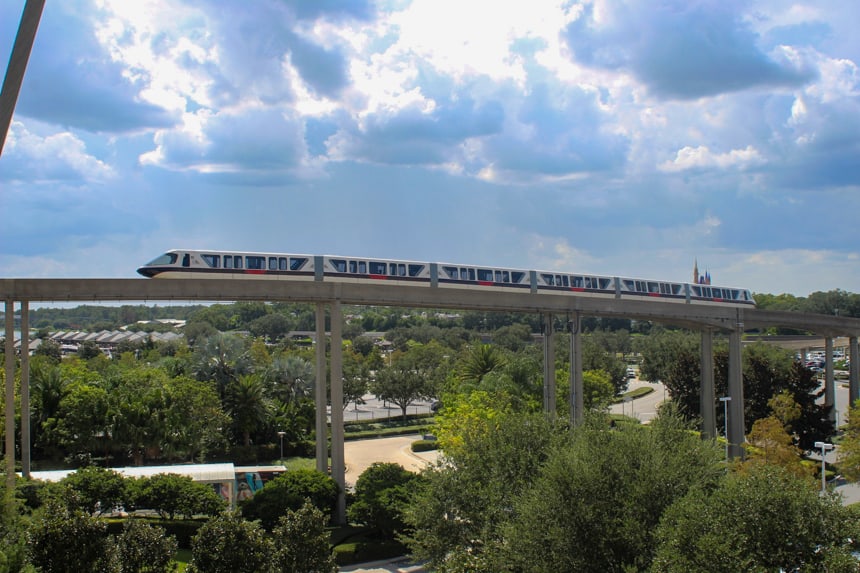 When the monorail passes, Cinderella Castle comes into view. You can even see Space Mountain. At night it lights up and is even more special.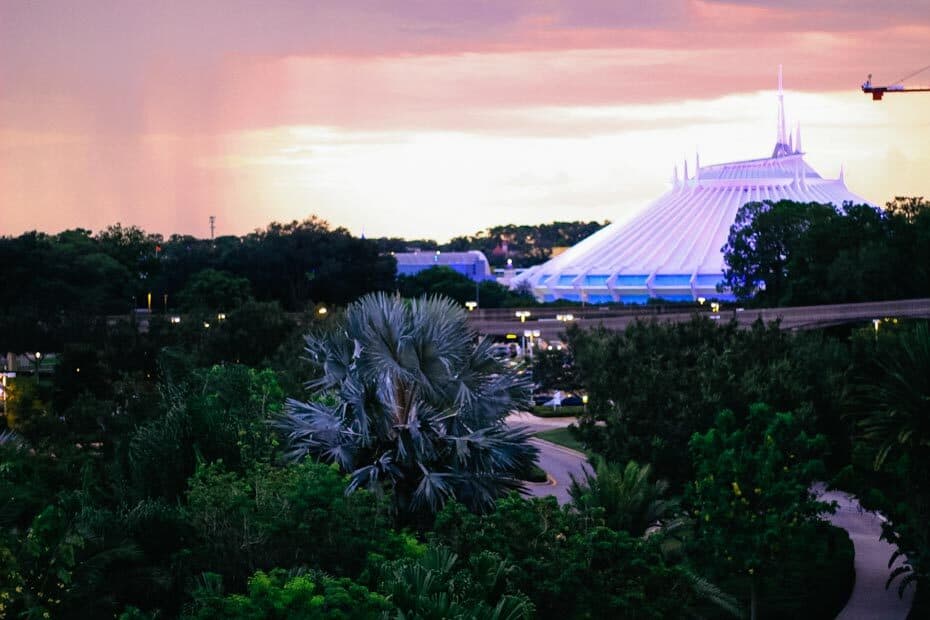 As you can probably tell, the views alone make a stay at Bay Lake Tower enjoyable. My only issue is I'm not so crazy about some of the rooms.
Rooms at Bay Lake Tower
There are a variety of different room types at Bay Lake Tower. Depending on what's available you can secure one of the following:
Deluxe Studio
One Bedroom Villa
Two Bedroom Villa
Two Bedroom Villa Lock-Off
Three Bedroom Grand Villa
Each of these rooms come with the following view types: Standard, Lake View, Theme Park View
When I initially wrote this review of Bay Lake Tower, we stayed in a deluxe studio room. Unfortunately, it wasn't what I expected. And this is my least favorite of all the deluxe studios we've stayed in to date.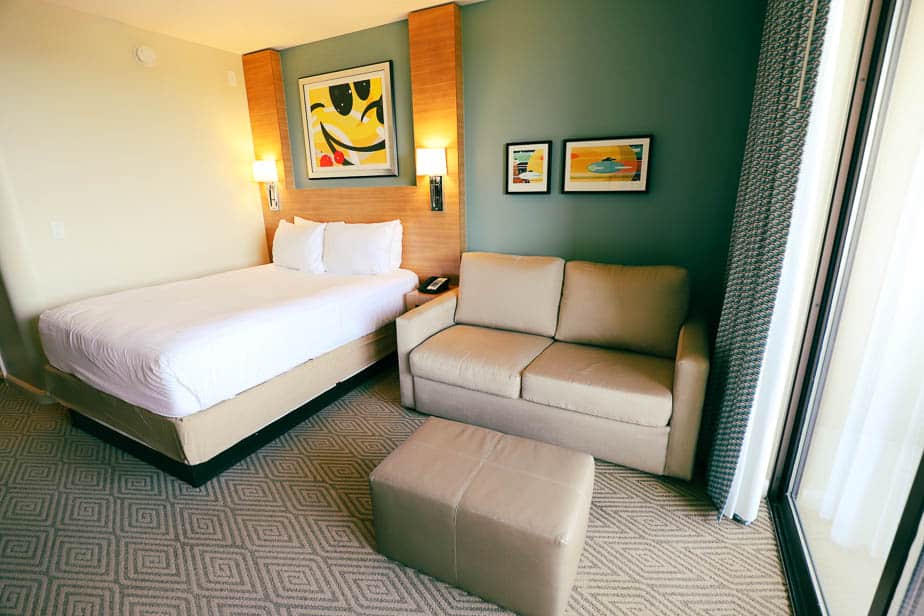 Our hotel room at Bay Lake Tower felt like a cracker box. It was so tiny that I had a difficult time getting decent wide-angle photos.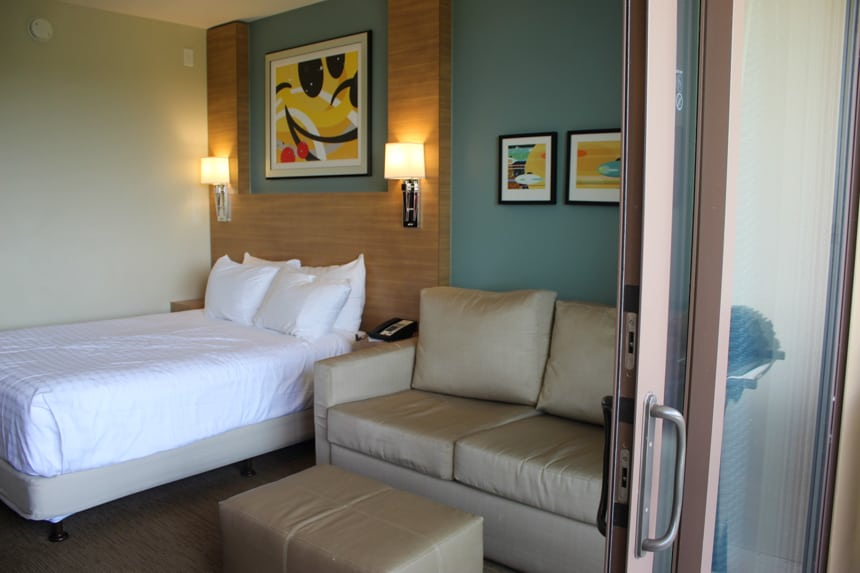 As you can probably tell the sofa bed and queen bed both sit extremely close to each other. And while the room, probably isn't any smaller than any other studio villa, it felt that way.
That's probably due to what I feel is a poor layout. Some of you might prefer this floor plan, but it didn't work for our party of two.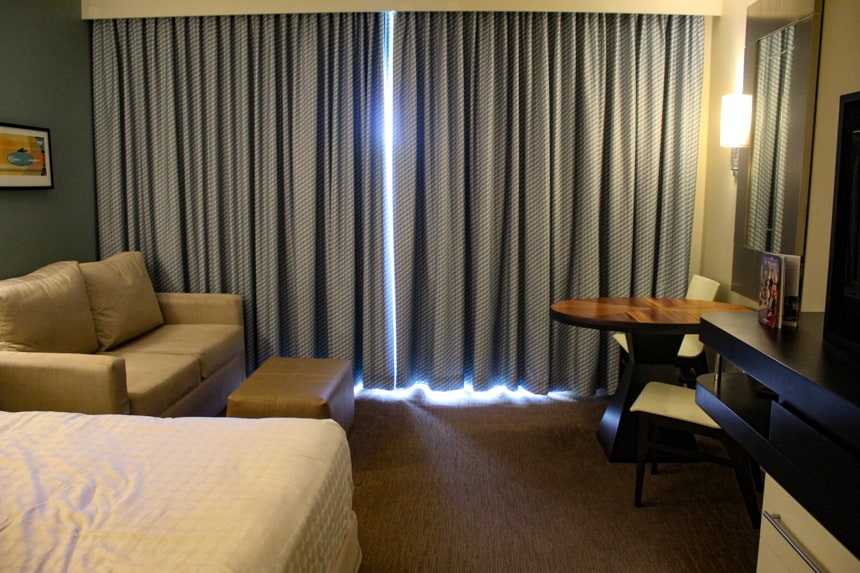 The room has a standard flat-screen television with a dresser space underneath.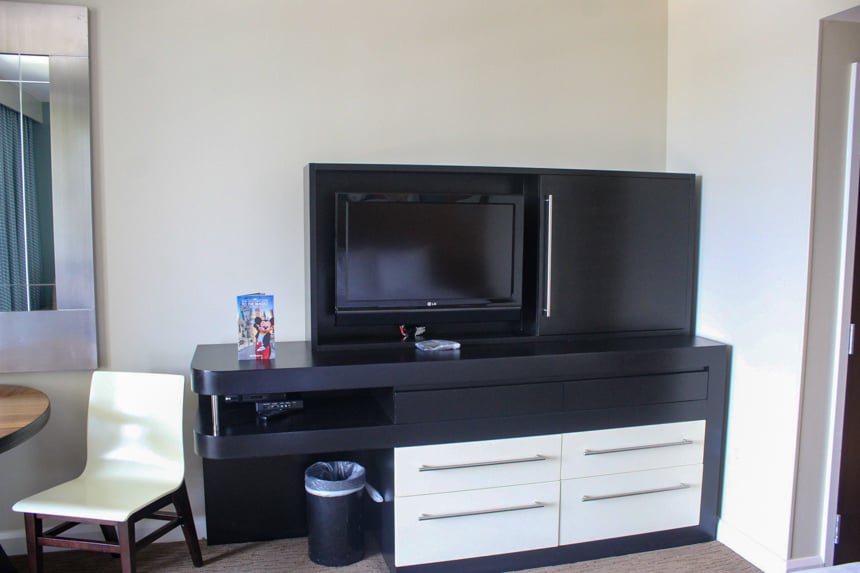 In the corner, there was a table and chairs for two. But the tiny size of the living space doesn't provide much extra room to store the sofa cushions while the queen sleeper sofa is in use.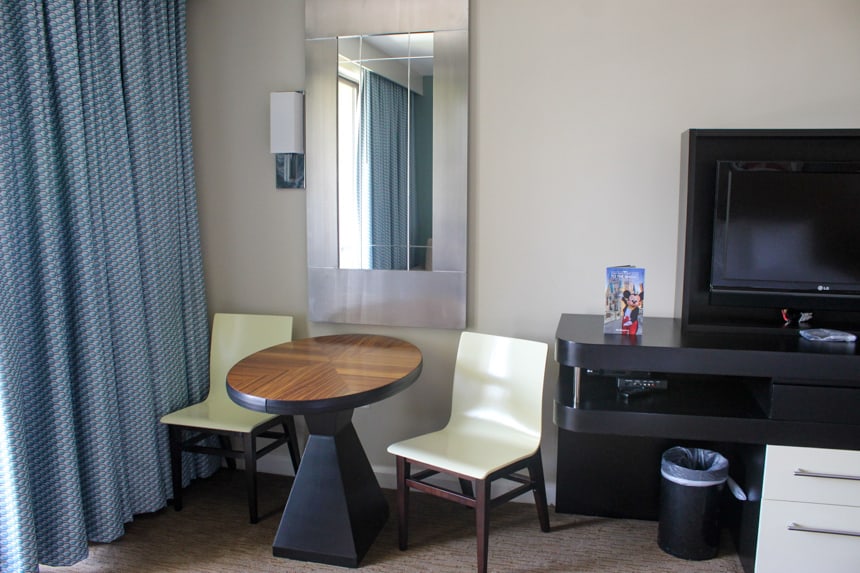 And the actual bathroom gets even smaller.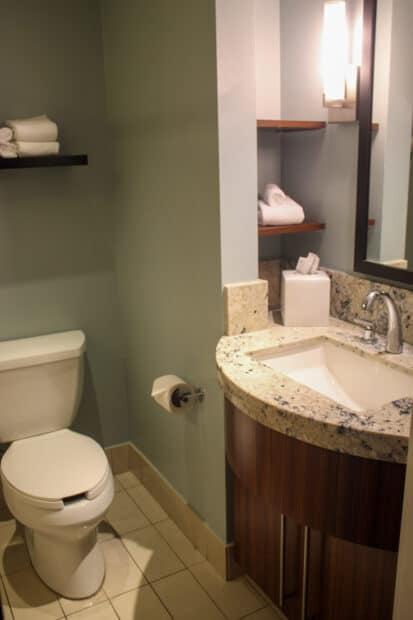 Over at Disney's Boardwalk Villas, we had a large vanity separate from the water closet. However, at Bay Lake, we had this one petite sink with hardly any counter space.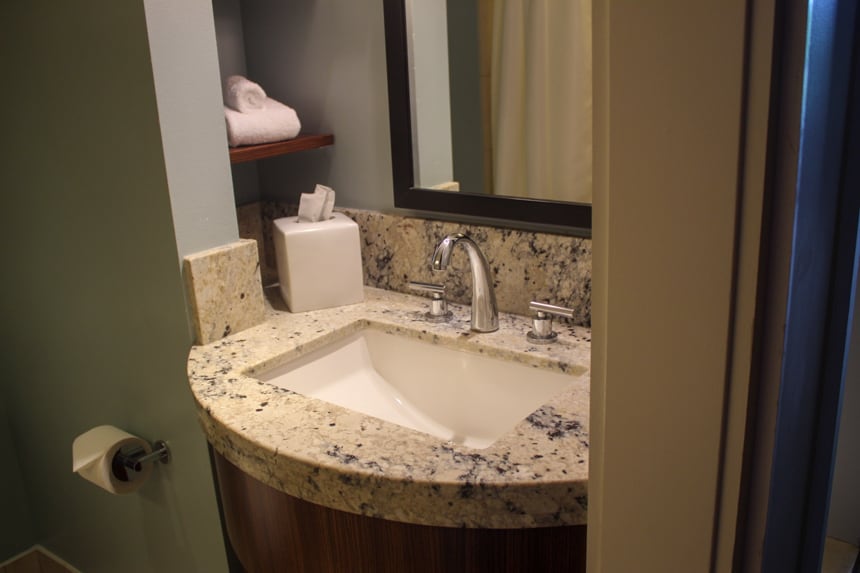 The guest bath has a tub with a shower combination. At least that's standard.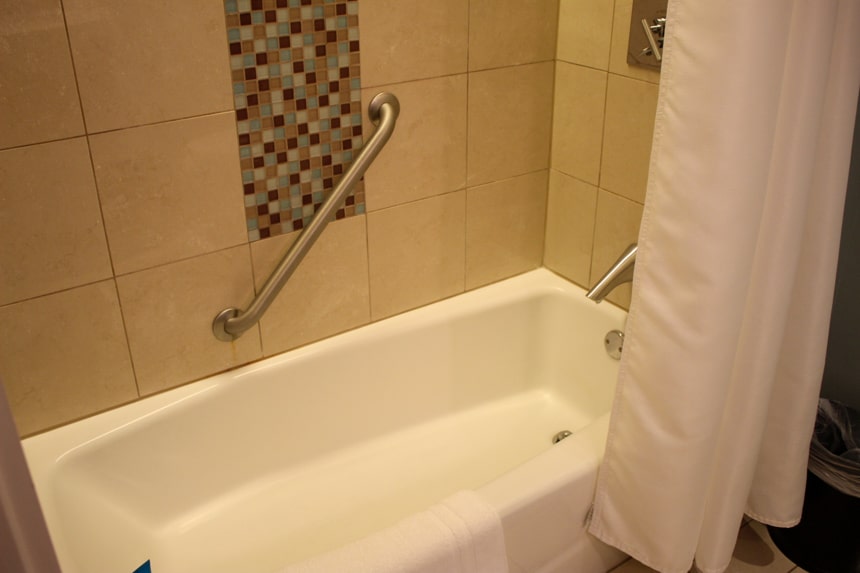 Below, we find what is causing the space issues within the room. This large kitchenette, reminiscent of a walk-in closet, is taking up all of the extra space.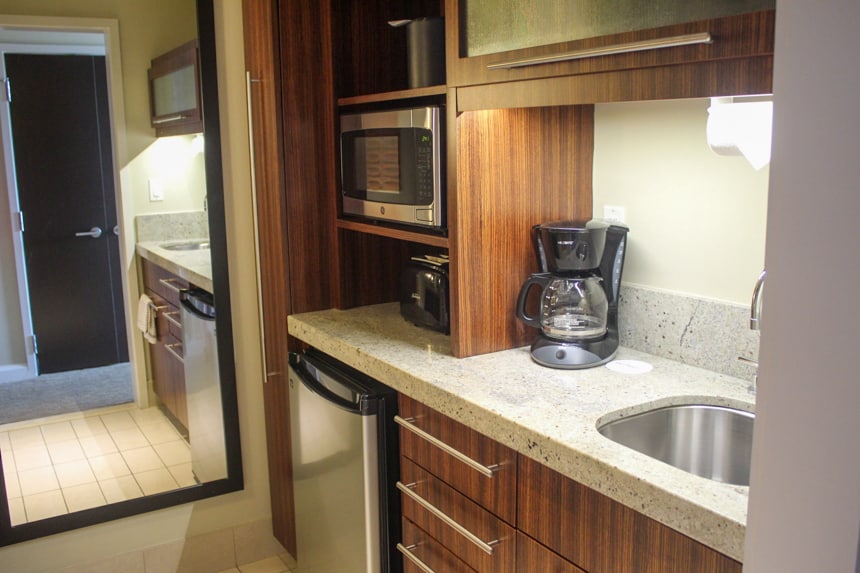 The kitchenette was in the middle of the room, and I found it functionally awkward. The left-hand side of the galley has an additional vanity area. Personally, I don't care to do my makeup in the kitchen.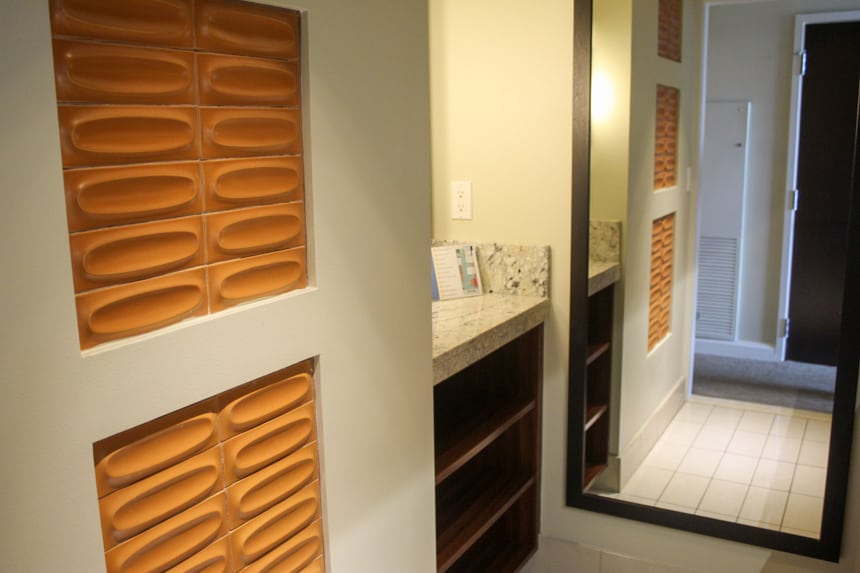 And while this is a nice space, it could have easily been added to the foyer. At least that's how it is at all of the other Disney Vacation Club Resorts.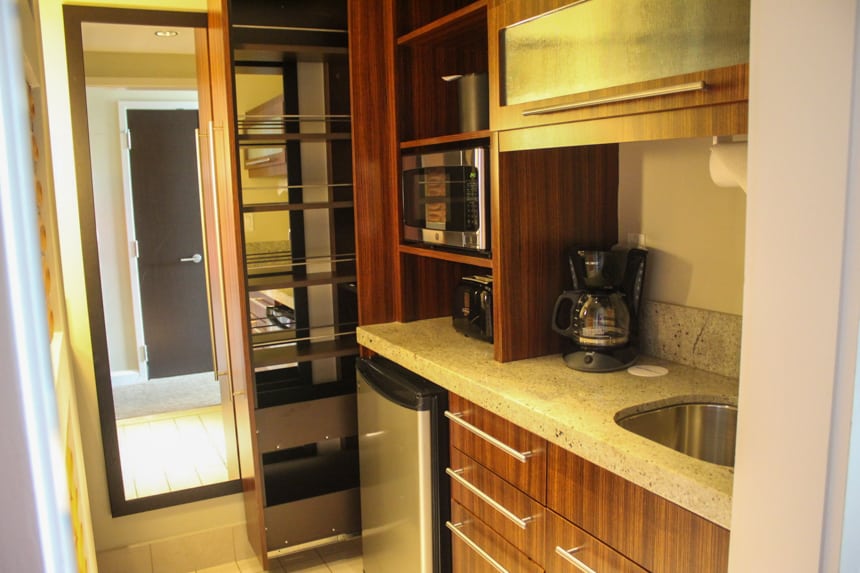 You'll find all the usual suspects that come with a studio villa like a coffee maker, toaster, microwave, and mini-refrigerator.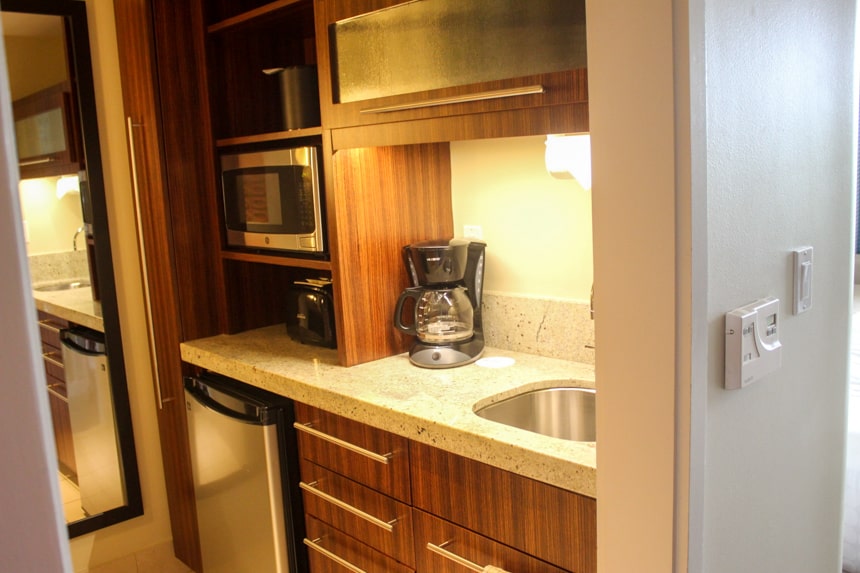 Here's a look inside the fridge. These are a tad bit larger than what you will find in a standard resort room.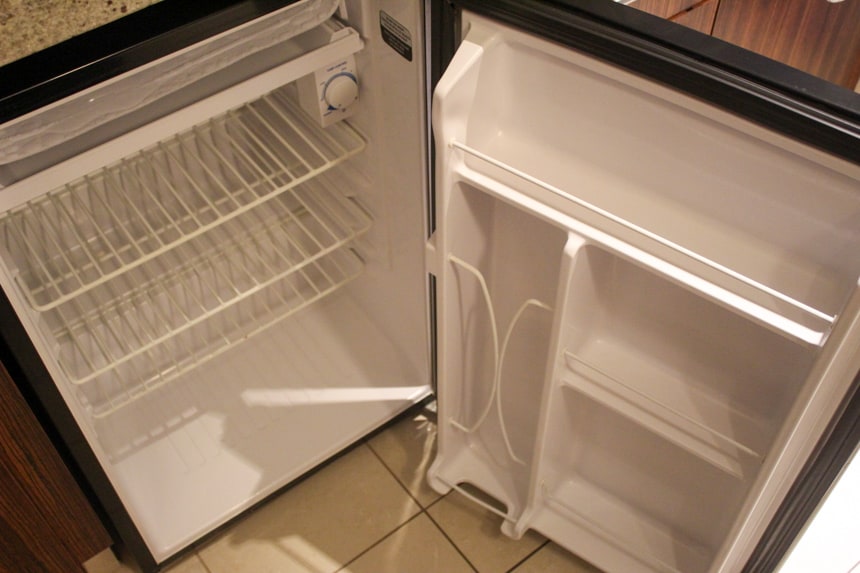 A microwave is always nice to have while staying in a hotel. These do not come in standard Disney hotel rooms.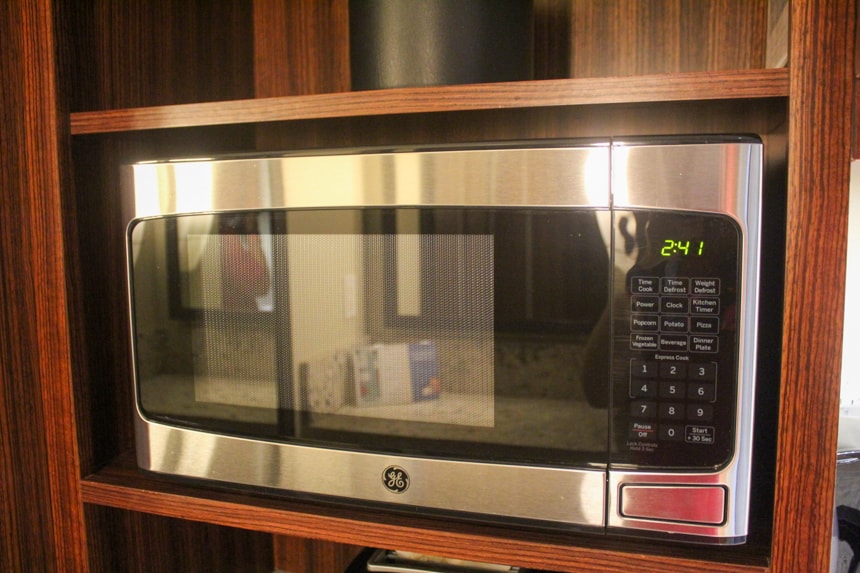 A drawer holds all of the things you need to make coffee, open a can, plastic ware, and other accompaniments.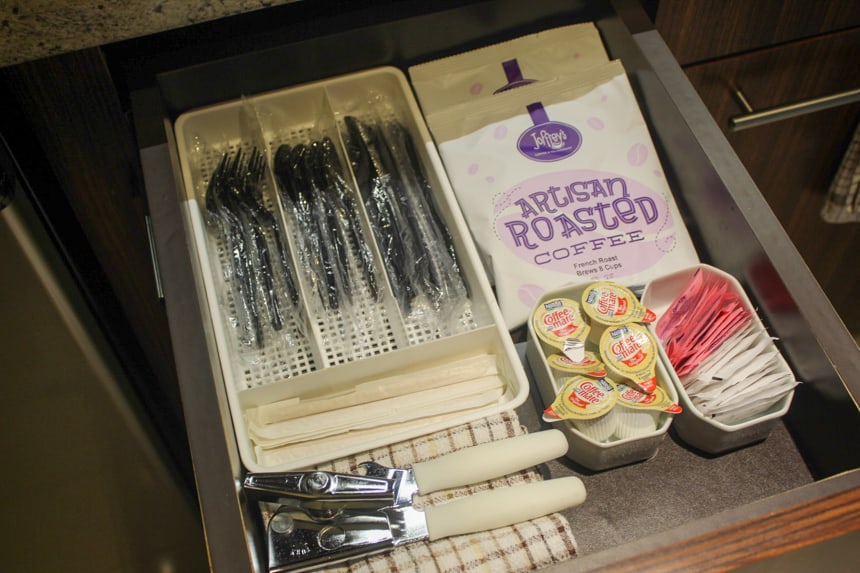 Under normal circumstances, regular plates and bowls are available. But right now, all of the dinnerware is individually wrapped to help eliminate shared touched surfaces.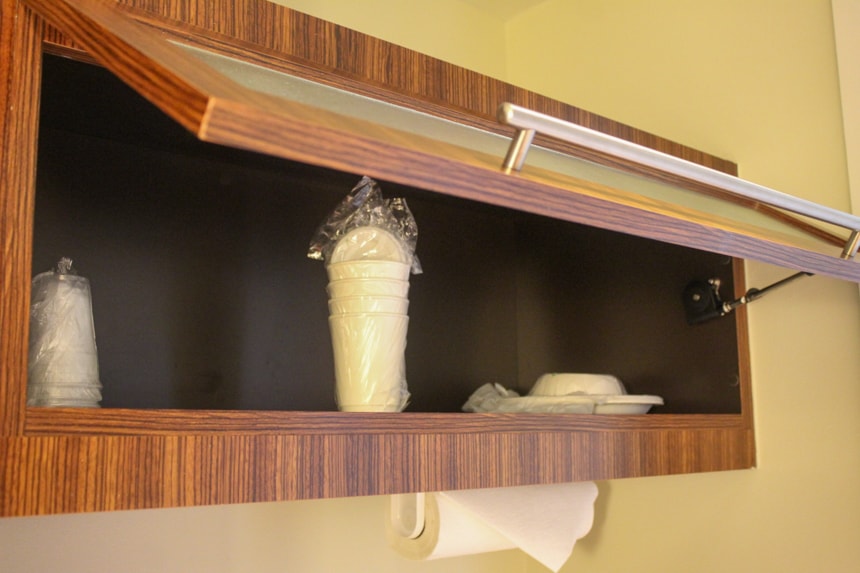 Lastly, we look at the balcony, which is a great space. We ended up with a standard view. A standard view means you'll have a view of the parking lot or an obstructed view.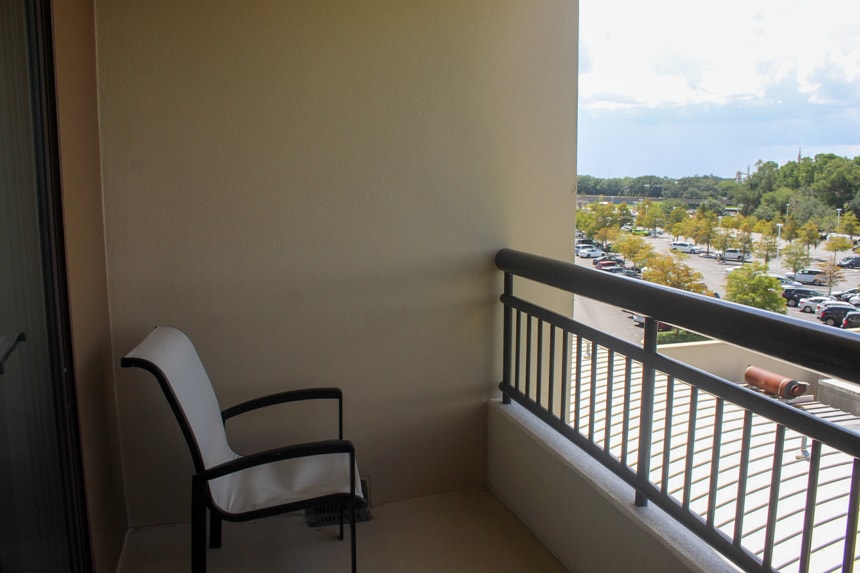 However, I don't think there's anything too standard about a view of Space Mountain. From my understanding, all of the rooms at Bay Lake Tower offer a balcony. And had this stay been during a time where nightly fireworks were a thing, we could have sat here and enjoyed them from the privacy of our room.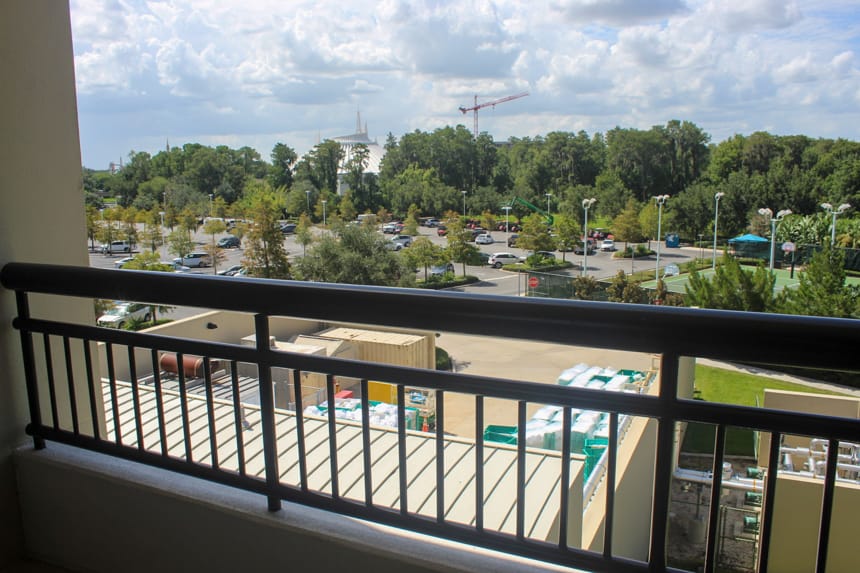 Next time I stay here, though, I'll probably look into reserving a Bay Lake view. Every time I looked out to this view from the hallways or the bridge, I remember wishing it had been our room.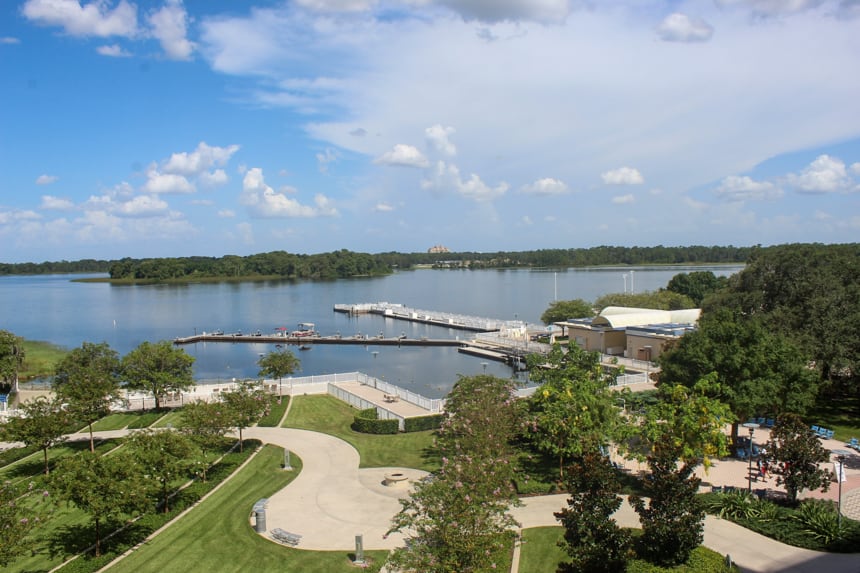 For most, the rooms at Bay Lake Tower won't be a deal-breaker. But for a family of four, the actual living space might "feel" similar to a value resort than the deluxe resort it actually is. So make sure you take these things into account when planning a stay here.
Additionally, I had the opportunity to tour a two-bedroom villa at Bay Lake Tower. This room is a considerable improvement over the deluxe studio. And I have no complaints about this room.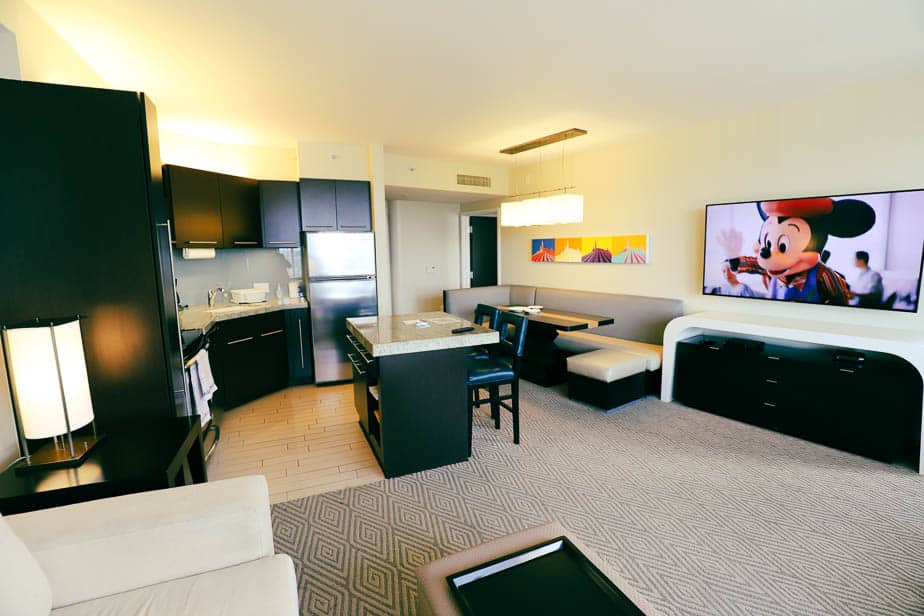 But who would complain? It's a tremendous space. We have a full photo tour of this unit listed below.
Related: Two-Bedroom Villa at Bay Lake Tower
Amenities
Now let's take a look at the things I love about the Bay Lake Tower. If you have read any of my reviews before, you already know I like to be objective.
When I share with you things I don't care for, I try to carefully observe how things work for us. Then consider them and think about how they would work for a variety of different groups.
I've also lived long enough to know "to each their own." What I like, you might not, and that's okay. So don't take anything I say here personally. This is just how I see the world through my own eyes. Well, Disney World.
Back to Bay Lake Tower, these hallways are fun and fantastic. The room numbers are displayed on these long light fixtures that highlight the numbers. There are plenty of Mickey shapes on that carpet too!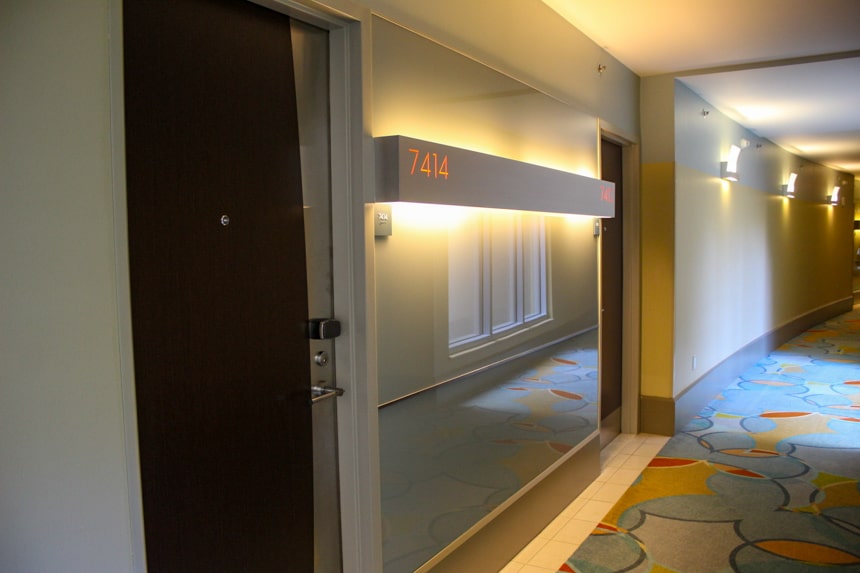 And the elevator foyers are absolutely gorgeous. Here's a secret, if you have a water view, you can walk over here at night to watch the fireworks in an air-conditioned space.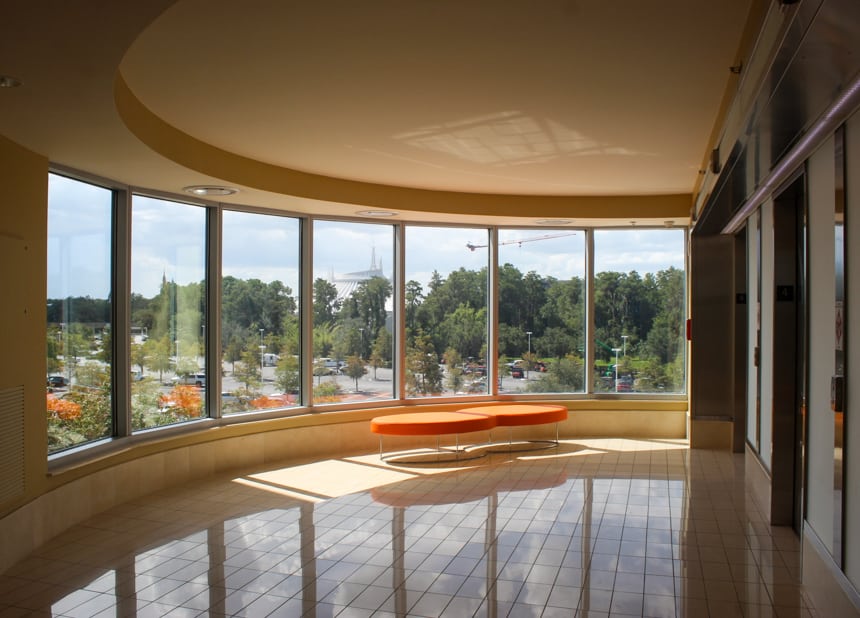 And the simple lobby of the resort is modern with plenty of palms.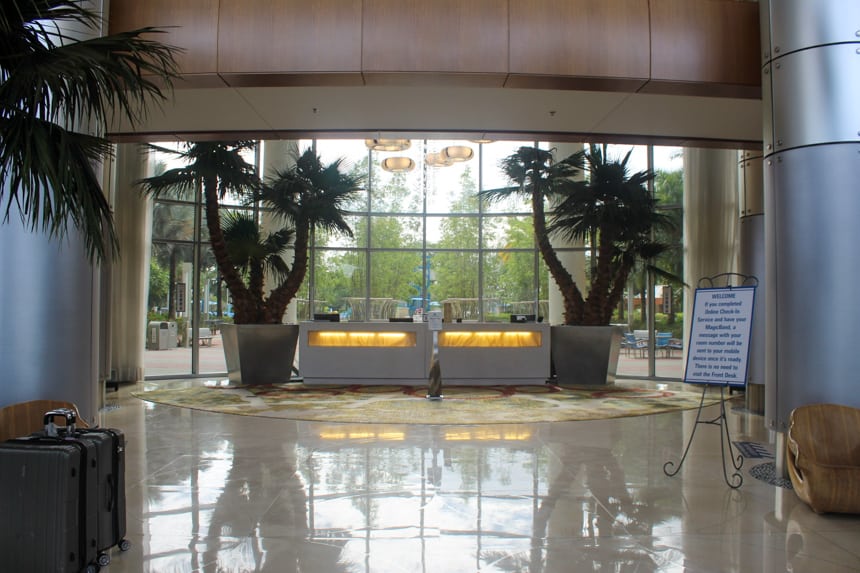 Here's a view of the backside of Bay Lake Tower from the swimming pool area.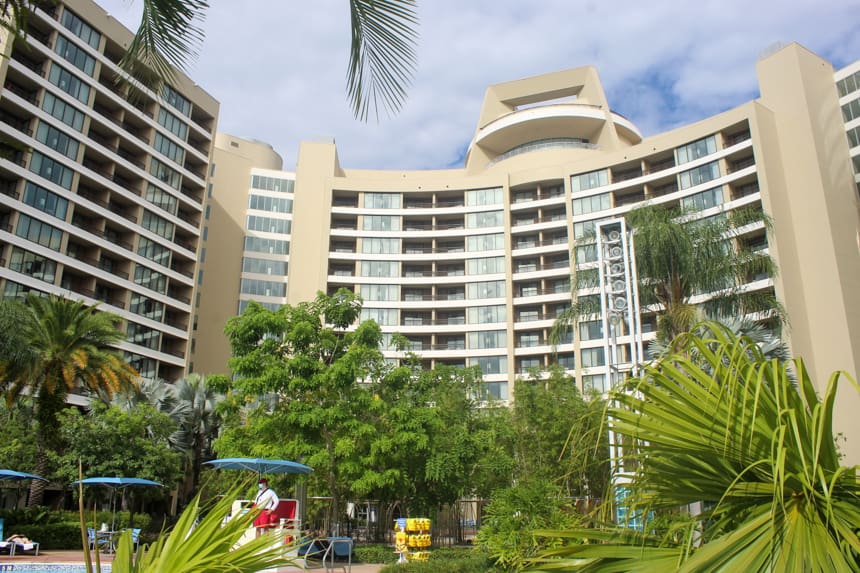 Speaking of pools, guests staying at Bay Lake Tower can use the Bay Cove Pool or the Contemporary's feature pool and quiet pool.
Even the pool has a modern vibe, and you might notice peaceful Bay Lake in the distance. It's so hard for me to explain how extraordinary I find this space behind the two resorts.
If you think about it, the Magic Kingdom, with all of its constant busyness, is right there on the other side of the resort. But this sanctuary-like retreat is tucked right behind Bay Lake Tower.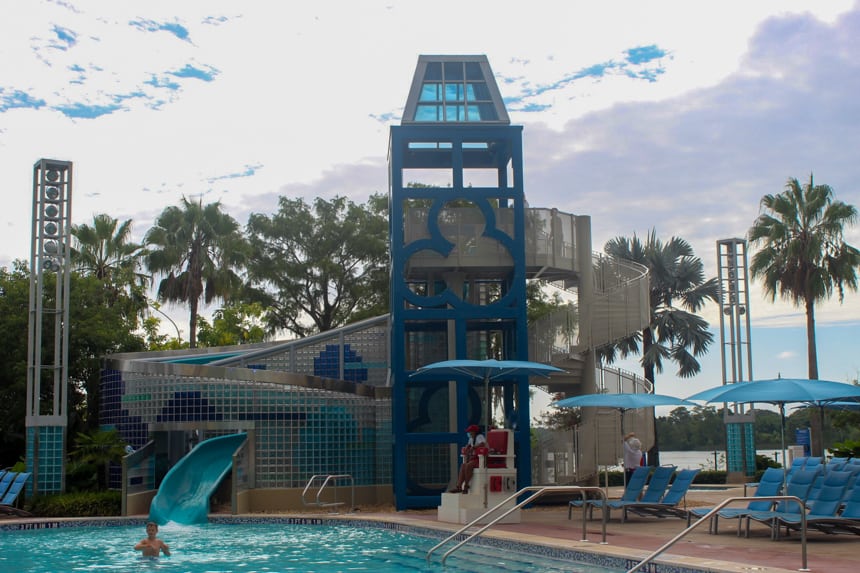 When I'm fortunate enough to spend time here, I'm always baffled at how private and relaxing this area can be. Besides a stay at Disney's Beach Club, nothing tops a stay here for me when it comes to seeking relaxation.
Related: Disney's Beach Club Review
All of the deluxe resorts have a water slide feature at their pools.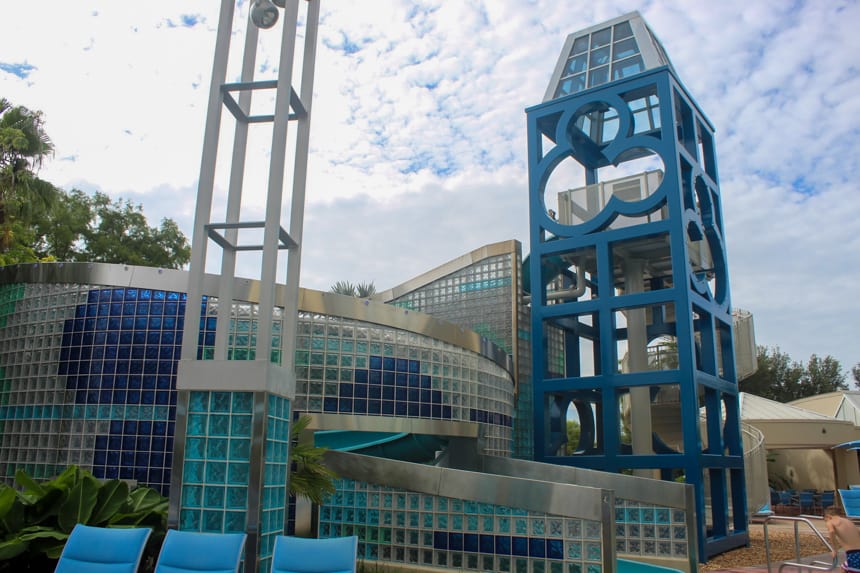 The Cove Pool has a zero-entry area on one side of the pool.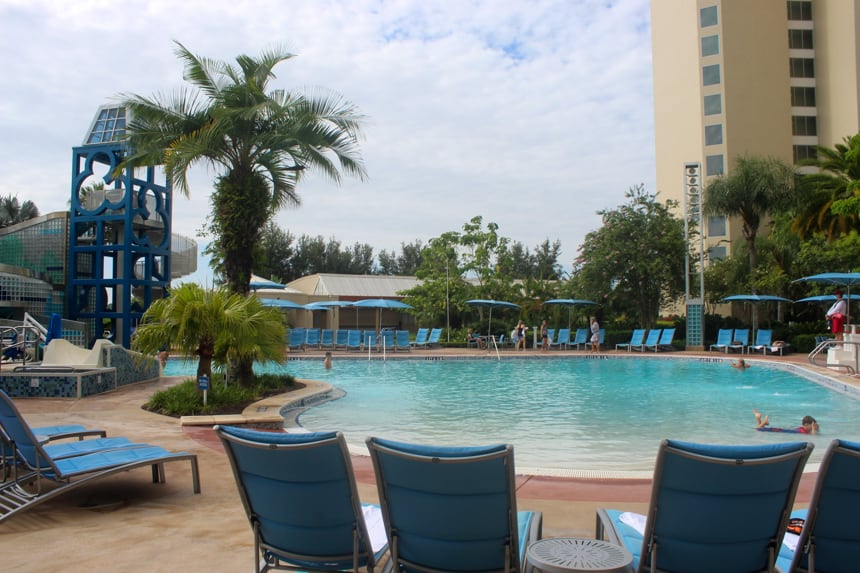 There's a kiddie slide for those not quite big enough to take on the larger one.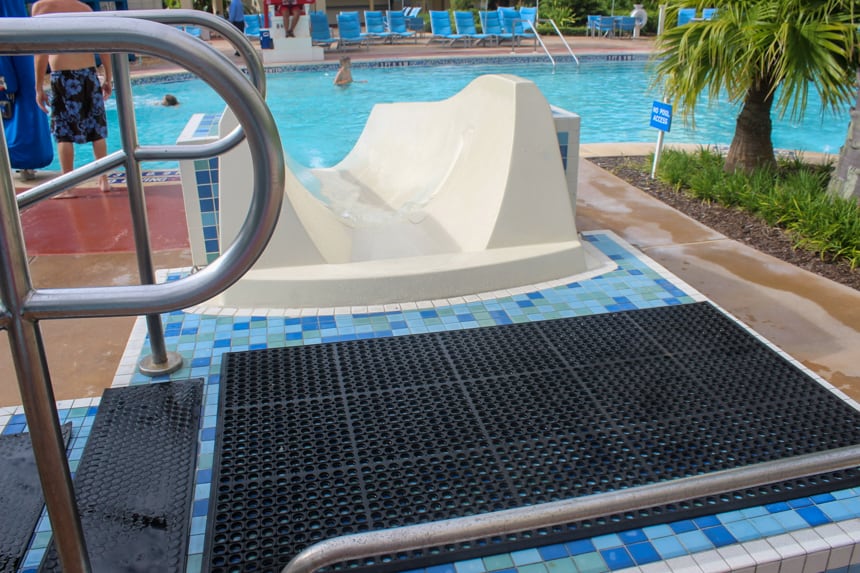 Even better, there's a splash pad area. Parents can lounge, kids can splash. Check out the shape!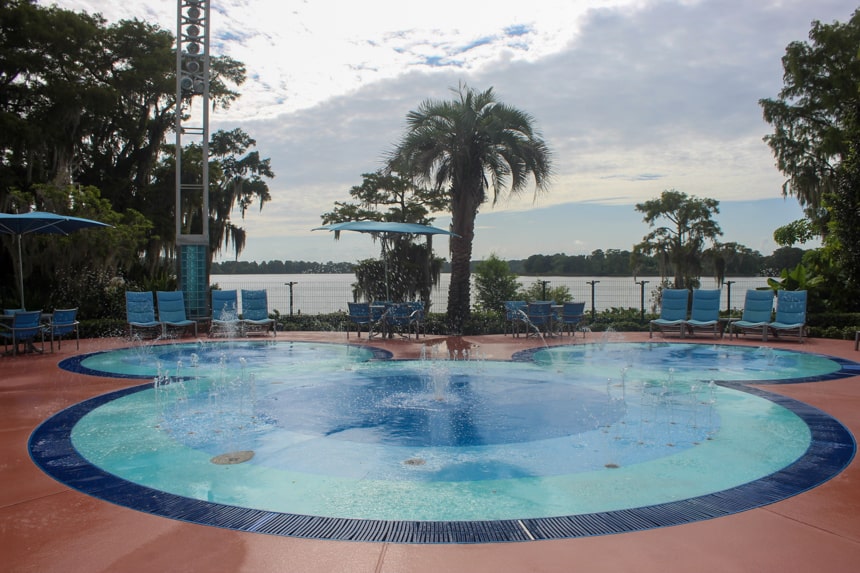 Or moms you can leave dad with the children and hit the hot tub.
Related: Best Pools at the Disney World Resorts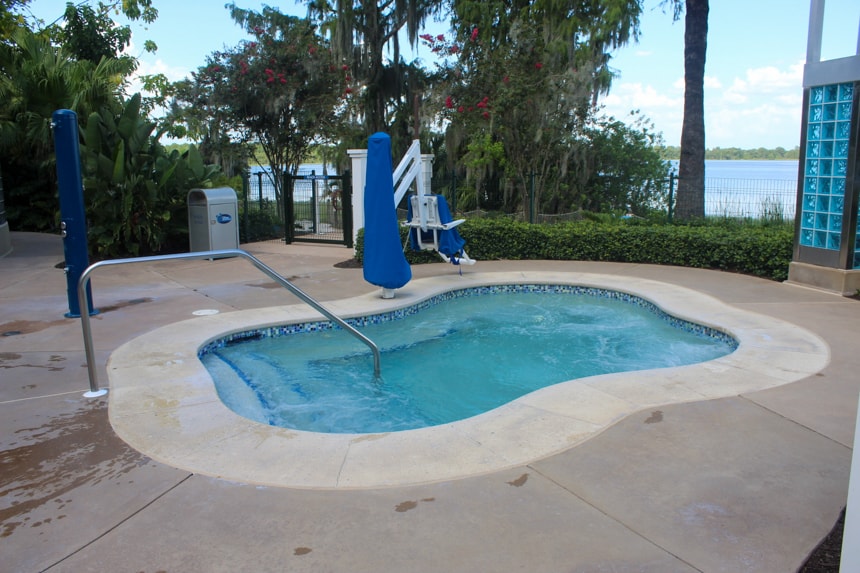 You can spend the entire day out here if you like. Food options are available nearby at the Cove Bar. They serve a variety of beverages, snacks, and meals.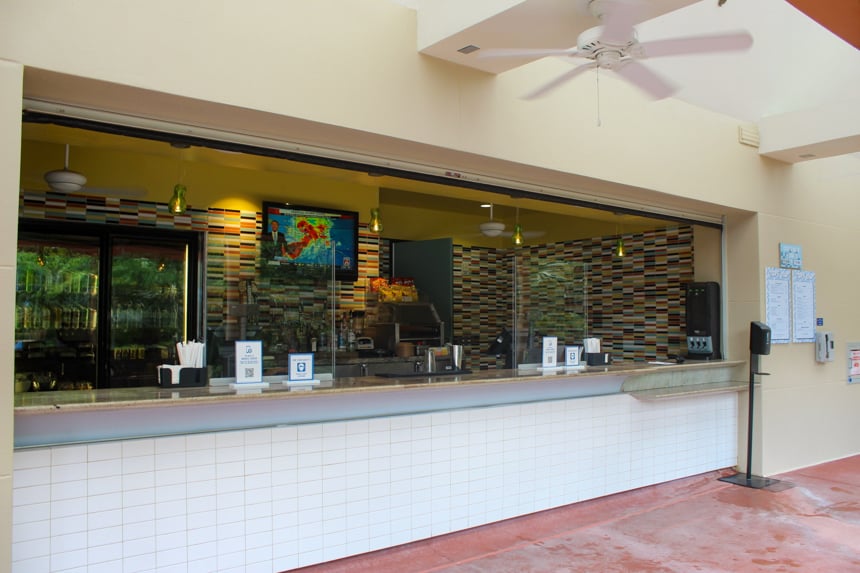 Here's a look at the posted menu on my last visit.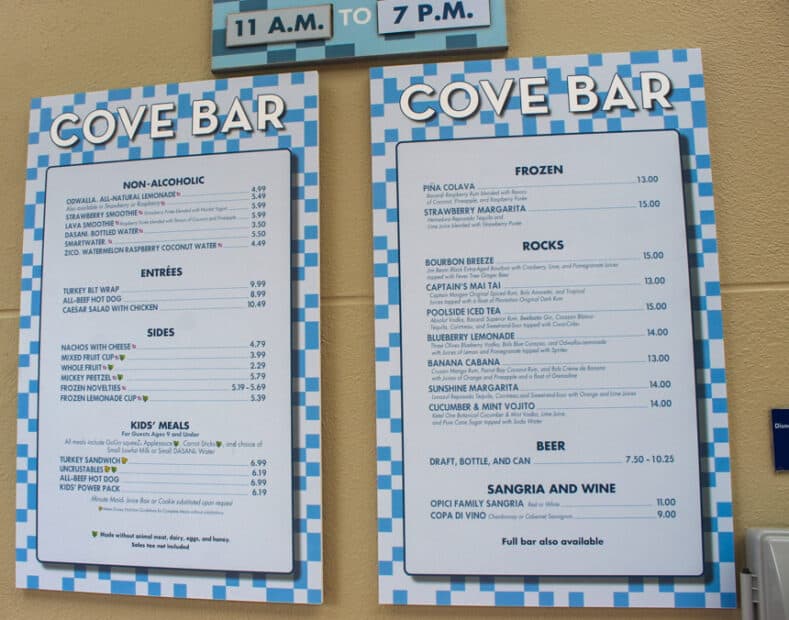 Just outside the pool area you'll find a large semi-shaded area offering even more recreation. Below is a look at the shuffleboard and corn hole games.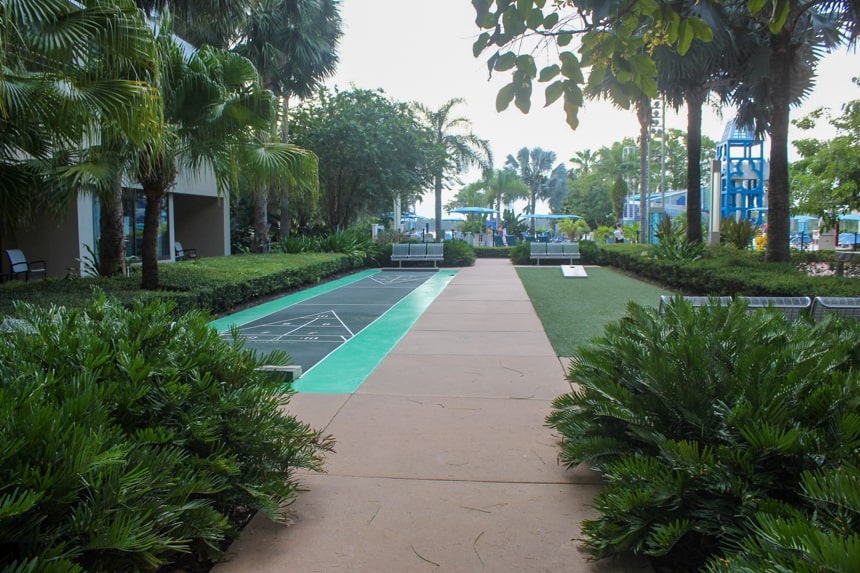 Bay Lake Tower has a pretty bamboo garden with several nice places to sit.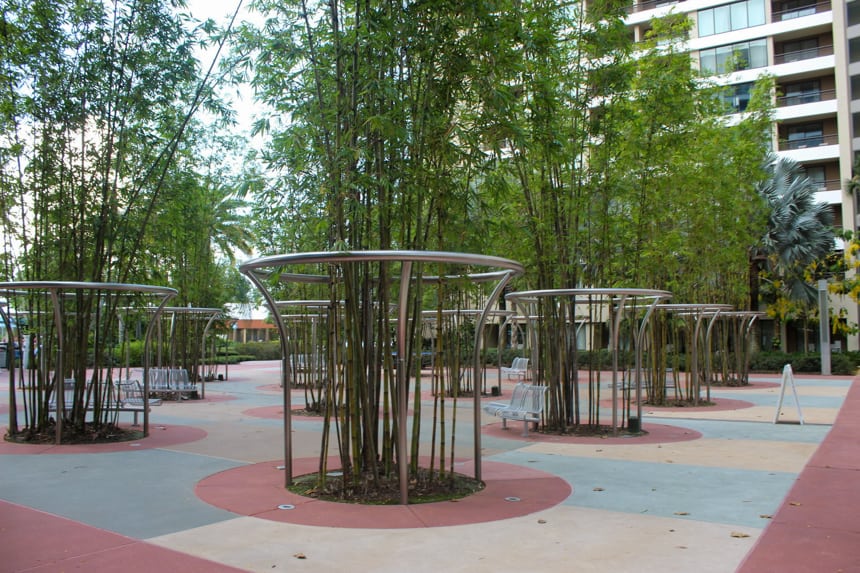 Here's the pathway over to the Contemporary from the back of the resort.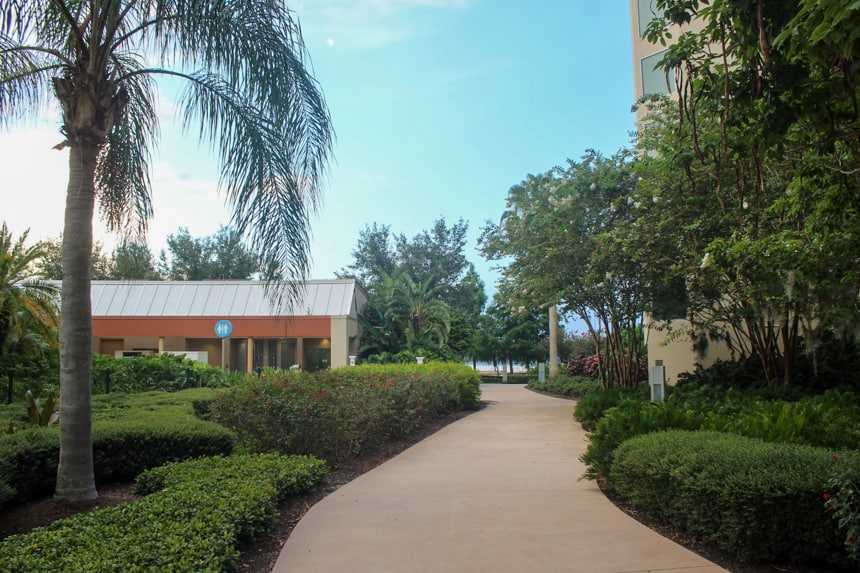 Additionally, there's a marked jogging trail that wraps around both of the resorts.
Related: Jogging Trails at Disney World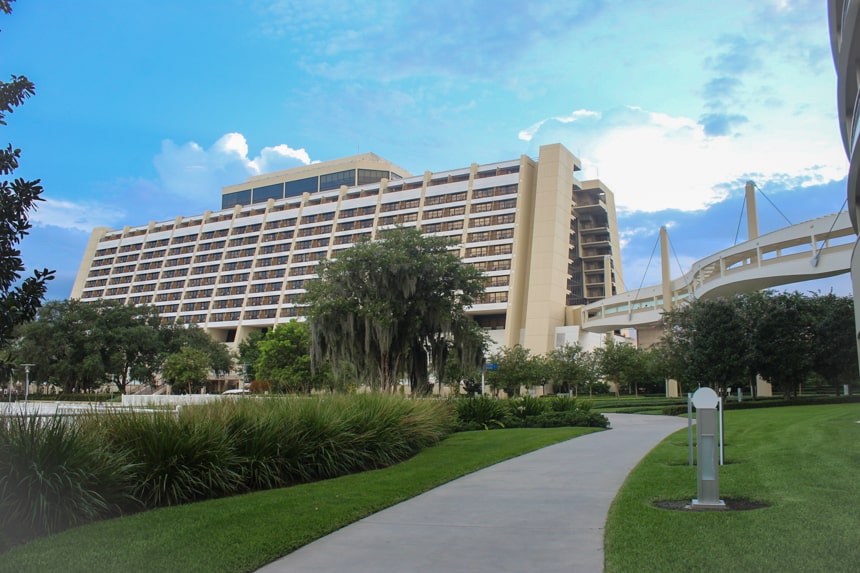 It's so pretty here. Make sure to plan a resort day on your vacation.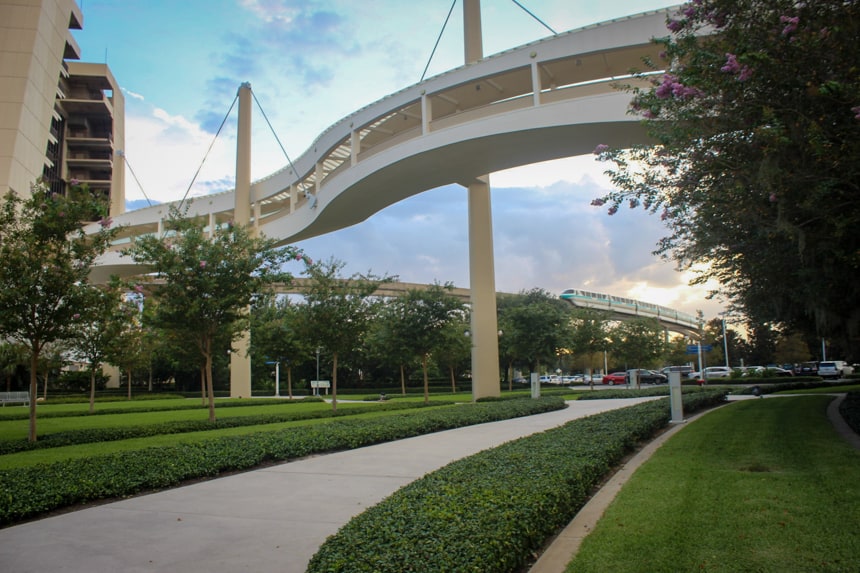 Relaxing is what you are supposed to do on holiday!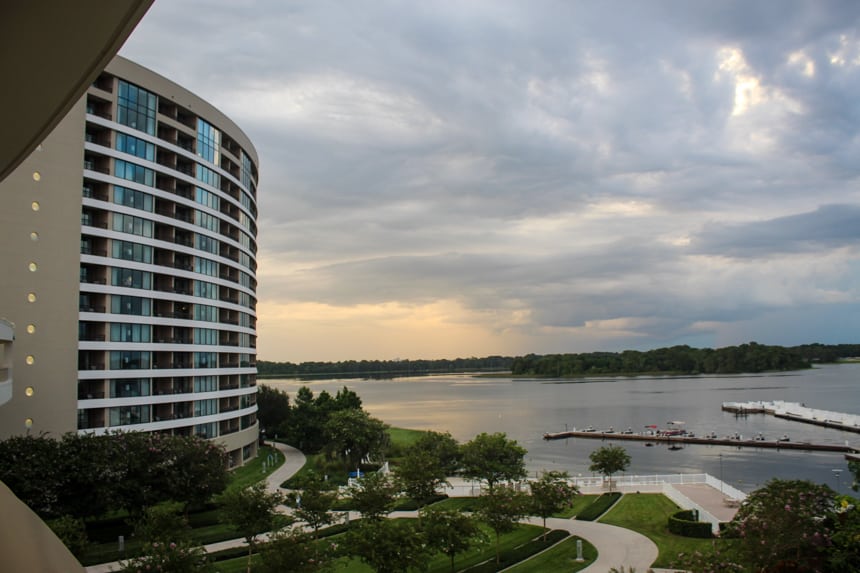 Back on the Contemporary side of the bridge, there's an observation deck with a few seats. You can walk on over and catch the monorail, eat at any restaurant, or do a little shopping and sightseeing.
As far as dining options go, the Contemporary has plenty. Not only that, you can take the monorail to the Polynesian or Grand Floridian Resort for quick access to more dining options.
Related: Disney's Contemporary Restaurants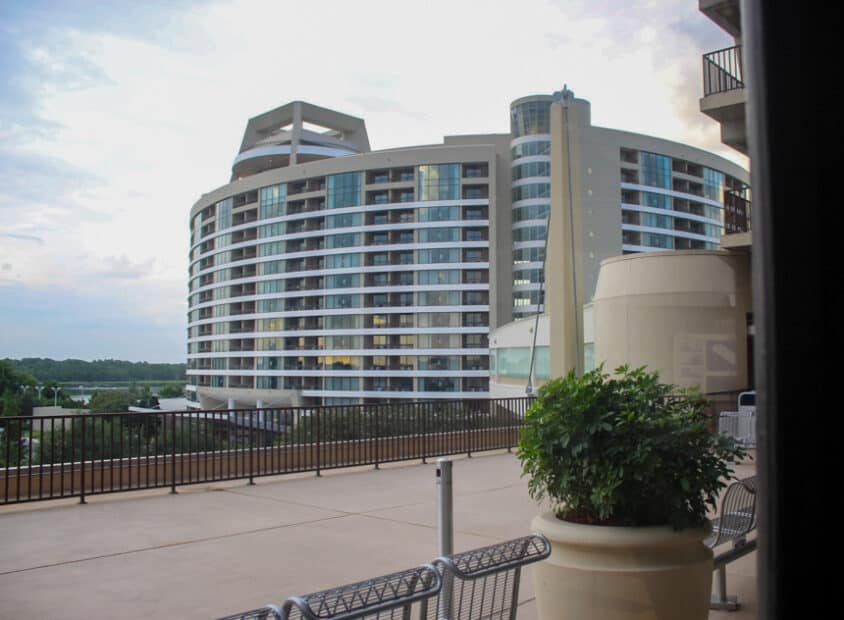 And don't forget when you stay at Bay Lake Tower you have the following transportation options:
Walk to Magic Kingdom
Resort Monorail Service to Magic Kingdom
Water Craft to Disney's Wilderness Lodge and Ft Wilderness (when operating)
Buses to Hollywood Studios, Animal Kingdom, Blizzard Beach, Typhoon Lagoon, and Disney Springs
Additionally, guests will take the resort monorail to the Transportation and Ticket Center. From there, you'll board the monorail to Epcot.
Related: Disney World Monorail Transportation Guide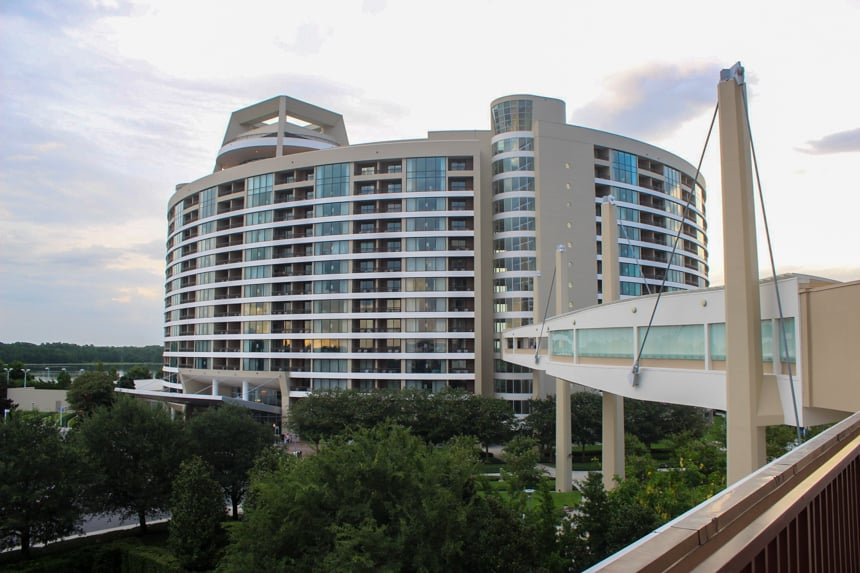 Final Thoughts on Bay Lake Tower
Thanks for joining in today on this Bay Lake Tower review. I hope that it answered any questions or helps resolve any concerns you might have about staying here. Make sure to check with a travel agent when making reservations to secure the resort and room type that works best for your group.
If you are considering a stay at a Disney Resort you might want to also consider a few other favorite villa resorts:
Or you can view the full list of Disney Resort reviews.
Will I stay at Bay Lake Tower again? If and when I do, I will probably elect to reserve either a larger room or choose a room over on the Contemporary side of the resort.
However, I've got quite a few values and moderate resorts I need to get to over the next year. But, rest assured, the Contemporary won't be far from my mind.
And other than the deluxe studio, I really do like Bay Lake Tower.
Have you had a chance to stay here? If so, do you agree with my review of Bay Lake Tower and the different rooms? Feel free to share your thoughts in the comments below.