The Jungle Cruise Ride at Magic Kingdom
The Jungle Cruise is a classic attraction at Magic Kingdom park in Walt Disney World. Be prepared to set off on an exotic boat ride with other sightseers and behold the magic of animatronic animals!
This review will go over the Magic Kingdom's version of Jungle Cruise and other pertinent information for planning this attraction for your next vacation.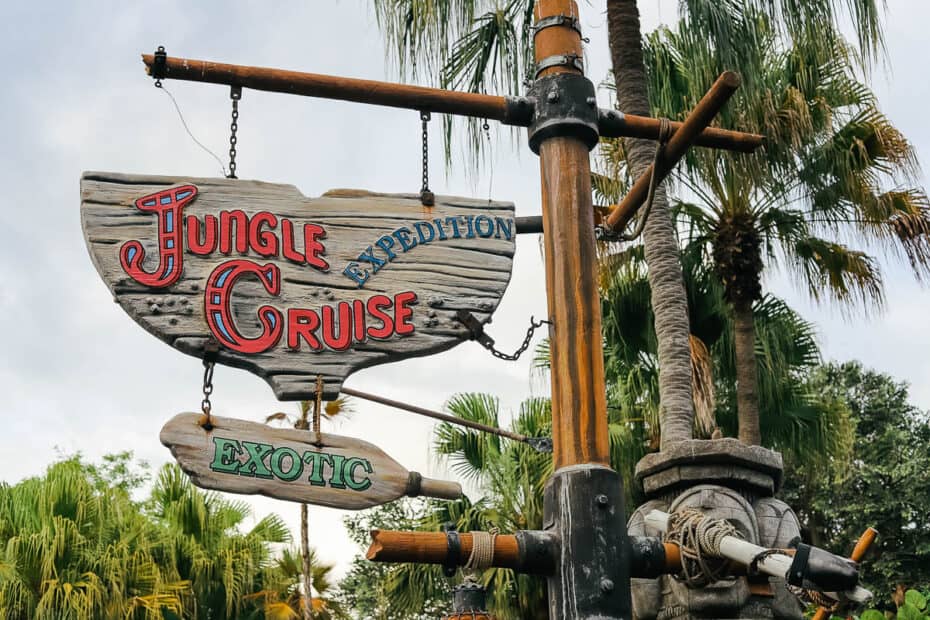 Here's a chart with quick details for this exotic boat ride.
Jungle Cruise
Magic Kingdom

Location:

Adventureland

Disney World Height Requirement:

None

Eligible for Disney Genie+

Yes

Ride Type:

Boat Ride

Seats Per Vehicle:

Around 20 guests per boat

Rider Switch:

None

Good For:

Humorous Boat Ride
Everyone

Scare Factor:

None

Must-Do List:

Medium to High

Perfect For:

All Ages

Special Mention:

If you go during the Christmas holiday season, you'll get to experience the Jingle Cruise version.
Jungle Cruise at Magic Kingdom
Magic Kingdom's Jungle Cruise meets to fairly significant wait times throughout the majority of the day. The attraction is located in Adventureland, past the Swiss Family Treehouse.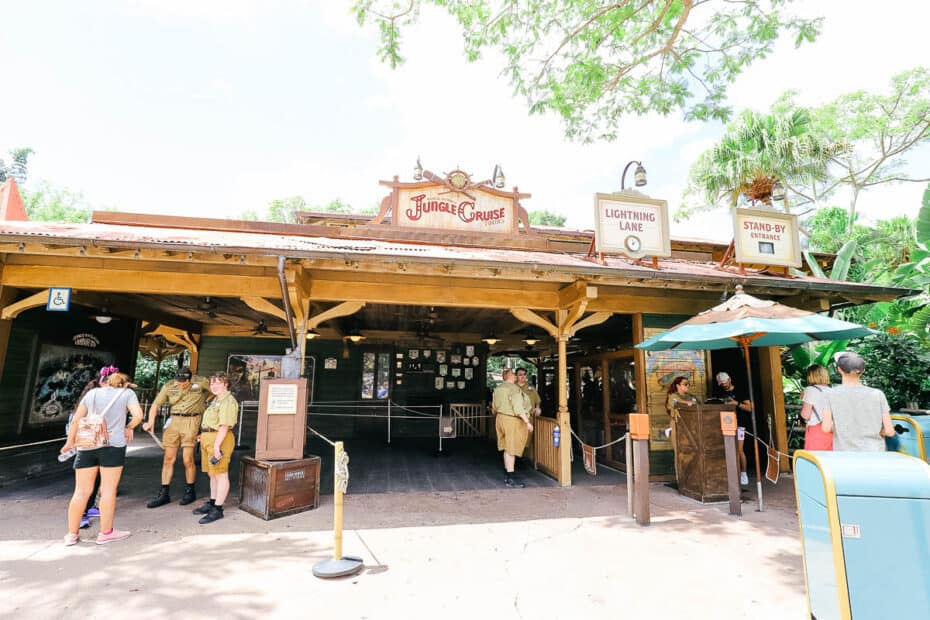 As the sign indicates, you'll board a jungle boat to travel exotic rivers of the world, guided by a witty and experienced skipper.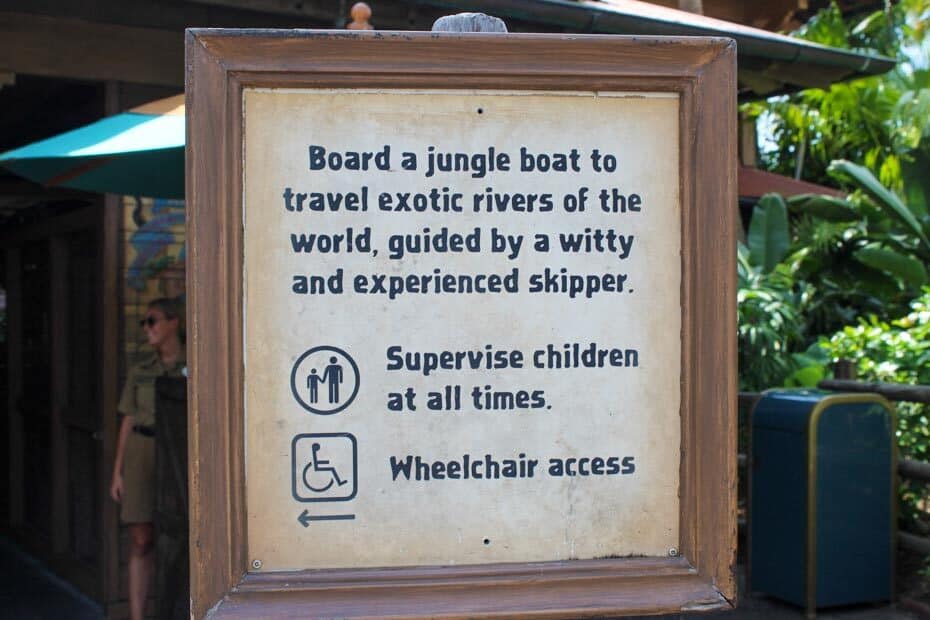 The queue is relatively long and weaves in and out, so it's hard to gauge the wait.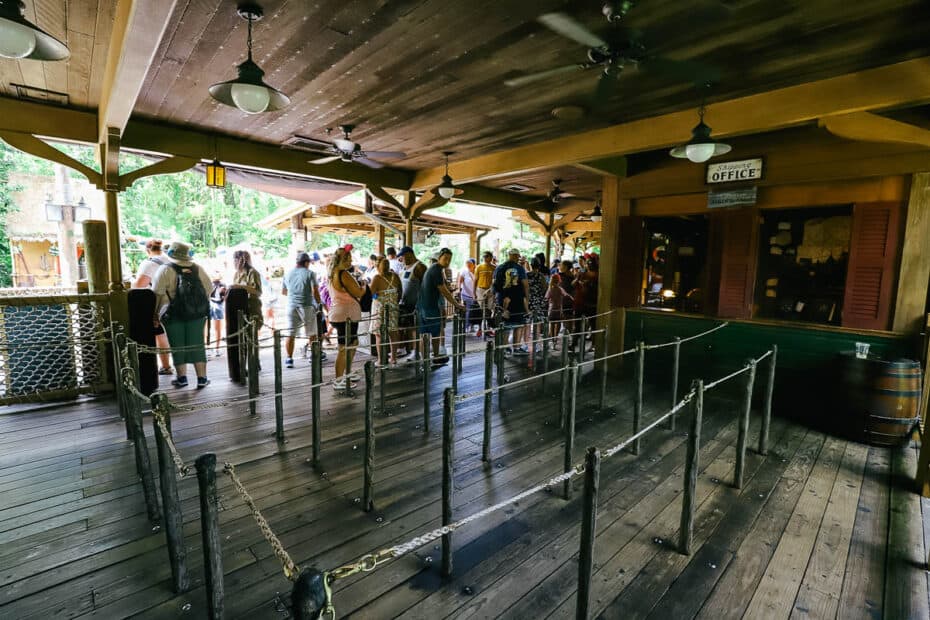 Thankfully, the boat ride has a decent capacity, which helps the line keep moving forward. Usually, cast members load up to 20 guests per boat.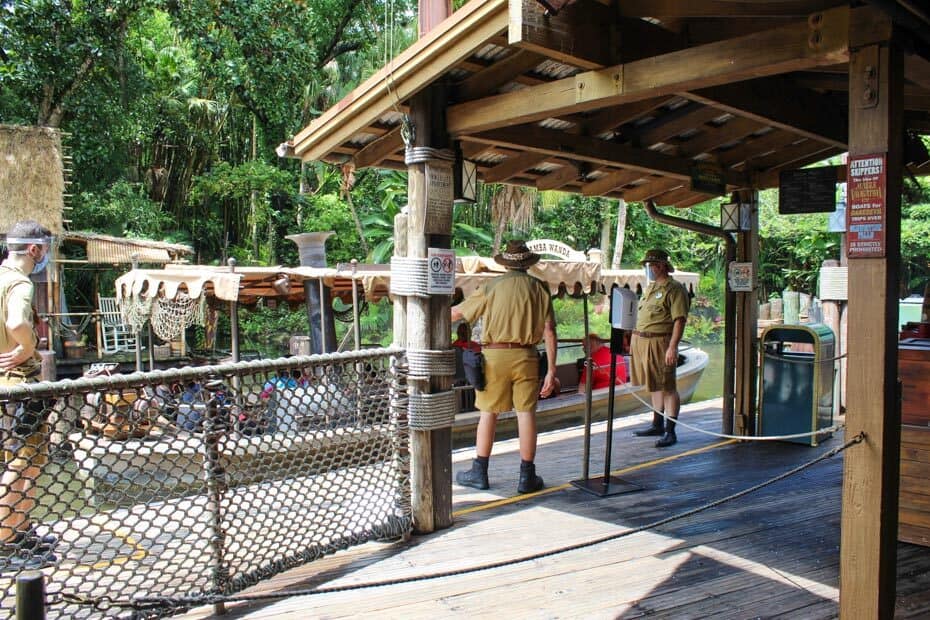 As you set sail, you'll notice that things have appeared to have gone awry. And so have your Skipper's jokes. It's totally okay to laugh, though, if you are a dad anyway.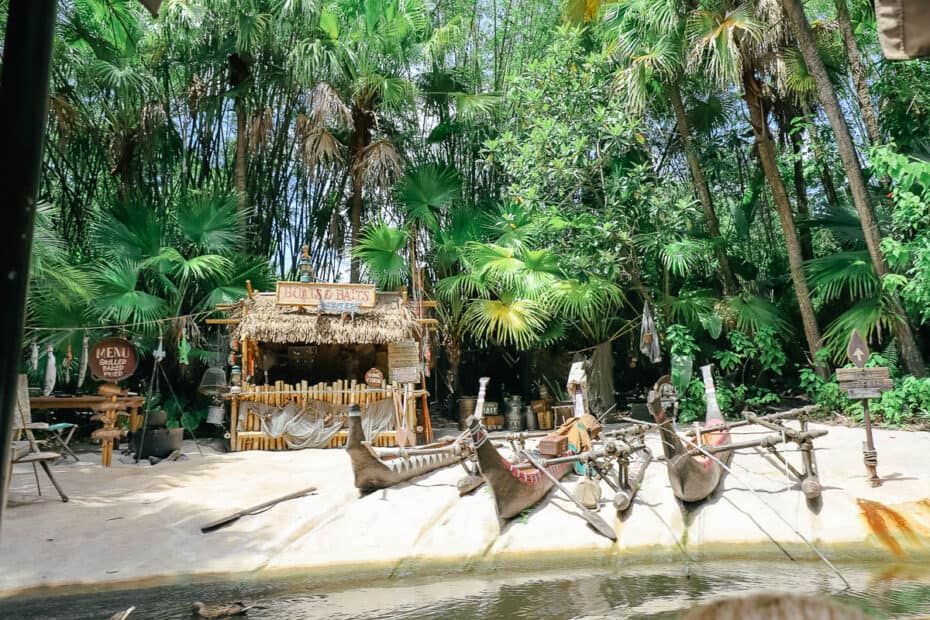 It looks like a bunch of wild animals has taken over the campsite.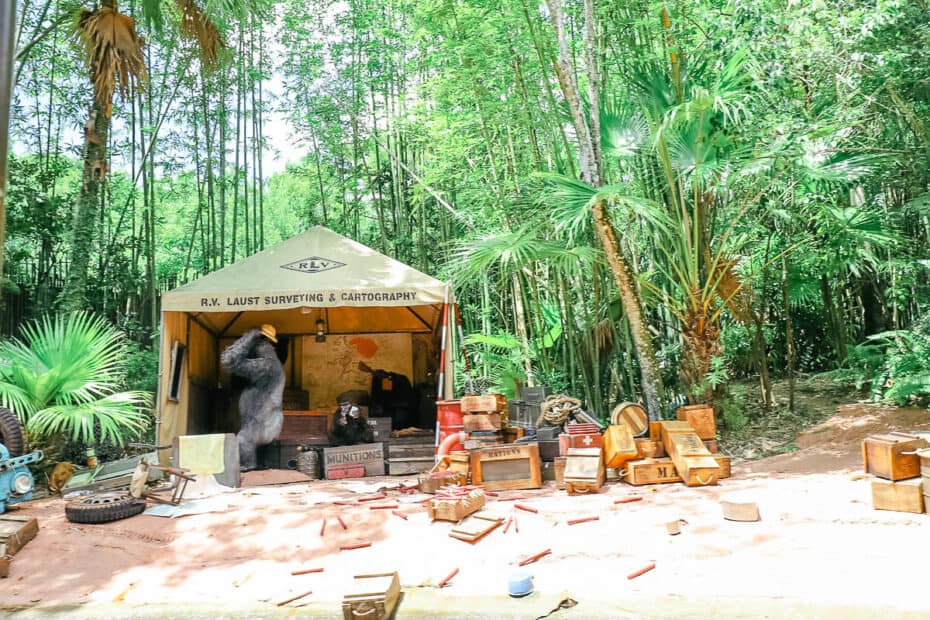 And then there's an angry matriarch just waiting to stampede. I wouldn't mess with her.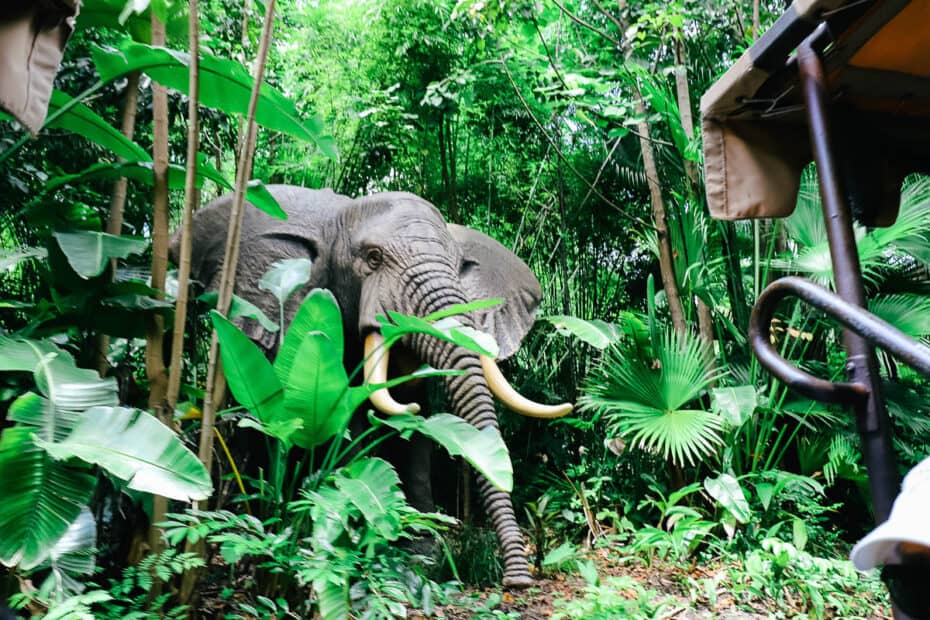 Sometimes when I ride Jungle Cruise, I feel like I'm at Animal Kingdom on the Kilimanjaro Safaris. And then I remember that these are only animatronics.
Because back in the day, they wouldn't let Walt have real wild animals in the park. So this is what you got.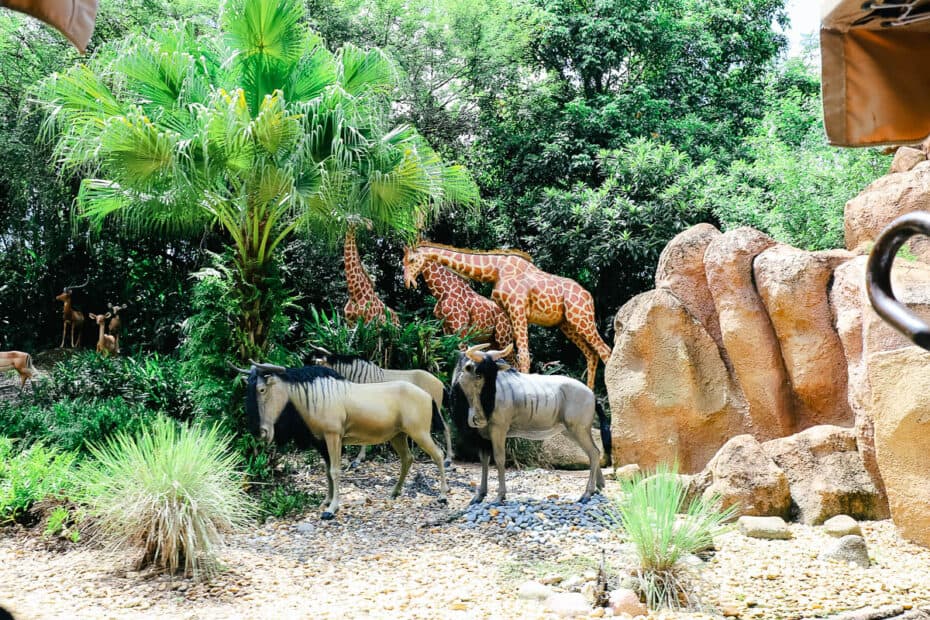 Here's something you would never see on the safari at Animal Kingdom. A lion is feeding her cubs.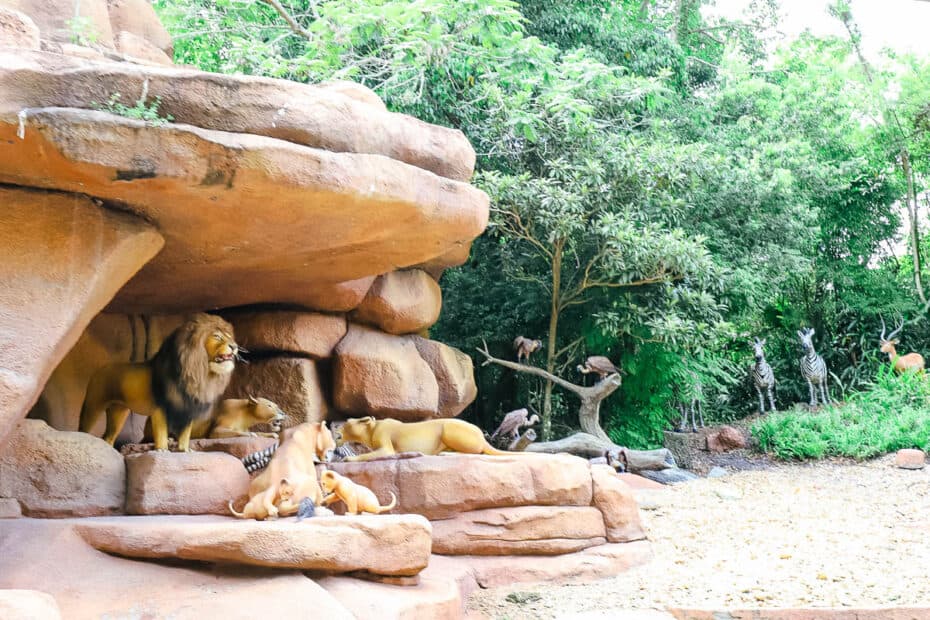 But you might see the likes on an authentic safari in Africa. Wouldn't that be something?
Make sure to stay in the boat because you don't want to end up at the bottom of a totem pole. Or even on the pole here.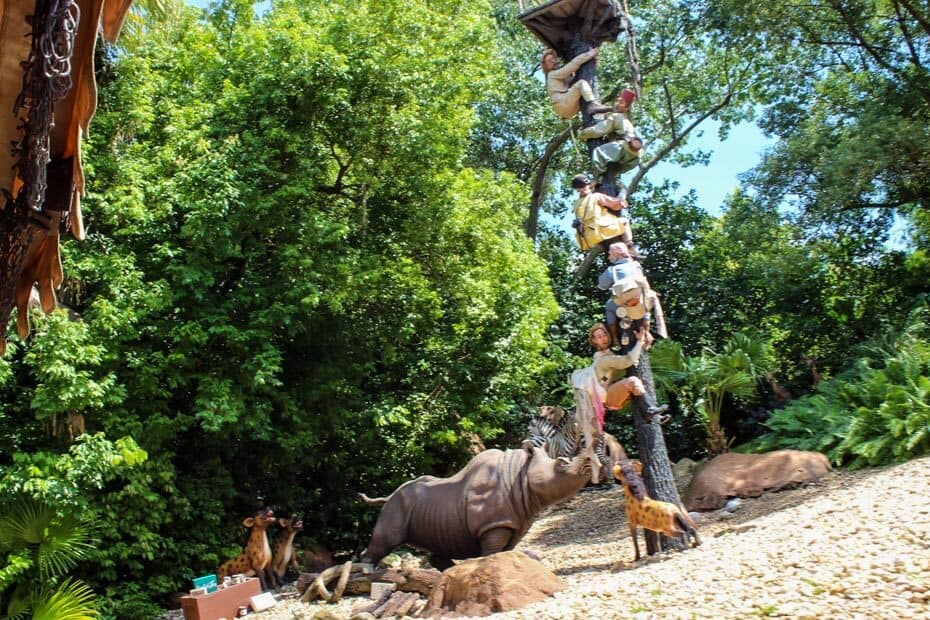 And just when it seems that things are starting to calm back down on your Jungle Cruise, you will run into a few natives.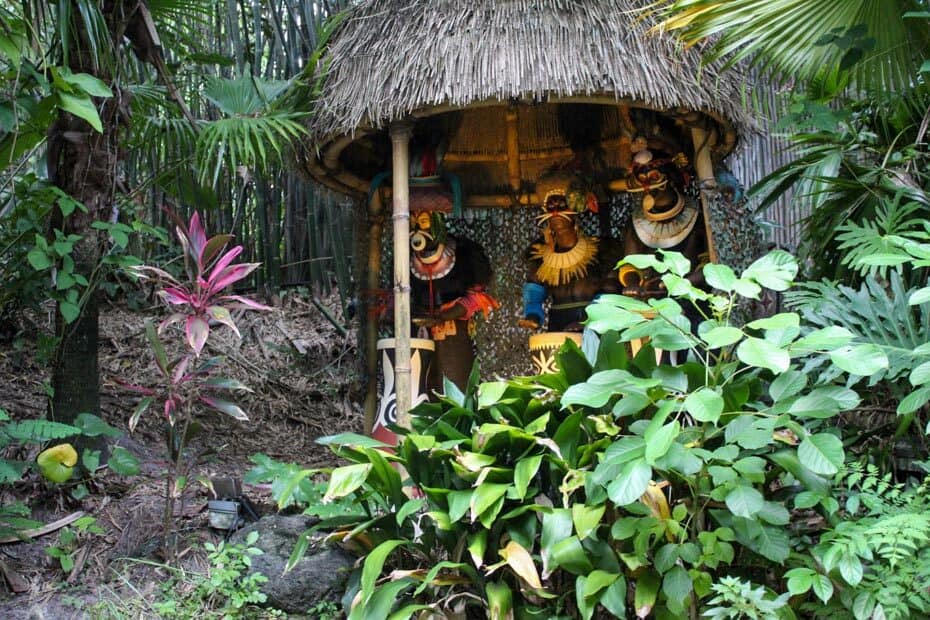 Thankfully, one of the world's seven wonders is right up ahead.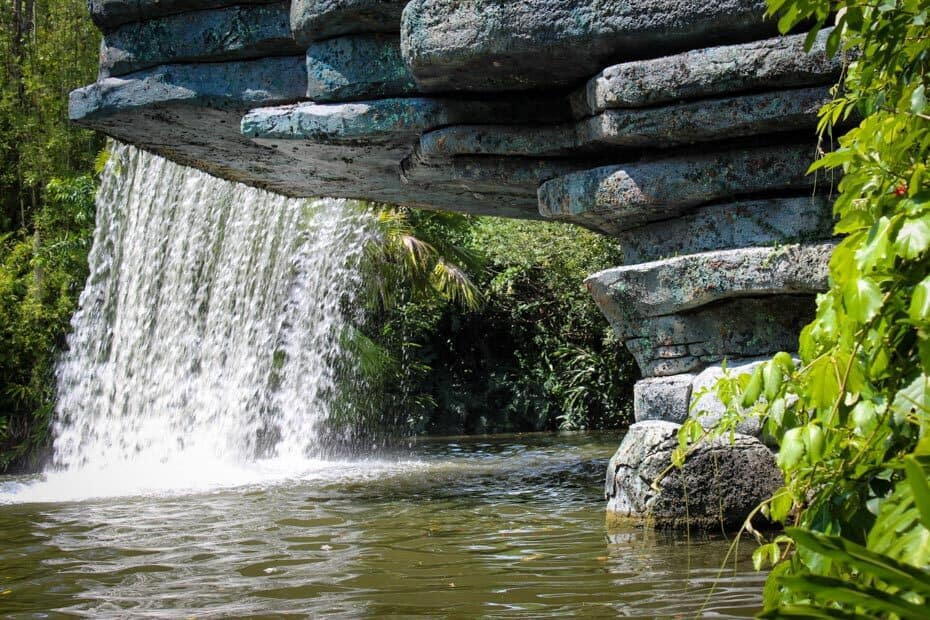 That's what your skipper will tell you anyway. The waters may look reasonably safe, but don't be surprised if you see some hungry hippos.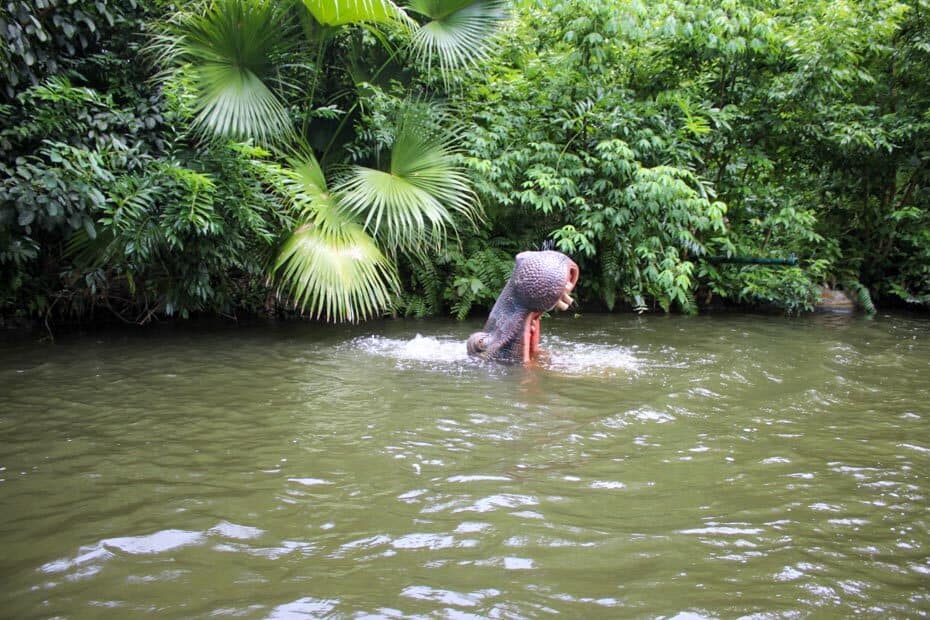 And even hungrier crocodiles. They are waiting for the hippos to chase you out of the water if you fall. I'm sure you're glad that these are only animatronics.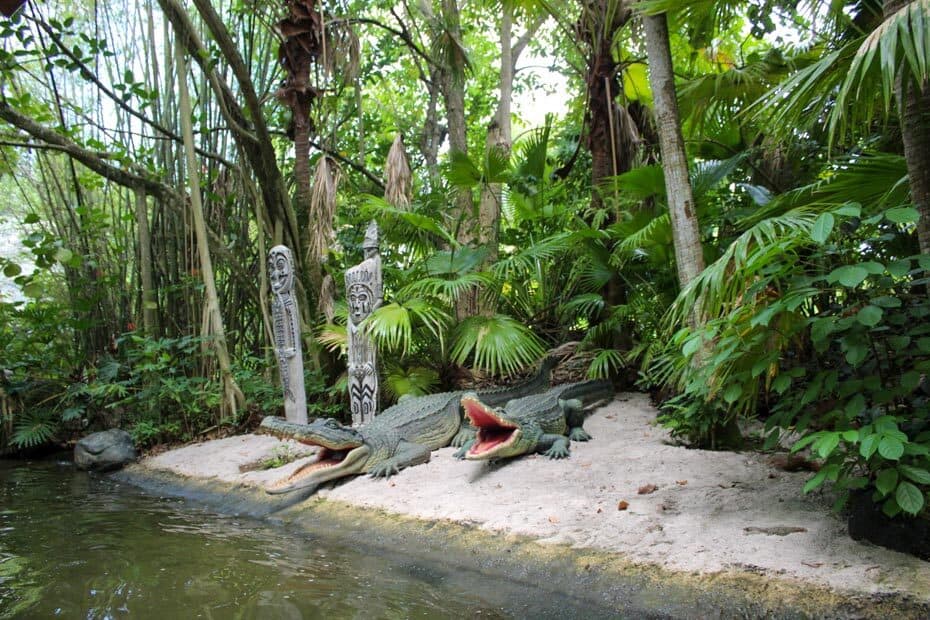 What can I say? It's a terribly cheese-y (in the best way) ride. Writing about it like this is the only way to honor it truly.
There's also the nicest surprise at the end, a parade of elephants. You know what they say, while the matriarch's away, the young ones will play.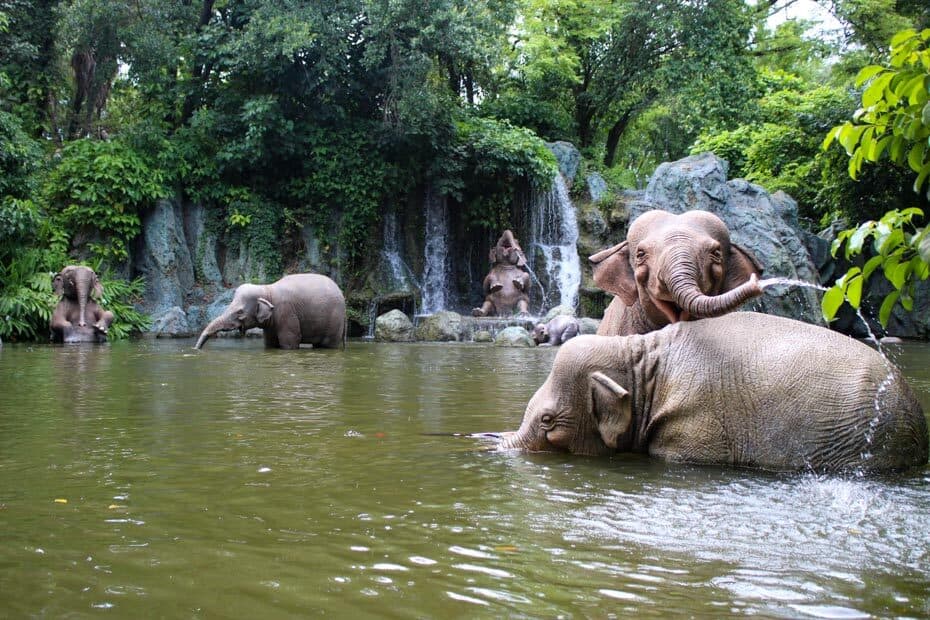 You can't help but smile as they enjoy their bath. All the while wondering…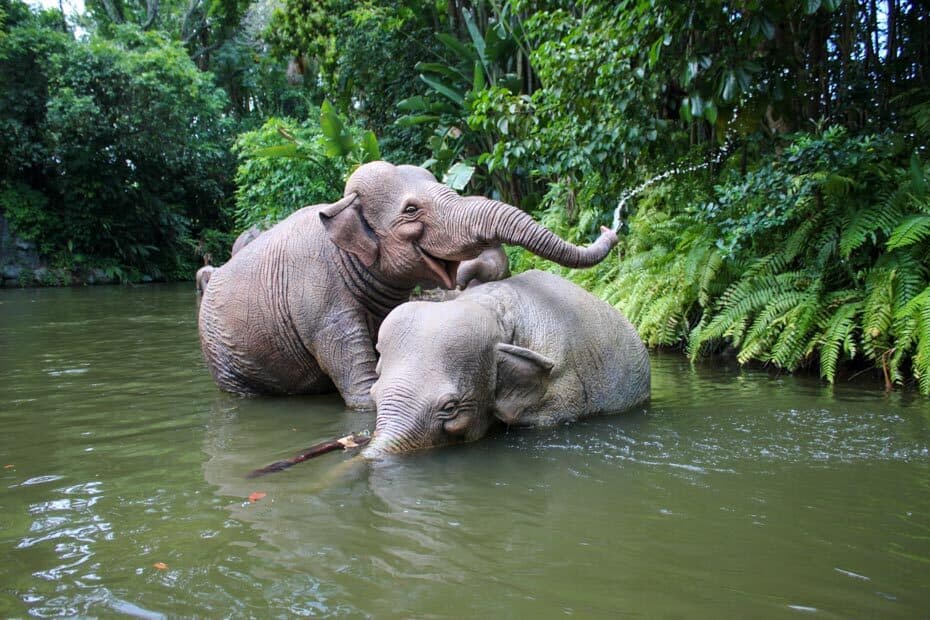 Is that one going to pop its trunk up and douse you with water?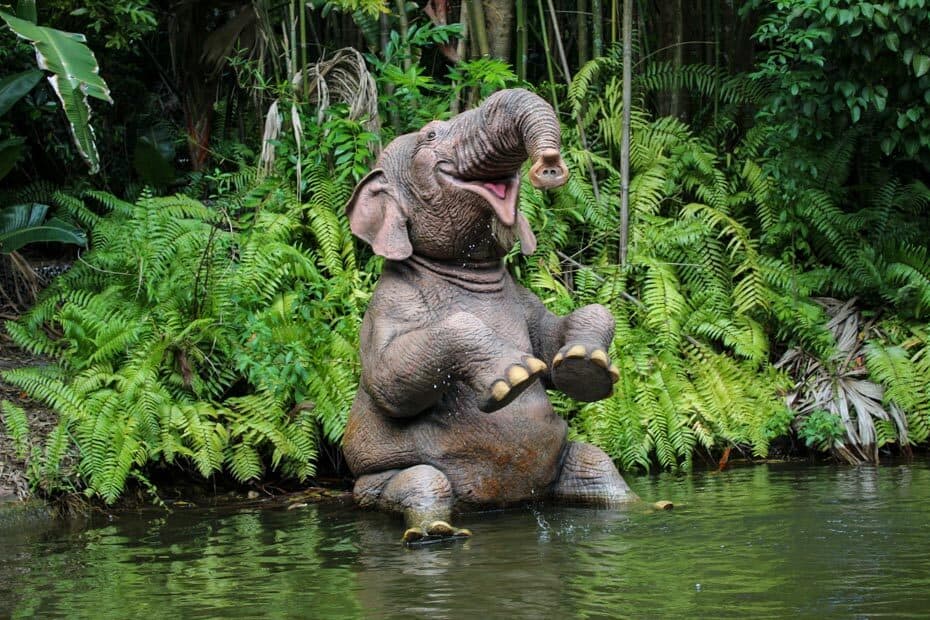 Possibly. Don't worry, it's just a splash, and these are animatronics also. Therefore, no elephant snot is involved.
When I started this Disney blog, I never dreamed that I would write a statement like "no elephant snot involved."
But here we are.
Before you know it, you'll have somehow safely returned to the dock. Your skipper will kick you out, and you are finally free to head across the way for a spin on Magic Carpets of Aladdin.
As far as the Jungle Cruise goes, it has remained popular throughout the years. Most will want to try and ride this attraction before 11:00 a.m. before crowds tend to rise.
Additionally, Jungle Cruise is somewhat different at night than in the daytime. And it's usually easier to ride as nighttime falls.
Usually, I recommend riding Jungle Cruise immediately after the Festival of Fantasy Parade passes through Frontierland.
You might also enjoy these other Magic Kingdom Rides:
If you are a fan of the Jungle Cruise or looking for a great meal at Magic Kingdom, I recommend getting a reservation for Jungle Skipper Canteen. The food and service are excellent, maybe slightly reminiscent of the Jungle Cruise!
Related: Jungle Skipper Canteen Review
At Resorts Gal, we prioritize the Walt Disney World Resorts, Disney World Characters, and Disney Dining.
Feel free to check out these other popular resort reviews for the Magic Kingdom area:
Make sure to familiarize yourself with using the Disney Skyliner and travel times. You'll also want to be up-to-date with the Disney monorail service.
Are you a big fan of the Jungle Cruise at Magic Kingdom? Let me know in the comments.