Main Street Vehicles at Magic Kingdom
This article discusses Main Street Vehicles, an attraction on Main Street U.S.A. at the Magic Kingdom in Walt Disney World.
Have you ever walked down Main Street U.S.A. and heard an old-fashioned car horn warning others they were passing? Throughout the day, several antique vehicles provide a one-way lift to the end of the street.
It is a true delight to experience the Main Street Vehicles during your Walt Disney World vacation. We often see them in the morning and occasionally in the afternoon, closer to sunset.
If you see one out, by all means, take the time for a ride. You won't be disappointed.
Often, these experiences help solidify guests' decisions to return to this magical place year after year. Besides, it's not every day you can say you rode in an open-air vehicle up Main Street to Cinderella Castle.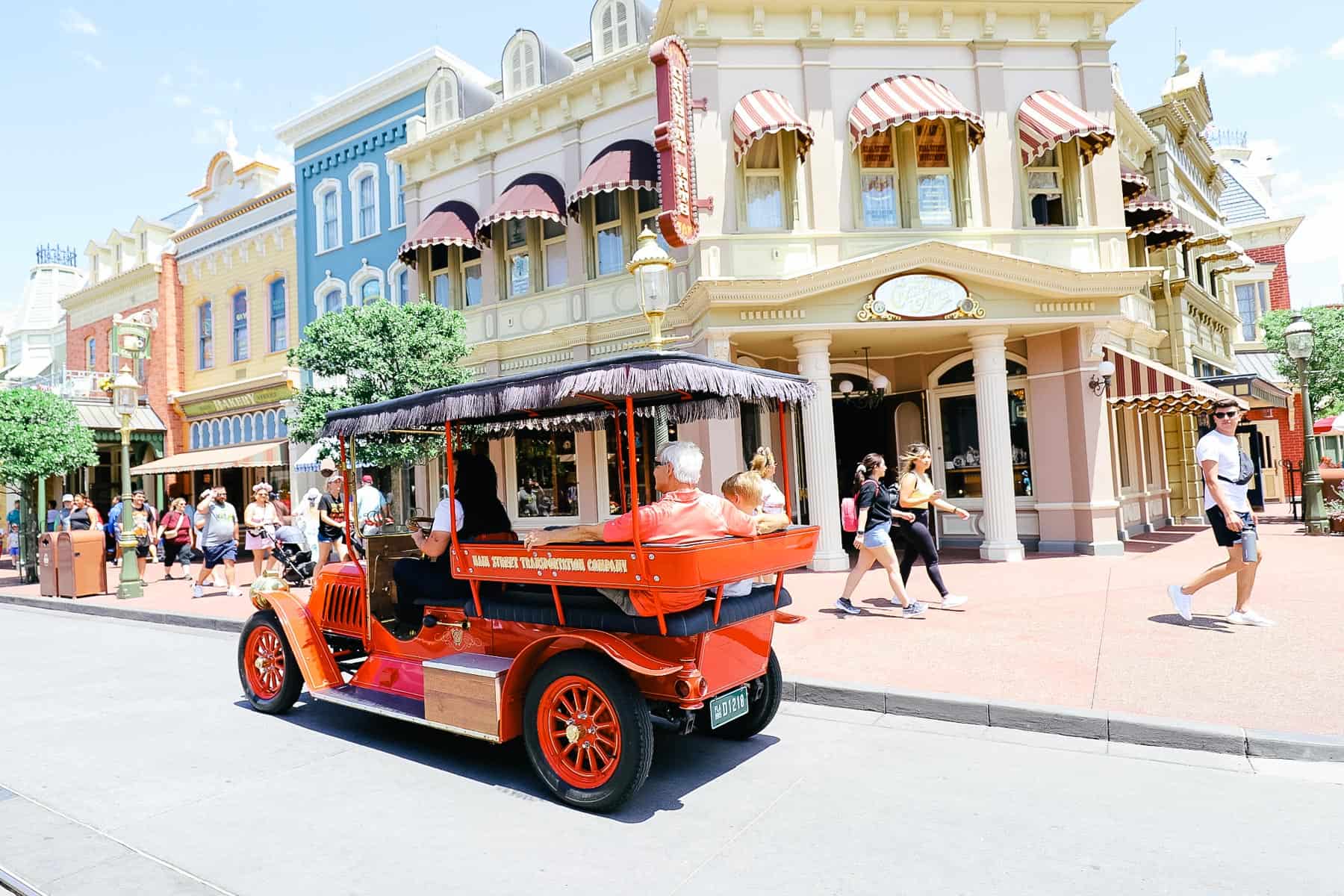 Here are a few details about the Main Street Vehicles.
Main Street Vehicles
Magic Kingdom

Location:

Main Street U.S.A

Disney World Height Requirements:

None

Ride Type:

Open Air Vehicle

Seats Per Vehicle:

Rows

Rider Switch at Disney:

None

Good For:

Leisurely ride down Main Street
Nostalgia

Scare Factor:

None

Must-Do List:

Low Priority

Perfect For:

All Ages

Special Mention:

These vehicles tend to be out earlier
in the day than later.
*Guests in wheelchairs or ECVS must transfer to the ride vehicles. **Details for those with mobility issues (i.e., wheelchairs, ECVs, scooters) are available on Disney.com.
Main Street Vehicles
Four vehicles make up the collection of Main Street Vehicles. First is the Omnibus, an open-air double-decker bus that offers a unique perspective of the park from its upper level. It is rare to see the Omnibus out, much less have the chance to ride it. So if you see it running, don't miss the opportunity.
Below is a photo of the Omnibus. It's often out on Mickey's Not So Scary Halloween Party nights in the late summer to early Fall. Unfortunately, it doesn't operate during the event. But guests always enjoy seeing the antique bus.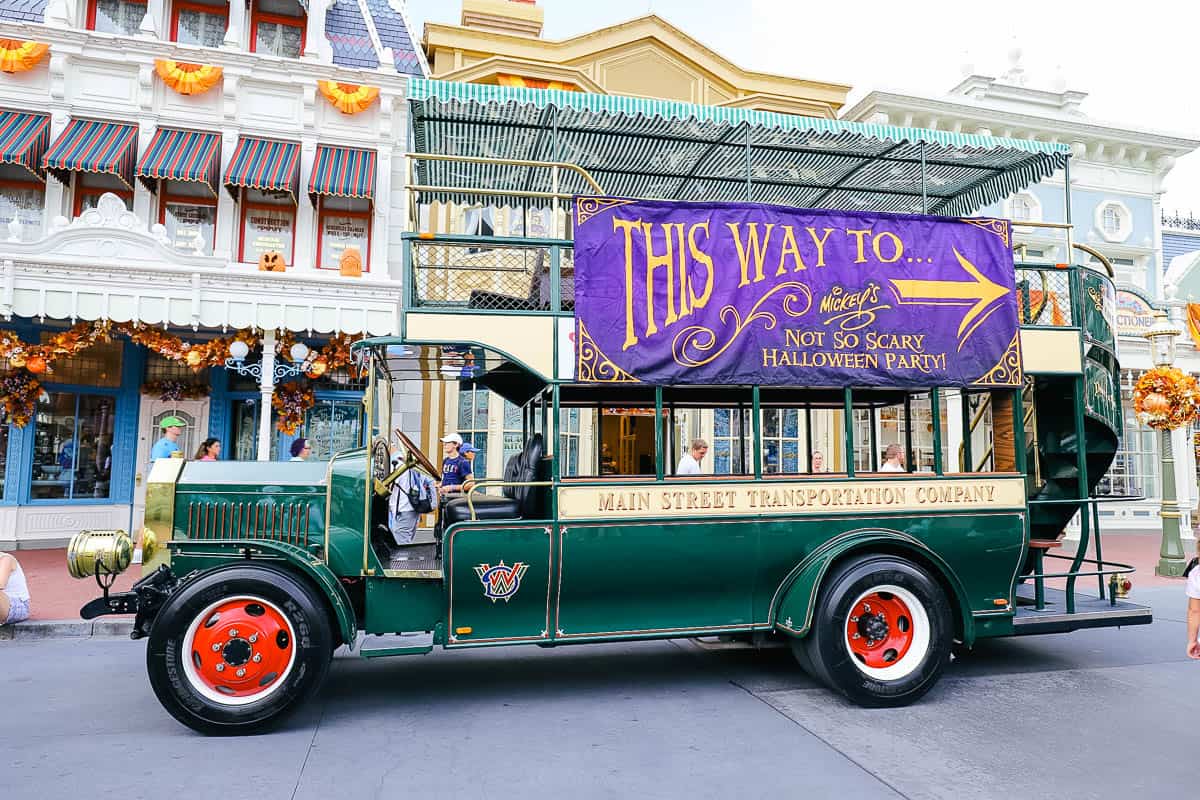 Magic Kingdom has two jitney vehicles that we see fairly often. One is a pale yellow car.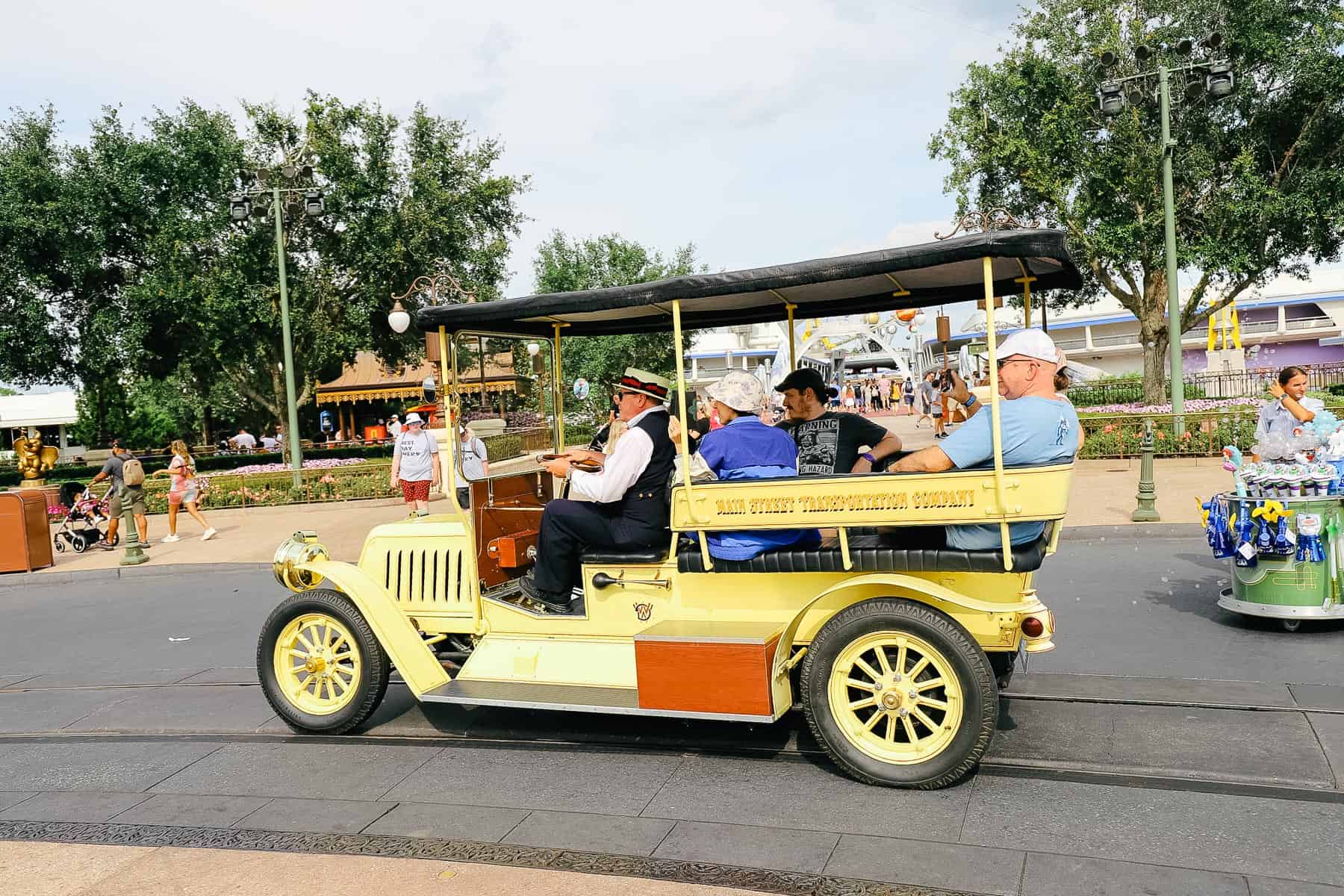 The other is a bright fire-engine red that's pretty hard to miss!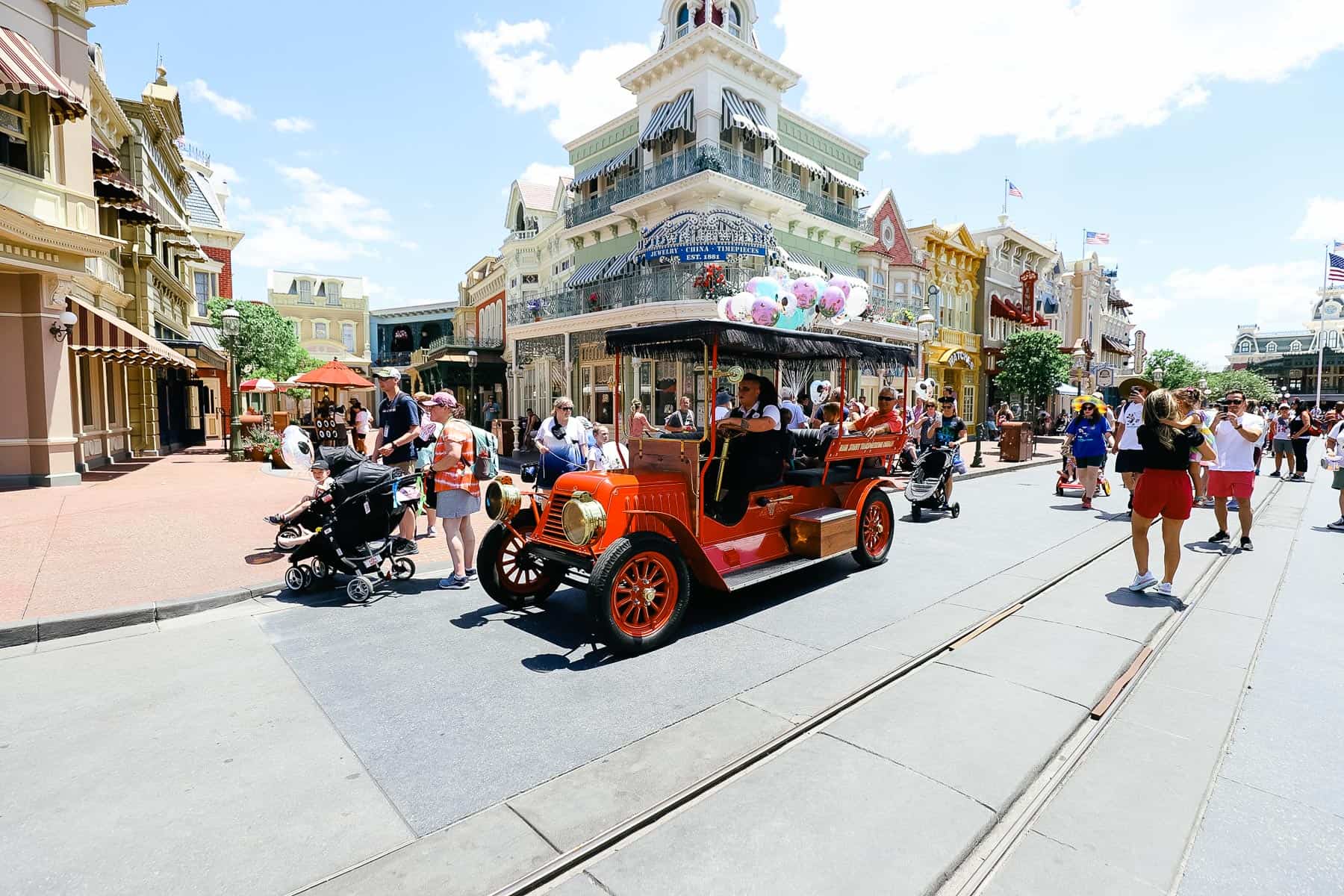 Additionally, a horse-drawn trolley is occasionally on Magic Kingdom's Main Street. In the past, it carried the performers in the Main Street Trolley Show. Unfortunately, that classic show was canceled several years ago.
From time to time, you might see the Dapper Dans, a barbershop quartet, performing from the Main Street Trolley. Seeing performers on the trolley and the horse pulling it is always fun.
Lastly, an antique fire engine sits inside Engine Co. 71, the firehouse at Magic Kingdom. Often the firehouse is open, and guests can observe the car and other memorabilia. You can find Magic Kingdom's firehouse right inside the park to the right of City Hall in Town Square.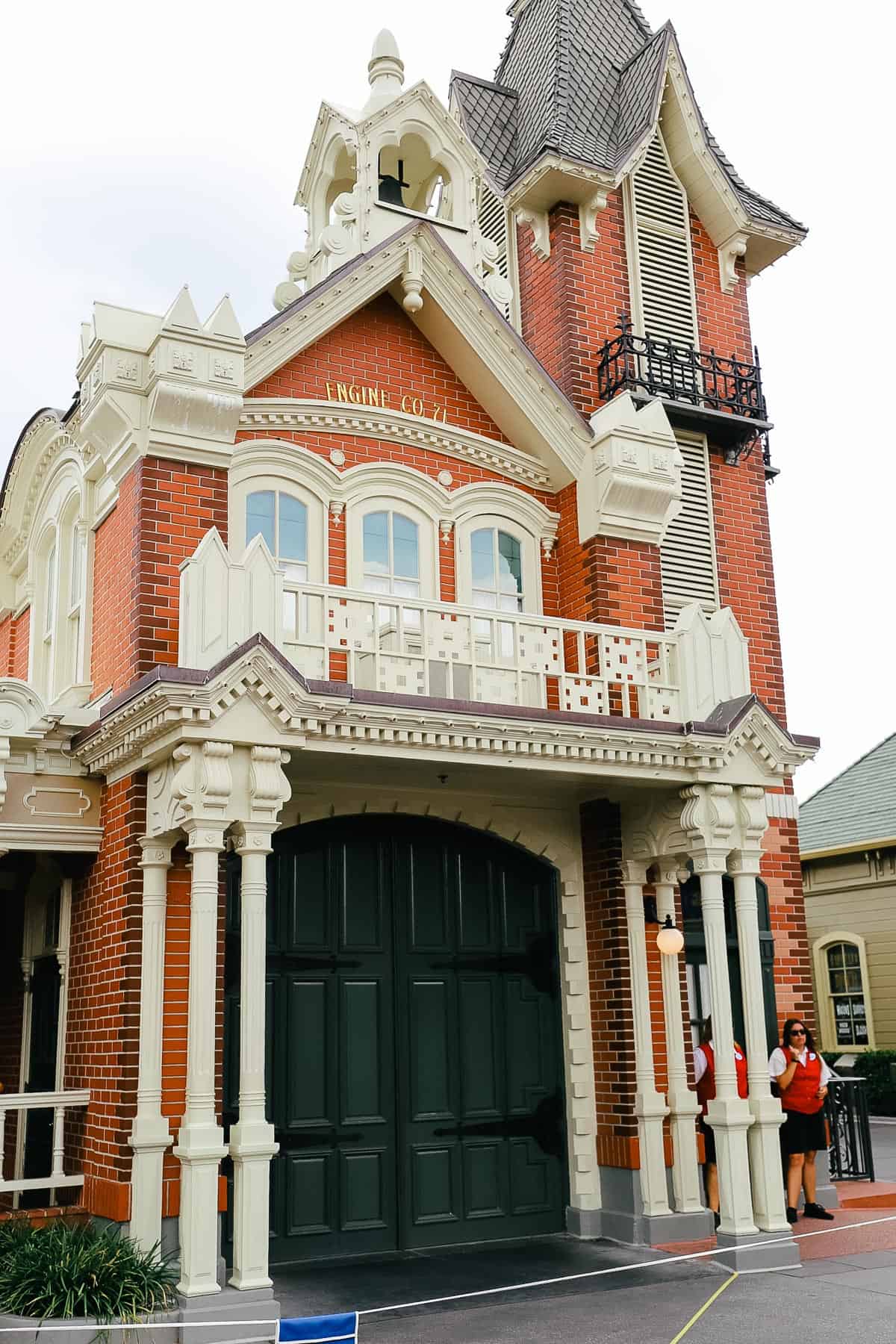 Whether it's a horsedrawn trolley or a horseless carriage, you'll need to be in a certain spot to ride on one of the Main Street Vehicles. For instance, if the Omnibus is running, you'll catch a ride in front of Town Square Theater. A sign hangs from a light pole near the area where it stops.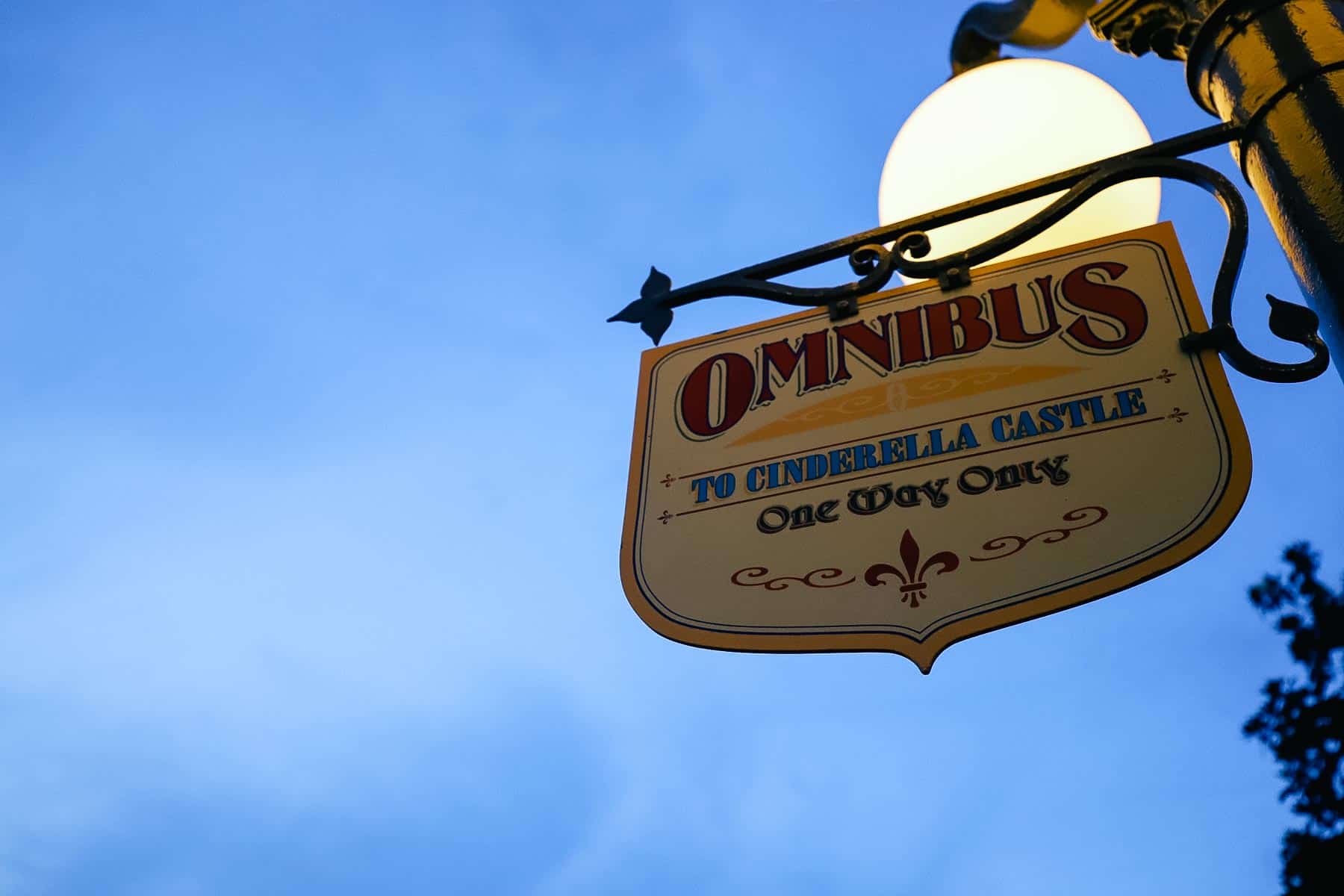 As indicated on the sign above, each route is a one-way trip. So when the vehicle reaches the front of Cinderella Castle, everyone will have to disembark.
Both jitneys usually stop between the Walt Disney World Railroad and the flag pole in Town Square. Below is a photo of the area where you'll find them. The driver is waiting on guests to board. So if you see one out, you can hop on for a ride.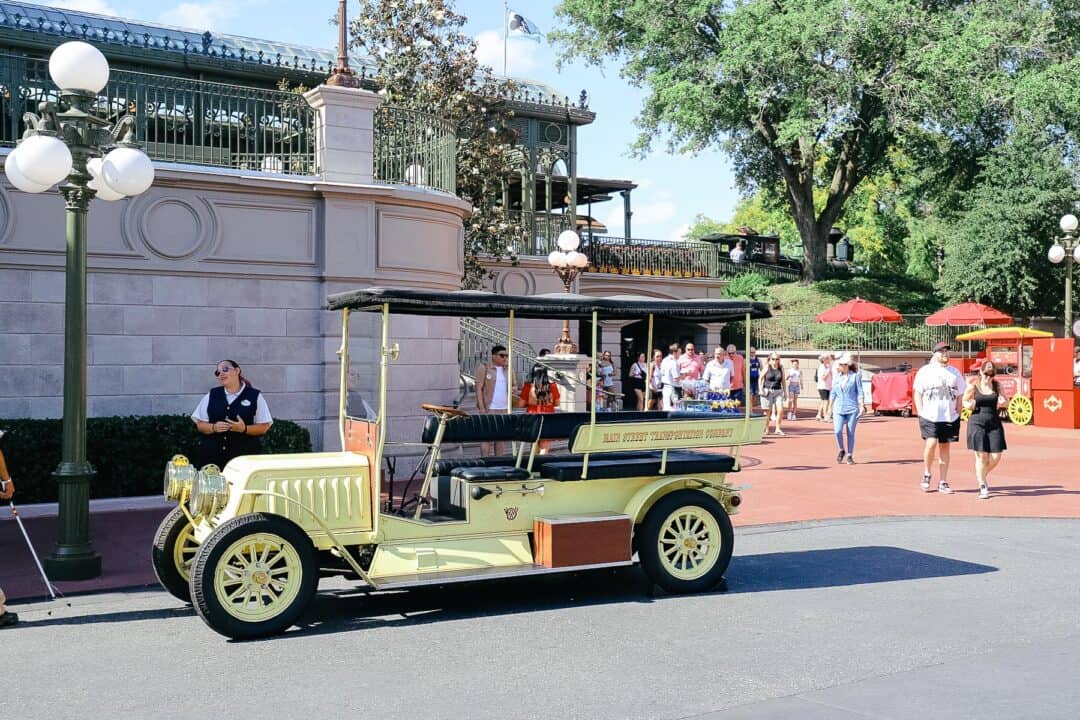 The photo below shows the area in the hub in front of Cinderella Castle where the Main Street Vehicles drop guests off. Once guests exit the car, others are allowed to join on the ride back down Main Street U.S.A.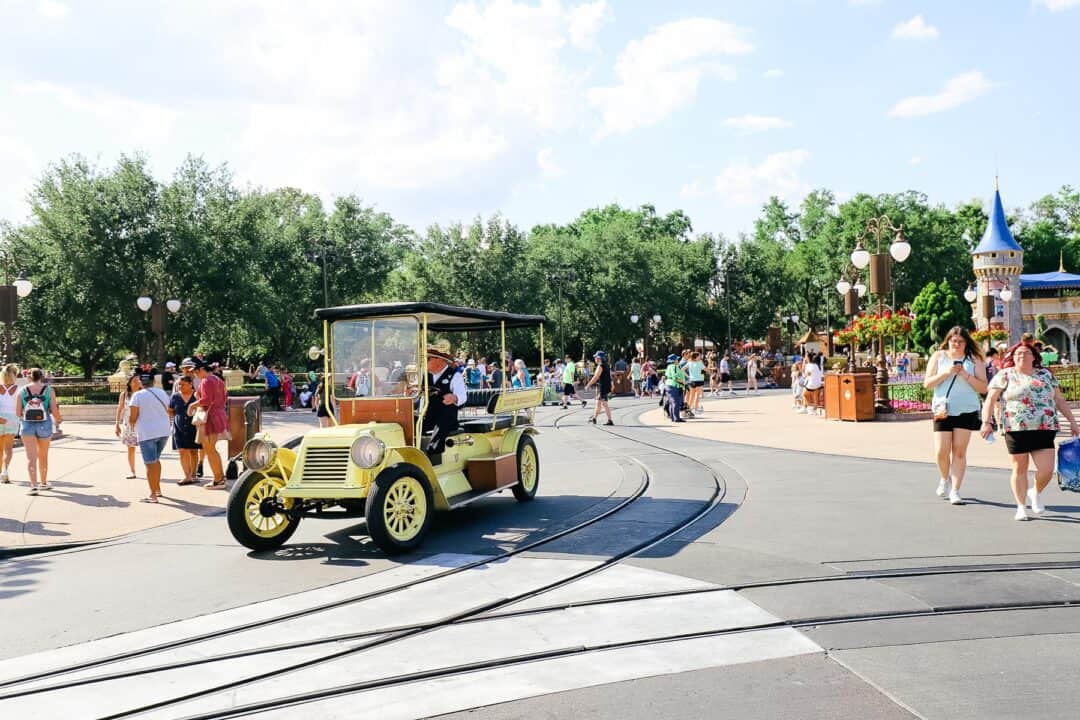 Since Main Street is used for parades and cavalcades throughout the day, you won't see any Main Street Vehicles out during those performance times. You can check the exact times of the Festival of Fantasy Parade and other cavalcades in the My Disney Experience app on the day of your visit.
For more rides at Magic Kingdom, you might enjoy the following:
Are you planning a Walt Disney World vacation? Then, you might enjoy reading more about the Walt Disney World Resorts.
If you plan to meet characters in the parks, we keep an updated list of Disney World Characters. That review links to every meet available in each of the four parks.
For dining, we have a list of every restaurant we've reviewed at Walt Disney World. We recommend planning at least one character dining meal at Disney World and one at a signature dining restaurant.
Lastly, our most popular articles include the best restaurants at Disney Springs and our list of Disney World Hotel Reviews.
In the Comments
Do you hope to run into a Main Street Vehicle on your next visit to Magic Kingdom? Which one is your favorite? Do you have a memory of riding one on a previous trip?