Main Street Vehicles at Magic Kingdom
Magic Kingdom's Main Street Vehicles are a delight to experience during a Walt Disney World vacation. These vehicles are usually out on Main Street, U.S.A., in the morning and occasionally in the afternoon.
If you were to run into one of these unique vehicles on Main Street, stop and hop on for the ride. You won't be disappointed.
Often, these experiences help solidify guests' decisions to return to this magical place year after year. Besides, it's not every day you can say you rode in an open-air vehicle up the street to Cinderella Castle.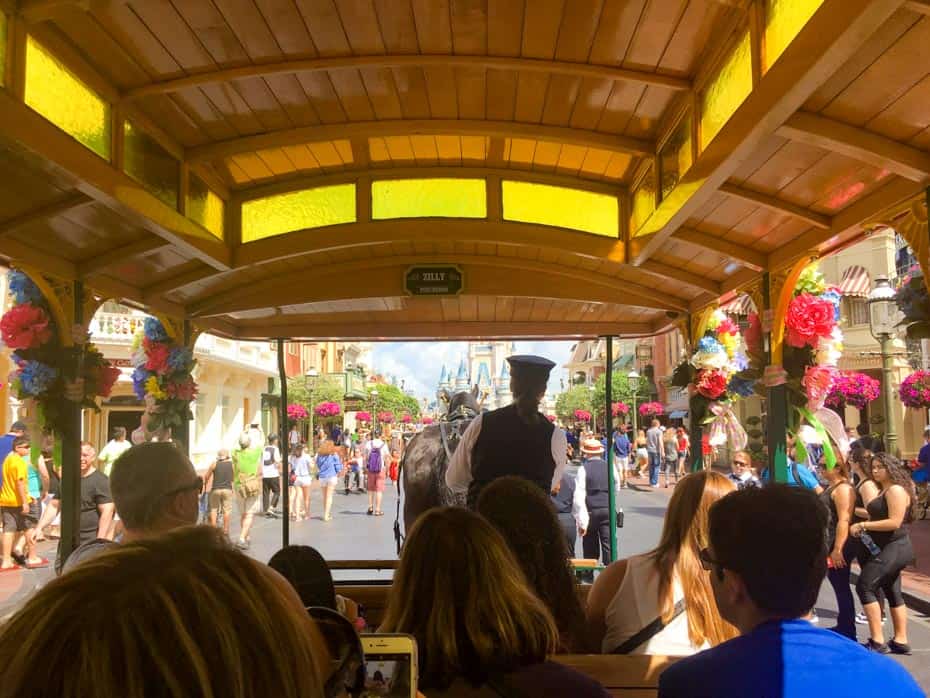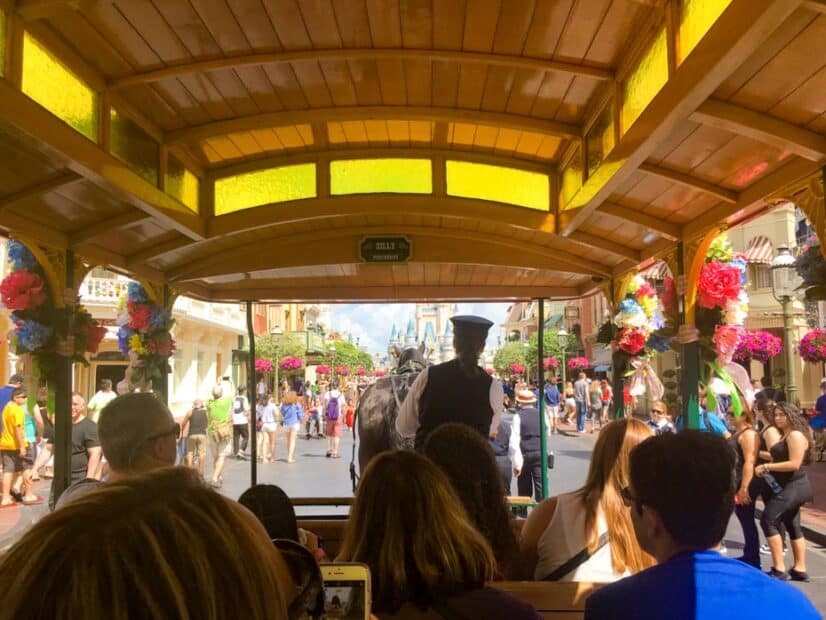 Here are a few details about the Main Street Vehicles.
Main Street Vehicles
Magic Kingdom

Location:

Main Street U.S.A

Disney World Height Requirements:

None

Ride Type:

Open Air Vehicle

Seats Per Vehicle:

Rows

Rider Switch at Disney:

None

Good For:

Leisurely ride down Main Street
Nostalgia

Scare Factor:

None

Must-Do List:

Low Priority

Perfect For:

All Ages

Special Mention:

These vehicles tend to be out earlier
in the day than later.
Main Street Vehicles
Main Street Vehicles offer the opportunity to ride in style down Main Street to the hub at Cinderella Castle. There the vehicles unload, allowing other guests to board. After the new group boards, the vehicle returns to Town Square.
Four vehicles make their way up and down Main Street during the day. You might run into the Omnibus, a horse-drawn trolley, a jitney, or a fire engine.
Here is the Omnibus.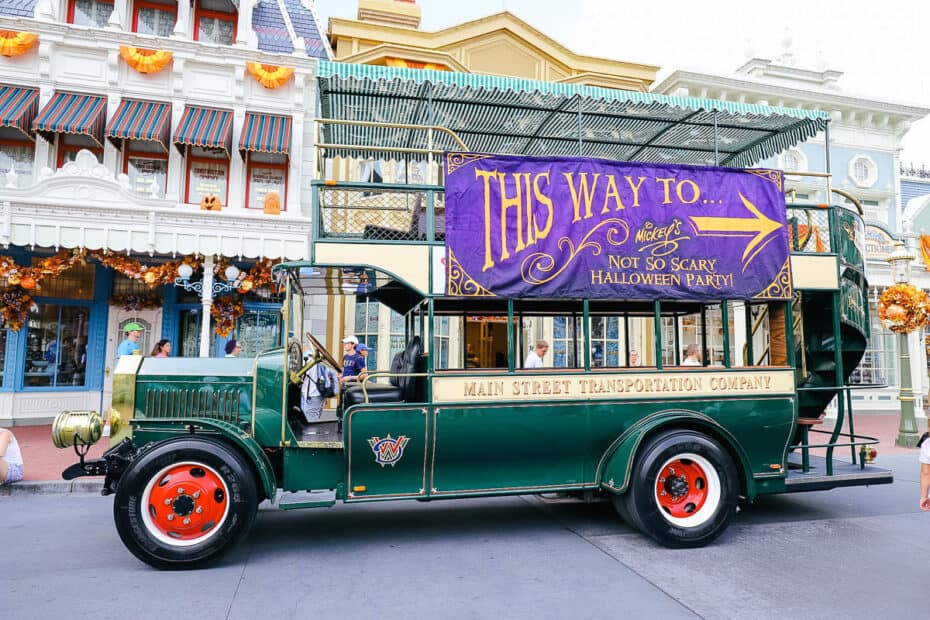 If you were to see any of the vehicles pull up, head on over and climb aboard. There are no formal lines to ride these vehicles.
For your best chance of seeing the Main Street Vehicles, arrive at Magic Kingdom as early as possible. As of late, we sometimes see the Dapper Dans arriving via the trolley.
Unfortunately, the Main Street Trolley Show, which included singers and dancers, has been entirely removed from Disney's schedule. It is a shame that we've lost such talented acts in the Disney Parks.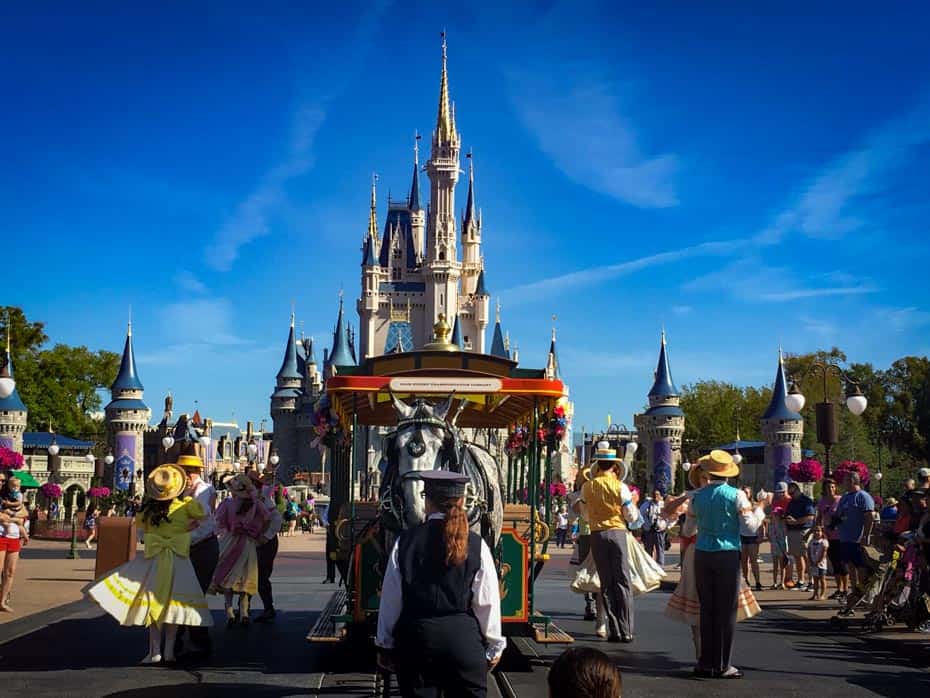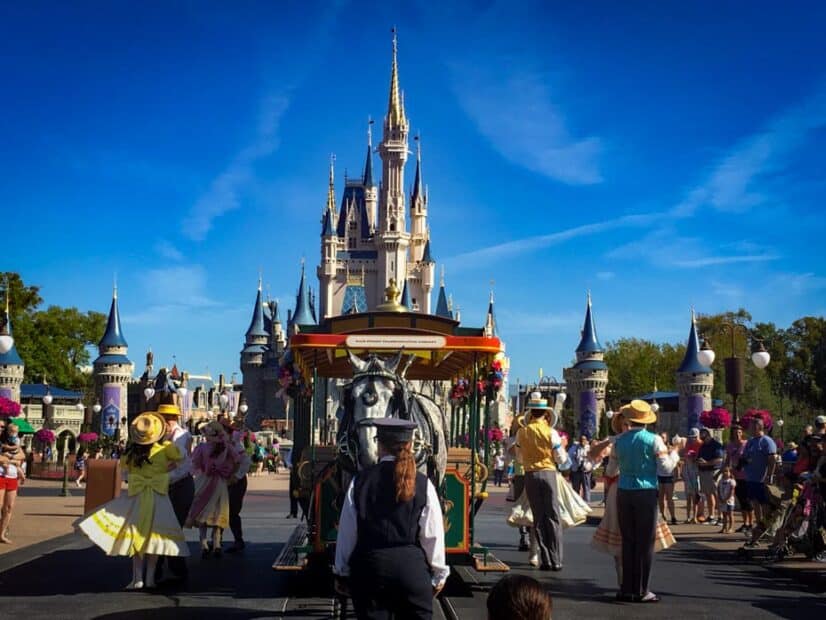 Since Main Street is used for parades and cavalcades throughout the day, you won't see any of the Main Street Vehicles out during those performance times. You can check the exact times of the Festival of Fantasy Parade and other cavalcades in the My Disney Experience app on the day of your visit.
For more rides at Magic Kingdom, you might enjoy the following:
Are you planning a Walt Disney World vacation? Then, you might enjoy reading more about the Walt Disney World Resorts, Characters, and Dining.
For dining, we have a list of every restaurant we've reviewed at Walt Disney World. We recommend planning at least one character dining meal at Disney World. Then one other fine dining location.
Related: Disney's Signature Restaurants Ranked
Need help getting around Disney World? Our guide with the Disney Skyliner with travel times will bring you up to speed for taking the new gondolas. And it's essential to keep up with Disney World's monorail updates.
If you plan to meet characters in the parks, we keep an updated list of Walt Disney World Character Locations. That review links to every meet available in each of the four parks.
Lastly, our most popular reviews include the best restaurants at Disney Springs, and I keep a timeline going of Disney Loungefly mini-backpacks.
In the Comments
Do you hope to run into a Main Street Vehicle on your next visit to Magic Kingdom? Which one is your favorite? Do you have a memory of riding one on a previous trip?