Mickey's PhilharMagic at Magic Kingdom
Mickey's PhilharMagic is an attraction located in Magic Kingdom Park at Walt Disney World. This attraction is usually easy to experience at most times throughout the day.
This Mickey's PhilharMagic review covers all of the details for this fun 3D show. We'll also look at when you might want to check it out while on vacation.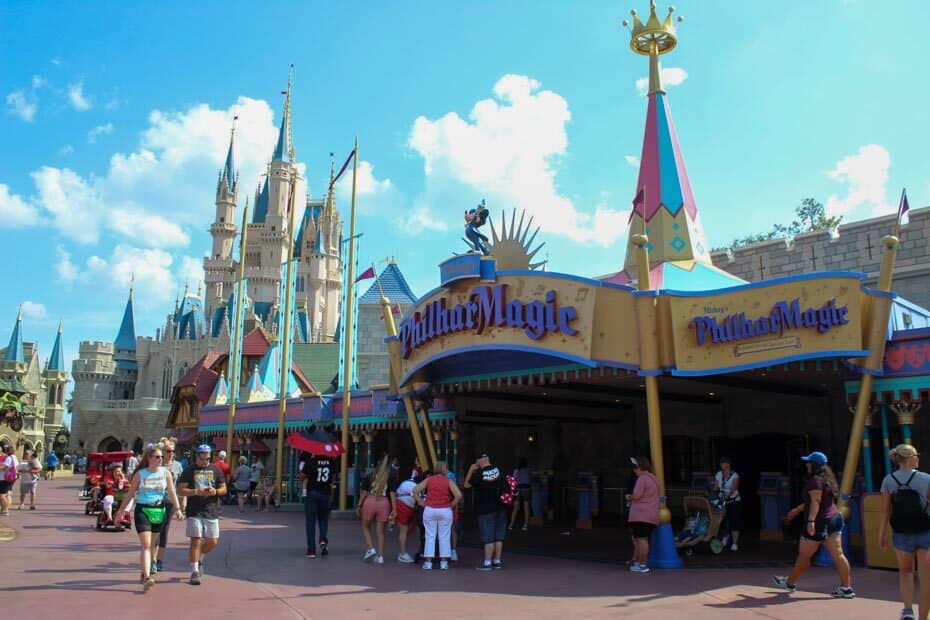 Here's a quick reference chart to see if Mickey's PhilharMagic works for your group.
Mickey's PhilharMagic
Magic Kingdom

Location:

Fantasyland

Height Requirement:

None

Genie+

Yes

Ride Type:

Theatrical Show

Seats Per Vehicle:

Rows in a theater

Duration:

Approx 12 minutes

Rider Switch:

None

Extra Magic Hours:

Mornings and Evenings

Good For:

Taking a Break
Inclement Weather
Fans of Classic Cartoon Characters

Scare Factor:

None

Must-Do List:

Low Priority

Perfect For:

All ages

Special Mention:

This show requires 3D glasses that are handed out at the entrance.
Mickey's PhilharMagic
PhilharMagic is the perfect place to head when you find yourself melting in the heat of the day in Fantasyland or when it's rainy. Mickey's PhilharMagic is a 3D film featuring Mickey Mouse and Donald Duck.
During the film, you'll get to see a lot of classic Disney cartoon characters. There are even a few surprising interactive elements during the show. Like a scent of fresh baked goods magically filling the air and maybe a tiny splash of water.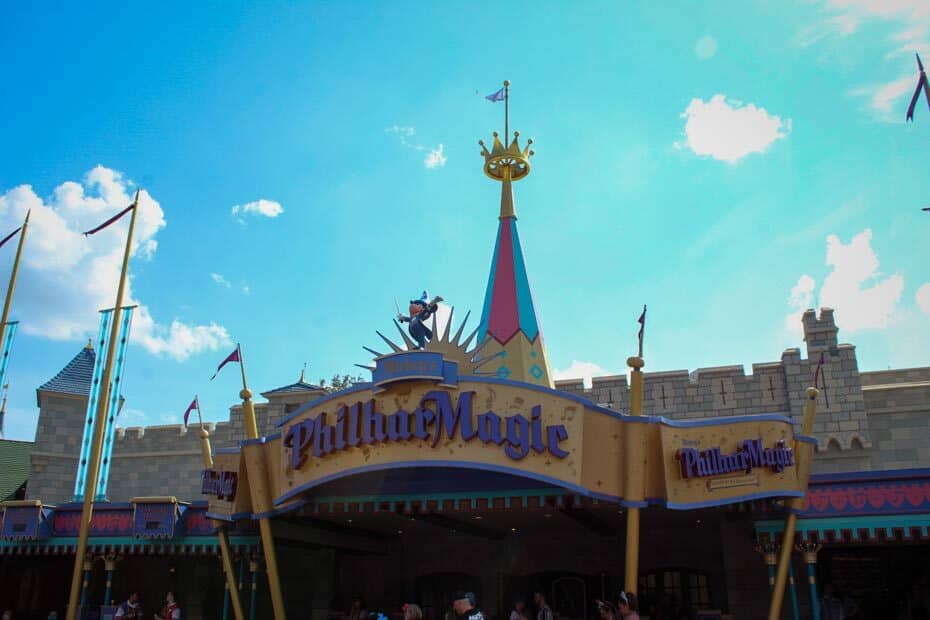 Quite a few classic Disney tunes are part of PhilharMagic's storyline. And at one point, you even get the sensation that you are flying along on a magic carpet.
PhilharMagic is a mild attraction making it suitable for all ages. If you don't like the movement, the solution is to close your eyes. But this attraction doesn't have a lot of that sensation.
Need to Know: Before entering the auditorium, you must pick up 3D glasses. They are required to watch the show.
Mickey's Philharmagic is approximately 12 minutes long. Therefore, the longest wait will usually be for the next show to begin. Therefore, you don't need to utilize Genie+ for this attraction.
While most guests will enjoy PhilharMagic, it's not something that should be considered a priority during your vacation. As I said, it's great for taking a break. It's also a decent place to seek temporary shelter in the event of a pop-up shower.
If you want to get an idea of what Mickey's PhilharMagic is like, try this Youtube video: Video of the Show
All of the Magic Kingdom attractions are available here for review. You might also enjoy these other attraction reviews that are in the immediate area:
Resorts Gal specializes in Disney World Resorts, Characters, and Dining. Check out some of our resources, like our guide to the best Walt Disney World Resorts. That article gives a brief overview of every resort at Disney.
We have a complete list of our Disney restaurant reviews available for planning dining reservations. Usually, we recommend scheduling at least one Disney World character dining meal and a Disney signature dining reservation.
If you plan to meet characters in the parks, there's an updated list of Disney World Characters. That review links to every meet available in each of the four parks.
Lastly, our most popular reviews include the best restaurants at Disney Springs, and we keep a timeline going of Disney Loungefly mini-backpacks, Disney Dooney and Bourke bags, and Disney Ears!
Mickey's Philharmagic