Mickey's PhilharMagic at Magic Kingdom
Mickey's PhilharMagic is an attraction located in Magic Kingdom Park at Walt Disney World. This fun 3D film highlights classic songs from some of Disney's most famous animated movies.
Below we'll discuss the specifics of experiencing Mickey's PhilharMagic during your visit to Magic Kingdom. Given the nature of this attraction, it's usually easy to experience most times throughout the day.
But even so, you'll want to plan strategically and see this short film when waits are longer at other places. Mickey's PhilharMagic is also an excellent place to take a break in the heat of the day or visit during inclement weather.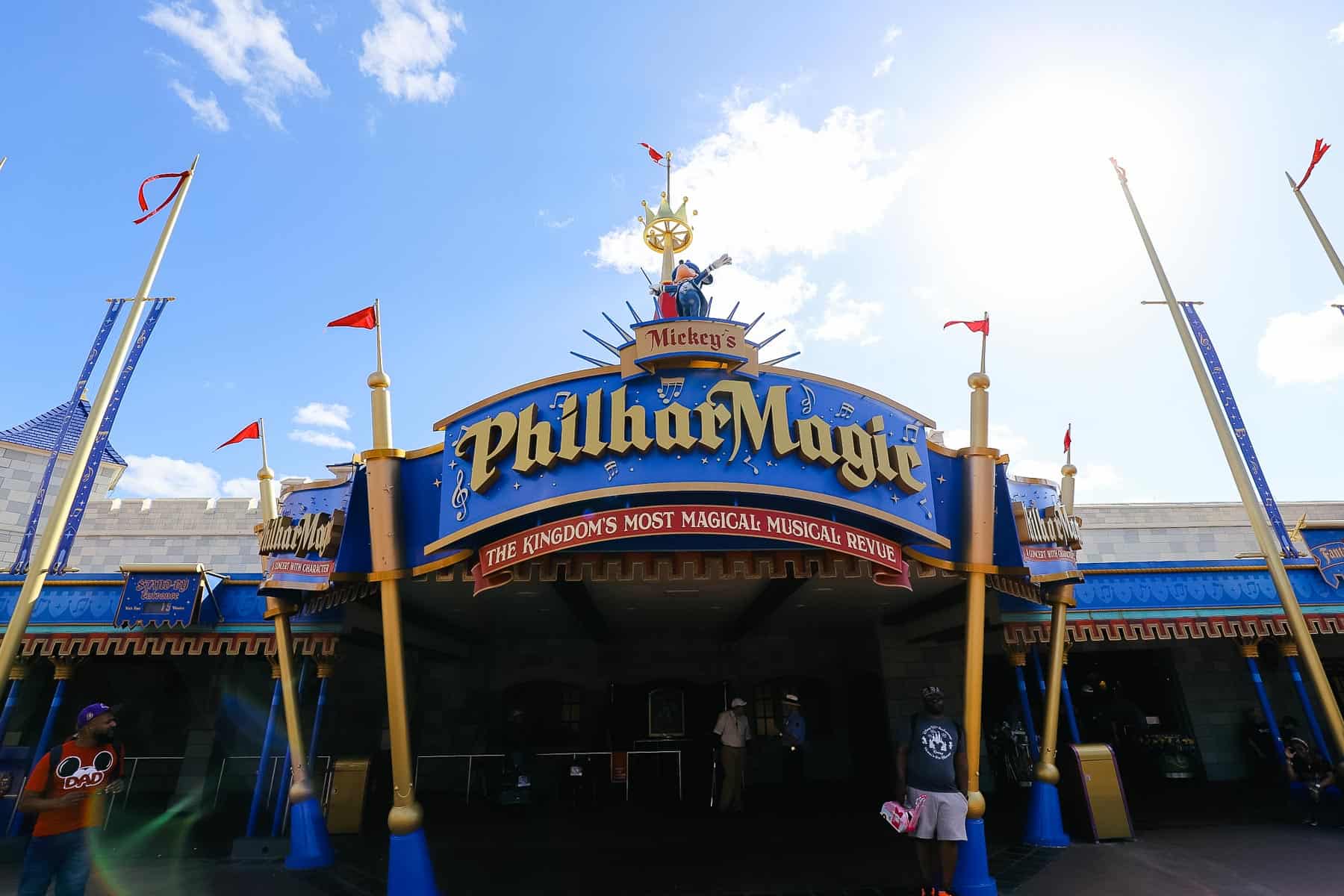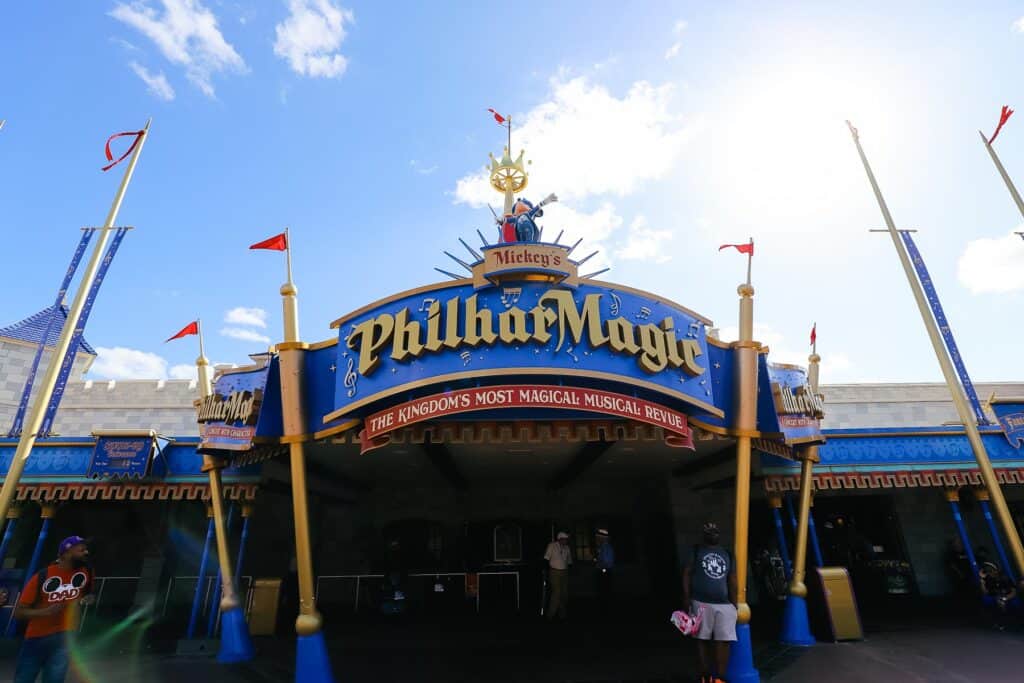 Here's a quick reference chart to see if Mickey's PhilharMagic works for your group.
Mickey's PhilharMagic
Magic Kingdom

Location:

Fantasyland

Height Requirement:

None

Genie+

Yes

Ride Type:

3-d film

Seats Per Vehicle:

Rows in a theater

Duration:

Approx 12 minutes

Rider Switch:

None

Extra Magic Hours:

Mornings and Evenings

Good For:

Taking a Break
Inclement Weather
Fans of Classic Cartoon Characters

Scare Factor:

None

Must-Do List:

Low Priority

Perfect For:

All ages

Special Mention:

This show requires 3-d glasses that are handed out at the entrance.
Guests may remain in a wheelchair or ECV to experience this attraction. Additionally, an audio description, assistive listening, and handheld captioning are available for this attraction.
Mickey's PhilharMagic
Mickey's PhilharMagic is located in Fantasyland at Fantasyland Concert Hall. You'll find the attraction's entrance between Cinderella Castle and Peter Pan's Flight.
A standby and Lightning Lane entrance are available for this attraction. However, the longest wait should be for the next showtime to begin. So this would not be a good use of an individual Lightning Lane.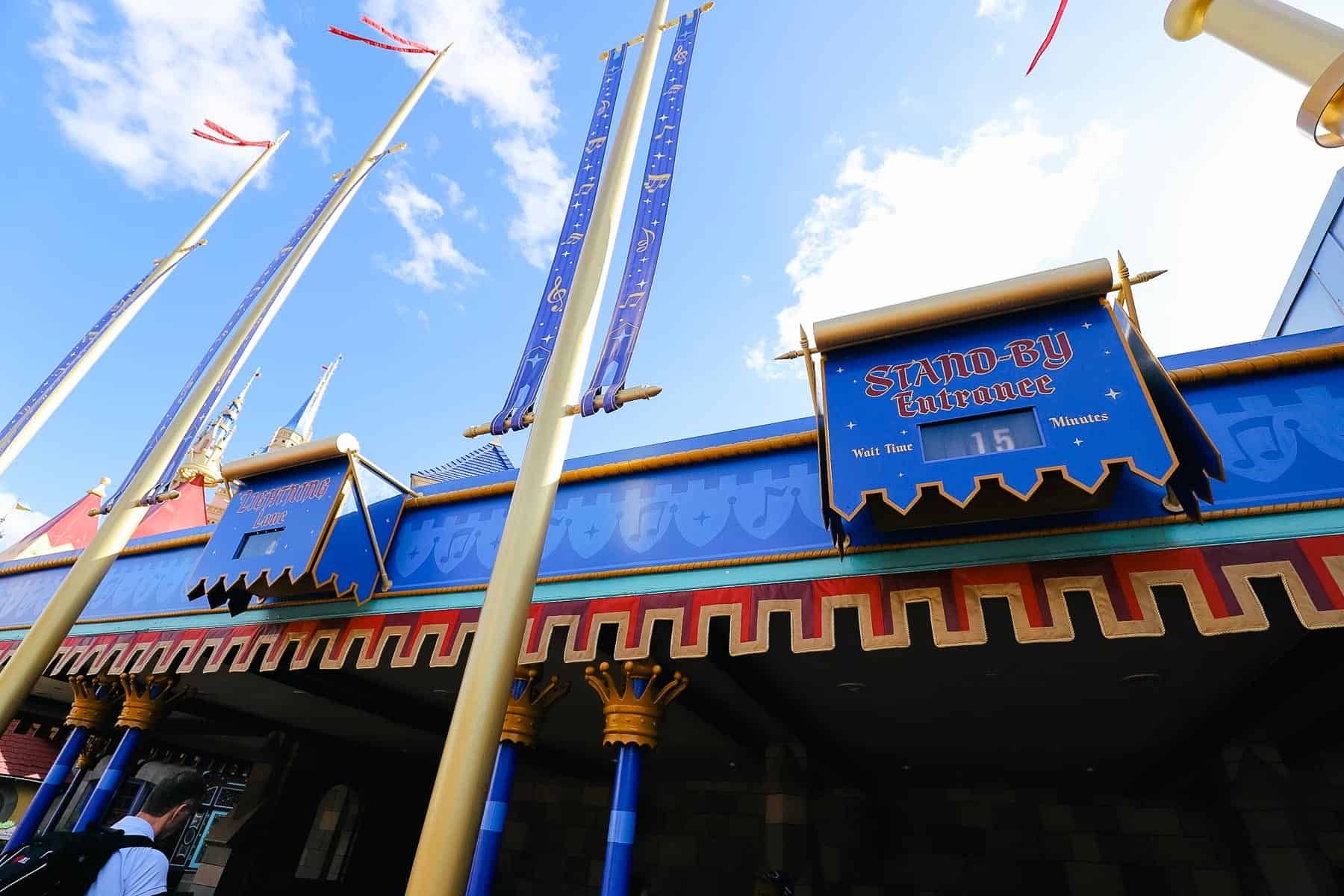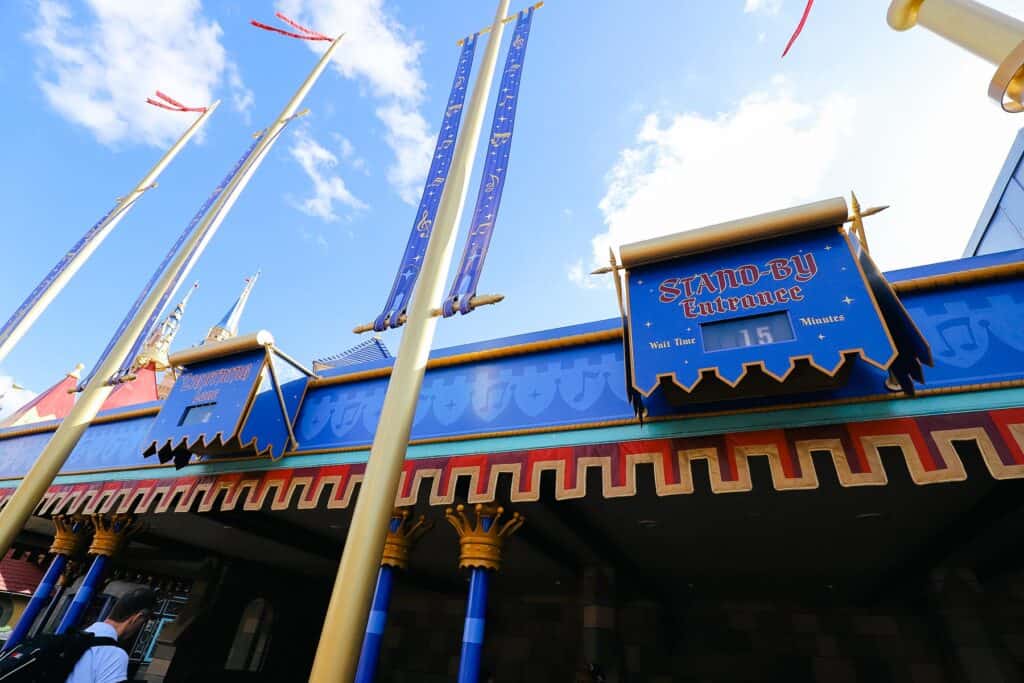 After entering, you're greeted by a large waiting area. Various posters of performers line the walls of the lobby.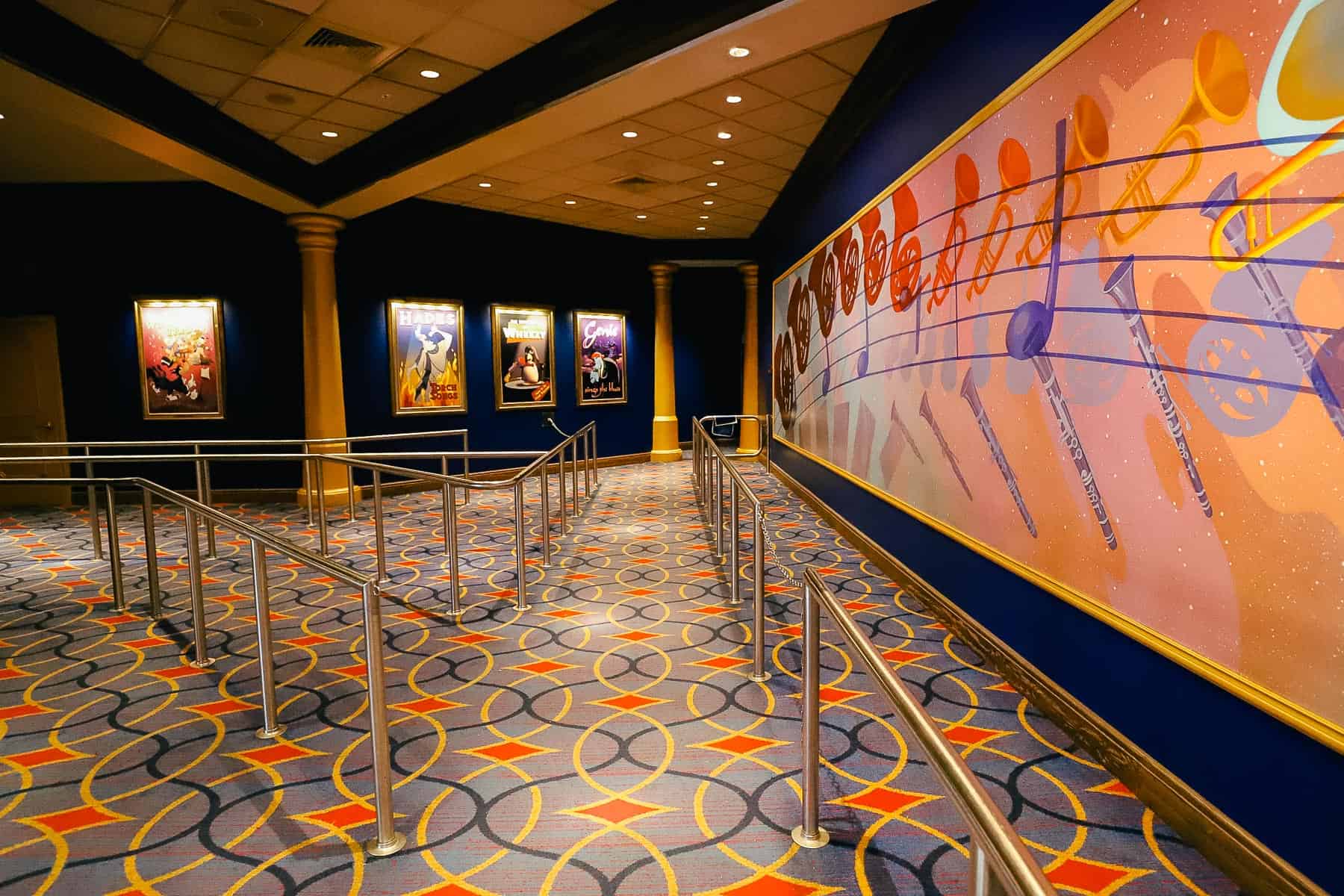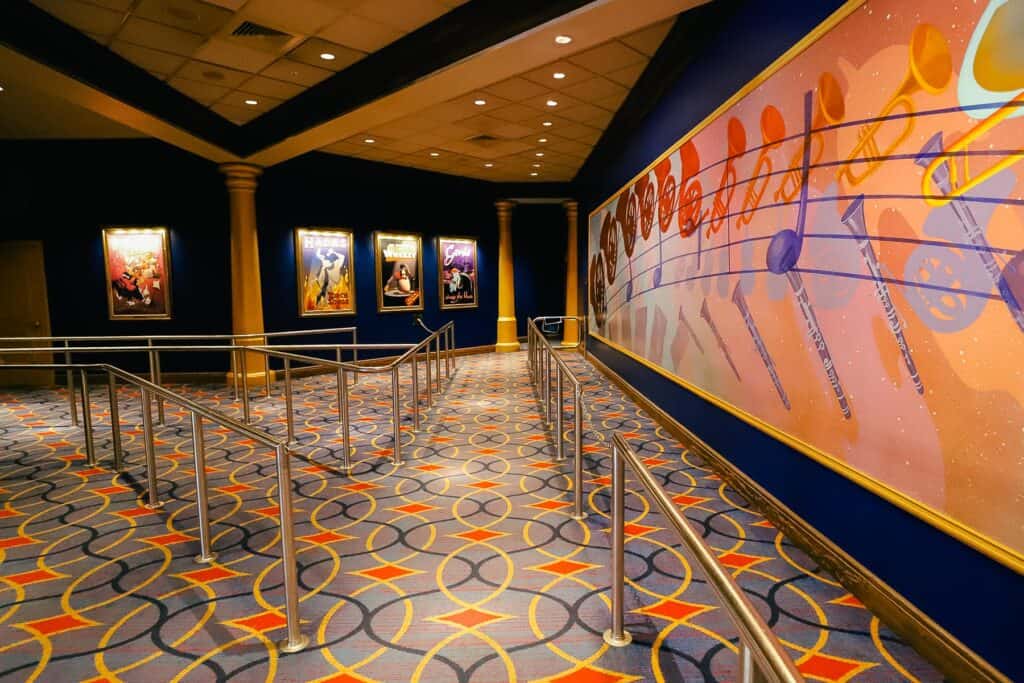 A poster featuring Mickey Mouse sits toward the front of the queue. It advertises the performance as "Mickey's PhilharMagic with Lumiere, Miguel, Simba & Zazu, Jasmine, and more in The Kingdom's Most Magical Musical Revue."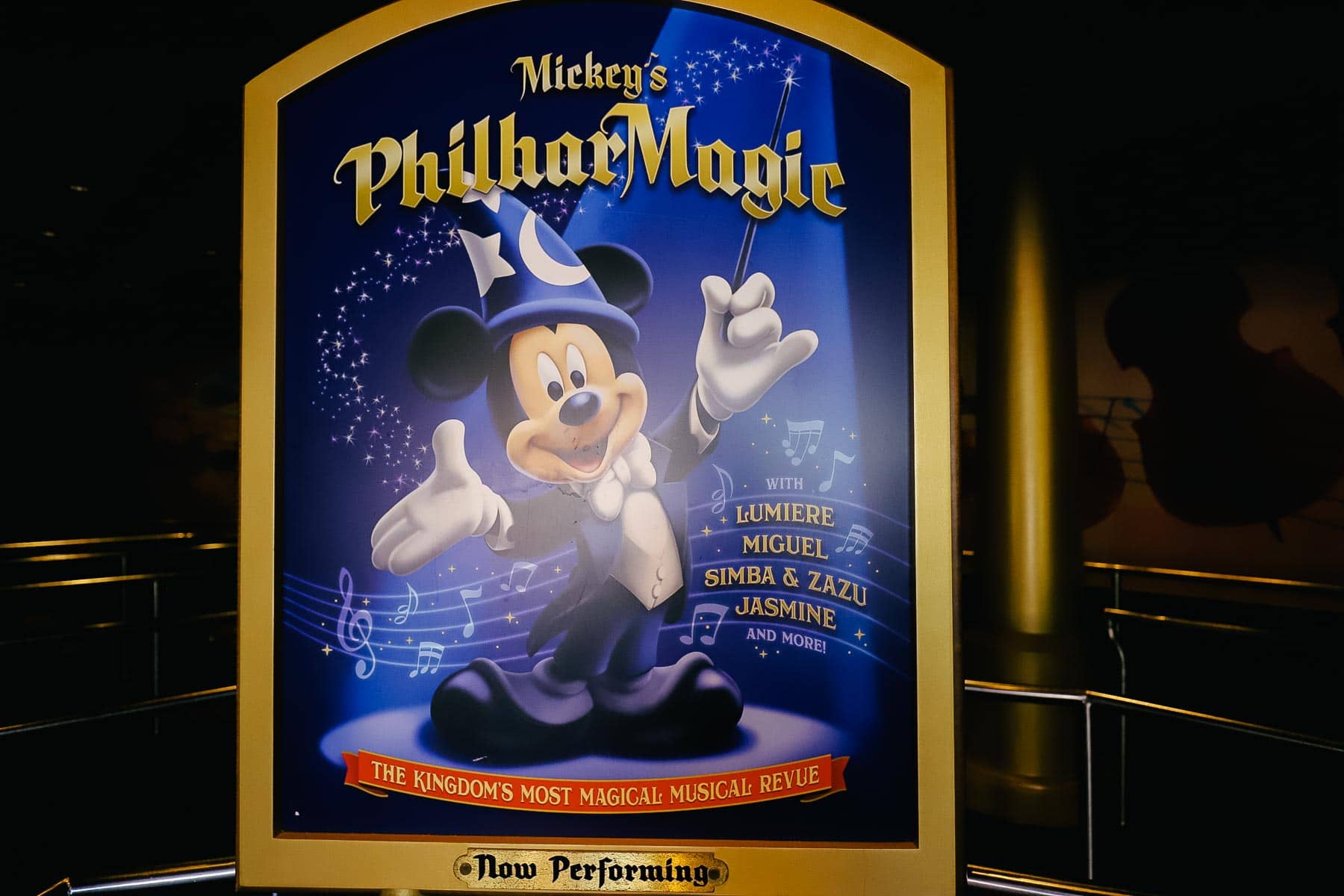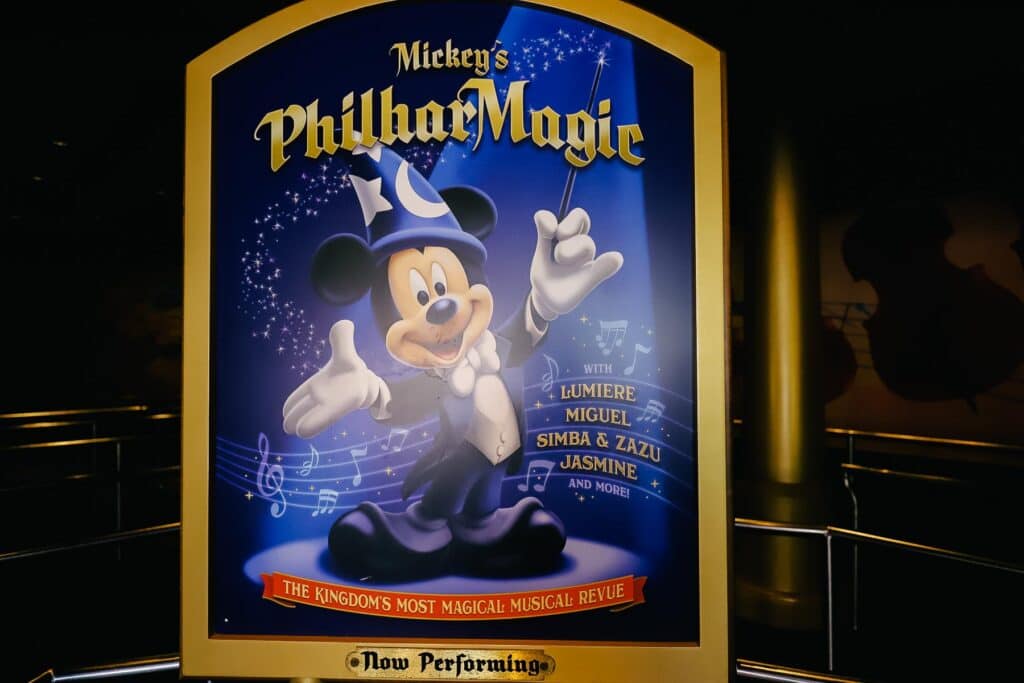 As you continue through the lobby, you'll pick up a pair of "opera glasses" for the show. These, of course, are required to see the 3-d show.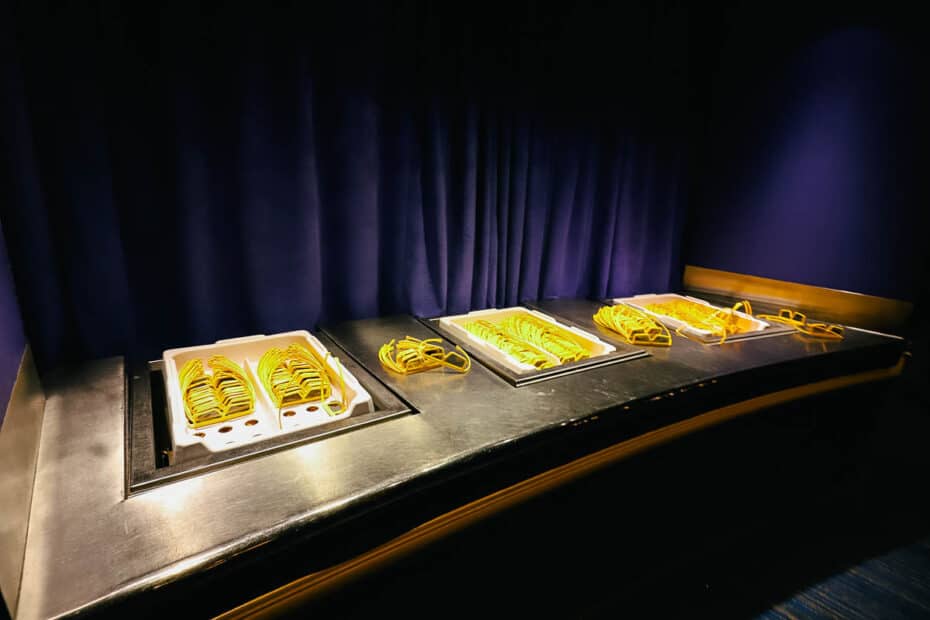 After picking up a pair of glasses, you'll continue to a large open area outside the theater's doors. When the current show ends, the theater doors open, and you'll be asked to move down the rows so everyone can get a seat.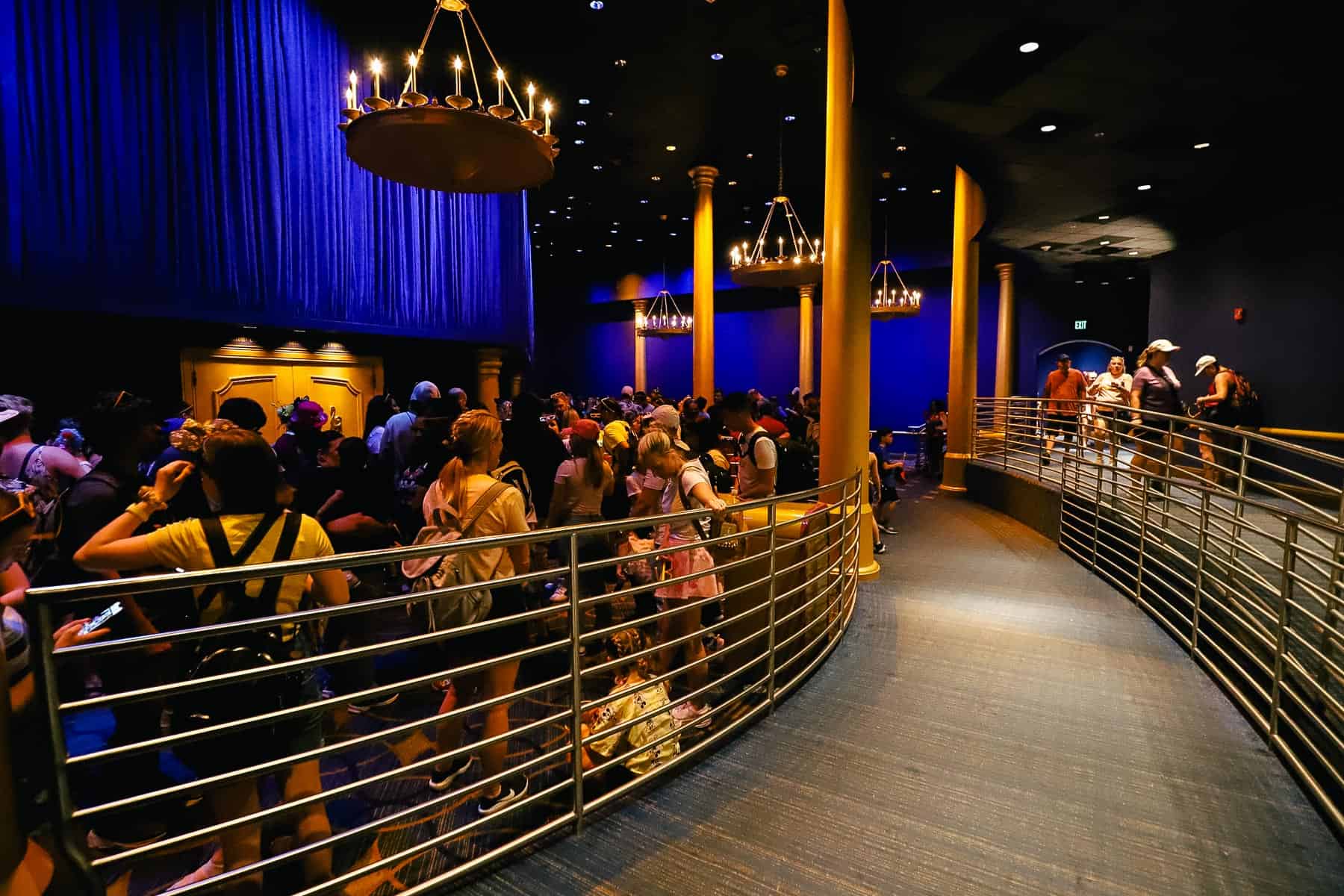 Here is a look at the theater.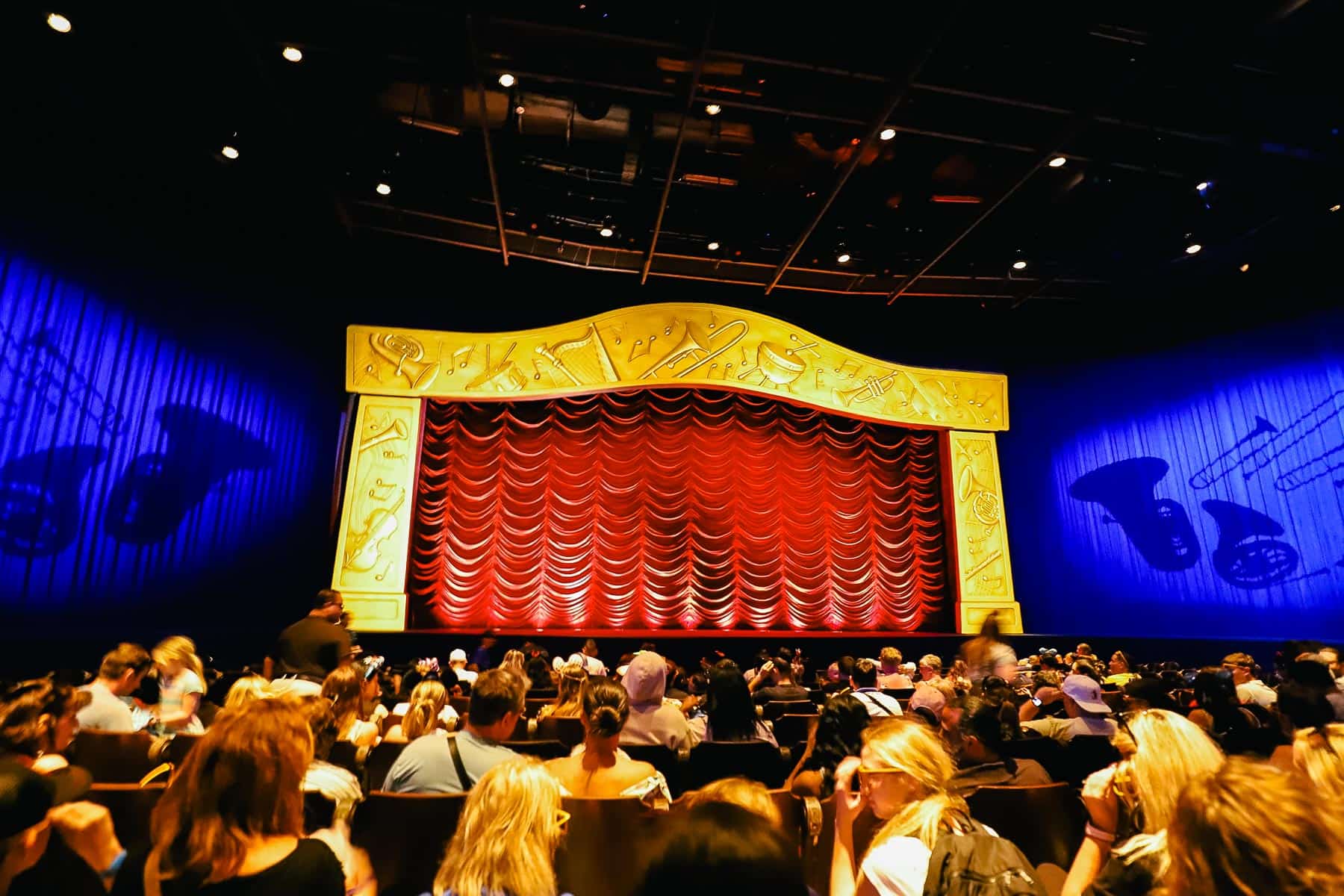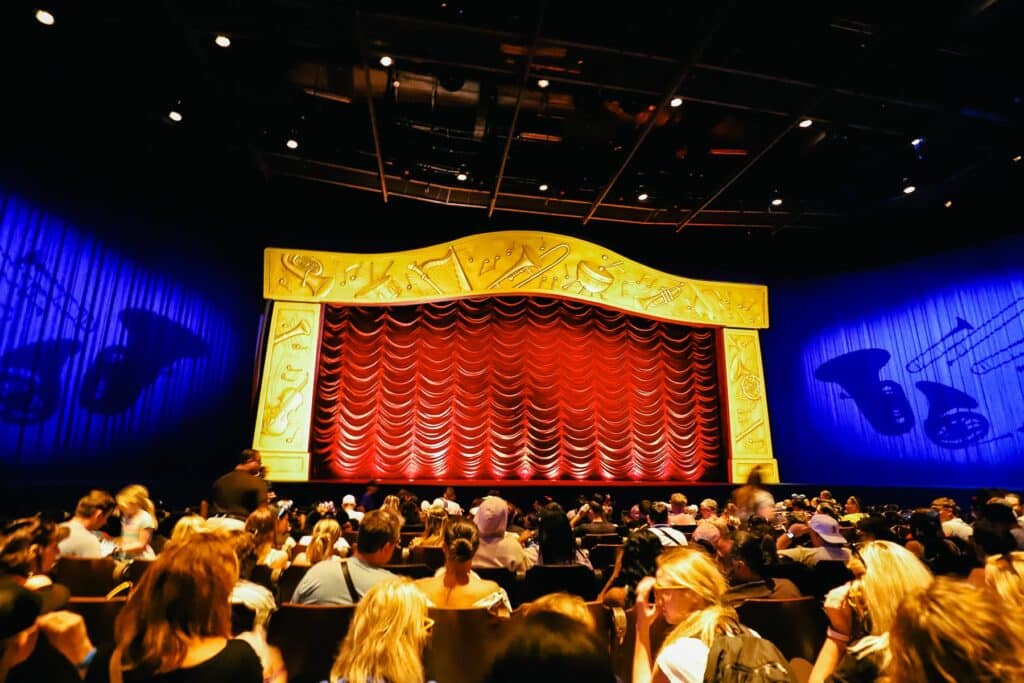 After finding a seat, the theater darkens, and Mickey appears on screen with an orchestra. Soon Mickey leaves and warns Donald Duck not to touch anything.
Well, we all know how that turns out. Donald decides to try out Mickey's sorcerer hat, and suddenly everyone, including the audience, is plunged into the film.
You'll then see Donald on screen as the sorcerer's apprentice from Fantasia while brooms tidy the mess. A splash of water can be felt as dimensional elements seemingly come to life.
Other magical scenes include the song Be Our Guest, where dishes float before your eyes. The scent of freshly baked goods fills the air at just the right moment.
Ariel, the little mermaid, finds the sorcerer's hat as she sings Part of Your World from her treasure trove. During this scene, some of the jewels from her treasures float out into the audience. It's fun to see so many children reaching out to try and touch them.
A new scene featuring the song Un Poco Loco from Coco was added a few years ago. This scene adds a festive touch to the film.
Other scenes include I Just Can't Wait to Be King (The Lion King), and You Can Fly from Peter Pan. Each of these scenes incorporates fun 3D elements.
Toward the end of the film, the sorcerer's hat lands on a magic carpet carrying Aladdin and Jasmine. As Jasmine tries to return the hat to Donald, Iago knocks it off, and it goes falling into oblivion.
By this time, Mickey Mouse has realized what Donald has done and commands the hat to return. Mickey then briefly conducts the orchestra before sending Donald flying into the back of the audience.
You'll want to turn around and see Donald as he goes sailing through the back wall of the theater.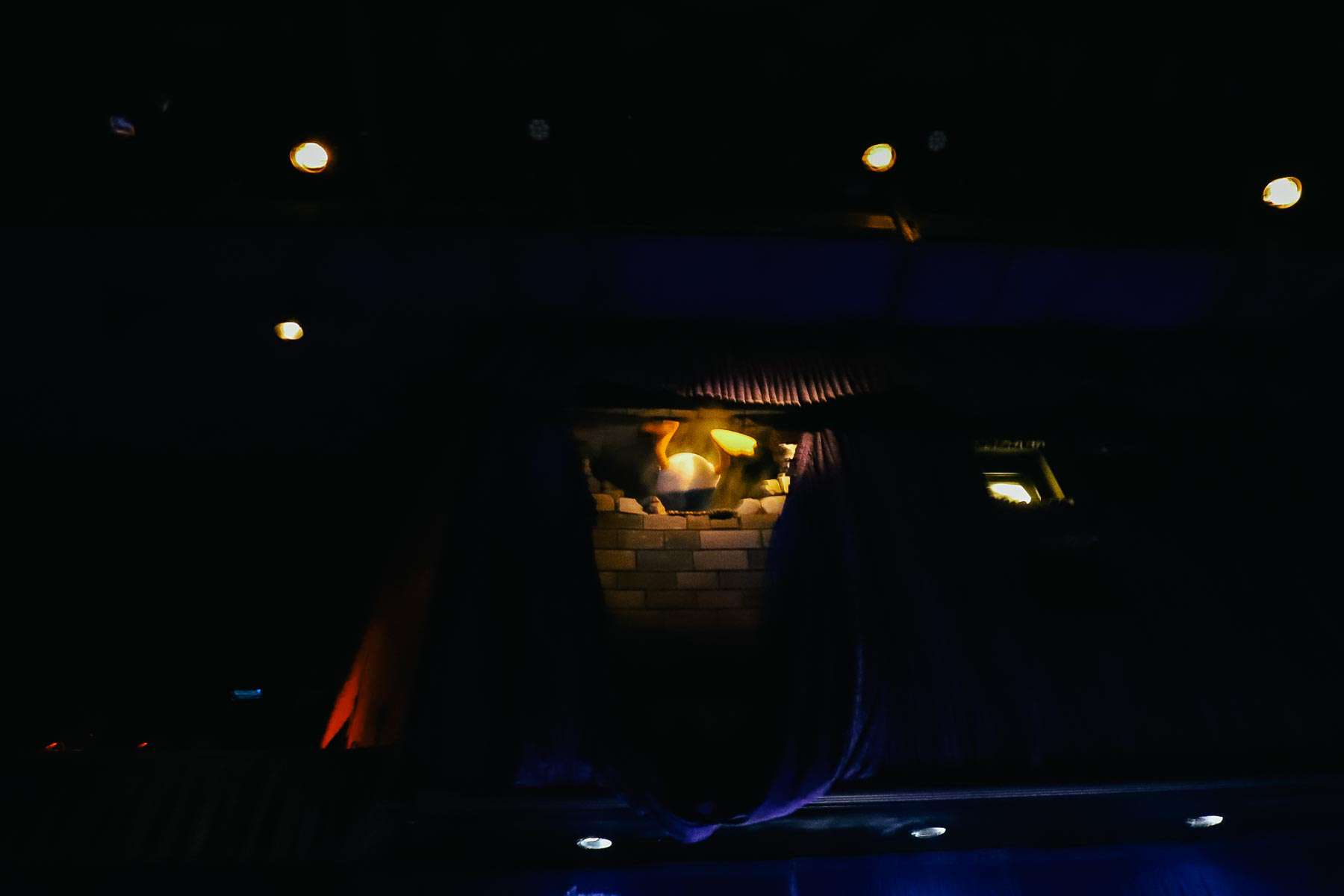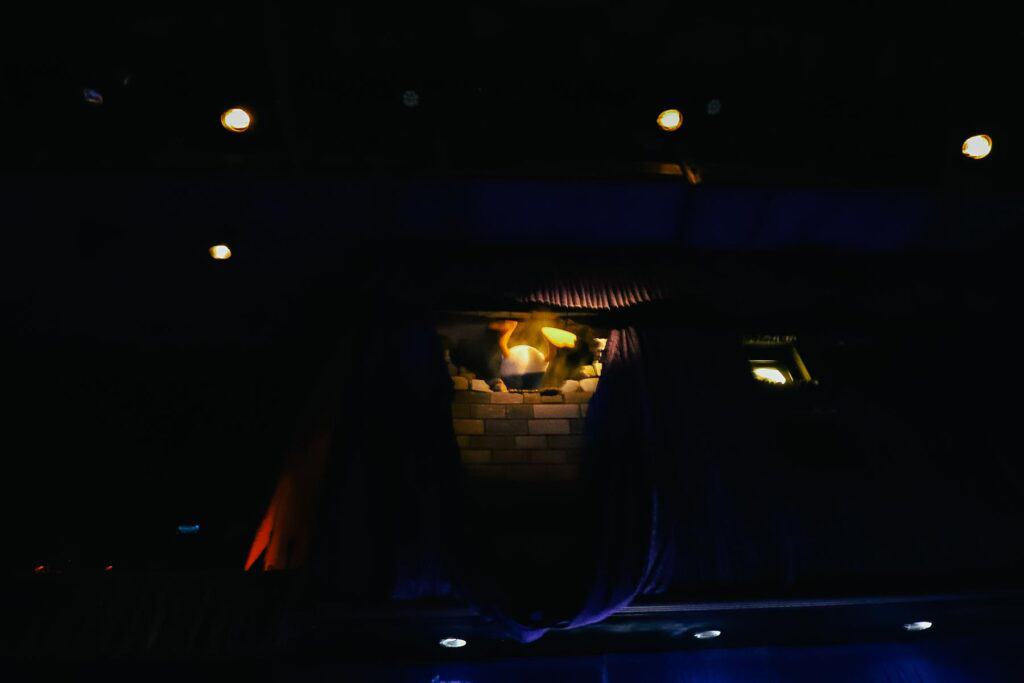 Fun Facts about PhilharMagic
This attraction features a collaboration of work by some exceptionally famous Disney artists, including animator Glen Keane, animator Nik Ranieri, Clarence Ducky Nash (original voice of Donald Duck), and Tony Anselmo (current Donald's voice).
Quite a few classic Disney tunes are part of PhilharMagic's storyline. And at one point, you even get the sensation of flying along on a magic carpet.
Final Thoughts
PhilharMagic is a mild attraction making it suitable for all ages. If you don't like the movement associated with 3D, you can close your eyes. But this attraction doesn't have a lot of that sensation.
If you've never had the opportunity to see PhilharMagic, it's worth taking a few moments of your day to see it. It's also worth a visit if you haven't seen it since the new scene was added.
For more attractions, you might enjoy these in the immediate area:
Or you can preview the entire list of rides at Magic Kingdom.
Resorts Gal specializes in Disney World Resorts, Characters, and Dining. Check out some of our resources, like our list of Walt Disney World Resorts. That article gives a brief overview of every resort at Disney.
We have a complete list of Disney restaurant reviews available for planning dining reservations. Usually, we recommend scheduling at least one Disney World character dining meal and a Disney signature dining reservation.
If you plan to meet characters in the parks, there's an updated list of Disney World Characters. That review links to every meet available in each of the four parks.
Lastly, our most popular reviews include the best restaurants at Disney Springs, and we keep a timeline of Disney Loungefly mini-backpacks, Disney Dooney and Bourke bags, and Disney Ears!
In the Comments
What do you think about Mickey's Philharmagic? Do you plan to see it on your next vacation?