A Trip to Storybook Circus at Magic Kingdom
Storybook Circus is located toward the back of Magic Kingdom park at Walt Disney World. You'll find that the land reaches the outskirts of the park where it meets the Fantasyland Railroad Station.
Storybook Circus is perfect for children ages five and under. All of the attractions in this circus-themed land are geared toward that target age. The land is also adorable featuring the kind of colors you might expect at a Disney World Circus like red, yellow, and blue.
This area of the park is considered part of the Fantasyland expansion that opened several years back. Magic Kingdom's Storybook Circus is also technically the newest land in the park. Since it is a portion of Fantasyland, the largest land, I decided to provide a separate review for this area.
This review will take a look at the attractions, characters, shopping, and snacking locations in Storybook Circus.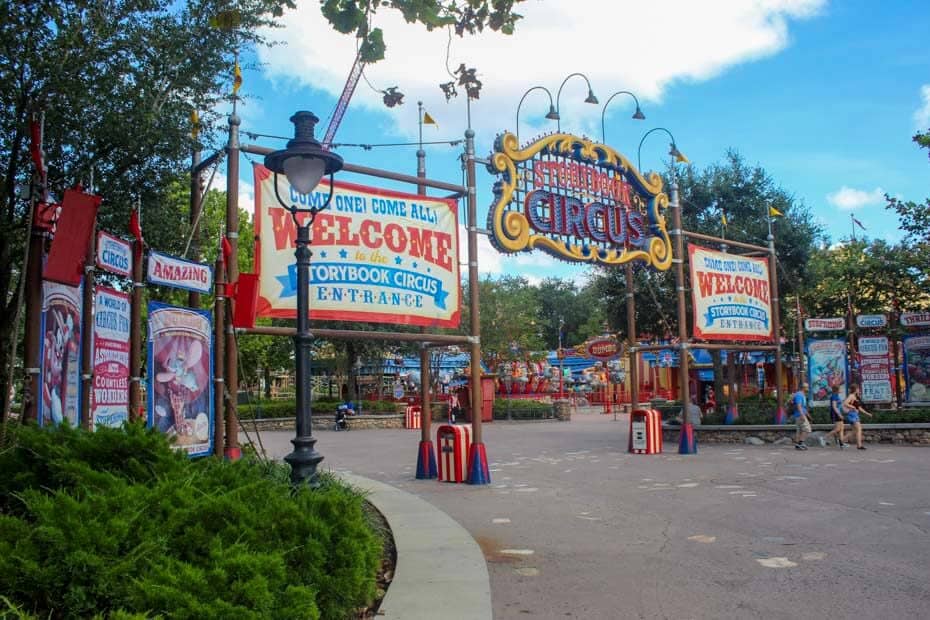 Story Book Circus Attractions:
Dumbo, The Flying Elephant
The Barnstormer
Casey Jr. Splash 'N' Soak Station
Fantasyland Station-The Walt Disney World Railroad
Characters
Pete's Silly Slide Show with Donald Duck, Goofy, Daisy Duck, Minnie Mouse, and Pluto
Shopping and Food at Storybook Circus:
Storybook Circus Review
Storybook Circus is a circus-themed area of the park that represents classic characters like Dumbo and Goofy. There is even a splash pad area that offers a fun place for kids to cool off on a hot day.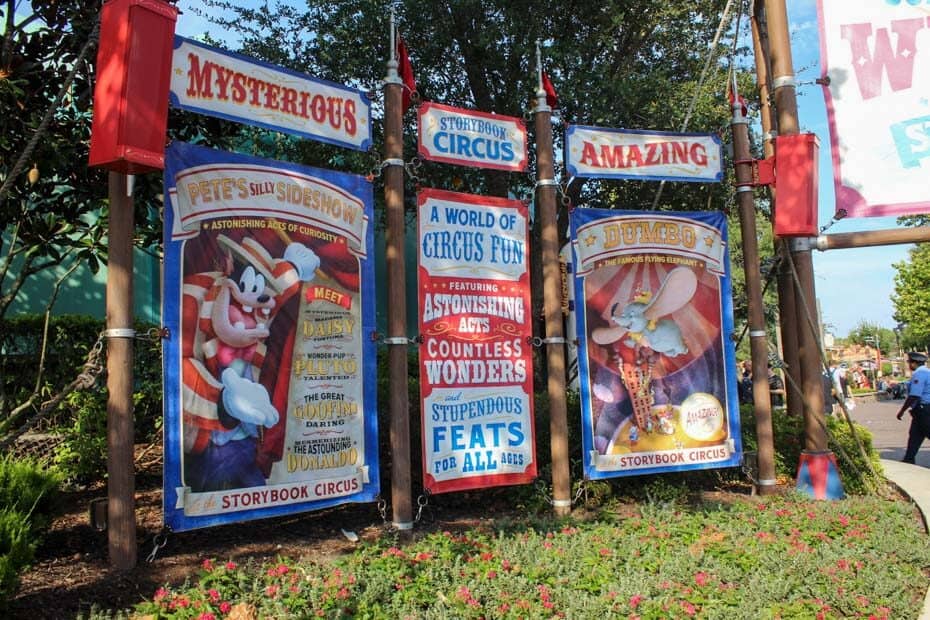 Here's a breakdown of what you can expect attraction-wise in Storybook Circus.
If you have ever visited the Magic Kingdom you've probably ridden Dumbo, the Flying Elephant. This attraction is original, however, it's been reimagined and refurbished a few times over the life of the park.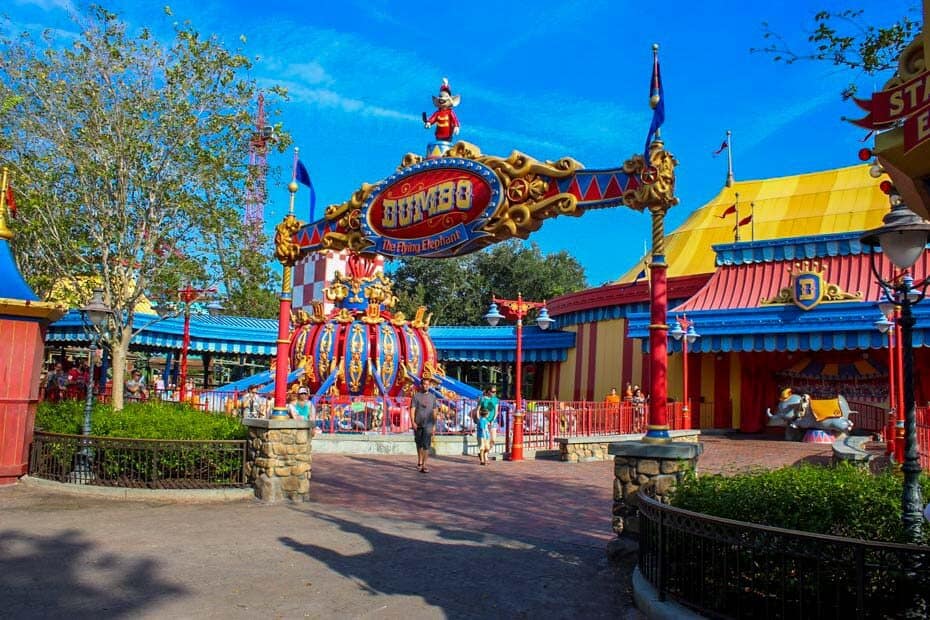 The current version of Dumbo offers two identical, spinner-style rides. There is also an added perk built within the queue that most guests with smaller children will want to be aware of on their park day.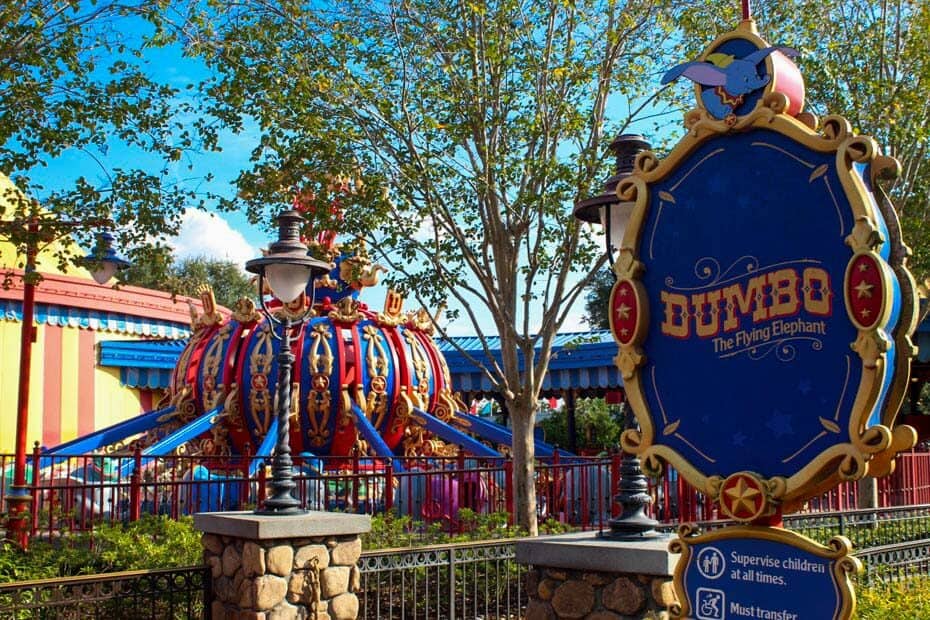 Above, you can see the main entrance for the attraction. There's a lot of fun details like Timothy Q. Mouse perched above the entrance sign.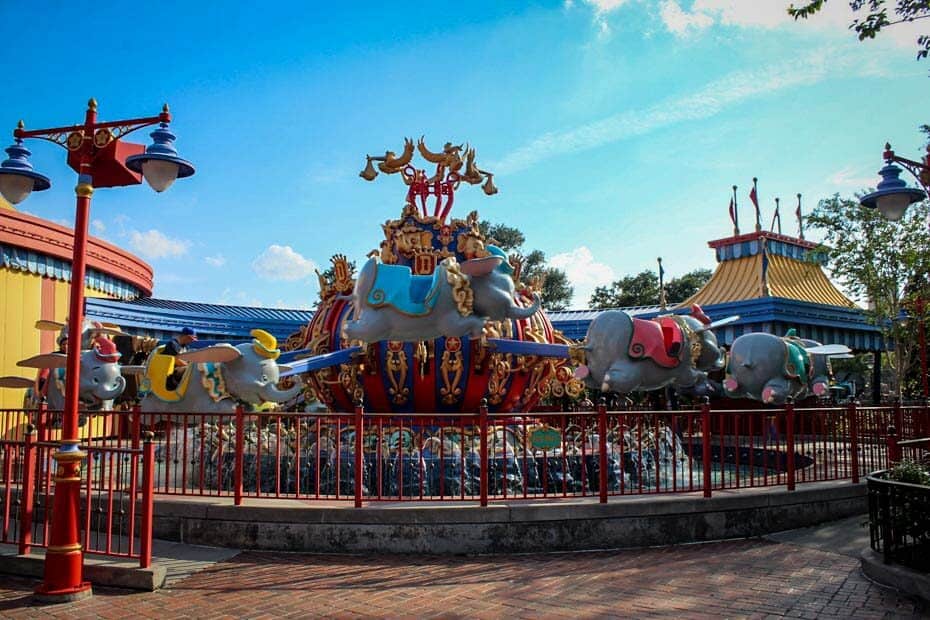 When you enter the outdoor portion of the queue you will make your way towards the back of the interior circus tent.
Dumbo's queue offers a "play while you wait" option. This added bonus might be a lifesaver on your vacation in the event of rain, extreme heat, or just plain old exhaustion.
We all know our children are little balls of energy and sometimes they just need a place to play. This is the perfect place to bring them to do that. And that's regardless of whether you even intend to experience the Dumbo attraction itself.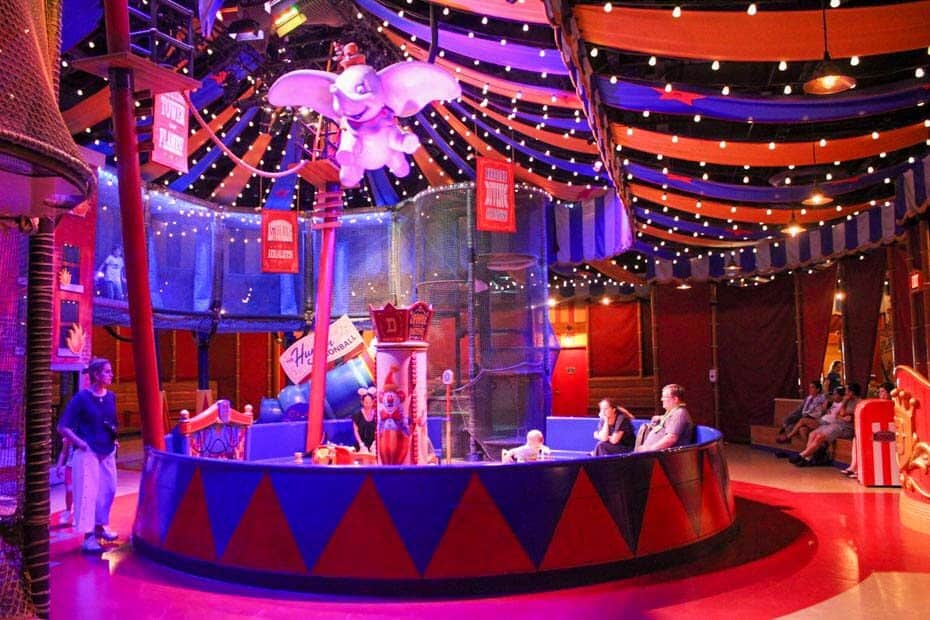 There is even a bleacher-style seating area around the outer rim of the play area. If at any point during your day you find the need to take a break in an air-conditioned environment, this is a great place to stop.
This portion of Storybook Circus provides children with a place they can play their hearts out, while you decompress for a bit. And let's face it, children, for the most part, love these kinds of areas.
This Storybook Circus attraction is open to all ages and there are no height restrictions. Remember that Disney does require all children that are seven and under in age be accompanied by an adult age 14 years or older.
Dumbo is a beautiful ride and fun to experience not only during the daytime but at night as well. There are also a few pretty views of Magic Kingdom to absorb on your flight.
One of the things you might not notice in the hustle and bustle of touring is there's a fun photo opportunity centered between the two spinners.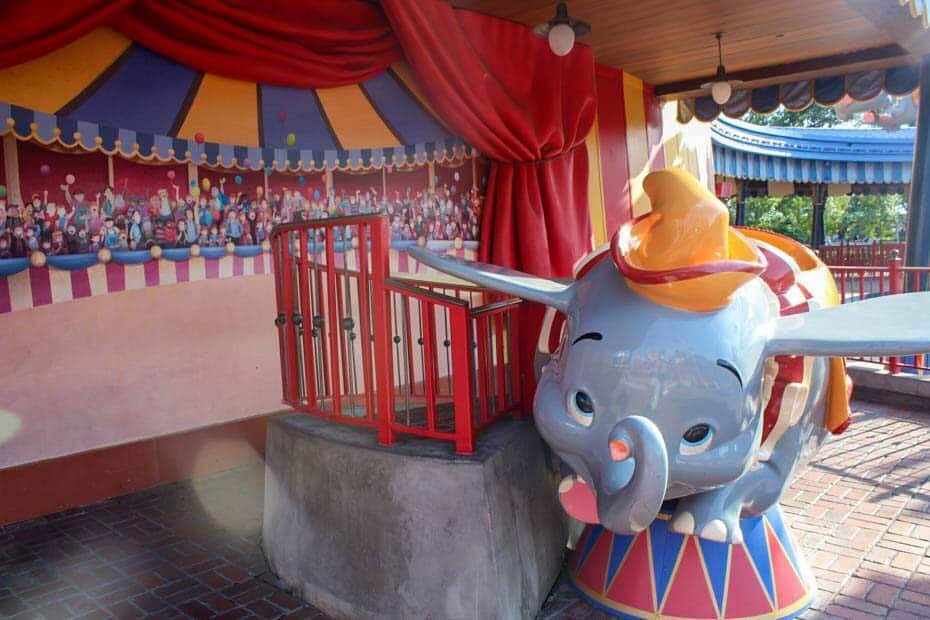 This might also be good for children to try out who seem a little hesitant about riding.
Next up, we have a favorite of a few Disney bloggers I know. This Storybook Circus attraction is none other than The Barnstormer featuring Goofy as the Great Goofini. Think Goofy, then add a fabulously shiny one-piece jumpsuit and imagine him shooting out of a cannon.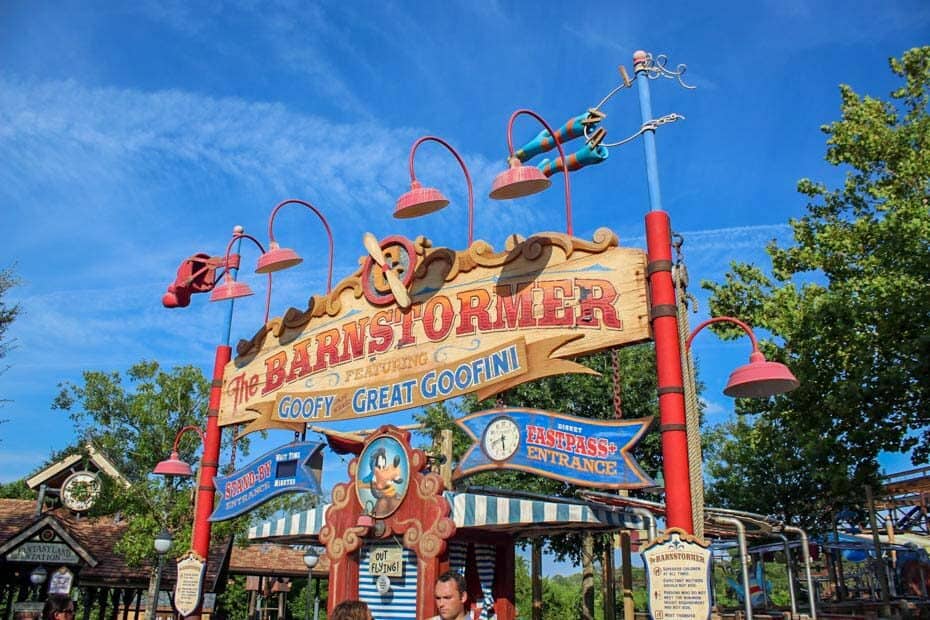 I mean, how did you think we Disney bloggers get inside the parks so often? We just line up and draw straws, the one who gets the shortest straw has to operate the cannon that day. The rest of us land on these trampolines in the picture below.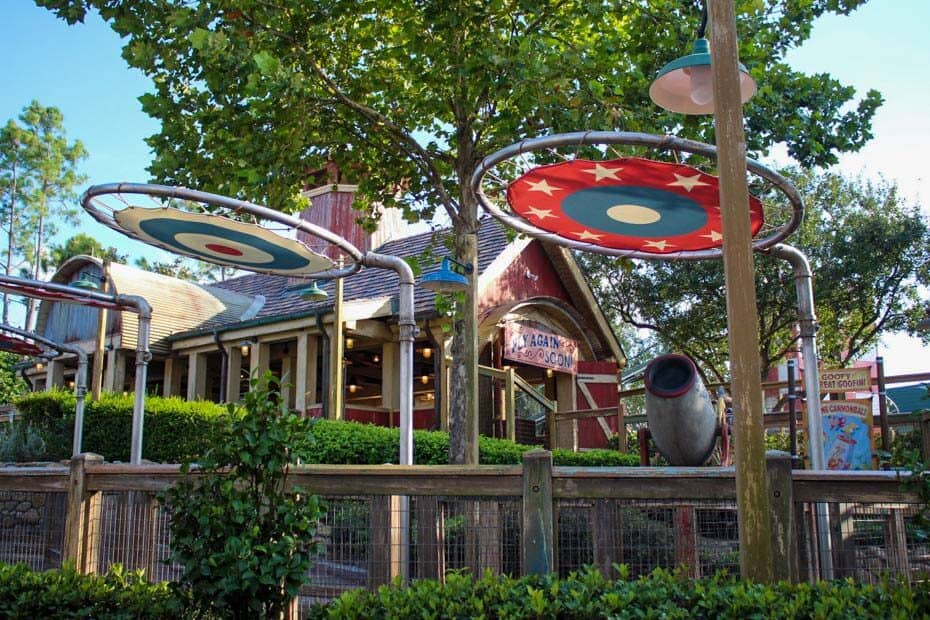 So if you are in the area fairly early in the morning, watch out for flying bloggers….INCOMING!
As fun as that sounds, The Barnstormer is probably more fun. This attraction is geared toward pre-school age children. In fact, it's considered a true kiddie coaster and a good way to introduce children to this type of attraction.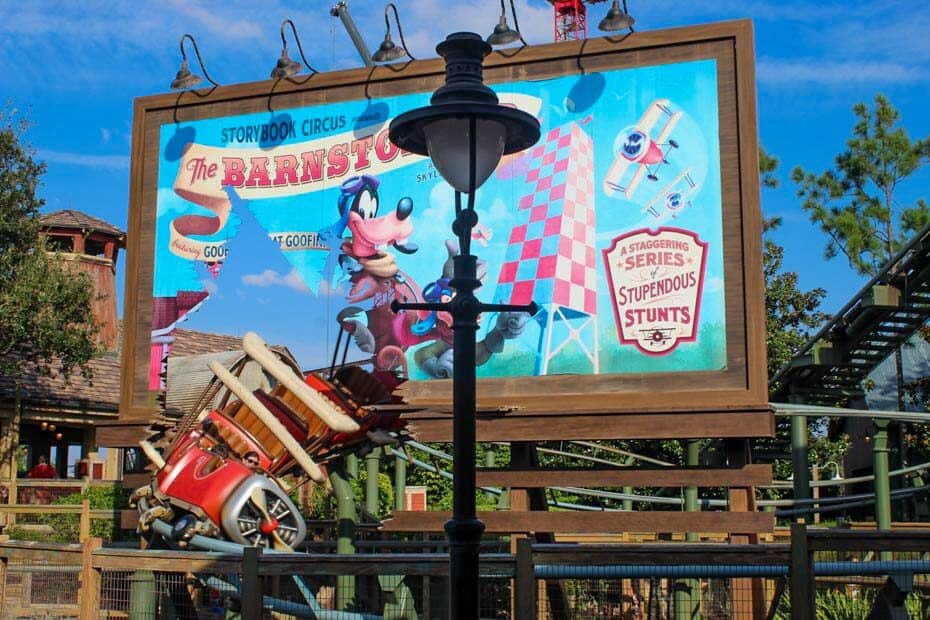 Be warned though the seats in each vehicle are a pretty tight squeeze. Therefore, if you are a party of two adults you will want to secure your own vehicle.
Also, you need to know there is a 35″ height requirement. This Storybook Circus ride comes in at about one minute in length.
If you have a child that you aren't for sure will like it, you can be reassured it will be over before they know it. It's not an attraction where you realize it's a bad idea and still has a ways to go. In fact, you might even be surprised how quickly this one ends.
Storybook Circus Play Area
An attraction in Storybook Circus that I have yet to experience is Casey Jr.'s Splash 'N' Soak Station.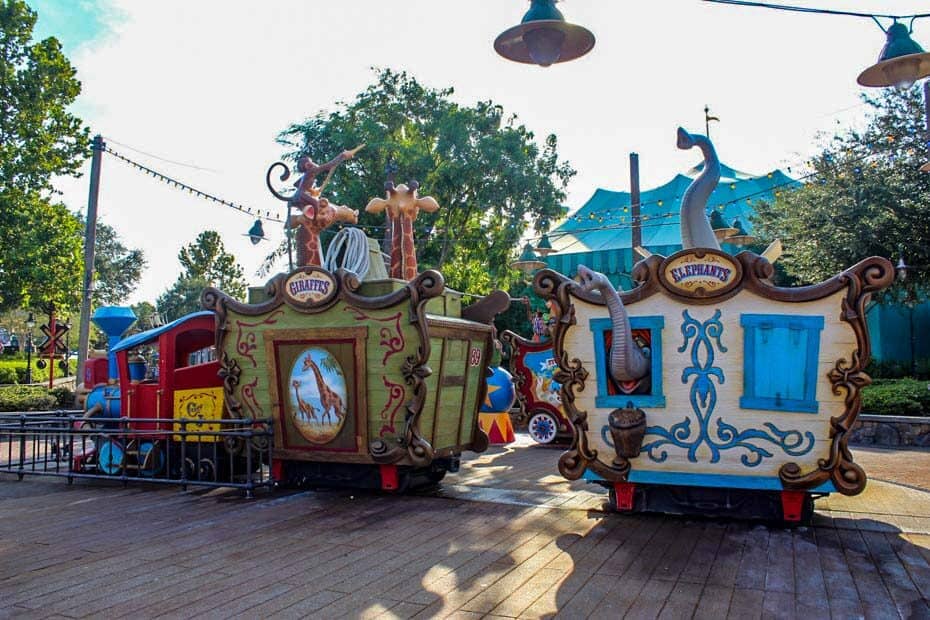 I don't have a lot to say about this one either. If the weather is on the warmer side of things the water sprayers will be in full force. There is usually an average of 20 children enjoying the area. Meanwhile, parents sit on the half walls of Storybook Circus that surround the play area.
Make sure to pack a change of clothes for children who will want to enjoy Casey Jr. Splash 'N' Soak.
Unfortunately, at this time, the Walt Disney World Railroad is closed. This is due to the construction of the new roller coaster, Tron. Fantasyland Station is the name of the train stop in the very back of Storybook Circus.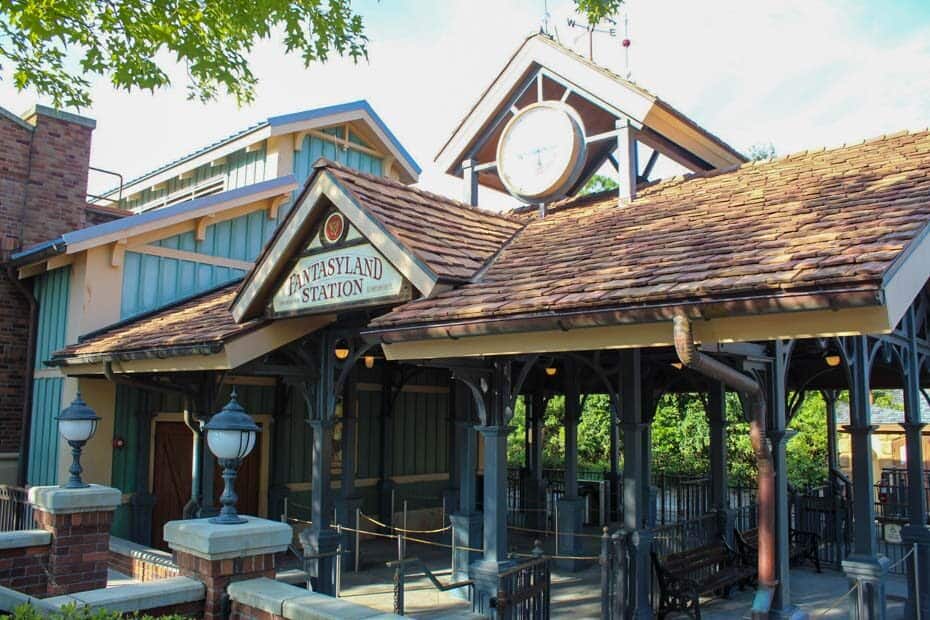 The Walt Disney World Railroad has been closed for nearly two years, and it feels like a high price to pay for the new coaster. It is expected to resume operations after Tron opens.
Characters at Storybook Circus
Storybook Circus wouldn't be complete without the character opportunities available at Pete's Silly Sideshow.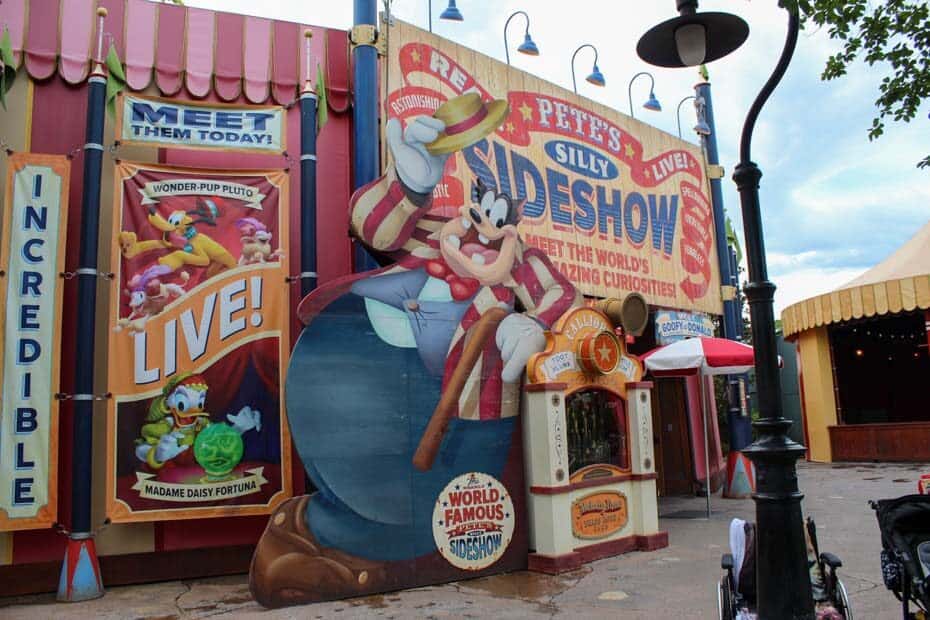 Back in the circus tent, you have the opportunity to meet Goofy and Donald on one side, and Daisy with Minnie on the other. This is one of those I call a two-for-one. That's because you get the opportunity to meet two characters when it's your turn.
There will be a wait time posted at the entrance. After entering the circus tent you'll easily be able to see exactly how many other guests are in front of you.
All of the characters are themed to match the circus theming of Storybook Circus. Donald Duck is a snake charmer!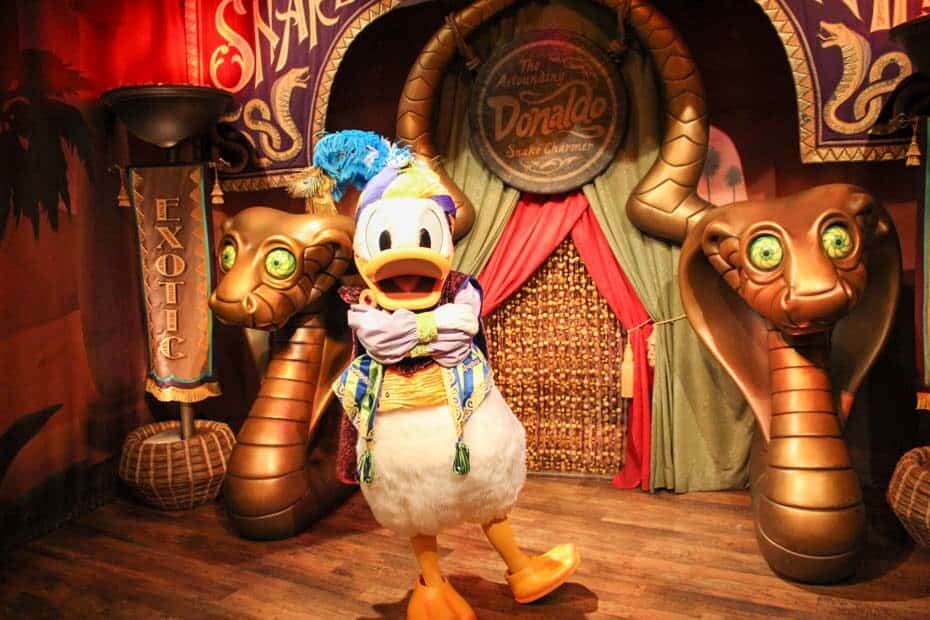 And there's the Great Goofini himself! See I wasn't kidding!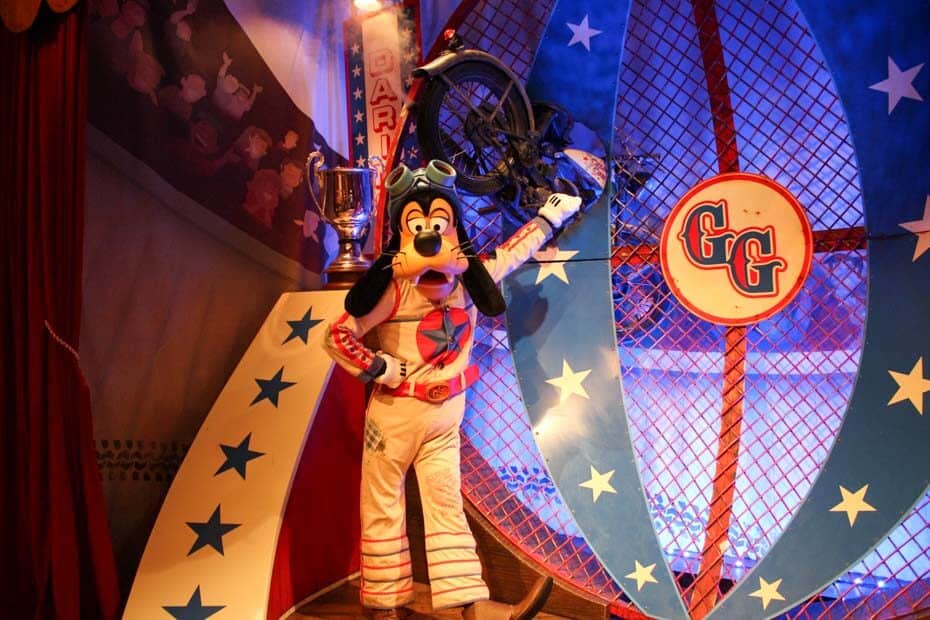 Daisy Duck is a gypsy fortune-teller! She always wears the cutest scarfs!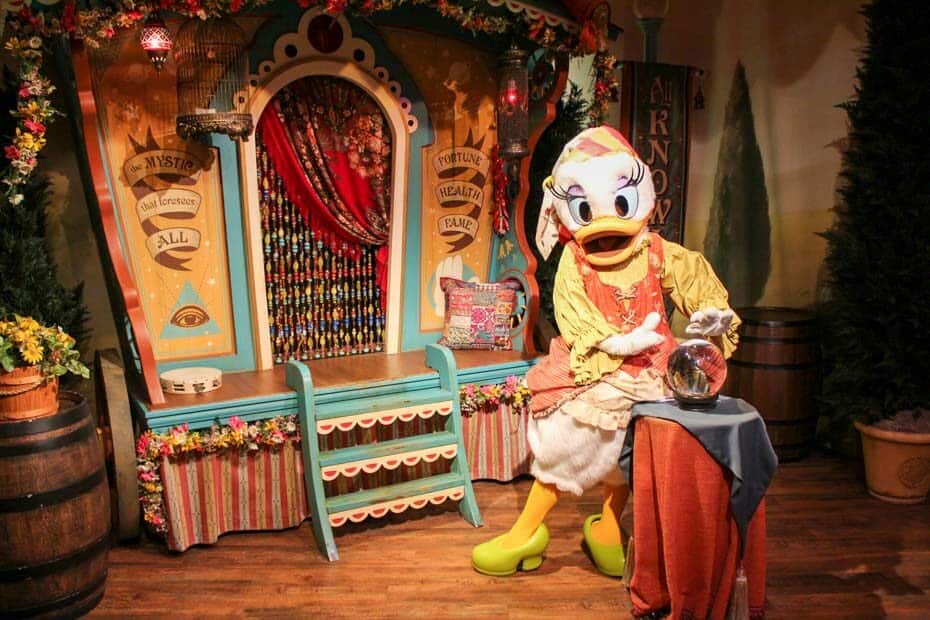 Additionally, you can find Pluto next door at the Calliope circus tent. He has been moved around quite a bit at Magic Kingdom over the last year.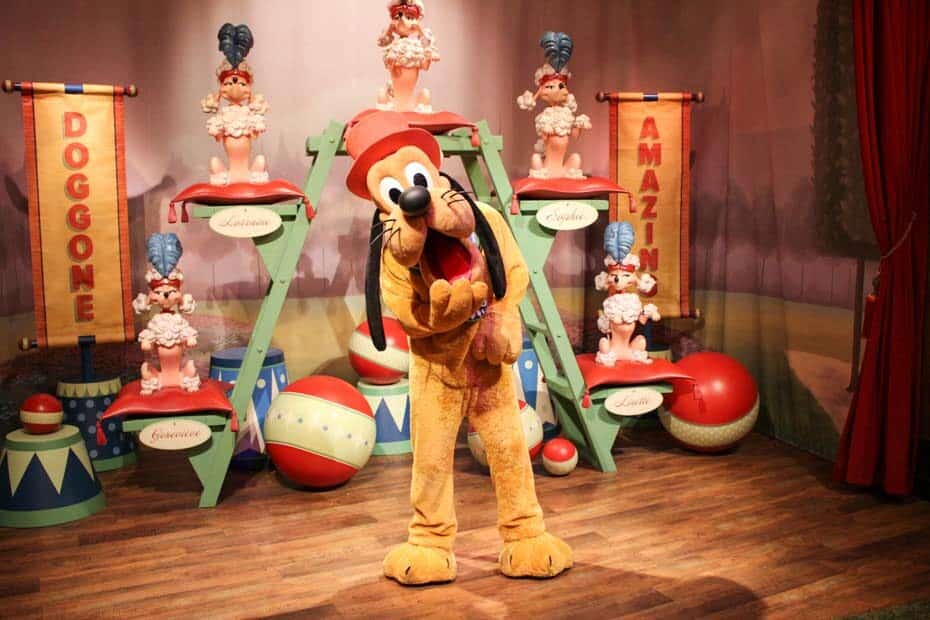 Minnie Mouse returned to the area next to Daisy Duck a few months back. This should be the only place to meet these specific characters within Magic Kingdom.
If you are planning to meet characters in the parks, I keep an updated list of Disney World Characters here. Or you might like the Magic Kingdom Characters guide.
Big Top Souvenirs
Lastly, we have Big Top Souvenirs and you will want to check this circus tent out on your visit.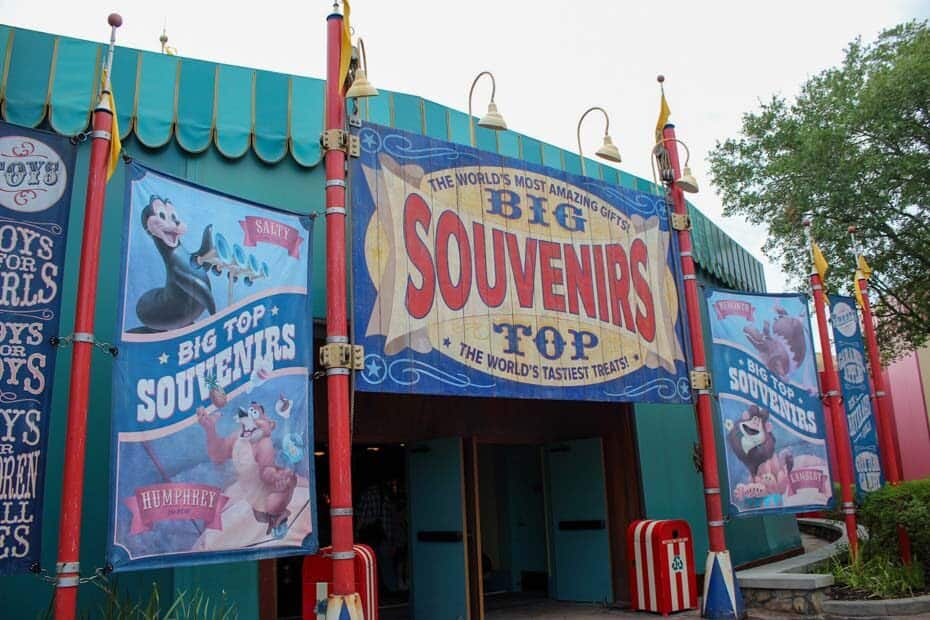 Inside Big Top Souvenirs, you'll find a large retail area laid out in a circle. The center of the store offers large candy cases similar to what you'll find at the Main Street Confectionery.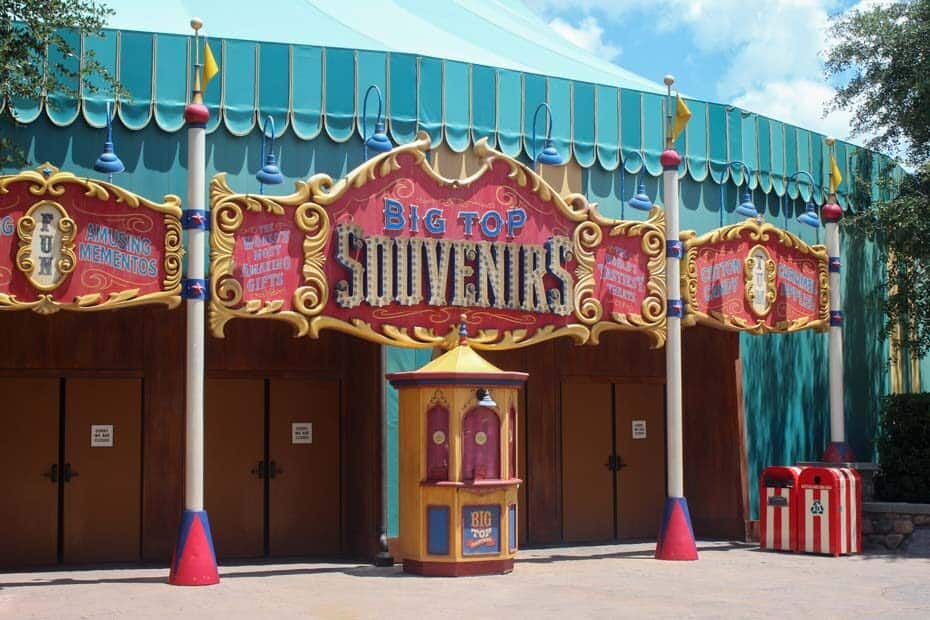 This is one of the best places to pick up a snack on this side of the park. On one of my visits to the store, a customer asked a cast member about the best use of a snack credit. The cast member replied that the large cookie was one of the best deals around on the Disney dining plan.
Final Thoughts on Storybook Circus
Storybook Circus is a wonderful place for the young and young at heart. The land provides a place for children to be children with play areas both inside and out. All of the attractions are aimed toward their specific age group. And it's hard to imagine a better place to meet characters than under a circus tent.
If you are looking for more Magic Kingdom information make sure to check out our similar guides for each land:
As you can see there's quite a lot to do at Magic Kingdom and eventually several new things coming.
Resorts Gal specializes in Disney World Resorts, Characters and Dining. Make sure to check out some of our resources like the list Walt Disney World Resorts with reviews. That article gives a brief overview of every resort at Disney.
For planning dining reservations, we have a full list of our Disney restaurant reviews available. Normally, we recommend planning at least one Disney World character dining meal and a Disney signature dining reservation.
Our most popular reviews include the best restaurants at Disney Springs and I keep an ongoing timeline going of Disney Loungefly mini-backpacks. They are perfect for taking to the Disney Parks!
As for Storybook Circus, I hope you'll enjoy your time there. Please leave me a comment below with your thoughts.