A Few Disney Updates As We Head Into September 2021
With all of the recent Disney news, I felt like it was time to share a few updates. We'll take a look at a few things going on around the Disney Parks, dining updates, and characters.
For starters, we are one month out from the world's most magical celebration, Disney's 50th anniversary. October 1st kicks off the 18-month long celebration. If you are visiting over the course of the anniversary, there will be special merchandise, new fireworks spectaculars at both Epcot and Magic Kingdom, new attractions, dining experiences, and much more!
Disney KiteTails will premiere at Disney's Animal Kingdom on October 1st. Here is a video from Disney detailing what you can expect.
Disney KiteTails will be a live performance held several times per day at the Discovery River Theater. The show appears to be a mix of elaborate kites with skilled performers.
Additionally, if you are visiting the Animal Kingdom Theme Park soon, make sure to check out the Gorilla Falls Exploration Trail. One of the gorillas, Azizi recently gave birth to a new baby named Ada.
If you or your children have an interest in animals, I can't express enough how enjoyable these types of attractions are at the park. You'll encounter multiple viewing areas of the animals in their habitat.
And it's likely the gorillas will be easy to see. A few years back when baby Grace was born, we saw her multiple times being cradled by her mom. These types of experiences are not only educational but memorable for years to come.
Moving on, you may have already heard that Disney World annual passes will go on sale on September 8, 2021. The update from Disney earlier this morning came with a lot of backlash from their fans.
It appears the main complaint is the loss of the PhotoPass option and water park option. In order to have those, guests will now have to pay an additional fee. Here is an infographic Disney provided detailing the different plans.

I recently renewed my annual pass, therefore I have a year to go before having to make a decision about upgrading. However, many guests have been waiting a long time for this news and the ability to rejoin the program.
I'll be the first to admit, I'm not happy about the water park upgrade. We normally go to the water parks about five times per year.
The way I look at it is, there's plenty of water park competition in the nearby area. And the beach is a little over an hour away. We'll probaby end up spending more time at the beach.
As for the PhotoPass upgrade, I don't anticipate ever paying for it. If you only knew how many times I get stopped in the parks with someone asking me to take their photo. It comes with the territory of carrying a camera, I guess.
My point is, we rarely use it. But I know many people who do use it and take avantage of the different photo stops.
It is understandable why so many are upset over the loss of these items, especially given the circumstances of the last year and a half. To have lost so many things, and then when a replacement finally becomes available you feel cheated.
It kind of brings you to that realization that you won't ever get back what you lost. And that tends to bring out the worst in many of us. If you would like to read more, all of the annual passholder options are available here on Disney's site.
Speaking of backlash, I've noticed several other bloggers posting the negativity that Disney has received with the new Genie+ announcement. After doing a little research, I found that sure enough, fans are not happy about the annoucement of the new product.
In the screenshot below, you'll notice over 20K thumbs down and over 4300 comments. You are welcome to read them here if you like.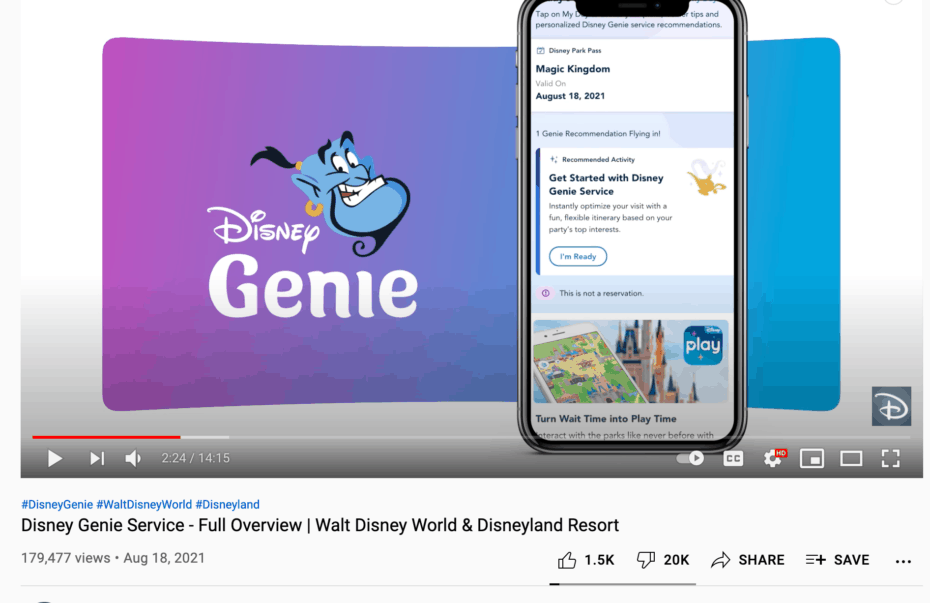 Personally, I was shocked at the massive bad reaction to this news. As someone who visits the parks fairly often, I can tell you that the amount of rides I experience as a "seasoned" guest has greatly been reduced over the past few years.
I had gotten to the point that I wouldn't ride anything (except Slinky Dog Dash, of course) if it had over a 30 minute wait time. It just didn't feel worth it.
Plus, I don't want to be in a massive crowd at rope drop, jockeying to be within the first 500 people or so on an attraction like Seven Dwarfs Mine Train. It opened over 7 years ago in 2014!
Give me a virtual queue any day, and I'll come back and wait in a reasonable line for my turn to ride. But don't make me wake up at 7:00 am in the morning in order to secure it. The "early bird gets the worm" is an approach for regular life, not vacation.
When Disney Genie+ was announced, I hoped it would become the resolution to the problem that FastPass+ has become. There will always be people that will pay for the "whole" package.
However, I anticipate there not being as many people paying for these upgrades, which means a shorter standby line. So I'm willing to try the system, all the different ways it's offered to see what works best.
Personally, I don't feel like I'm losing anything if this will balance out the lines. And if I start seeing more lines at 25-30 minutes where 45-50 have become the norm, I'll be glad to not pay for any upgrades.
Anyway, that's my take on what we know so far. You can read everything we know about the new service to date here in this article, Disney Genie Fastpass+.
Over in Epcot's France Pavilion, we have a little bit of excitement coming in the near future. Remy's Ratatouille Adventure is scheduled to open on October 1st. We plan to get in early on a passholder preview in September, so we'll take a closer look at the attraction in the coming weeks.
In addition, Le Creperie de Paris is scheduled to open October 1st. It is located in the same vicinity as the new attraction. Le Creperie will be a combination of table service and quick service dining location.
For table service, there will be a prix fixe menu. That menu consists of a choice of soup or salad, a savory galette, a dessert crepe, and a glass of hard cider, soda or juice.
For the prix fixe menu you can enjoy a selection of the following:
Classique: ham, egg, Swiss cheese
Poulet: chicken, bechamel cheese sauce, mushrooms
Chèvre: goat cheese, spinach, walnuts
Saumon: smoked salmon, crème fraiche, chives, lemon
Ratatouille: tomato, zucchini, eggplant
Savoyarde: Raclette cheese, onions, imported Bayonne ham
or these sweet crepes:
Gourmande: hazelnut chocolate spread, whipped cream
Banane: banana, caramel beurre salé
Melba: peach, red berries sauce, almonds
Poire: pear, chocolate ganache, whipped cream
Pomme: caramelized apples, caramel beurre sale
In addition, there will be a quick-service window where these crepes will be available.
The savory galettes:
Cream of Brie Cheese Galette
Ratatouille Galette: tomato, zucchini, eggplant
Bechamel, Cheese & Ham Galette
The sweet crepes are:
Butter & Sugar Crêpe
Hazelnut & Chocolate Spread Crêpe
Red Berries Crêpe
Vanilla or Chocolate Ice Cream Crêpe
Lastly, Belle (here) and Aurora (here) have been seen greeting guests from a distance in the France Pavilion at Epcot. Jasmine has been spotted on the stage in Morocco and Snow White in Germany by her wishing well. Additionally, Anna and Elsa meet in Norway.
I plan to circle the World Showcase later this week and report back on specific locations. These meets are not listed in the My Disney Experience app, so keep your eyes peeled if you are hoping to see them in the coming months. Remember, they are usually not out much later than 5:00 p.m. and they take breaks often.
While this is not an exhaustive list of news and Disney updates, these are a few things that have caught my eye over the past few days. We are doing a multiple resort trip over the next two weeks, so I'll be a little slower putting out content until mid-September.
I am excited to be able to bring you several new off-site resort reviews. I'll be doing one budget-friendly option, a middle-priced hotel, and one higher-end hotel. These will all be within a less than ten-minute drive to most locations on the property.
You can view our list of the best off-site resorts near Disney World if you would like to learn more in the meantime.
It's no secret that prices have been on the rise for pretty much everything as of late. So we'll be comparing more options for off-site resorts to the benefits of staying at a Disney World Resort as we move forward.
As always, we use and recommend Firefly Travels. They are an authorized Disney vacation planner and are familiar with all the options for resorts and hotels at Disney and in the Orlando area. You can contact them here to learn more.
Christmas is coming and I have gone through and updated most of our popular Disney Merchandise Reviews. We started adding new items to the 2021 Disney Christmas Merchandise review this morning.
And the Disney Christmas Ornaments for 2021 already has several new Sketchbook ornaments for the year!
How do you feel about all of the recent updates at Disney World? Are you looking forward to the new items, or frustrated about the loss of others? Leave a comment and let me know.