Disney's All-Star Sports Review (Should You Stay During the Refurbishment?)
Disney's All-Star Sports is one of three All-Star Resorts at Walt Disney World. In this All-Star Sports review, I'll share details of my latest stay and a few current considerations.
Since the idea of planning a stay at Disney's All-Star Sports Resort was to provide an updated look at the resort, we'll trudge onward through the thick of it. I use "updated" loosely because the resort was anything but that during my stay.
When I booked these three nights at Disney's All-Star Sports in late July, I anticipated receiving an updated room. As you can imagine, it doesn't do you or me any good to stay at a resort undergoing a major room refurbishment.
One could argue that it is good to know that the resort was under refurbishment. That's why we keep a list of resort refurbishments at Disney World.
When a resort refurbishment is in process, Disney usually notes it on their website. We check those pages regularly to provide a list of refurbishments in one convenient location.
However, if you were to visit Disney's website (as of this review and when I booked this trip), there is not one single mention of the refurbishment at All-Star Sports. Had there been mention, I can assure you I would have stayed at an entirely different resort.
Needless to say, when I arrived, I was shocked to find a dated room. And in my area, the Hoops Hotel, there wasn't any sign that a refurbishment was taking place.
In my best Yoda voice, "Confused I was."
I knew All-Star Sports was the last of the resorts at Disney World to reopen. I was under the impression they reopened later because they were completing a refurbishment.
But the resort appeared to be the same way I had left it the last time I stayed here, several years back. It was shocking, to say the least.
During my stay, a little investigative blogging led me to uncover the real state of the resort. Unfortunately, that's not near as exciting as it sounds.
But it was rather strange. Let me explain.
Disney's All-Star Sports Review
I was checking out of Disney's Port Orleans French Quarter on the morning of my arrival. Therefore, my room reservations were bridged together, and the transition from one hotel to another was effortless.
Since this was considered a split stay or a continuing reservation, I received my room assignment at All-Star Sports before 11:00 a.m. Things were progressing smoothly.
When I arrived at Sports, my priority was to get updated room photos to provide for this review. My room assignment was on the third floor of building three in the Hoops Hotel.
First, I located the parking lot nearest my building. If you were to drive to the All-Stars, you'd want to locate the parking lot closest to your building.
Since this building was on the far right-hand side of the resort, the parking lot access was before the resort's main entrance. This parking lot was shared between the Hoops Hotel and Surf's Up sections of the resort.
Rooms at All-Star Sports
If you've stayed at the All Stars in the last five years, you already know the rooms are long past the point of refurbishment. While I did tough it out, I was aggravated that I had paid what I had to stay in a dated room.
In hindsight, I should have asked for an updated room or to be moved elsewhere. But I was tired and frustrated that I didn't know the resort was in its current state. How did I miss that?
Suffice it to say, I forgave myself when I double-checked Disney's site later and realized the refurbishment wasn't listed. But at that point, I had already unpacked.
Anyway, my room number was 3364.
Unfortunately, Disney's All-Star Sports rooms do not have private balconies. This was the view out from the main walkway outside my room. As you can see, these larger-than-life elements are fun for children.
Here is that room. I know, it's not horrible. But the carpet and the tile in the shower have seen better days.
My room had two double (full-size) beds. However, the new rooms at All-Stars Music and All-Stars Movies have queen-size beds.
In the corner, there was a small table with chairs. An individual cup coffee maker with accompaniments sat on top.
One thing the value resorts do have going for them is that the vanity area is separate from the bath area. It's nice for one person to be able to get ready while another uses the shower.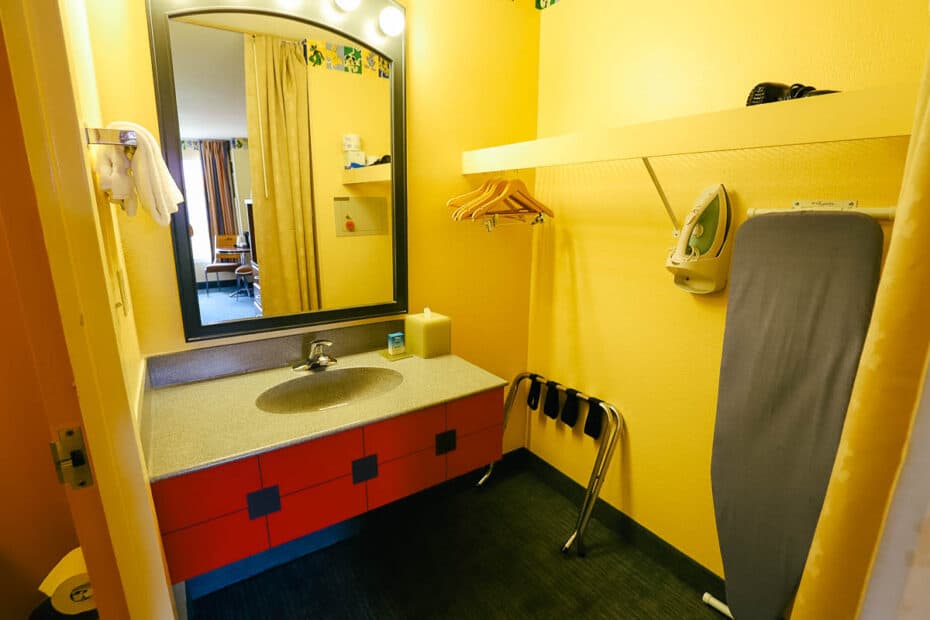 Here is another angle.
And there's that dated tile whose grout has seen better days.
Hopefully, these rooms will be refurbished soon.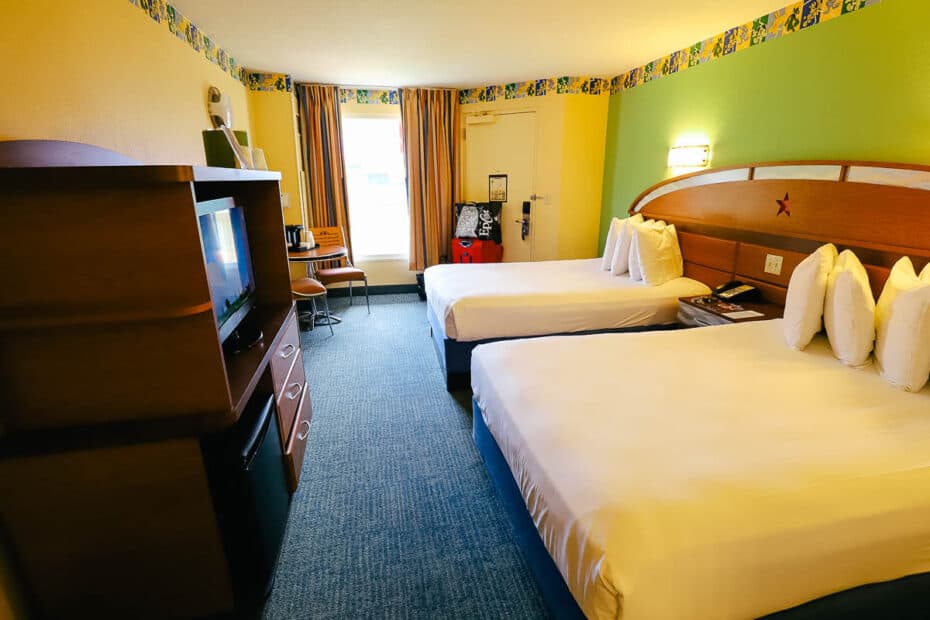 Unfortunately, I can't recommend staying here until the work is complete. You can always go to Music or Movies, and that's where I should have gone.
Rooms at All-Star Sports do have a mini-fridge….ahem…beverage cooler.
After taking photos of the room, I decided to get to the bottom of things and find out what was going on with the rest of the resort.
Sections at Disney's All-Star Sports
Theming at Disney's All-Star Sports, as you can imagine, relates back to sports. Five sports make up the different sections of the resort. The first of those sports is surfing.
Here we have the Surf's Up Hotel, comprised of buildings 1 and 6. Both buildings have preferred rooms, given their proximity to the lobby, dining, and transportation.
All of the buildings at the value resorts have elevators. They are located in the center of each building.
Additionally, the buildings have a staircase on each end. Each staircase is wrapped in something representing the area where the building sits. For instance, the staircases in the Surf's Up Hotel are wrapped in lifeguard chairs.
An area called Mount Mickey sits in the center of the resort.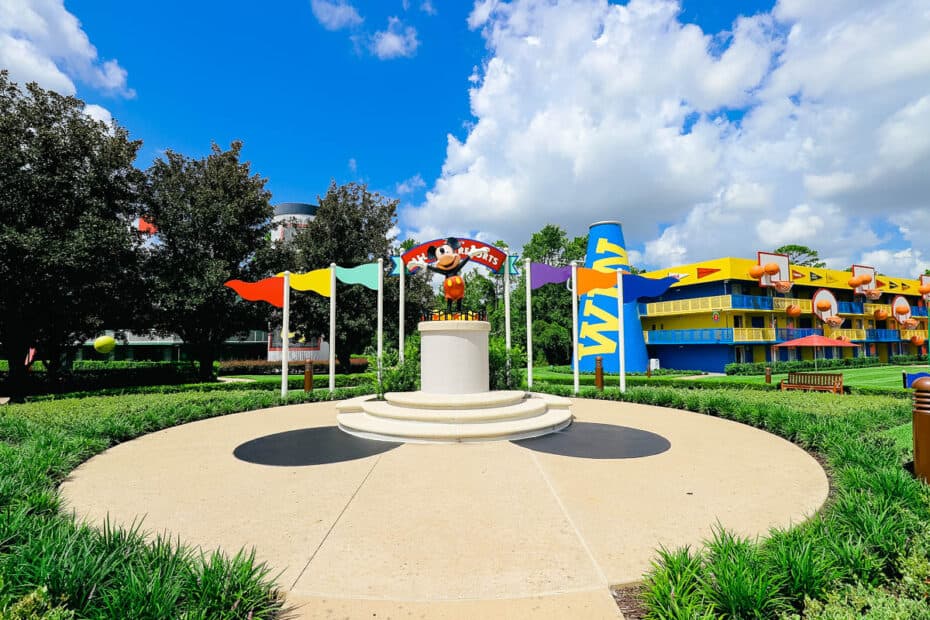 Directly behind Mount Mickey sits the Hoops Hotel, where I stayed.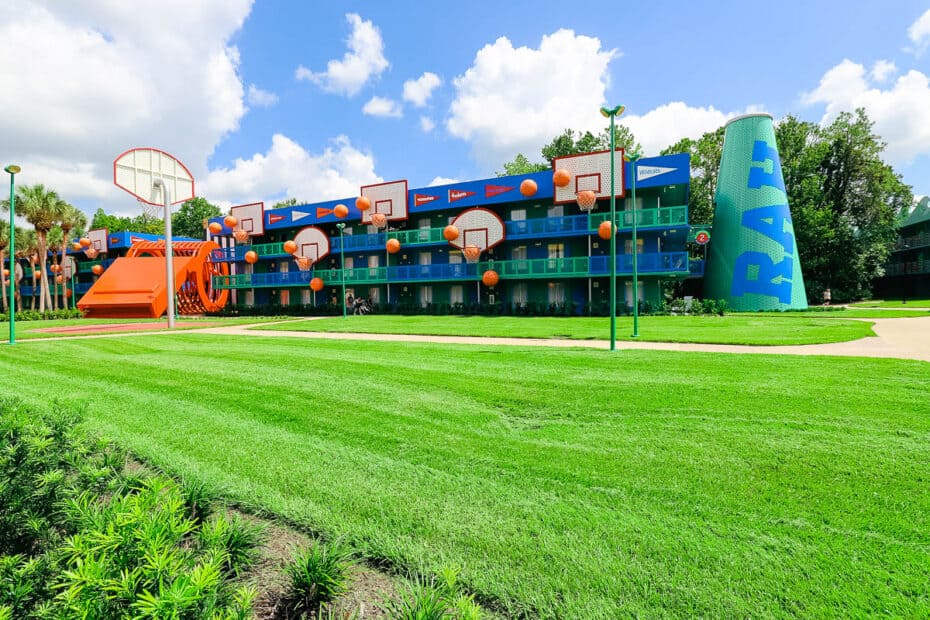 The Hoops Hotel has two buildings, numbers 2 and 3.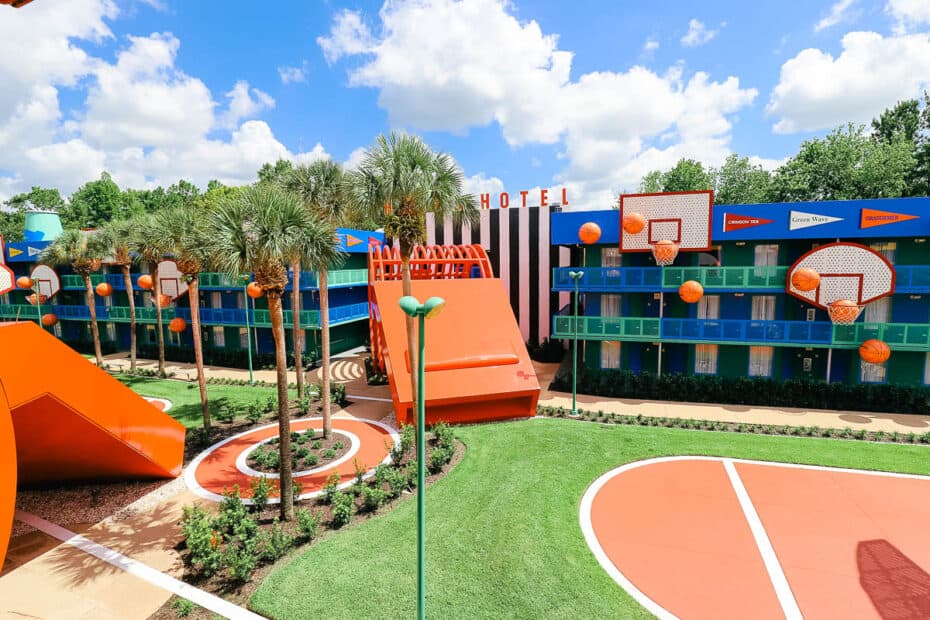 Further back, we have Center Court, which features a tennis court in the middle.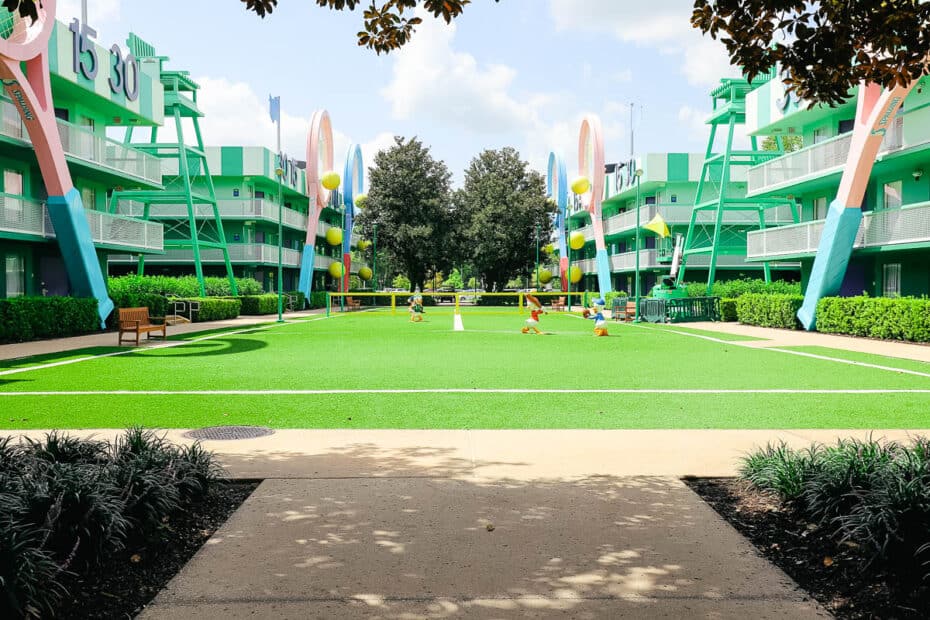 Donald's nephews are playing baseball on one end of the court.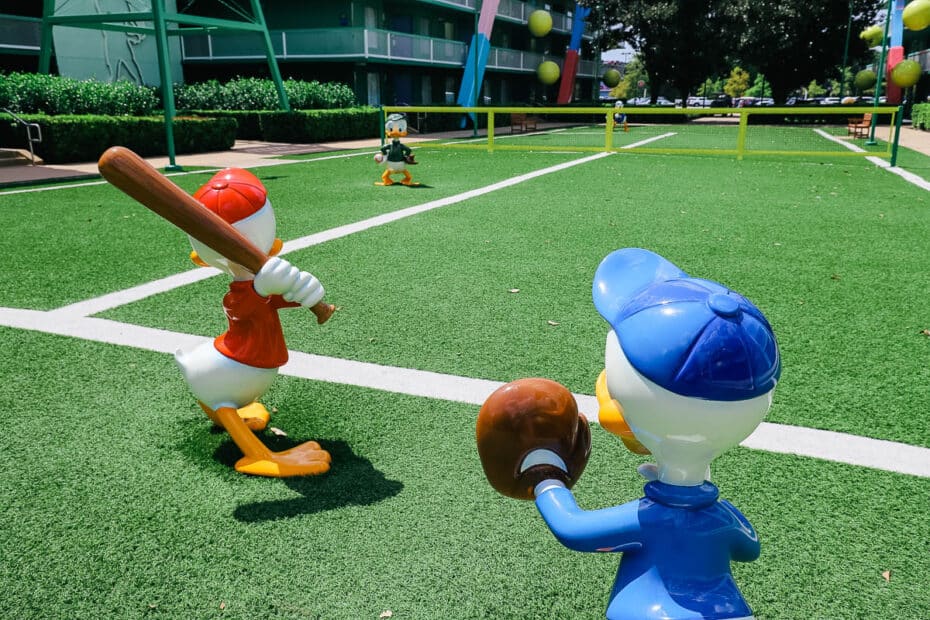 Donald is furious as he waits for the ball on the other side of the court.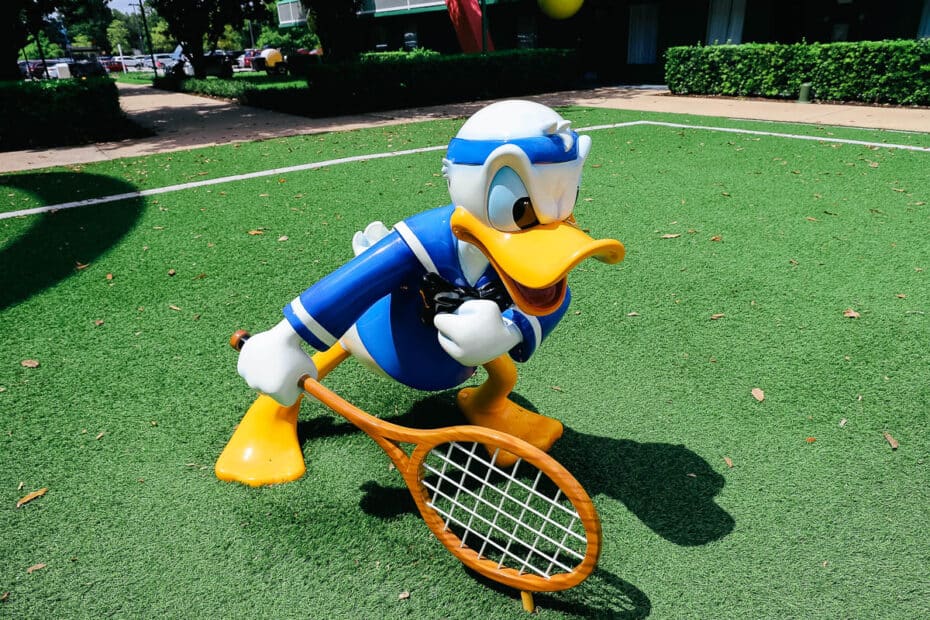 At this point, I had yet to see any construction.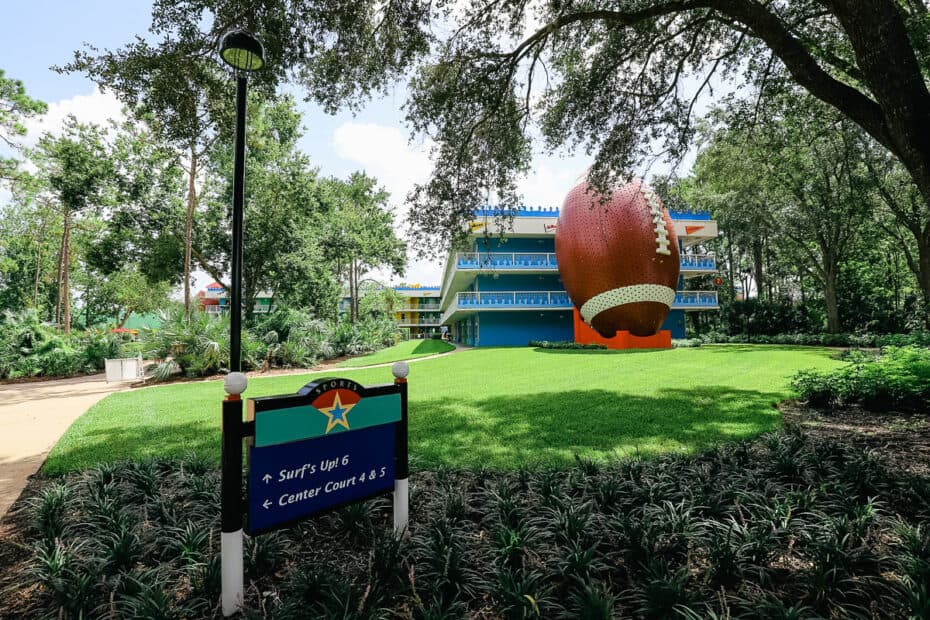 Walking toward the Homerun Hotel, I noted that the resort felt deserted.
Out of the corner of my eye, I saw that the curtains were pulled in a nearby room. So I investigated further, and here's what I found.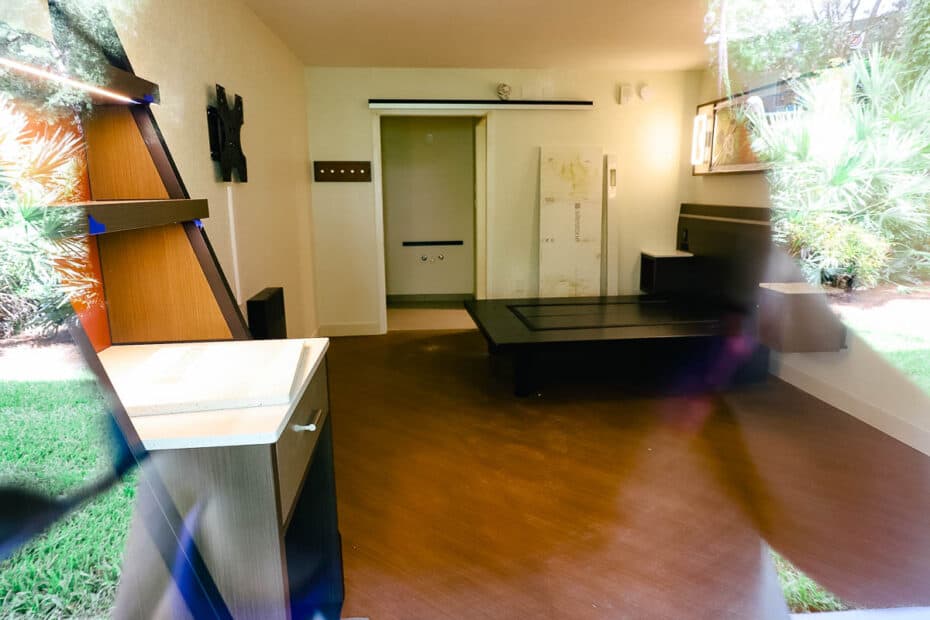 Yep, it was a partially refurbished room with several missing details. Hmmm.
I walked further and began to notice that buildings 8 and 9 in the Homerun Hotel were vacant. Some buildings had subtle construction barricades in front of the sidewalks.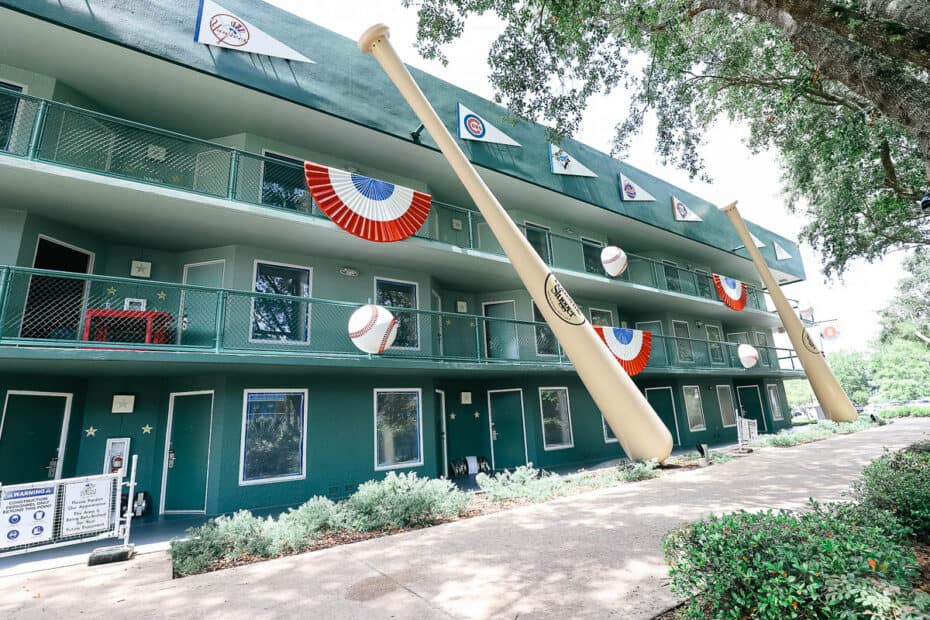 Even stranger, no work was being completed. There were no construction workers anywhere to be seen.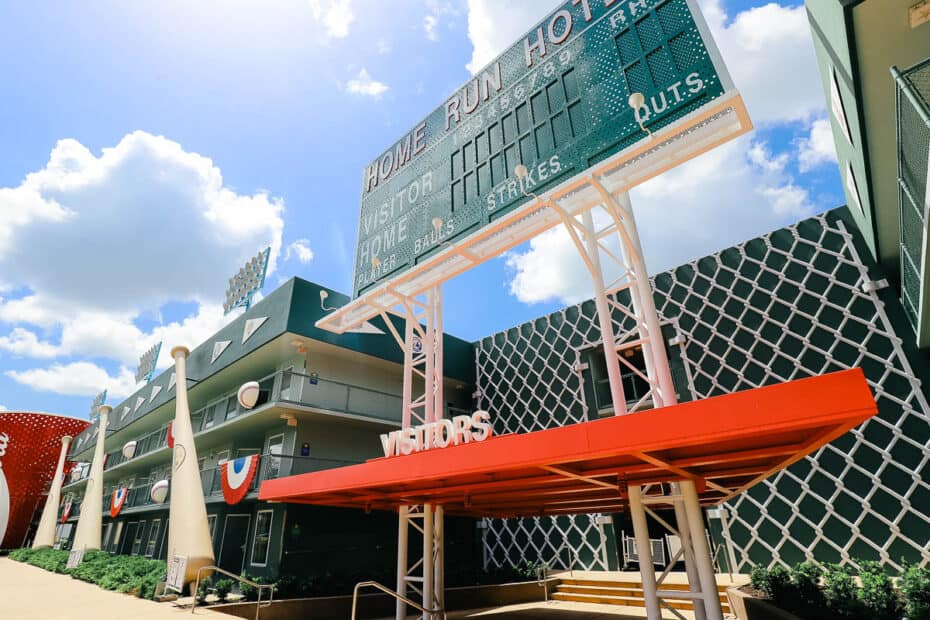 I turned to head back toward the front of the resort. On my way, I walked through the final section called Touchdown!
Naturally, Touchdown is football-themed and is home to buildings 7 and 10. Each of these buildings have a few designated preferred rooms because of their proximity to the front of the resort.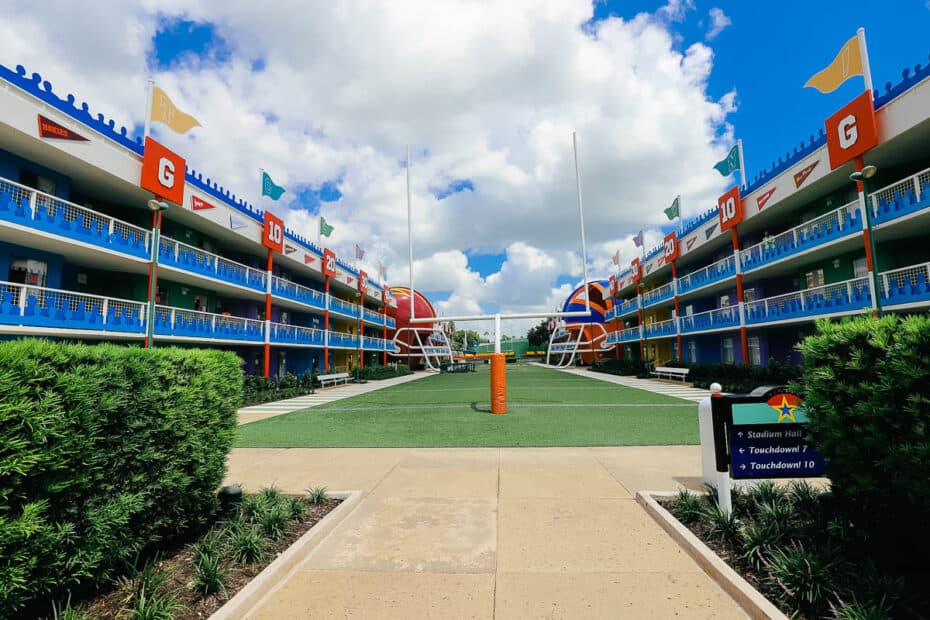 Surprisingly, this entire section of the resort was also unoccupied.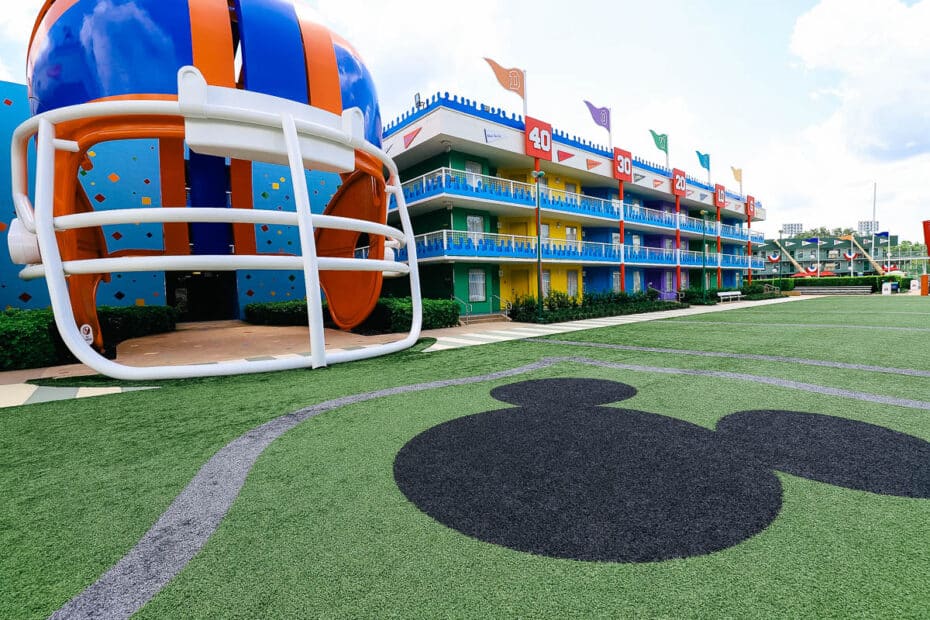 My only guess is that some of the supplies or furnishings needed to finish this project are on backorder. Again, that's only a guess.
These photos were all taken in late July of 2022. I hope to revisit the resort by the end of the year to see where things stand.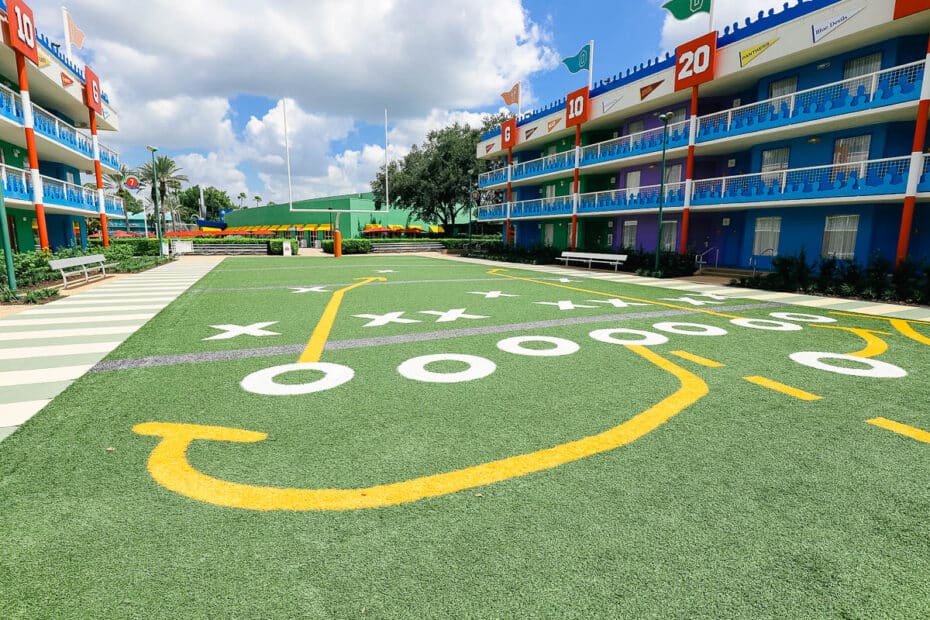 Overall, the resort's refurbishment didn't affect my stay since there wasn't any construction during my visit. But at some point and time, construction will resume, so take this into consideration.
Had my room been updated, I would not have had any issues staying at All-Star Sports. However, it felt like I had been cheated after paying the same price at Sports as I would have for an updated room at Music or Movies.
Before wrapping things up, let's look at a few other aspects.
Dining
All-Star Sports has one primary quick service, End Zone Food Court. This location serves breakfast, lunch, and dinner. You'll find the food court inside Stadium Hall.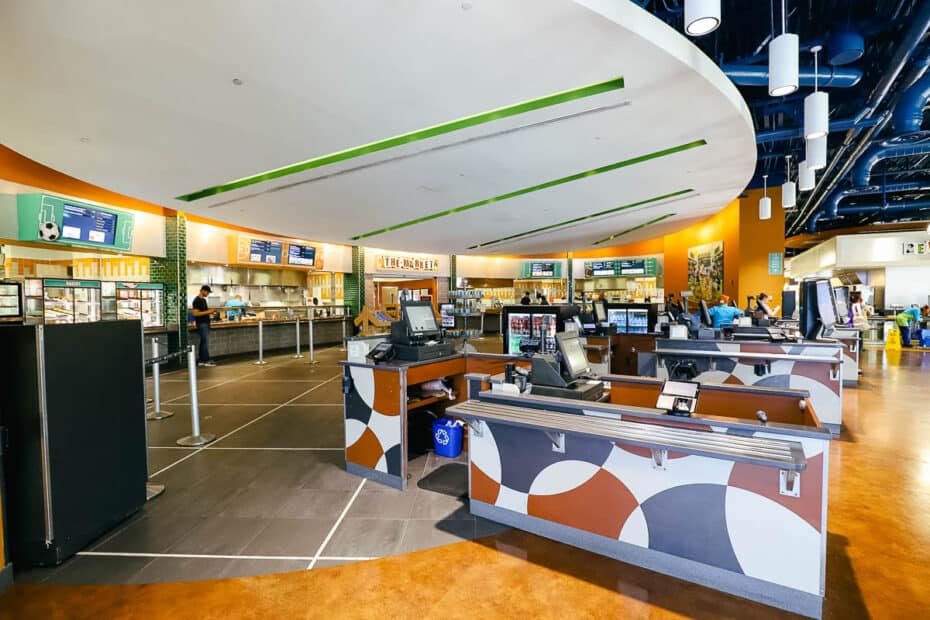 While the food at End Zone is by no means excellent, there is a decent variety of options. If you want to see those options, we have a separate article with photos of everything available during this stay.
Related: Dining at All-Star Sports
Additionally, one pool bar sits between the feature pool and the main lobby, Stadium Hall. This is where you can pick up a cocktail at the resort.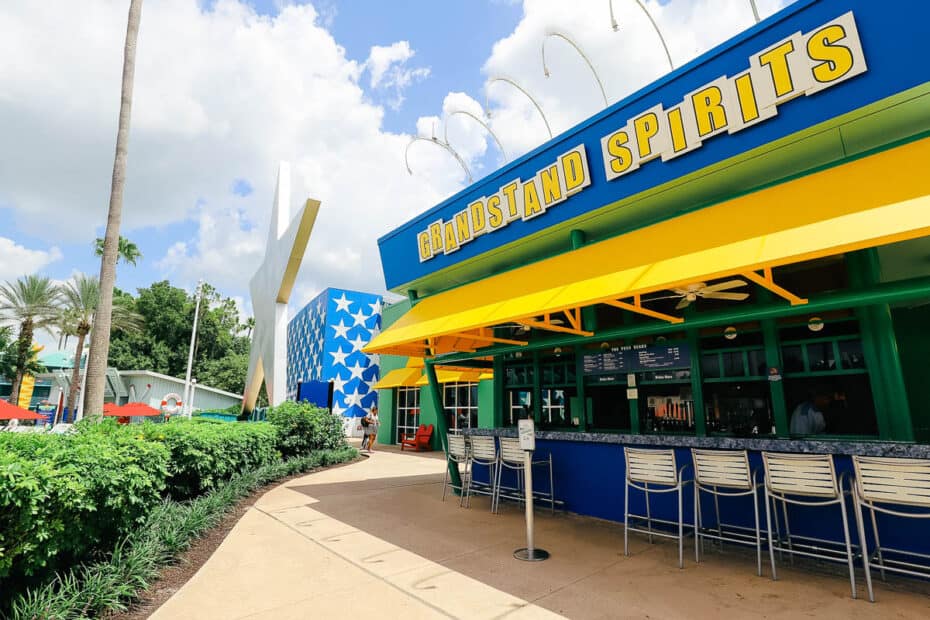 Transportation
Like the other All-Star Resorts, bus transportation is the only option at Sports. During the busier portion of the day (early mornings and evenings around fireworks), each All-Star Resort has its own bus service.
However, when traveling during slower times, all three values share buses. So if you get picked up at All-Star Sports for Magic Kingdom, you'll stop at Music and Movies before heading to the park.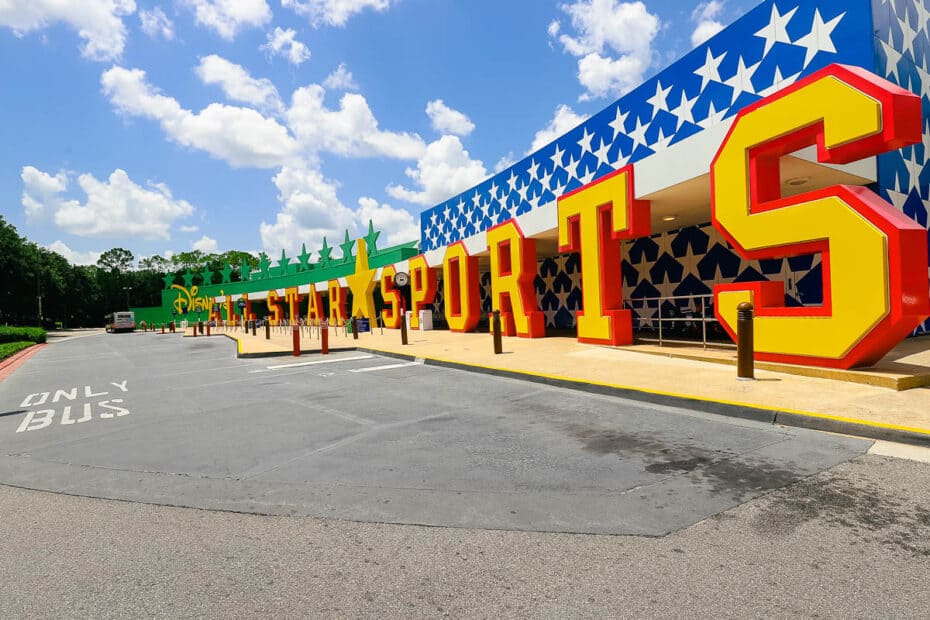 Buses travel from All-Star Sports to the following:
Magic Kingdom
Epcot
Hollywood Studios
Animal Kingdom
Disney Springs
Water Parks (with alternative routes)
Amenities
All-Stars Sports has two pools. The feature pool is called the Surfboard Bay Pool. It sits directly behind Stadium Hall.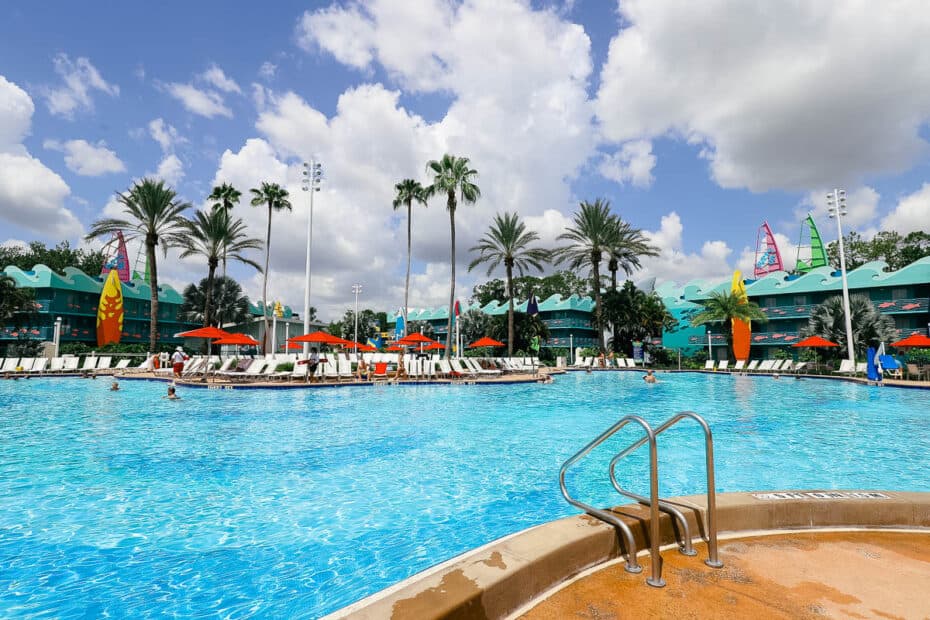 Sport's secondary pool is the Grand Slam Pool which sits between the two Homerun Hotel buildings. The Grand Slam Pool was open even though the surrounding buildings were closed during my stay.
Related: Pools at Disney's All-Star Sports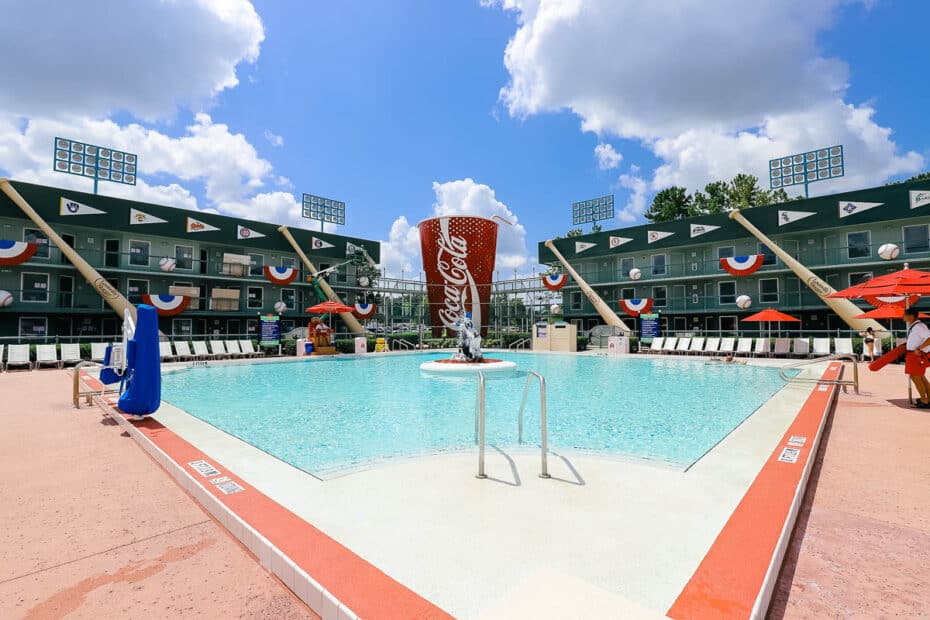 Back at Stadium Hall, you'll find Game Point Arcade. This is a fairly large arcade where you must purchase a card with points to access the machines.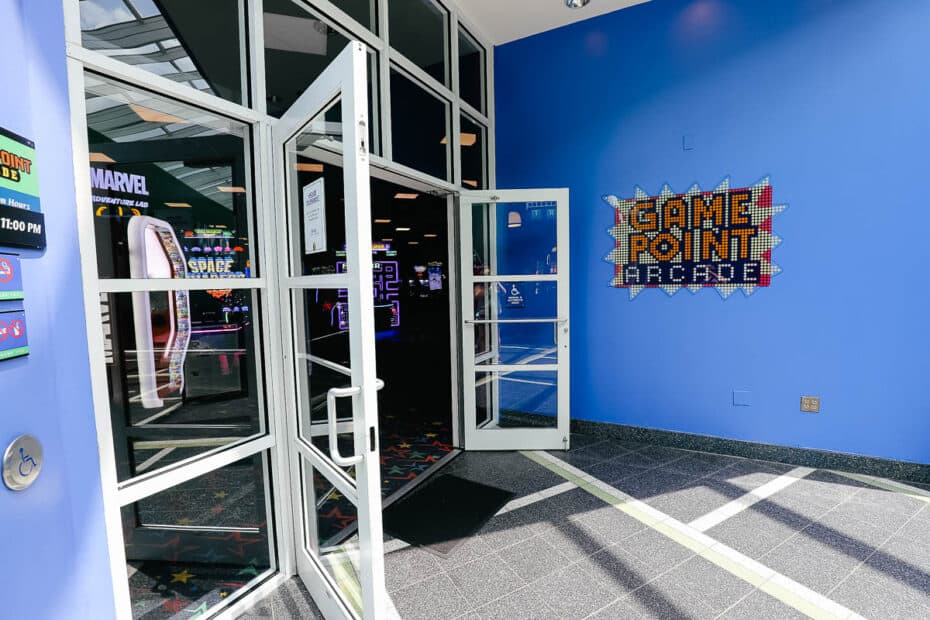 Here is a look inside.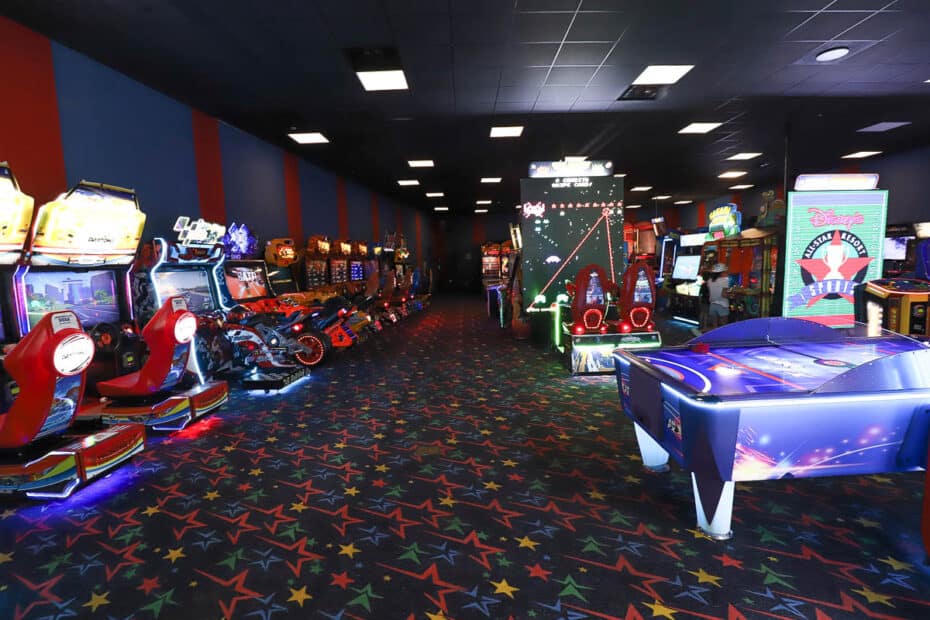 All-Star Sports does have a recreation calendar. As of late, these calendars are posted in several locations throughout the resort.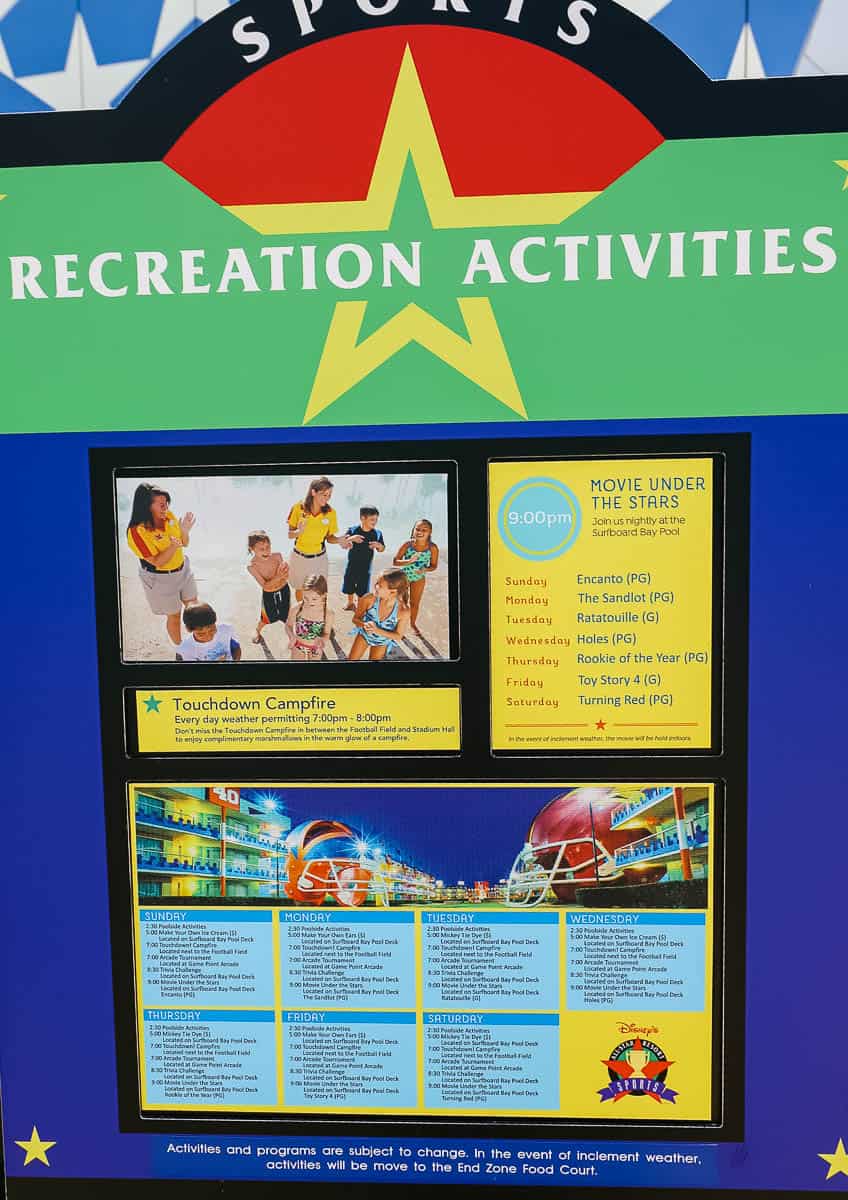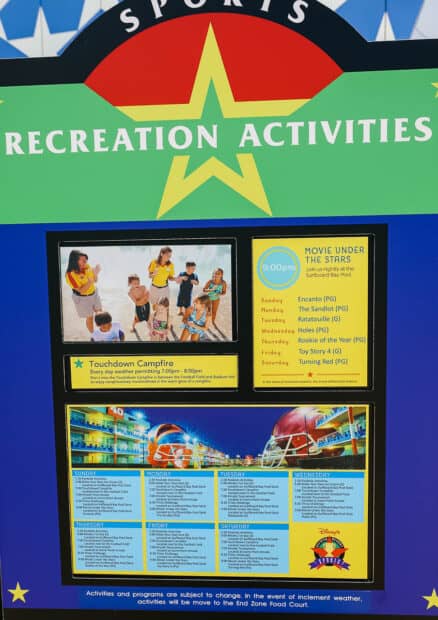 I recommend snapping a photo of one, so you can reference it on your phone. All-Star Sports recreation calendar lists the nightly Movie Under the Stars and various other recreational activities provided at the resort.
Unfortunately, the value resorts do not have fitness centers. However, they have a jogging trail that runs the entire length of all three of the All-Star Resorts.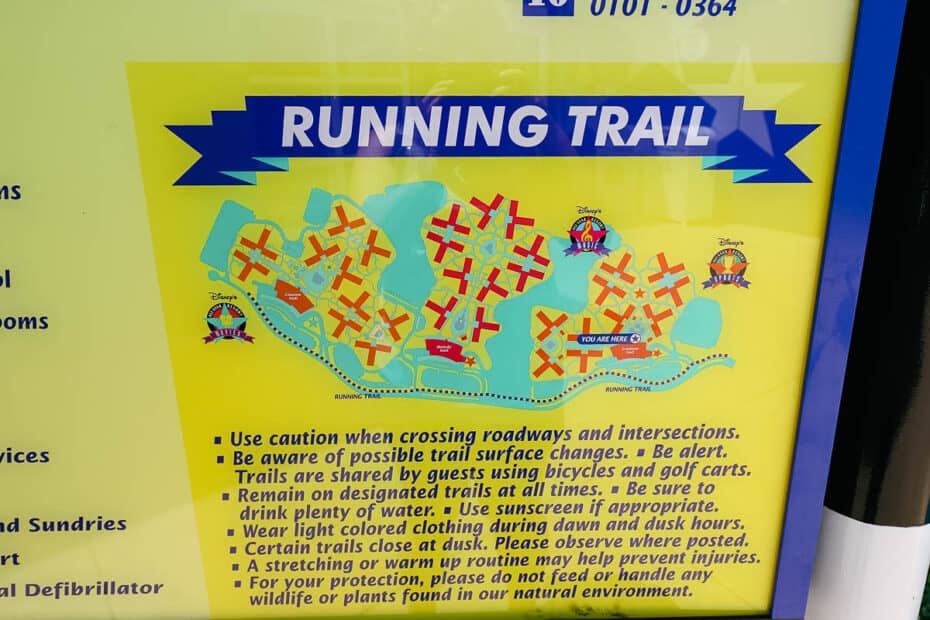 Last but not least, the resort is home to two laundry facilities. Both laundry rooms are located by the pools.
Related: Laundry at All-Star Sports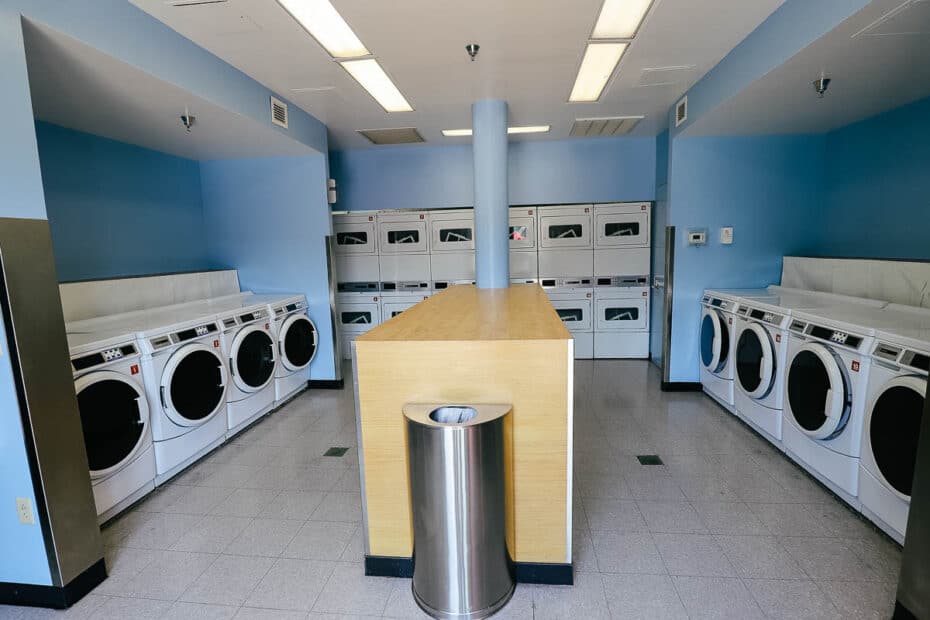 Final Thoughts on Staying at All-Star Sports
Ultimately, All-Star Sports is a fun-themed hotel. But as the title of this review suggests, I wouldn't recommend staying here until the refurbishment is complete.
For more information on this resort, all of our articles are listed in our full guide:
Additionally, you might enjoy a few of these Disney-related planning articles:
In the comments
What are your thoughts on this review of Disney's All-Star Resort? Would you be unhappy if you found the resort in this state during your vacation?