Bayview Gifts (BVG) at Disney's Contemporary
Bayview Gifts is the gift shop at Disney's Contemporary Resort. The shop is also commonly referred to as the BVG. For Bayview Gifts, get it?
Unfortunately, there's not much of a view of Bay Lake from the gift shop. That's because the view is covered up by merchandise displays, which probably sounds more like Disney than any of us would care to admit.
In this article, we'll preview what you can expect to find in the Contemporary Resort's leading gift shop. While I'm mildly joking about the views, this is one of my favorite resort gift shops to find unique merchandise.
And if you want to enjoy the view, you can step outside onto the Skyway bridge between the Contemporary and Bay Lake Tower. You'll likely want to linger for a while, especially around sunset.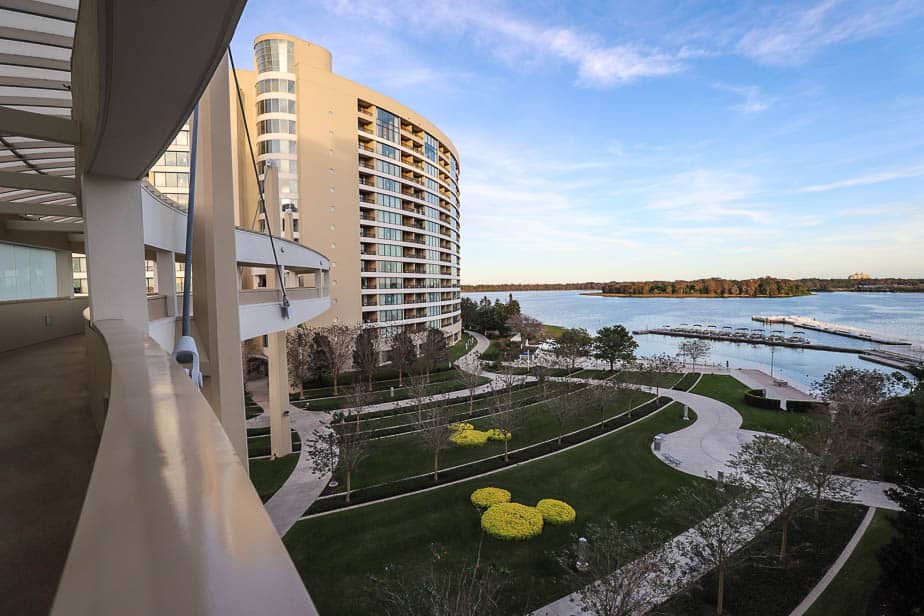 Back inside, we'll stop into the BVG and check out a few photos of the merchandise. I took these pictures in late 2021, so everything you see might not be available on your visit. However, that 50th-anniversary window display will likely stay up throughout this next year.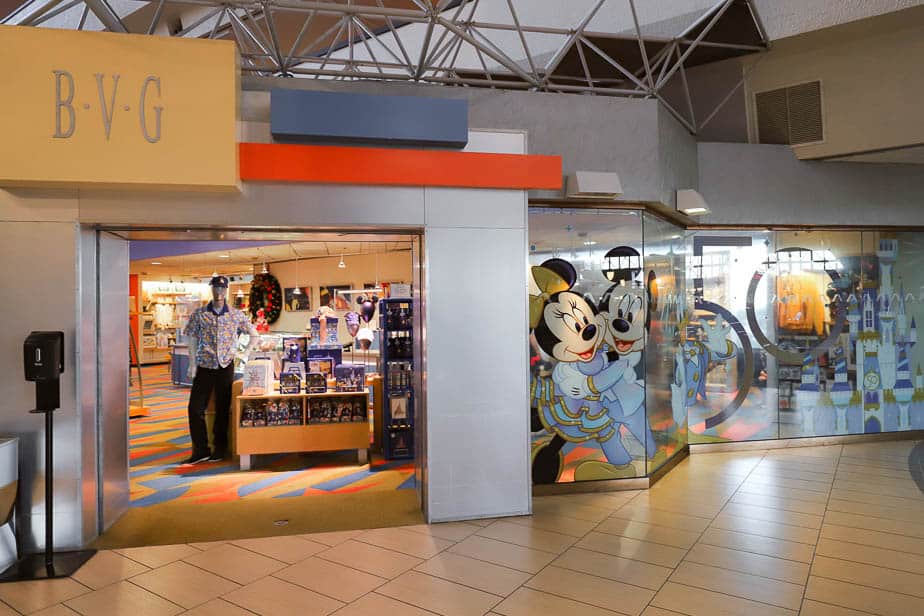 And 50th-anniversary merchandise should continue to be released throughout the 18-month-long celebration that started October 1, 2021. Here is a look at one of the collections.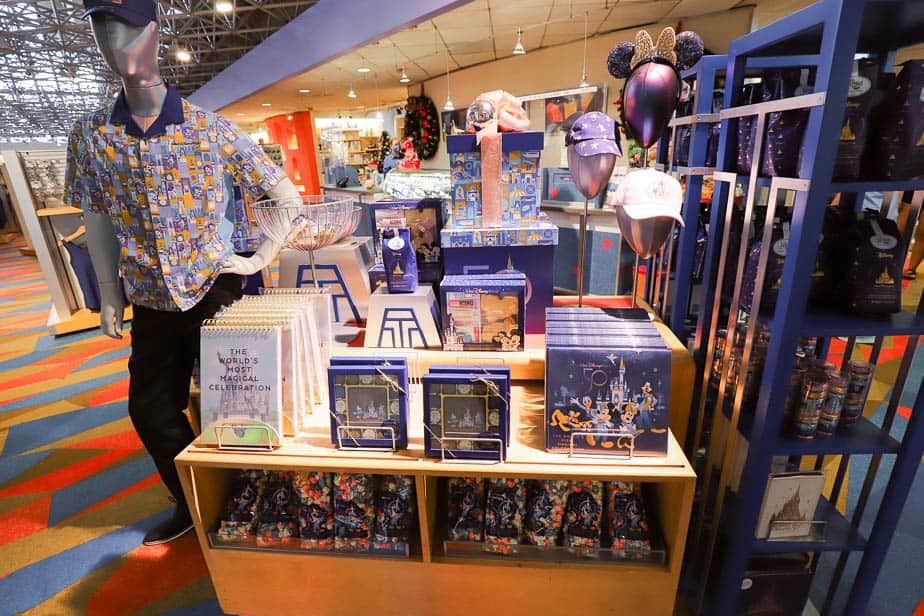 However, I preferred the look of this monorail merchandise line. It took me several times to get a picture due to others admiring the collection.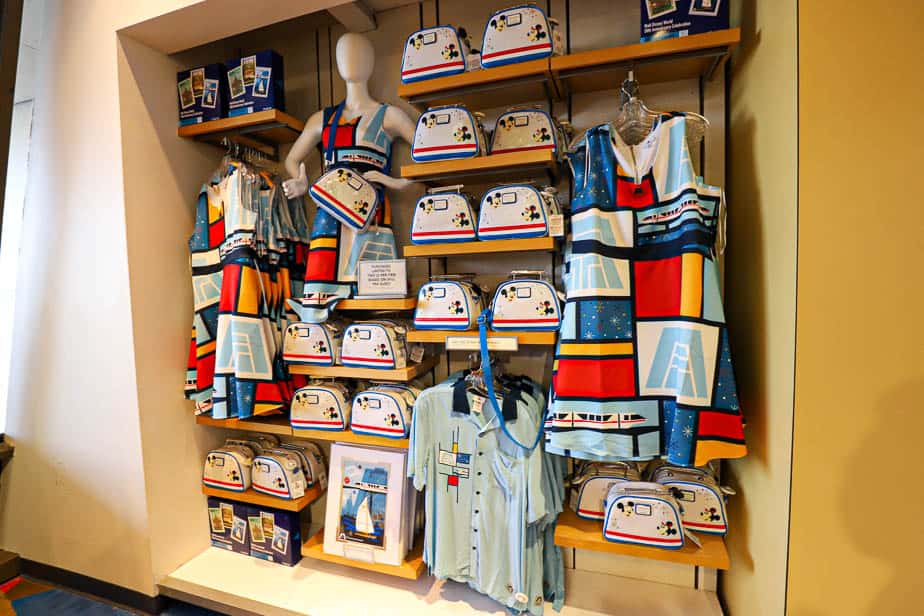 Here are a few more pieces of the 50th merchandise on display.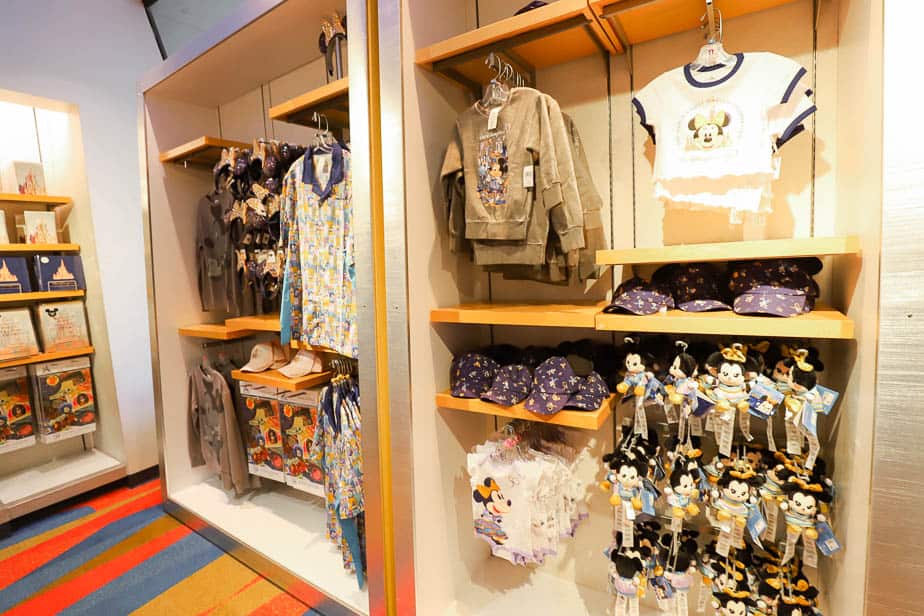 Some of these items are good-looking.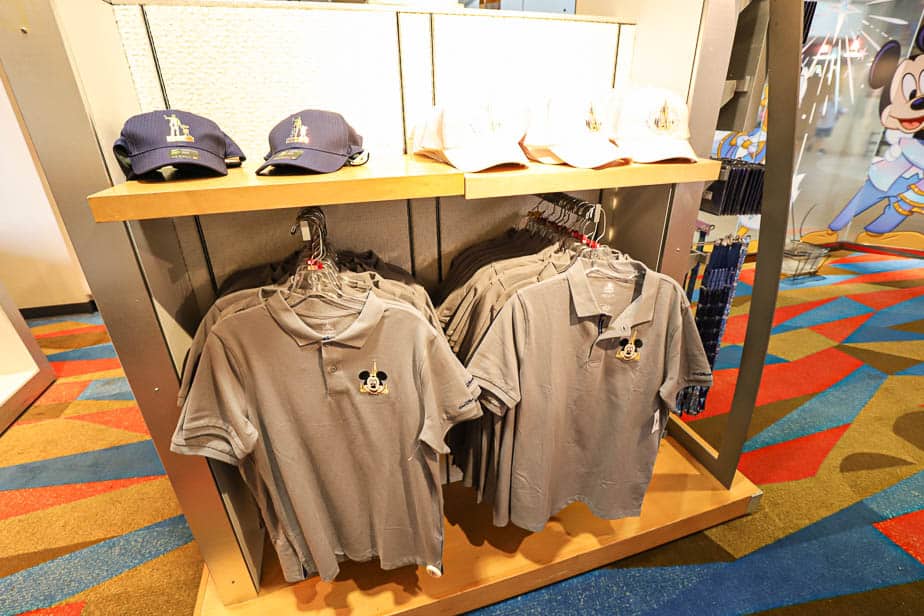 There were pins, sets, and lanyards available as well.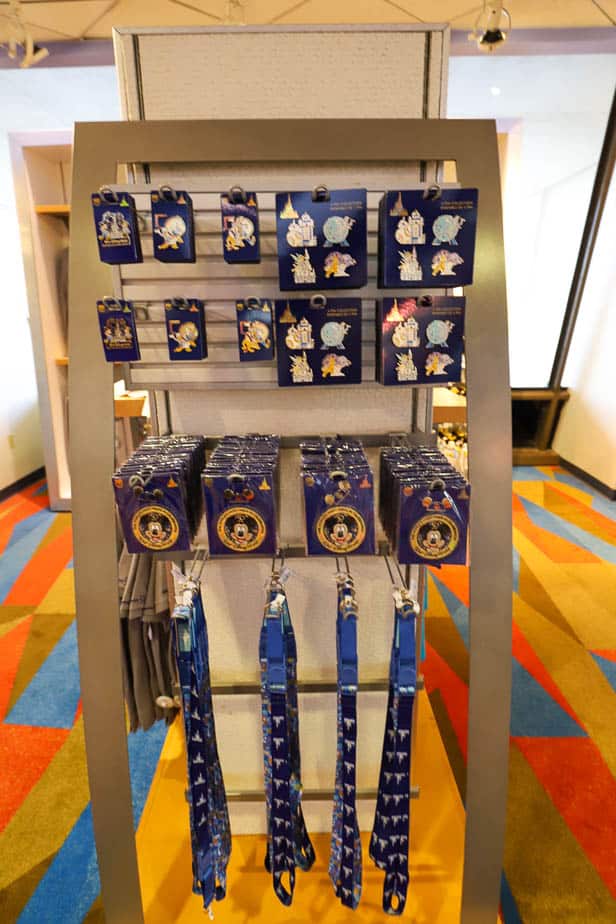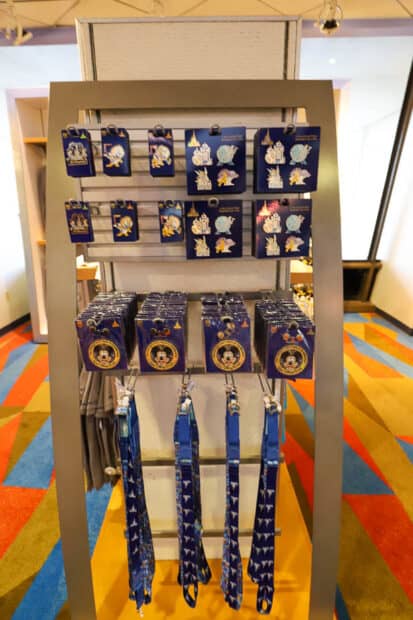 And there was a small display of the retro items released a few months back. I know many of the items in this collection sold out rather quickly.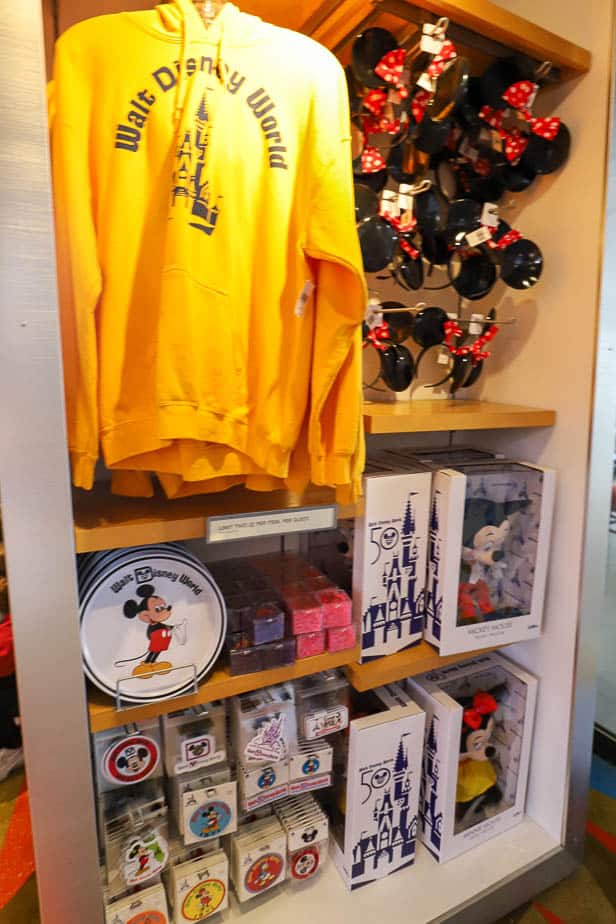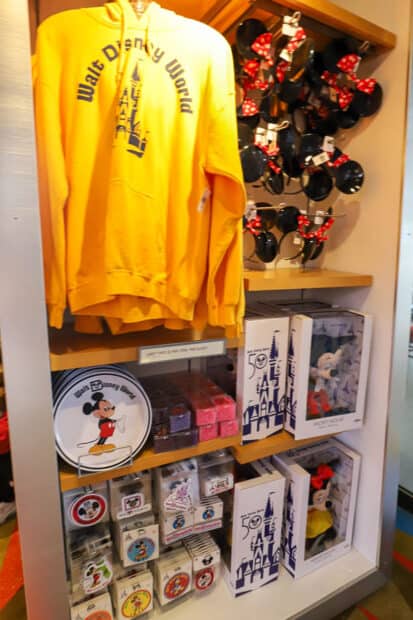 The center of Bayview Gifts always has a nice case of sweet treats. Many of these items remain the same but are decorated to match the different seasons. The Christmas colors are incredibly cheerful, and I always like the bright colors of Easter too!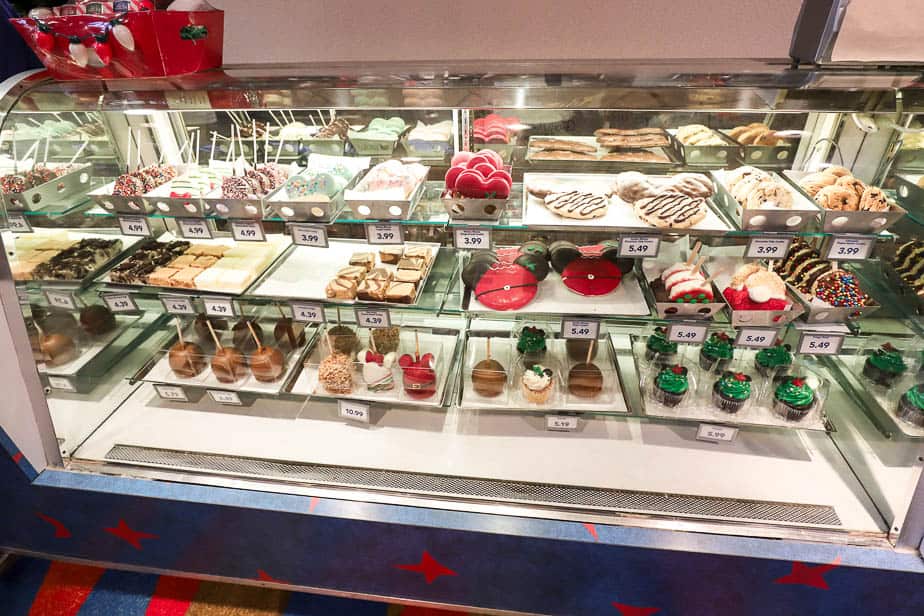 Those looking for resort-branded merchandise are in luck. The Contemporary tends to have an excellent selection of items branded with the resort logo.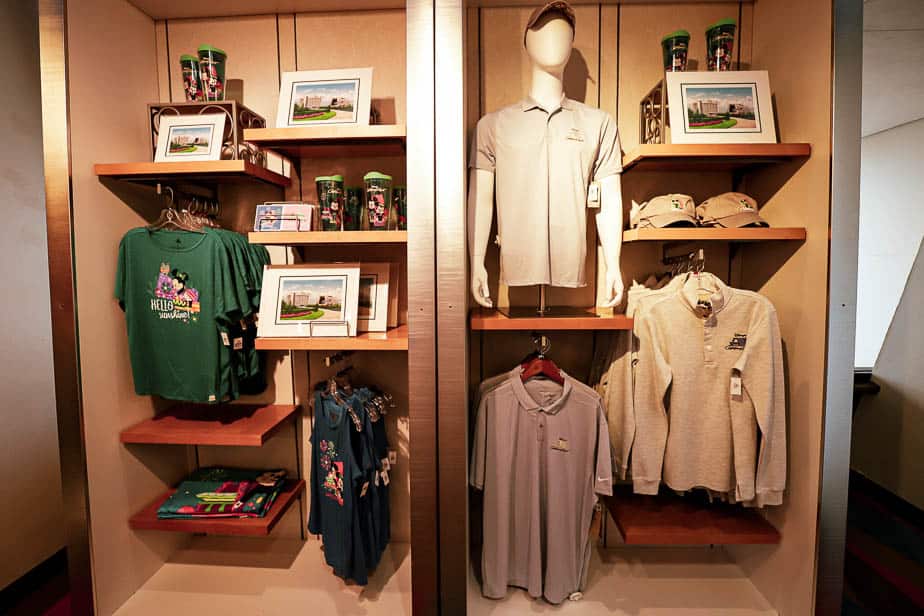 Here are a few pieces with Mary Blair-inspired art. And the art ready for framing is one of Larry Dotson's. If you enjoy Disney art, he is usually at a festival, Epcot, or as of late, Disney Springs, several times per year. I always like to stop in and purchase a piece. He'll happily sign it for you.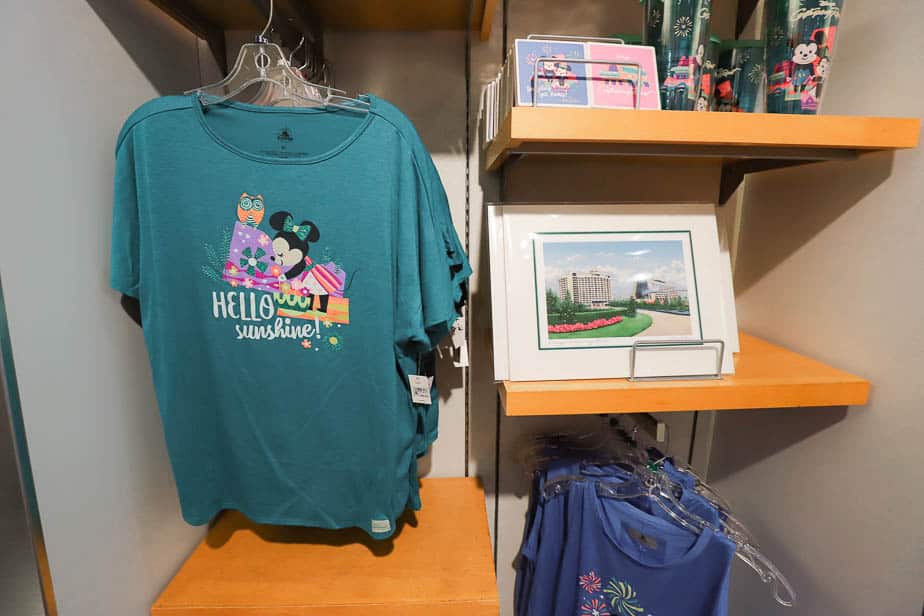 Thesse tumblers are super cute.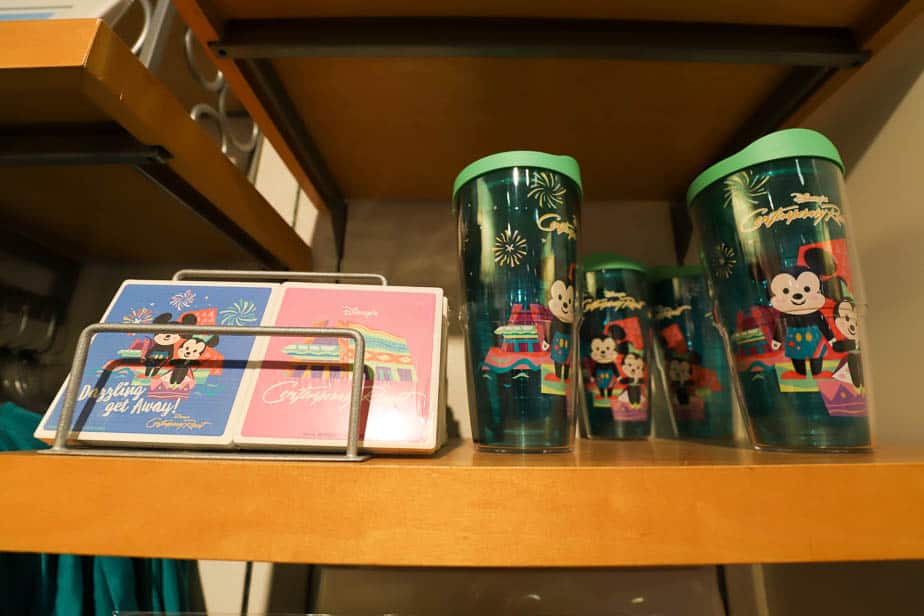 And here is a long-sleeve pullover with the resort monorail logo.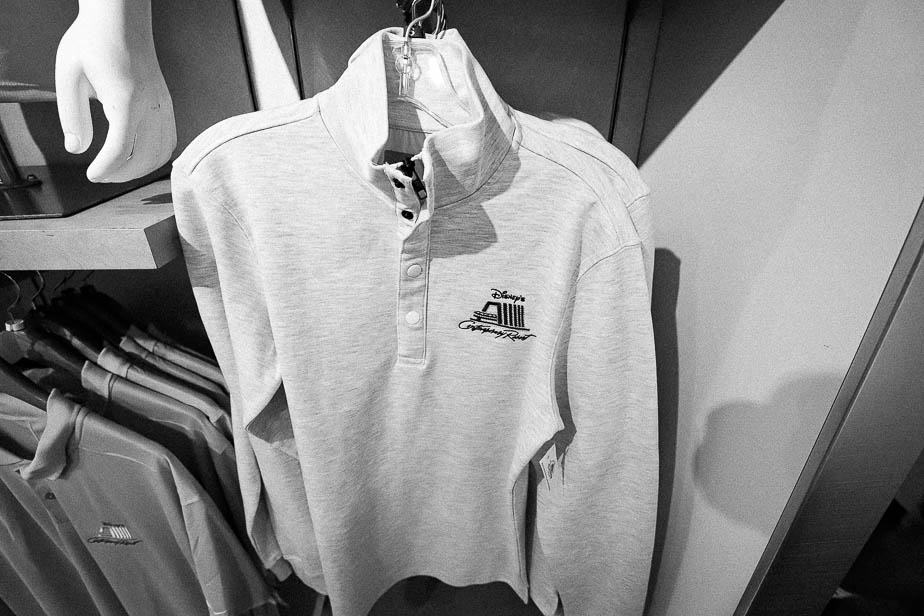 A few ball caps are available.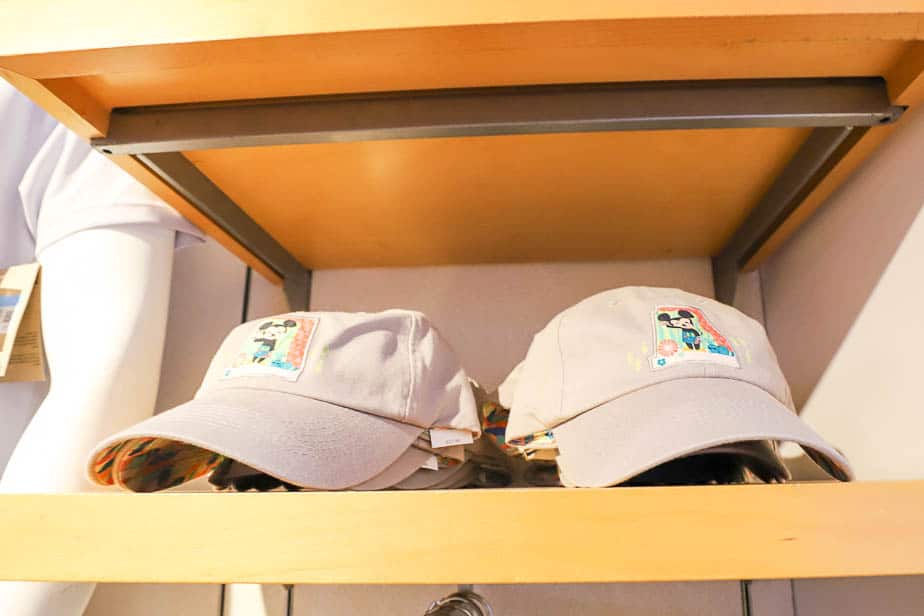 And the monorail towel is another favorite. It's shaped like the nose of the monorail on one end. To give you an idea about how long merchandise is available, I first saw this towel here over a year ago.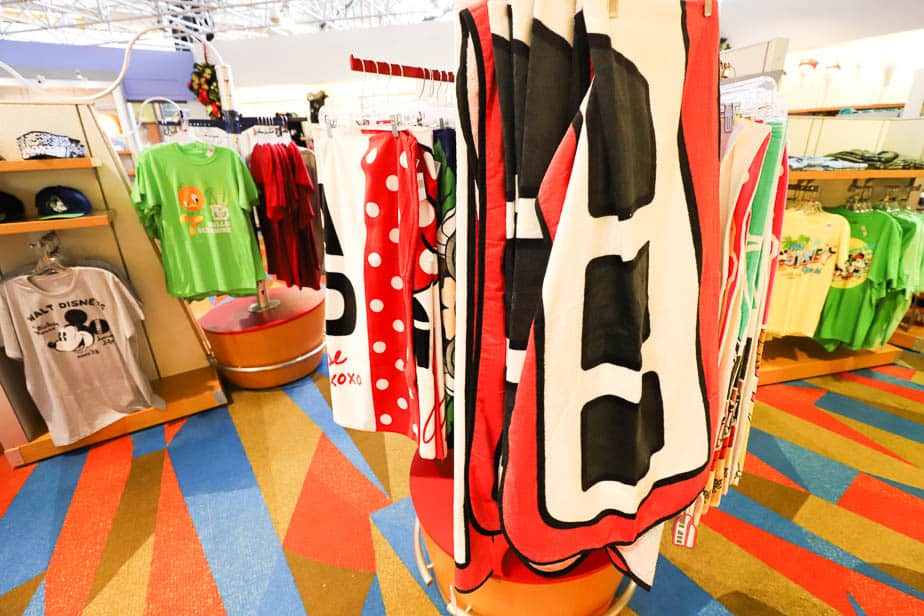 Don't get me wrong, some pieces sell out quickly, and you never see them again. That is unless you're willing to pay a small fortune for them on the online resale market. But other items, like this towel, are available for a while.
If you're anything like me and regularly visit any of these gift shops, it gets pretty easy to spot new merchandise.
Moving along, Bayview Gifts has a selection of brand-name merchandise. A few of those brands include Lily Pulitzer and Tommy Bahamas.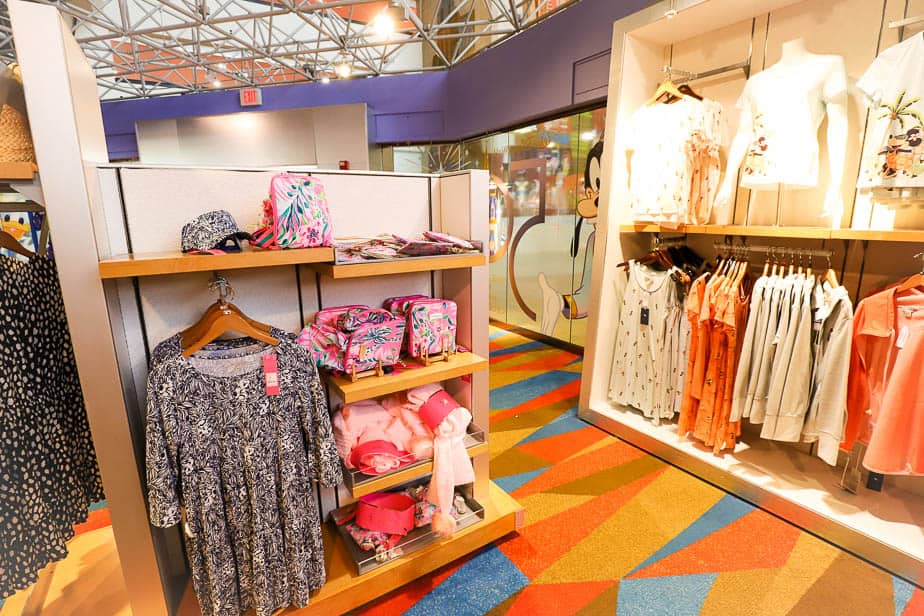 You should be able to find something suitable to wear to that 50th-anniversary dinner at California Grill.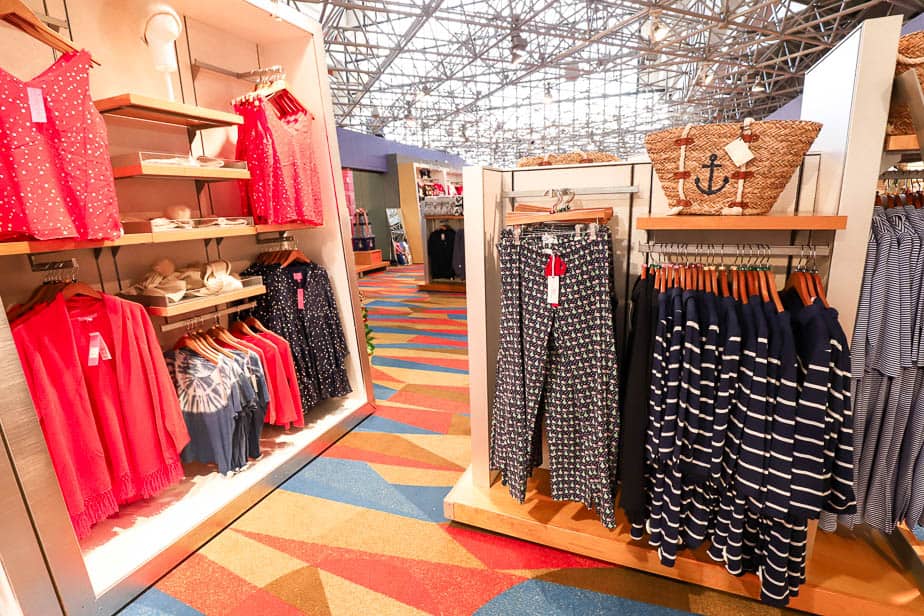 Here are a few more things.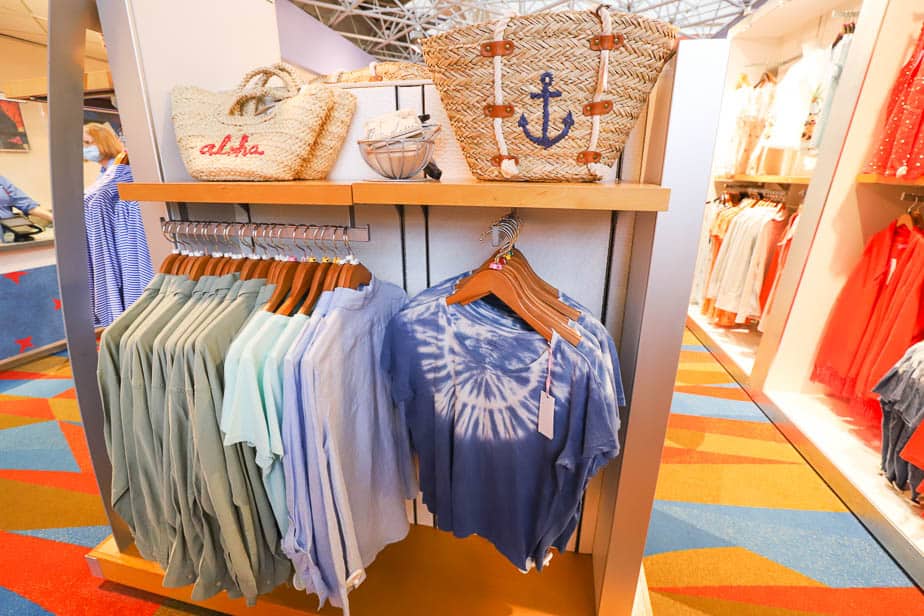 There is plenty of men's apparel here as well.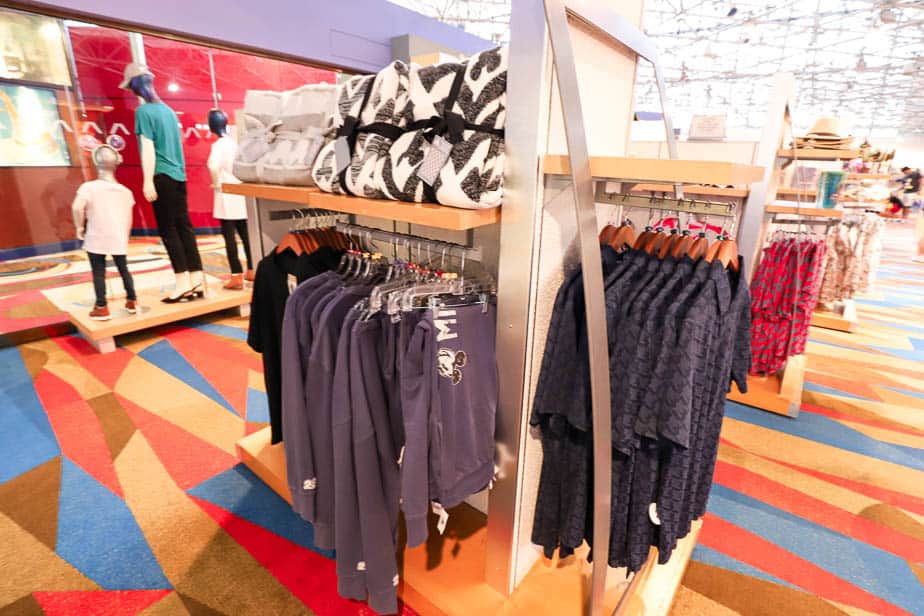 But if you're looking for something tropical, you might do better at Boutiki over at the Polynesian.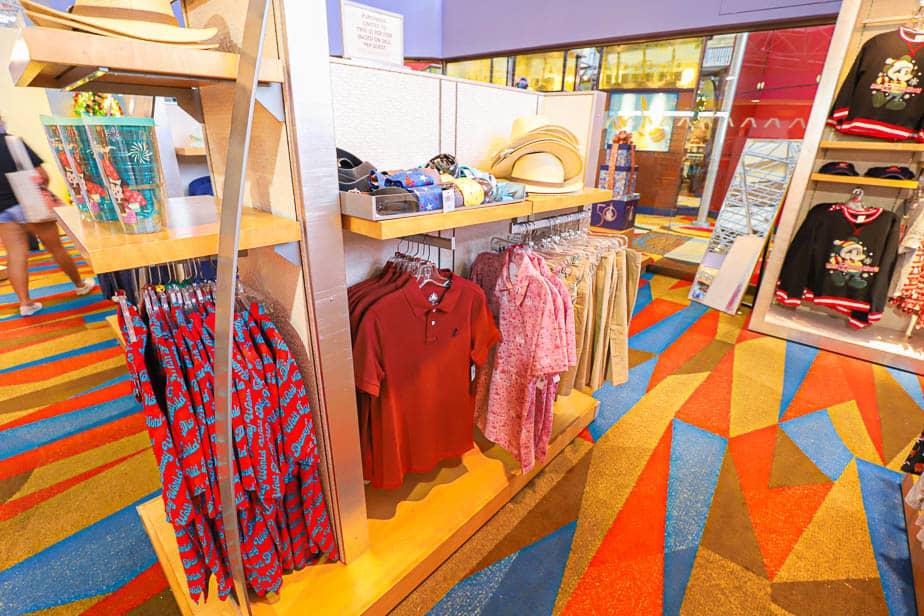 Speaking of items that might be around for a while–these outrageous ears!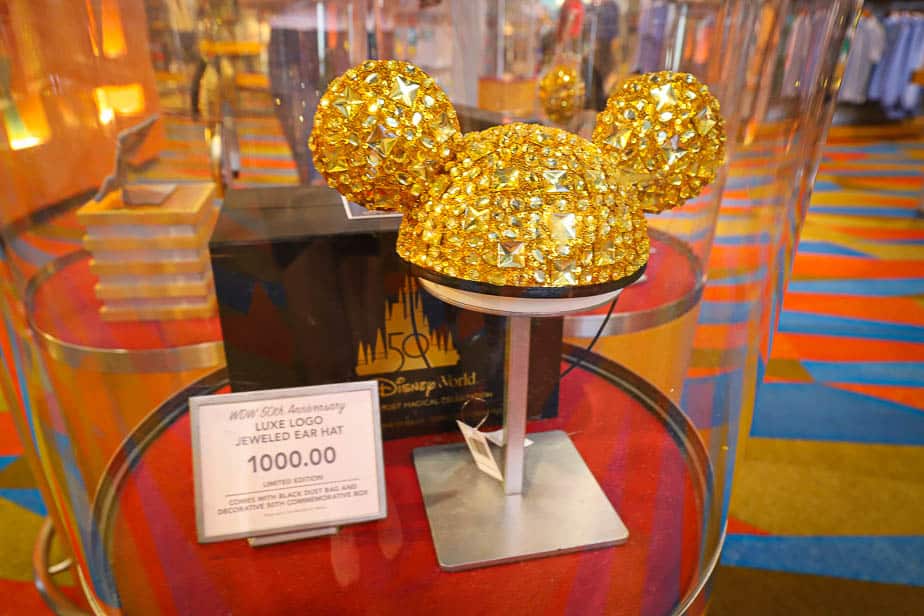 That $1000 Ear hat makes this $750 pair of Minnie Mouse Ears look like a bargain.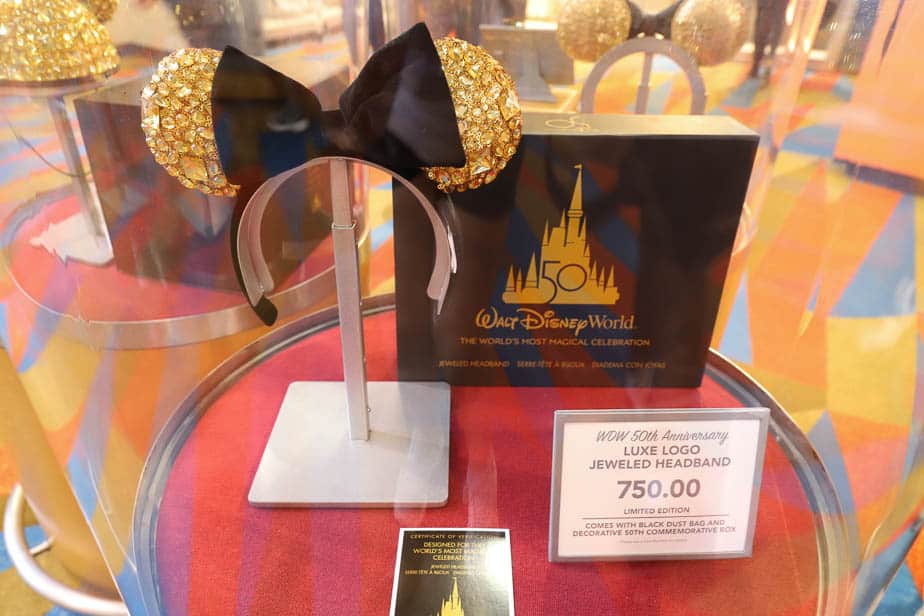 I secretly wonder how many of these they have in stock.
Bayview Gifts has always been an excellent place to pick up Disney Loungefly backpacks.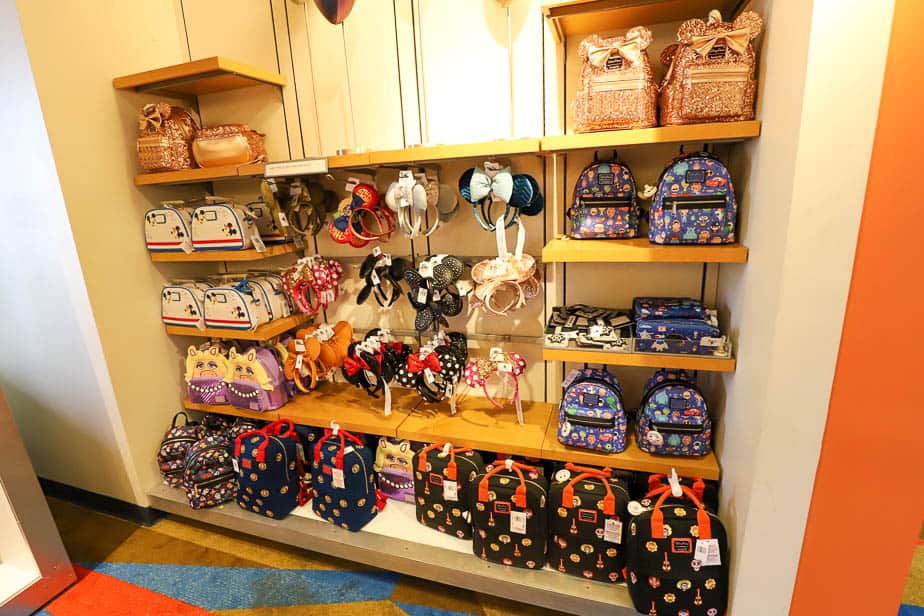 Additionally, it's my go-to place for browsing Disney Dooney and Bourke handbags. If you've been following along in our resort gift shop posts, you can tell that this shop has more than any other we've seen.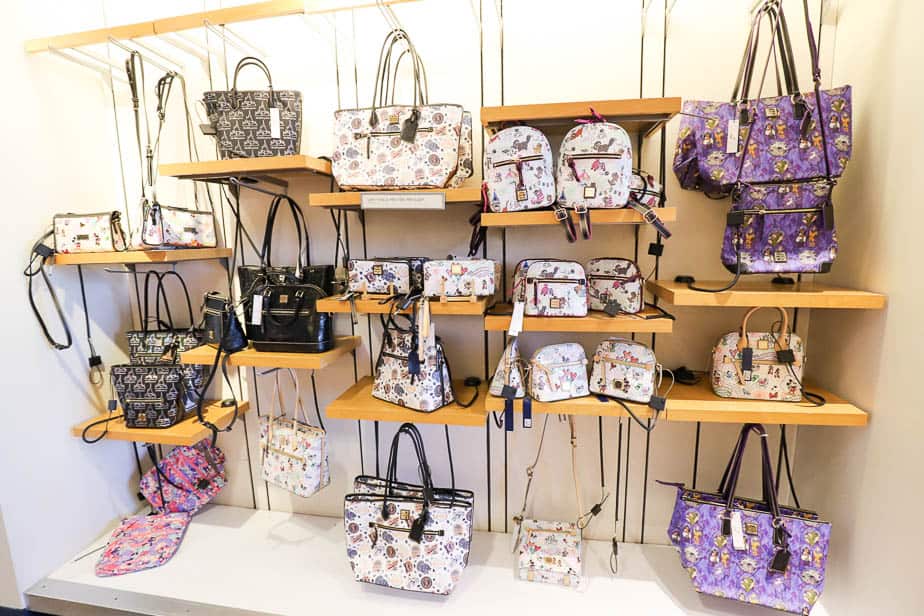 In case you missed it, some of the other Disney Resort gift shops we've reviewed lately include: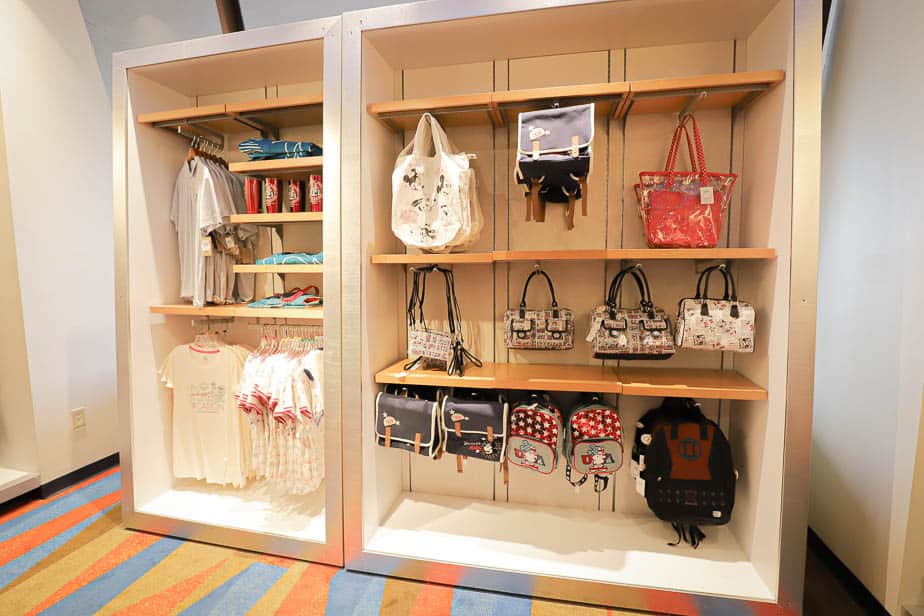 A glass display case with jewelry by Pandora is available in the gift shop.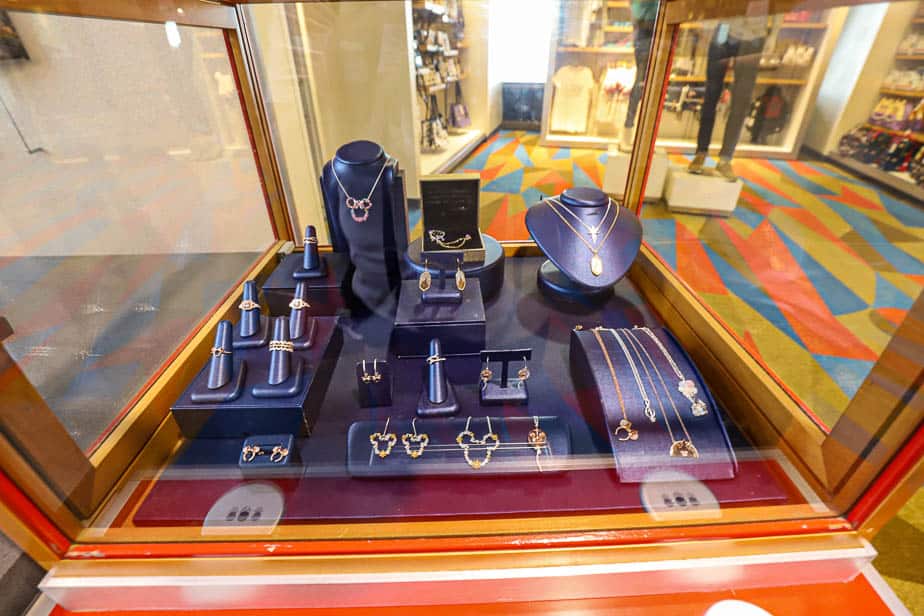 And there is always plenty of Disney-themed items.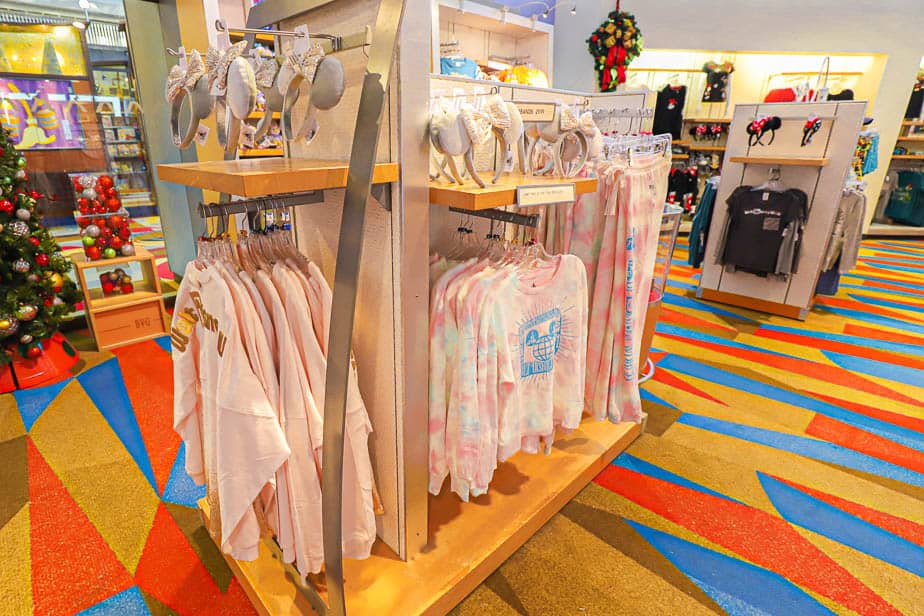 When we're looking for t-shirts, we'll usually look here and at the Emporium at Magic Kingdom.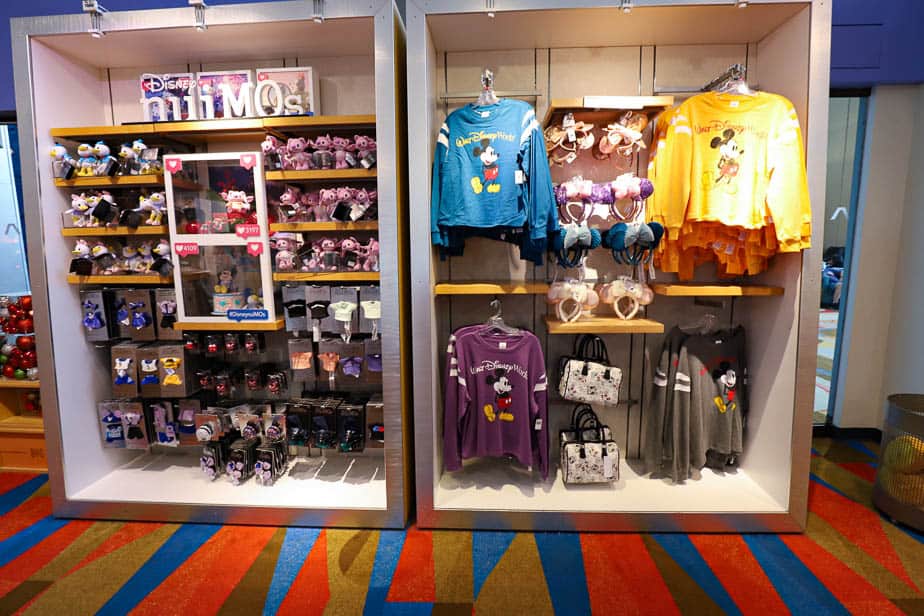 There was a whole wall dedicated to Minnie Mouse in classic colors.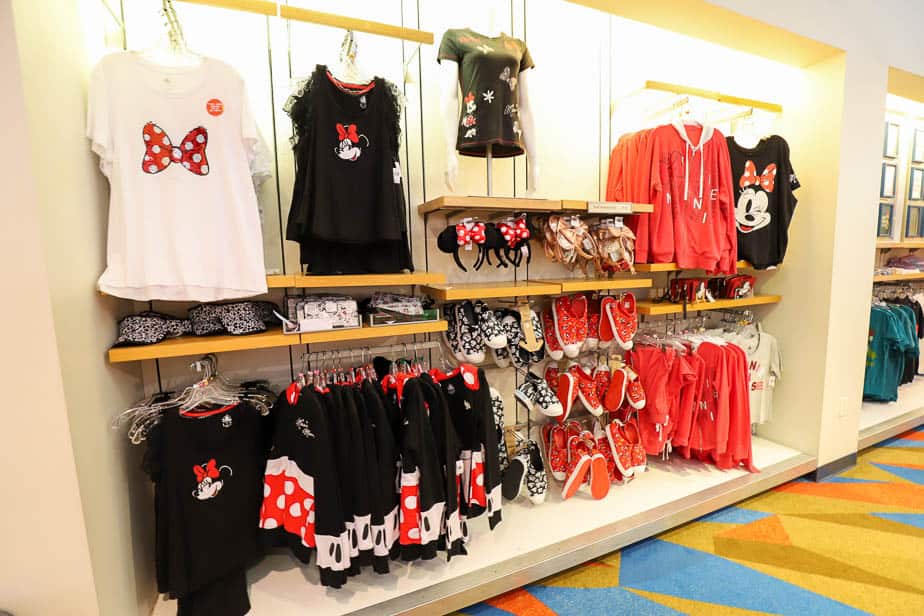 And here are some of those T-shirts.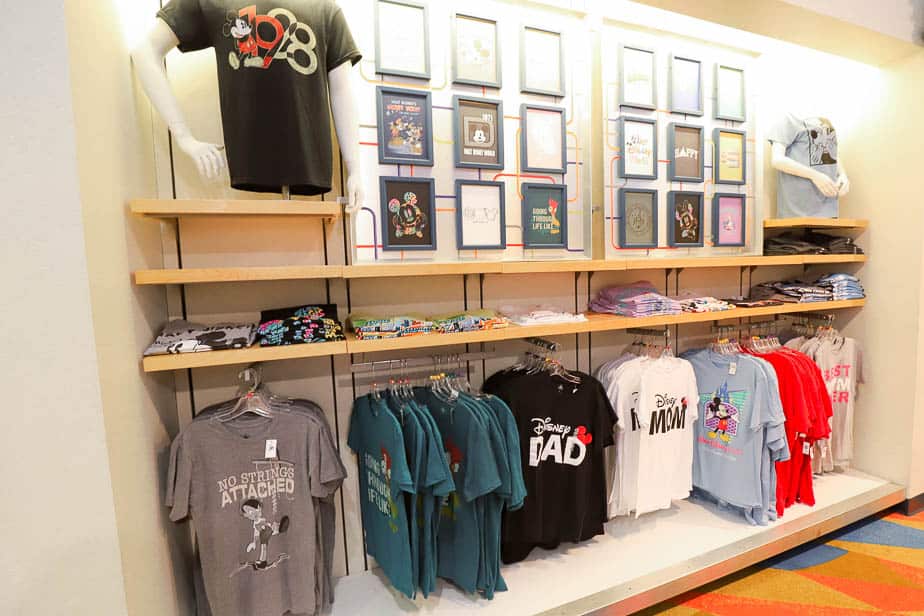 There are usually plenty of ears and hats available.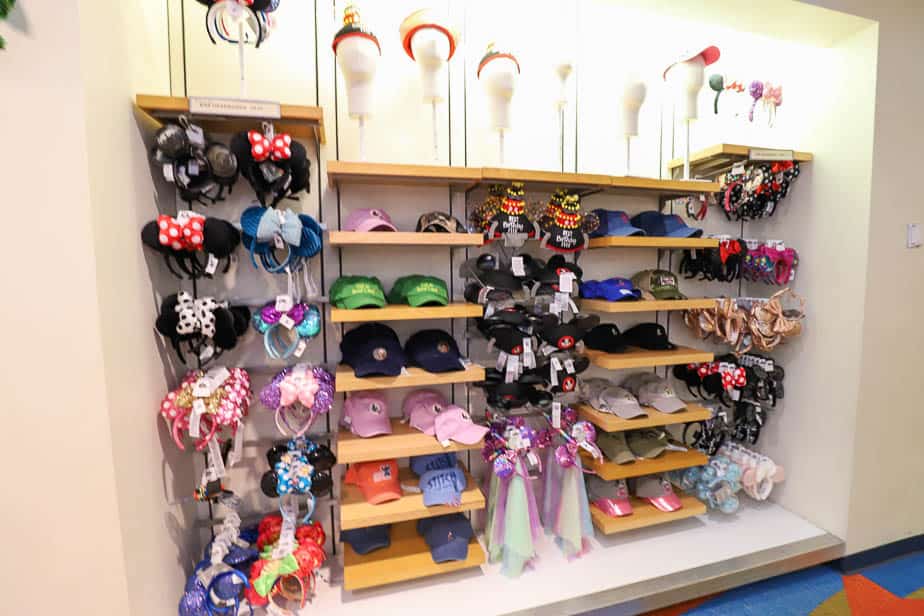 And like most gift shops, there's a selection of women's swimwear items. I would imagine they sell a lot of these swimsuits. Think about it. You go to Florida in mid-January, thinking it will be too cold to swim. So you don't pack a swimsuit.
Next thing you know, you're two days into a week-long vacation, and it's 85 degrees outside. Wouldn't an afternoon at the pool be lovely?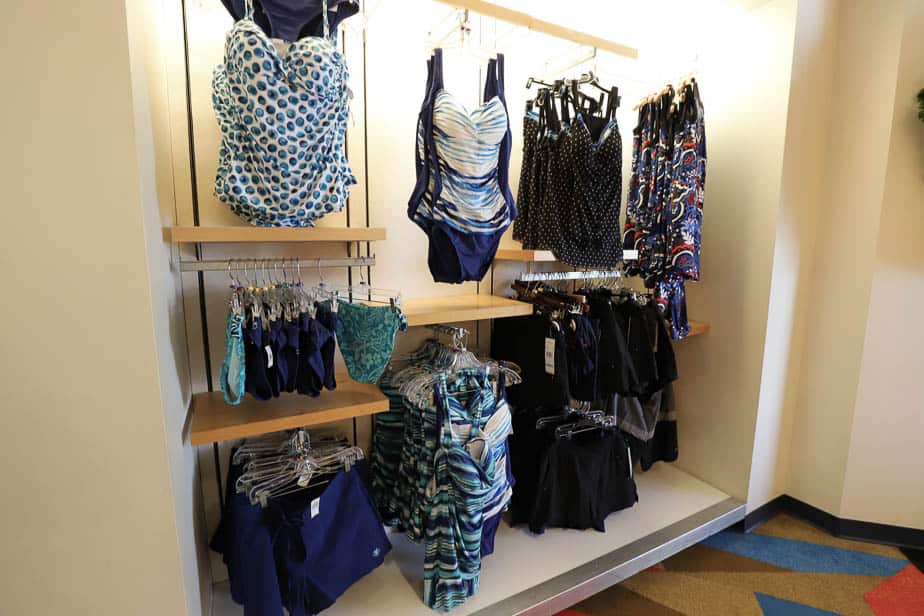 I would buy one too. There are even goggles and sunscreen. As if you didn't already have 20 pairs of goggles at home. You know what they say at Disney. There's always room for one more.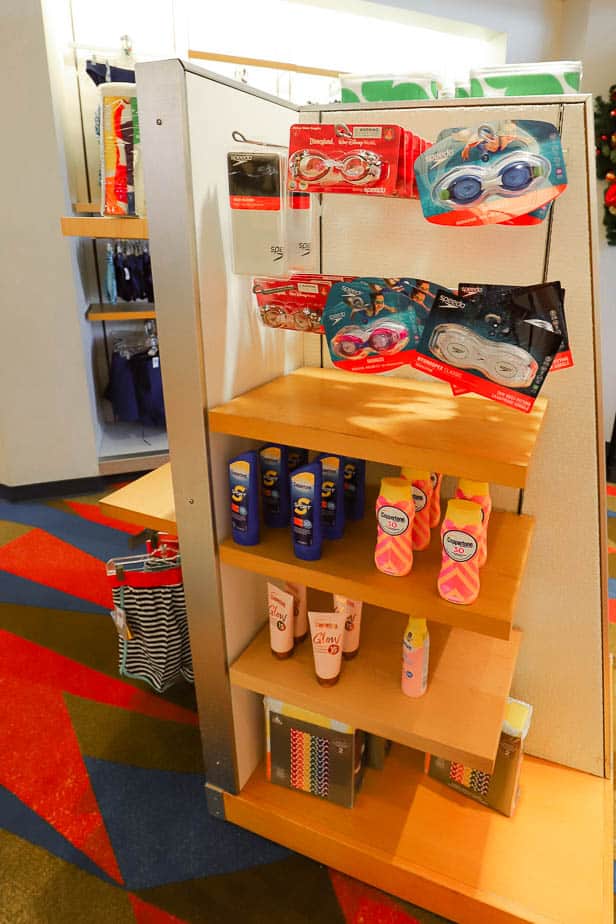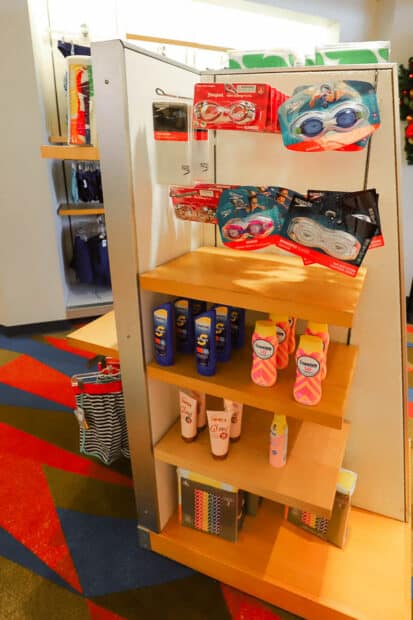 Toward the back of the BVG, there is a large selection of children's clothing items.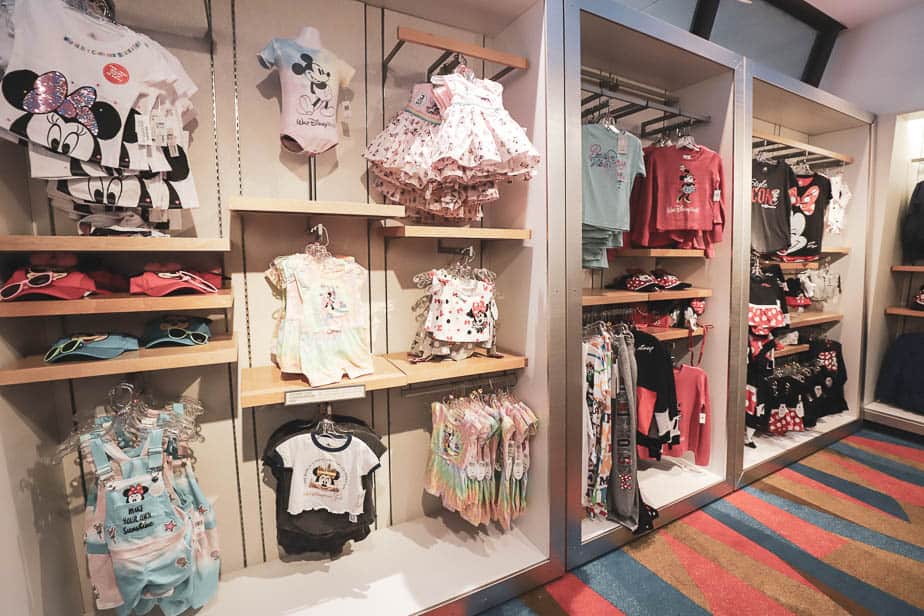 However, the store doesn't have much along the way of toys. That's okay, though. In the middle of the concourse, right outside the store, sits a stand-alone toy store called Fantasia. You can't miss it.
And on the opposite side of the toy store, there's Fantasia Market. That's where all of the snacks and beverages are located.
Lastly, Bayview Gifts usually has a fun display of Disney nuiMOs. These came out earlier this year and have been very popular. So if you're looking for a particular outfit, I'd recommend stopping in to see what they have during your vacation.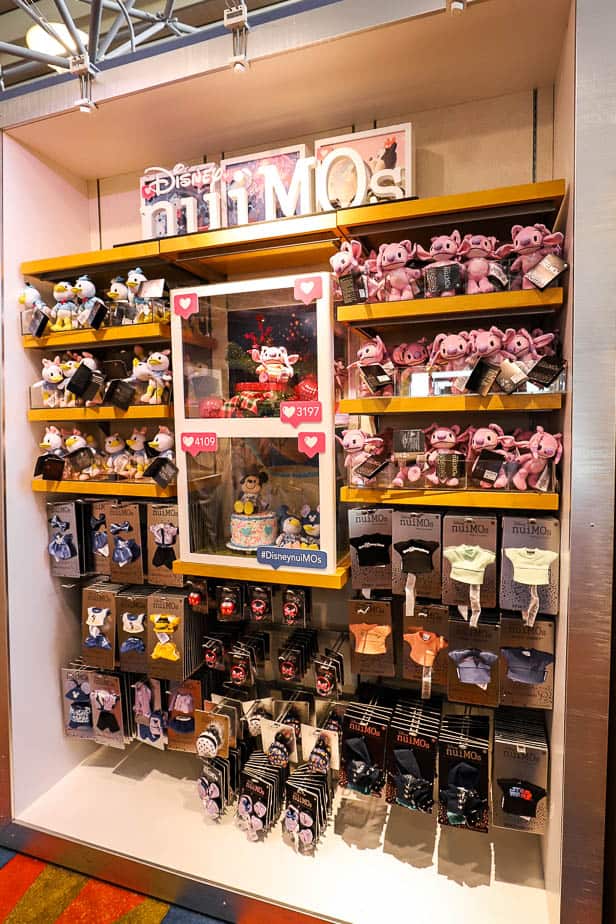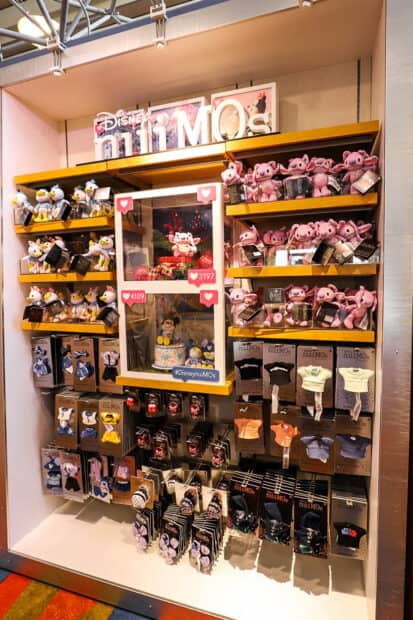 I hope you enjoyed our tour of the main gift shop at Disney's Contemporary. If you're not staying at this resort on vacation, I always recommend planning a meal here or stopping in for a visit.
To learn more, all of our articles related to the resort are available in our guide:
Or you might enjoy one of these:
Do you make a habit of stopping in at Bayview Gifts when you visit the Contemporary? What do you think of the resort merchandise? Leave a comment below and let me know.
Planning a Walt Disney World or other Disney Destination vacation?
Our friends and travel partner, Firefly Travels, excels at doing Disney differently. You can fill out a plan your trip form on their website, and someone will reach out shortly to discuss the specifics.