The Best Off-Site Hotels Near Disney World (Resorts Gal Recommended)
Let's face it. There are times when you may need to stay in an off-site hotel while visiting Walt Disney World. These instances may range anywhere from meeting your budget to the need for more space than a hotel room can provide.
Lately, with the demand for travel shifting from one extreme to the next, it might even be hard to find room availability at the Disney World Resort Hotels.
In this review, we'll look at the best off-site hotels near Disney World. These are strictly Resorts Gal's recommendations from our many years of travel to the Walt Disney World Resort.
In those years, we've covered a good deal of ground not only at Disney but in the surrounding Orlando area. I'll be the first to admit that I used to be a bit of a snob when it came to staying off-site. Back then, staying off Disney property was something we did only out of necessity. And then something changed.
A friend of mine had a week-long timeshare that she needed to move for an extremely reasonable price. The timeshare was at a resort called The Fountains on International Drive. Since it was such a good offer, I decided to take her up on it.
To make sure we had enough time "on property," I planned a long four-day weekend at Disney's Animal Kingdom Lodge (review here) on the front end of our stay. And to wrap things up a full week at Disney's Yacht Club (review here) on the backside. Obviously, I wasn't willing to give up my vacation time at Disney.
My idea was that we would do non-Disney things while we stayed off-site. Then we would do Disney things while we were on the property with easy access. I don't think I anticipated having such a nice week in Orlando. But we did.
(Last Updated: December 21, 2021)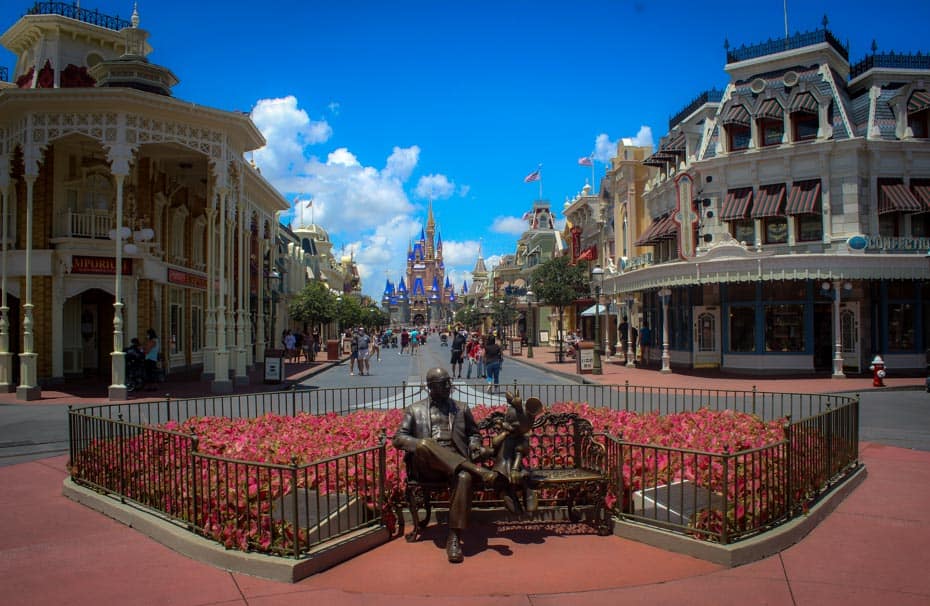 The thing is, the Orlando area has tons of wonderful resorts and hotels. Most of the larger resorts have so much to offer that you might never leave the hotel during the entirety of your stay.
At the end of the week, you'll head home feeling rested and like you actually took a vacation. That's one of the great things about a city like Orlando, which relies mostly on tourism. It creates competition, and that competition is to gain your business.
Many of these off-site hotels have acquired locations near Disney World due to the overflow of guests to the area. You may or may not be aware, but Orlando was averaging over 70 million visitors per year a few short years ago.
I don't know about you, but that number is a little hard for me to wrap my head around. Nevertheless, Orlando is the most visited city in the entire United States.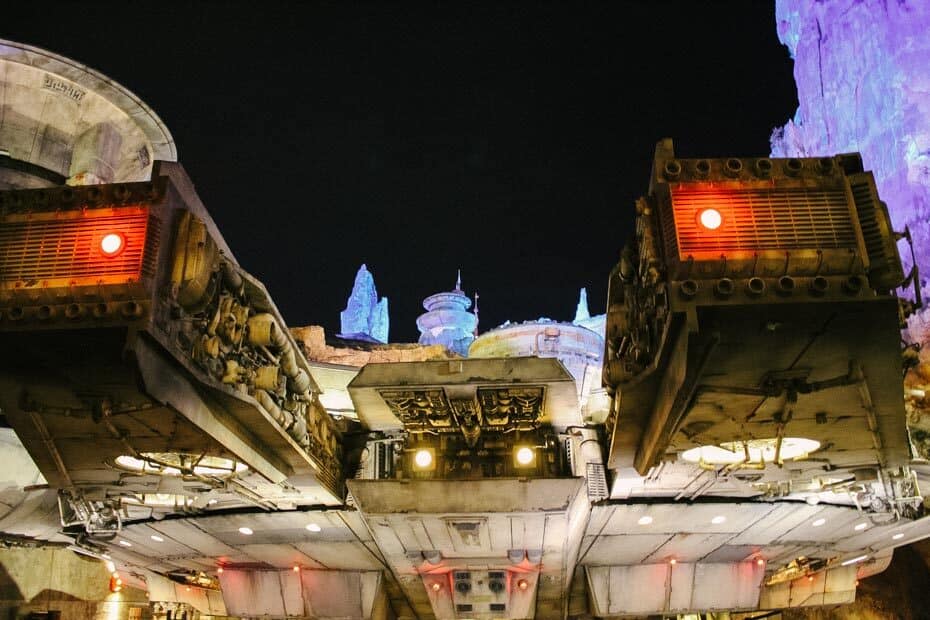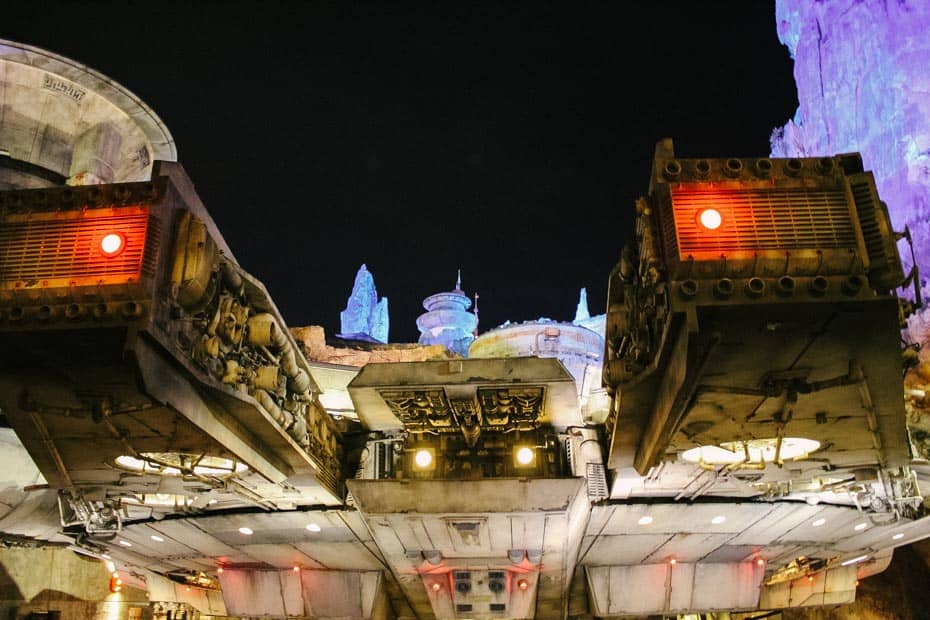 Taking these things into consideration, I decided to put my resources together. And this article has not been a simple task to complete.
In fact, I've been working on this piece for quite some time. Additionally, I return here frequently to update hotels based on more recent experiences.
For starters, what off-site resorts should I share with you? Only the nicest, more expensive ones? Or perhaps the hotels that are truly within close proximity to the theme parks? The list goes on and on.
Ultimately, I decided to put our recommendations for the best off-site Disney World Hotels into sections:
Budget-Friendly
Best All Around
High End (The really expensive ones.)
The resorts below are ranked similar to the different categories of Disney Resorts. For instance, the high-end hotels are comparable to a deluxe resort at Disney. Some will actually be nicer.
Budget-friendly resorts are somewhat comparable to a Disney value. These are going to be the resorts that offer the best price but are still clean and convenient to Disney in location.
And the best all-around won't be the cheapest, nor the highest. They'll be somewhere in the middle. I guess that's comparable to a Disney moderate.
Now let's take a look at each of the selections.
Best Off-Site Hotels Near Disney World
As we begin taking a look at these hotels, you'll want to know that my number one factor is location. All of the resorts on this list are going to be within a reasonable distance to the Disney Parks. This is a Walt Disney World vacation, after all. You don't want to spend 30 minutes to an hour driving each morning and evening while on vacation.
My next factors include safety, cleanliness, and amenities for guests. While it's difficult to be the judge of safety anywhere these days, there are definitely places where I wouldn't stay. In fact, there have been a few resorts that I've politely checked out of and went on my way to find another option.
Here is the list of best off-property resorts in the order we will cover them:
Springhill Suites Orlando at Flamingo Crossings
Hilton Orlando Lake Buena Vista at Disney Springs
Bahama Bay Resort by Vacasa
Hilton Orlando Buena Vista Palace at Disney Springs
Signia by Hilton Orlando Bonnet Creek
Wyndham Grand Orlando Bonnet Creek
Caribe Royale
The Fountains Resort
Hyatt Regency Grand Cypress
Waldorf Astoria Orlando
Four Season Resort Orlando
We'll start with the budget-friendly off-site hotels.
Springhill Suites Orlando at Flamingo Crossings
The first resort I want to share with you is our go-to budget-friendly hotel that's extremely close to Disney property. How close? You can see Mickey and Minnie Mouse greeting you in the distance when you pull out of the hotel's gates onto Western Way.
Now, that's close proximity.
Additionally, this Spring Hill Suites offers free breakfast in the mornings. You'll find a few hot items like bacon and oatmeal, a variety of cereal, fresh fruit, yogurt, coffee, and orange juice. It's not going to be a five-star breakfast, but you aren't paying a five-star price either. I feel like this is the kind of thing that dad's love, am I right?
Another perk that I can get on board with is there are no resort fees at this hotel. And parking is included! It's a shame we have reached a time when we can say that the lack of something is a perk. But if you've faced any of these high fees before, you know what I'm talking about.
This particular Springhill Marriott does have a theme park shuttle available at an extra cost. While I've stayed here a few times over the years, I haven't taken advantage of the service. My best recommendation is to take a car service to and from the hotel or drive to the parks yourself.
Probably my favorite thing about this off-site hotel is their rooms. It almost seems contradictory that when you pay less, you get more. But that is the case here.
The rooms are large and have extra sitting areas. Not only that, they come with amenities like a microwave and mini-fridge. While you do get a mini-fridge at a Disney World Resort, you do not get a microwave unless you stay in one of the deluxe villa resorts.
Anyways, the large rooms feel tremendous compared to a standard hotel room, and we really enjoy the extra space. Here is a photo of a standard room.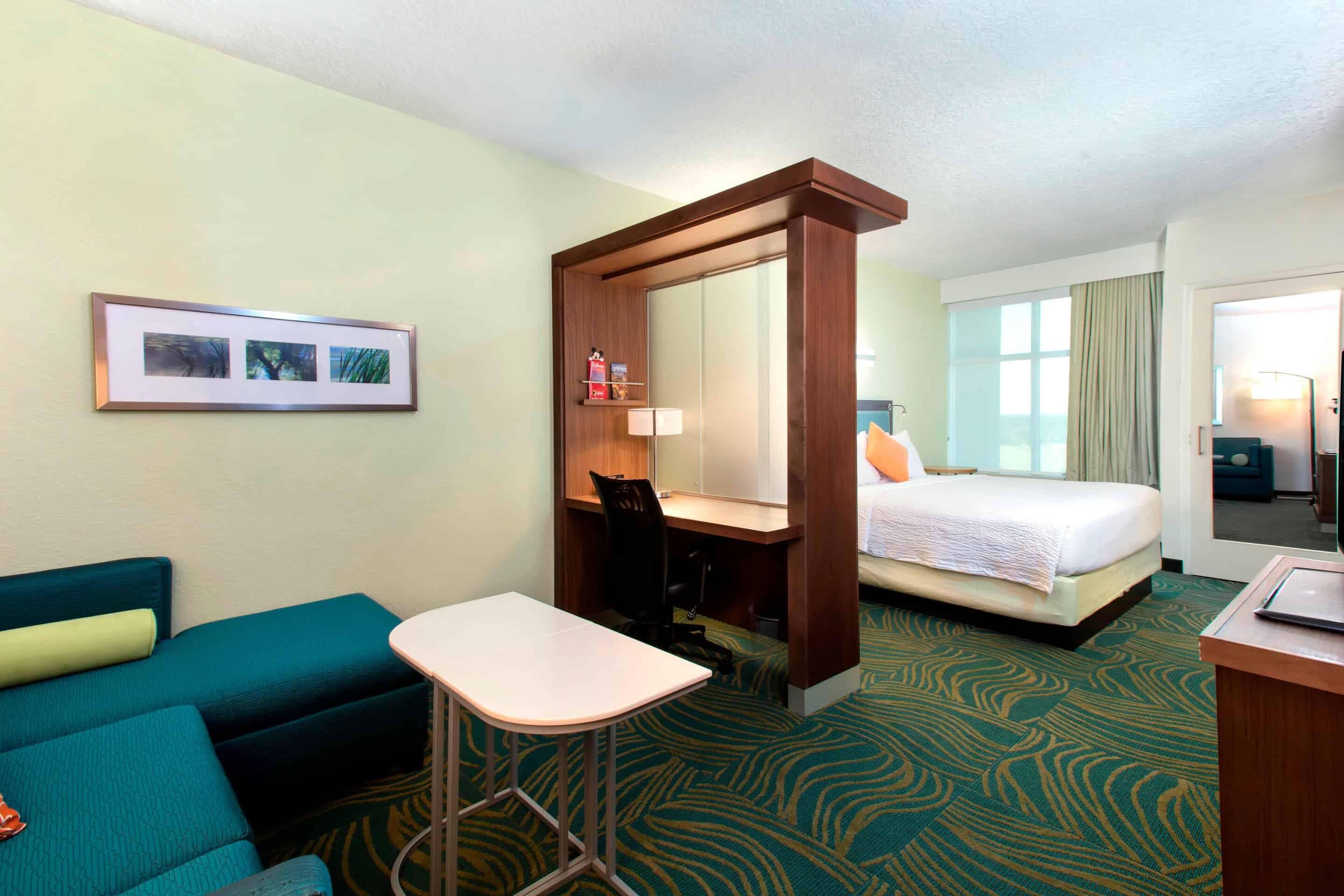 Looking back over the years, we've probably stayed here 4-5 times and have always received excellent service. You might remember that I've mentioned this hotel before because we often do a split stay here before moving over to Disney property.
In addition, Flamingo Crossings has several other options for hotels. I'll list them below in case you can't find room availability at our recommended option. However, we have not personally stayed at these specific hotels:
Home2 Suites by Hilton

Fairfield Inn and Suites by Marriott
Residence Inn by Marriott
We have, however, stayed at the Springhill Suites sister hotel Towneplace Suites since this review was originally written. While we didn't have a terrible time, it wasn't a good enough visit to make it worth adding to this list. The review is available below, and it might be a good option for a pet-friendly hotel.
Related: Towneplace Suites by Marriott Orlando at Flamingo Crossings
Hilton Orlando Lake Buena Vista (Disney Springs)
Our next option for budget-friendly off-site hotels is located at Disney Springs, the Hilton Orlando Lake Buena Vista. We've stayed at this resort several times over the years, and it's always been a good value.
Since the resort is located across the street from Disney Springs, you can easily access the venue for shopping, dining, and entertainment. A while back, it was a bit of a hassle to cross the street to get to Disney Springs. However, in recent years an elevated footbridge was added. So now the short walk is a breeze.
This Hilton has several other amenities that made us include it in the best off-site hotels list. For starters, this hotel participates in early theme park benefits at Disney World.
Guests of select hotels can receive an extra 30 minutes in the parks each morning before regular guests. An extra 30 minutes ahead of the crowds puts you in a good advantage for touring.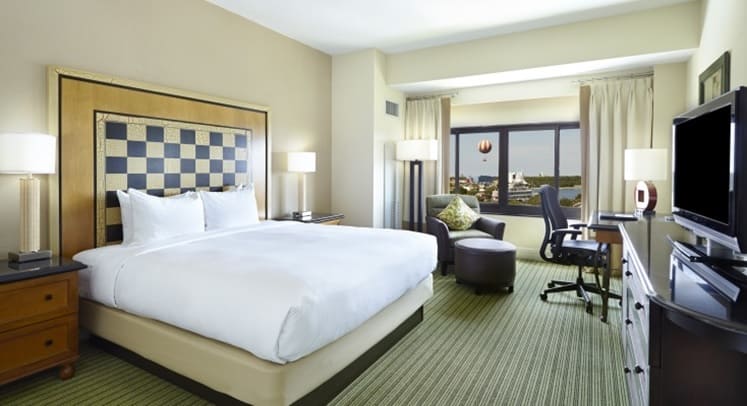 Additionally, this Hilton offers continuous free transportation via shuttle to the theme parks. Between being within walking distance to Disney Springs and the fact it offers several Disney perks the Hilton Lake Buena Vista is a great off-site hotel option.
Disney Springs has a few other budget-friendly options that I haven't stayed at to date. Since they are all official partners of the Walt Disney World Resort Hotels, I wanted to mention them.
The other Disney Springs hotels are as follows:
Wyndham Garden
Wyndham Lake Buena Vista
B Resort and Spa
Holiday Inn Orlando
Double Tree Suites by Hilton
Bahama Bay Resort by Vacasa
Bahama Bay Resort in Davenport is next up on my list of best off-site hotels near Disney World for several reasons. This is a resort we stay at when we will be in the area for an extended stay.
The location is extremely convenient to Disney property, shopping, and dining. The resort sits on beautiful Lake Davenport, and there is a tremendous soccer and recreation park a few minutes up the street.
Many of the units here are owned by individuals, so you might end up in a completely updated unit or something dated. We've had both. However, all the units we've stayed at here have been extremely clean and suitable for a long-term stay.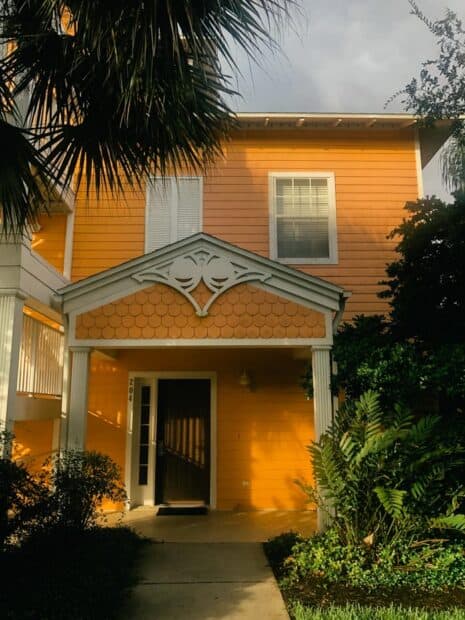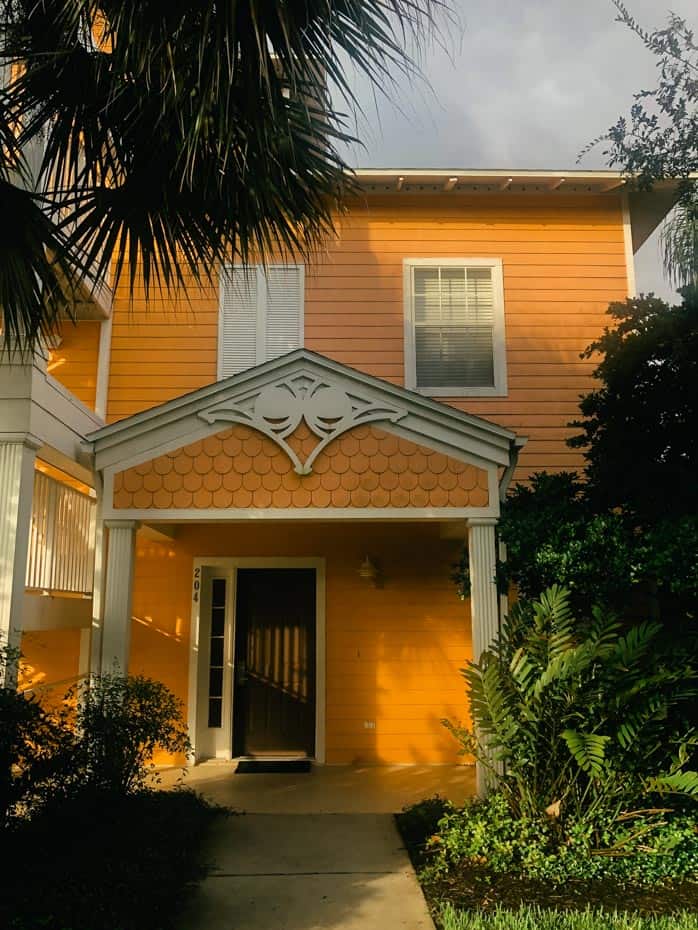 Several pools are spread out across the resort. There's a large gym and a scenic walking trail. Make sure to walk out to the lake right around sunset.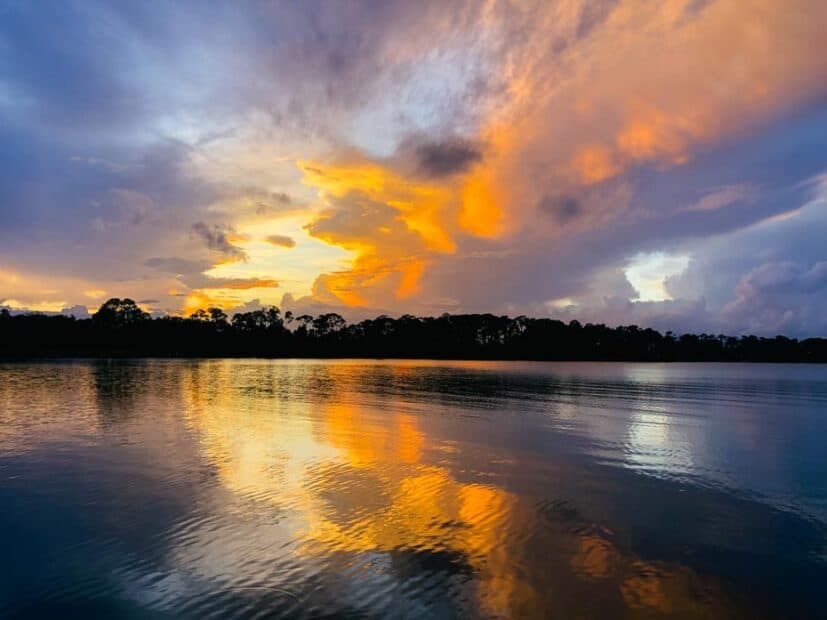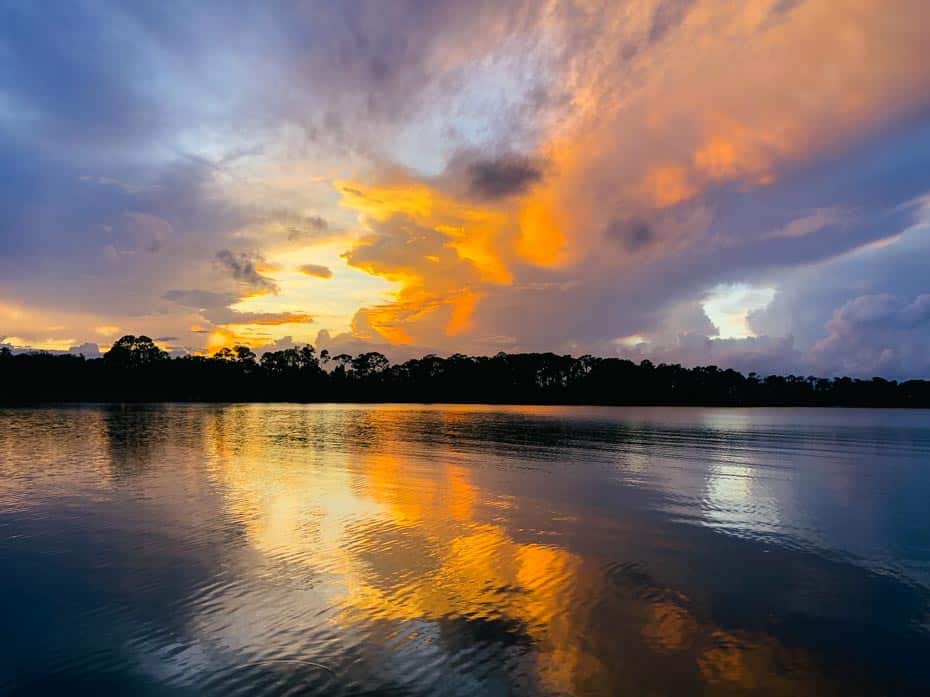 Oh, and the community is gated. There is a security guard at the front entrance who allows guests in and out. Most of the surrounding area around the property is undeveloped, making the resort feel like a private escape.
Bahama Bay is a wonderful, budget-friendly resort for anyone looking for more space and modern conveniences.
This next set of hotels will fall in the middle of our budget-friendly and higher-end hotels near Disney World. These hotels will hopefully provide the best of both worlds without extreme expense.
Hilton Orlando Buena Vista Palace (Disney Springs)
Our first stop in this group is the Hilton Orlando Buena Vista Palace, not to be confused with the option we covered above (Hilton Orlando Lake Buena Vista). The palace Hilton is a step up from the Lake Buena Vista hotel.
Like its sister resort across the street, the hotel is within walking distance to Disney Springs. Guests can take the elevated walking path over to access dining and shopping.
This Hilton does offer scheduled transportation to the Disney Parks. You can view the schedule here. However, I really don't recommend using a shuttle service when staying off-site.
Additionally, this resort partcipates in the early theme park benefit as well. Guests staying here can access the theme parks 30 minutes early during Walt Disney World's 50th anniversary celebration.
As for Buena Vista Palace, you can expect various room types, from standard rooms to island suites and tower suites.
The Buena Vista Palace's pool, the Float Lagoon, is a zero-entry pool that provides a lazy river of sorts for guests to float around. Floats are complimentary. In addition, the hotel has a nice fitness center for those who might want to get a workout or two in on vacation.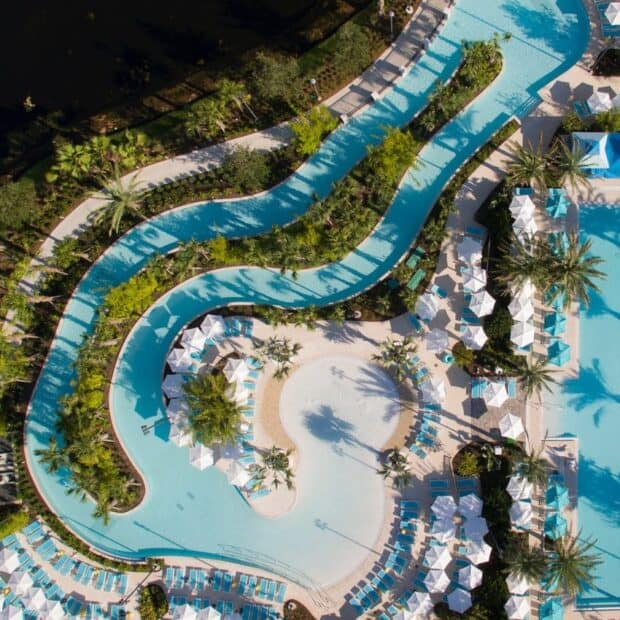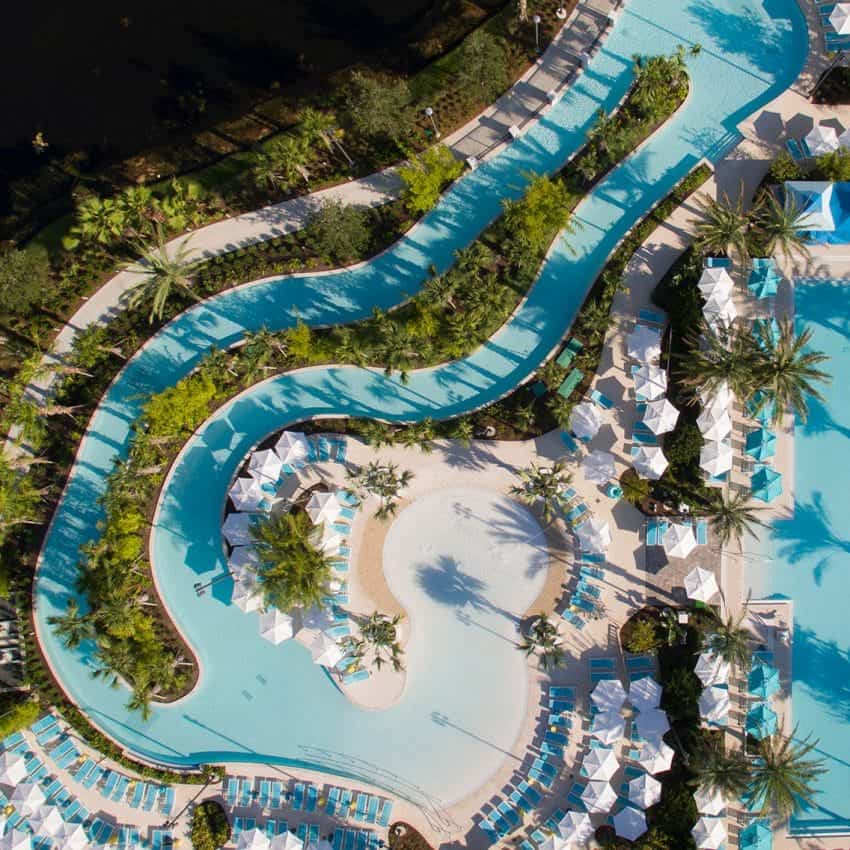 Make sure to plan a full resort day if you decide to stay here!
Additionally, you'll want to know the resort fee is $35 per day here and self-parking is currently running $22 per day.
Signia by Hilton Orlando Bonnet Creek
Our next stop for the best off-site hotels near Disney World is up the street from Disney Springs at the Signia by Hilton Orlando Bonnet Creek. Be aware, this resort has recently added the Signia name, and it appears they are partnering with the Waldorf Astoria to share amenities.
This will mean price increases. I am under the impression that they are trying to compete with the newly opened JW Marriott Bonnet Creek next door. Both the JW Marriott and Waldorf Astoria are included in our higher-end off-site hotels further down.
This is a resort that we love because of the spacious guest rooms and views of Disney property. The Bonnet Creek hotels are fairly new and sit only a few blocks away from the Epcot Resorts Area.
This hotel has several positive things going for it and offers that swanky hotel feeling without the price. What don't I like? Ugh. The resort and parking fees are outrageous here. If you find a good deal for this hotel, make sure to factor those costs into the rate. Usually, you'll pay the room fee online, and they'll add the extra charges upon check-in.
Self-parking here is running $30 per day (valet is $40), and you'll need to park in their parking garage out front. Make sure to drop your bags off at the front before checking in here. Additionally, the resort fee is a whopping $45, which is one of the highest around.
Don't get me wrong; this Hilton is a fantastic resort with good dining options, shops, and the pool area is something to write home about. Think lazy river, water slides, and hot tubs. Just don't forget to account for all the extra costs in advance.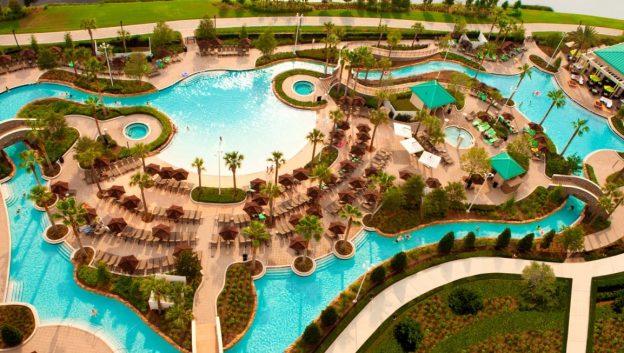 In addition, this resort offers complimentary continuous private Mears transportation to the Disney theme parks, similar to what Disney's Swan and Dolphin now does.
Additionally, Signia provides transportation at an extra cost via Mears to and from the Orlando International Airport. There is a pricing guide here on their website. Since Magical Express is ending, you'll likely encounter these types of charges moving forward, no matter where you stay.
Related: Benefits of Staying in a Disney World Resort in 2022
Since this resort is an official partner of the Walt Disney World Resort, you'll have the advantage of Disney's early theme park entry beginning in October. (This is the program that's replacing extra magic hours.)
One of our newest additions to this article, is the Wyndham Grand Orlando. A stay at this resort is a no-brainer, and I am ashamed to admit that I was familiar with this property until recently.
The Wyndham sits directly across the street from the Signia by Hilton and offers a variety of different room types. You can stay in the main hotel, the Grand Orlando, or look into renting a timeshare at one of the surrounding towers. They all make up the Wyndham Vacation Club.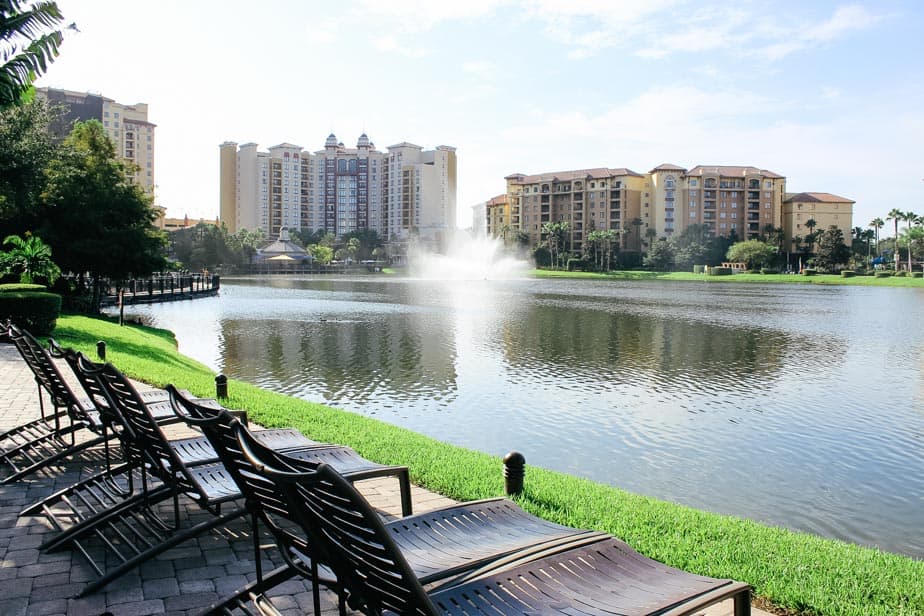 In addition, guests of the hotel or timeshare units have access to all of the different pools, lazy rivers, and other recreation offered at the resort. The downside? There is a daily resort fee and parking charges. If you are interested in learning more, I have an extensive review of the Wyndham listed below.
Related: Wyndham Grand Orlando Bonnet Creek Review
Caribe Royale
Next up, we have another hotel our family has frequented over the years, Caribe Royale. You may or may not have heard of Caribe Royale. This popular off-site hotel near Disney World has been in the media lately because of its remodel.
Unfortunately, Resorts Gal hasn't had the opportunity to visit since the updates. But given we loved the hotel just the way it was, I can't imagine it falling off our best list.
I'll be the first to admit, the reason we stayed here in the first place several years back was because of the reasonable pricing for the amenities. Caribe Royale is a beautiful resort with spacious rooms that provide separate sitting areas.
Again, the spacious rooms at the majority of these best hotels are a big plus in comparison to Disney Resort Hotels. We also liked that there was a separate door between the bedroom and living area. The layout offers plenty of space for multiple people to get ready in private. That's not common in the average hotel room.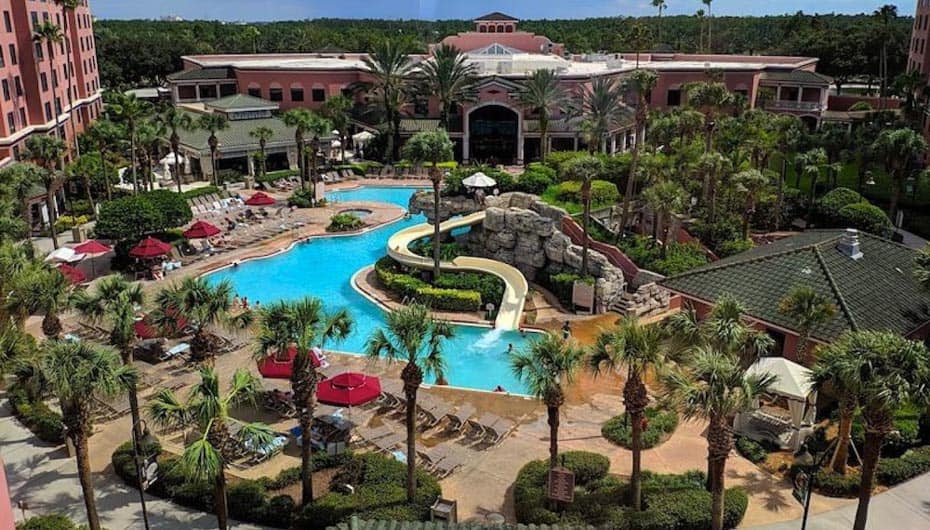 Caribe Royale is located on World Center Drive. This is the same road that leads straight into Disney's Magic Kingdom. It will take less than 10 minutes to travel by car to the most magical place on earth.
In addition, this resort is fairly close to local dining and shopping. You're only a few minute's drive to the Vineland Premium Outlets (go early through the week, NEVER go on a Saturday!).
Also, International Drive sits less than a block past the resort. If you are touristy, you can take a drive down International Drive through the heart of Orlando. You'll go by Sea World, downtown, the convention center, past the Orlando Eye, and then end up around the Universal Orlando Resort.
What I don't love about Caribe Royale is the resort fee ($25.00) and the parking charge ($18.00). In the past, when we've stayed here, it can be very difficult to find a parking space near your room.
If by any chance you're a single parent and/or traveling alone with small children, there is another factor you might consider. Often, children will fall asleep on the car ride back to the hotel. Depending on where you have to park, it could be a long walk, to get back to your room.
While parking was never a deal-breaker for us, we did encounter this issue on more than one occasion when my son was younger.
Additionally, this off-site hotel does have shuttle service to Disney, and the pool bar dining option has always been above average in our experiences. Speaking of the pool, Caribe Royale is another hotel worth planning a full resort day. The pool area has a grotto with a waterfall feature and a fun water slide.
The Fountains Resort
One other resort in our best off-site Disney World hotels (all-around) category is The Fountains Resort, a Blue Green Vacation property. The Fountains is located on International Drive, about 5 minutes or so from Caribe Royale, depending on traffic. Since we're talking "near Disney," this is as far out as I would go location-wise.
Since our initial trip to The Fountains, mentioned at the start of the review, we have returned. On our first visit, we stayed in a penthouse suite that offered views of the Sea World and we could see fireworks in the distance. That condo was amazing and would make a wonderful option if you're looking for something for a larger group.
On our last visit, we stayed in a smaller two-bedroom condo, which was more than enough space for our group. Additionally, we really enjoyed having a full kitchen available to prepare meals on extended stays.
The grounds of this resort are beautiful, and it sits on Lake Eve. There's even a great jogging trail along the lake, and the recreational areas are tremendous.
As far as pools go, The Fountains Resort has multiple outdoor feature pools. Pictured below, is the partially indoor pool located off the back of the resort's main lobby.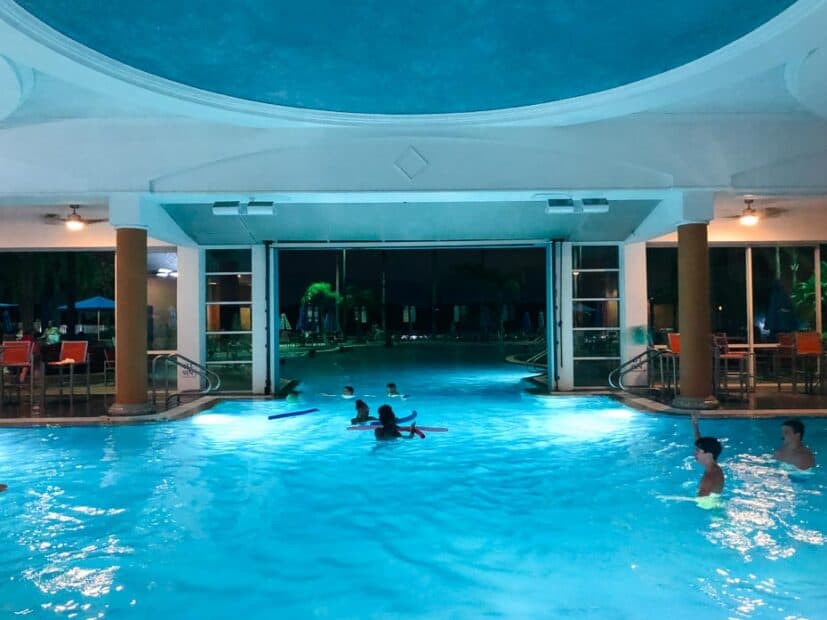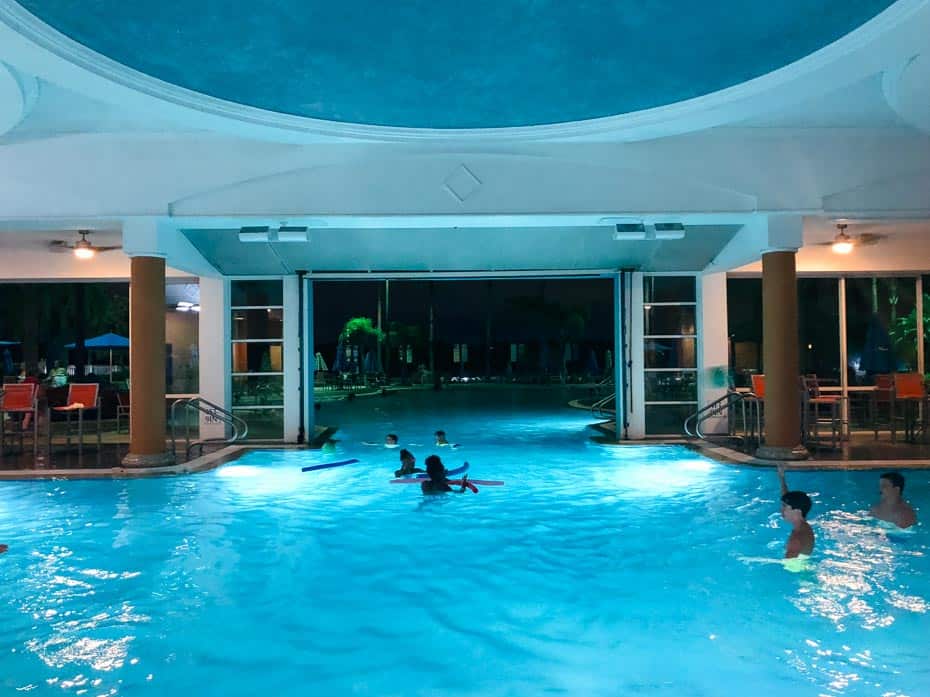 If you know someone that owns a timeshare, check with them on pricing. Most timeshare owners can sell vacations independent of their points in these types of groups. The resort fee here is typically minimal and covers parking for one vehicle. It's usually around $15.00 per day.
While we've looked at some very nice resorts already in this review, we've yet to cover the true luxury resorts near Disney World. These next few selections will be the hotels that offer the biggest bang for your buck in Orlando.
Our first resort is at the top of my list, the Hyatt Regency Grand Cypress. If you were to look on a map, this resort is located to the northeast of Disney Springs.
The Hyatt sits on over 1500 acres offering a Jack Nicklaus signature designed golf course, tennis courts, spa, and recreation area. The massive pool area features a winding waterway that travels through a cave.
Additionally, there's a waterslide, rock-climing wall, bicycle rentals, trails, and so much more! This resort is charming and captured my heart in the most unexpected way. I can only imagine a stay here will be just as pleasant for you.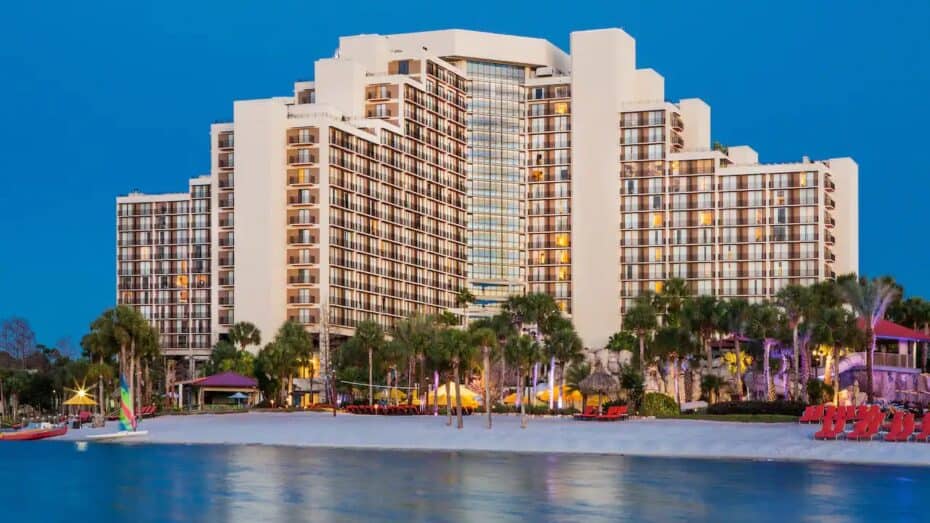 In the evening, the resort provides shuttle service to and from Disney Springs. There is no shuttle service available to the parks.
While I'm not a fan of high resort fees ($42.75), the Hyatt's does provide a good bit of on-site activities. You can read them all here. Self-parking runs $25.00 per day.
Grand Cypress has many things going for it, and it's truly a resort that keeps you wanting to stay at the hotel. If you're looking for a relaxing vacation with a little Disney here and there, this is the type of hotel you'll want to select. You'll enjoy full resort days, a little shopping and dining, and a couple of days at the theme parks. Now that sounds like a fun vacation!
Related: Review of the Hyatt Regency Grand Cypress
We head back to Bonnet Creek as we approach the end of our best off-site Disney world hotel list. I think that anyone who books a stay at the Waldorf Astoria will be pleased.
As we discussed earlier, the Bonnet Creek hotels are surrounded by Disney property on three sides, making all the hotels close to Disney Parks. The Waldorf is also on the list of hotels eligible for early theme park benefits.
As for the Waldorf Astoria, you can expect plenty of amenities. The resort has an 18 hole golf course with a par 72 score. While the Waldorf does have its own glamorous pools, guests of the resort are permitted access to the large lazy river immediately next door at the Hilton Signia.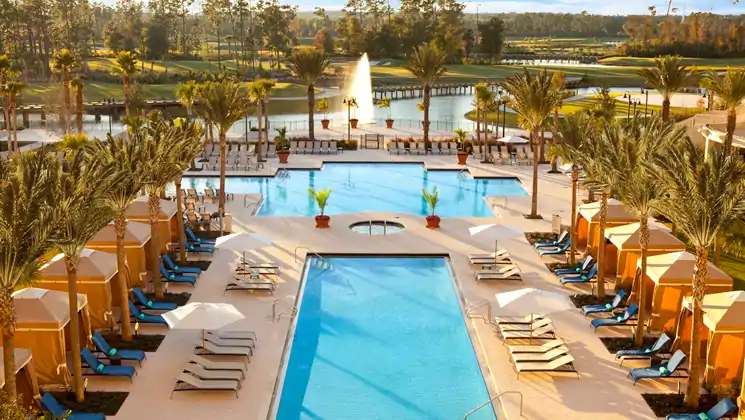 One of the other popular things at this resort is the spa. They offer a Himalayan Salt Therapy room and massage. Guests can purchase different packages and enjoy breathing in the fresh, healing salt air while they relax.
The Waldorf Astoria Orlando does have a daily resort fee of $45.00. The resort fee includes private Mears Coach transportation to the theme parks, complimentary golf club rentals after 2:00 p.m., and access to practice facilities. Make sure that you check if any special discounts are included with the resort fee. Right now, they are offering 20% off spa treatments.
Additionally, you can reserve Mears transportation to and from the Orlando International Airport for an extra cost.
As for Bonnet Creek, there is an additional resort that recently opened, the JW Marriott. When I've had an opportunity to visit, I'll report back with more details. It is included in our Best Marriott Hotels near Disney World article.
Related: Review of the Waldorf Astoria Orlando at Bonnet Creek
Four Seasons Resort Orlando
Our last resort for the best off-site Disney World hotels is also the most exclusive option. It's none other than the Four Seasons Orlando Resort. While I haven't had a chance to stay at this particular Four Seasons, I am familiar with the brand and can offer a few details about this luxury hotel.
For starters, the Four Seasons Orlando is located at Disney's Golden Oak community and is actually on Disney property. Different room views are available at the resort, including park views (fireworks), Golden Oak views, and lake views.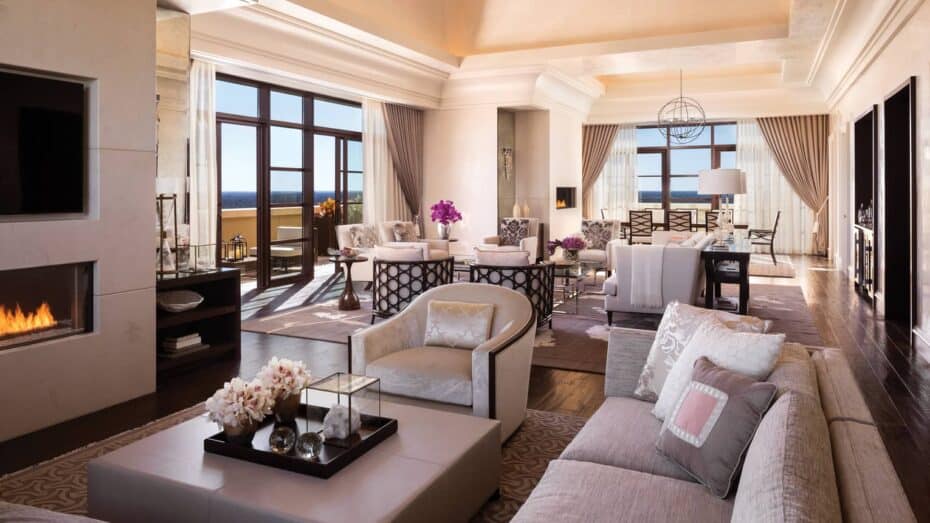 The Four Season has numerous dining options, including signature dining at Ravello. On Saturday mornings, Ravello hosts a special character breakfast with Goofy and Pals. This character meal has a photographer present to capture memories for guests. This is not standard for regular Disney World character restaurants.
In addition, the resort provides complimentary luxury motor coach transportation to the theme parks. The Four Seasons will be participating in early theme park benefits as well.
Four Seasons Orlando is well-known for its par 71 championship golf course designed by Tom Fazio. And the resort has its own Explorer's Island featuring a lazy river, water play area, and other fun aquatic features. One of the pools at the resort has an infinity edge overlooking the lake.
There is no resort fee at the Four Seasons Orlando.
Final Thoughts on the Best Off-Site Hotels Near Disney World
Wrapping things up, I hope that you found this review helpful in locating some of the best off-site hotels near Disney World. Orlando is a wonderful place to vacation, and it doesn't hurt that multiple theme parks have made their home in the area.
As time goes on, I anticipate adding more hotels to this review. If you are researching a specific hotel that isn't on our list, feel free to ask about it in the comments.
Or join us in The Resorts Gal Lounge here on Facebook. We are working to build a community where you can find out the latest information on Disney World Resorts, specific details about hotels, and provide helpful information about the Orlando area.
If you are interested in staying at a Disney World Resort you can view our full list of reviews here. You might also like to browse our review of Orange Lake in the Kissimmee area. That resort is tremendous and is an excellent option if your family plans to spend a good deal of time at the pool.
Leave a comment below and share your thoughts on our list of best off-site hotels near Disney World. Have you stayed at any of these? Are any of them at the top of your list?