Review: TownePlace Suites Marriott at Flamingo Crossings (Disney World)
As much as I love to stay on property at Disney, the fact is that prices have escalated over the past few years. So much, that we've shifted our focus here on the site to include reviews of nearby hotels that might be a better alternative for some families.
That includes budget-friendly hotels. For this review, we're going to take a close look at the Towneplace Suites Marriott at Flamingo Crossings. I recently completed a 5 day/4 night stay at this hotel over the Labor Day weekend.
In considering a stay, I was looking for a hotel convenient to Disney World with affordable pricing, amenities, and within close proximity to the parks. Overall, I felt the hotel rates were reasonable for what was advertised in terms.
Additionally, we've stayed at the neighboring Springhill Suites multiple times over the years and consider it to be one of the best Marriotts near Disney World for the price. These sister hotels are positioned on the same property and share amenities like the pool and recreation.
When booking a hotel stay, you want to know if the hotel is clean and comfortable. Overall the Towneplace Suites was both. However, it wasn't perfect.
Upon leaving, I felt there were definitely some things that could have been better about the experience. Overall, I'm glad we stayed here. But if you're thinking of staying here you should know what to expect before booking your trip.
Let's take a look at my stay along with some pros and cons about the hotel.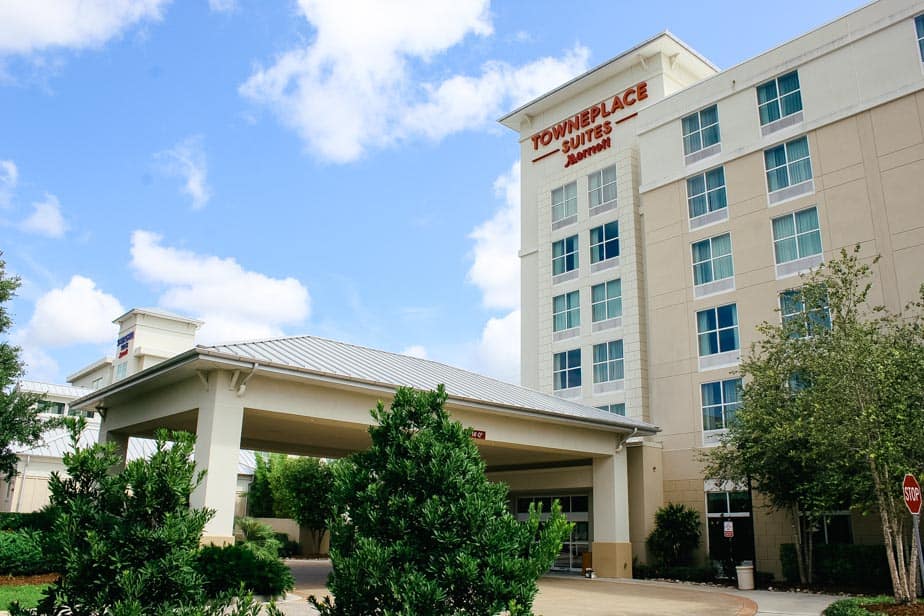 Flamingo Crossings is basically a combined shopping, hospitality, and housing area of sorts that sits outside the Walt Disney World gates on Western Way. The property is owned by Disney and has been mostly vacant land with the exception of a few hotels and apartments.
As of late, things have changed and the large property is now being developed to provide housing for students in Disney's college program. In addition, several new hotels and retail stores have recently opened. Many locations are now under construction.
The winning factor for staying here is the price. For my stay on a busy holiday, weekend rates ran around $125 per night plus tax. In addition, Western Way is the road that runs out next to Coronado Springs Resort. The street dead-ends into Buena Vista Drive which is the main road that intersects most of Disney World property.
For you, that means about a 7-minute drive from the hotel to parks like Disney's Animal Kingdom and Blizzard Beach. Traveling to Magic Kingdom, Epcot, Hollywood Studios, and Disney Springs will take closer to 10-15 minutes depending on traffic.
You're not going to find a closer hotel to Disney World that's not on Disney property.
Additionally, the hotel is extremely close to Four Corners. It's literally a 2-minute drive up the toll road to reach the Rolling Oaks shopping center where there's a Super Target and Publix across the street. Not to mention, a plethora of restaurants and recreation in this area. (The toll road will cost you $1.50 between the exits or you can cut across Disney property by the Animal Kingdom Lodge.)
We'll start with the hotel room at Towneplace Suites. When deciding to stay here, the main draw for me was that these rooms were efficiency suites. I was in Orlando for two weeks reviewing several hotels. Therefore, I needed a place for a portion of my trip where I could at least prepare a few meals in my room and avoid eating out the entire trip.
Here is a look at the king-size bedroom. You can see that there are nightstands with lamps built-in on each side of the bed along with drawer space.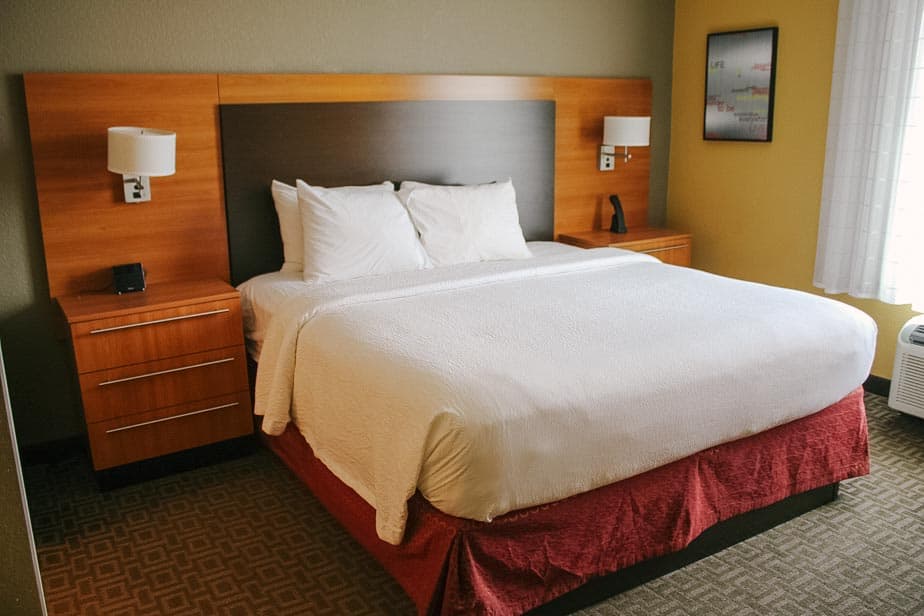 On the opposite wall, there was a small sofa and a full-size desk.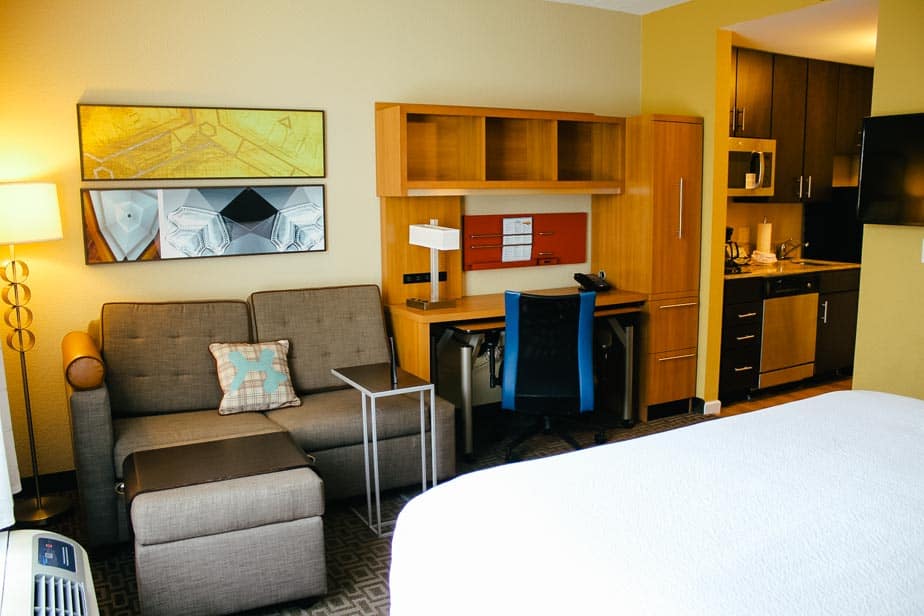 The desk space was nice for someone like me who works while traveling. There were plenty of charging ports, which seems to be a necessity these days.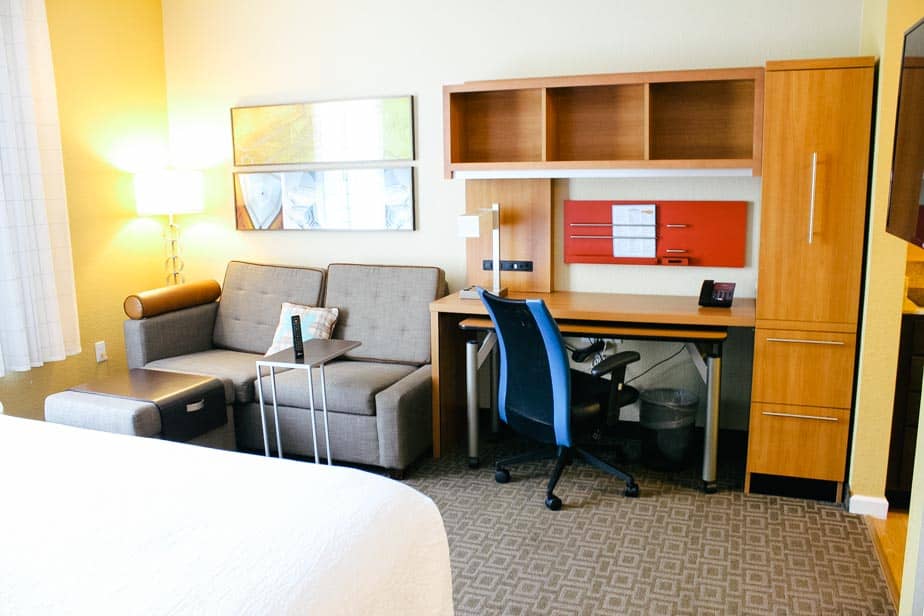 The kitchenette area in the foyer was a great attribute to the room. There was adequate counter space to prepare small meals.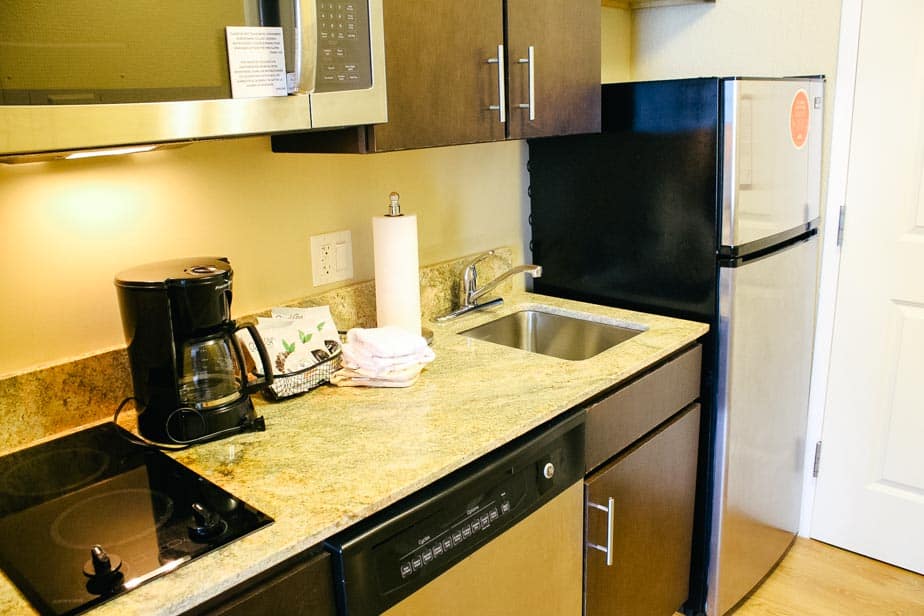 This space is really comparable to the studio room at Orange Lake Resort. However, Orange Lake overall was much nicer. We have a full resort review here if you're interested.
Anyway, there was a microwave and several cabinets with a few plates, glasses, and utensils. Unfortunately, there weren't many items. There were four of everything like plates, coffee cups, etc. I had to use the dishwasher almost daily in order to have clean items.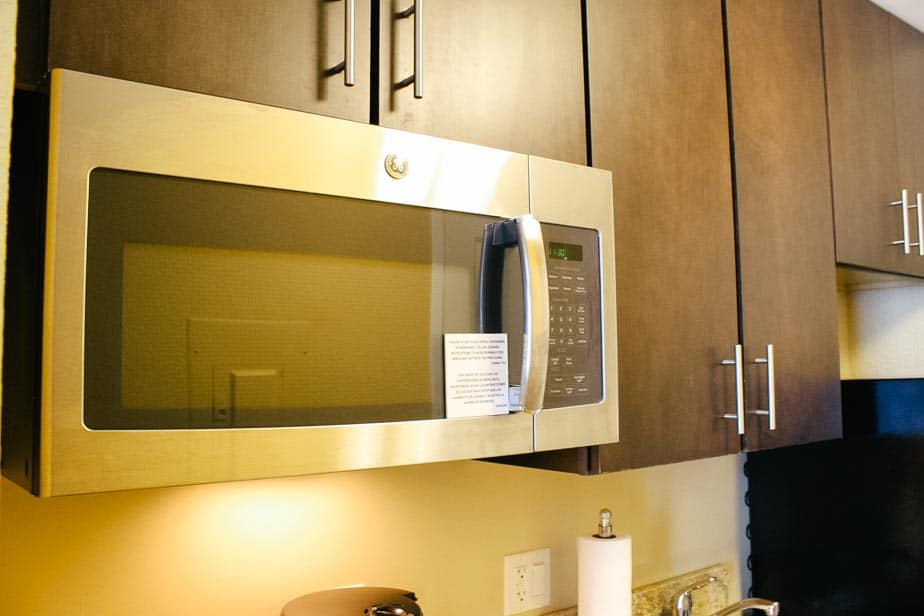 Said dishwasher.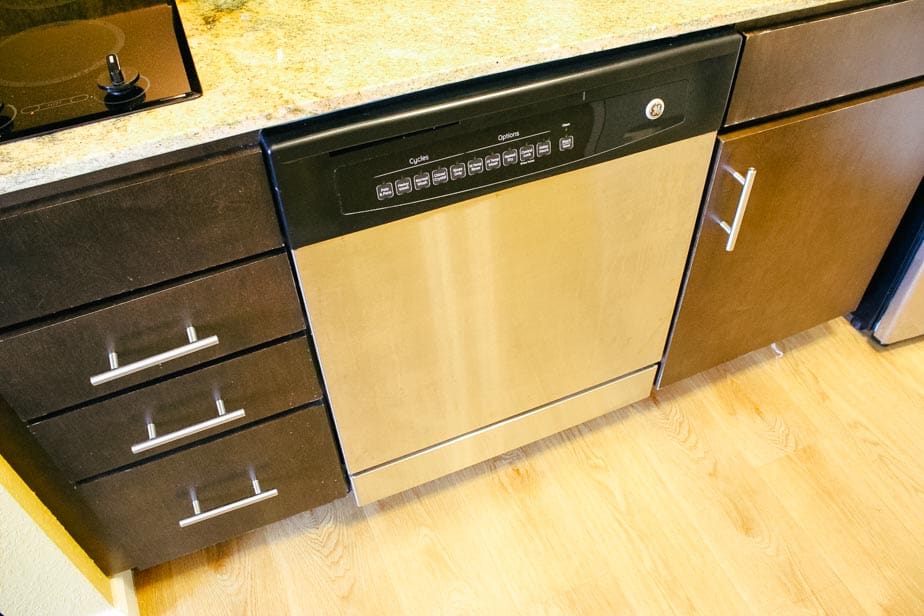 There was a two-burner stove, coffee maker, and a few accompaniments if needed. I tend to make grilled cheese sandwiches on these kinds of trips when I'm in the room. There was no skillet and only two pots. The lack of basic utensils and cookware in the kitchen was disappointing.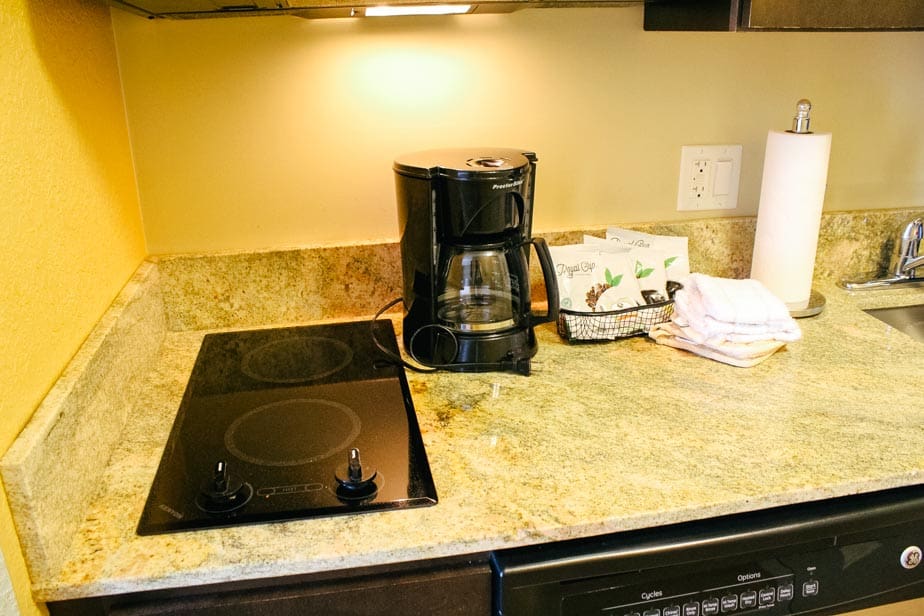 Here is another angle of the room from the kitchen.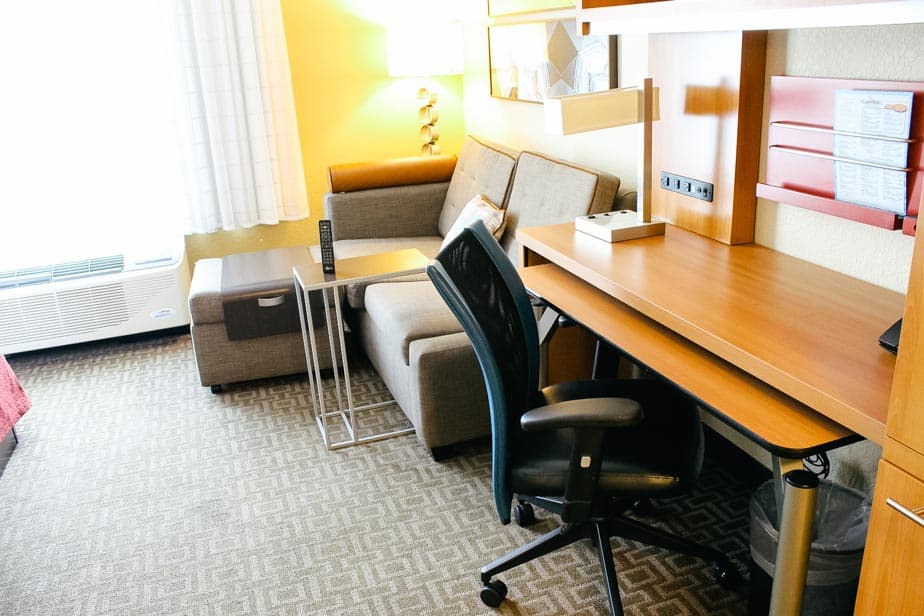 I felt like for a group of four you'd be pretty tight in a room with double beds. However, this room has many more amenities (and probably more space) than a value resort at Disney.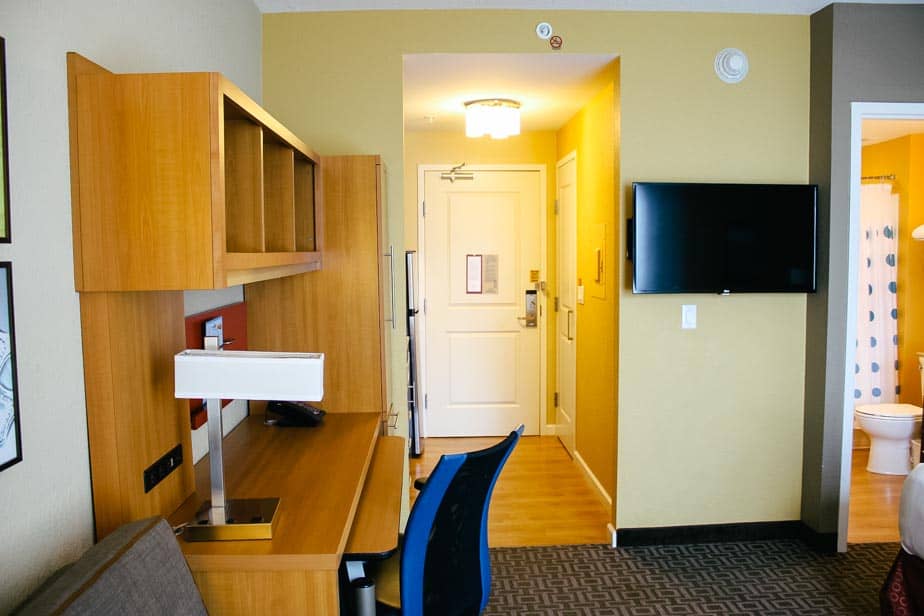 That tray over the ottoman in the picture below came in handy. After a long day in the parks, I prefer to do my blogging from bed.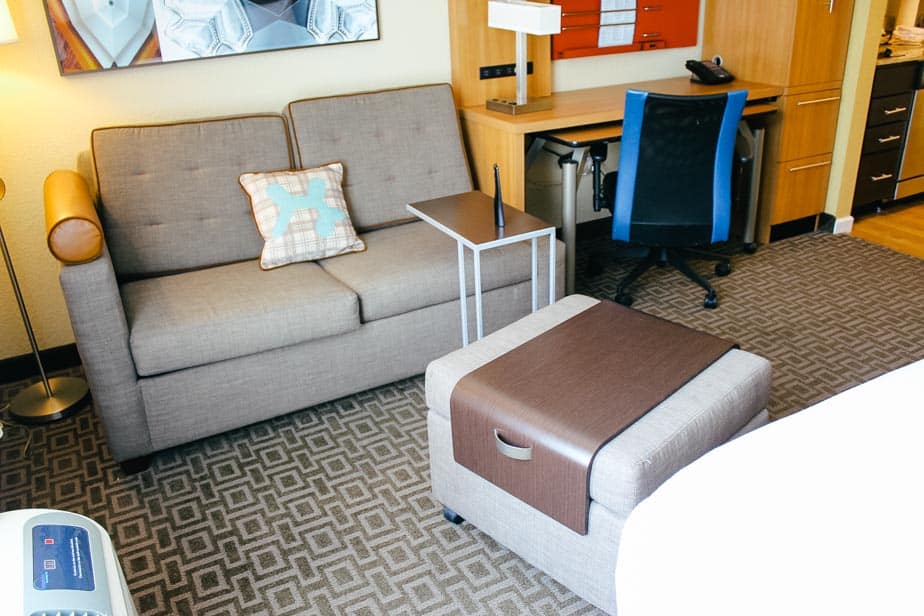 If I had decided to eat at the table like a normal person, there was a convenient pull-out option underneath the desk. I was thinking this would be convenient for children. Only thing is, there was one desk chair.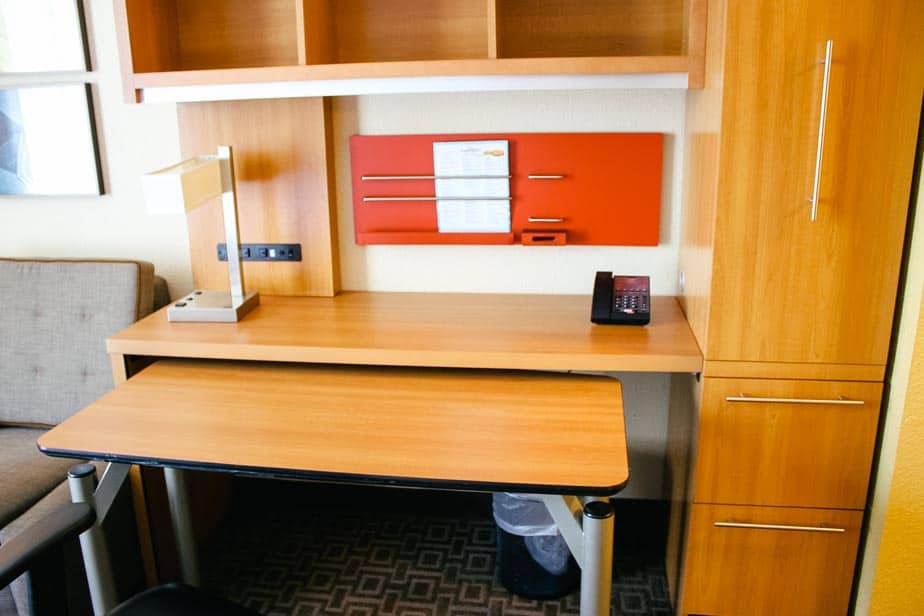 Anyway, the bathroom was standard.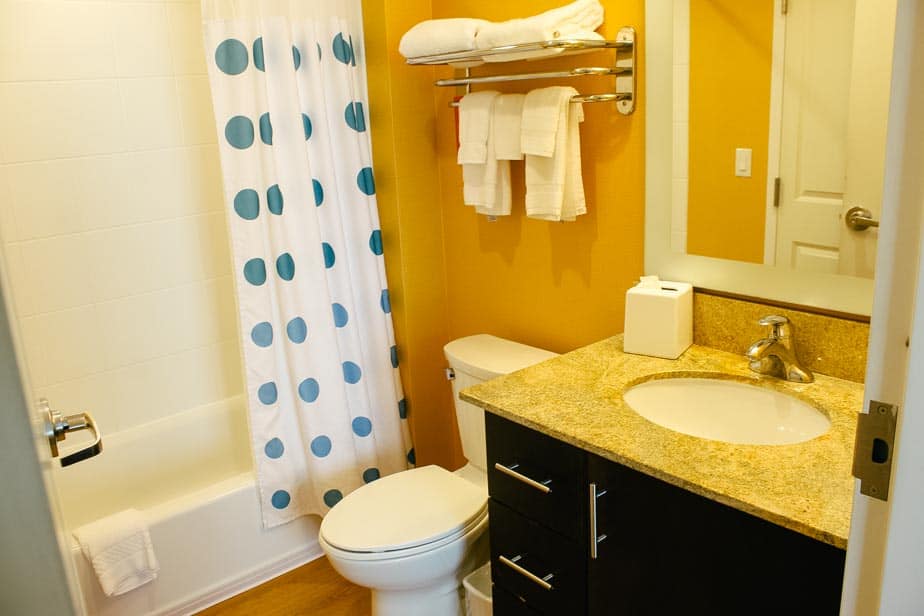 There were plenty of towels and a bathtub with a shower combination.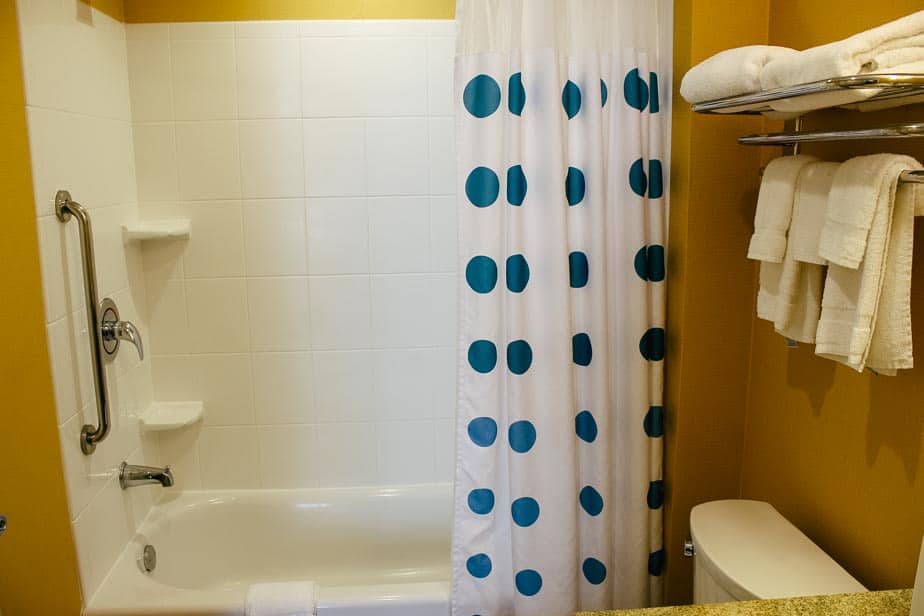 You might notice that I feel ambivalent about this room. It had great features that allowed me to save money by preparing breakfasts and dinners in the room. That left me with only having to purchase lunch in the parks.
However, the room had a bit of a musty smell to it, and that bothered me. Was it dirty? No, but it wasn't as deeply cleaned as I would have liked.
Additionally, the Towneplace Suites at Flamingo Crossings is a pet-friendly hotel. Somehow, I totally missed that and probably wouldn't have stayed here if I had known.
Don't get me wrong. I love pets and have pets, but I do not travel with them. Nor do they live in my home because I have allergies.
You might think, how did you miss that? Well, I've stayed at the adjoining resort next door many times, and it is not a pet-friendly hotel. So I didn't do any research in advance for this hotel.
And there were a lot of pets. In the mornings, I often saw 5-10 guests with their pets in the lobby and outside in the parking lot. One night, I was awakened by a dog barking.
Needless to say, the lack of cooking utensils, the abundance of pets, and that musty smell put a damper on my stay. Since then, I've really gone back and forth on whether or not I would stay here again.
Thankfully, everything else at the hotel was great. One of the draws for many guests is the breakfast buffet served every morning. Given the times, I didn't attend the buffet. However, I did drive over to the Animal Kingdom Lodge and enjoy breakfast at Boma while I was staying here.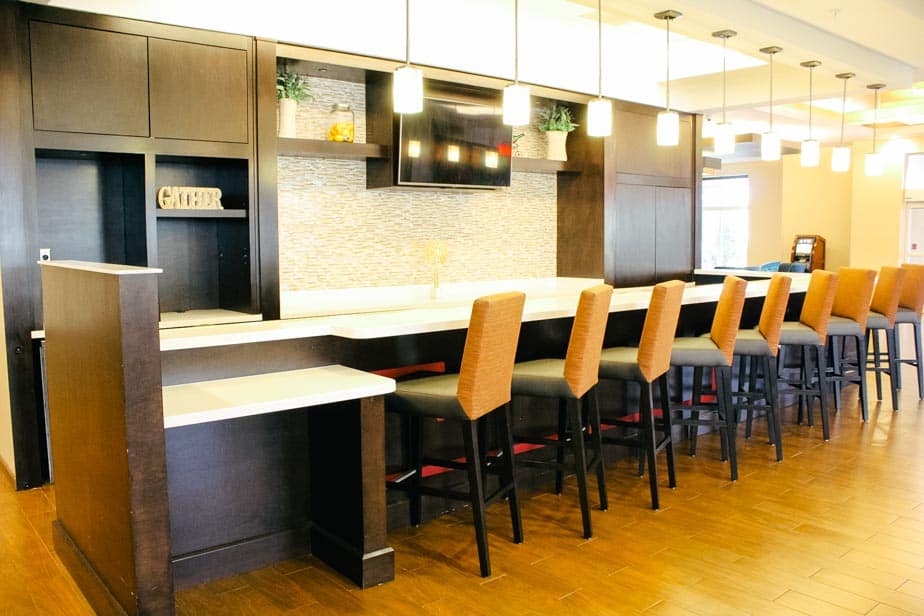 To give you an idea of how many people were staying here and utilizing the free breakfast, this entire space was packed with people every morning. The buffet had a line all the way to the door.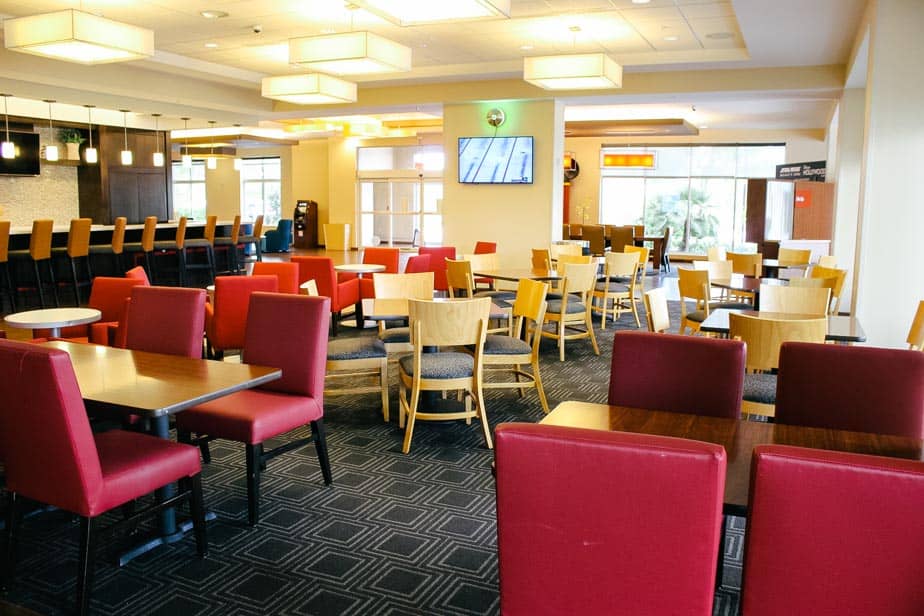 As far as breakfast goes, they appeared to have a few items like bacon, sausages, muffins, cereal, and waffles. I was told it was the same, exact food that's served next door, which I have enjoyed before. The meal won't be anything to write home about or post on social media, but it's included in the price of your stay.
Next to the check-in area of the lobby, there was a small pantry with convenience items for purchase.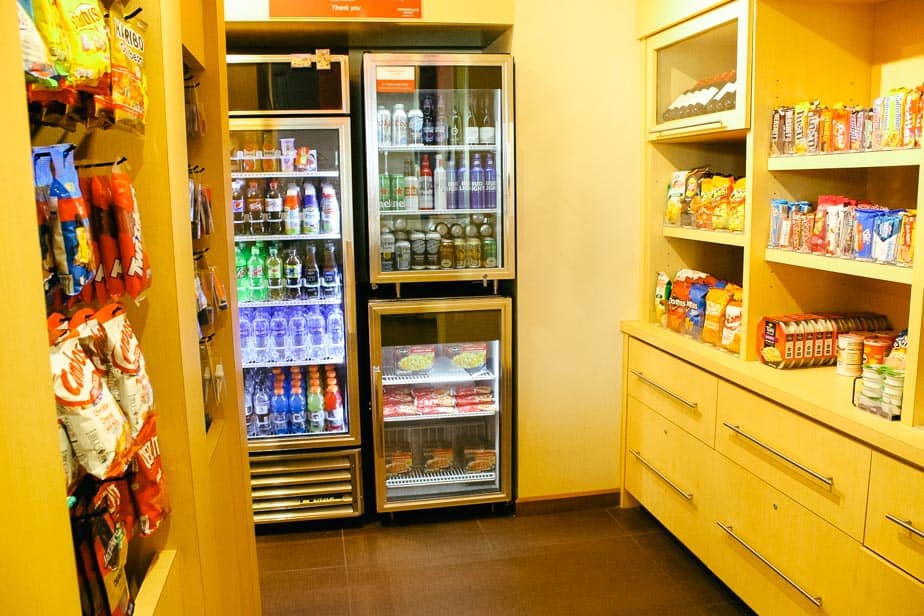 Toward the back corner of the lobby, I noticed this workspace.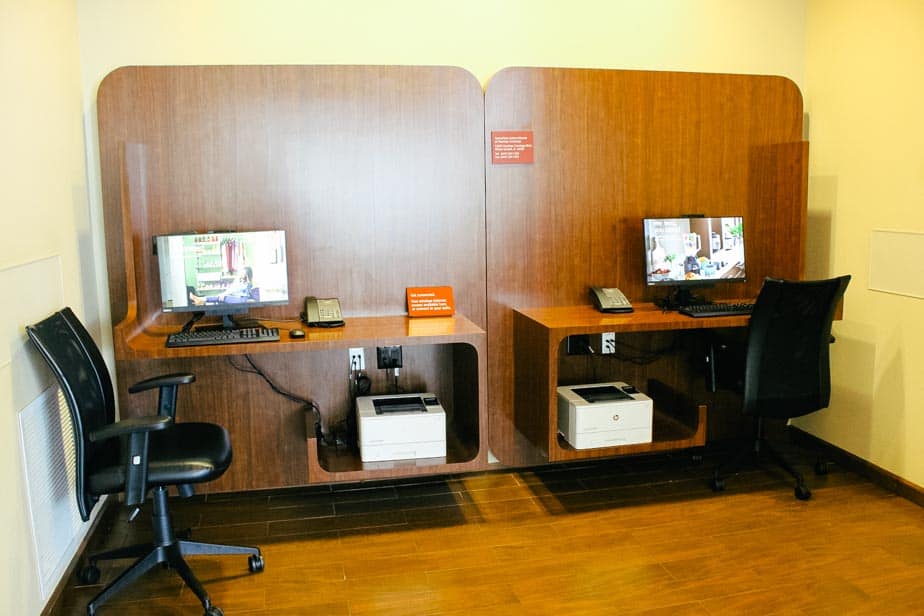 A large recreation area sits between Towneplace Suites and Springhill. This shared area includes a restaurant called Flamingo's.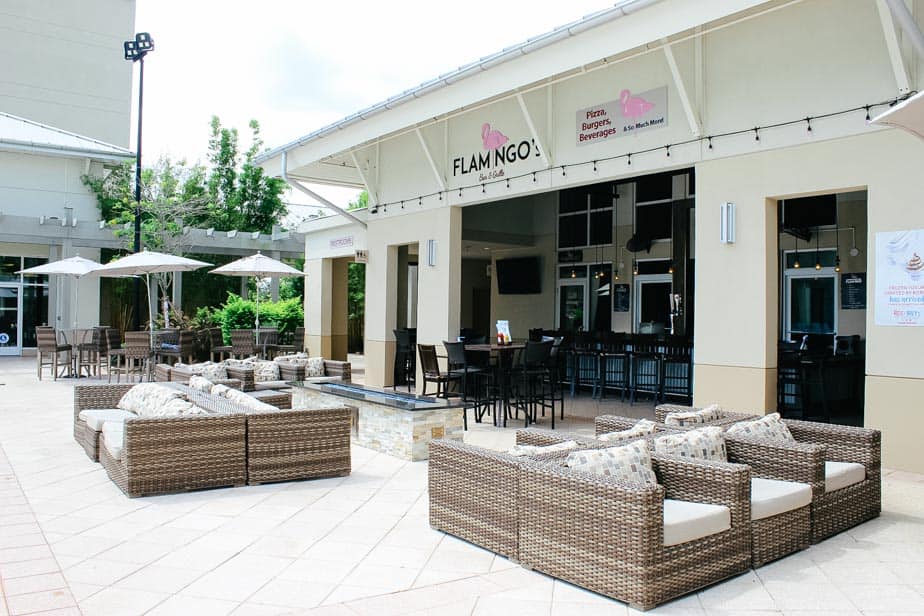 Since the idea of me staying here was to save money by not dining out, I didn't get a chance to eat here. However, I can attest that the food smelled good and they were rather busy most of the time. I stepped in and took a few photos before they opened one morning.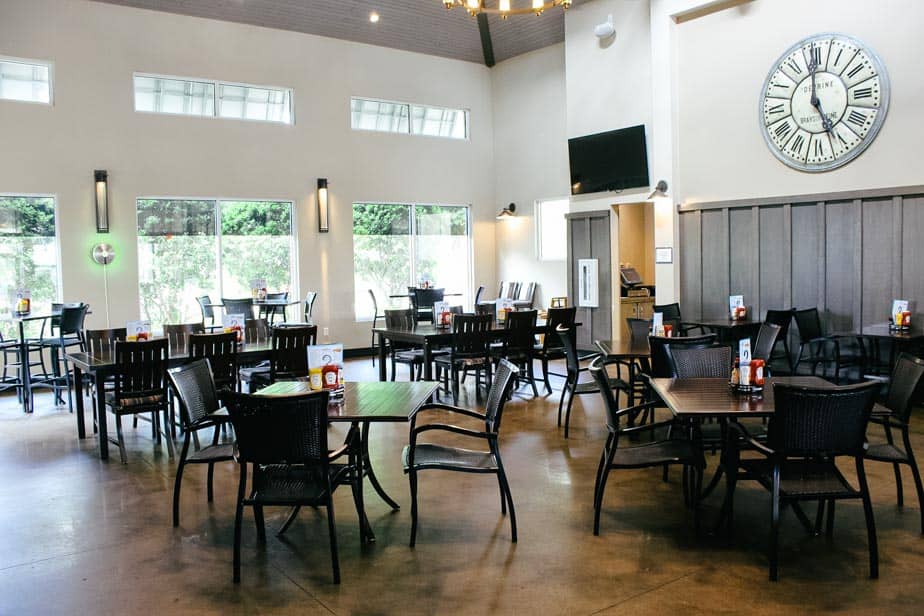 The menu had a variety of items that would suit most guests.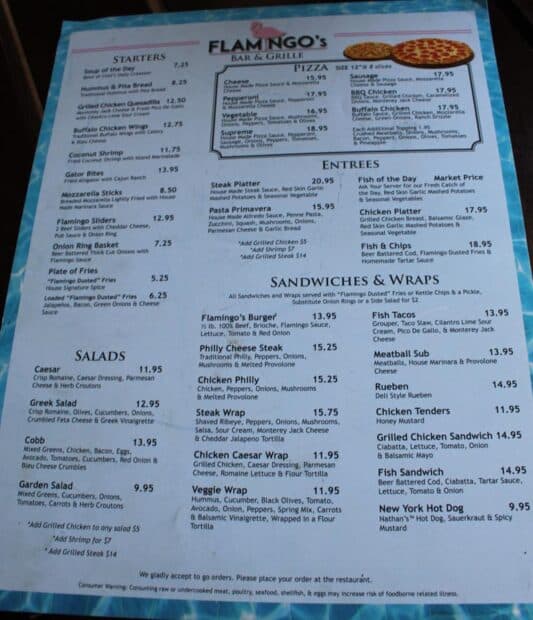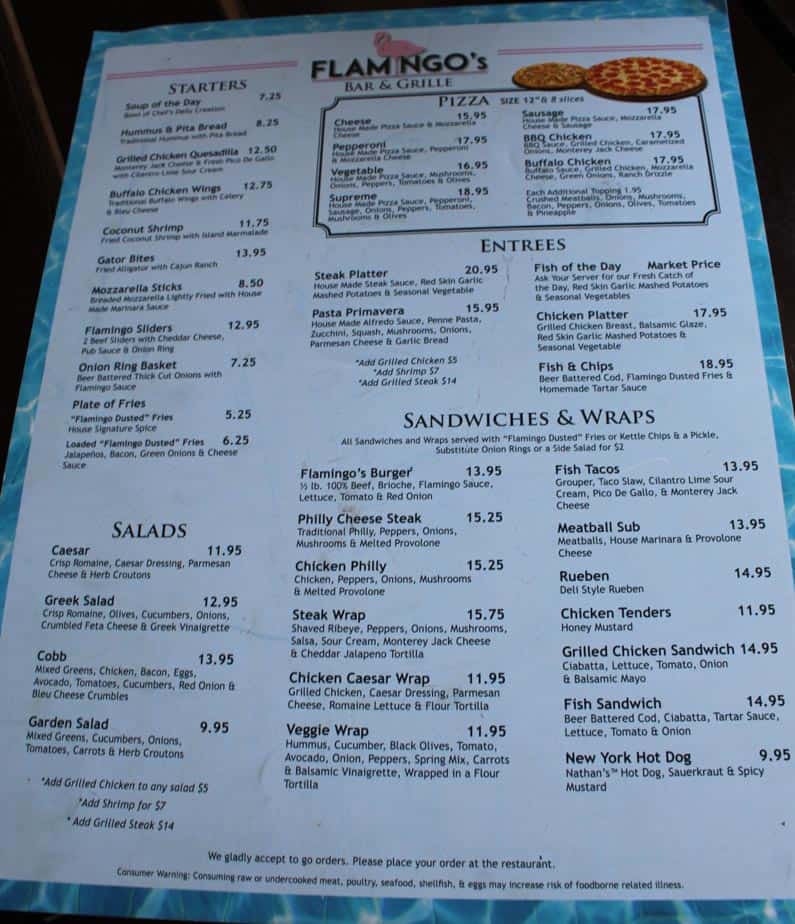 Everything seemed to be reasonably priced and there were a few kids' meal options.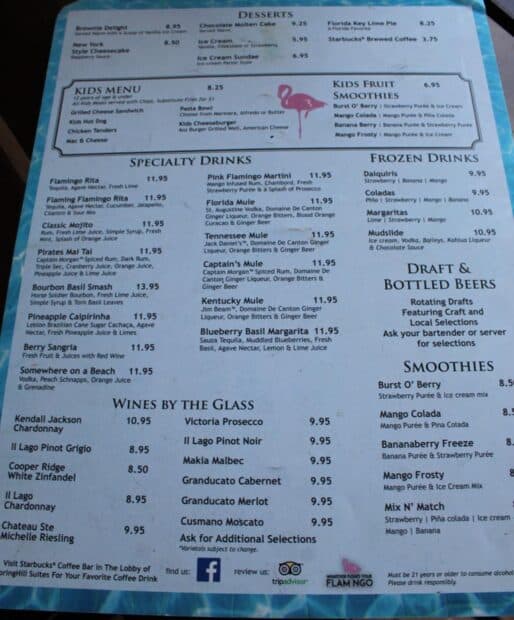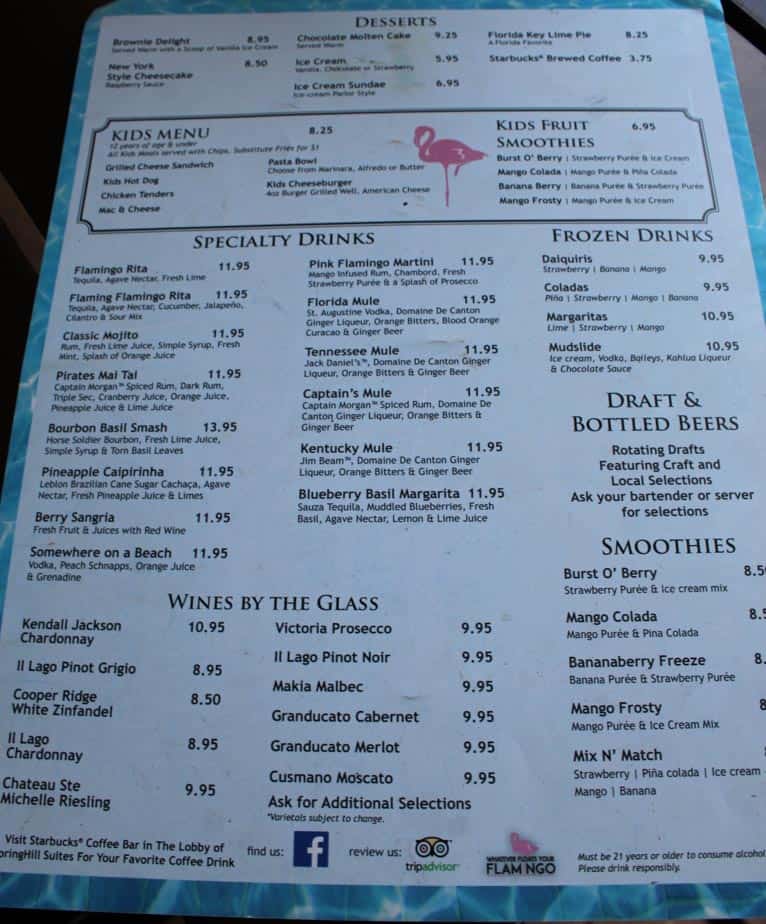 There were plenty of lounging areas in the shade outside of the pool area.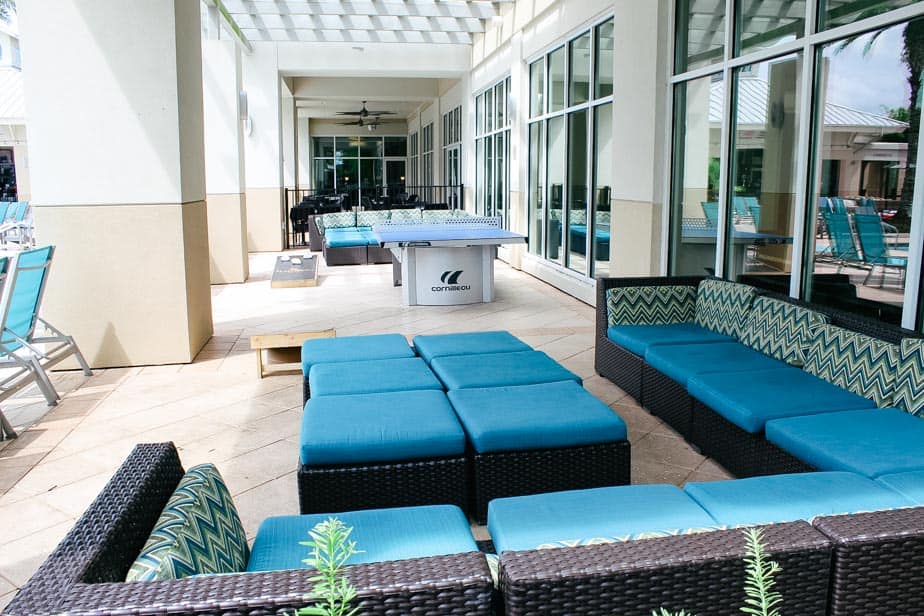 You might even enjoy a tabletop game during your stay. There were several cornhole games and ping pong tables set up.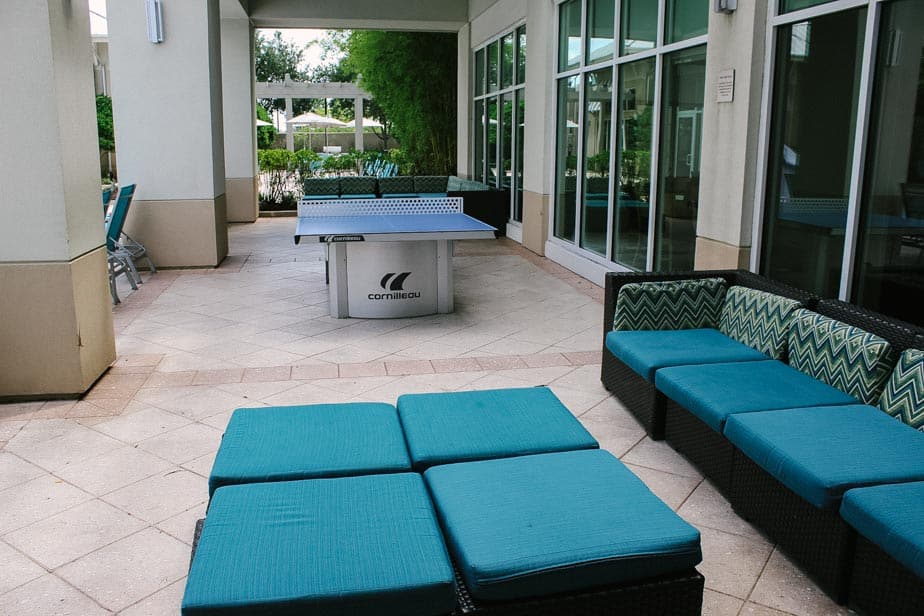 You could enjoy breakfast or even pick up something at a nearby restaurant and bring it out here to enjoy.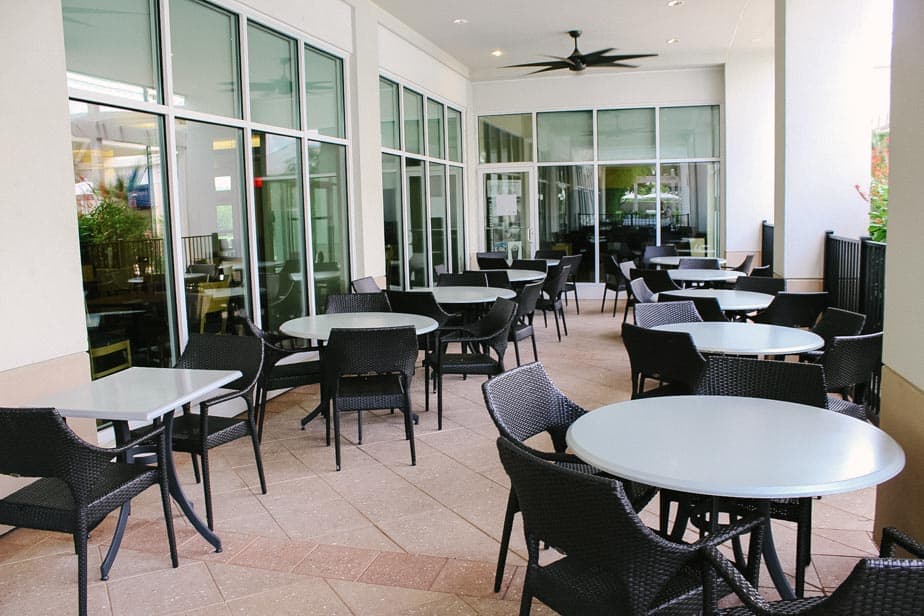 The pool area is large since it's shared between the two hotels.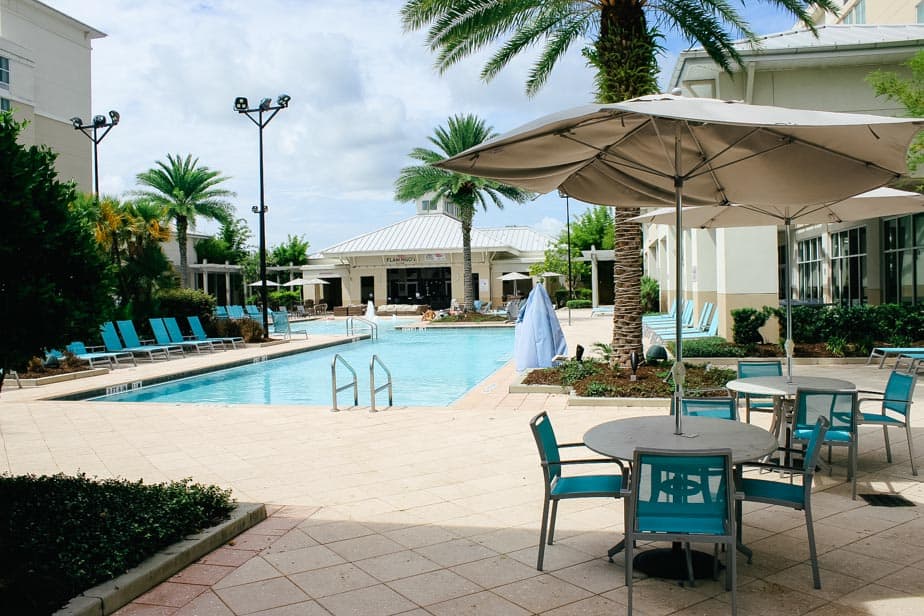 The entire outdoor area between the two resorts was much nicer than I had realized.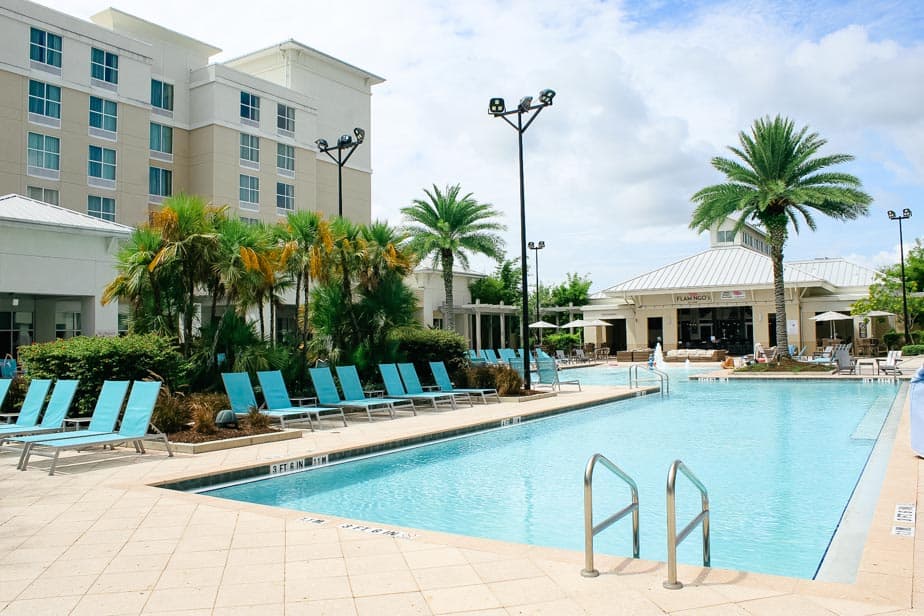 And there was more than enough seating for guests to enjoy the space.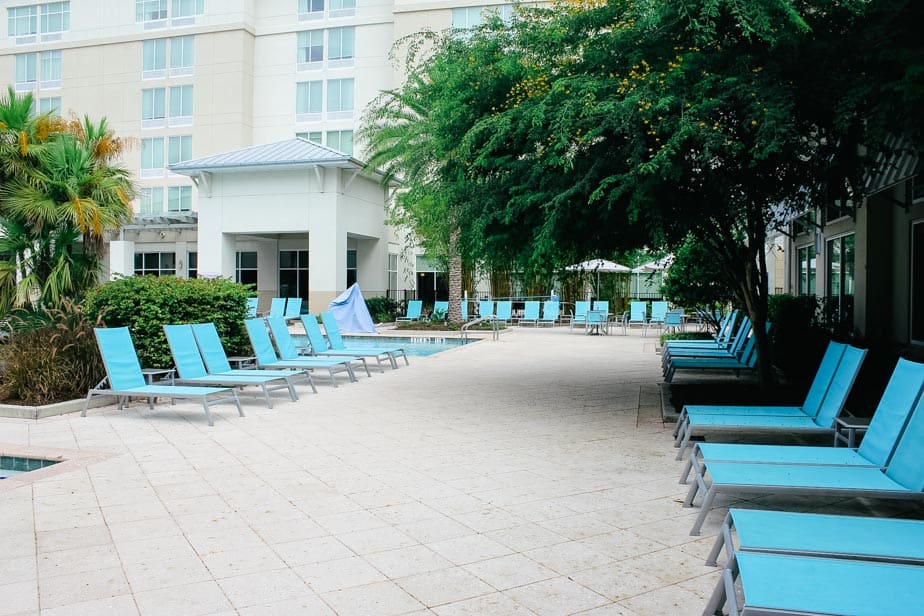 A peninsula of sorts came out into the pool from one end.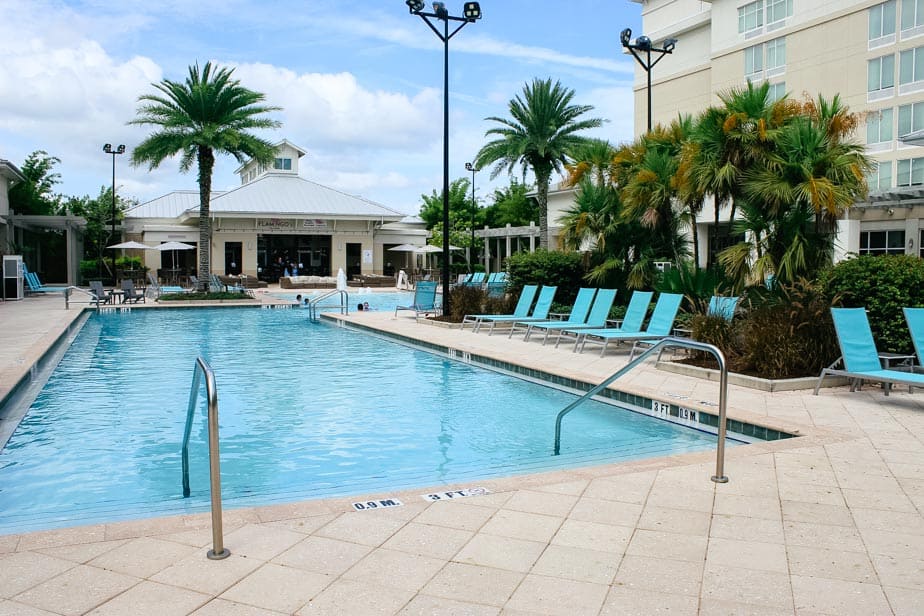 You can kind of see it better here. There were several benches built in the water where you could sit and relax. I was really impressed with the pool area.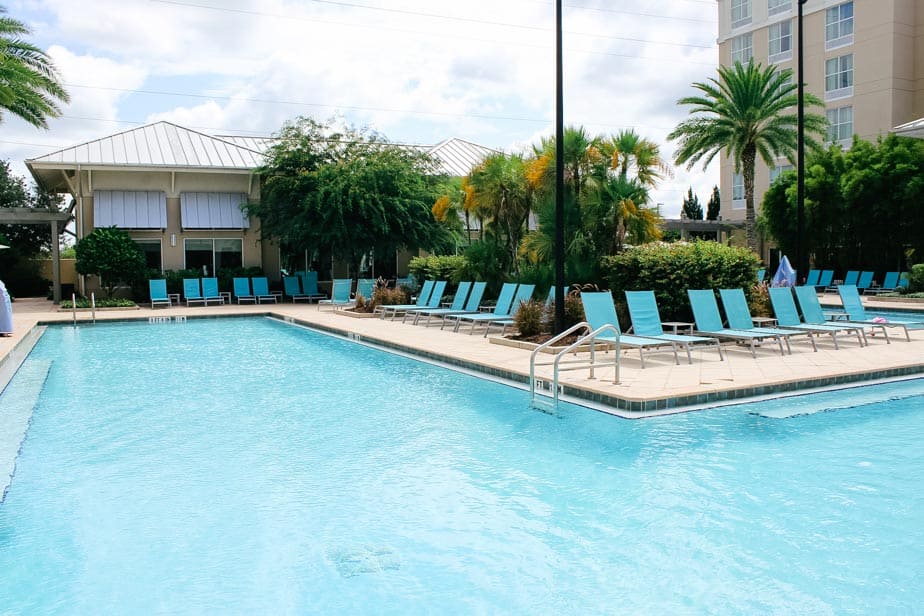 Towels were provided.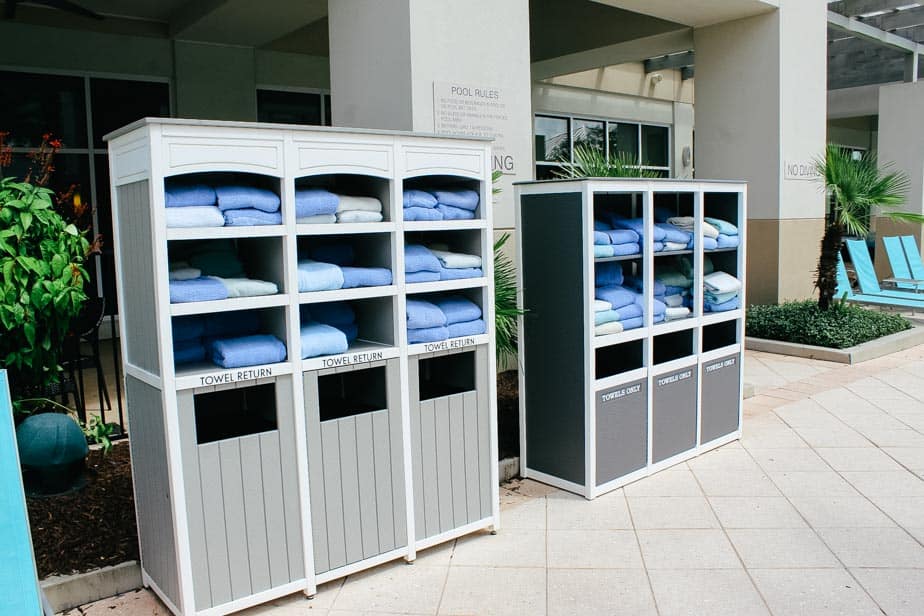 And in the far back corner, sat a whirlpool spa tub.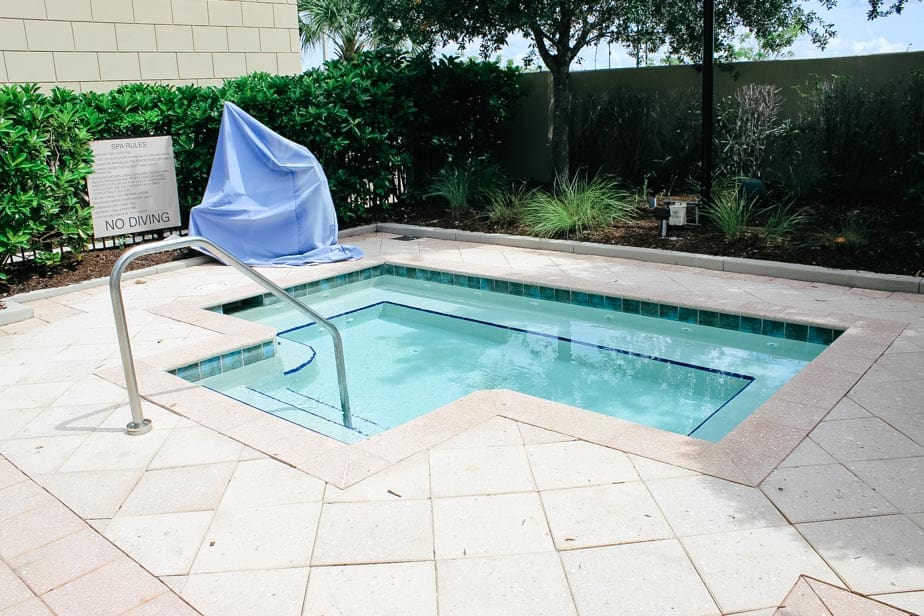 Behind the pool area, you'll find a tremendous gym. Of all the times I've stayed next door, I had no idea this workout room was here. For comparison, we have a list of the hotels with fitness centers at Disney World.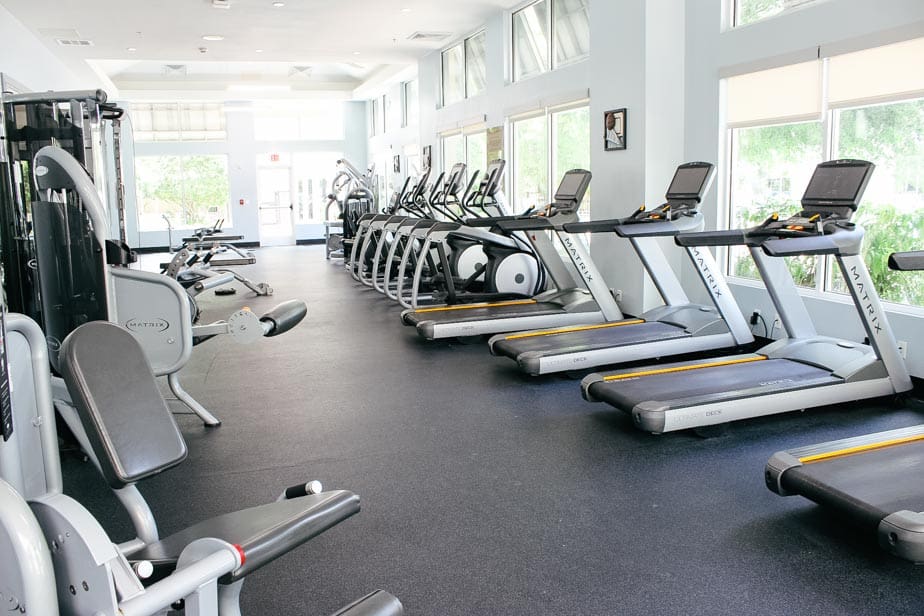 The gym had free weights and every machine you could ever need to get a good workout.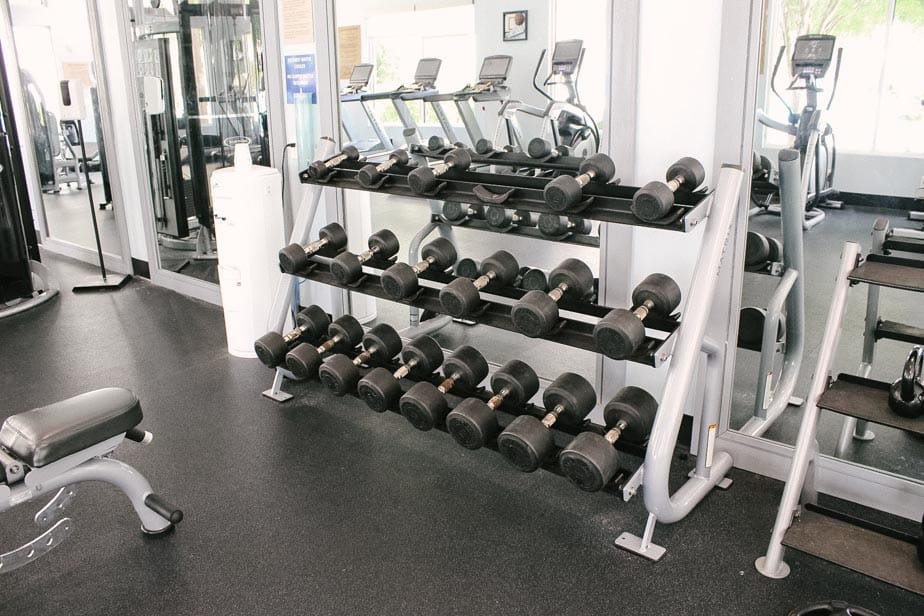 It was impressive.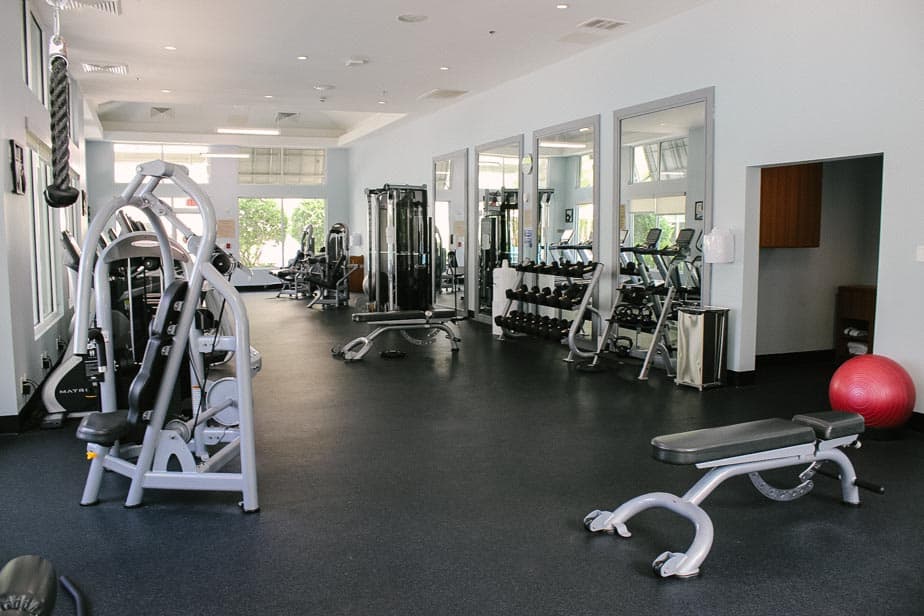 Lastly, on the first level, there was a laundry room with washers and dryers. On my last full day, I ended up catching up on my laundry here. Each load was $3.25 and the machines took quarters. They were not updated to taking a credit card like most resorts these days. There was a machine that provided change in the laundry room, and I brought my own detergent.
As funny as it sounds, I debated doing laundry here or at my next stop. Since I was spending the next few days at the Hyatt Grand Regency Cypress (review coming shortly), I had planned a full resort day there.
I felt like I could have easily done laundry while I was taking photos of the resort. Thankfully, I ended up getting that out of the way here at Flamingo Crossings. The laundry at the Hyatt was $5.00 per load and nowhere near my room. (Everything else was fabulous, though.)
But I guess when you stay at a more expensive resort, everything costs more. And that's why sometimes we have to stay somewhere more affordable.
Wrapping things up, there are two significant items that I've yet to mention that are definitely worth your consideration. There are no parking fees and no resort fees at this TownePlace Suites.
Anyone that's spent anytime in the Orlando area, knows that the resort community will bombard you with extra fees. Comparing prices online is so misleading because it's not in our human nature to add in those extra costs. Even when it says to in the tiny writing you probably didn't read or want to think about.
Ultimately, if you are planning to spend a few days in the Disney Parks and don't mind the pets, the TownePlace Suites at Flamingo Crossings will probably work well for you.
You can't beat the location, ability to prepare a few meals, and the price is reasonable. Don't expect it to be a five-star resort, and remember it's not breaking the budget.
For more information about staying off-property at Disney World, you might be interested in reading our list of the best off-site resorts near Disney World.
As far as planning goes, you might enjoy these other reviews:
Have you stayed at the Towneplace Suites at Flamingo Crossings before? Leave a comment below with any questions or thoughts on a stay here.