The Caribbean Beach Resort Pools at Disney World
The Caribbean Beach Resort pools offer some of the most fun recreational opportunities at Walt Disney World. In this article, we'll take a close look at the pools located at this island-themed resort.
For starters, Caribbean Beach has a feature pool that goes by the name of the Fuentes del Morro Pool. In addition, the resort has five quiet pools or leisure pools spread out amongst the different villages.
While that might sound like a tremendous amount of pools for a resort, this hotel is rather large and covers a good bit of ground. Therefore the quiet pools are nice to have for guests who might not want to walk all the way over to Old Port Royale to visit the feature pool.
Below is a photo of the Fuentes del Morro pool at Disney's Caribbean Beach. The pool has a colonial Spanish fortress-type theming. There are even pirate flags perched on the outposts.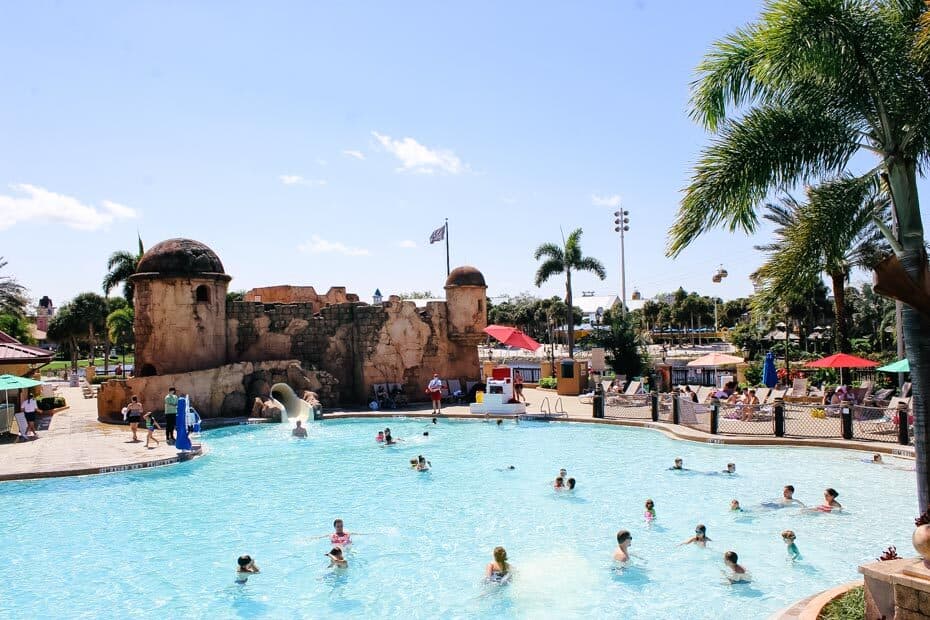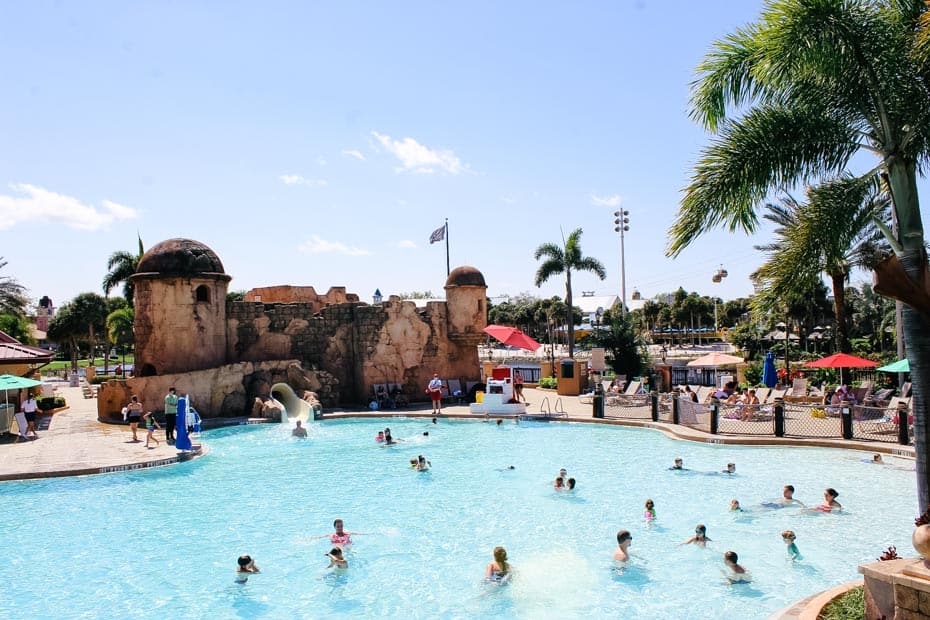 Perks of this pool include a zero-entry area on one side, and there are two waterslides available. One of those waterslides is 102 feet long, while the other is a bit milder for smaller children.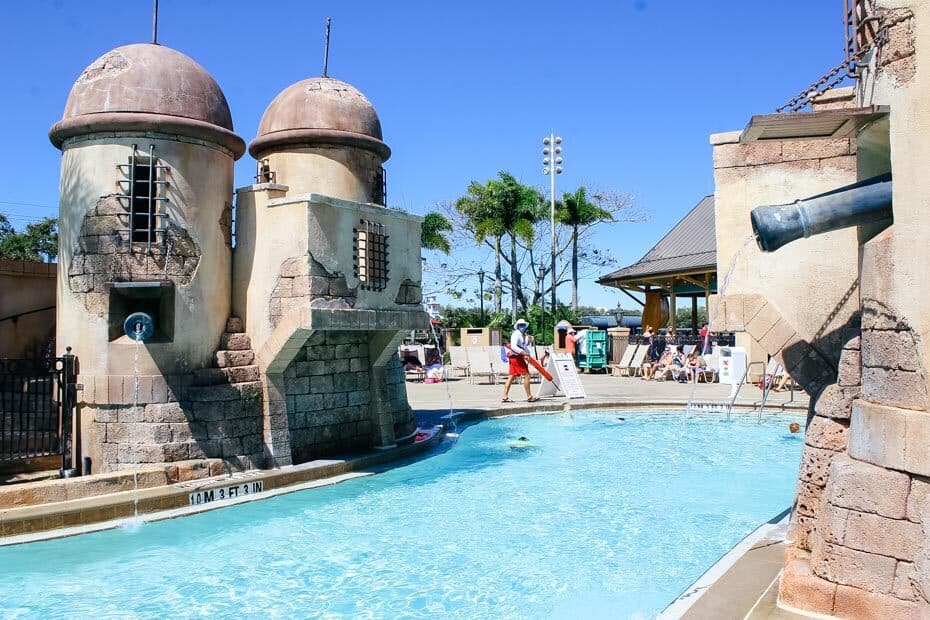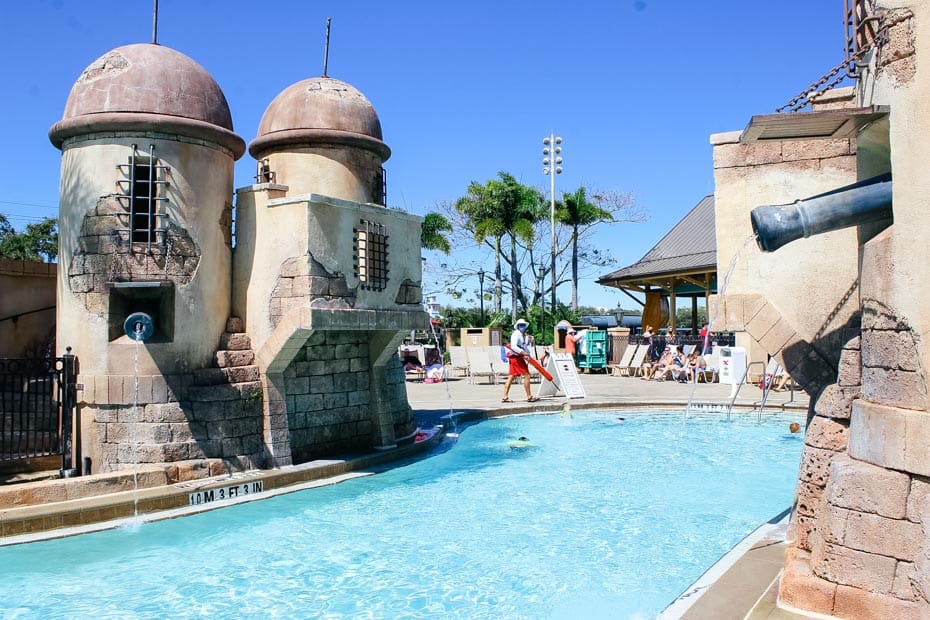 The photo was taken from the larger of the two slides. You can see Disney's Riviera Resort in the distance. I have an article with photos of Disney's Riviera here.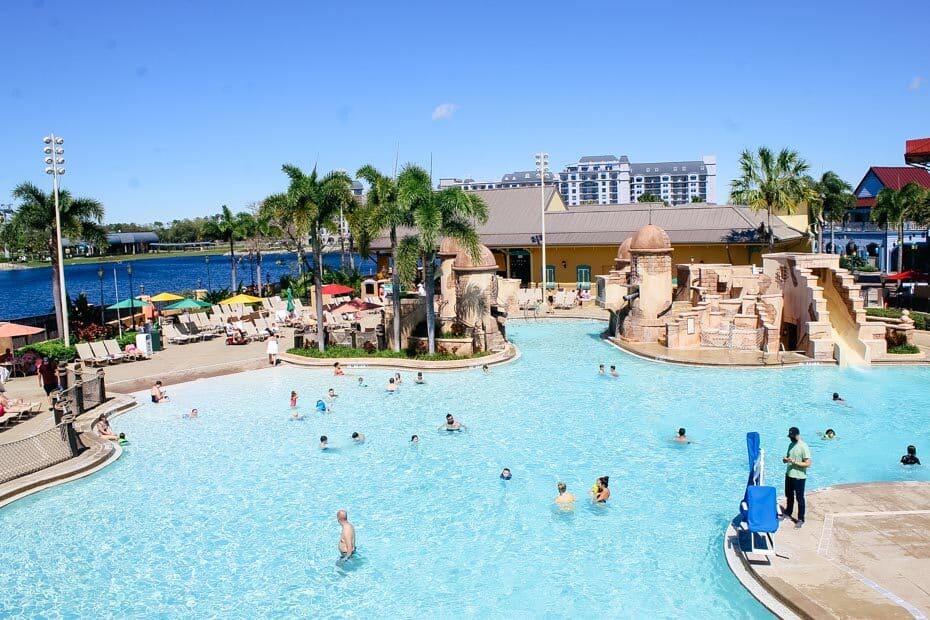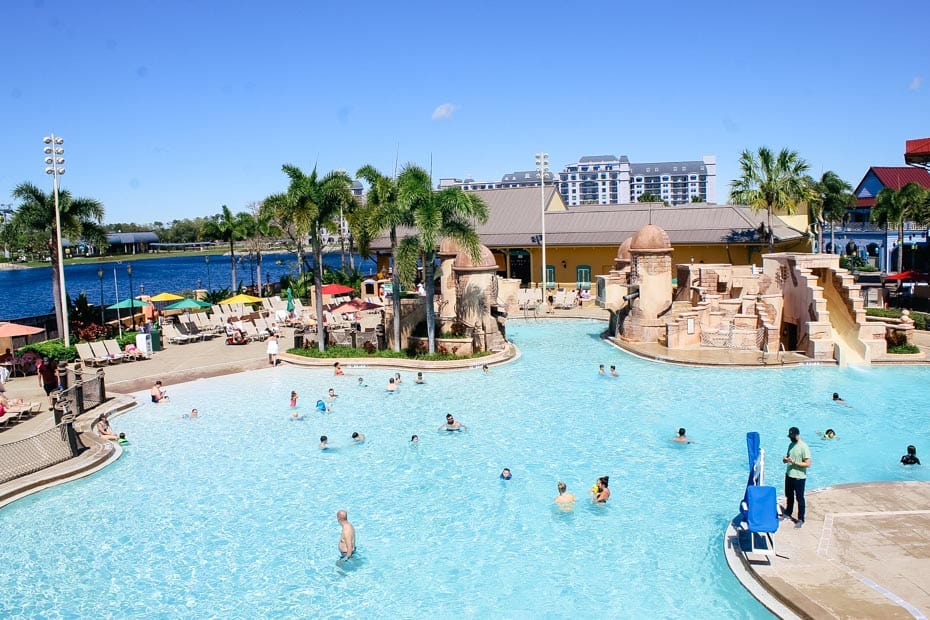 Both of the slides have a staircase that leads up to the entrance. For the smaller one, you'll need to look ahead to the mirror to see if the person ahead of you has cleared the area.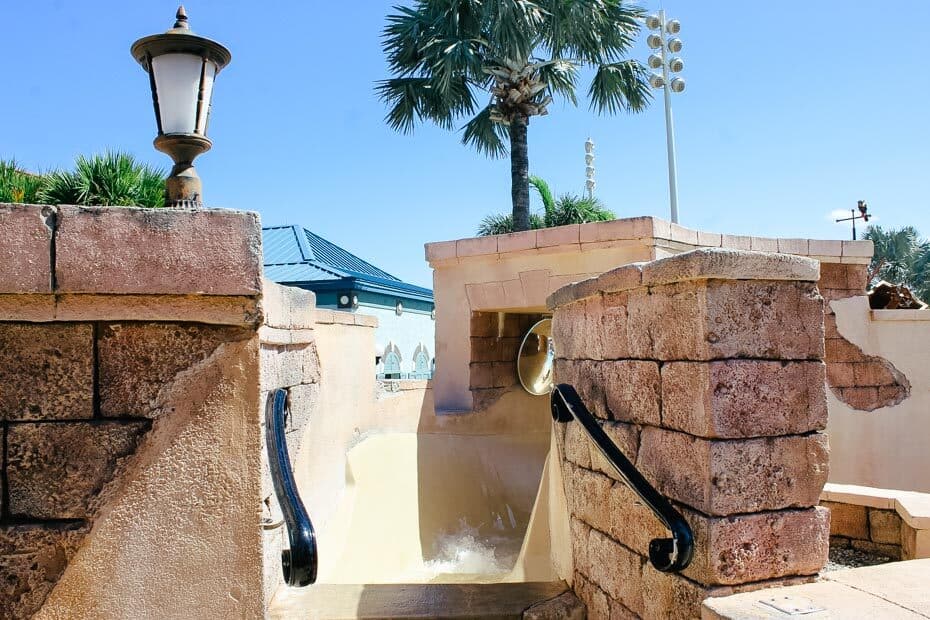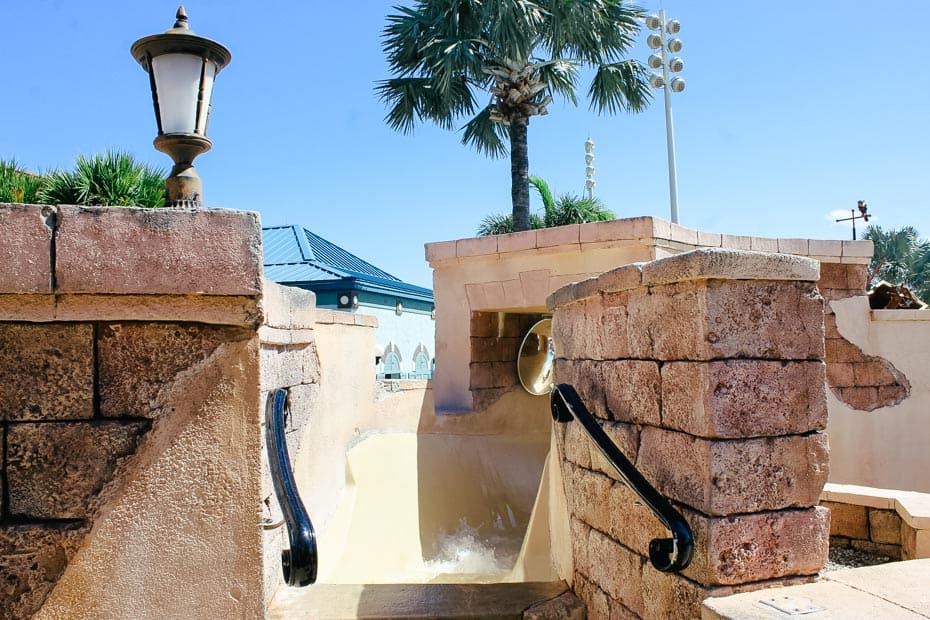 Here is a view of the smaller slide from the exit. You can tell it has one small bend at the top, and then it continues straight down. I feel like this slide is a nice primer for those who might be a little intimidated by the larger slide.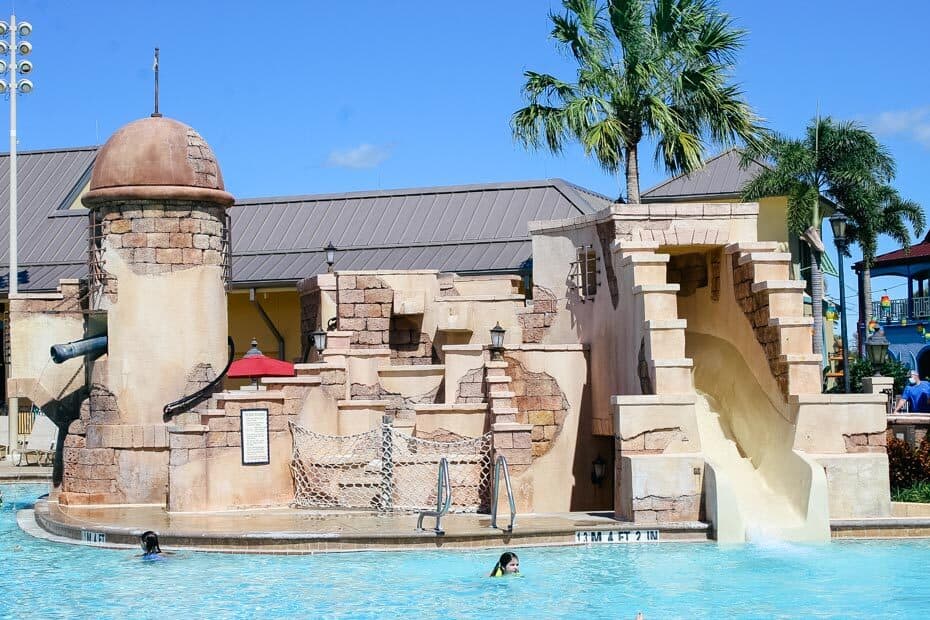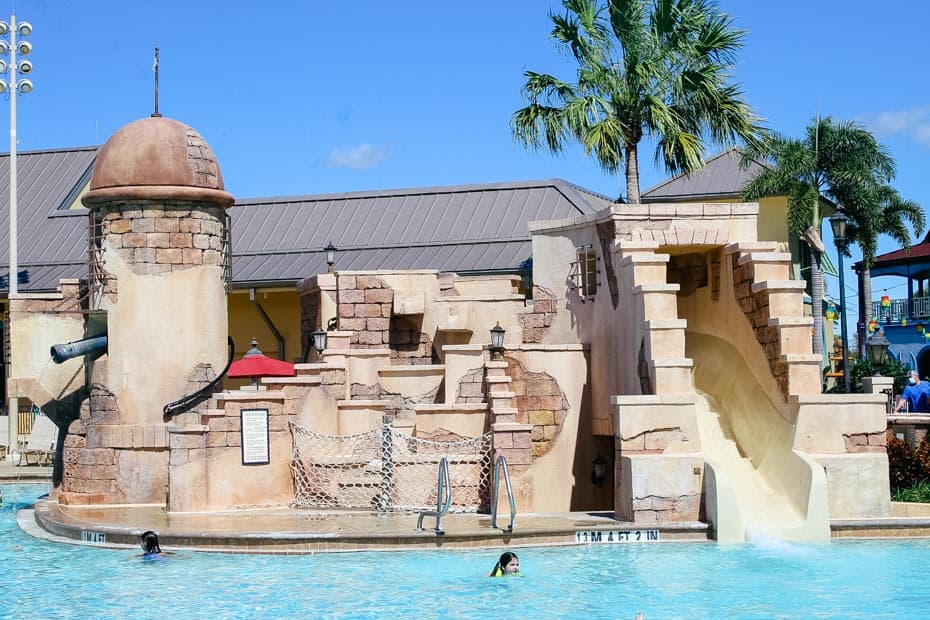 Several cannons are peeking out in various places around this Caribbean Beach pool with water spray elements.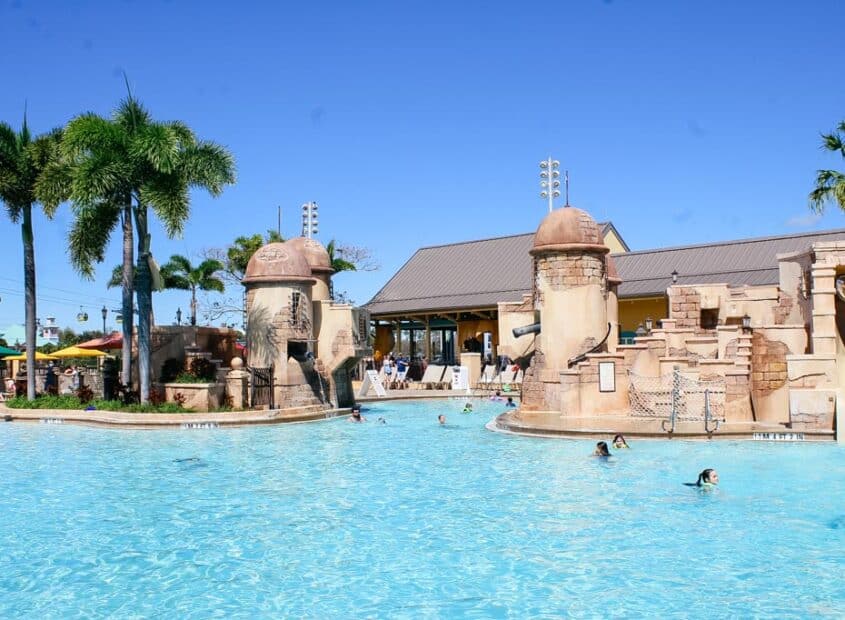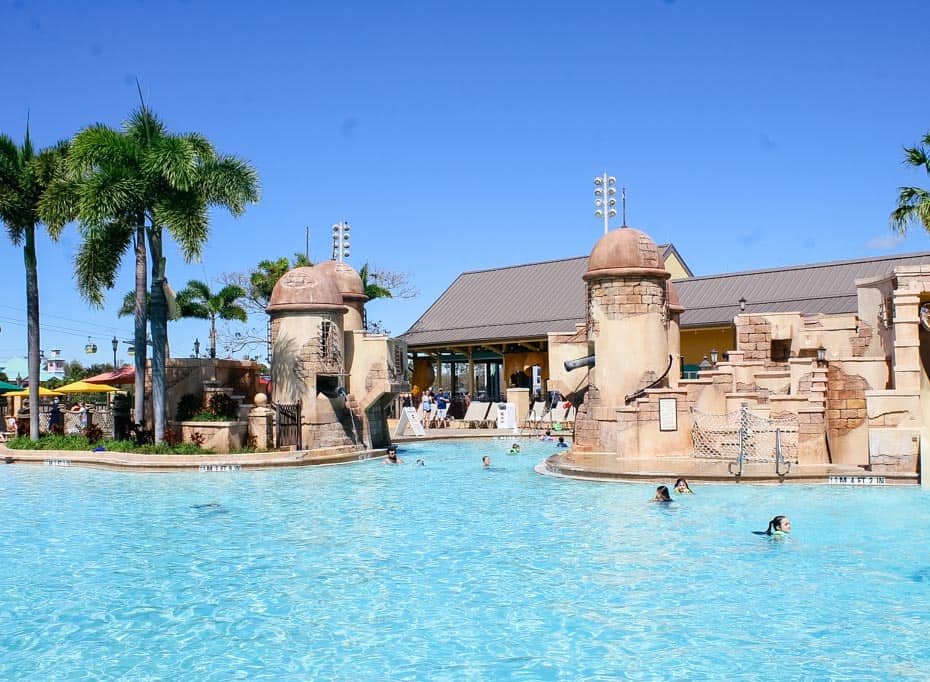 Here is the walk up to the larger of the pools. Naturally it's a few more steps up.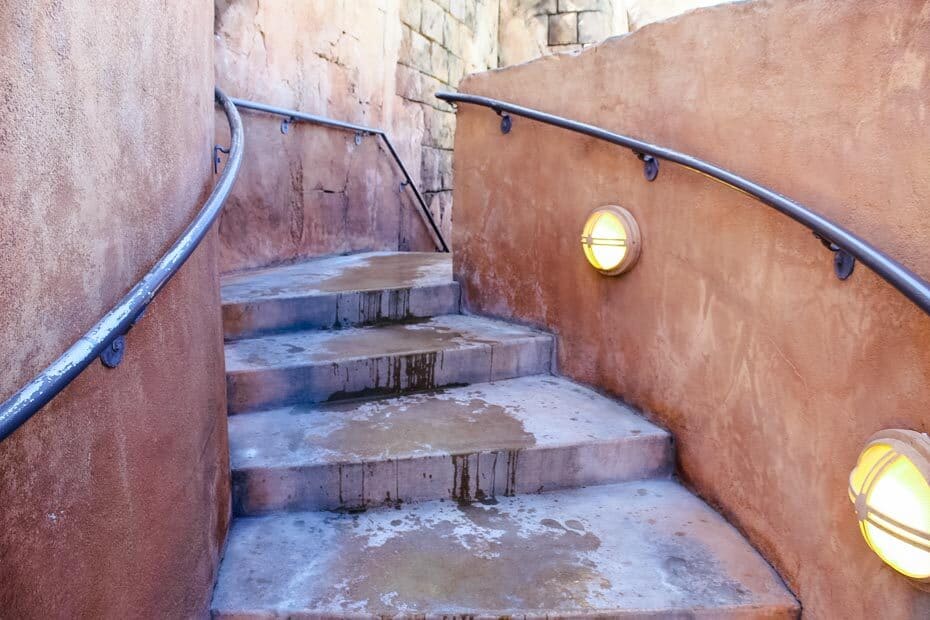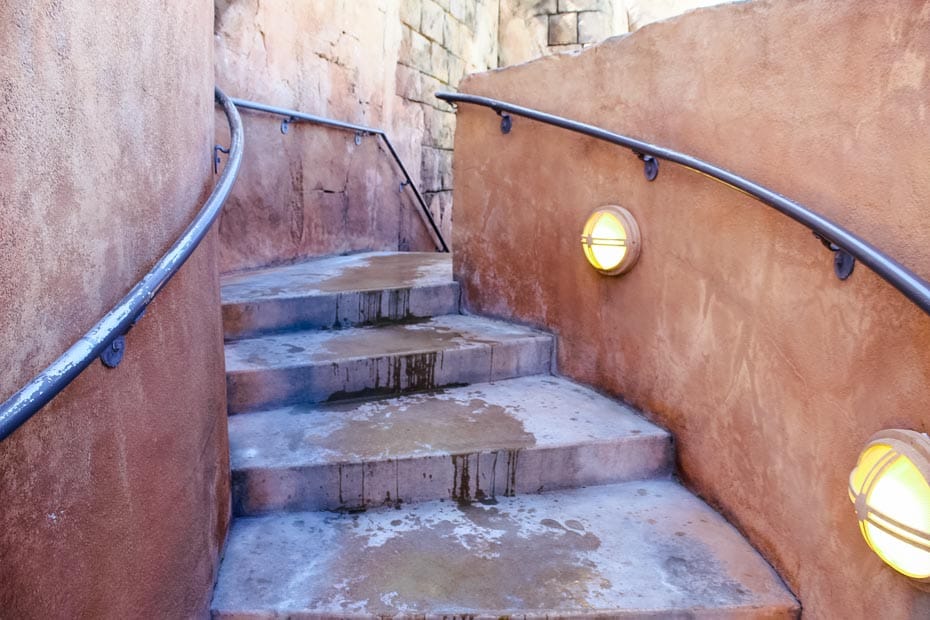 At the top, there is a bit of an overlook and a few slide rules. You'll need to wait for the light to change green for your turn on the slide.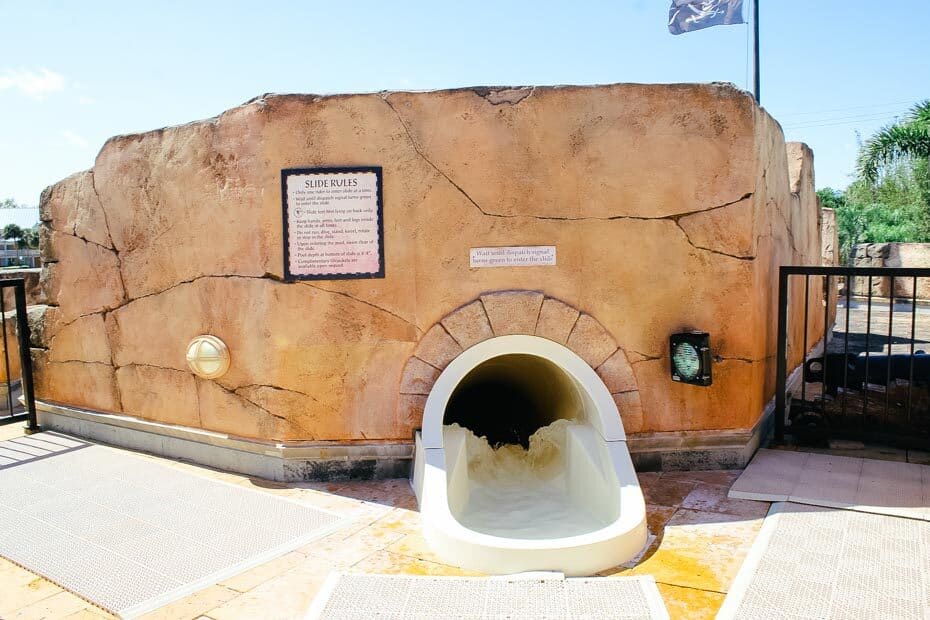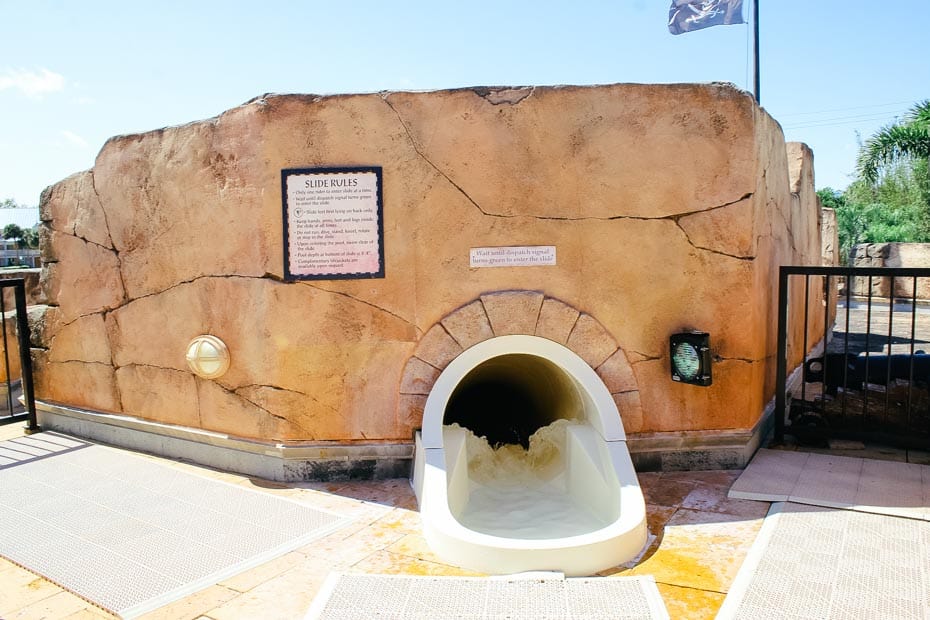 And here is where it dumps back out into the Fuentes del Morro pool.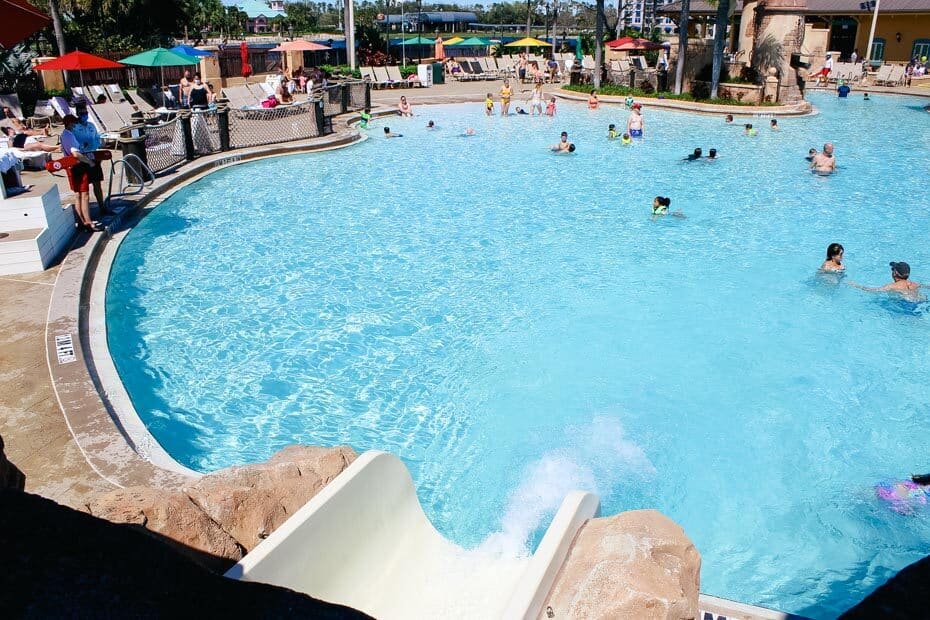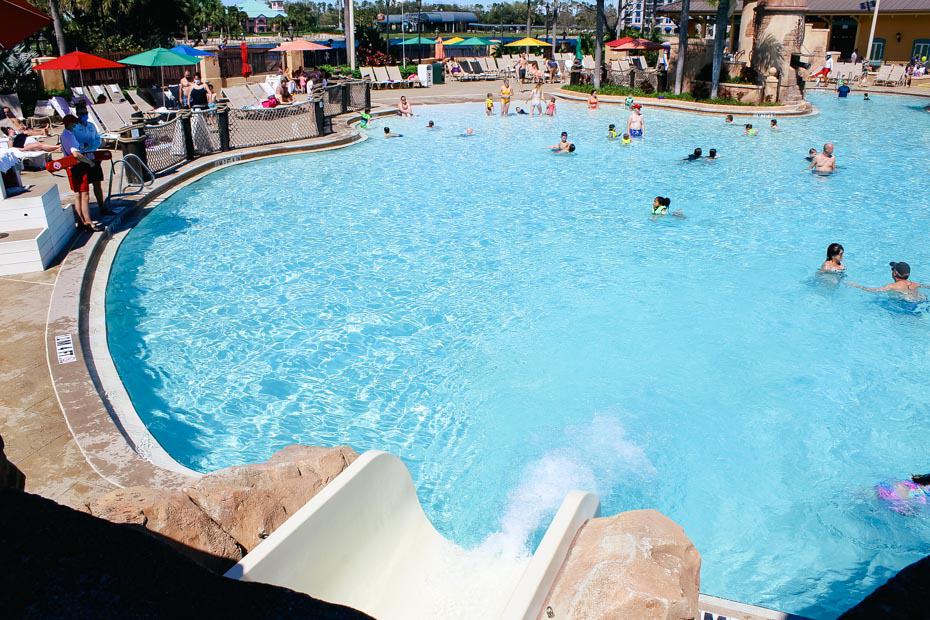 Another view from the opposite side. This one goes through a tunnel on the way down.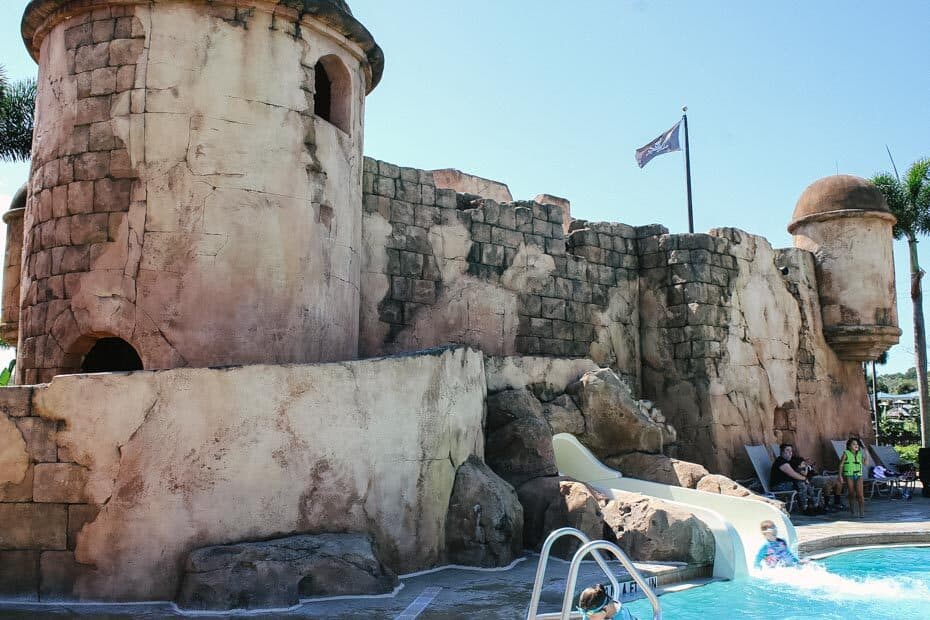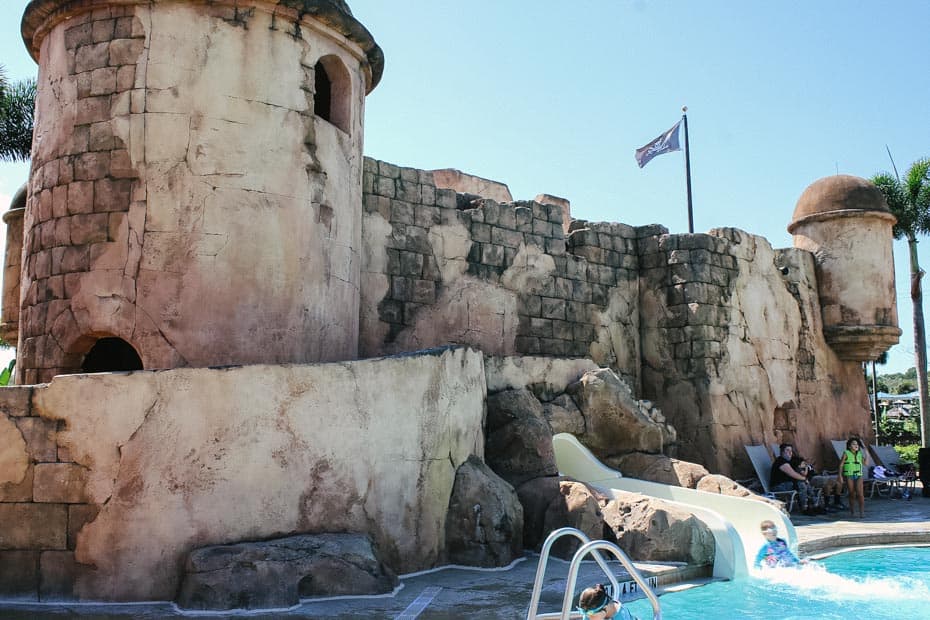 Caribbean Beach has one of the most popular pool areas at Disney. I have an upcoming article for the best pools at Disney World that I'll link back to here. It will be listed somewhere in the top five of my total ten picks.
Spoiler, the Stormalong Bay Pool at the Beach and Yacht Club will be number one.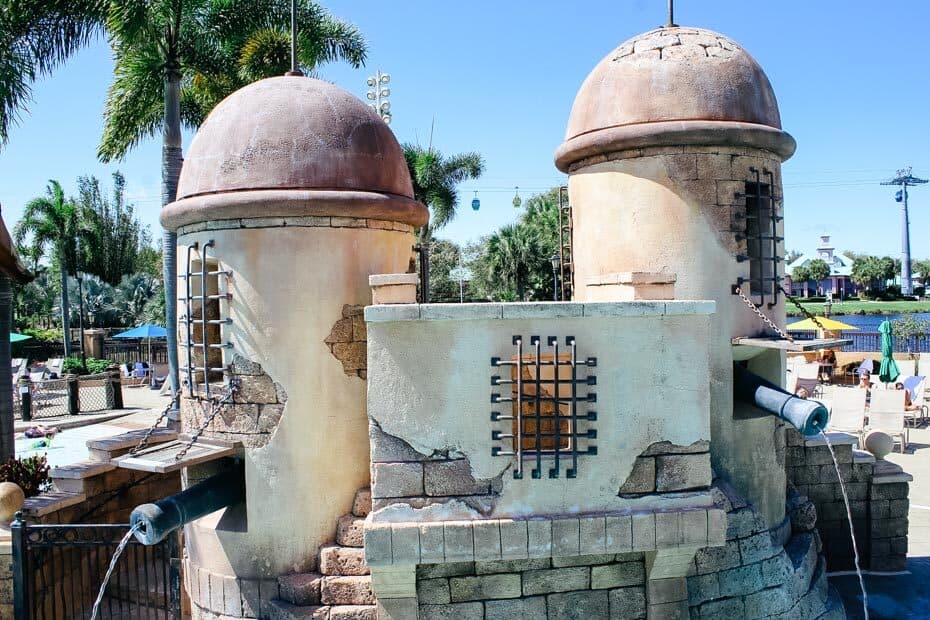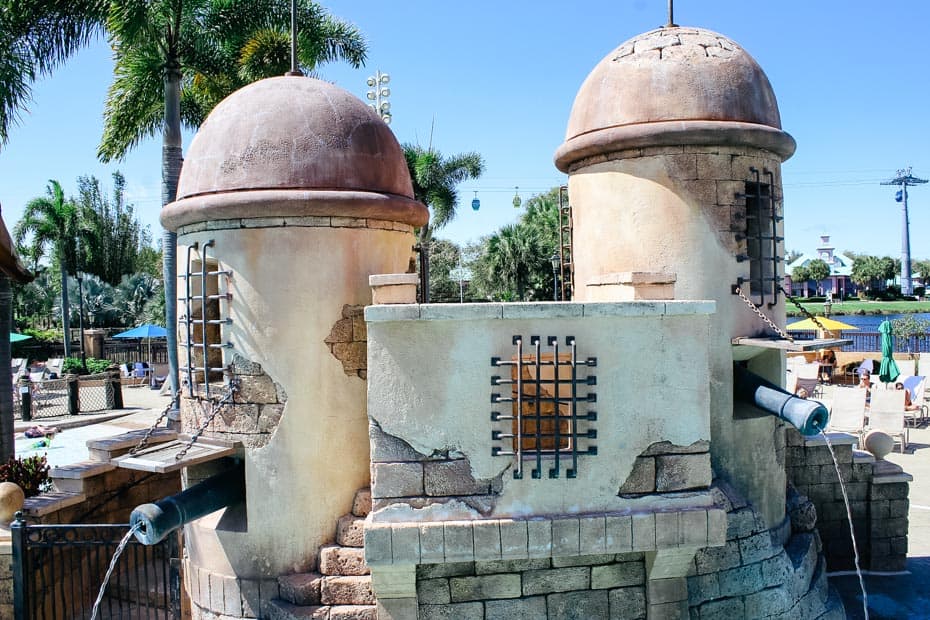 Since I am a Resorts Gal, I recommend spending a full resort day at the pool during your Disney vacation. Even if you're not "pool people," it's so pleasant to find a quiet spot in the shade or sun and relax.
There are plenty of seating areas spread out around the feature pool at Caribbean Beach. But you can expect it to be fairly busy when the weather is warm, which is a good 95 percent of the time in sunny Florida.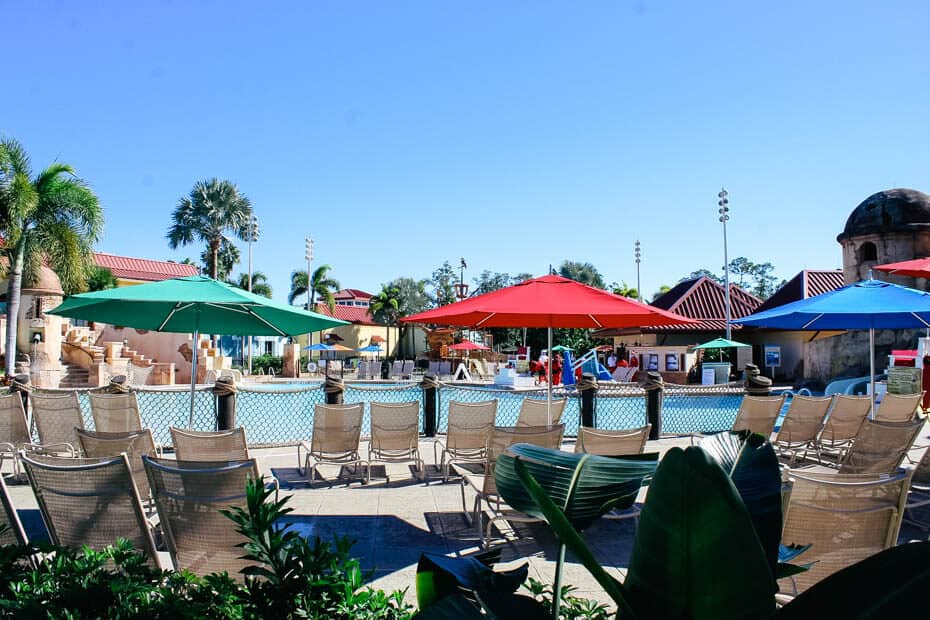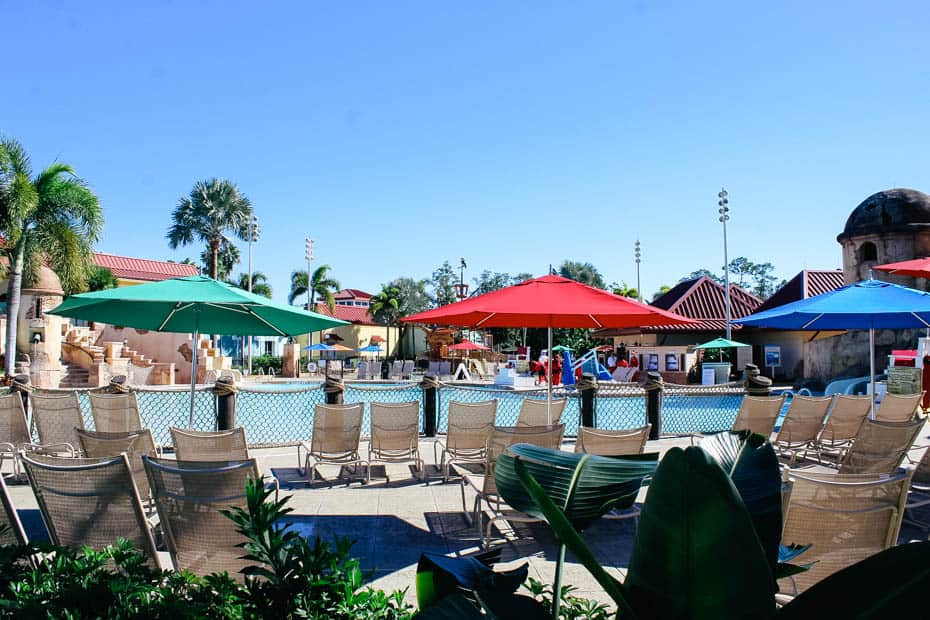 So a pool picture like the one below is only typical on one of those unseasonably chilly days. Or maybe before the pool opens? I'm usually not up and going that early in the morning.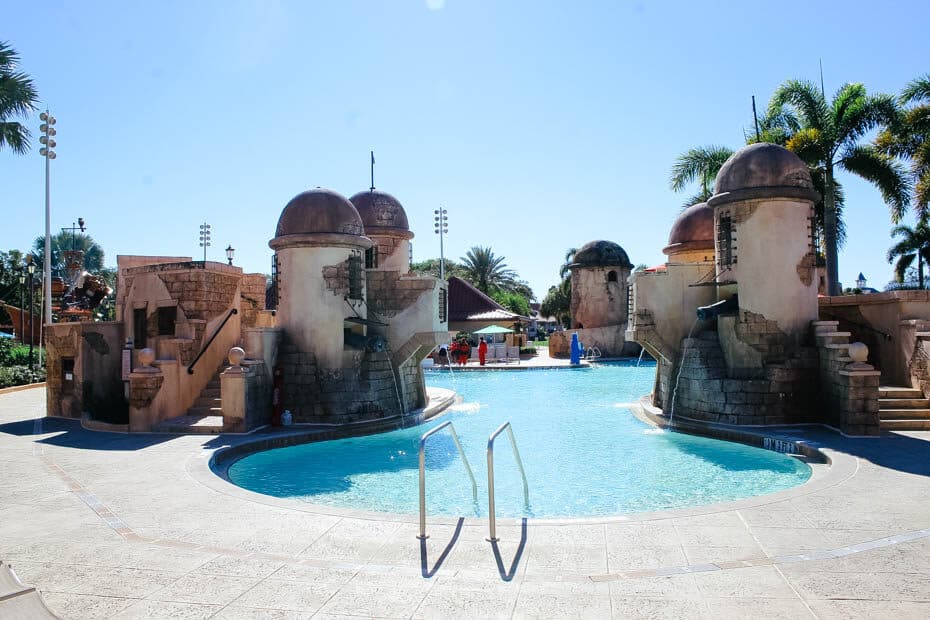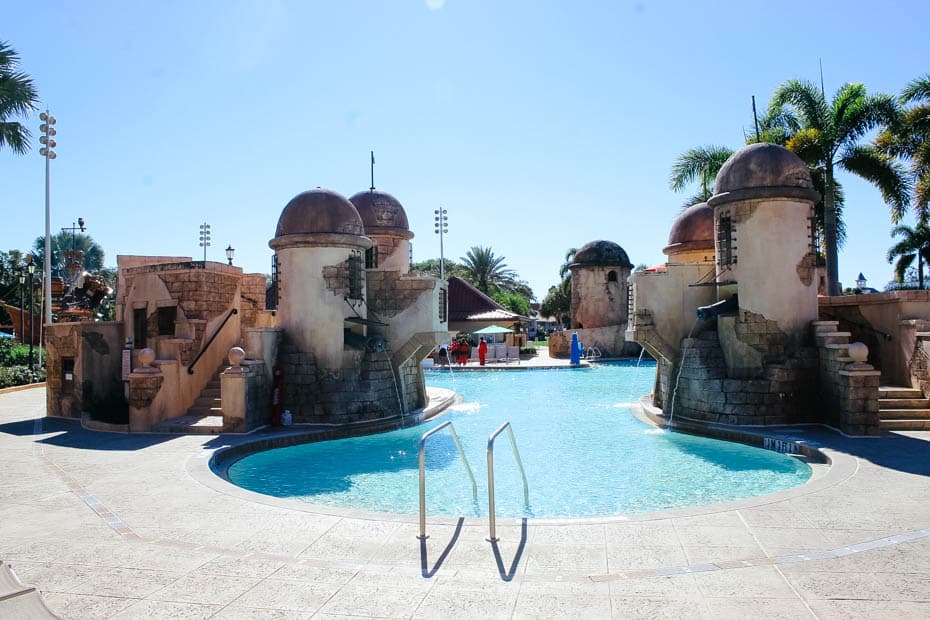 The Shipwreck water play area sits adjacent to the Fuentes del Morro Pool. This fun spot is available for children who are 48″ or less in height.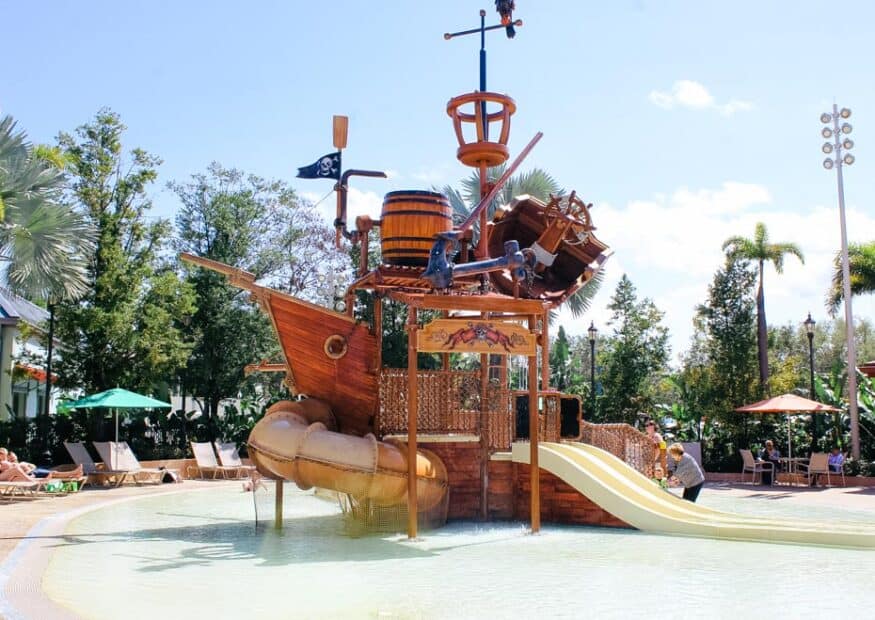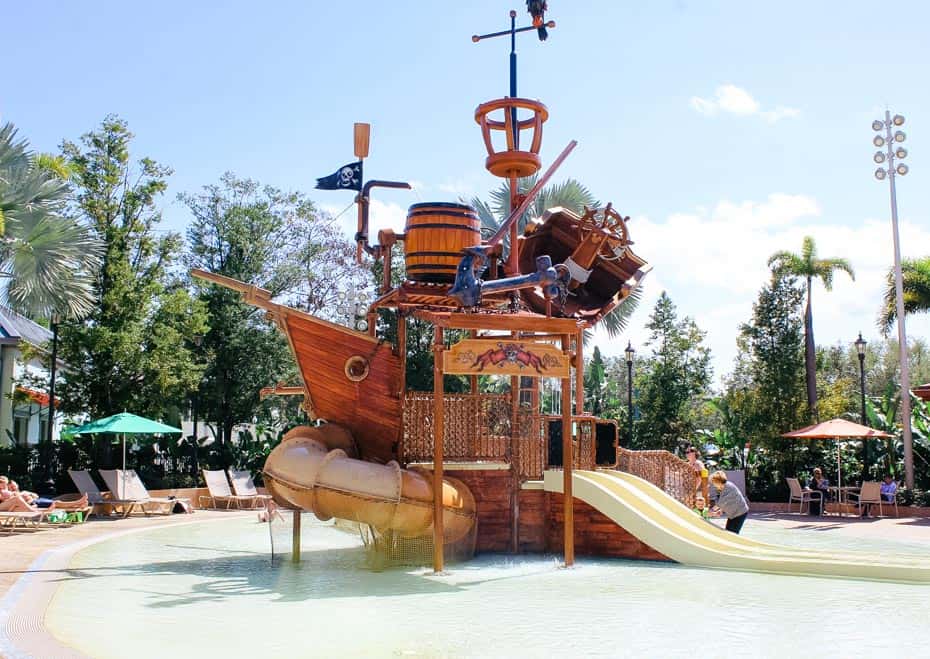 It has several mini-slides, a crow's nest, and a barrel that releases a torrential downpour every so often. You might find it similar to the Alice and Wonderland aquatic area at the Grand Floridian pools.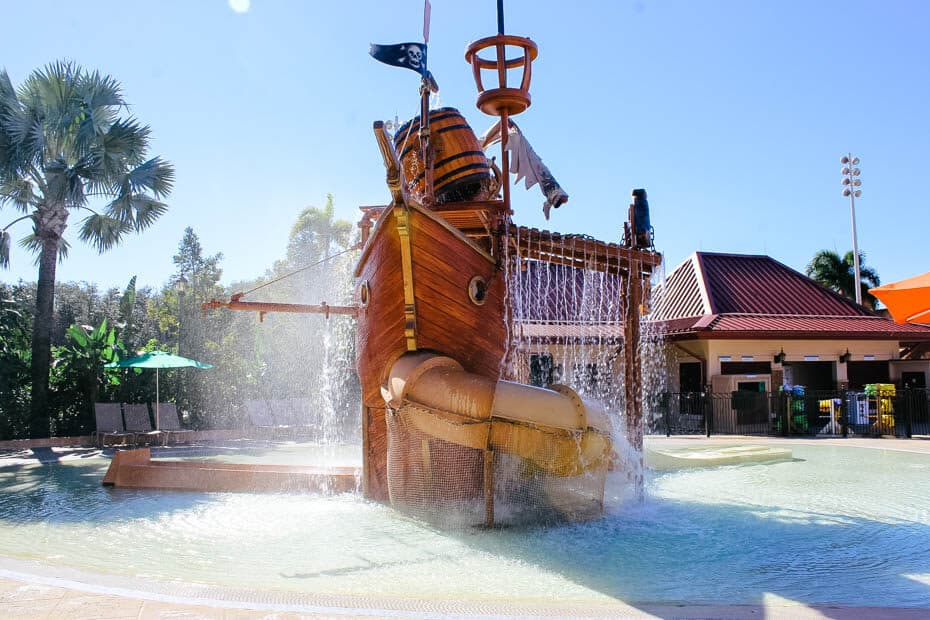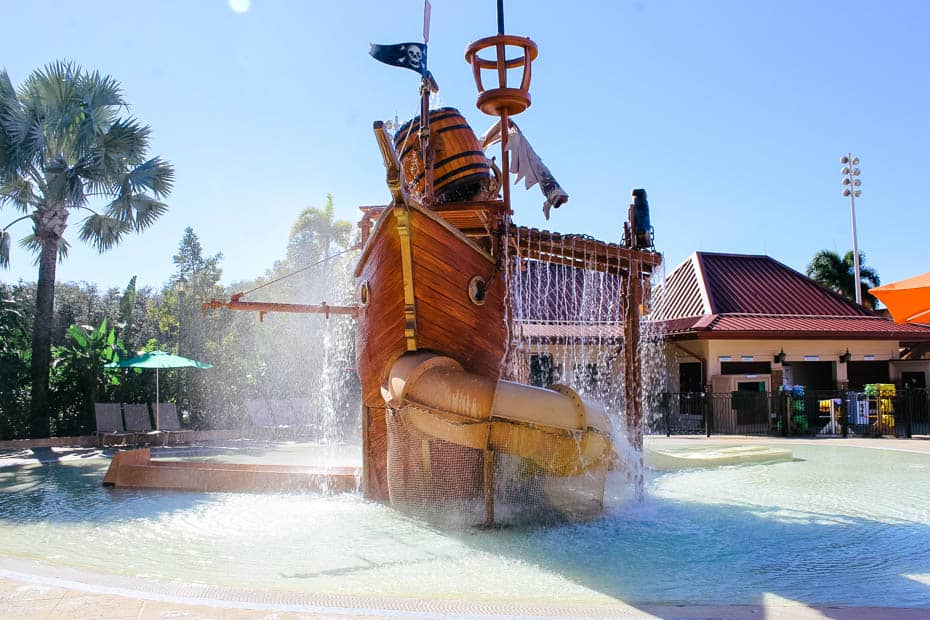 Additionally, the pool area has towels and life jackets available for guests at no extra charge. And they have a large spa that seats up to 12 guests sits on the opposite side of the pool.
Banana Cabana pool bar is across the walkway from the pool. This large, open air bar serves as Caribbean Beach's pool bar and lounge.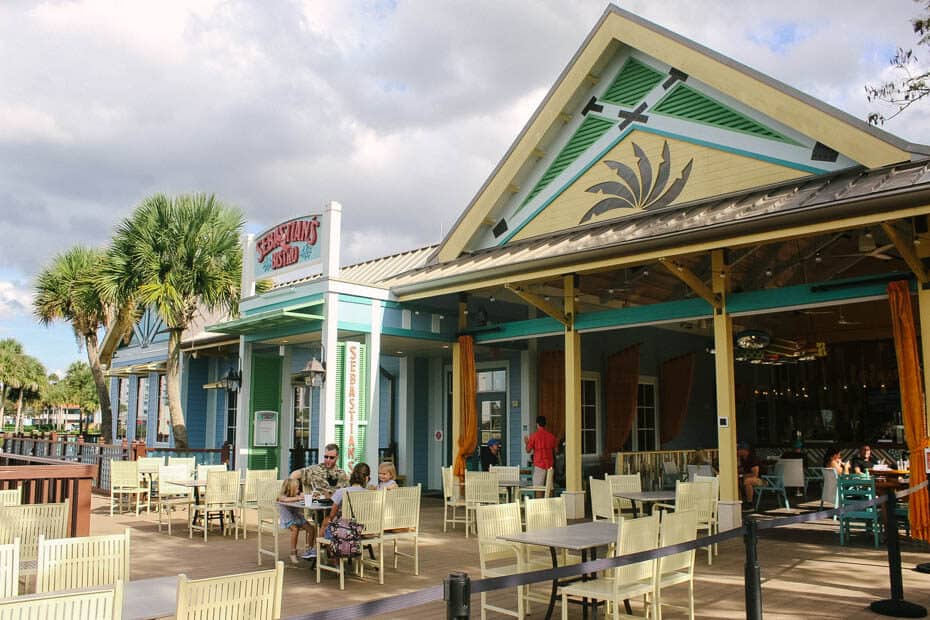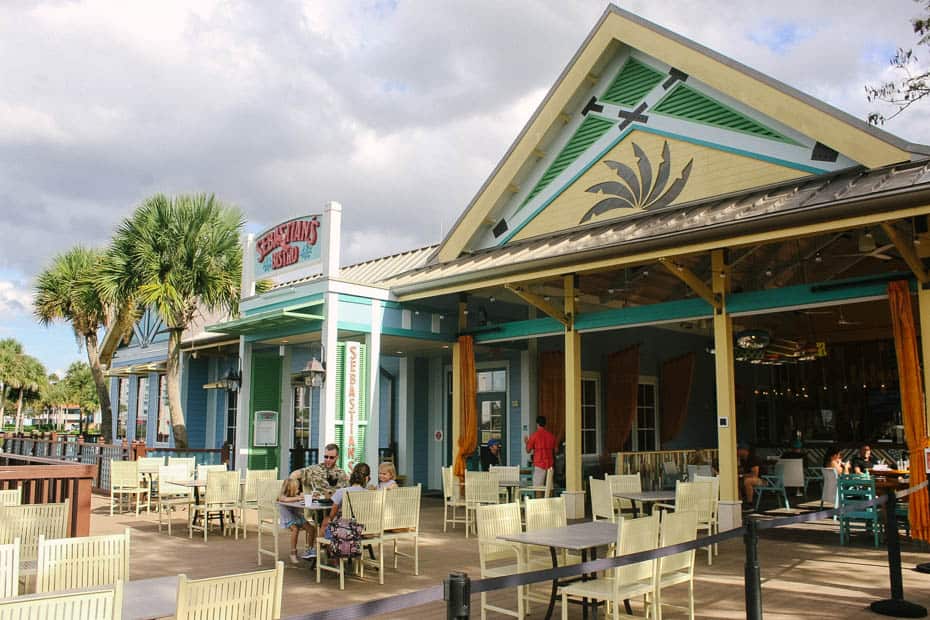 There is a walk-up area for guests of the pool to order from the bar's right side.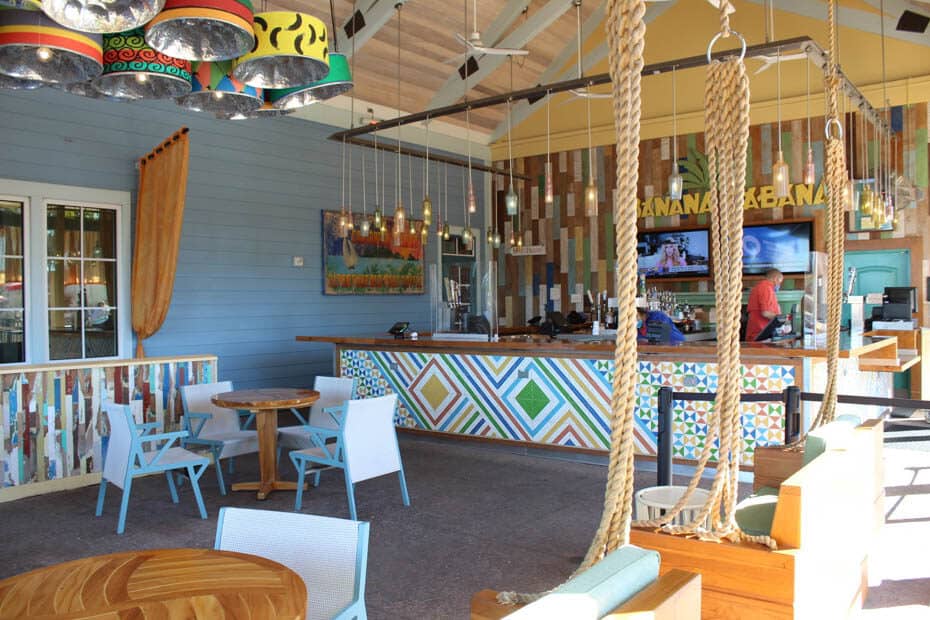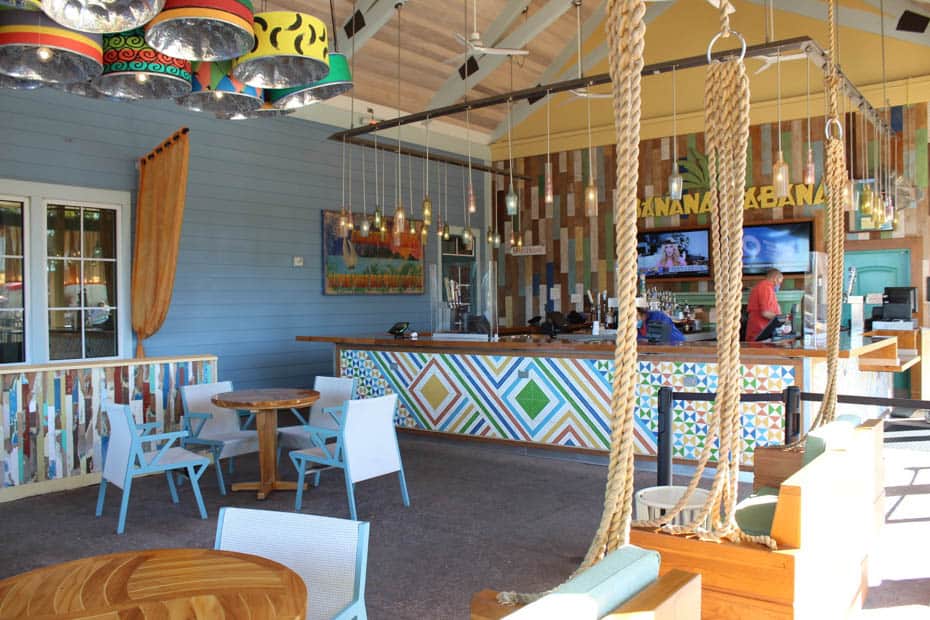 Moving on, we'll take a look at a few of the quiet pools at Disney's Caribbean Beach. The one below sits outside the Aruba section.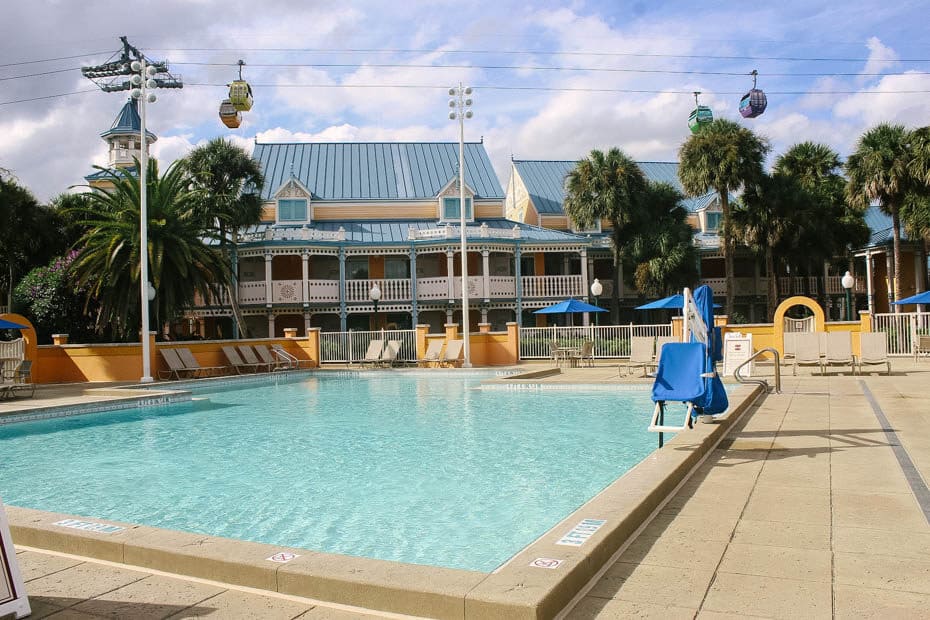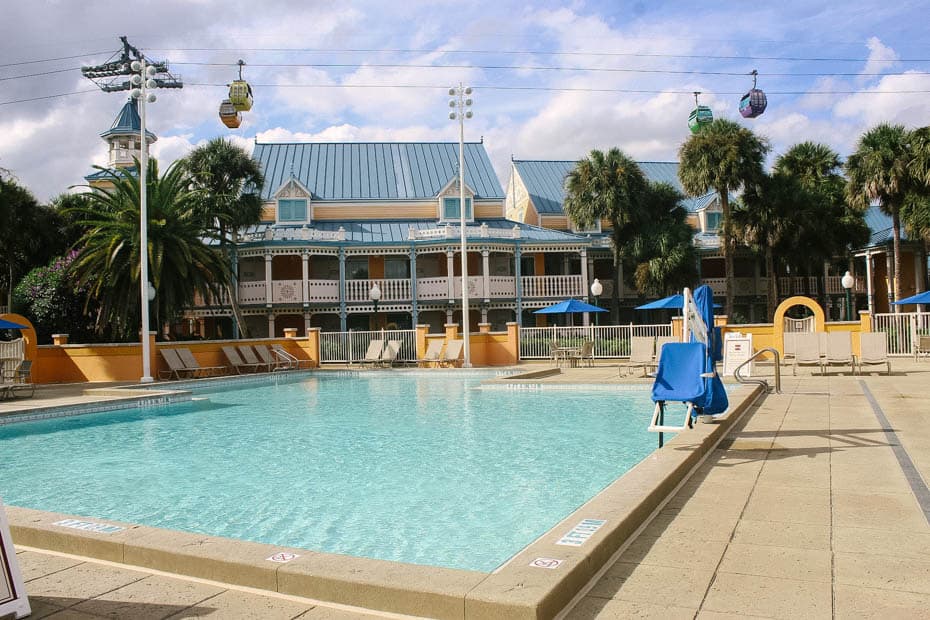 All five of the quiet pools are large and provide plenty of lounging area around them.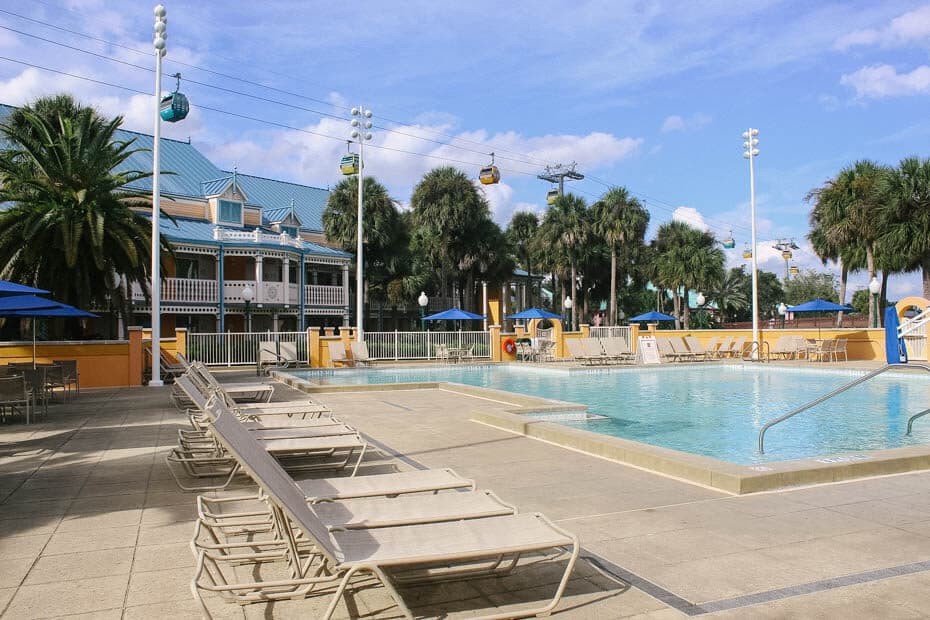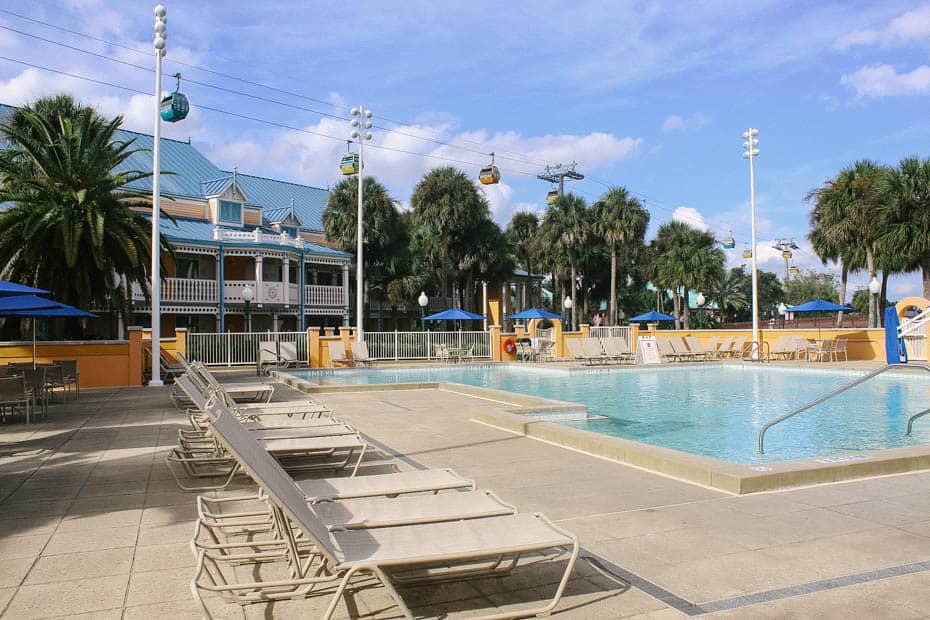 Additionally, each of these pools has a laundry room. During our stays on the property, I've nearly always taken advantage of a little pool time while I've caught up on laundry.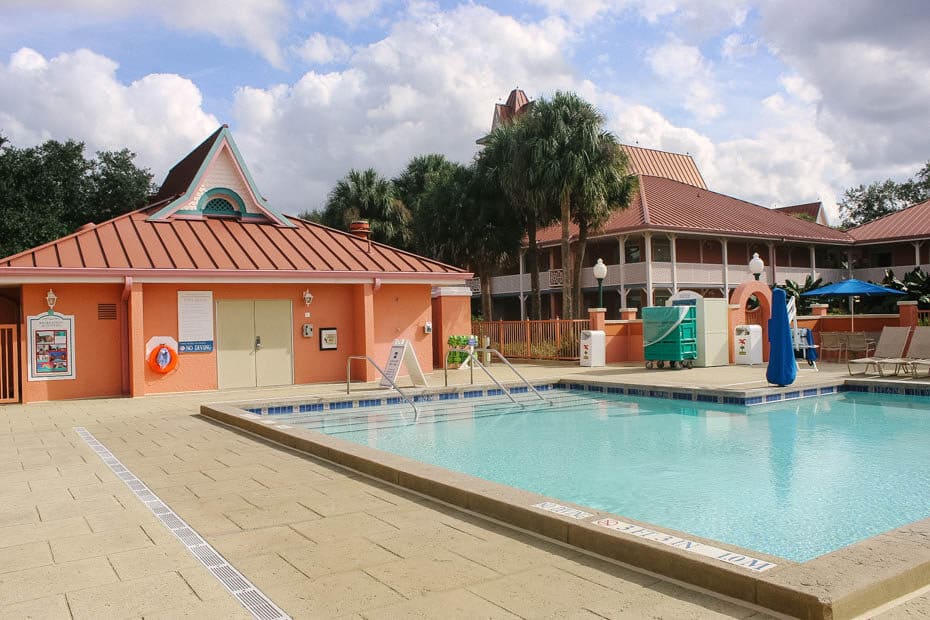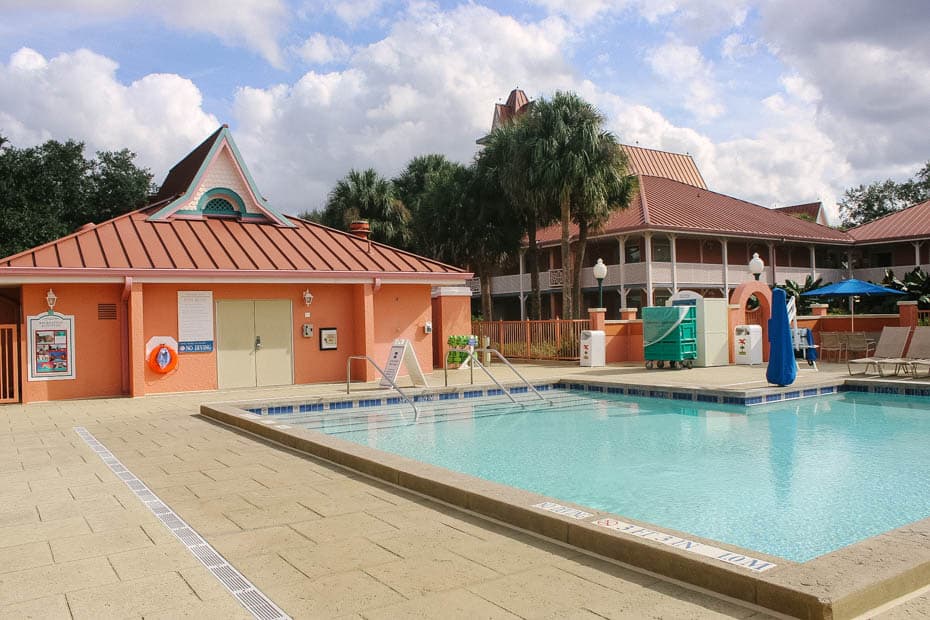 There are plenty of washers and dryers available. We usually like to put a load of clothes in the washer and then grab a meal to go at one of the resort's counter service dining options. After that, we'll have a late lunch or early dinner out by the pool while our laundry finishes up.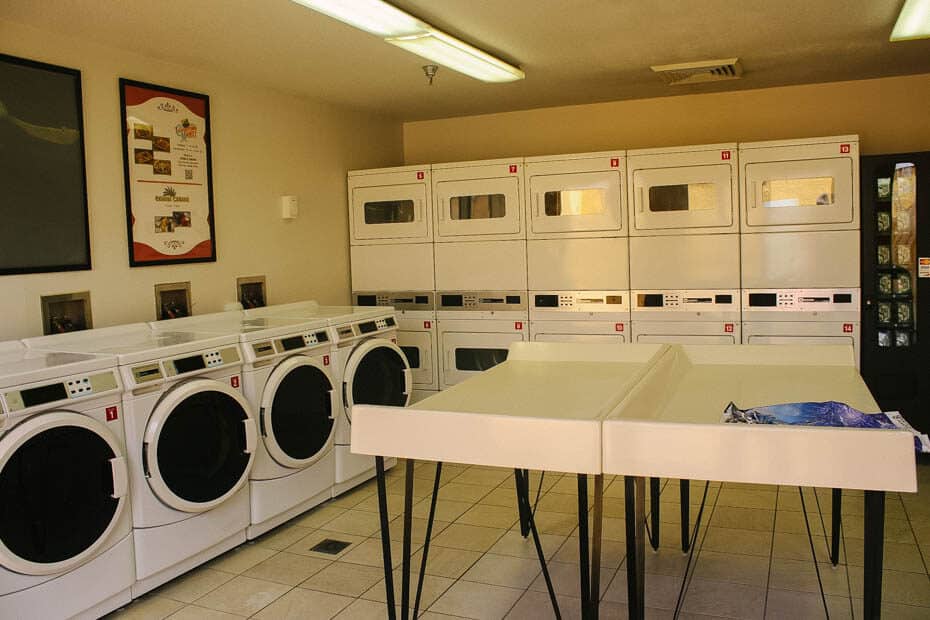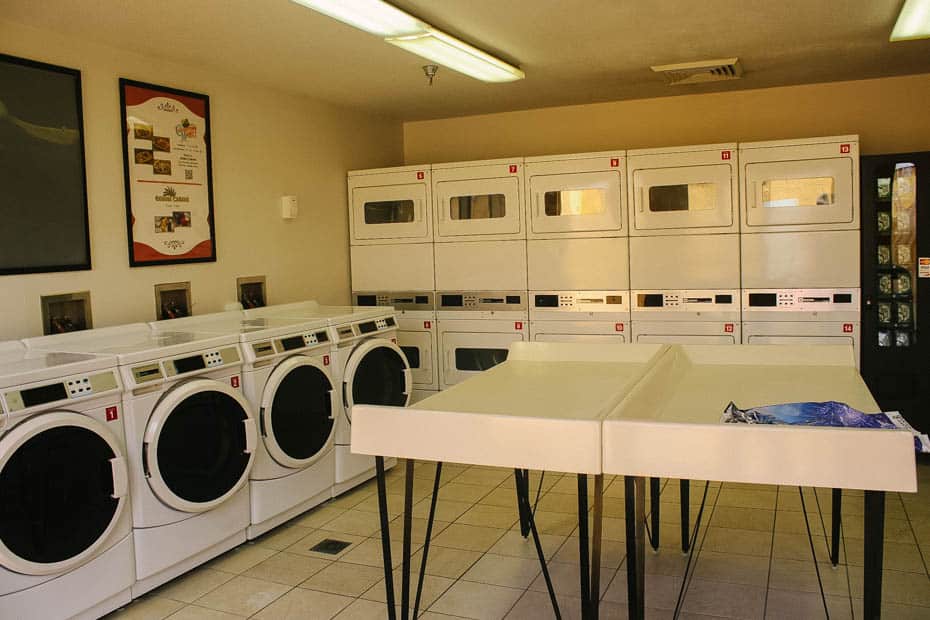 If swimming isn't necessarily your thing,Caribbean Beach is home to several white sand beach areas surrounding their lake, Barefoot Bay. You'll find plenty of sand, hammocks, and lounge chairs to enjoy the different areas.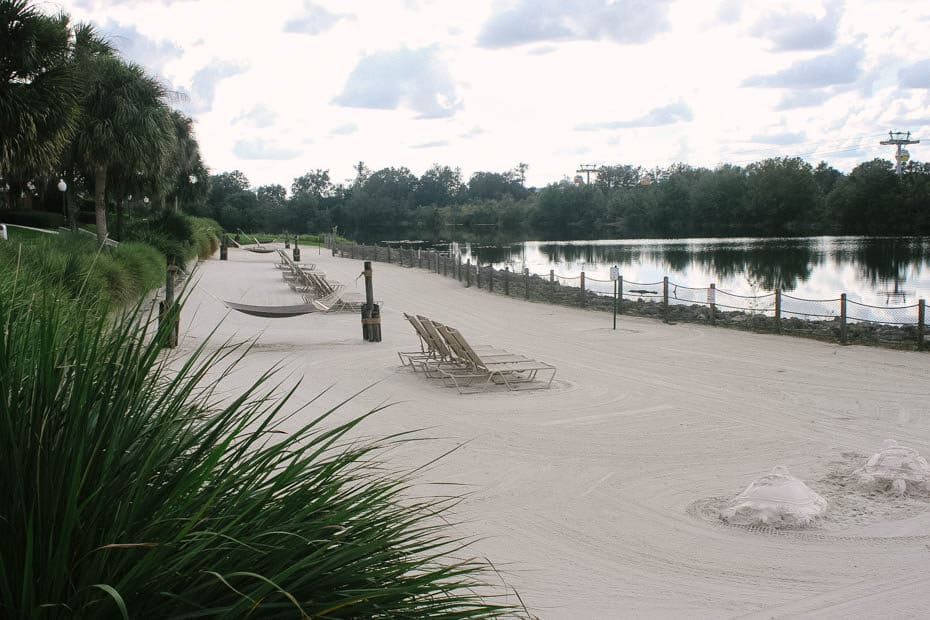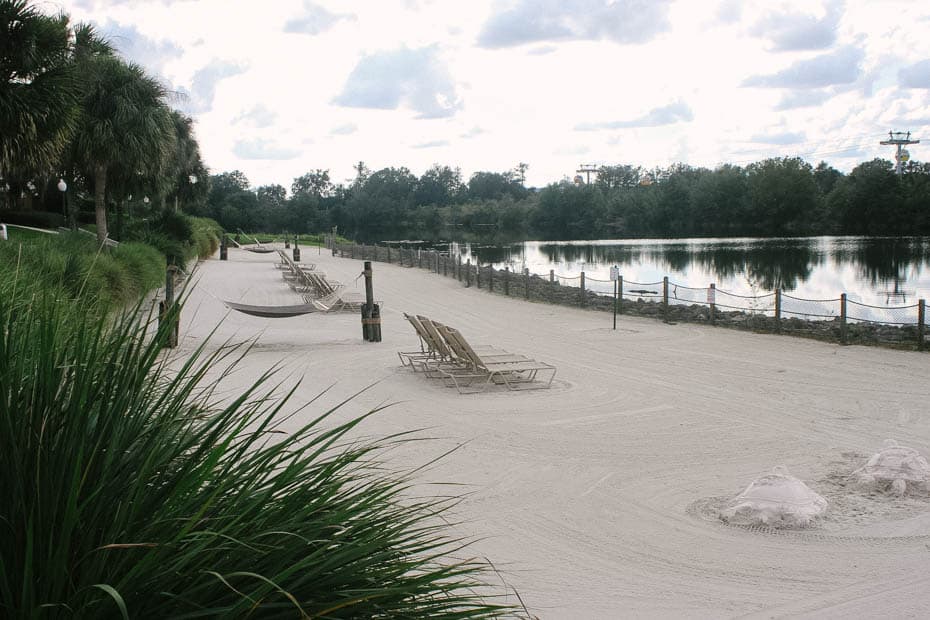 All of the views are enjoyable, and it's fun to watch the Disney Skyliner creaking by in the distance. I say creaking because it does make a bit of noise as it passes. You can read all about the Skyliner and travel times here if you need to learn more before an upcoming trip.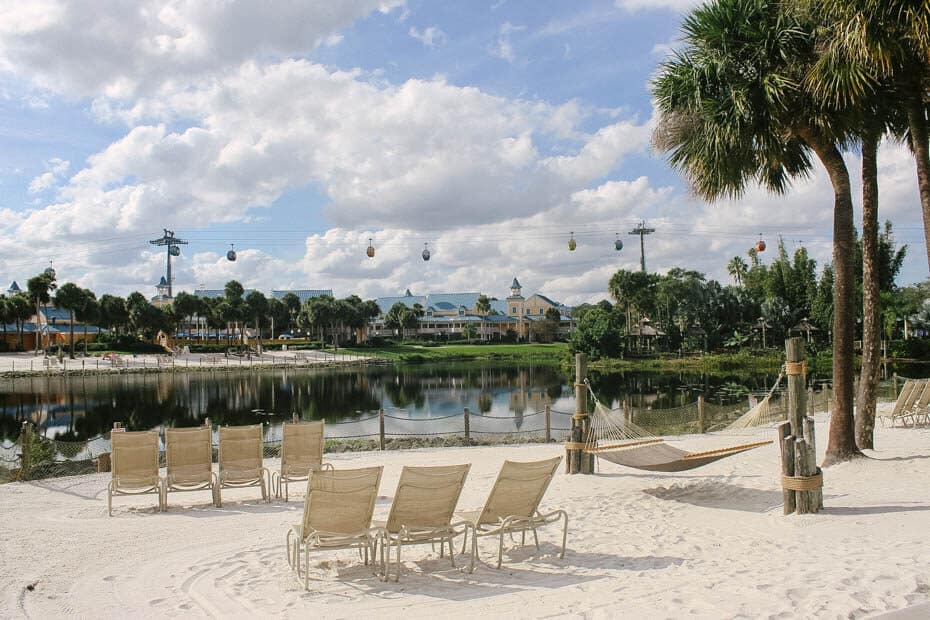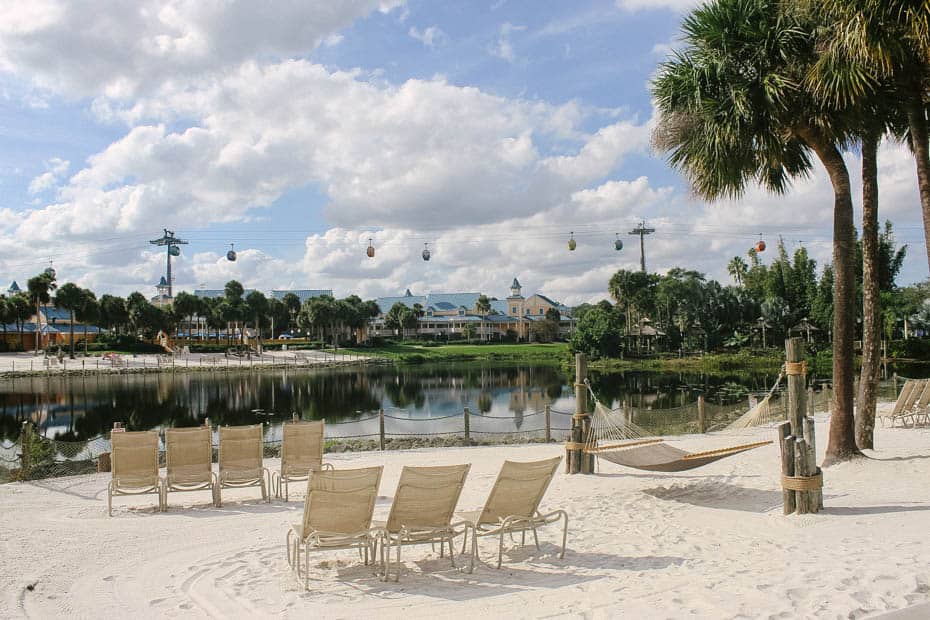 Volleyball nets are available in several places along the beaches of the resort.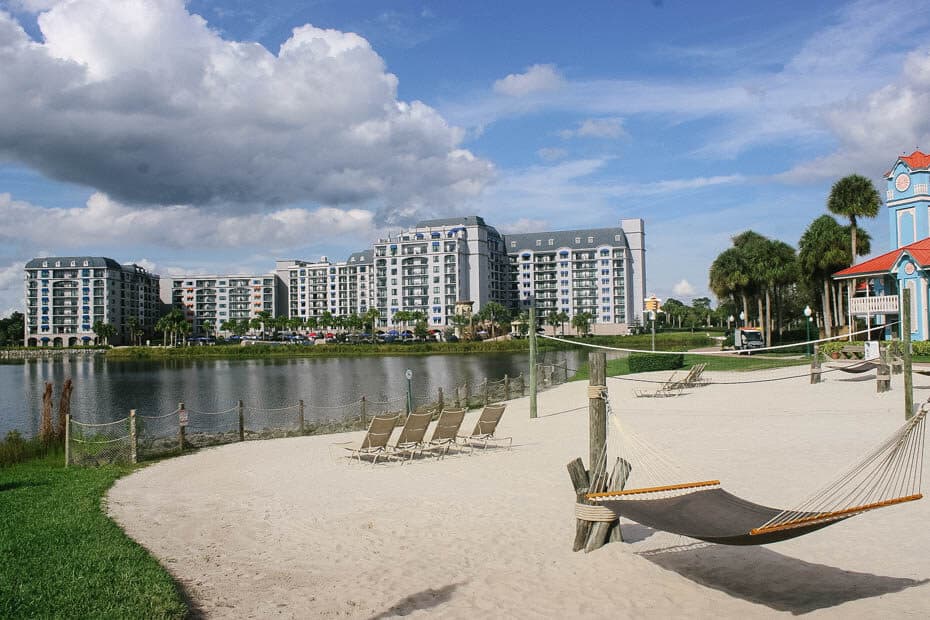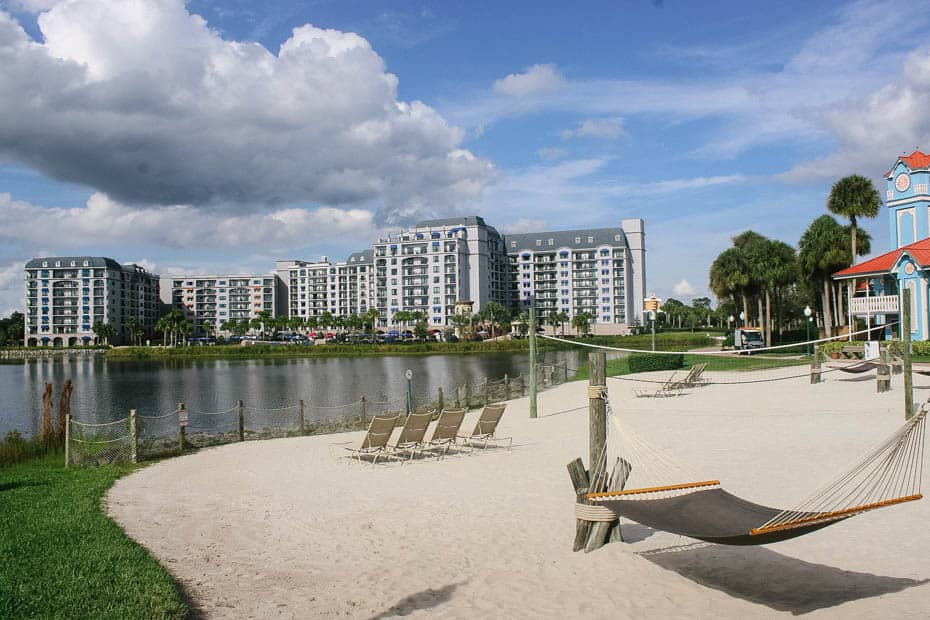 Caribbean Beach is a simply charming Disney moderate resort with scenic views, fun recreation, and wonderful pool areas. Whether you want to be in the middle of the fun or find a private spot with a view to relax, there's something here for everyone.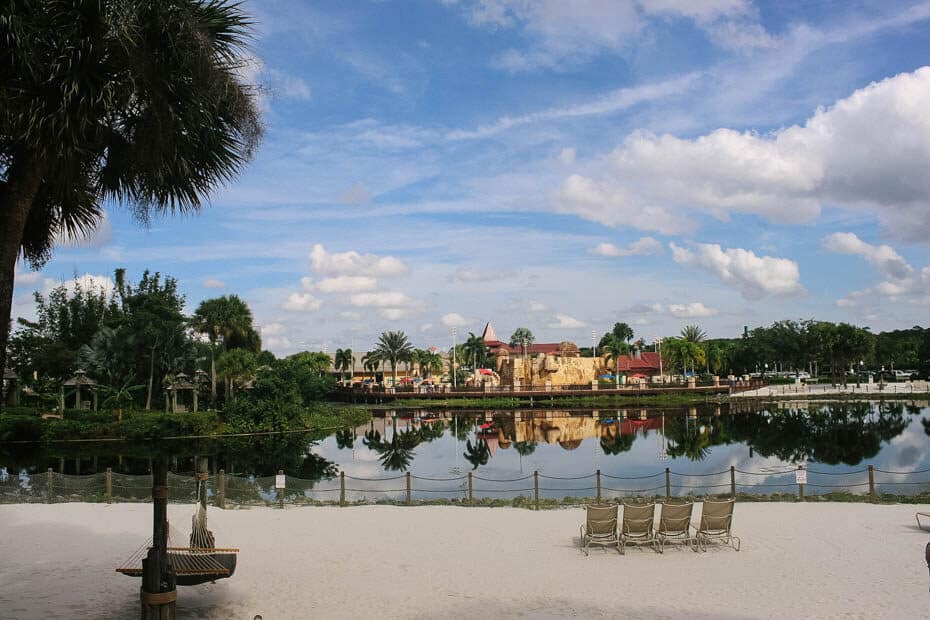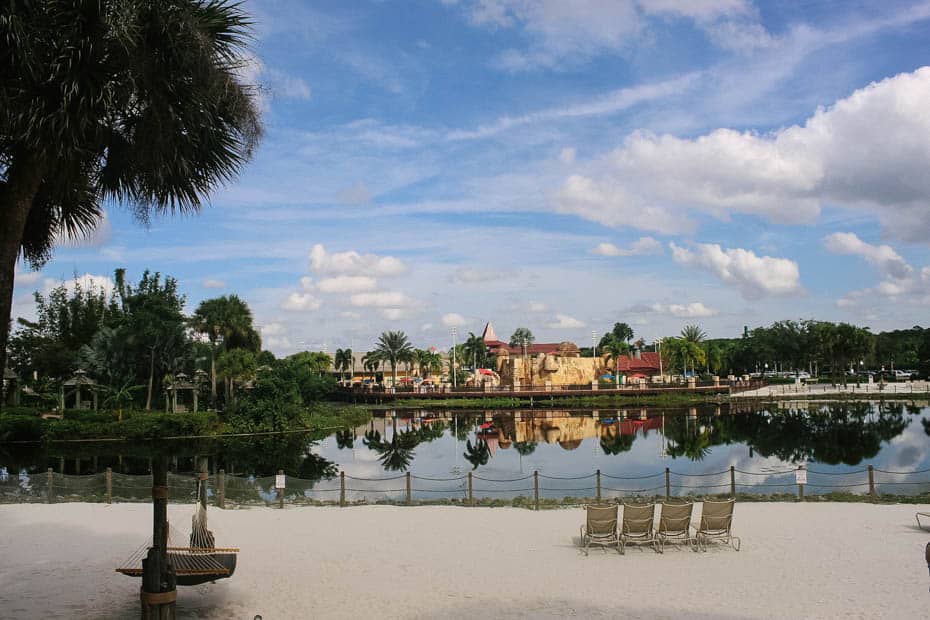 For those considering an upcoming stay, you might want to check out the entire review of Disney's Caribbean Beach. Or browse the entire list of Walt Disney World Hotels.
I imagine that most people reading this might enjoy spending a day at a Disney water park. If that's the case, our Blizzard Beach Water Park Guide will detail everything you need to know.
Additionally, our most popular reviews on the site include the Best Restaurants at Disney Springs and our updated list of Loungefly Disney backpacks.
Related: Best Pools at Disney World
Hopefully, this review was able to help you get a good idea of the pools at Caribbean Beach. Feel free to ask any questions or leave a comments with your thoughts.