Centertown Market Review (The Food Court at Disney's Caribbean Beach Resort)
Centertown Market is the primary counter-service dining location at Disney's Caribbean Beach Resort. Formerly, this restaurant was known as the Old Port Royale Food Court.
Those of you who visited before the resort's last renovation may remember how the food court was lavishly themed to an outdoor market. It was like something you might find at a Caribbean island's port of call. Unfortunately, like many modern refurbishments, Centertown Market is now a bland place to pick up a meal at the resort.
However, we cannot dwell too harshly on the past. Sooner or later, all the places we know, love or complain about will be redone again. So, for this article, we'll focus on the current state of Centertown Market. We'll discuss what you should expect regarding menu items and preview a few grab-and-go items that were available during our latest stay.
It is also worth mentioning that we've dined at Centertown Market several times over the years. We have found huge improvements in the menu items within the last year or so.
This article was updated on November 19, 2023.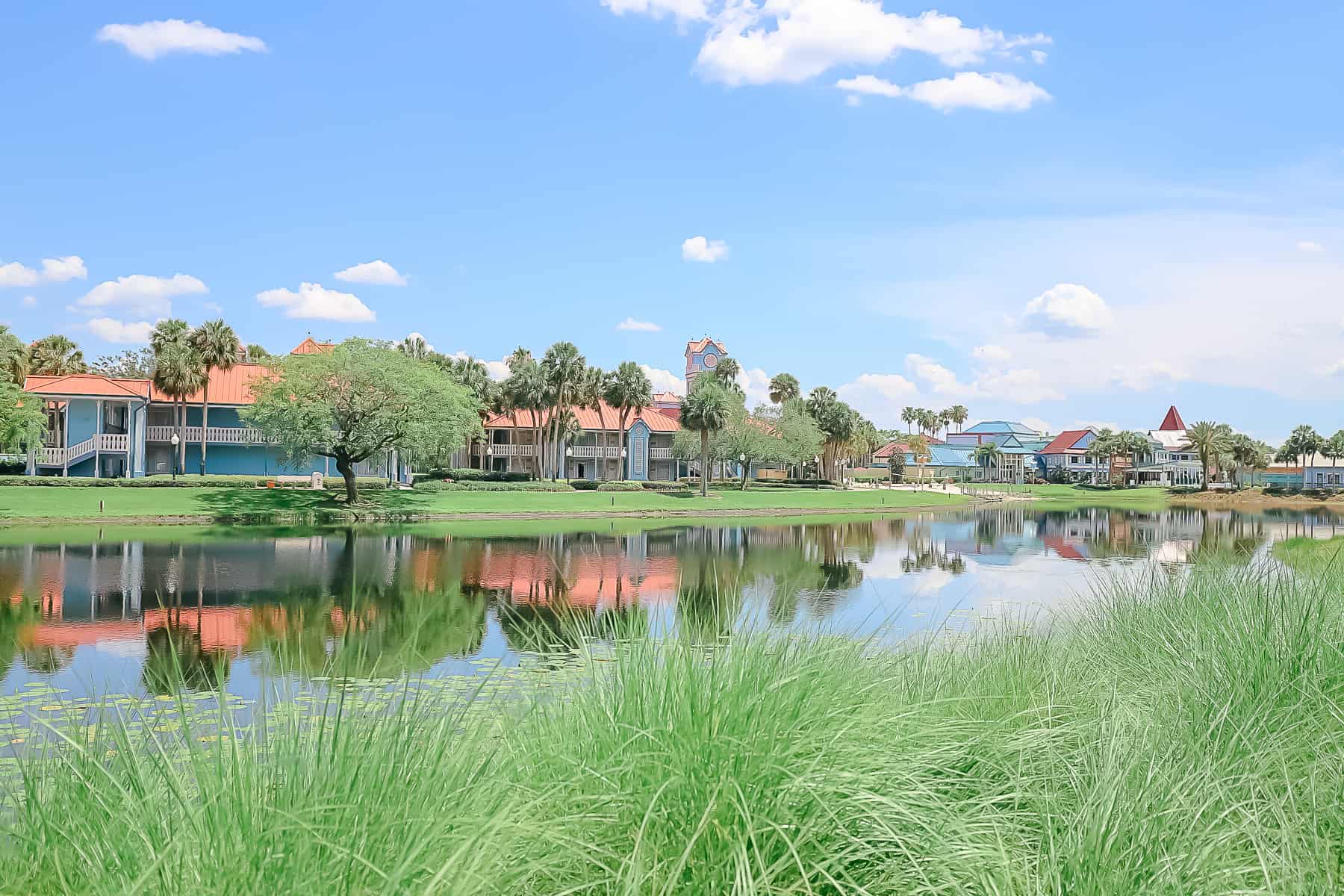 Centertown Market sits adjacent to the resort's lobby in the Old Port Royale section of the resort. Upon entering the quick service, you'll see several windows where you can pick up your order.
Centertown Market serves breakfast daily from 7:00 a.m. to 11:00 a.m. They then serve lunch and dinner between 11:00 a.m. and 11:00 p.m.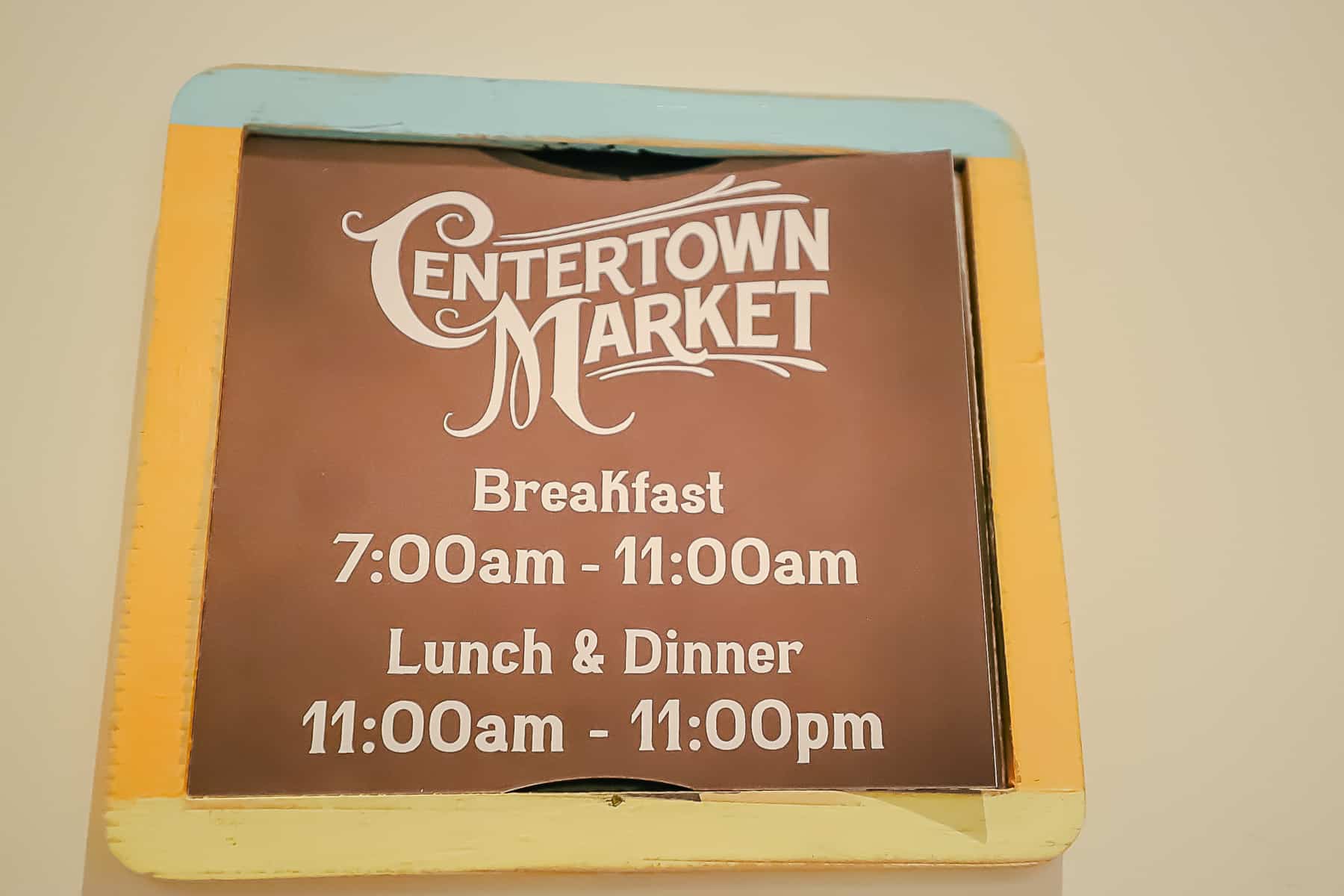 A queue with menus overhead sits to the immediate left of the main entrance. This is where you'll place your order. (Or you can mobile order via the My Disney Experience app if you prefer.)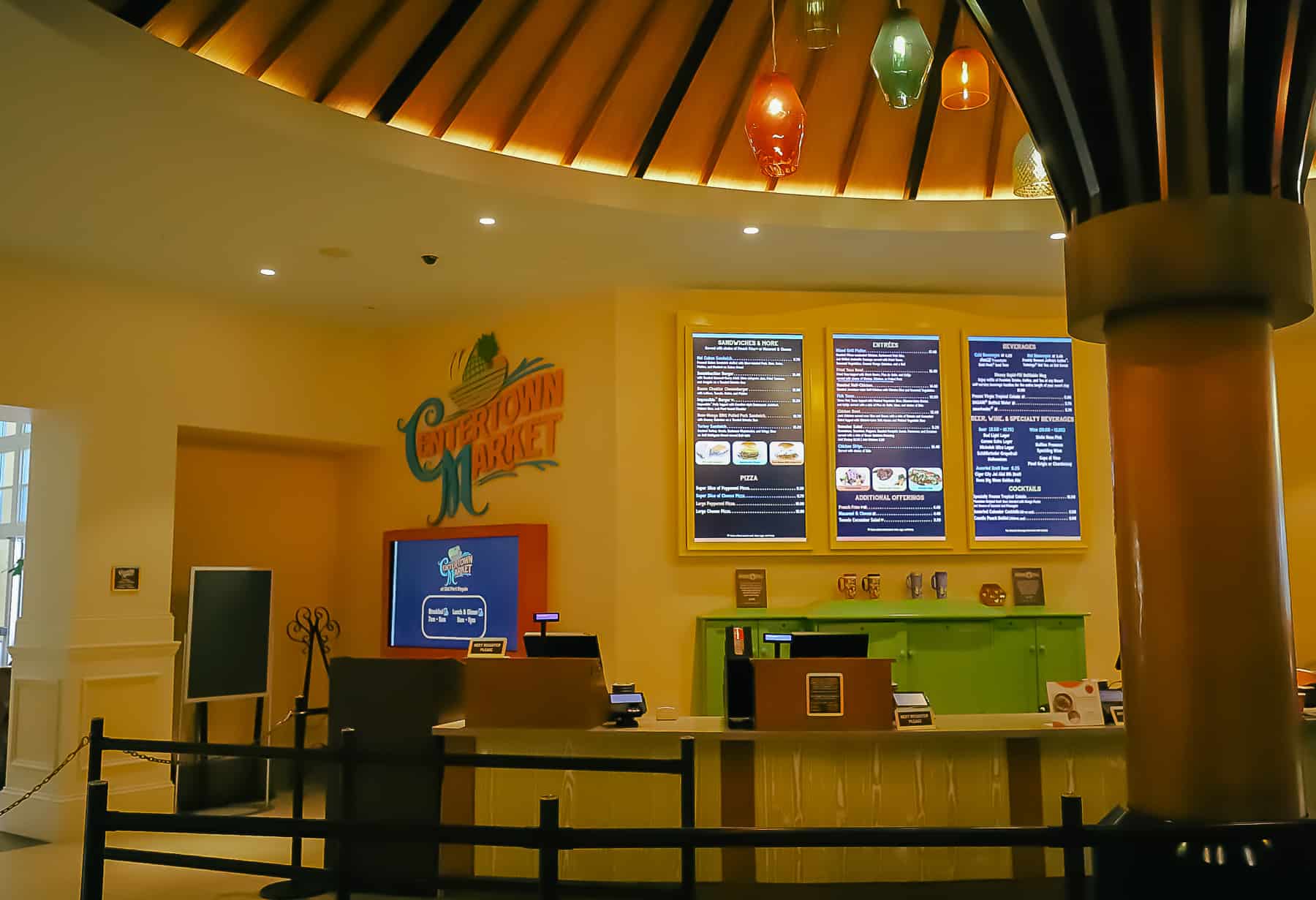 To the right, you'll see the resort's gift shop, Calypso Trading Post. A separately framed area serves as a place to pick up grab-and-go food items. We'll look at those items a little further down.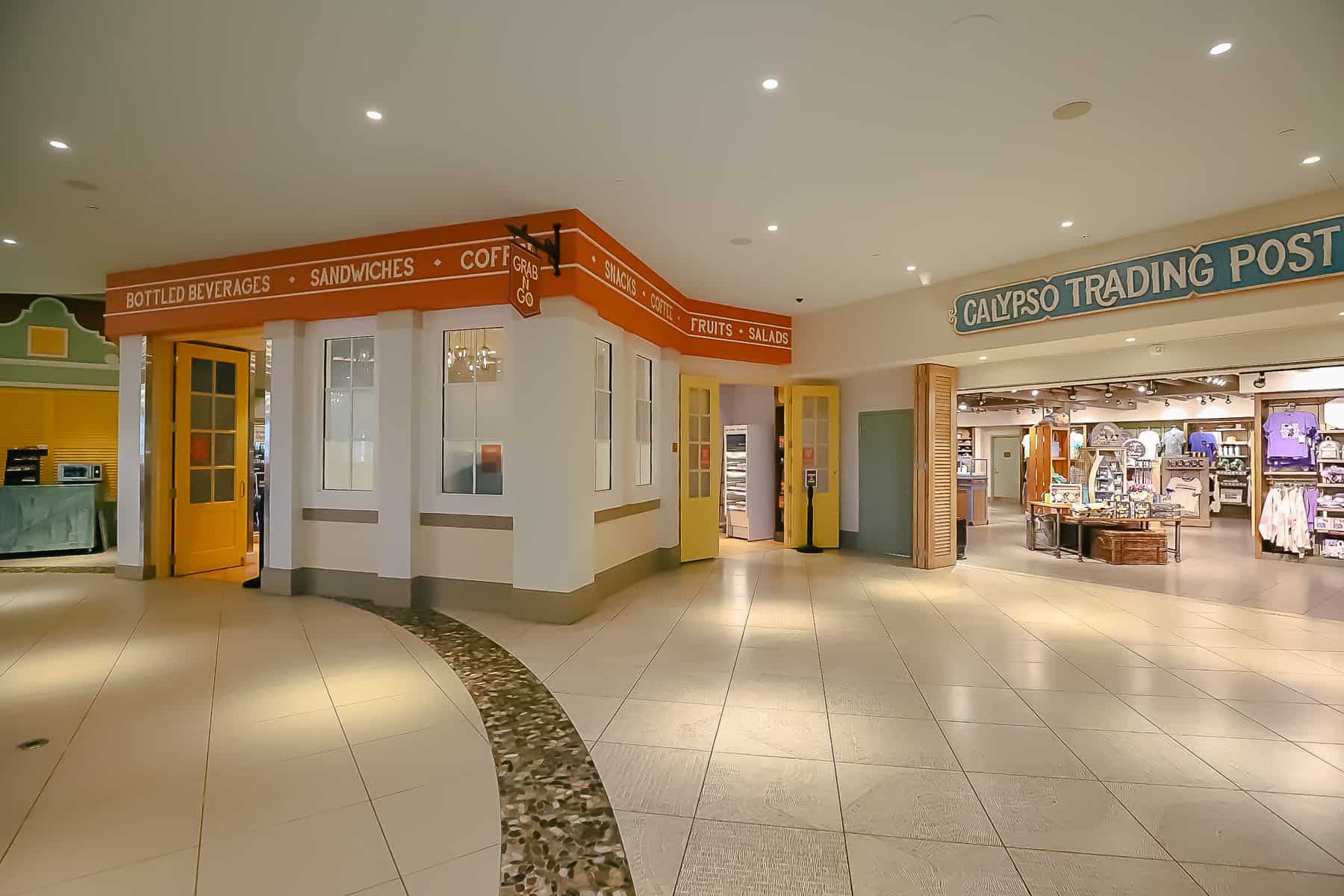 A specialty coffee pick-up window is available. You can mobile order coffee from the My Disney Experience app or at the regular queue inside the quick service.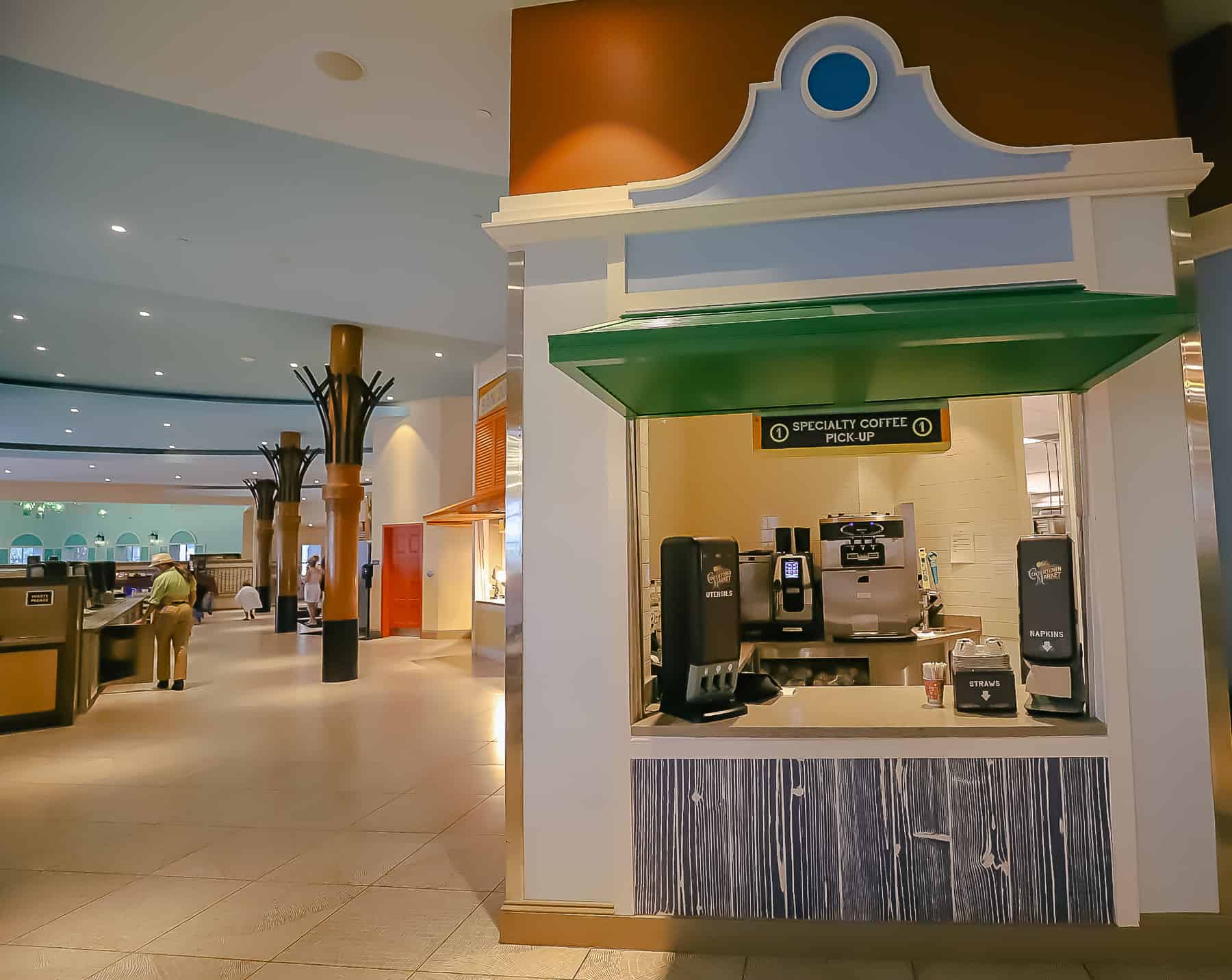 Additionally, a long bar runs the length of most of the restaurant, offering condiments and other items.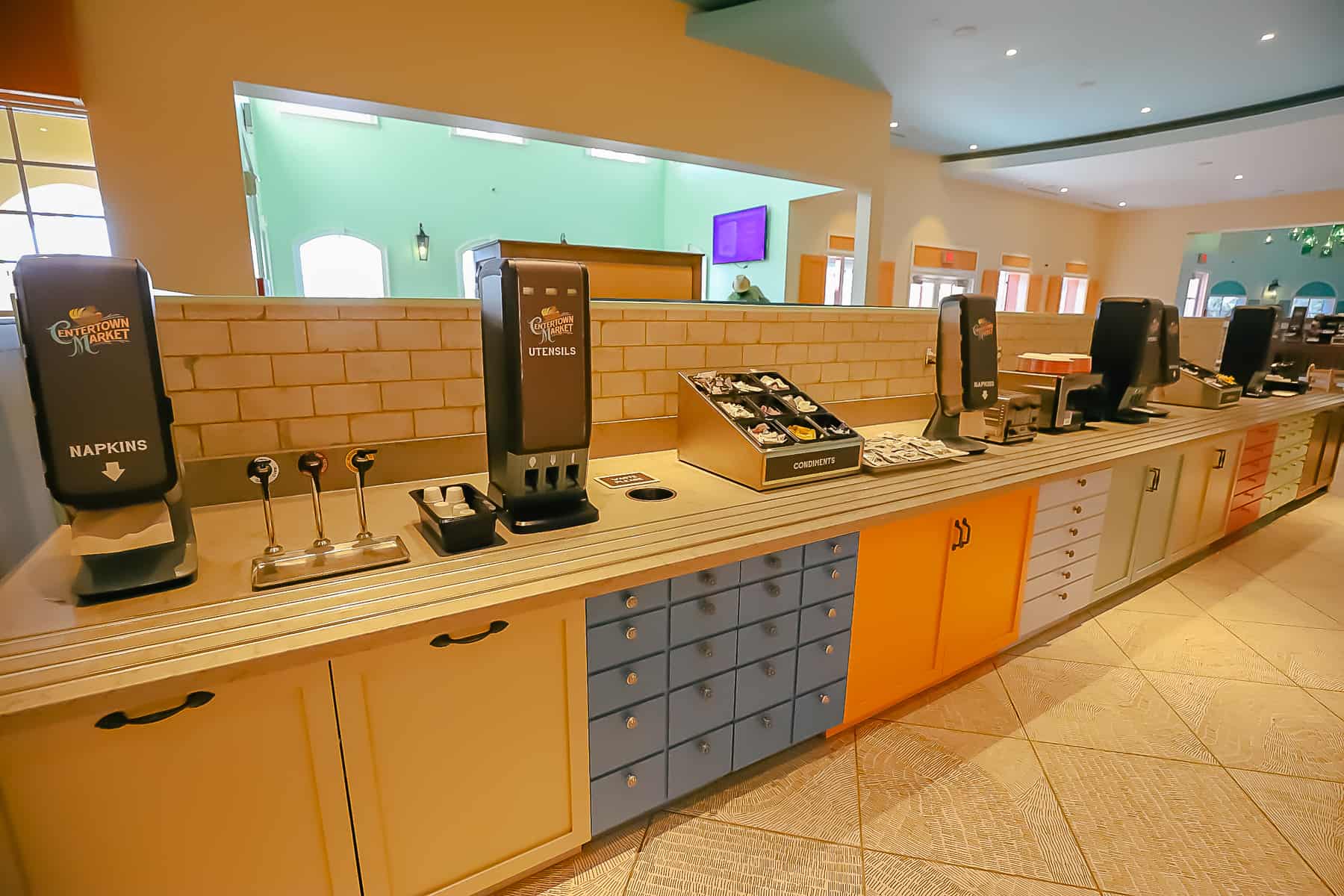 We saw the regular items like sauces, mustard, ketchup, and salad dressing.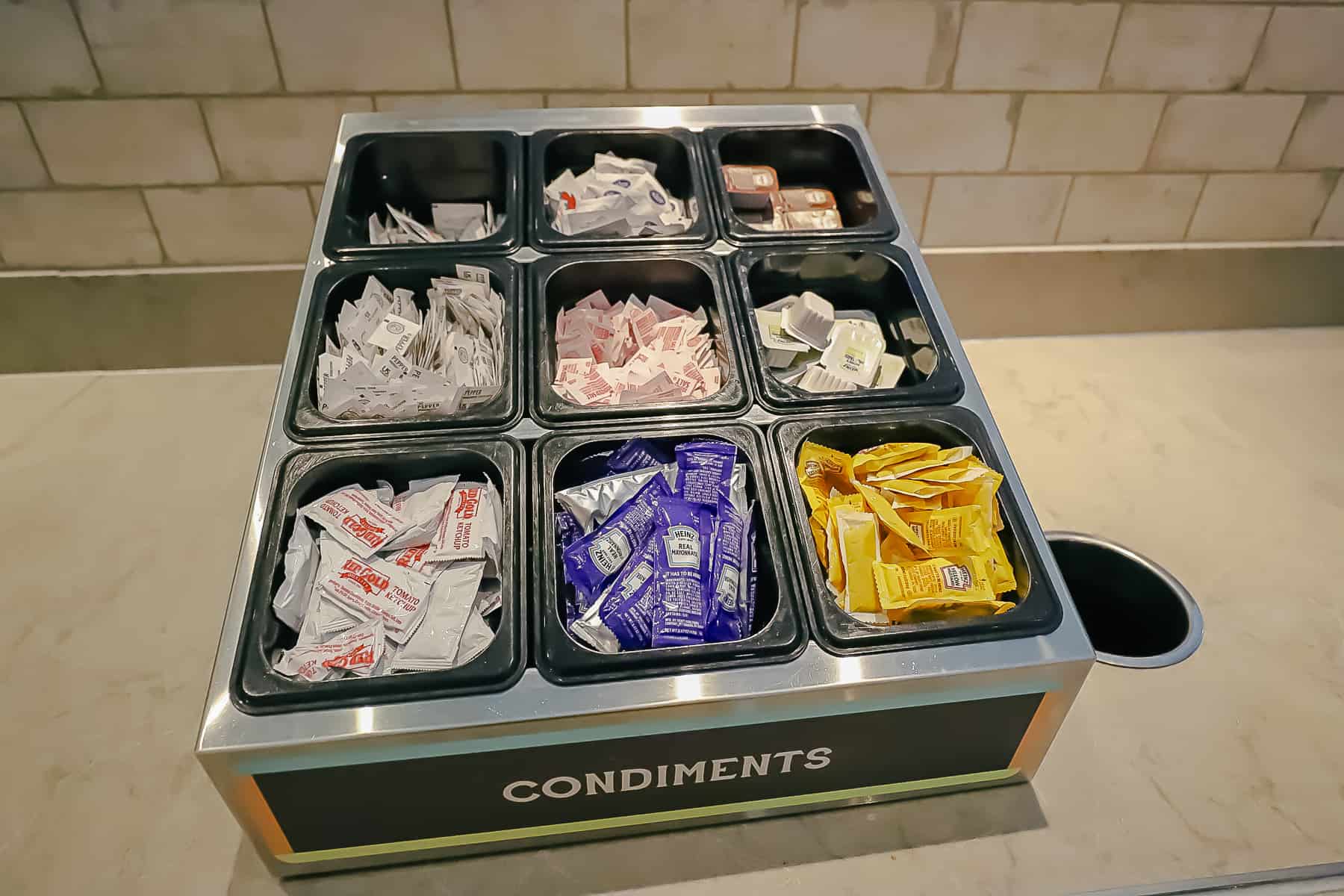 A toaster oven is available.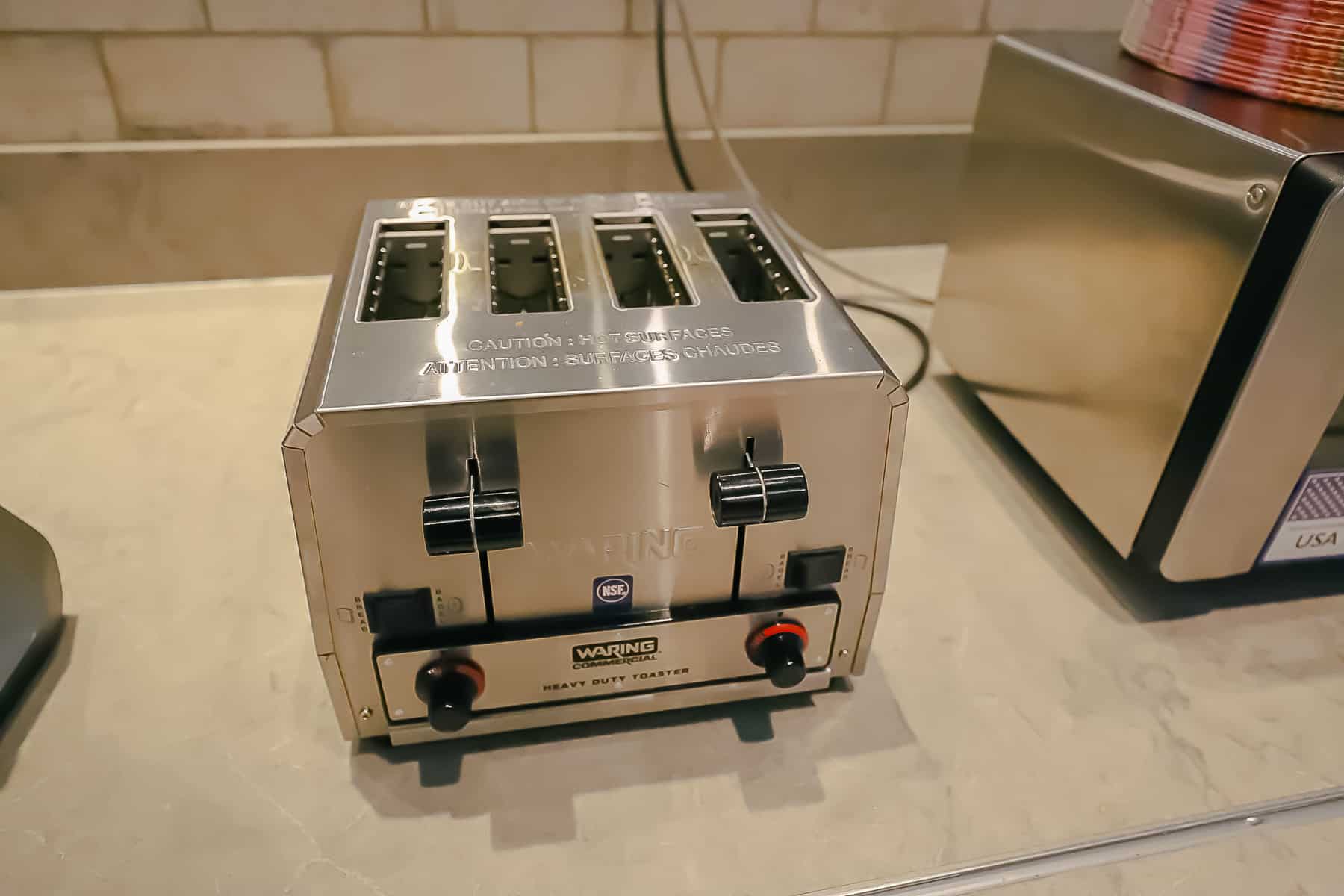 A microwave sat next to the toaster.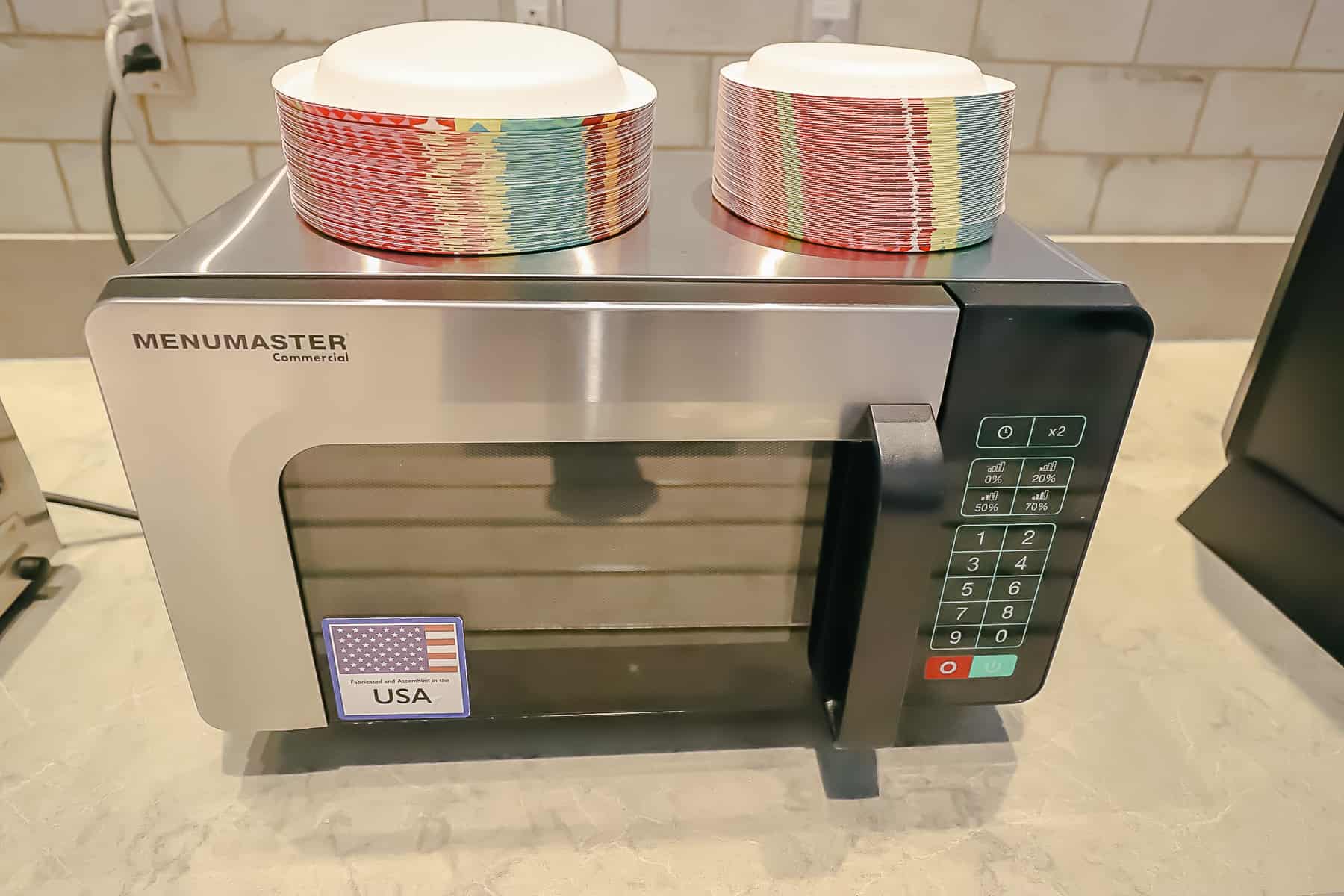 Across from the condiments, we see the resort's beverage station. This is where you'll want to refill drinks and Rapid Fill mugs.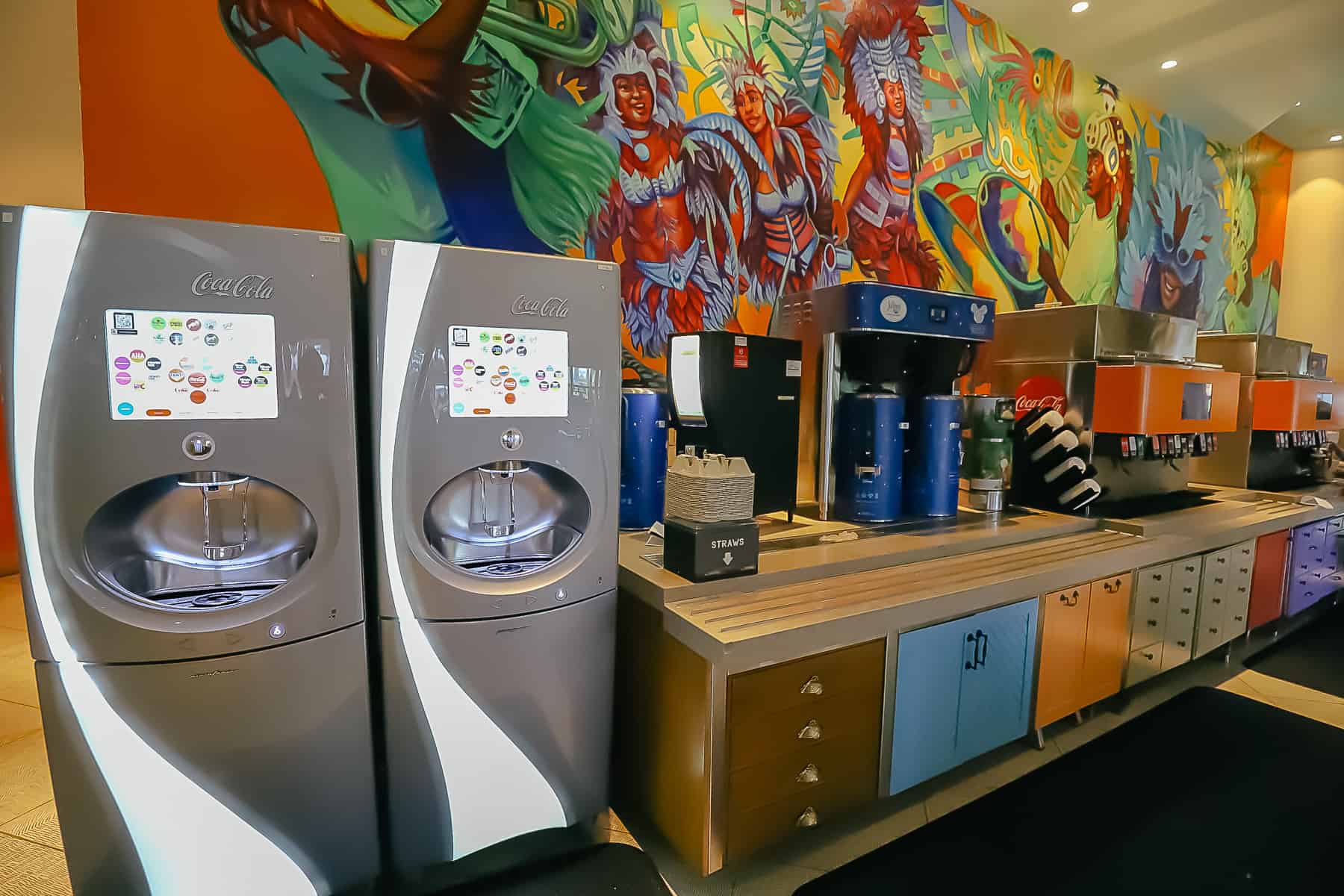 If you purchase a regular drink, you can usually get up to three refills within a two-hour time period. Two Freestyle Coke machines sit at the end of the bar.
Personally, I don't care for the Coke Freestyle machines. As someone who's developed an allergy to food dyes, I try to avoid using them. Thankfully, they still have a couple of regular soda machines. In addition, a sink sits to the right for guests to rinse their refillable mugs.
Someone recently told me that you could select "water" and let it run through for a few minutes to help clear out the taste before making your selection.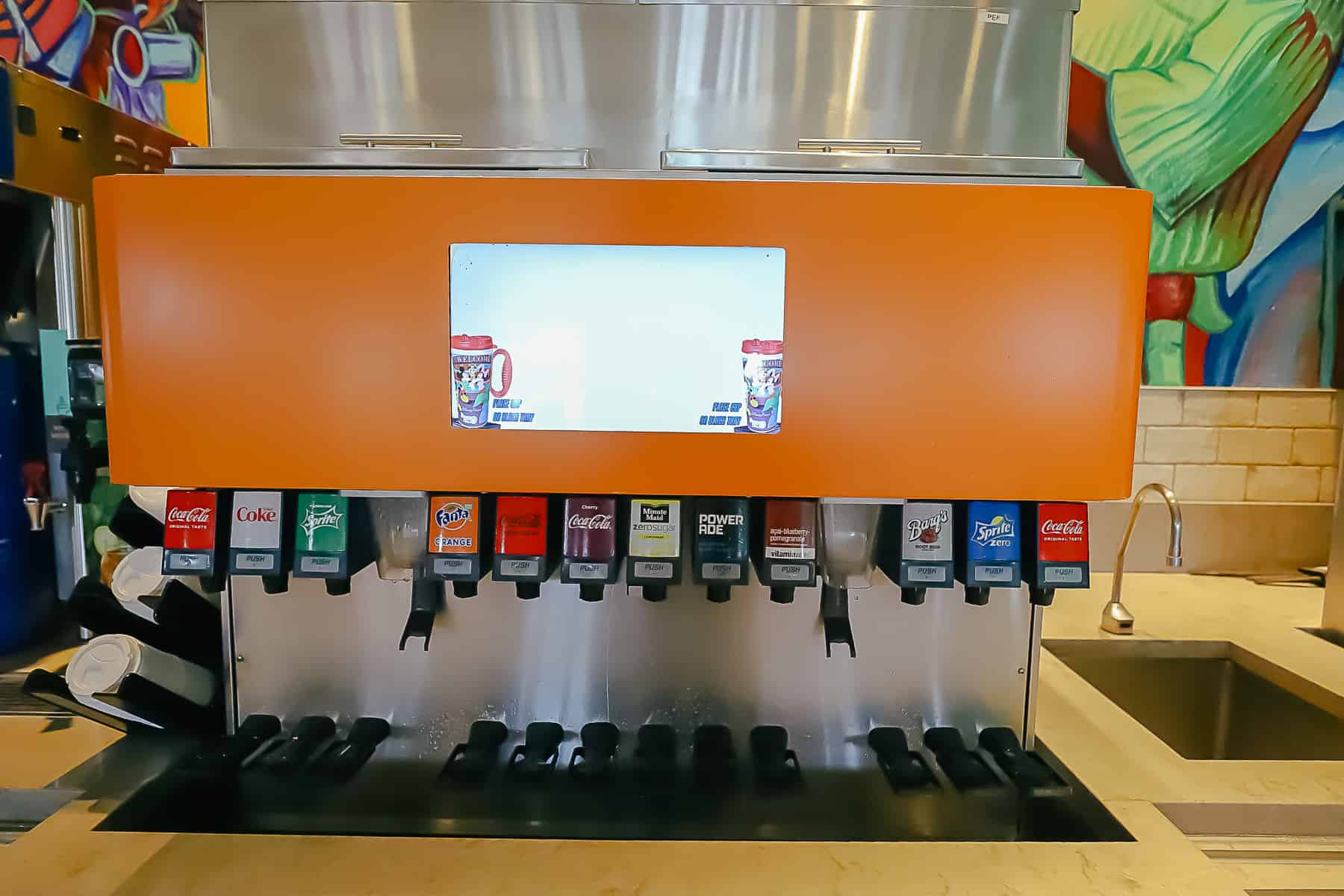 Joffrey's coffee is the brand of choice at Walt Disney World Resorts.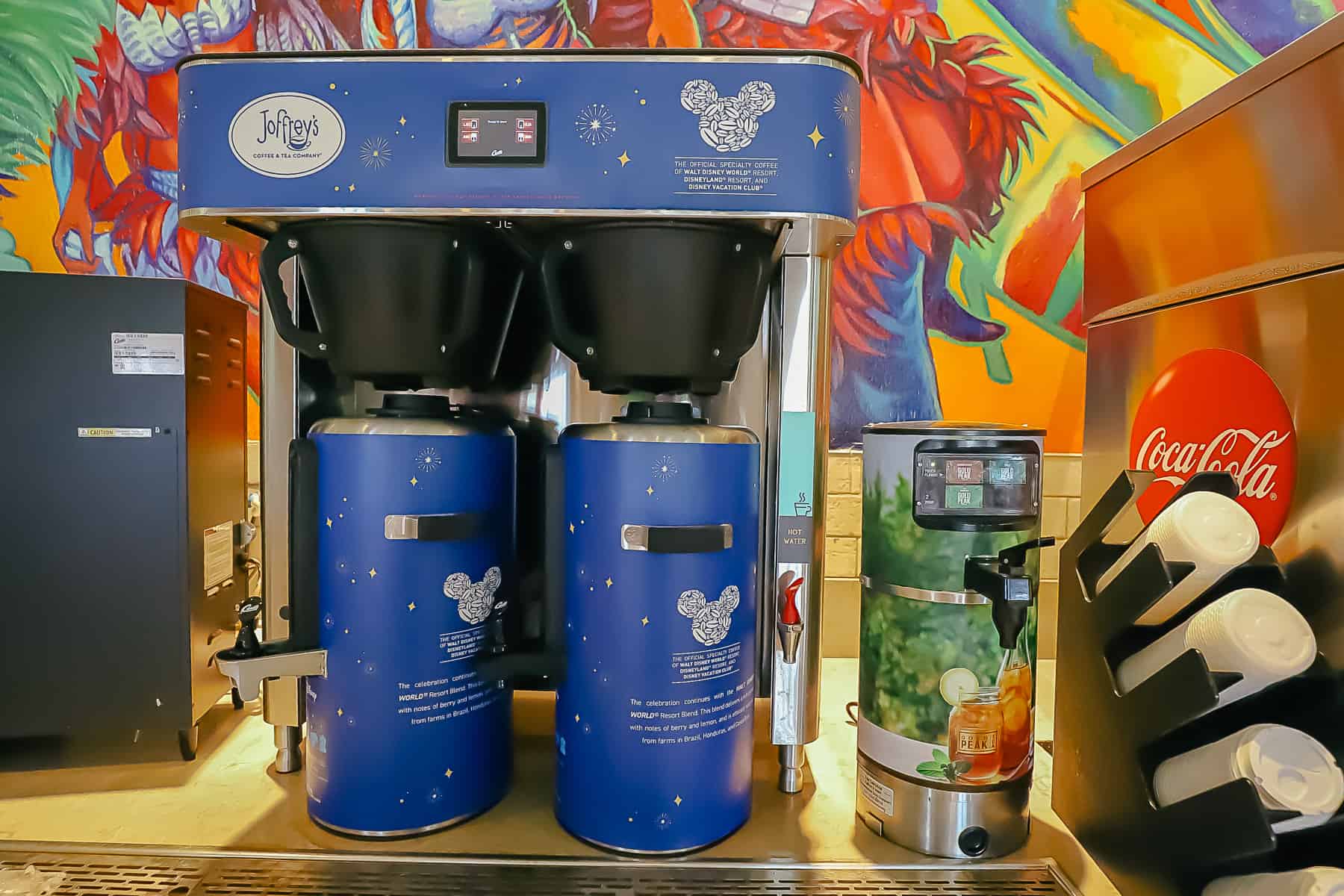 You'll find a pair of restrooms toward the back of Centertown Market.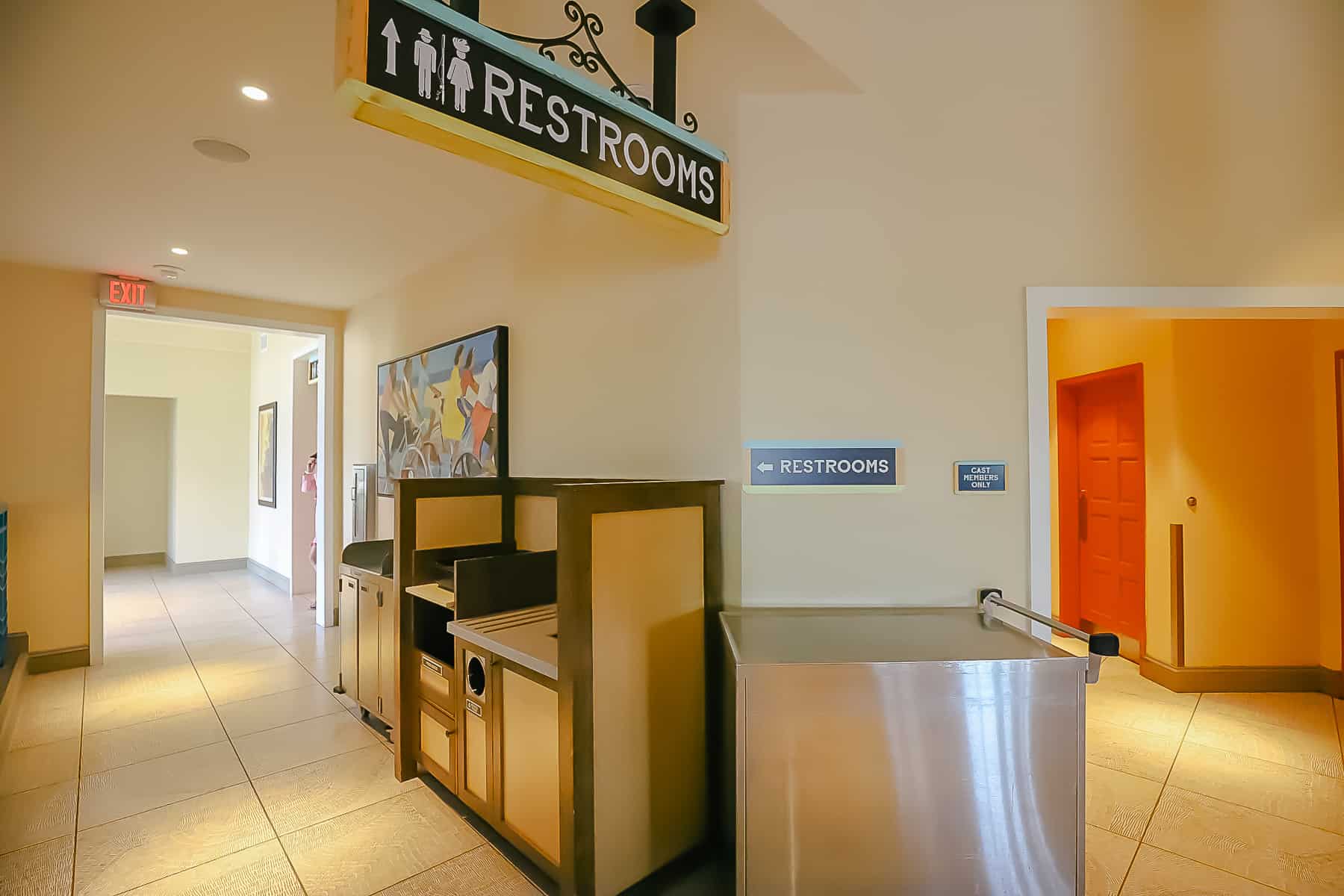 Additionally, the restaurant has multiple indoor and outdoor seating areas.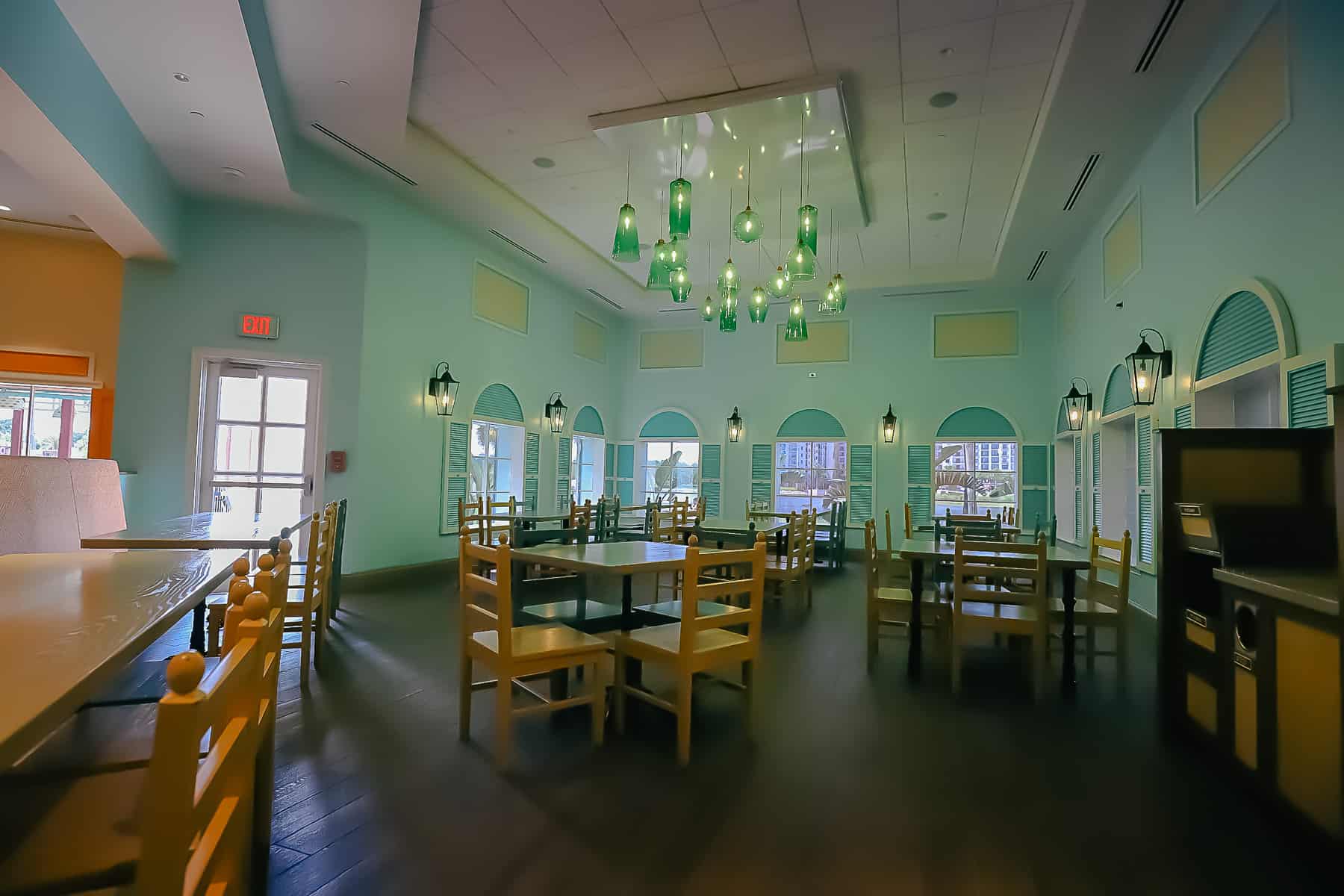 As far as the menu goes, Centertown Market has a decent selection of items. So you should be able to find something suitable for a meal or two during your stay.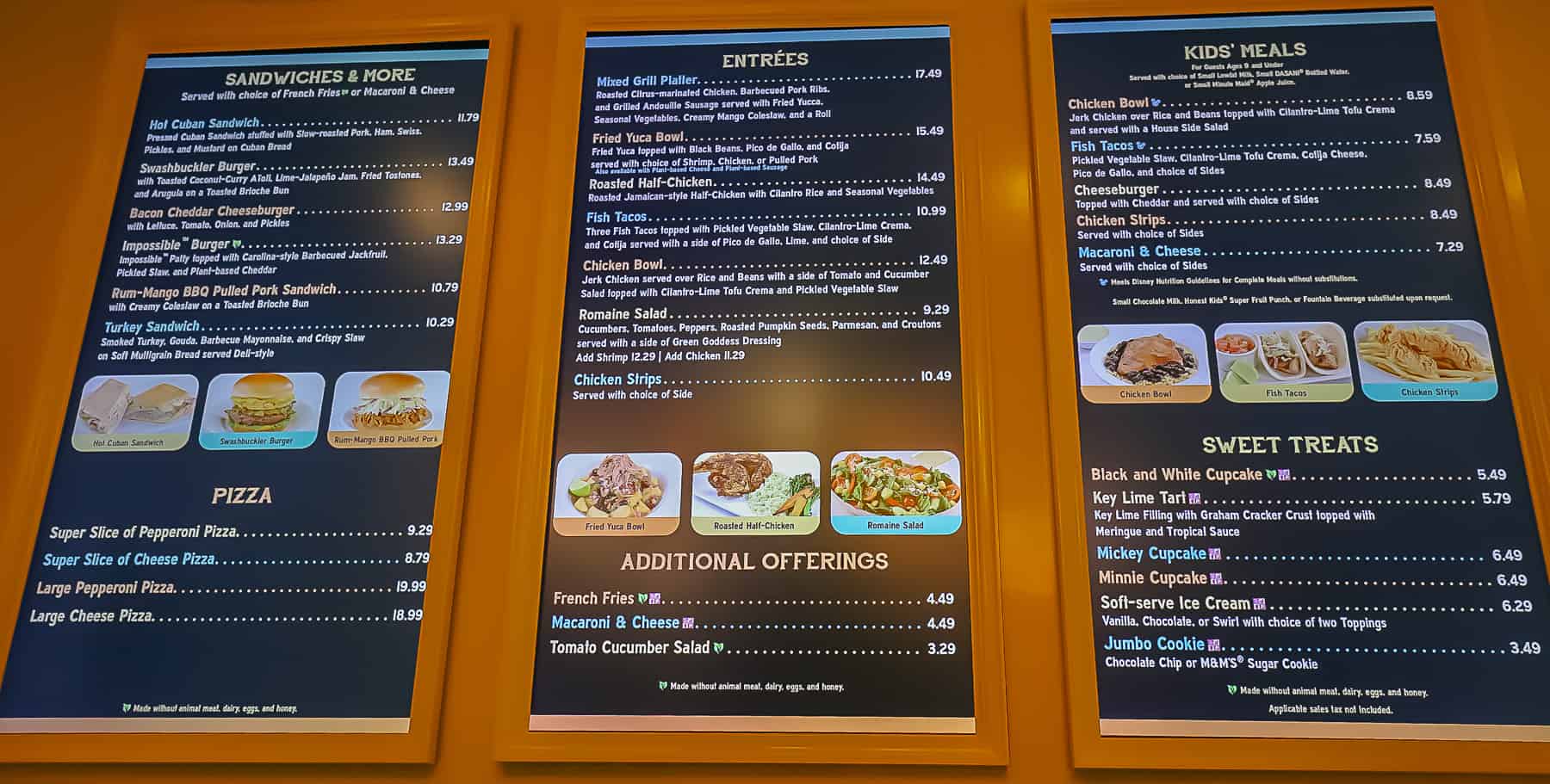 We'll go through the lunch and dinner menu first. Items in the sandwiches and more sections come with a choice of fries, a side salad, or macaroni and cheese. Here are a few things.
Entrees:
Mixed Grill Platter
Roasted Half-Chicken
Fried Yucca Bowl
Hot Cuban Sandwich
Swashbuckler Burger
Bacon Cheddar Cheeseburger
Impossible Burger (Plant-Based)
Rum-Mango BBQ Pulled Pork Sandwich
Turkey Sandwich
Super Slice of Pepperoni or Cheese
Large Pepperoni or Cheese Whole Pizza
Fish Tacos
Chicken Bowl
Romaine Salad
Chicken Strips
Kids' Meals include:
Chicken Bowl
Fish Tacos
Cheeseburger
Chicken Strips
Macaroni and Cheese
Sweet Treats:
Key Lime Tart
Mickey or Minnie Cupcake
Soft Serve Ice Cream
Jumbo Cookie
Regular Coke products, Gold Peak iced teas, hot beverages, beer, wine, and cocktails are also available. Additionally, specialty coffees are listed in the My Disney Experience app. They include:
Caffè Latte
Joffrey's Coffee Cold Brew French Roast
Caffè Americano
Cappuccino
Joffrey's Coffee Cold Brew Joffrey's Shakin' Jamaican
Espresso
Breakfast items include:
Waffle Bounty Platter
Ham and Cheese Omelet
Caribbean Omelet
Vanilla Pancakes
Mickey-shaped Waffles
Egg and Cheese Bagel Sandwich
Bacon, Egg, and Cheese Bagel Sandwich
Plant-Based Items include:
Plant-based Harvest Breakfast
Avocado Toast
Sides:
Steel-cut Oatmeal
Bacon
Sausage
Breakfast Potatoes
Scrambled Eggs
Kids' Meals:
Oatmeal with Dried Cranberries
Scrambled Eggs
Mickey-shaped waffles
Pancakes with Berry Compote
Preview the current Centertown Market menu with prices.
During our stay at Caribbean Beach, we enjoyed the Mixed Grill Platter for lunch one day. It was tremendous, as you can probably tell from the photo below. I was beyond impressed with everything except the chicken. It wasn't terrible, but our order was dry. It's hard to tell, but underneath the ribs sits a smoked sausage. It was delicious, and we almost forgot it was there until we started divvying things up.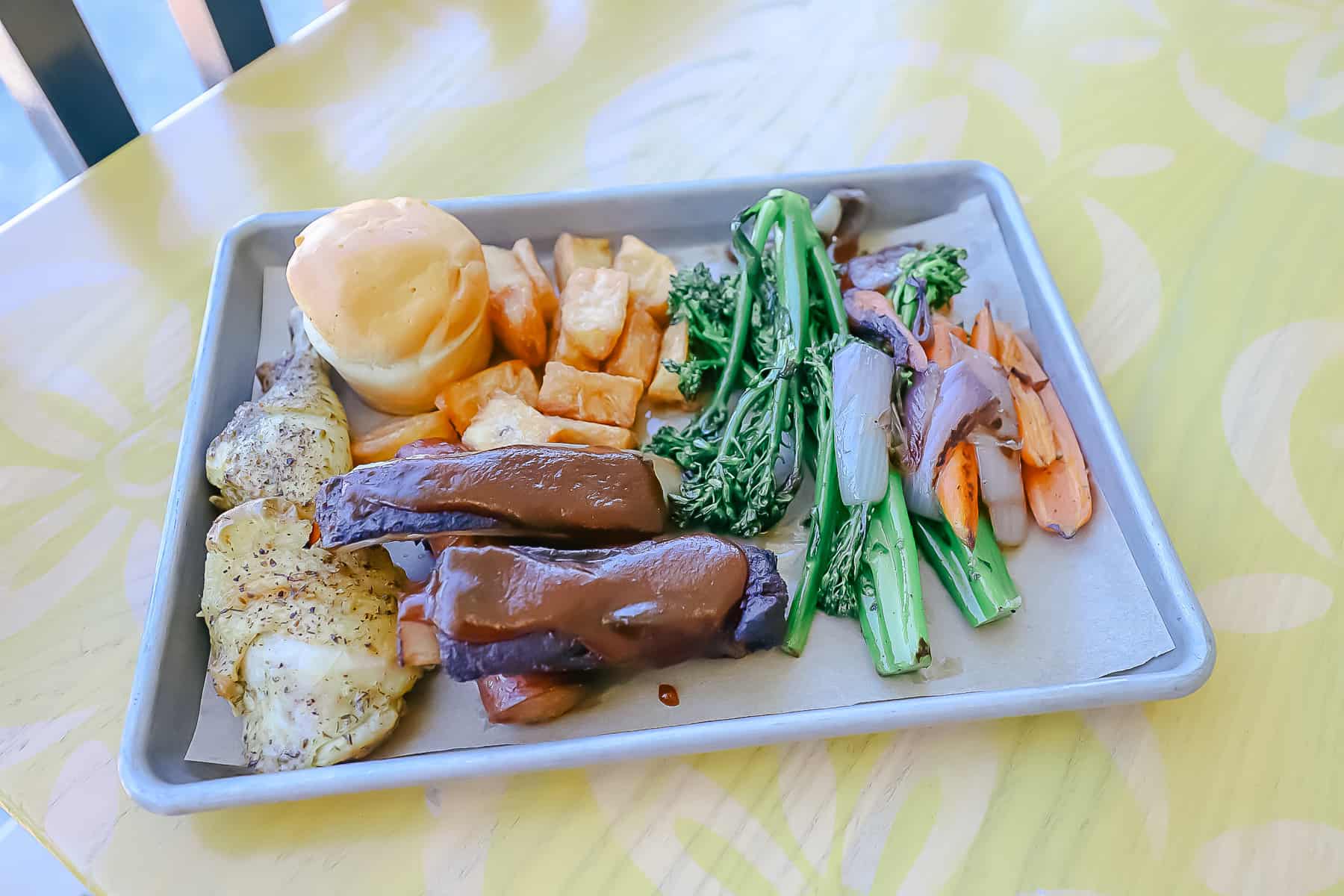 In addition to the food court, a stand-alone grab-and-go shop sits toward the front of Centertown Market. This area is separate from the gift shop and the food court. A cast member is available inside to ring up purchases from the market.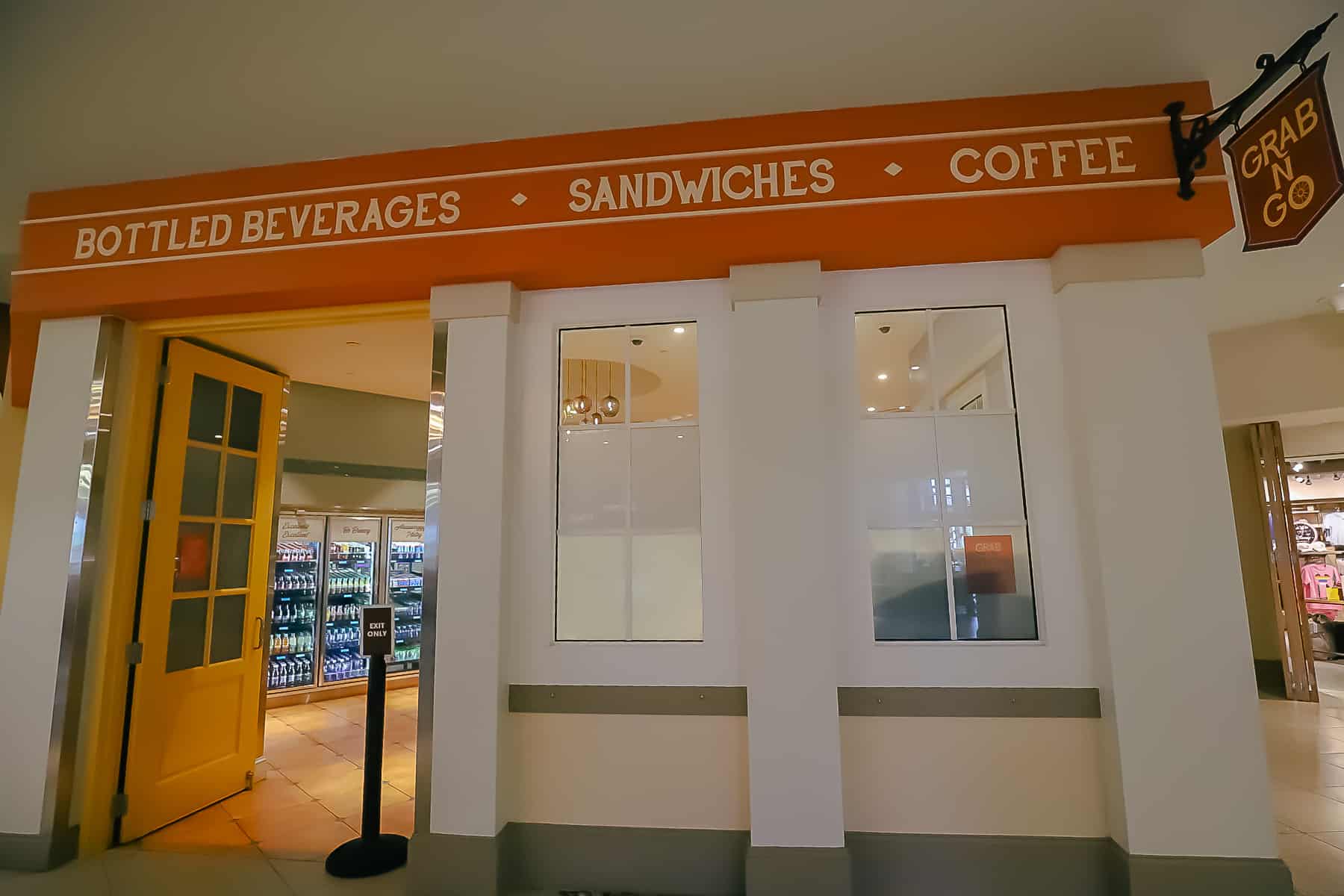 They have several cases containing various snacks, pastries, and beverages.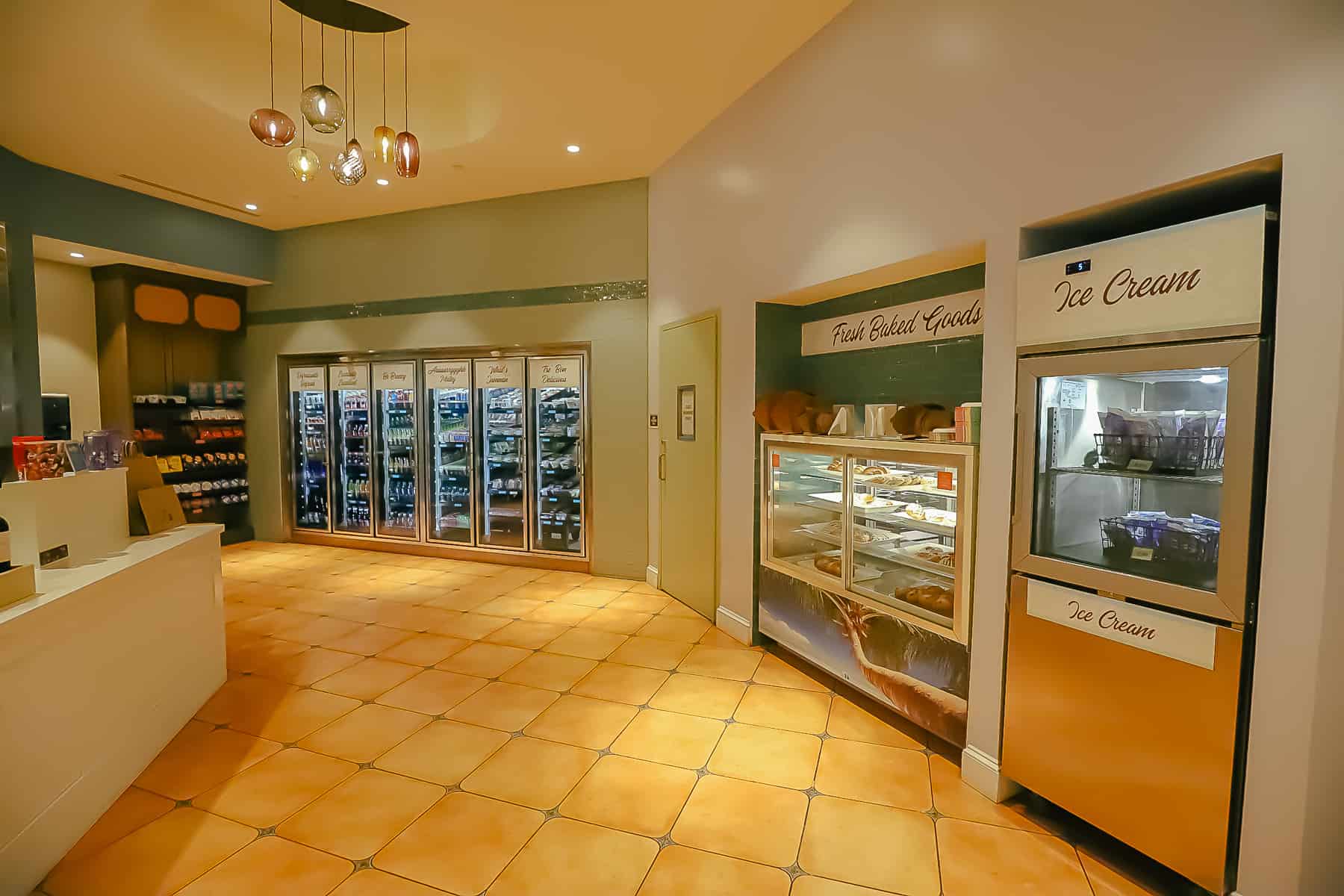 Snacks included traditional popcorn and crispy rice Mickey treats.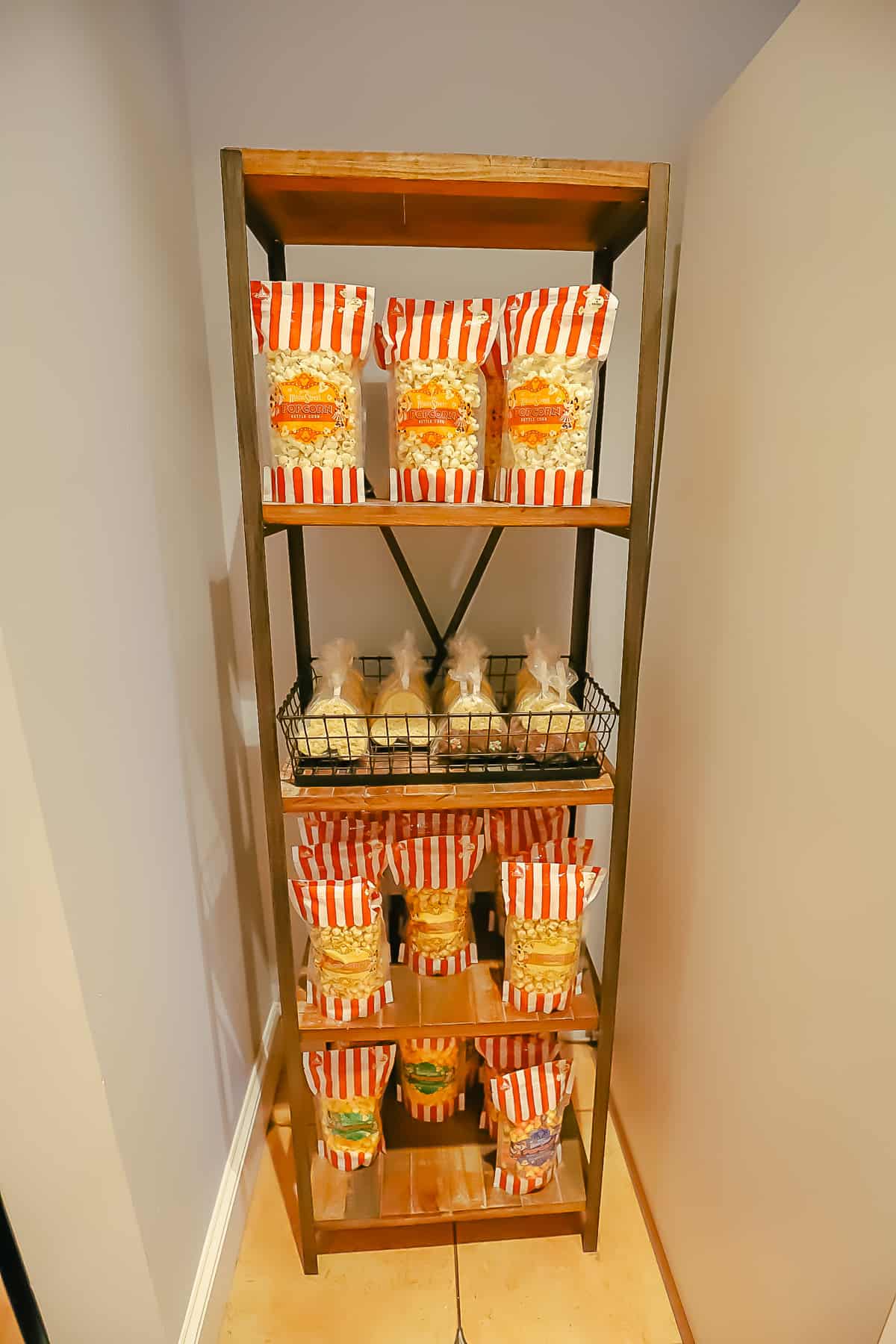 A few bags of mixed nuts, shortbread cookies, and candies were displayed.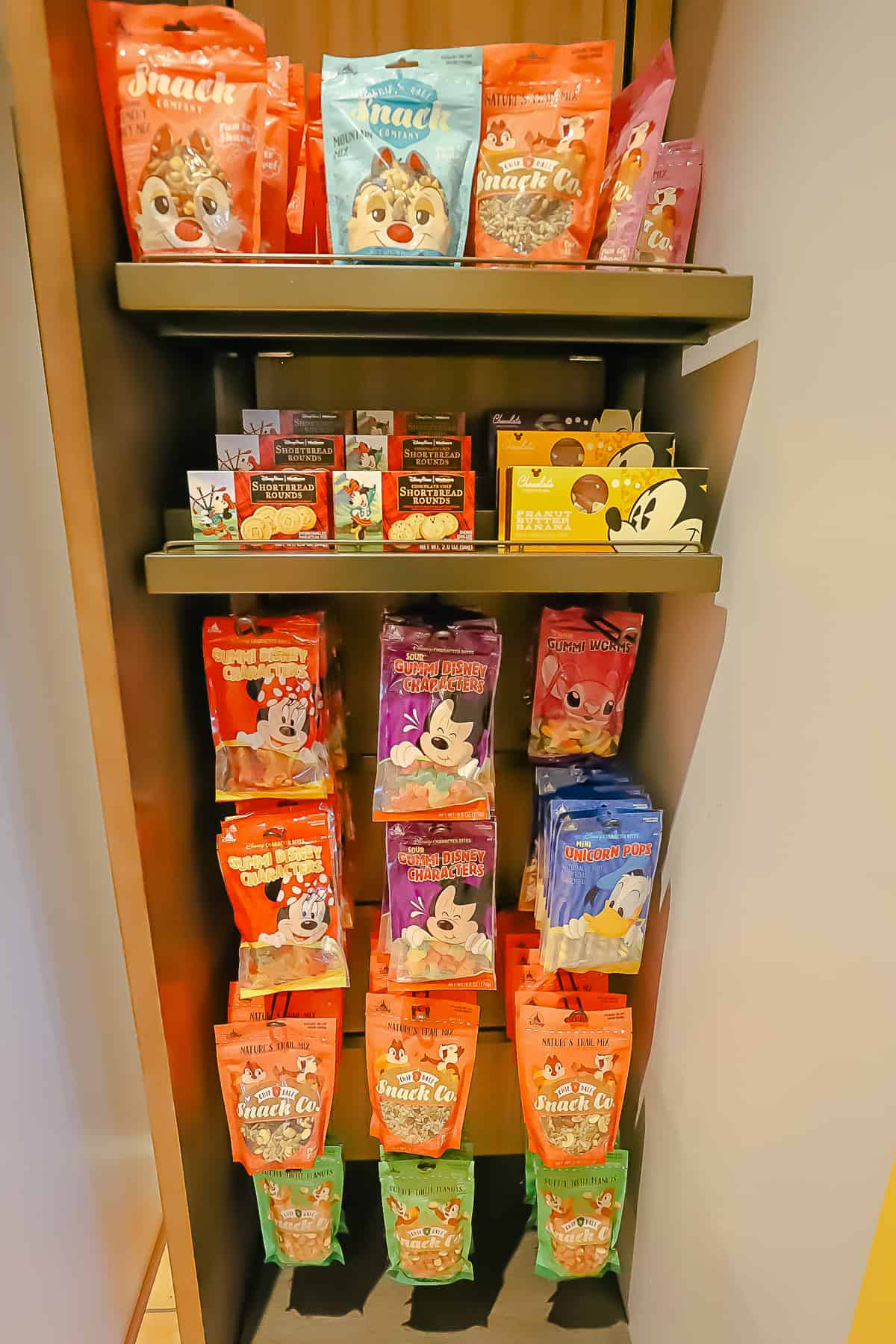 Keeping with the Caribbean theme, candied mango slices and pineapple wedges were available. In addition, a few individual fruit selections sit on the bottom shelf.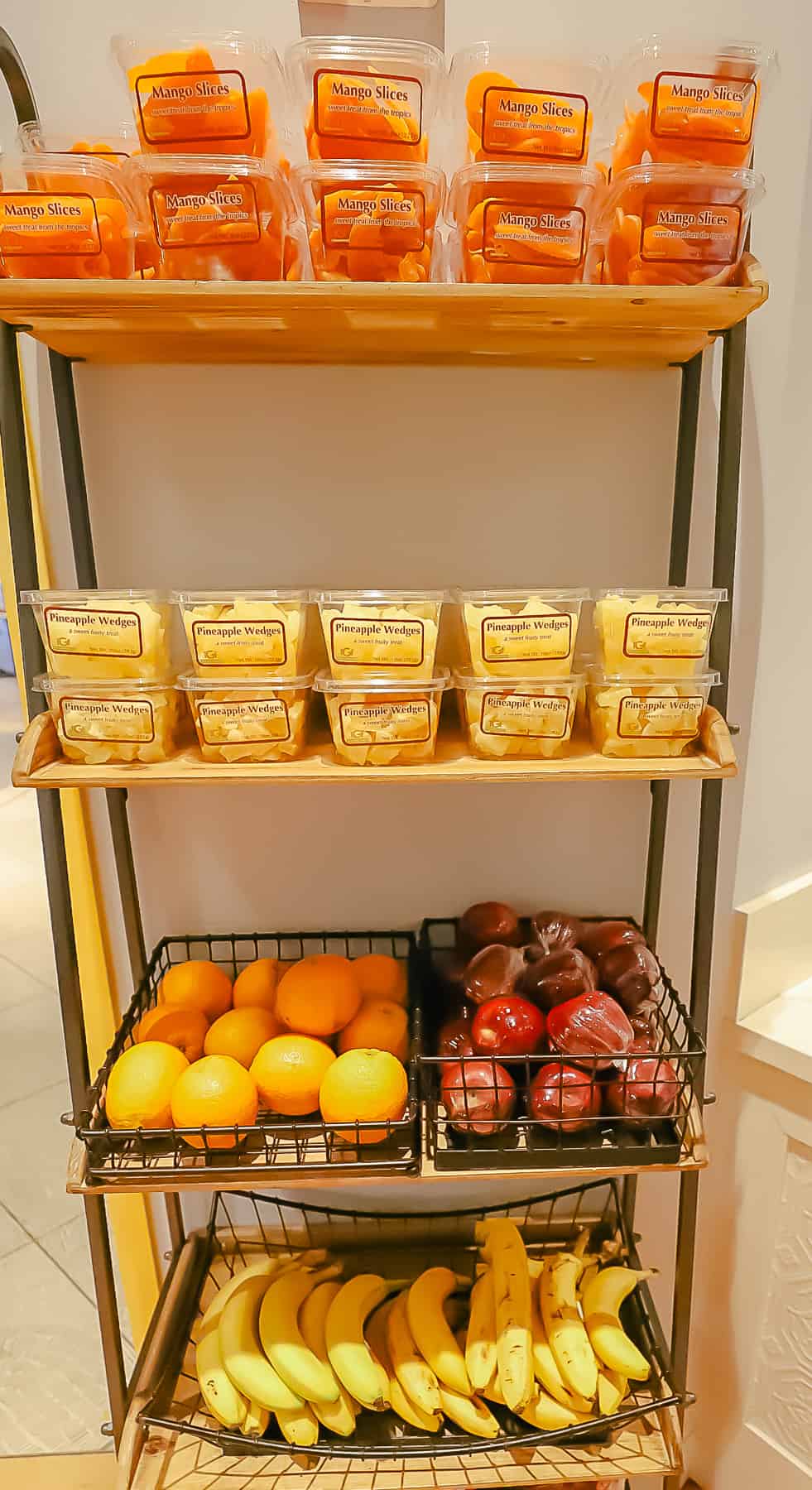 Fresh baked goods include pastries and similar items.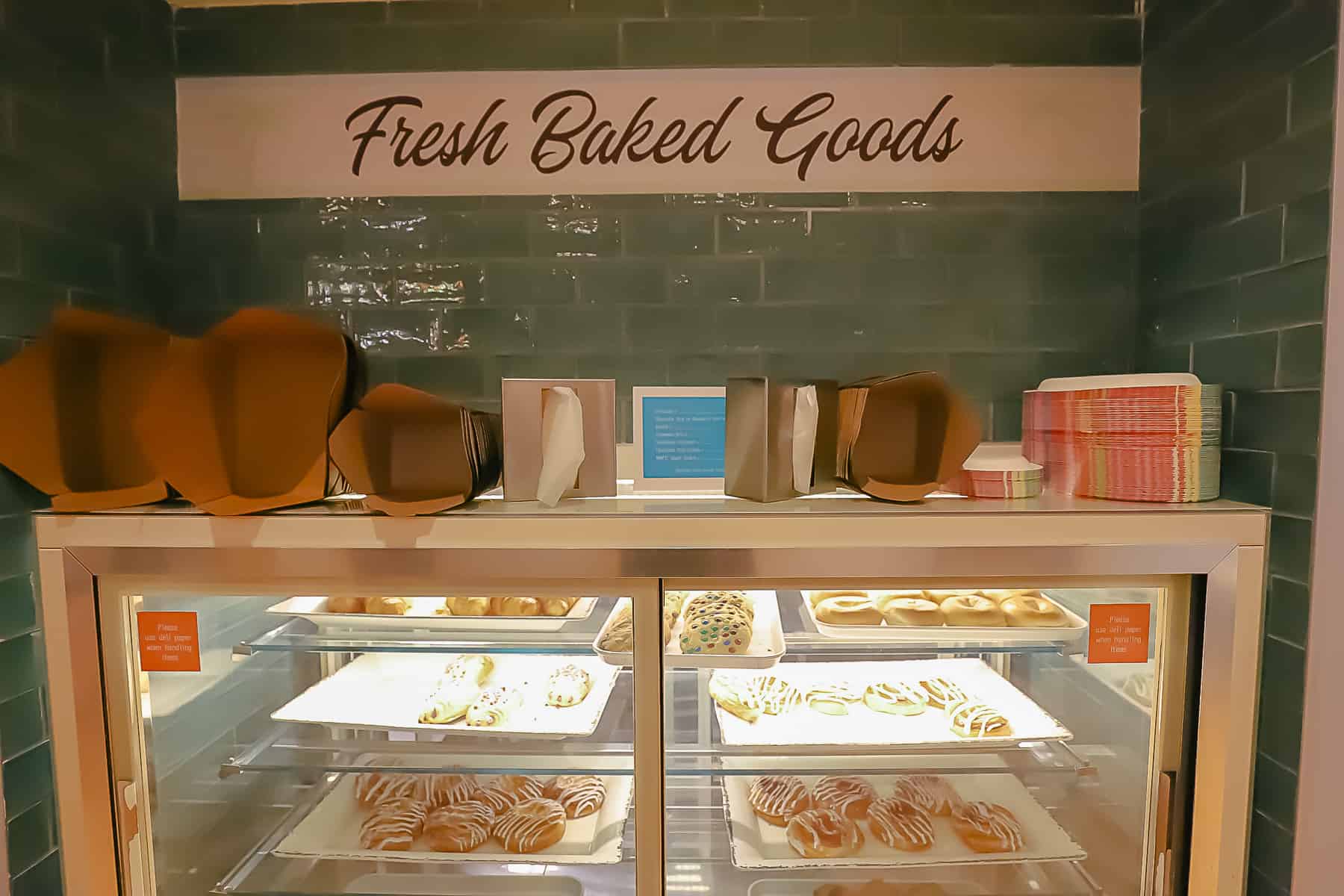 Those items were croissants, cookies, donuts, cinnamon rolls, danishes, and muffins.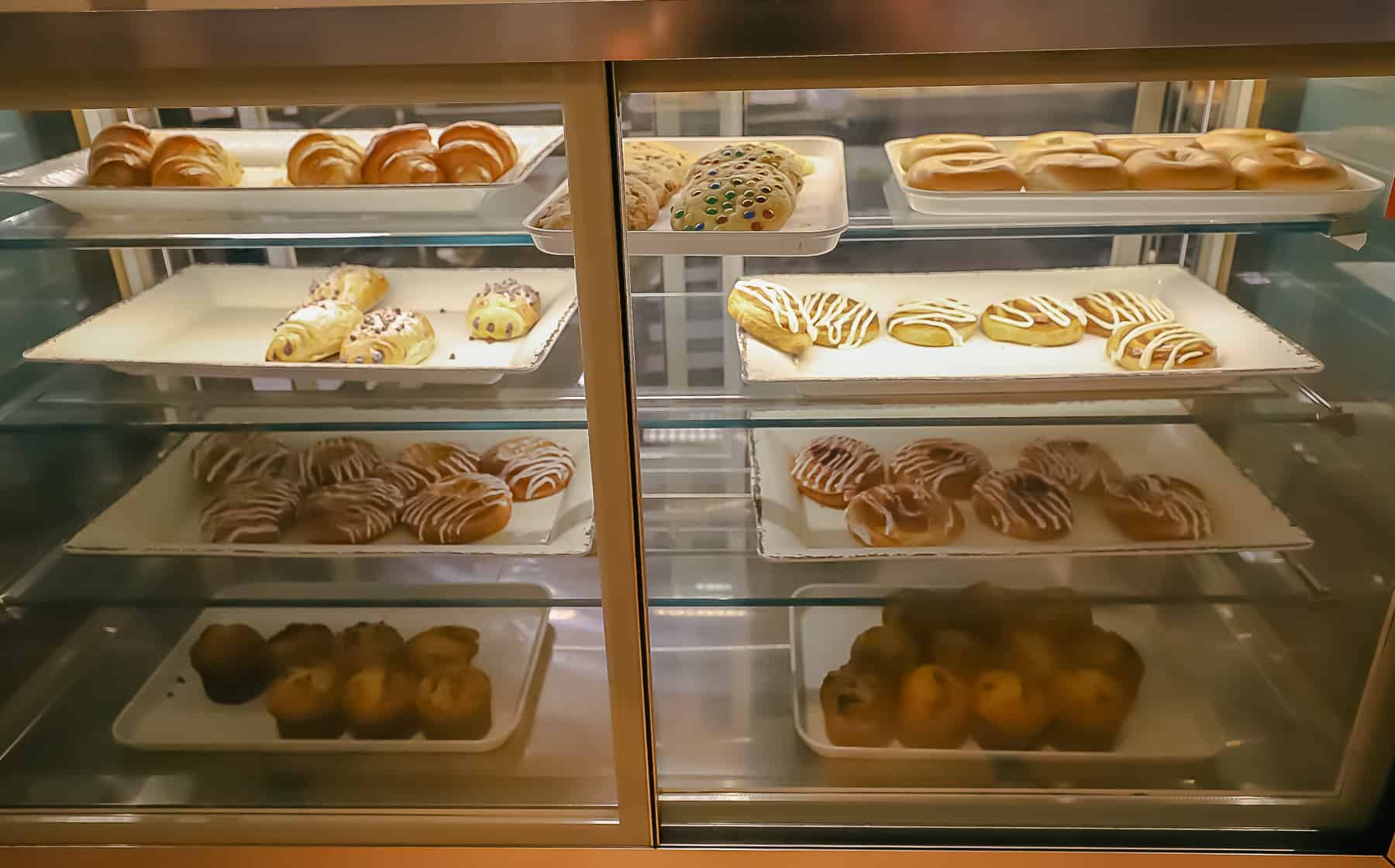 Here is a photo of the price list.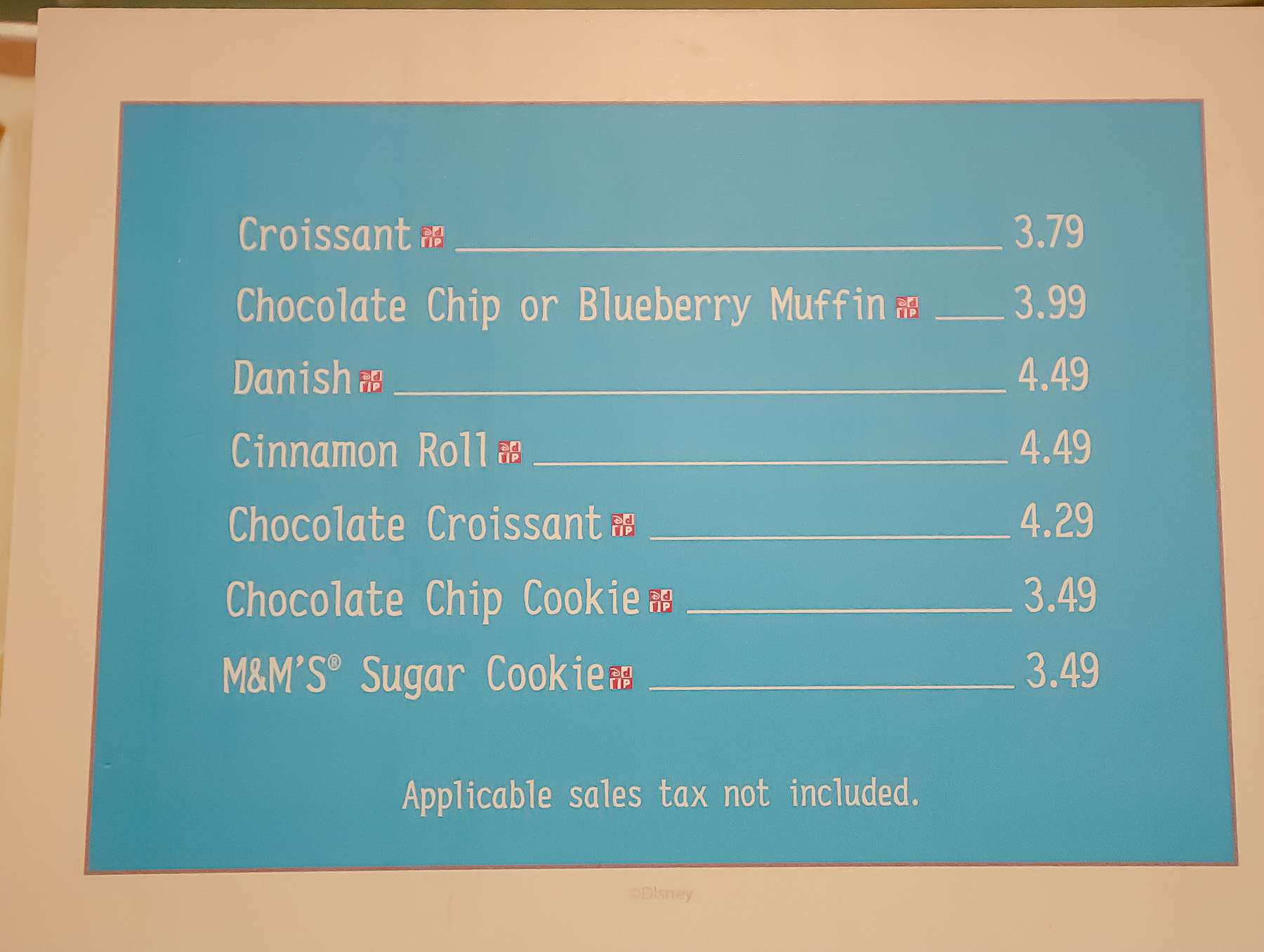 Instead of ordering a slice of pizza, you could grab a slice here from the warming tray. I don't know about you, but I'm not a fan of picking up boxed food that I can't see from a heated case. However, it's an option.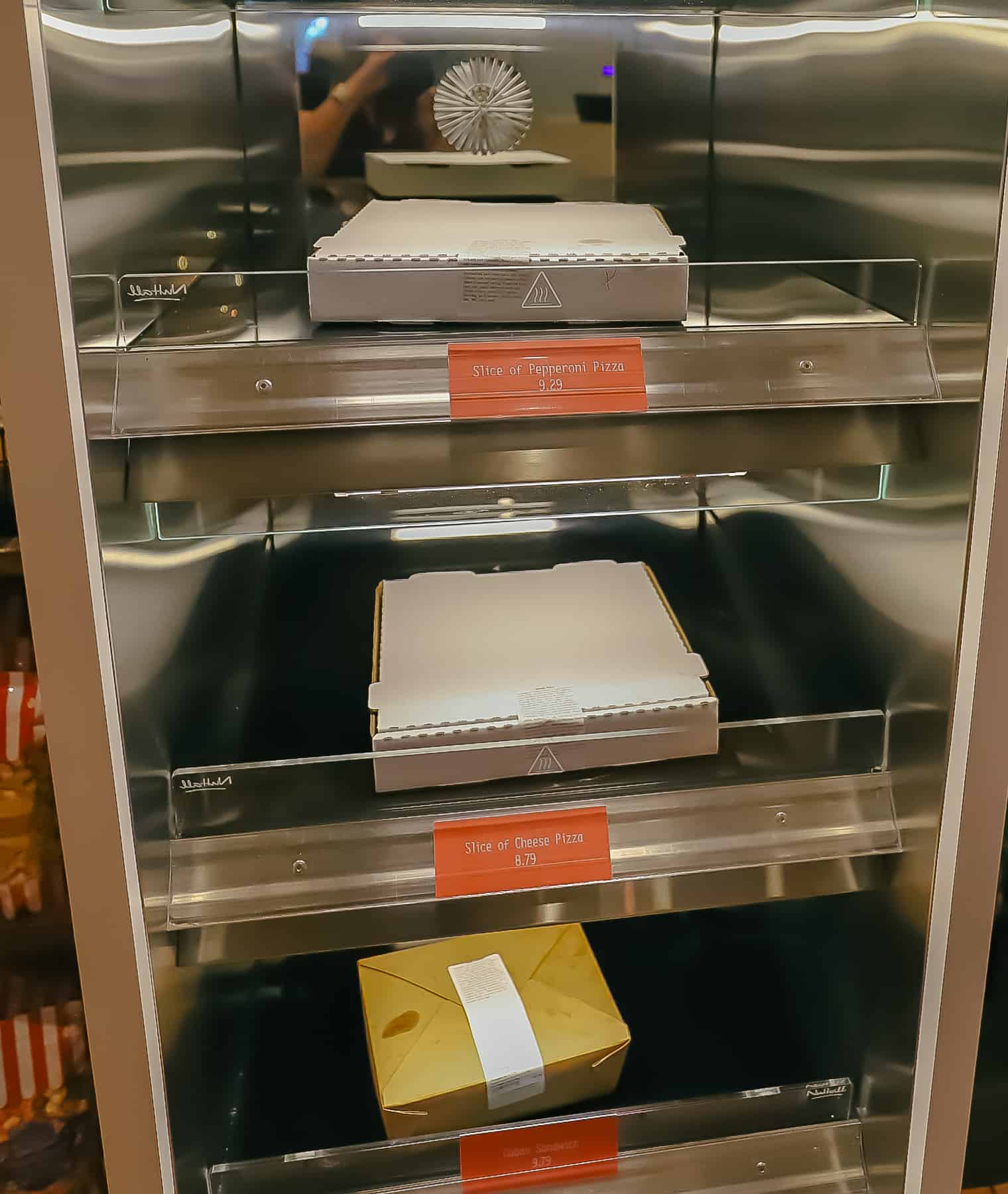 Other treats include Enjoy Life cookies, individual cereal containers, chips, and gummies.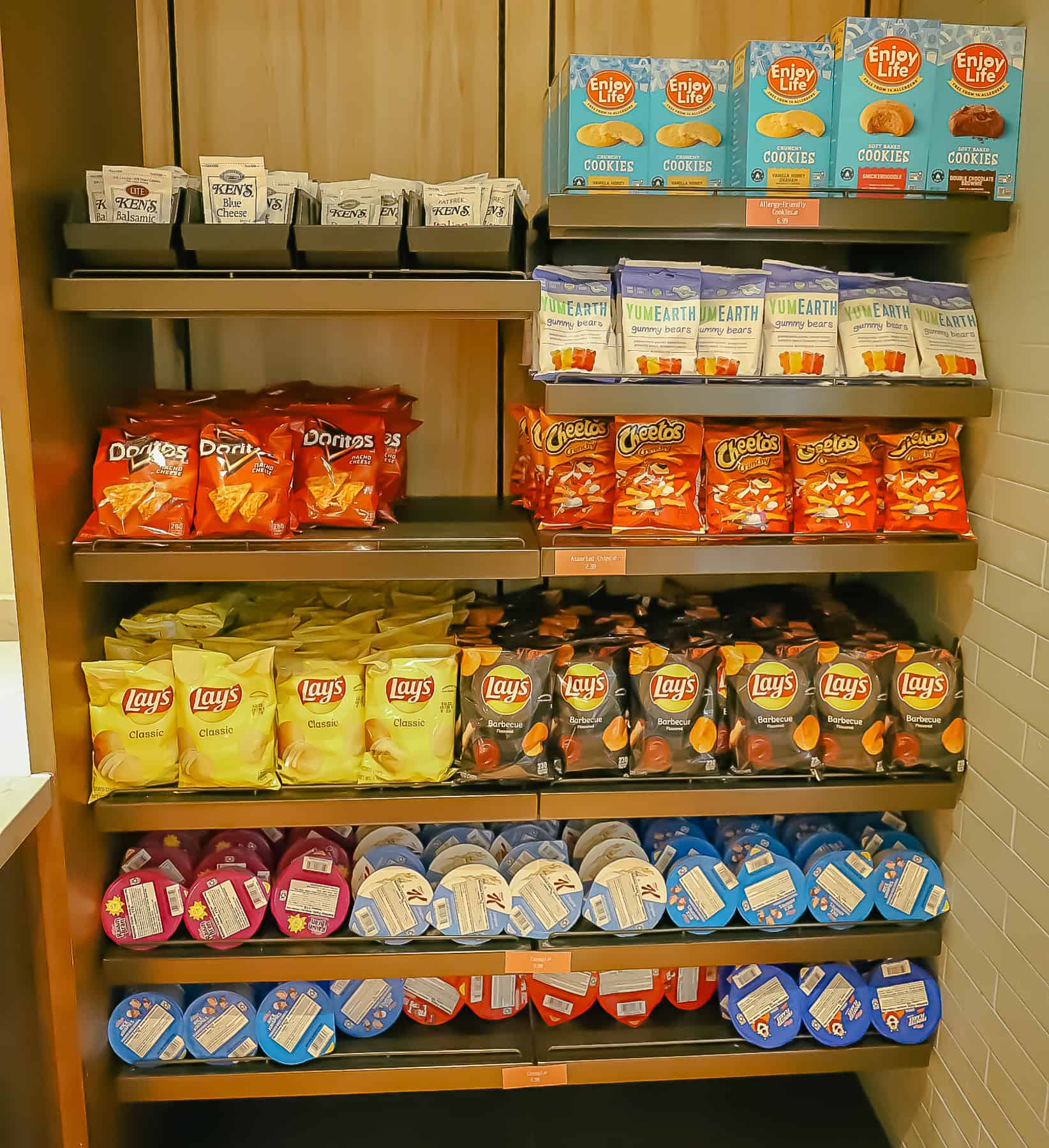 A few novelty Mickey ice cream treats were available.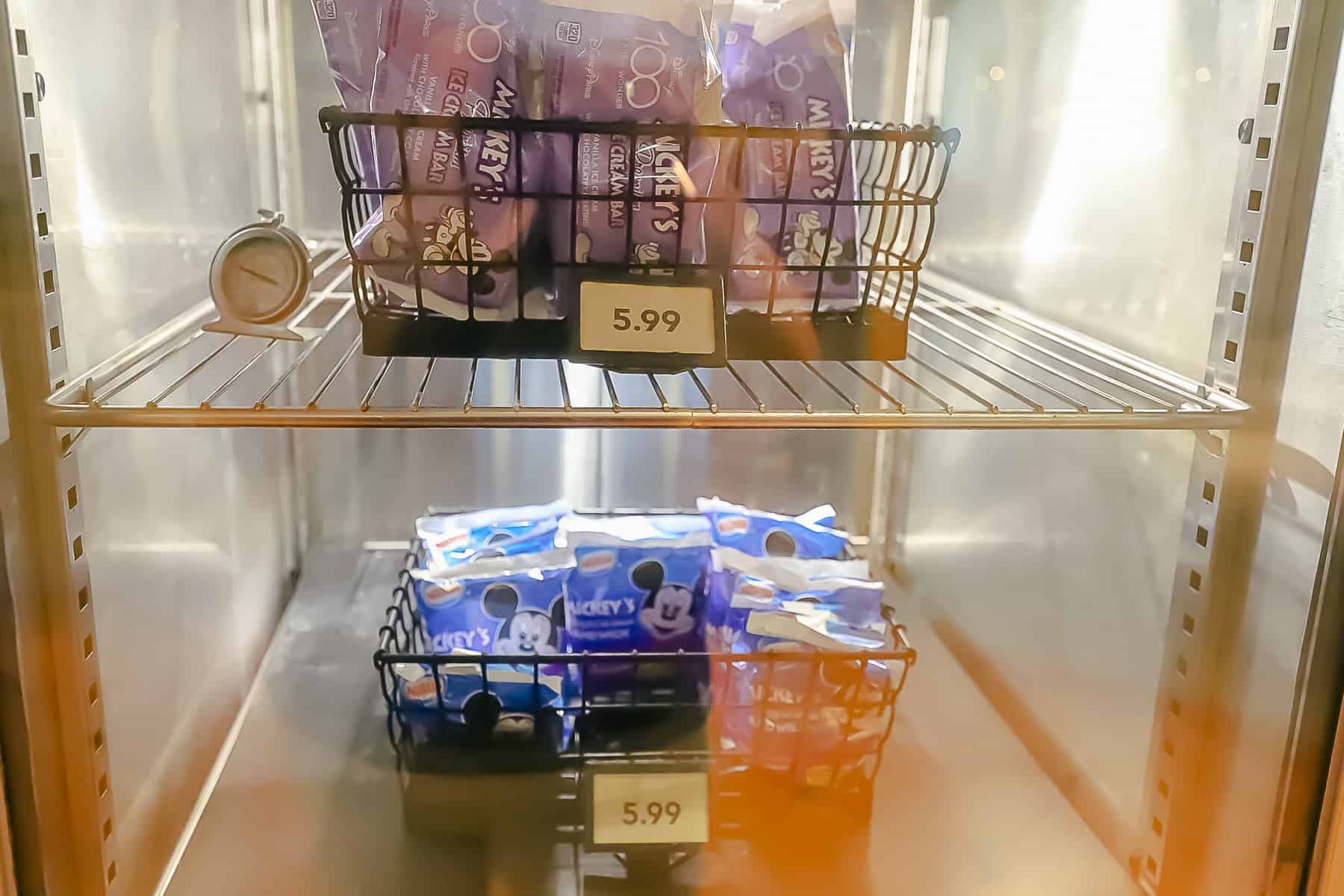 Lastly, I noticed a display with a few bottles of wine and individual servings of wine.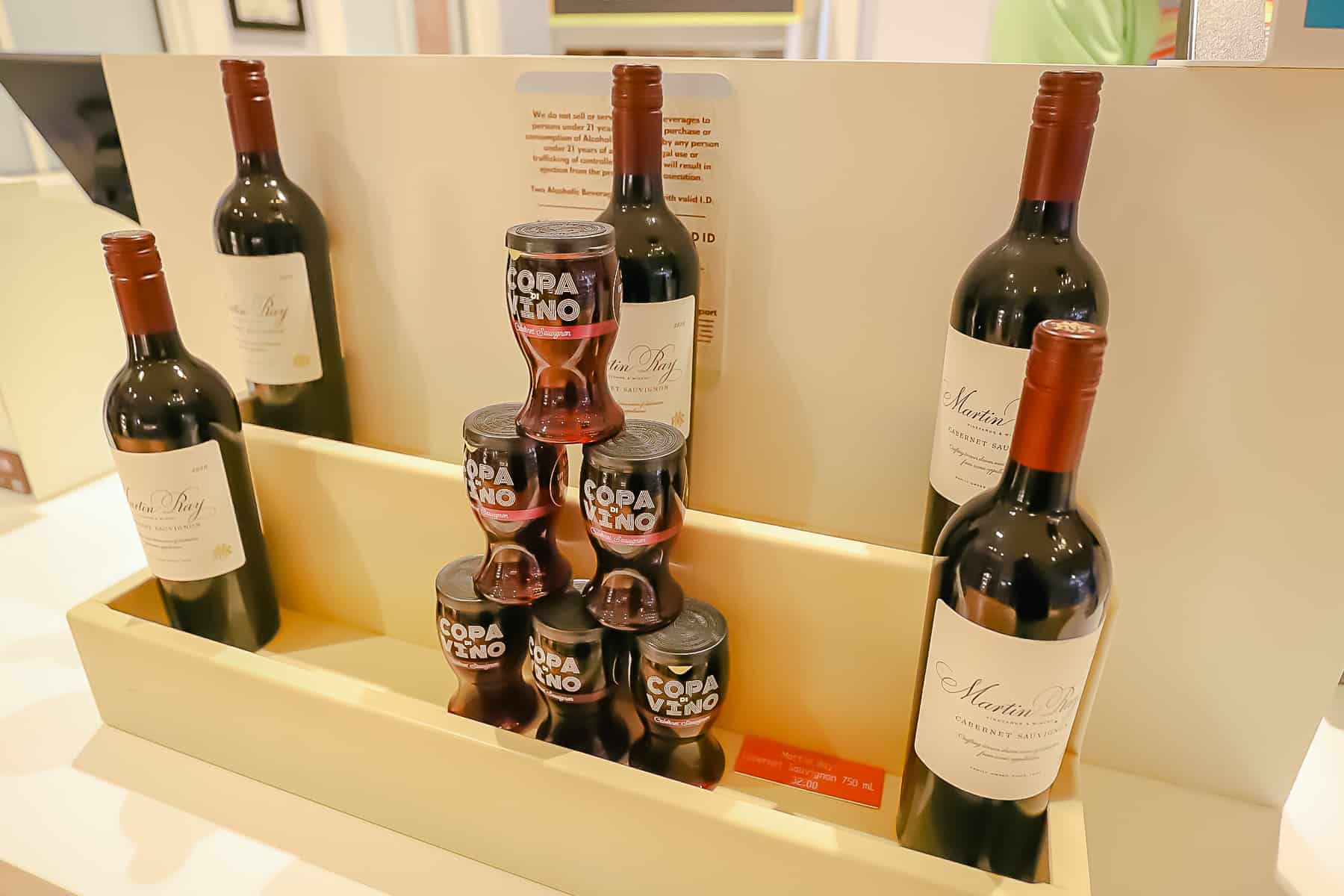 Speaking of beverages, we'll take a peek inside the cooler area.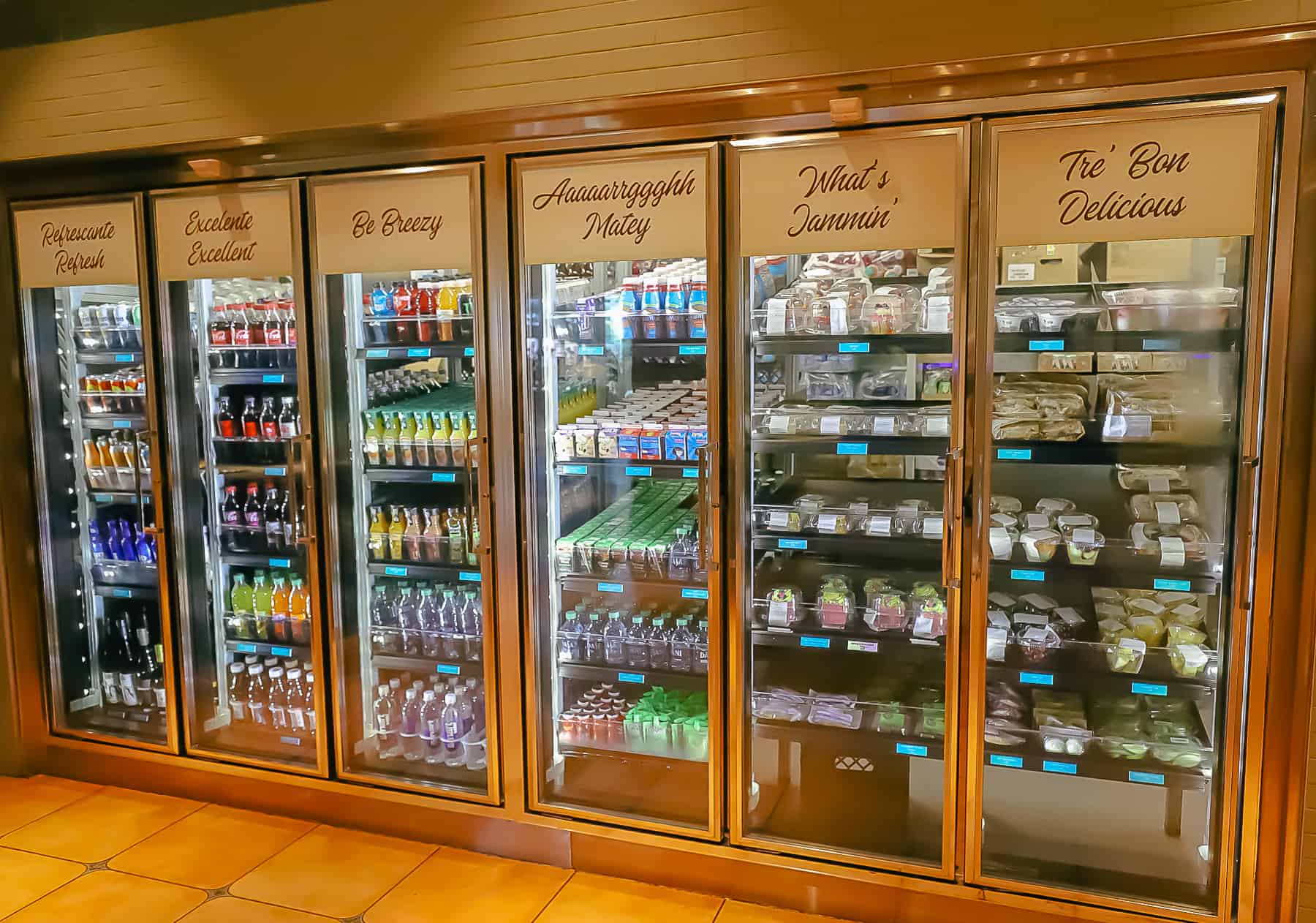 From the far end, we see beer, champagne, and chilled wine selections. (Liquor items are available next door at the gift shop. They are located behind the register.)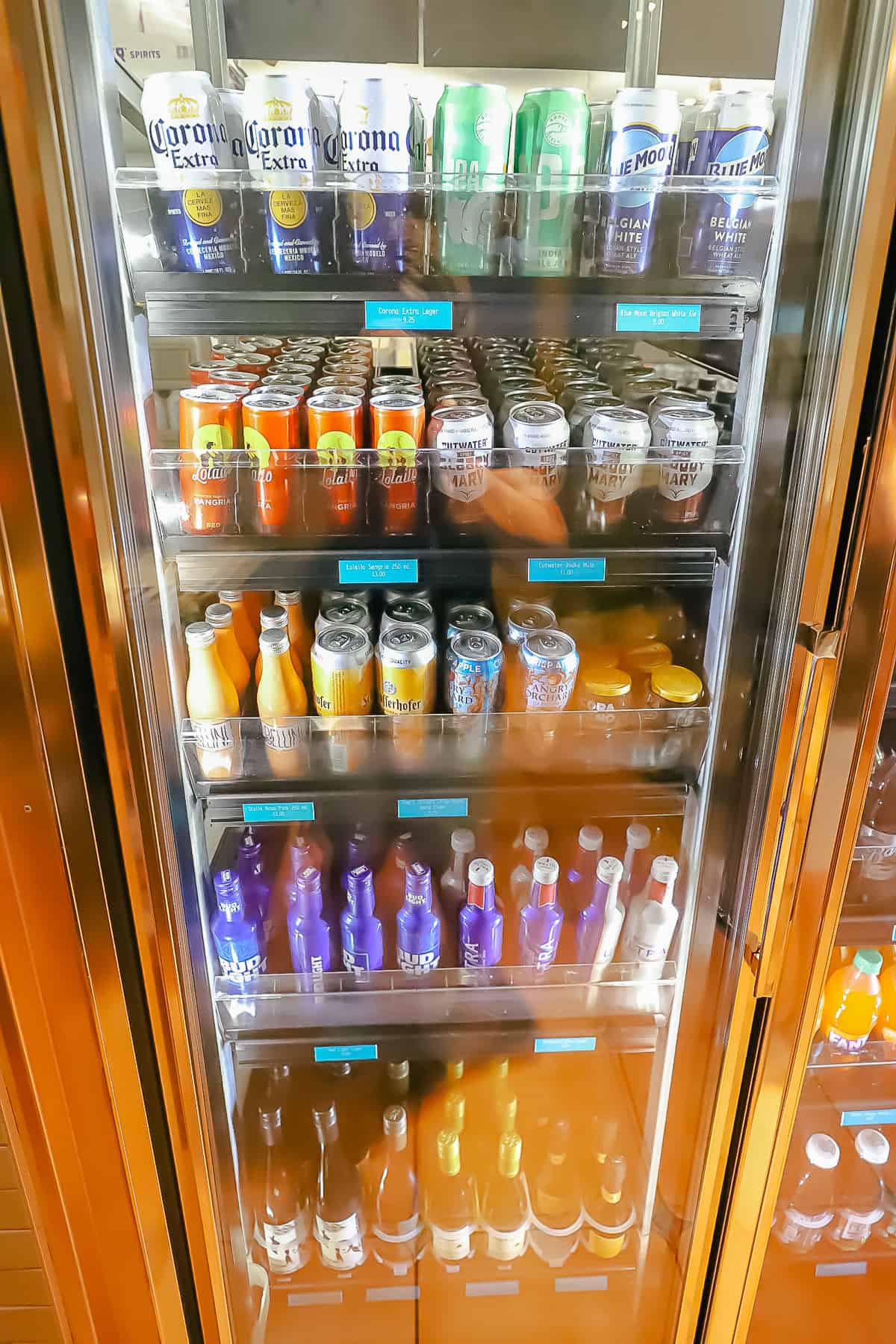 Bottled soda and tea are available.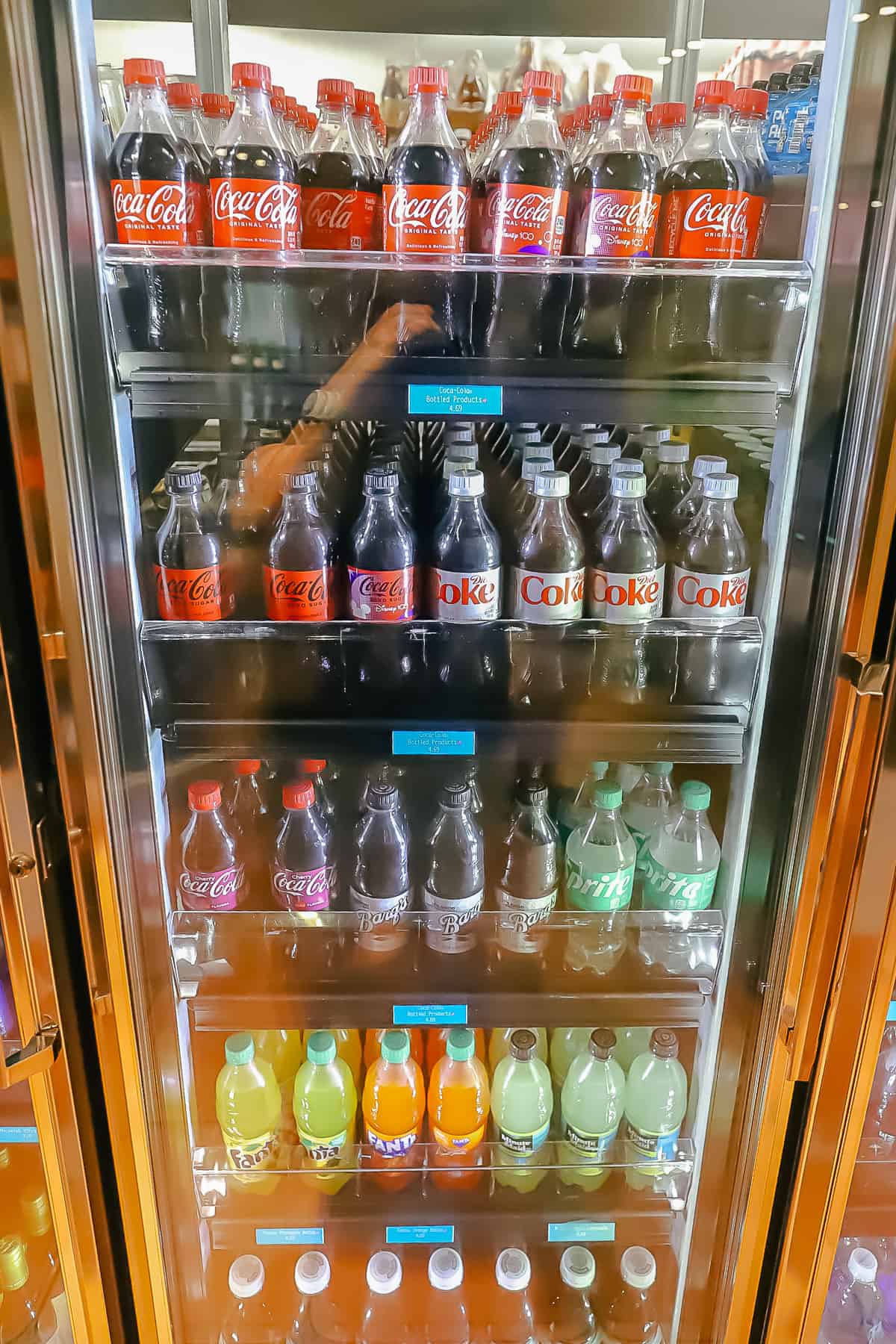 A few sports drinks and energy drinks sat toward the top. You can also find orange juice, water, and other flavors of juice.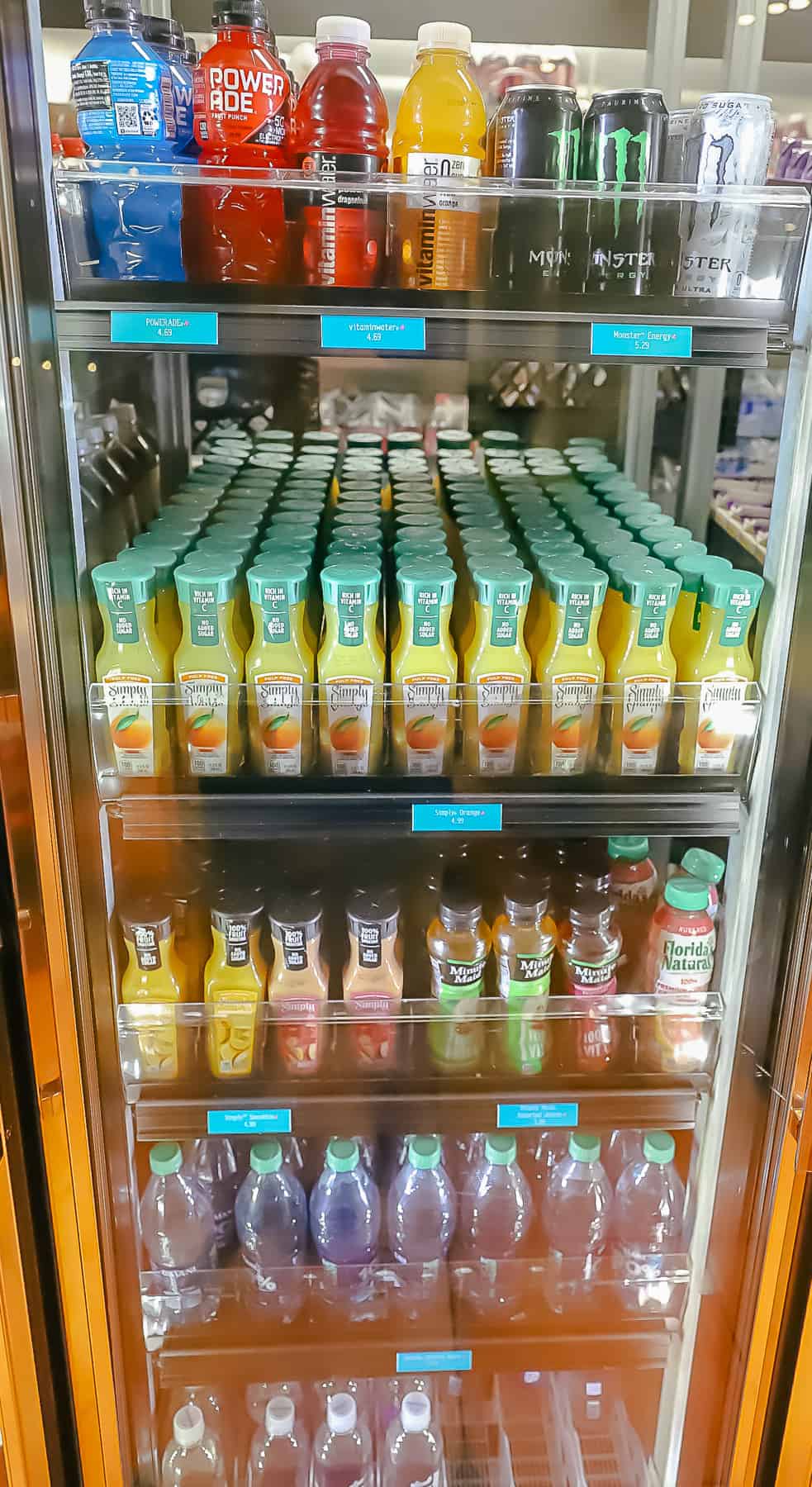 A kids' cooler contained several types of milk. If you order a kids' meal, you can select some of these items as sides. For example, I usually order an extra side of fries or a cutie. However, you could pick up a small carton of milk as an extra side and save it to use with cereal the following day.
Disney used to have small packages of grapes, carrots, and apples as sides, but I haven't seen them in quite some time. Now options are mostly the Go-Gurt apple sauce or the Danimal yogurt drink.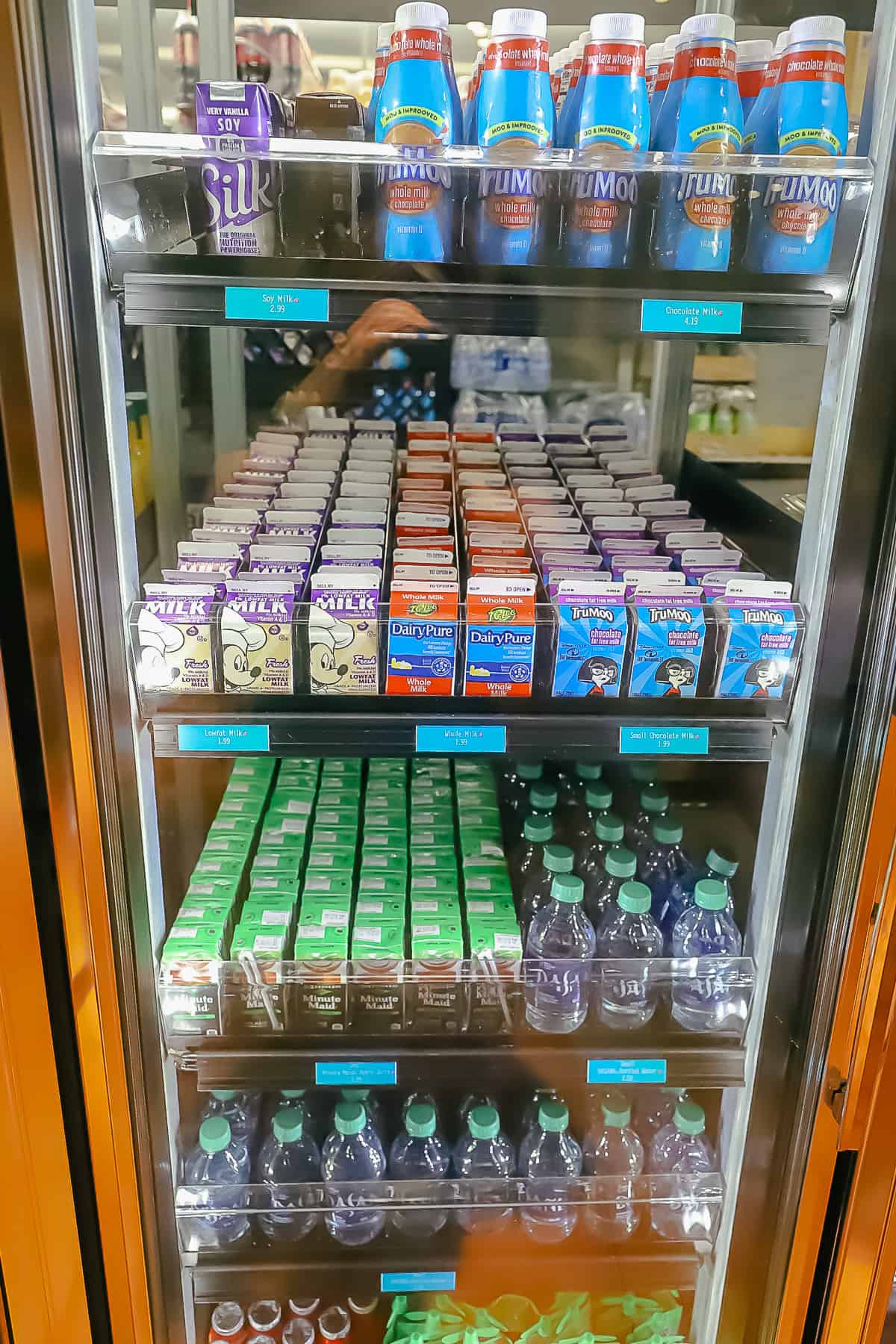 The last two cases contained the Mickey and Minnie cupcakes we saw on the dessert menu. A few other treats were available.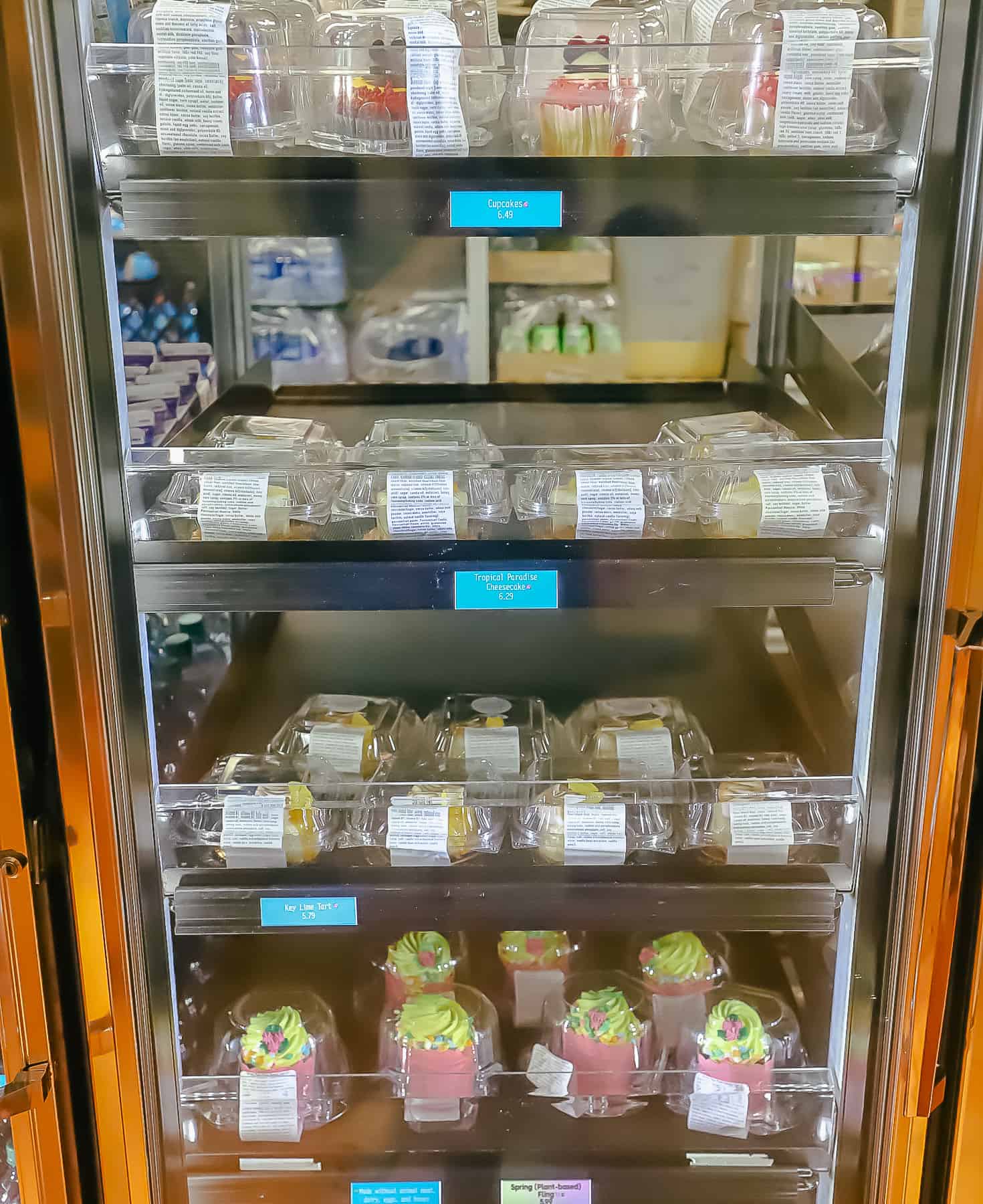 Lastly, we have a few premade sandwiches, salads, and fruit cups.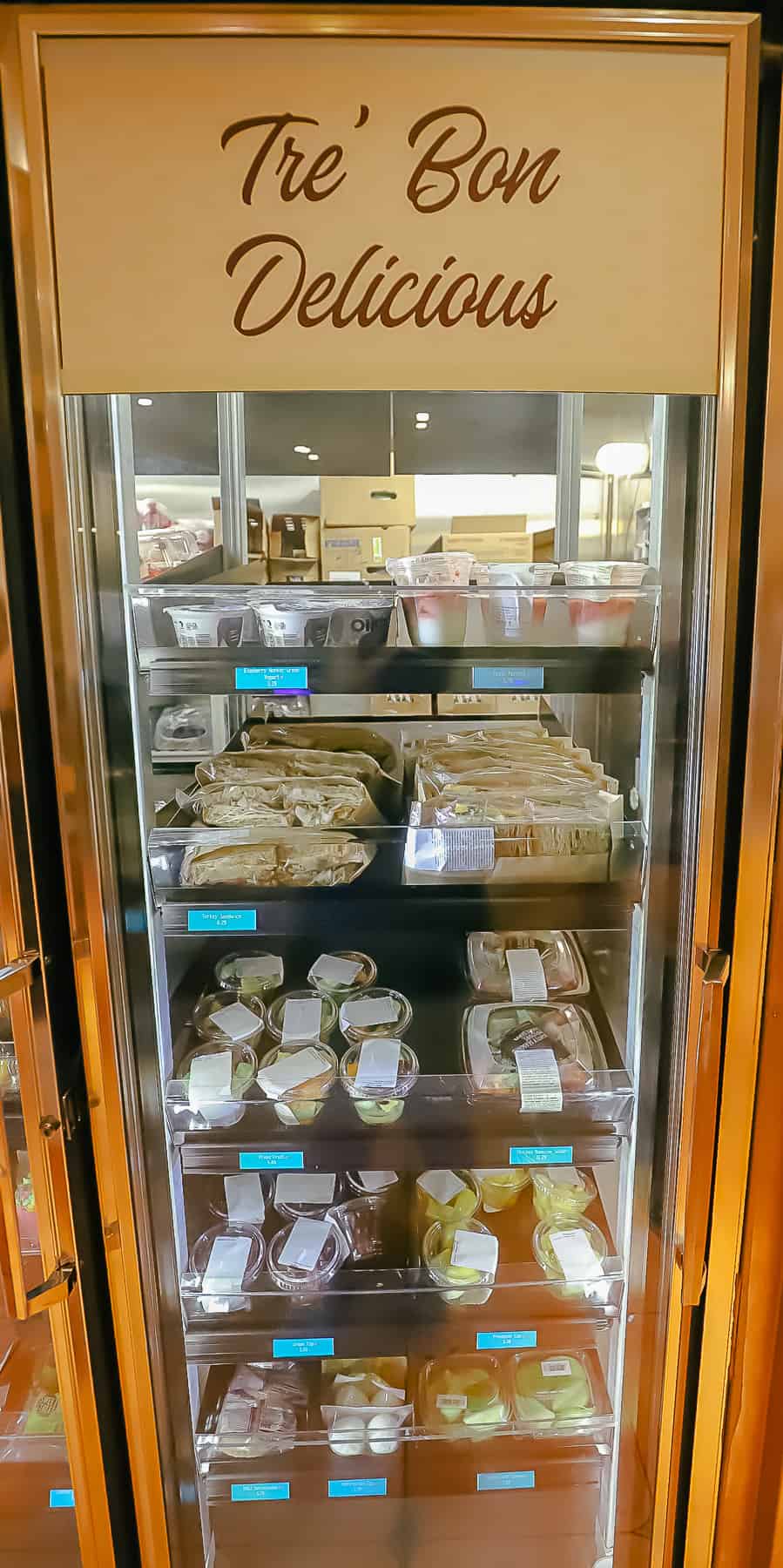 Disney Rapid Fill cups are available at the register. You can enjoy refills of fountain drinks, coffee, and tea at any resort self-service for the length of your resort stay for $21.99.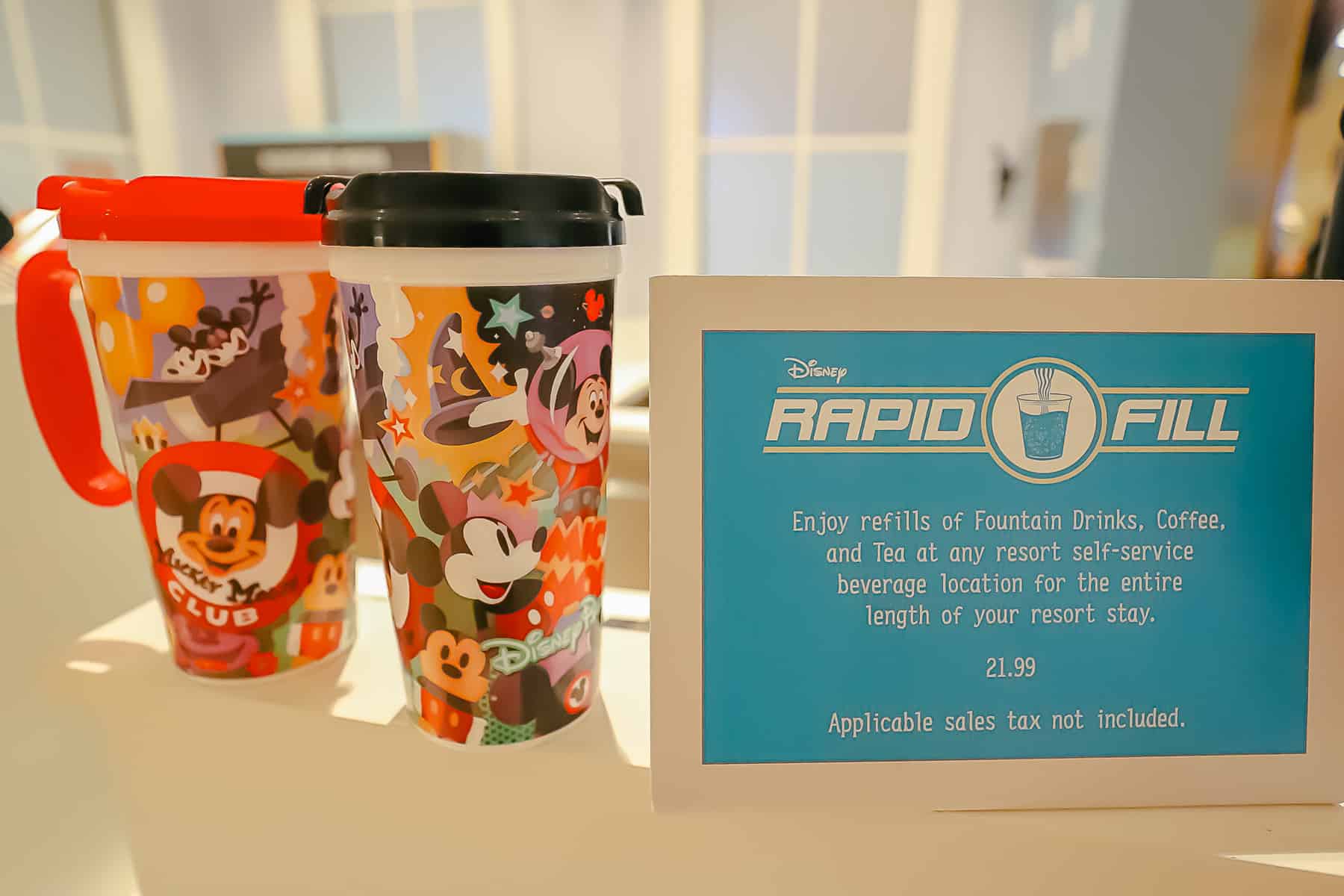 Additionally, soft-serve ice cream is available. The choices were vanilla, chocolate, or swirl, with a choice of two toppings.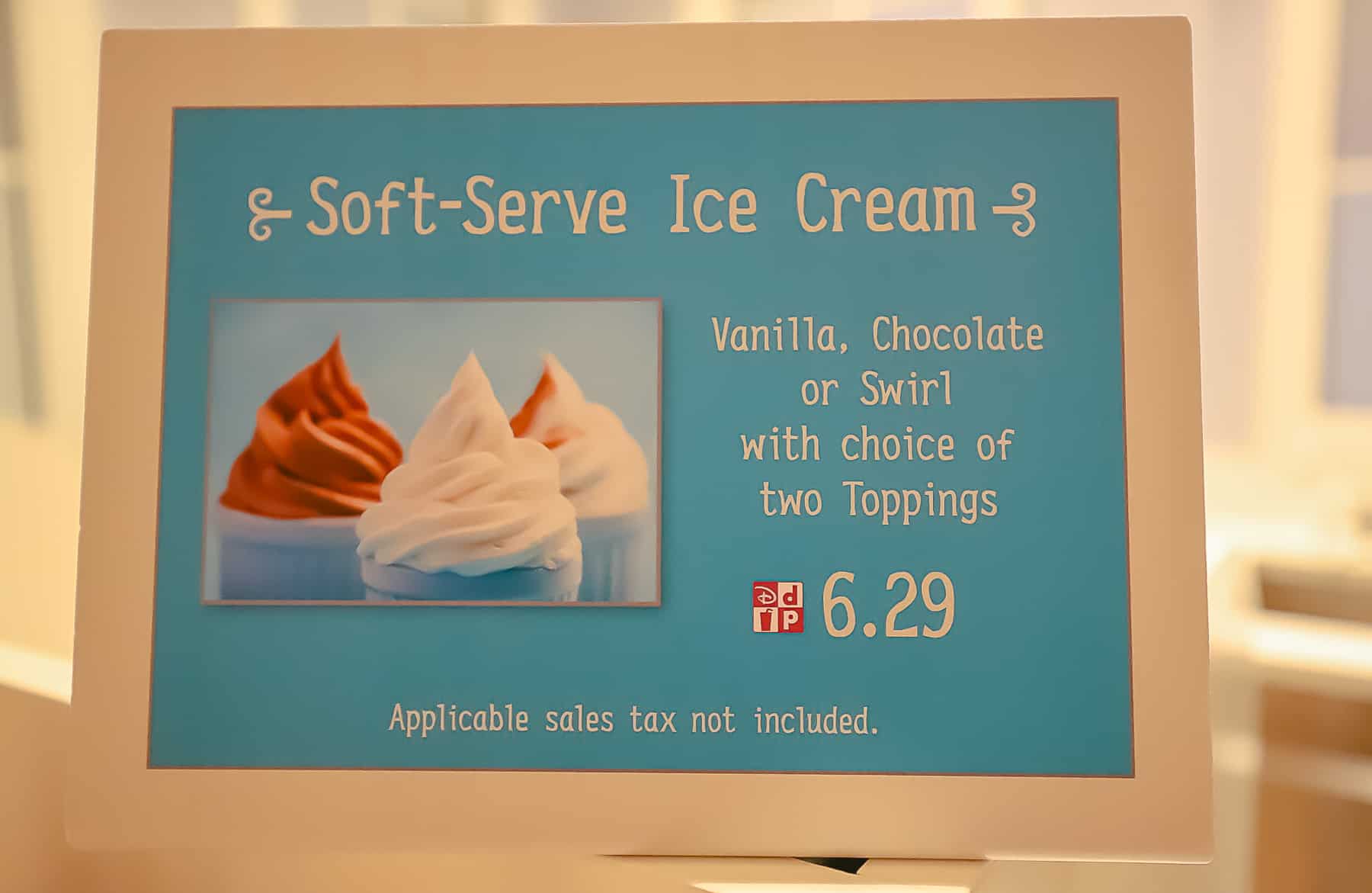 Overall, Centertown Market has a reasonable selection of grab-and-go and made-to-order menu items. But, of course, if you're staying at the resort, several other dining options are available, like Sebastian's Bistro, Banana Cabana, and Spyglass Grill.
Additionally, since Disney's Riviera sits next door, several other excellent dining options are within walking distance. They include:
For more information about Disney's Caribbean Beach Resort, you might enjoy the following:
What Do You Think?
What are your thoughts on Centertown Market? Do you miss the old version of this restaurant? Do you have any memories of dining here? Tell us your opinion or ask any questions in the comments below.