The 5 Disney Moderate Resorts (Including the Best Ranked)
This article ranks the moderate resorts at Disney World from the best to the worst. Additionally, we discuss the amenities at each of Disney's moderate resorts.
Are you at that place where you want to stay at a nice resort, but your budget is telling you no? Or maybe you've splurged for a nice hotel on a past trip and felt you paid too much?
We can't always have it all, even though it is a vacation. So, sometimes, a compromise is in order. 
When selecting a Walt Disney World Resort, that compromise is often a moderate resort. A moderate resort falls between two categories, value and deluxe.
Below we'll preview each moderate resort so you can decide which will work best for your Walt Disney World vacation. We'll also discuss what staying at a moderate resort entails compared to other Disney Resort Hotels.
Unfortunately, a moderate resort won't offer as many amenities as one of Disney's deluxe or deluxe villa resorts. But it will cost considerably less.
However, this resort category is considered a step up in amenities compared to the value resorts. So we're not scraping the bottom of the barrel just yet.
Most of you will find that Disney's moderate resorts are often–the perfect fit. Let's see why!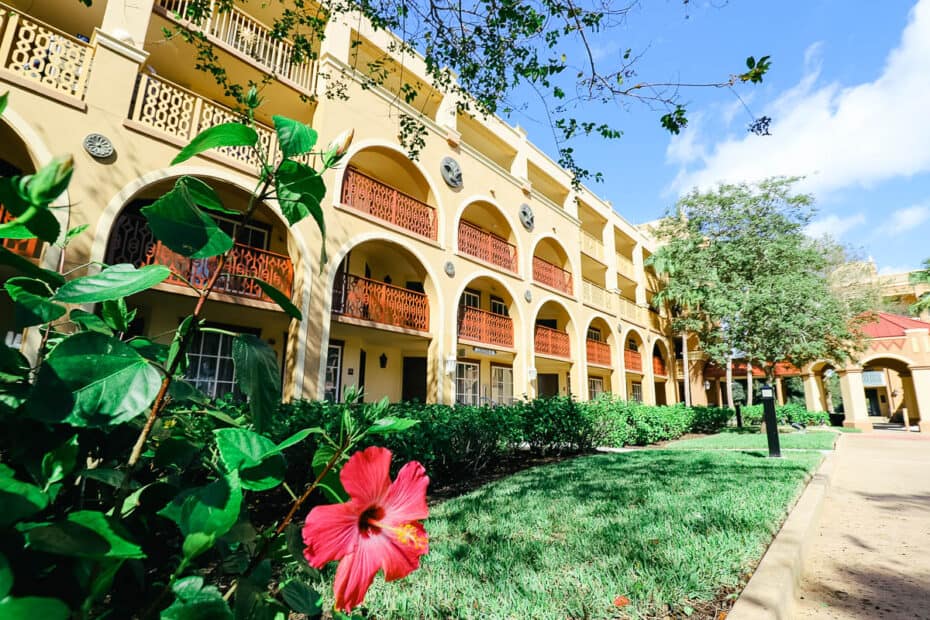 List of Walt Disney World Moderate Resorts
Below is a list of every moderate resort at Walt Disney World.
Now we'll go over the distinct amenities you'll find at the moderate resorts. Then we'll rank each one from best to worst.
What to Expect at Disney's Moderate Resorts
When it comes to theming at the moderate resorts, you won't find much "Disney" unless you look at some of the finer details. However, the deluxe resorts are the same way.
Disney's Value Resorts are the only hotels that offer authentic Disney theming, like Disney's All-Star Resorts, Art of Animation, or Pop Century.
With that said, Disney's moderates offer excellent theming. For instance, Disney's Coronado Springs has a mix of Southwestern American flair with Spanish vibes.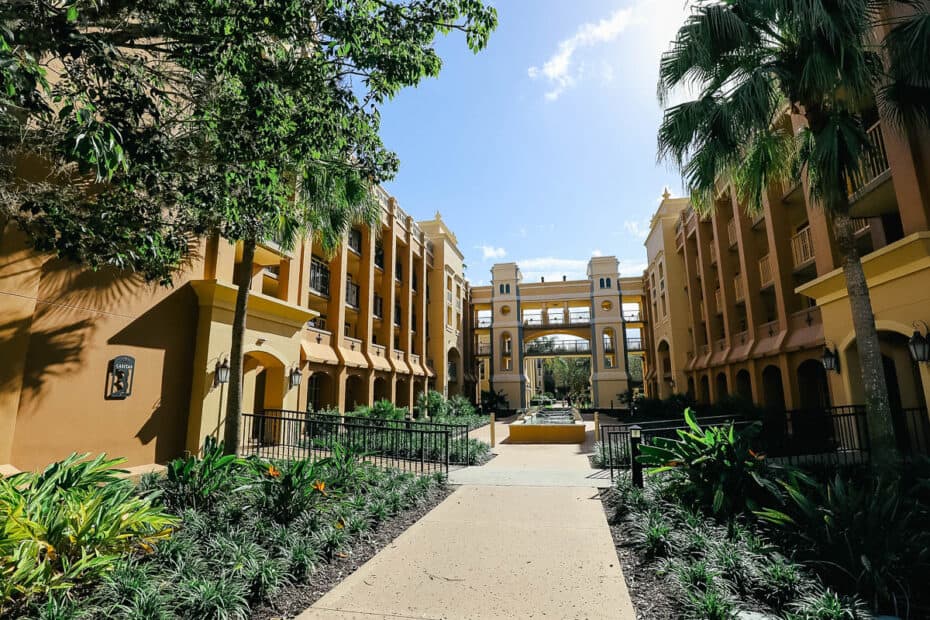 At Disney's Port Orleans Resorts, you might find yourself mesmerized by the touches of New Orleans and Mardi Gras at Disney's French Quarter. However, the bayou look and feel of Port Orleans Riverside has a unique way of enchanting guests.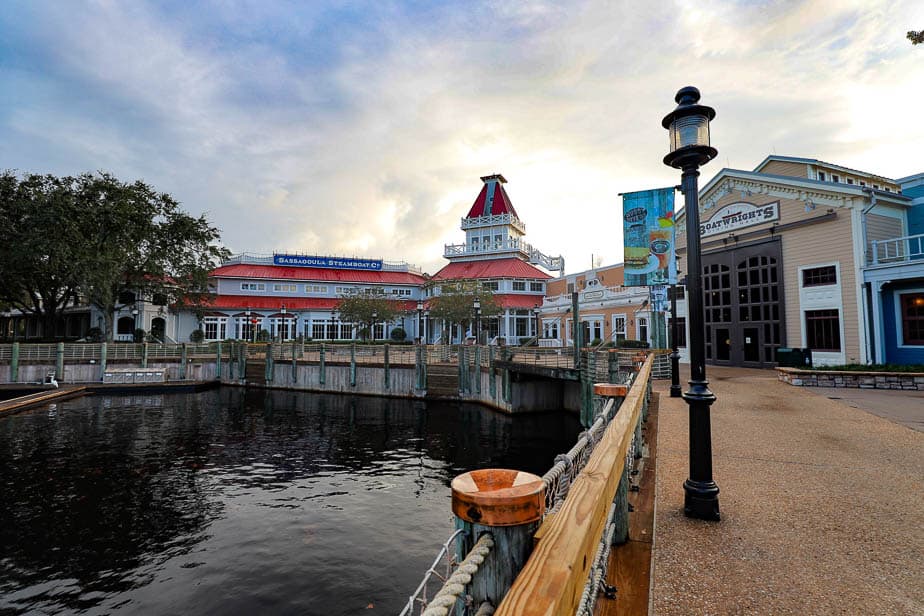 Those who want a tropical feel might enjoy vacationing at Disney's Caribbean Beach Resort. Each section of the resort is named after Caribbean islands like Martinique, Barbados, Jamaica, Trinidad, and Aruba.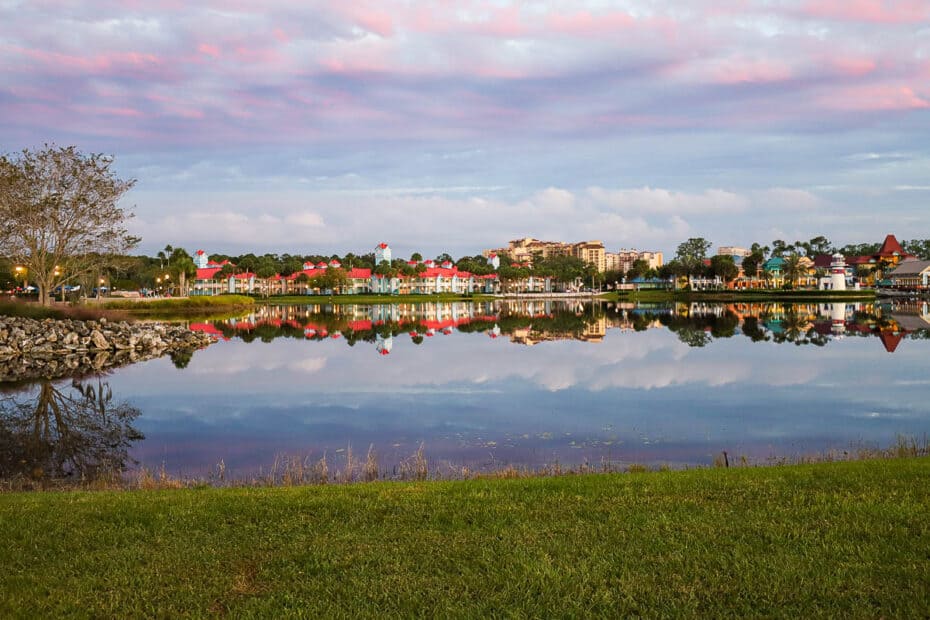 Lastly, Disney's Fort Wilderness Resort and Campground offers guests a variety of campsites and cabins. Cabins at Fort Wilderness are considered part of Disney's moderate resort category.
A stay at Fort Wilderness entails anything from pony rides to golf carts and bike rentals for getting around the property. Additionally, fishing excursions and other outdoor activities are available.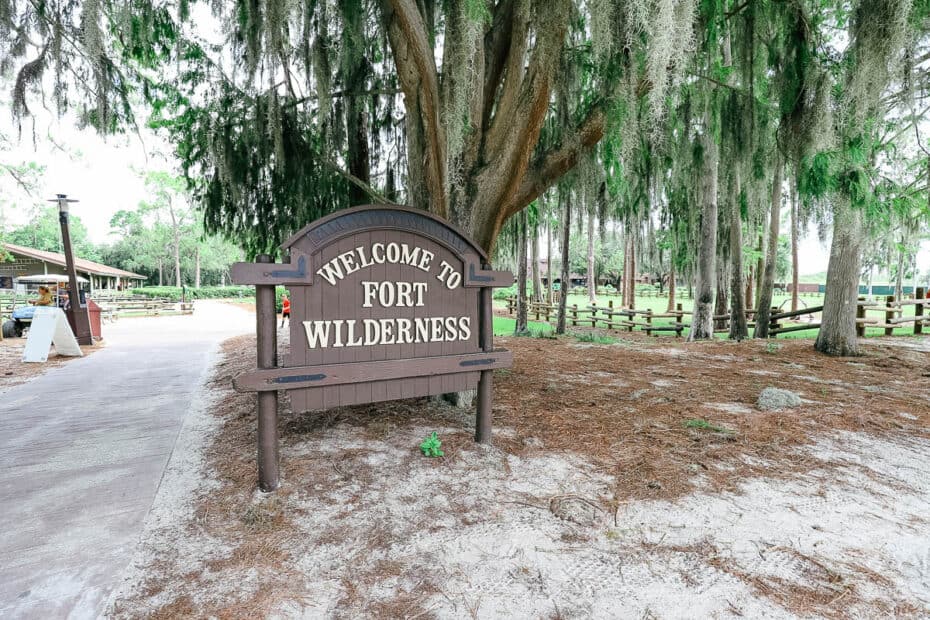 Resort Benefits
Guests staying at a Disney moderate resort can access early theme park benefits. Early theme park benefits allow guests to enter the parks 30 minutes before opening.
This benefit is offered daily at each of the theme parks. Therefore if you're staying at a moderate resort, you'll have early access to the parks.
While this might not sound like a huge benefit–it is. If you plan well, you'll likely have time to ride at least one popular attraction in the park before it opens to everyone else.
After that, you might have enough time to get in line for a second attraction, which will be a good jump start on the day.
Related: List of Resorts with Early Theme Park Entry
Pools and Recreation
Moderate resorts also stand out because their primary pools have a feature you won't find at the value resorts–waterslides. Kids can spend the afternoon sliding down the sea serpent's tongue at the Doubloon Lagoon, the pool at French Quarter.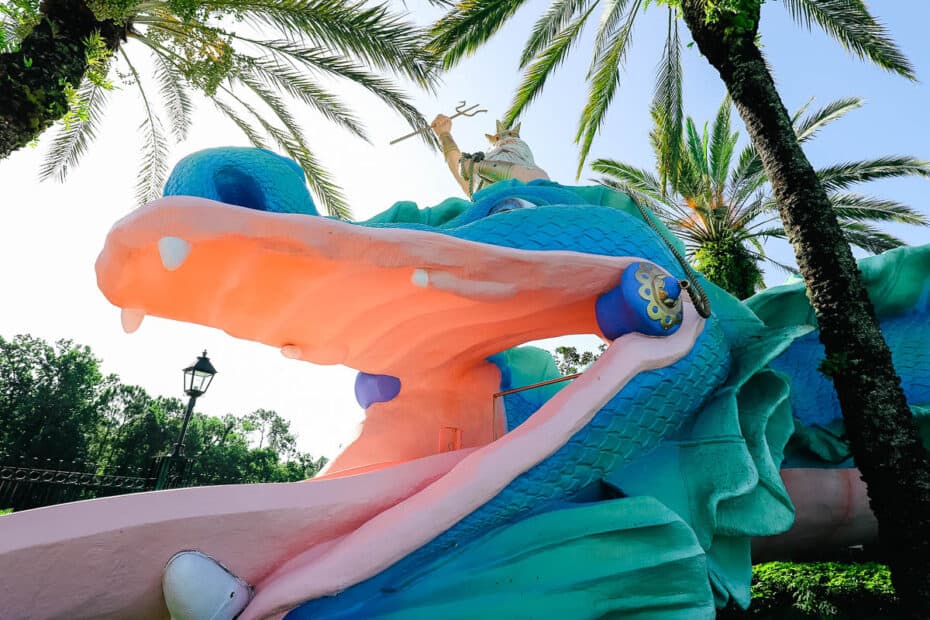 Or they might enjoy climbing to the top of the Mayan Pyramid at Coronado Springs and racing back down the Jaguar slide. Don't be surprised if they want to hang out at the pool all day!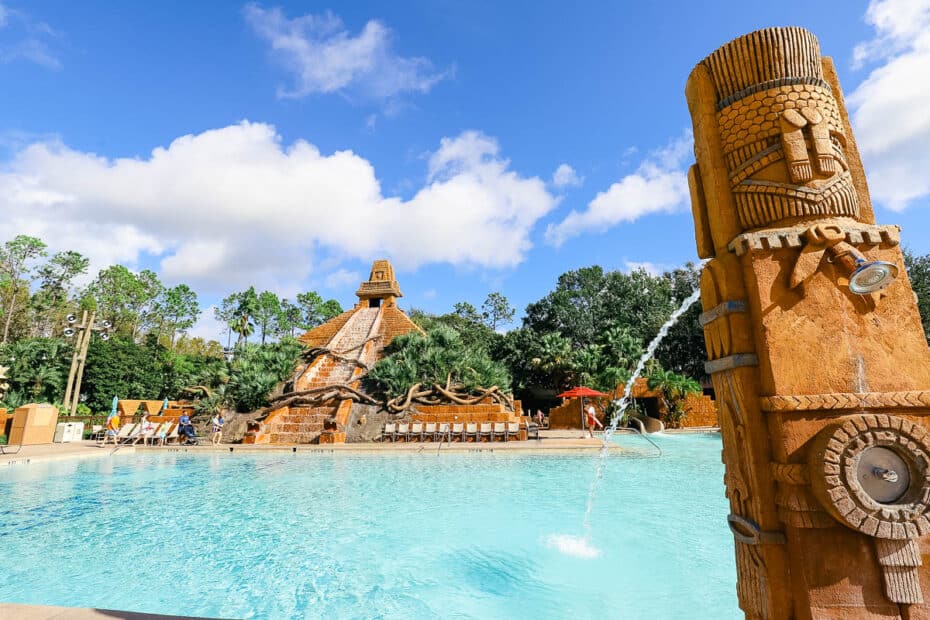 With one exception, all of the resorts in this category have a feature pool and multiple quiet pools scattered throughout the different areas of the resort. That exception is the French Quarter because it's a boutique resort with only one large feature pool.
In addition to the pools having water slides, each resort has a playground and an arcade. However, most of these extras are available at every Walt Disney World Resort.
Related: List of Every Pool with FAQs at Disney World
Dining
Another thing that sets moderate resorts apart is their dining options. Each one (with one exception) has one counter service, a pool bar, a table service restaurant, and a lounge.
Unfortunately, none of the moderates offer signature dining locations or character dining. You'll only find those types of restaurants at the deluxe resorts.
All moderates have food courts for their main counter-service dining option. Each food court accepts mobile orders and provides stations with various cuisines.
Disney's Port Orleans French Quarter differs here as well. This resort has Sassagoula Floatworks, an excellent counter service option. But, unfortunately, there's no formal table service restaurant at this resort.
However, most will agree it's unnecessary because Port Orleans Riverside is within walking distance. You'll find Riverside Mill Food Court and Boatwright's Dining Hall, a table service option at Riverside.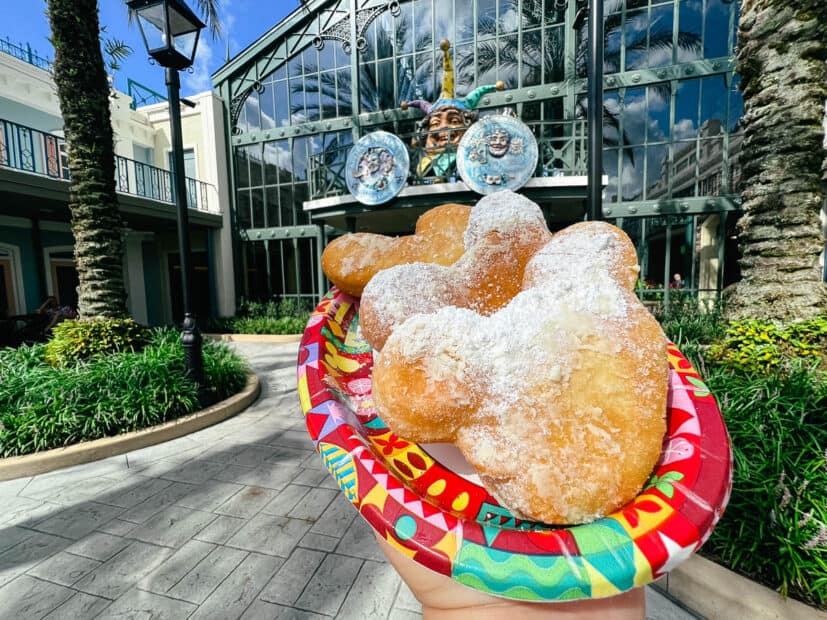 Accommodations
Moderate resorts offer slightly larger rooms than the value resorts. However, the main difference is that these resorts have guest baths with double vanities and two sinks.
For comparison, a value resort will only have one sink with less counter space.
Another noteworthy factor is that many of the moderate resorts have undergone refurbishment in the past couple of years with significant room updates. For example, this last year, we stayed in a standard room at Port Orleans French Quarter.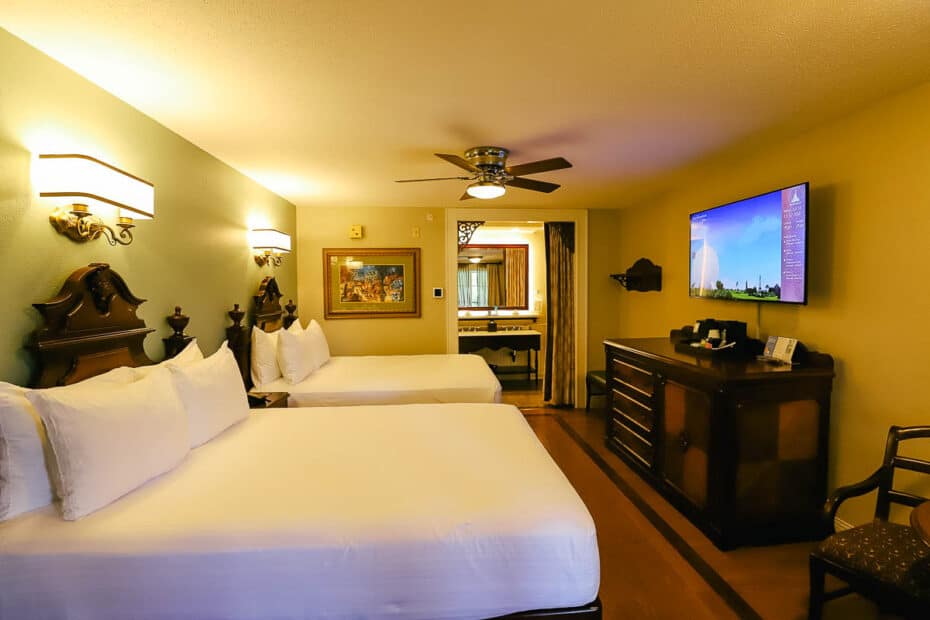 We loved this room and thought it was comfortable for a week's stay. Our room felt more like a deluxe with its simple furnishings, solid surface floor, and functional layout.
One potentially negative factor regarding accommodations at the moderates is the resort's layout. Except for French Quarter, the moderate resorts are massive in size.
Each section of rooms is spread out into villages. Therefore, you could have a significant walk to your room when coming and going around the resort.
Thankfully, the larger resorts have internal bus stops. So there should be bus transportation available near your room.
If you are concerned about having too much of a walk at a moderate resort, you might consider upgrading to a preferred room or look closer at Port Orleans French Quarter, which has a boutique layout.
Additionally, all of the moderates have exterior room access. By this, I mean that moderate resorts are not like hotels with interior hallways to access rooms.
You'll enter your room from the outside. So often, a view upgrade is not warranted. Your view would be to the exterior walkway outside your room and then a view of whatever the room was facing.
We always close our curtains because we don't want other guests peering into our room as they walk by. While I don't think many of us would intentionally invade another guest's privacy, it seems only natural that one would tend to look inside an open window in passing.
There's only one location in this class of resorts that's an exception, Gran Destino Tower. This tower hotel is a fairly recent addition to Coronado Springs Resort and offers interior room access.
So if staying inside a hotel is important, Gran Destino Tower is your only moderate option.
Related: Gran Destino Tower Review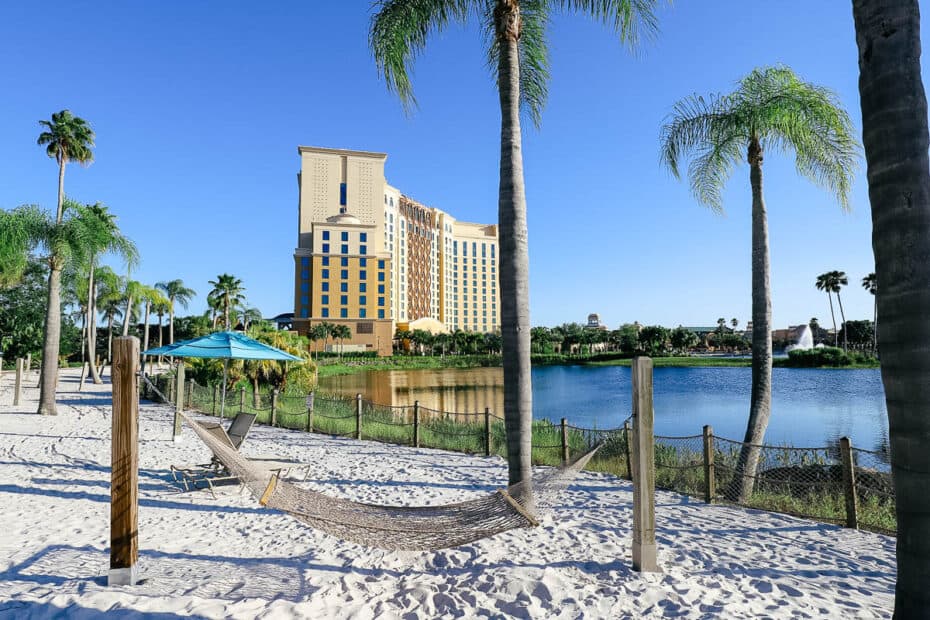 Lastly, I want to point out one other important factor, elevators. Unfortunately, Disney's Caribbean Beach Resort does not have any elevators. So if you're on the second floor of one of the buildings, you'll have to drag your luggage up the stairs.
Additionally, the Alligator Bayou portion of Port Orleans Riverside does not have elevators. While I wouldn't let that keep me from staying at either, I might request a room on the first floor.
Transportation
Transportation is another aspect to consider when choosing one of the Disney moderates. In the past, moderate resorts only offered bus transportation.
However, options have changed tremendously for one resort with the addition of the Disney Skyliner. That resort is Caribbean Beach, home to Disney's Skyliner central station.
If you stay at Caribbean Beach, you'll have the advantage of being able to take the Skyliner to Epcot and Disney's Hollywood Studios. This form of transportation is not an option at the other moderate resorts.
Related: Disney's Skyliner Resorts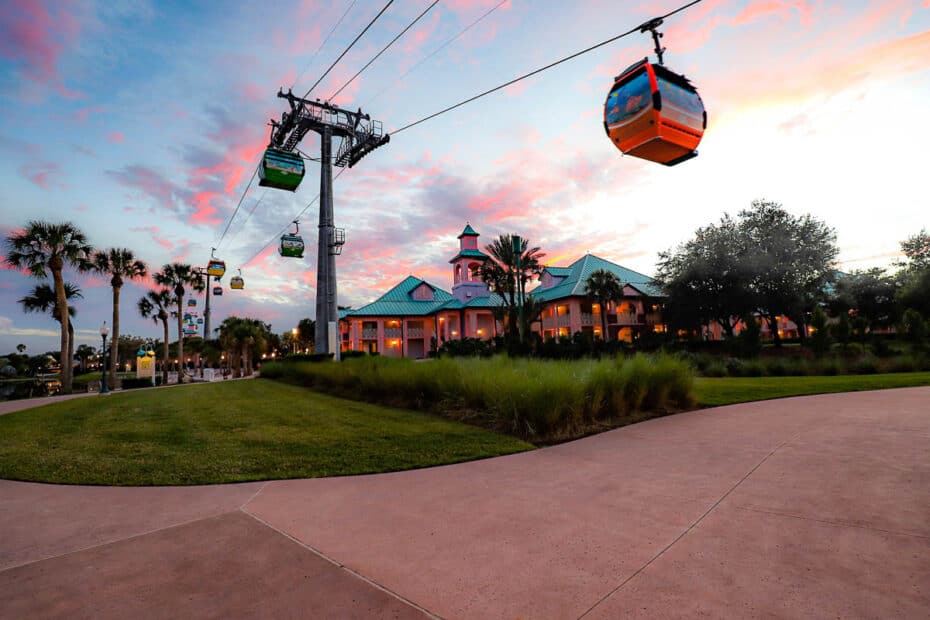 While Disney's Coronado Springs has a lot going for it, the resort's only form of transportation is the bus system. Therefore, you'll have to wait for a bus when traveling to other Disney destinations.
At Port Orleans Riverside and French Quarter, bus service is provided to all the theme parks and water parks. In addition, guests have the option to take a water taxi to Disney Springs.
If you plan to spend a decent amount of time at Disney Springs, the Port Orleans Resorts are excellent choices, given the proximity.
Fort Wilderness offers resort boat service to Magic Kingdom. Additionally, the resort provides bus service to all other Disney theme parks, water parks, and Disney Springs.
Due to the vast size of the campground, most guests will have to take an internal bus around the resort to get to the central bus station. Or you could bring or rent a bike or golf cart to travel back and forth to the bus stop or boat dock.
Best Disney Moderate Resort Rankings
While I know that many of you want to know which is the best Disney moderate resort, I have to be upfront. It's a subjective determination.
By that, I mean it's based on what kind of experience you want to have. Each of the moderate resorts is gorgeous in its own way. So it's hard to go wrong, whichever one you choose.
My best advice is to search your feelings and use the force to determine which moderate resort is right for you.
I'm only partially joking. But what I am trying to say is this–if you feel like you might love to stay at one of Disney's Port Orleans Resort, don't look at these rankings and think you shouldn't stay there.
Each of these resorts is ranked based on their offerings. Those factors, which we've mostly discussed, are updates, transportation, dining options, ease of getting around the resort, rooms, and other amenities.
So with no further ado, here are our Best Disney Moderate Resorts rankings.
#1 Disney's Coronado Springs Resort
There is no question that Coronado Springs Resort comes in as our top choice for the best Disney moderate resort. Let me tell you why.
First, there's Gran Destino Tower, the newest addition to the resort. This tower is a separate hotel that's more comparable to a deluxe than a moderate one.
Additionally, Coronado Springs has beautiful grounds. You can spend an entire afternoon walking the resort to take in all the different landscapes in each village.
In addition, Coronado's pool area, the Dig Site, is impressive. It is even included in our list of the best pools at Disney World.
Next, Coronado Springs has more restaurants than any other moderate resort. While they don't have a formal signature restaurant, they have Toledo, Tapas, Steak, and Seafood, which is pretty close to fine dining. (It made Florida's Michelin Guide.)
Additionally, this moderate has a large food court and a restaurant in the middle of the lake, Three Bridges Bar and Grill. It's an excellent place to lounge or have an entire meal.
Related: Restaurants at Disney's Coronado Springs
Coronado Springs is also the only moderate resort that offers a fitness center and spa. Since this best moderate choice has a convention center, you'll find it's the most well-rounded of all the resorts in its class.
Related: Coronado Springs Resort Review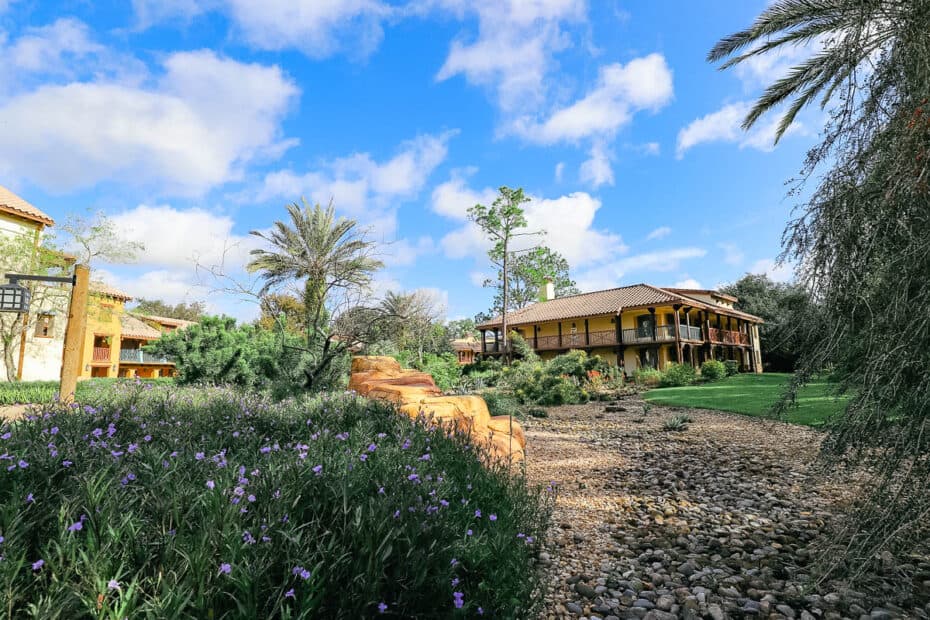 #2 Disney's Caribbean Beach Resort
Caribbean Beach is our second choice for the best Disney moderate resort. Between the Skyliner and subtle pirate-theming, this resort is tons of fun.
Of course, being able to hop on the Skyliner to access nearby Epcot and Hollywood Studios is a huge amenity. I often overhear guests saying the Skyliner is the best ride at Walt Disney World.
In 2023, the unpopular pirate rooms at Caribbean Beach are out. Disney recently released a preview of the new Little Mermaid rooms coming to the Trinidad section of the resort.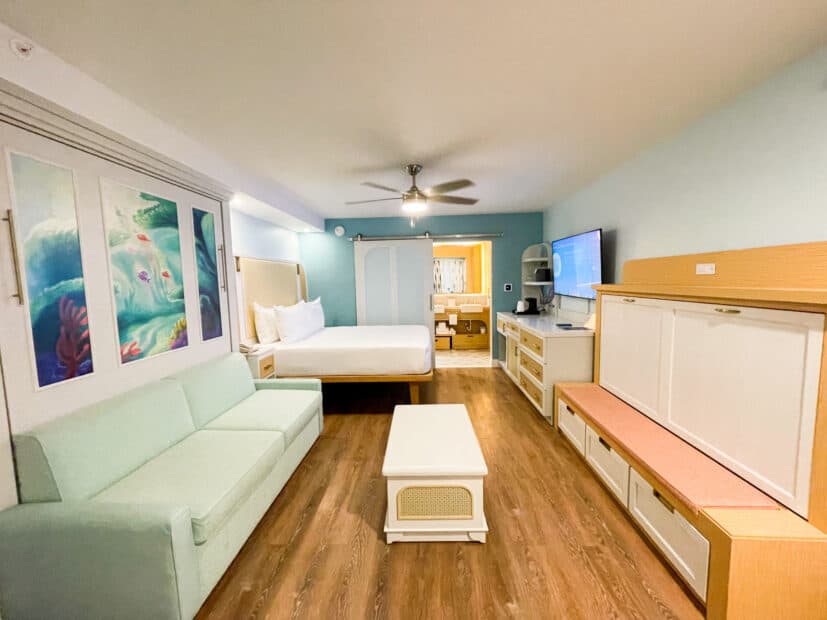 Additionally, Disney's Caribbean Beach sits directly next door to Disney's Riviera Resort. For you, that means even more dining options near the resort.
What's not to like about an island-themed resort with its own island? Take some time to explore Caribbean Cay during your vacation. There are several sandy beaches, a playground, and swings.
Overall, Disney's Caribbean Beach is a lovely resort. And if you think you'll enjoy the Skyliner, it might be time to try a stay here!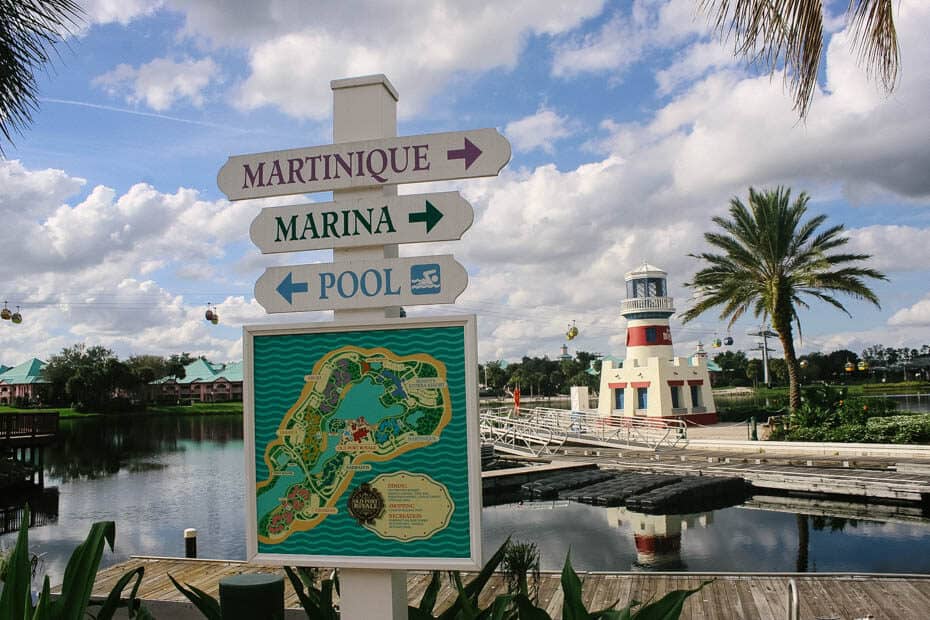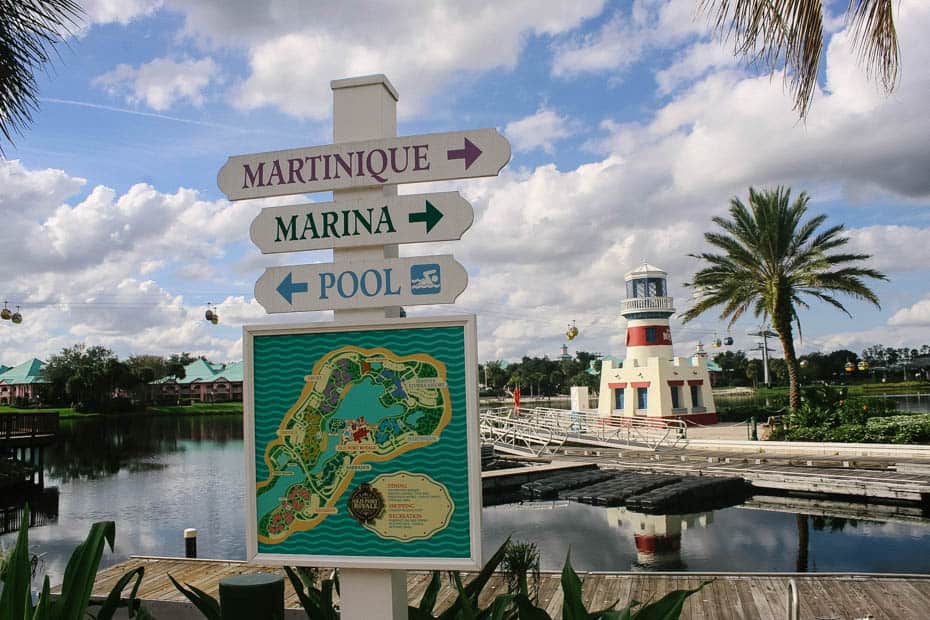 Tip: If you stay at Disney's Caribbean Beach, plan a resort-hopping tour of the Skyliner Resorts and nearby Epcot Resorts Area.
#3 Disney's Port Orleans French Quarter
Our third choice for the best Disney moderate is Port Orleans French Quarter. We only rank this resort third because the Skyliner gives Caribbean Beach a bit of an edge.
However, Port Orleans French Quarter has a romantic feel with a side of jazz. Jazz? That feeling comes from the friendly alligators that take up residence at the resort.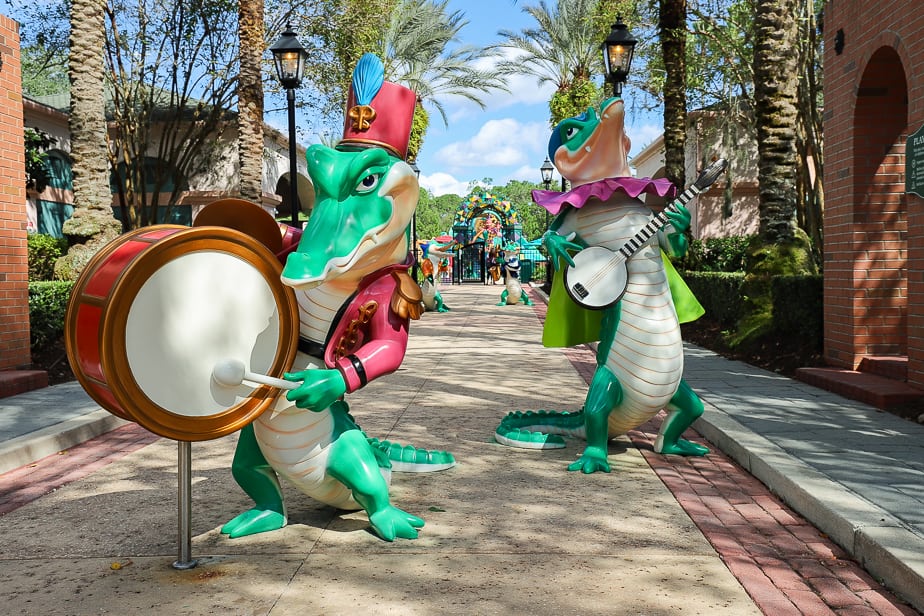 Similar to Coronado Springs, the French Quarter leans more toward the style of a deluxe resort. While you may remember how we already mentioned this resort lacks an extra quiet pool or formal table service restaurant, the charm of the resort (and ease of getting around it) makes up for it.
Plus, it doesn't hurt that you can hop on a water taxi out back and head down the Bayou to Disney Springs. Of course, you'll have to decide where to eat at Disney Springs when you get there.
Related: Port Orleans French Quarter Resort Review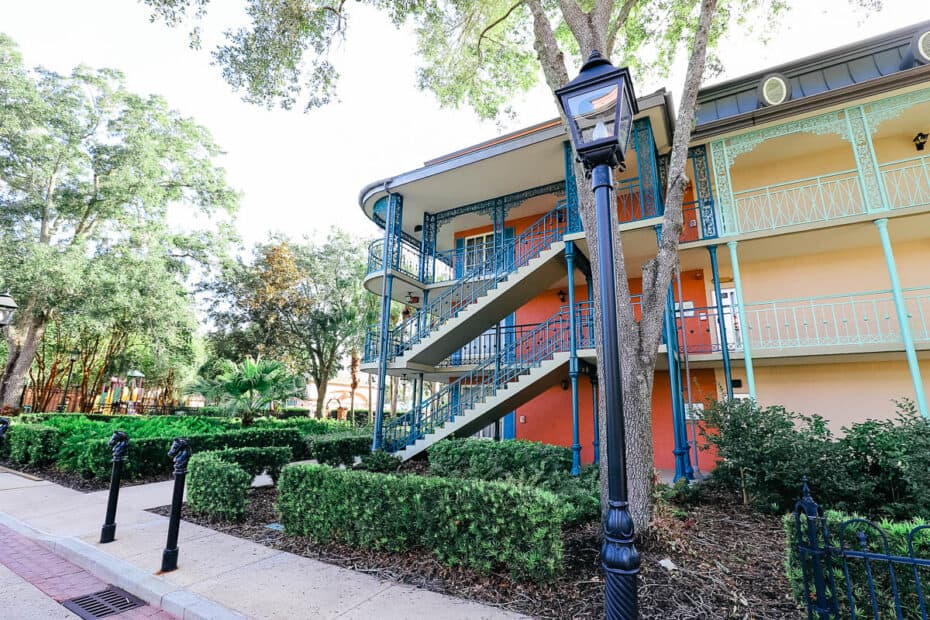 Tip: Port Orleans French Quarter is where you want to get beignets at Disney World! They are available at Scat Cat's Club Cafe off the resort's lobby.
#4 Disney's Fort Wilderness Resort and Campground
It's unfortunate to rank Disney's Fort Wilderness as our fourth-place moderate resort. However, a stay here is not something for everyone.
Fortunately, you should be able to discern whether or not an outdoorsy vacation will work for your family.
On a positive note, Fort Wilderness is a tremendous resort with many things to do on-site. It's so tremendous that you'll want to rent bicycles or a golf cart to get around. Of course, the resort's size will make it challenging for some, so this could also be a negative.
But what sounds cozier than a stay in one of the cabins at Fort Wilderness? Cabins even offer some of the modern conveniences of home, like separate sleeping areas and a kitchen.
You might even save a little money by preparing a few meals during your stay. I'll let you decide where this one ranks on your list.
Related: Disney's Fort Wilderness Review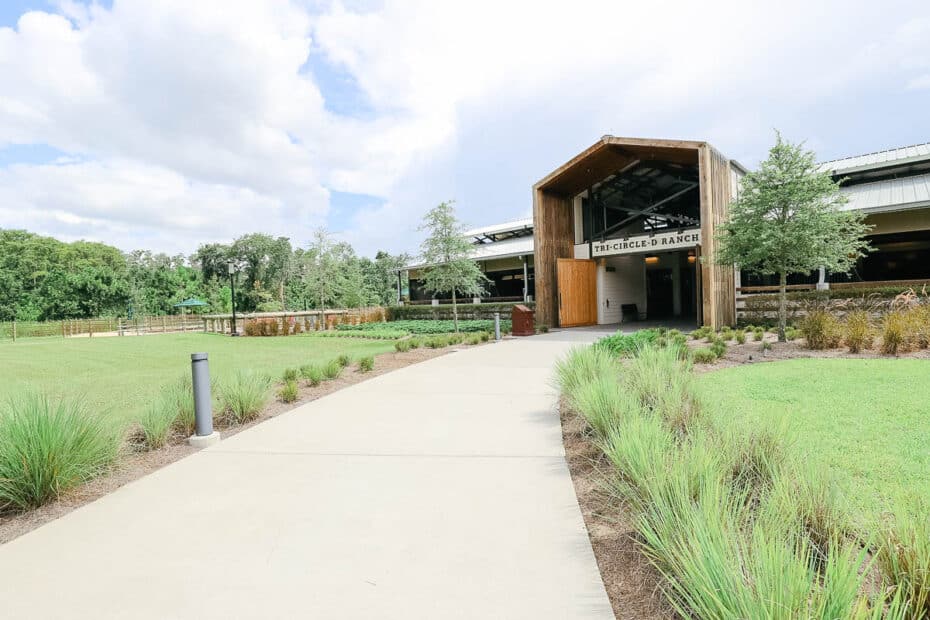 #5 Disney's Port Orleans Riverside
Lastly, Port Orleans Riverside is our last (or worst) moderate resort at Walt Disney World. As much as we enjoy a day visit to Riverside, I find the resort fairly difficult to get around, especially for someone who has never visited.
Port Orleans Riverside is divided into two sections, The Mansions and Alligator Bayou. On a positive note, most of the rooms at Port Orleans Riverside have received updates in recent years.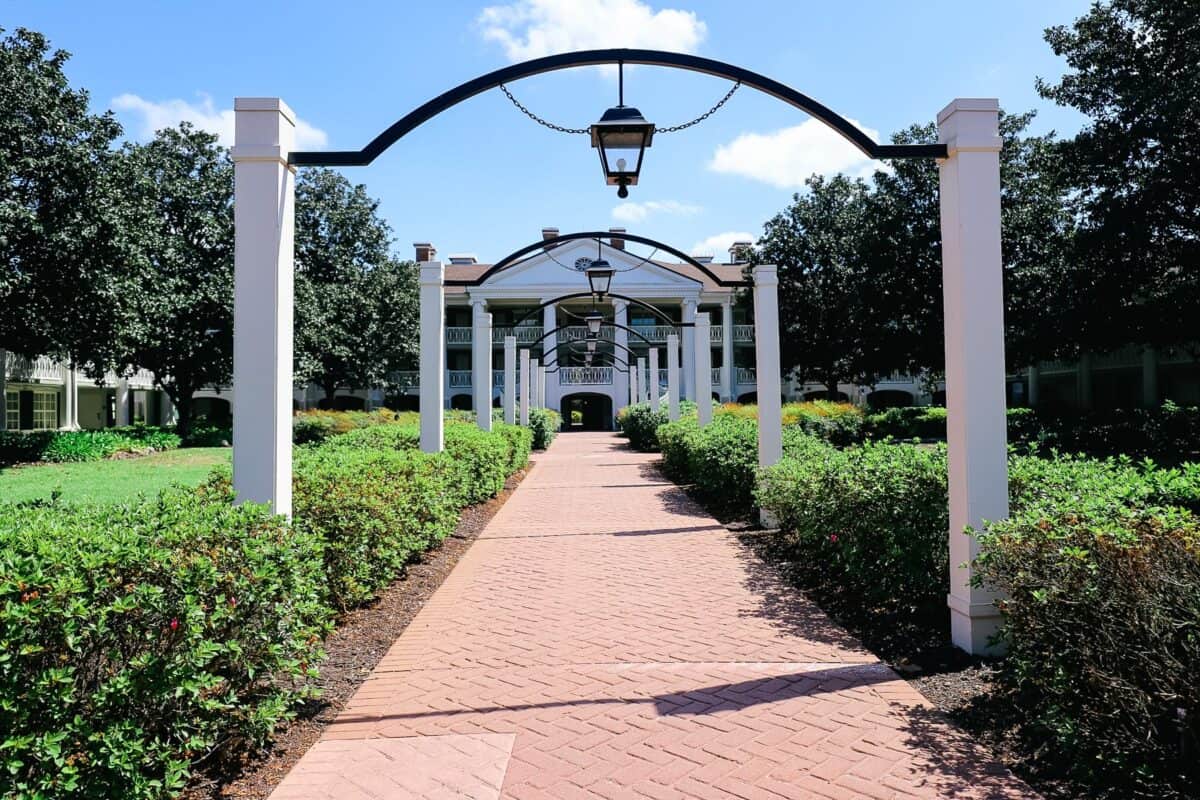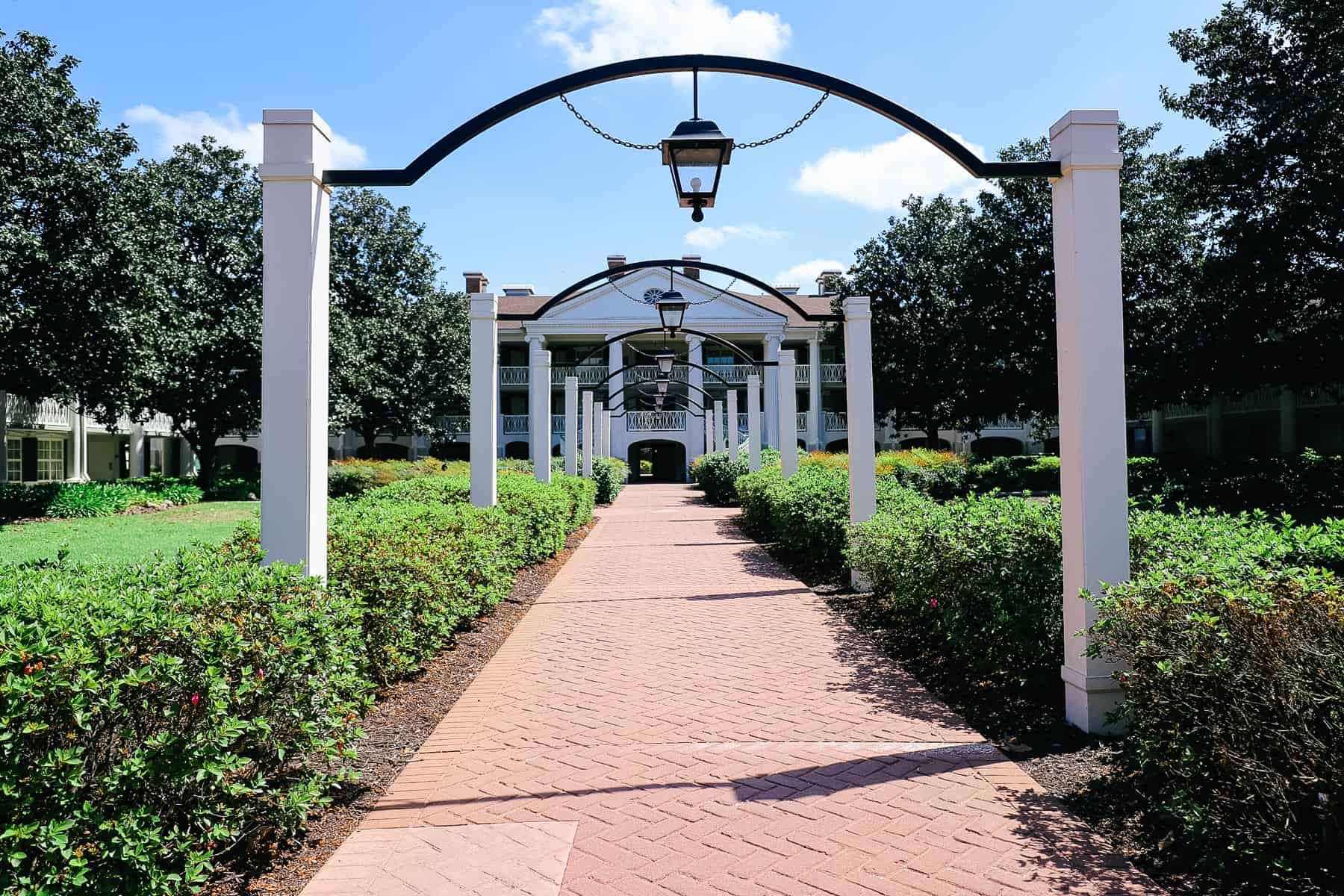 Expect touches of Tiana from The Princess and the Frog. However, I probably wouldn't consider upgrading to one of the Royal Guest Rooms.
On a past stay, we did and ended up in a terrible location far away from the bus stop and the resort's other amenities. However, on our most recent stay, we loved our location. That trip is detailed in our review below.
While the resort has beautiful grounds, most will be much better off next door at the French Quarter. And this reason alone makes Port Orleans Riverside come in last.
Don't get me wrong. If you plan on visiting Disney Springs during your vacation, either of Disney's Port Orleans Resorts is convenient. Just expect more walking in addition to all the other walking you'll do in the parks.
Related: Disney's Port Orleans Riverside Review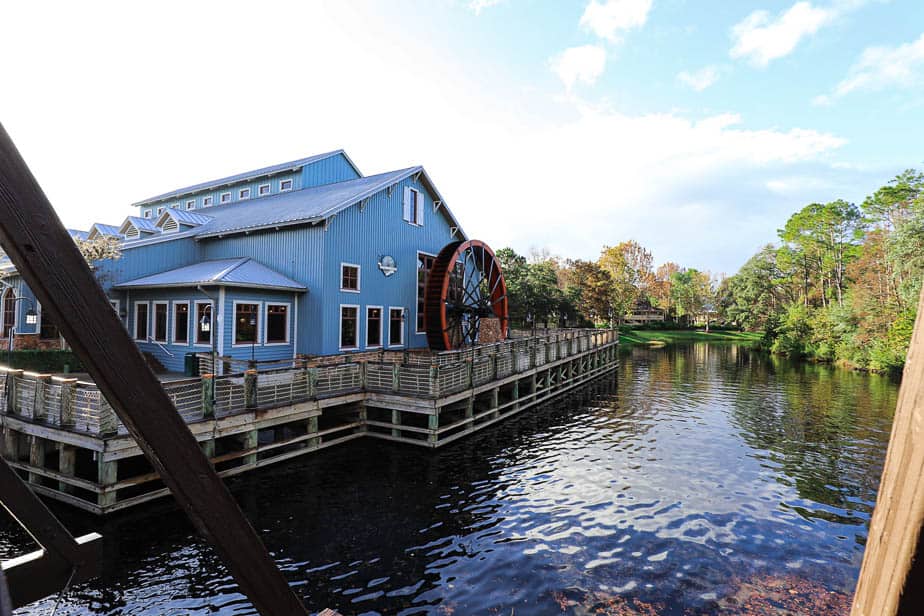 Tip: Port Orleans Riverside is home to River Roost Lounge, where Yehaa Bob Jackson performs several nights per week. You can check the schedule here on Disney's site.
Final Thoughts on the Disney Moderate Resorts
Before we wrap things up, I wanted to reiterate the key factors distinguishing a moderate from the other resort types.
Moderate resorts all offer bus transportation. In addition, you will find boat service to Disney Springs from the Port Orlean Resorts, Disney's Skyliner from Caribbean Beach, and boat service to Magic Kingdom from Fort Wilderness.
Each of these resorts has a feature pool with a water slide. Most will have multiple quiet pools.
All of these resorts have laundry facilities available.
Moderates all have quick and table service dining options, except French Quarter.
Each resort has exterior room access, except for Gran Destino Tower at Coronado Springs.
If you still aren't sure whether or not a moderate resort is right for you, you might want to browse these other resort categories:
If you would like to learn more about staying at Disney, check out our list of Disney World Hotel Reviews. Or you might prefer to browse the entire list of Walt Disney World Resorts.
For more planning, we recommend these articles:
In the Comments
Have you had the opportunity to stay at any of these Disney moderate resorts? Do you agree or disagree with our choices for best moderates? Which resort are you leaning toward?