Disney's All-Star Movies Room Tour (Photos and Video)
We're off to tour a standard guest room at Disney's All-Star Movies Resort. Below we'll take a photo tour of the room, and there's a video toward the bottom of this article.
Standard guest rooms at the All-Star Resorts have two queen-size beds. One of those beds is a Murphy-style bed that converts to a table when the bed is not in use.
As far as room types go at Disney's All-Star Movies, there are two options. First, there's the standard guest room with two queen beds or a king-size bed.
Second, there is a preferred room category. These rooms will also have two queen beds or a king-size bed. However, they will be closer in proximity to Cinema Hall.
Cinema Hall is the resort's hub, where you'll find the lobby, food court, arcade, and bus stop. Additionally, the resort's feature pool sits immediately behind Cinema Hall.
Preferred rooms at All-Star Movies aren't any different than regular rooms other than their location. But they are an upgrade because you won't have to walk as far to get to and from your room.
For this stay, we were in a preferred room. I'll touch on that more in our upcoming resort review. But in the meantime, know that this is what your room will look like unless you get a room with a king-size bed.
Related: Disney's All-Star Movies Resort Review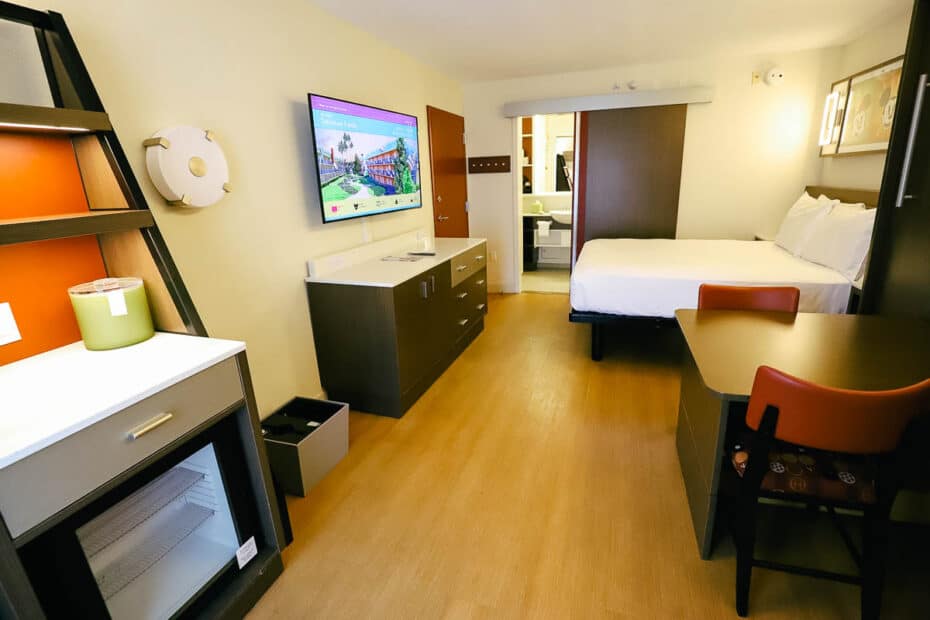 Over the past few years, Disney's All-Star Resorts have received almost identical room refurbishments. That's largely because these exact layouts received rave reviews at Disney's Pop Century even longer ago.
Of course, All-Star Movies is one of Disney's Value Resorts. So these rooms are small at 260 square feet. However, their compactness comes with convenience.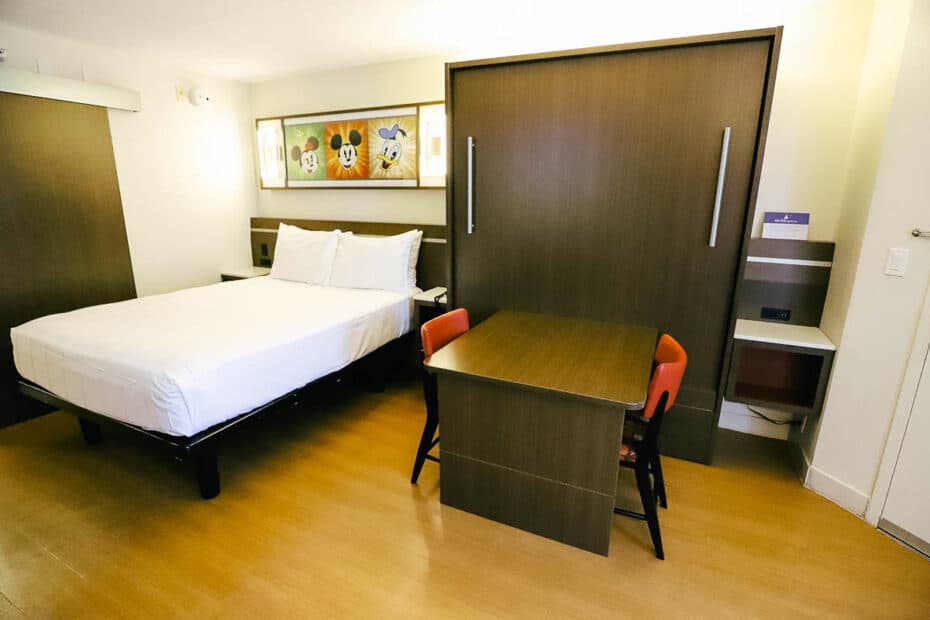 Formerly, the All Stars had a curtain between the room and the guest bath. Now we see a sliding pocket door that provides more privacy between the two spaces.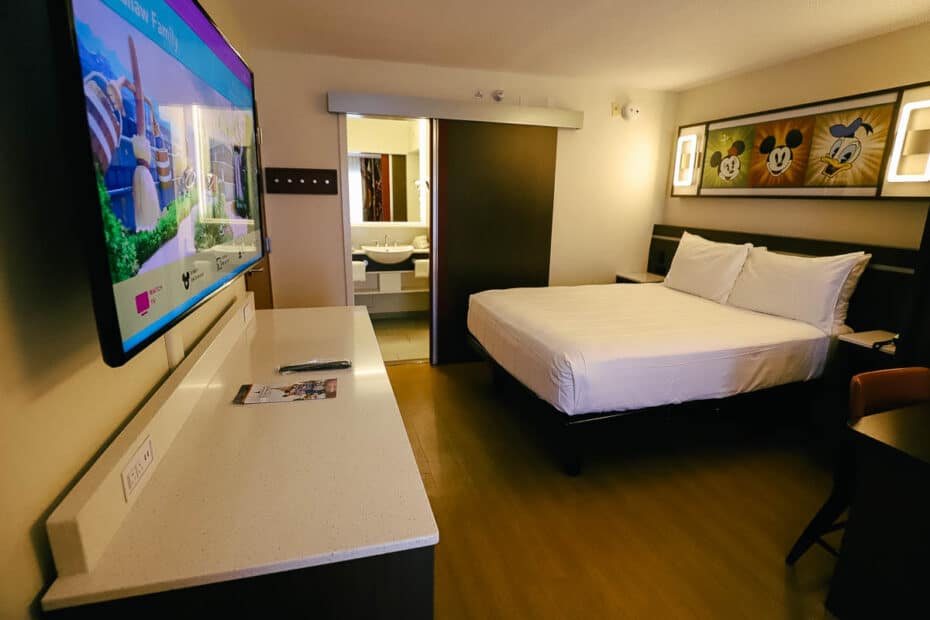 Anyone who needs to work while on vacation will likely appreciate the table with chairs. However, in the past, when my son and I stayed in this type of room, we utilized both beds. So we would leave the bed down throughout the trip.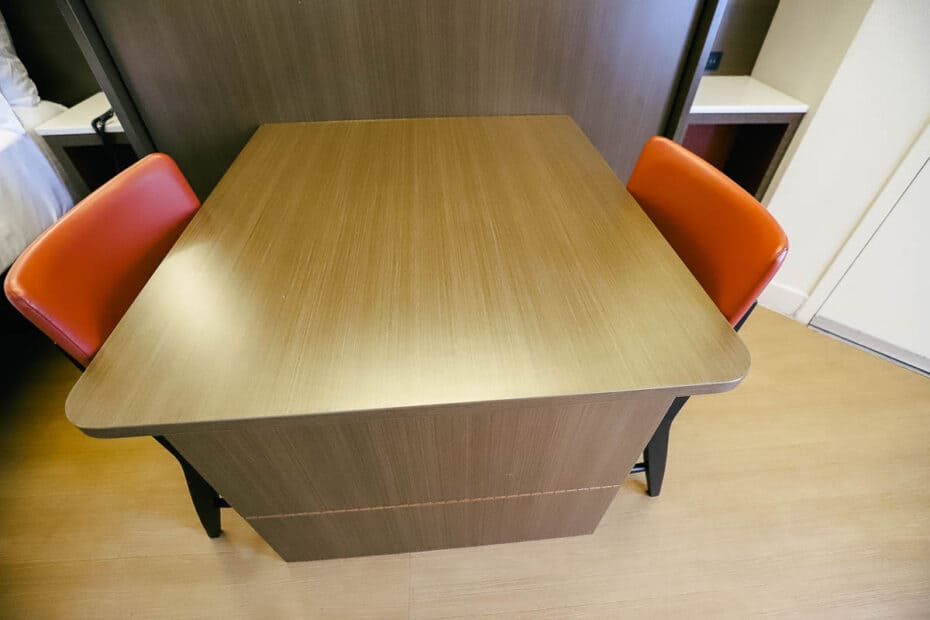 However you decide to use it, it's nice to have the option.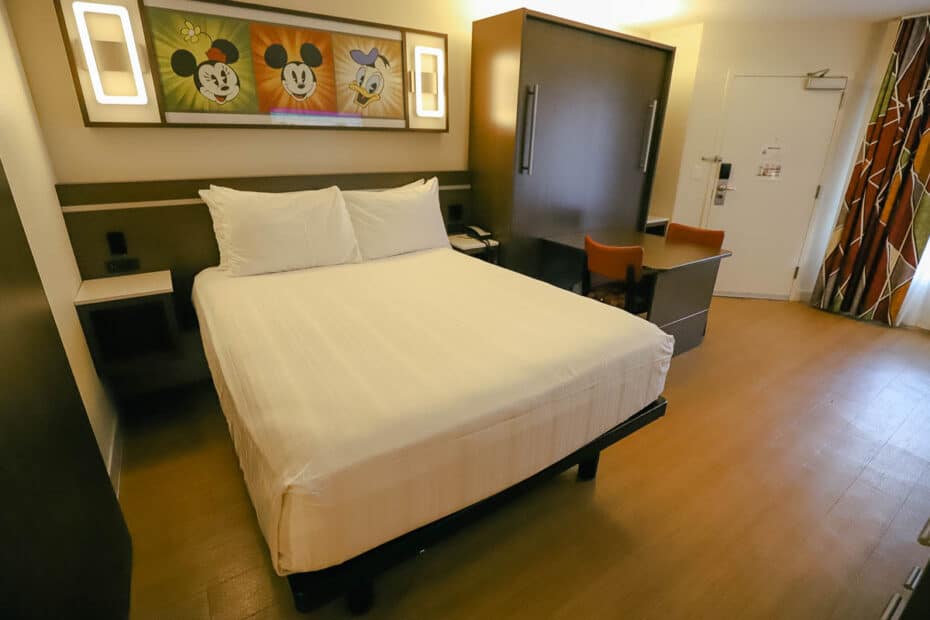 Here's a view of the room looking toward the entrance.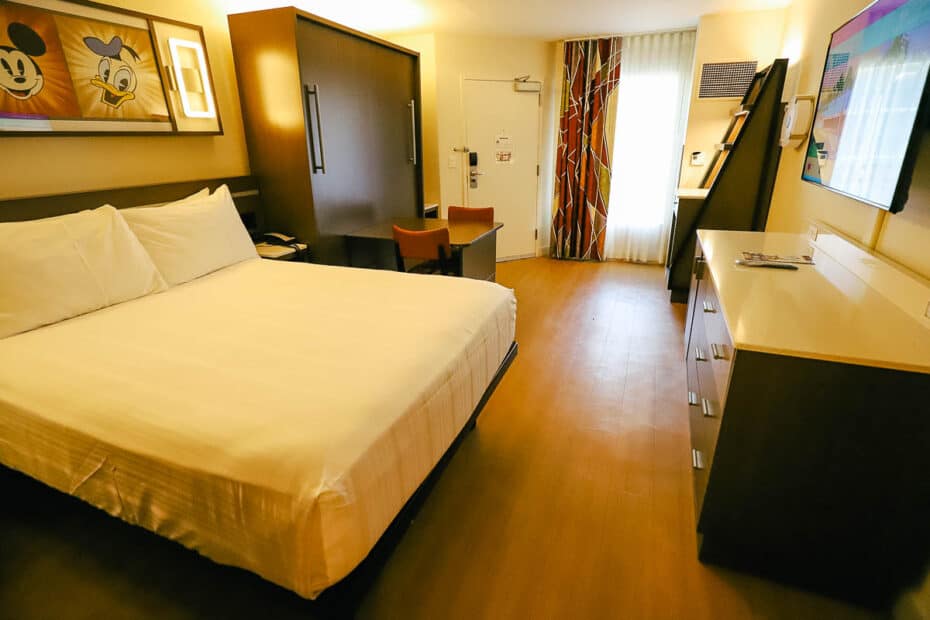 A piece of art featuring Minnie, Mickey, and Donald hangs over the bed. Light fixtures are on each side of it.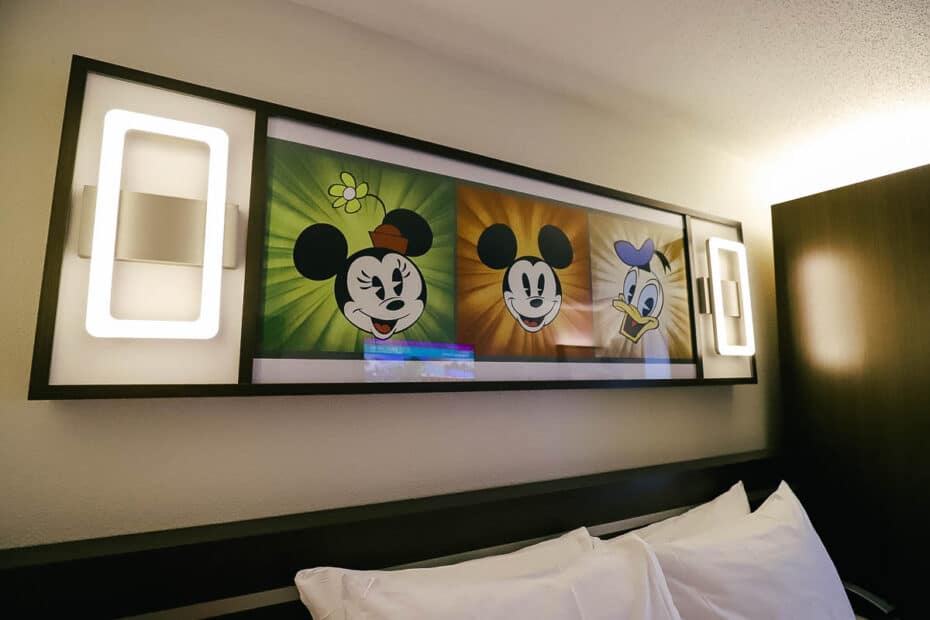 Those lights are controlled by a switch that sits above each nightstand. Additionally, there are charging and USB ports on each side of the bed. Technically, these are built-in cubby holes with tops rather than nightstands.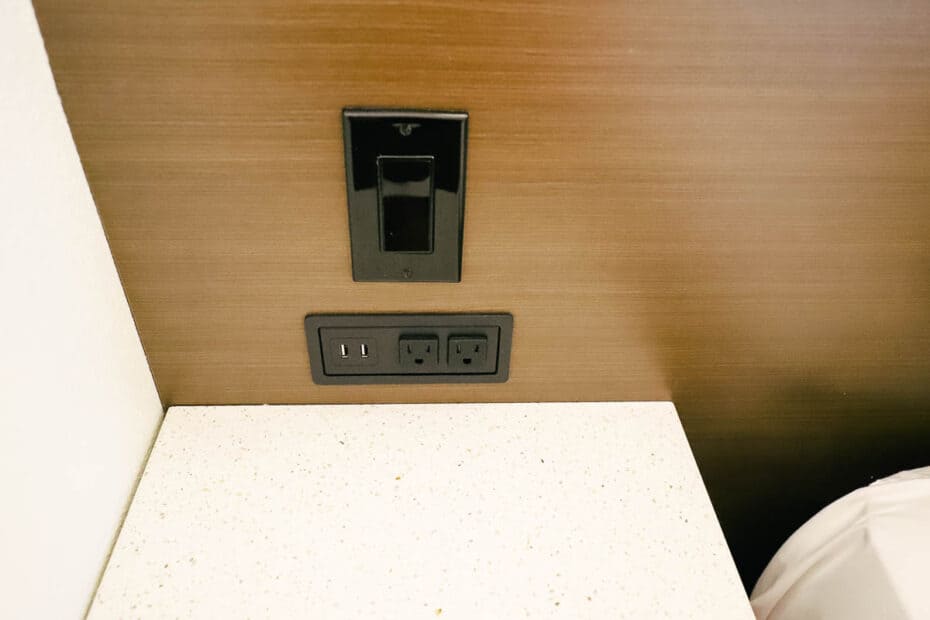 Adjoining rooms are available at All-Star Movies.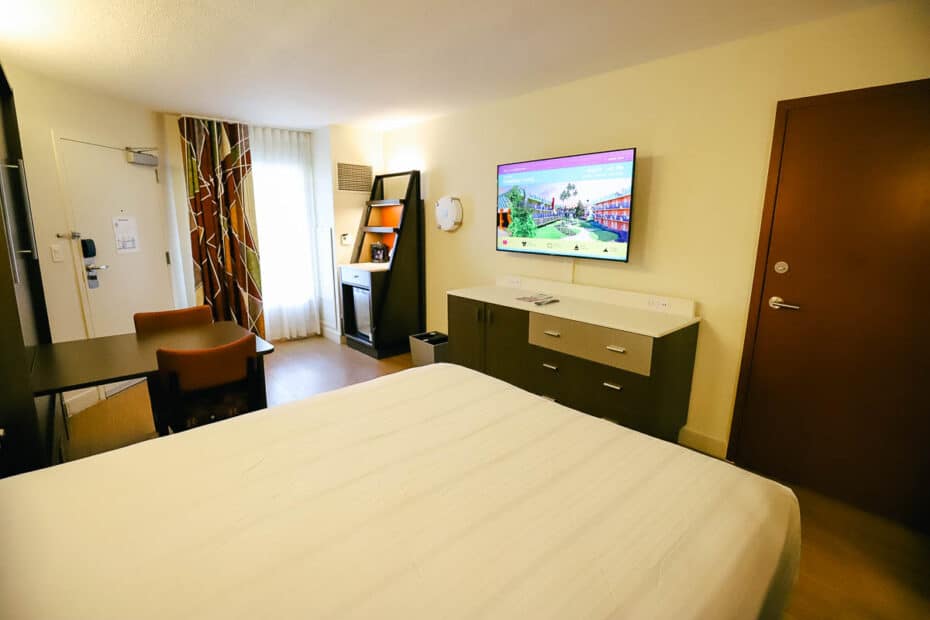 Most of us can appreciate an extra spot to hang items.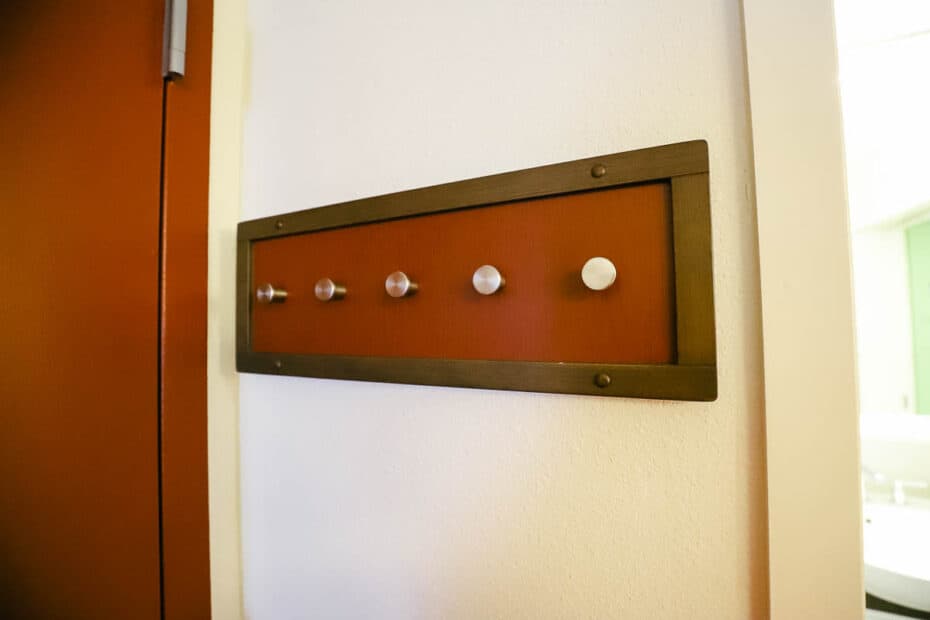 Toward the front of the room, there's a piece of furniture with several empty shelves. This would be a great place to store any snacks or other grocery items you might have delivered.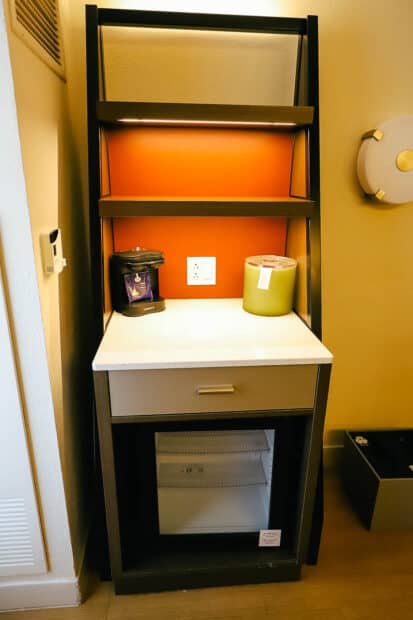 Our room had a Cuisinart coffee maker that makes individual cups of coffee.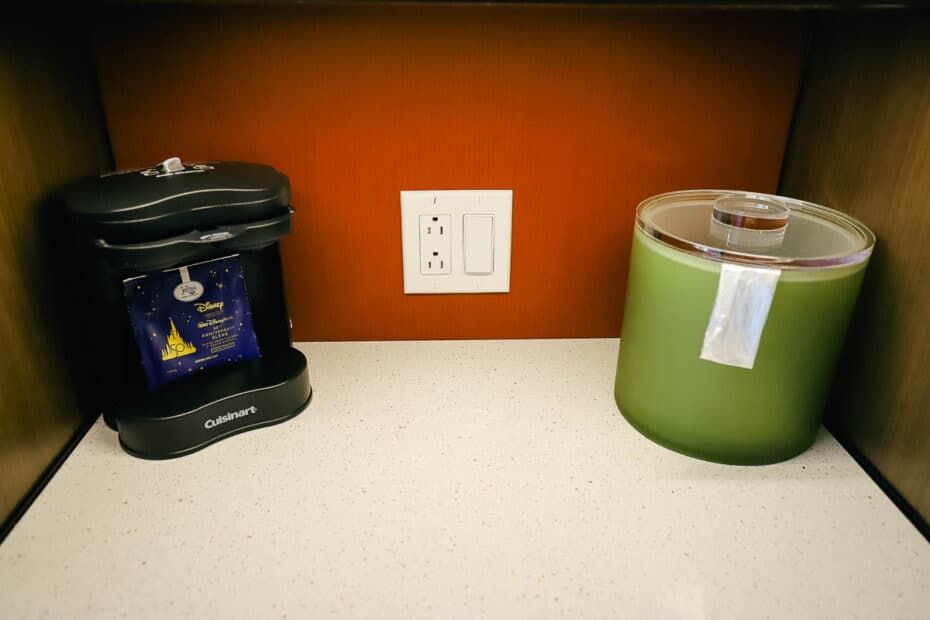 A drawer underneath the counter reveals several coffee selections, hot tea, and other necessities.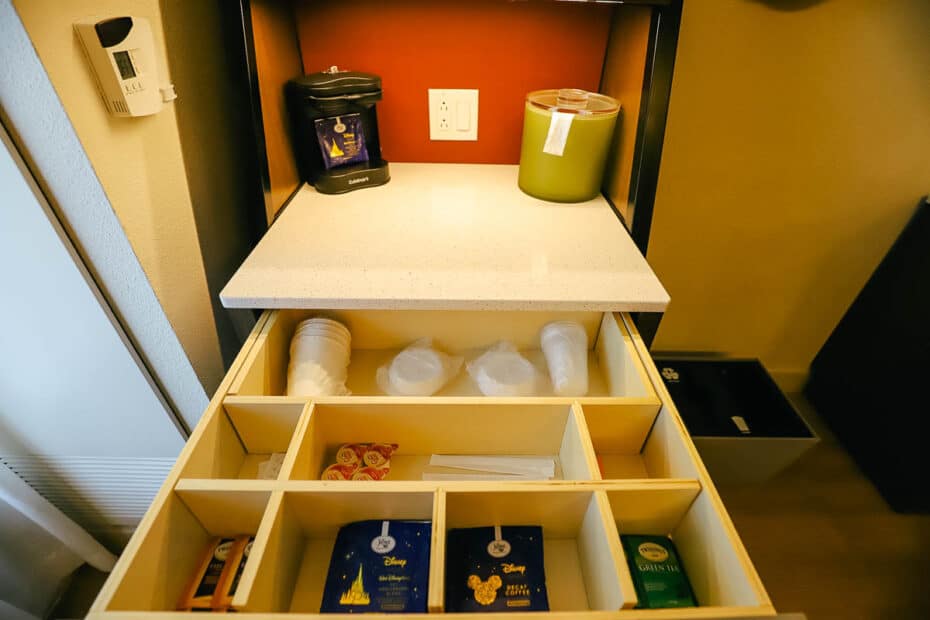 At the bottom, there's a beverage cooler. A warning on the front of the cooler stresses that they are beverage coolers.
They are not designed to keep perishable items fresh. However, having a place to chill bottled water, soda, or similar items is handy.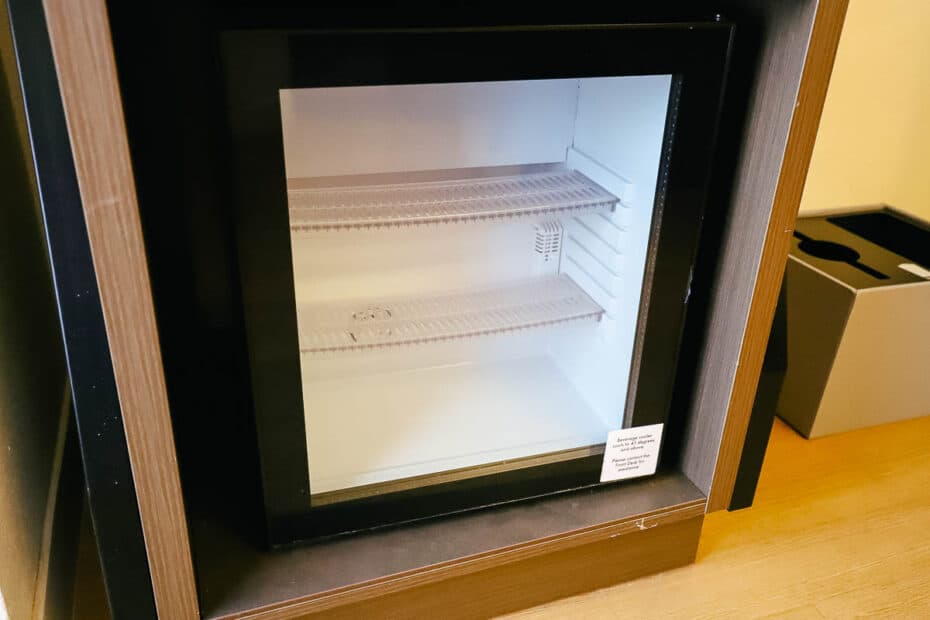 A flat-screen television hangs on the wall above a dresser. Three drawers on the right side of the dresser provide a place to store personal items.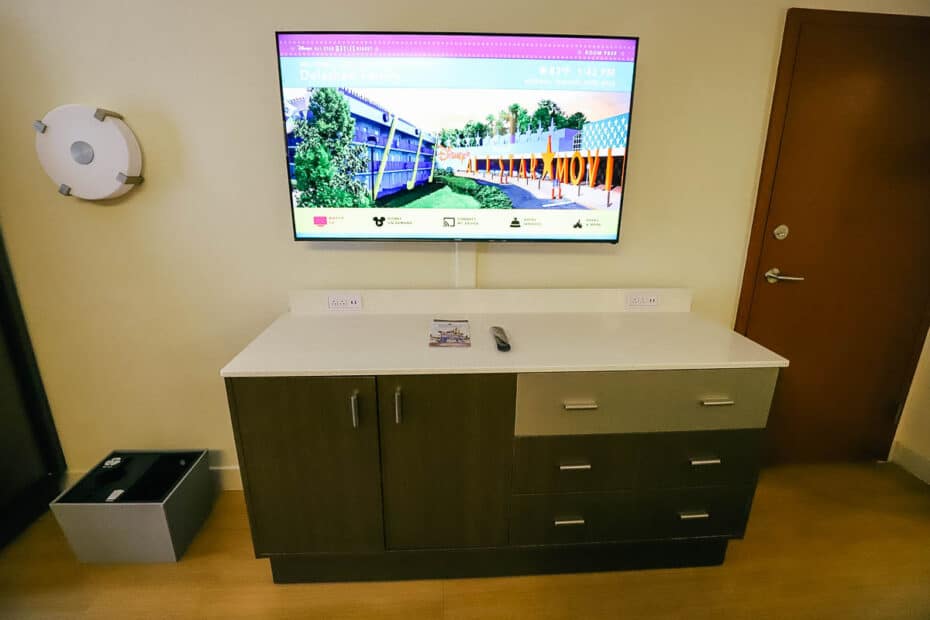 Cabinets on the left side of the dresser open up to reveal a safe, a bible, and a couple of pillows for the Murphy bed.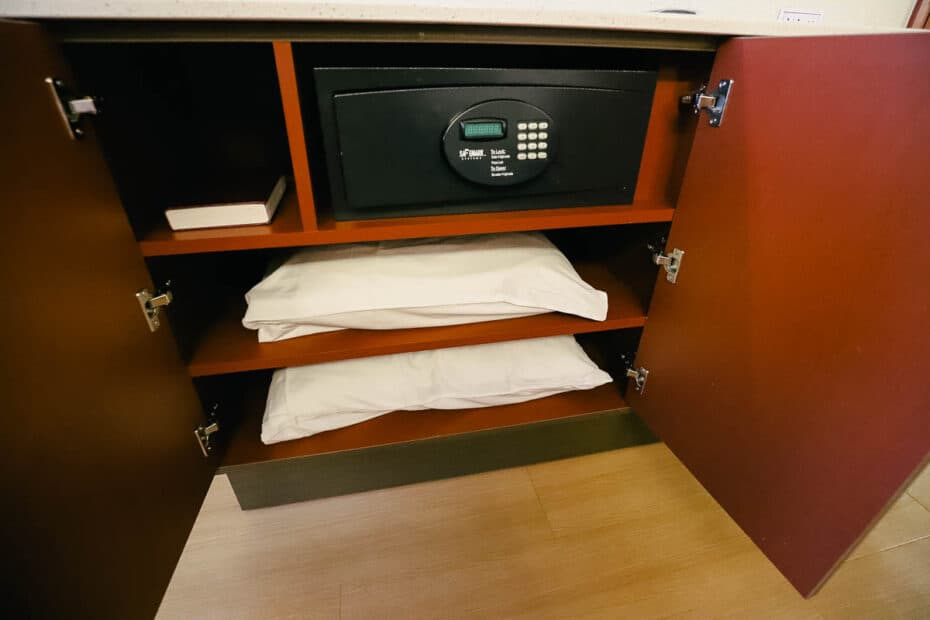 One thing that sets value resorts apart from moderate and deluxe resorts is the bathroom setup. Value guest rooms only have one sink, while moderate and deluxe resorts have double vanities.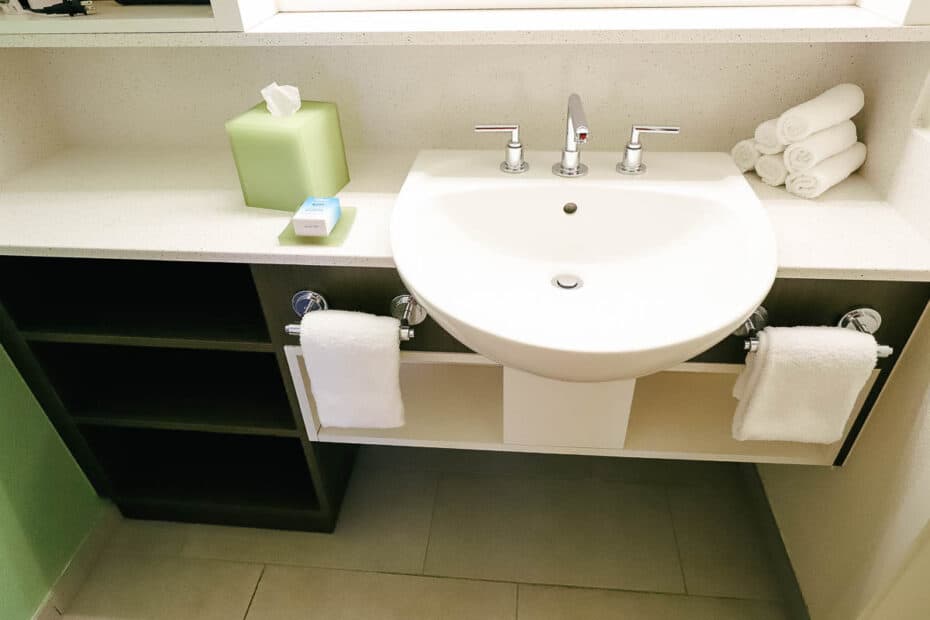 However, value resorts do have a separate water closet. Most rooms at All-Star Movies will have a shower with a tub combination unless you request a wheelchair-accessible room. Those rooms will have a roll-in shower.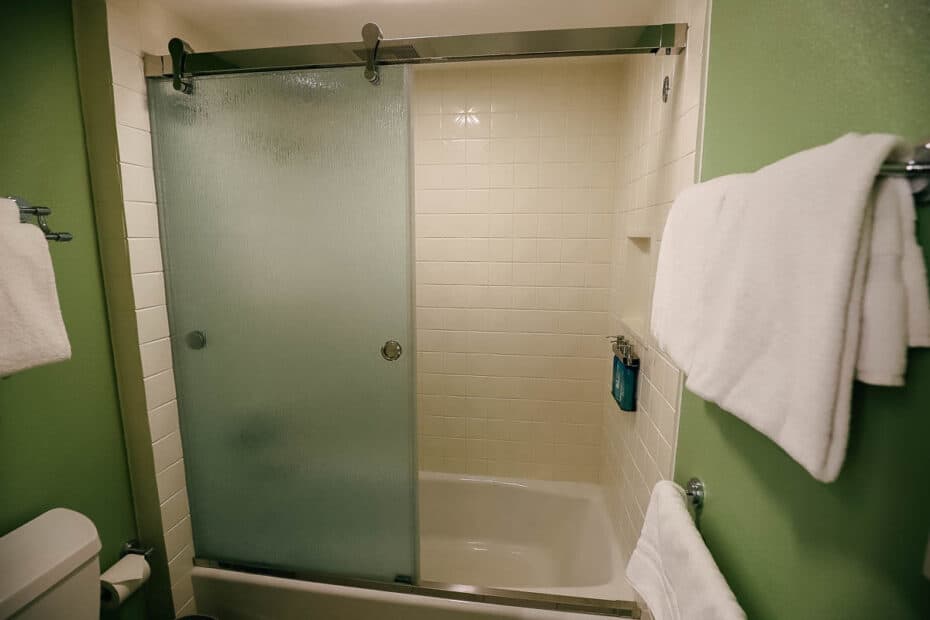 Built-in toiletries in the shower include soap, shampoo, and conditioner.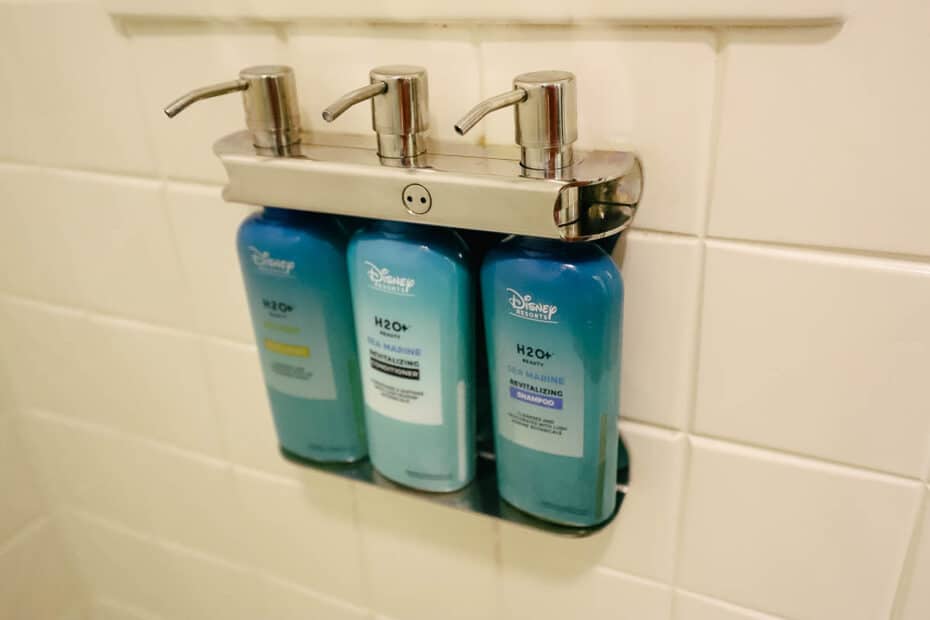 We had no issues with the water pressure or temperature of the water. Of course, it's always nice to pressure wash the Disney off at the end of the day.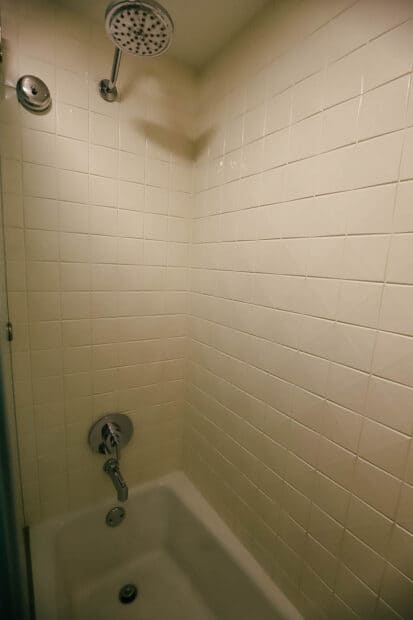 Instead of a closet, these rooms have an open cubicle that serves as a place to hang items. For example, I was able to throw an overnight bag in the top cubby hole.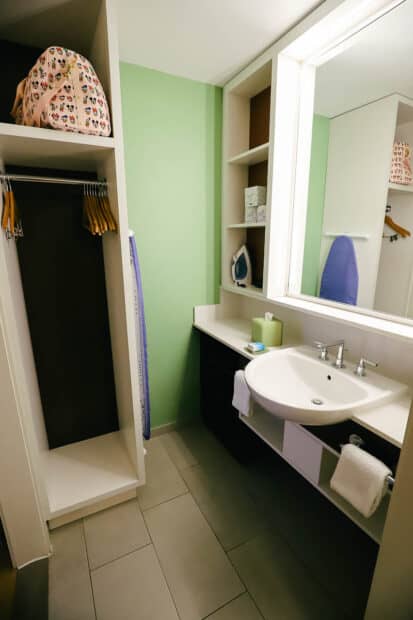 One of the highlights of the bath area is all the various shelves and storage compartments. Additionally, there's a lighted built-in makeup mirror.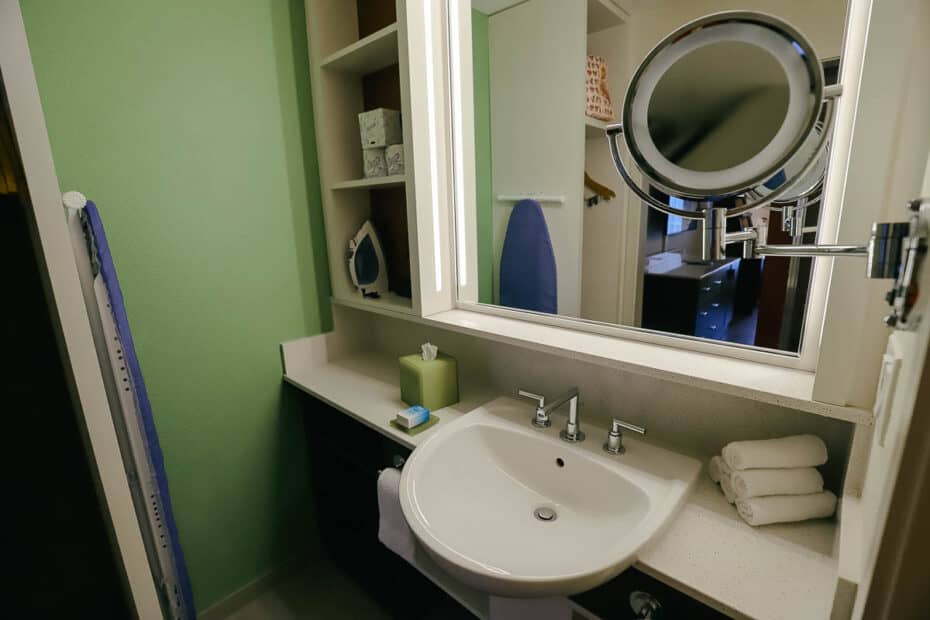 An iron with an ironing board is available.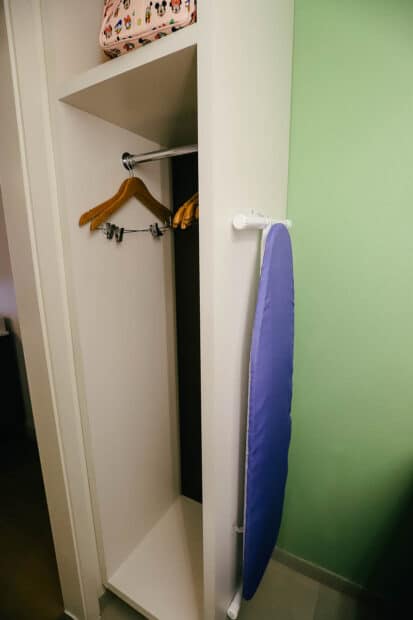 The iron was on a shelf next to the hairdryer.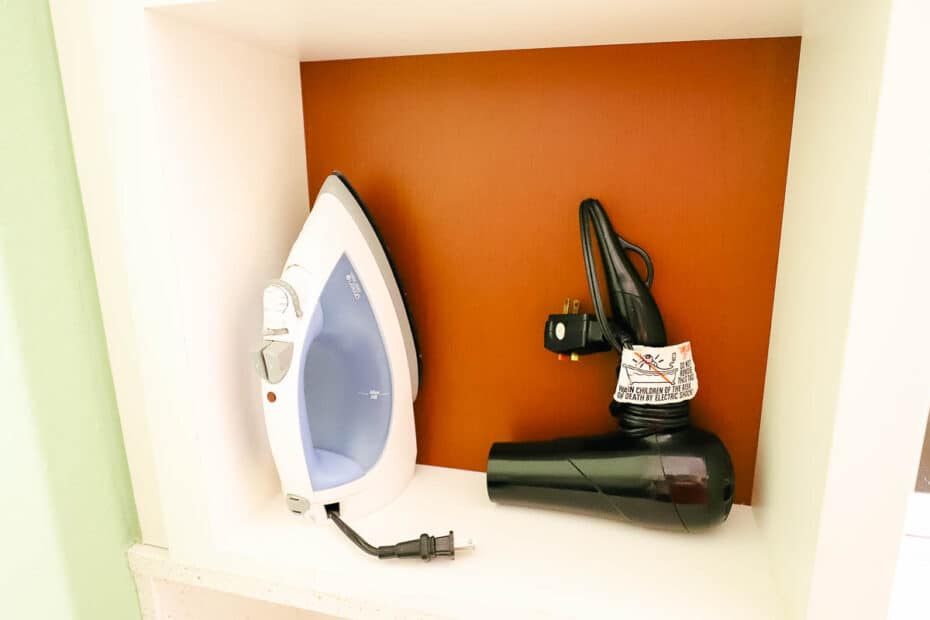 If you need more space, a few compartments are under the sink. We usually stick everything we need to get ready on the ledge over the sink.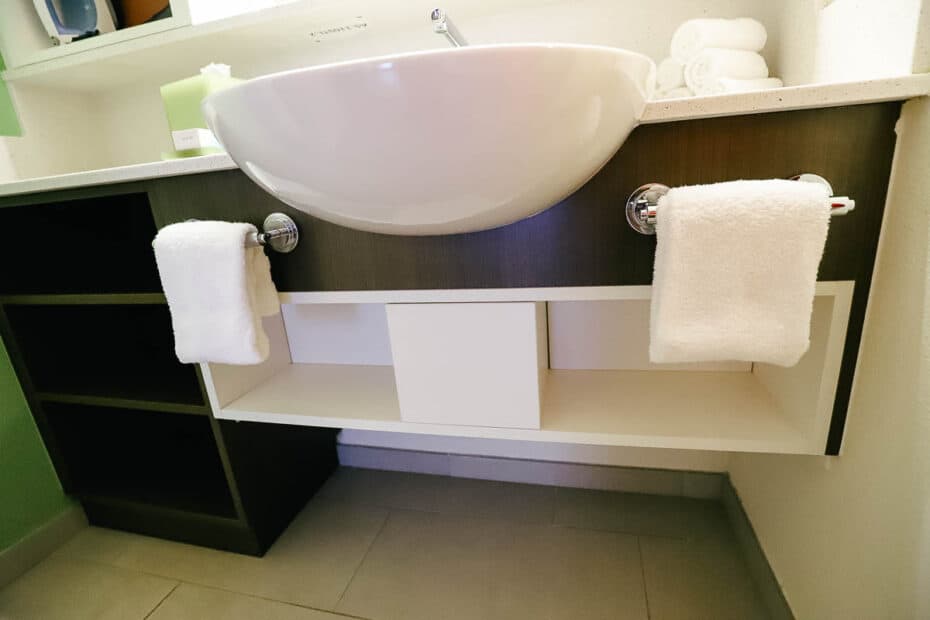 Before we wrap things up, here are a few photos of the room with the other queen bed pulled down.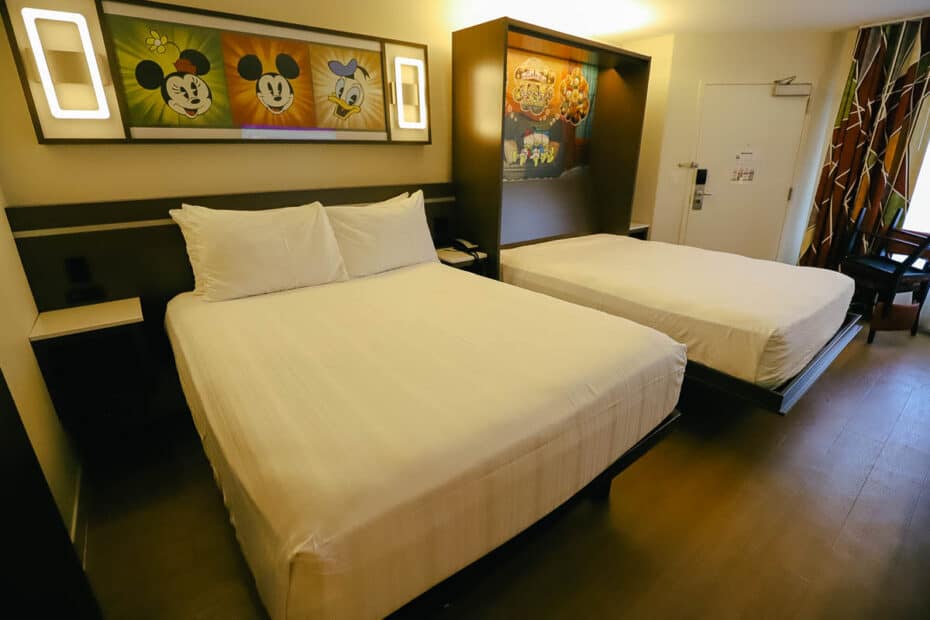 It looks pretty much like a standard room with two queen beds. Mattresses on each bed are comparable. We've never had an issue sleeping on this style of bed.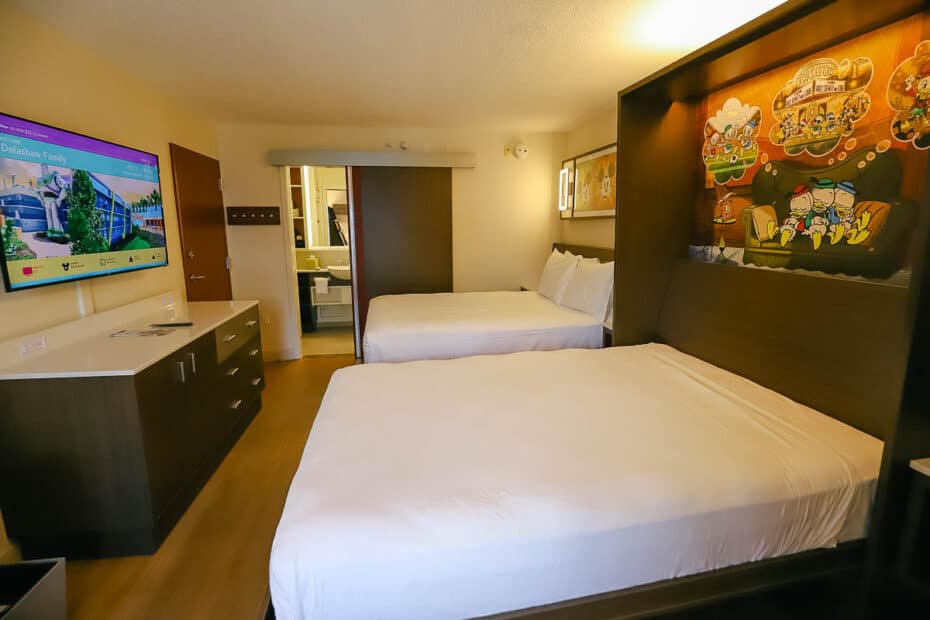 Hidden artwork is revealed when you pull the bed down.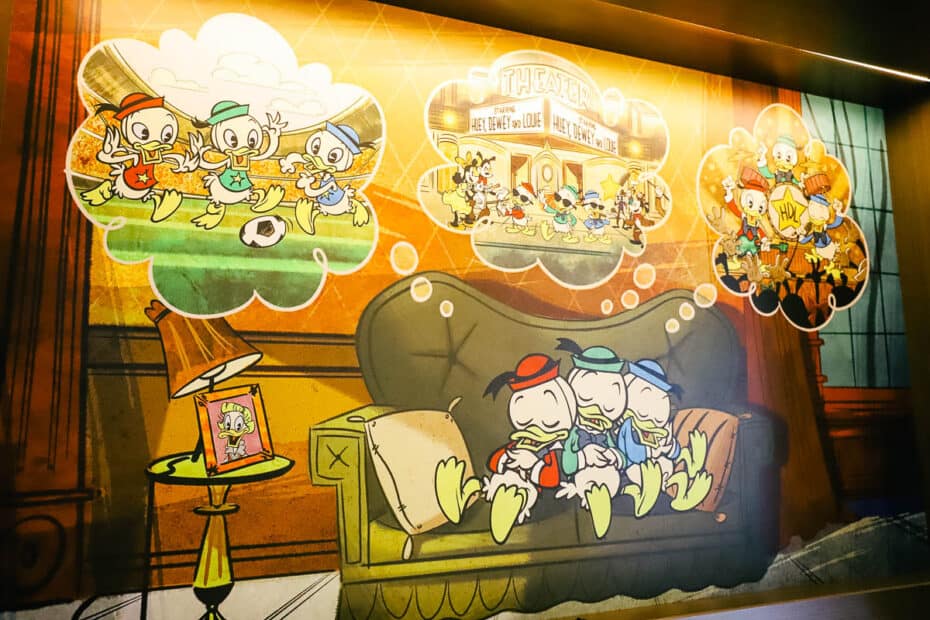 You may notice that I stacked one of the dining chairs upside down on the other. This is my solution for getting them out of the way. There's not much use for them when the bed is in use.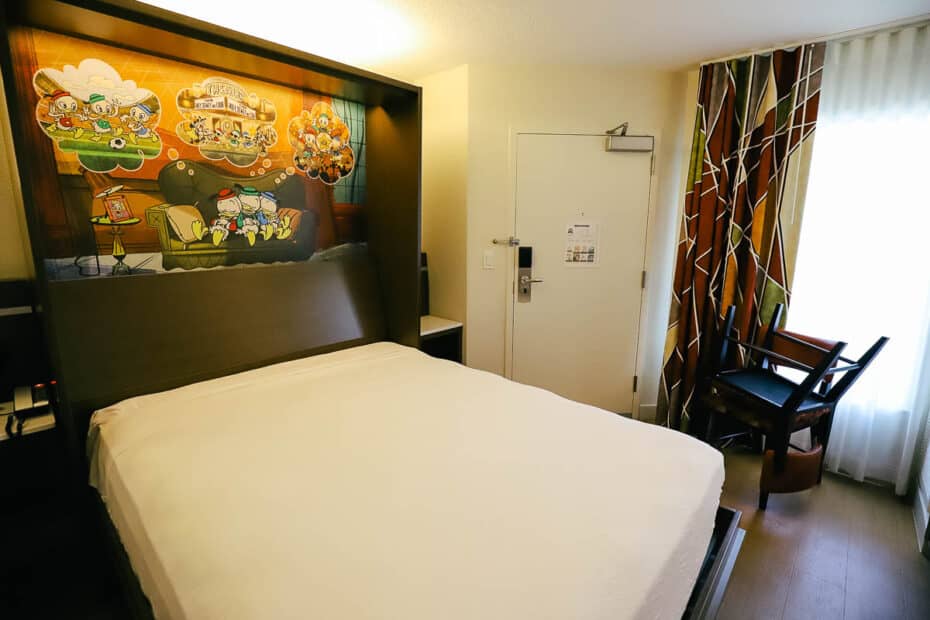 Since this is a value resort, all the rooms have exterior access. Therefore, there's no room view upgrade. Room views are of the courtyard, pool, or parking area.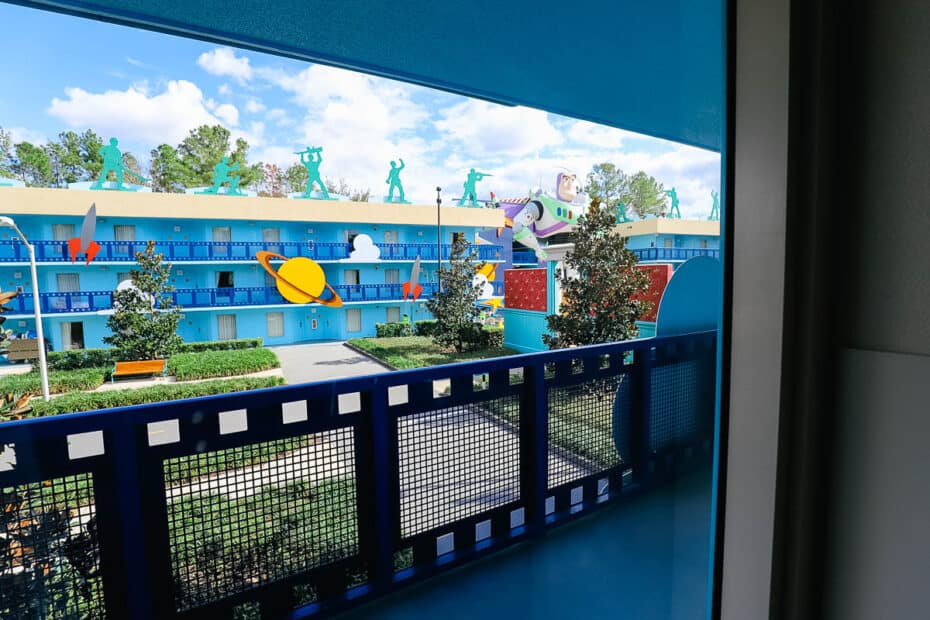 We were in room #9805 on the second floor of building nine in the Toy Story area. I took this photo from the walkway outside of the room. You can see Cinema Hall in the background.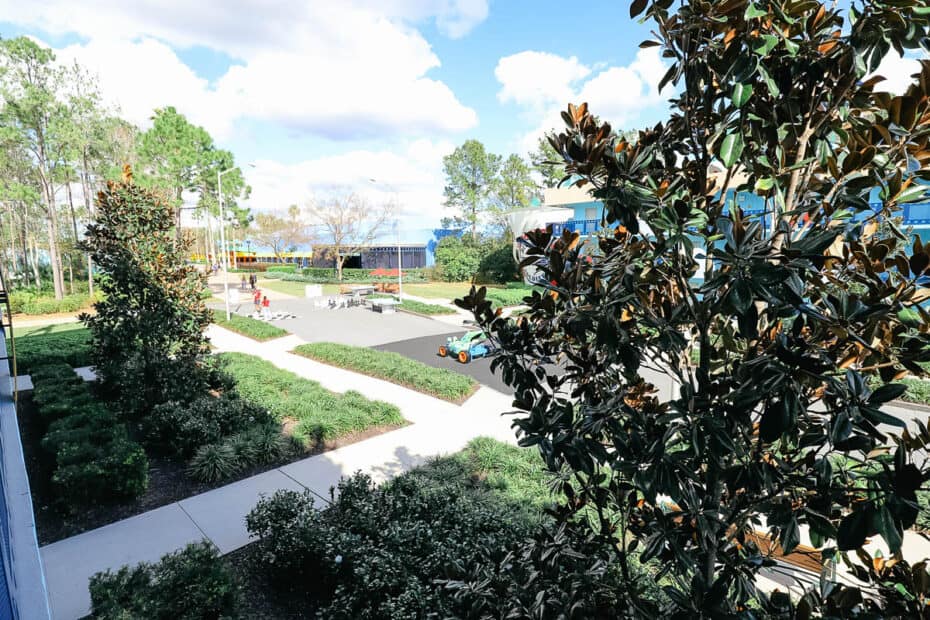 It was approximately 0.19 miles (less than five minutes) from the room to the bus stop. So if you don't want extra walking, you might consider a preferred room. However, All-Star Movies is pretty simple to get around if you don't mind a few additional steps.
Video of All-Star Movies Standard Room
Final Thoughts
Ultimately, we enjoyed the room. BUT, and that's a big but. The walls are paper thin at this resort. During the day, I never noticed much noise other than the occasional family passing with excited children.
But on the first night of this stay, the lady in the room next door coughed all evening. It was terrible.
Do you know how it is when you or someone in your family gets a cough that worsens when you lie down at night? Not only are you stressed from not getting any sleep, but you feel bad for the person who's sick.
With that said, we've stayed at both All-Star Music and Sports multiple times and have never had an issue. So, while this is worth mentioning, you hopefully won't have the same problem.
For more information about Disney's All-Star Movies Resort, you may enjoy the following:
In the Comments
What are your thoughts on this room at Disney's All-Star Movies? Do you like the updated rooms? Would you consider staying in a preferred room?