Disney's All-Star Music Resort
Disney's All-Star Music Resort Hotel is located in the Animal Kingdom Resorts Area among two other All-Star Resorts. It sits directly between Disney's All-Star Movies and Disney's All-Star Sports Resorts. This hotel is considered a value resort, offering standard guest rooms and family suites.
1801 W Buena Vista Drive
Lake Buena Vista, FL 32830
Check-In Time: 3:00 p.m.
Check Out Time 11:00 a.m.
Disney's All-Star Music Overview
---
Disney's All-Star Music Resort is not only budget-friendly, but it's fun for children. Larger-than-life displays throughout the resort's grounds feature musical elements and Disney references.
All-Star Music is comprised of several sections. Each one pays homage to a unique musical genre. You'll find anything from rock n' roll to country music.
This resort offers one form of transportation to and from the theme parks, water parks, and Disney Springs–Disney's bus service. One sole bus stop is located at the front of the resort.
Disney's All-Star Music is unique from the other All-Star Resorts because it features three room types: standard rooms, preferred rooms, and family suites. It is the only All-Star that has family suites. The only other resort that offers similar family suites is Disney's Art of Animation.
Resort amenities include two pools, a kiddie pool, a playground, nightly movies, and a jogging trail, among other things. All-Star Music offers plenty of recreational areas for those times when you're taking a break from the theme parks.
Below, we'll further discuss rooms, family suites, amenities, dining, shopping, and transportation at Disney's All-Star Music. We'll link to other articles that share more specifics on details related to the resort.
If you would like to learn more about our experience staying at the resort, we have a separate Disney All-Star Music Review.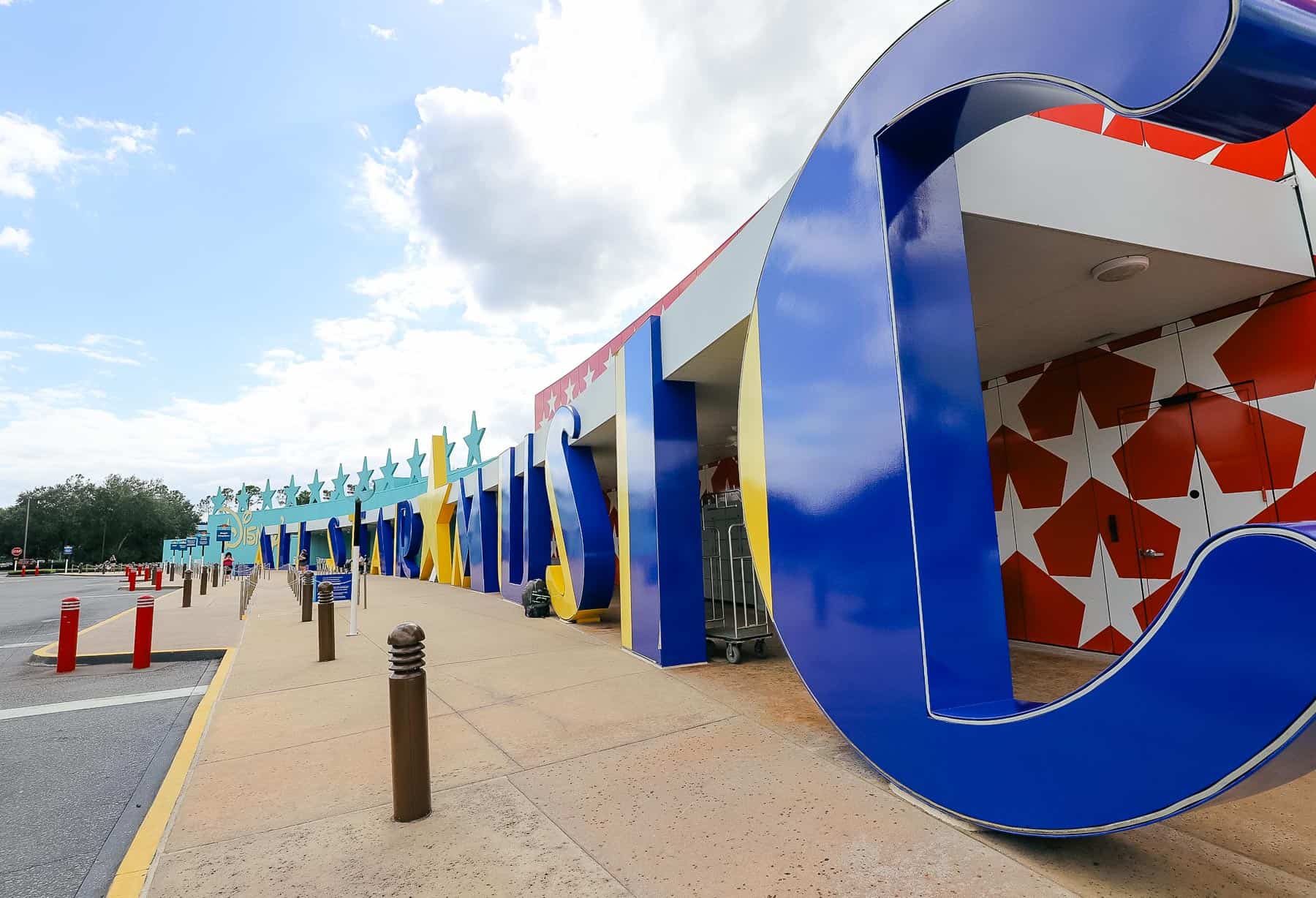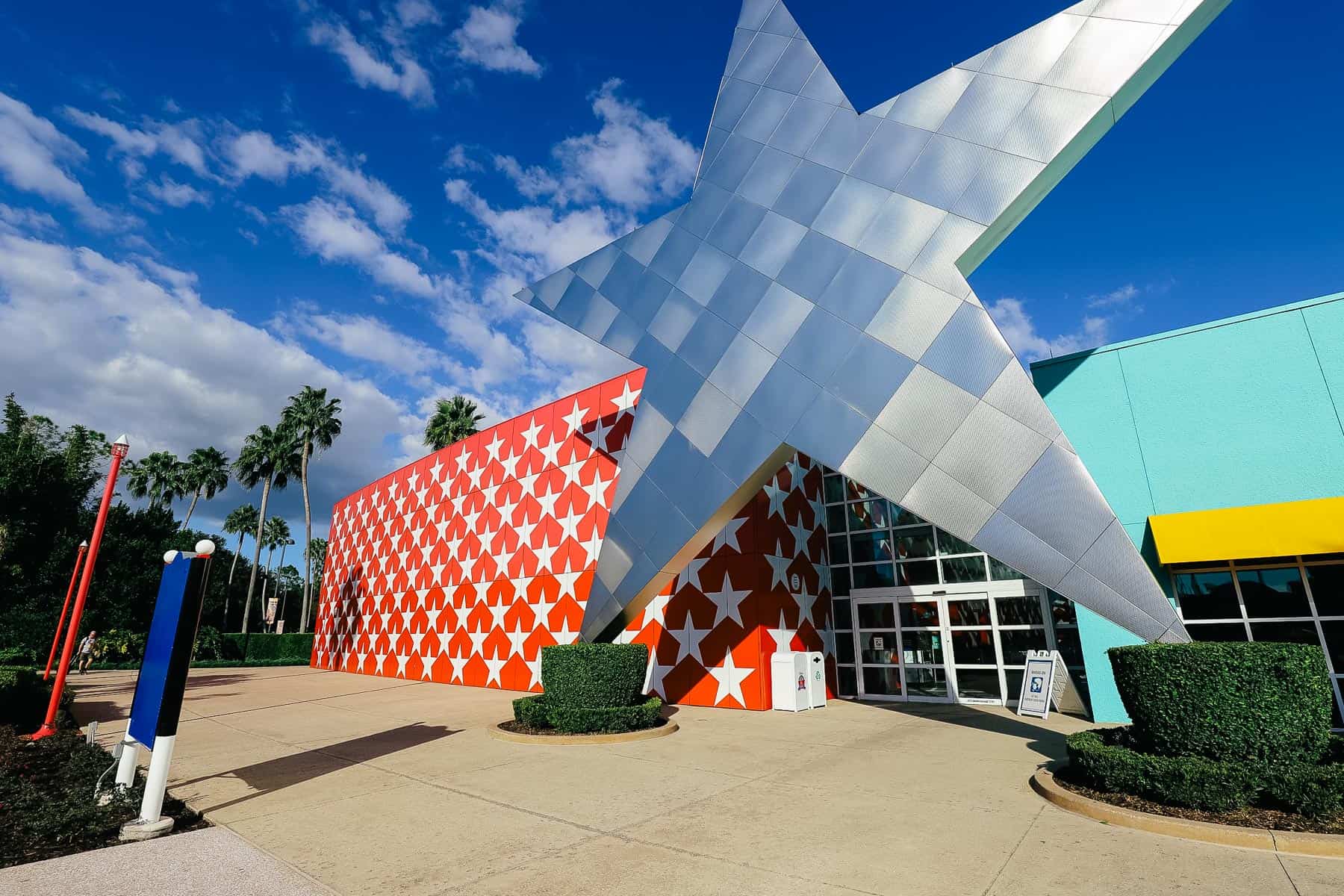 Family Suites at All-Star Music
Disney's All-Star Music is the only All-Star Resort that offers family suites. These suites are significantly larger than standard rooms and cost considerably less than the family suites at Art of Animation.
Family suites sleep up to six guests with a queen-size bed and two queen-size pull-down beds. They come with a kitchenette that includes a sink, a refrigerator, and a microwave. Family suites have two bathrooms, which is a tremendous amenity.
Standard Rooms
Disney's All-Star Music has rooms that have been refurbished in recent years. For the record, you'll find the same exact room type at each of the All-Star Resorts. These rooms were modeled after the popular room refurbishment at Disney's Pop Century.
There are two options for standard rooms at All-Star Music. They are standard and preferred. Preferred rooms are located in portions of Calypso and Jazz Inn. These rooms are considered preferred because they are within close proximity of the resort's lobby, feature pool, food court, and transportation.
Standard guest rooms feature one queen-size bed and one queen-size pull-down bed. Rooms have a mini-fridge, iron, an ironing board, and an in-room safe. Bathrooms feature a tub with shower combination.
Here is a video from our last stay. Or you might prefer to preview our All-Star Music Room Tour, which includes more photos and details about the room.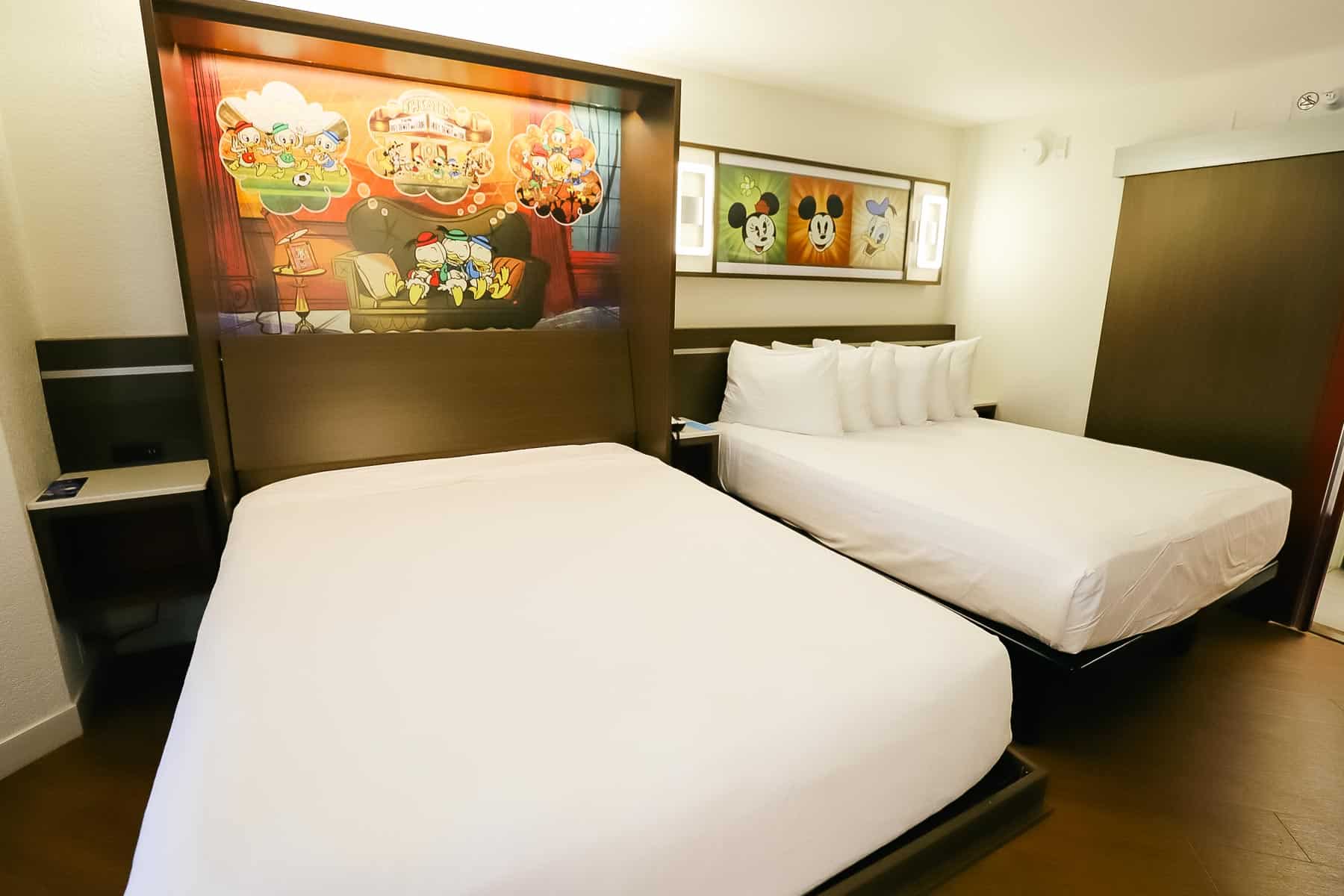 Here are a few more photos of the room: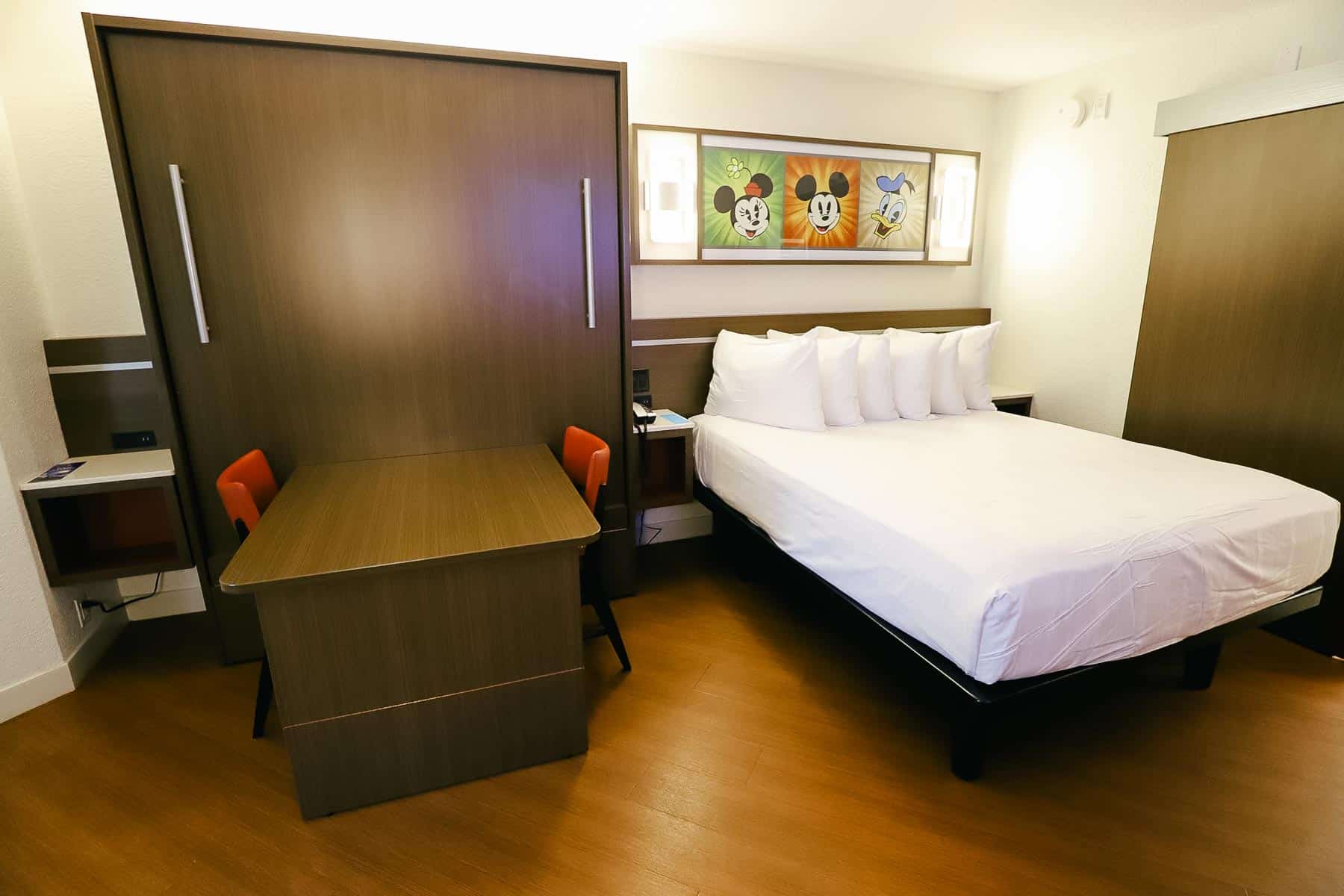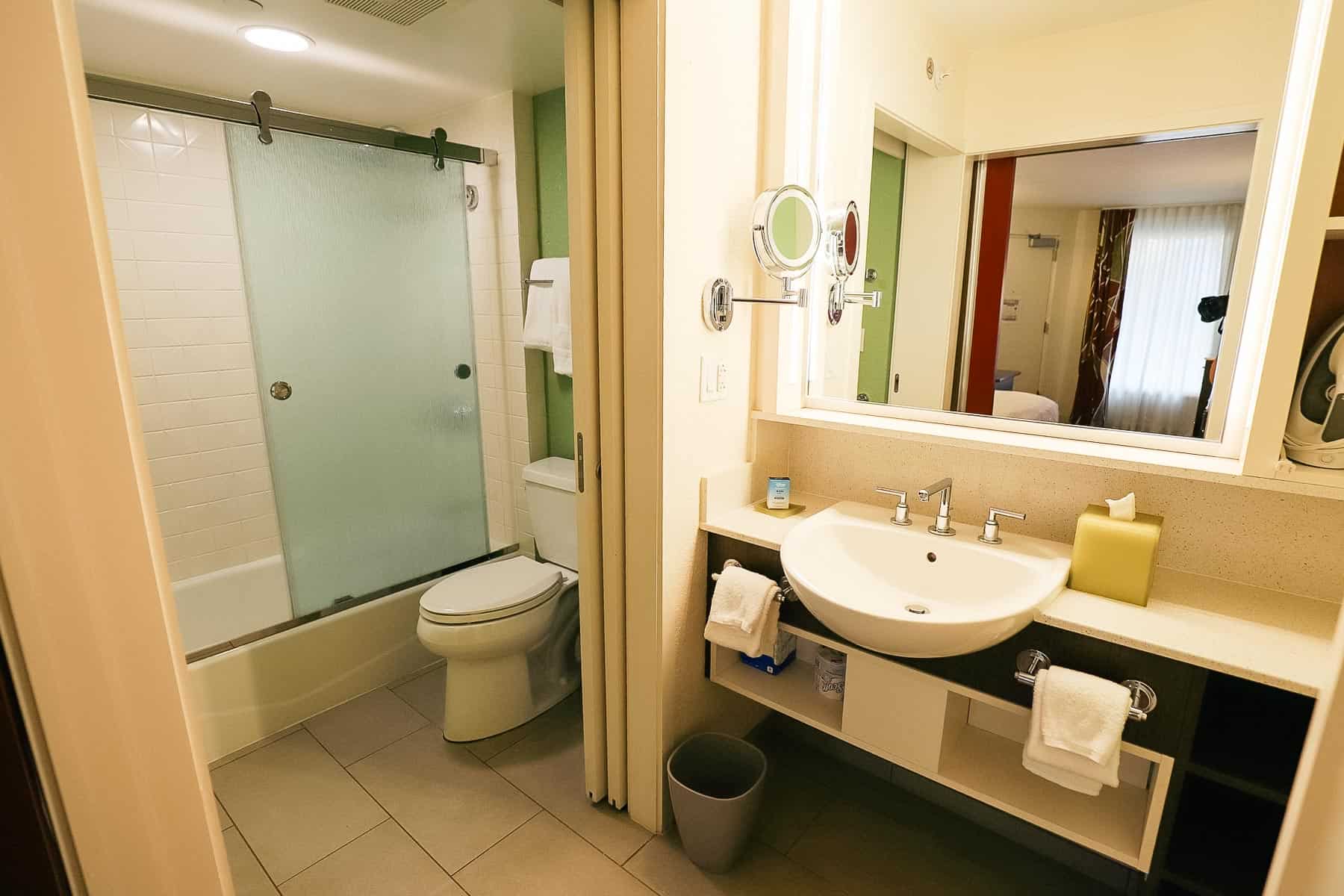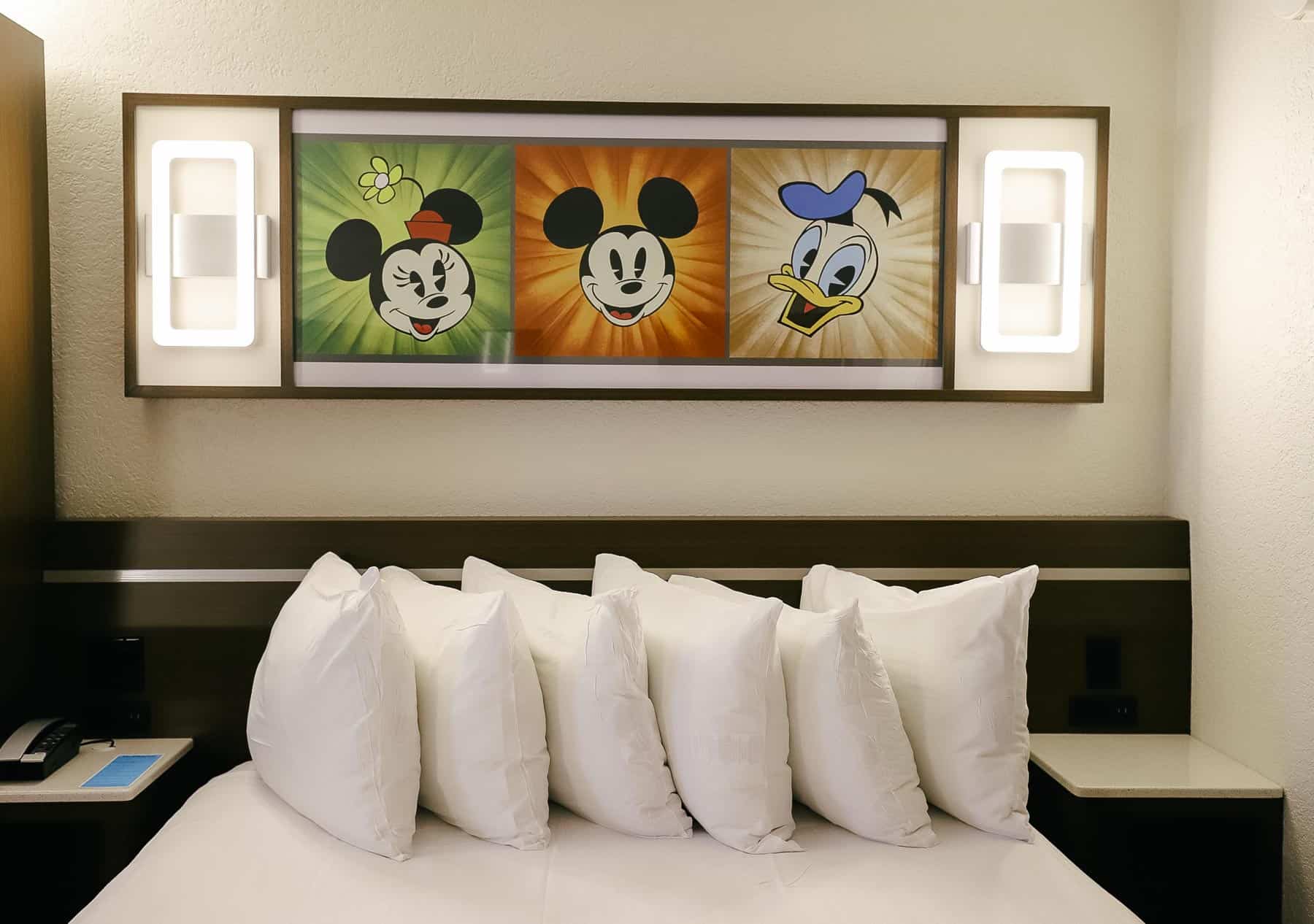 ---
All-Star Music is divided into five sections with courtyards. We'll start at the back of the resort and move our way to the front.
Broadway Hotel–this section of the resort features references to popular Disney Broadway Musicals. You'll see posters for famous Broadway shows like Mary Poppins, The Lion King, and Frozen. (Buildings 7 and 8)
Country Fair–This section is at the back of All-Star Music and features tons of country music references. Each courtyard features a giant pair of cowboy boots with hidden Mickey's. (Buildings 5 and 6)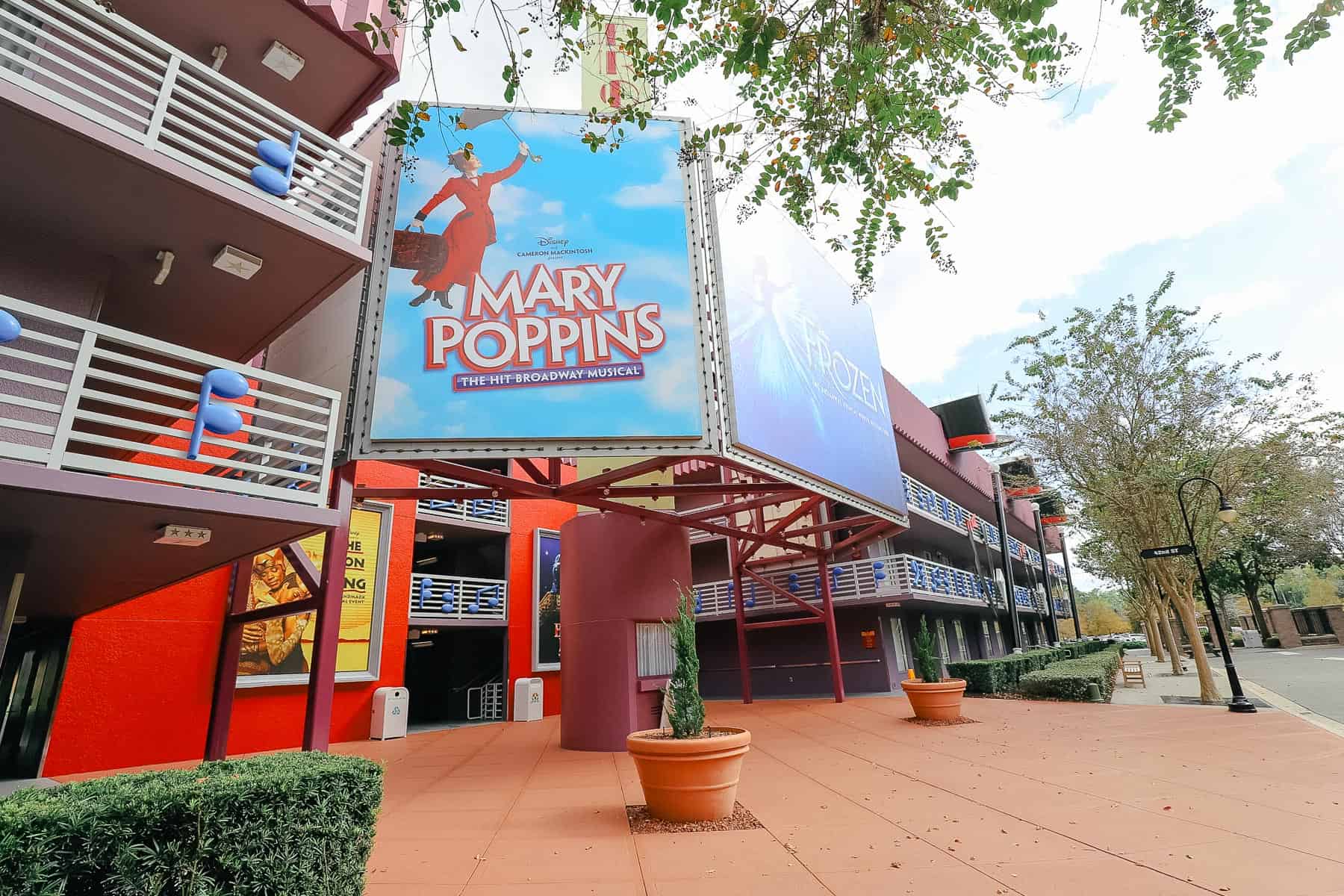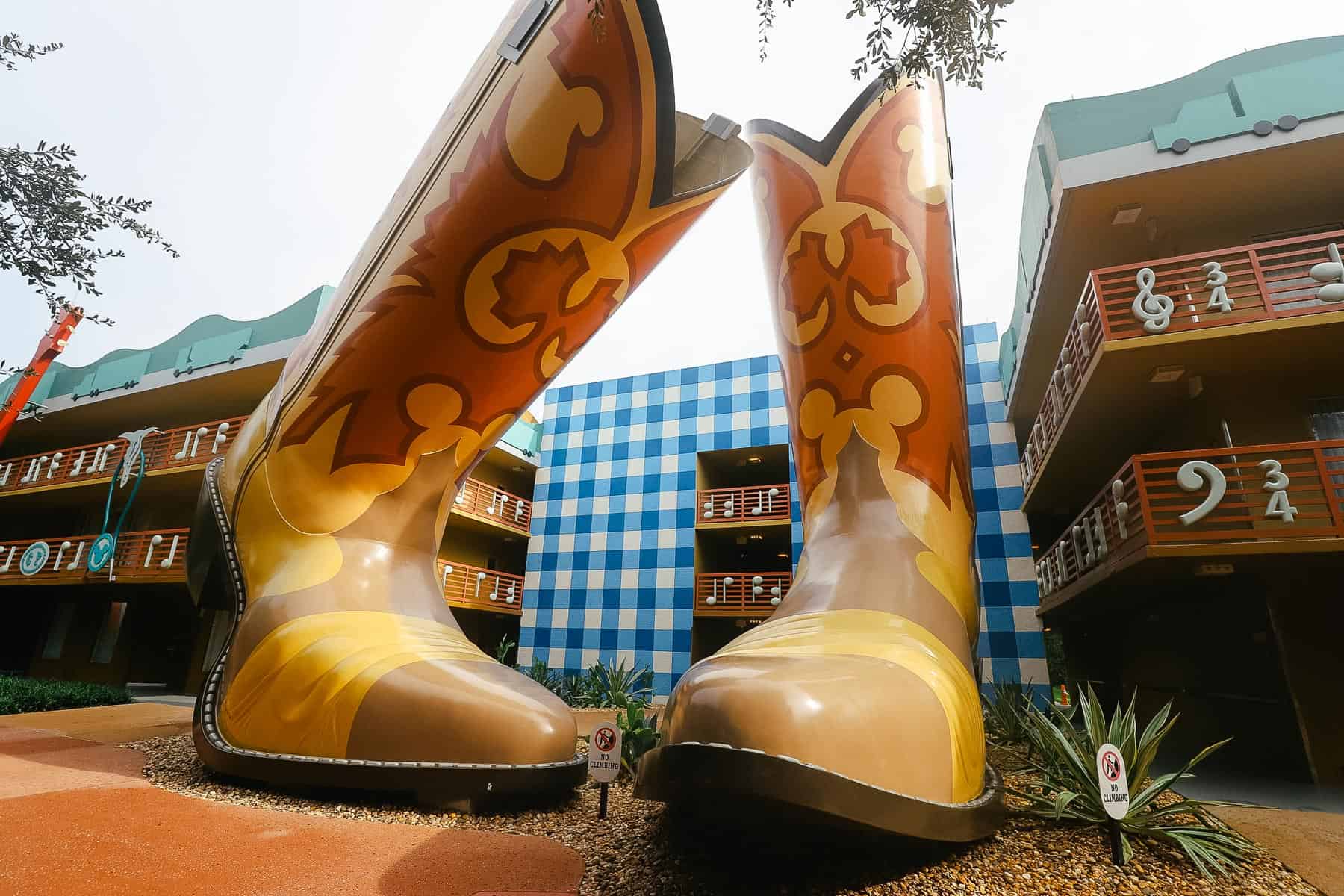 Rock Inn–This courtyard is too cute with pastels, huge jukeboxes, and a vintage car sitting out front! You'll rock around the clock when you get a room assignment at the Rock Inn. (Buildings 3 and 4)
Jazz Inn–Part regular rooms, part preferred, the Jazz Inn features saxophones and jazz references. Its courtyard is home to a massive All-Star Jazz Band. (Buildings 2 and 9)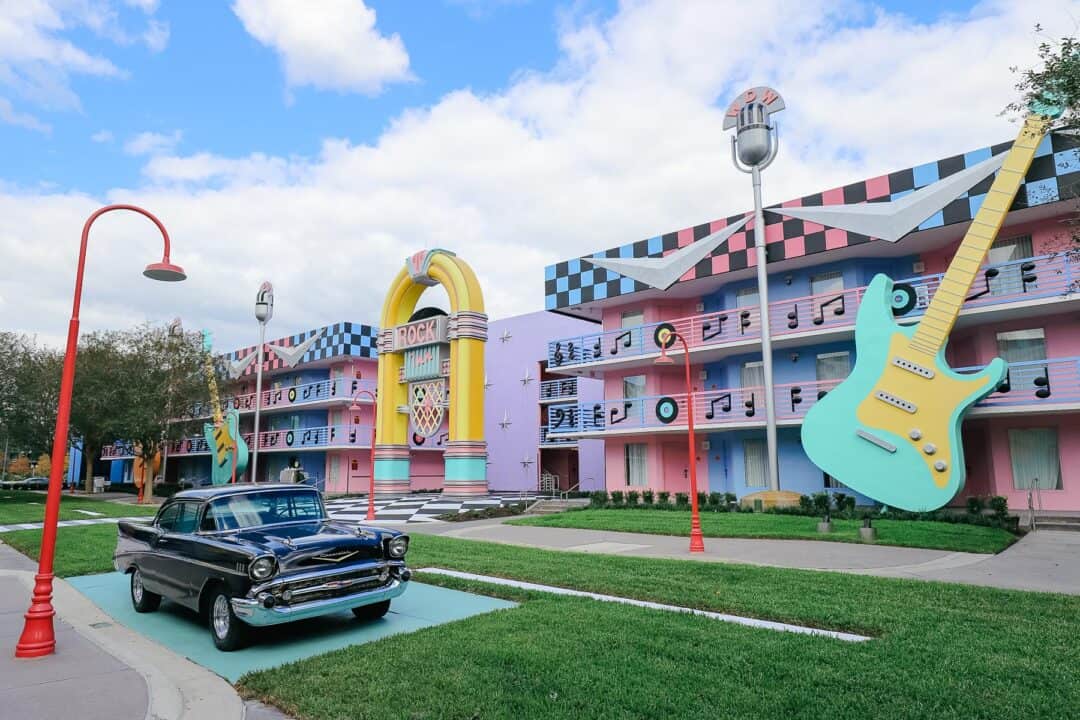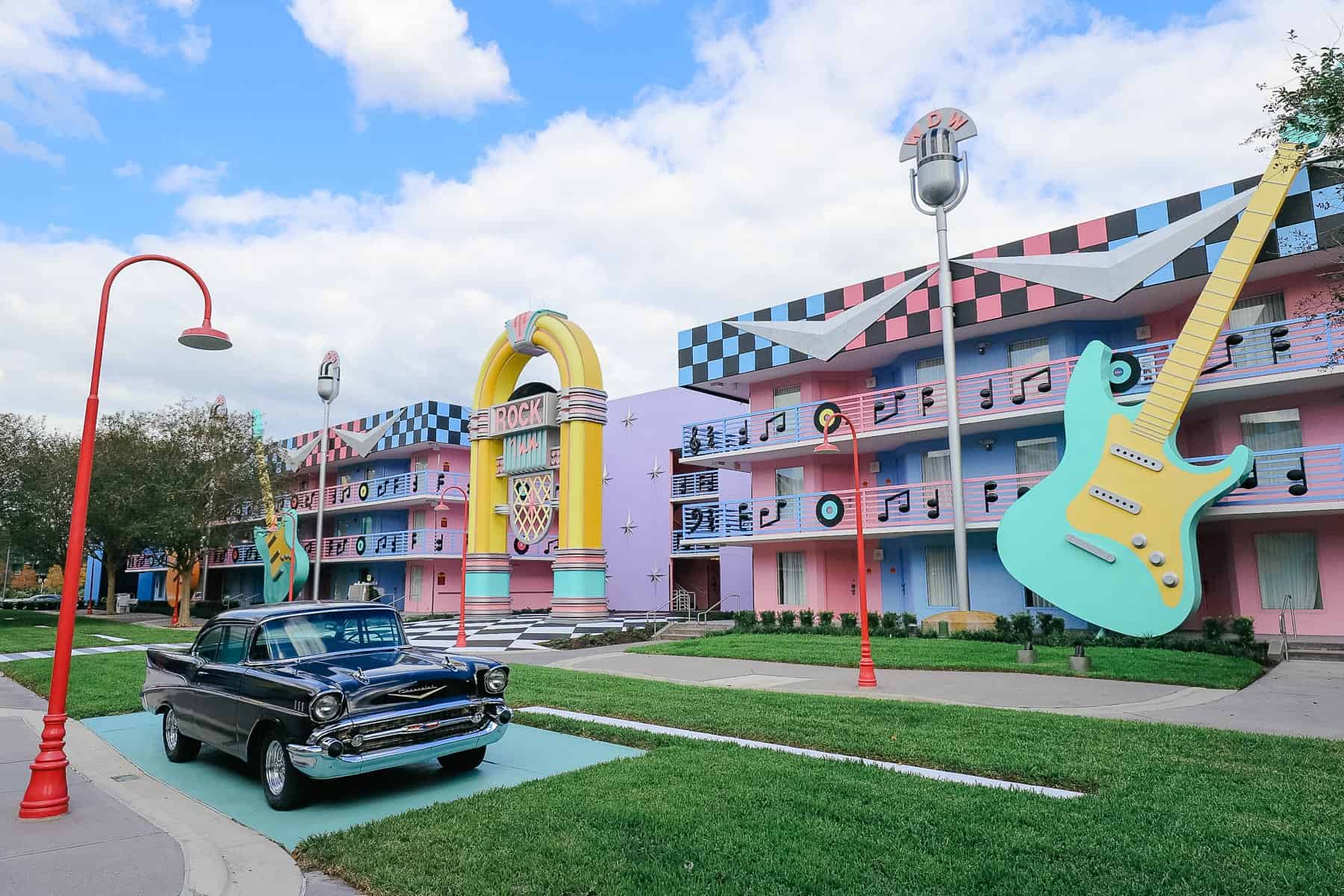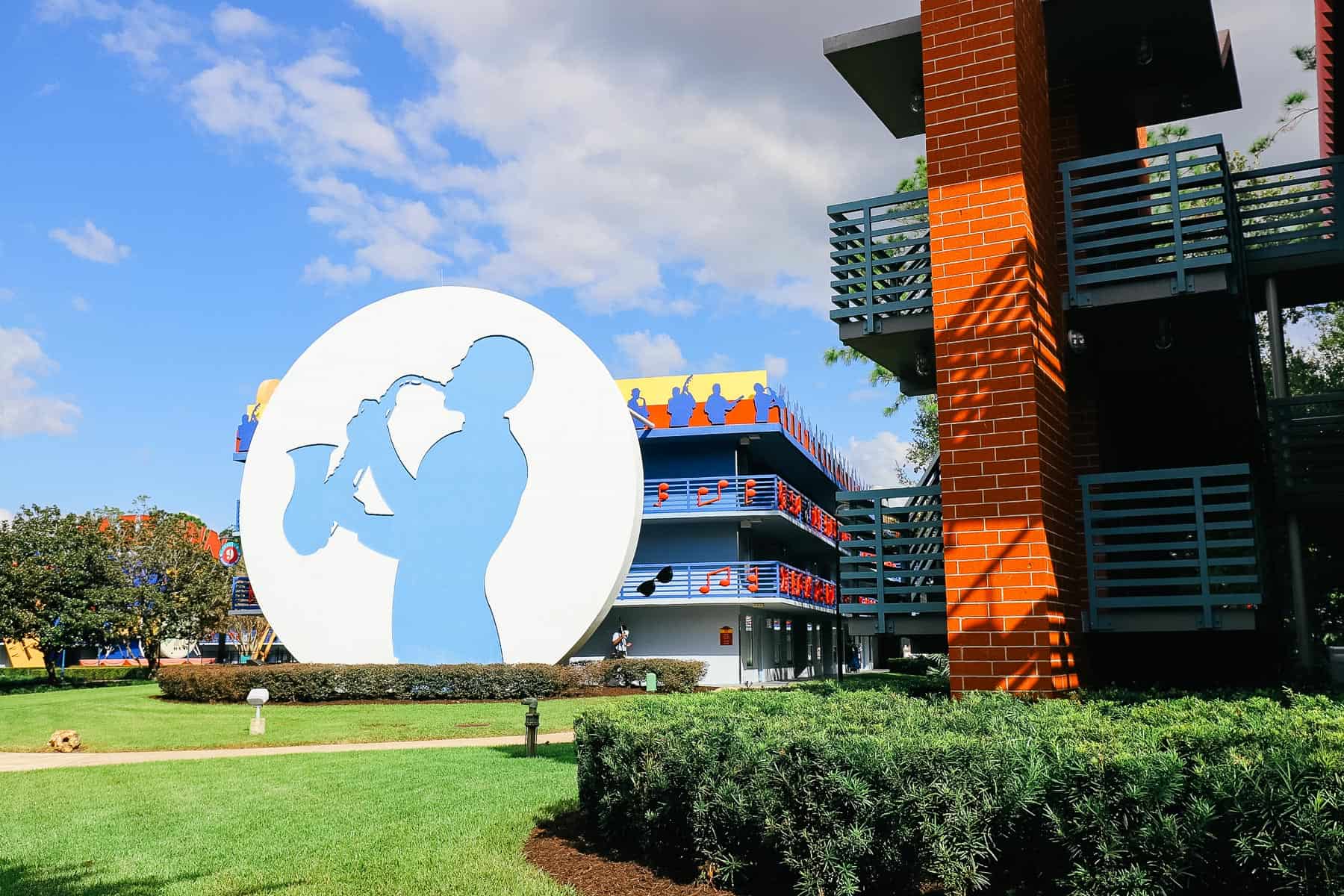 Calypso–Lastly, we have Calypso, which is home to the majority of the resort's preferred rooms. This hotel area sits at the front of the resort and has an island music theme. Its courtyards are hard to miss! They have xylophones in vibrant colors. (Buildings 1 and 10)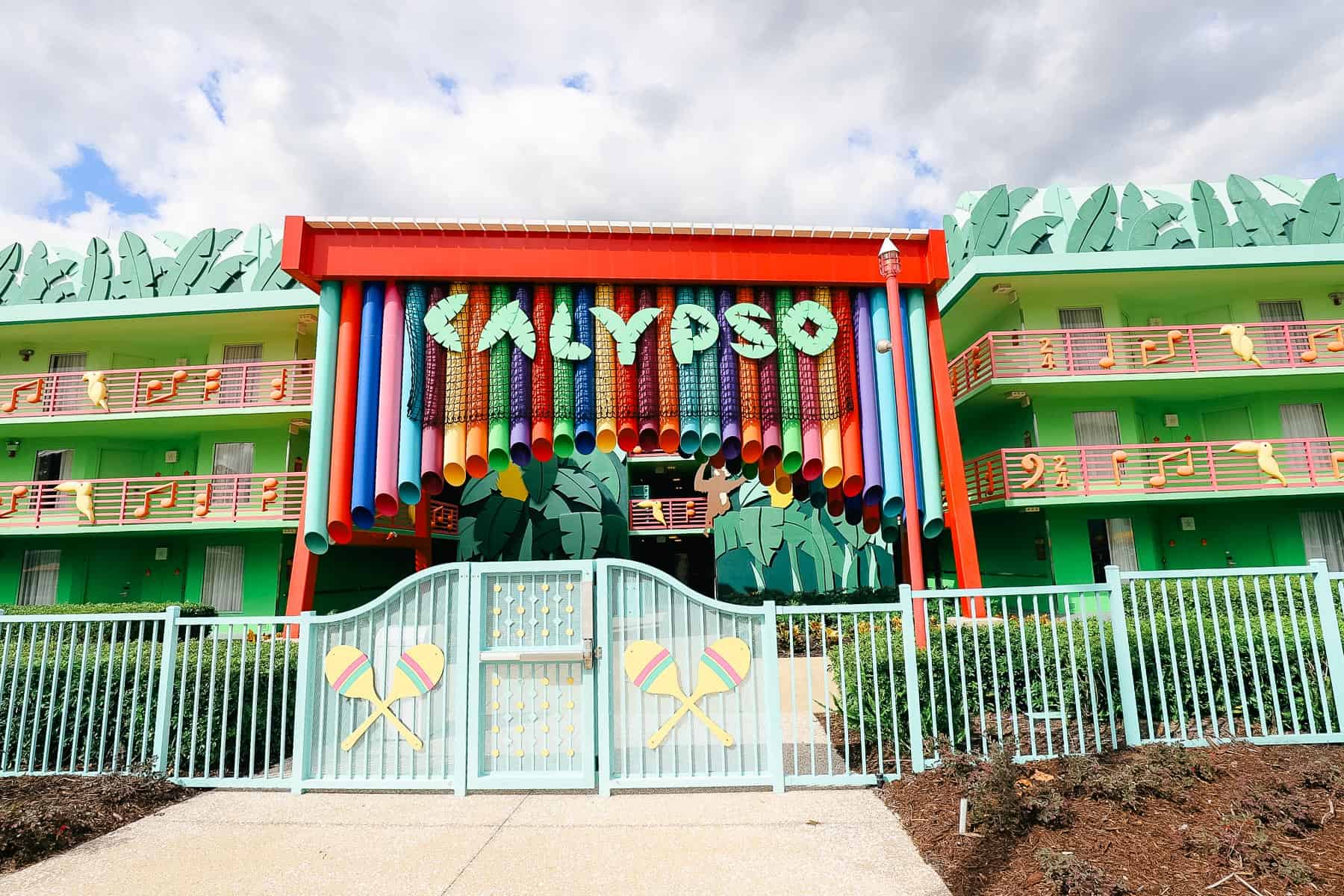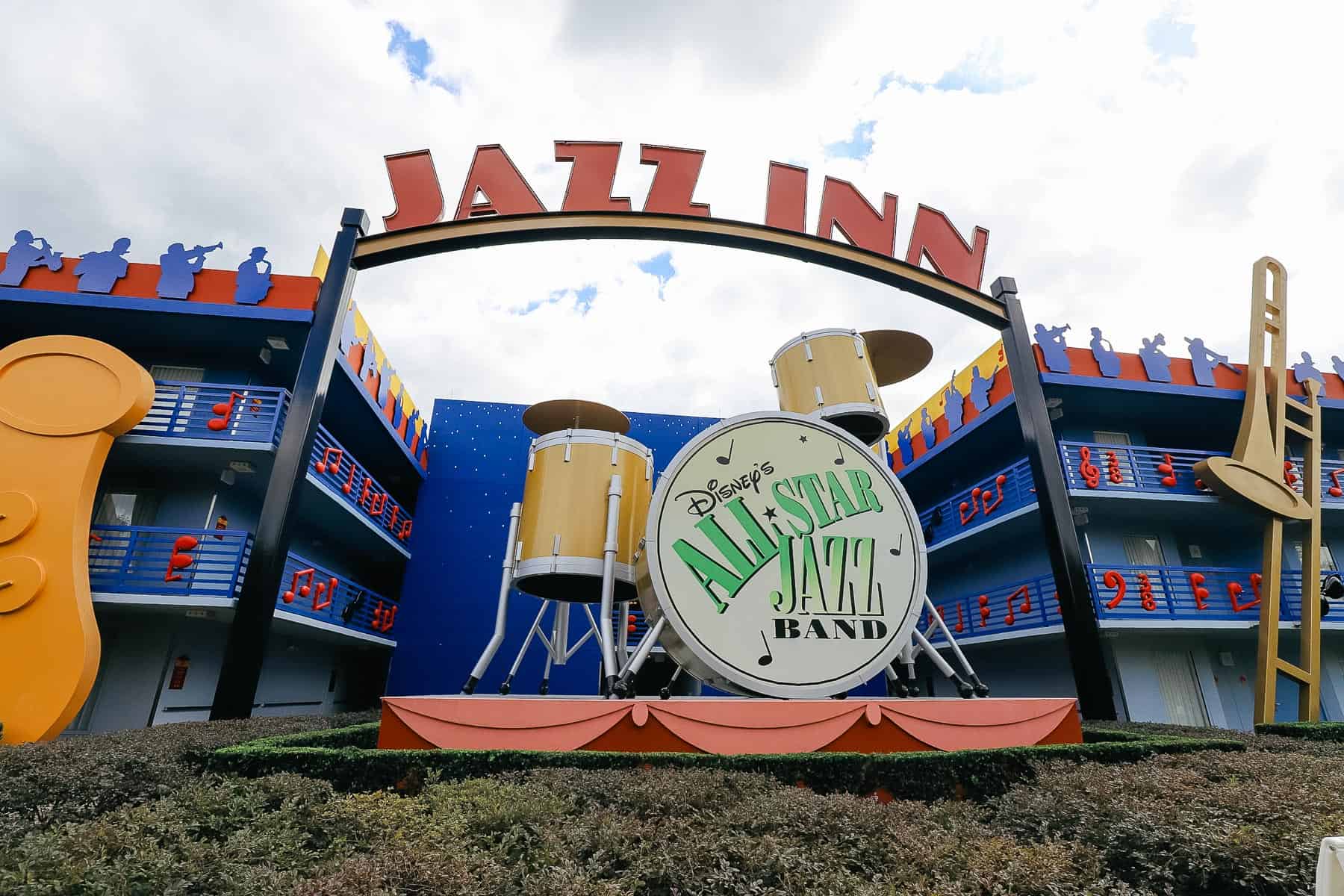 ---
When it comes to dining, All-Star Music has two options: Intermission Food Court and Singing Spirits Bar.
Intermission Food Court is the primary dining option. It's basically a quick-service restaurant that's set up like a food court with multiple stations offering various cuisines.
Intermission Food Court is open daily between 7:00 a.m. and 11:00 p.m. They serve breakfast, lunch, and dinner. You can expect items like sandwiches, pizza, burgers, pasta, and chicken nuggets for lunch and dinner.
Preview Intermission Food Court Menu
Singing Spirits Pool Bar serves snacks and a variety of beverages. It sits between the Intermission Food Court and the Calypso Pool.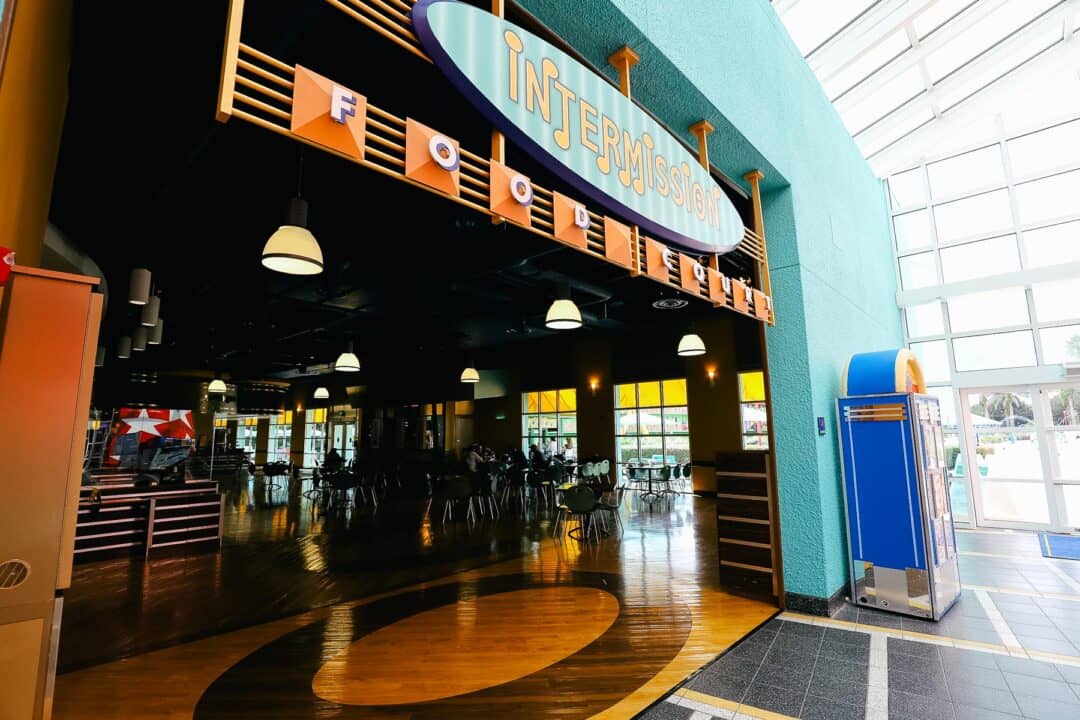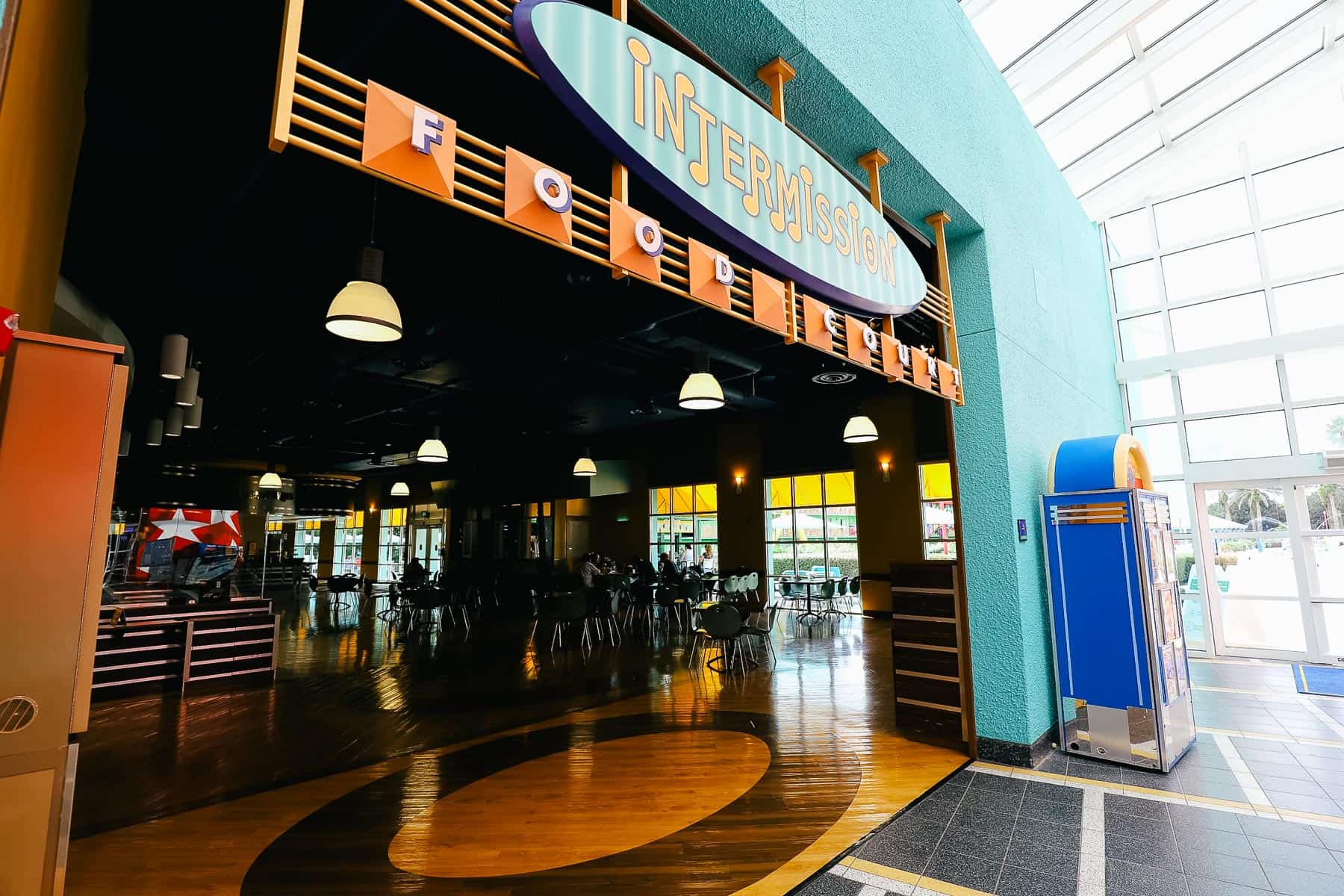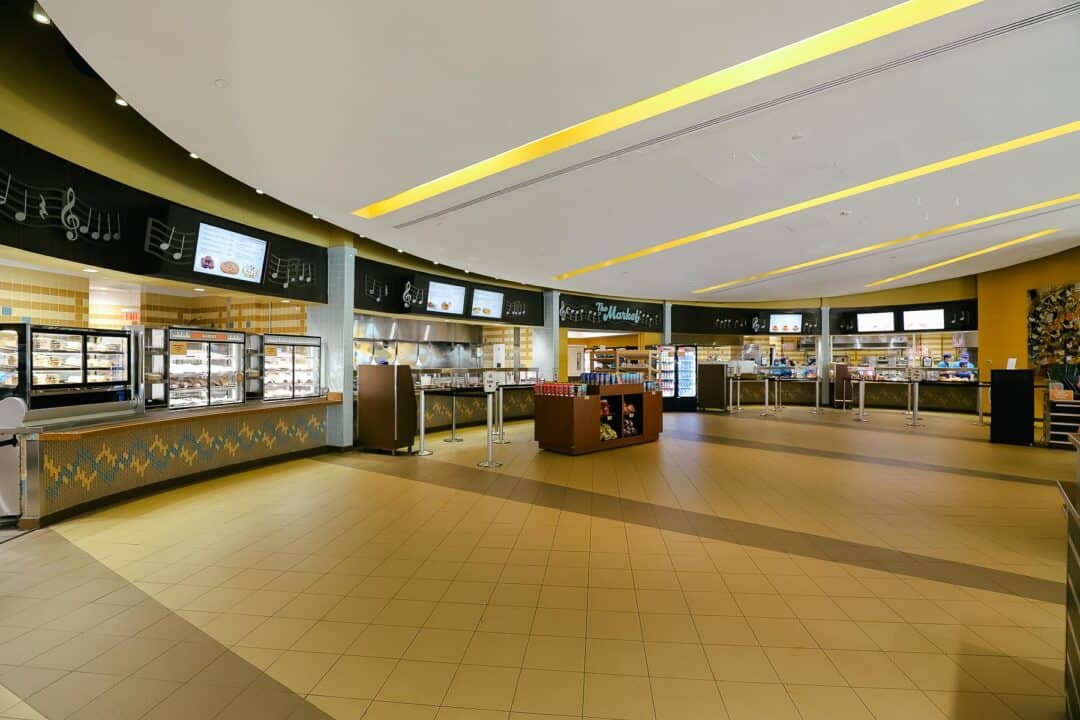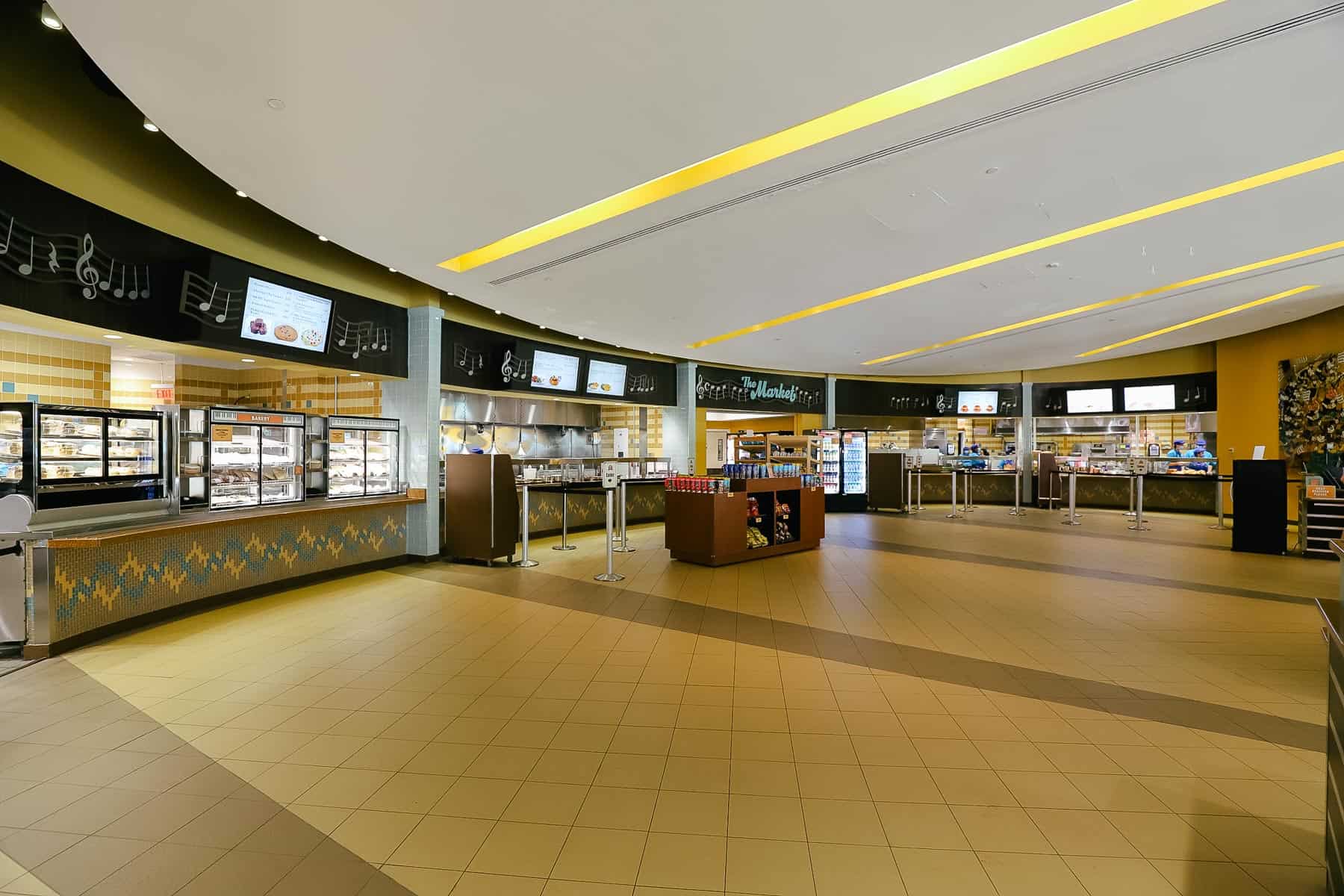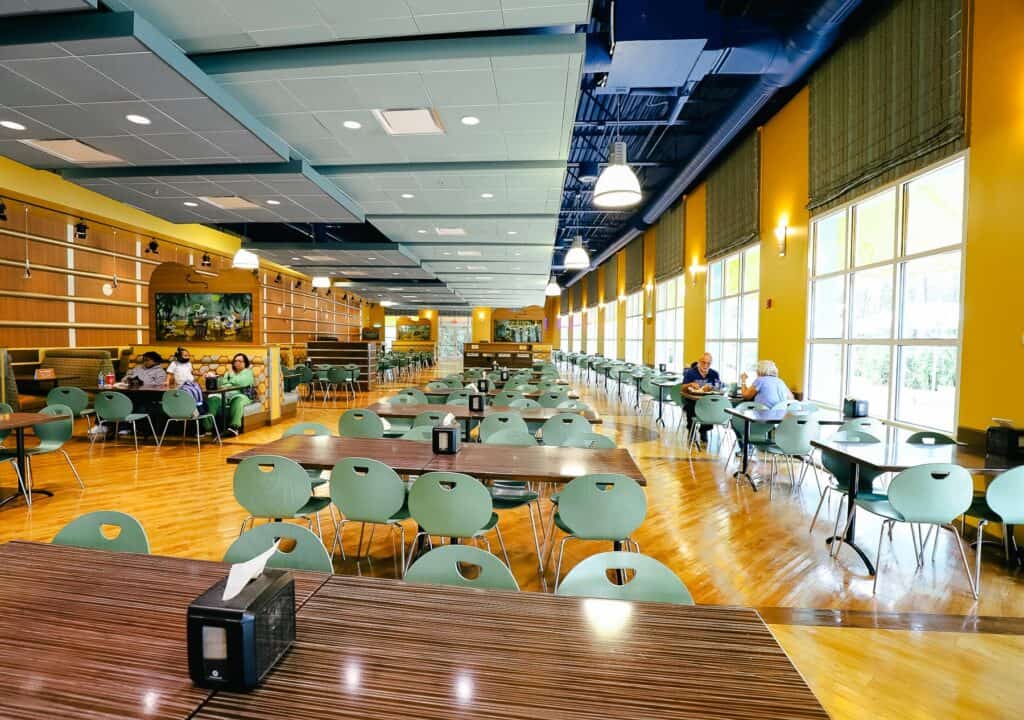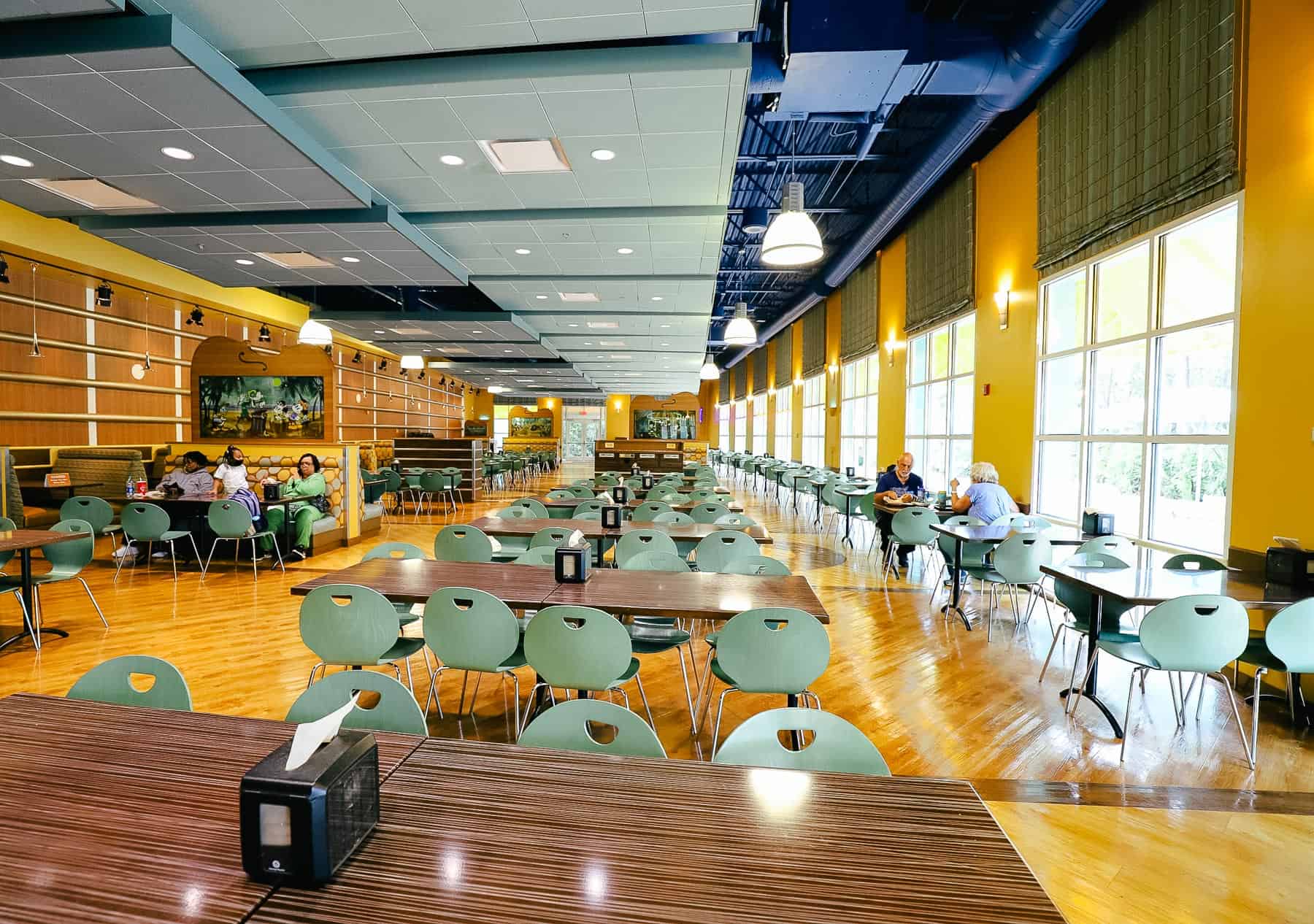 ---
Disney's All-Star Music has two resort pools. The Calypso Pool is the resort's feature pool that sits between the two Calypso courtyards at the front of the resort. It's directly behind Melody Hall, the lobby.
The Calypso Pool is shaped like a guitar and has a water feature in the center of the pool with The Three Caballeros (Donald Duck, Jose Carioca, and Panchito Pistoles). This area also has a separate kiddie pool.
Toward the back of the resort, you'll find the Piano Pool. It's shaped like a piano! This is a smaller pool that's often less crowded.
However, either pool can get busy, and they are both attended by lifeguards. Complimentary life jackets and towels are provided at the pool.
If you would like specifics about each pool, we have an article that discusses the pools at All-Star Music. That article provides photos of the pool and details about changing rooms, showers, and pool hours. Note that value resorts do not have waterslides or hot tubs at the pool.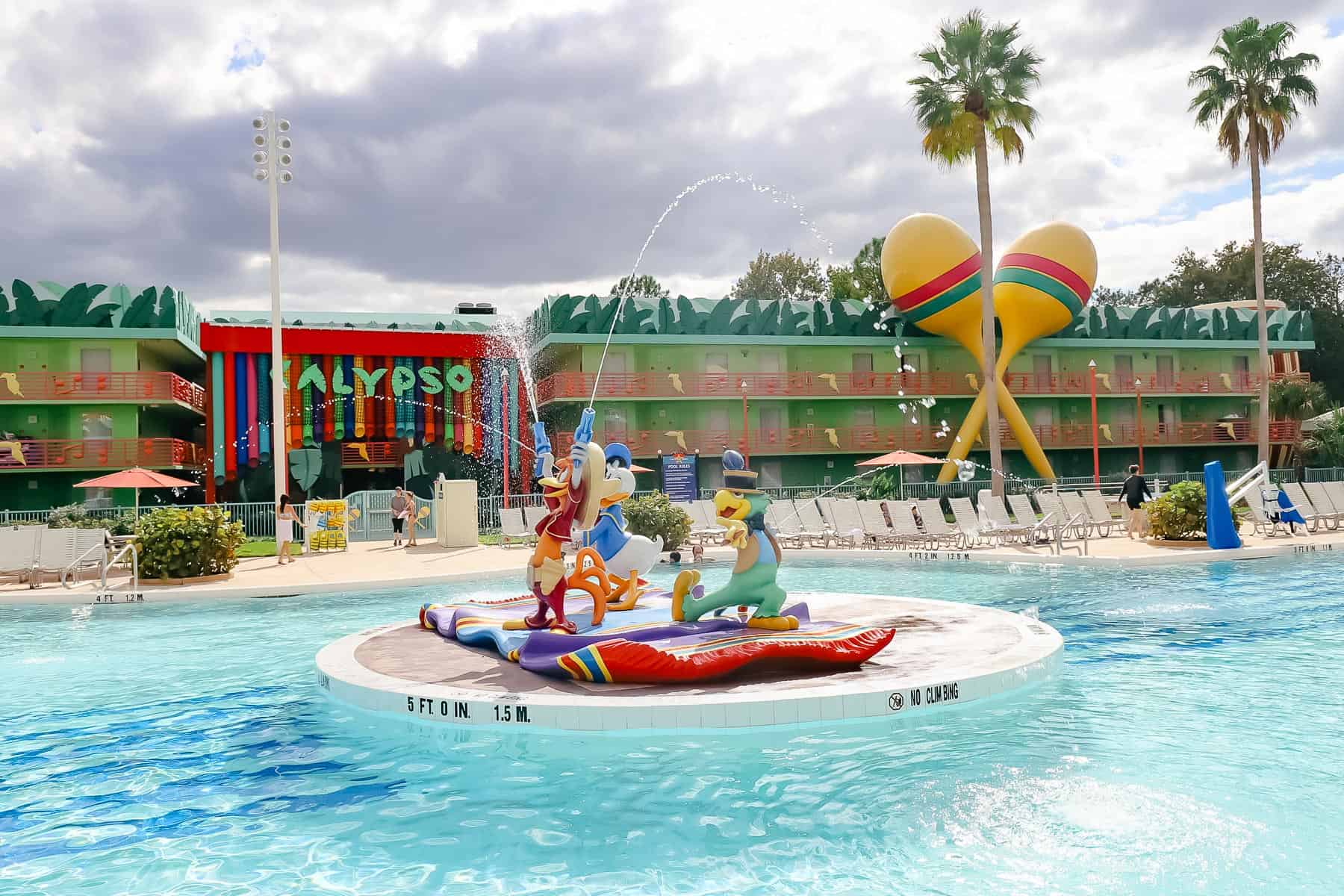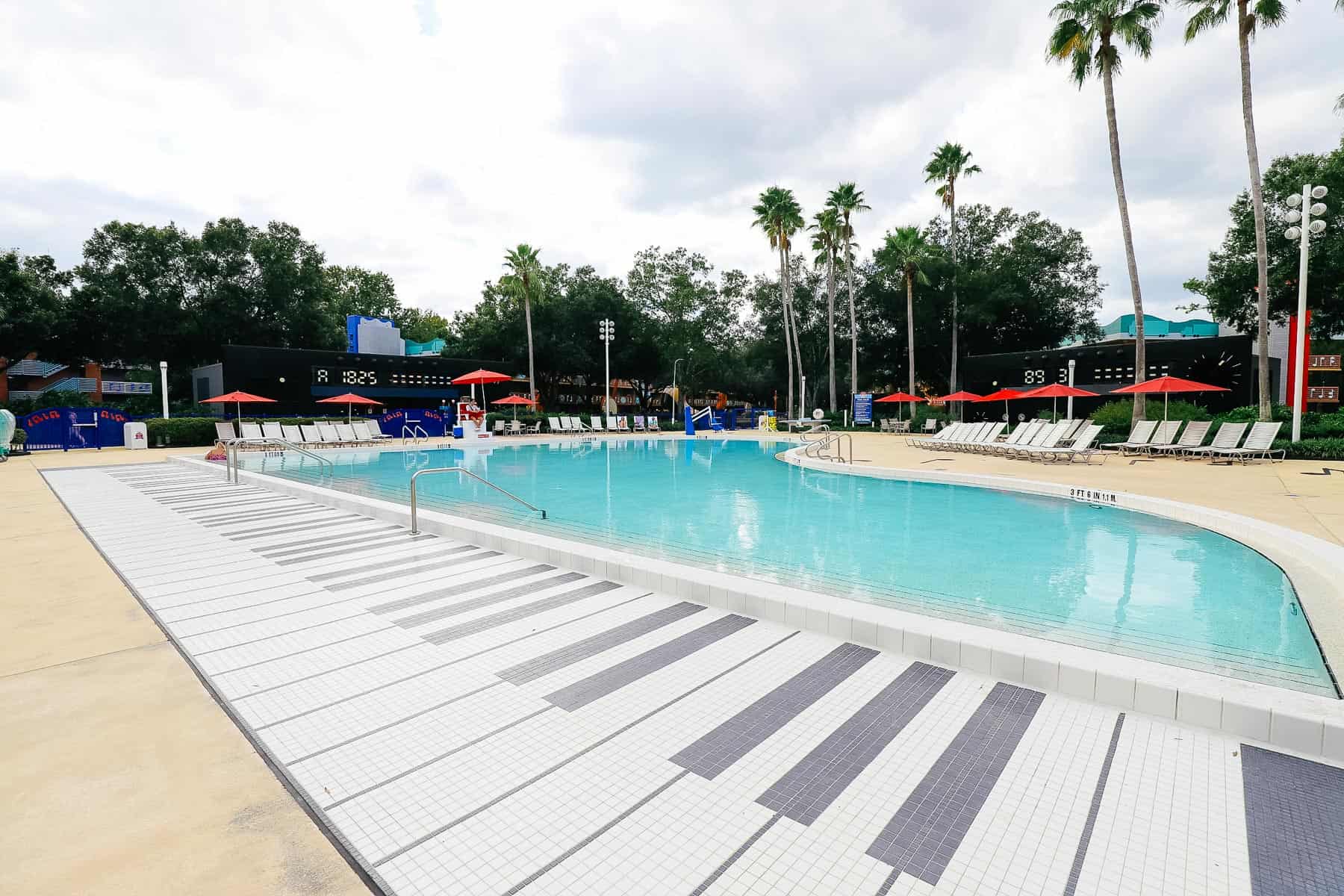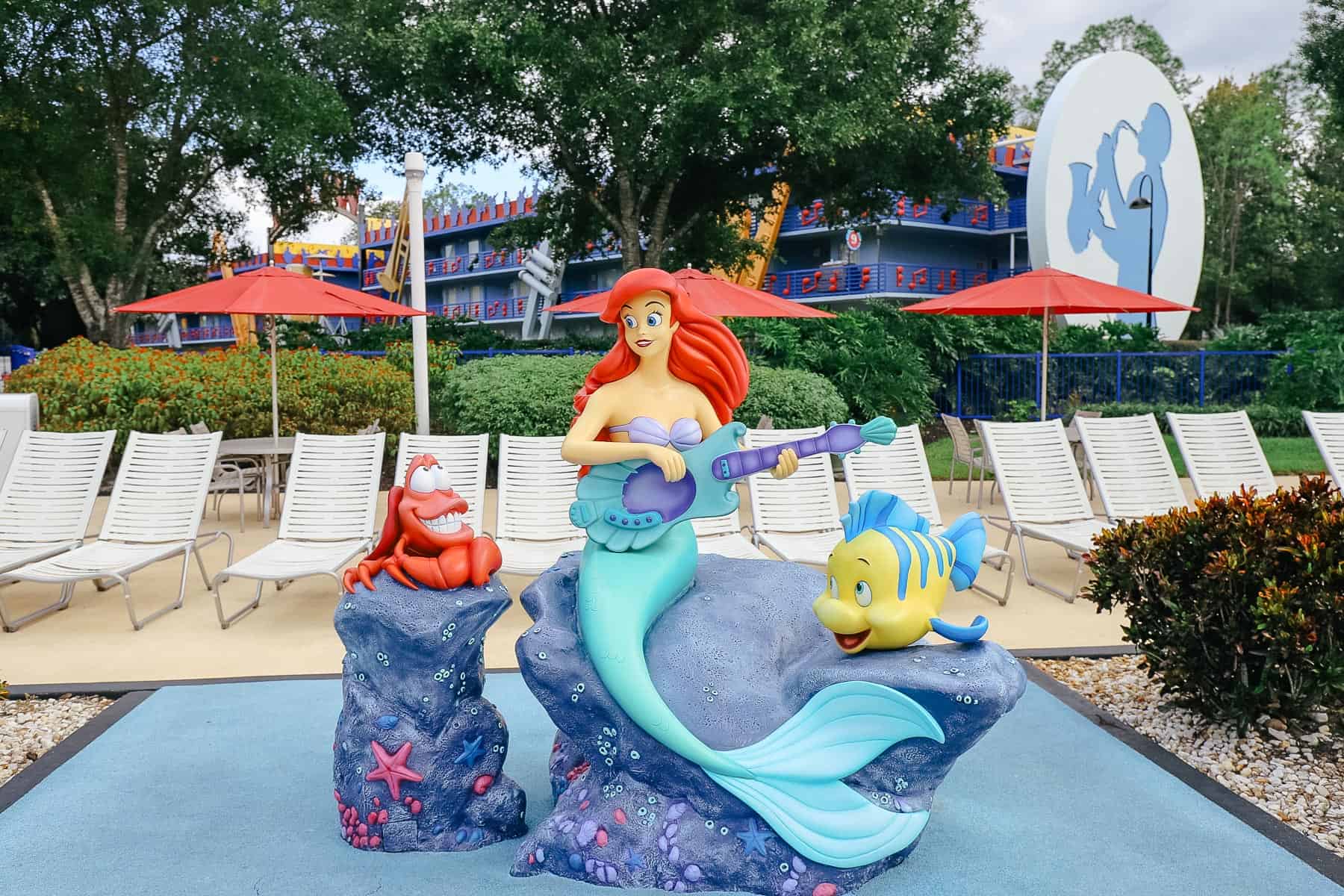 All-Star Music has several other recreational activities. Guests might enjoy playing a few games in Not'able Arcade, the resort's arcade. It's packed full of games and provides the perfect place to hang out during a thunderstorm!
Nightly Movies Under the Stars are held near the Calypso Pool. Make sure to take a photo of the resort's recreation calendar upon your arrival. It will list the movie schedule for each night, along with activities available during your stay.
A playground is also available. It sits off of a walkway that leads out to the parking lot between buildings 9 and 10.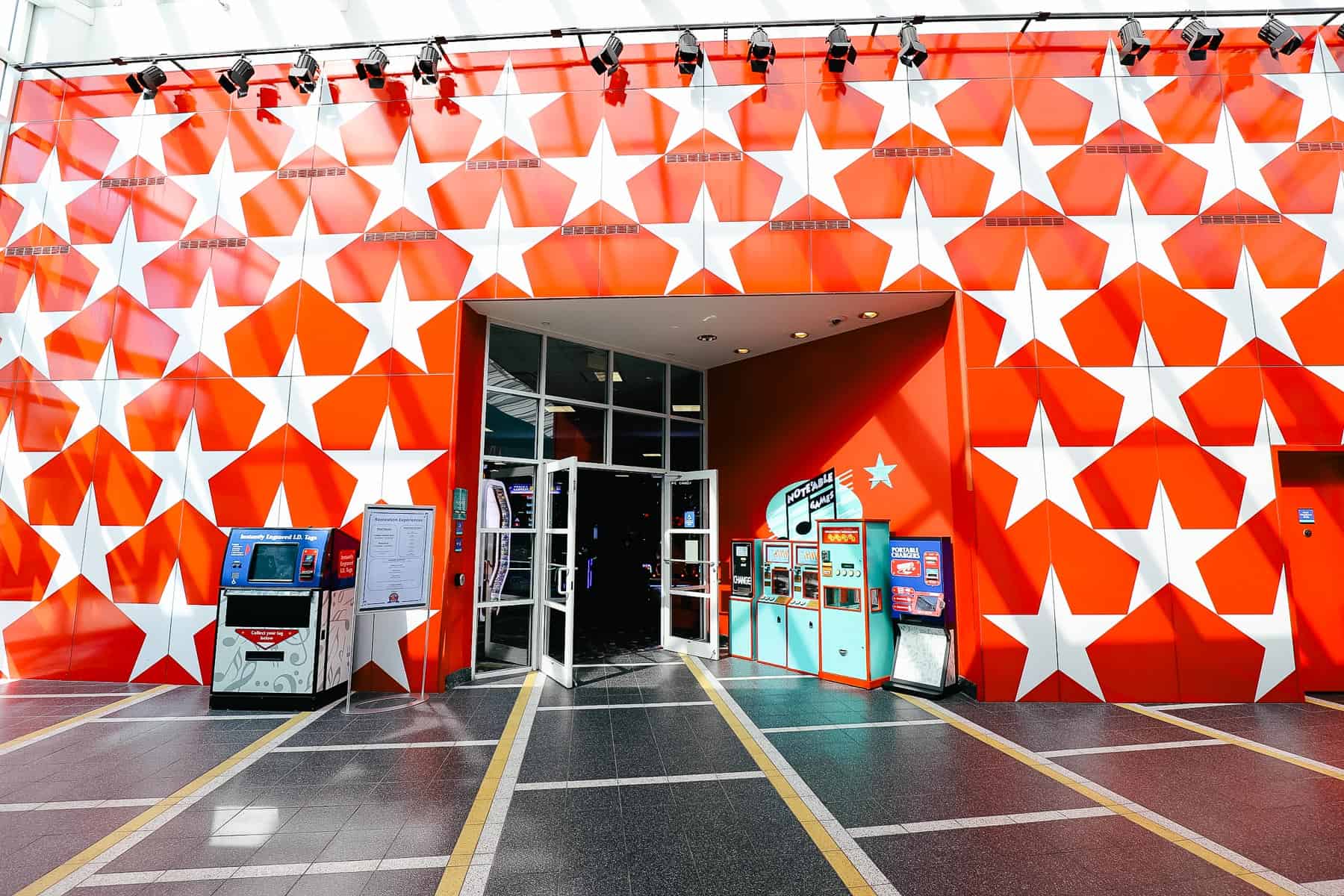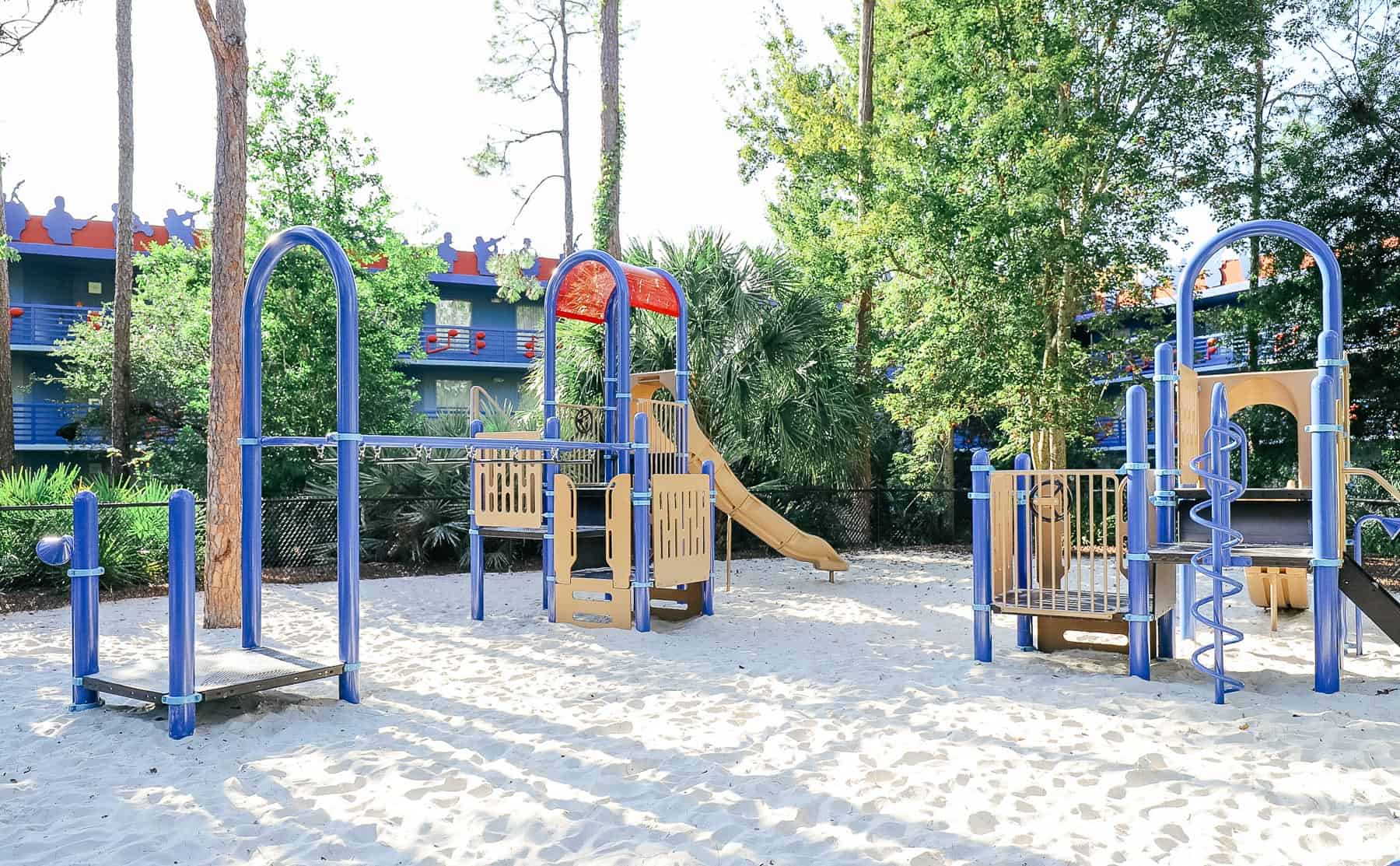 Maestro Mickey's is the gift shop at Disney's All-Star Music. It sits toward the front of Melody Hall and has a separate entrance from the bus stop.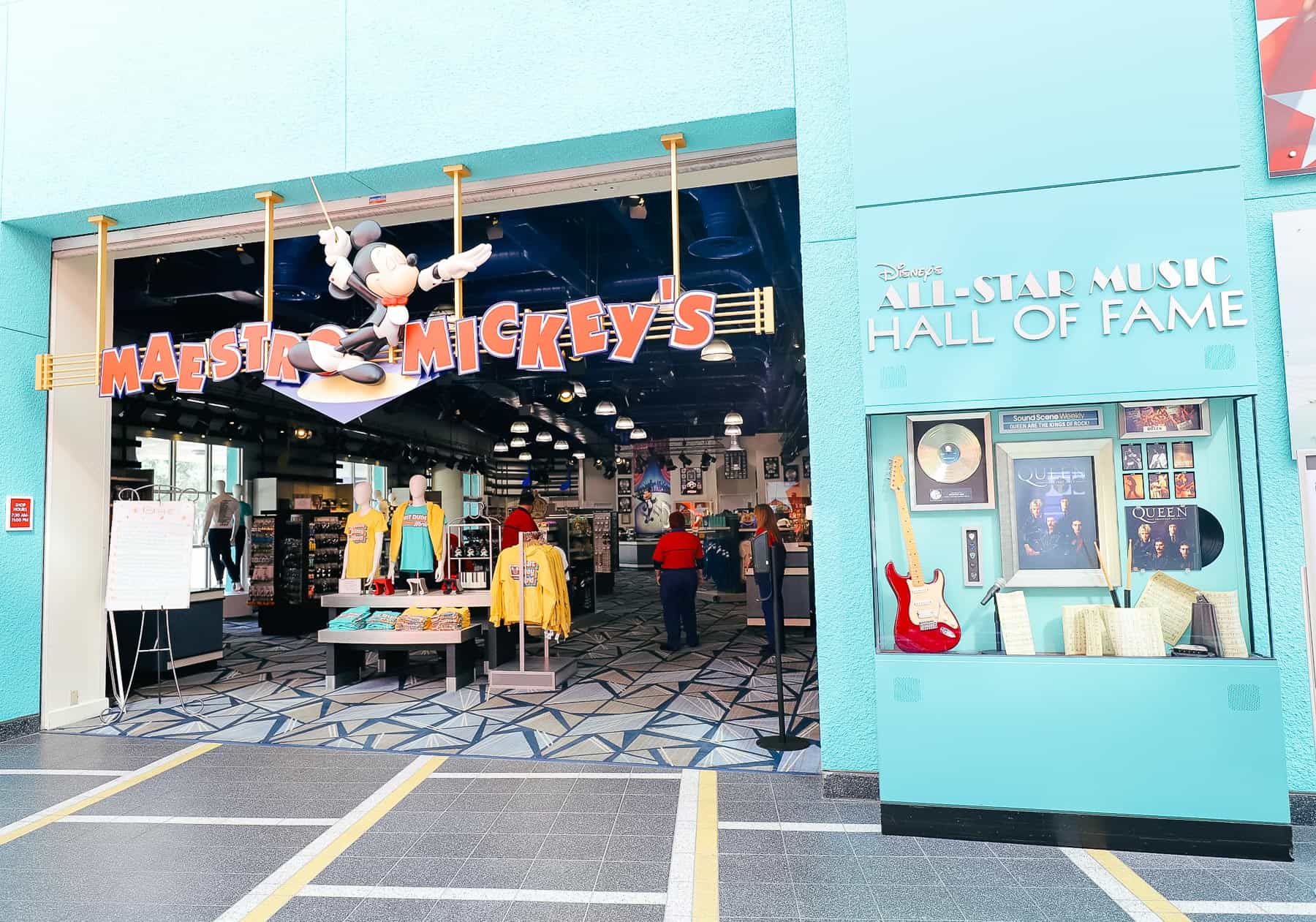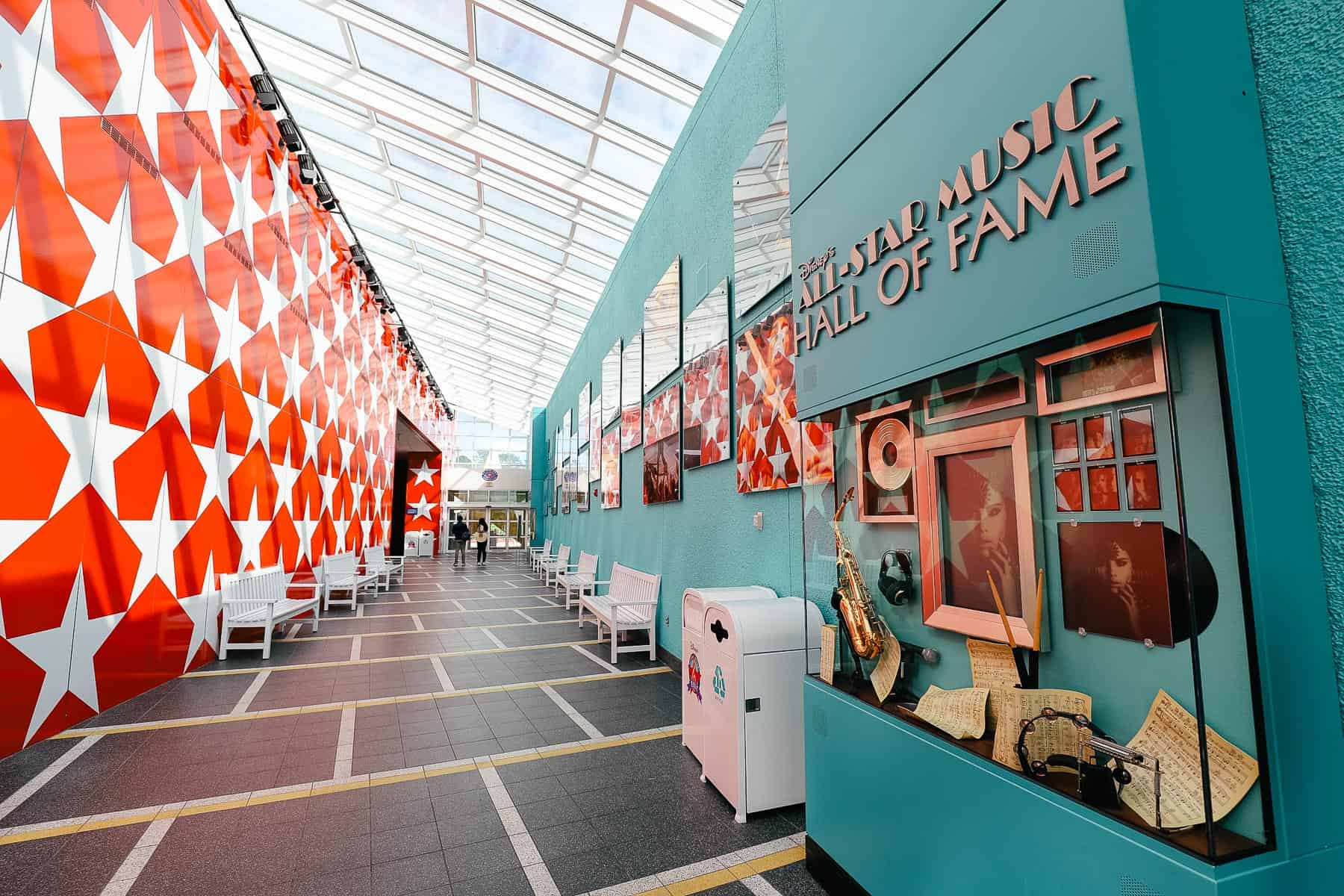 Laundry facilities are also available at every Walt Disney World Resort. All-Star Music has two laundromats, one at each pool. We have a separate overview of prices and photos of the laundry area at All-Star Music.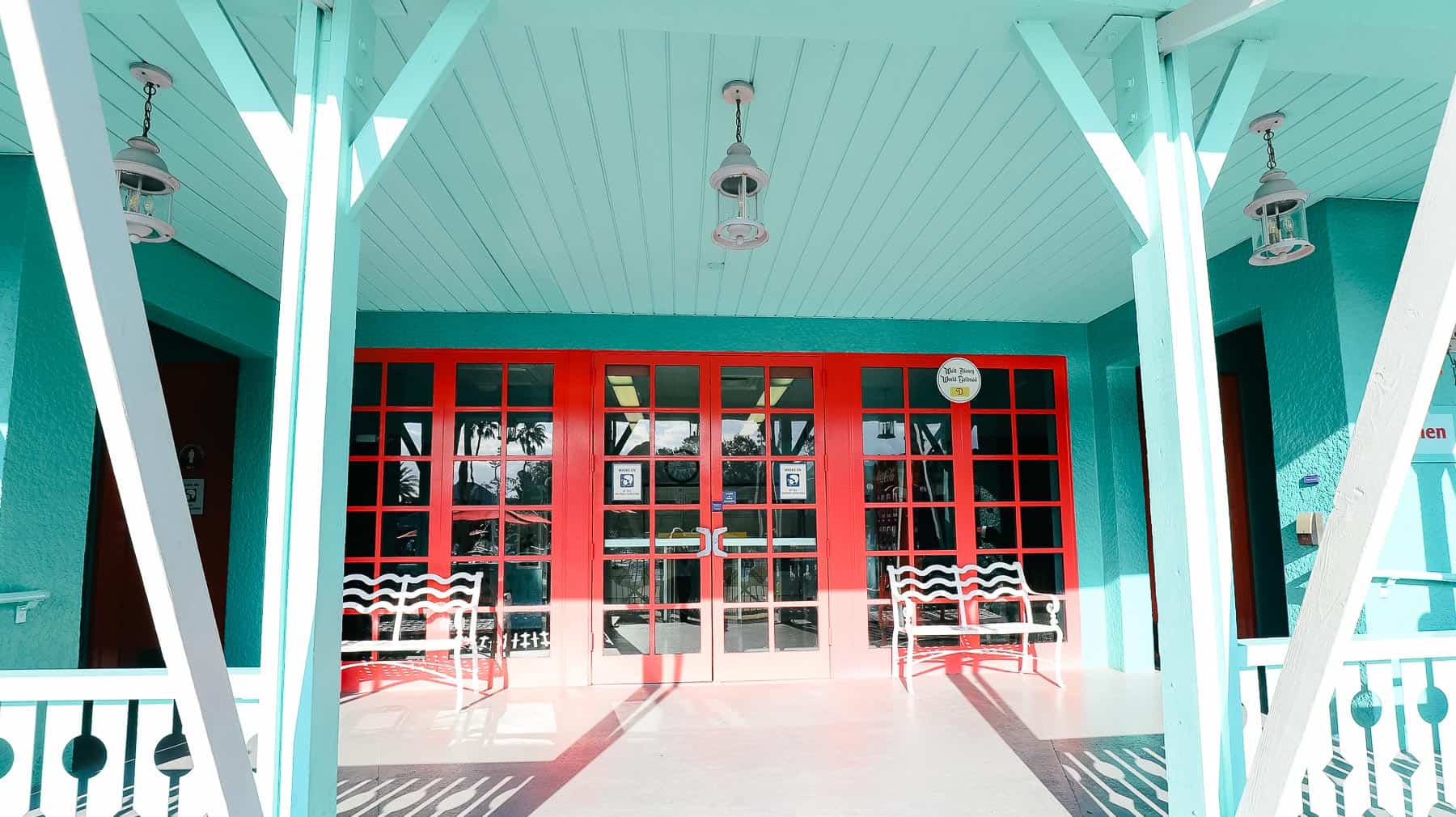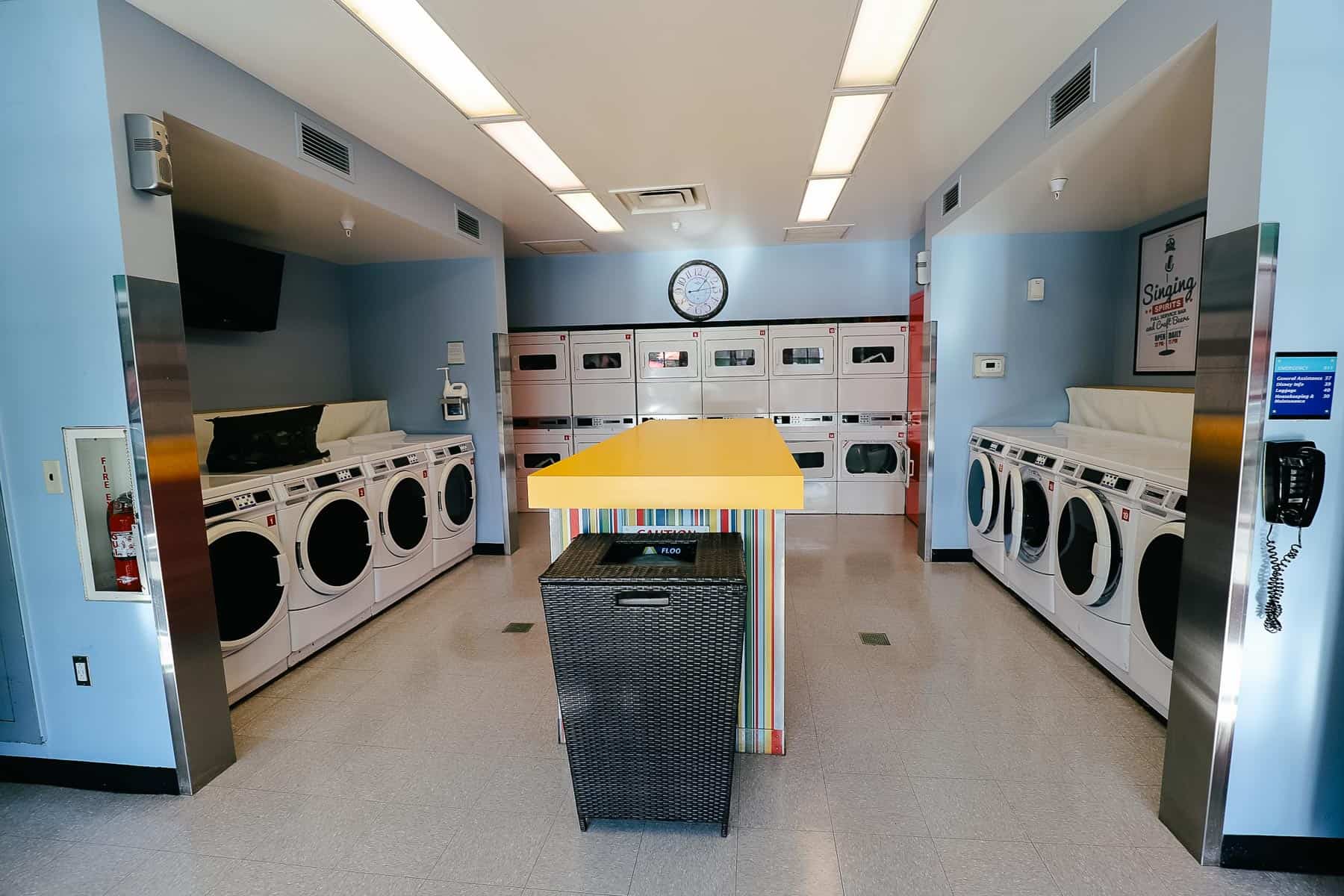 ---
Disney's All-Star Music offers bus service to and from the following locations:
Magic Kingdom
Epcot
Disney's Hollywood Studios
Disney's Animal Kingdom
Disney Springs
Water Parks (Typhoon Lagoon and Blizzard Beach)
We have a separate transportation guide for Disney's All-Star Music Resort. It provides useful tips on how to get to and from many popular destinations.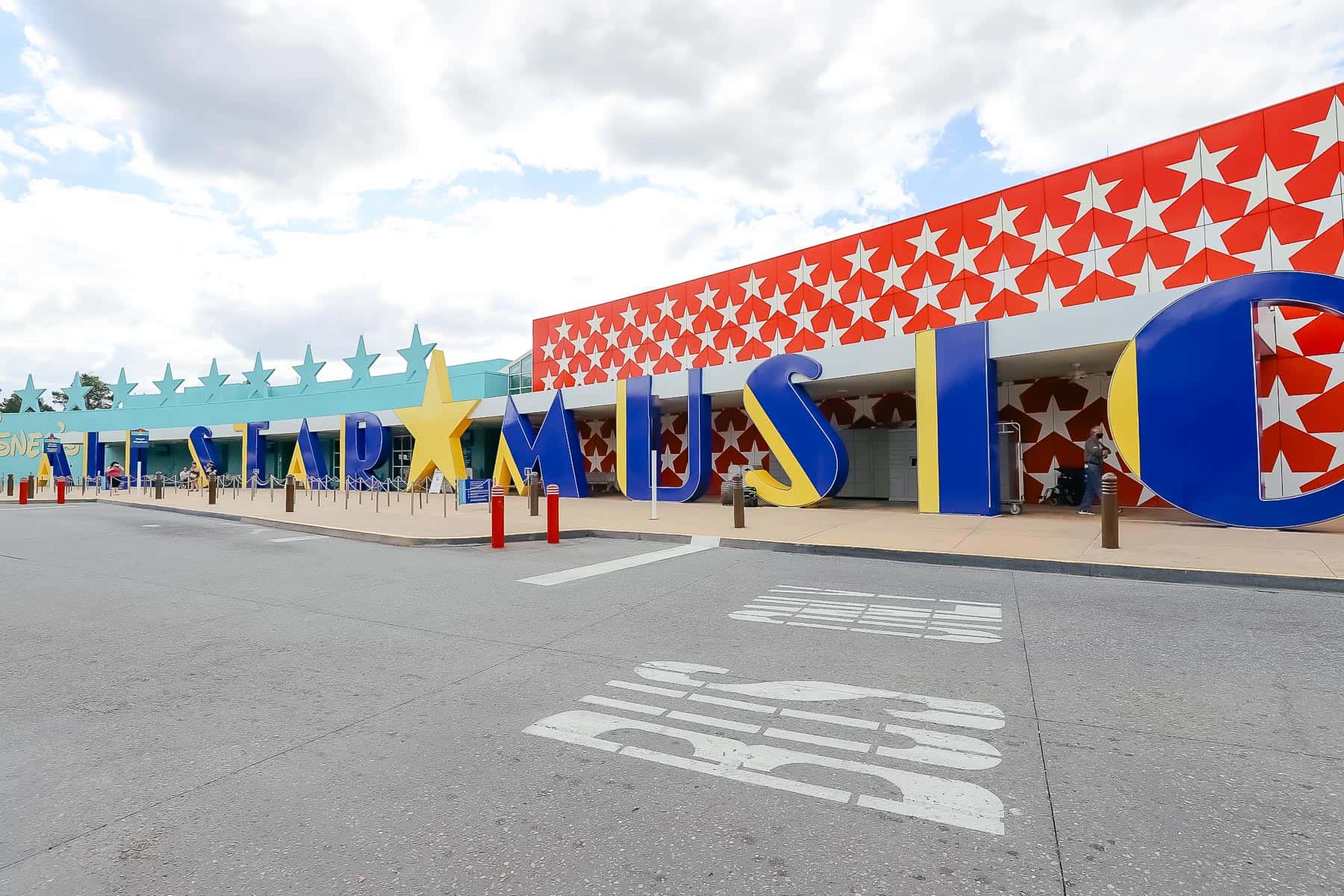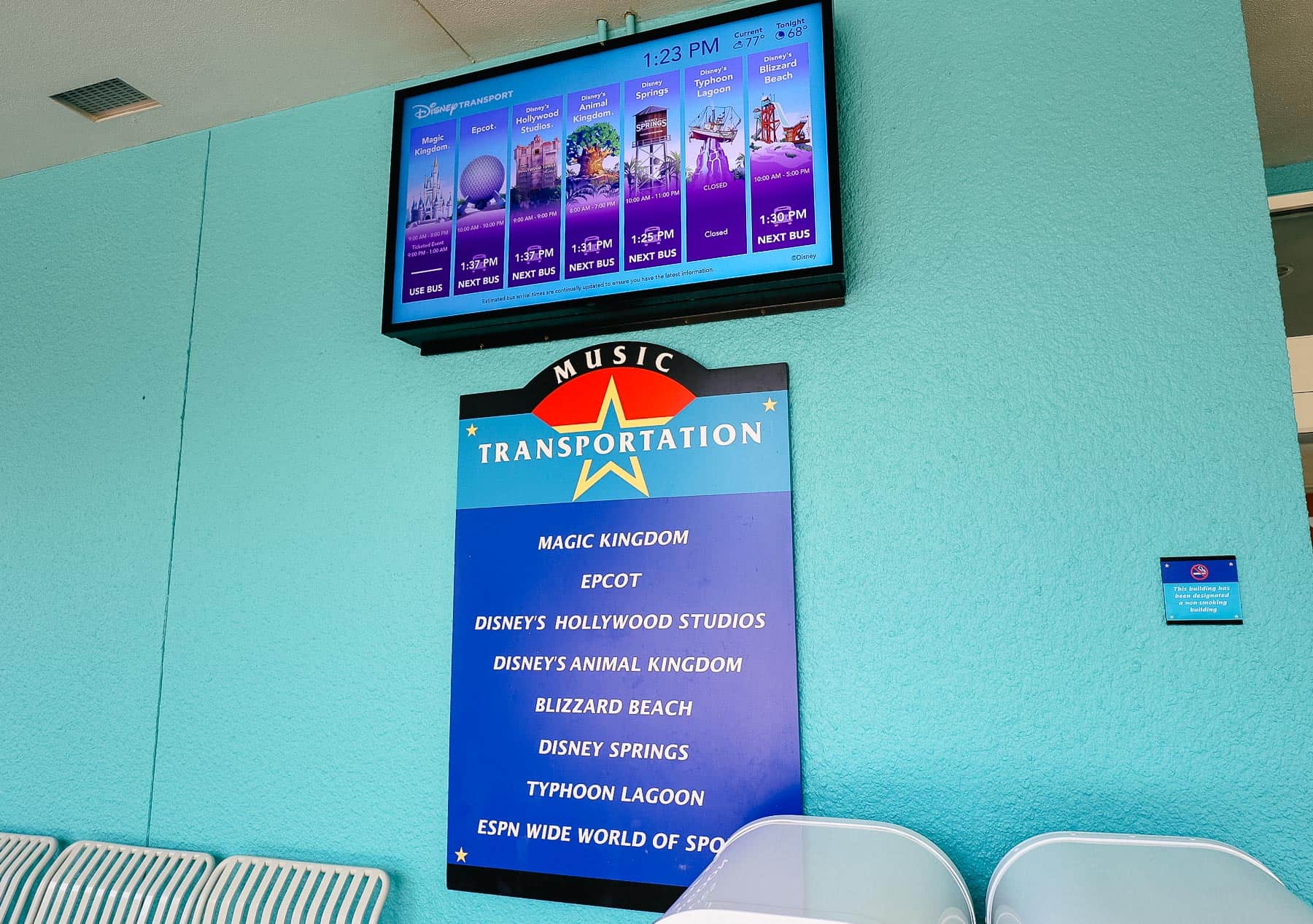 ---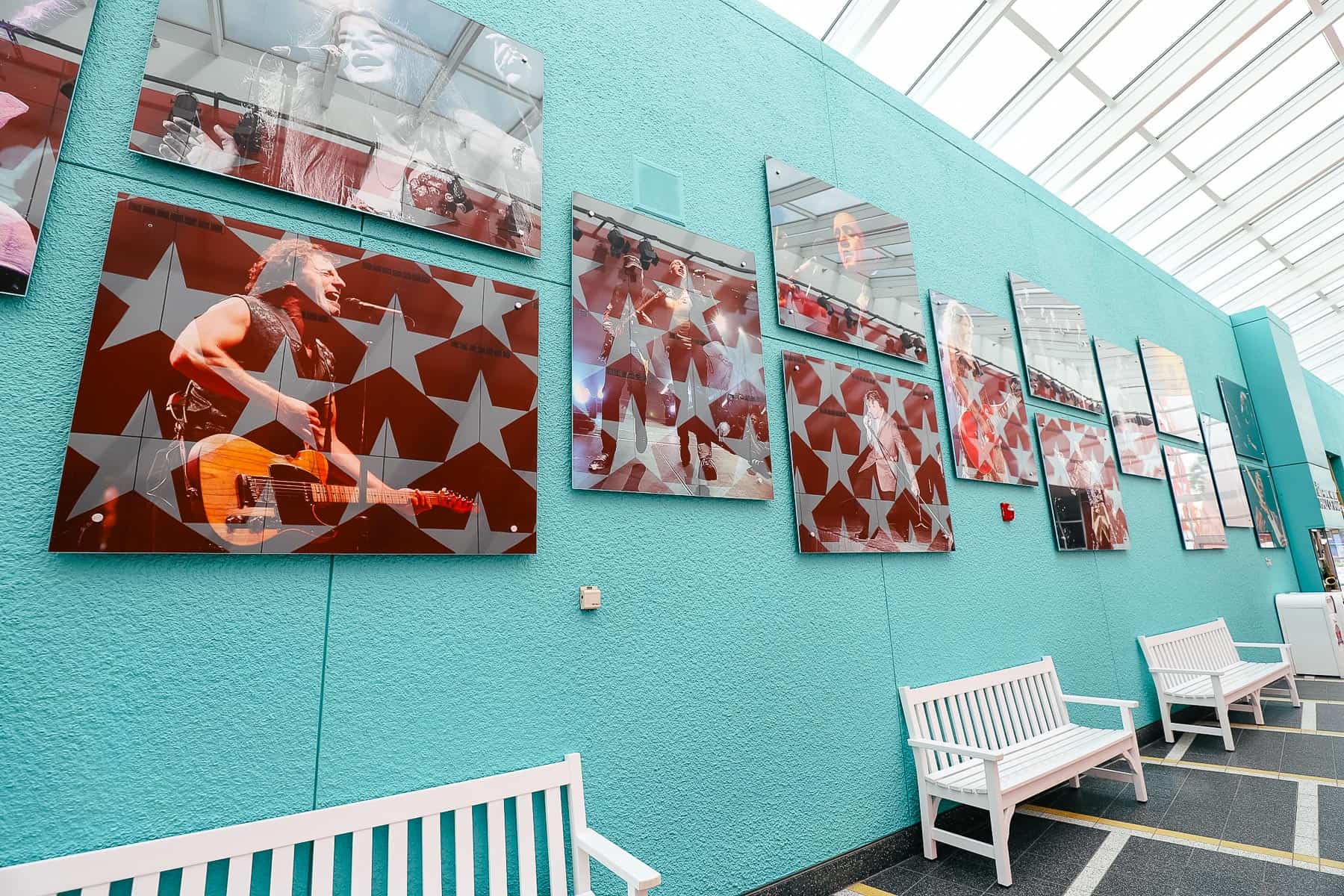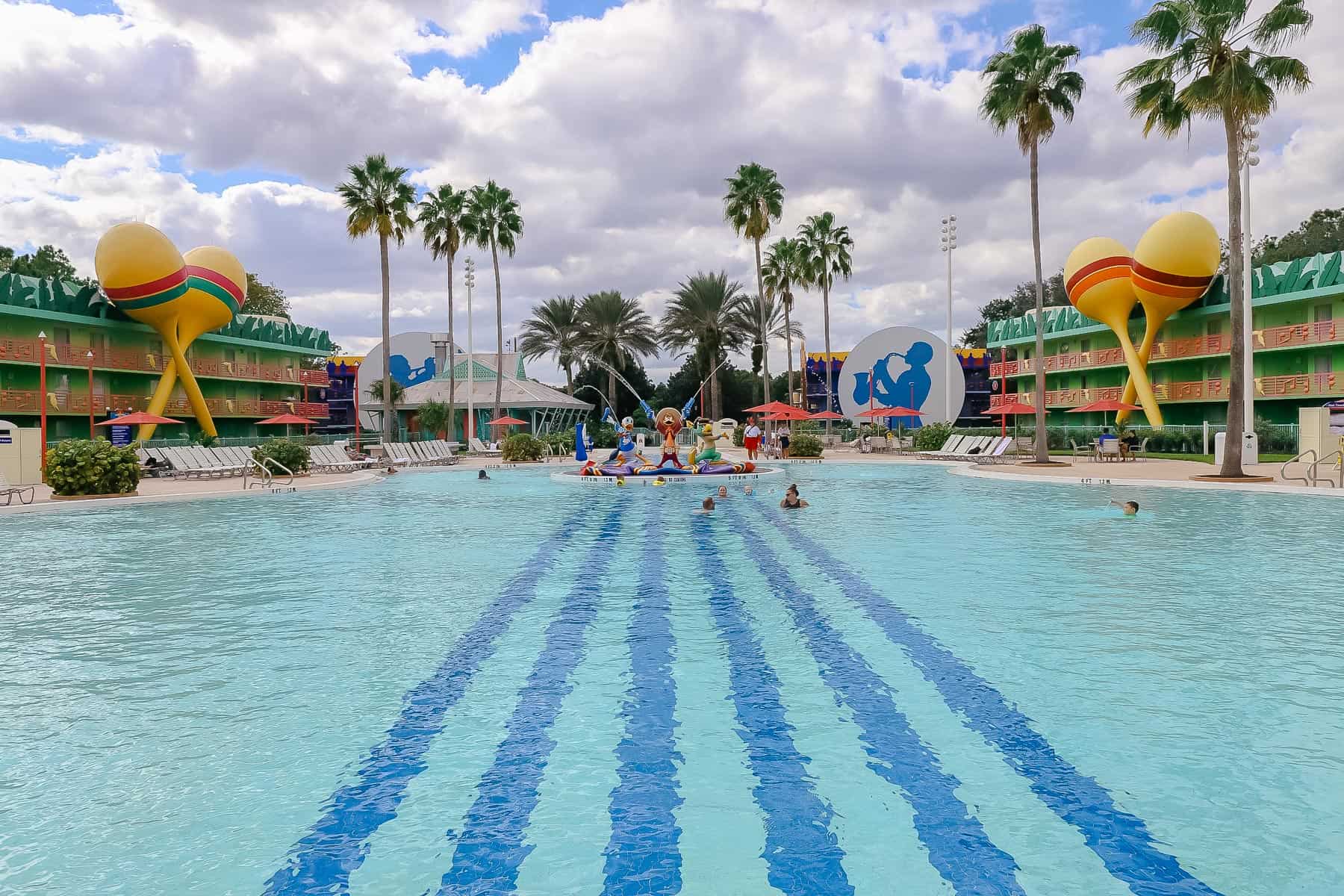 Nearby Resorts:
Disney's All-Star Music Resort