Fairfield Inn and Suites at Flamingo Crossings Review
If you're looking for a reasonably priced hotel near Walt Disney World, then oh boy, I have found a new option for your consideration. Marriott's Fairfield Inn and Suites opened almost a year ago at Flamingo Crossings.
Recently, I wrapped up a three-night stay at the hotel and left more than slightly impressed. This hotel option will be hard to top when it comes to the value you'll receive for the price point.
So for this review of the Fairfield Inn and Suites at Flamingo Crossings, we'll discuss the hotel in full detail. We'll look at a standard room, dining options, proximity to the Disney Parks, amenities, and nearby conveniences.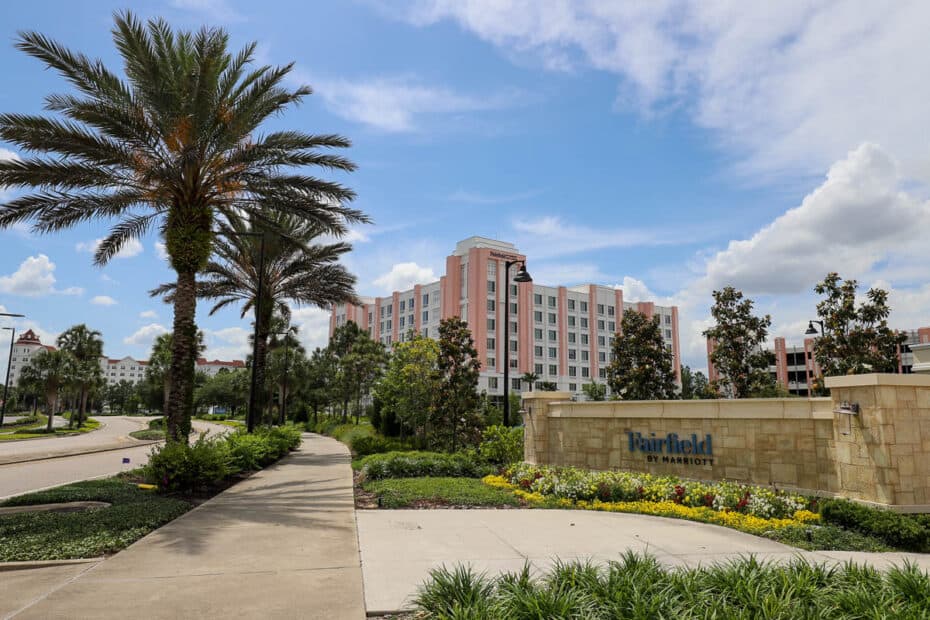 Fairfield Inn Review at Flamingo Crossings
For starters, Flamingo Crossings wins when it comes to location. This long-time Disney World exit has often been forgotten over the years.
Formerly, only two hotels were available at this stop, the SpringHill Suites and the Towneplace Suites. You may remember the SpringHill Suites is another hotel that I recommend.
Additionally, the Towneplace Suites is a fair option if you're looking for a pet-friendly hotel. However, we weren't completely sold on the Towneplace Suites.
Related: Towneplace Suites at Flamingo Crossing Review
Disney began relocating its college program's housing to the Flamingo Crossings area this past year. As expected, the move has accelerated growth and new construction in the area.
That growth includes multiple new budget-friendly and extended-stay hotels. New businesses include a Target Grocery Store, Walgreens, and a few fast food joints, among other things.
Oh, and there's a Starbucks. What would we do without premium coffee?
What once seemed like a ghost town is now a busy, bustling exit. Unfortunately, that means more traffic, especially during busier times.
Flamingo Crossings is located off Western Way. On the opposite end of Western Way, you'll find Coronado Springs, one of Disney's moderate resorts. Suffice it to say–Walt Disney World is nearby.
Related: Coronado Springs Resort Review
Your only other option for staying off-property yet remaining this close is the resorts at Bonnet Creek. However, those hotels cost significantly more.
As far as proximity to the parks, you're looking at a 10-20 minute drive from Flamingo Crossings.
For example, one day, I left the Fairfield Inn at Flamingo Crossings at 11:21 a.m. and was in a parking spot at Epcot at 11:37 a.m. So it took approximately 16 minutes to get to Epcot, past the parking attendant, and in a parking spot. Not bad at all.
From the Fairfield Inn, Animal Kingdom will be the closest park. Magic Kingdom is the furthest away. However, Magic Kingdom is less than 5 minutes past Epcot, so it's not much further.
Flamingo Crossing's Fairfield Inn is a pink hotel that blends attractively amidst its neighbors.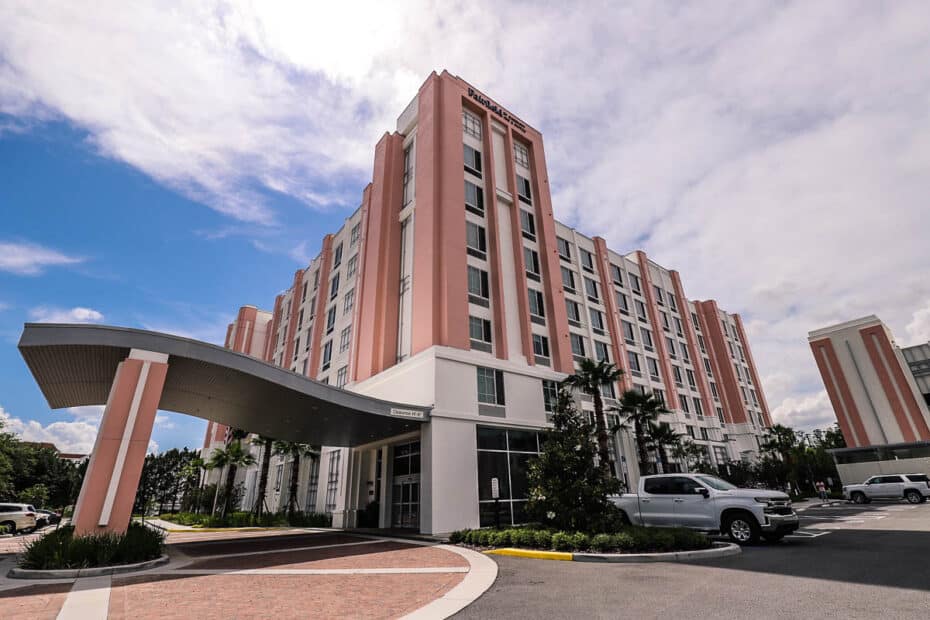 Plenty of parking spaces surround the hotel.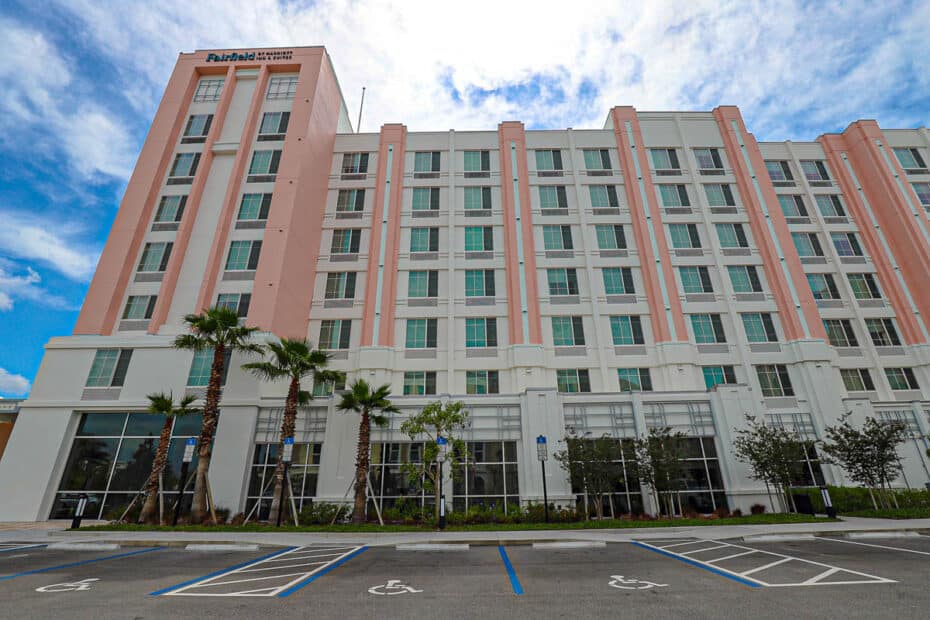 However, there's a large parking deck that sits at the back of the parking lot. One of the perks of staying at the Fairfield Inn is that there's no charge for parking. So you won't have to worry about racking up any extra costs during your stay.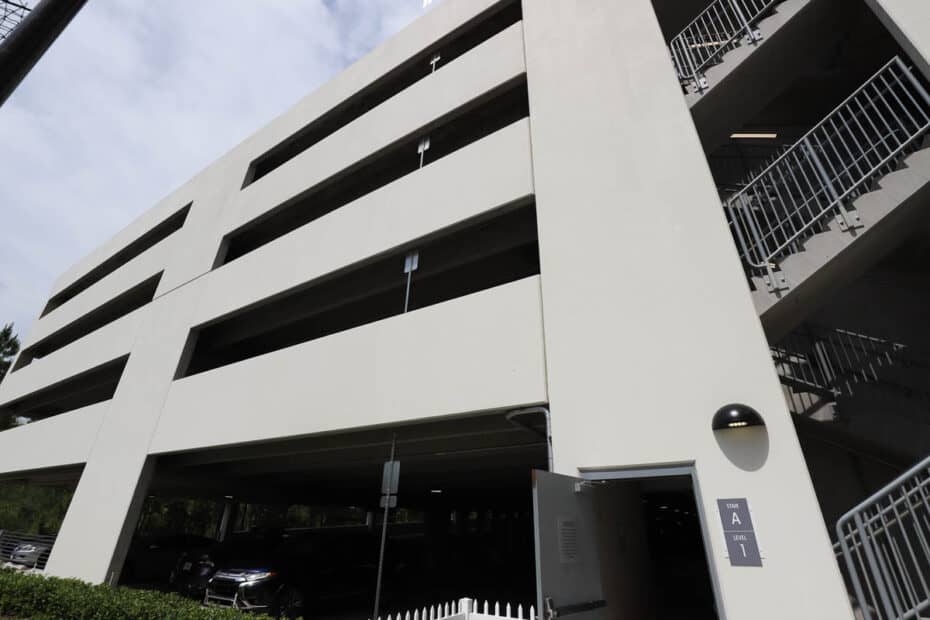 There's a small check-in area immediately inside the lobby. Someone was always waiting to greet me whenever I returned or departed.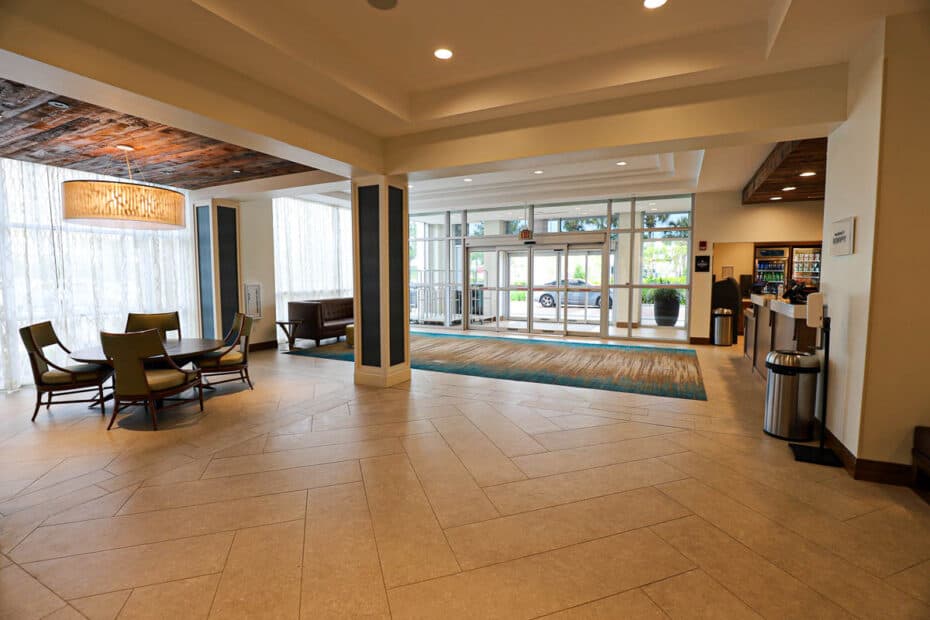 The lobby is tremendous. You'll find multiple places to sit, dine, or work throughout the space.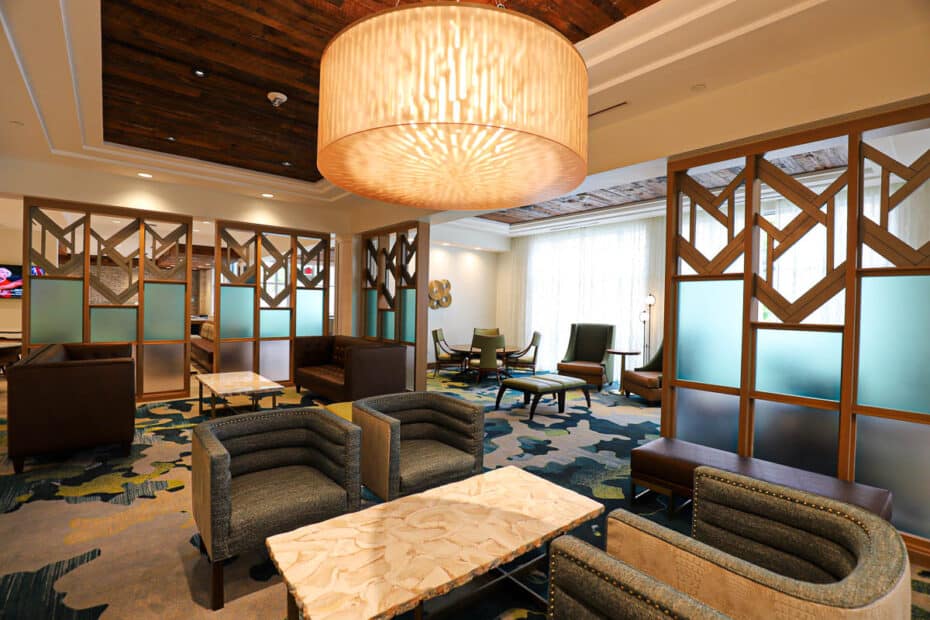 Here is an additional look at the area.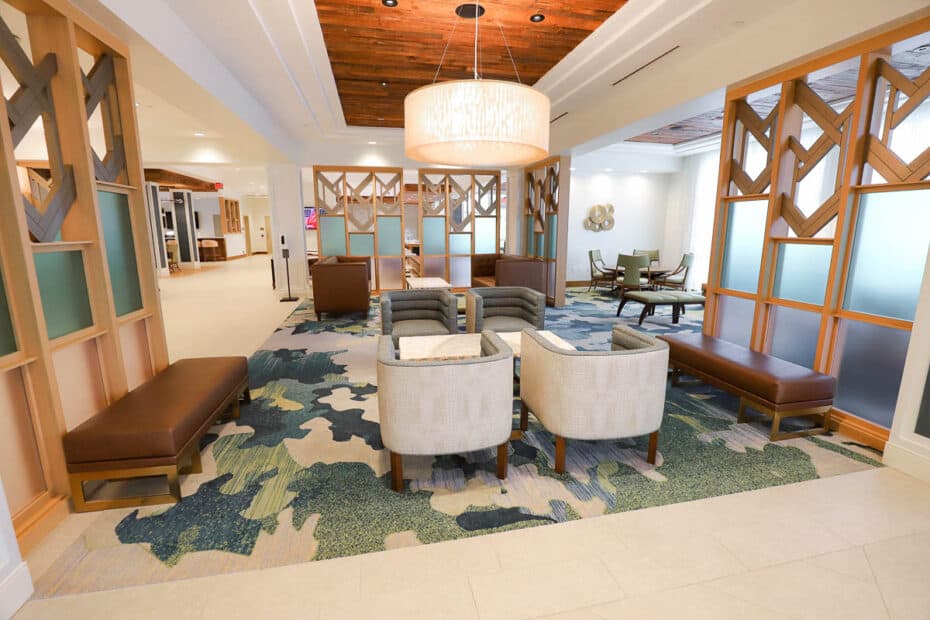 A small sundries shop sits in the corner of the lobby next to the check-in area.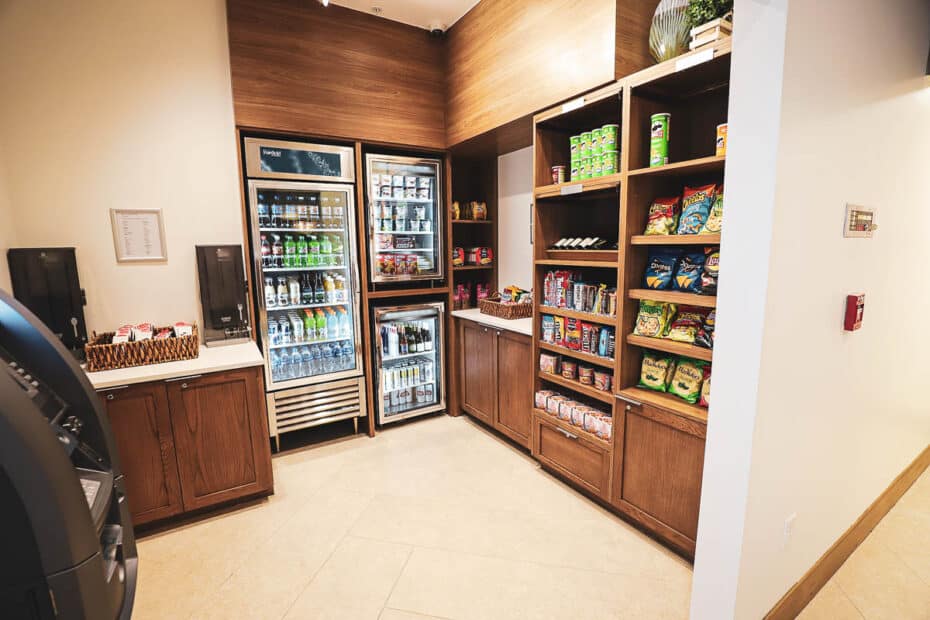 You can pick up various snacks, water, and soda here. Someone at the check-in area will ring up your selections.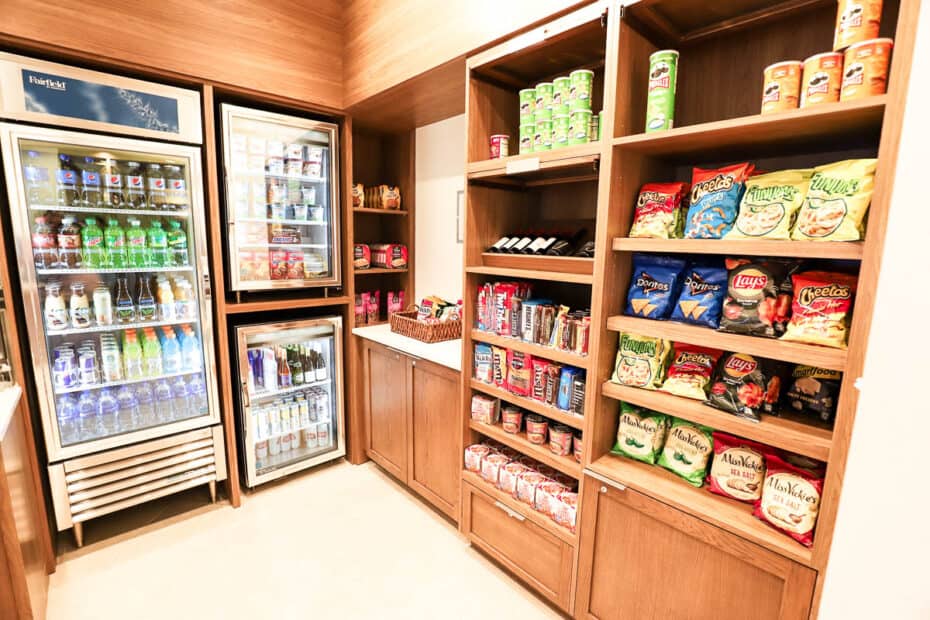 A few options for over-the-counter medicine were available, and an ATM machine. You might notice in the corner a stand with napkins and plastic cutlery.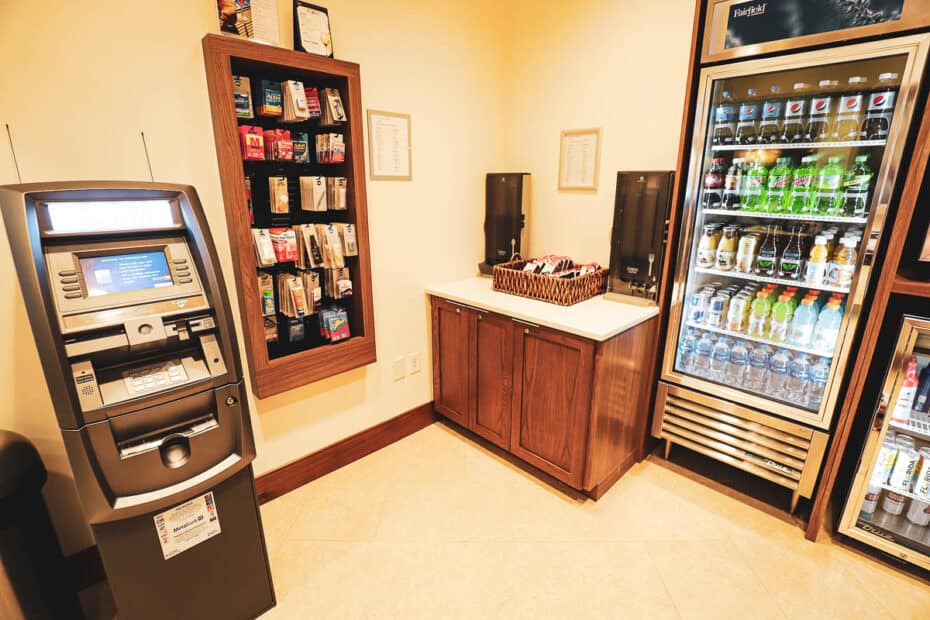 If you need paper plates, a stack is usually kept behind the front desk. I had to stop several times and pick up a few.
Around the corner from the lobby sits a small workstation with a computer.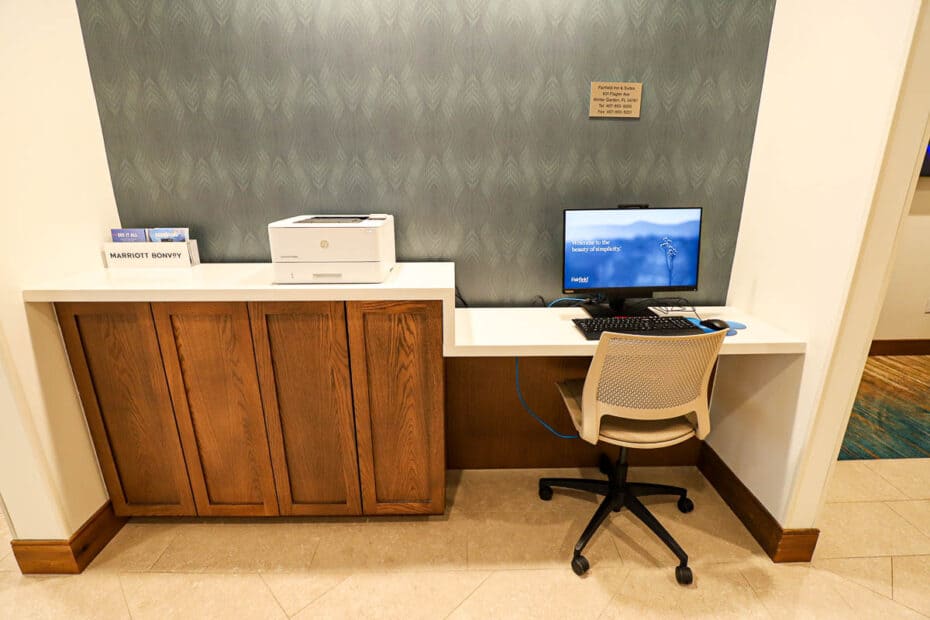 The back half of the lobby is dedicated to a large dining space.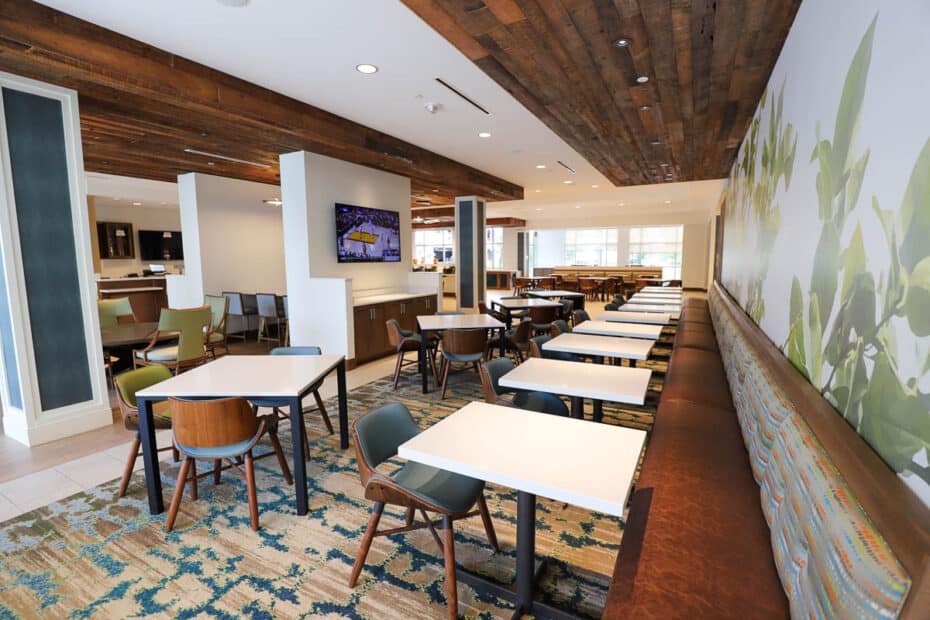 A complimentary breakfast is offered each morning, and you can always expect a crowd.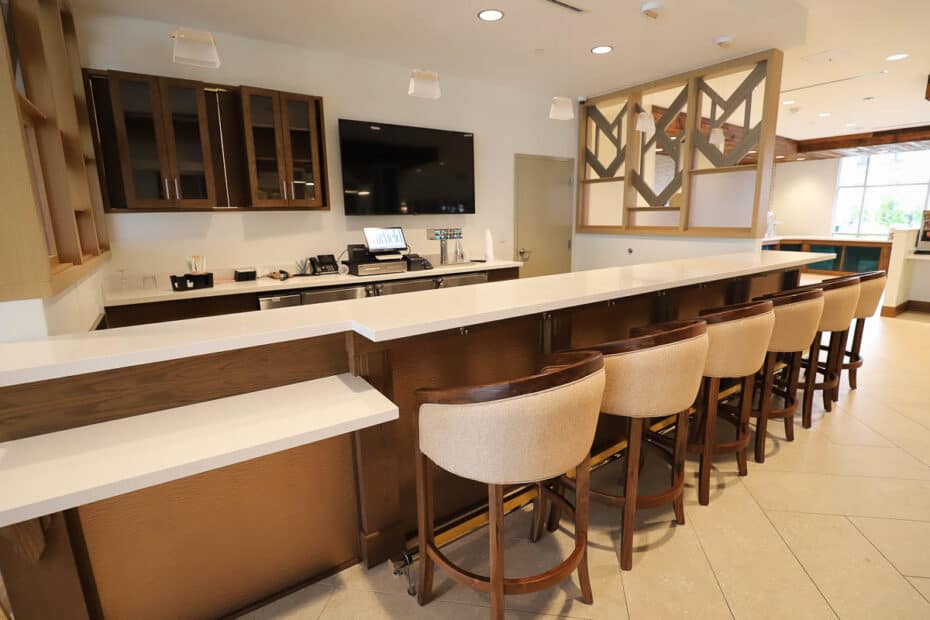 Here's another look at one of the dining rooms. High chairs were available along the wall.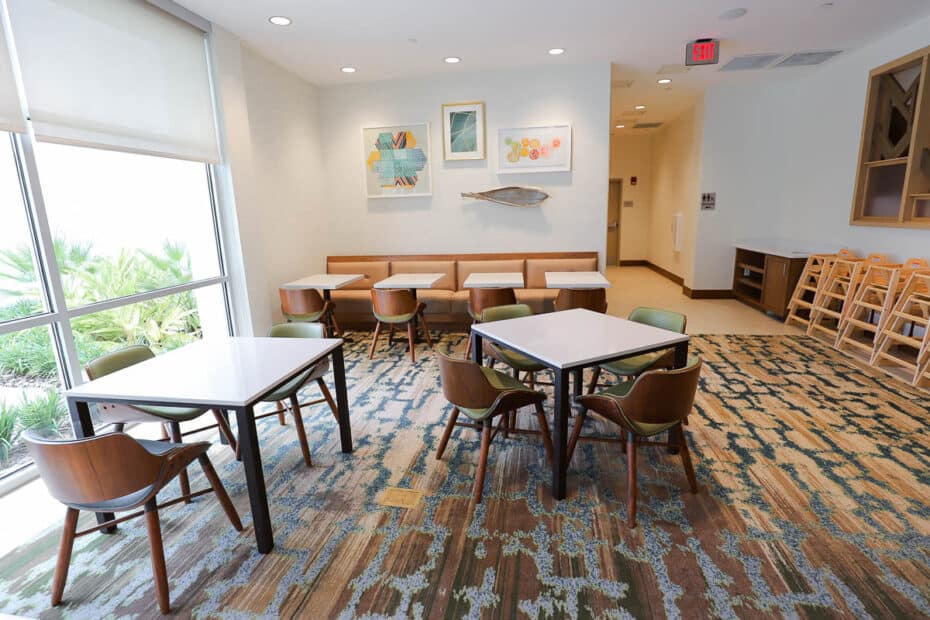 Here is the breakfast buffet. Unfortunately, I didn't get any good food photos since everything was covered.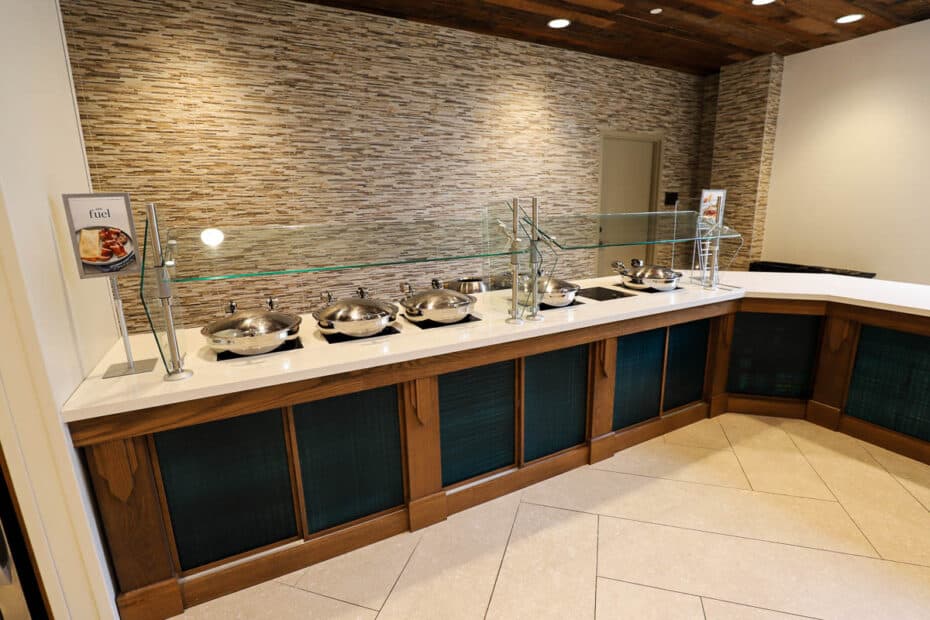 However, I ate breakfast here three mornings and got a good idea of what was available. Every morning it was pretty much the same thing.
Items included: bacon, sausage, bagels, English muffins, fruit, cereal, yogurt, and Mickey waffles.
The Mickey waffles were make-your-own. Below is a look at the area where you make them.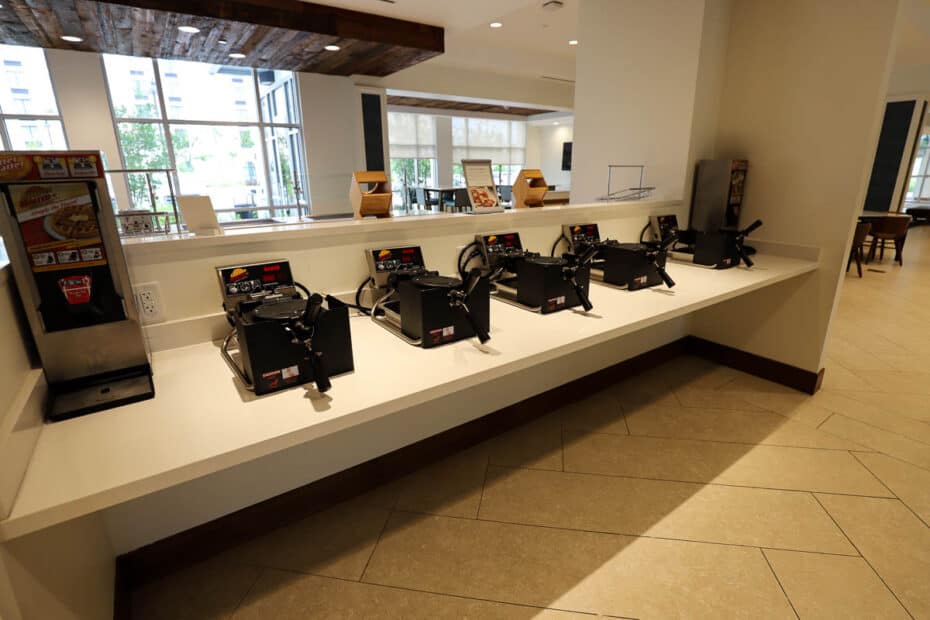 I have to note that I also stayed at the Hilton Lake Buena Palace at Disney Springs during this trip. One day during my stay, I decided to check out their breakfast buffet, which costs close to $30.00.
I was underwhelmed when I saw the Hilton had the same make-your-own Mickey waffles that were free daily at the Fairfield Inn. But of course, that buffet did have more offerings.
Related: Hilton Orlando Buena Vista Palace Review
Anyway, after eating all the bacon, sausage, and waffles you can handle for free, a gym is available to try and make up for it. I don't know about you, but I prefer to walk mine off in the parks.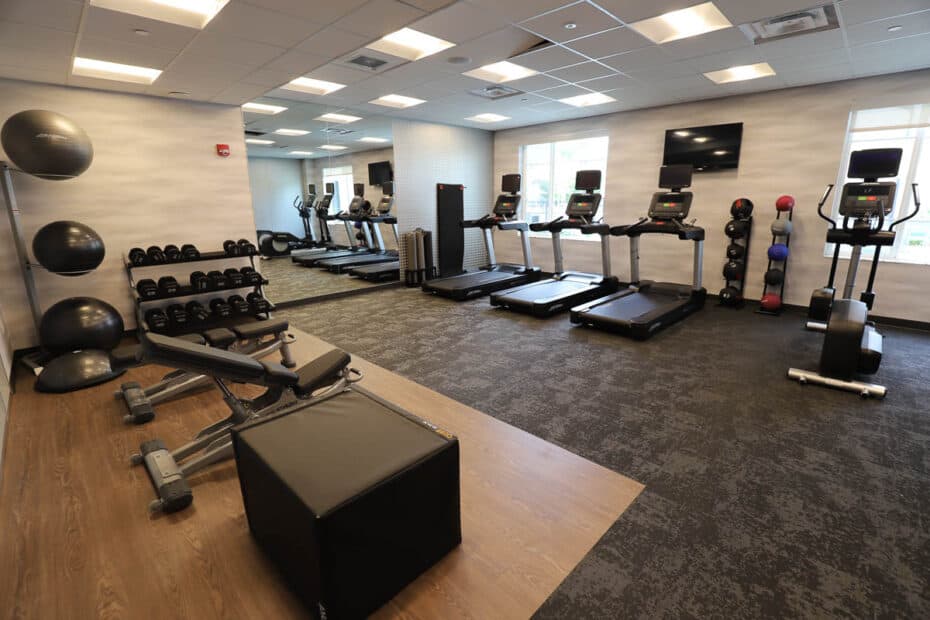 But the gym is available all the same and has a nice setup.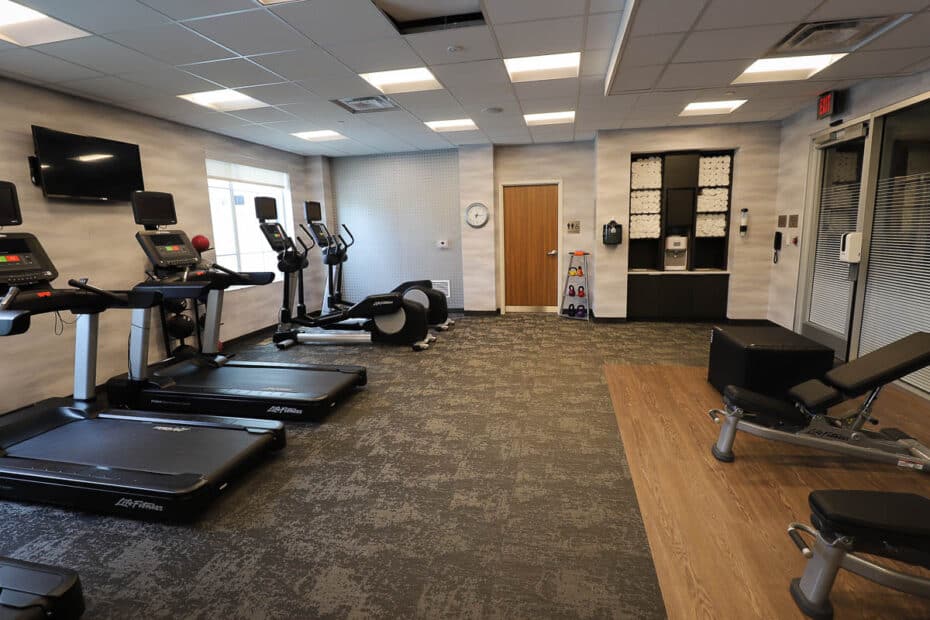 Walk outside or walk inside?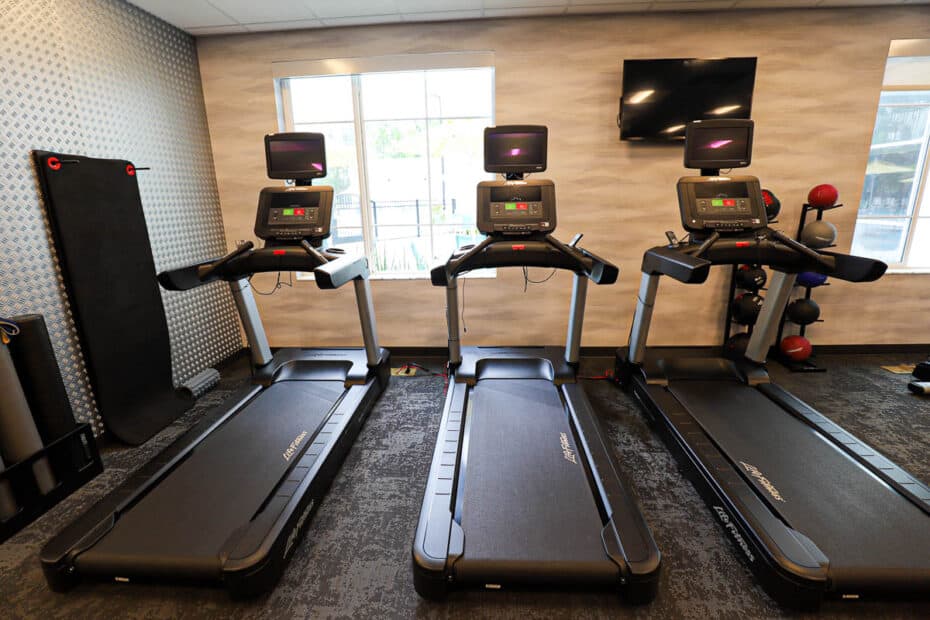 I appreciated that fresh towels were available and filtered water. In addition, there were cups on the wall.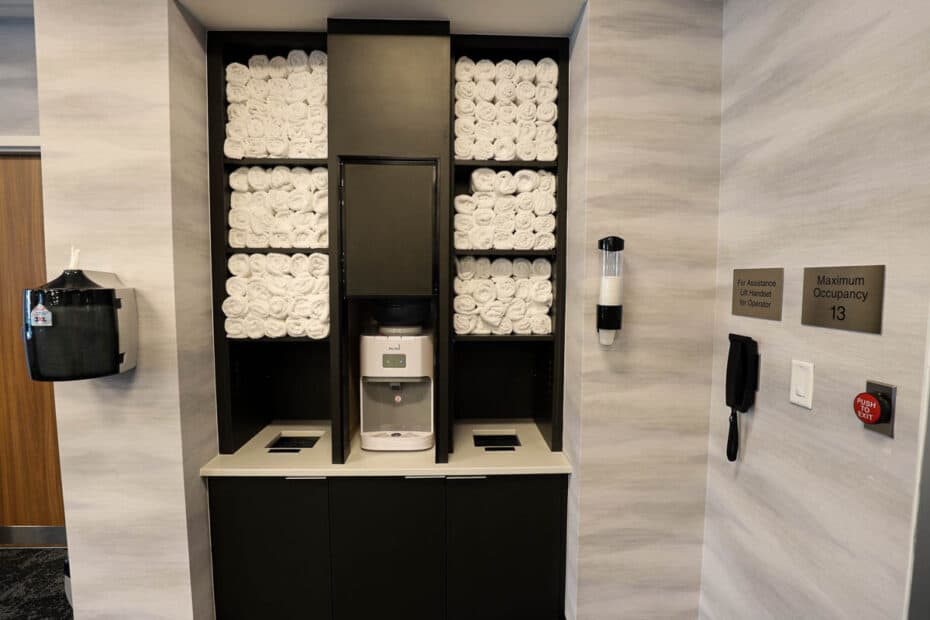 A lobby sits across the hall from the laundry facility. It's convenient for anyone needing to do a load of laundry during their stay.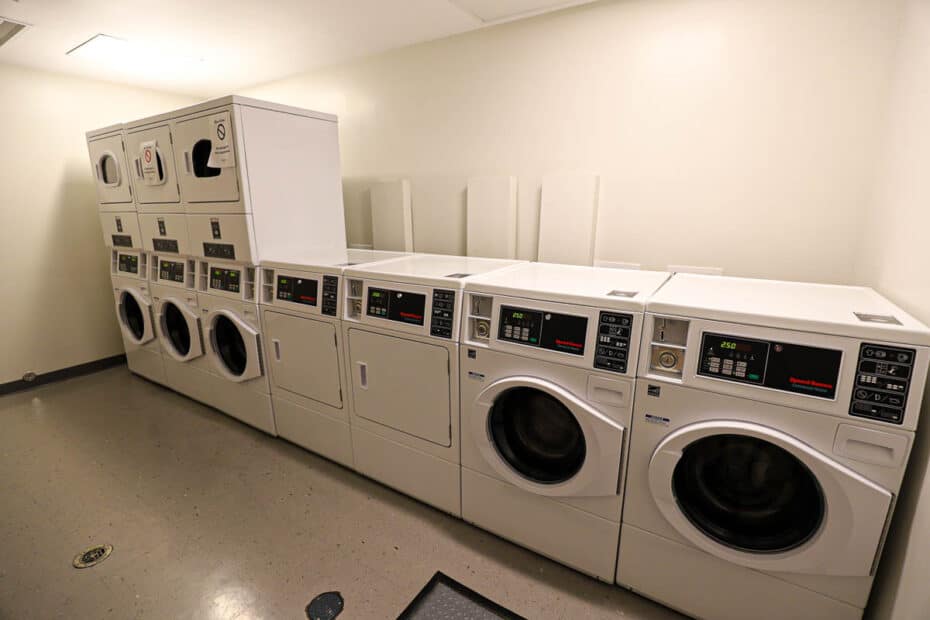 Back off the dining area, there's a pair of double doors leading out to a recreation area. There's more than meets the eye with this swirl in the concrete. (It's a splash pad.)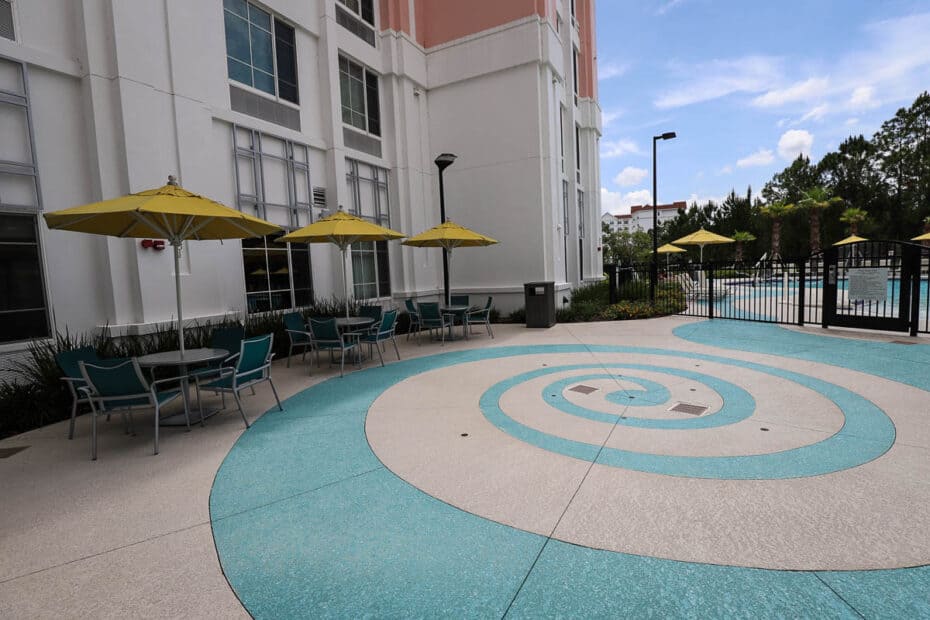 I thought the pool area was pleasant and liked how it backed up to a wooded area.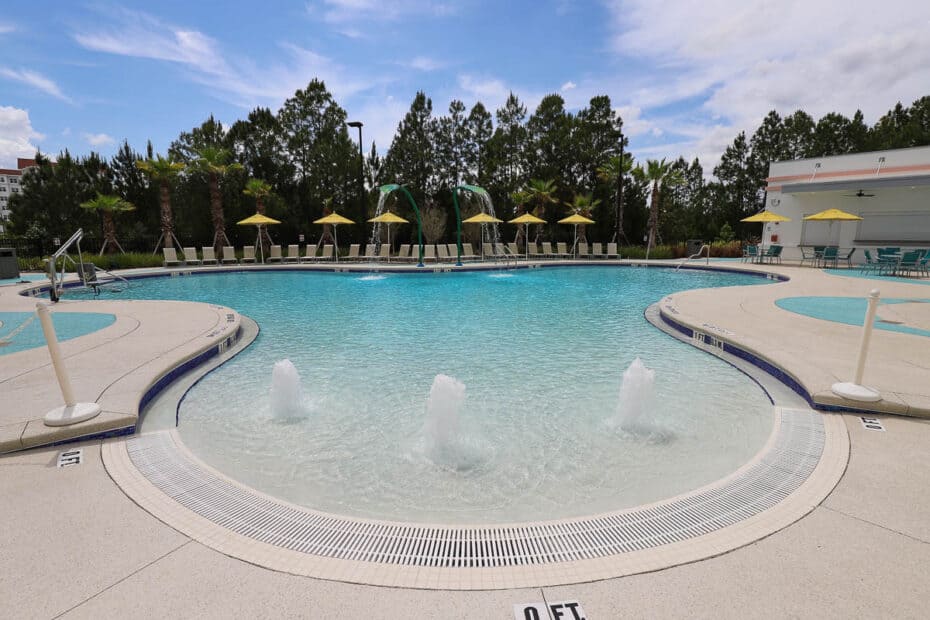 A fun water element was positioned on the far side of the pool.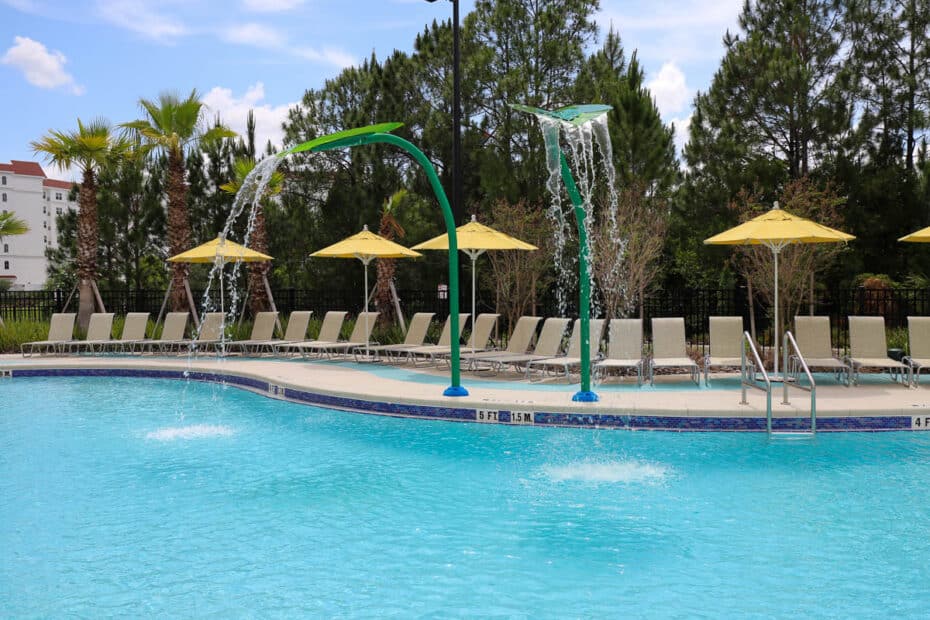 Pool depth ranges from zero entry to five feet deep.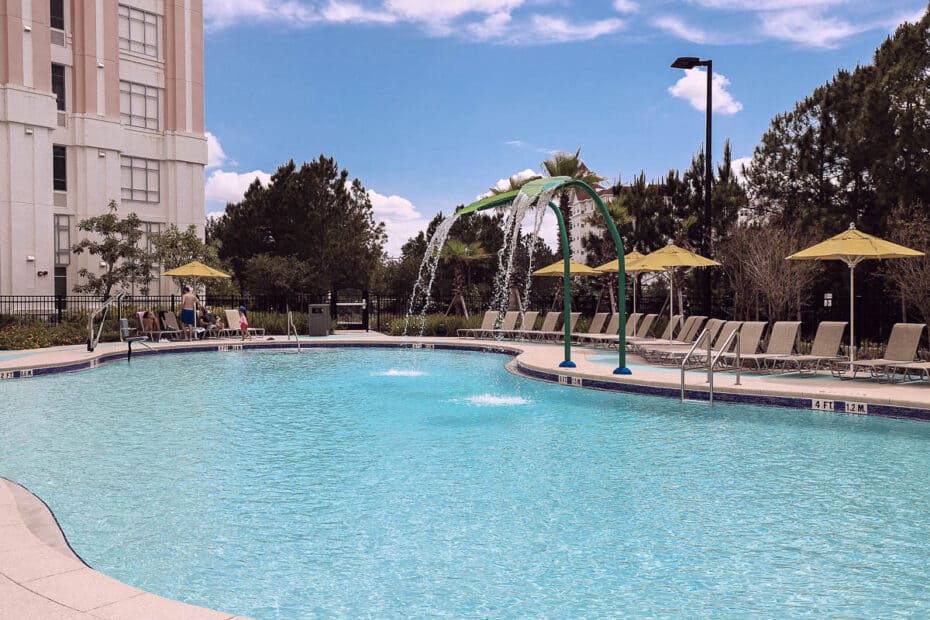 Towels are available at the pool, and there's a place to dispose of them when you're finished.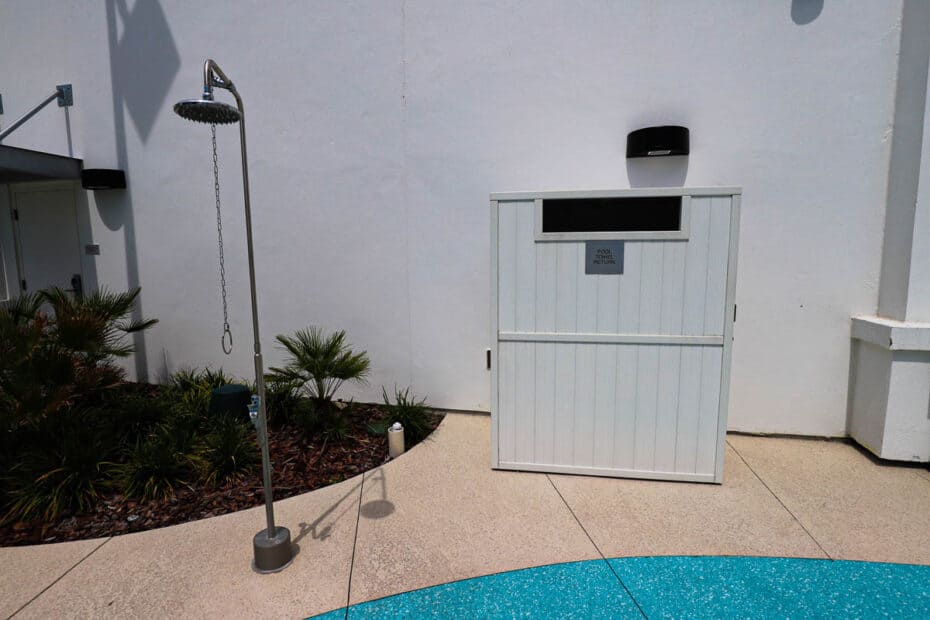 When I finished taking photos, I noticed someone had turned on the splash area for children. I thought this was a nice touch for the little ones. Parents can easily sit in the shade at one of the nearby tables.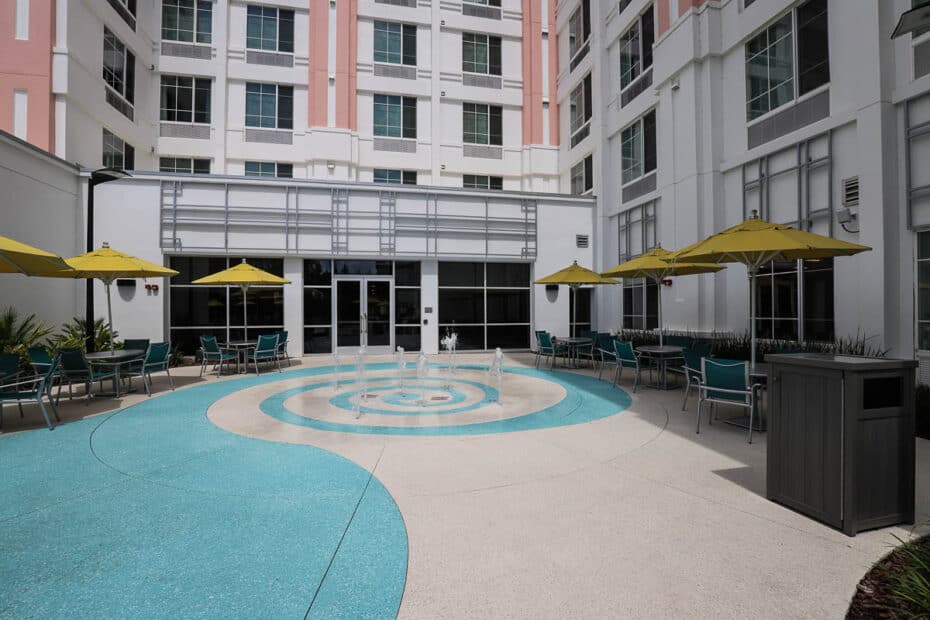 The biggest surprise was the outdoor sports court between the pool area and the parking deck.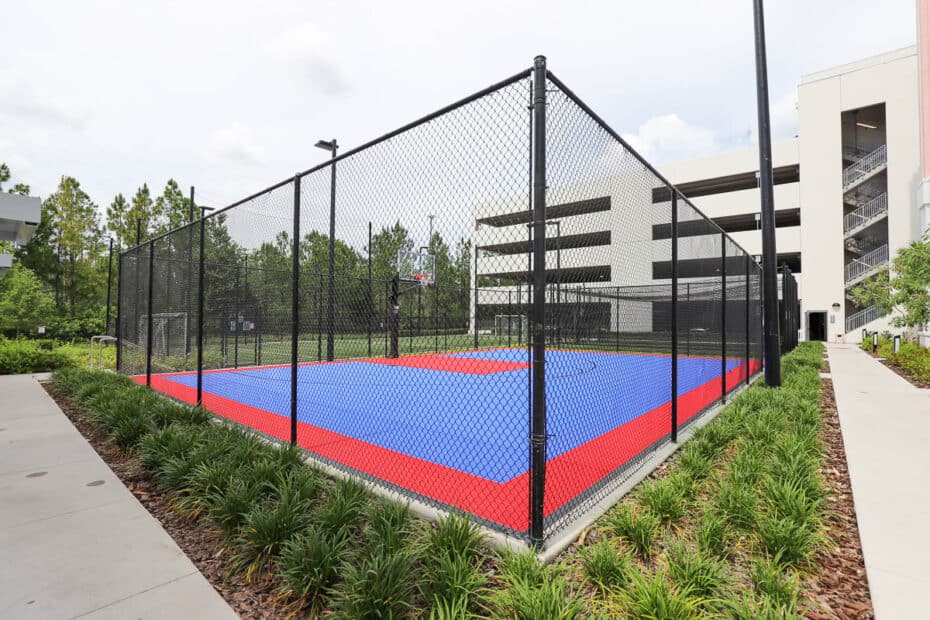 There was an enclosed soccer field.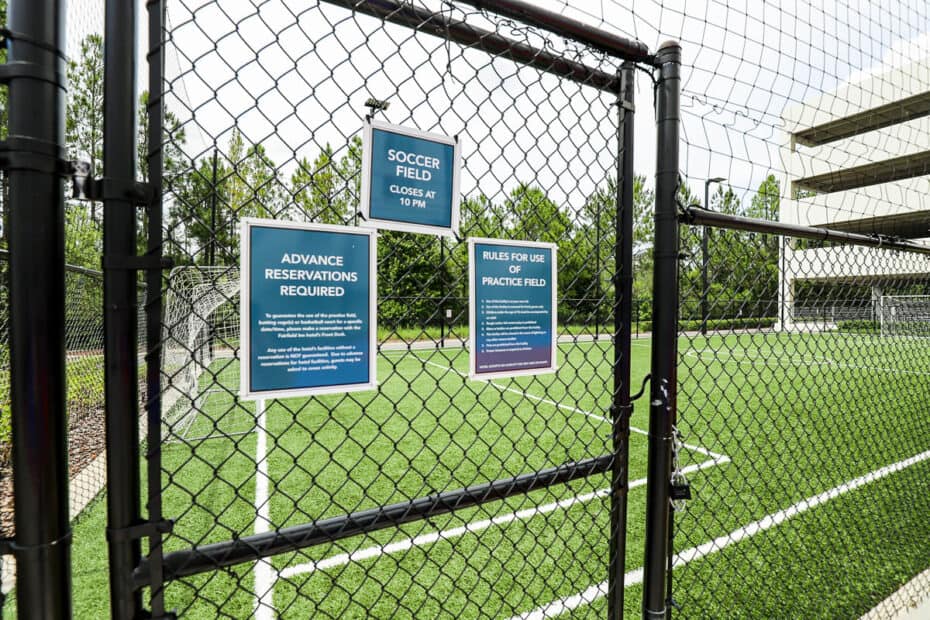 What a novel idea.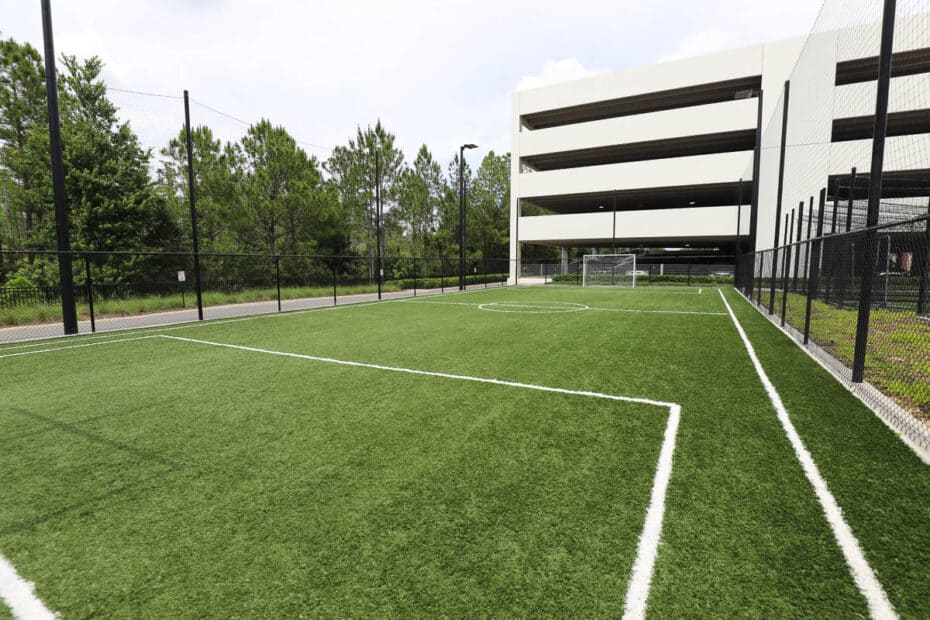 And here is the half-basketball court.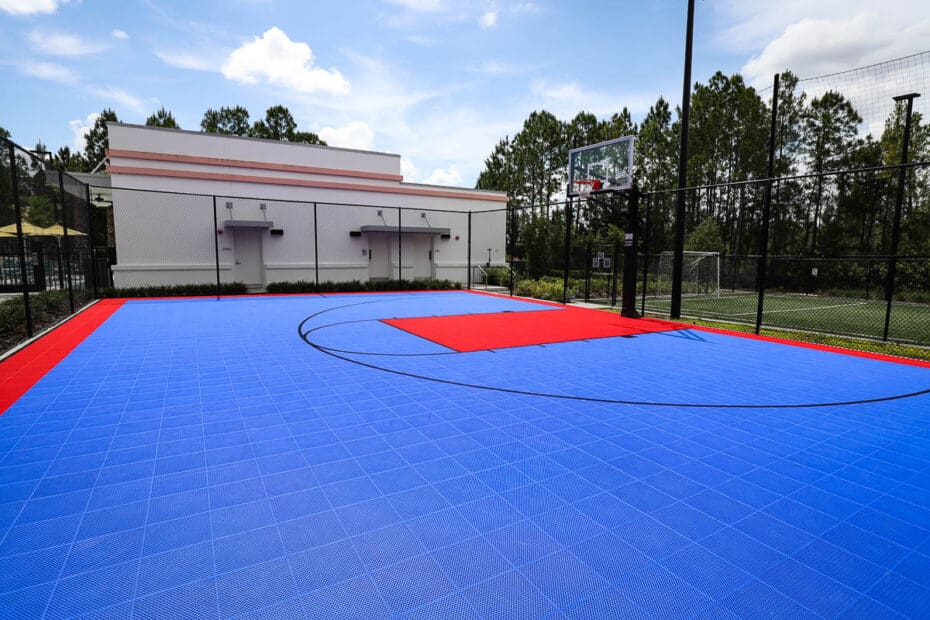 On the far end, there was a batting cage. Or pitching, if you desire.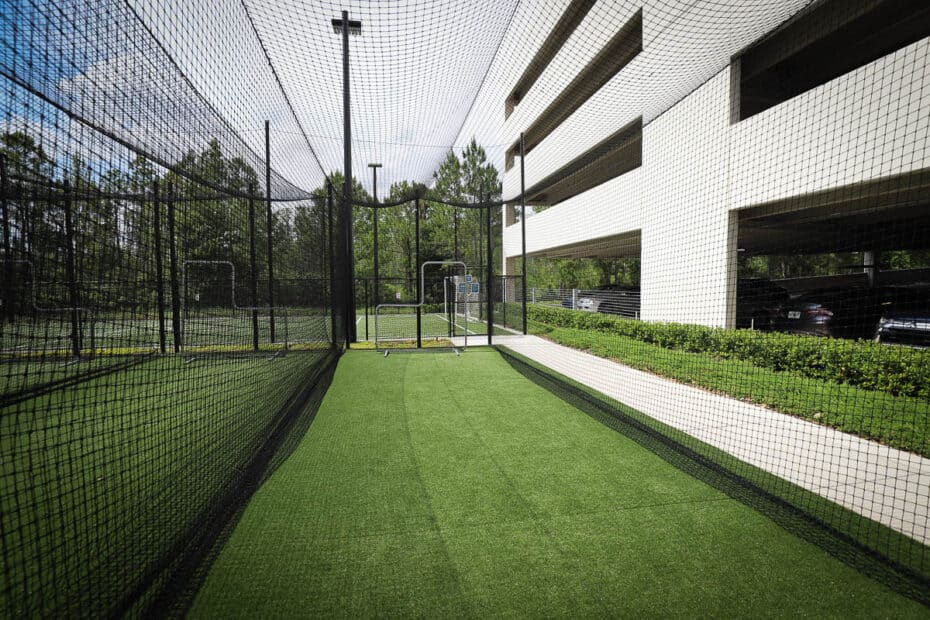 I assume this area was designed to accommodate school groups or travel teams. Orlando is a melting pot, and group travel is a huge business here.
Before we wrap things up, let's look at the rooms. For this stay, I booked a standard king-size guest room—the rate for this room in mid-May averages $129.00 per night plus tax.
For comparison, a room at one of Disney's All-Star Resorts averages $190.00 per night. However, we can all agree that my room at the Fairfield was exceedingly nicer than any of the rooms at Disney World's value resorts.
Here is a look at the room at Fairfield Inn. Everything was modern and minimal.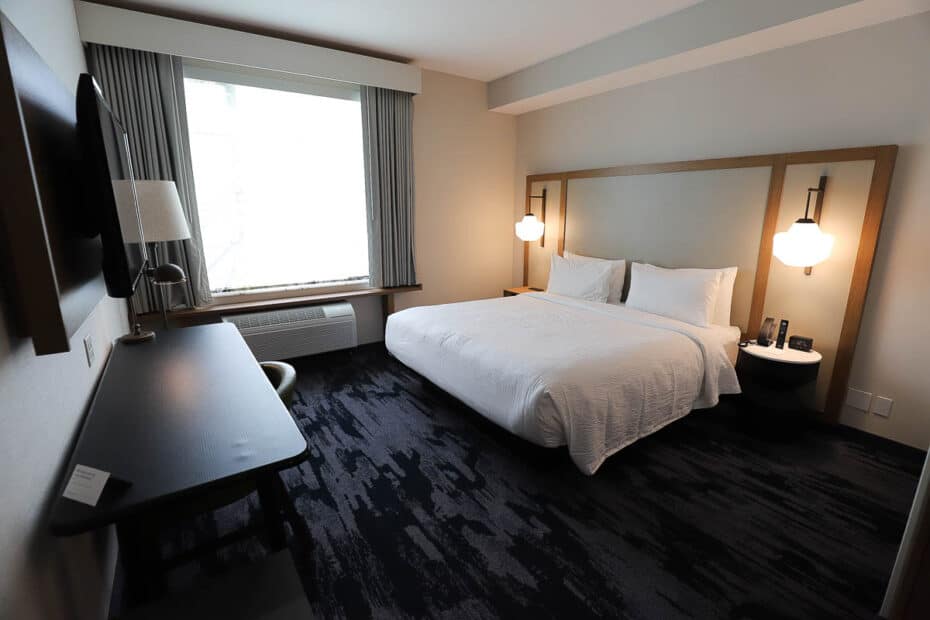 Looking across the room in the opposite direction, you can get a better idea of the layout.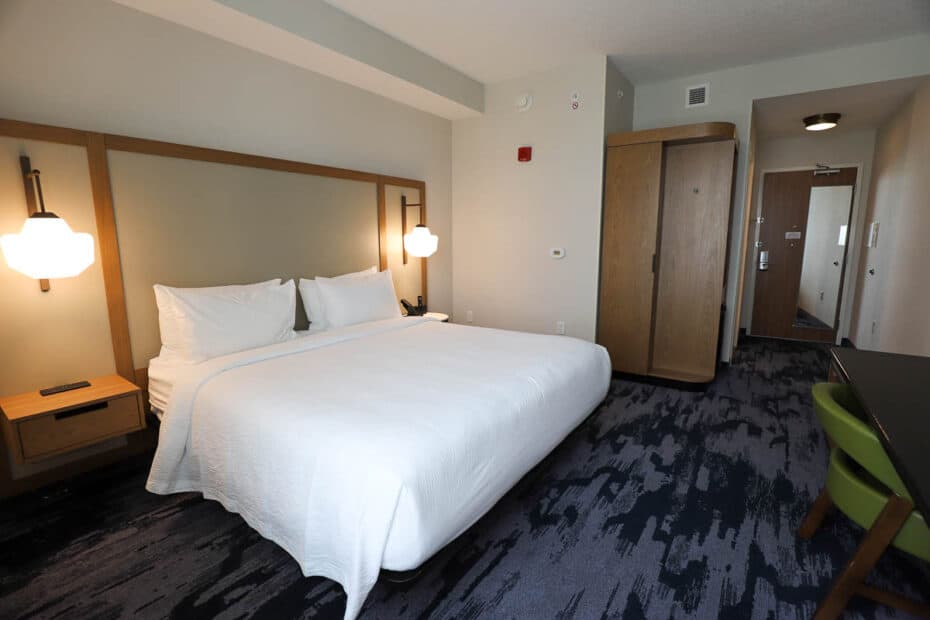 Amenities included a microwave, mini-fridge, and an individual cup coffee maker.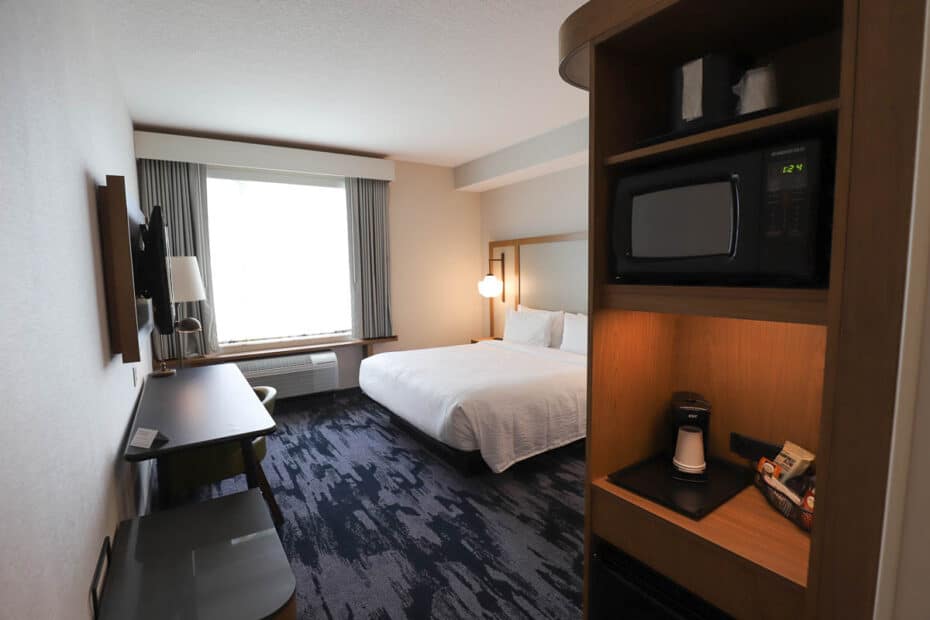 As far as the bed goes, it was plush and comfortable.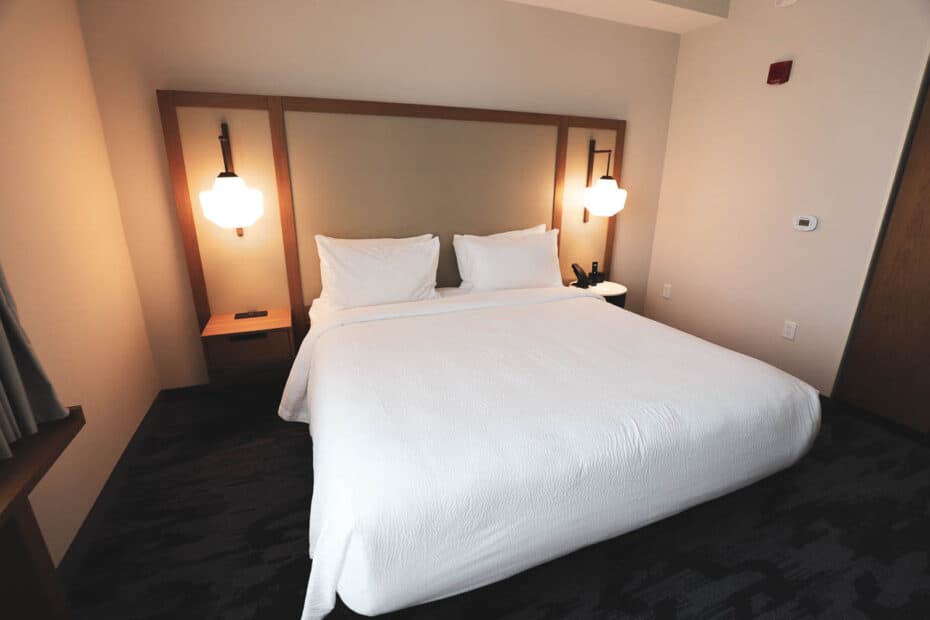 A built-in closet was tucked along the side wall. Inside, there was an iron and an ironing board. The only thing I noticed missing was the lack of an in-room safe.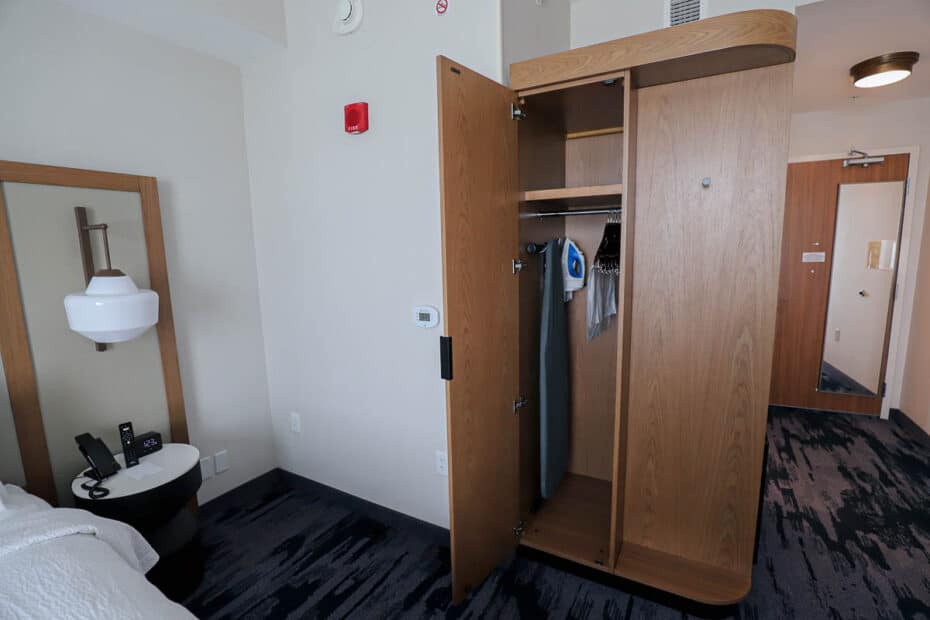 I appreciated not only the desk but the multitude of outlets. At this desk, I wrote a few articles about returning character meets.
Related: Meeting Characters at Disney World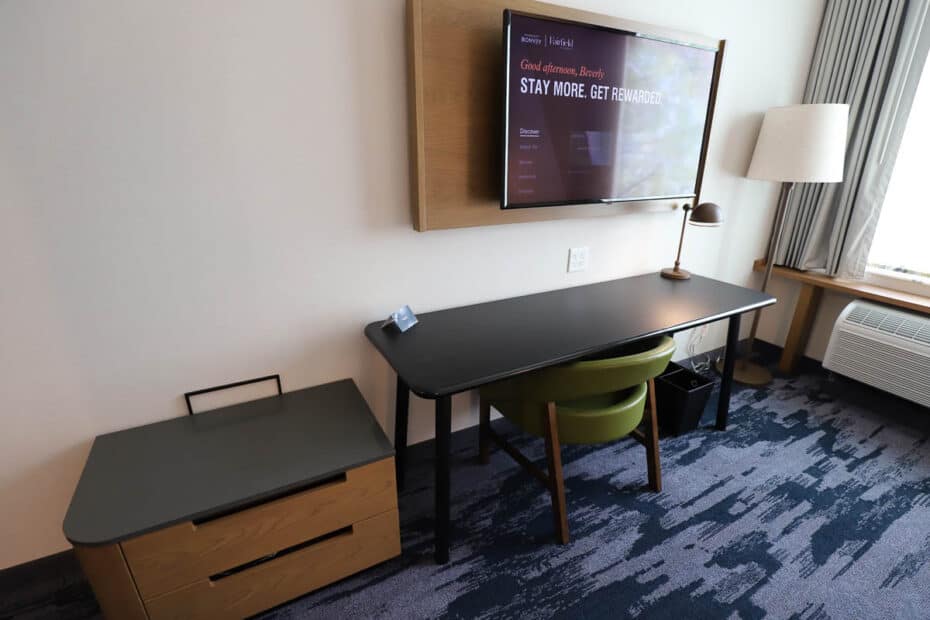 This bench doubles as a luggage rack with several storage drawers underneath. I always think this type of bench is an excellent place for removing shoes and storing them.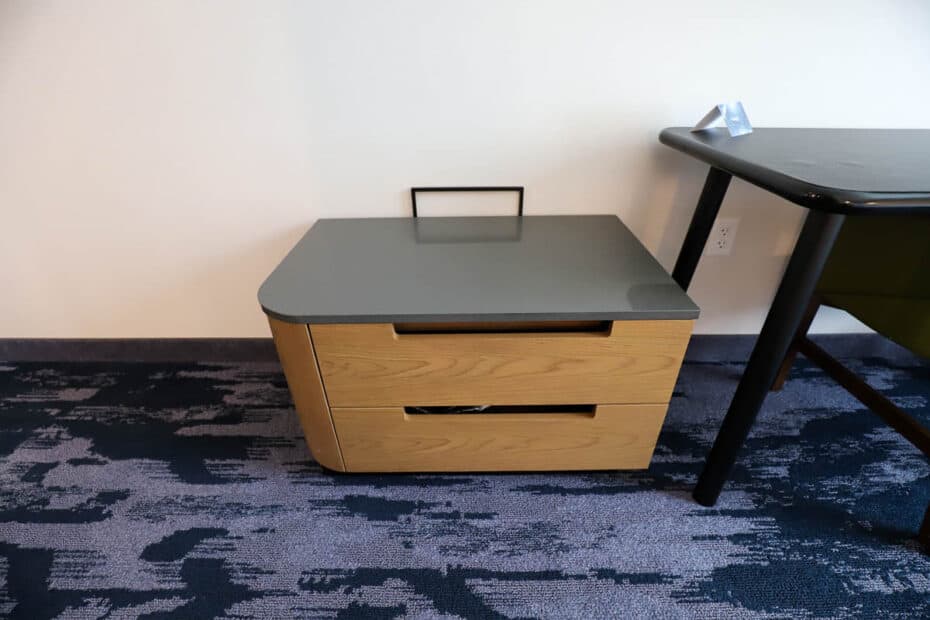 Here's a look at that mini-fridge. It held a good deal of items, and I had dinner in my room most evenings.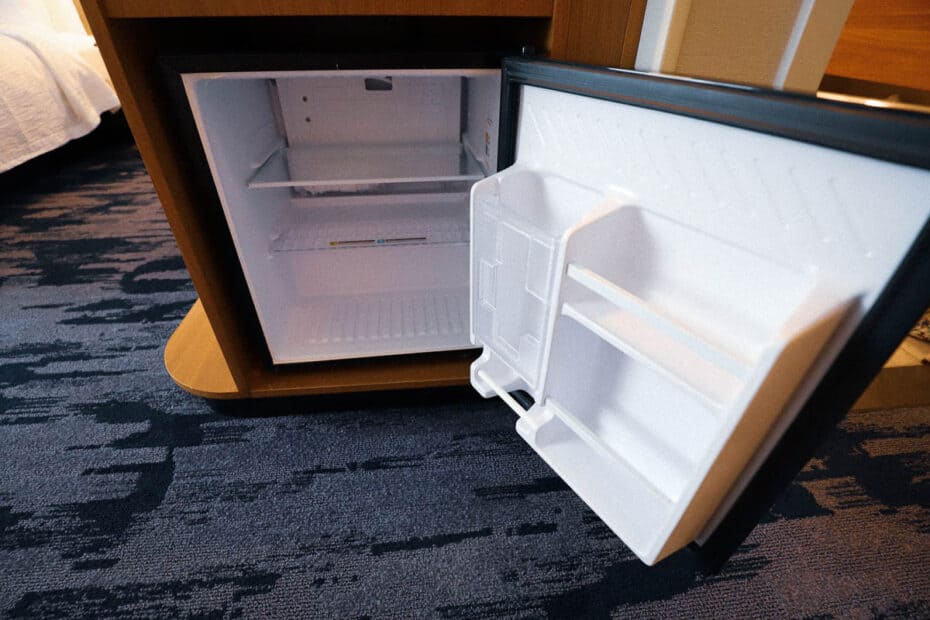 I cooked baked potatoes in the microwave and kept a few cold cuts in the fridge. If you're on a budget, you can save money by taking advantage of the complimentary breakfast and preparing a few other meals in your room.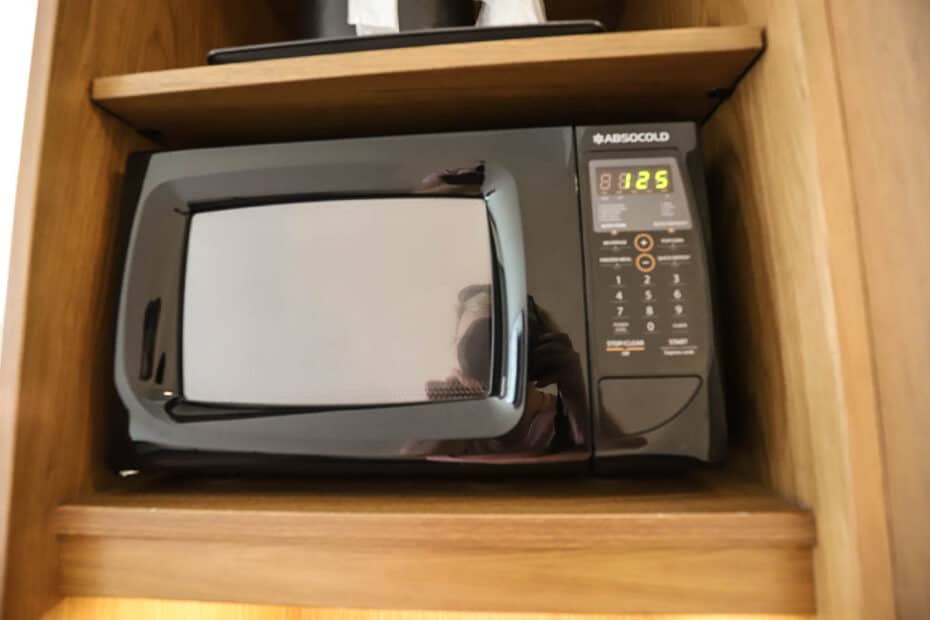 Unfortunately, I wasn't impressed with the in-room coffee options. But I was able to get a decent cup at breakfast each morning. Or you could always walk across the street to Starbucks.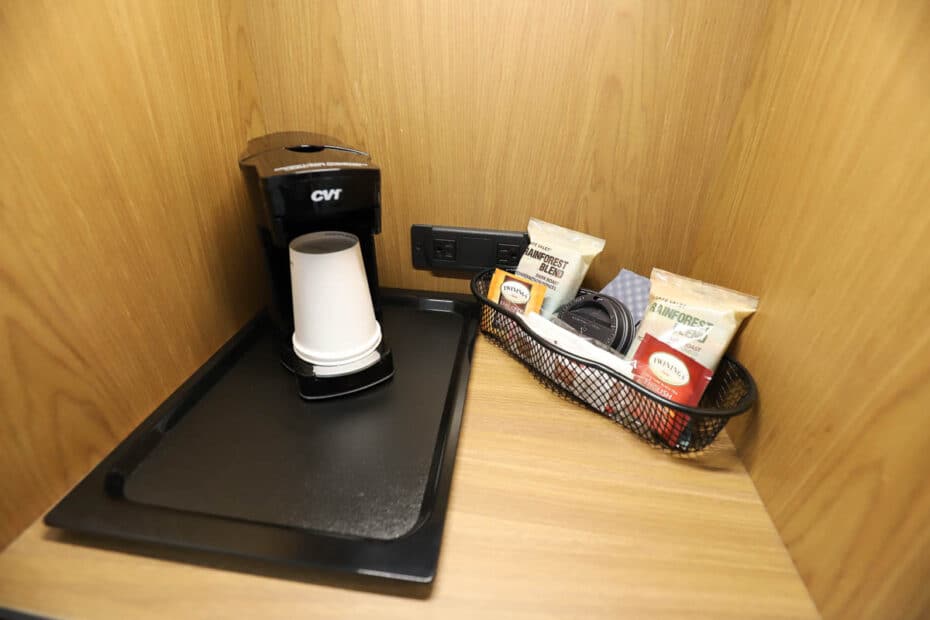 The bathroom had a convenient setup with plenty of counter space.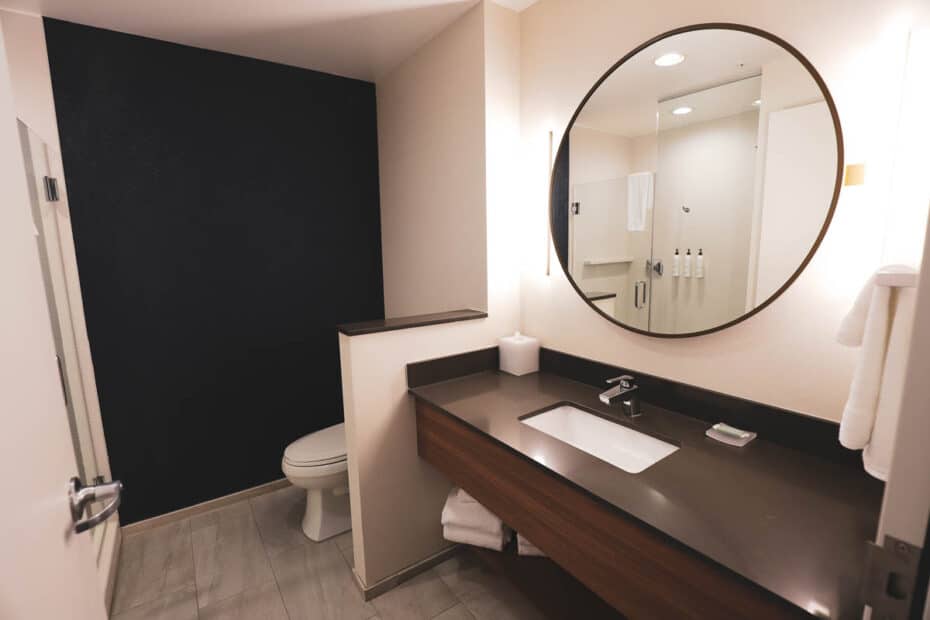 This walk-in shower won big points with me. First, it had two ledges along the back of the shower wall.
You could use the top ledge to store personal items like soap or razors. And the bottom ledge provided the perfect space to shave your legs. Ladies, you know how difficult it can be to shave your legs when there's no place to prop.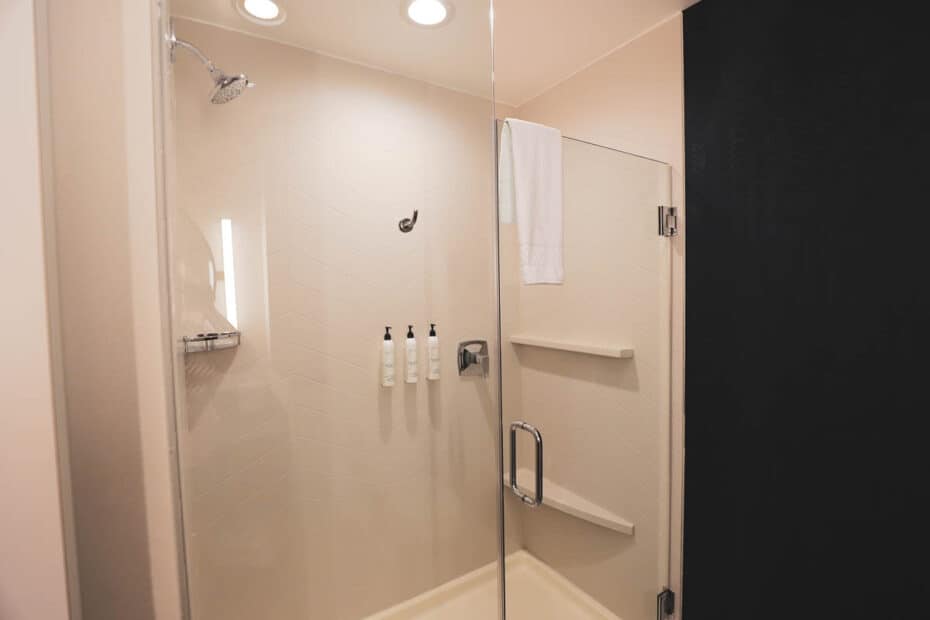 Built-in toiletries included shampoo, conditioner, and body wash. I'm not sure about the brand, but I was impressed with the quality of the product.
Here is a video of the room tour.
Final Thoughts on the Fairfield Inn at Flamingo Crossings
Overall, I thoroughly enjoyed my stay at the Fairfield Inn at Flamingo Crossings. Pricing for the hotel was extremely reasonable.
Additionally, with it being such a new hotel, there were hardly any complaints. If you're looking for a budget-friendly hotel, I don't think you can do much better.
Plus, the complimentary breakfast is a huge perk. A family of four could easily spend $80.00 or more for breakfast at one of the quick-service restaurants at Disney World.
And if you did a character breakfast, the meal could cost an excess of $200.00. Free breakfast is sounding better and better, isn't it?
Related: Character Dining at Walt Disney World
With that being said, I do recommend planning one enjoyable breakfast at Disney World during your stay. It is fun to splurge here and there, and thankfully staying at a hotel like the Fairfield Inn will allow you to do so.
Related: Best Breakfasts at Disney World
Hopefully, this Flamingo Crossing Fairfield Inn review provided you with the information you needed to consider a stay here. You can expect a crowd and some traffic congestion in the immediate area. But those can be expected almost anywhere.
Since we stayed at the Fairfield Inn, we have returned to visit the Residence Inn by Marriott, which sits next door. If you're looking for a hotel that offers larger suites or a kitchen, it gets rave reviews too.
Related: Residence Inn Review (Flamingo Crossings)
Or you might like to browse the entire list of hotels at Flamingo Crossings.
We cover a good deal of off-property Disney World Hotels. Here are a few others:
Check the current rate for the Fairfield Inn and Suites here on Marriott's site.
In the comments
What are your thoughts about the Fairfield Inn after reading this review? Have you stayed in the Flamingo Crossings area before? Do you have any other questions?
Planning a Walt Disney World or other Disney Destination vacation?
Our friends and travel partner, Firefly Travels, excels at doing Disney differently. You can fill out a plan your trip form on their website, and someone will reach out shortly to discuss the specifics.