Hilton Orlando Buena Vista Palace Review (Disney Springs)
The Hilton Orlando Buena Vista Palace is a resort located in the Disney Springs area at Walt Disney World in Orlando, Florida. We recently stayed at the hotel and were pleased with our experience overall.
In this review of the Hilton Orlando Buena Vista Palace, we'll examine the hotel in full detail. During this stay, I enjoyed a couple of meals at the hotel, spent some time at Disney Springs, and visited the theme parks.
One of the biggest perks of this hotel is its proximity to Disney Springs. Since Disney Springs is within walking distance of Buena Vista Palace, it's very convenient to enjoy nearby shopping and dining options.
Additionally, the rooms were clean and spacious, and the beds were comfortable. In case you missed it, we have a separate article that goes over the details of the room.
Related: Hilton Buena Vista Palace Tower Room with King-Size Bed
Ultimately, I feel this hotel is a sensible option for anyone planning to spend a decent amount of time at Disney Springs. And like most hotels, there are a few negatives, but nothing I would consider a deal-breaker.
By the time we finish this review, you will have a better idea of whether this hotel is the right option for you. Additionally, I'll share some thoughts on how I think Buena Vista Palace ranks compared to other nearby hotels.
Let's get started.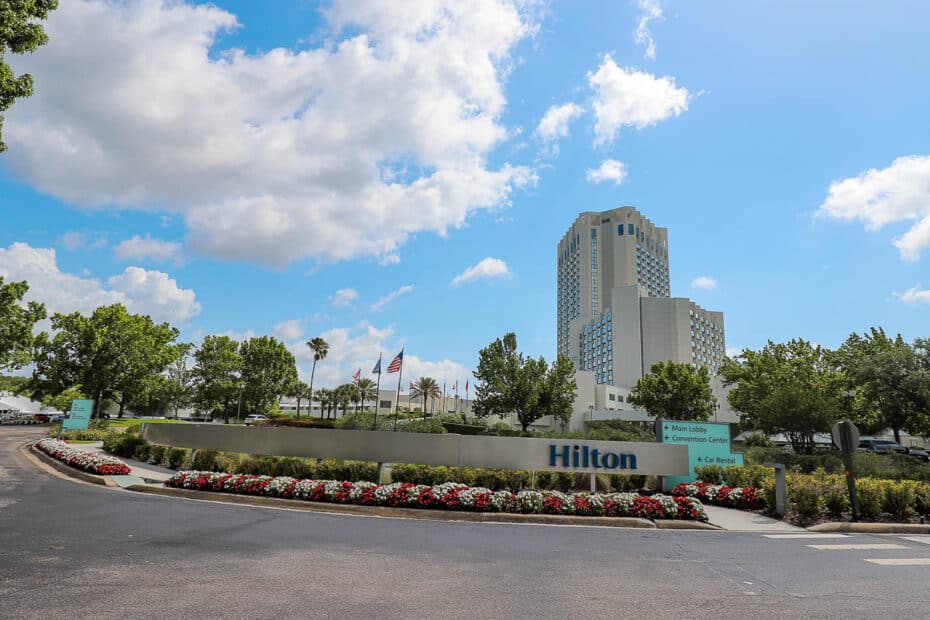 Hilton Orlando Buena Vista Palace Review
When I arrived at the Hilton Orlando Buena Vista Palace, one of the first things I noticed was how all of the glass on the towering hotel reflected the sky. It was impressive.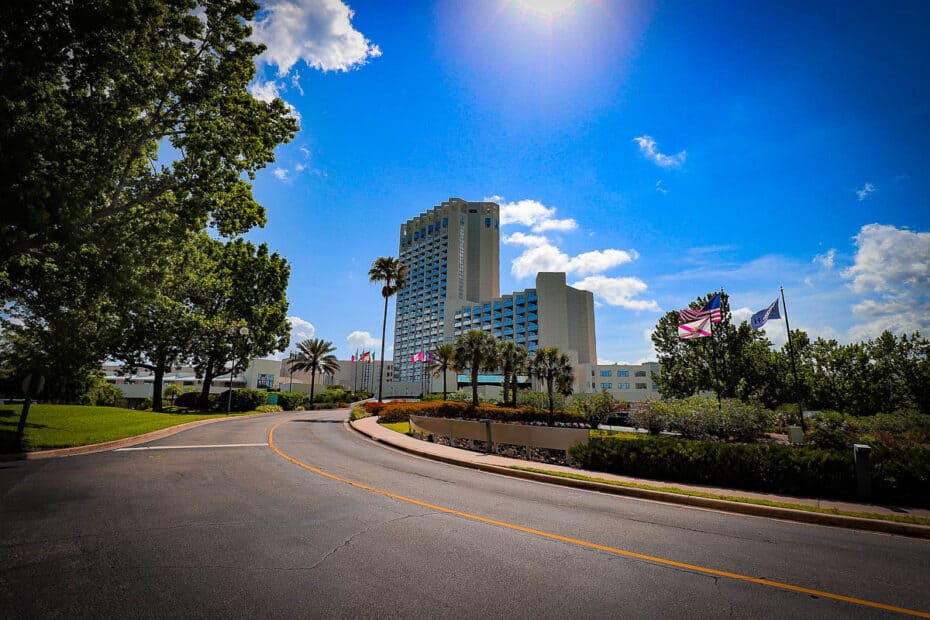 There was also an emoji on the building of a smiley face wearing sunglasses. I've yet to decide if it was appropriate or just plain weird.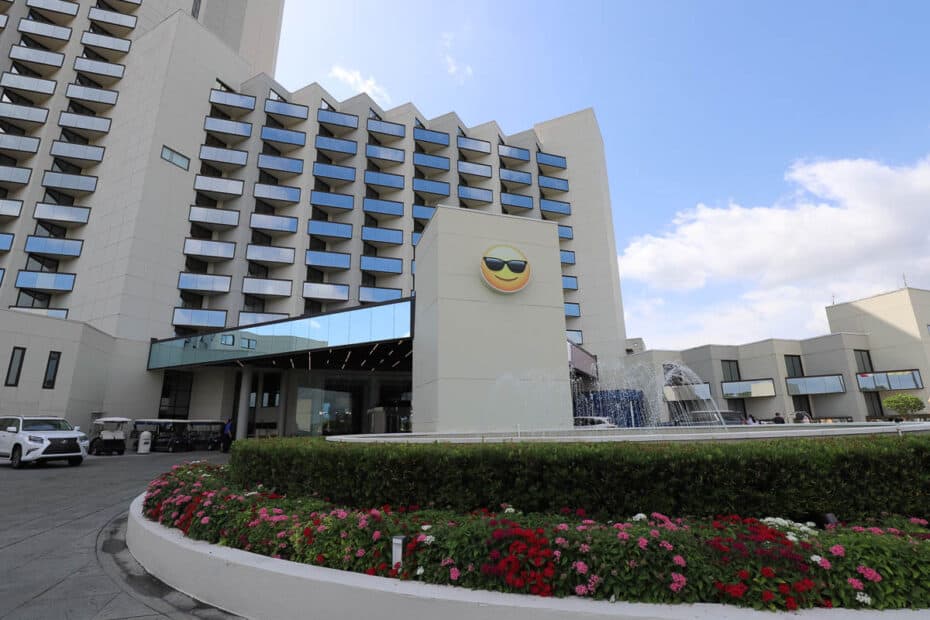 For this stay, I was doing a little hotel-hopping and had checked out of the Fairfield Inn at Flamingo Crossings. I planned a busy day and wasn't sure if it would work out given the possible downtime between rooms.
Related: Fairfield Inn at Flamingo Crossings Review
When I arrived, the valet instructed me to park to the side and take care of my check-in details. I was elated when I was told my room was ready immediately.
If you want to win me over, early check-in is the sure way. But unfortunately, it's one of my biggest pet peeves with the resorts at Disney World right now.
On my past several stays at Disney, my room has not been available until after 4:00 p.m. Check-in is at 3:00 p.m. at the Disney Resorts. So if your room isn't ready, you're paying for something you can't access.
Anyway, my early check-in at Buena Vista Palace provided a positive start to my day. Even now, reflecting on my stay, I'm still impressed.
Unfortunately, the bell services team was short-handed and it took a little extra time to get luggage assistance.
However, when someone arrived, they immediately took my luggage to the room. So by the time I parked and made it up to the room, my belongings were already waiting.
These staff shortages are common at nearly every hotel I've stayed at in the past two years. So if you need help with your belongings, be prepared to wait.
When I get to any hotel room, I first try to walk through and make sure the room is suitable. I am a bit picky about where I intend to lay my head, and I also consider these things for you.
Then, I begin photographing the room. This room was located on the 21st floor and had a king-size bed.
The room had an unusual shape, making it larger than most guest rooms. However, this is considered a standard guest room with a resort view.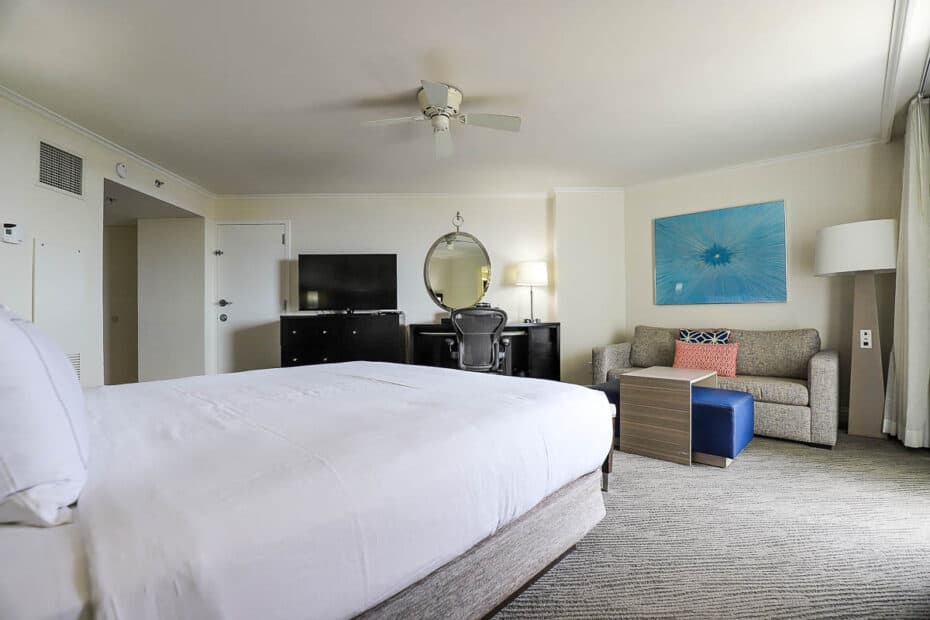 There was plenty of room to spread out.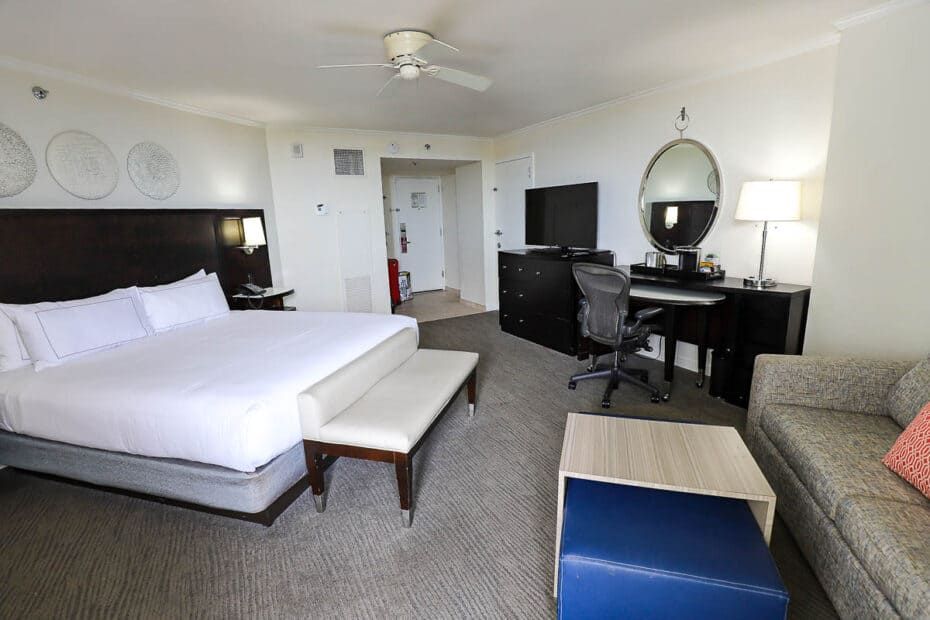 And the bathroom was substantial. One portion had a separate vanity area, and the other had a walk-in shower.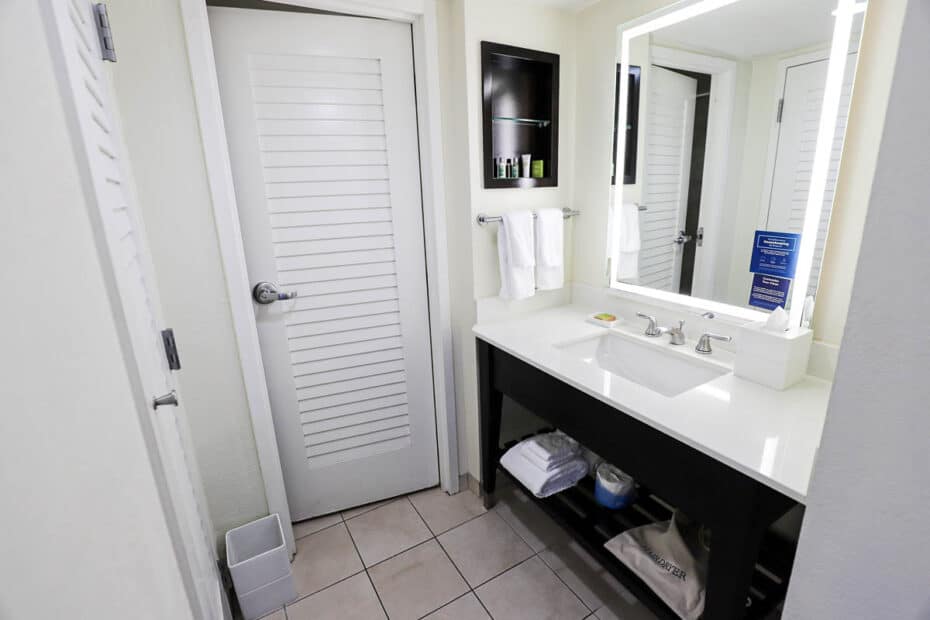 Since I had planned to be at Epcot by 2:00 p.m, I had a little time to kill. So I thought I would tour the resort to see what it had to offer as I simultaneously made my way to Epcot.
My first decision was whether or not to take the shuttle offered at the Hilton to Epcot. On a positive note, the resort provides shuttle service to the various theme parks.
Here is the posted schedule:
From Park Open until 12:00 p.m.– Buses run every 30 minutes, beginning one hour before the early theme park benefit begins.
From 12:00 p.m. until 6:00 p.m.–Buses run continuously every 60 minutes.
From 6:00 p.m. until Park Close–Buses run every 30 minutes until 90 minutes after the park closes.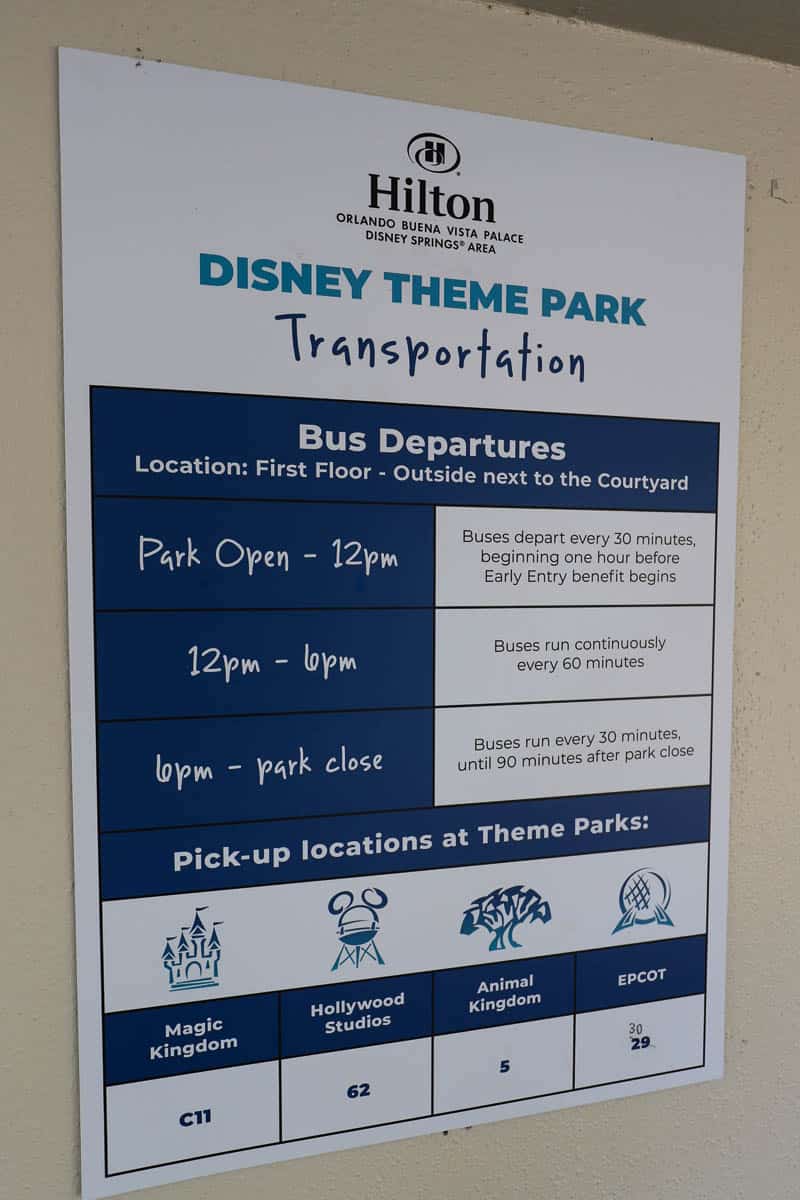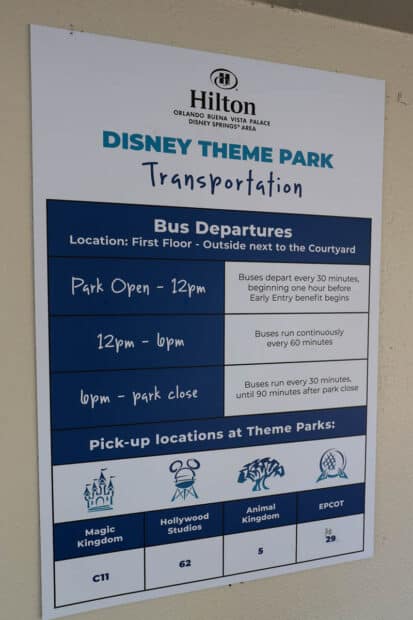 Hilton uses Mears transportation buses to and from the parks. Bus service at the hotel is a huge perk, and I was impressed with the schedule.
The bus stop is located in a convenient breezeway past the large pool and recreation area.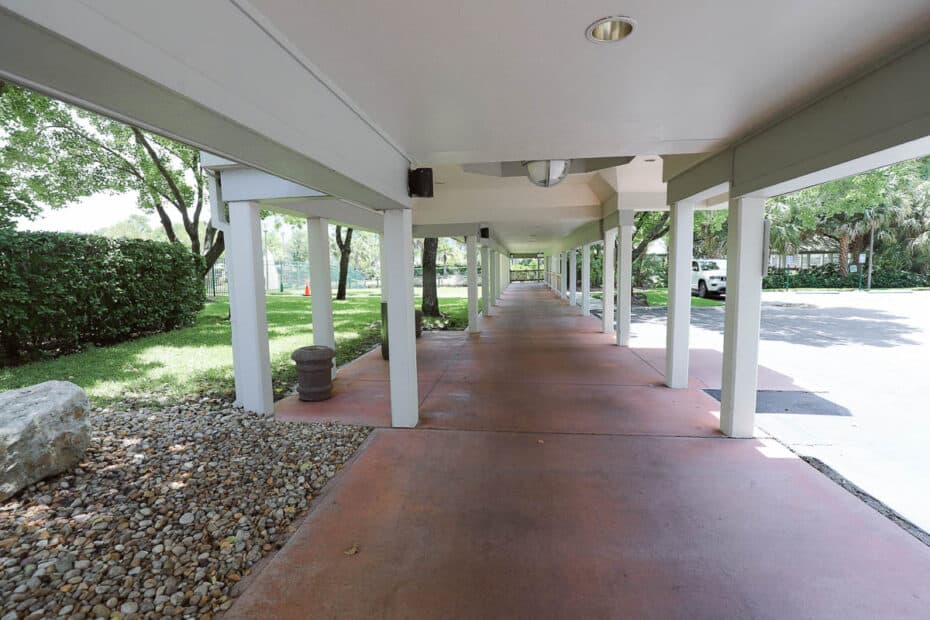 After debating whether or not to take the shuttle, I decided it might be better to take a bus from Disney Springs to the Beach Club. My ultimate goal was to get to the World Showcase near the International Gateway entrance.
In addition, I wanted to see how long the walk was to Disney Springs. So I elected to take the walkway to Disney Springs, walk to Town Center, and then hop on a bus to Disney's Beach and Yacht Club.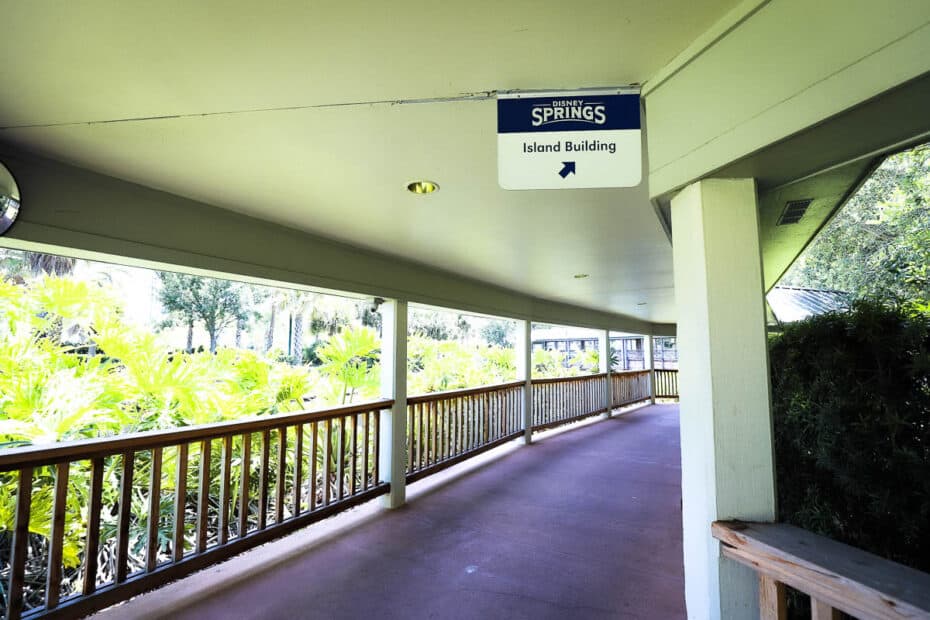 For what I was planning to do, this worked out very well. However, I wouldn't recommend attempting this unless you know where you're headed.
But I did time the walk from the Hilton Orlando Buena Vista Palace to Disney Springs. I entered the walkway at Disney Springs from the hotel at 1:06 p.m.
You'll walk down a side street after exiting the hotel grounds. It's pretty straightforward, but there are directionals.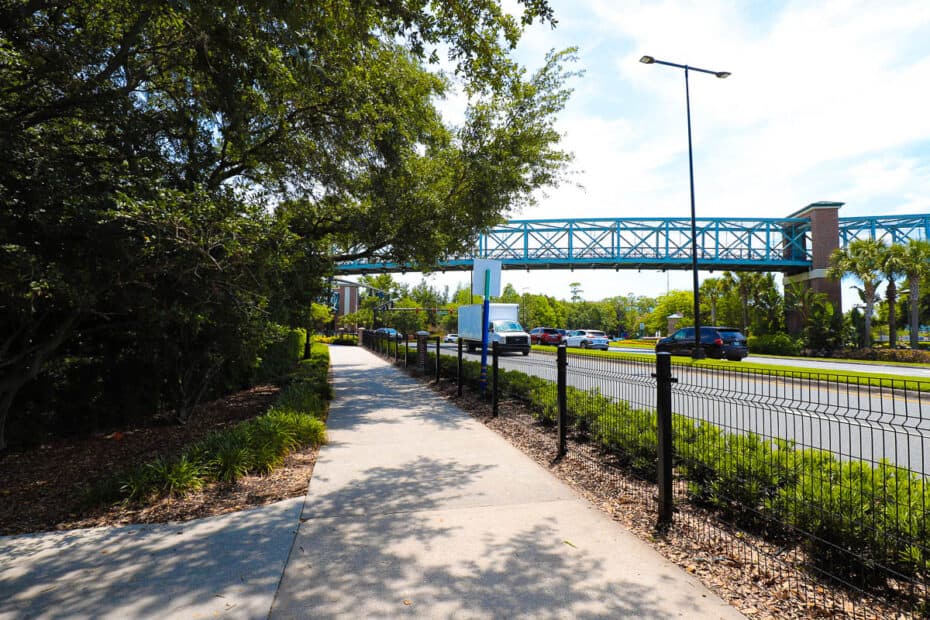 Then you can either walk up the stairs or take the elevator up to the pedestrian bridge. Finally, on the opposite side of the bridge, you can take the stairs (or elevator) directly into the security area at Disney Springs.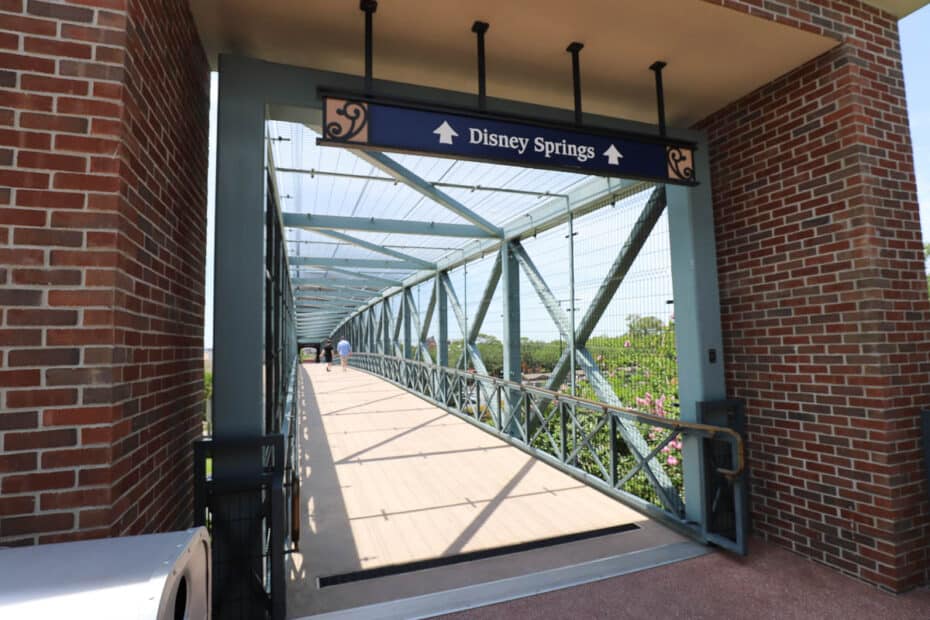 I was through security at Disney Springs at 1:17 p.m. So it took approximately 11 minutes to walk from Buena Vista Palace to Disney Springs.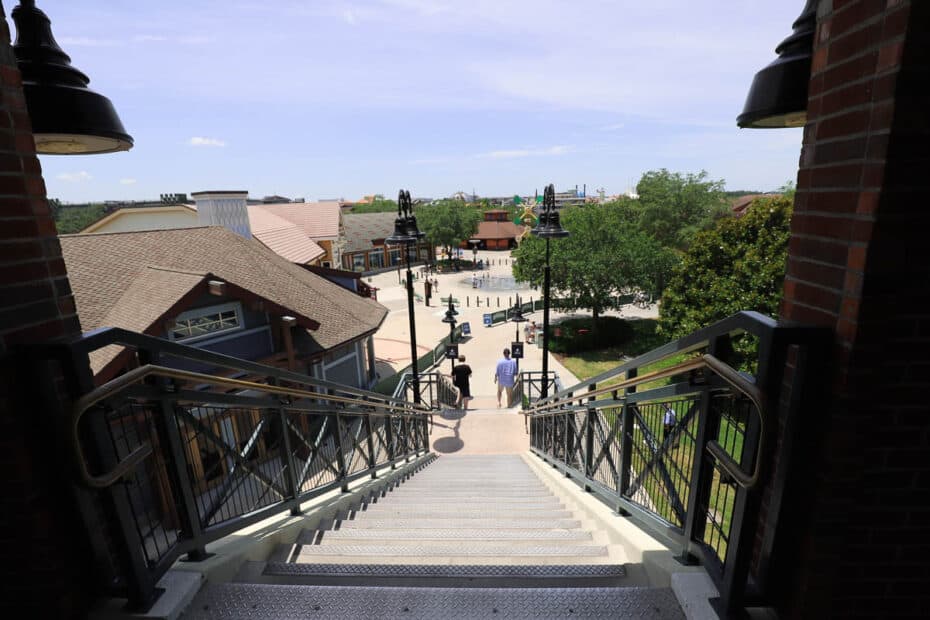 From there, I walked to the resort bus stop at Town Center. I arrived at 1:30 p.m., and a Beach Club bus was already waiting. We left Disney Springs at 1:35 p.m. and arrived at the Yacht Club (first stop) at 1:51 p.m.
I then walked to the International Gateway and scanned my band at 2:01 p.m. So, it took about 55 minutes to go this route.
Again, I enjoyed getting my exercise with the walks and seeing the different scenery along the way. But I am at Disney World often, so I wasn't losing any valuable park touring time.
Additionally, if I had taken the shuttle, I would have been dropped off at the entrance of Epcot. So it would have been an extra 12-15 minutes to walk across the park to get to where I was going in the World Showcase.
If you intend to use the shuttle bus, you'll get dropped off near the front of the park at Epcot, Animal Kingdom, and Hollywood Studios. There won't be any significant differences between these drop-off/pick-up points.
However, you'll be dropped off at the Transportation and Ticket Center when visiting Magic Kingdom. So from there, you'll have to board another bus, monorail, or the ferry to get to Magic Kingdom.
That extra nuisance is a bit of a headache, especially when returning the same way after a long day in the parks. So consider this when planning your route.
Since I shared with you how I elected to travel to Epcot, I want to clarify that the buses at Disney Springs only travel to the resorts. Therefore, you cannot travel from Disney Springs directly to a theme park via a bus.
Related: Disney Springs Transportation Guide
Along the way to the bus stop, I stopped for a few photos. Check-in and the lobby are located on the second floor of the resort.
However, most of the amenities are located on the ground level. As a result, I found there wasn't much reason to return to the lobby during my stay.
I ran into this cute photo prop that celebrates the 50th anniversary of Walt Disney World.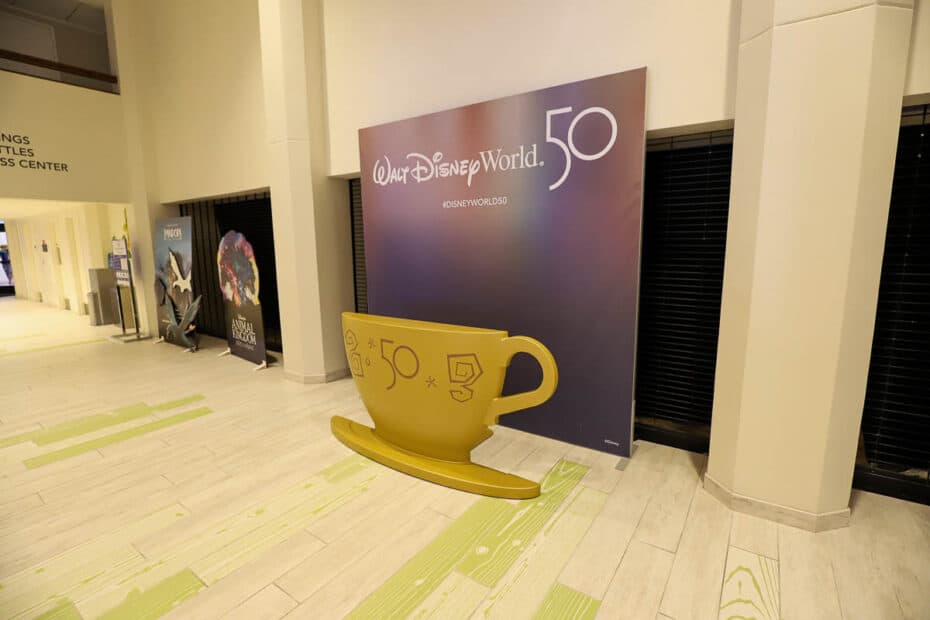 Then I stepped into the arcade and took a photo. I don't know of a hotel in Orlando that doesn't have some sort of arcade.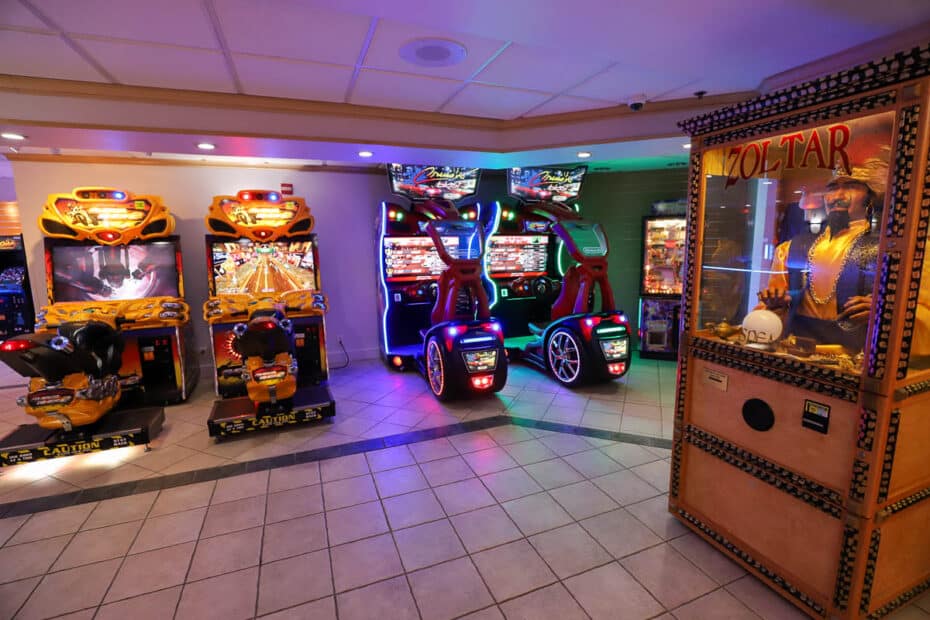 The gym was pleasant. It had a large glass wall that looked out to this courtyard.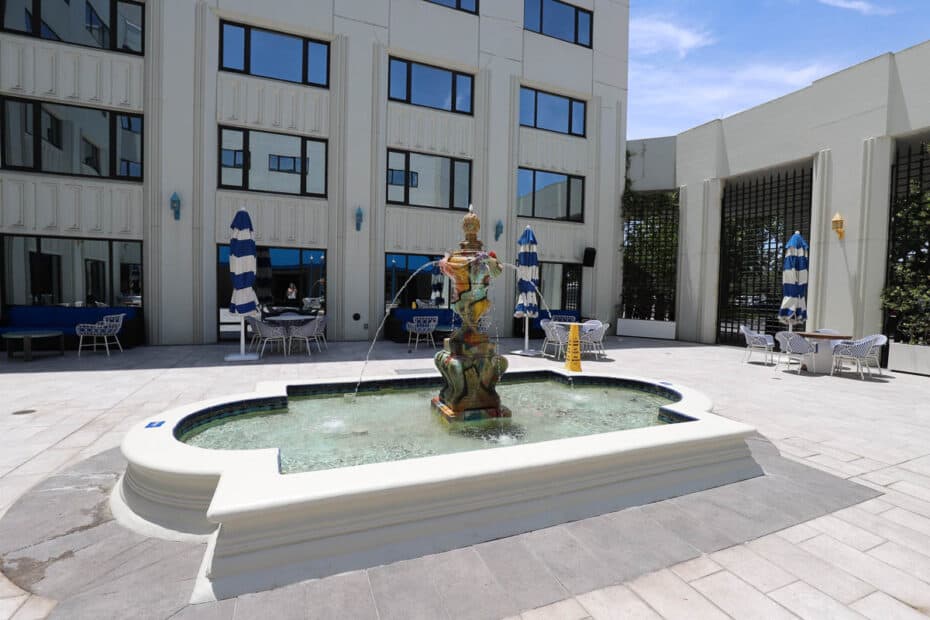 Pretty much everything you could want or need for a good workout is available.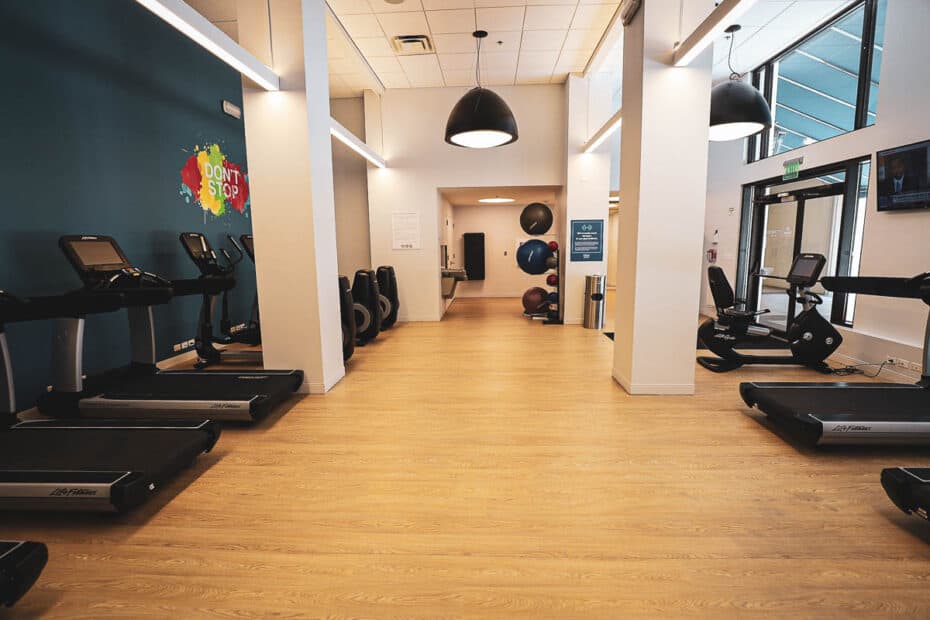 There were several exercise and stability balls.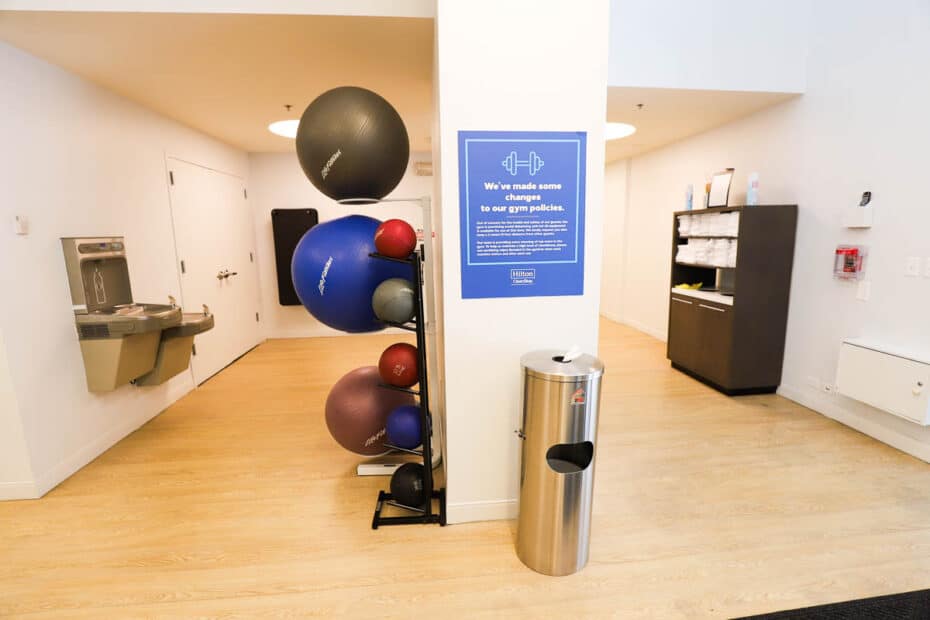 Here is a photo of the weight machines.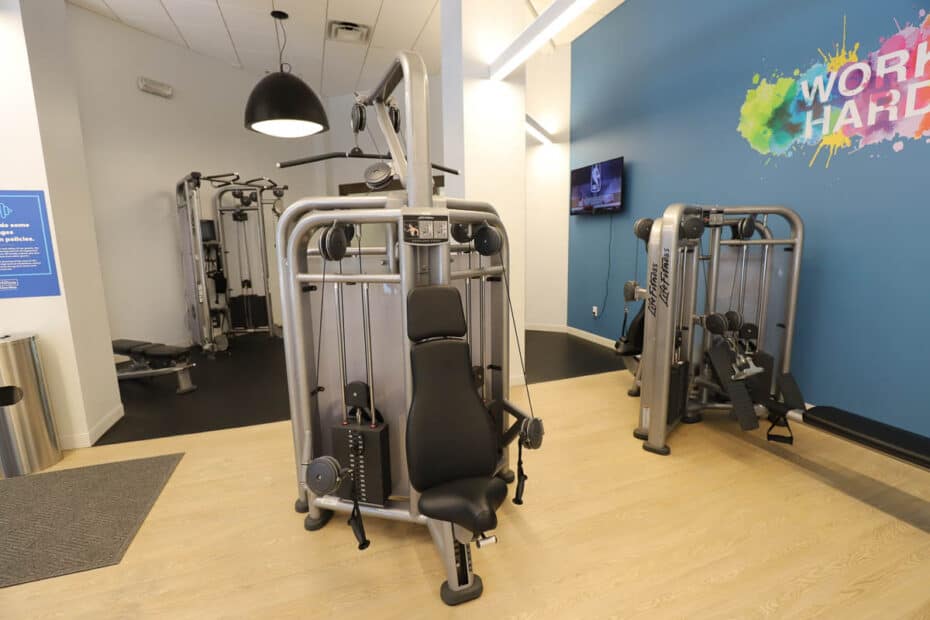 Regarding dining, I was impressed with the options available at Buena Vista Palace.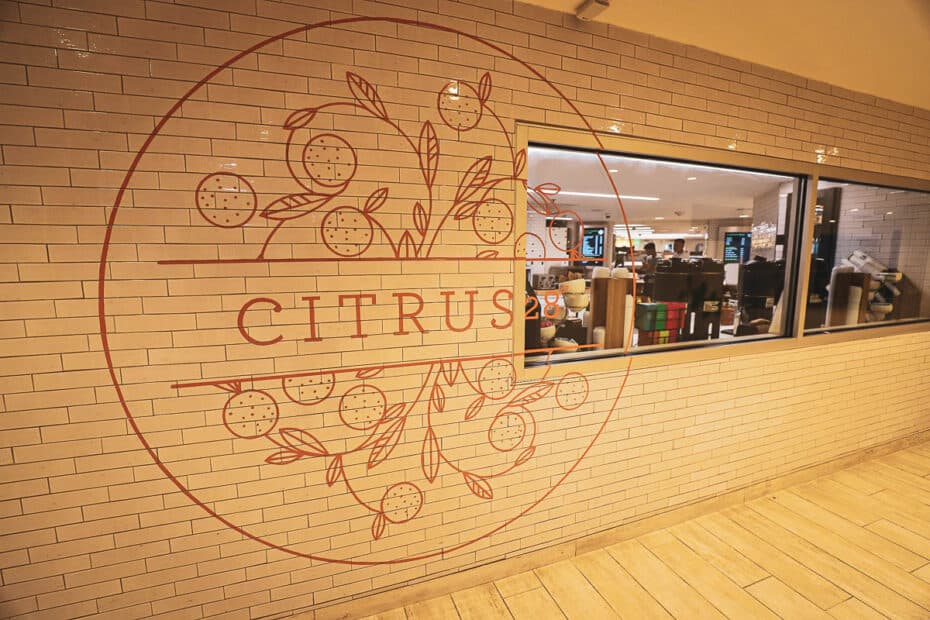 Citrus 28 is the resort's quick-service dining location. The restaurant is open daily from 6:00 a.m. until midnight.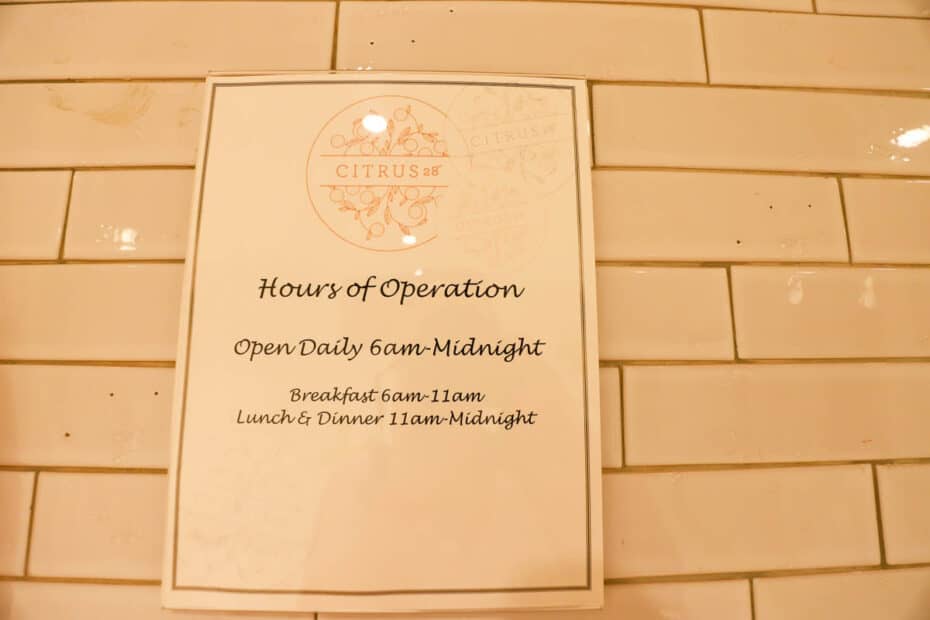 If only every resort at Disney had such a classy setup. It was almost like picking up a delicious sub sandwich from Publix.
There were Boar's Head brand meats and several choices of bread and cheese.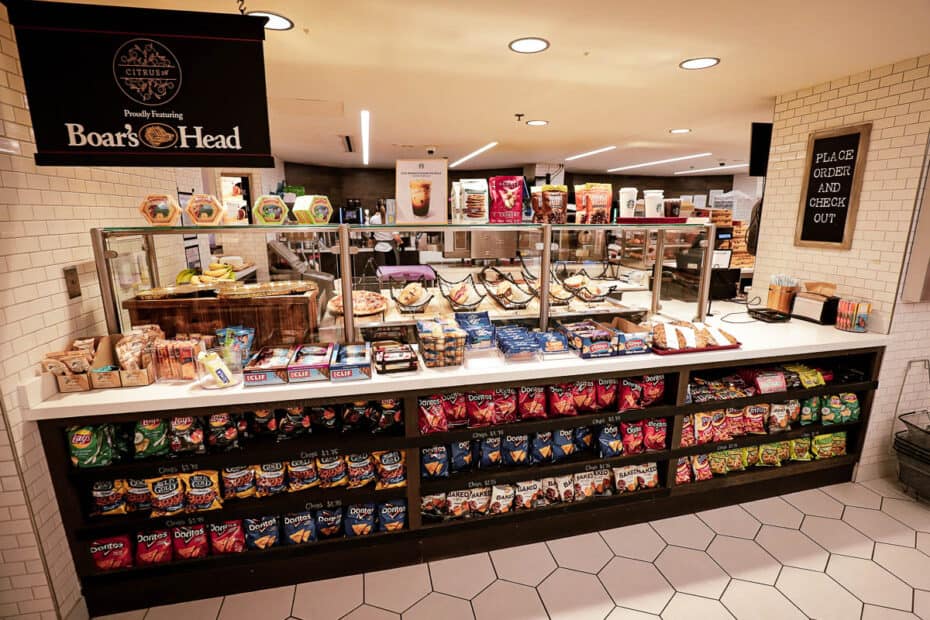 All of the sub sandwiches were on display. However, they are all made fresh-to-order and customizable. (Nothing pre-made here!)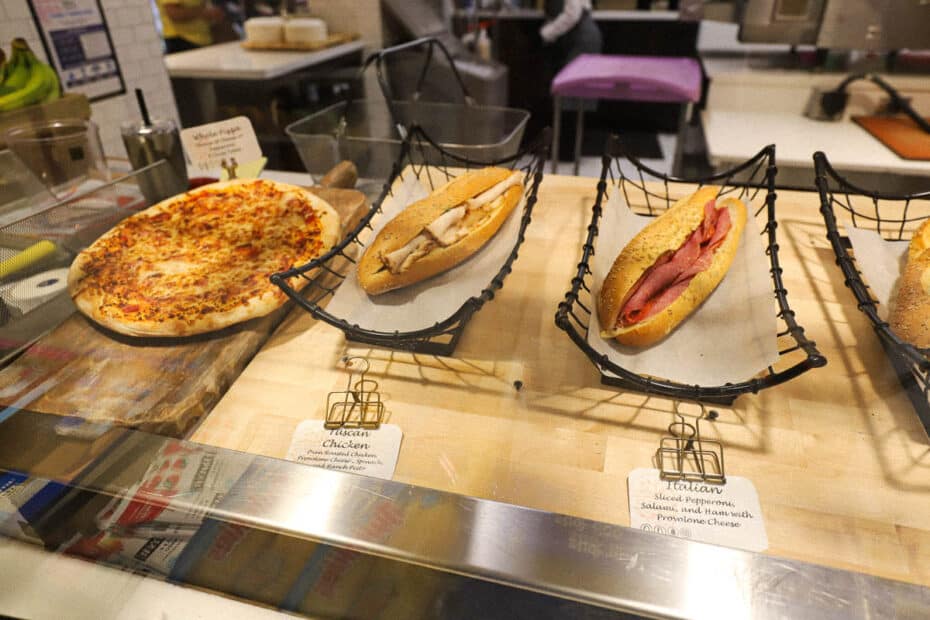 For dinner, I had plans to walk over to Disney Springs. But I ended up eating here because all of the sandwiches looked delicious.
I went with the steak and cheese sandwich and was very impressed with the quality. It was perfect to take back to my room and enjoy after a long day in the parks.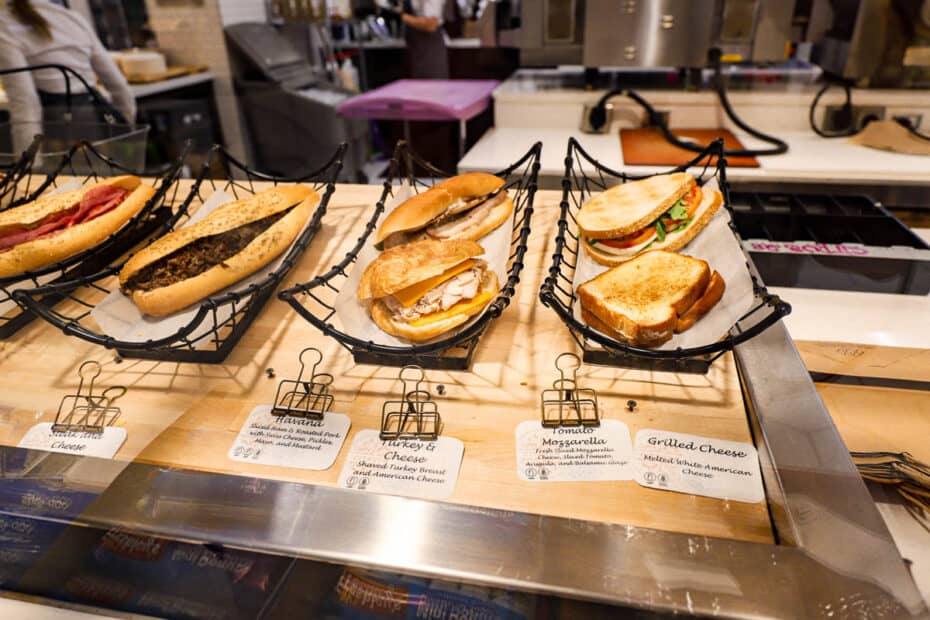 In addition, the following day, at breakfast, I noticed they had a variety of bagels, breakfast sandwiches, and croissants.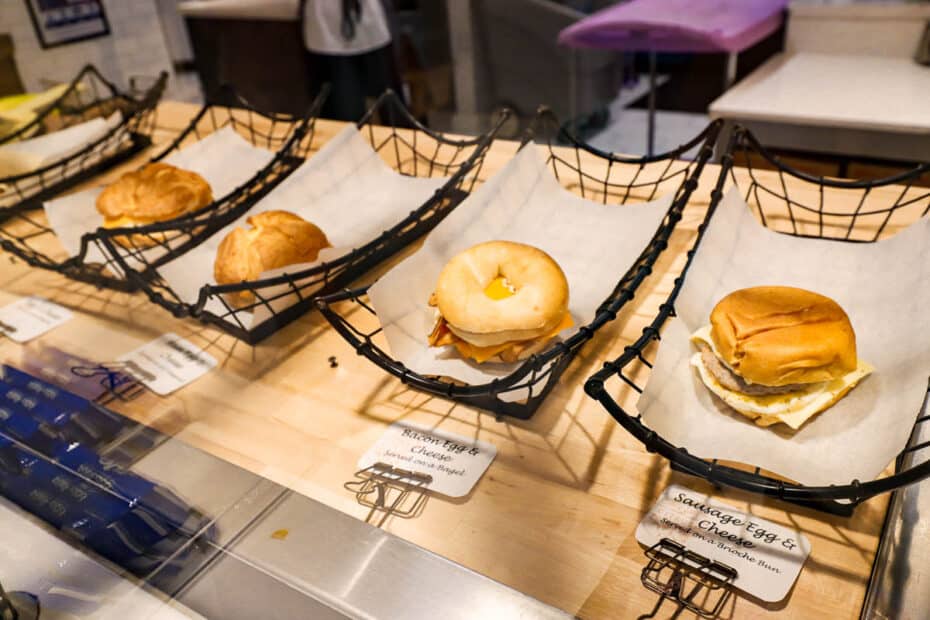 Here are the prices. I thought $15.25 for a steak and cheese sandwich wasn't too bad. I don't know if you could tell from the photo, but it was large enough that two people could share it.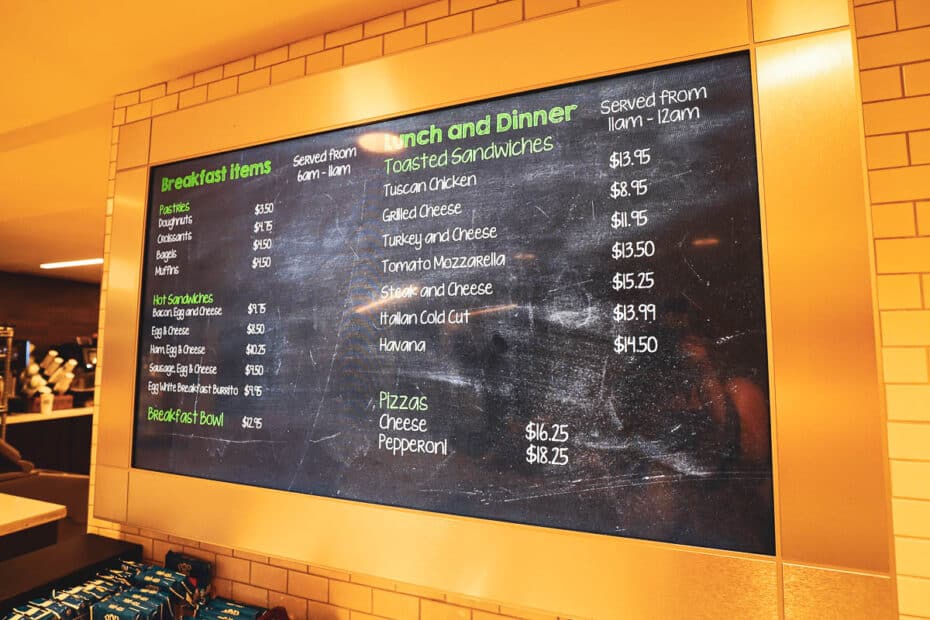 Citrus also has Starbucks coffee.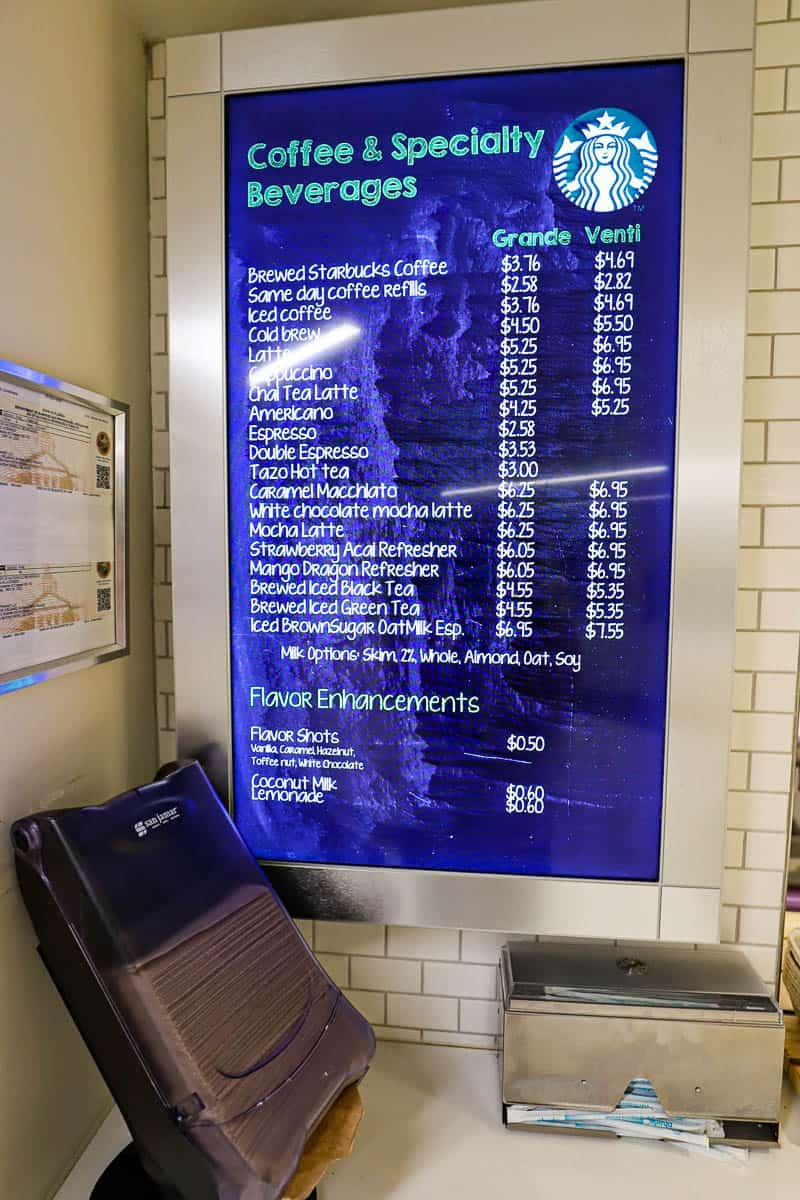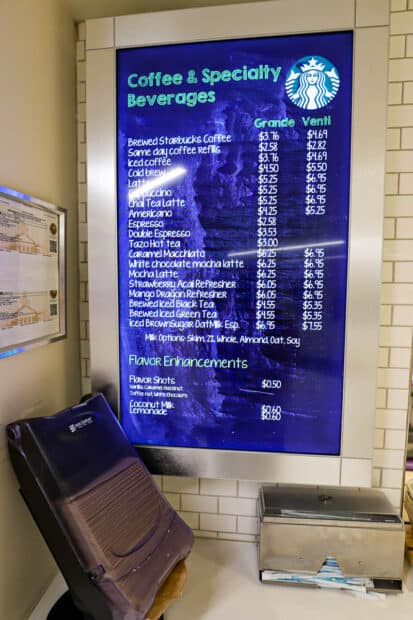 Here is a look at the refrigerated cases. As you can see, there were Coca-Cola products, juices, energy drinks, and a few cold coffees.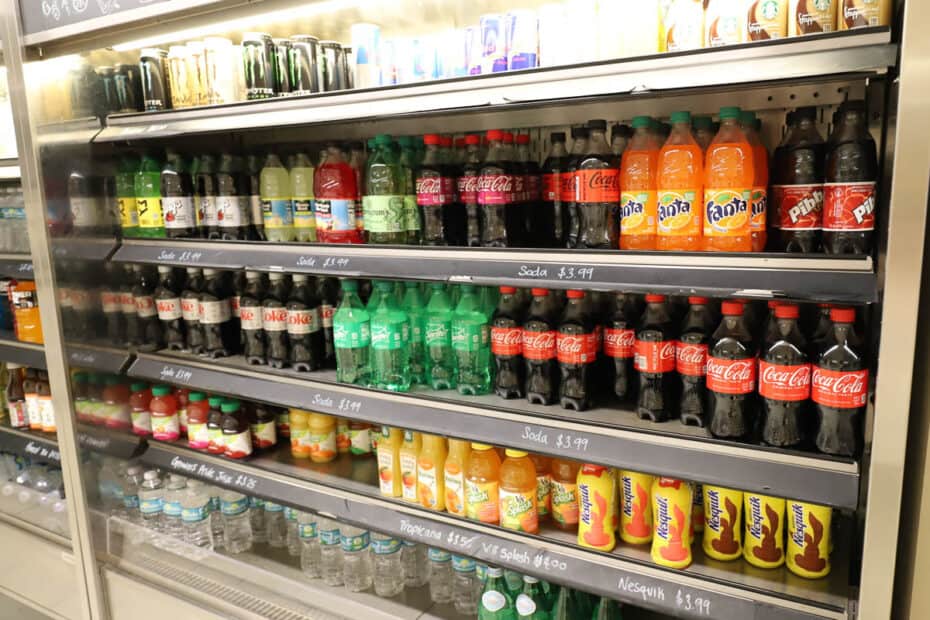 There were bottled waters, sports drinks, milk, and coconut water.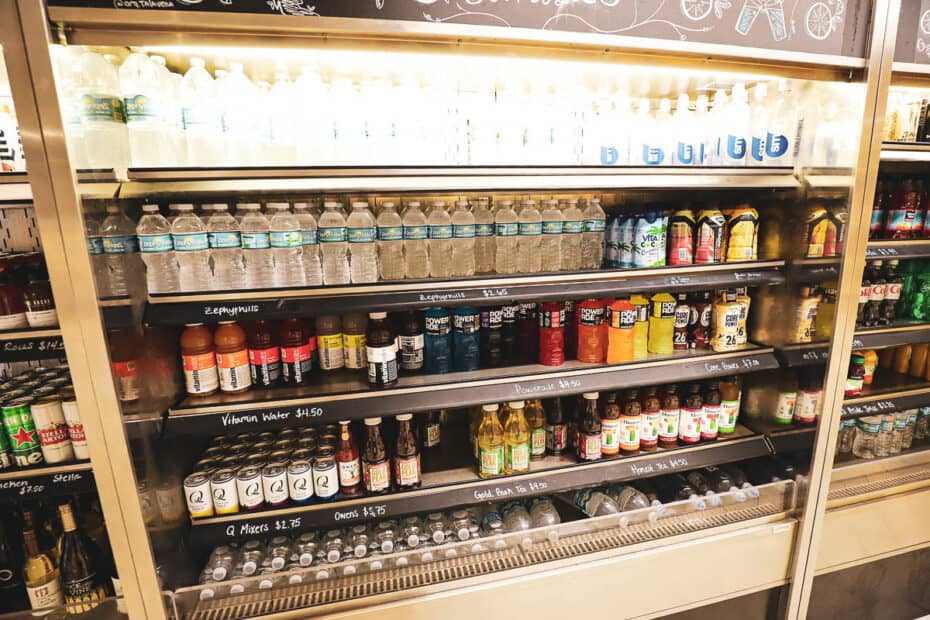 And here were the selections of beer, wine, and champagne.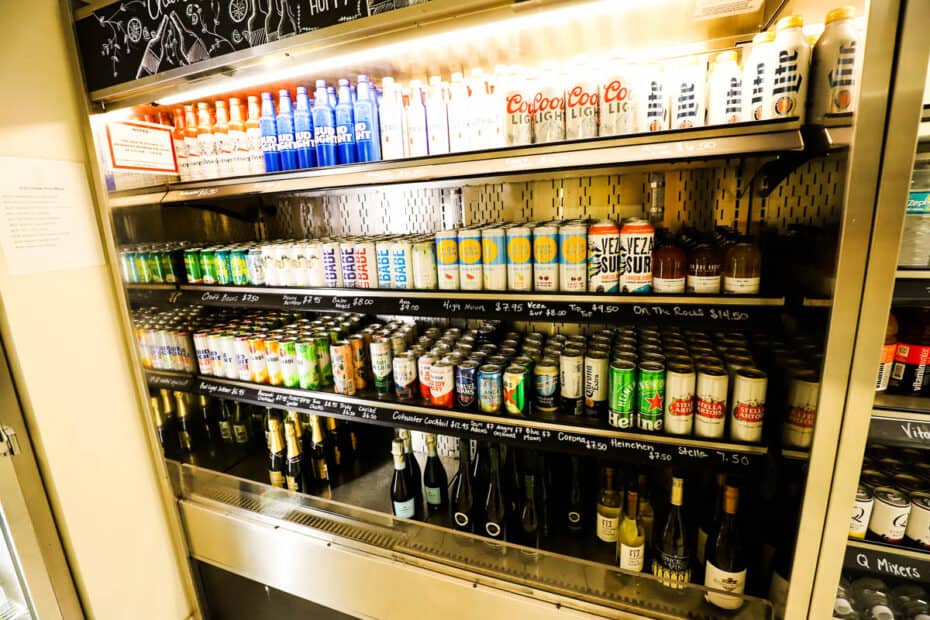 And more wine.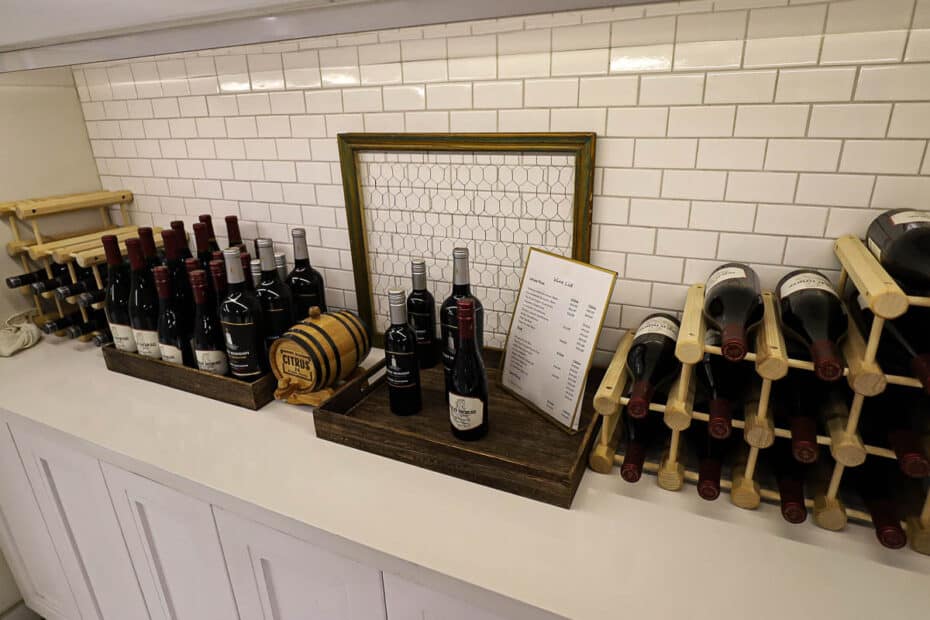 Ice cream included Ben and Jerry's, Talenti Gelato, and various treats.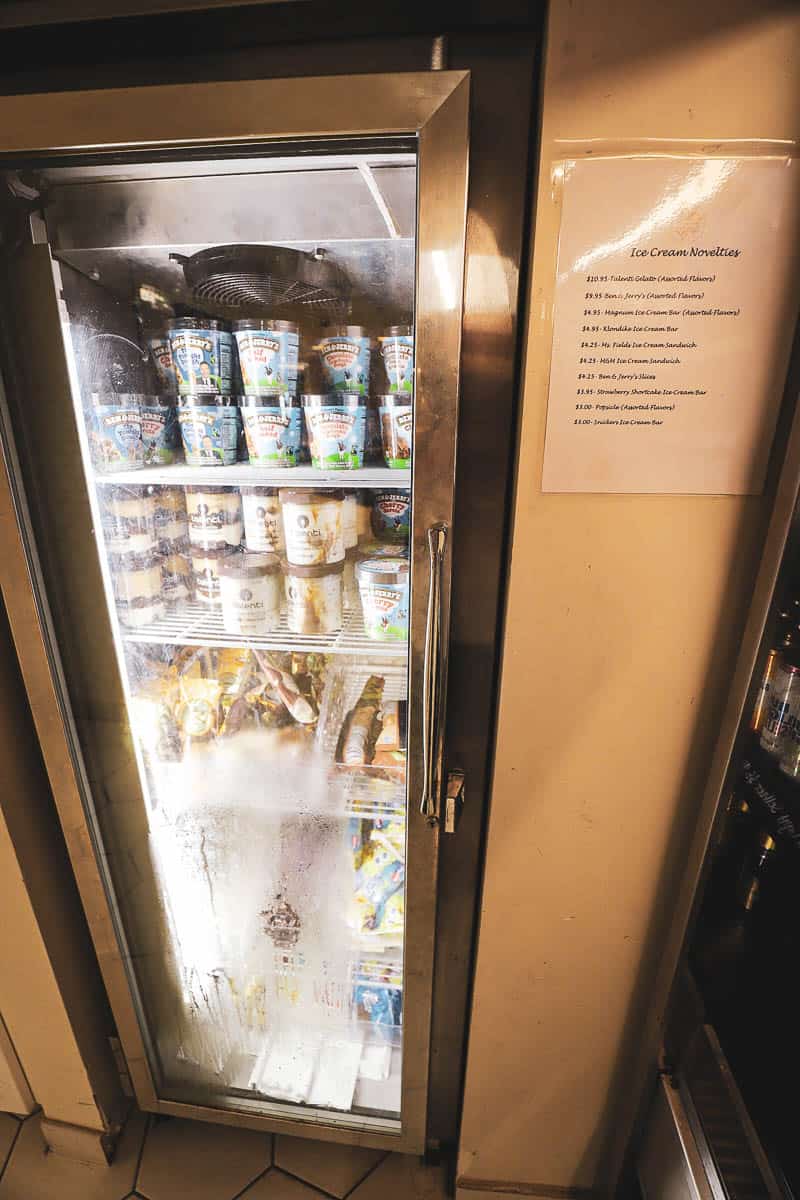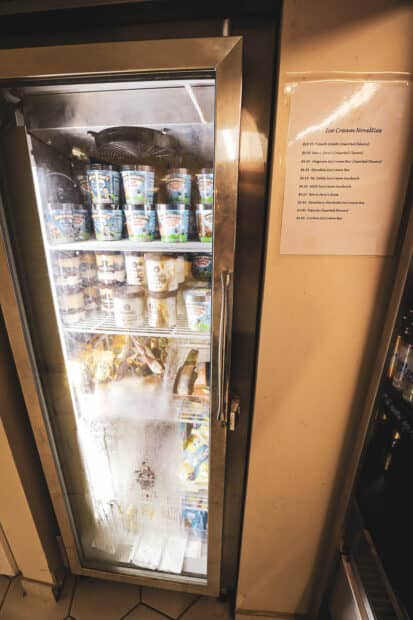 If needed, there's a toaster and a small electric oven.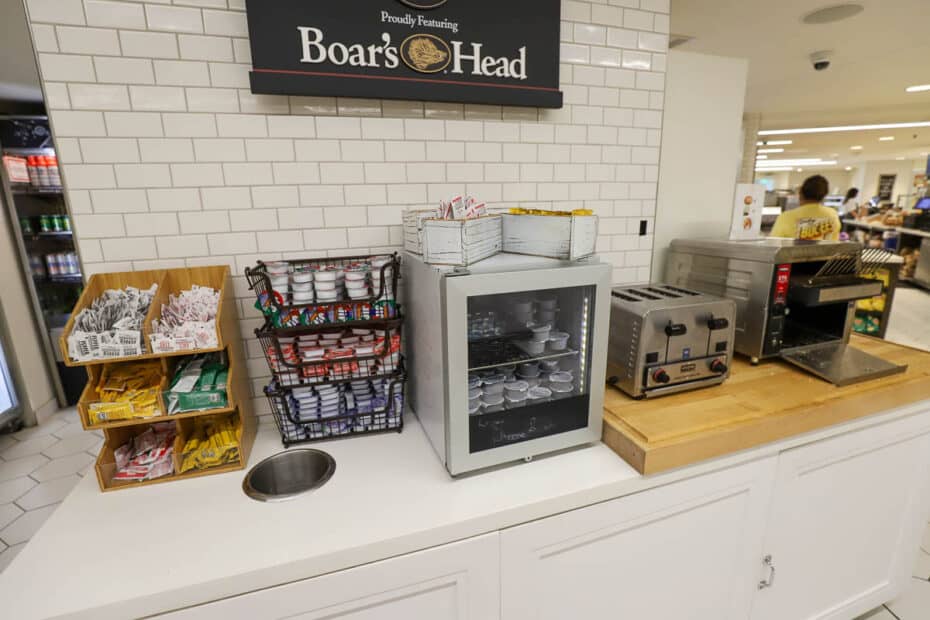 Grab-and-go coffee and hot water were available.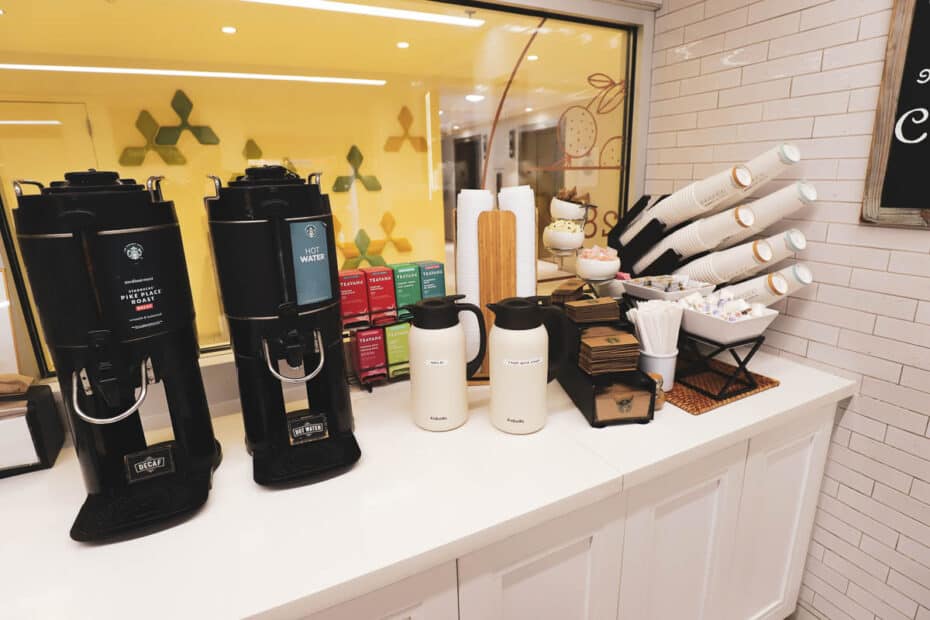 Here are a few more items. There was some kind of soup available at lunchtime.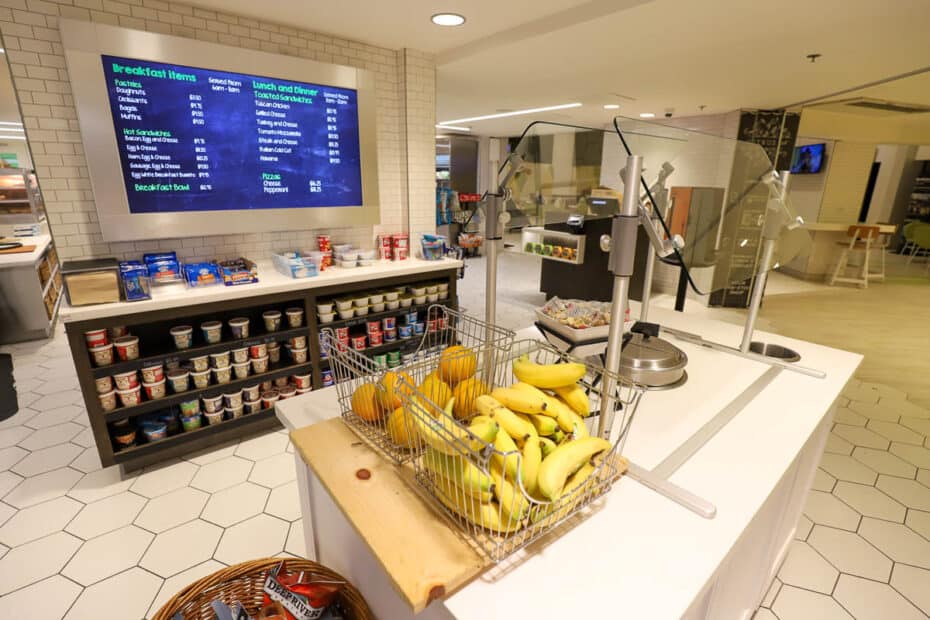 This case had several premade salads and fruit cups.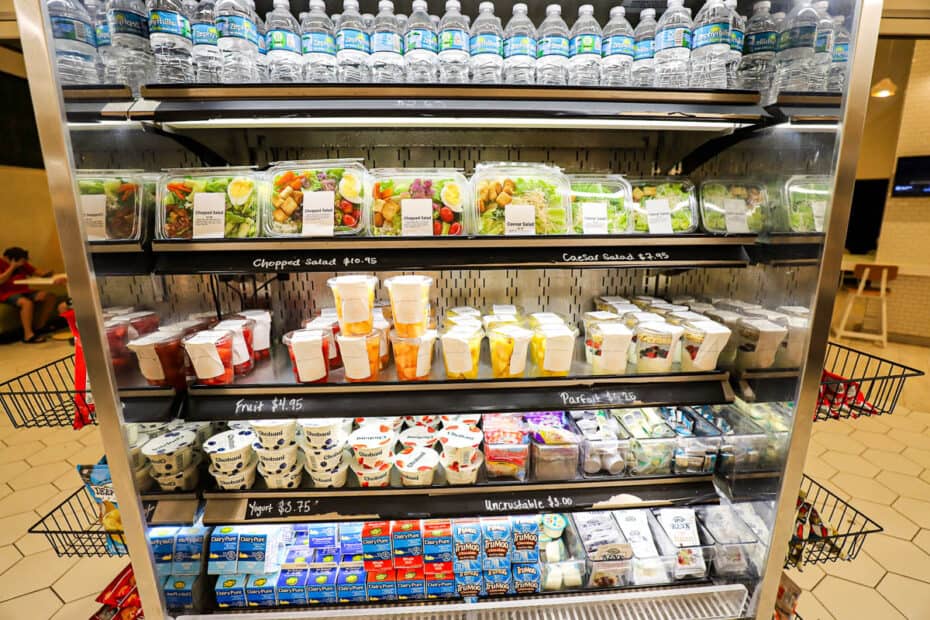 And let us not forget the bakery with these huge cookies.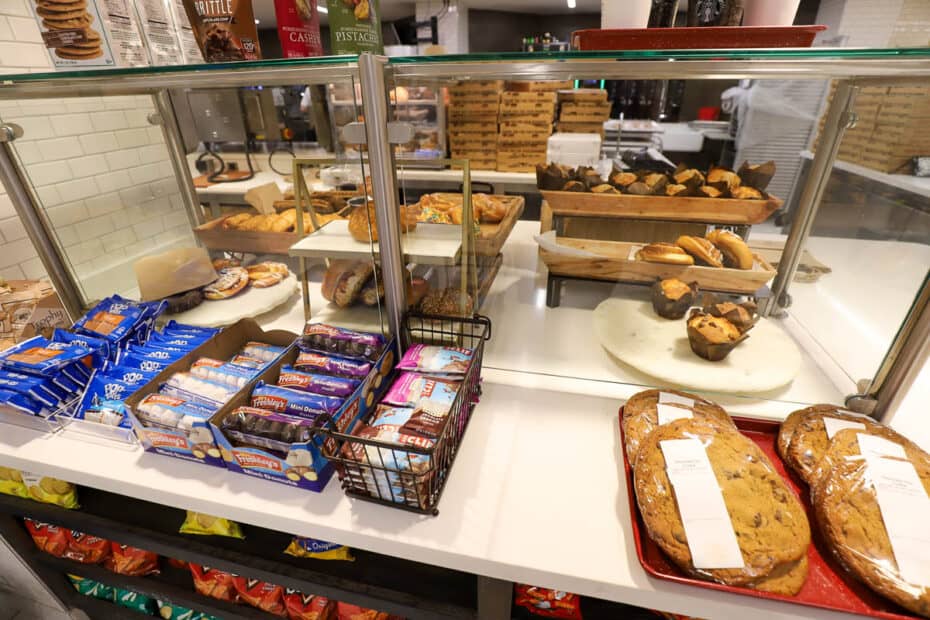 All of the pastries looked delicious, but don't they always?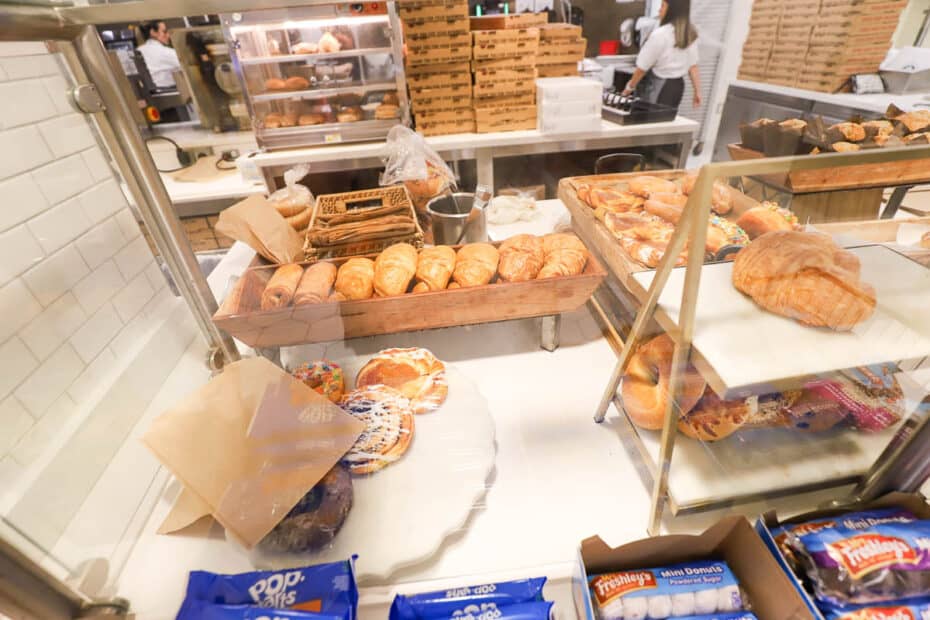 There's an ice cream case toward the far corner of the store.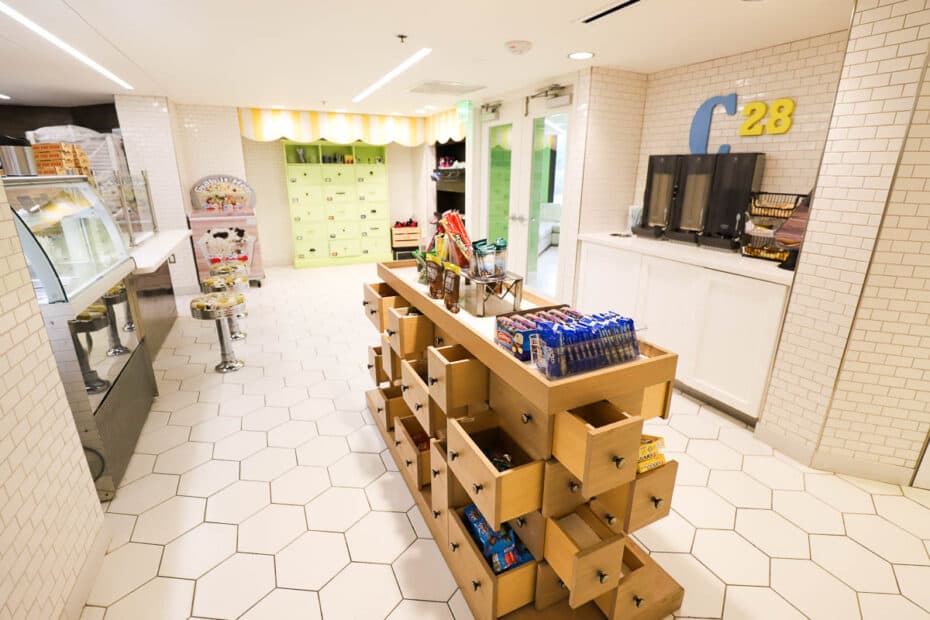 You could select from several flavors of hand-scooped ice cream.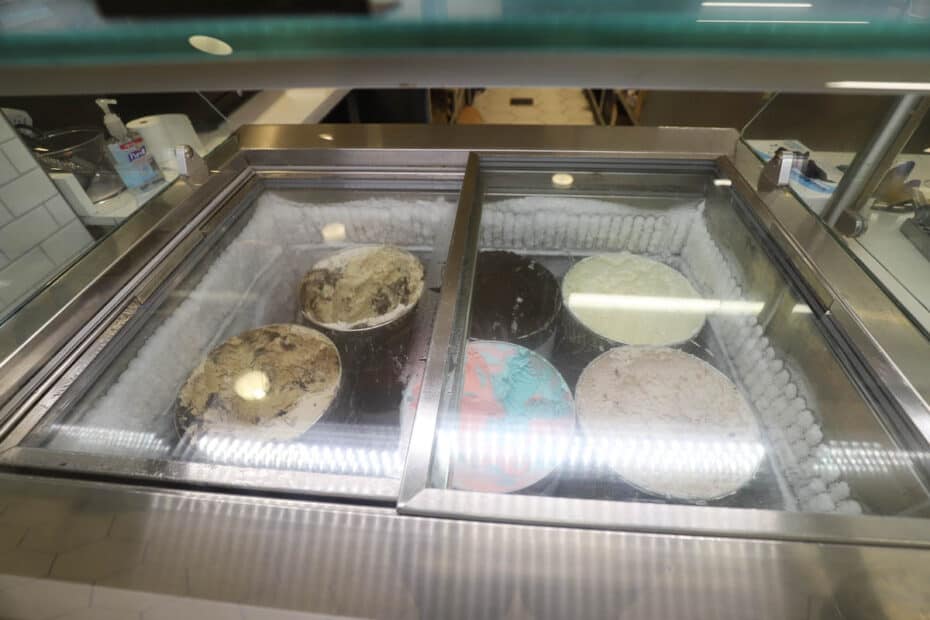 Or, if you prefer, there was a case of Mini-Melts.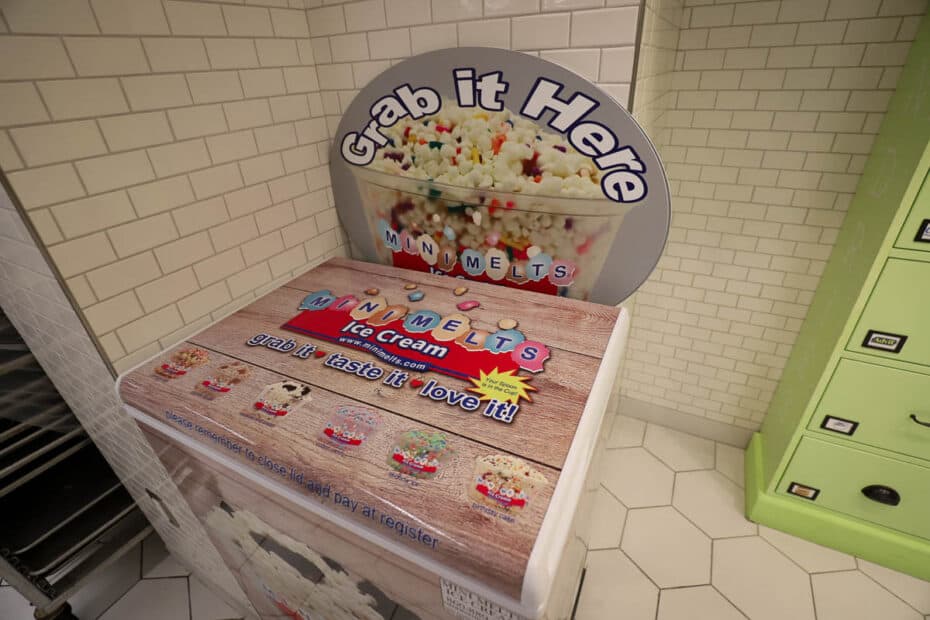 Those looking for a table service restaurant might want to consider Letterpress.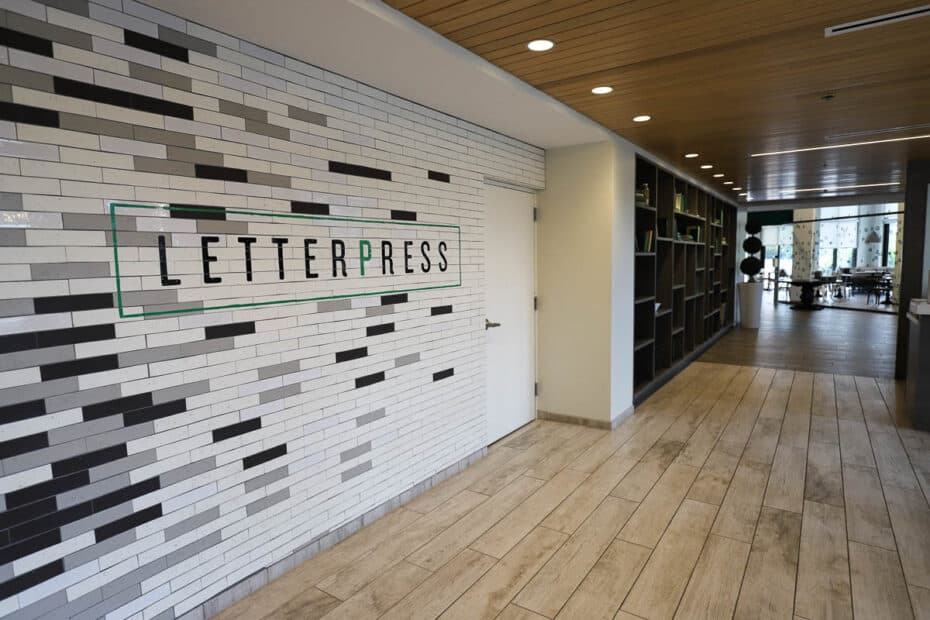 This restaurant serves brunch daily from 7:00 a.m. until 2:00 p.m. and then reopens for dinner from 5:00 p.m. until 10:00 p.m.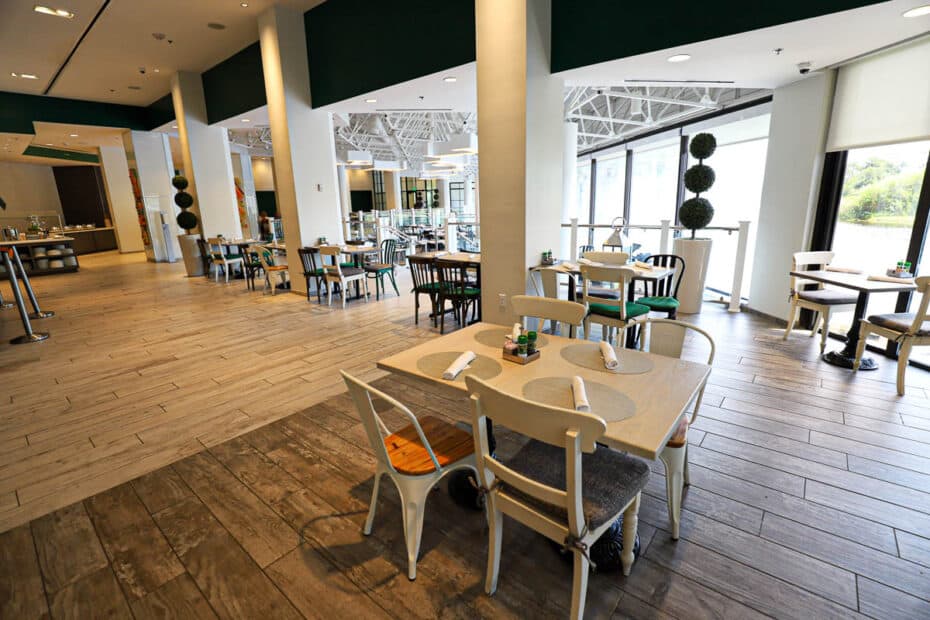 The restaurant has a breakfast buffet available daily from 7:00 a.m. until 11:00 p.m.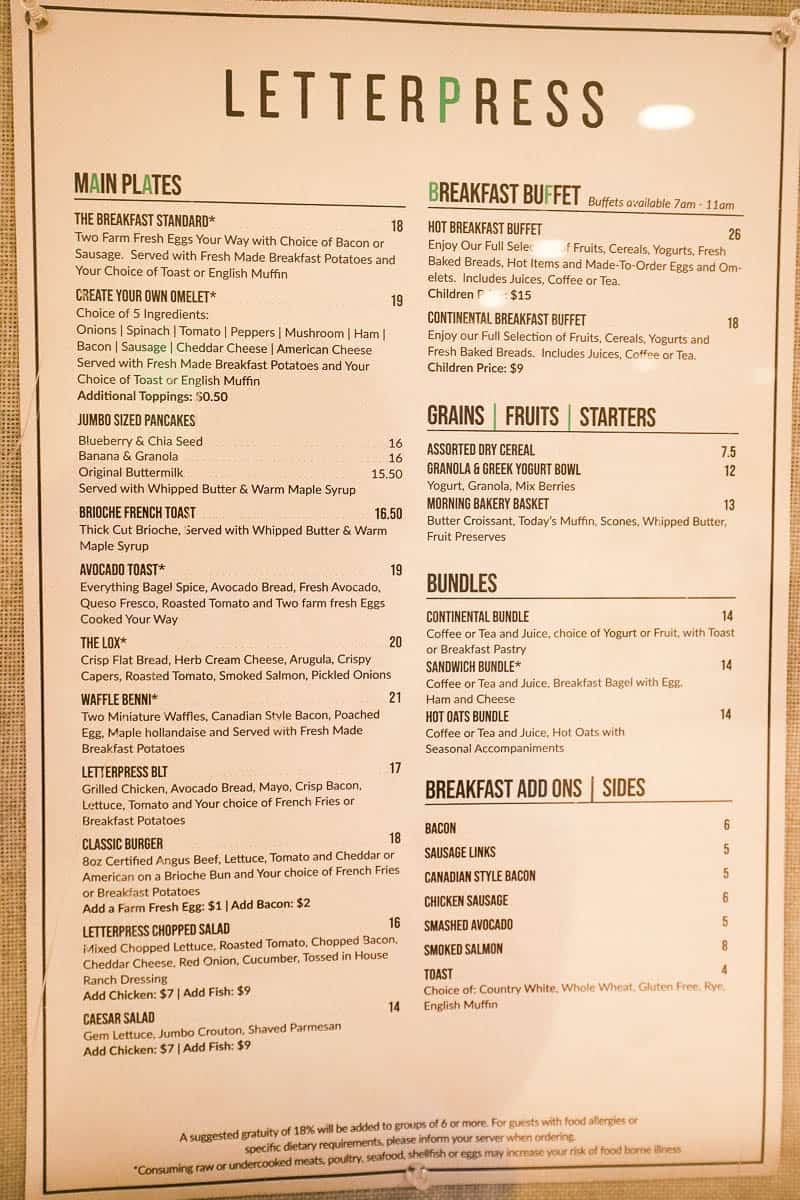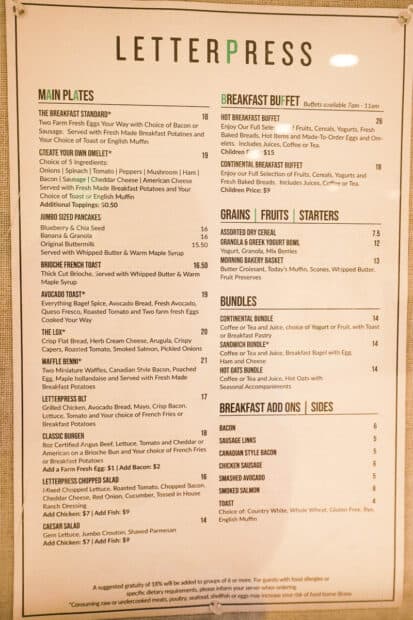 I have a separate review of the buffet and my experience with breakfast. After walking through and checking everything out, I ordered an avocado toast off the regular menu.
Related: Letterpress Breakfast Buffet Review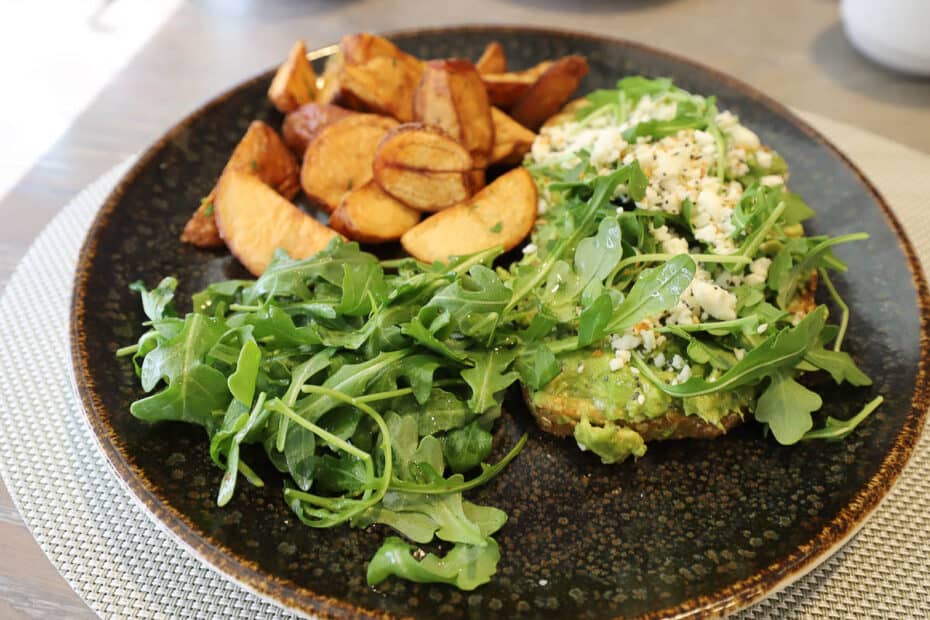 This option ended up being a quality meal. But with that being said, there are so many excellent brunch options at Disney Springs on the weekend. In most instances, I would make reservations at one of those over having breakfast at the hotel.
We'll walk back out to the pool area and see why it's one of the resort's best attributes.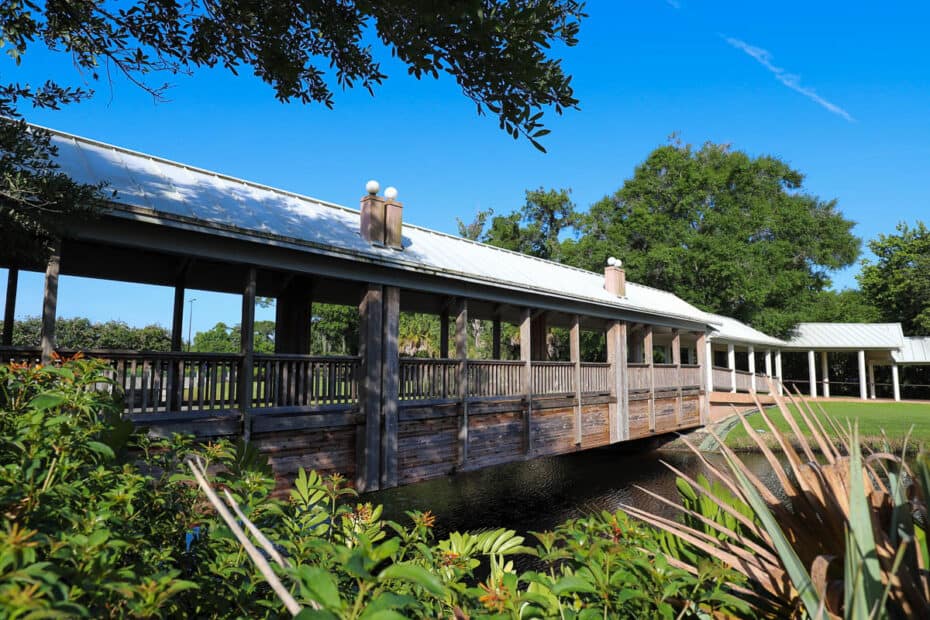 All of the grounds are tropical and lush.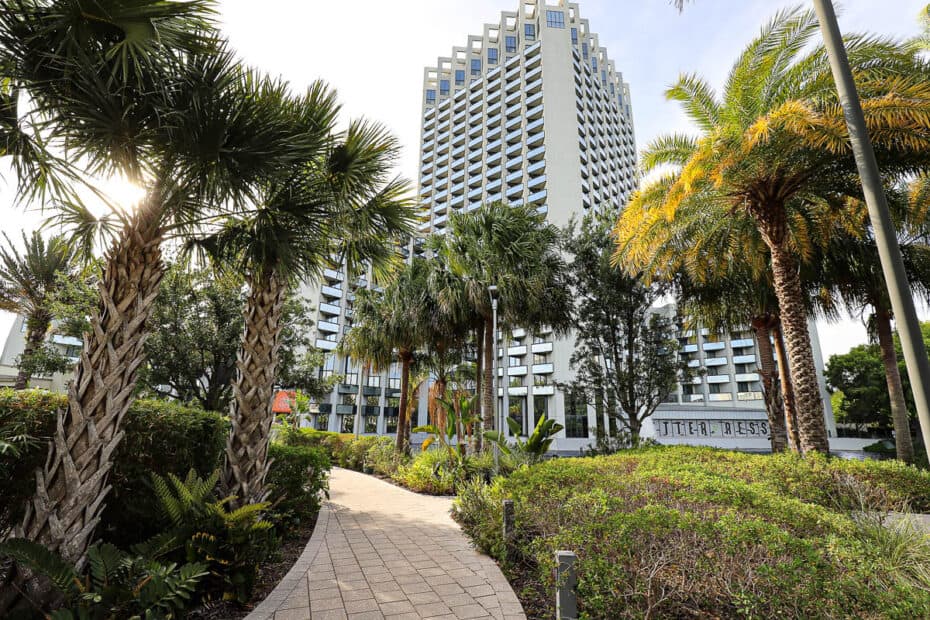 Directly behind the hotel, there's a vast green space.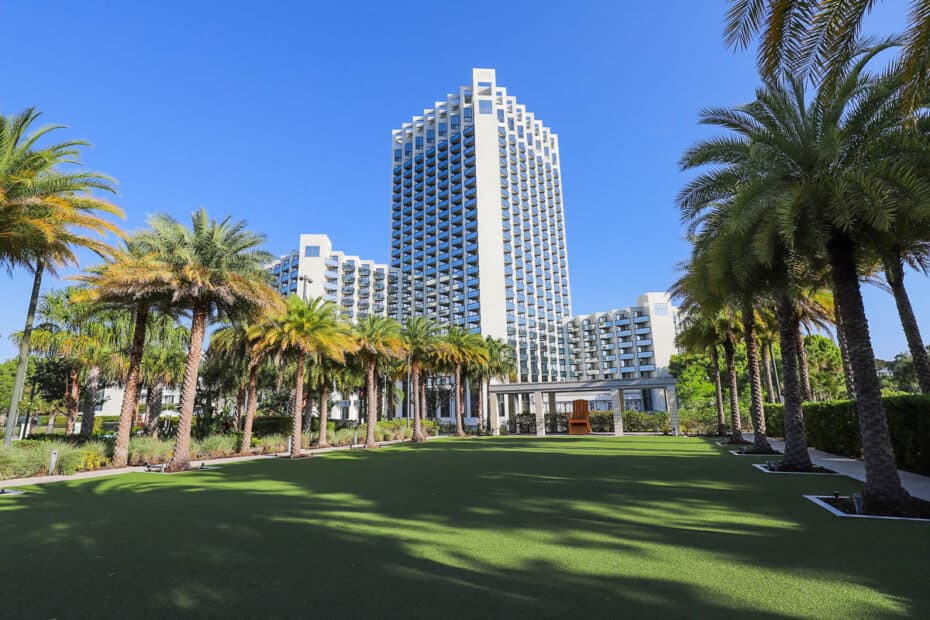 Shades is the name of the large pool bar and counter service restaurant.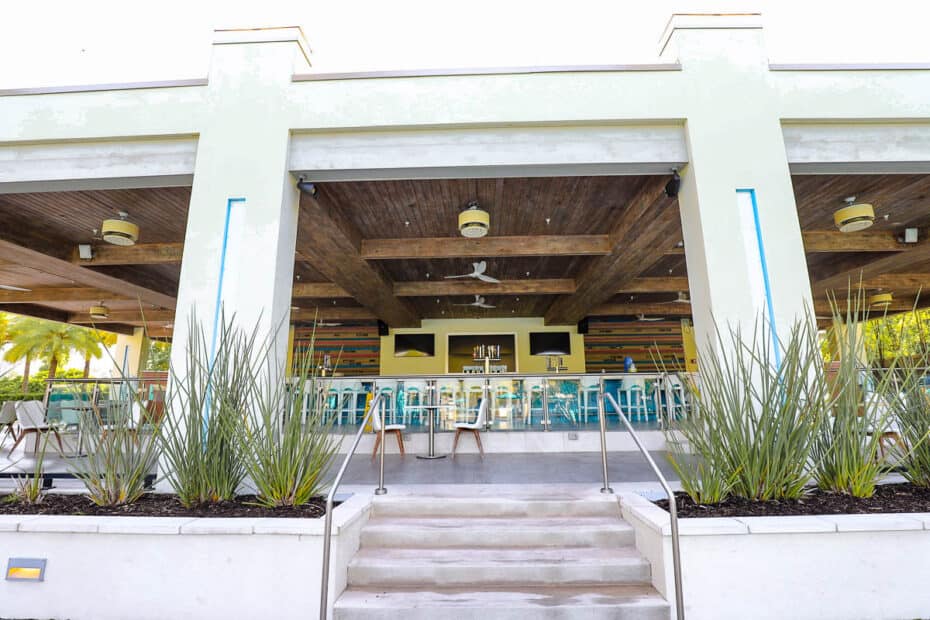 They are open daily through the week from 11:00 a.m. until 7:00 p.m. Then on the weekends from 11:00 a.m. until 8:00 p.m.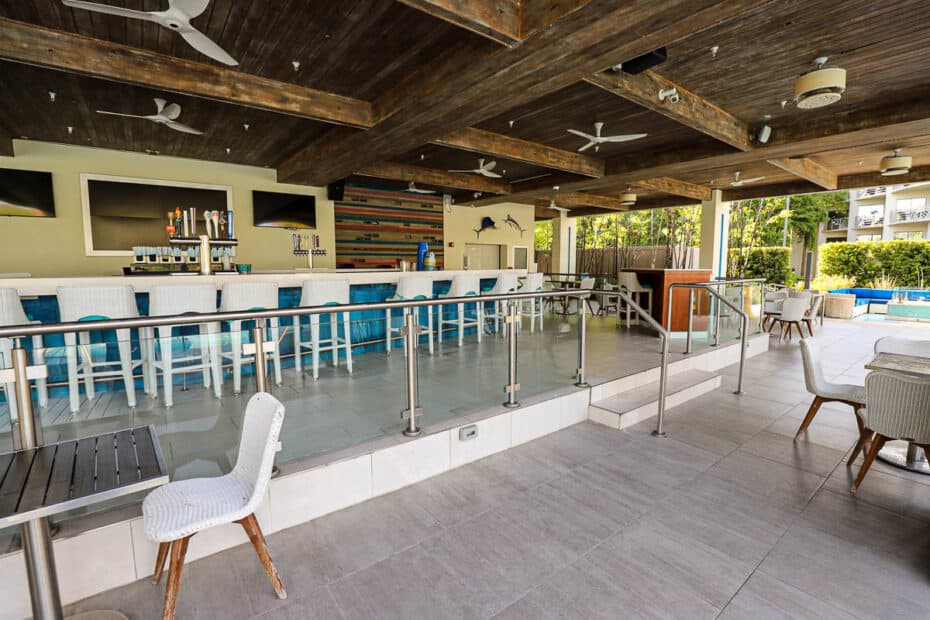 You can preview their menu here.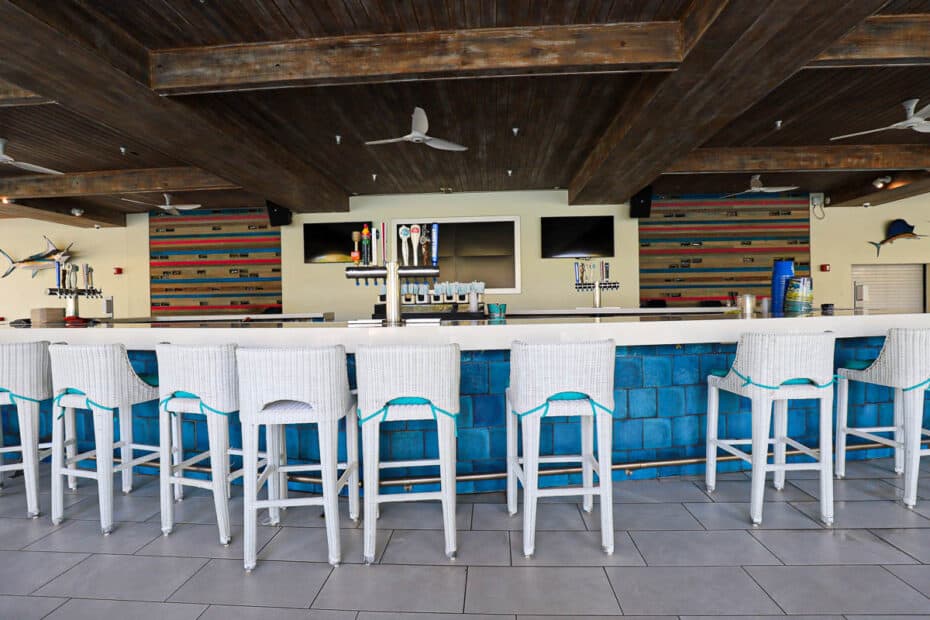 There were plenty of pleasant spaces to relax around the bar and near the pool.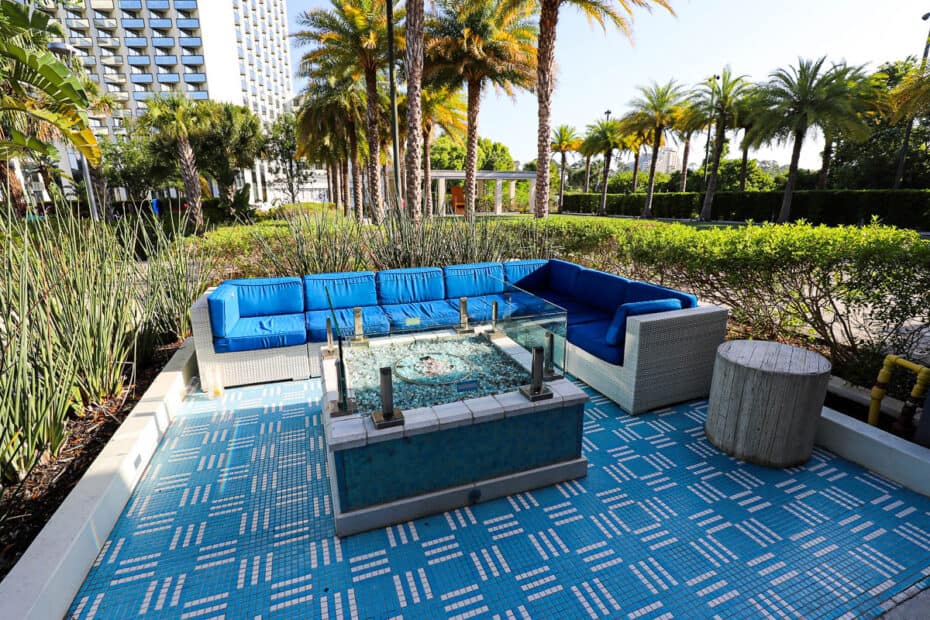 This whole area was thoughtfully laid out. One side of the pool bar had restrooms and changing rooms.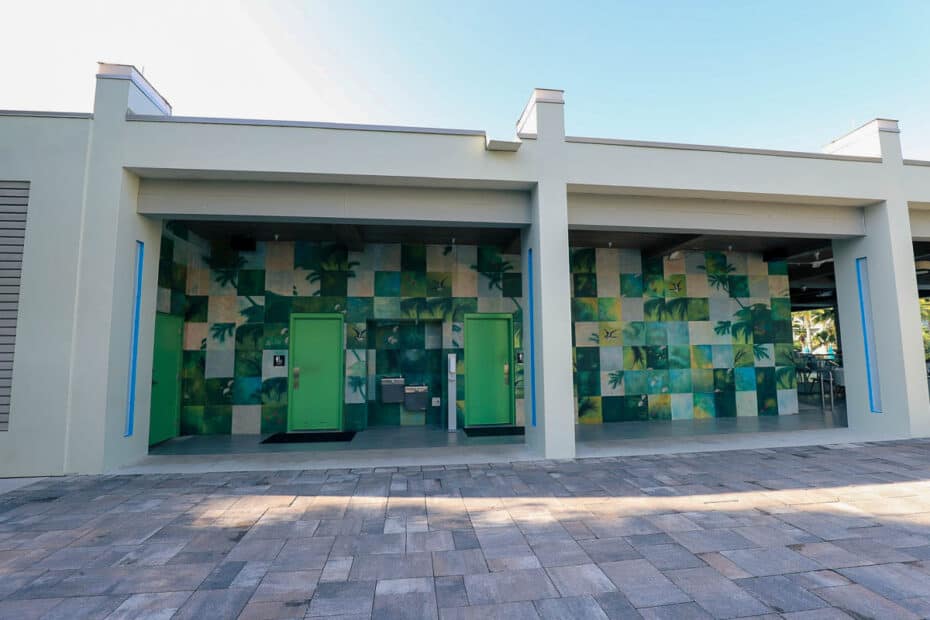 And the feature pool was only a few steps away.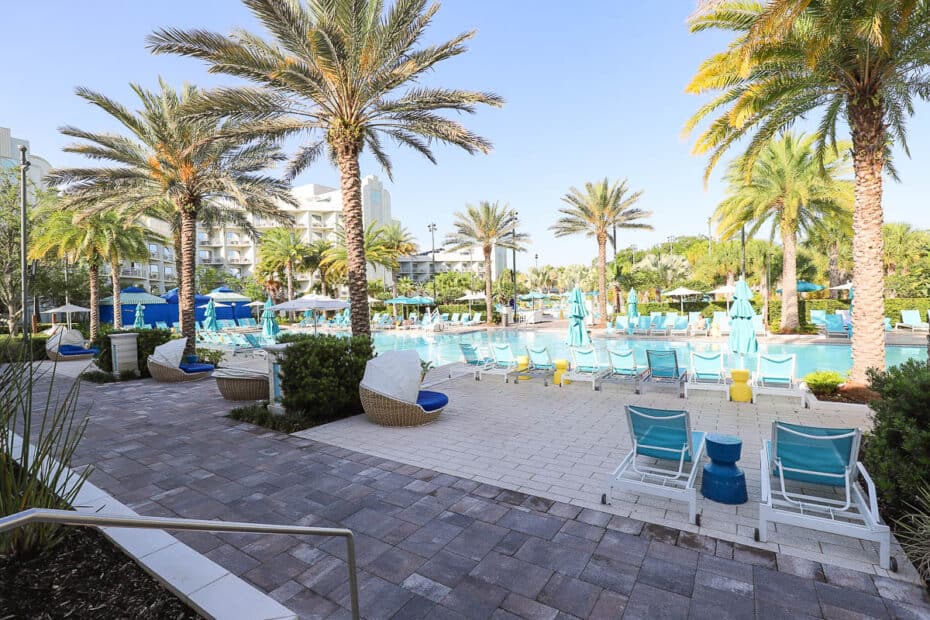 I woke up early to get these photos with almost no one in them. So don't anticipate low crowds.
On the previous evening, this place was packed. You can see the island-building sits directly behind this pool area.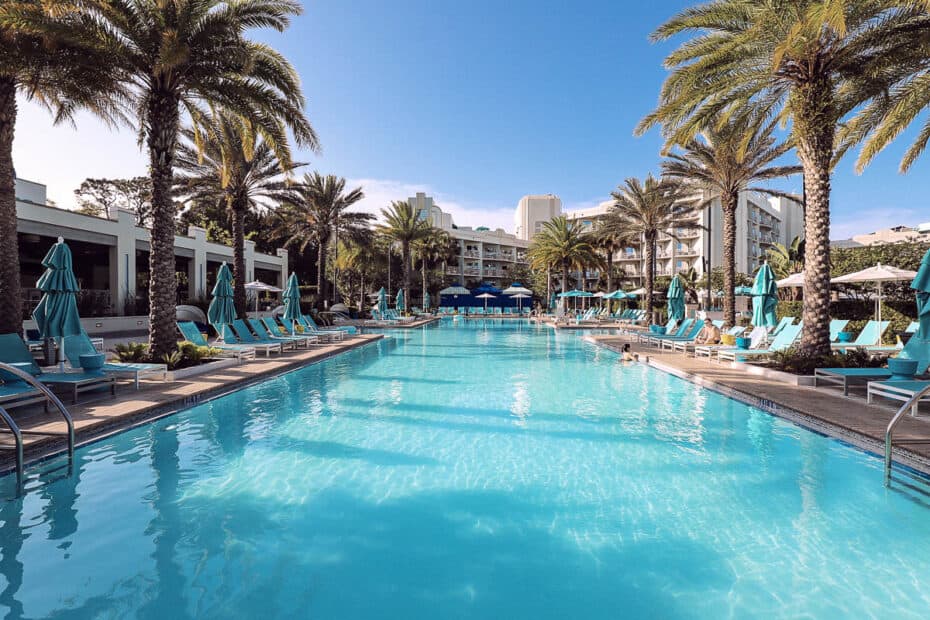 Here is a view looking back toward the tower.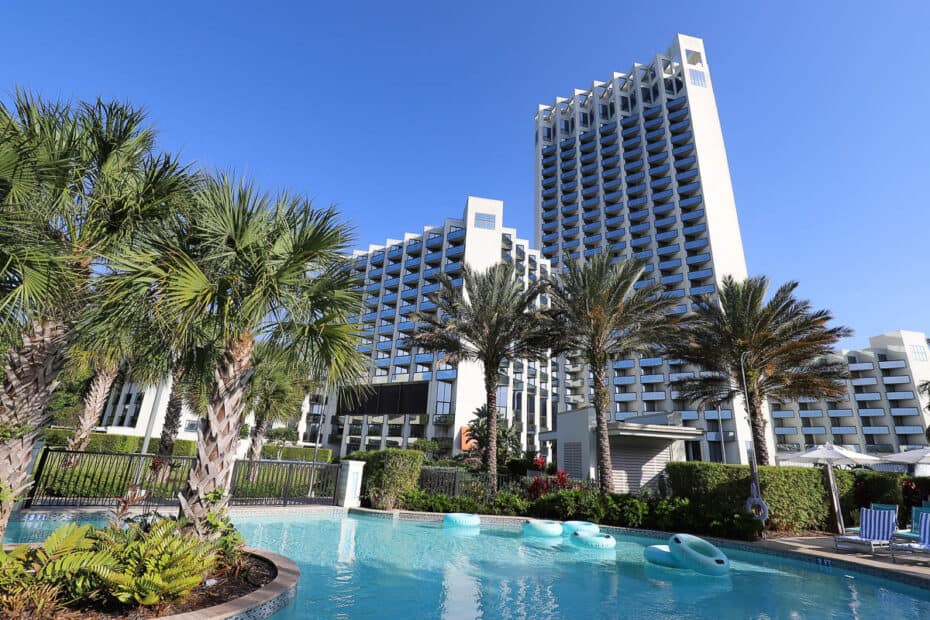 The lazy river starts on the opposite side of the feature pool.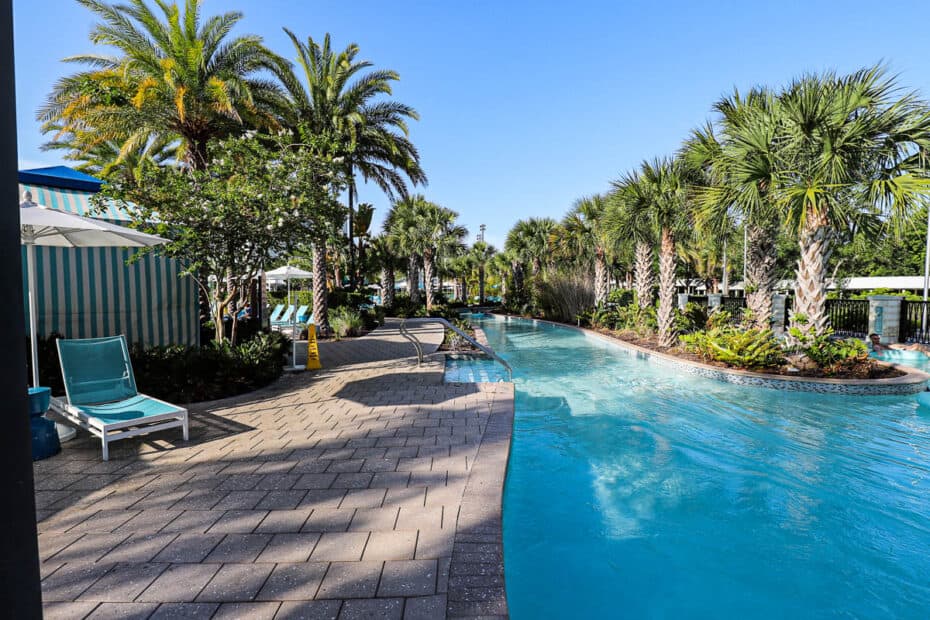 And there's a pretty hot tub area that sits between the pool and the lazy river.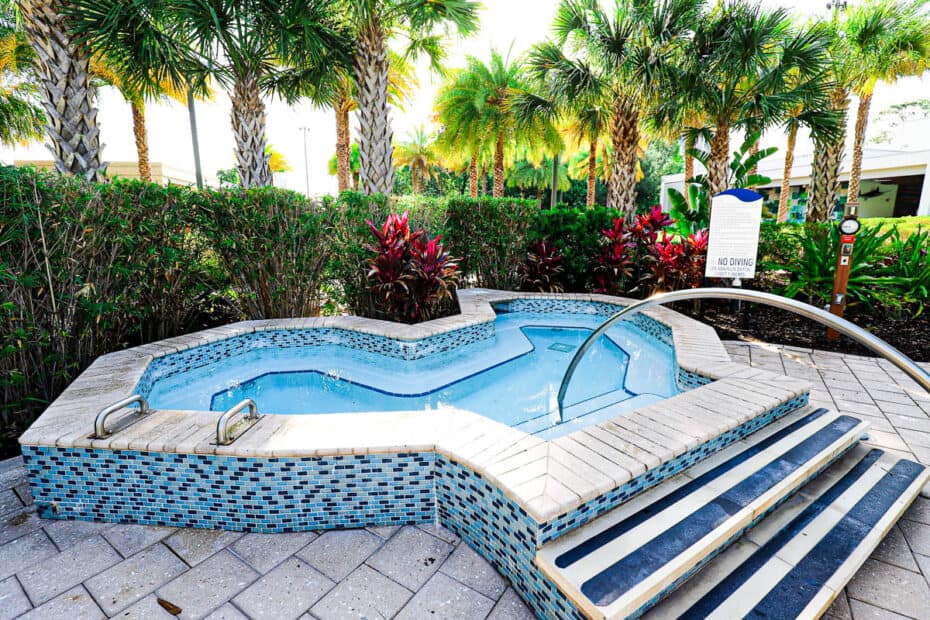 The lazy river at Buena Vista Palace is called the Float Lagoon. It has a zero-entry area and a splash zone.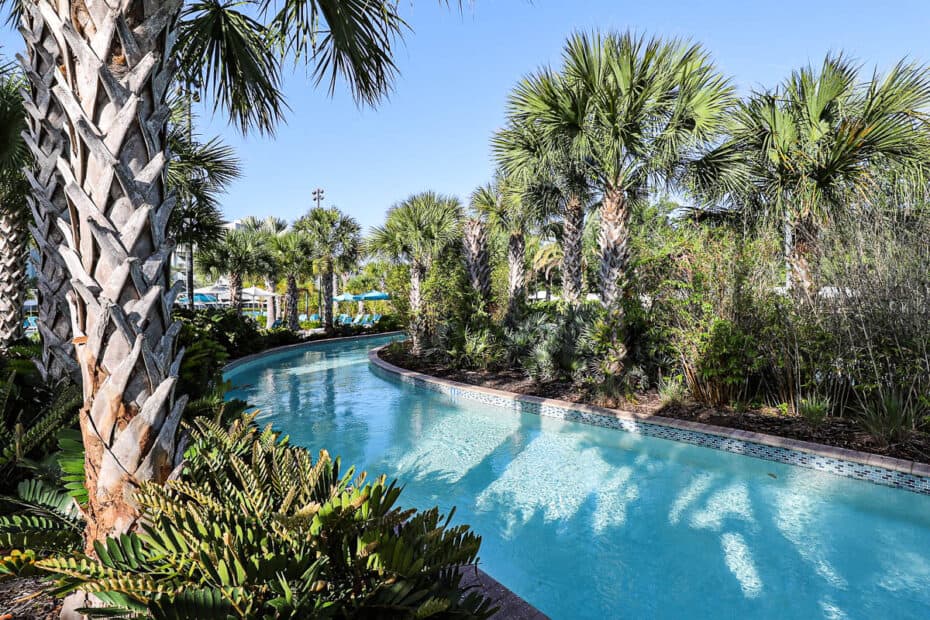 The splash zone has a bunch of sprinklers and plenty of inner tubes.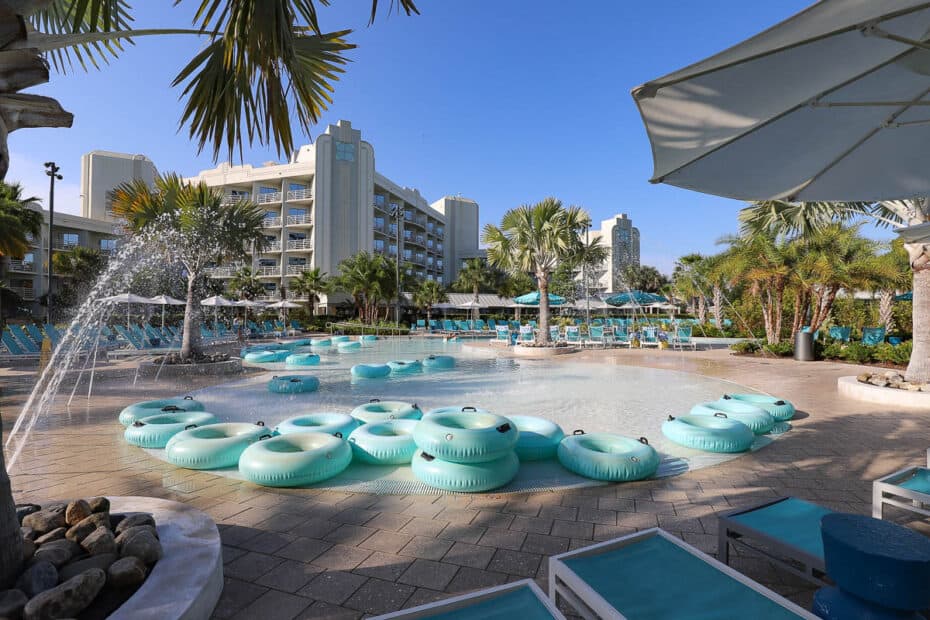 Here's a better view.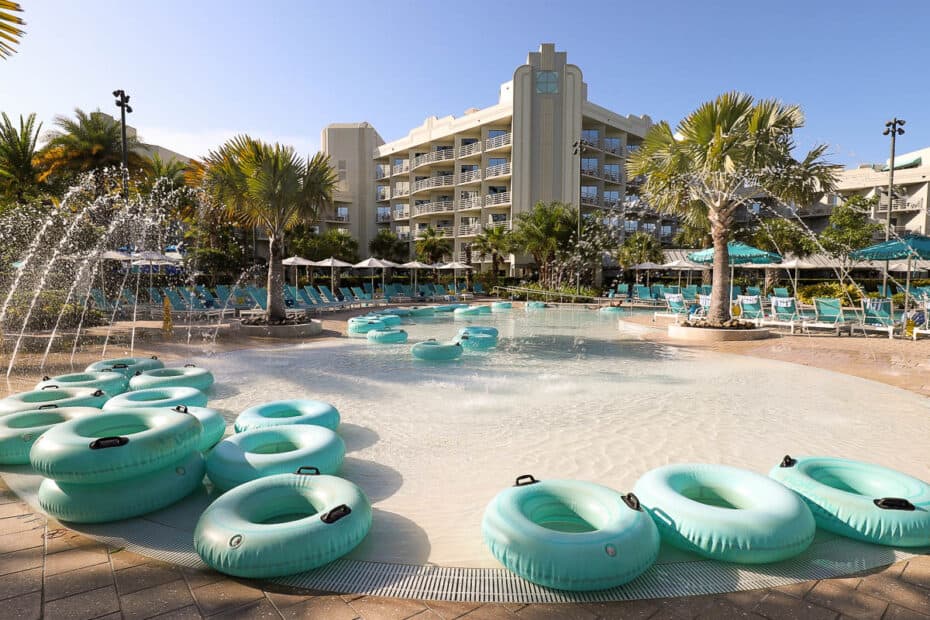 The lazy river is almost 550′ long.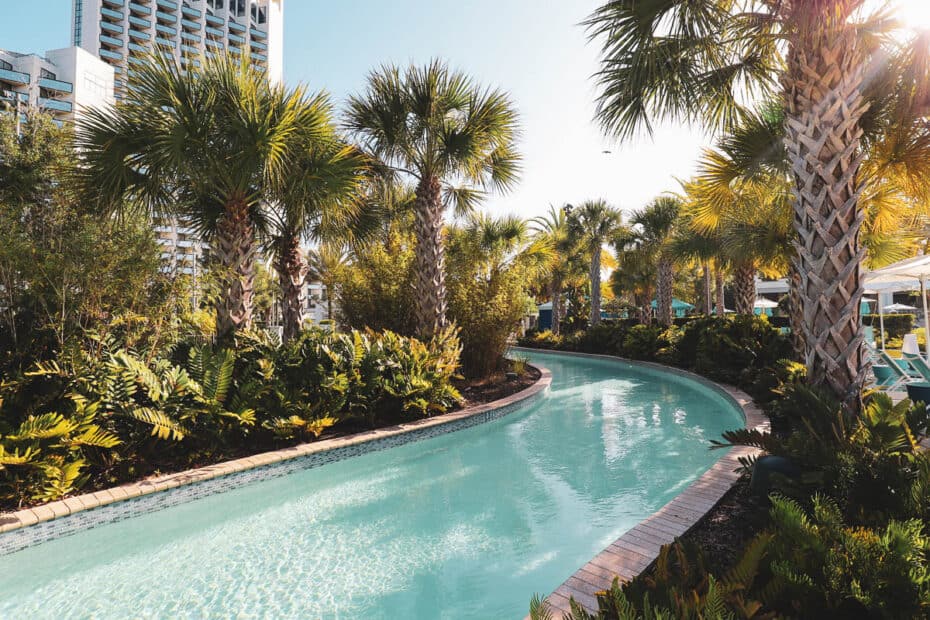 There were plenty of lounge chairs around the entrance to the lazy river.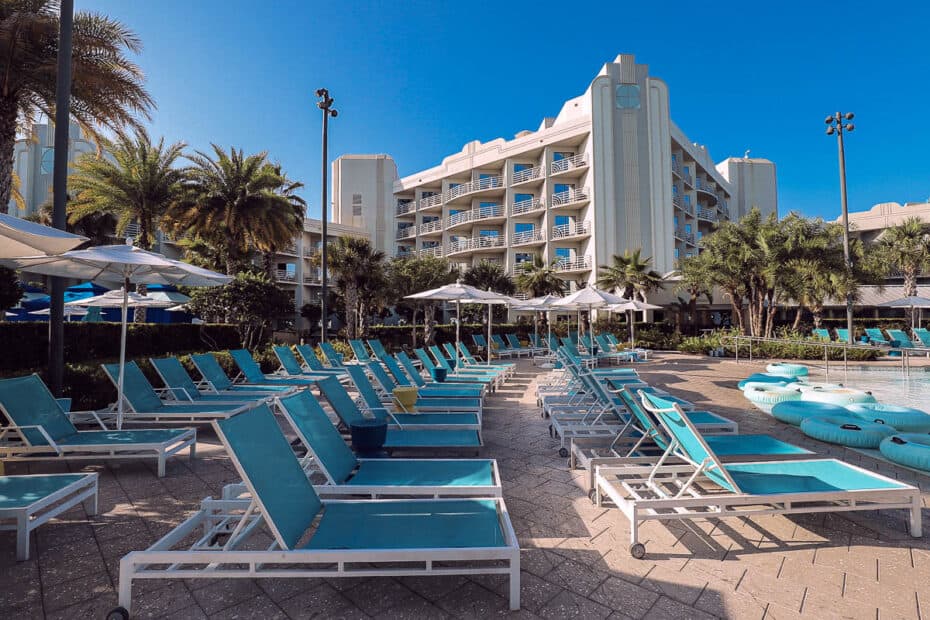 Back inside, we'll check out the lobby briefly.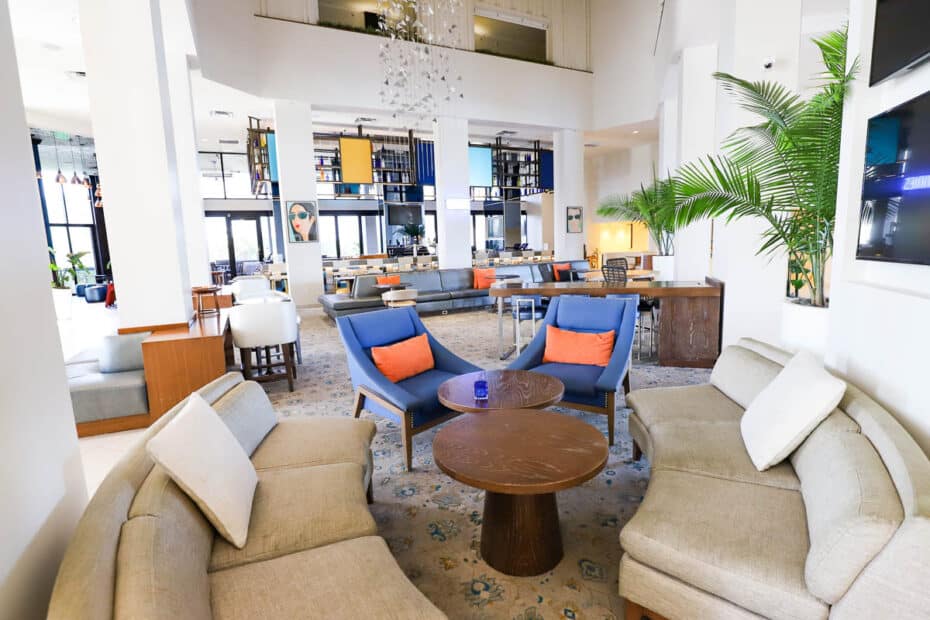 Everything had a modern design. But as I mentioned, unless you're enjoying the lounge here, there wasn't much reason to revisit this floor.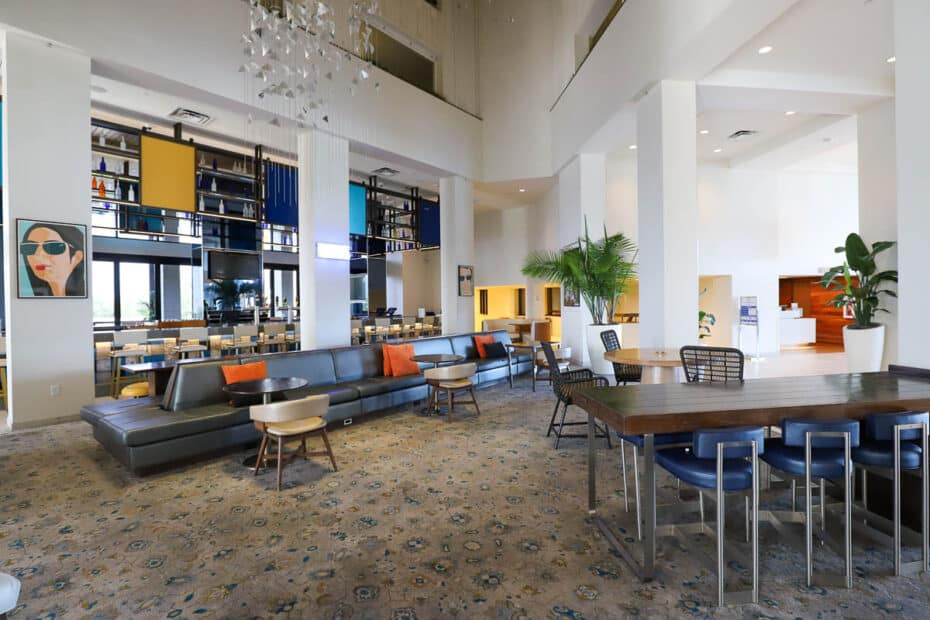 Sunnies is the name of the lounge. It's open daily from 4:00 p.m. until 11:00 p.m.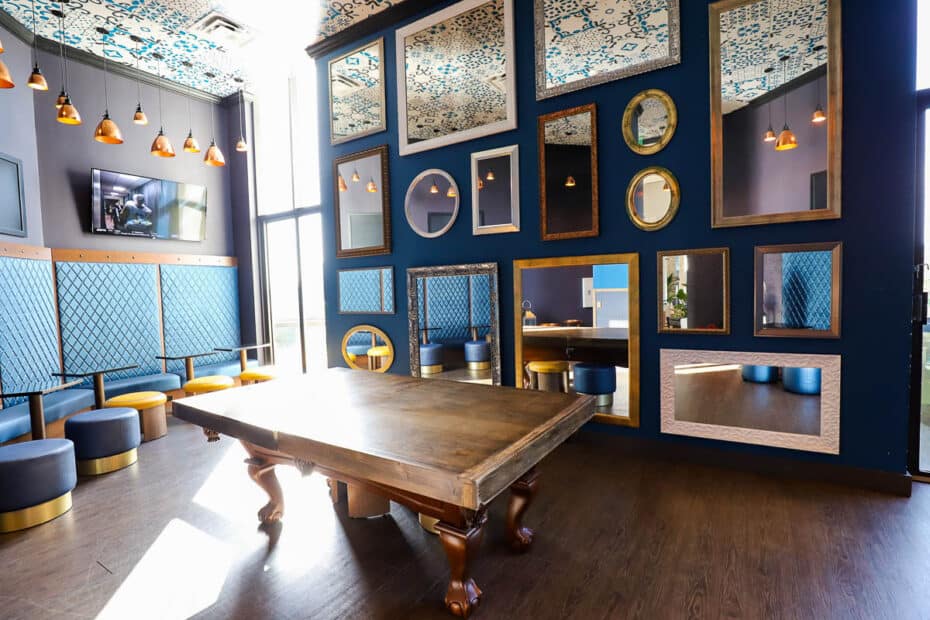 You can preview their menu here if you like.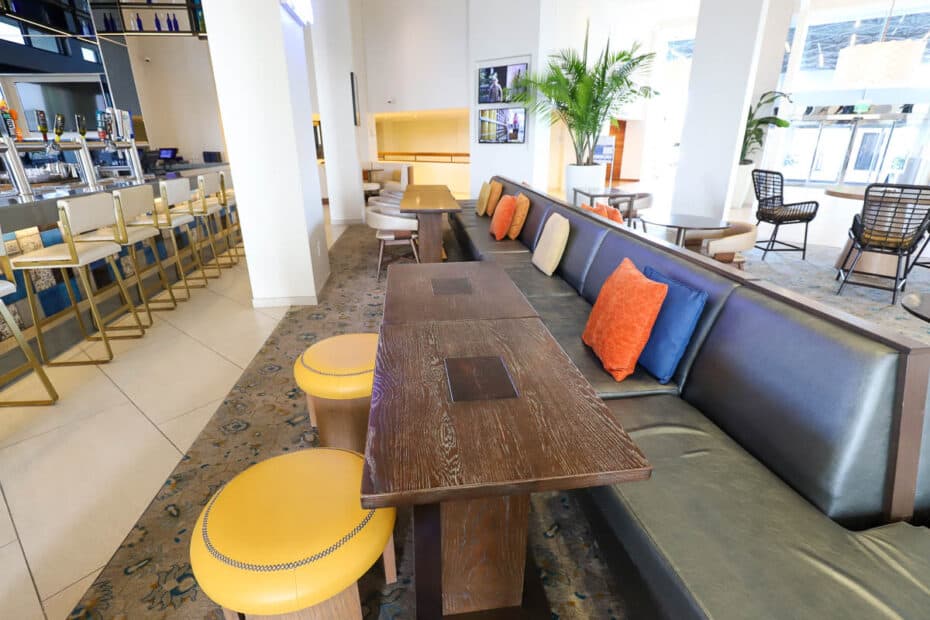 Final Thoughts on the Hilton Orlando Buena Vista Palace
Overall, I enjoyed my stay at Buena Vista Palace. My main complaint is that while the resort has had many recent updates, it did feel somewhat dated.
In addition, the resort has a $35.00 resort fee and a $22.00 per day parking charge if you have a car on hand. Unfortunately, these fees are difficult to avoid in the Orlando area.
And while I do understand that items like the pool and recreation areas require maintenance, it's not necessarily the guest's responsibility to pay for them.
However, this is true for almost all off-property resorts. So I'm not picking on this hotel specifically.
Many guests will stay here on business and never use these extra amenities. Yet they'll still pay the high daily resort fee.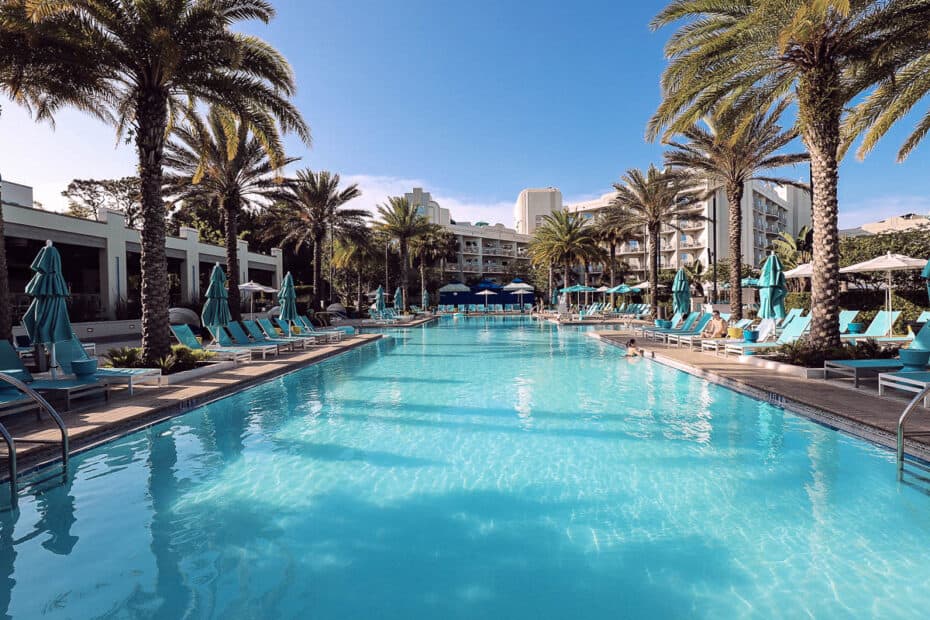 Speaking of guests staying on business, this hotel has a convention center attached to it. During this visit, a large cheerleading group stayed at the hotel.
Thankfully, these young ladies were all very well-behaved. But I have stayed at hotels in the area where a conference has negatively impacted my stay.
However, those things can happen anywhere, and nearly all of these hotels have a convention center attached. There are even several hotels at Disney that have convention centers.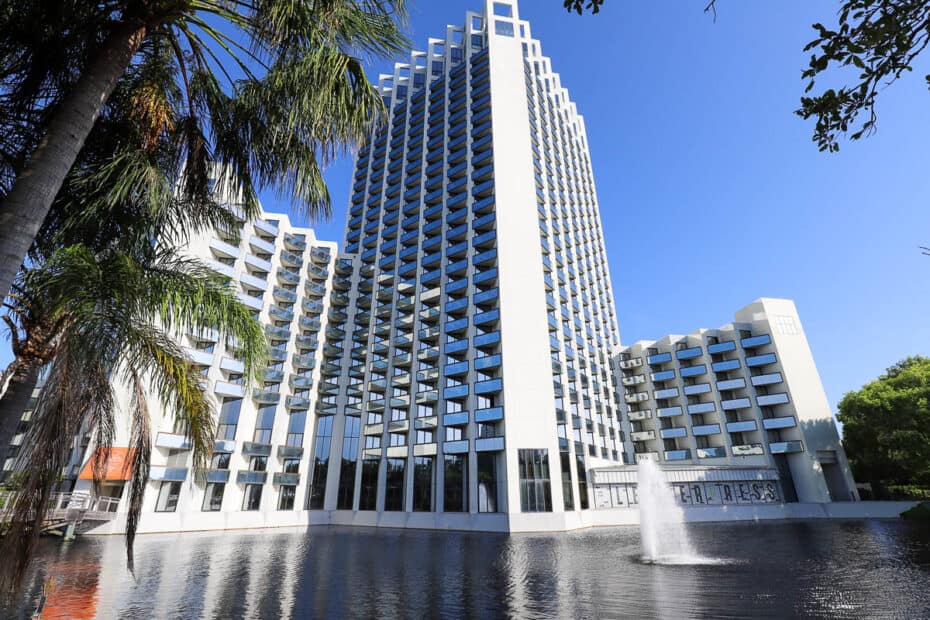 Regarding ranking the Hilton Buena Vista Palace to other hotels, I'm having a difficult time. This hotel is an excellent option if you plan to spend time at the pool and Disney Springs. I don't think you can do much better for the price.
However, the Wyndham Grand Orlando and Signia by Hilton at Bonnet Creek are comparable in pricing. I would give those hotels an edge over Buena Vista Palace as far as overall amenity goes, and they aren't far from Disney Springs, but you can't walk.
Related Reviews:
If you're considering other hotels at Disney Springs, Buena Vista Palace is the best option for amenities. Unfortunately, that amenity is also reflected in the price.
One other perk I've yet to mention is that Buena Vista Palace is considered a good neighbor resort hotel. This benefit means guests are eligible for the early theme park entry.
During the 50th anniversary, guests of select resorts and hotels can access any theme park on any day thirty minutes before the scheduled park opening. This benefit is a huge plus and can help you get to an attraction or two before the parks get crowded.
For more information about staying off-property, you might enjoy these other reviews:
In the comments: What are your thoughts on this review of the Hilton Orlando Buena Vista Palace? Do you think you would enjoy a week's stay here or maybe a long weekend? Was this article helpful?