Letterpress Breakfast Buffet Review (Hilton Buena Vista Palace)
Most of us know the importance of starting our vacation days at Disney World with a hearty breakfast. So if you're spending that vacation at the Hilton Orlando Buena Vista Palace, you might consider having breakfast at Letterpress.
Letterpress is the resort's primary table service restaurant. The restaurant offers a breakfast buffet with a decent variety of hot and cold dishes and a made-to-order omelet station.
In this review of Letterpress, we'll preview the breakfast buffet and look at an a la carte menu item. Additionally, we'll discuss when this meal might work best for your group versus other options you might consider.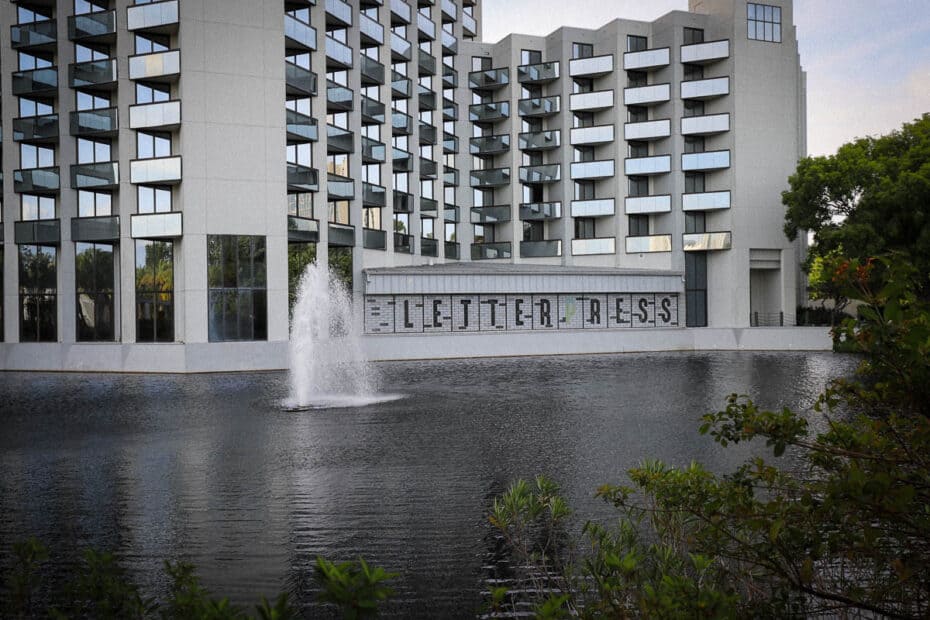 Letterpress is located on the ground level of Hilton's Buena Vista Palace. The restaurant is open daily for brunch between 7:00 a.m. and 2:00 p.m.
It then reopens for dinner between 5:00 p.m. and 10:00 p.m.
A breakfast buffet is available during the morning hours of 7:00 a.m. and 11:00 a.m.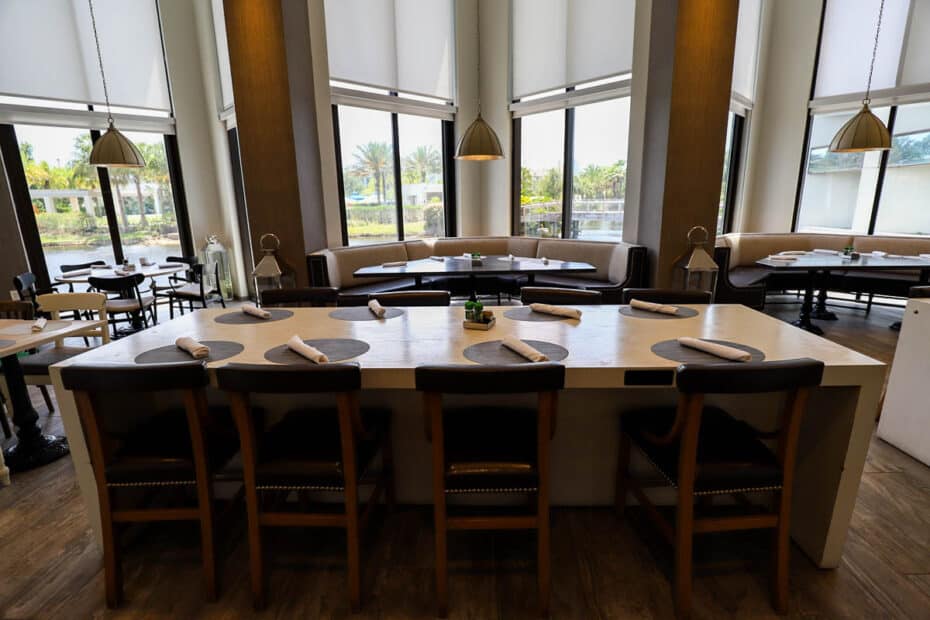 On my first morning at the resort, I considered having breakfast at Letterpress. But, ultimately, I decided against it.
However, the following day I woke up early to photograph the pool area before it got too crowded. By the time I finished, I was reasonably hungry and caught myself perusing the menu posted outside of the restaurant.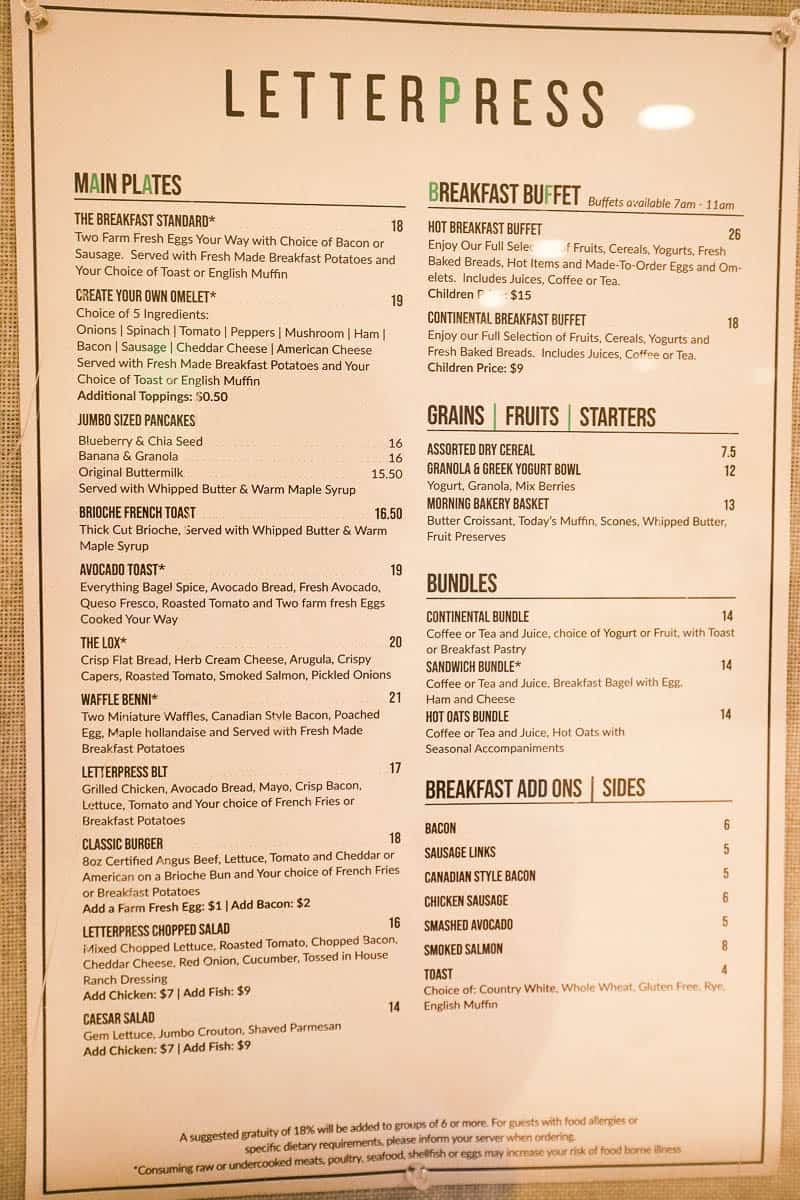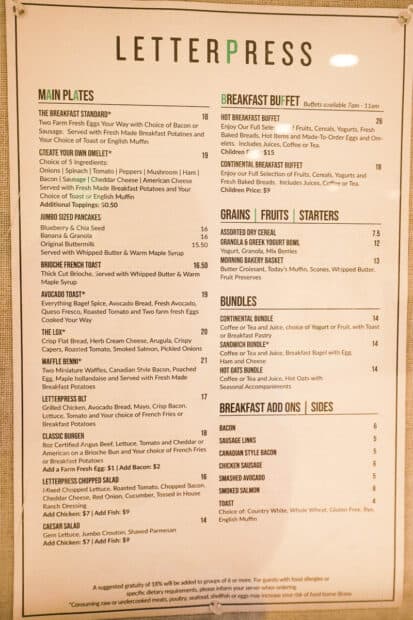 In addition to the breakfast buffet, a few of the entree items interested me. My initial plan for the morning was to walk over to Disney Springs and enjoy breakfast.
After all, it was a Saturday morning, and several restaurants at Disney Springs offer reputable brunches on the weekend. However, I had spent the last eight nights or so in a handful of hotels, and I have to admit I was dragging.
Sometimes, the most straightforward option is the best option. And in this case, walking into Letterpress, being immediately seated, and ordering breakfast was the right choice.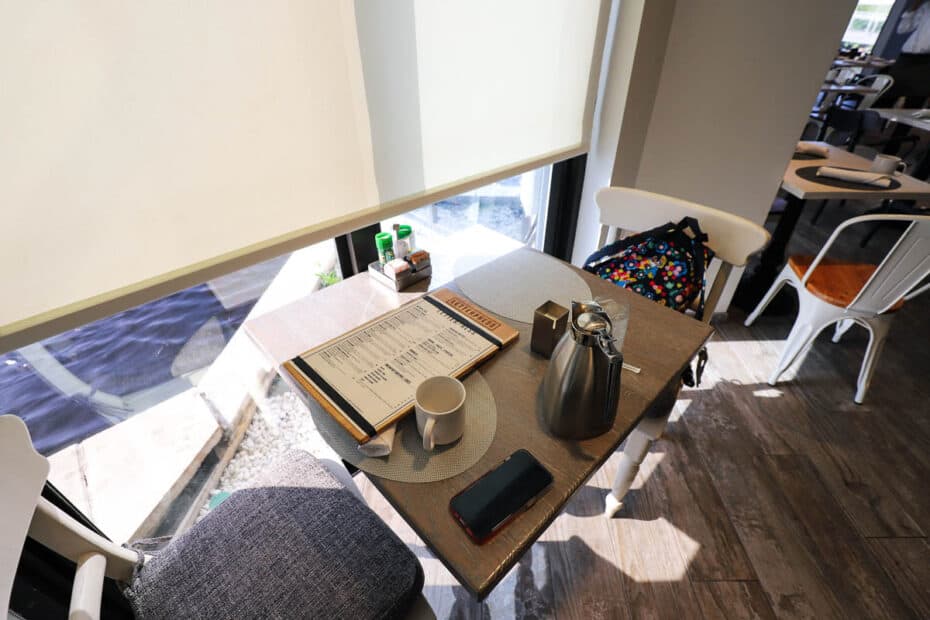 Before ordering, I told the server I would like to glance over the buffet. And I'm glad I did because I ended up enjoying what I ordered more than I would have the buffet.
Don't get me wrong, the buffet might work better for you, but given some dietary restrictions, I fared better with the entree.
The breakfast buffet has a variety of cereals with milk. There were packs of peanut butter, jelly, and cream cheese near the toaster.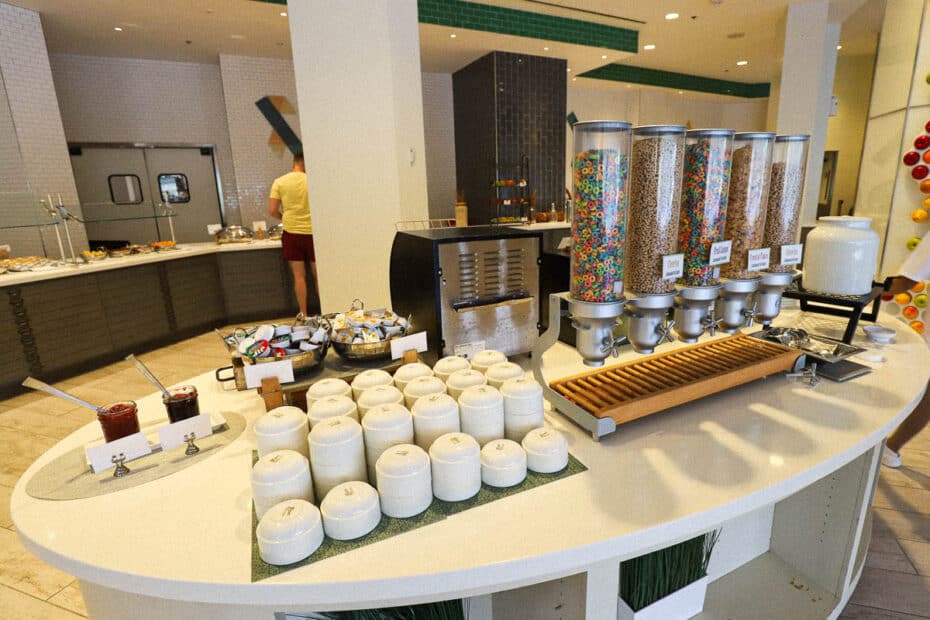 Here is the toaster on the opposite side. Four types of bread were available: wheat, white, English muffins, and bagels.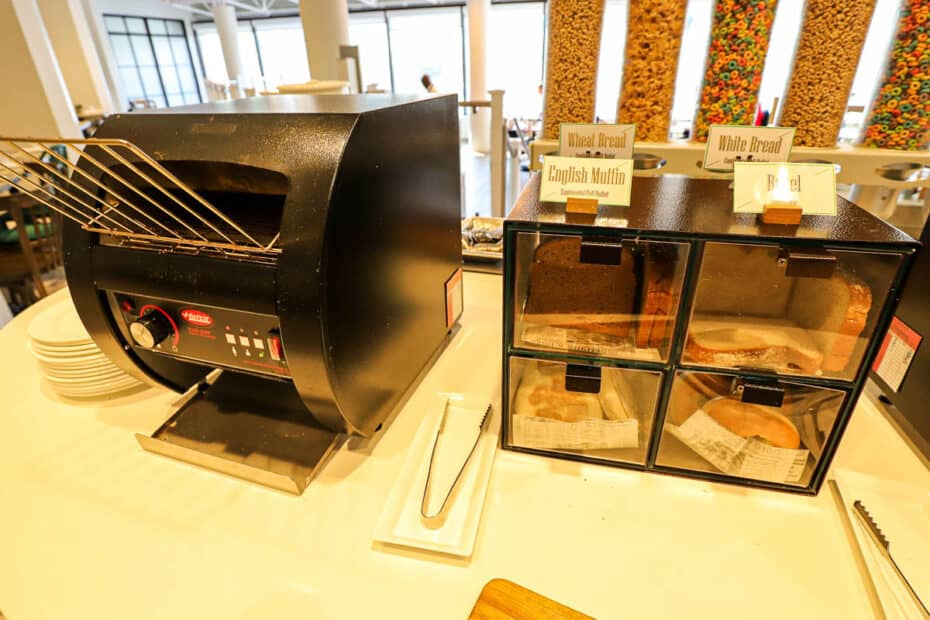 Fruit.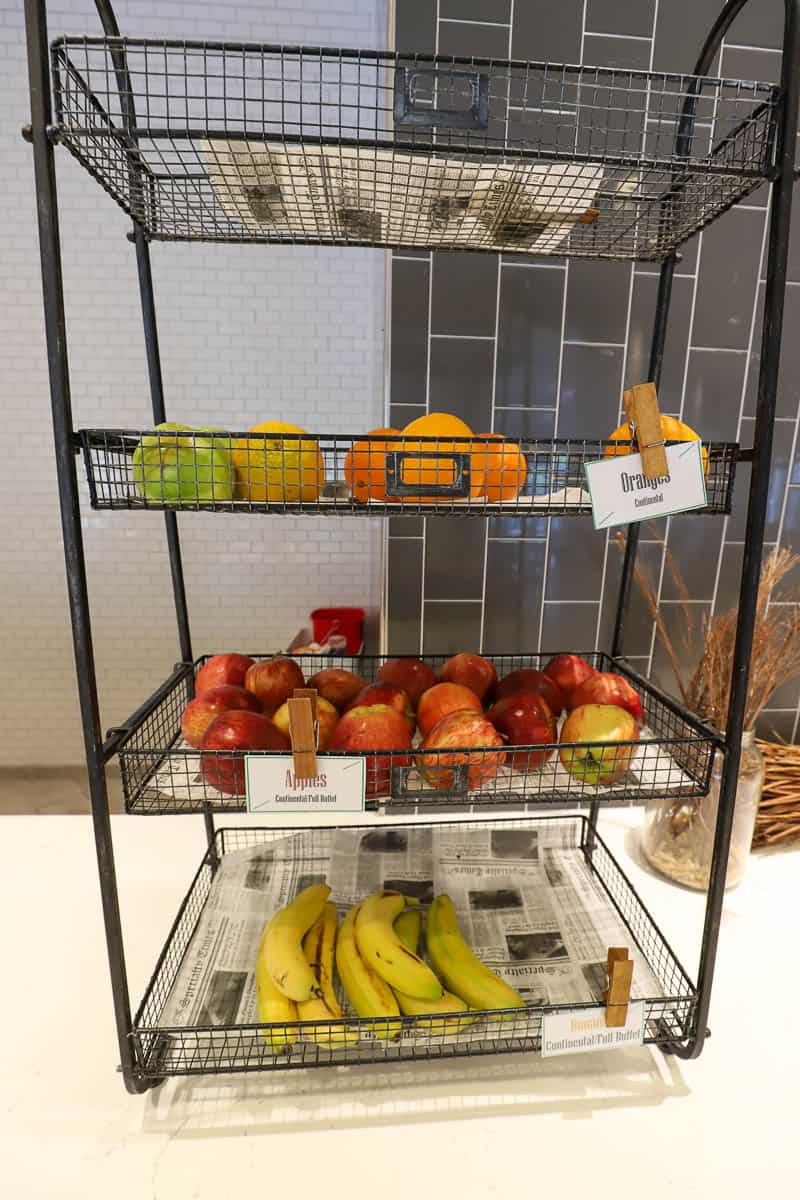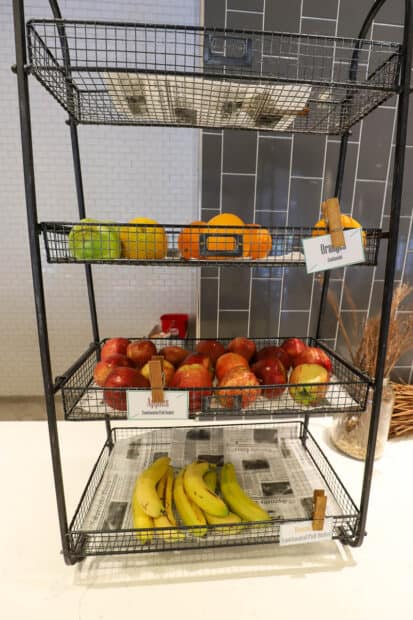 Meat selections included bacon and sausage.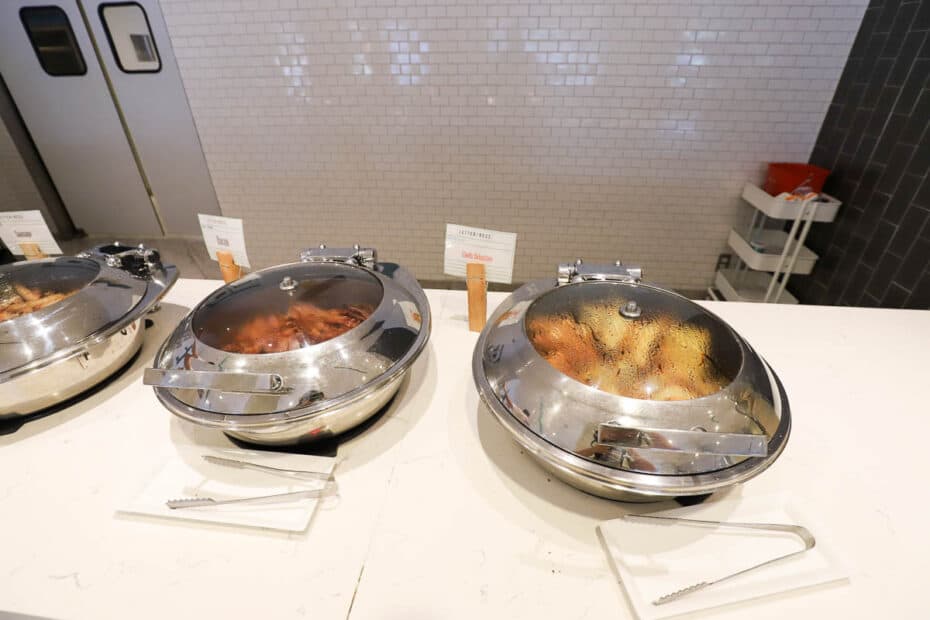 There were also scrambled eggs and potatoes.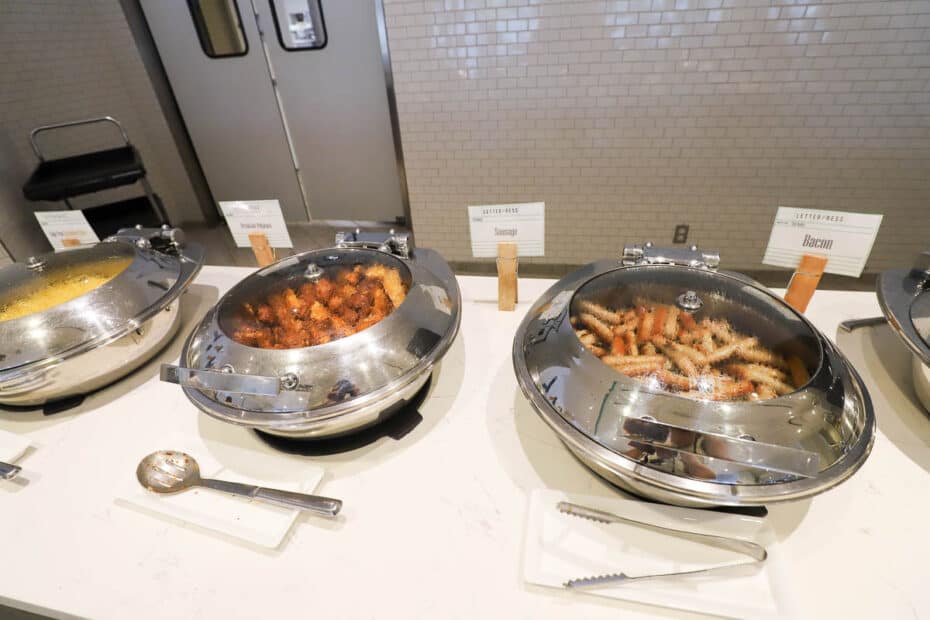 Here are a few fresh fruit selections.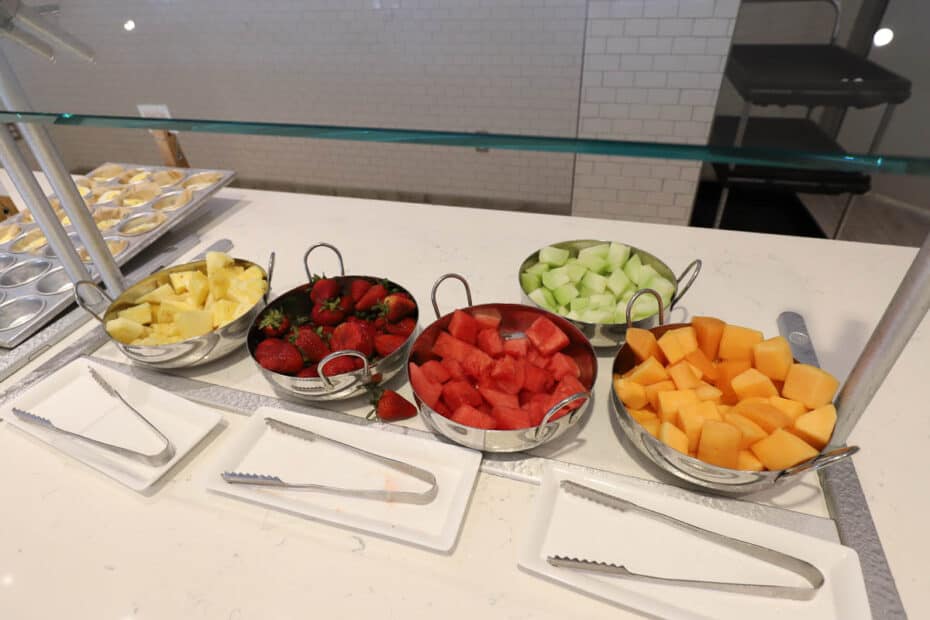 Or you could go with a fruit cocktail, mixed yogurt, and boiled eggs.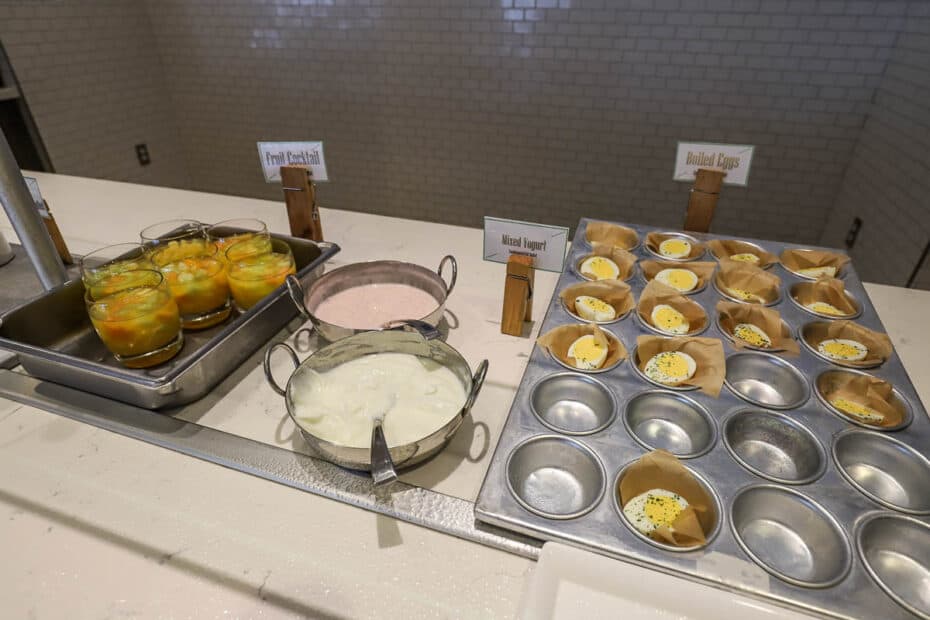 Maybe a fresh croissant suits your fancy.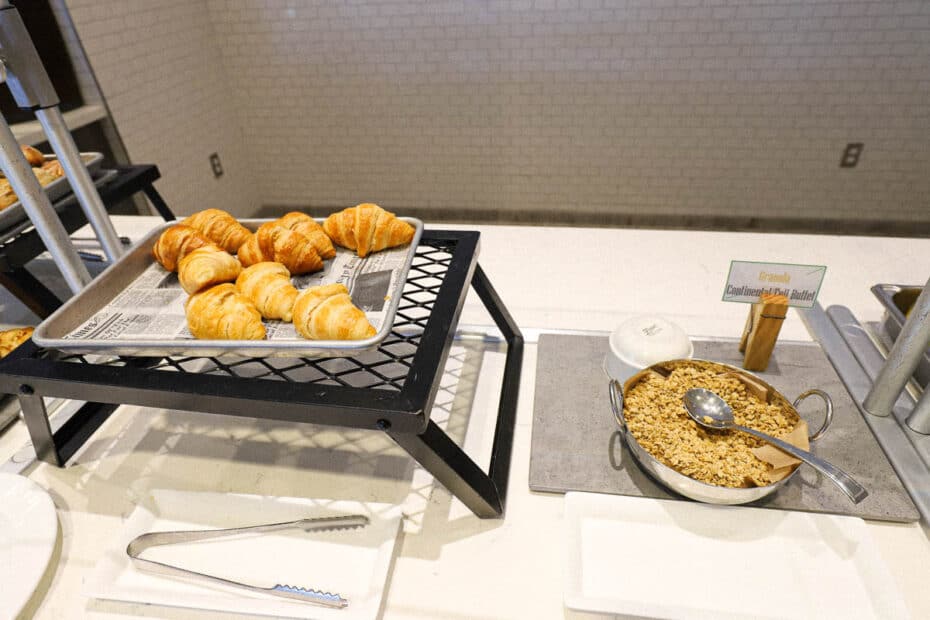 If not, there were several other delectable pastries.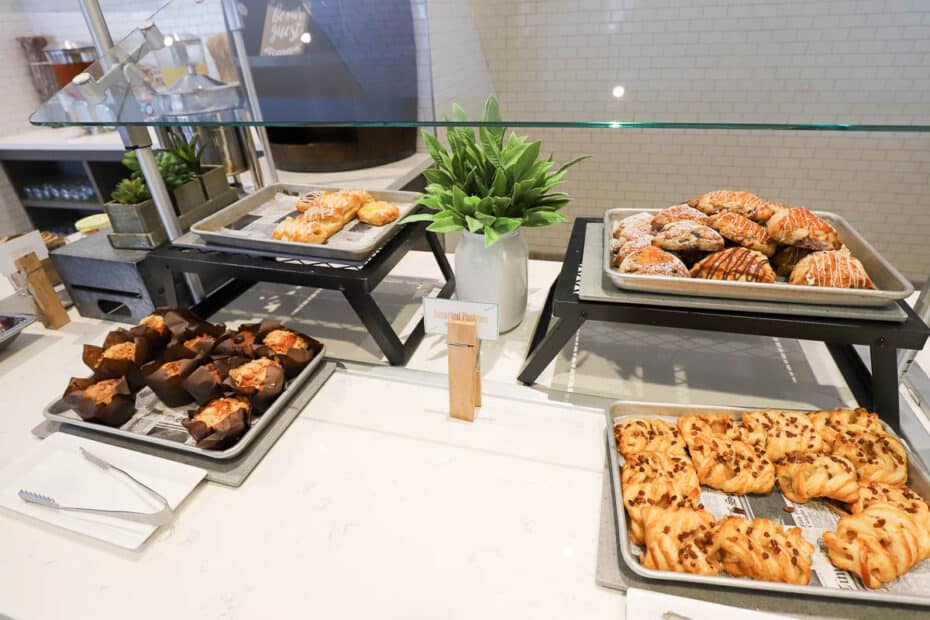 Naturally, there was oatmeal with all of the usual sugary toppings.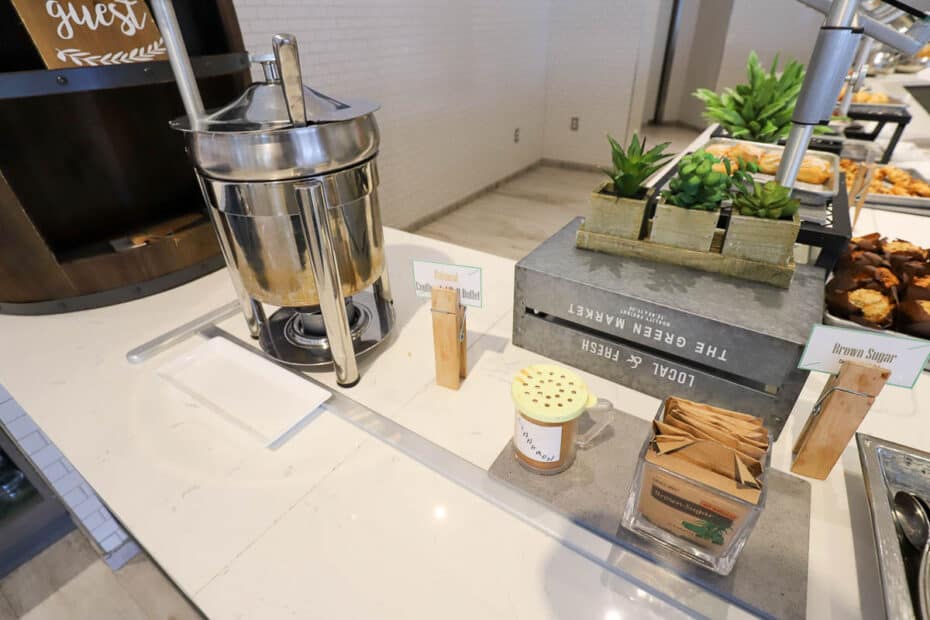 I thought the omelet station was a nice touch.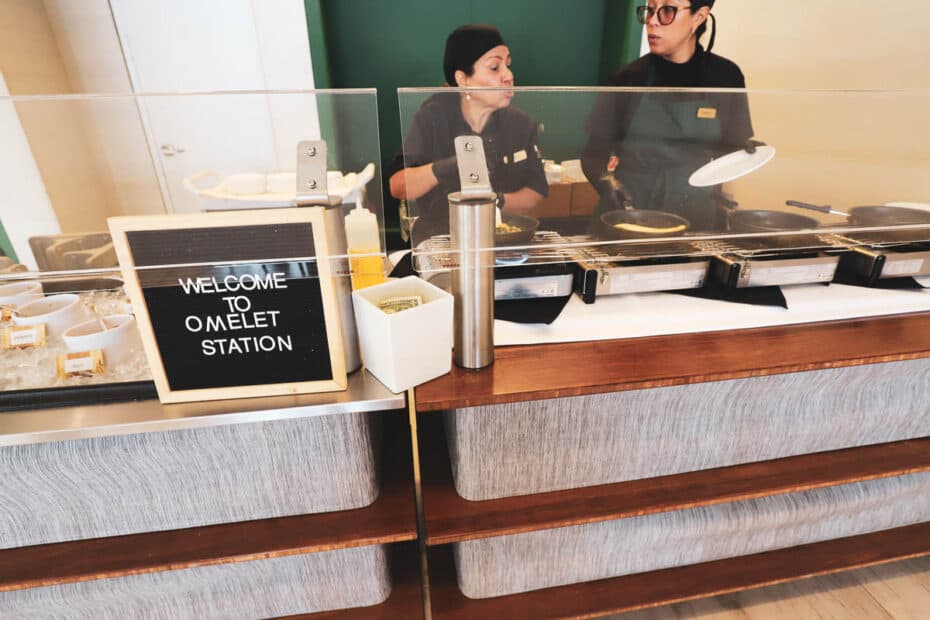 There were several toppings available to add to the mixture.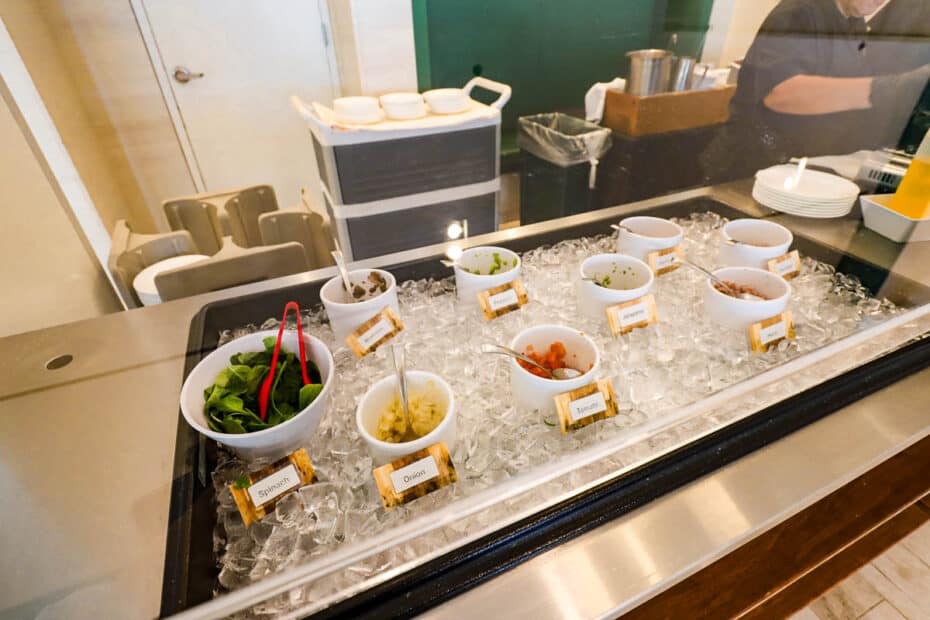 And there was a make-your-own waffle station.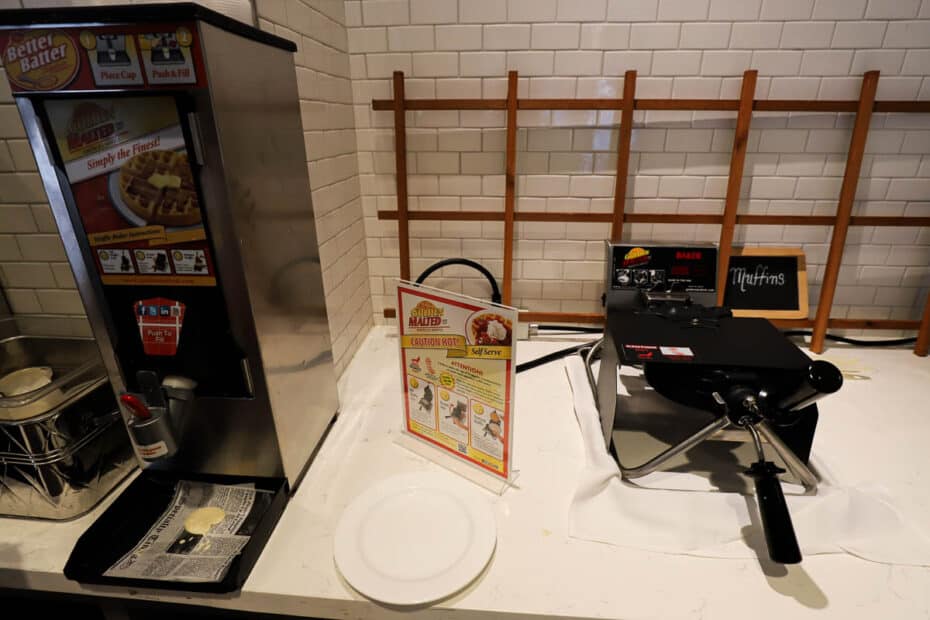 While taking the buffet photos, I had two very distinct thoughts. The first was that the offerings reminded me of what you might receive for breakfast while staying club level at one of the Disney World Resorts.
Secondly, I had just come off a stay at the newer Fairfield Inn and Suites at Flamingo Crossings. That hotel offered a complimentary continental breakfast buffet with oatmeal, fruit, the same make-your-own waffles, pastries, bread, bacon, and sausage.
Related: Fairfield Inn and Suites Flamingo Crossings Review
Unfortunately, I didn't see too many differences between this buffet and the one I had received with my stay.
Regarding pricing, there were two options for the buffet at Letterpress. The first option is the hot breakfast buffet, which costs $26.00. That selection includes everything on the menu.
Or you could order the continental buffet for $18.00, which is a rip-off, in my opinion. The continental version includes cereal, fruit, yogurt, bread, and one beverage.
Seriously? That's outrageous for a bowl of cereal with a piece of bread and fruit on the side. No thanks.
Thankfully, I took the time to browse the buffet before ordering. I knew quickly that I'd do much better by ordering something from the menu.
You can preview the menu here if you like.
So I went with the avocado toast and ordered it to accommodate my needs. The menu described the dish as an Everything Bagel spice mix, avocado, queso fresco, roasted tomato, and two farm-fresh eggs cooked to your liking.
Instead of eggs and tomatoes, I substituted breakfast potatoes and a cup of fresh fruit. In addition, I ordered a side of chicken sausage.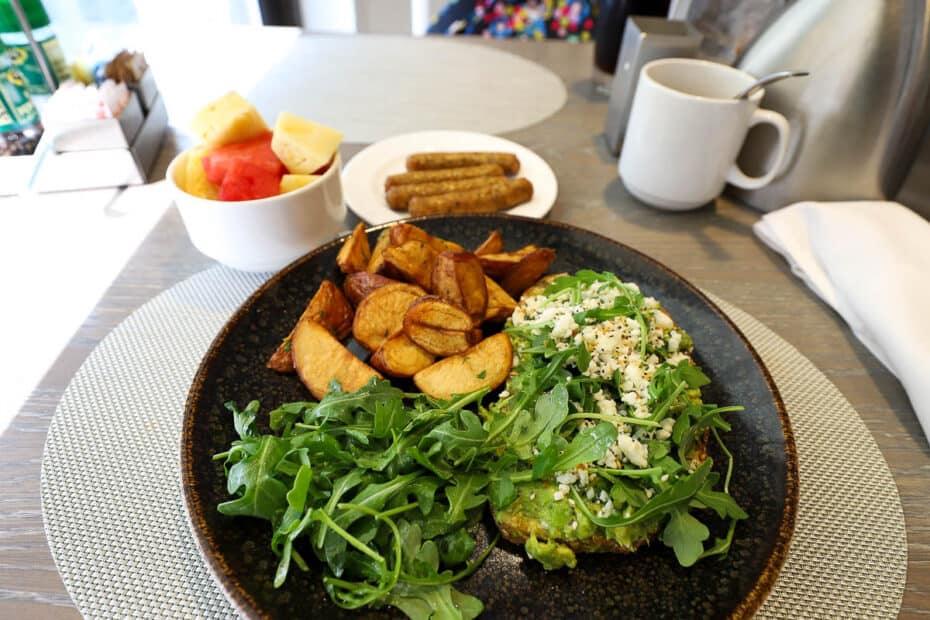 The entree was $19.00, and the side of sausage cost a $5.00 upcharge.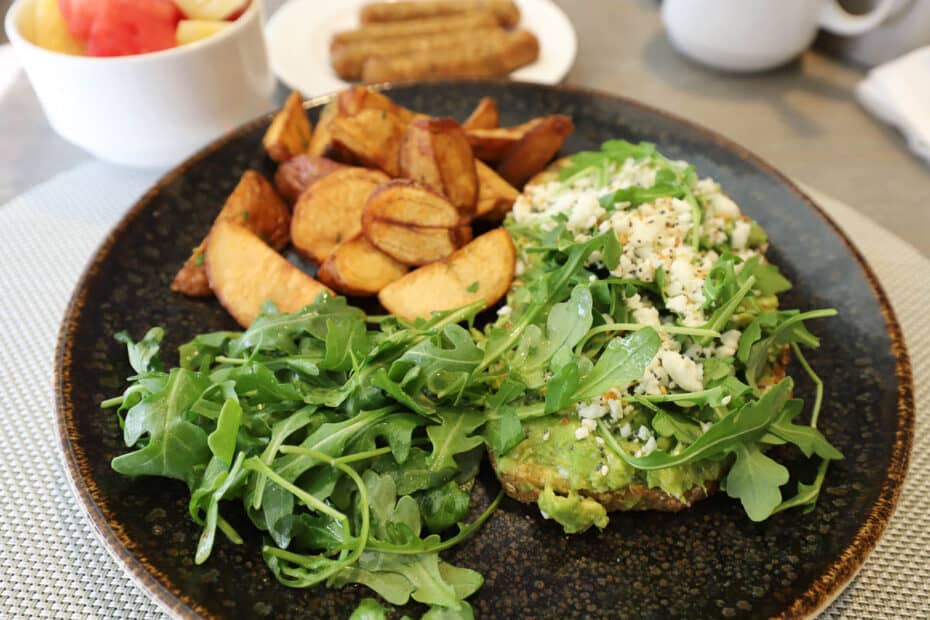 So for $2.00 less than the price of the buffet, I received a delicious freshly-prepared entree. And with the potatoes, fruit, and extra order of sausage, it felt like I had made a trip to the buffet.
Ultimately, I was happy with my decision to have breakfast at Letterpress, given I was tired and hungry. However, had I gone with the buffet, I would not have enjoyed it.
If you're at any hotel restaurant that offers a buffet, I recommend looking it over and previewing the menu before making a decision. Unfortunately, few buffets rarely win out.
One of those few is the buffet is Boma at Disney's Animal Kingdom Lodge. And I'll have a new review coming up soon of the fantastic breakfast buffet at Bonnet Creek's JW Marriott.
I'm getting hungry just thinking about either of those.
For more breakfast spots, make sure to check out the following articles:
In case you missed it, we have the following reviews covering Buena Vista Palace:
In the comments: What are your thoughts on this breakfast buffet at Letterpress? Would you be inclined to go with the buffet or order something off the menu?