Hyatt Regency Grand Cypress Review
Are you looking for an affordable luxury hotel that's near Disney World in Orlando, Florida? The Hyatt Regency Grand Cypress may be just the answer.
Hyatt's hotel chain is known for offering the best of both worlds regarding luxury amenities and spacious guest rooms. And the Grand Cypress has many features that make it a great place to stay, including being right around the corner from Walt Disney World.
Other features include multiple pools, tennis courts, a fitness center, an on-site golf course, and more! In this review of the Hyatt Regency Grand Cypress, I'll go over everything you need to know to plan a stay here.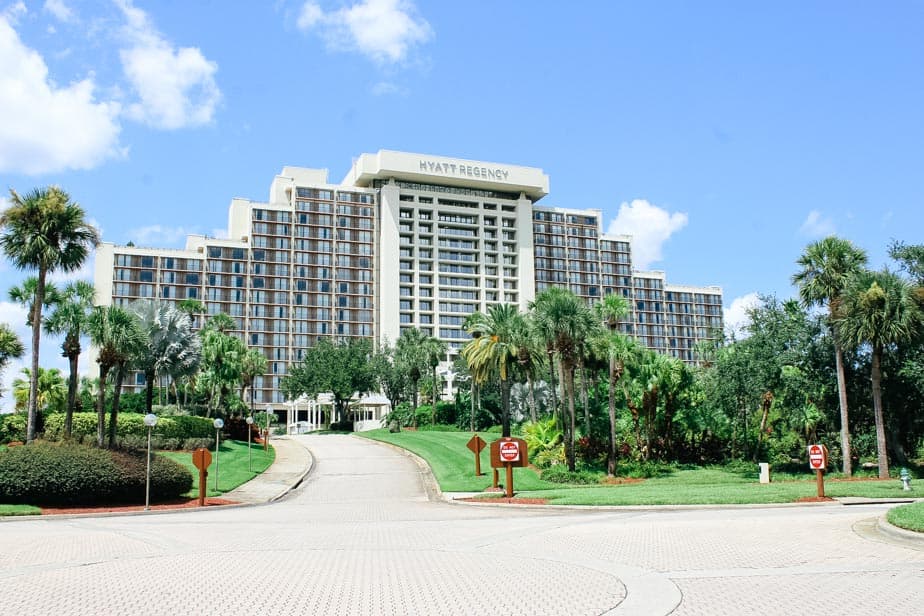 Upfront, I do have to warn you. This hotel is beautiful. And after reading this review, you'll likely find yourself planning your own escape to this tropical paradise. I, for one, was utterly blown away with the resort and look forward to returning in the future.
For those who are new to the site, you'll want to know that resorts are my thing. I keep a running list of resorts to try, and when everything falls into place, I pack my bags (all 10 of them) and am off to my next destination.
And no, it's nowhere near as glamorous as it sounds. But it is essential to let you know that this resort review was paid out-of-pocket by me, your humble resorts gal.
Now that we got that out of the way, I can continue to gush about the Hyatt Regency Grand Cypress. And yes, it's a gush-worthy hotel.
As a critic of sorts, I find myself using fewer exclamation points along with the sentences they complete. But that is not the case with this Hyatt!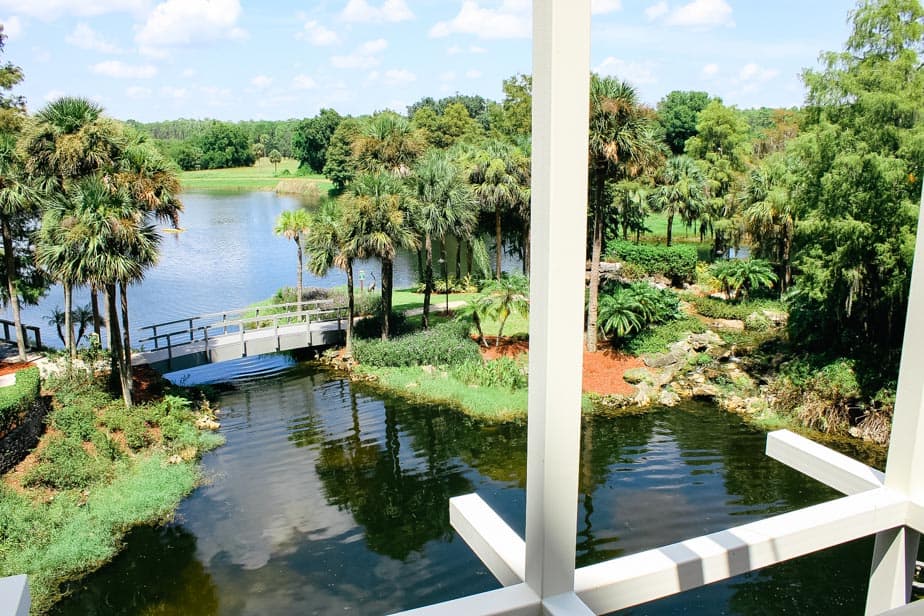 First, let's get into location specifics. The resort is located less than 5 minutes from Disney Springs. You'll drive through the small strip of hotels at Disney Springs and hang a left on SR 535 at the traffic light. For reference, if you were to take a right on SR 535, you'd find yourself driving under I-4 in less than 2 minutes and about 10 minutes from International Drive, depending on traffic.
Anyway, after taking the left turn onto 535, you want to stay in the left lane and take a left at the next light. The next left turn will have you at the entrance of the Grand Cypress.
After stopping at the gate, the security guard directed me to the front entrance to check-in. On the morning of my visit, I had checked out of another place reasonably early, making my arrival time at around 10:30 a.m. here at the Grand Cypress.
Surprisingly, the front entrance was a bit of a madhouse when I arrived. Granted, it was Labor Day and standard checkout time. However, later on, I found out that the hotel had hosted a large wedding party over the weekend in addition to the extra holiday traffic.
My first thought upon seeing the crowd at the hotel was shocking. I hadn't anticipated there being so many people there. Little did I know that I'd practically have the entire hotel to myself for the next few days.
Despite the crowd out front, the check-in process was simple, and the hotel had a room ready for me immediately. It was before 11:00 a.m.! And that is a proper use of an exclamation point.
You see, in my experiences, as of late, at the Disney World Resorts, the rooms are rarely ready upon arrival. And while that's a minor complaint, it's not what most of us are accustomed to at Disney.
After checking in, it did take a few moments to find someone to help with my luggage. However, that was only because about 40+ groups were checking out at the same time I was arriving. The bell service guys were running to keep up with everyone.
A few moments later, my luggage was on a cart, and I was directed to drive around to the back of the hotel to park. The Hyatts parking lot ended up being a bit of a different setup than most hotels.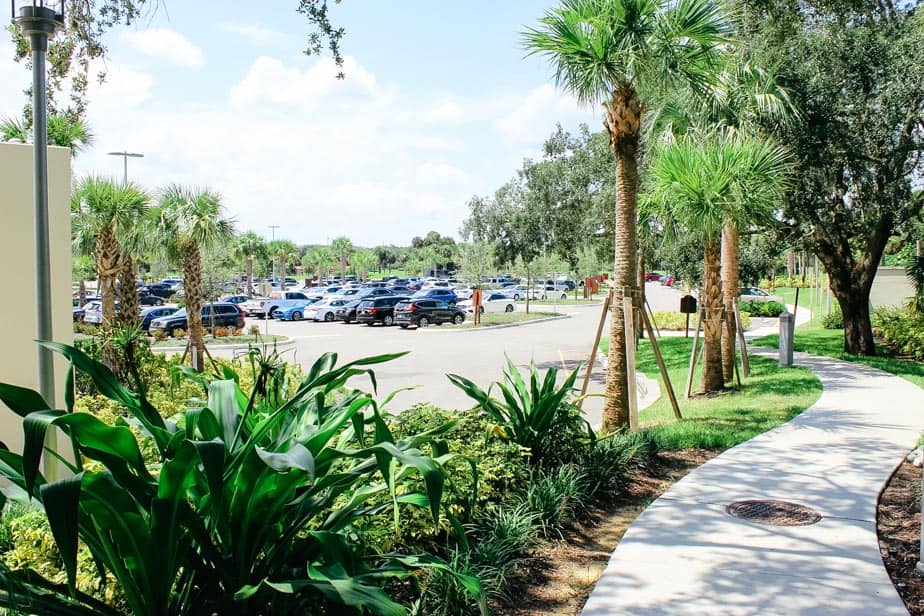 You'll definitely need to drop your luggage off at the front and then drive around to park. I saw a few people trying to manage their luggage, and if you had one suitcase, it might not be so bad. But there's no way I could have tackled this one on my own.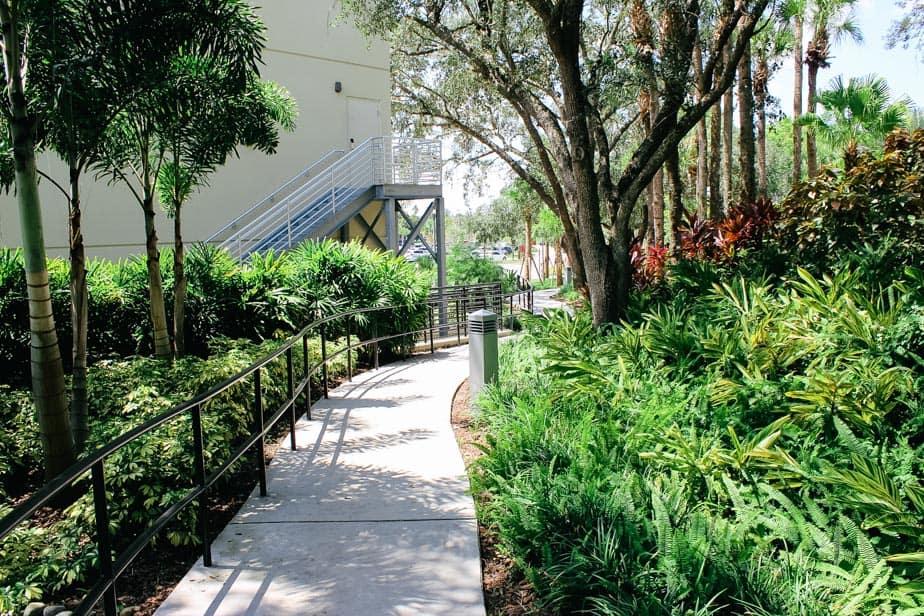 With that being said, the walk from the parking lot through the hotel's large backyard is more than pleasant. You see, the Hyatt Regency Grand Cypress sits on over 1500 acres.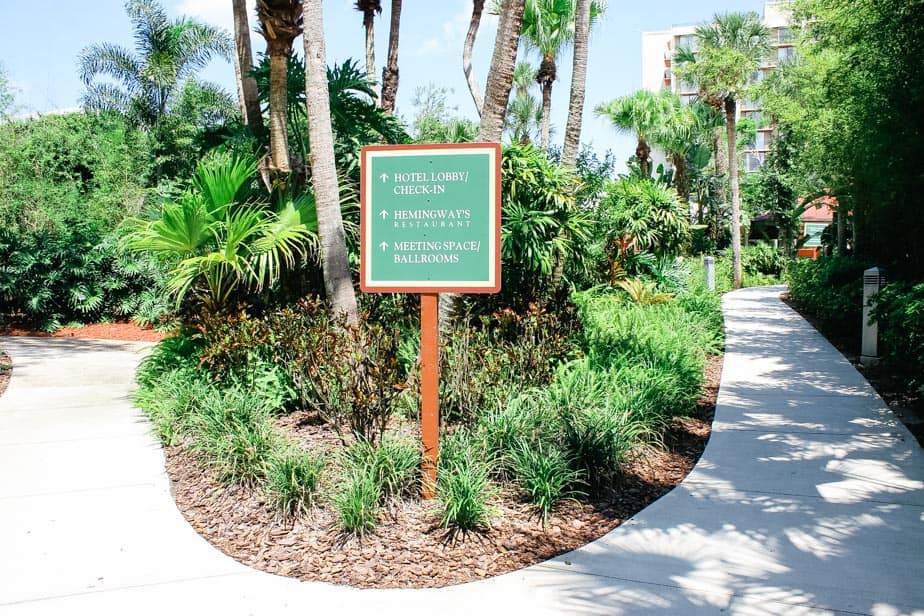 Yes, it's a vast property. We're going to take a look at just how large it is via a bicycle tour, momentarily.
However, first, we're on our way to check out what my guest room had to offer. After making my way back up to the towering hotel, I located the elevator. There are five glass elevators toward the corner of the lobby.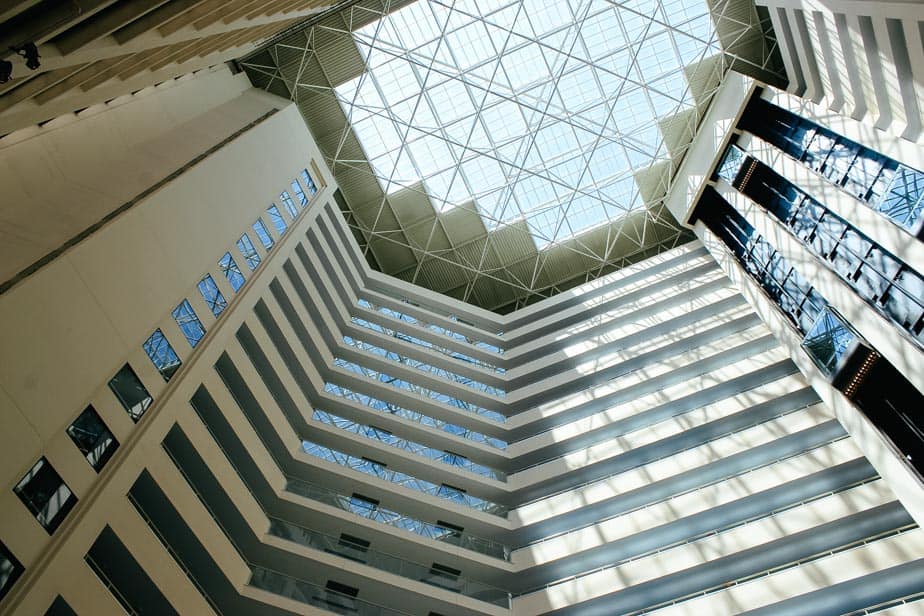 I'll tell you now; this hotel is not for the faint of heart when it comes to heights. Or at least you'll want to request a lower floor if you don't want to be so high up.
The building is a mix of framed glass with stunning views toward the city in one direction and Walt Disney World in the other. It has a total of eighteen stories.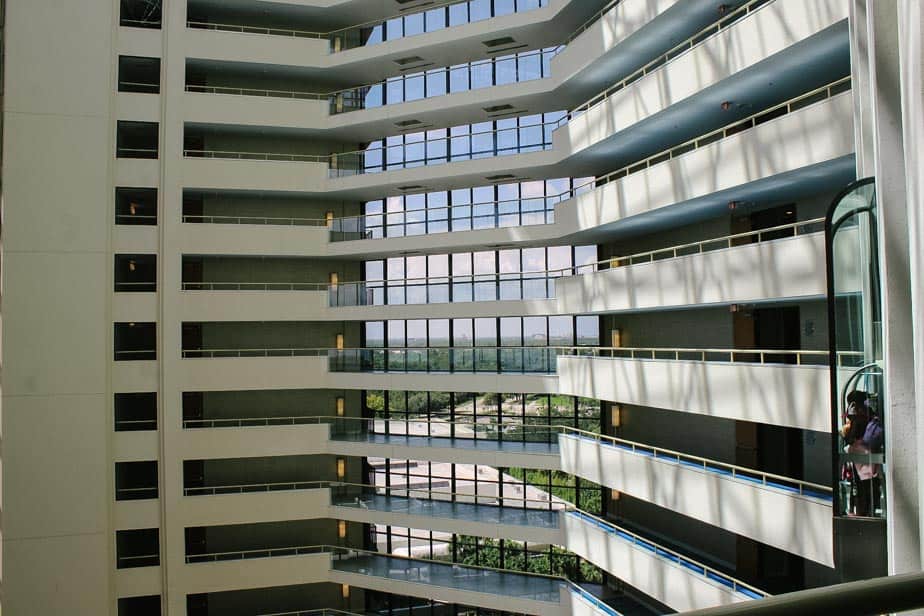 My room assignment was on the tenth floor, and I had a view of the city in the distance.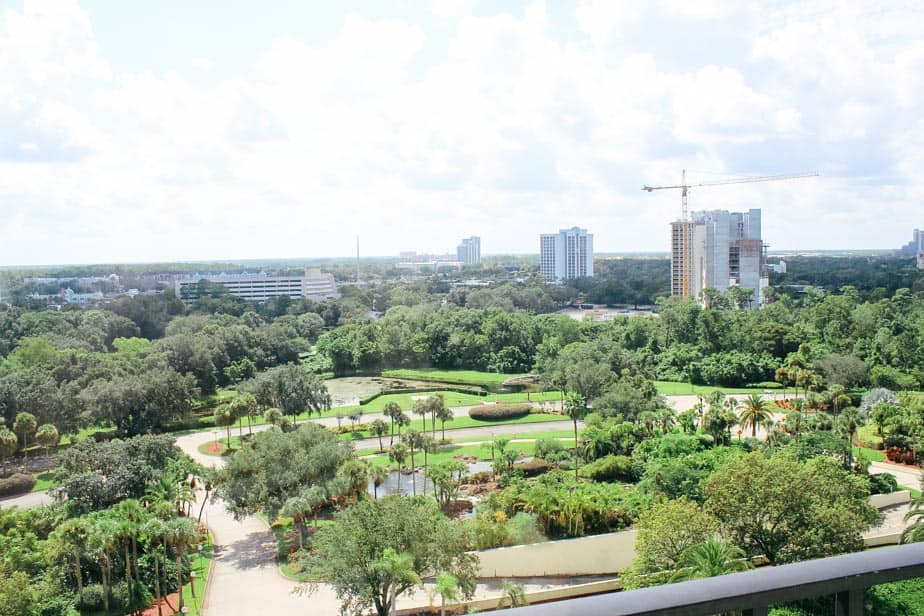 While this view was pleasant and had I known better, I might have considered a lake view that looked out to the resort's beautiful backyard and Disney World in the distance. However, room view costs can add up, so make sure you can justify them by considering the amount of time you'll spend in your room.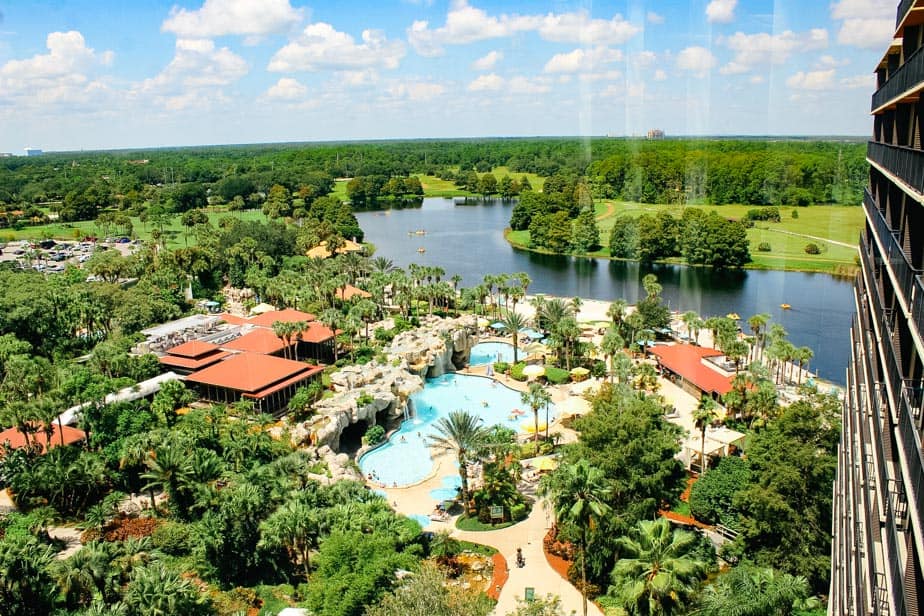 Below we have a look at a standard guest room with a king-size bed.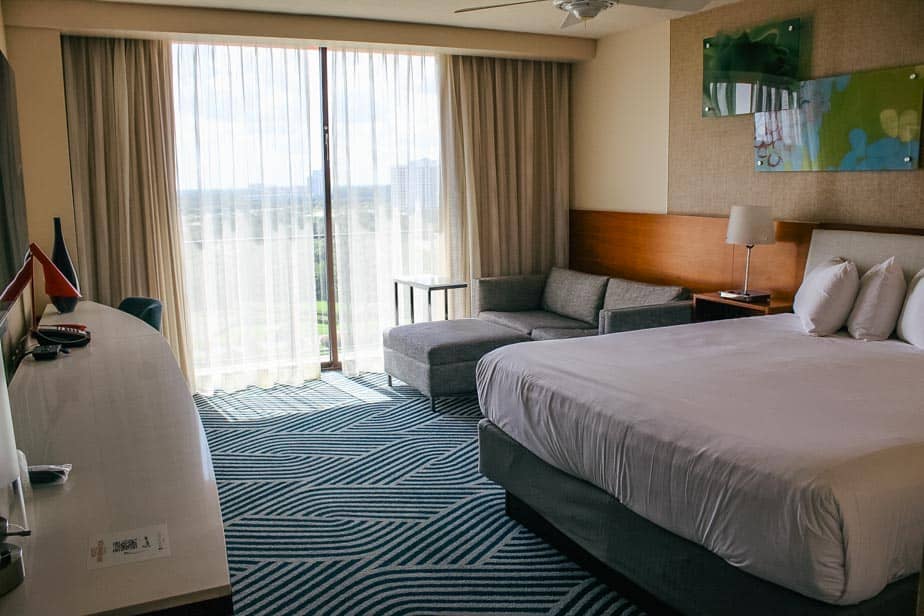 The mattresses at the Hyatt Regency properties are referred to as plush Hyatt Grand beds. This bed provided one of the most comfortable nights of sleep I'd had in a while. I remember waking up feeling well-rested each morning.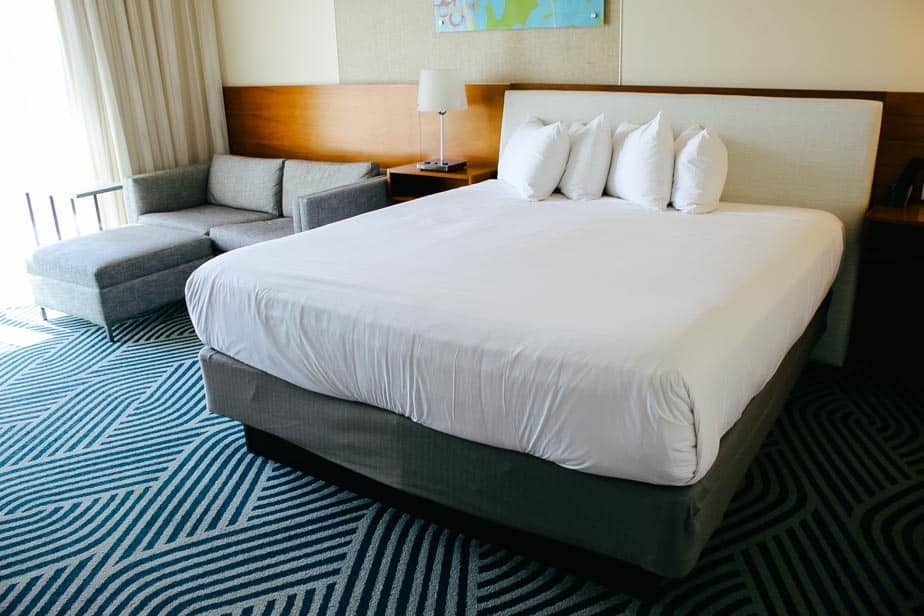 Along the opposite wall, there was storage, a television, and a built-in desk.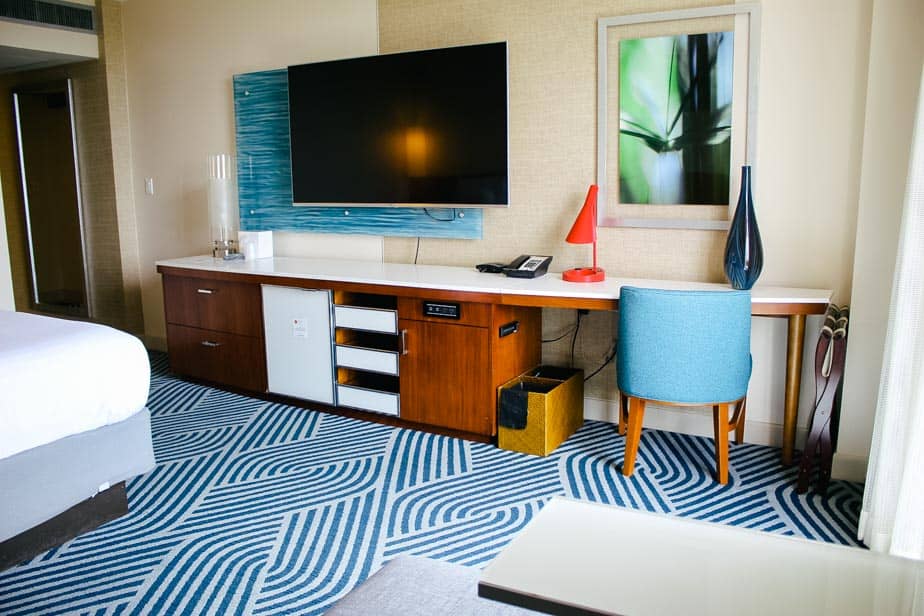 The desk area provided adequate space to get a little work done. I might have written a few articles about the Disney princesses at Epcot from this very spot.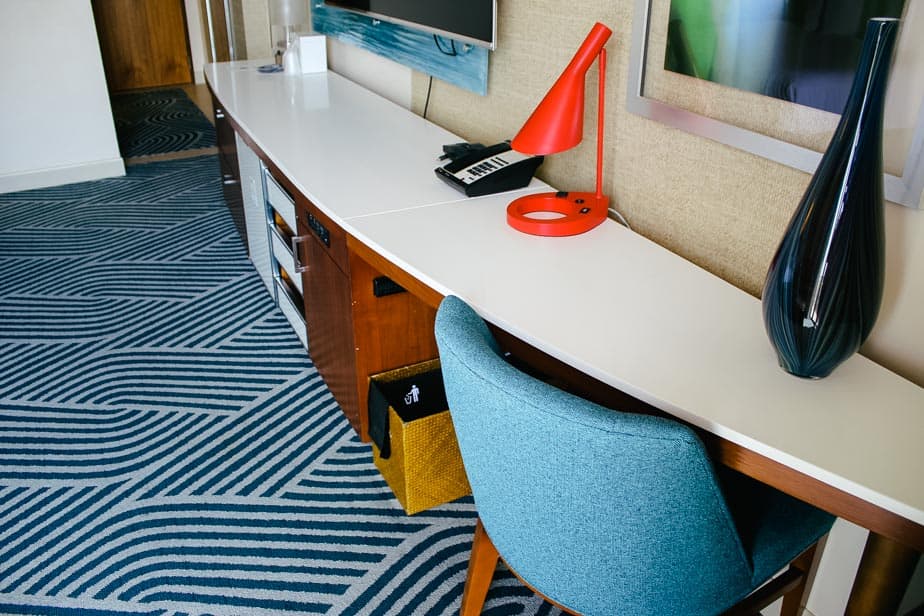 There was a QR code that provided hotel information if you scanned it. The code came in handy because you could scan it to order takeout from the resort's main restaurant, The Lake House.
The restaurant would bring the meal up to your room for an extra fee, or they would text you when it was ready, and you could ride the elevator down to pick it up at the hostess stand. It was all very convenient.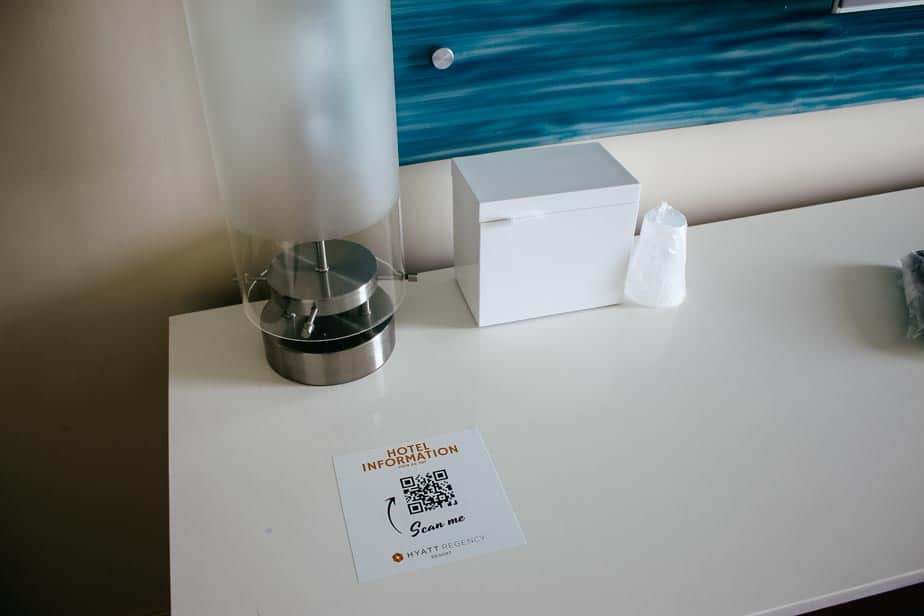 The room had a mini-refrigerator and a few open pull-out drawers for pantry items.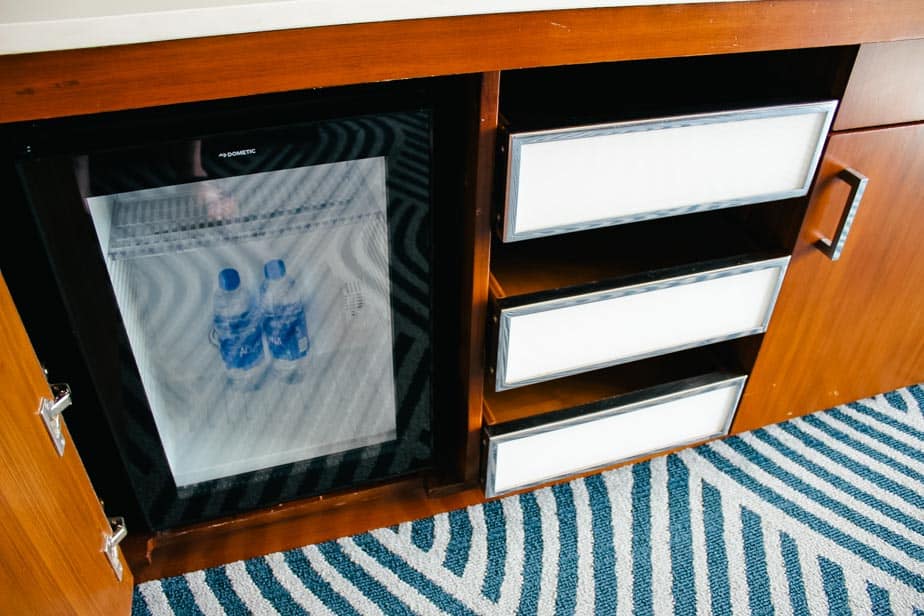 A coffee maker was tucked away in one of the bottom compartments of the dresser. There were several options for coffee and tea available.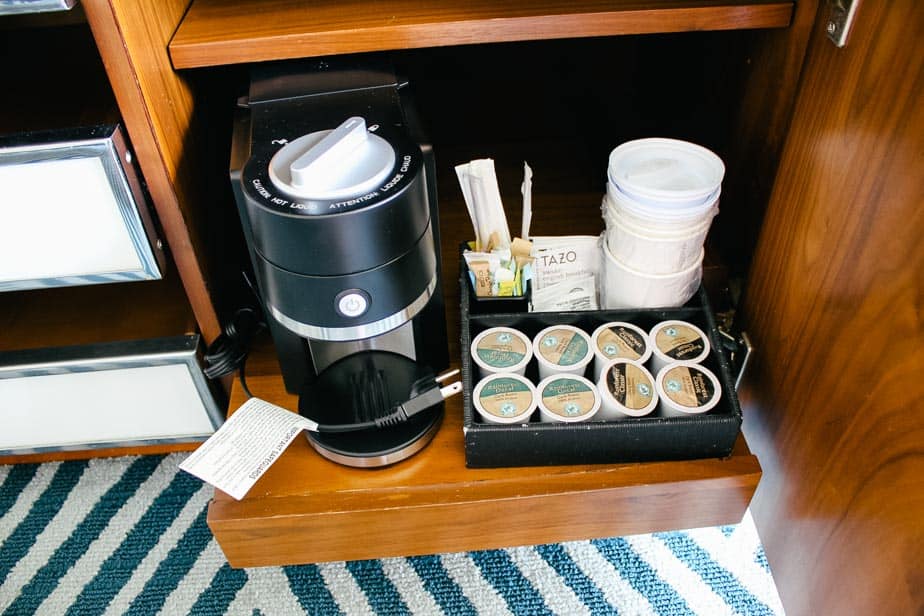 USB ports and outlets were available.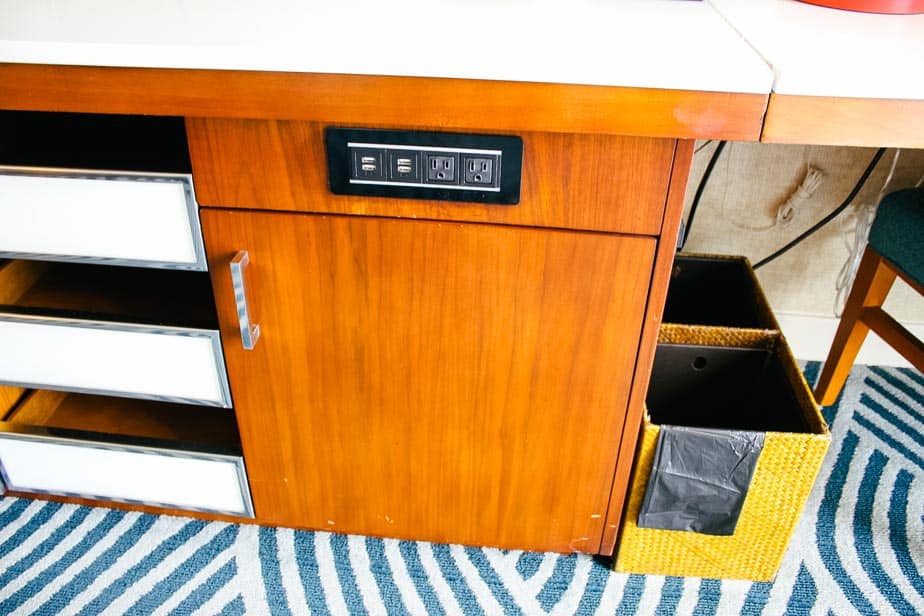 Perhaps, the best part of the room was the bath area.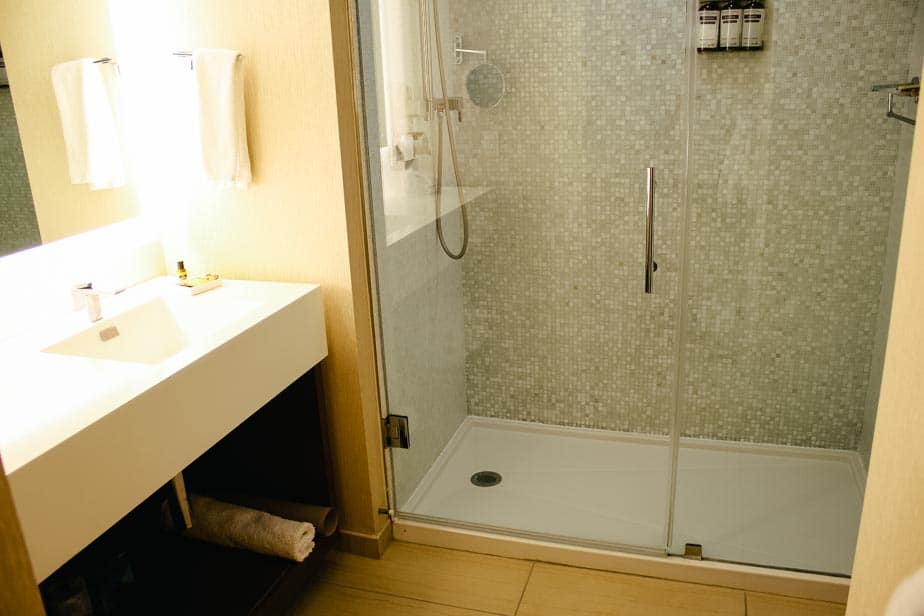 There was a large walk-in shower with elegant tile work.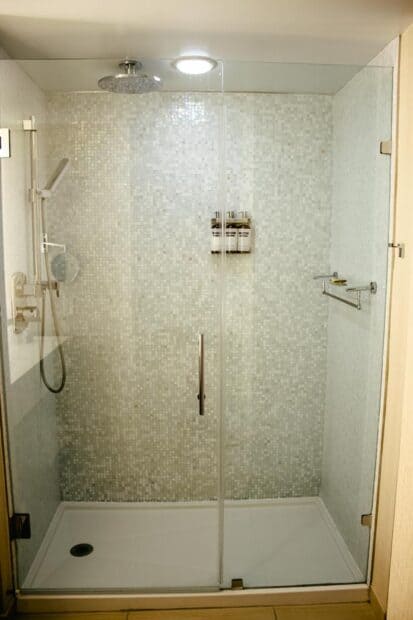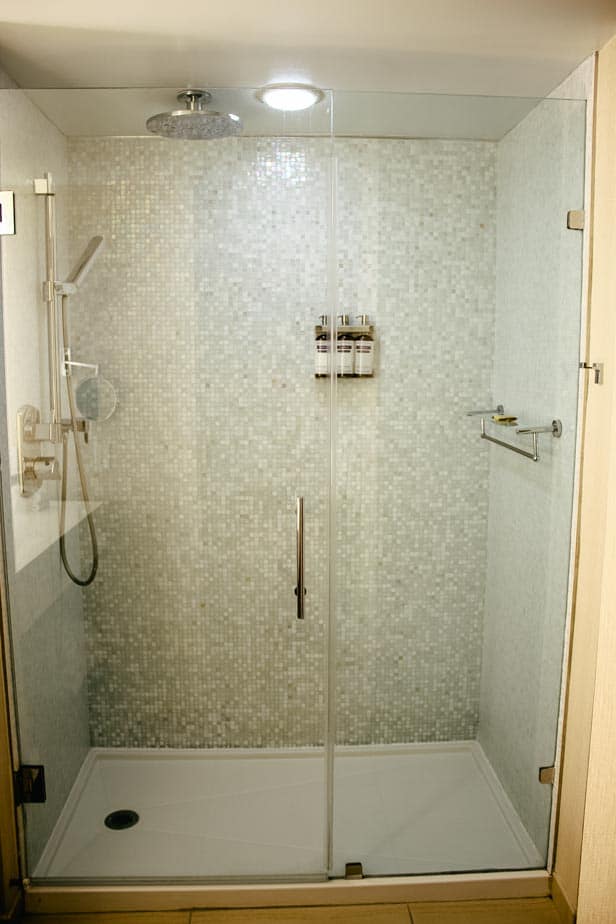 The walk-in shower had a rainfall showerhead along with a standard showerhead that had a detachable element.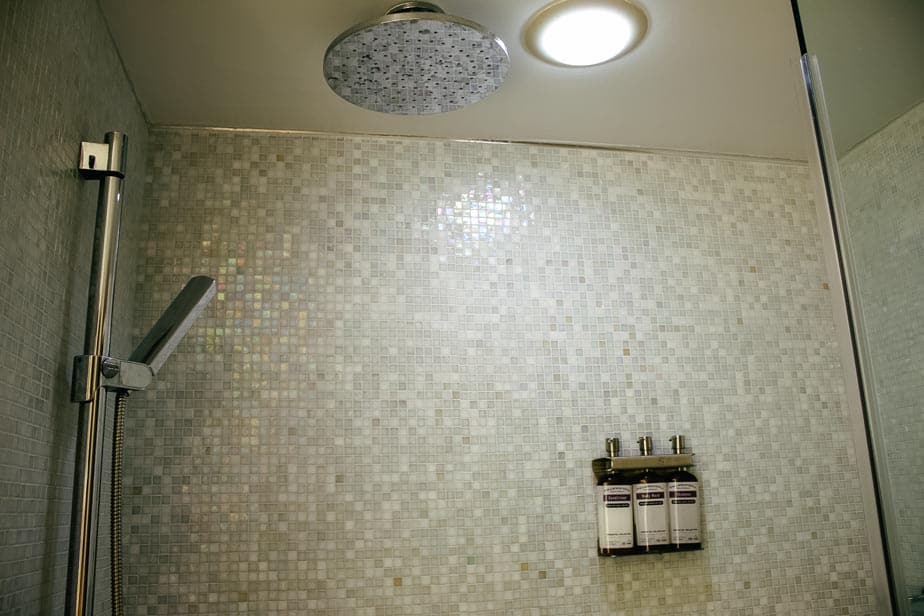 The toiletry items were made by Pharmacopia. I appreciated that they were a high-end product.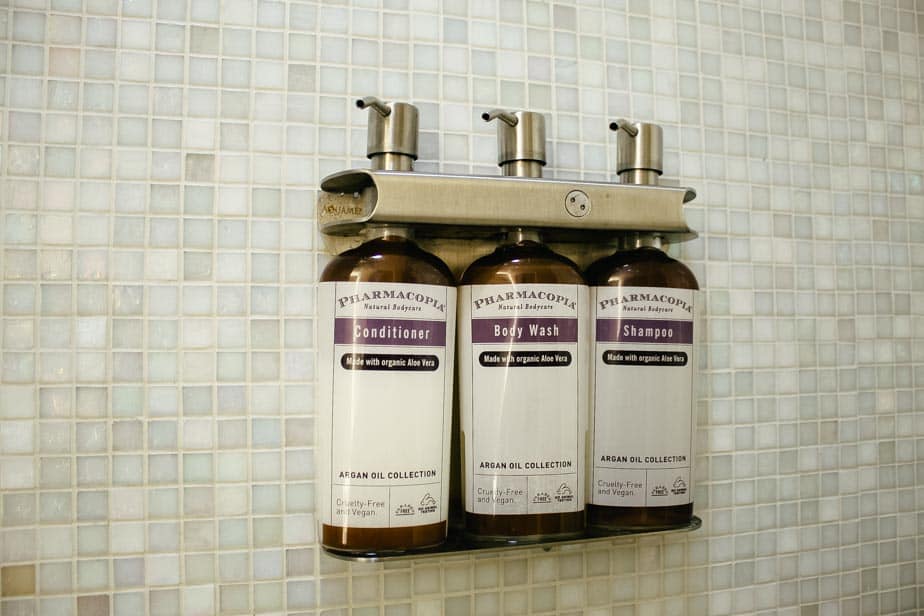 Additionally, I took a photo of this ledge that was installed along the back wall of the shower. These simple touches, like having a place to put your personal items, make a world of difference when you're traveling.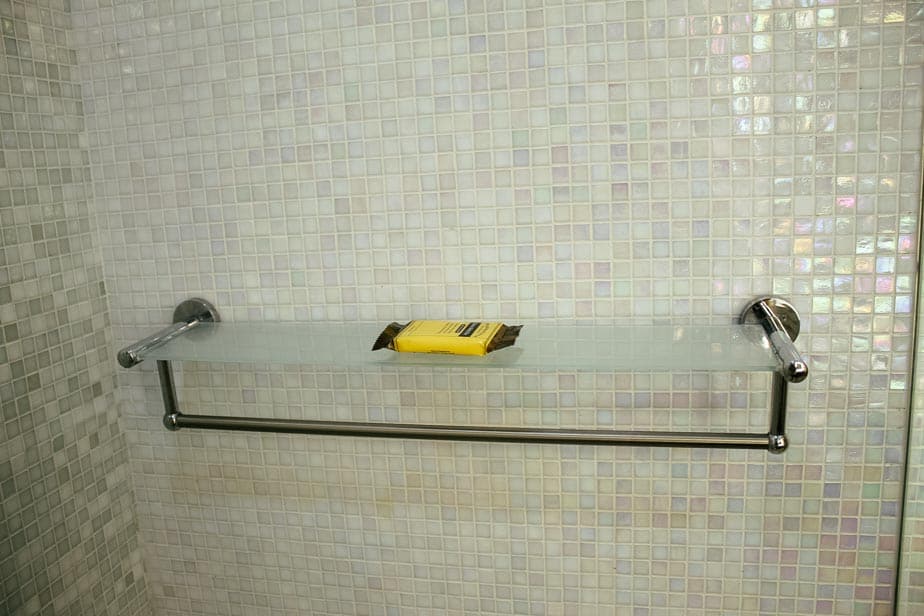 The only thing this shower was missing was a little bench seat along the back. That's a nice feature that we recently saw in our review of Disney's Riviera Resort.
The vanity was open and straightforward. If you've read any of my hotel reviews before, you know I appreciate open spaces. You're less likely to forget something when you can see everything.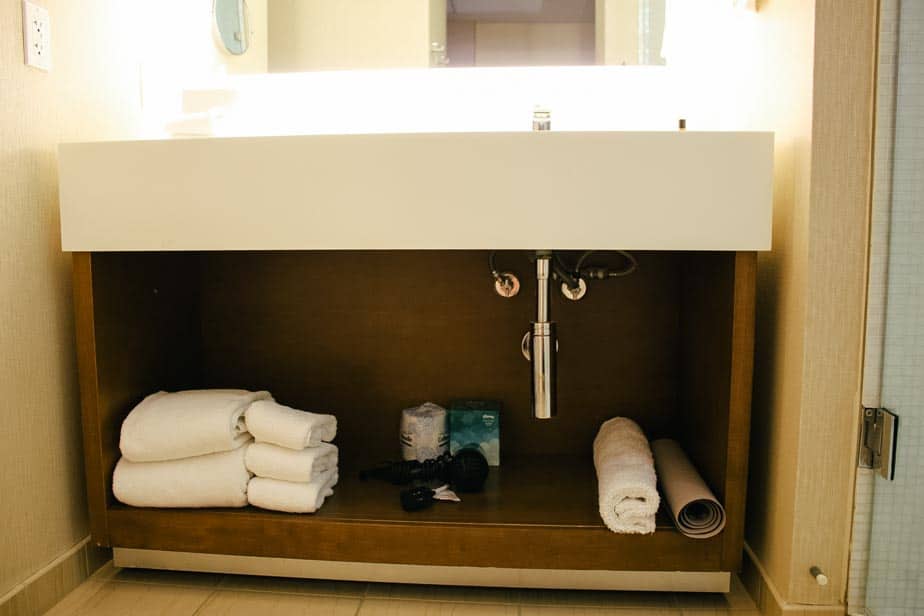 To the left of the vanity was a partially closed-off water closet. The entire space had a sliding door that closed it off from the rest of the room.
In the picture below, you can see how the closet door slides over to serve as the bathroom door when it is in use.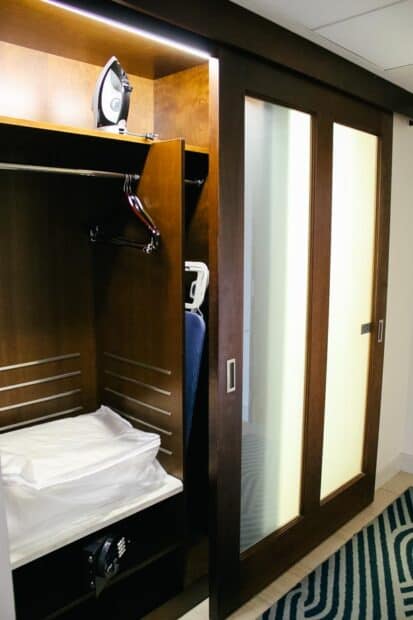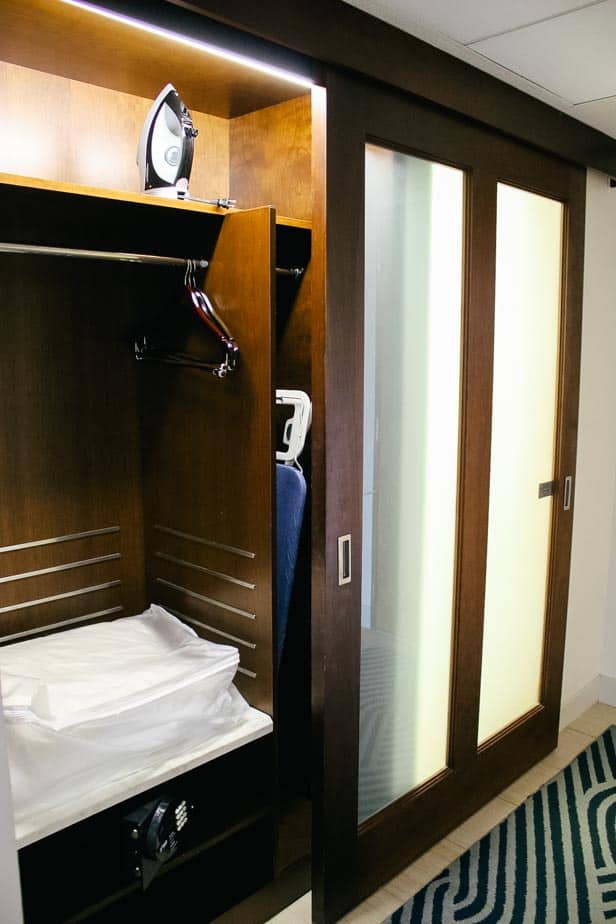 The closet had standard items like an iron, ironing board, room safe, extra pillows, and blankets.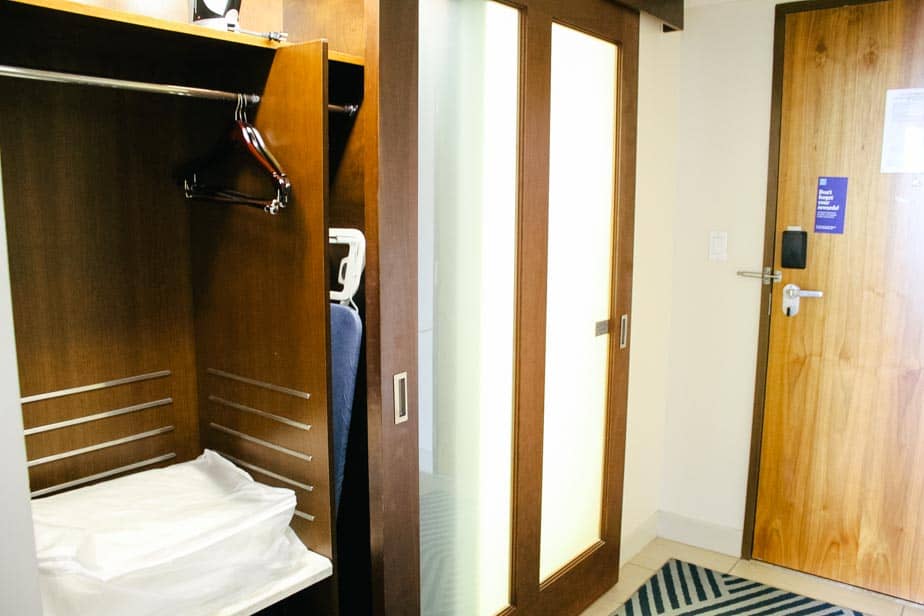 The room did have a step-out balcony, but stepping out is all you could do. There wasn't enough room for a lounge chair.
Overall, the interior of Hyatt Regency Grand Cypress has a modern aesthetic with touches of blues reminiscent of the ocean.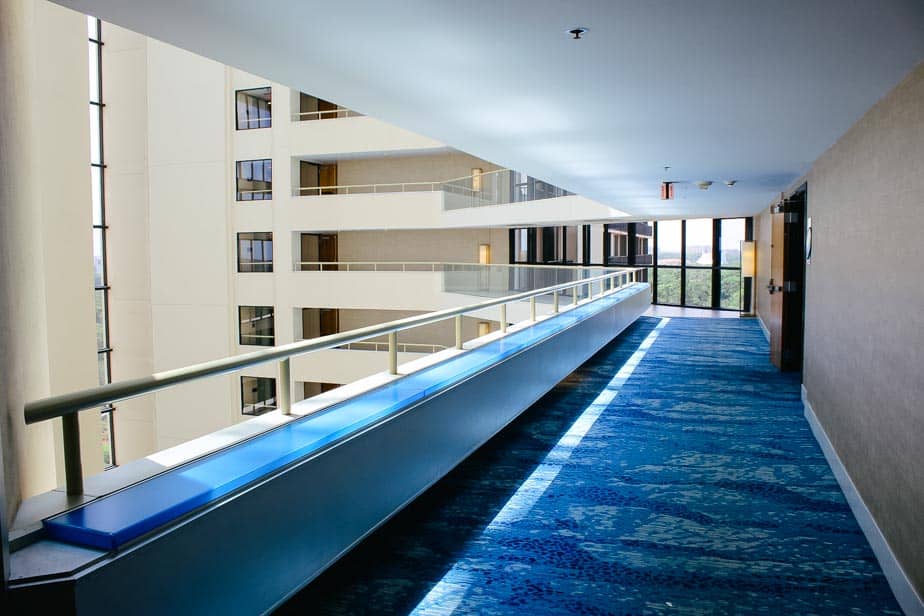 In some ways, it reminds me of Disney's Contemporary Resort, only taller.
Related: Disney's Contemporary Resort Review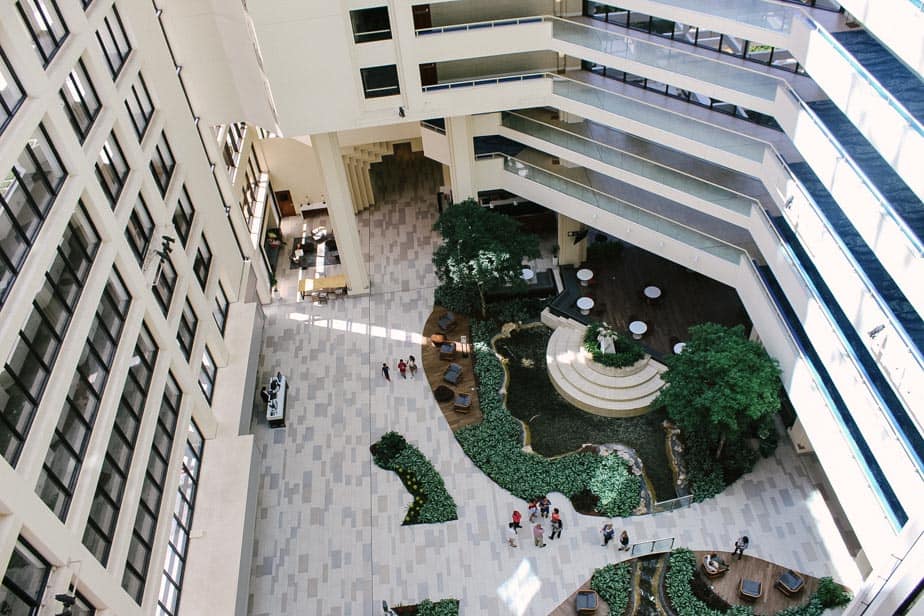 Lounge spaces with stunning views of the resort were scattered across the resort.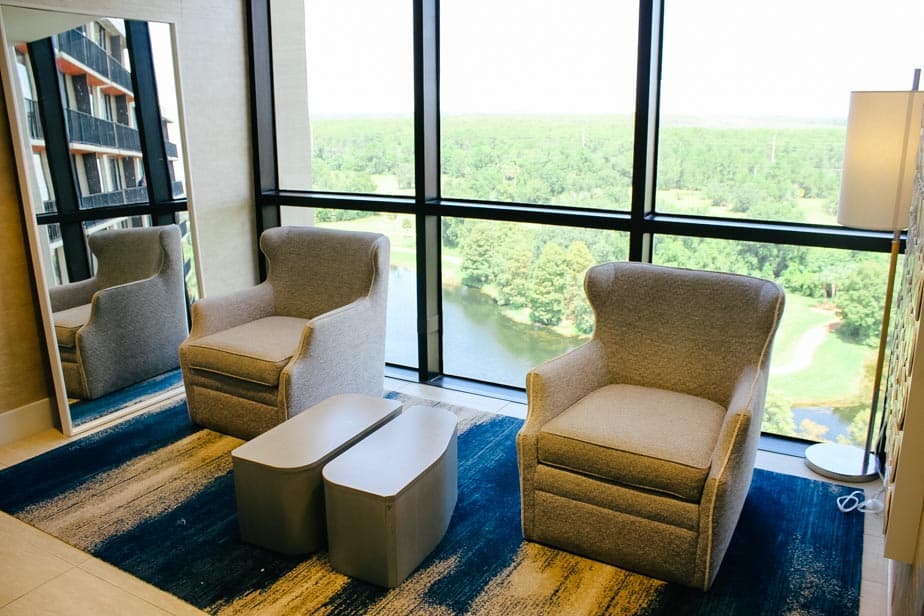 If you don't end up upgrading to a lake view, you might find one of these spots to enjoy. That's what I did.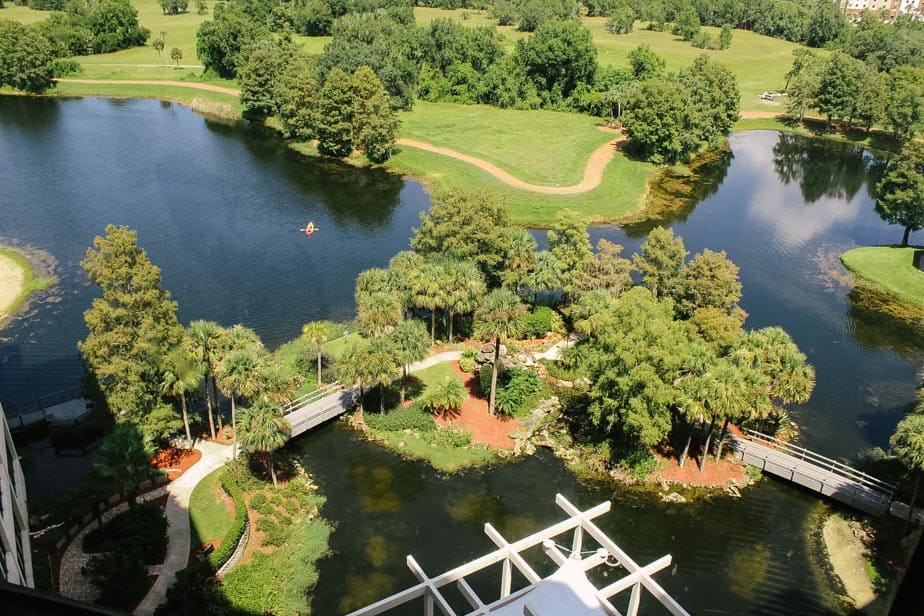 This side of the hotel offers a god view out toward Walt Disney World. You might notice the white Cirque de Soleil tent at Disney Springs on the left-hand side of the picture below.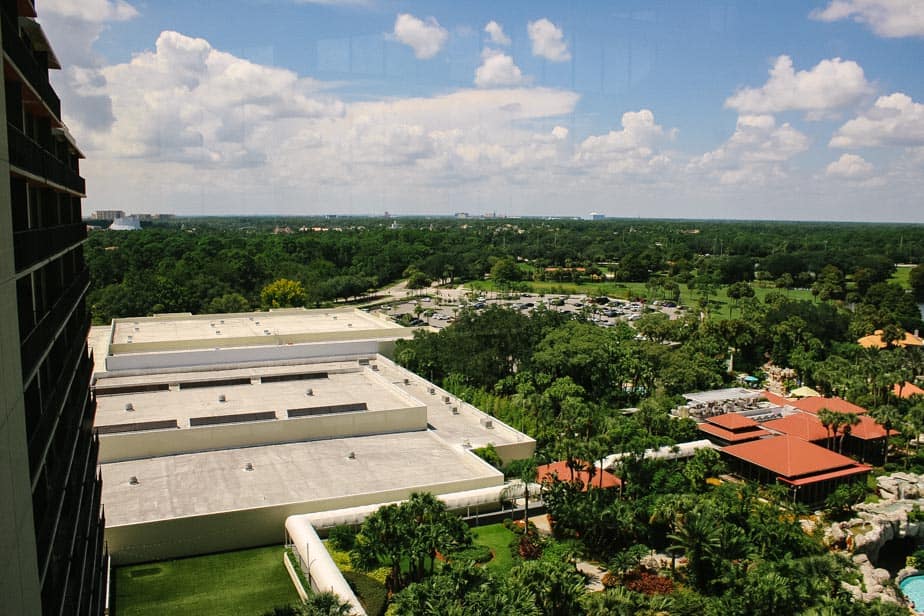 The lobby was full of greenery, which always makes for an agreeable contrast with modern design elements.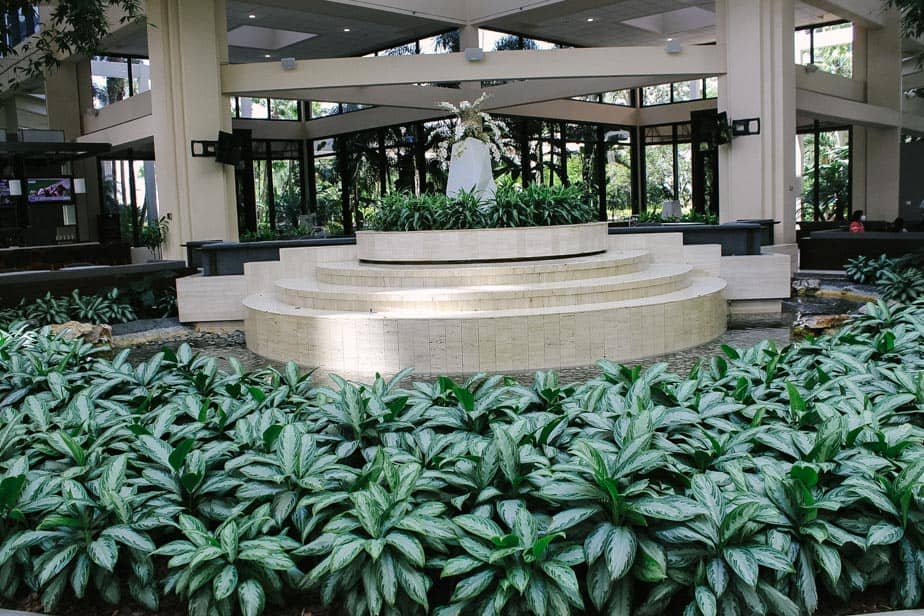 Speaking of the lobby, let me introduce you to Merlot, the lobby ambassador. He is a Green Wine Macaw that was born in 1998.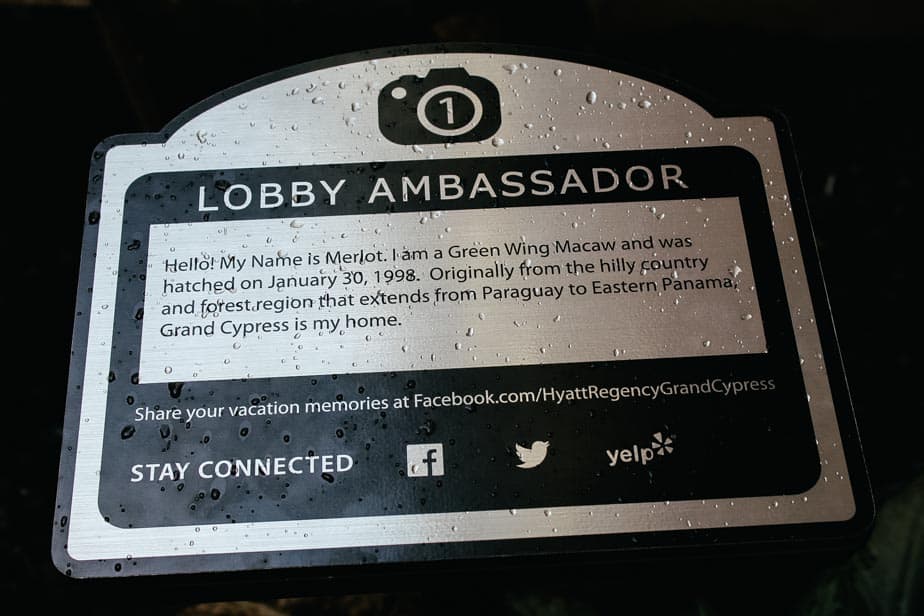 And here is Merlot! I do love birds.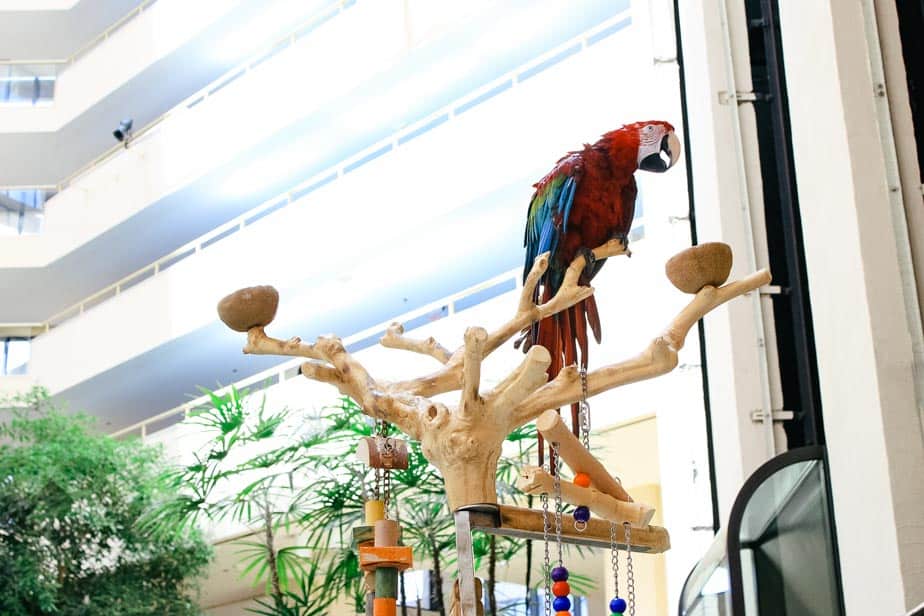 He had just had a bath, so his feathers were a little ruffled.
Right off the lobby was a hallway that led to the Marilyn Monroe Spa. You can read more about the services they offer here on the Grand Cypress website.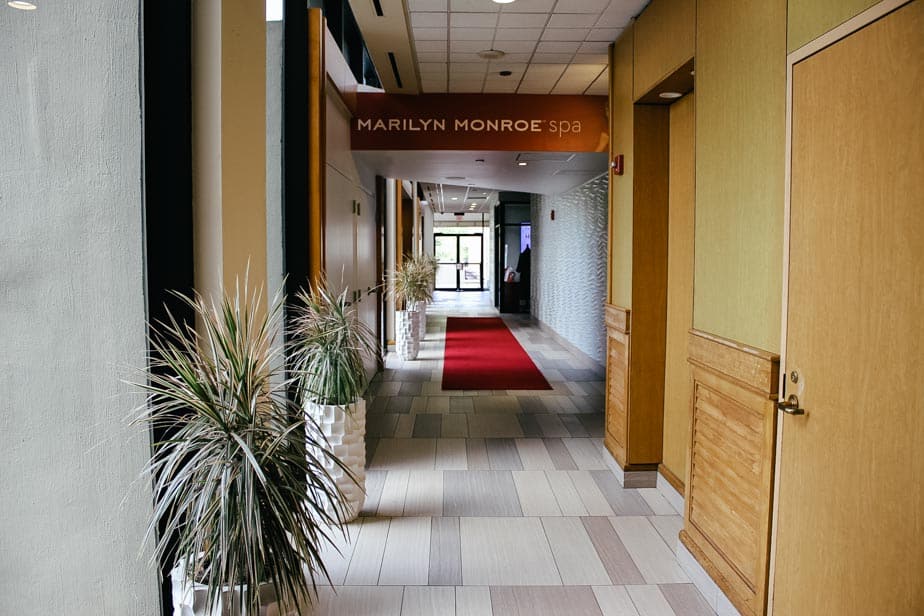 On the opposite side of the lobby, a boutique gift shop offered higher-end travel items, resort wear, and the likes.
Market sat across the hall from the gift shop. This store was impressive and offered one of the most extensive variety of items I've encountered for a pantry-style store.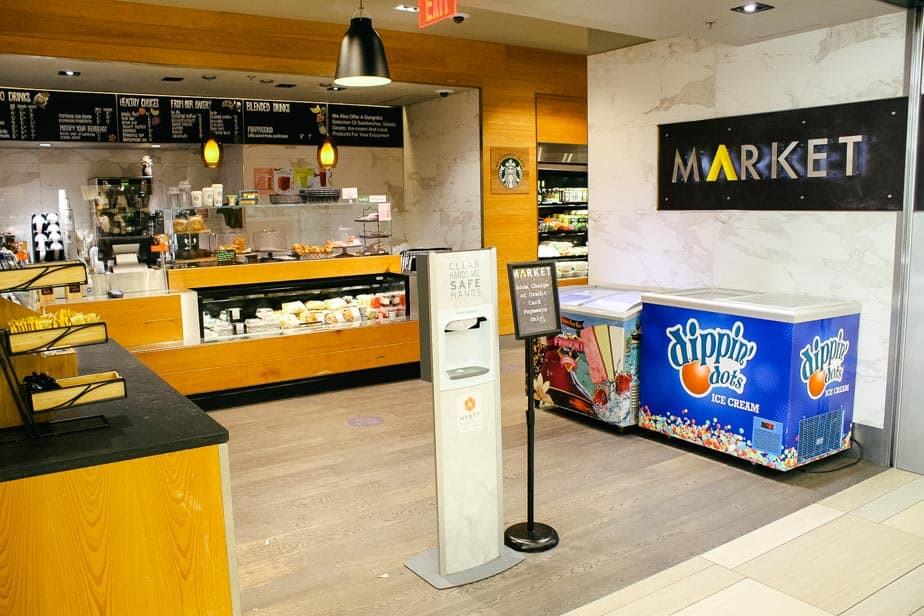 I tried to take a few photos so you could see what all they had.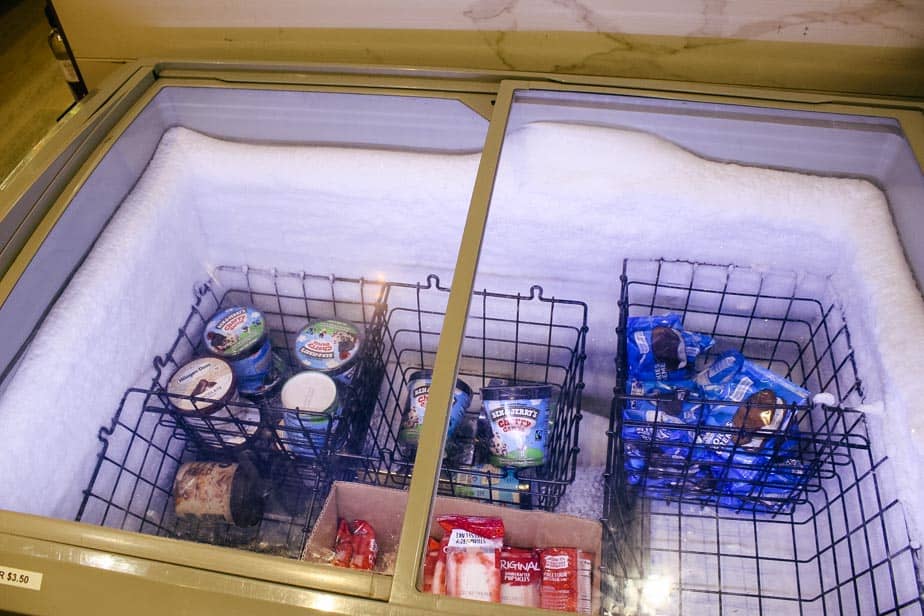 Dippin' Dots came in multiple flavors.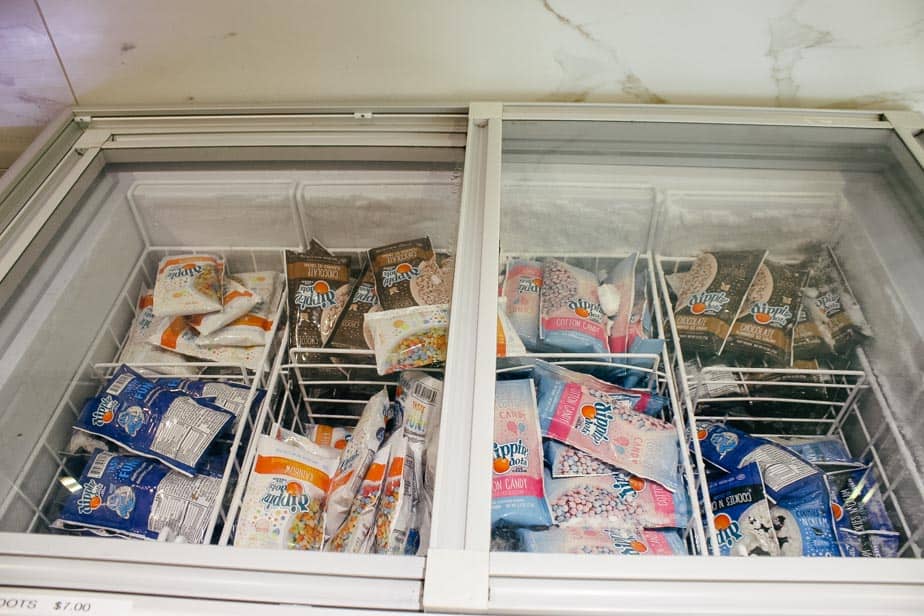 There were a plethora of pre-packaged items, including these quiches and breakfast sandwiches.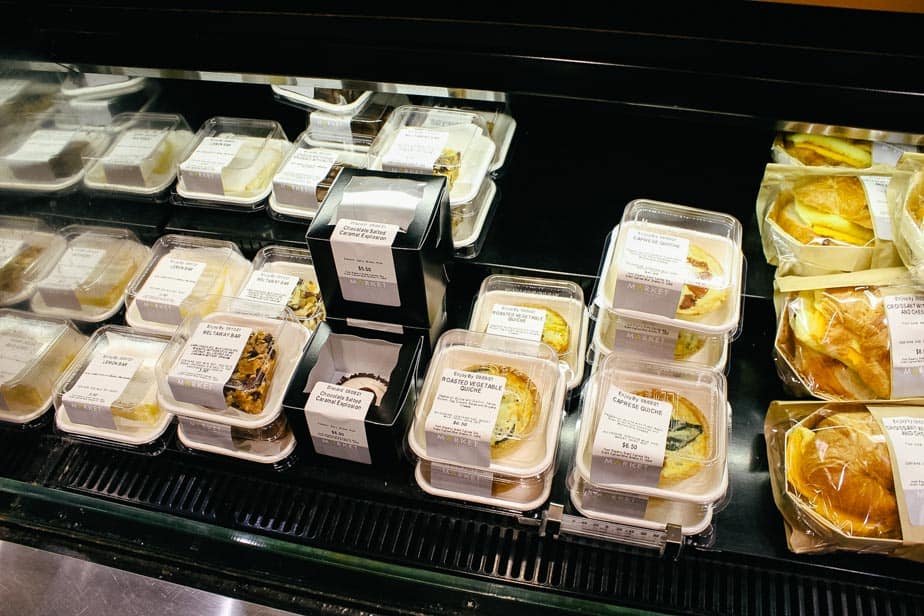 There were croissant sandwiches and cups of fresh fruit, parfaits, and veggies.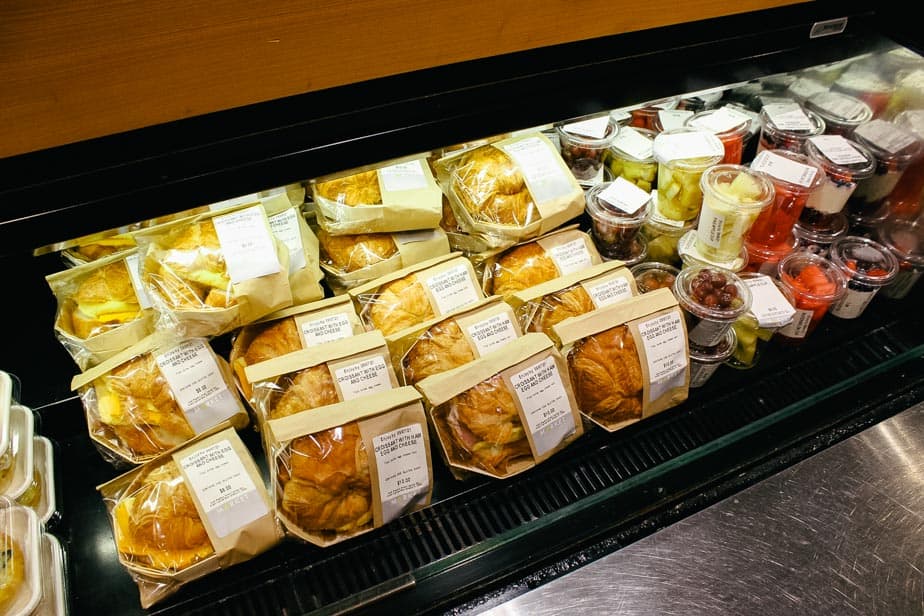 Everything at the bakery case looked delicious.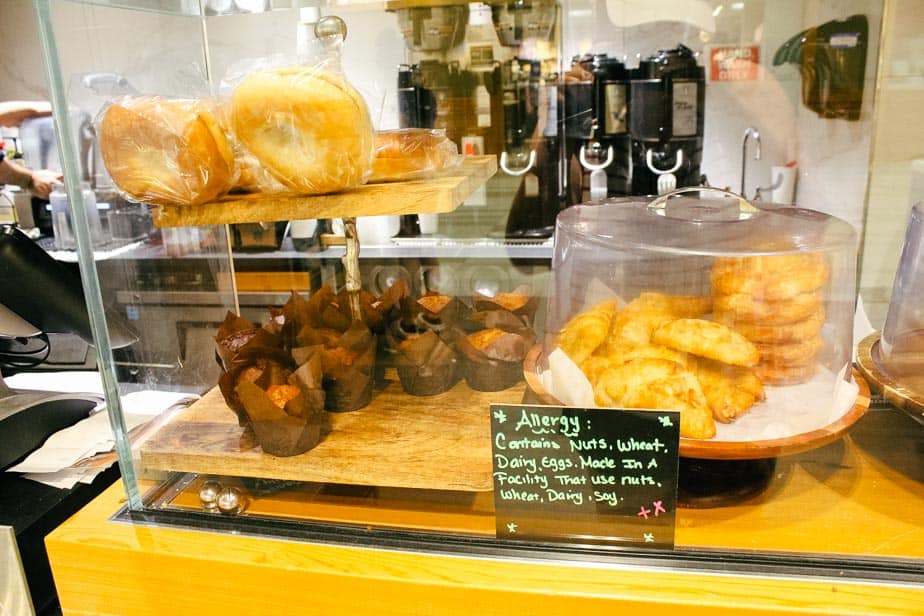 Here is a list of the available items. I felt like the pricing was reasonable.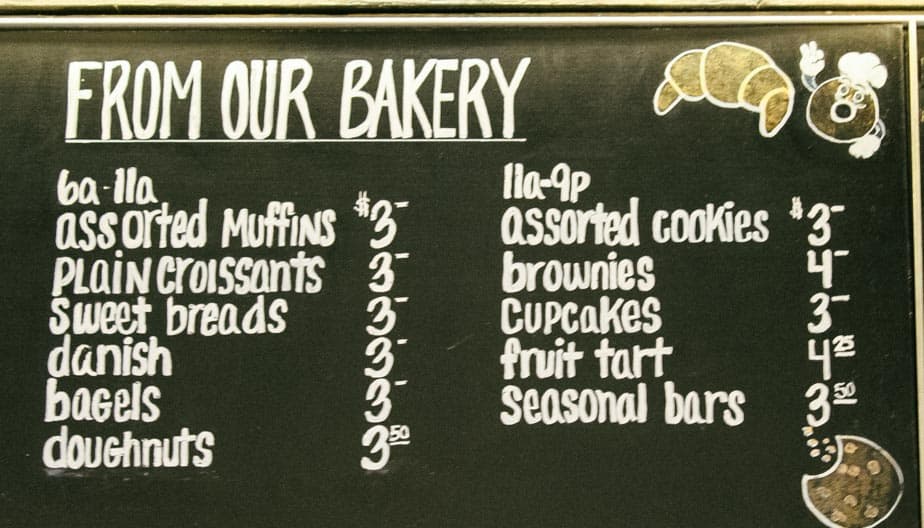 You could order Starbucks products like these espresso drinks.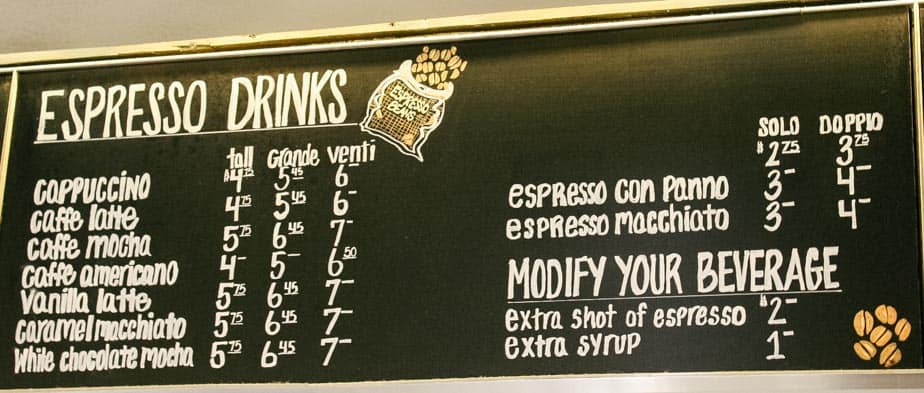 Regular coffee and tea items were available.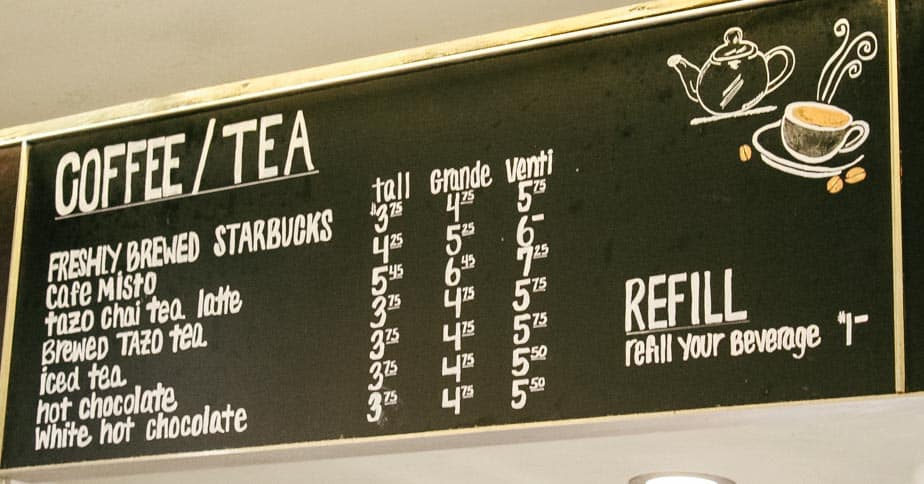 This case contained a variety of champagne, specialty drink items, fruits, sandwiches, and salads.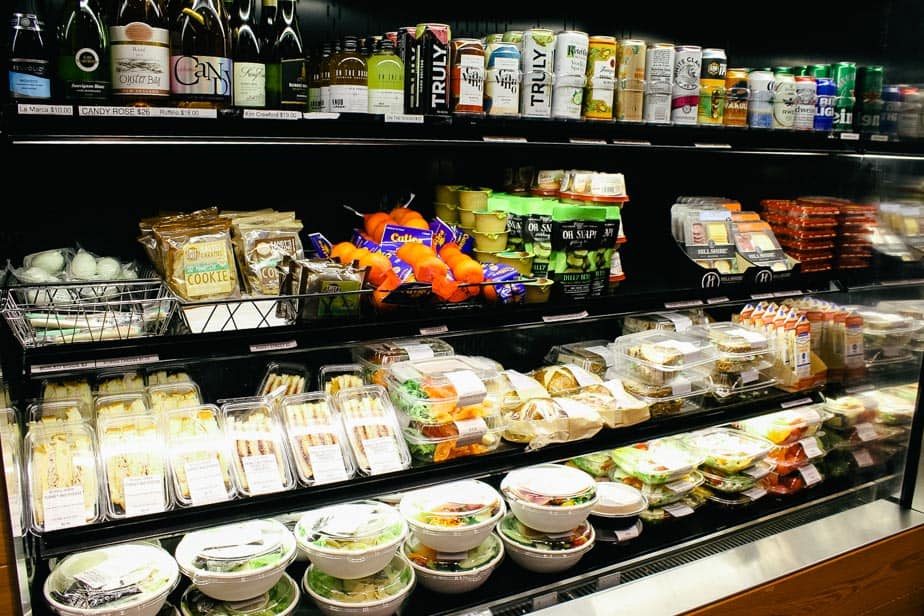 You could do a smoked salmon platter and add a bagel from the bakery.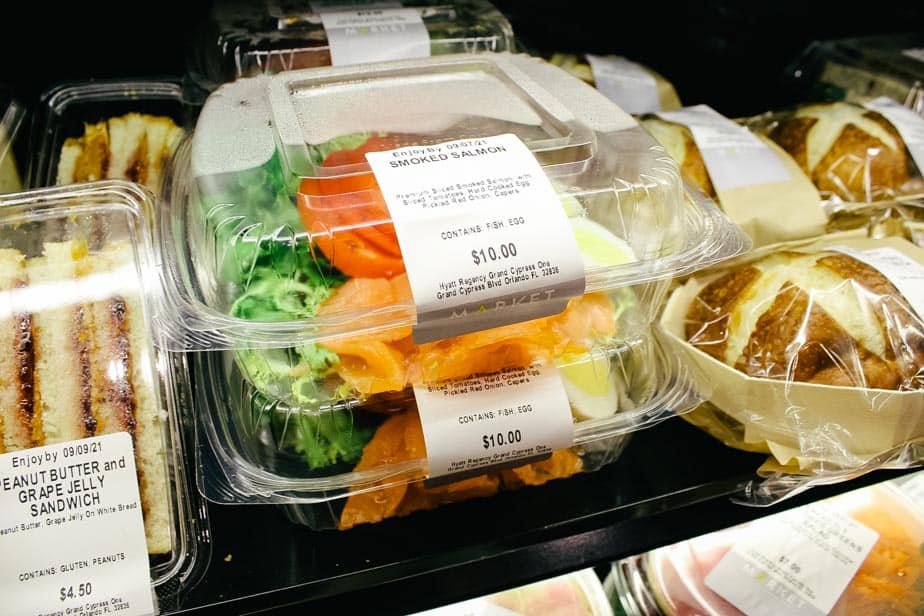 And there were even standard sandwiches like peanut butter and grape jelly or turkey with cheese.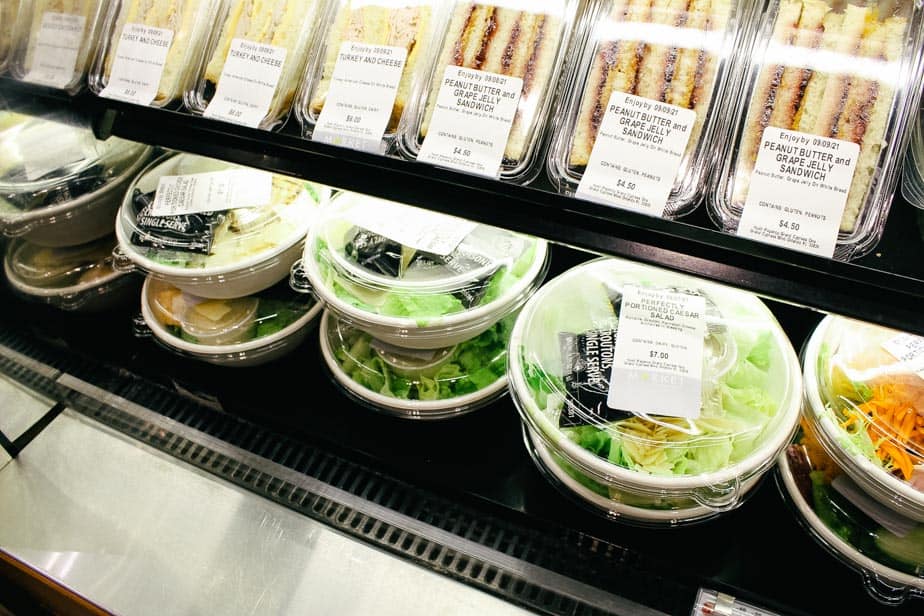 Here is a photo of a few more of the drink selections. Indeed, there is something for everyone here.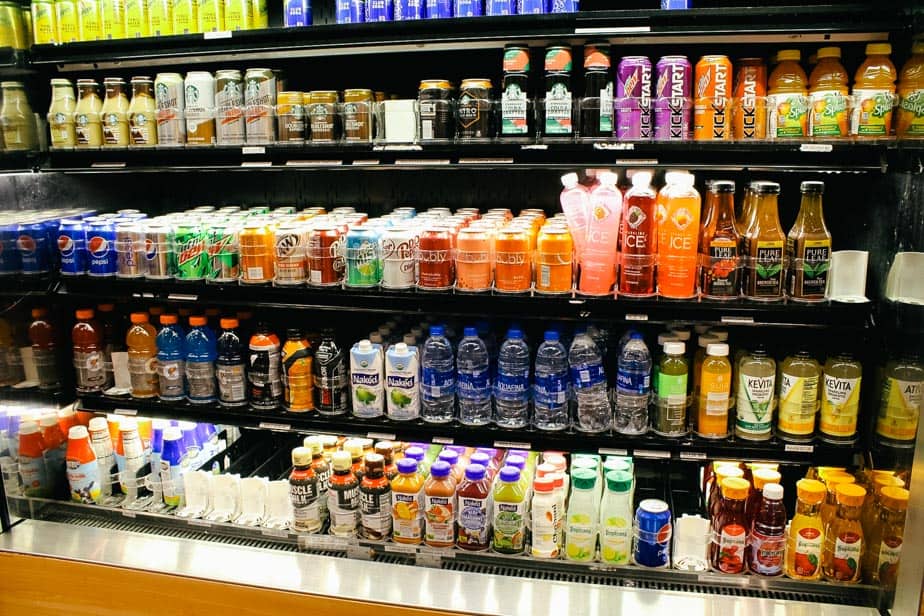 Back in the corner, several sections of shelving held all of the snack items.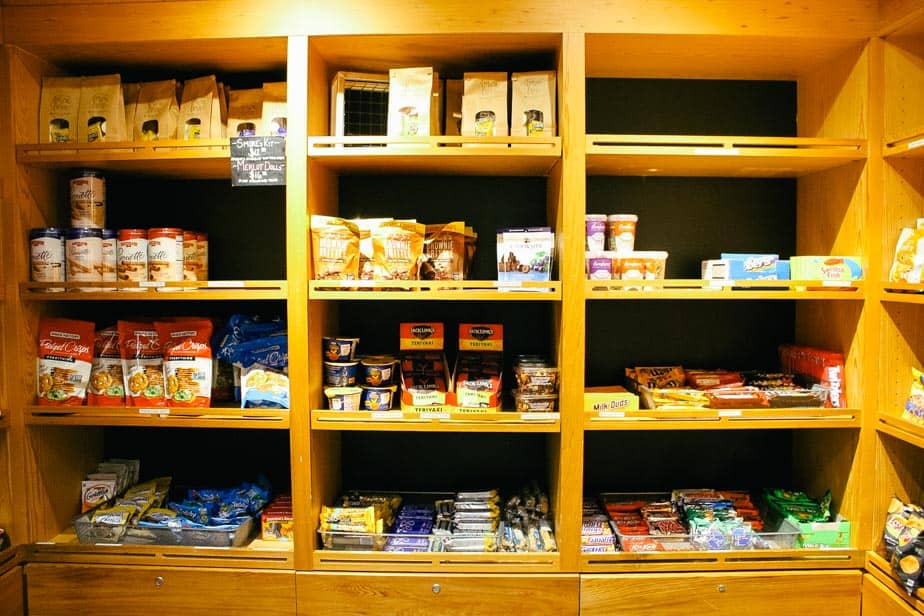 And a few staples like potato chips, popcorn, and pretzels.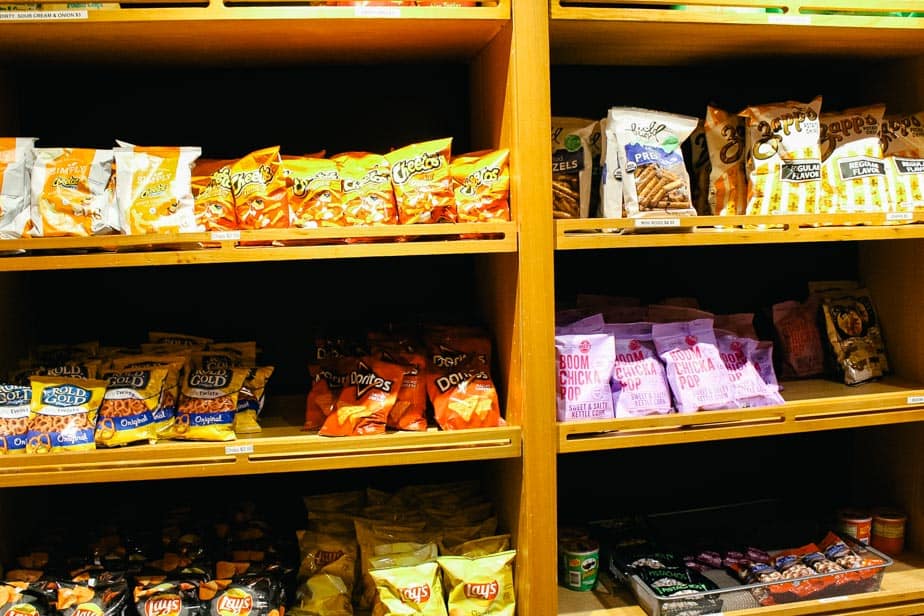 Honestly, I've been putting down the resorts in the Epcot area for offering so much pre-packaged food at all of their counter services restaurants since I started this blog. My usual comparison is why would you offer premade sandwiches at a resort that costs upwards of $400 per night. It's like gas station food in a high-end hotel.
When I surveyed these items at the Hyatt, I caught myself thinking that some of them looked good. And then I questioned whether or not I was a hypocrite.
Ultimately, I decided that the Hyatt's Market is not a counter service dining location. It's a pantry store. And the prices for what appeared to be better quality food were much more reasonable than what you'd get at Disney.
The other factor I considered is that the Grand Cypress has an additional counter service dining option called On the Rocks that has a sizable menu. Overall, I found there were way more counter-service meal items here than what you would find at a resort-like Disney's Beach and Yacht Club.
I haven't decided yet if these differences are impressive for the Hyatt or disappointing for Disney. Maybe it's both.
I'm willing to guarantee if you picked this store up and put it in a Disney hotel with comparable pricing, it would be a hit. But it could be that Disney wants to drive guests to eat at their table service restaurants, which takes more time and costs more money.
Anyway, the Lake House restaurant is located on the lower level of the resort.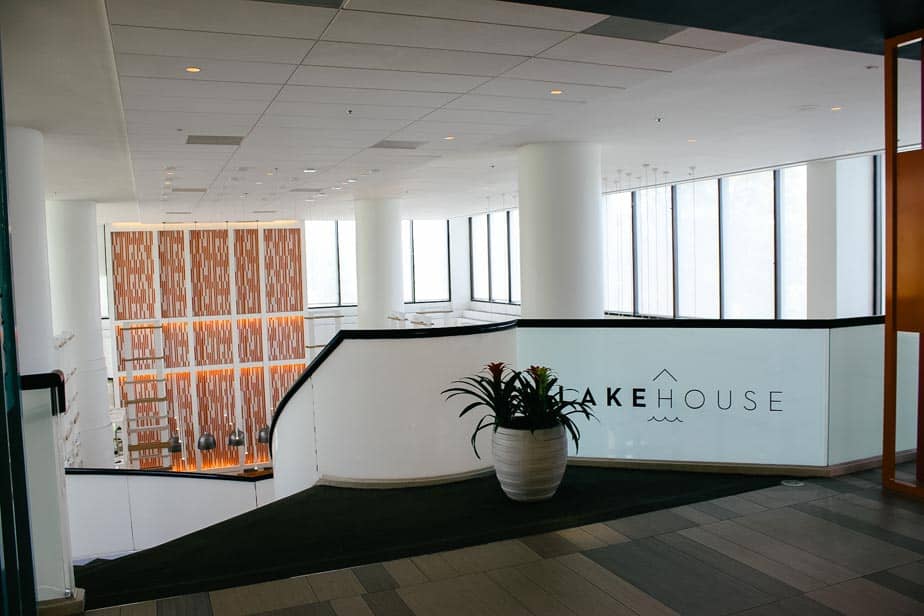 Lake House is where I ended up eating most of my meals during my stay, and it was everything a traditional hotel restaurant should be, in my opinion.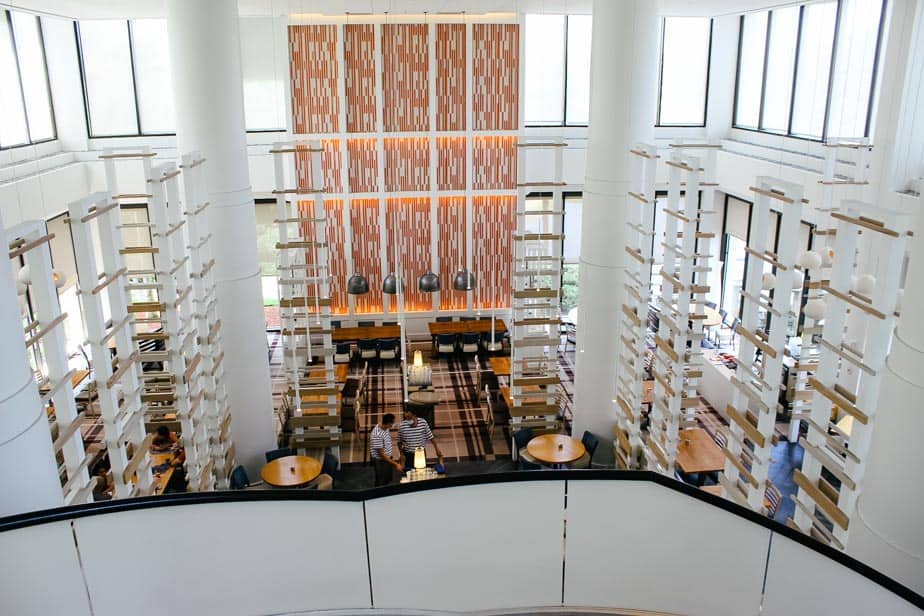 Lake House serves breakfast, lunch, and dinner. In the mornings, they had a breakfast buffet that costs $29 per adult for the full spread. Or there is an option for the "light" buffet that costs $19.00 per adult.
Children pay based on their age. So, for instance, if your child is four years old, they would pay $4.00. I have never seen this idea and felt it was a reasonable concept.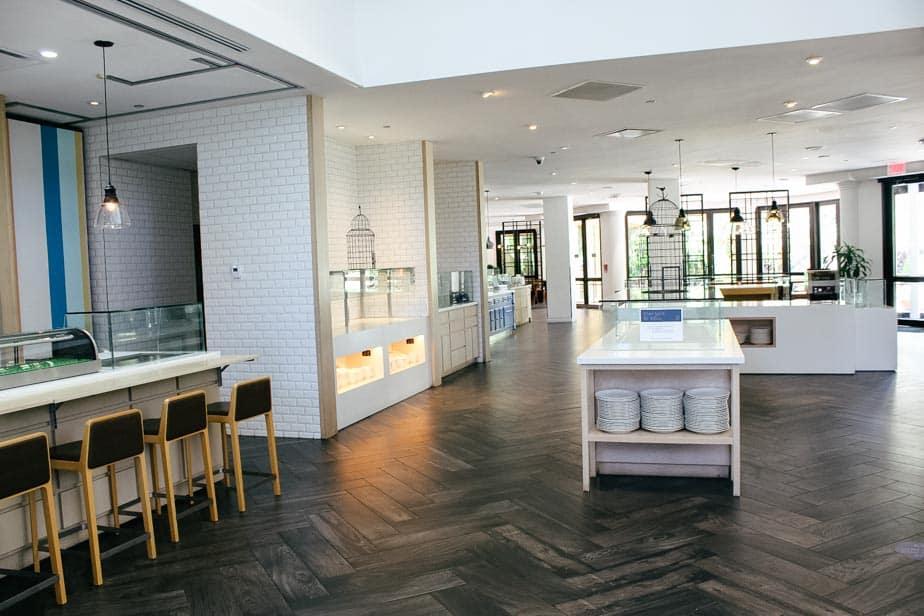 On the day of my arrival, I was headed out to Epcot, and one of the servers gave me a menu so I could order dinner on my way back to the resort.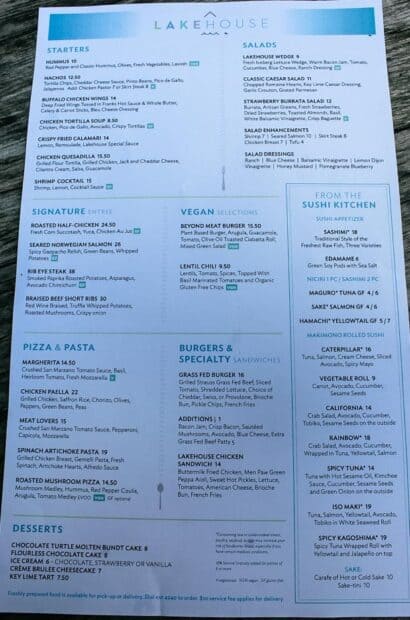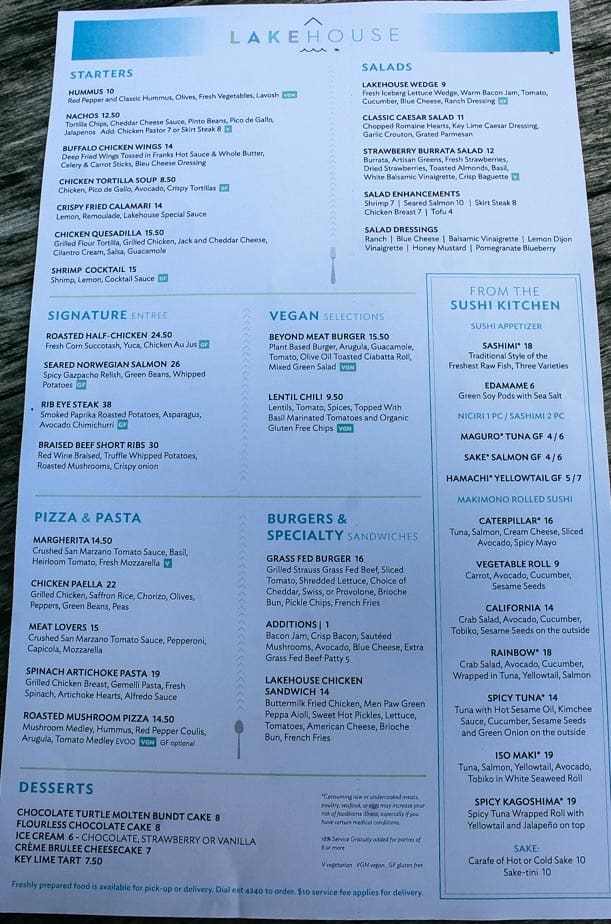 On that day, I ordered the grass-fed burger with fries, and it was a delicious choice. Sometimes you just want a quality burger with salty fries at the end of a long day in the theme parks.
On another evening, I decided to try the sushi bar. The chef customized the spicy tuna roll on the menu and substituted salmon per my request.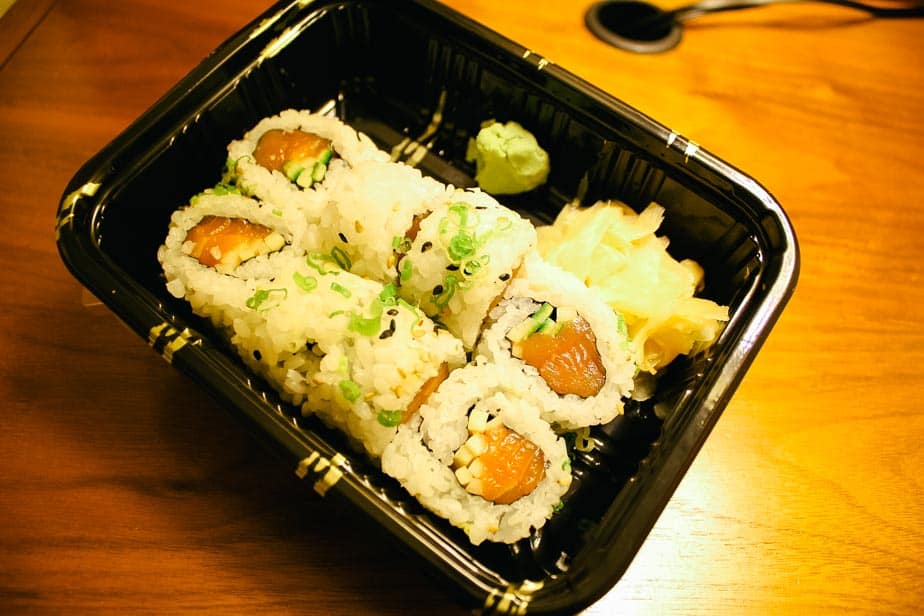 I was looking most forward to this strawberry salad. However, the Buratta cheese didn't go well with the salad, and the dehydrated strawberries in the mix were pretty terrible. I might have done better with one of those premade salads.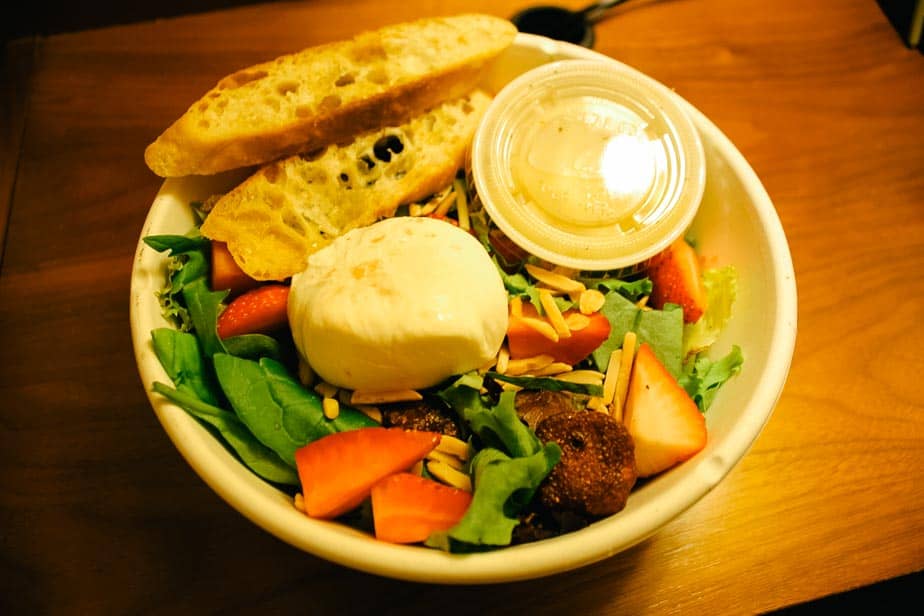 Out by the pool, there's a large bar and grill called On the Rocks. While you are at the pool waiters will come by from the poolside bar to take your food and beverage orders throughout the day.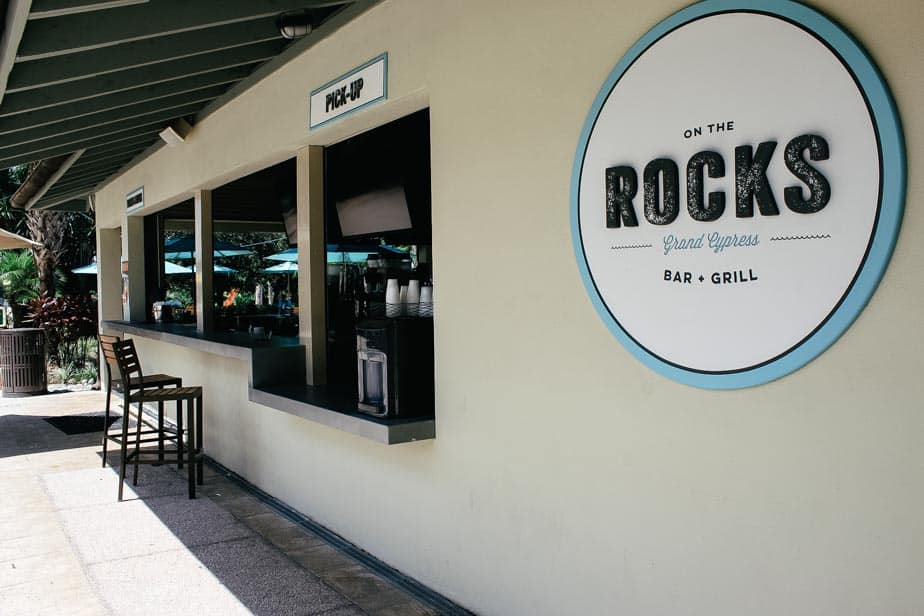 Here is a look at the menu for On the Rocks, or you can see a larger version here.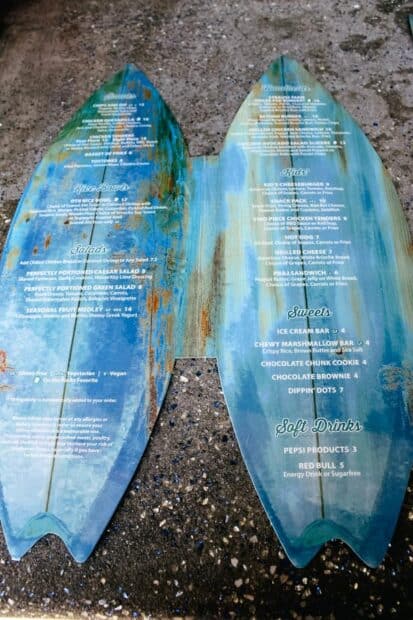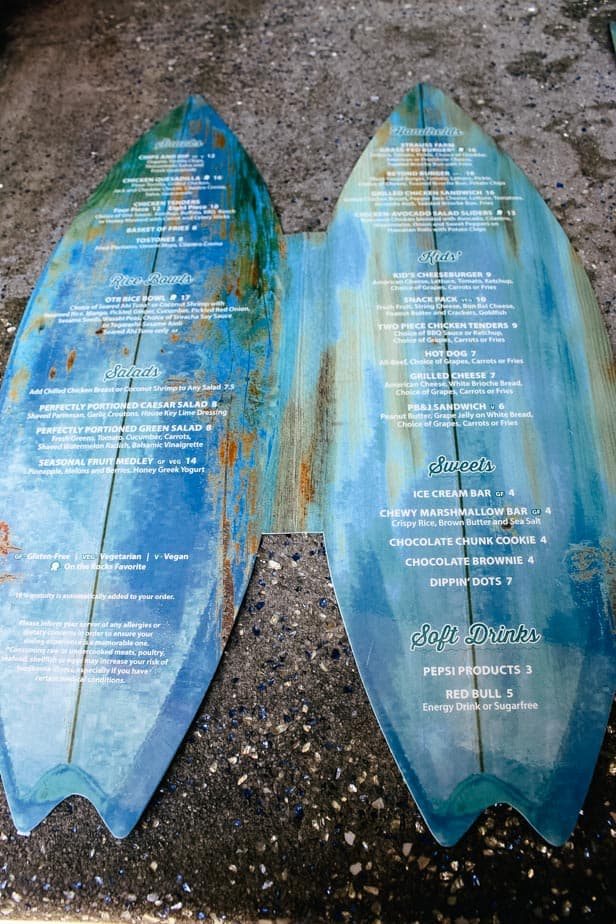 Additionally, there was one more dining establishment called The Lobby Bar and Grille. Although, I didn't get to try this place during my stay, unfortunately. You can preview the menu here. This is also the location where you can pick up Hemingway's Classic Daquiri.
Lastly, on the dining front at the Hyatt Regency Grand Cypress, there is Hemingway's. Unfortunately, this well-known restaurant has not re-opened at this time. We'll consider a return visit in the future to dine at the restaurant after it re-opens.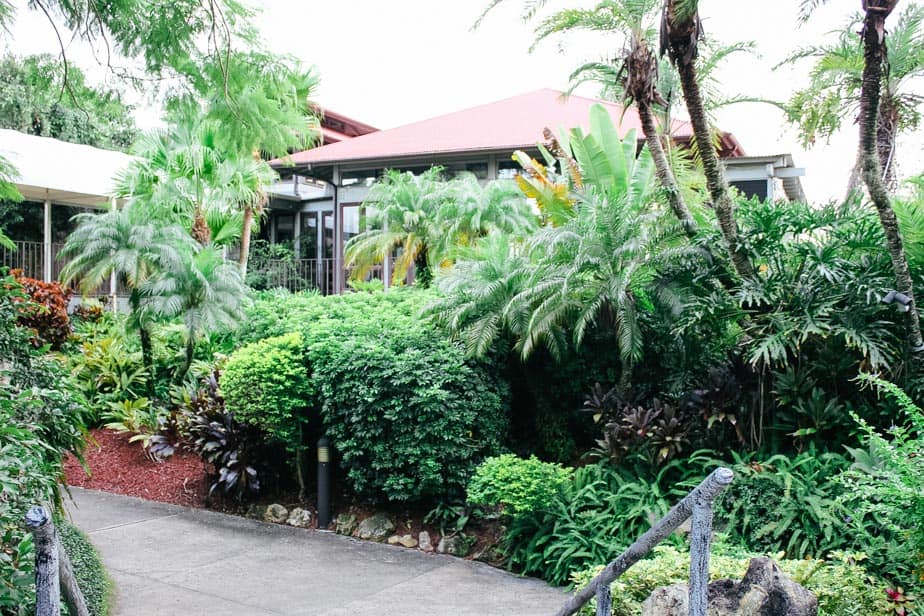 I'm hopeful a fellow writer might join me for the occasion. If not, I'll just take a copy of The Old Man and the Sea to occupy my time. But I would prefer the friend.
We'll linger over the landscape as we make our way outside to discover the vast amount of recreation the resort has to offer.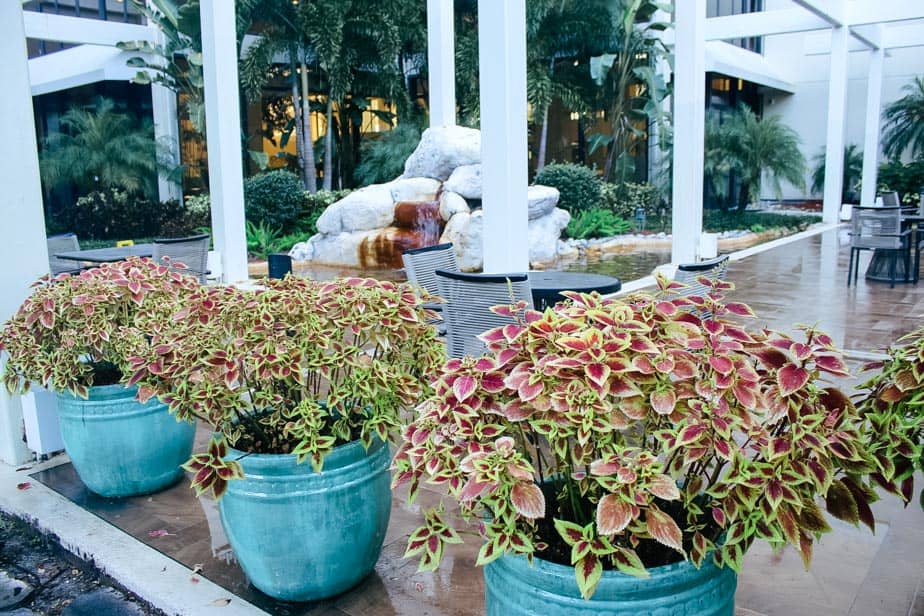 Outside the Lake House, I found this herb garden. It just as well could have been Living with the Land 2.0. Can't you imagine the chef coming out in the morning and snipping fresh herbs to pair with the catch of the day or a special dessert?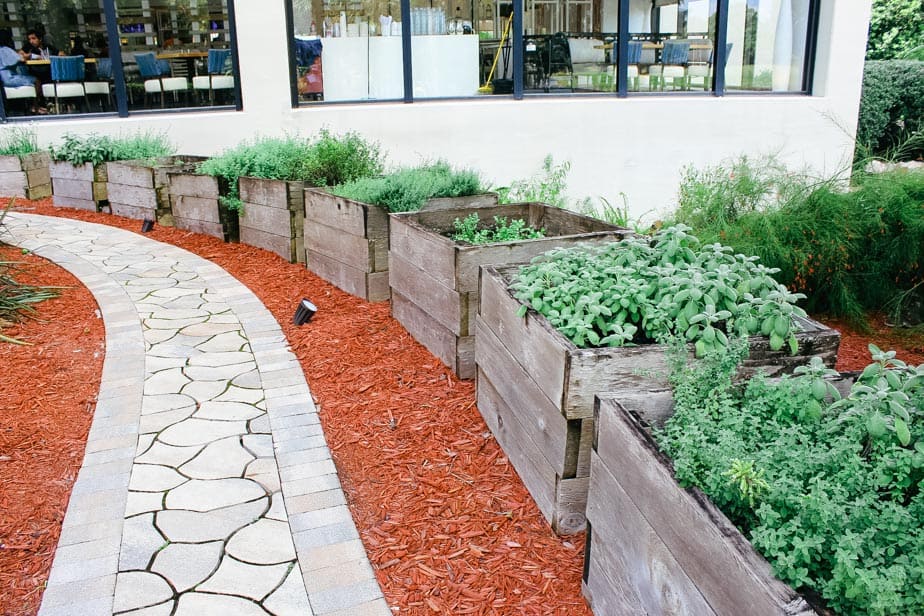 Since the resort is 1500 acres, there are multiple trails and paths to enjoy.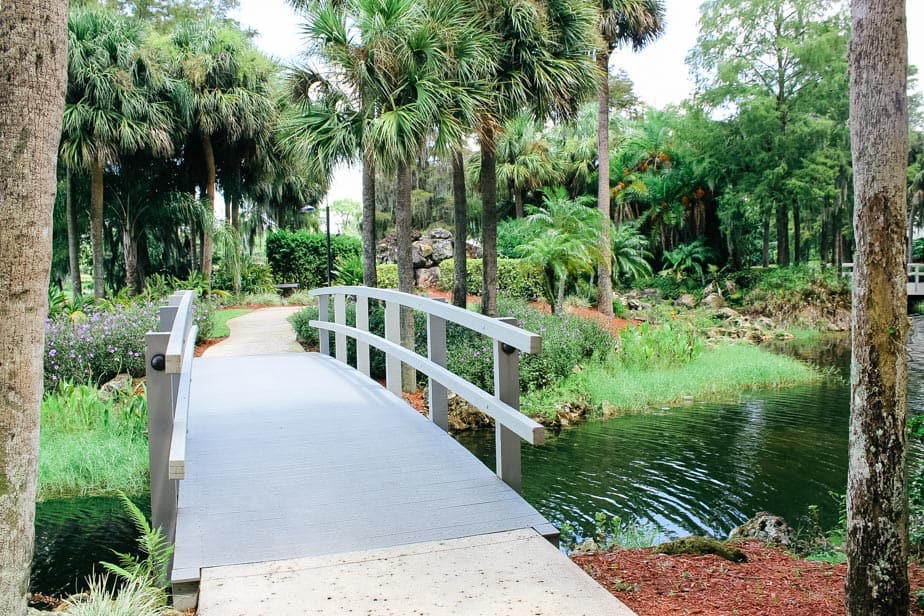 Statues adorned the gardens.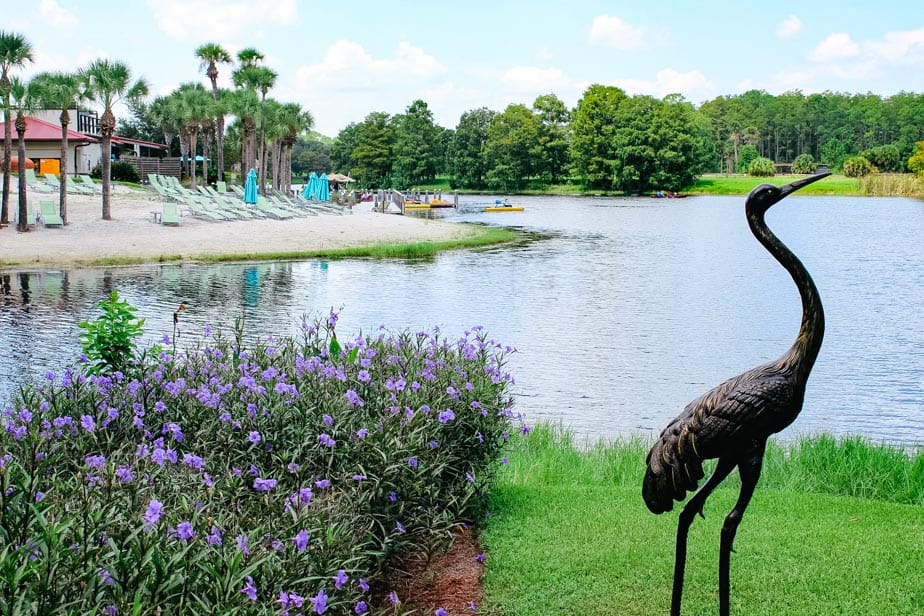 I kind of like this one. It's so carefree.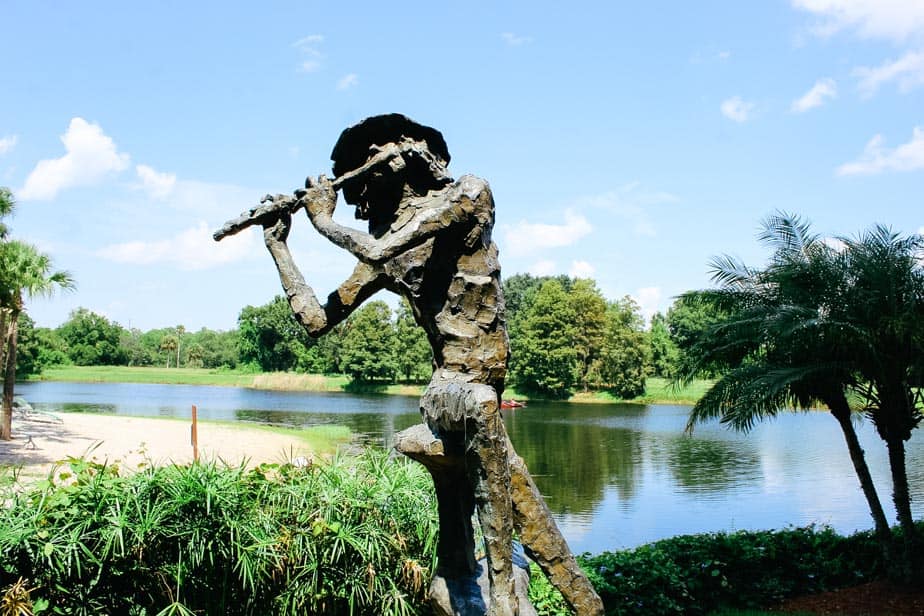 And here is a portion of the pool at the Hyatt Regency Grand Cypress.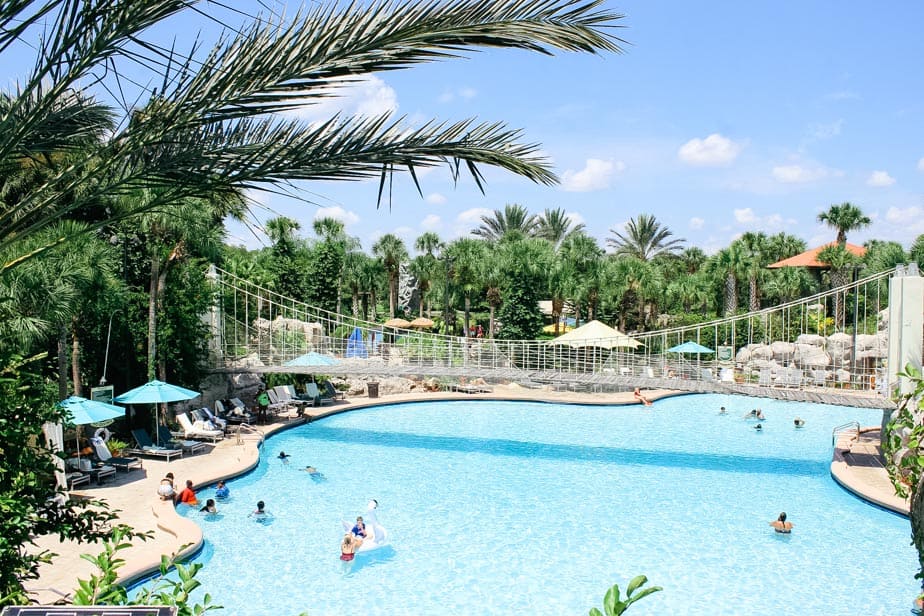 I say portion because the pool at the Hyatt is massive. It's really more like two large pools. However, they are all connected by a cave.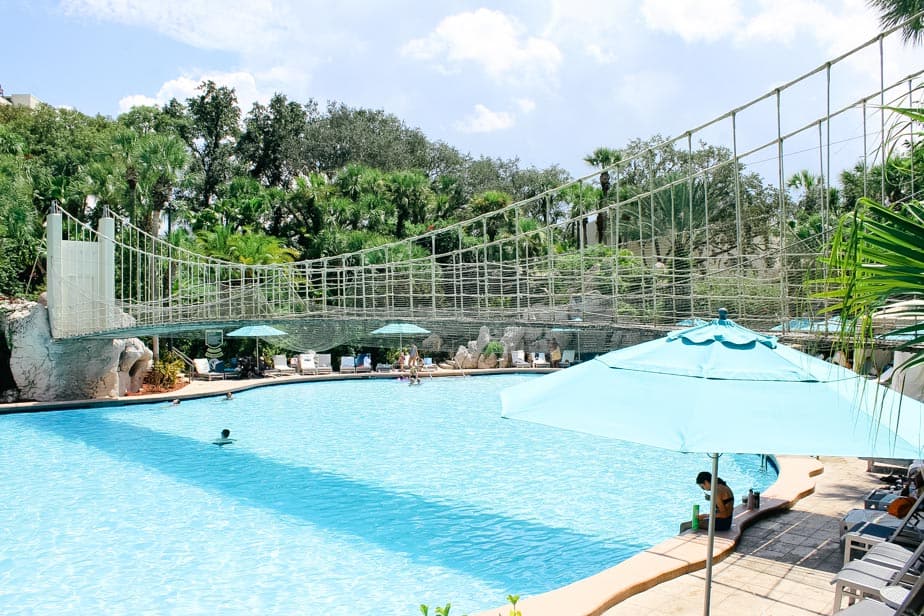 The rope bridge that goes across the pool was closed during my visit.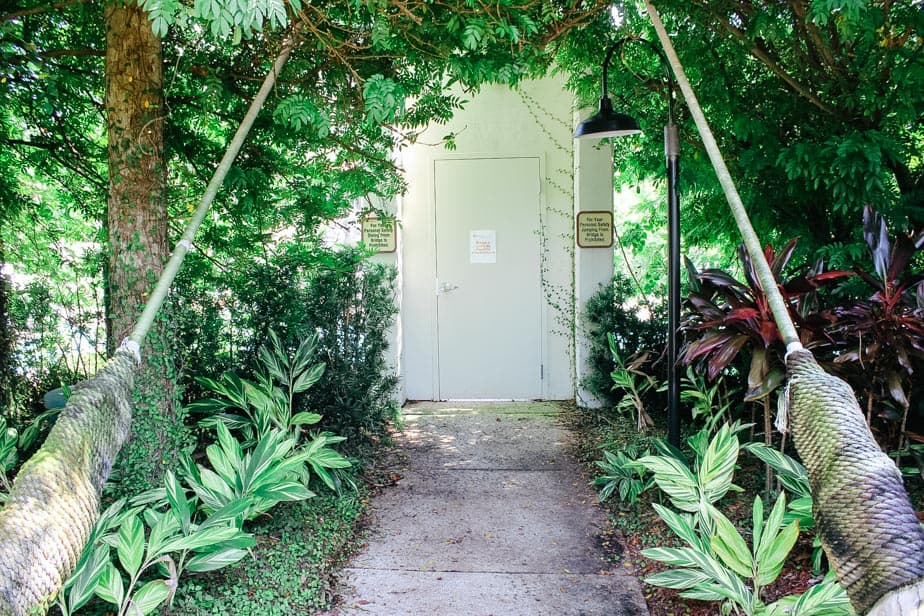 Here is the pool area that's closest to the back entrance of the hotel. If you were to just stop here, you'll probably never know this whole other area exists. And I imagine that happens quite a good bit.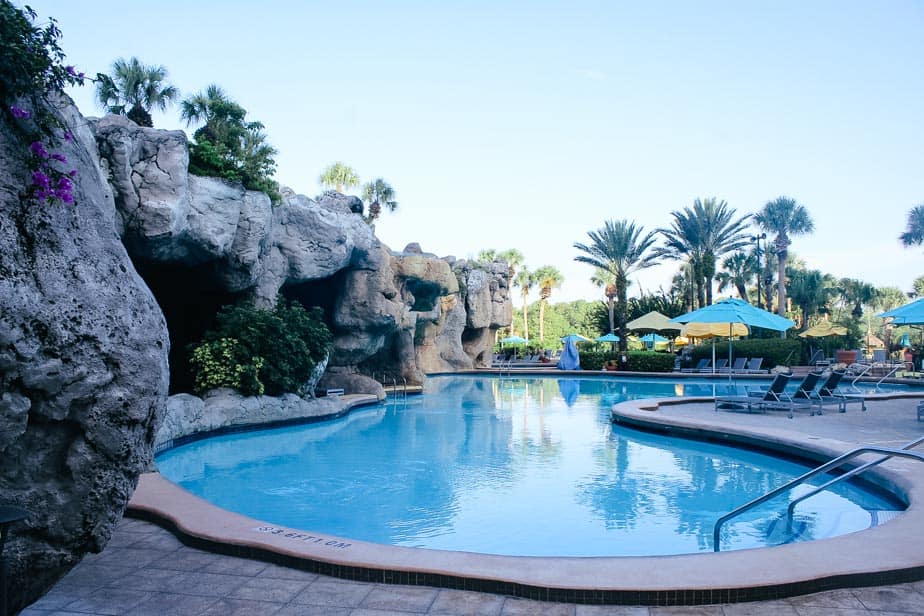 The cave area is way more significant than it appears from the outside.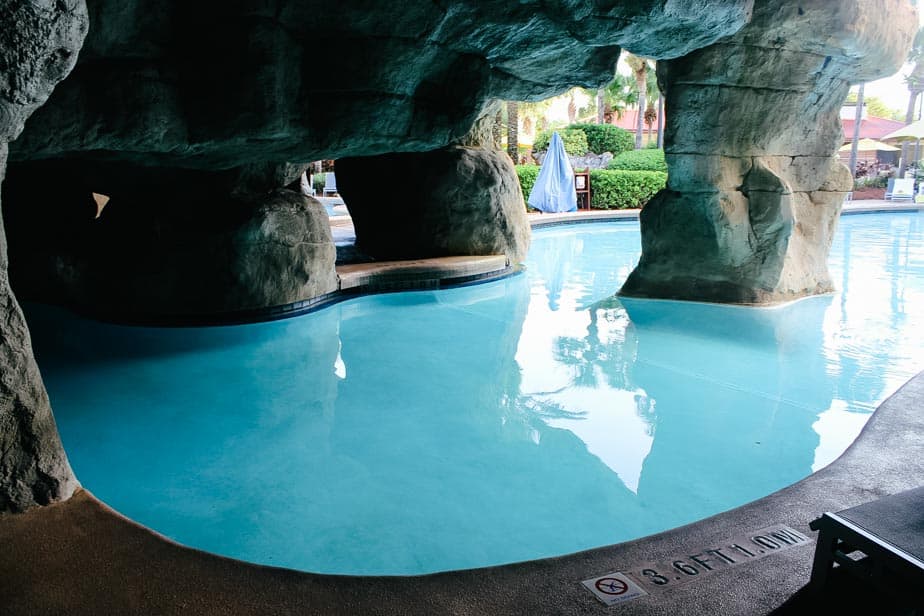 There are plenty of shaded sitting areas inside.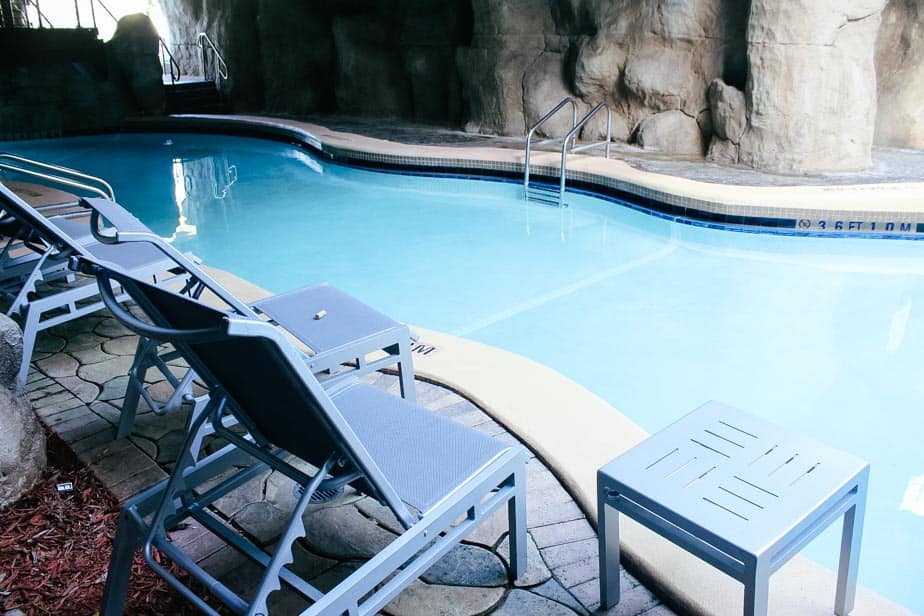 Don't be fooled by the empty chairs. This is one of the most coveted spots at the pool.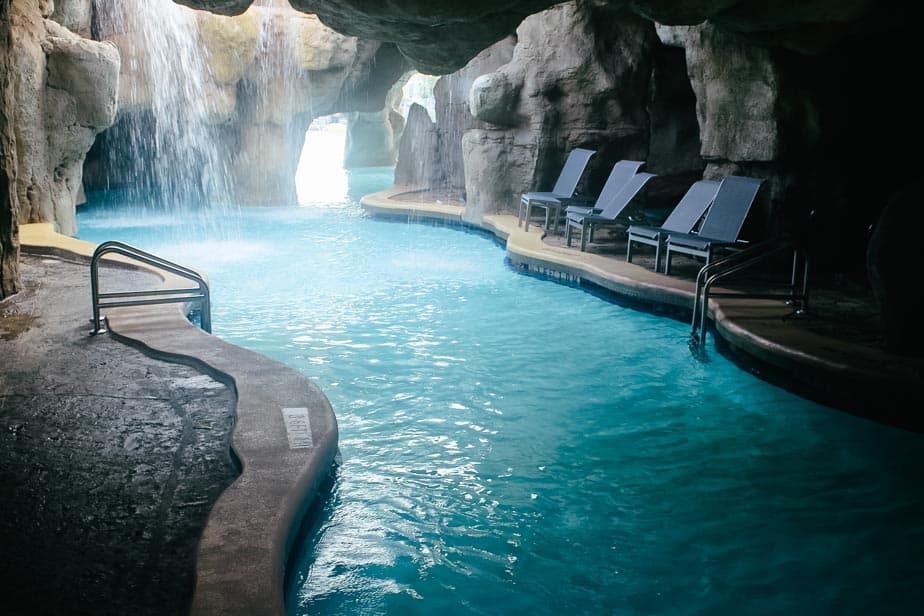 And the cave comes out on the other side underneath, where Hemingway's sits perched on a cliff.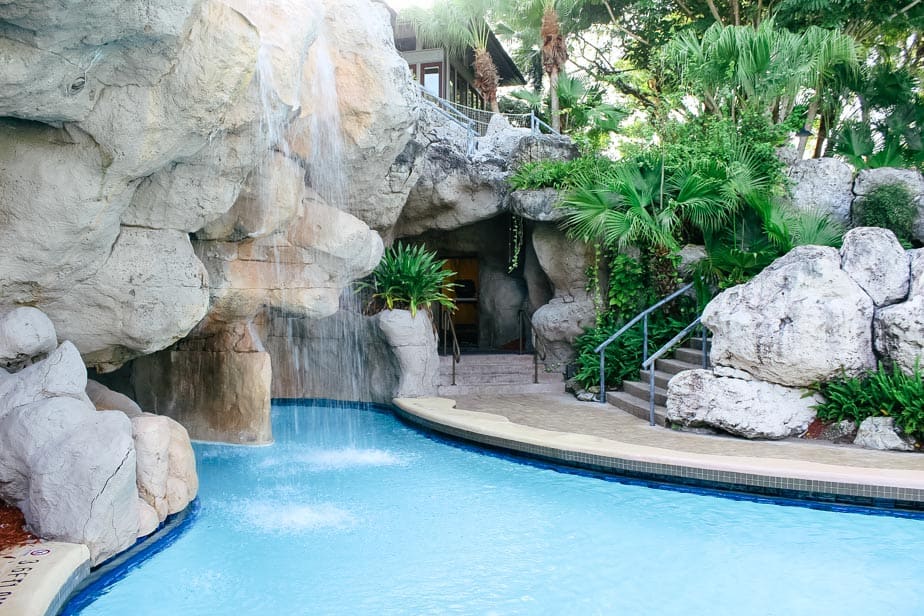 For reference, the pool holds over 800,000 gallons of water.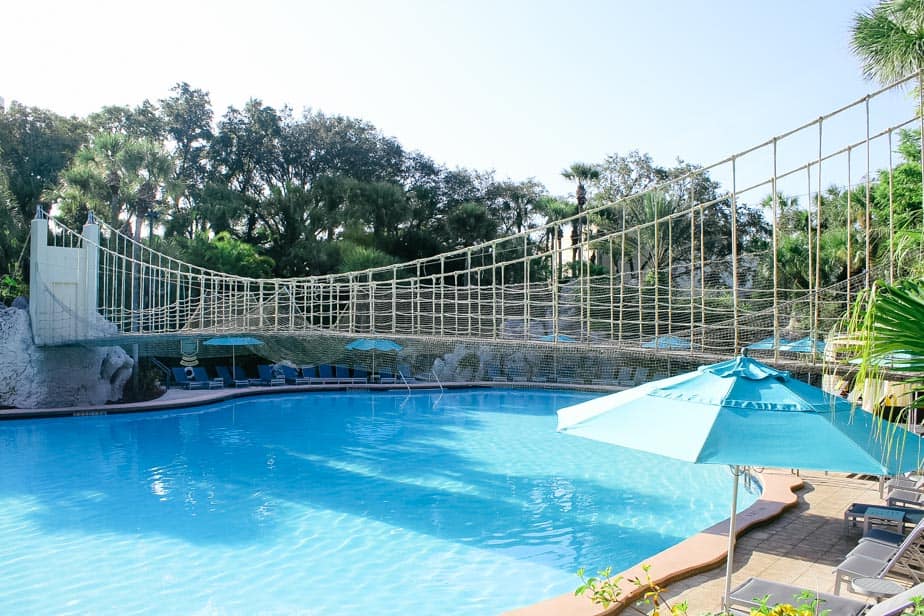 Multiple whirlpool spas are available in different areas surrounding the pool.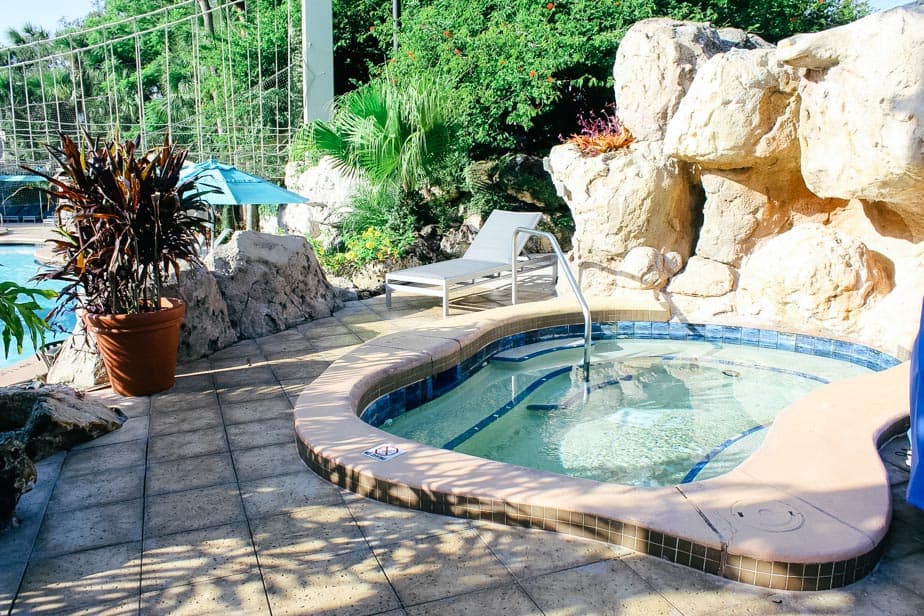 There's even a hot tub area in the cave. If you didn't know, a hot tub is indeed the remedy to all aches and pains after a long day in the theme parks.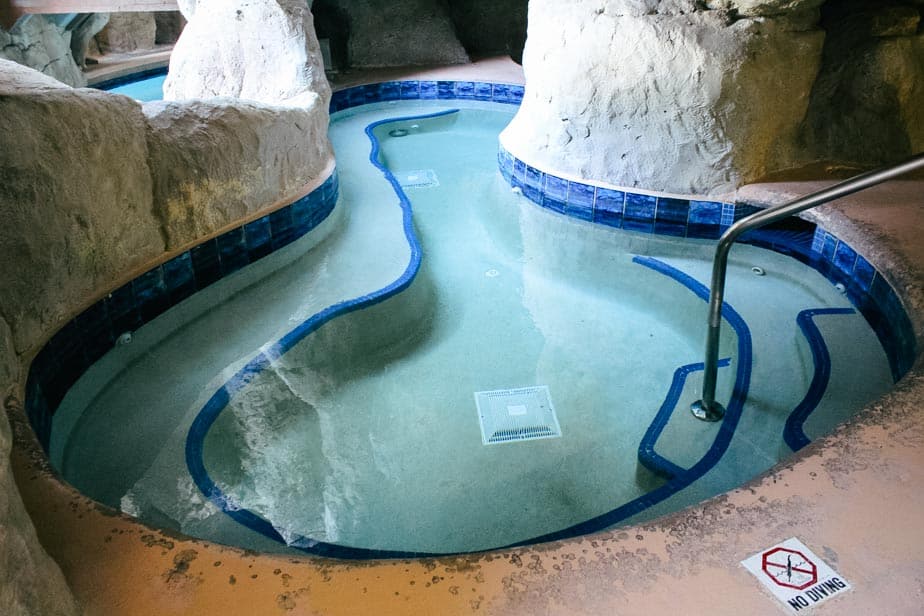 There were a variety of cabana rentals in the pool area. We recently rented a cabana at Disney World and enjoyed it. It might be worth considering if you have a large party or will be visiting during a high crowd time.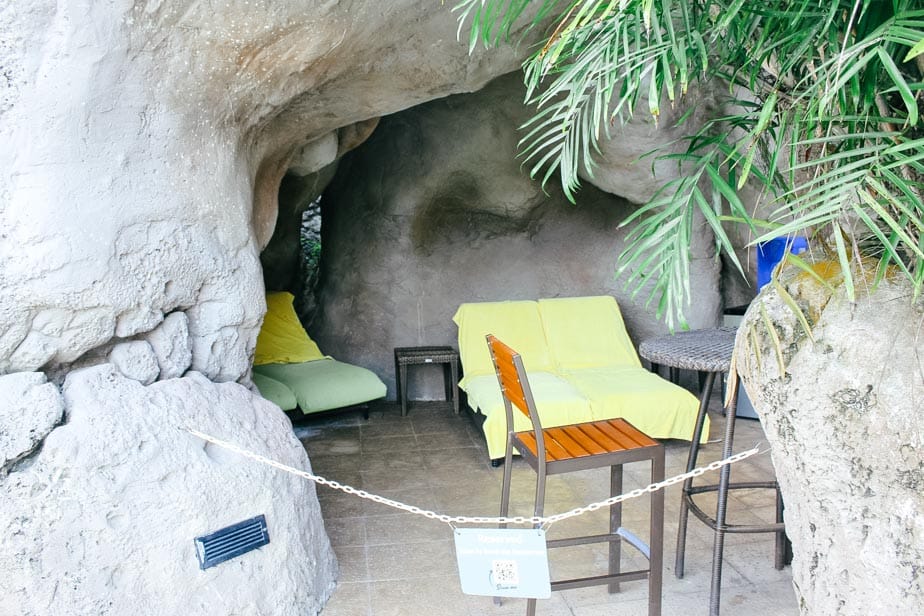 The pool has a total of 12 waterfalls and is open daily from 7:00 a.m. until 10:00 p.m. No lifeguards are on duty.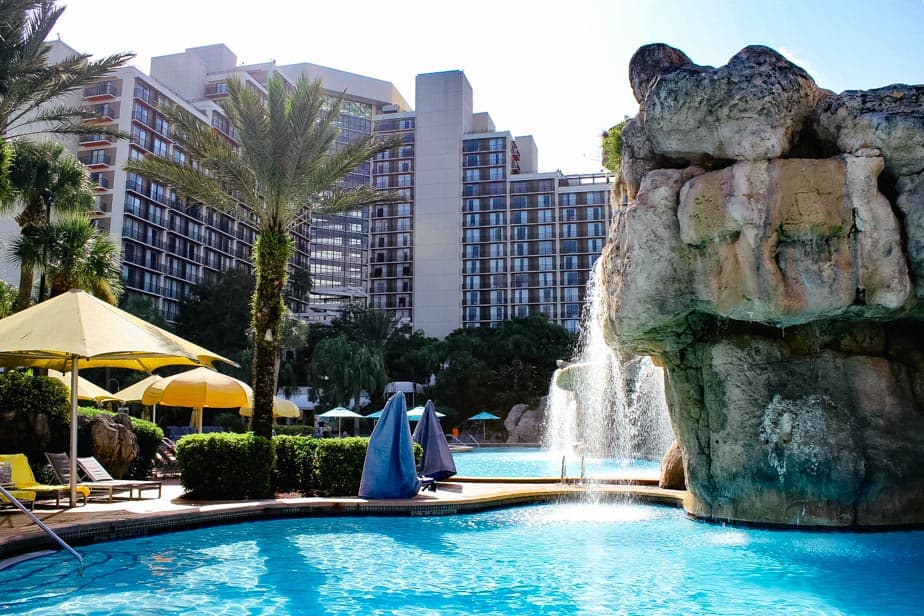 Additionally, there is a waterslide available at the pool that has a 44″ height requirement.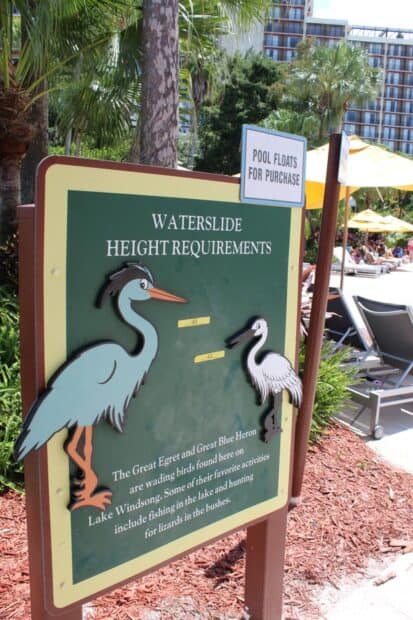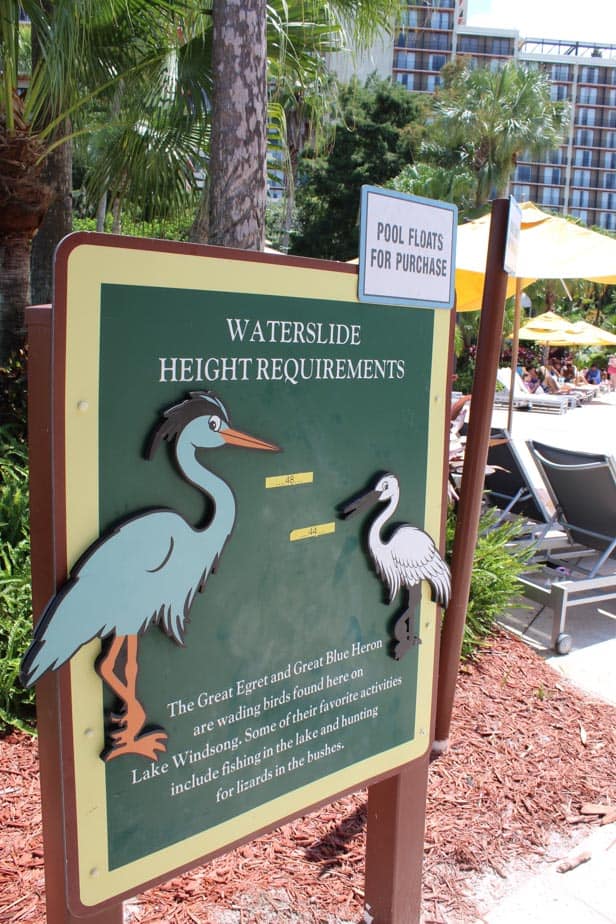 It appeared to be a memorable slide. But, unfortunately, I never got around to testing it for you.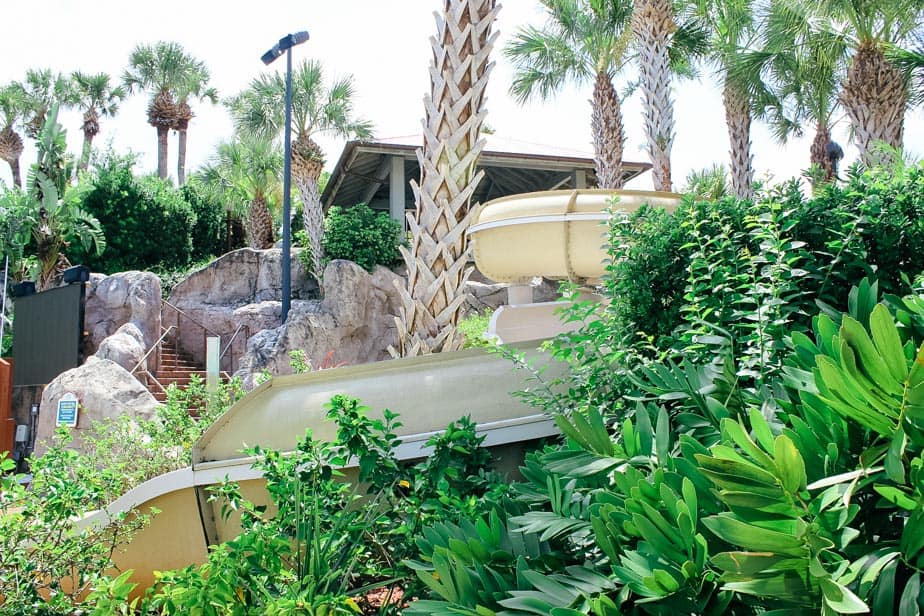 And some will be happy to know that there is a splash pad available for the little ones.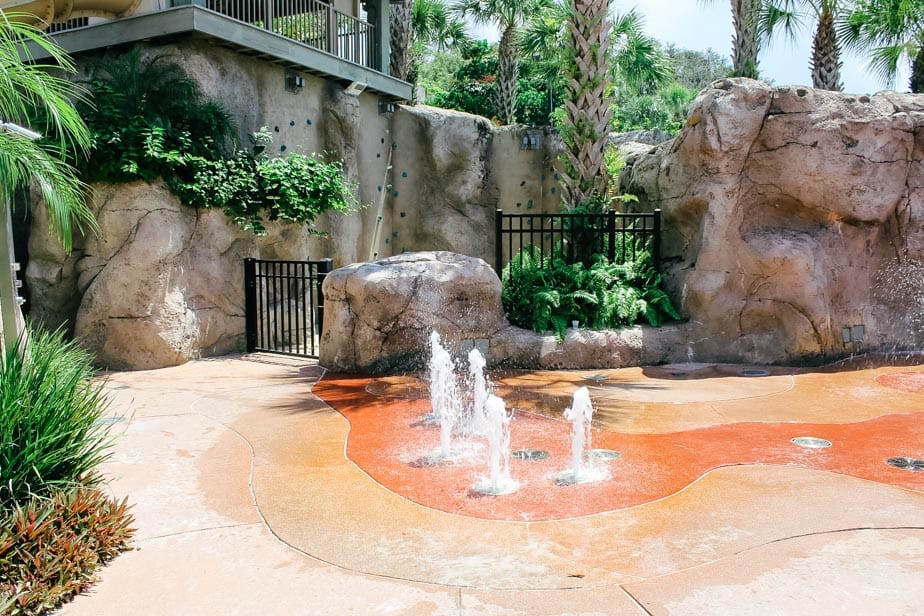 In the evenings, the Grand Cypress has a Dive-In Movie at the pool. A super-sized screen rolls out near where the water slide exits into the pool. They played Mulan, The Greatest Showman, Frozen 2, and Raya and the Last Dragon while I was there.
I was impressed with the movie selections and encourage you to take a break one evening during your stay and participate in a movie night at the pool. It's so pleasant.
Out by the lake, there are recreational activities galore. And they are all included in the resort fee. Hyatt Regency Grand Cypress's resort fee is $38 per day plus tax.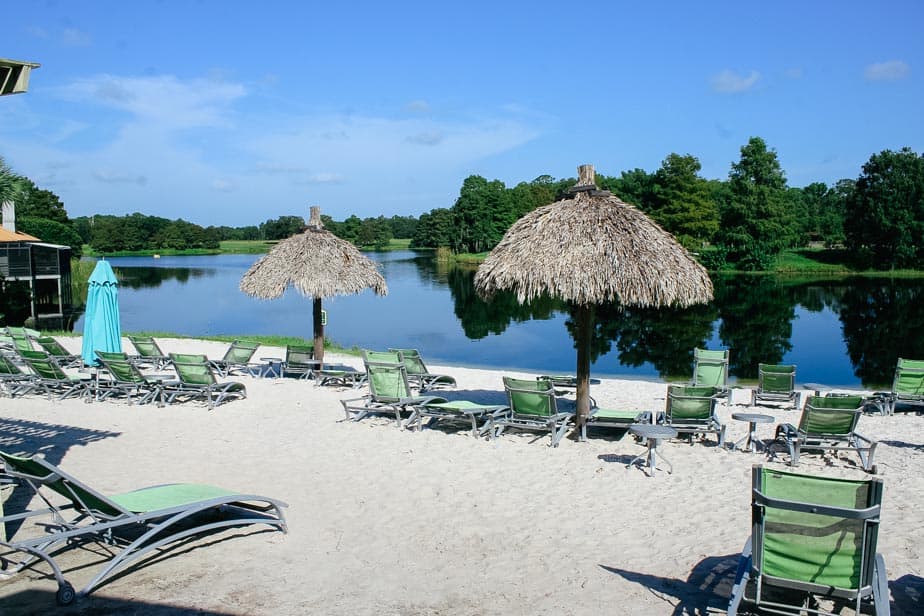 Now you know I'm not a fan of these resort fees. But, nevertheless, they are inevitable these days in Orlando.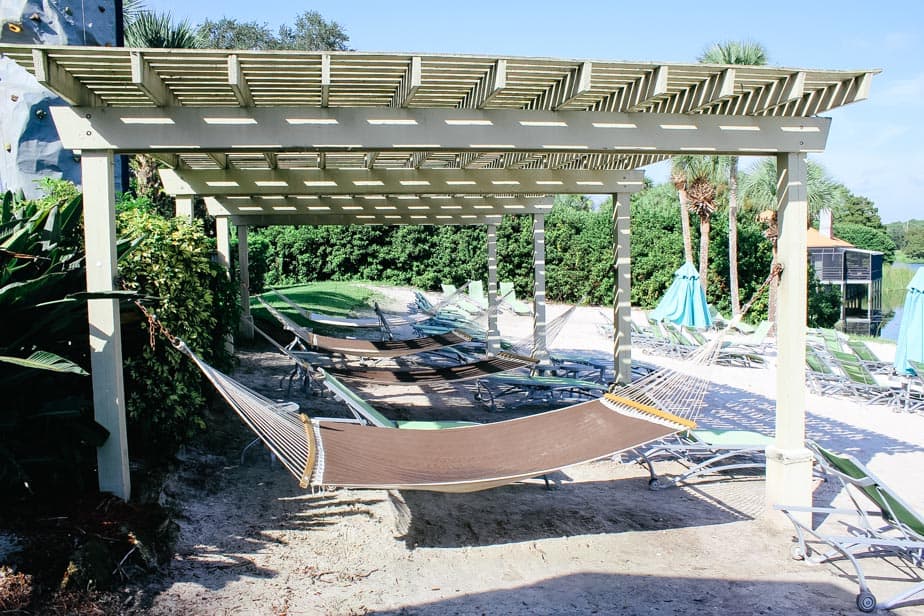 However, when I thought about my stay at Orange Lake Resort a few months back, I remember feeling bombarded with upcharges in addition to the daily resort fee. Thankfully, all of these recreation items were included at the Hyatt.
All of the paddleboats, kayaks, and other water rentals were free for guests to use.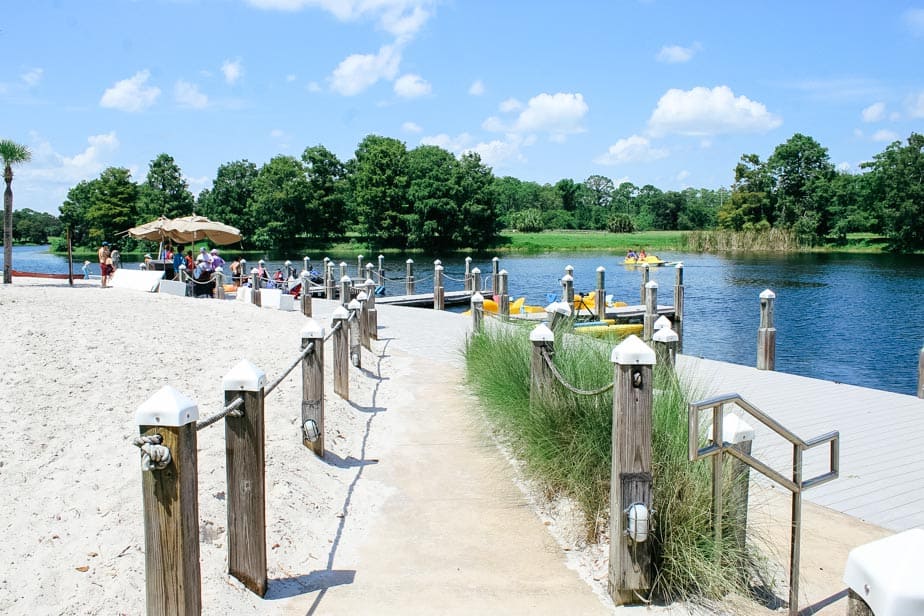 Here is a close-up of a few things.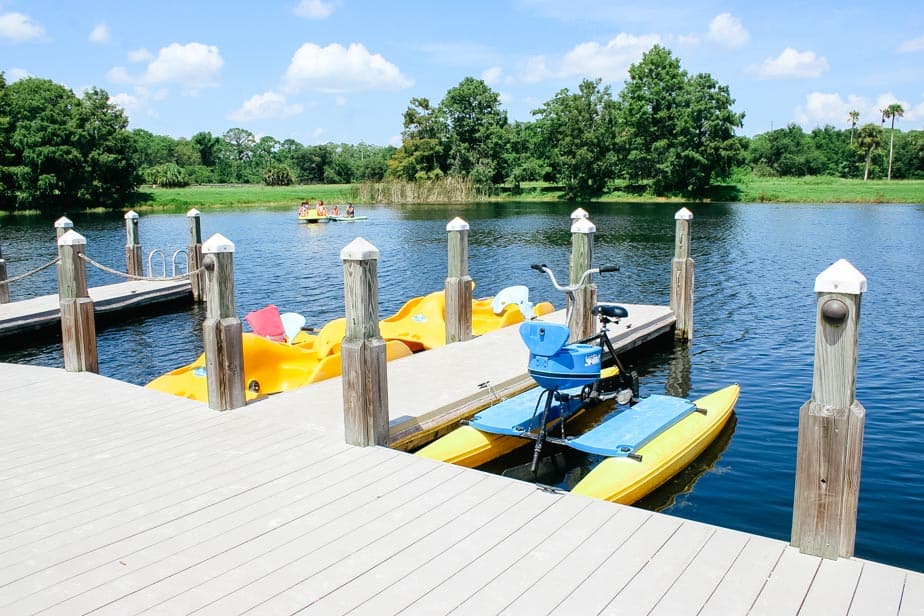 Oh, and there were large containers providing ice water out every day for guests. I thought this was a nice touch.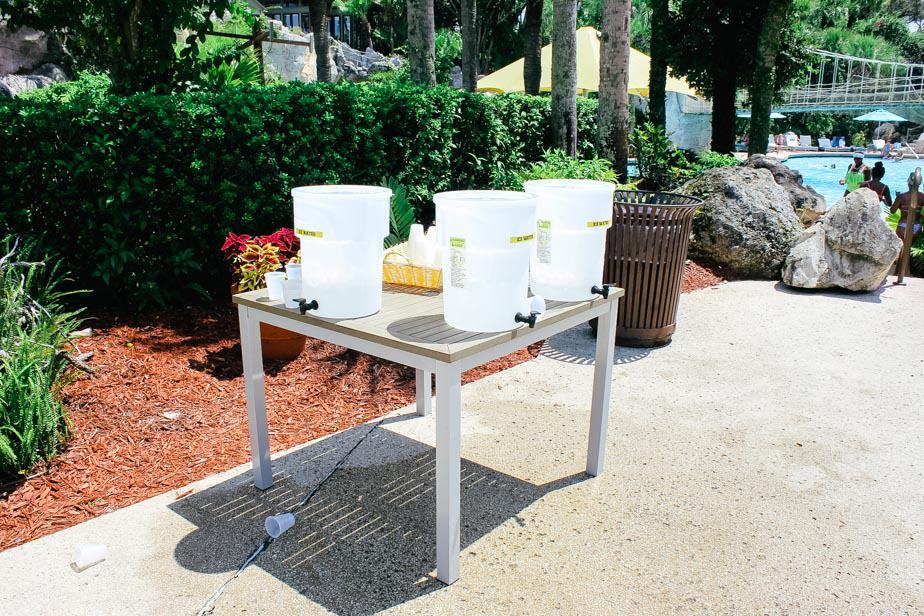 Even the rock climbing wall was included in the resort fee.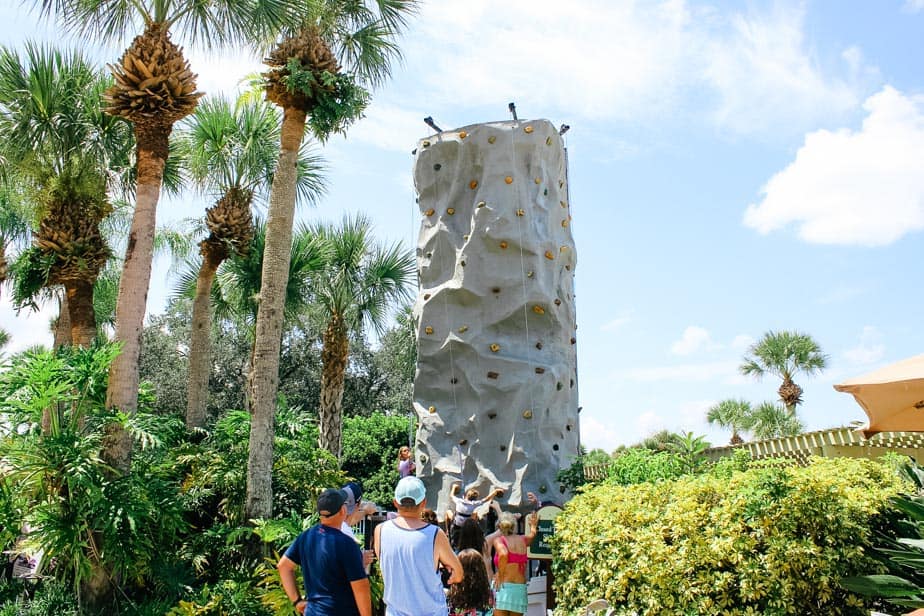 And bicycles! I cannot tell you how much I enjoyed my bike ride here.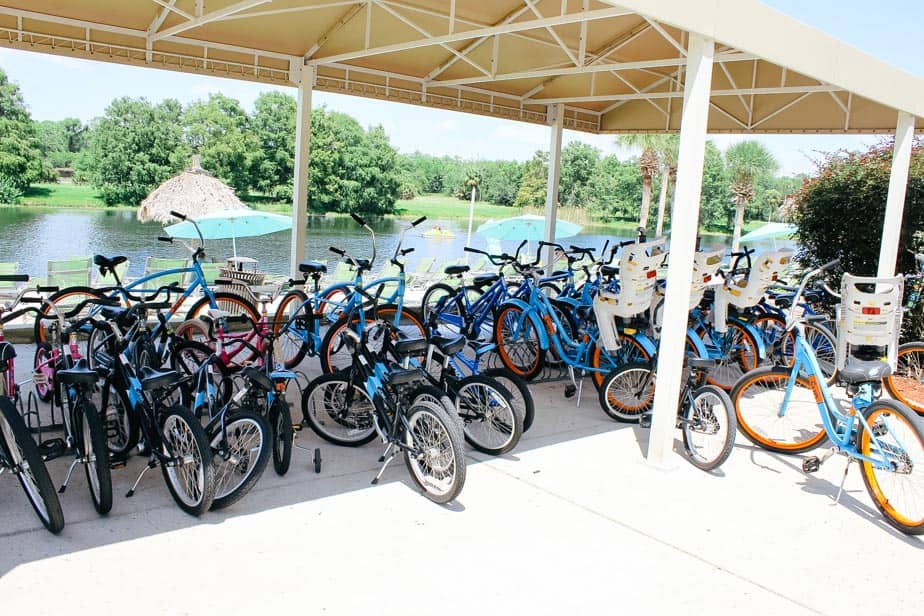 I got up early one morning, before 8:00 a.m., and loaded my camera to get some pictures. Then, my plan was to ride a bike to the front of the resort to get photos for this review.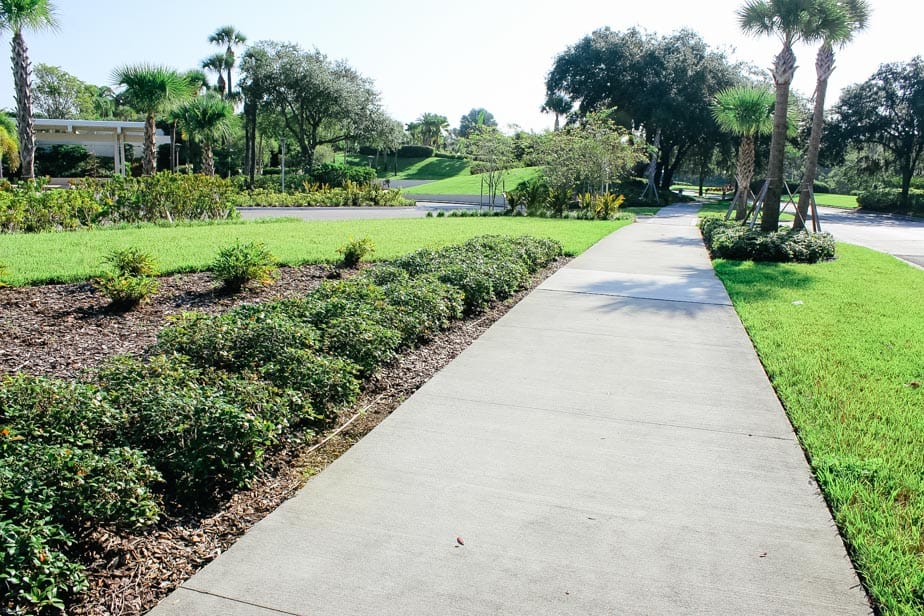 I passed by the Jack Nicklaus-designed golf course along the way. (More info here.)
Related: Waldorf Astoria Orlando Review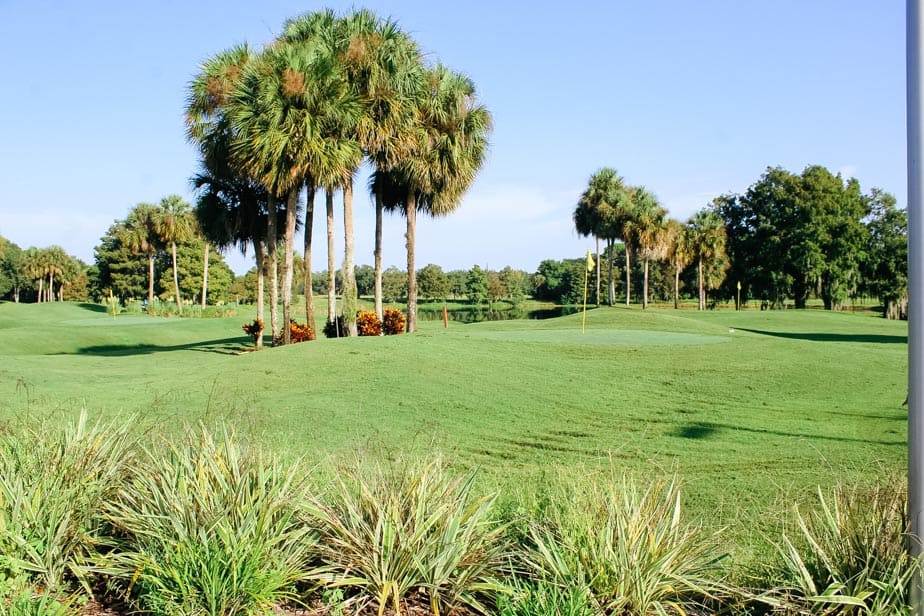 And then circled the front to this scenic view of the hotel.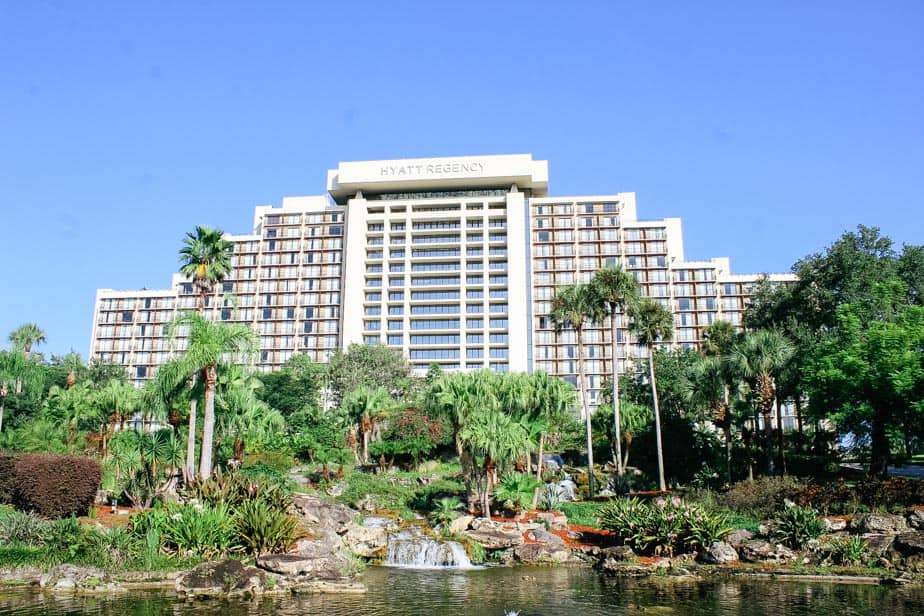 Alas, I was not ready to end my bicycle tour, so I decided to try another trail. There are three jogging and biking trails at the resort.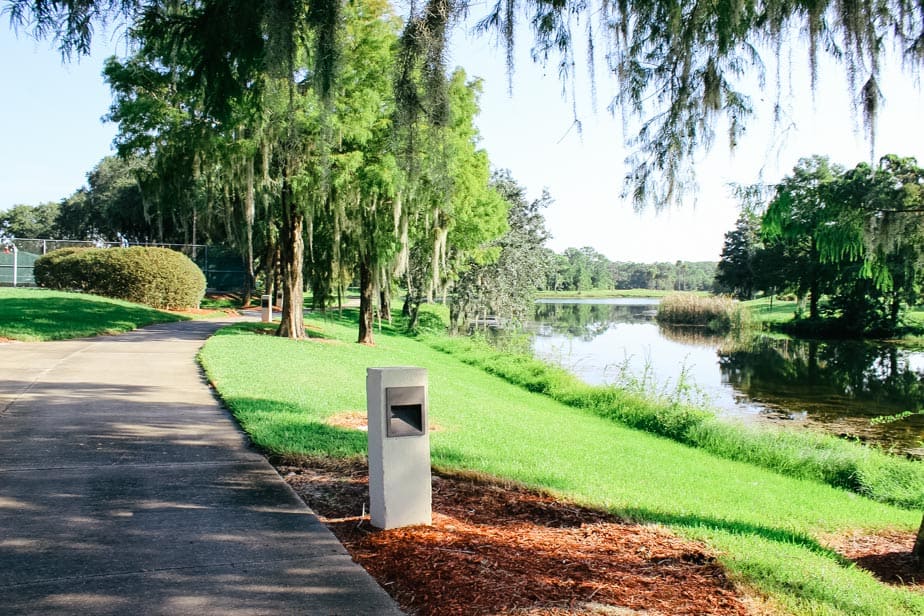 So I ended up on the opposite side of the lake behind the Grand Cypress.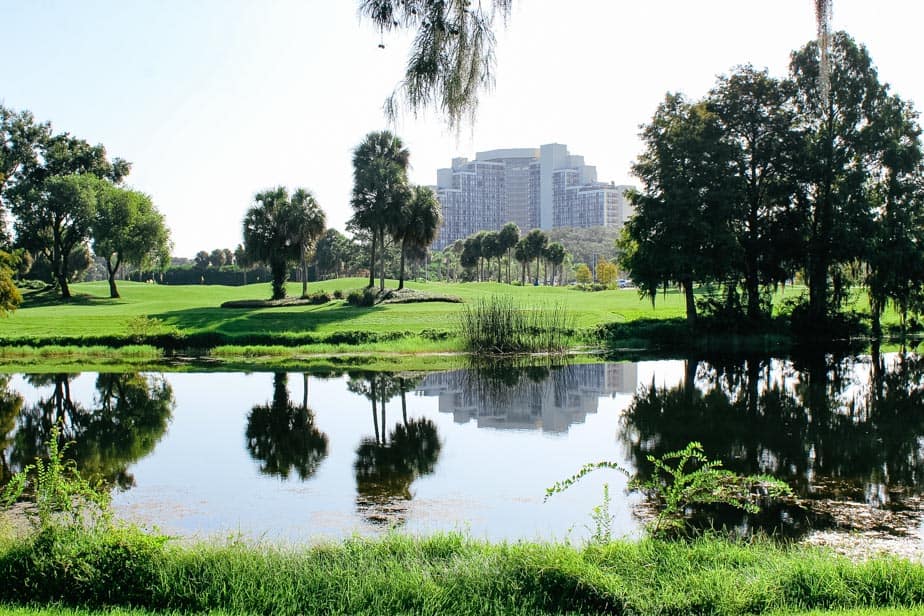 That's where the Racquet Club is located.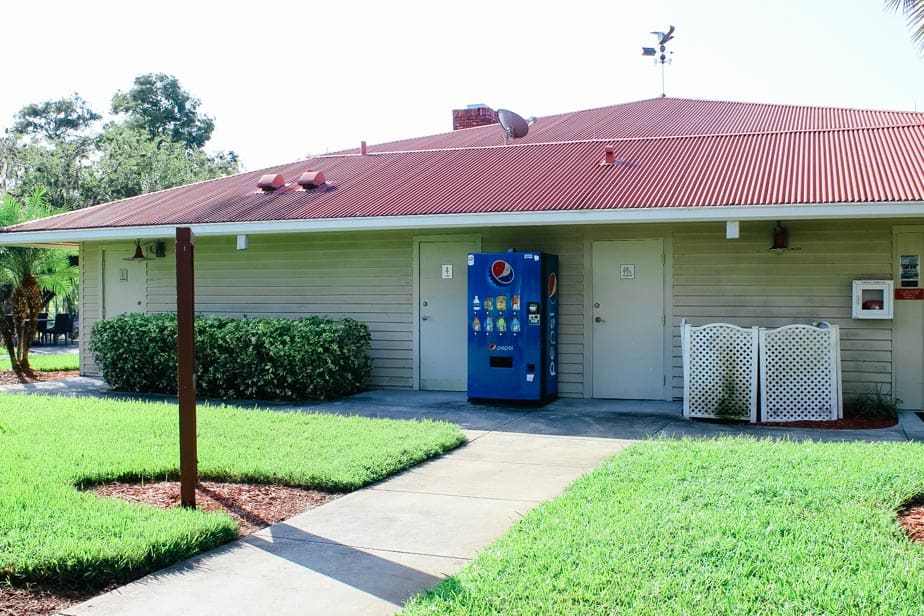 They legit had 12 tennis courts, and people were there playing.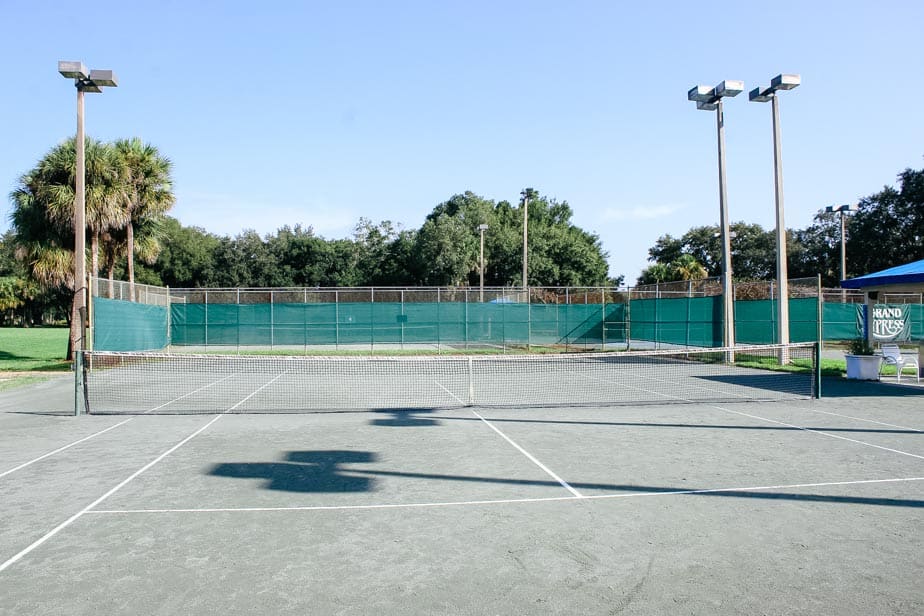 I continued around the trail.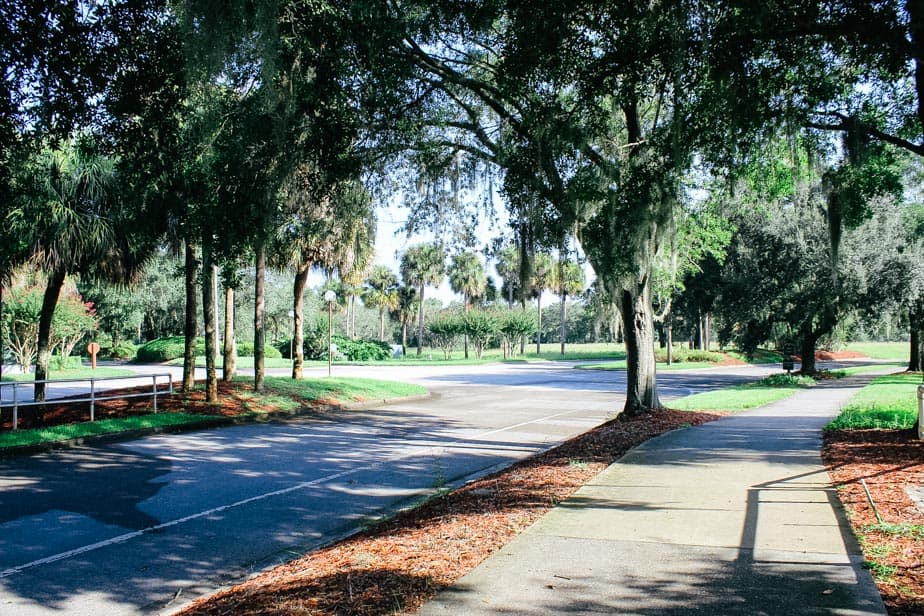 And ended up on this private road that led back out to the highway. That's the Aerophile balloon at Disney Springs in the distance.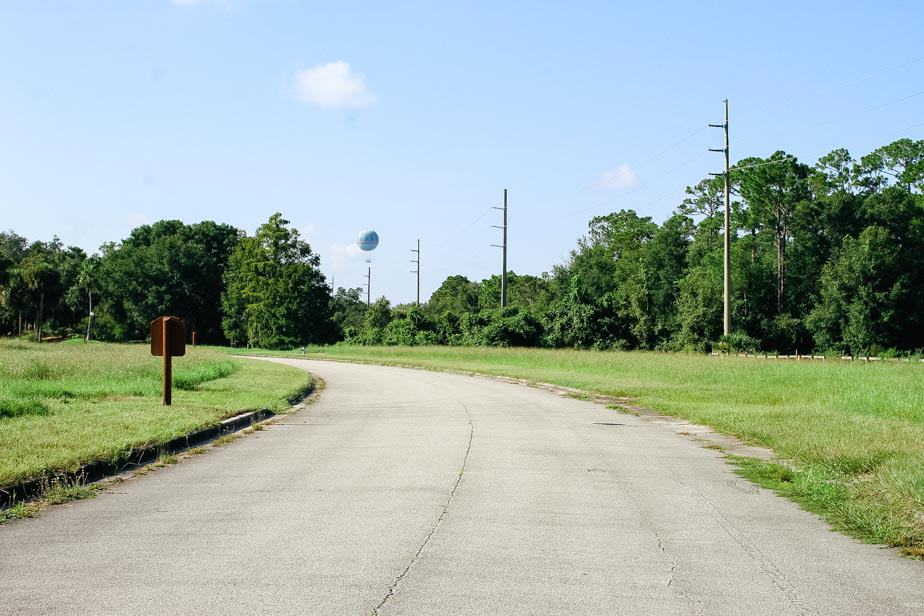 Next thing you know, I was back at the resort. There is a map of the resort available here.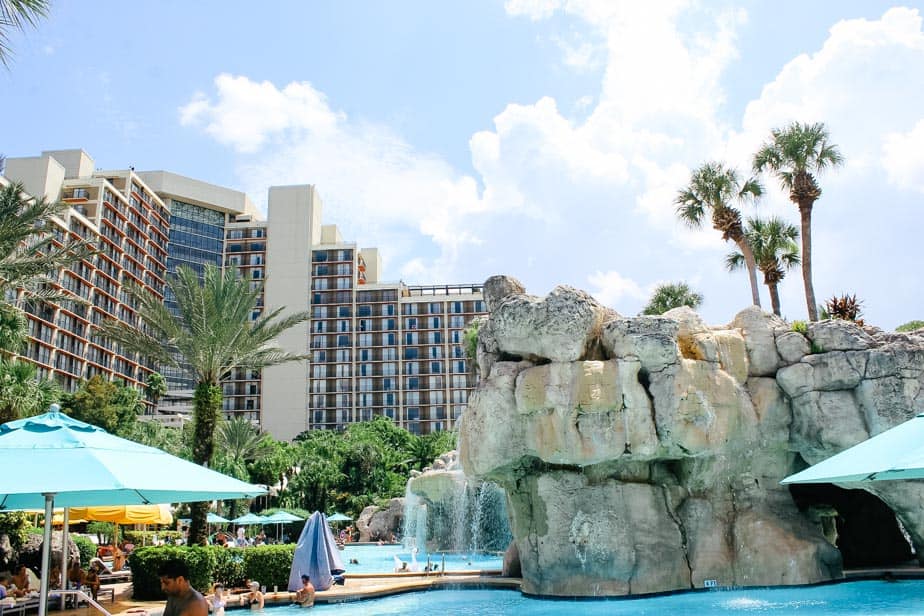 For those that prefer to work out indoors, the Hyatt Regency Grand Cypress has a tremendous gym. It's located in the cave area of the swimming pool.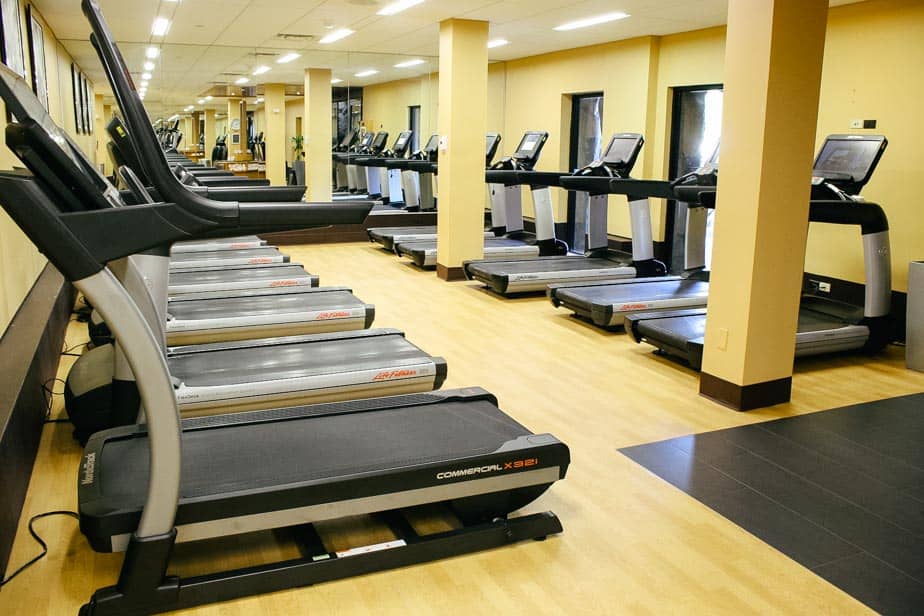 They even had a stair climber!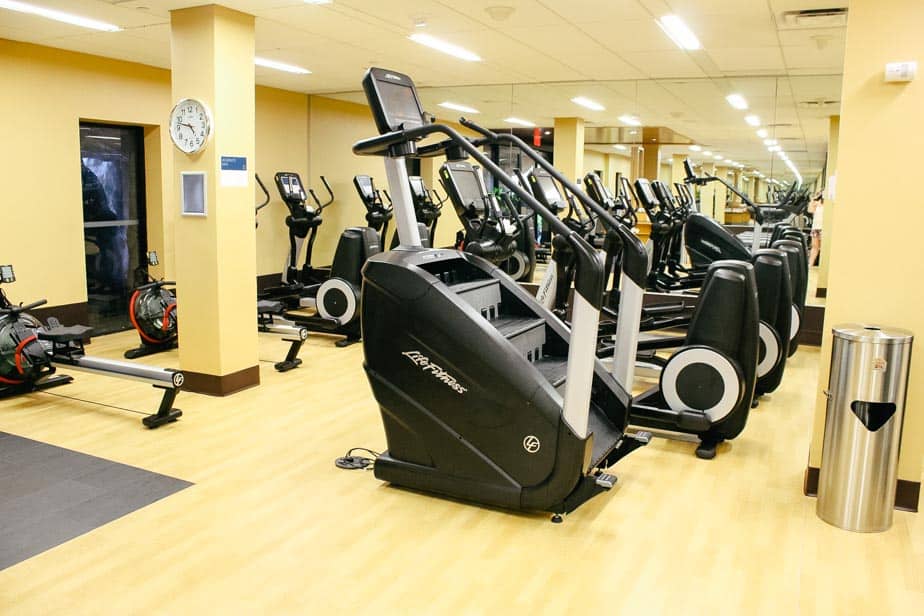 You could spin your heart out.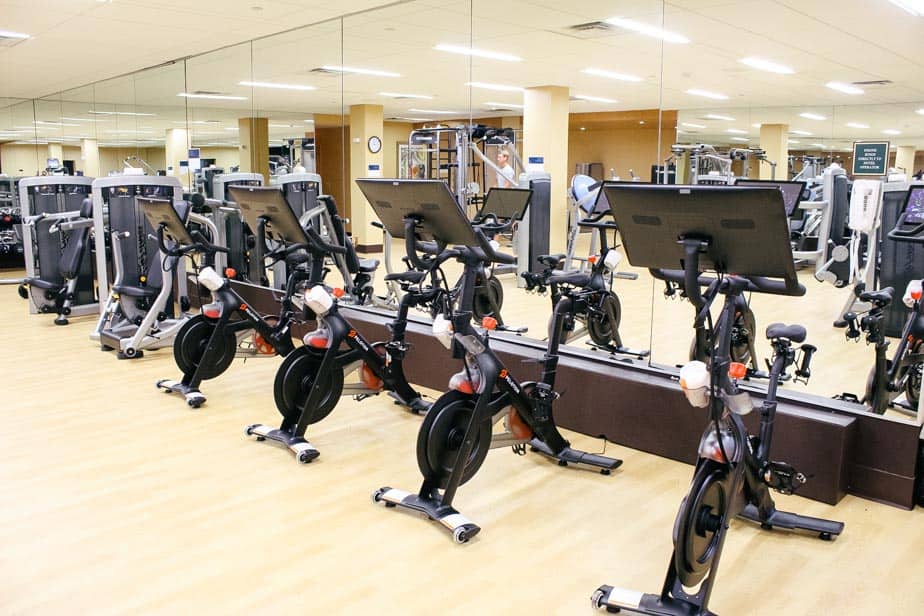 Or just do a little lifting.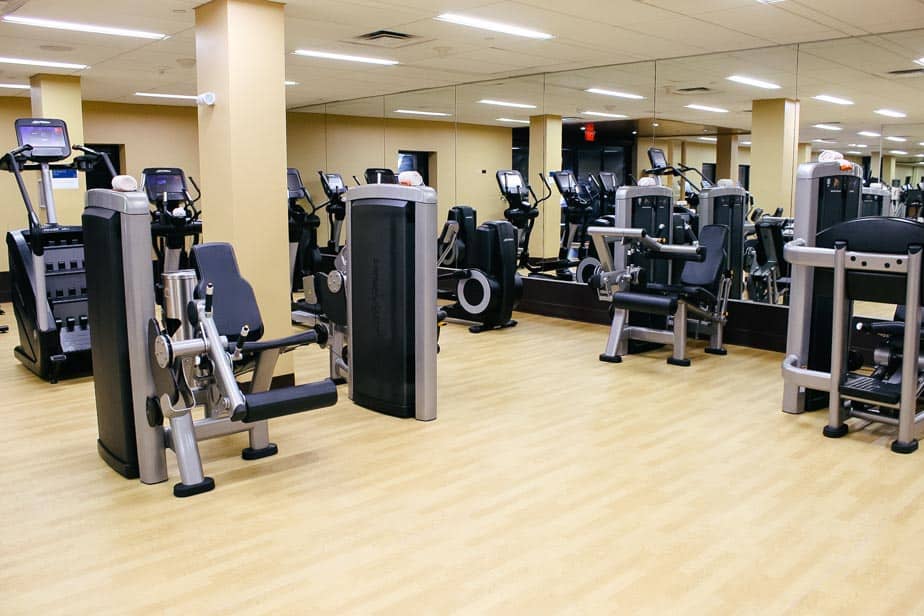 Next door, there is an arcade.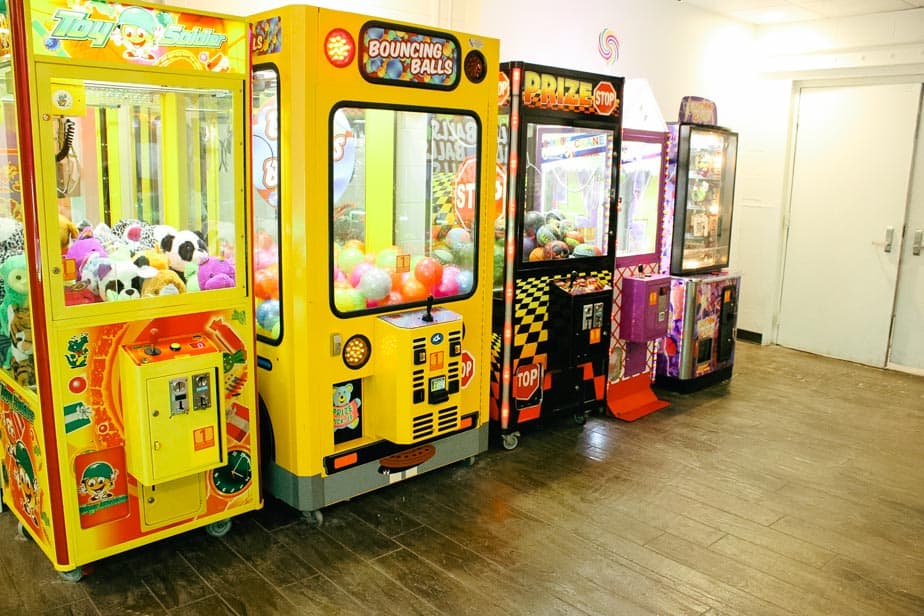 The air hockey table looked fun.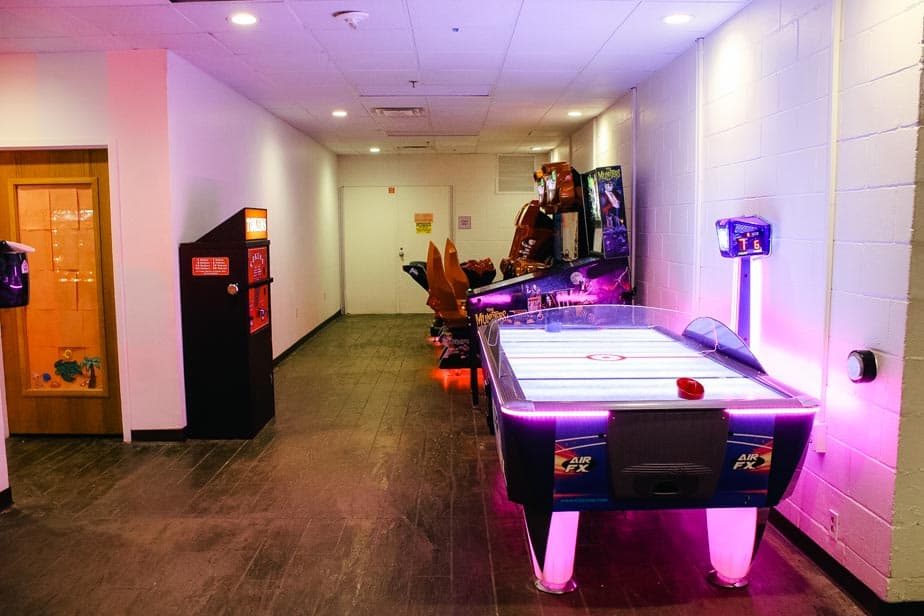 And there was even a large laundry facility in the cave area. Usually, I do laundry while I'm staying at a hotel. However, I was a little disappointed to see that a single wash cost $5.00 here.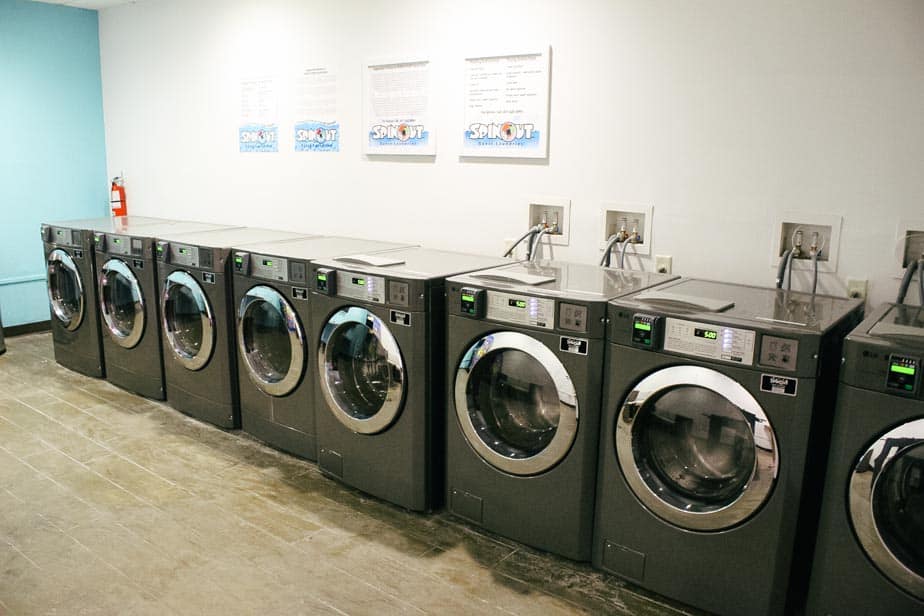 The price of a load of laundry would end up at $12.00 by the time you bought soap, a wash cycle, and a dry cycle. That's a little steep for laundry.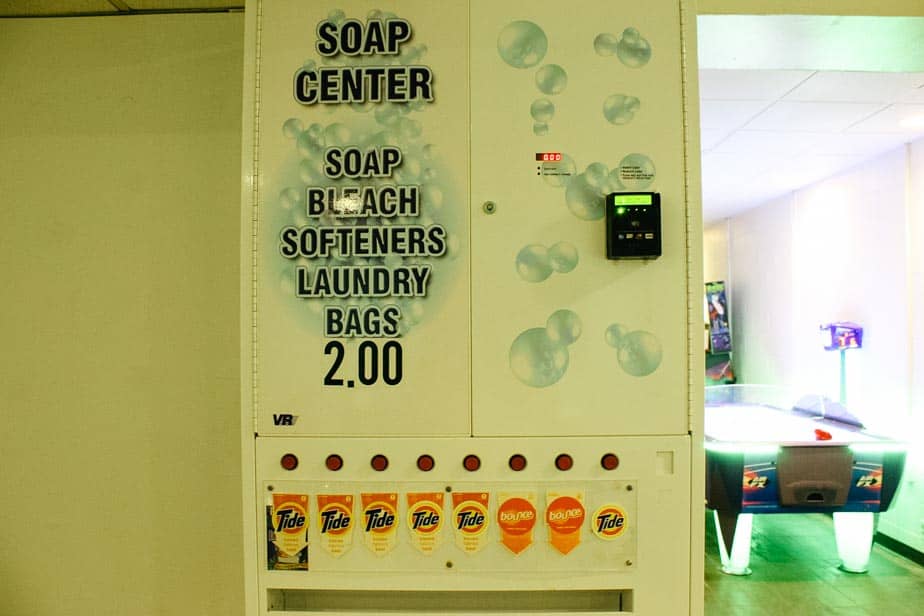 Overall, my stay at the Hyatt Regency Grand Cypress was more than enjoyable. As far as pricing goes, a visit here on average runs $199 per night with no room upgrades. In addition, you'll have a resort fee of $38.00 per day plus tax, and self-parking is currently running $25.00 a day.
Naturally, these prices were current at the time this review was written, you'll want to verify them. And don't forget to add parking charges at the theme park to your budget if you plan to drive to the parks.
Realistically, you're looking at something more along the lines of $280.00 per night if you'll have a car with you. For those that do not have a car, you'll need to consider the cost of transportation to and from the parks and any other places you will travel to while in Orlando.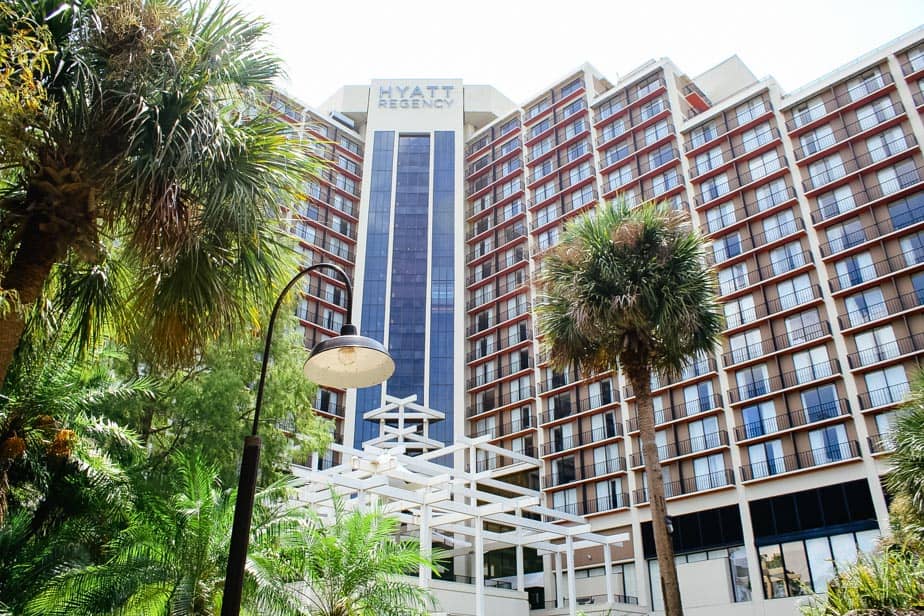 The Hyatt Regency Grand Cypress does have a shuttle that travels back and forth to Disney Springs in the evenings. However, I do not recommend relying on a shuttle service at an off-property resort when visiting Disney World. Nearly all of the shuttles run on schedules and will restrict your time in the parks.
When comparing this stay at the Hyatt to a category of resorts at Disney, the pricing is similar to what you would pay for a moderate resort. However, the amenities at the Grand Cypress are comparable to a deluxe resort.
You'll miss a few benefits of staying at a Disney Resort, like the 30-minute early theme park entry at the Disney Parks. And, of course, the free transportation options to and from the resorts.
Of all the hotels I've stayed at near Disney, this has been my favorite to date. I'll definitely add this one to our list of best off-site hotels near Disney World. The closest runner-up off the top of my head is the Wyndham Grand Orlando at Bonnet Creek.
Related: Wyndham Grand Orlando at Bonnet Creek Review
Hopefully, this Hyatt Regency Grand Cypress Review was able to provide you with the information needed to plan a stay here. I'm looking forward to staying here again, myself. And I don't feel that way about every hotel.
Have you stayed at this resort before? Leave a comment below with your thoughts, I'll be happy to answer any questions based on my stay.