Tour a Deluxe Studio at Disney's Polynesian Resort (DVC)
Disney's Polynesian Resort recently underwent a significant refurbishment. During that refurbishment, the deluxe studios that make up part of Disney's Polynesian Villas and Bungalows were renovated.
In this article, we'll preview one of the updated deluxe studios at Disney's Polynesian. The deluxe studio sleeps up to five guests and includes a few upgrades that aren't available in a standard room.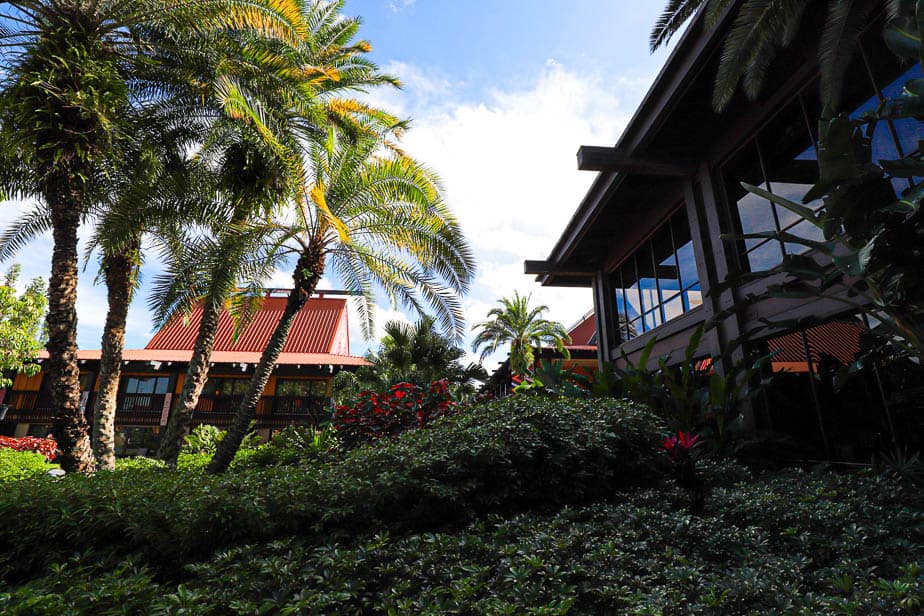 For reference, this portion of the Polynesian is considered a separate Disney Vacation Club Resort (DVC). Most guests that stay here are DVC members that use their points to book stays, similar to a timeshare. However, these rooms are available to the general public and can be reserved directly through Disney.
Like many of the deluxe resorts at Disney World, the Polynesian has standard guest rooms that make up the majority of the accommodations. However, the Polynesian Villas offer additional rooms that are considered an upgrade.
Those units are a deluxe studio villa and a Bora Bora bungalow. You may remember we recently toured one of the bungalows.
Related: Bora Bora Bungalow at Disney's Polynesian
On the same day I toured the bungalow, I was able to see the new deluxe studio. And I think it turned out nicely. Here is a look at the living area.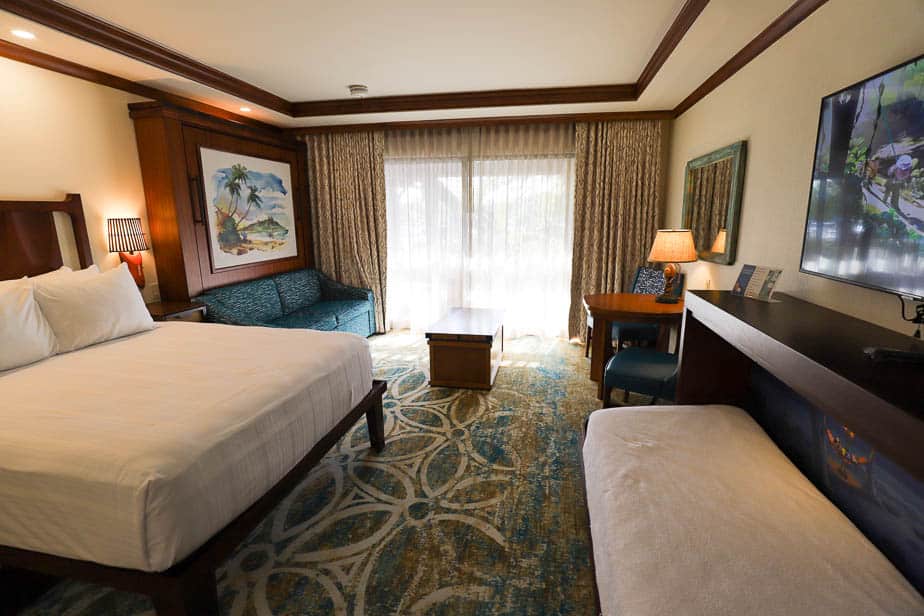 Similar to what we've seen at newer villa properties like Disney's Riviera Resort, Poly's deluxe studio features a sofa. The sofa has a Murphy bed installed above it. It's designed in a way that the sofa folds, allowing a queen size bed to pull down from the wall.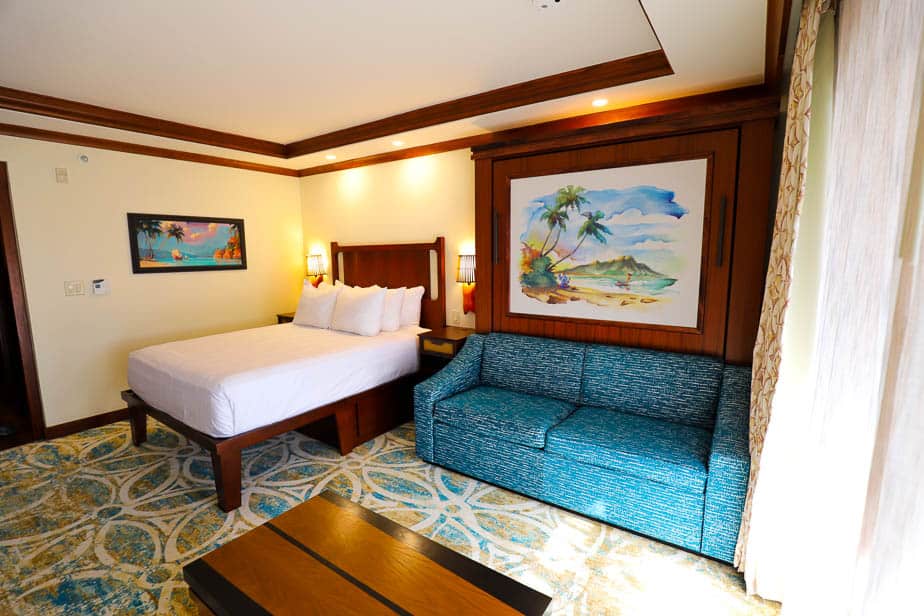 I don't know if you've had a chance to try these new "sofa beds" yet or not. If you can even call them that. But from my experience, they are as comfortable as a regular bed. Needless to say, the Murphy beds are a huge improvement over a traditional sofa sleeper.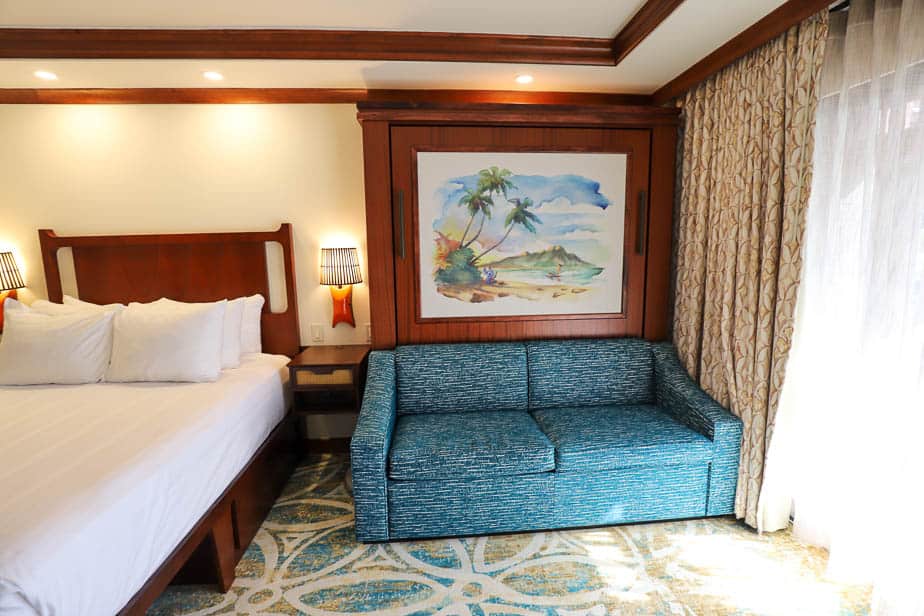 Artwork in the room features different tropical scenes from Lilo and Stitch and Peter Pan. If you're looking for Moana, you'll find her in the newly refurbished standard rooms.
Related: Disney's Polynesian Resort Review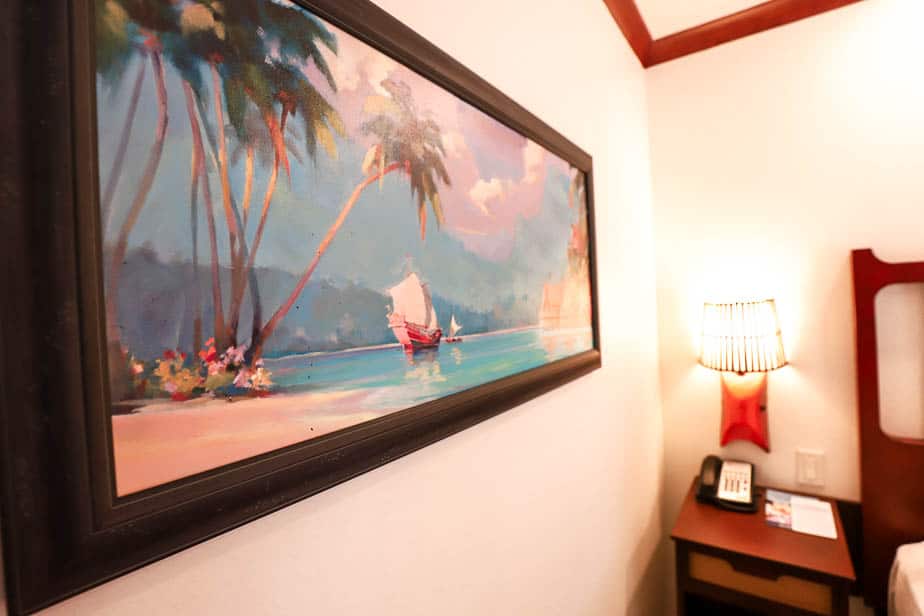 On the opposite side of the studio, there's a table with two chairs. And underneath the television, you'll find the fifth bed. The single, trundle bed in the photo below will accommodate a child.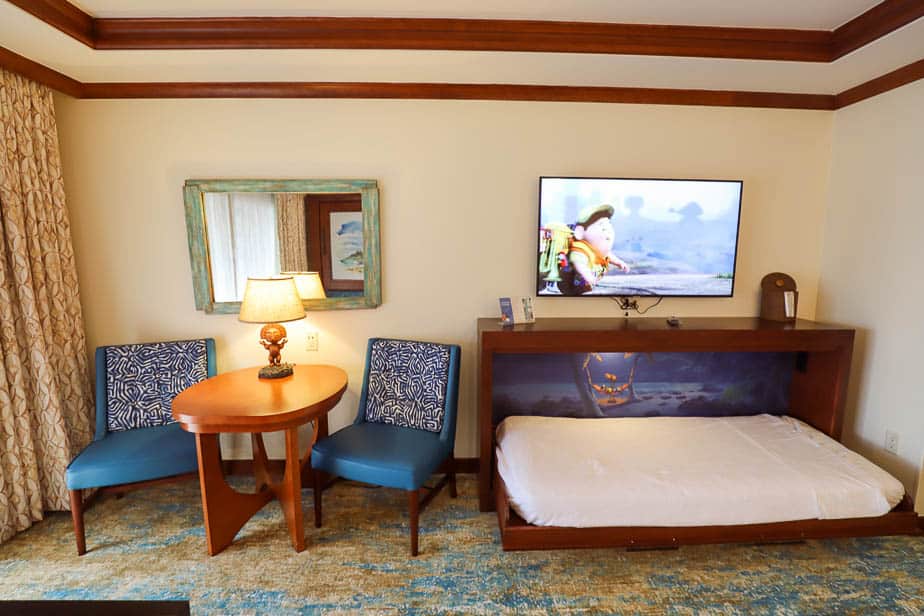 Here is a better look at it. Who wouldn't want to fall asleep in this cozy little bed that has such darling artwork?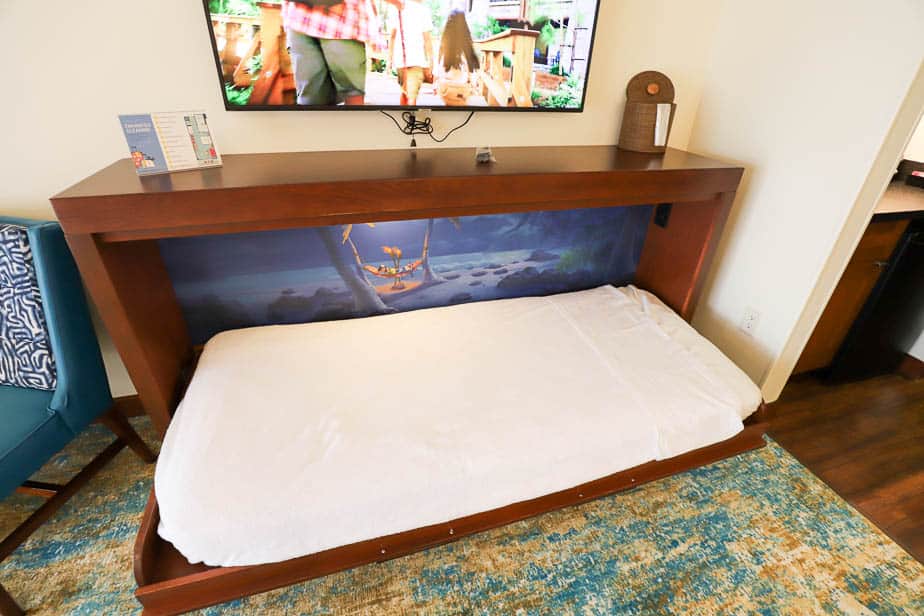 Next, we'll look at the kitchenette area in the Polynesian's deluxe studio. This modern convenience is one of the things that sets a villa room apart from a standard room.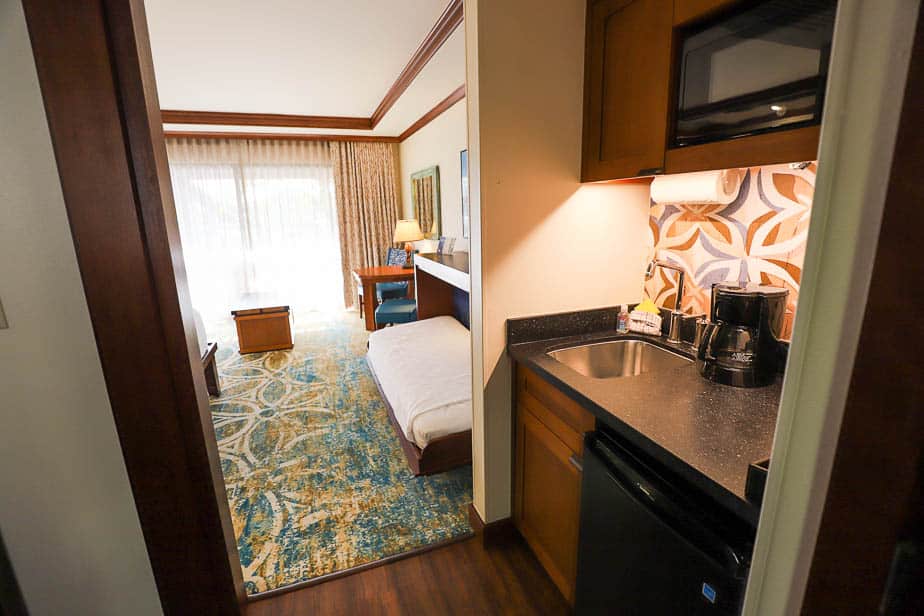 Deluxe studios come with a microwave, mini fridge, sink, coffee maker, and toaster. The cabinets are stocked with a set of dishes, glasses, and silverware.
A few of those items are pictured below.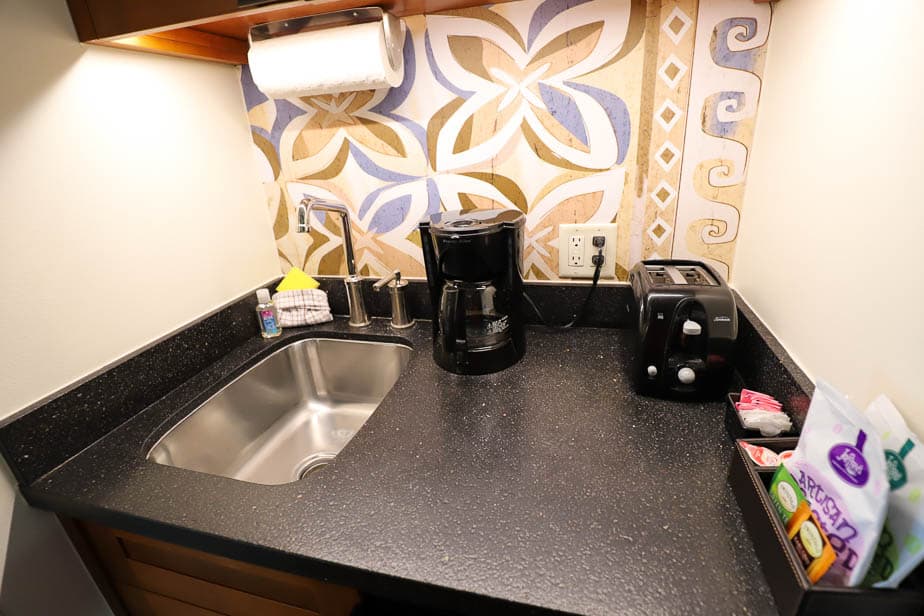 Additionally, you're provided with paper towels, a sponge, dish liquid, and coffee. I usually prefer to bring my own coffee and filters. The coffee packs provided are Joffrey's, which is a pretty popular brand.
Should you run out of these items during your stay, you can simply request more. It is important to note that if you decide to rent directly from a DVC member, that housekeeping doesn't work the same as it might in a standard room. You'll receive service on the 4th and 8th days of your stay.
However, if you are a regular guest and rent a villa through Disney, you'll receive standard housekeeping.
The mini fridge in the room is larger than what comes in a standard room.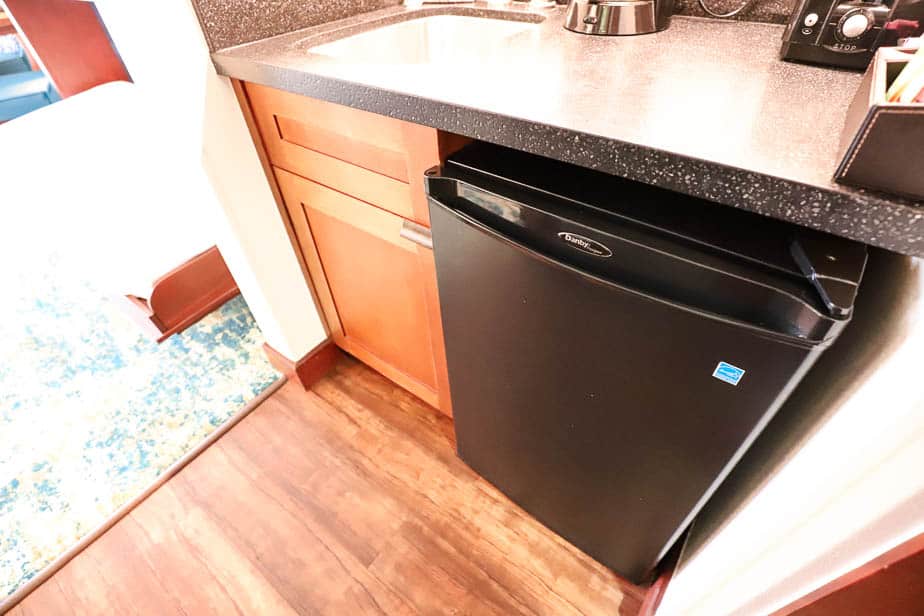 The bath set up offers another huge advantage over a standard guest room.
The bath is divided into two separate spaces. The first area offers a walk-in shower with rainfall showerhead and a separate detachable showerhead. This room has its own vanity.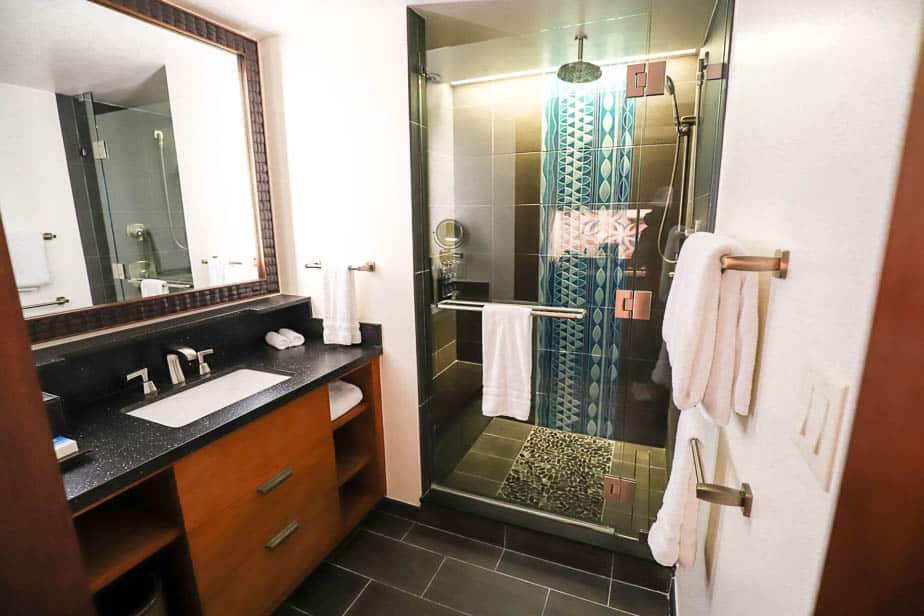 The other half of the bath has a connecting door that can be closed off to provide privacy. Each space has a separate entrance that opens back up to the room. This portion of the bath features a tub with shower combination and vanity.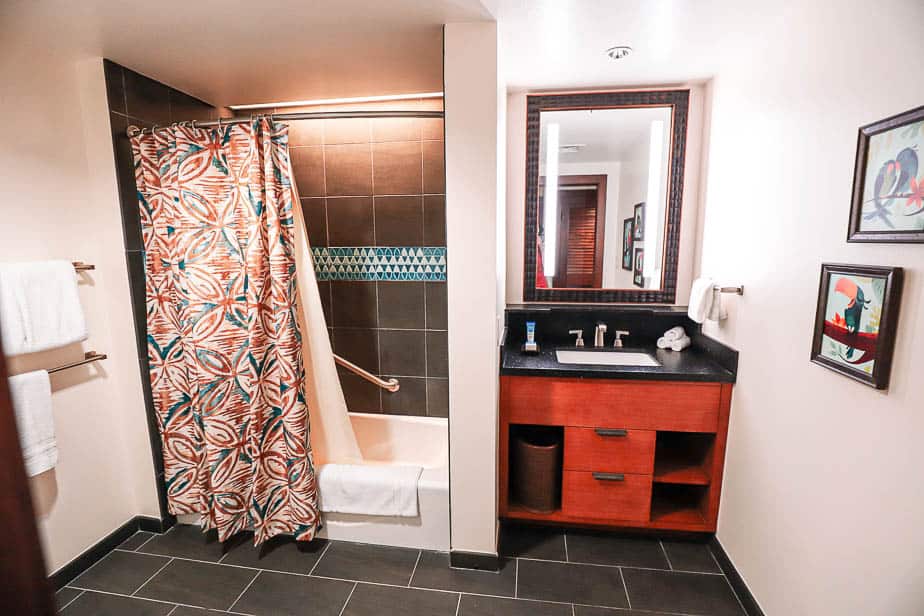 Here is an alternative view of the space.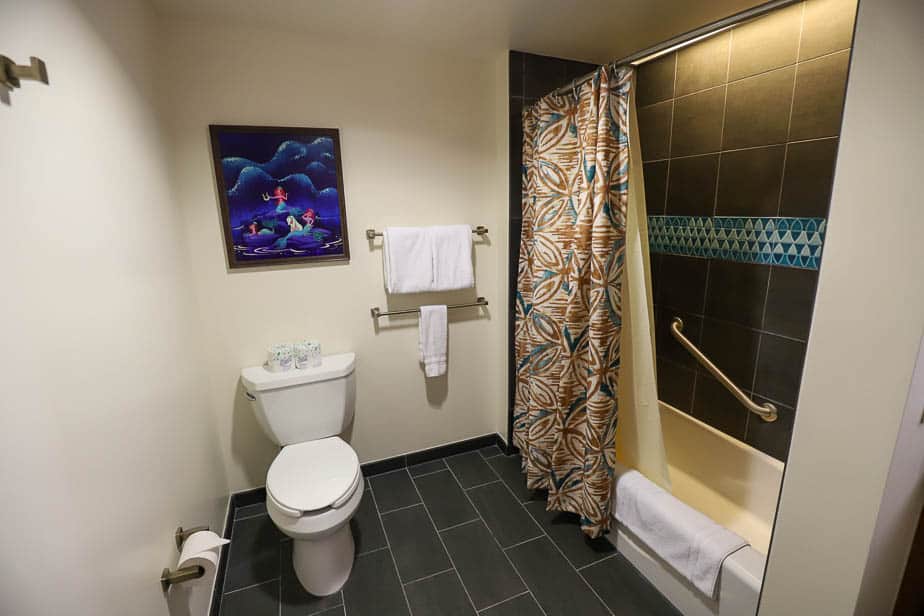 Back in the foyer, the closet space contains a safe, extra linens for the bed, an iron with ironing board, and a luggage rack.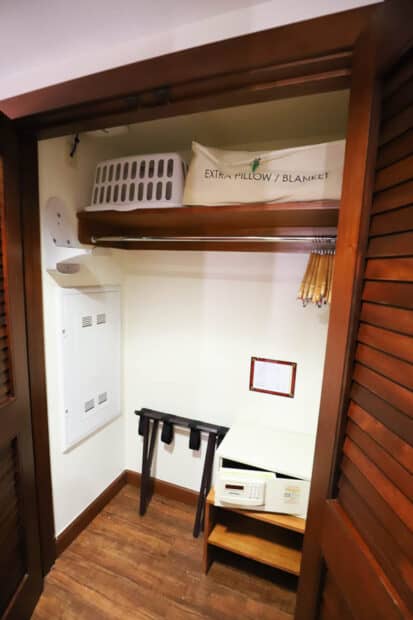 Overall, I enjoyed the new updates to the deluxe studio at Disney's Polynesian Villas. I find this type of room is ideal for a family in need of that fifth sleeper bed.
Additionally, anyone who might like to prepare a few small meals in their room will enjoy the benefits of having a small kitchenette. That fridge comes in handy for leftovers. And you can reheat those leftovers in the microwave.
For more information about Disney's Polynesian, all of our articles related to the resort are available here.
If you are considering other deluxe studios, we have several other room tours available similar to this one. Those include:
What do you think about Disney's Polynesian Deluxe Studio? Will this type of room work for your group? Leave a comment below and share your opinion.