Room Tour: Deluxe Studio at Disney's Polynesian Villas
This article provides a room tour of a deluxe studio at Disney's Polynesian Village Resort. Deluxe studios are part of the Disney Vacation Club at Walt Disney World.
Disney's Polynesian Village Resort underwent a significant refurbishment a few years ago. During that time, the deluxe studios that are part of Disney's Polynesian Villas and Bungalows were entirely redone.
These deluxe studios have proven to be popular. Of course, they already had one of the best layouts of all the DVC studios among the Disney Deluxe Villa Resorts.
Below, we'll preview a few photos of the Polynesian Resort's deluxe studios. This unit sleeps up to five guests and has a few upgrades that aren't available in a standard guest room.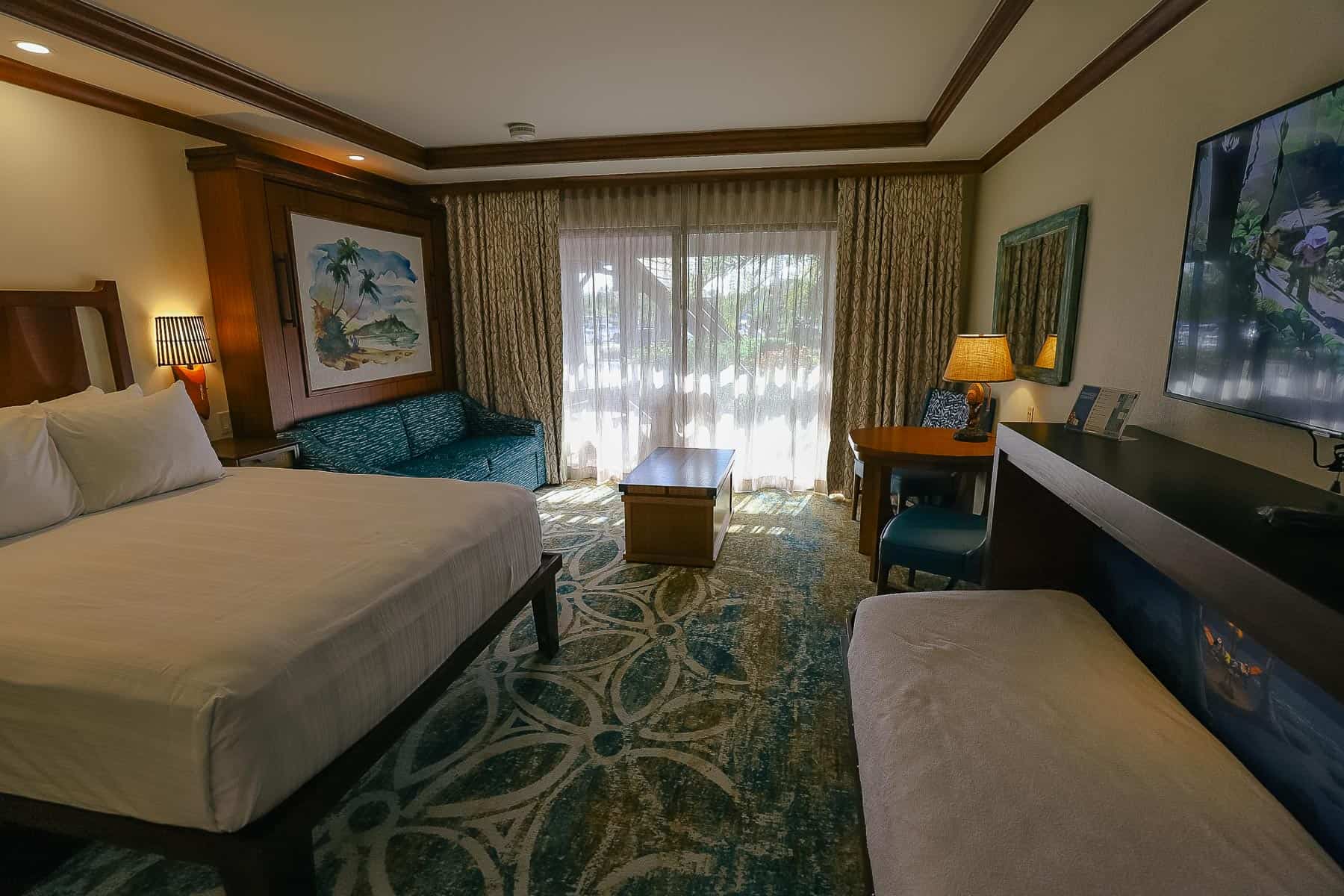 A Note on Staying in a DVC Unit
Most of the deluxe resorts at Disney have a separate Disney Vacation Club Resort (DVC) within them. Additionally, a few stand-alone DVC Resorts are also available.
DVC members use their allotted points to stay at these resorts, similar to a timeshare. However, these rooms are also available to the general public and can be reserved directly through Disney.
Currently, two types of accommodations are available to guests of the Polynesian Villas and Bungalows. They are the deluxe studio, which we'll preview below, and the Bora Bora Bungalows.
Bungalows are one of the most expensive accommodations at Walt Disney World. The Polynesian Bora Bora Bungalows are two-bedroom units perched over Seven Seas Lagoon. They are in a class all to themselves.
However, more rooms will be available in the future at the new Polynesian tower that's currently being constructed. We'll have more on those units when details are released.
Location of Deluxe Studios at Disney's Polynesian
Deluxe studios are located in the following longhouses at Disney's Polynesian:
Disney's Polynesian Deluxe Studios
A deluxe studio villa at Disney's Polynesian sleeps up to five guests. They feature a queen-size bed, a queen-size pull-down bed, and a single pull-down bed.
A sofa sits next to the bed and serves a dual purpose. It has a Murphy bed installed above it. When you pull the lever above the sofa, a bed folds out of the wall. The sofa collapses underneath.
A coffee table sits in front of the sofa. It's on rollers, so you can easily move it out of the way.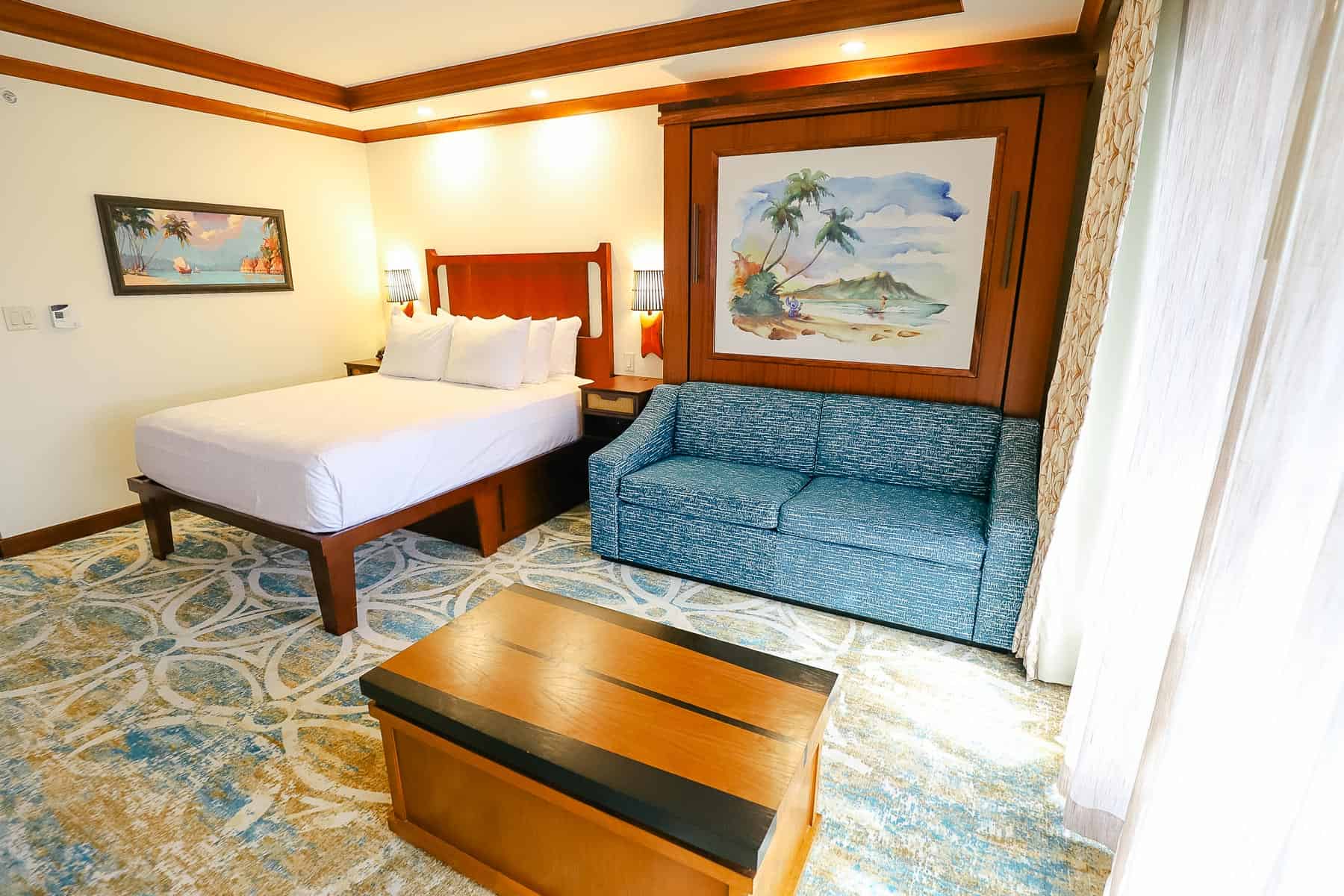 I don't know if you've had a chance to try these "sofa beds" yet or not. But from my experience, they are as comfortable as a regular bed. The Murphy beds are a tremendous improvement over a traditional sofa sleeper.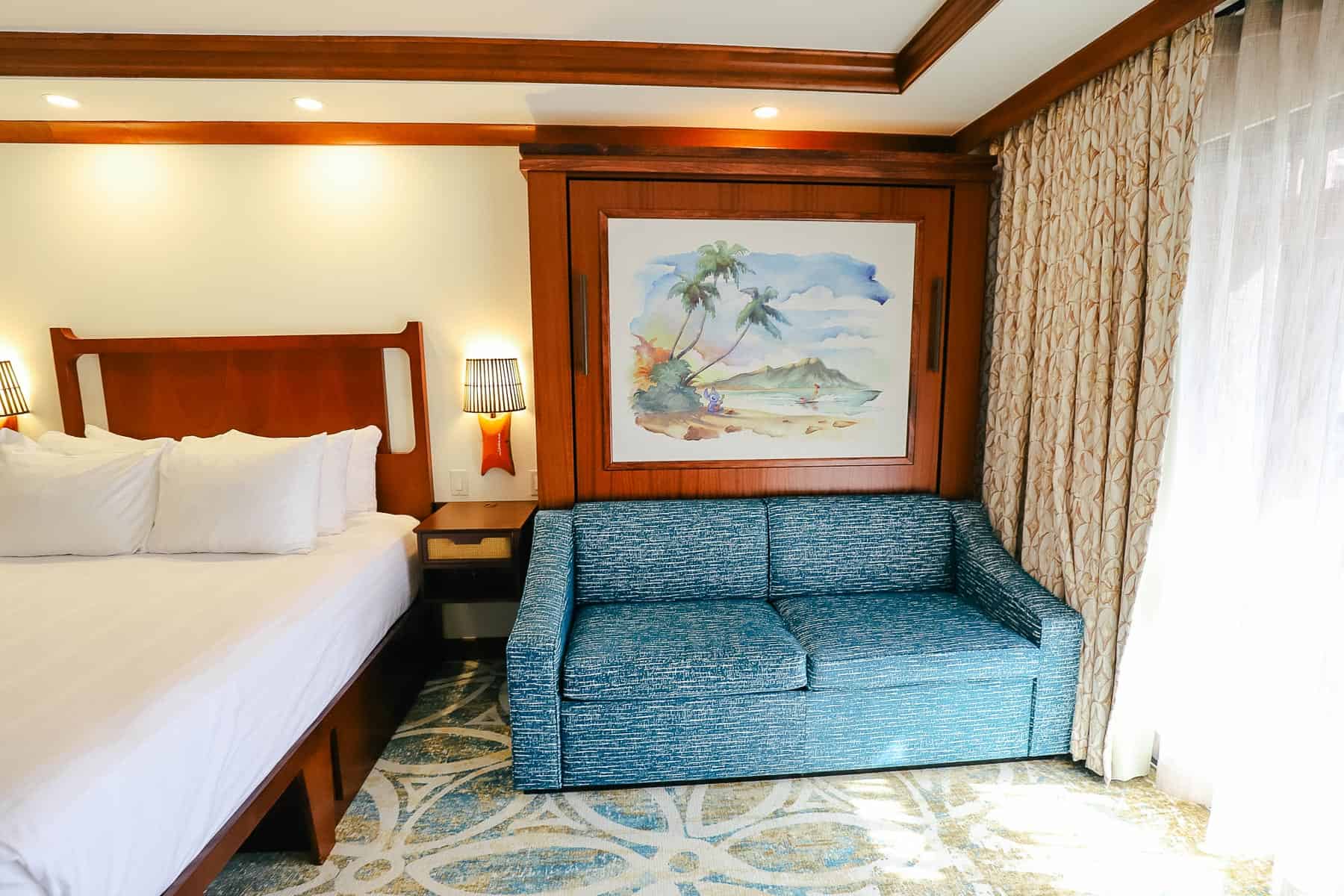 Artwork in the deluxe studio features tropical scenes from Lilo and Stitch and Peter Pan. If you're looking for touches from Moana, they are available in the resort's standard guest rooms.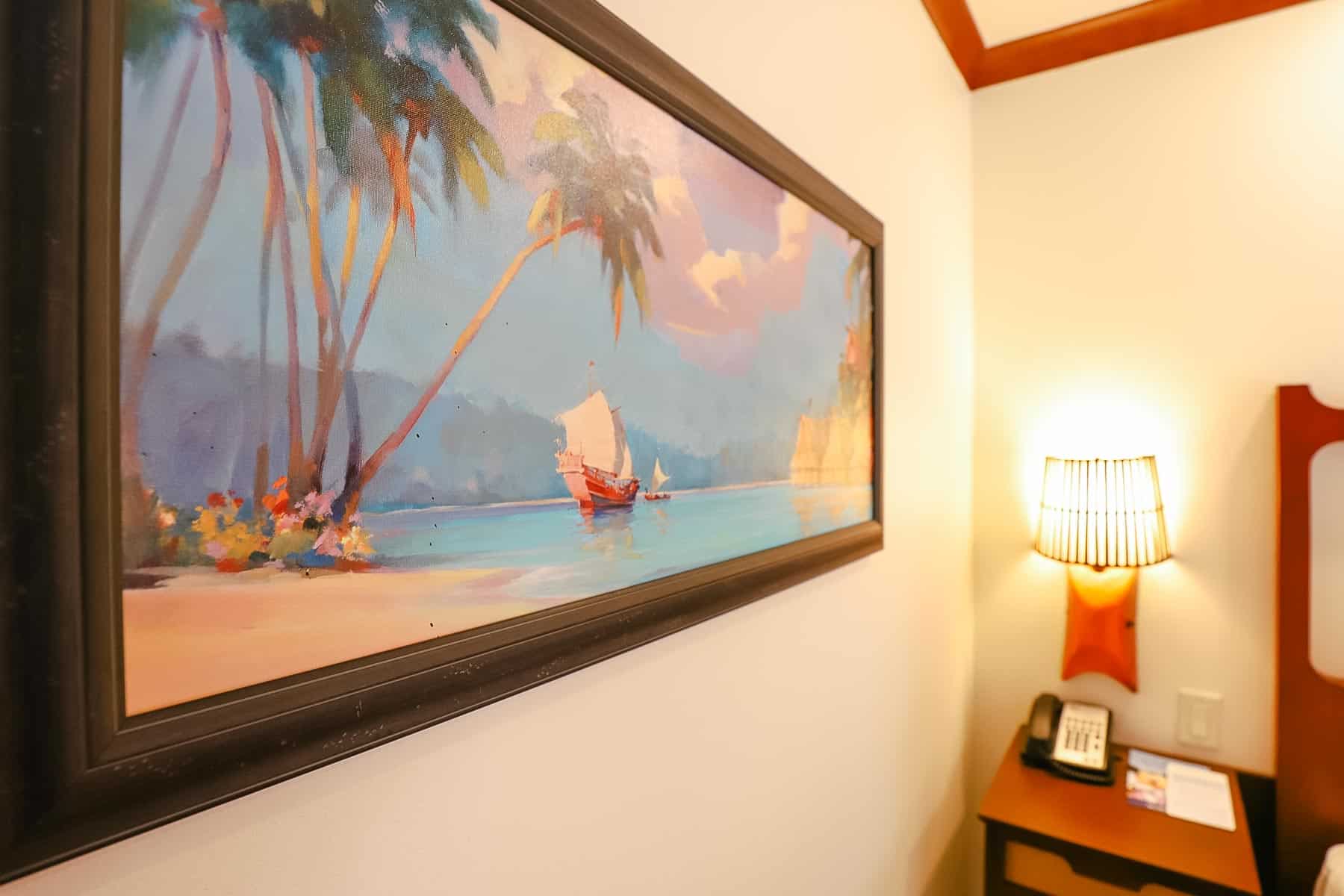 A table with two chairs sits on the opposite wall. Underneath the television, you'll find the fifth sleeper. This single trundle bed accommodates most children.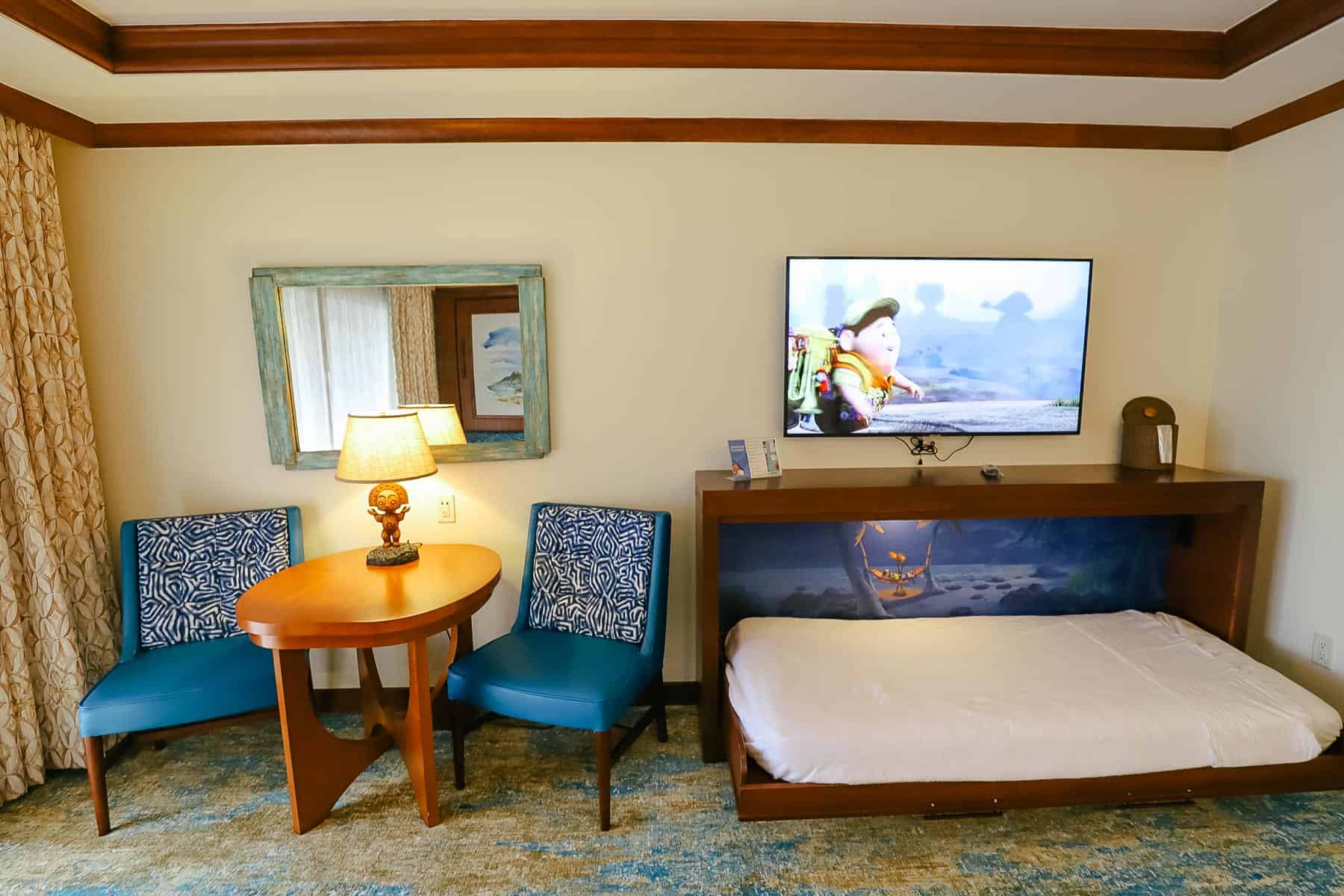 Here's a closer look. Disney artwork is painted in the nook above it. Additionally, you'll find several USB ports and outlets in this area.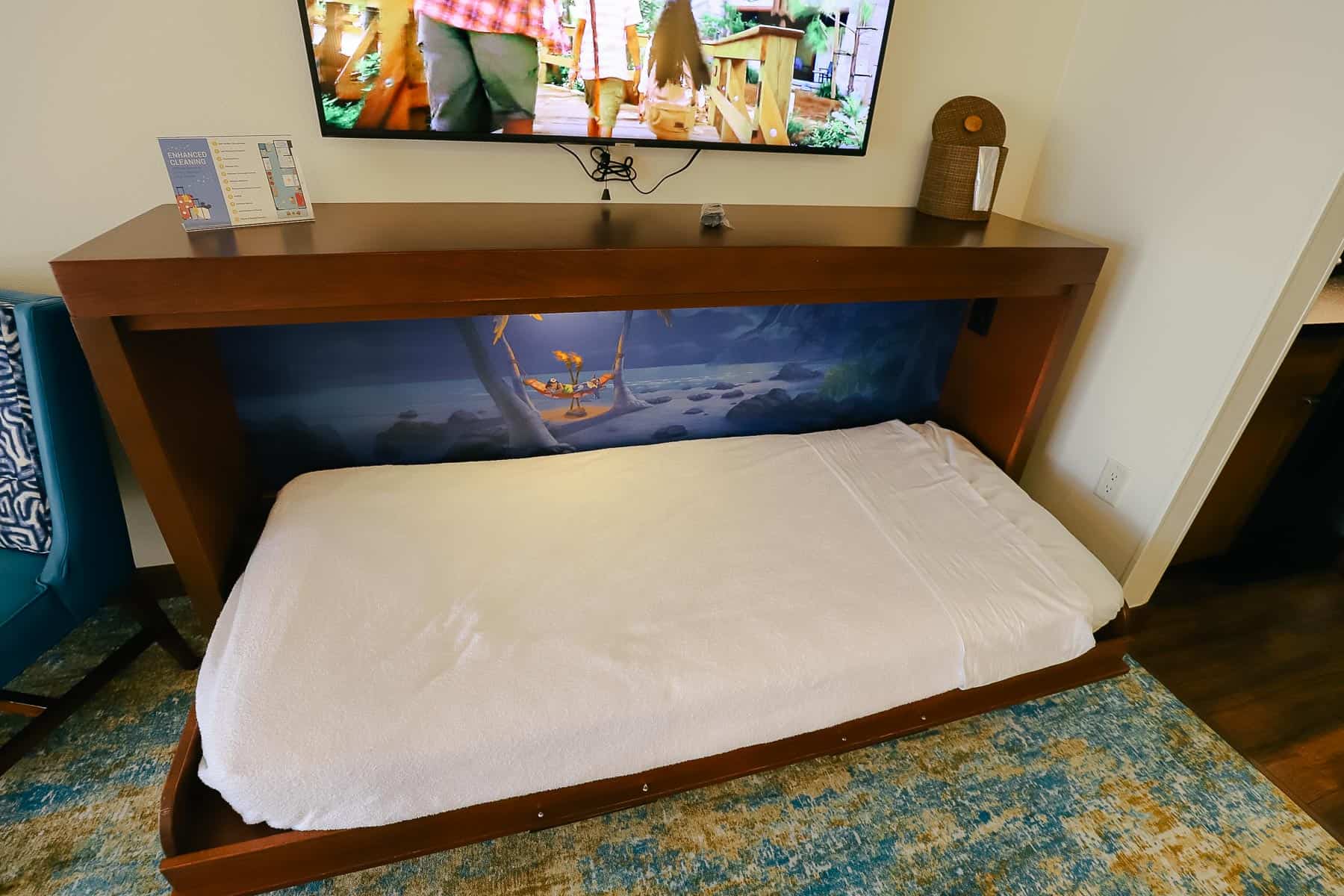 One of the perks of staying in a deluxe studio is that it features a kitchenette. You won't find this extra amenity in a standard guest room.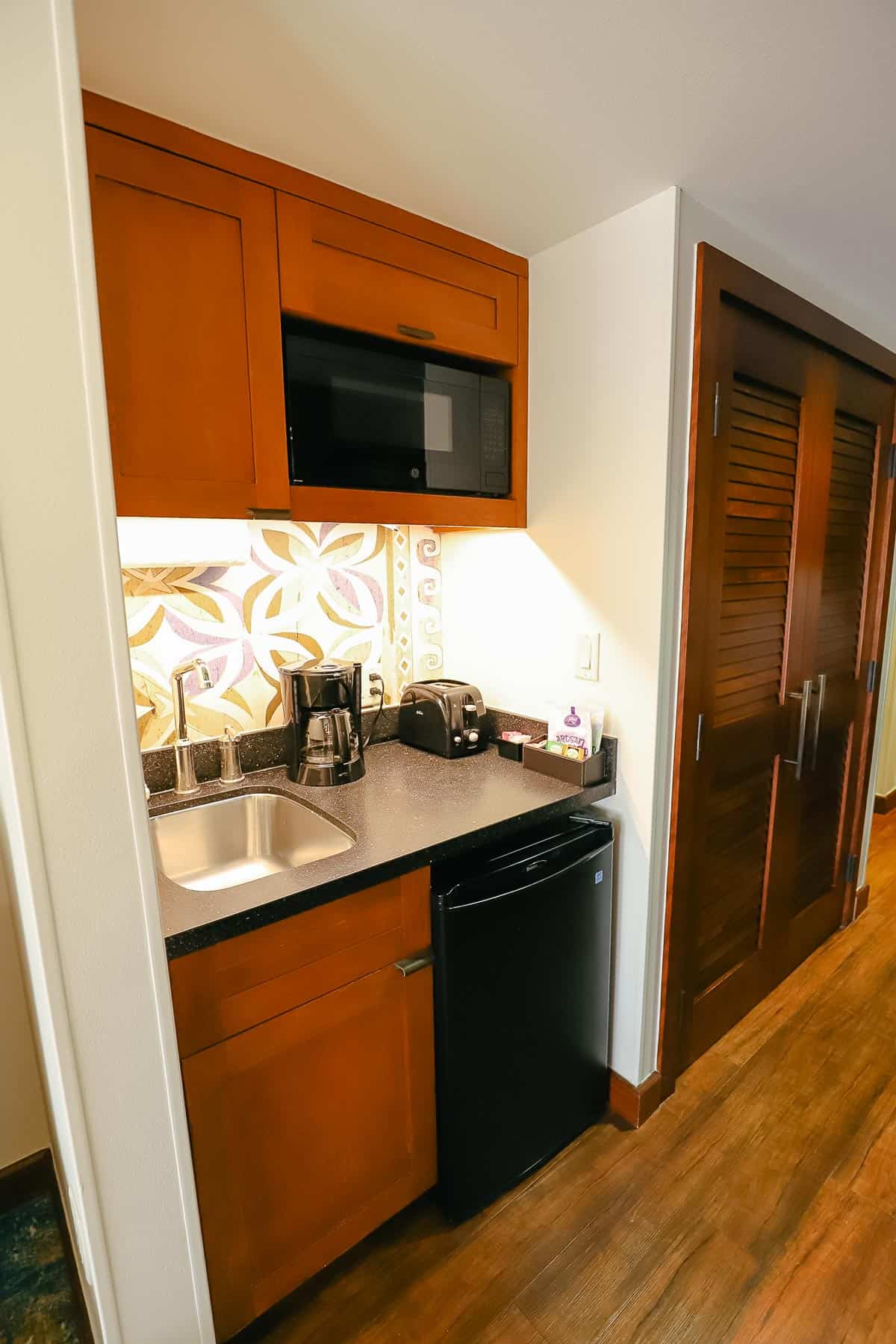 Deluxe studios have a microwave, mini fridge, sink, coffee maker, and toaster. The cabinets are stocked with dishes, glasses, and silverware.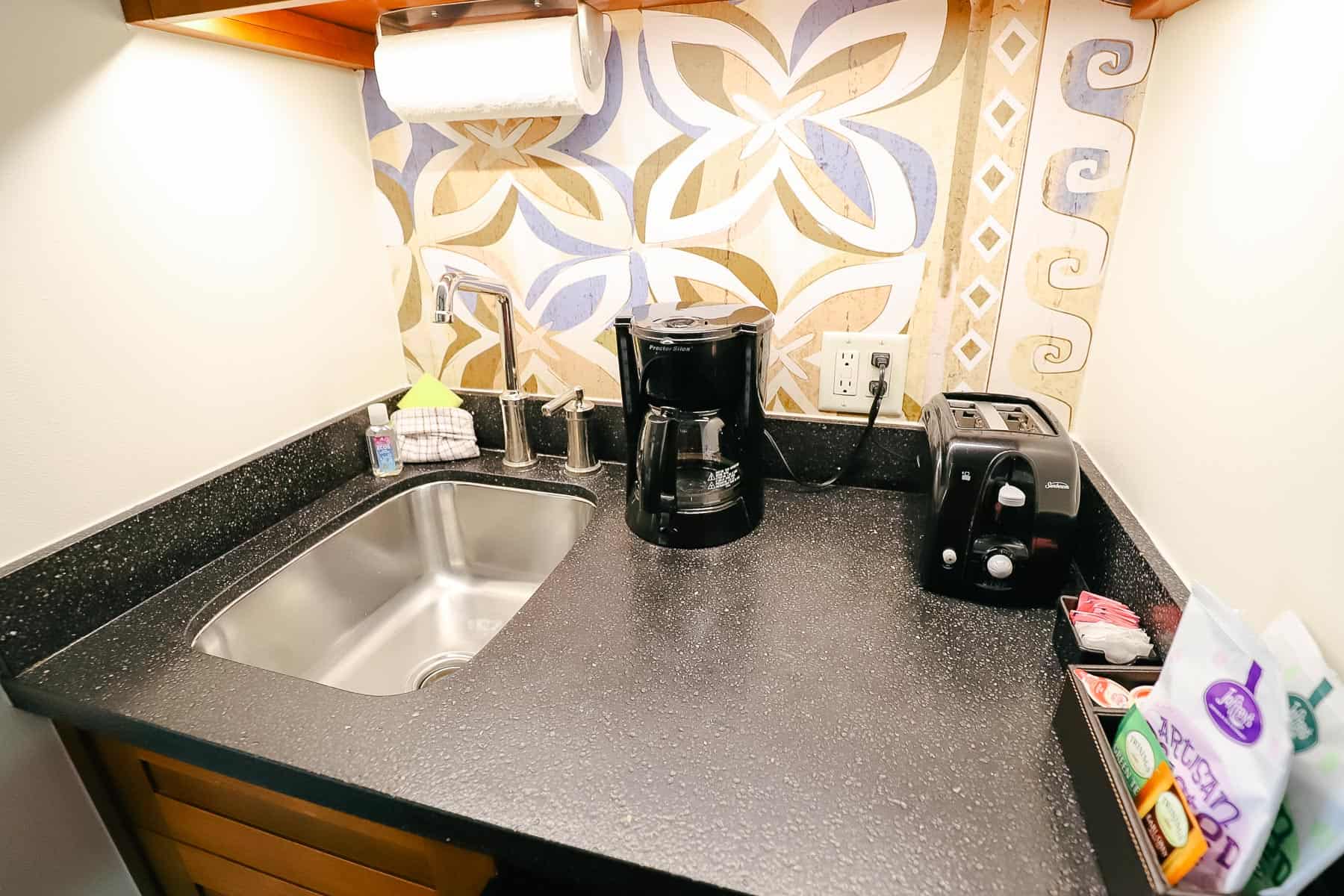 Additionally, you're provided with paper towels, a sponge, dish liquid, and coffee. I usually prefer to bring my own coffee and filters. However, the coffee packs are from Joffrey's, which is a pretty popular brand. You can request more if you run out of these items during your stay.
It is important to note that if you rent directly from a DVC member or site, housekeeping doesn't work the same as a standard room. You'll receive service on the 4th and 8th days of your stay. However, if you are a regular guest and rent a villa through Disney, you'll receive standard housekeeping.
This refrigerator has a freezer shelf on top. It is also much larger than the beverage coolers available in standard guest rooms.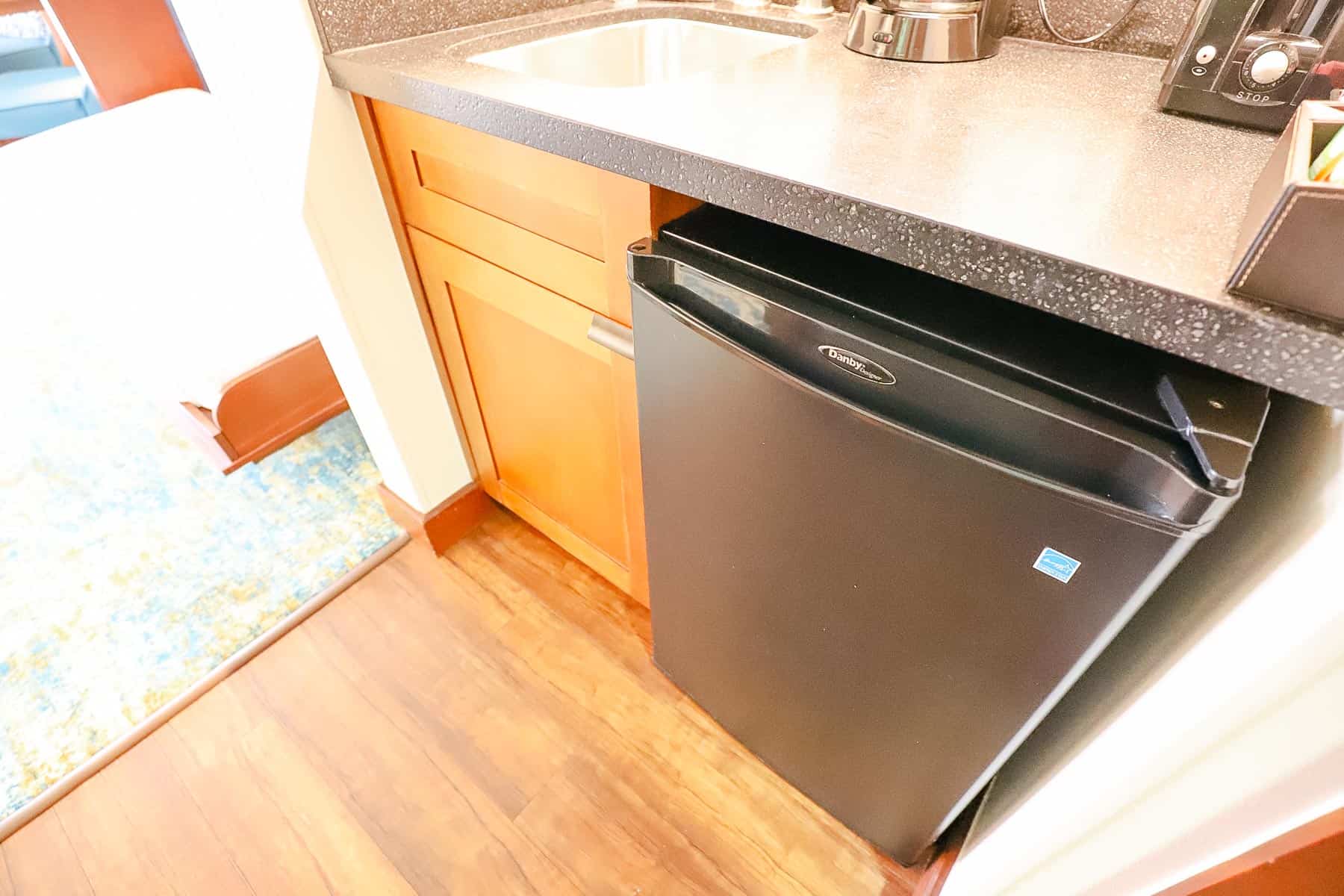 Now for the part that everyone raves about–the bathrooms. Polynesian's deluxe studios guest bath is split into two areas. The first area offers a walk-in shower with a rainfall showerhead and a separate detachable showerhead. This room has its own vanity with drawers and storage space underneath.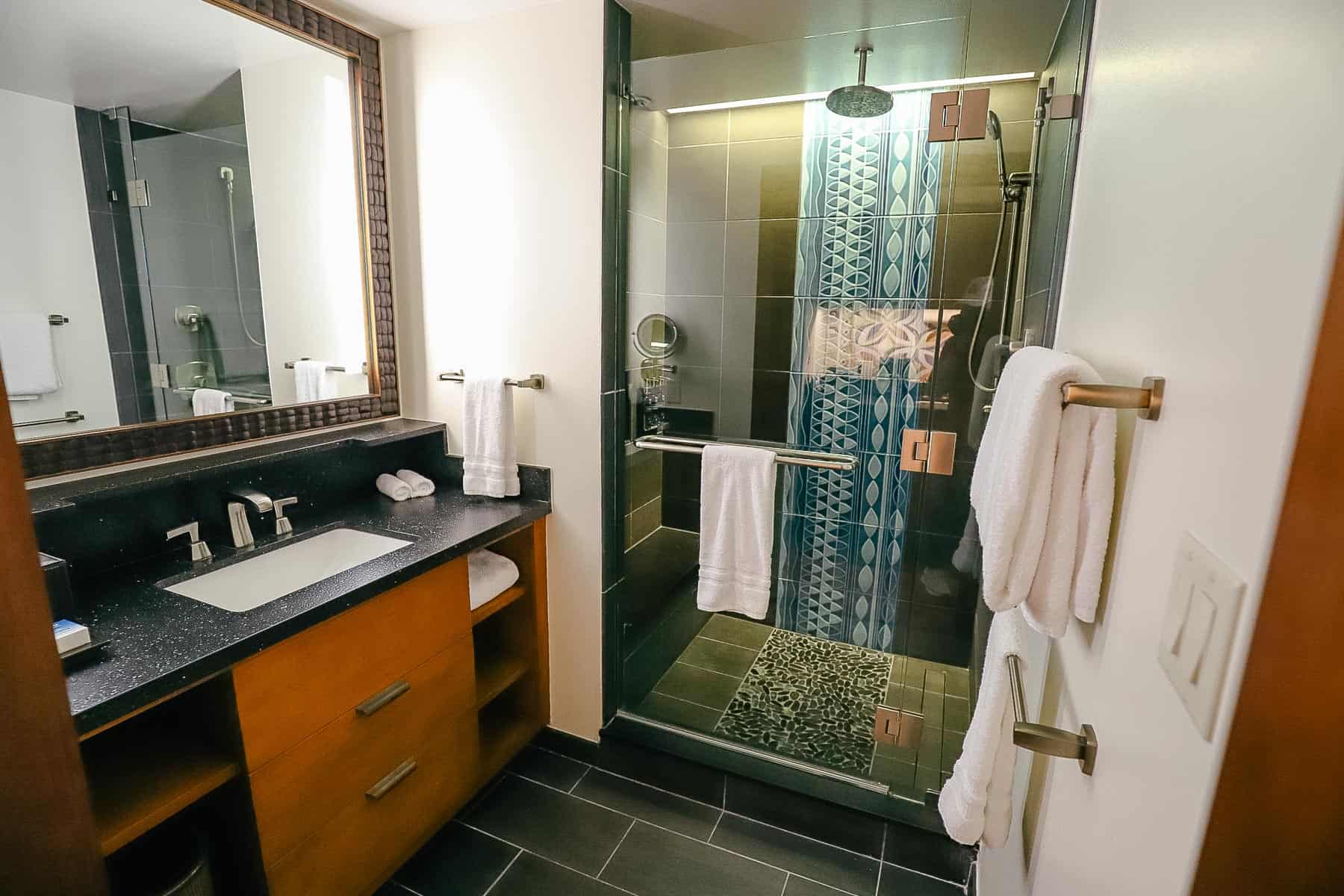 You'll find a tub with a shower combination and a separate vanity on the opposite side, divided by a connecting door.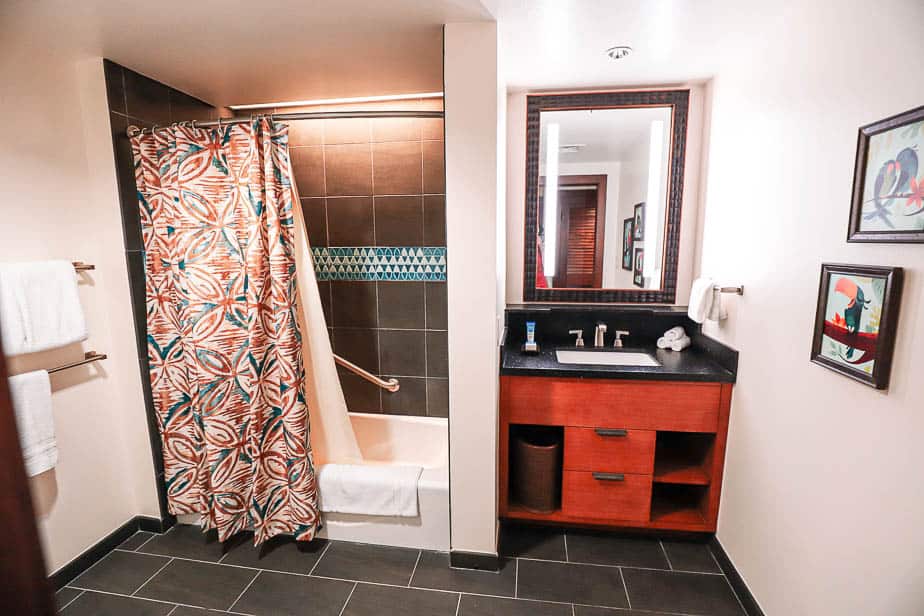 Here is an alternative view of the space. So it's almost like having two baths. But since there is only one toilet, technically, it's a full bath with two showers.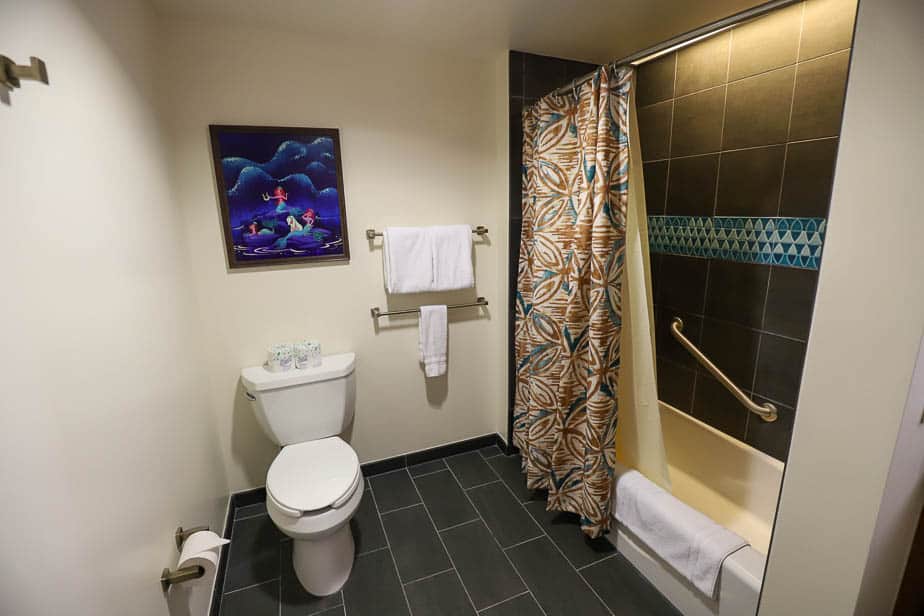 A foyer closet contains an in-room safe, extra linen for the bed, an iron with an ironing board, and a luggage rack. A laundry basket is also usually available.
If you're staying at the DVC portion of the Polynesian, a laundry room is available on the first floor of Moorea. There is no charge to use this laundry area. However, guests of the regular portion of the hotel have a separate laundry room that does have a fee.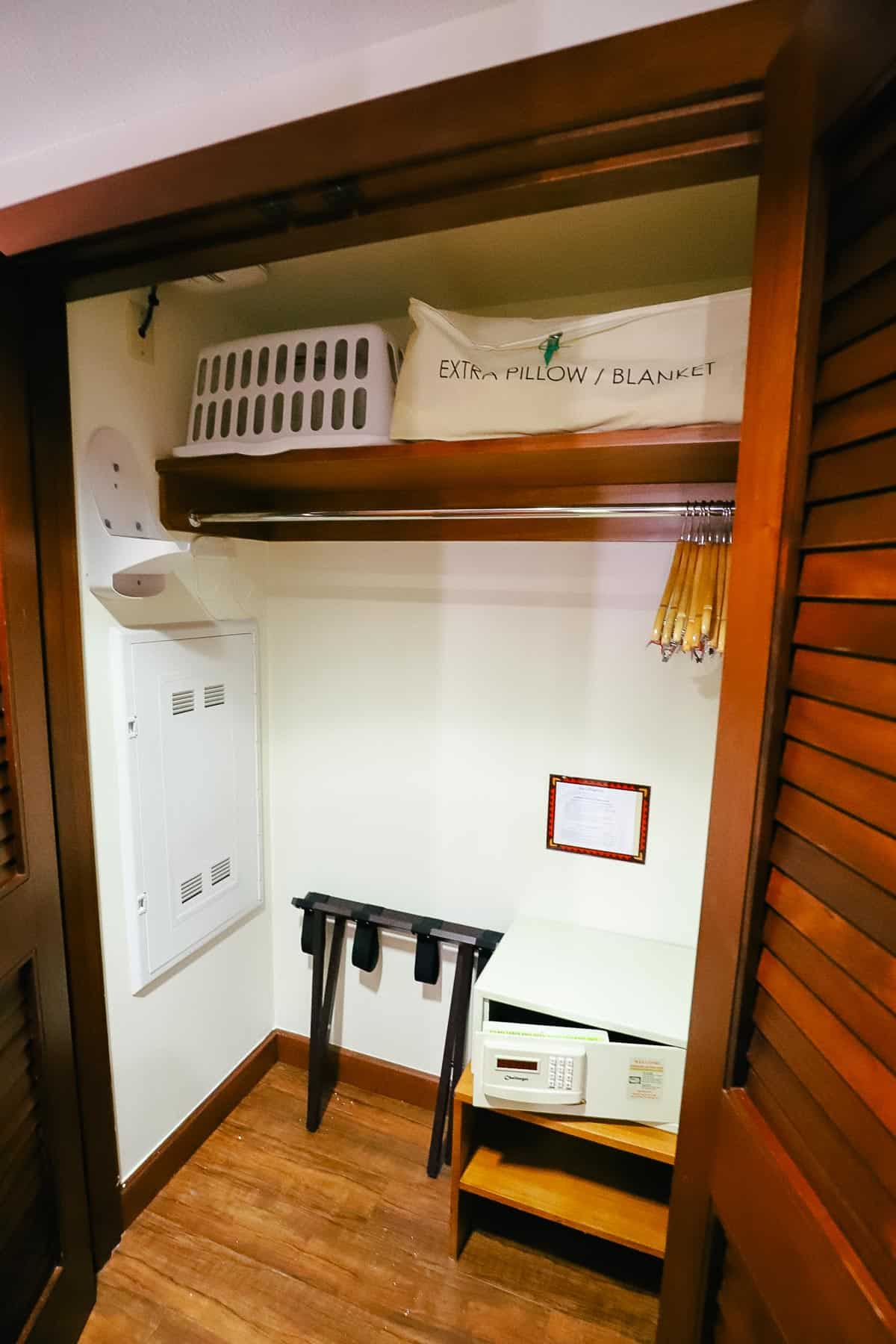 Here is an additional view that shows the room's layout from the foyer.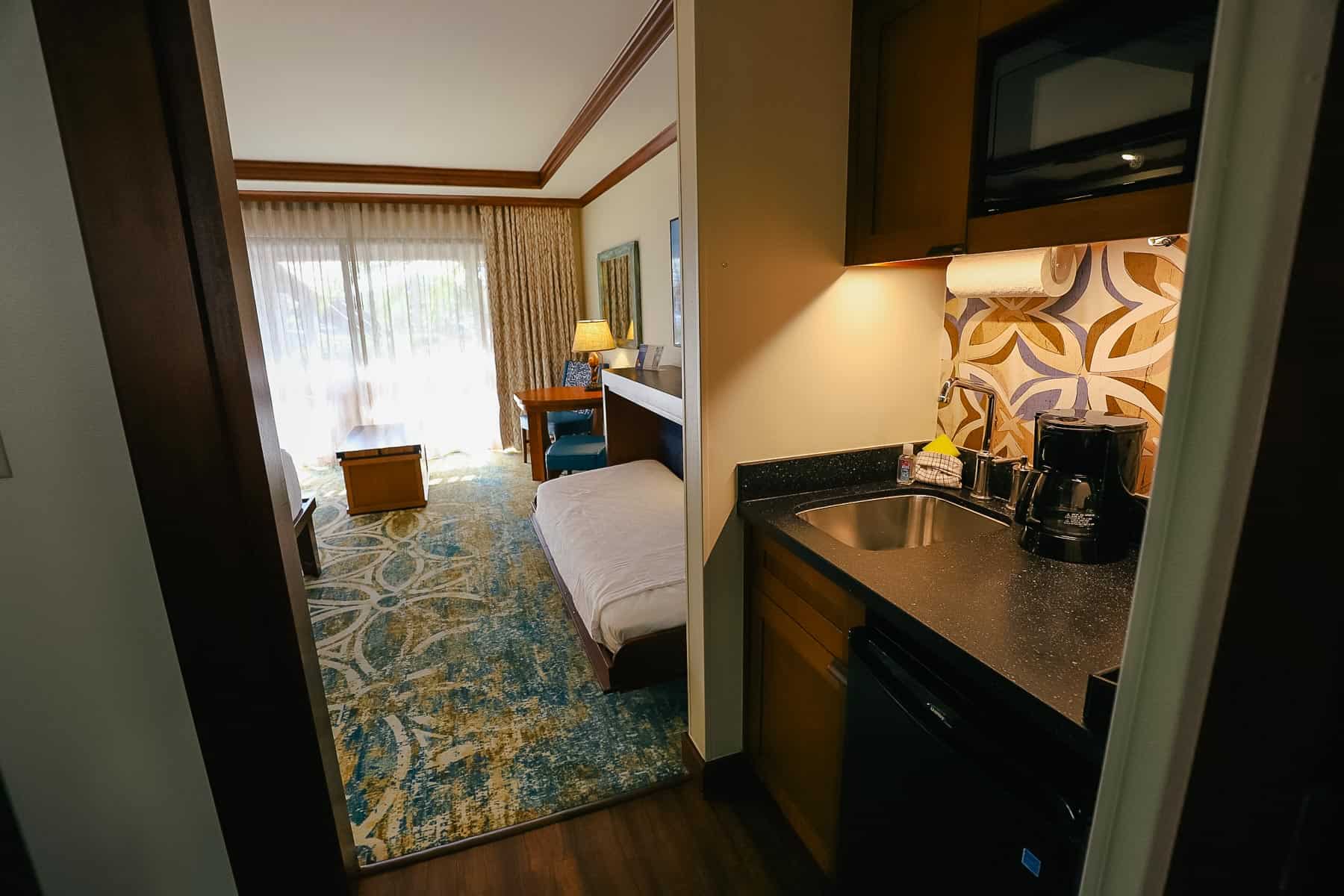 Two options are available regarding room views for the deluxe studio rooms at the Polynesian. You can reserve a standard view, which is usually a view of the resort or parking lot. Or you can upgrade to a lake view facing Seven Seas Lagoon.
A lake view might offer a decent view of the Magic Kingdom fireworks and the Electrical Water Pageant, especially if you receive a room assignment in Moorea. However, you'll want to be high enough to see out over the bungalows.
These three buildings are close to the Transportation and Ticket Center (TTC). So if you're traveling to Epcot, you can quickly walk over to the monorail instead of taking the resort monorail around the entire loop. Additionally, you might prefer to walk to the TTC over the Great Ceremonial House to catch the monorail to Magic Kingdom.
Overall, we enjoyed the deluxe studio at Disney's Polynesian Villas. This room type is ideal for a family needing a fifth sleeper bed. It's also hard to beat the convenient layout of the guest bath.
For more information about Disney's Polynesian, all of our articles related to the resort are available in our resort guide.
You might also like to learn more about dining options at the Polynesian. They include favorites like 'Ohana, Pineapple Lanai (think Dole Whip), Trader Sam's Grog Grotto, and more!
For other deluxe studio room tours, we have the following:
Here's more about the Polynesian:
What are your thoughts
Do you like the looks of the deluxe studios at Disney's Polynesian Villas? Will this type of room work for your group?