Studio Room Review at Orange Lake (West Village)
A studio room at Orange Lake's West Village is an excellent option if you are looking for a reasonably priced hotel room with a few of the comforts of home.
Since this Kissimmee-based resort has so much to cover, this article will focus on a studio room in Orange Lake's West Village.
If you want to know more about the resort, you might want to check out the full Orange Lake Resort review.
That article provides an overview of the different villages, dining, and recreation. In addition, it includes a few tips for dining and grocery shopping in the immediate area.
The Orange Lake studio room in the West Village sleeps up to five guests, per the Holiday Inn Vacation Club's website. As you can see in the photo below, there are two queen-size beds.
This article was updated on January 11, 2023.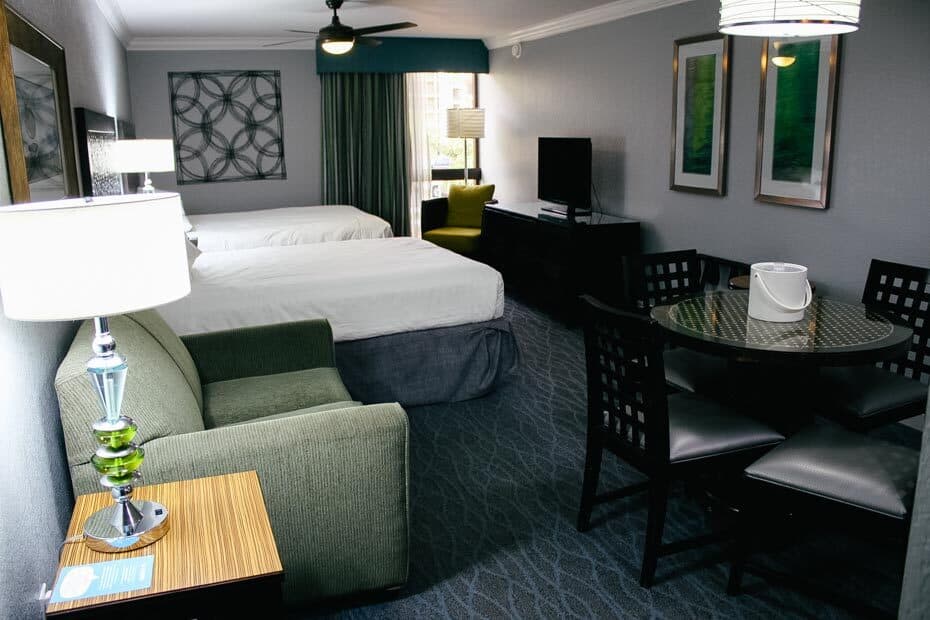 Additionally, the sofa sleeper pulls out to make a third bed.
Space-wise, these rooms feel tremendous at a sizable 540 square feet. For comparison, a standard hotel room is 325 square feet.
This kitchen and dining area account for some of that extra square footage.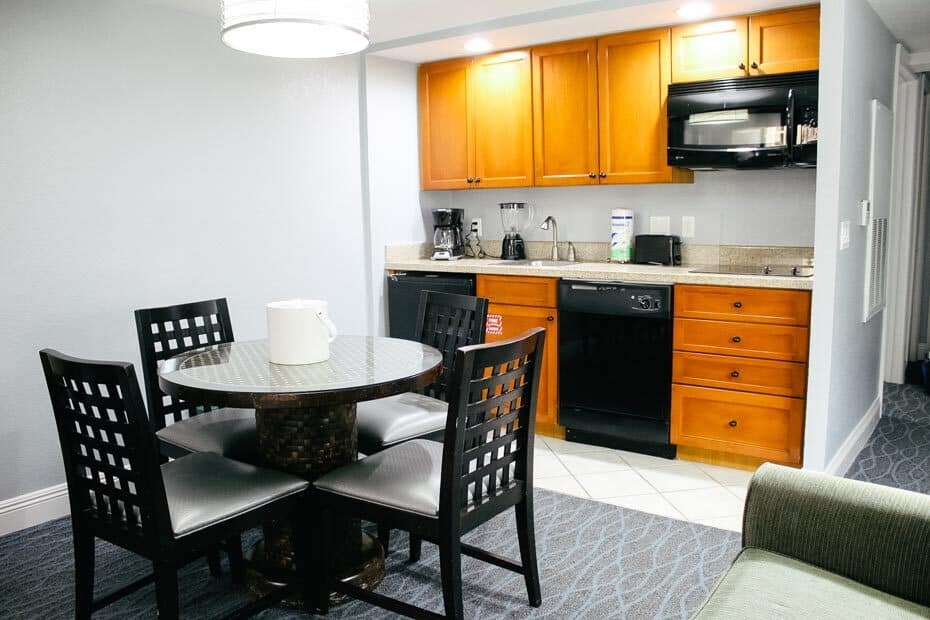 I was pleased with the functionality of this room. On my last trip to Disney a few months before, I stayed at Disney's Caribbean Beach Resort.
Those rooms run about 315 square feet. Therefore, this studio room at the West Village felt tremendous.
Related: Disney's Caribbean Beach Resort Review
There are many variables to consider when comparing the differences between a resort like Orange Lake versus a hotel on Disney property. For instance, you can cook a few meals in your room at an off-property condo.
Preparing meals in your room will save you money. However, don't forget to budget the cost of groceries.
In comparison, when you stay at Disney, you'll have access to free transportation to the theme parks. And while you have to pay for parking at a Disney Resort, you won't incur an extra cost to park at the theme parks.
*As of 2023, Disney now offers complimentary parking to their resort guests.
If you stay at Orange Lake, you'll have to pay to park at the theme parks. Standard daily parking fees at the theme parks run about $25.00 daily.
These are just a few considerations. However, I felt it was important to add them to this review.
Now back to the studio room at Orange Lake's West Village.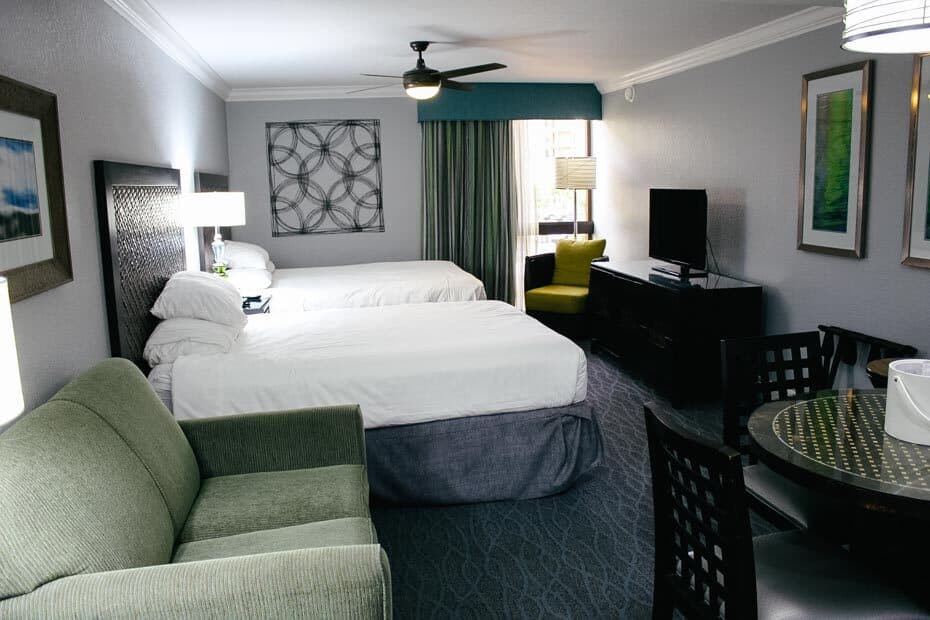 There were two queen beds with a nightstand in between.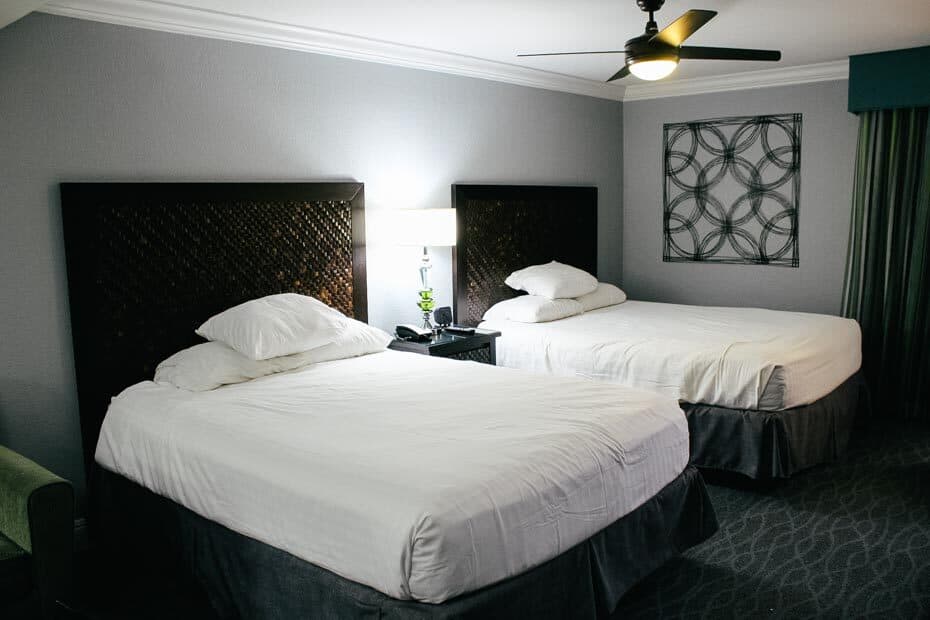 There was one window in the corner of the room. But, unfortunately, it looked out to the parking lot.
Usually, I would prefer a room with a balcony, but that was not an option here. Nor is it an option at a moderate resort like Caribbean Beach.
Related: The Best Disney Moderate Resorts
A flat-screen television sits atop the dresser. I liked that it was on a swivel stand. Then, when I was having a meal, I could adjust it to face the direction of the kitchen area.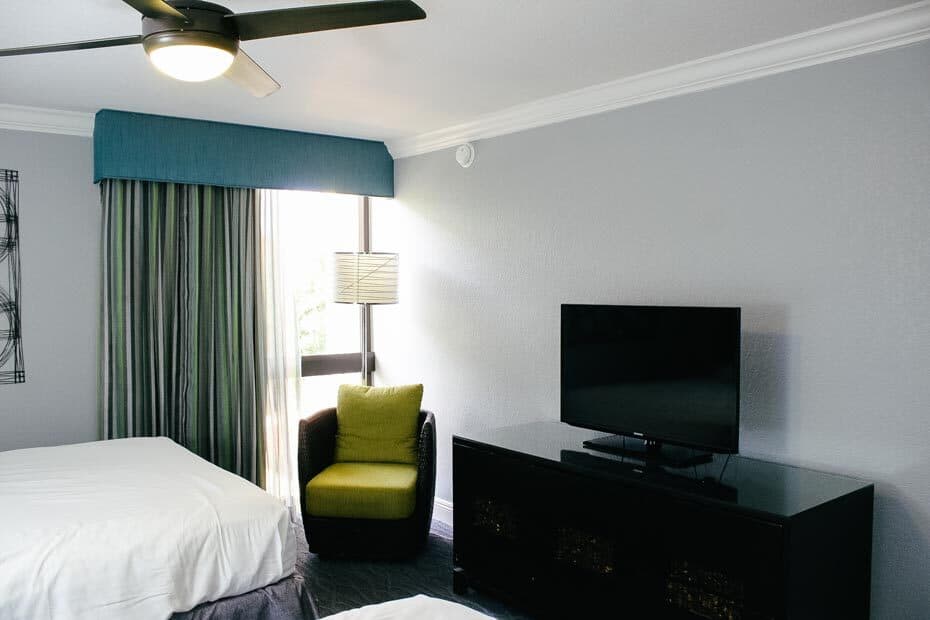 The beds and pillows were very comfortable.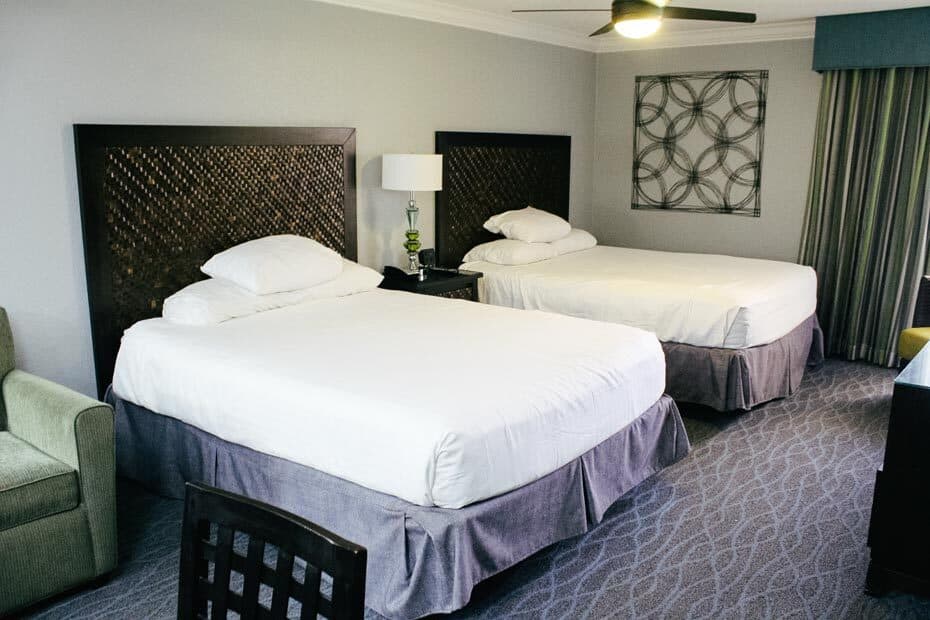 The sofa provided a nice seating area.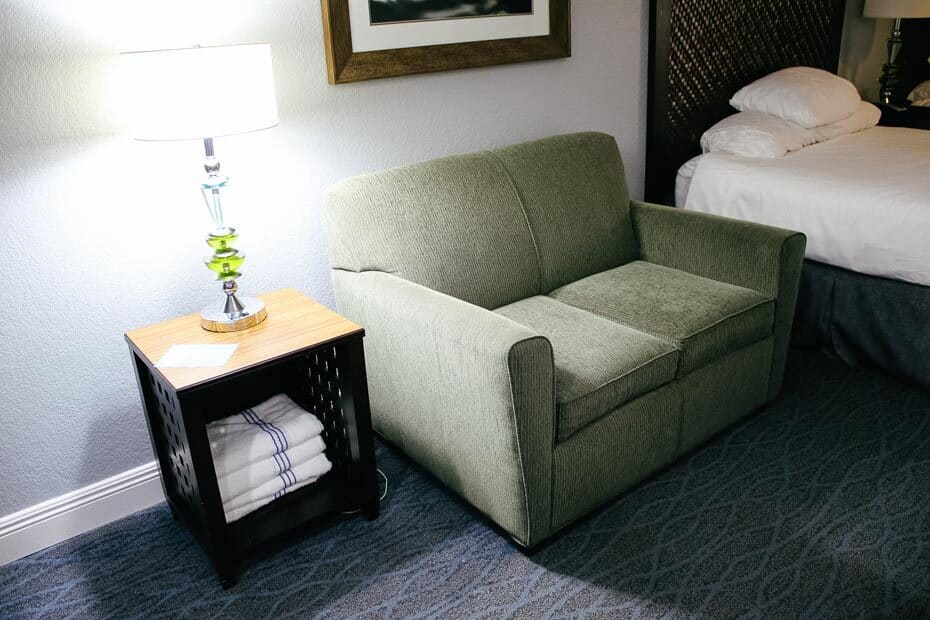 It converts to a double bed.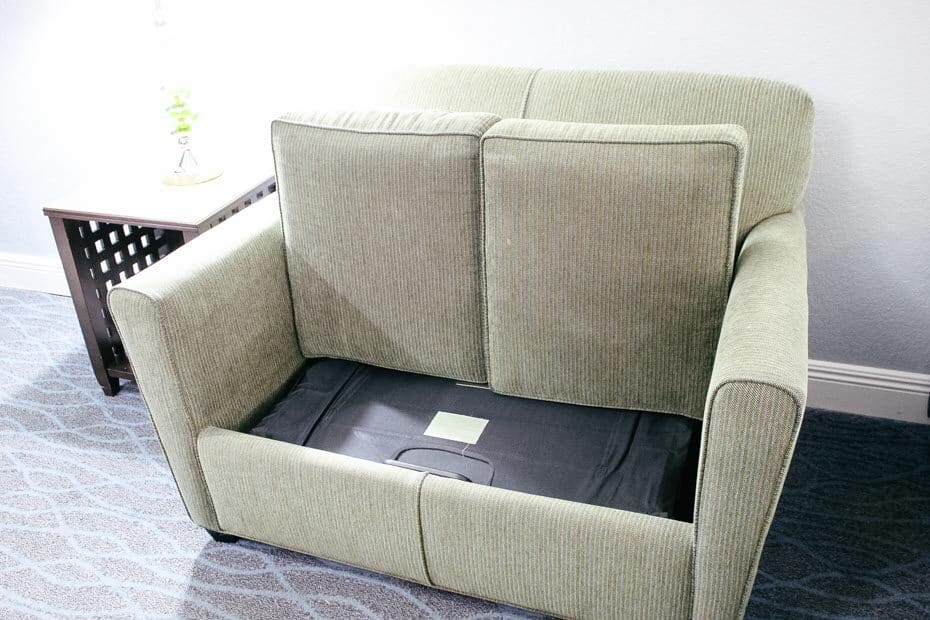 There is an end table beside it.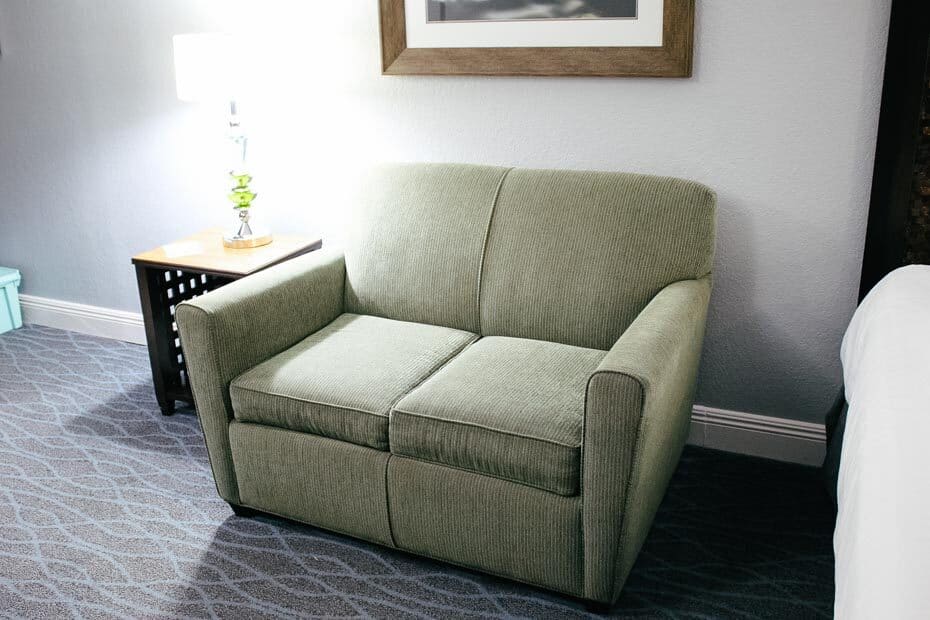 The kitchenette in the studio won me over. It had everything I needed to prepare meals throughout the week.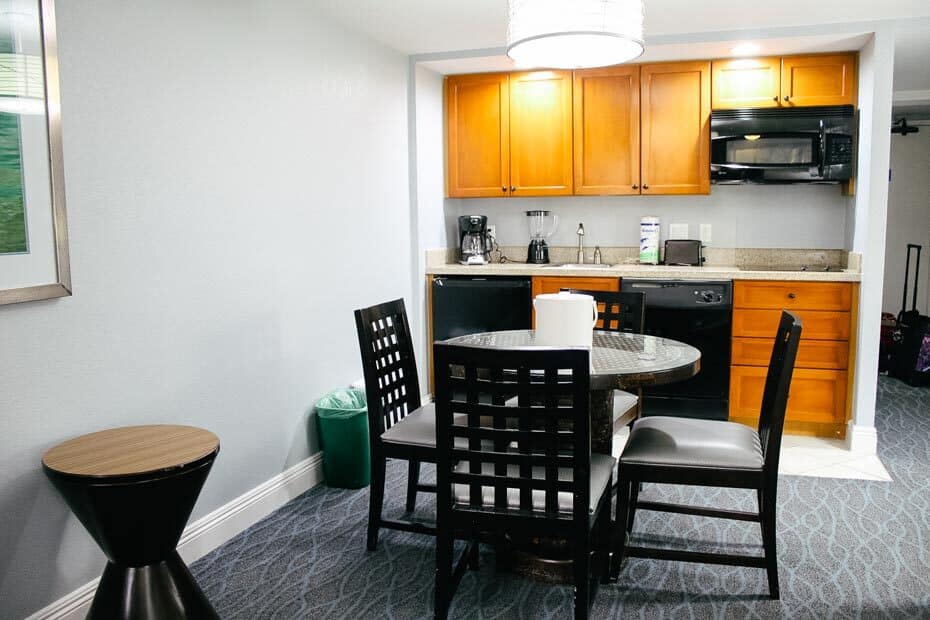 There was a table and chairs that sat four people.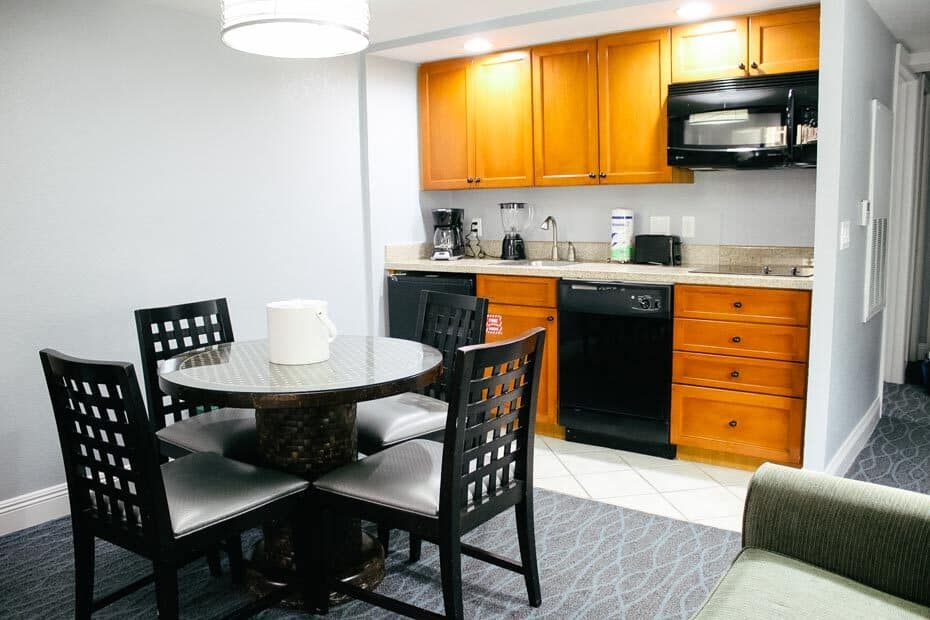 The cabinets were stocked with plates, bowls, and various glassware.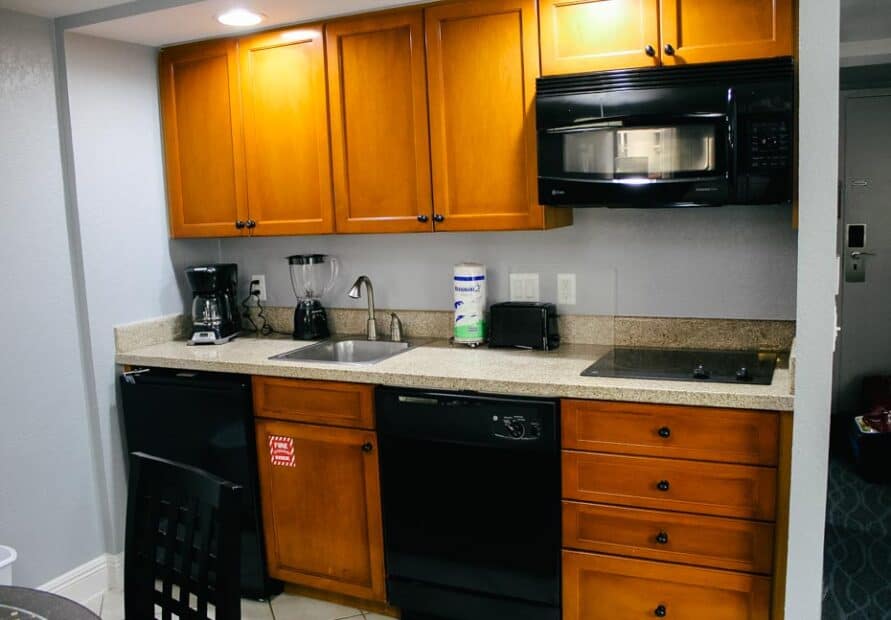 The counters provided room to prepare food. In addition, there was a cutting board, blender, coffee maker, and toaster oven.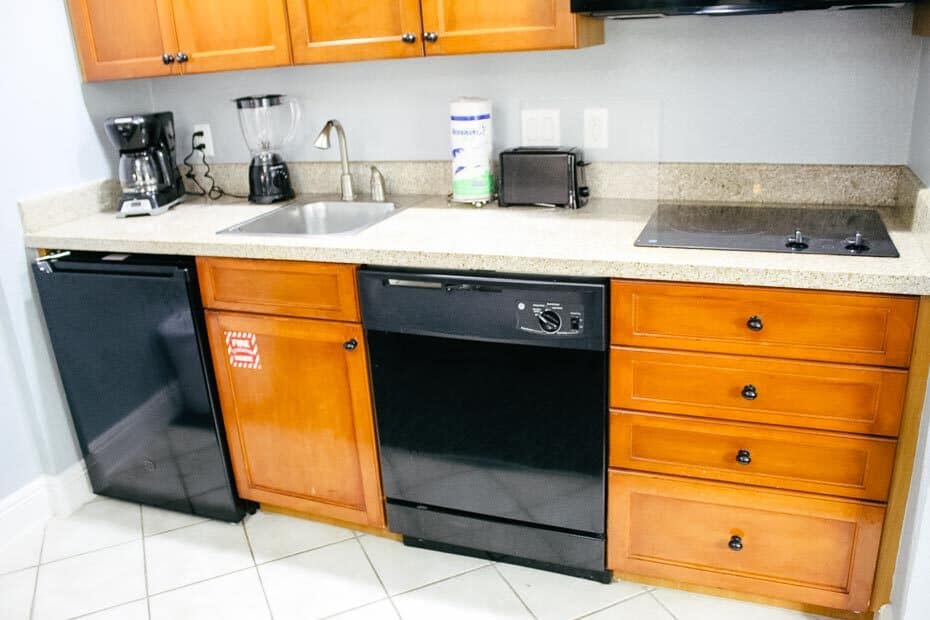 The cooktop was a solid surface with two burners.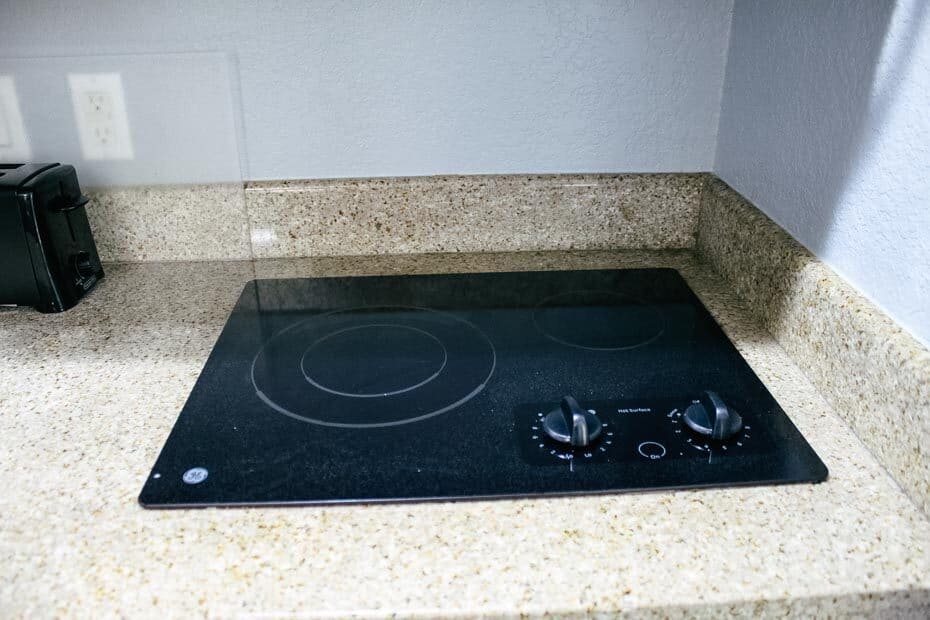 The drawers had plenty of silverware and extras.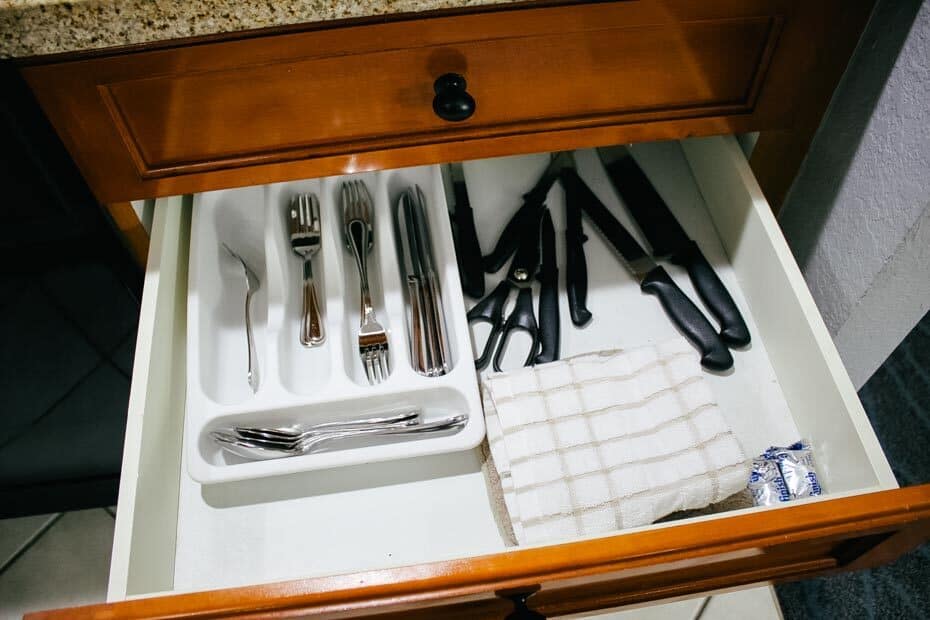 It was nice that they had a cheese grater, vegetable peeler, and utensils. Not only that, there was a can, bottle, and wine opener. How often have people had to buy a wine opener while on vacation?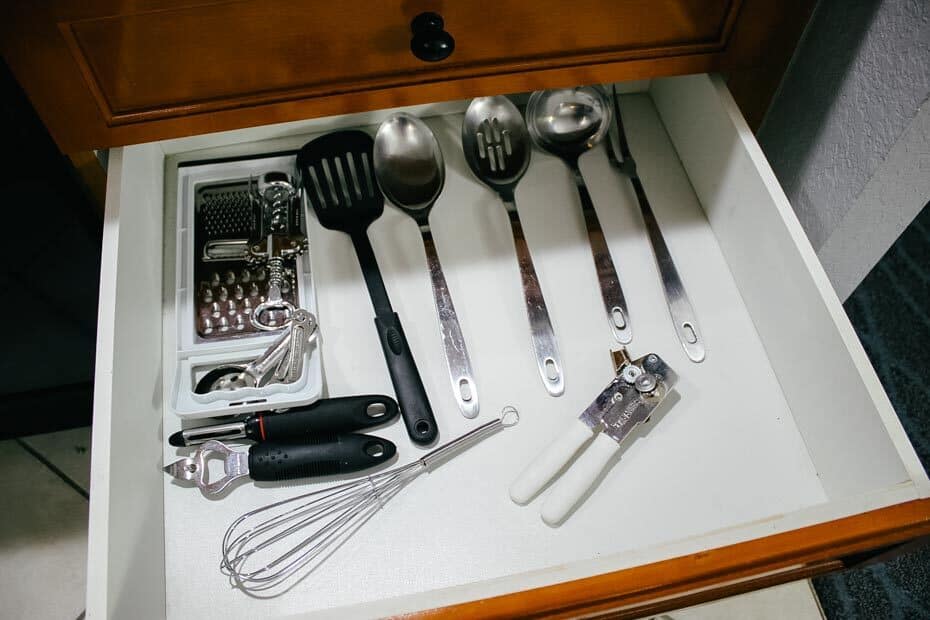 Plenty of cookware is located under the cooktop.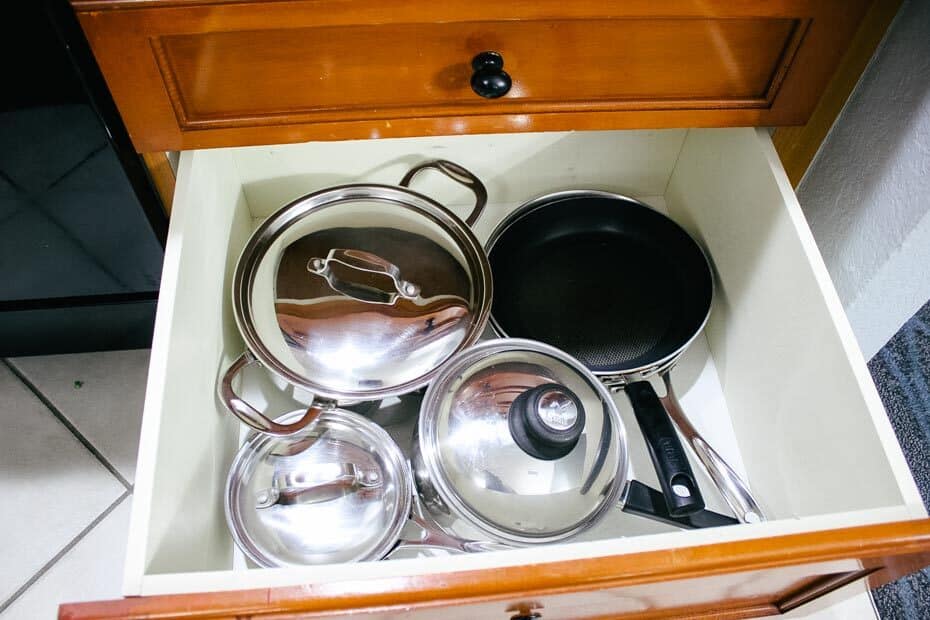 The microwave doubled as a convection oven. I have to admit it was a little fancy and could potentially be hard to figure out. For me, it was used as a microwave. You might notice that it had quite a few buttons.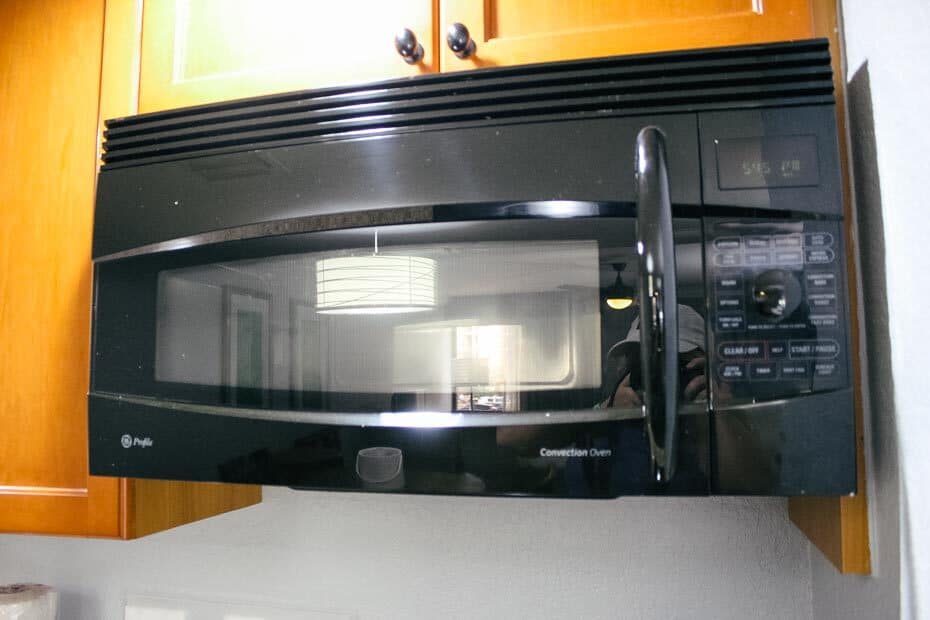 One of the things that impressed me was the extra convenience items provided. There was a roll of paper towels, plenty of dishwasher detergent, and dish soap in the room. That is not always the case when you rent a condo.
Since I travel often, I usually keep an extra suitcase stocked with these things. So it was nice not to need them during this stay.
Another positive feature was the sink having a detachable sprayer. And there was good water pressure throughout my stay in the kitchen and bath.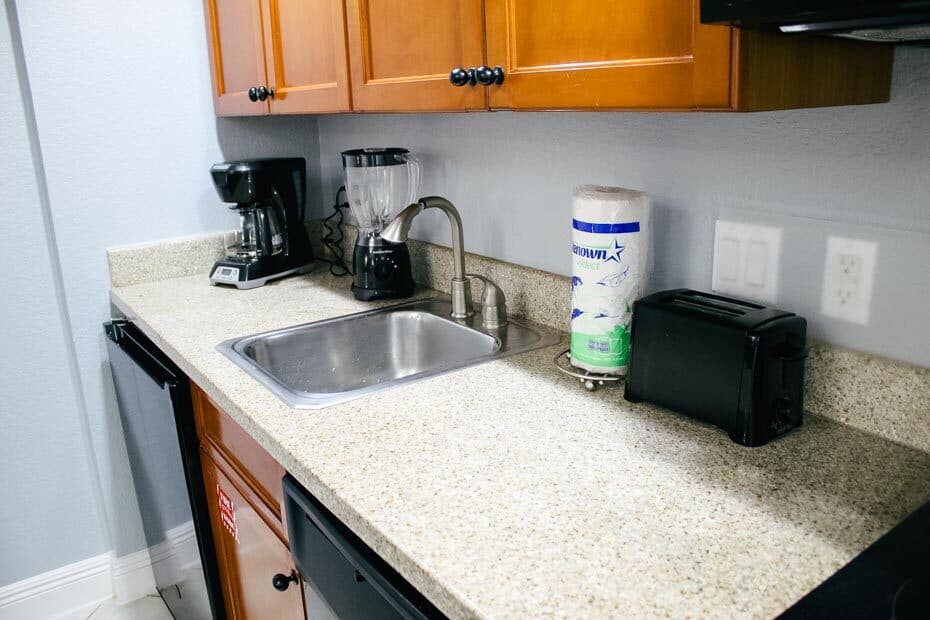 I started the dishwasher every morning before heading out to the parks. Then everything was clean and ready to go when I came back in the evening to cook dinner.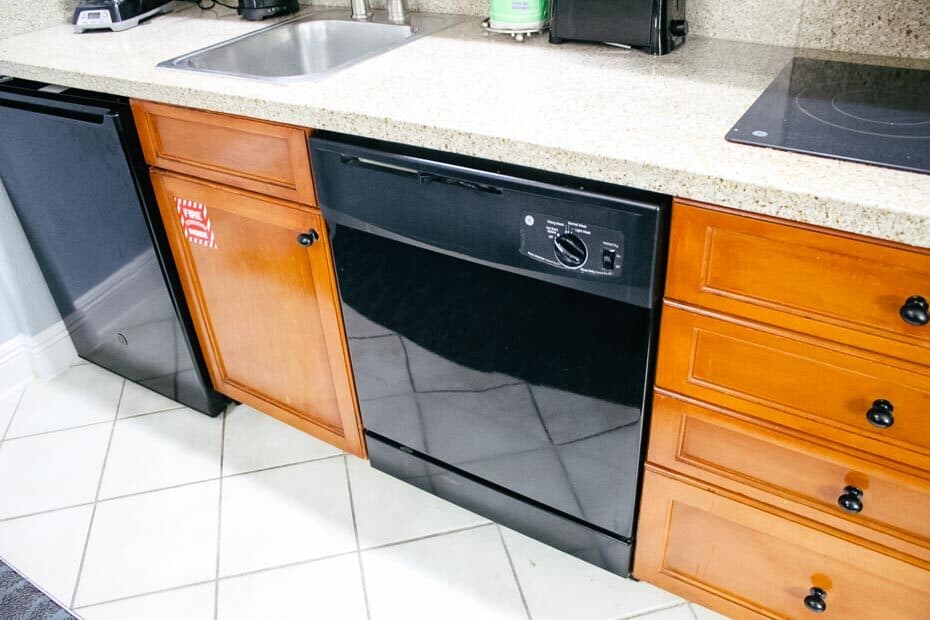 The fridge was comparable to those in a deluxe studio villa like Grand Floridian Villas at Disney.
Related: Disney's Grand Floridian Villas Review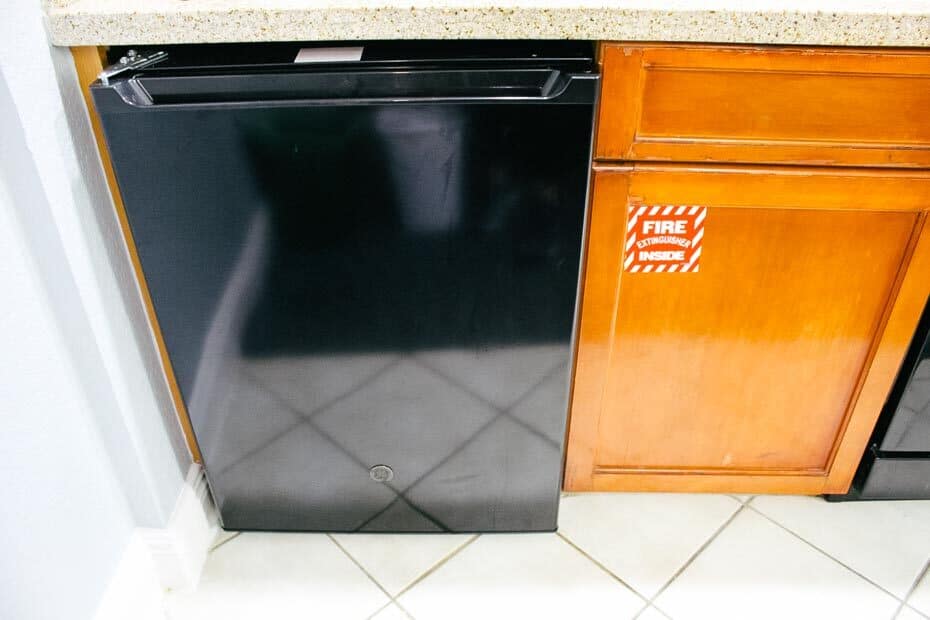 Here are a few of those appliances.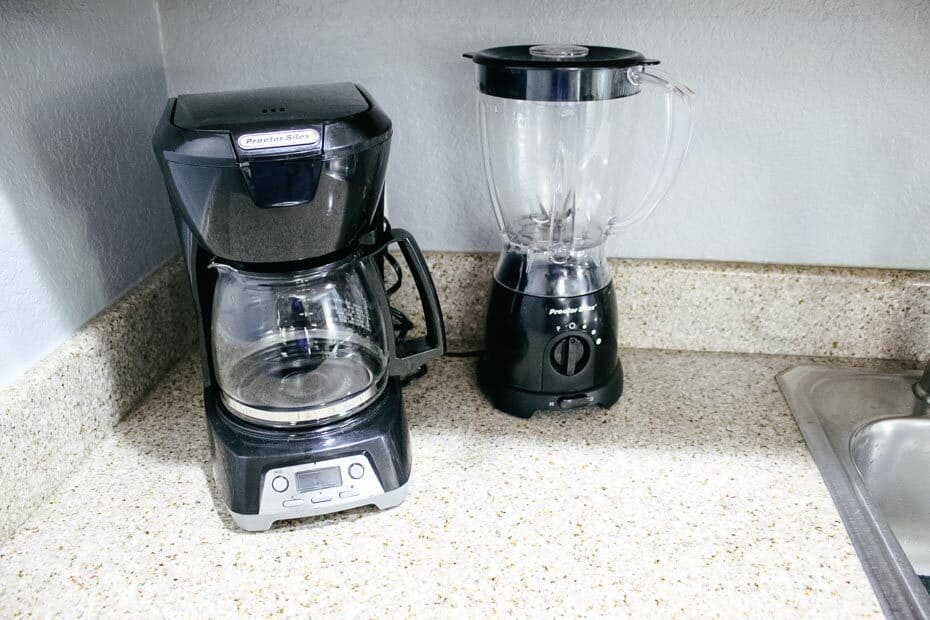 The bath was comparable to a standard guest room. It has a tub with a shower combination.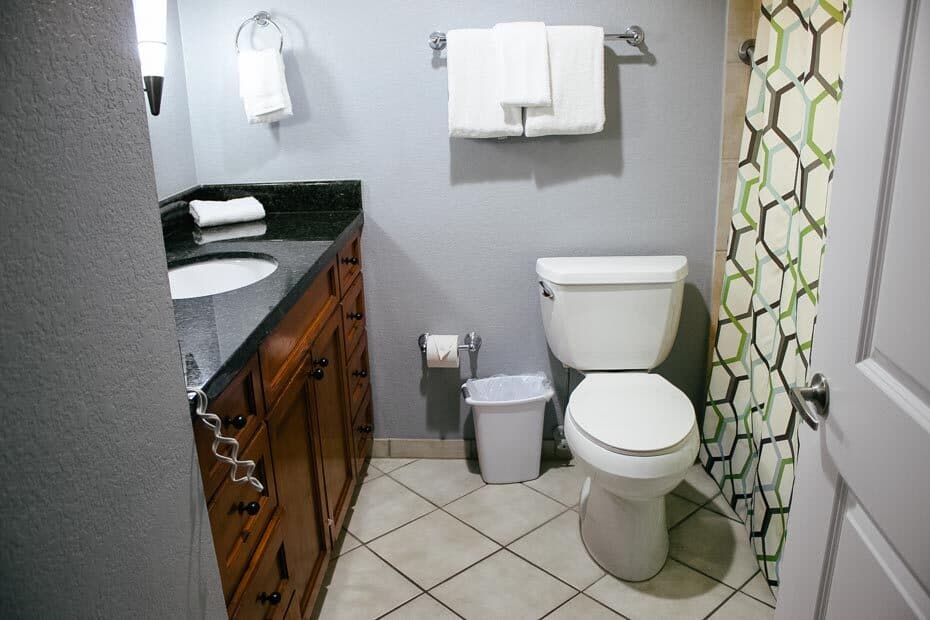 There was plenty of counter space and storage in the cabinets underneath.
While there wasn't a washer and dryer in the room, a laundry room was available at no extra charge down the hall. I brought washing detergent with me and was able to do a load of laundry halfway through the trip.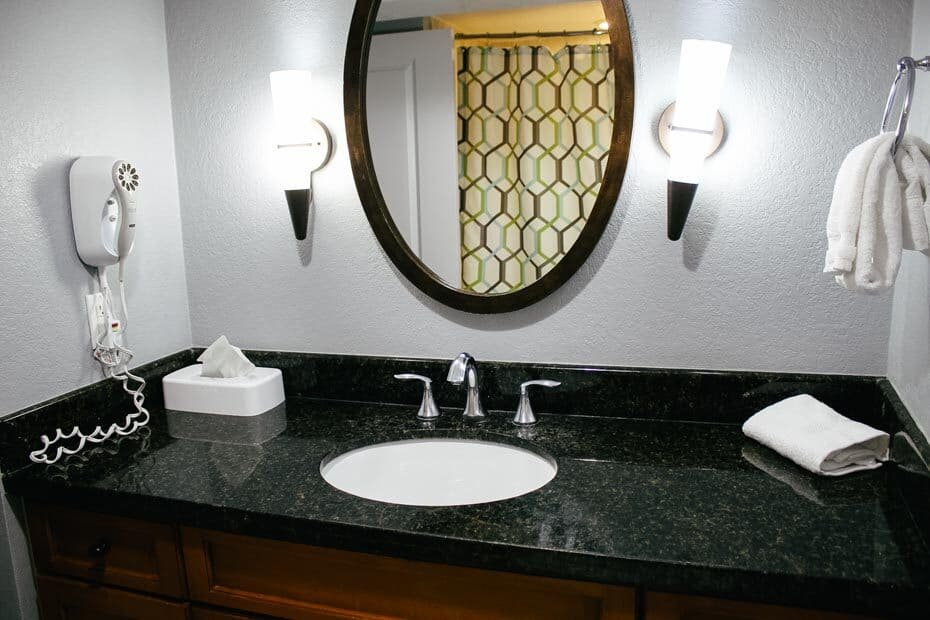 Having laundry nearby was very convenient. I could come back to the room, start the laundry, and prepare dinner.
For those that read the full review, I promised to add a few of my in-room hacks and grocery tips to this Orange Lake studio room review. And because I'm in this Four Corners area of Kissimmee reasonably often, I've developed a few habits and routines.
Usually, on my arrival date, I check in wherever I'm staying, unload my belongings, and then head out to Target.
I prepare a list of items I'll need to purchase before my vacation. When you plan on cooking during your vacation, it's so much easier if you have a plan.
If not, you'll end up at the grocery store worn-out and starving, which usually leads to many unnecessary purchases.
If you have that grocery and supply list prepared, you can focus, get your items, and get out.
However, I have to warn you that the nearby Target has a massive Disney store inside. So you could easily get caught up spending a little time and extra money there if you aren't careful.
When I get to Target, I call Flipper's Pizza (it's in the same shopping center) and order pizza for takeout. Then I go to Target, get my selections, and pick up my pizza.
Pizza is a simple first-night meal, and you can eat leftovers for breakfast, or the kids can enjoy them later.
Often, I do a protein shake for breakfast. But you could easily do oatmeal, bacon, eggs, etc., in this Orange Lake studio room if you like.
I do recommend planning one nice breakfast while you are at Disney. The character breakfast at Topolino's Terrace is one of my top recommendations.
And if you aren't a fan of characters, you might try my Ale and Compass breakfast review or the Grand Floridian Cafe review. Also, the breakfast buffet at Boma is another excellent option.
Related: Character Dining at Disney World
Now, if you need ideas for dinner, you can do many things. Sandwiches are great, and I always end up cooking grilled cheese.
Another good option is to purchase a rotisserie chicken and if there are any leftovers, use them to make chicken nachos or a salad.
You can also use the stove to make omelets and sauté veggies. Microwave-baked potatoes are another simple, filling meal with hardly any prep.
And I like that you can use a few simple ingredients like cheese, bread, and butter and incorporate them into several meals.
One other thing I always purchase is fruit. It's easy to eat a lot of junk food while at Disney. All the treats are fun, they taste good, and you are on vacation. However, it's also hot, and you can dehydrate from being out all day.
Returning to the room and enjoying a bowl of strawberries, watermelon, or whatever fresh fruit you like will help you feel refreshed.
Another good option during the week might be to drop in Publix, pick up a fried chicken meal, or have them make sub sandwiches for the family. There is a Publix and Target within two minutes of the entrance to Orange Lake Resort.
Lastly, on Fridays, I often end up at Magic Kingdom. When I get back to my car in the parking lot, I order Mexican from Tijuana Flats.
They have the best guacamole! And it's always ready by the time I get over that way to pick it up.
For this entire week's stay, I ordered pizza the first evening, cooked dinner in my room the next five evenings, and picked up takeout the last night. During the week, I ate breakfast in my room most mornings and ate lunch in the theme parks daily.
Compared to that last week, I stayed on property at Disney; I can assure you I saved a considerable amount of money in food costs.
While this Orange Lake studio room had plenty of amenities, you might consider bringing aluminum foil or gallon-size plastic bags to store leftovers in the fridge.
I usually open a one-gallon size bag and stuff it full of various other size plastic bags. Then add a few straws, and fold up a long sheet of aluminum foil to bring with me. That way, I don't have to purchase these items.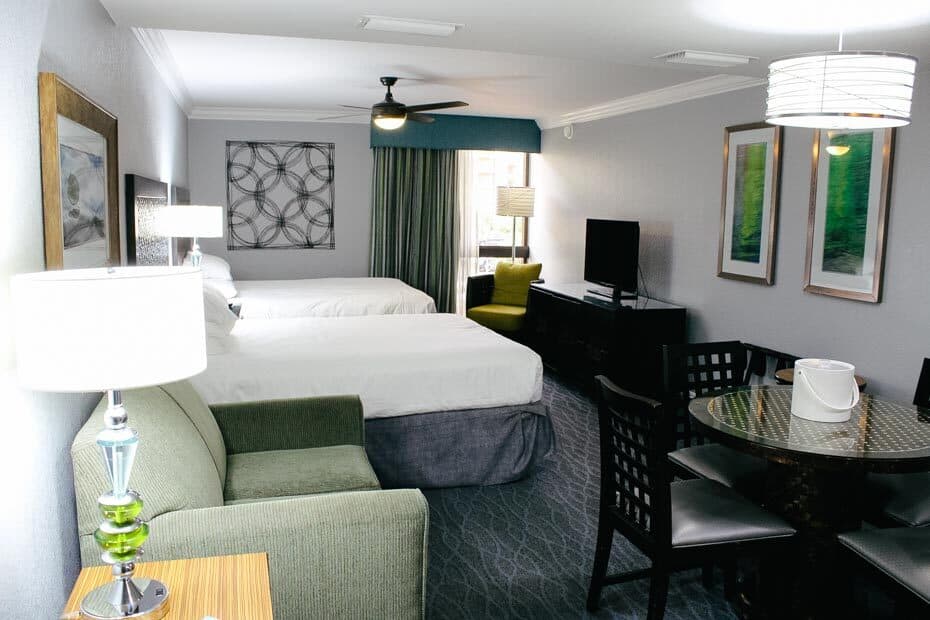 Overall, I enjoyed the extras that this room provided. The resort is an excellent place to enjoy a week's vacation.
And this Orange Lake studio room is perfect for the family with plans to travel back and forth to the theme parks daily.
Now, if I were planning on spending a lot of time at the resort during the week, I might look into the rooms in the River Island area. But those rooms are considered an upgrade and will cost more.
Related: River Island at Orange Lake
Additionally, if it's your first visit to Disney, I recommend staying on the property if you can make it fit your budget. It will be simpler than traveling back and forth from off-property that first go-around.
Try our guide to the best value resorts at Disney World for budget-friendly accommodations on the property. Or check out these reviews:
For off-property, you might enjoy these articles:
In the comments:
What are your thoughts on this studio room at Orange Lake? Have you stayed at the resort before? Do you see the benefits of this type of room?