Photo Tour: Tower Guest Room with King Bed (Hilton Orlando Buena Vista Palace)
Most people think that the only way to stay close to the Disney Parks is to pay a premium price for a hotel on the property. However, this sentiment is not always valid!
We strive to provide a good variety of hotel options from budget-friendly to higher-end here on the site. To do this, I research and stay at several new hotels yearly.
My goal is to provide you with a list of hotel options that provide the most bang for your buck. With those thoughts in mind, I am adding a new hotel to the list.
We'll start this series with a room tour of a king-size guest room at the Hilton Orlando Buena Vista Palace. Since I took numerous photos of the room, I felt it would be beneficial to provide a separate gallery.
Additionally, I'll provide a full review of the resort in a separate article. In that article, we'll go into more detail about the amenities at this hotel.
Related: Hilton Orlando Buena Vista Palace at Disney Springs Review
One could compare Buena Vista Palace to Disney's moderate resorts. However, the hotel offers a few amenities that most of us would consider upgrades over a moderate.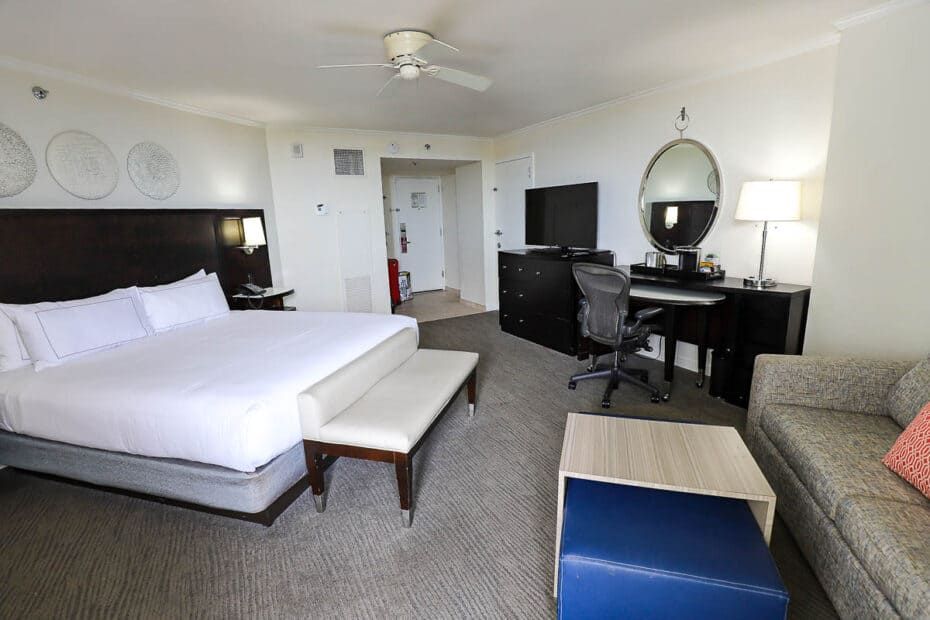 Resort View–Tower Guest Room with King-Size Bed
When choosing a room at the Hilton Orlando Buena Vista Palace, you have a few options. The first choice is would you prefer the tower or the island-building.
I went with the tower for this stay, which has a whopping 27 floors. My room assignment was on the 21st floor. I'm confident it was higher than you or I would have liked.
Now I've stayed in many hotel rooms over the years. Generally, I enjoy a higher floor for the views. However, few hotels in the Orlando area are as tall as the Buena Vista Palace.
I think the 15th floor or so would have been sufficient.
Thankfully, I was worn out when I went to sleep that evening and slept through a storm that produced a tornado warning. However, I did wake once from the sound of wind wailing around the tower.
But thanks to the grace of God, I remember thinking, oh great, before my head hit the pillow to instantaneous sleep. The next thing I knew, I woke up to the shining sun. If only I could always sleep so well.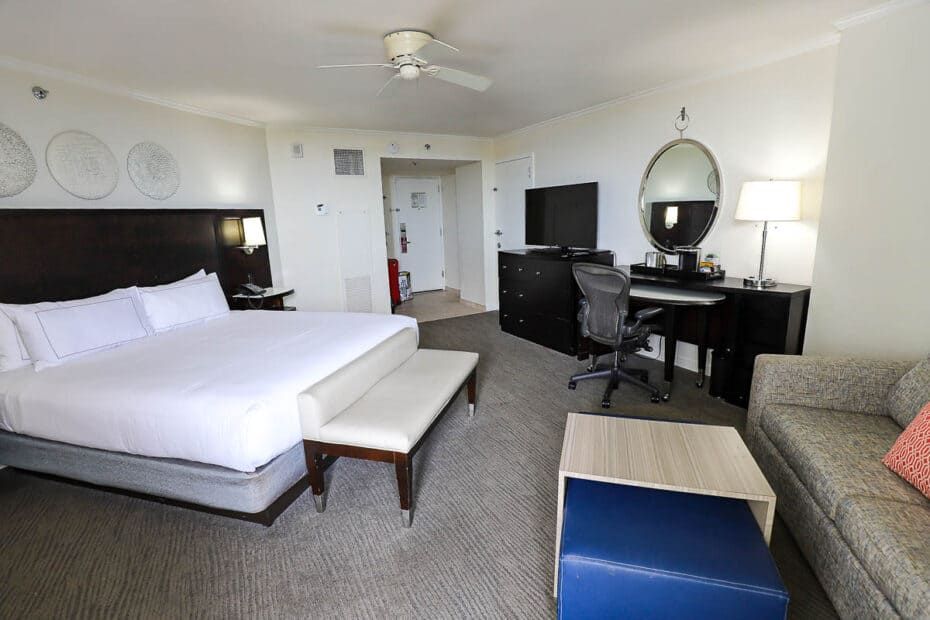 The standard king-size guest room at Buena Vista Palace was impressive. There was plenty of room to spread out, which is always a win in my book.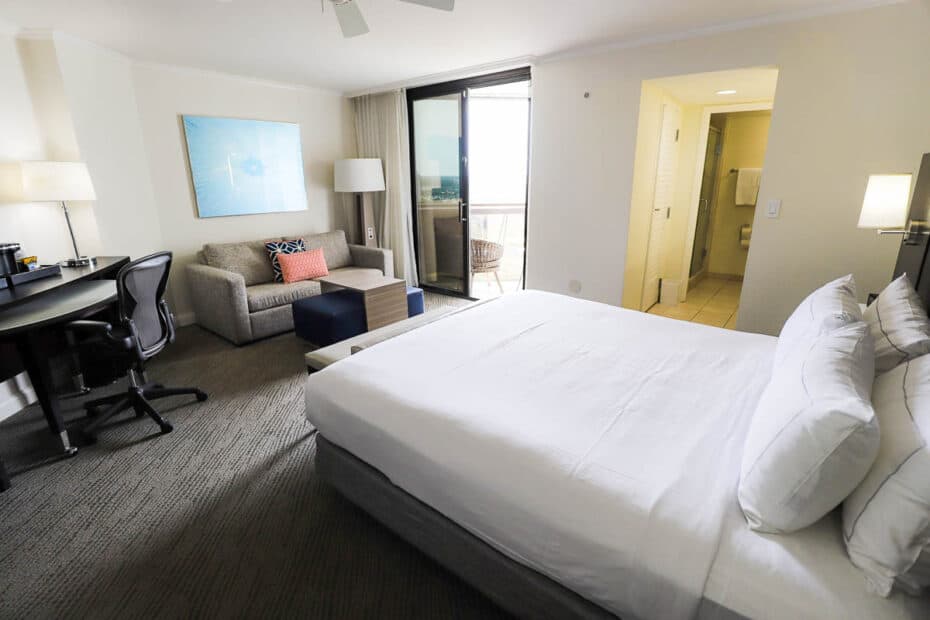 A dresser and desk area sat along the wall on the far side of the room.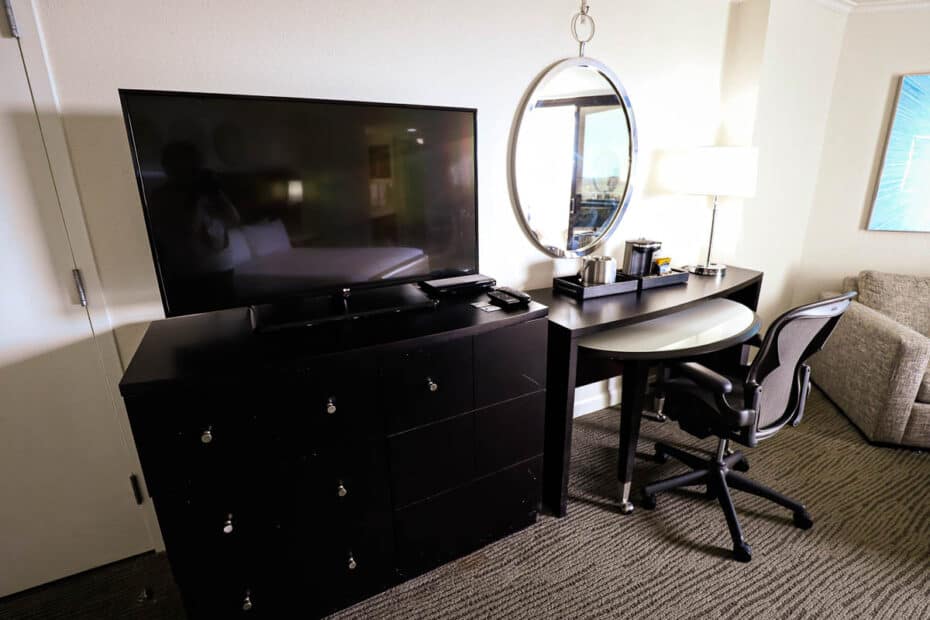 Inside the dresser, there was a cabinet with a built-in refrigerator. These options are much nicer than the "beverage coolers" Disney has started installing in most of their hotel rooms.
This mini-fridge will hold more items and keep them at an appropriate temperature.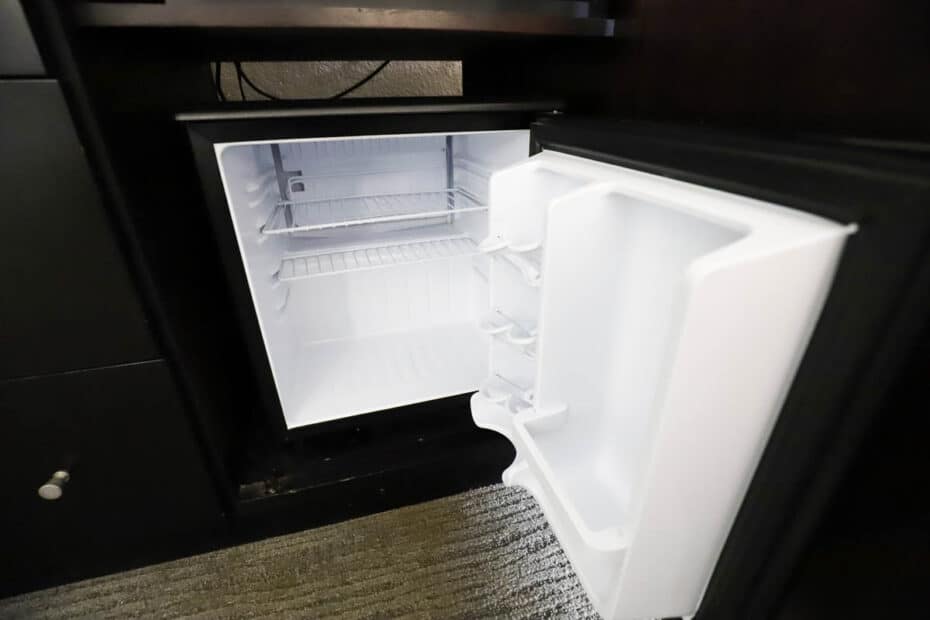 Above the fridge, there's a safe to store your valuables.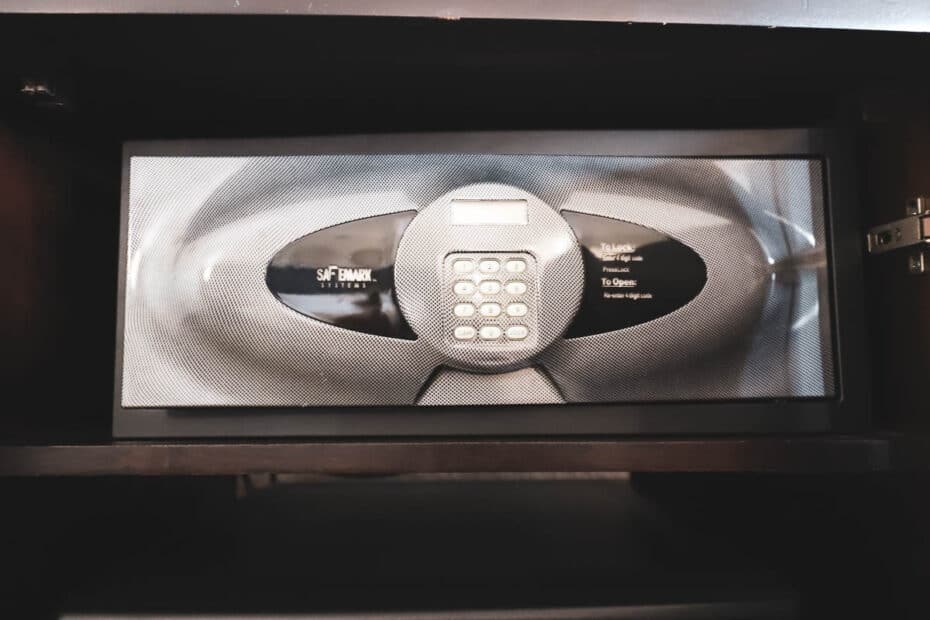 This desk had a roll-away chair and a table with rollers underneath. This setup is another nice amenity if you plan to enjoy a few meals in your room.
You can easily position the table where you would like it and then store it back out of the way when you're finished.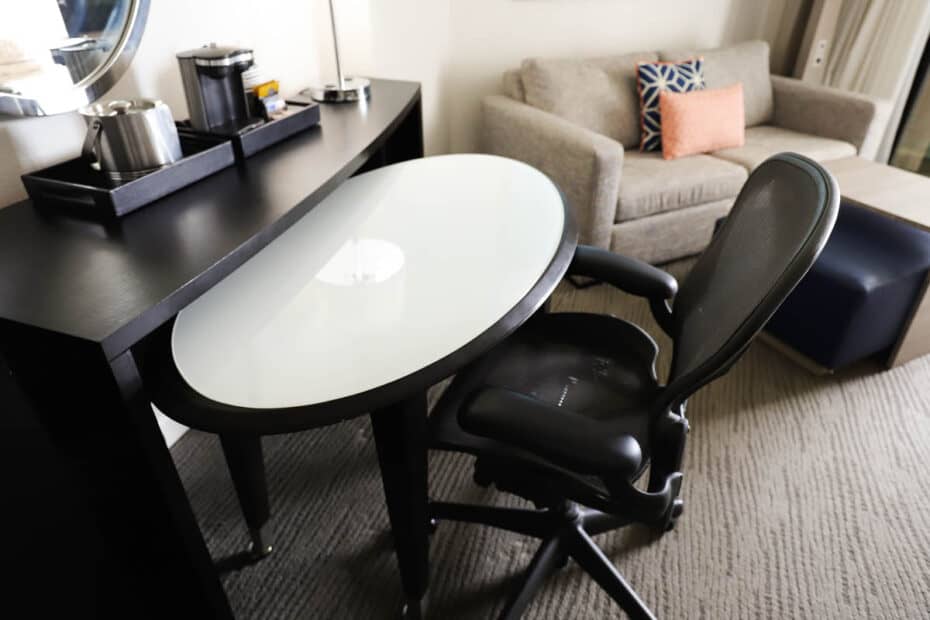 The room had a standard Keurig individual coffee maker. But the hotel has a Starbucks on the ground floor if you prefer.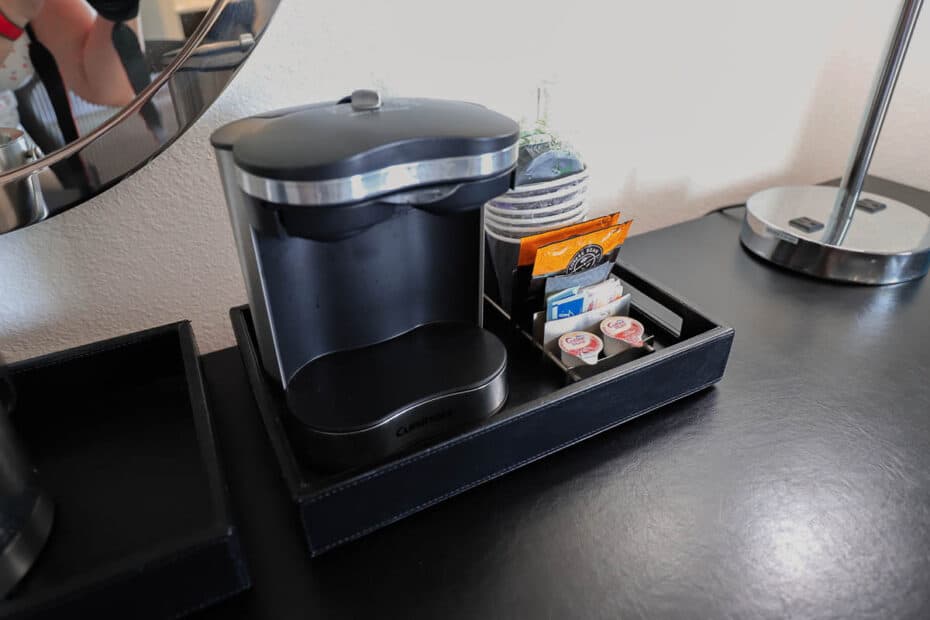 I don't know about you, but one of the first things I do when I get to a room is fill up the ice bucket.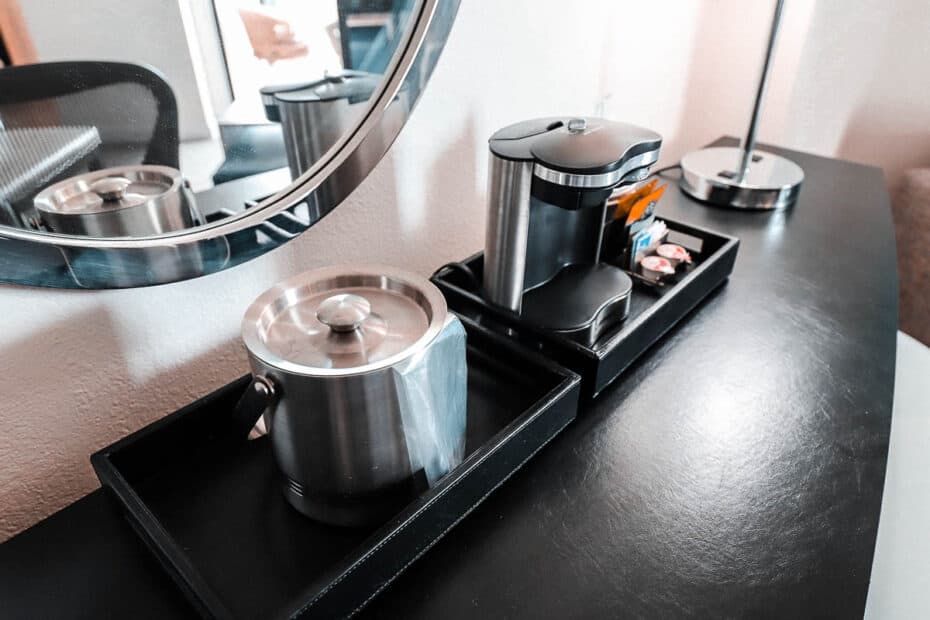 The sofa has a sofa sleeper tucked inside. But if you have to use a sofa sleeper, I recommend going with a room with two queen beds. I've yet to meet a sofa sleeper that provides a comfortable night's rest.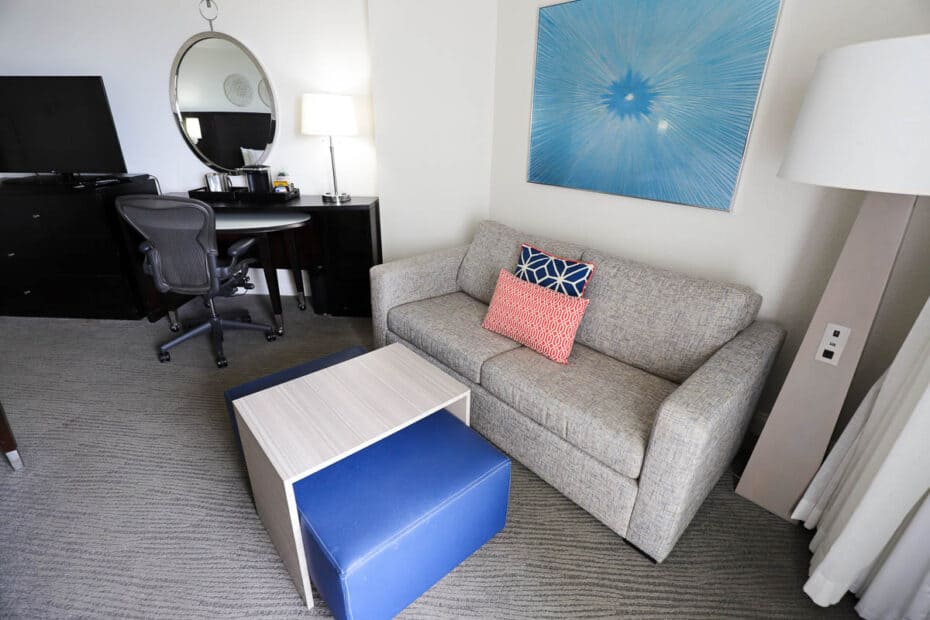 Here is the balcony with a couple of chairs and a small table.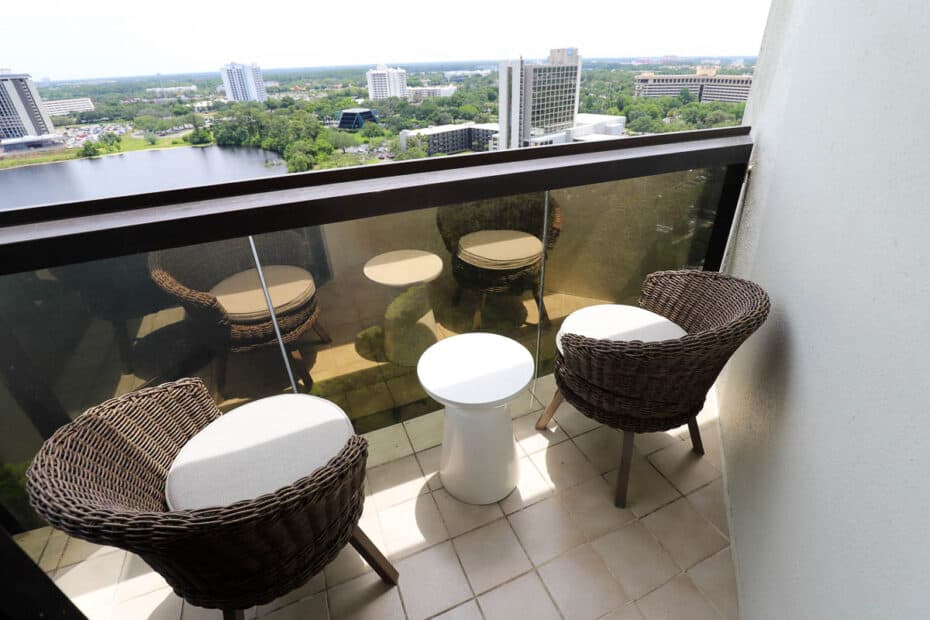 So the view from way up here was pleasant. I could literally call out the other hotels I had stayed at or am planning to stay at in the future.
But when I looked down to the right toward the resort pool, I realized how high up I was.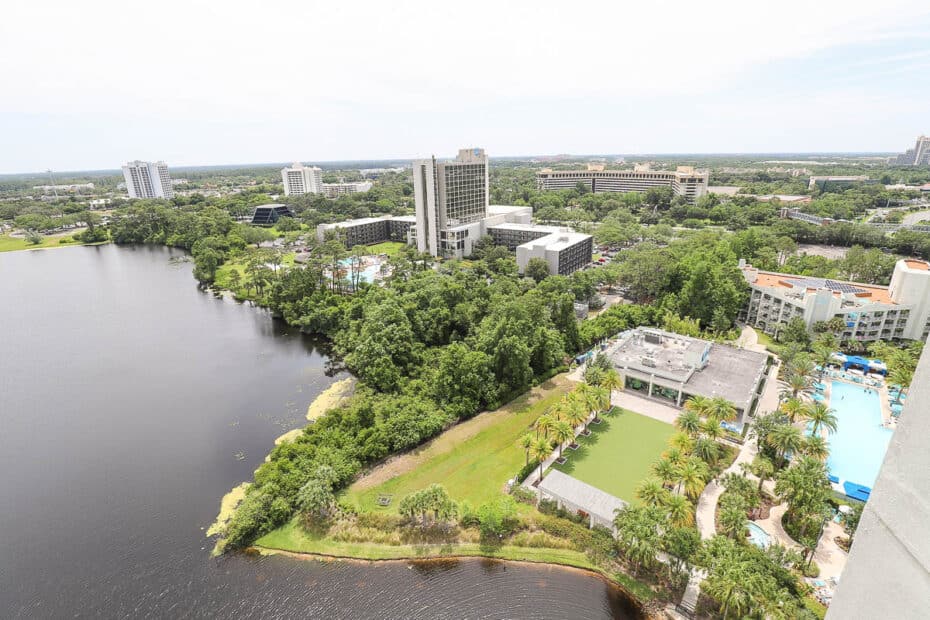 Then I thought I bet I could see the Hyatt. I remembered being on a high floor when I stayed there last Fall.
That's the Hyatt on the far left corner of the photo below. As you can see, I was much higher here at Buena Vista Palace.
Related: Hyatt Regency Grand Cypress Review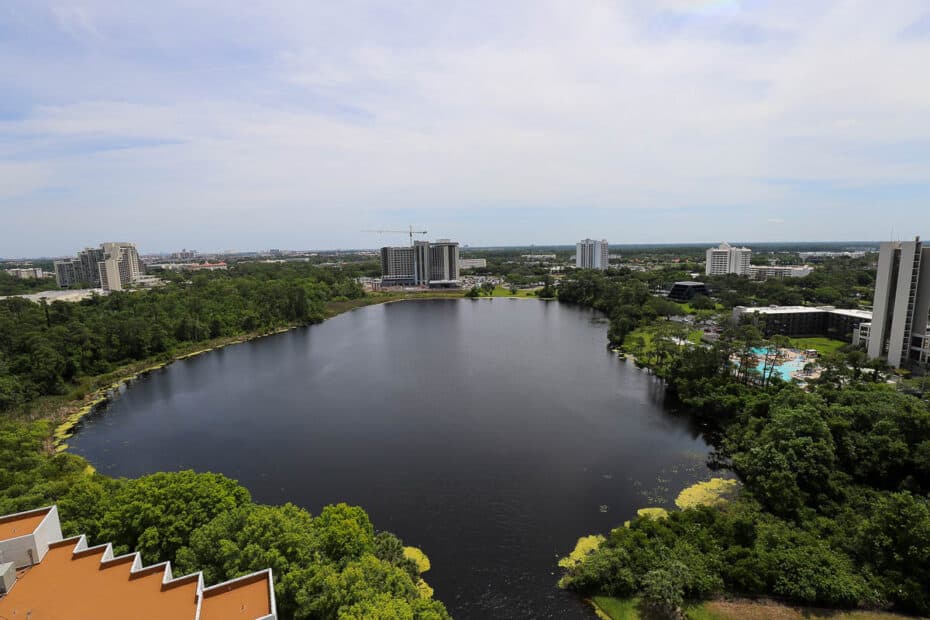 Then straight ahead, I noticed the crane signaling that it was the new Drury Plaza Hotel. It is scheduled to open later this year.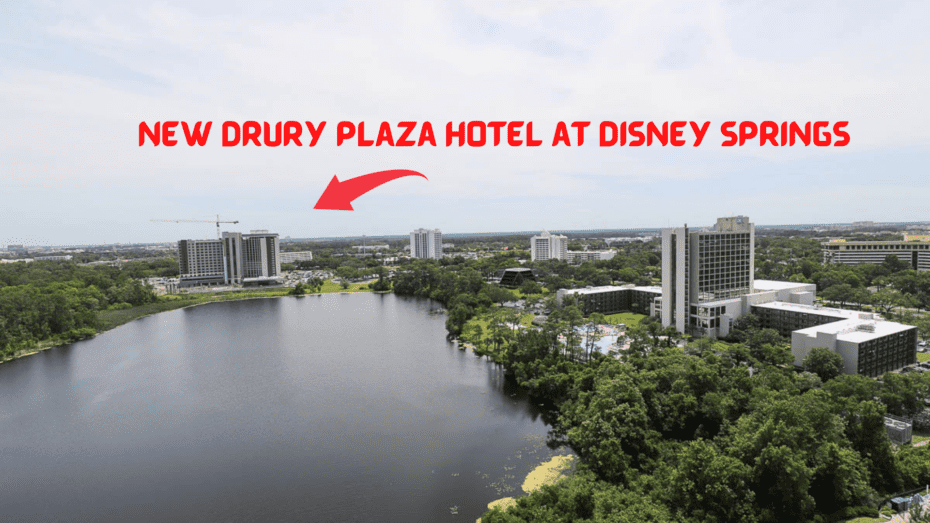 I've never stayed at a Drury, but I have heard good things. However, the name sounds rather depressing.
Inside the king-size guest room, there was a good-sized bath area. The shower area being separate from the vanity area was a nice touch. As a result, more than one person can get ready simultaneously.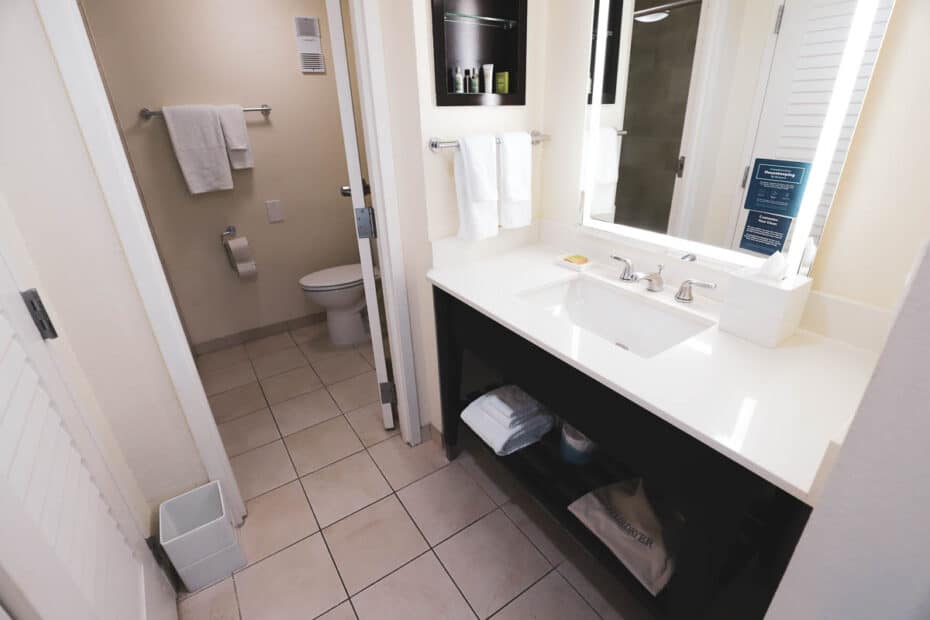 Here is a look with the door closed.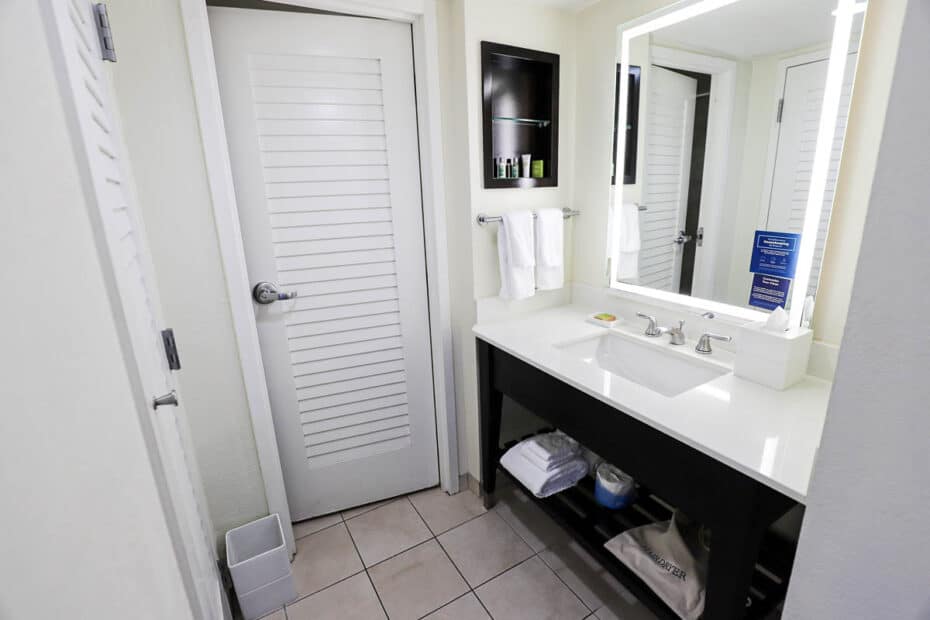 There were plenty of towels and a hairdryer.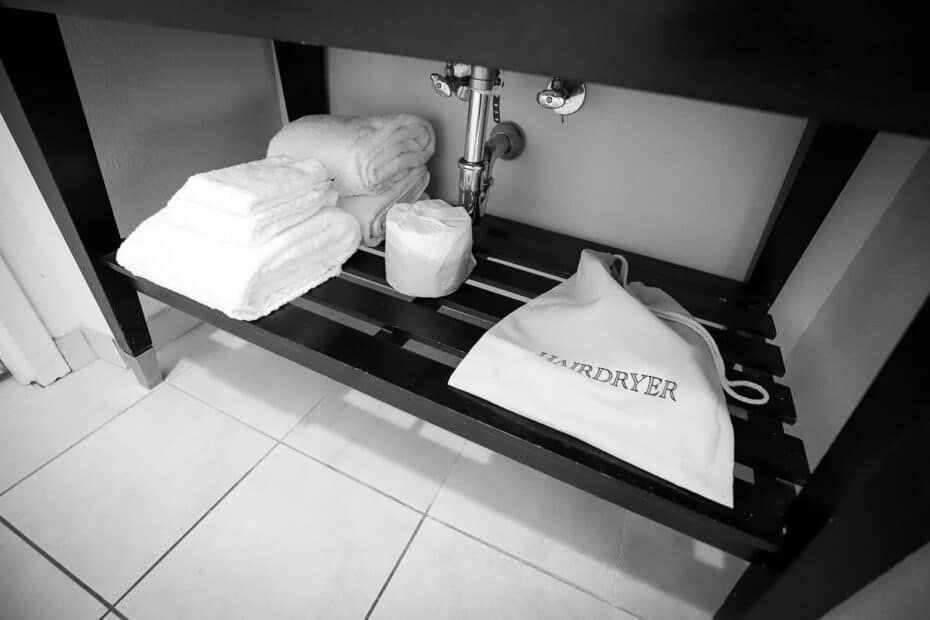 The shower was a decent size. Unfortunately, the shower didn't have a ledge or bench as we saw at the new Fairfield Inn at Flamingo Crossings.
Related: Fairfield Inn and Suites at Flamingo Crossings Review
Those little things sometimes make the biggest difference.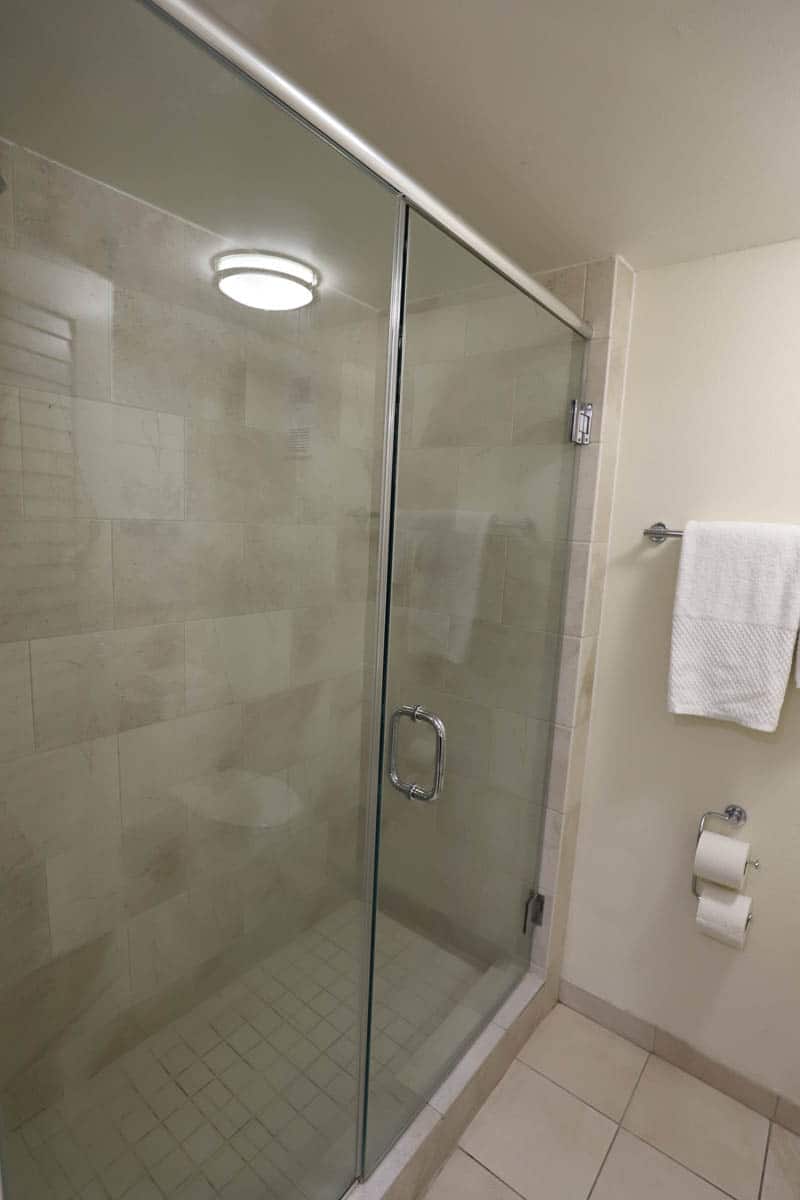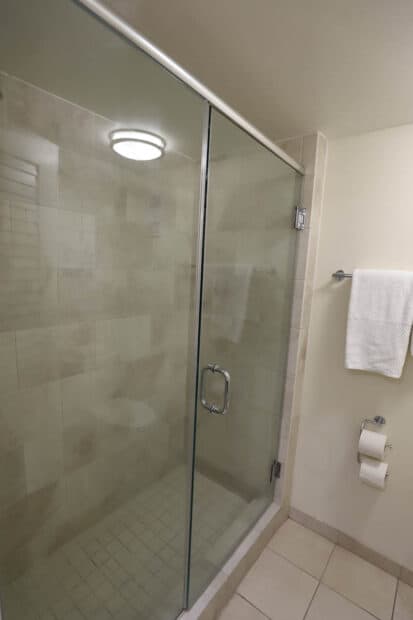 The closet had all the usual: a luggage rack, iron, ironing board, and extra blankets with a pillow.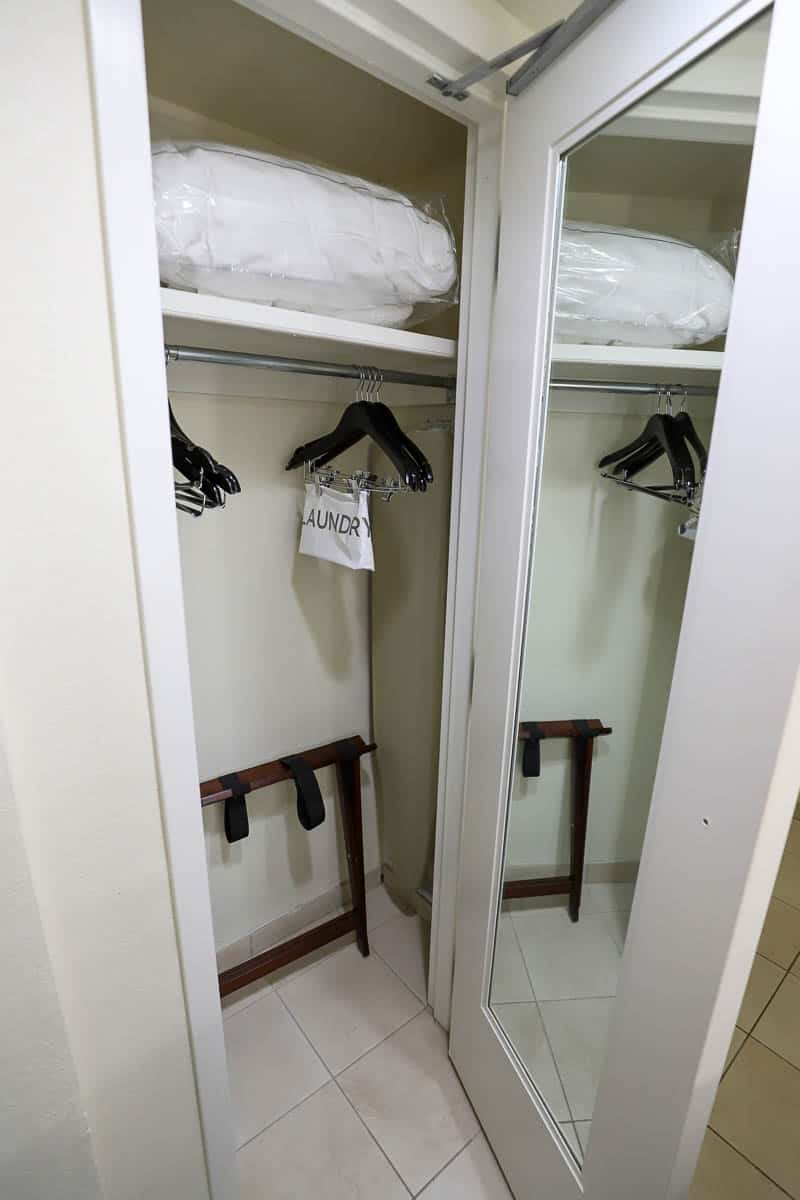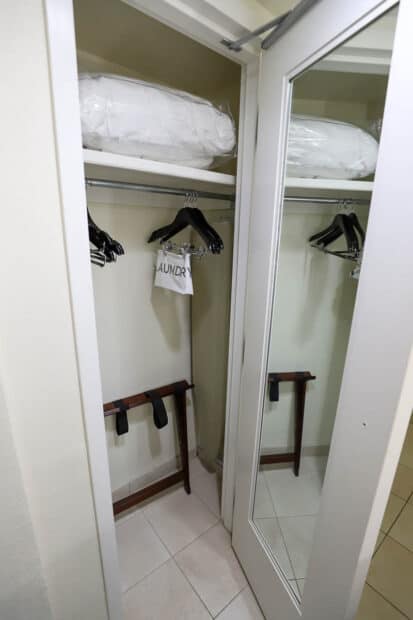 Overall, the room felt spacious for a party of two, and I enjoyed my stay here.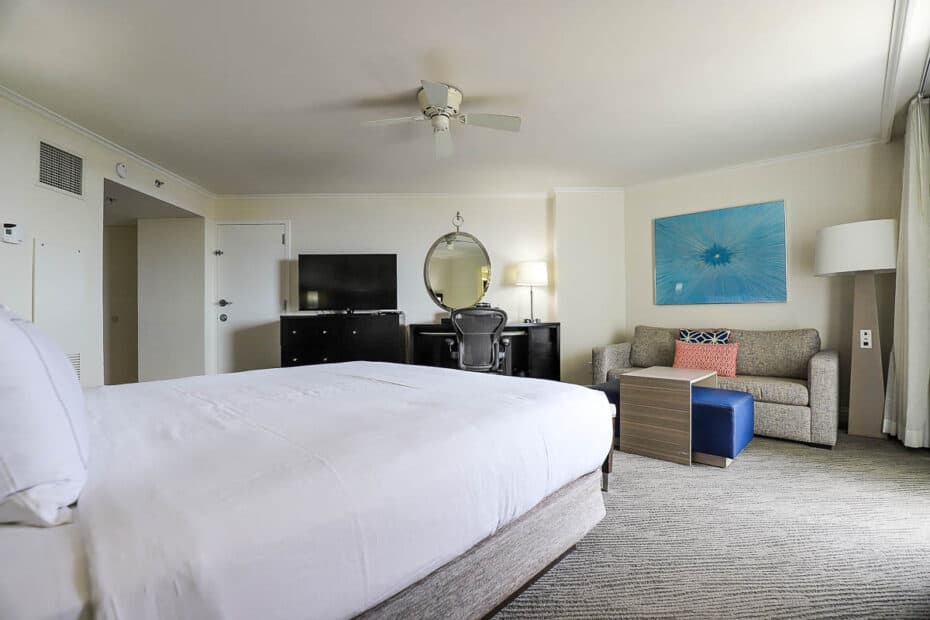 We'll get more into the hotel's proximity to Disney Springs in our full resort review. But I wanted to mention that I enjoyed staying this close to the large venue.
In the meantime, if you'd like a different perspective, we have a full video tour of the room.
I could see someone staying here with the intent to enjoy a fun shopping and dining weekend at Disney Springs. Not only that, the resort has a beautiful pool area with a lazy river.
For more off-property resorts, you might also enjoy these reviews:
In the comments: What are your thoughts on this guest room at the Hilton Orlando Buena Vista Palace? Do you enjoy staying on a higher floor?