Storybook Dining at Artist Point with Snow White and Friends (Review)
Storybook Dining at Artist Point with Snow White and Friends is a character meal that offers three courses for one combined price. This dining experience is located off the lobby of Disney's Wilderness Lodge.
In this review of Storybook Dining at Artist Point, we will take a closer look at the overall experience. This Disney character dining location includes opportunities to meet Snow White, Grumpy, and Dopey.
Additionally, there is a unique opportunity to have a photo made with the Evil Queen. If you are familiar with characters at Disney, you know the Evil Queen is a very rare character and challenging to meet in a Disney park.
For those familiar with Walt Disney World dining, you might remember that this restaurant was formerly the home of an exceptional dining location. Artist Point was even listed at one of our top Disney signature dining experiences before it changed over to character dining.
Unfortunately, you cannot expect to receive the same quality of food that the former fine-dining restaurant offered. I'm not saying it's terrible, but it's not near the quality.
With that being said, the addition of characters is fun, and any reason to visit the Wilderness Lodge is a good reason. So allow me to share our story of having a character dining experience with the star of Walt Disney's very first animated movie, Snow White.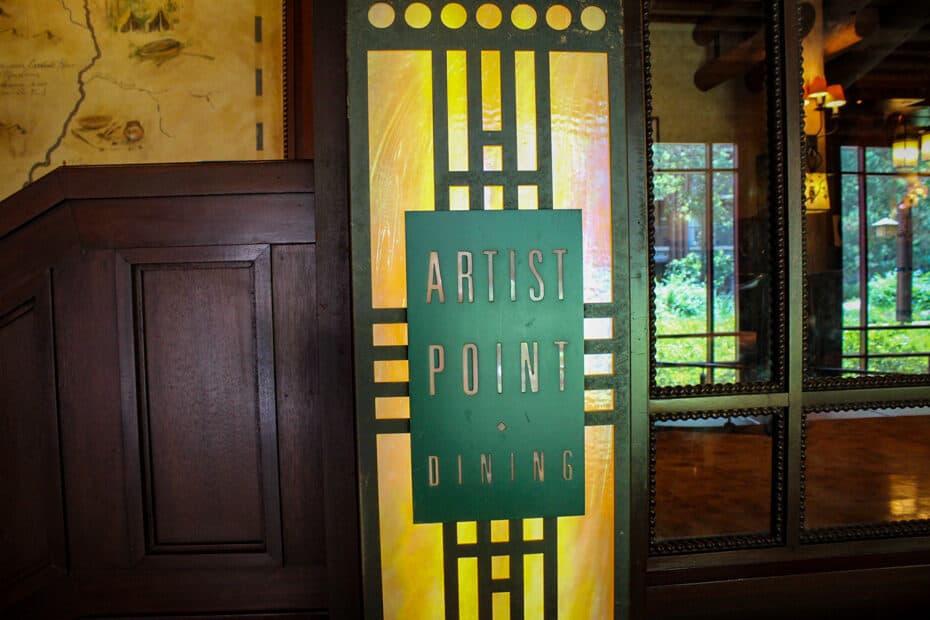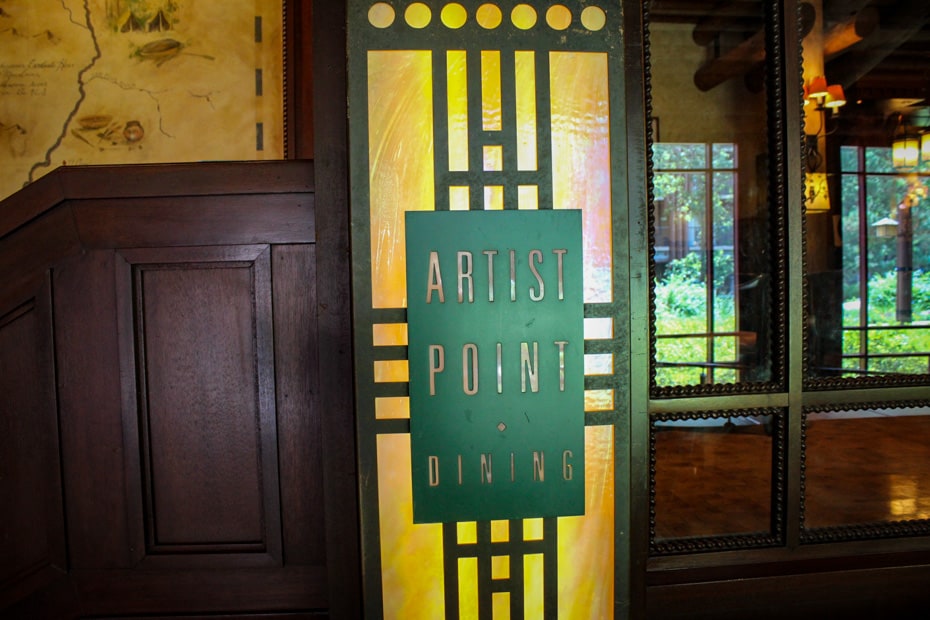 Storybook Dining at Artist Point Review
Storybook Dining is set inside the Enchanted Forest, formerly known as the Artist Point dining room. The restaurant is located off the lobby of Disney's Wilderness Lodge Resort. It is one of the more rustic resorts represented at Walt Disney World.
Related: Disney's Wilderness Lodge Review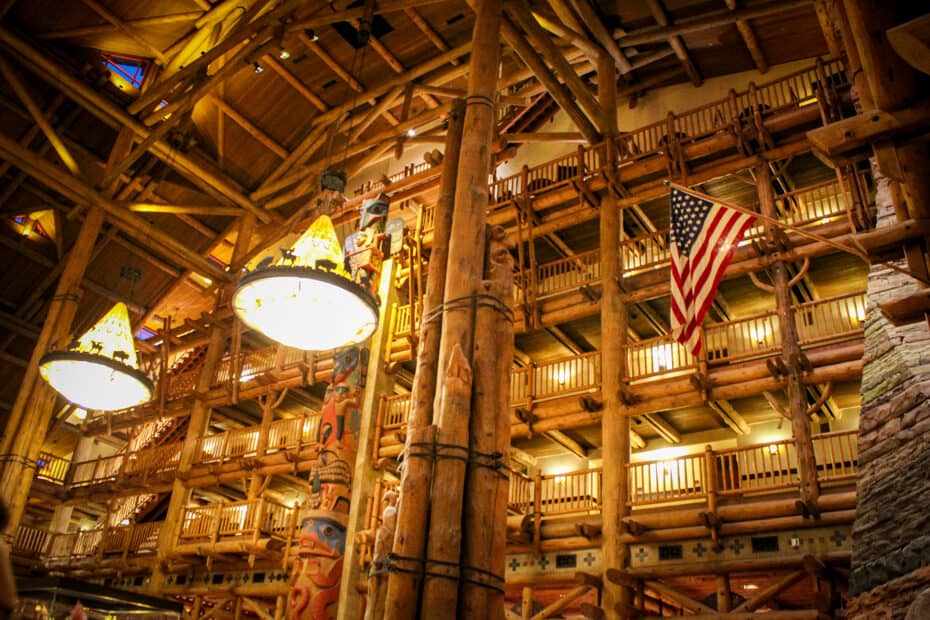 When you visit Wilderness Lodge, be it for a character meal or other reason, make sure to allow a little extra time to tour the lobby. Additionally, you might want to come over early enough to walk the grounds and possibly even see the geyser erupt.
Most will find a trip over to the Lodge to be a pleasant escape from the busy hustle and bustle of the theme parks. It truly is the perfect setting for a restaurant like Storybook Dining with Snow White.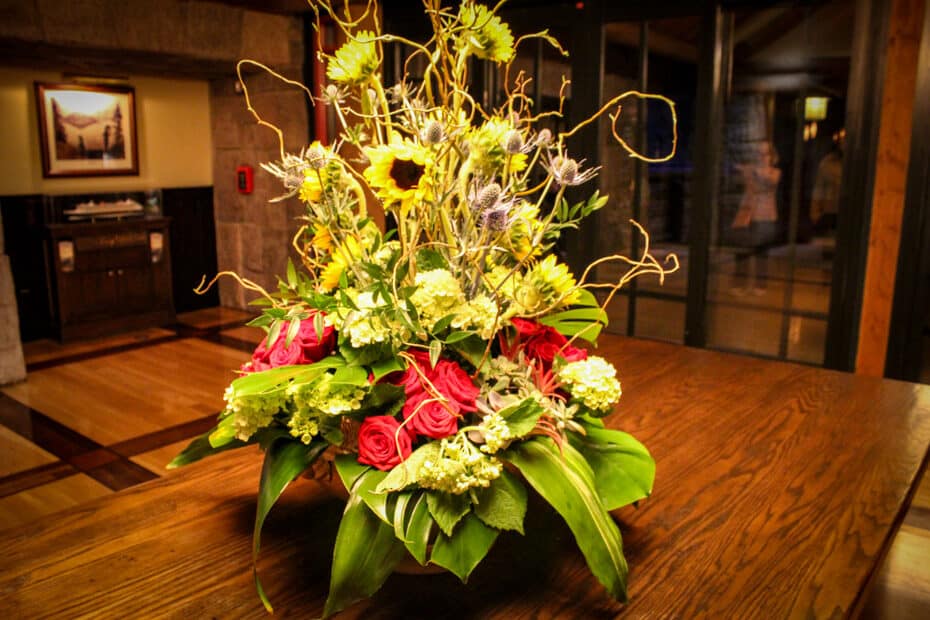 Below we have a look inside the restaurant during the day. The lights are on a dimmer and will adjust during this Disney World character dining experience. You can expect the atmosphere to be considerably darker than how it looks here.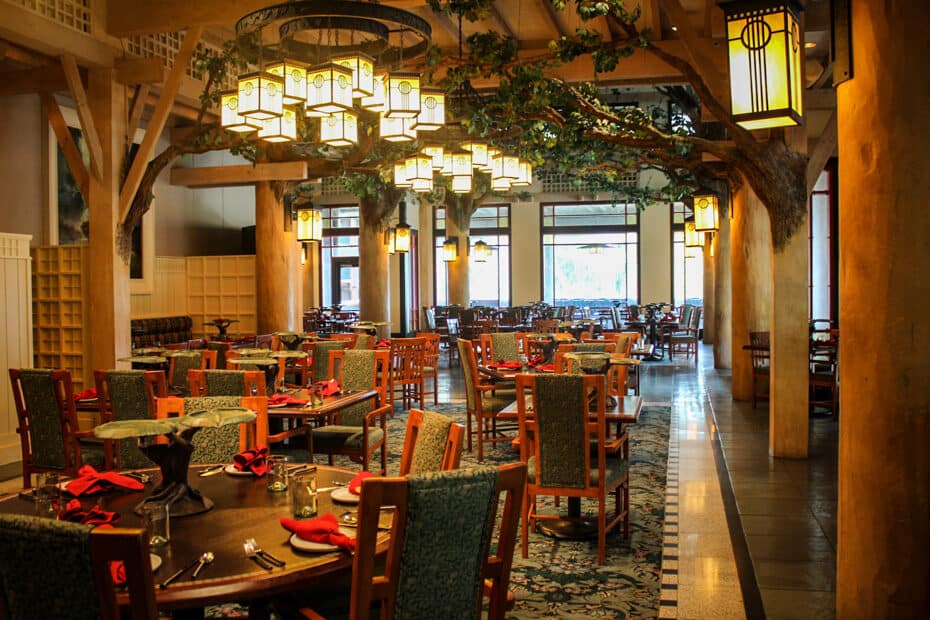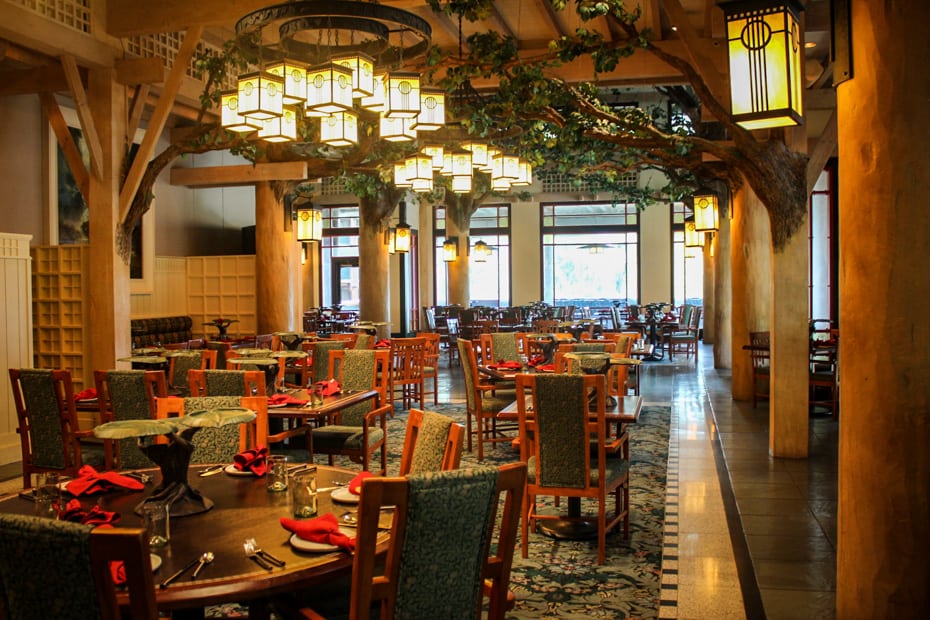 Seating is mainly made up of standard tables with chairs, and there are a few banquette-style seating areas around the wall.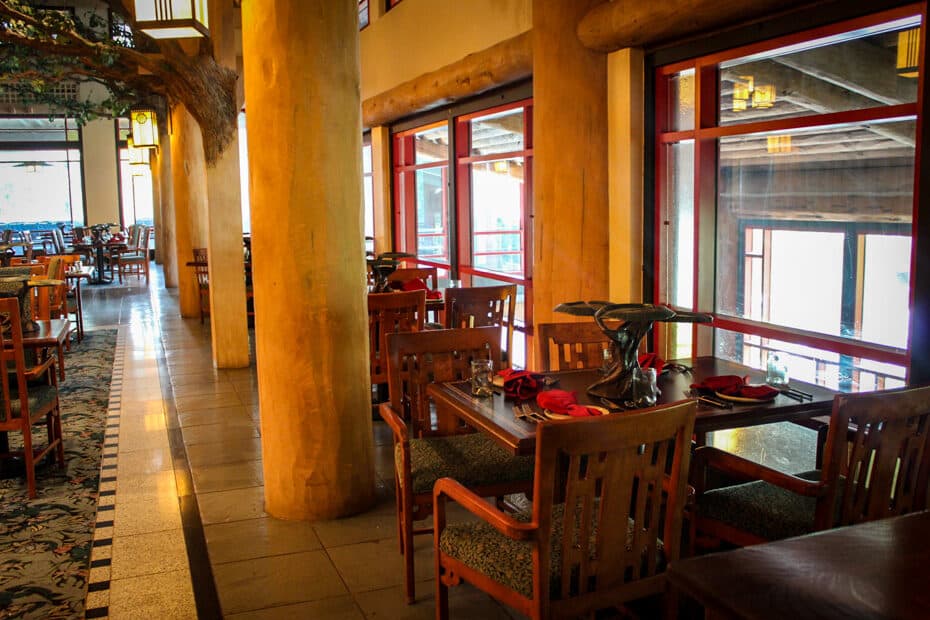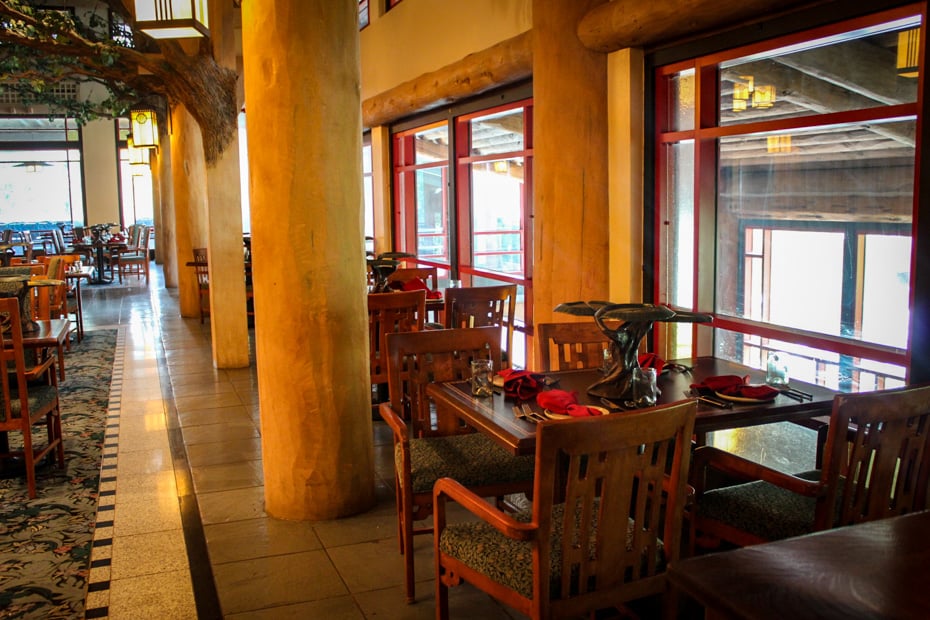 As for our Storybook dining review, we'll look at what to expect with the menu, and the different course's offered. This is an all-inclusive or prix-fixe meal meaning there is a set price for all three courses served. Additionally, there's a bit of a bonus bite toward the end.
The table receives a shared appetizer platter to start. Then, for the entree, each guest gets one selection. Lastly, there are shared desserts similar to the appetizer course. You can view the Story Book Dining Artist Point menu here on Disney's site if you like.
Keep in mind that these menus are typically seasonal with a few staple items. So what you preview now might not be available on the day of your actual visit. This is often the case for many of the nicer restaurants at Disney.
The Storybook Dining menu comes to the table in the shape of a leather-bound book which adds a nice touch. First, we'll take a look at the appetizer selections that are brought to the table.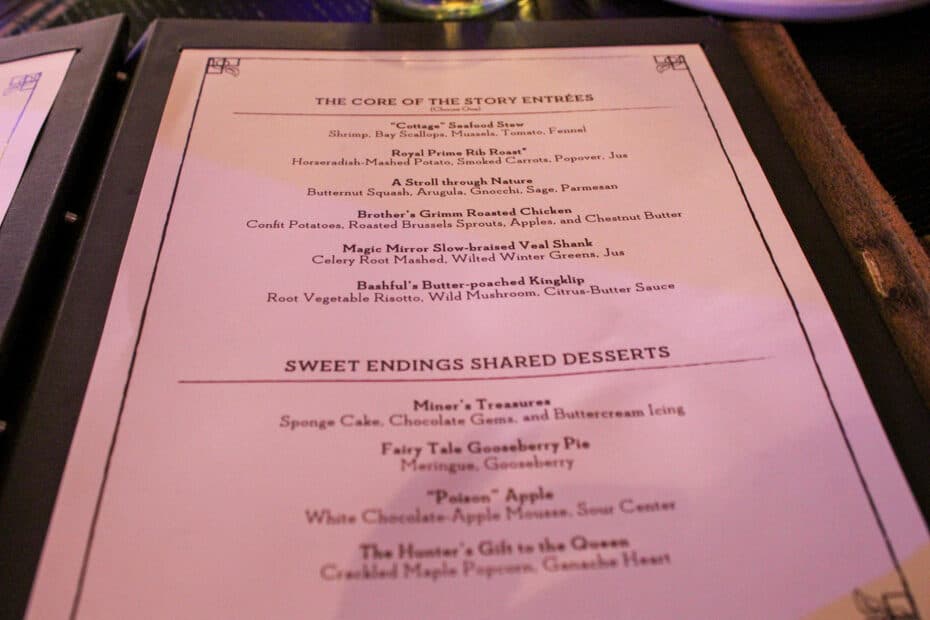 The table has a tree stand of sorts that serves as extra table space to place the different dishes. The different courses will be placed on the podium as they come to the table, except for the entree items.
The appetizer course consisted of the following items on our visit:
Winter Butternut Squash Bisque
Hunter's Terrine (Hunter's Pie)
Wicked Shrimp Cocktail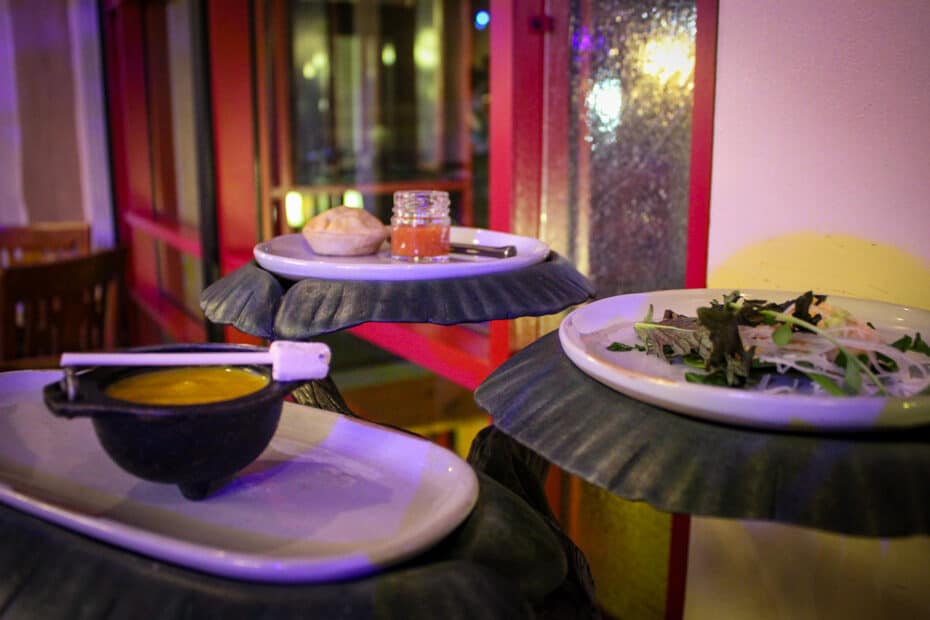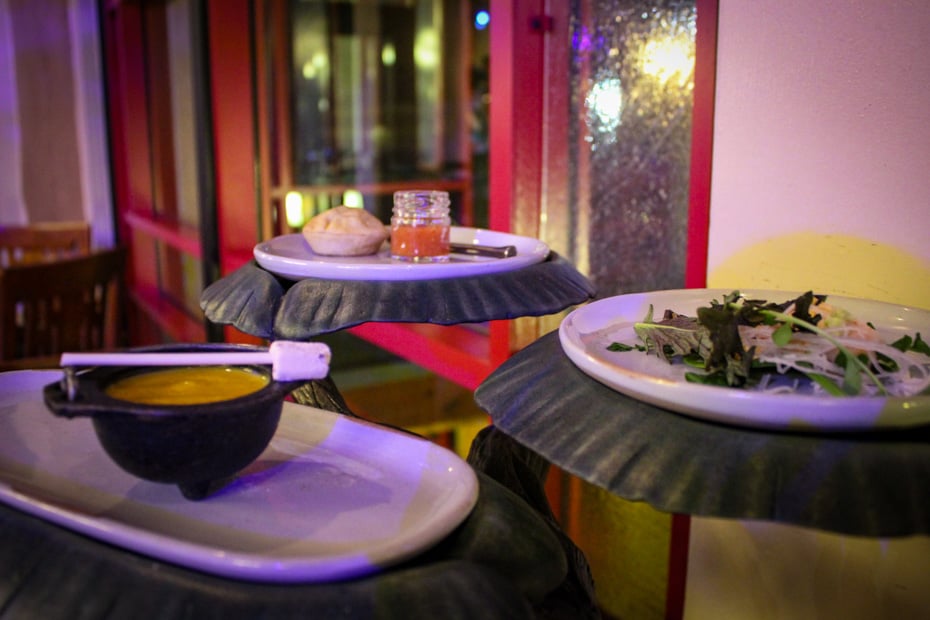 One of our diners has allergies and was brought a separately prepared butternut squash bisque along with freshly-prepared vegetable spring rolls. These were both enjoyed, and I felt like the spring roll would have been an excellent item for the regular menu.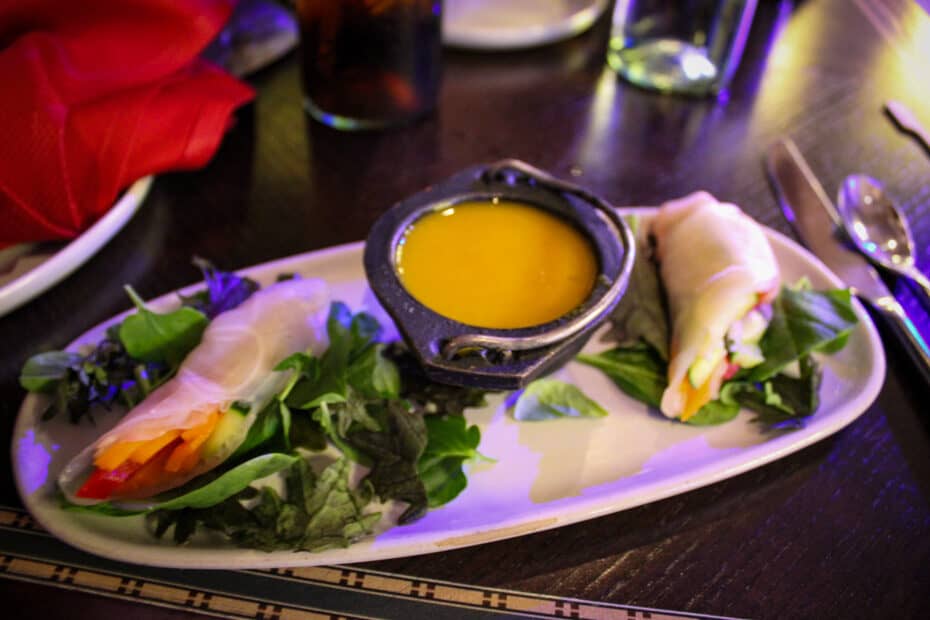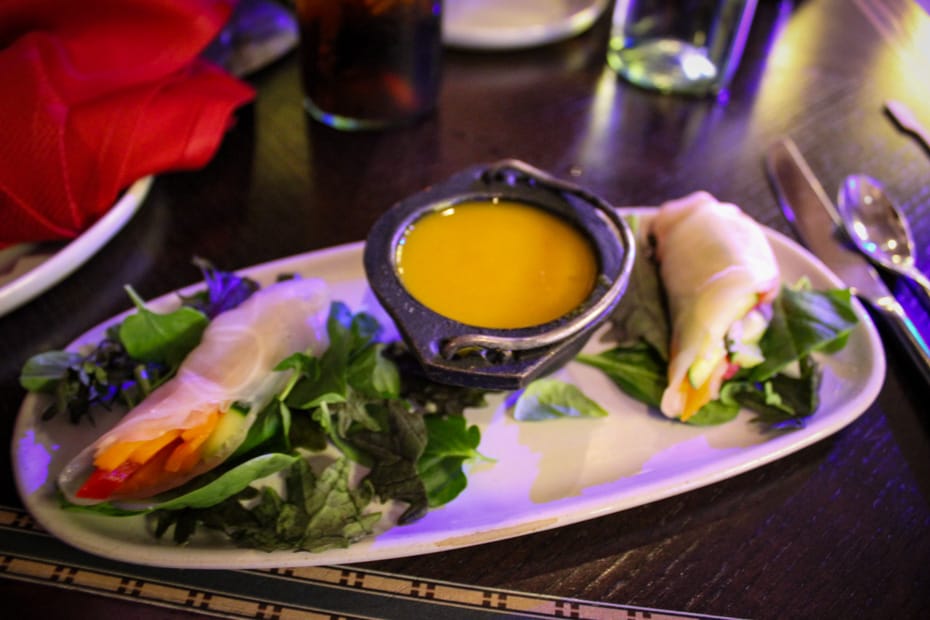 Additionally, the winter squash bisque was a nice bite, possibly the best bite of the entire meal.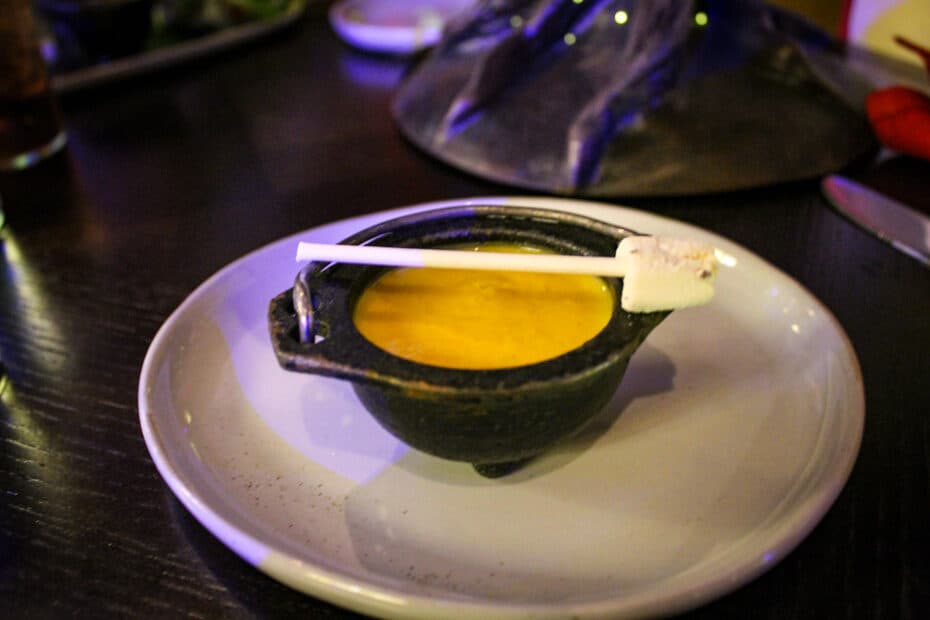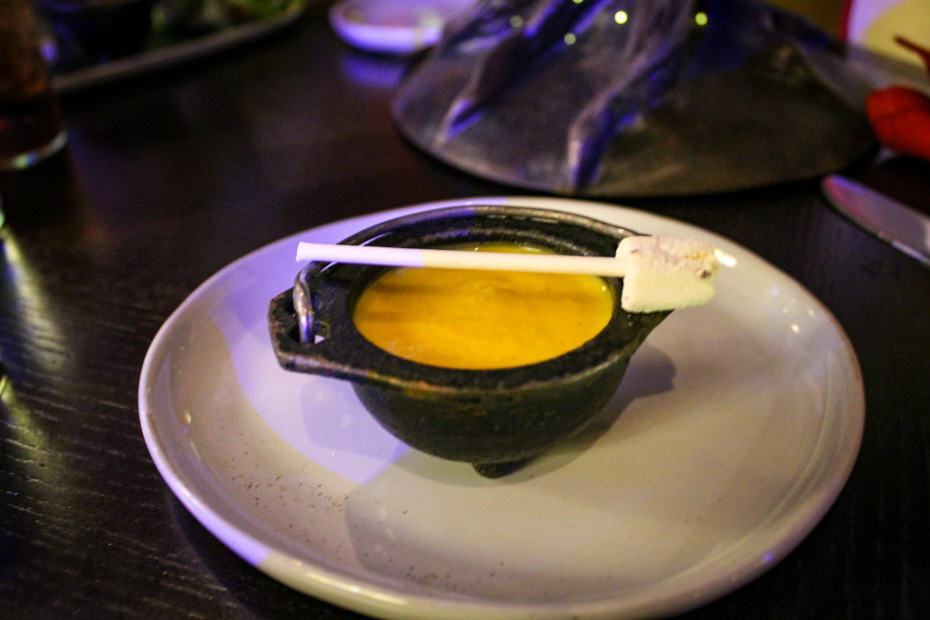 One of my favorite items to order at the former restaurant was the mushroom soup. So it was disappointing not to be able to enjoy it here. Thankfully, since I originally wrote this review, the mushroom bisque has returned to Storybook Dining at Artist Point due to popular demand.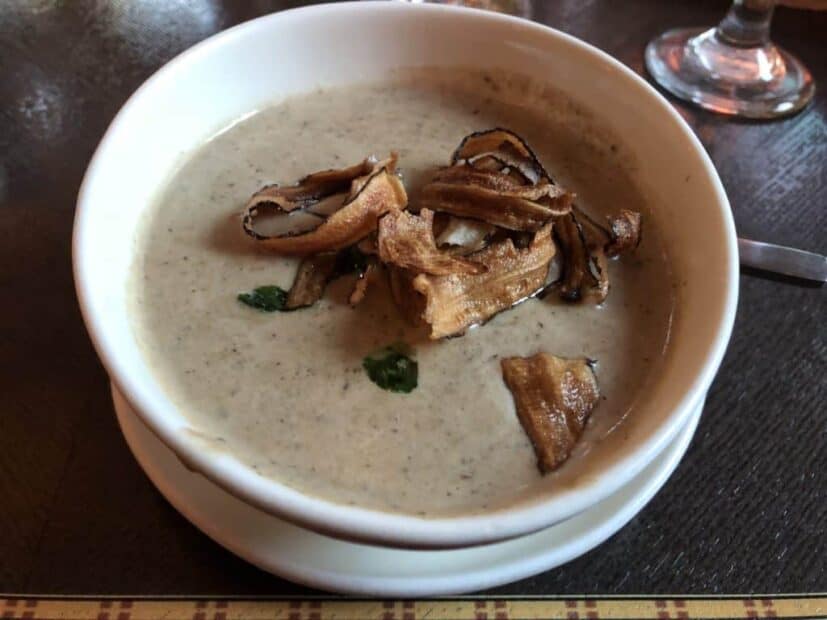 Our next appetizer was Hunter's pie or Hunter's Terrine, which was basically a meat pot pie that came with a sauce that the menu calls stone fruit preserves to accompany it.
Personally, I didn't care for this item. The portion I received was dry and didn't have much flavor.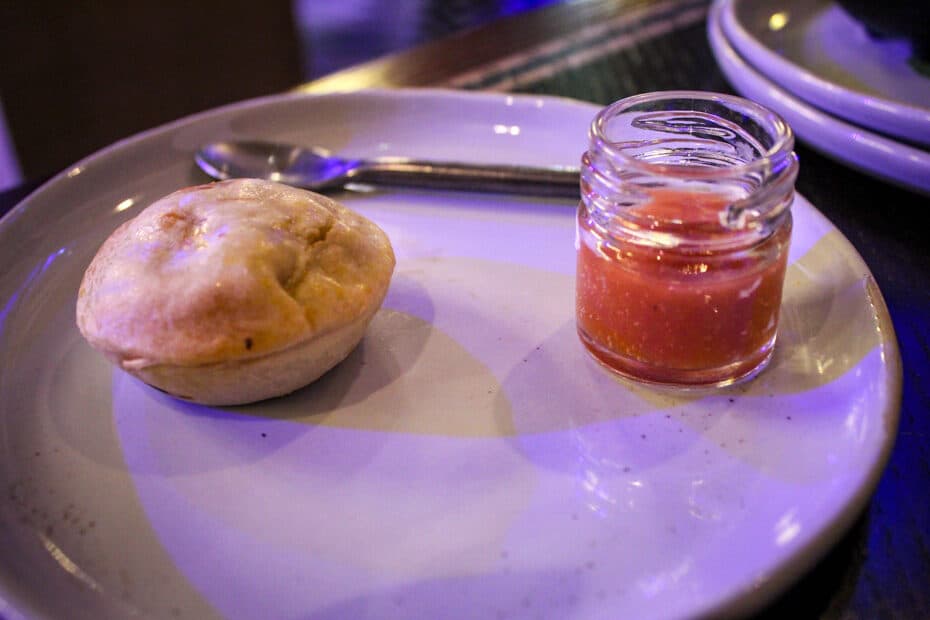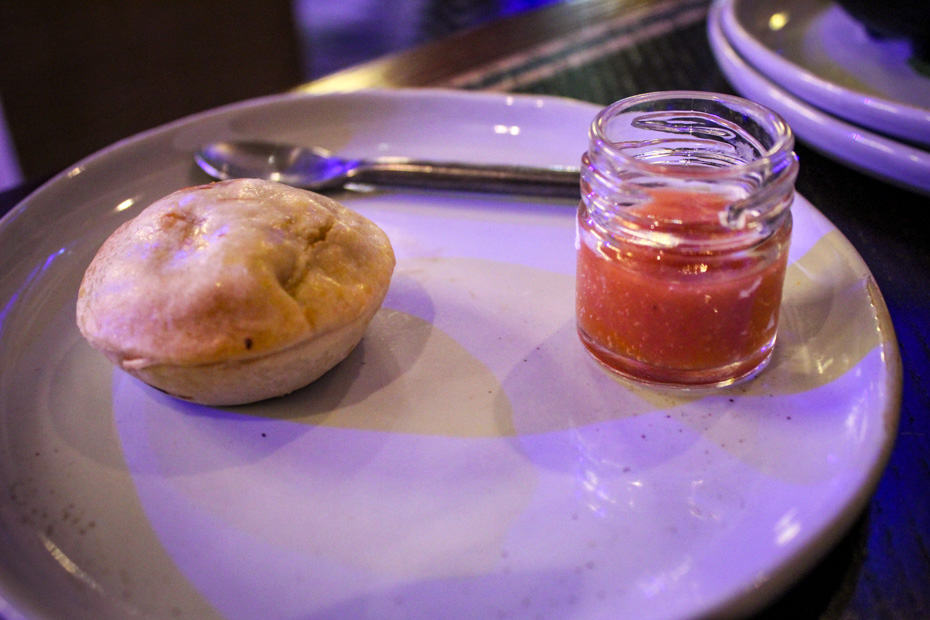 The third appetizer was the Wicked shrimp cocktail. The menu describes this item as soy, miso, avocado, Thai chili, and greens. (Not pictured here.)
It was not at all what I was expecting. The dish resembled a shrimp Caesar salad on the plate, and that would have been a good dish. However, this was some kind of small shrimp with greens that were absolutely drowned in a displeasing sauce. It was awful, and I could only bring myself to eat a bite of it.
As far as taste goes, our meal didn't start so well. Will the entrees make up for it? Let's take a look at the available entree selections and see.
There were seven entrees available to choose from on the Storybook Dining menu. As with any meal, the entree portion should be the main event and something to look forward to before dessert.
As of an update, the individually plated entree items available are:
Cottage Beef Stew
A Stroll Through Nature (Vegetarian)
Magic Mirror's Slow-Braised Pork Shank
Sorceress Spell of Land and Sea
Royal Prime Rib Roast
Brother's Grimm Roasted Chicken
Bashful's Butter Poached Sustainable Fish
Having dined at Artist Point before, I knew that the location had a reputation for expertly prepared seafood. In fact, I had this Alaskan King salmon dish there only months before they closed to make way for Storybook Dining. You can probably tell from the picture that it was a truly divine culinary experience.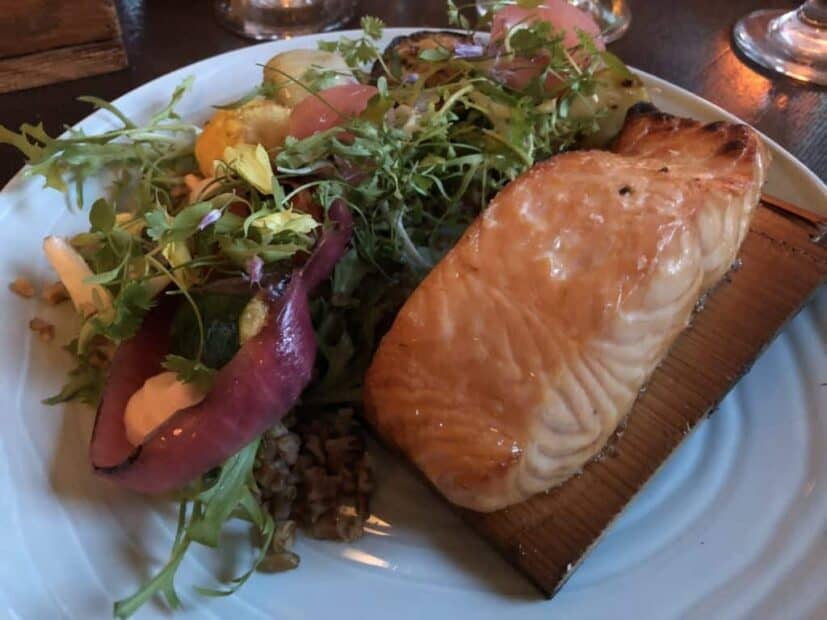 Because of this, I decided to go with Bashful's butter-poached Kingklip. The menu described the dish as a fish served with root vegetable risotto, wild mushrooms, and citrus butter sauce.
In hindsight, I should have known that any dish associated with one of the Seven Dwarf's names would have been terrible. I mean, Snow White was the one who did all the cooking.
You can look at it and tell it was unpleasant. Not only did it look like Bashful had thrown it together, but he might have even bathed in it prior. It sounds like the kind of thing he might do.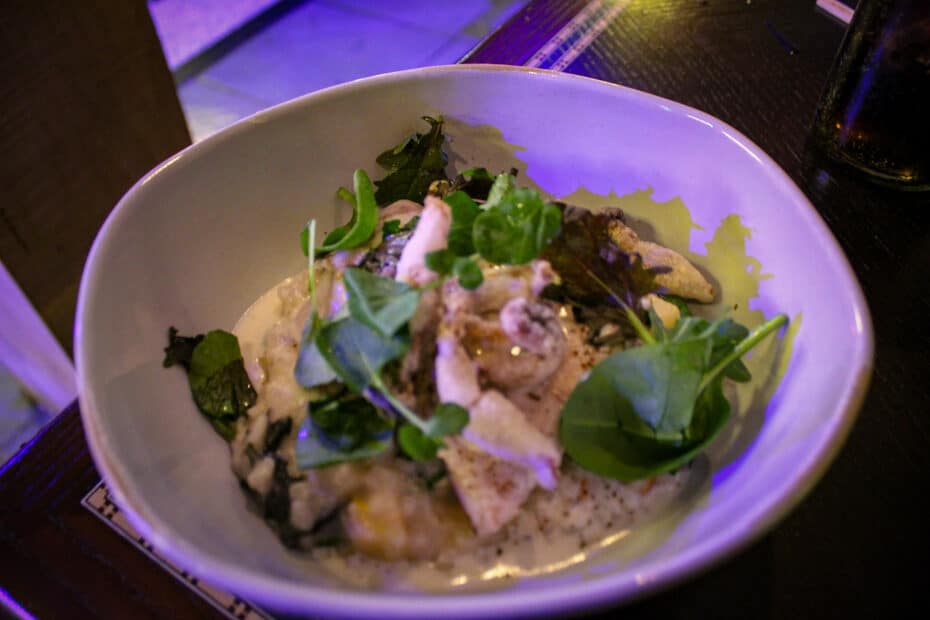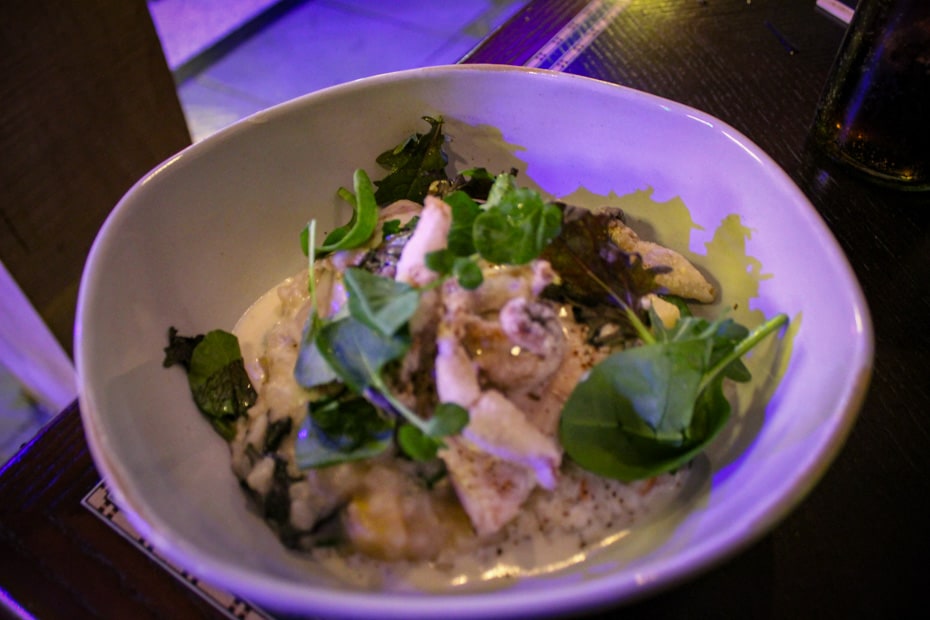 Reflecting on this item, I don't remember any citrus flavors at all. There was a strong butter flavor, but it was too much, in my opinion. And I like butter.
Overall, the dish was very soggy, and there were really no actual fish or risotto bites that weren't drowned in the heavy sauce. So the dish was more of a risotto-gone-wrong than anything.
If you look closely at the picture, you can see how it is sitting in a broth-like substance. Unfortunately, I was only able to eat a few bites.
Since my experience, the menu description has changed. It now comes with Farro, Fava Beans, English Peas, and Gremolata. I love fava beans, so this might be an improvement. And risotto is difficult to prepare and serve in a restaurant setting, so I'll give them that.
After consulting with the chef, our food allergy diner went with the Royal Prime Rib Roast. This was a much better option than the fish entree that I was served.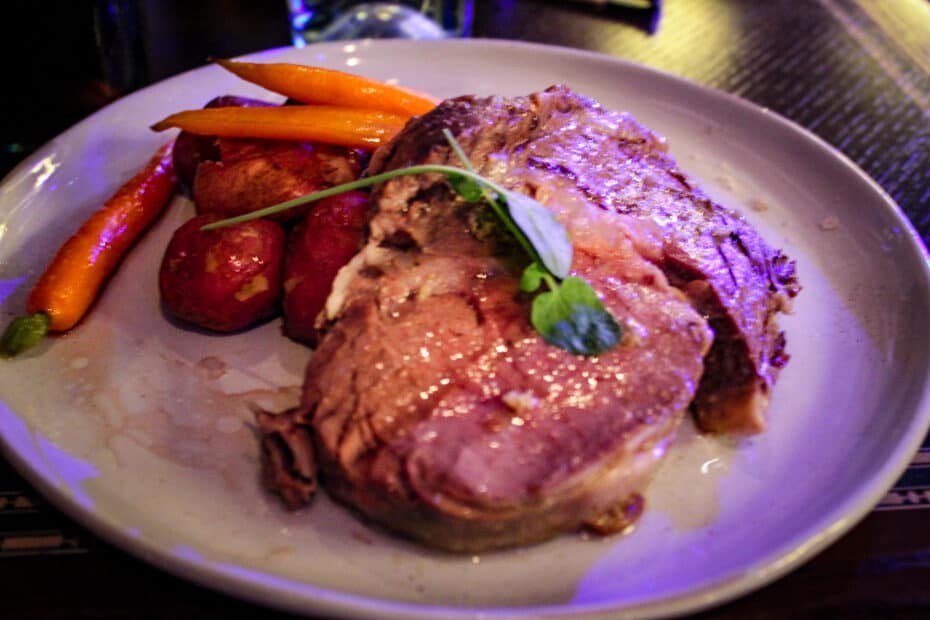 And this wasn't a high-quality prime rib by any means. It was very dark where we were seated, so the image quality isn't great. But I believe anyone can see the amount of fat versus actual edible meat that came with the dish.
However, he did enjoy the meal, and I would have probably been able to give higher remarks food-wise if this had been my selection.
If you order the prime rib, it comes with a side of horseradish mashed potato, smoked carrots, popovers, and au jus. Since he has food allergies, his portion came with smoked carrots and regular roasted potatoes. The chef gave him several options for sides to accommodate his food allergies.
I wish I could start here by saying dessert was the saving grace for Storybook Dining at Artist Point. But I can't. While visually appealing, the dessert options were lacking.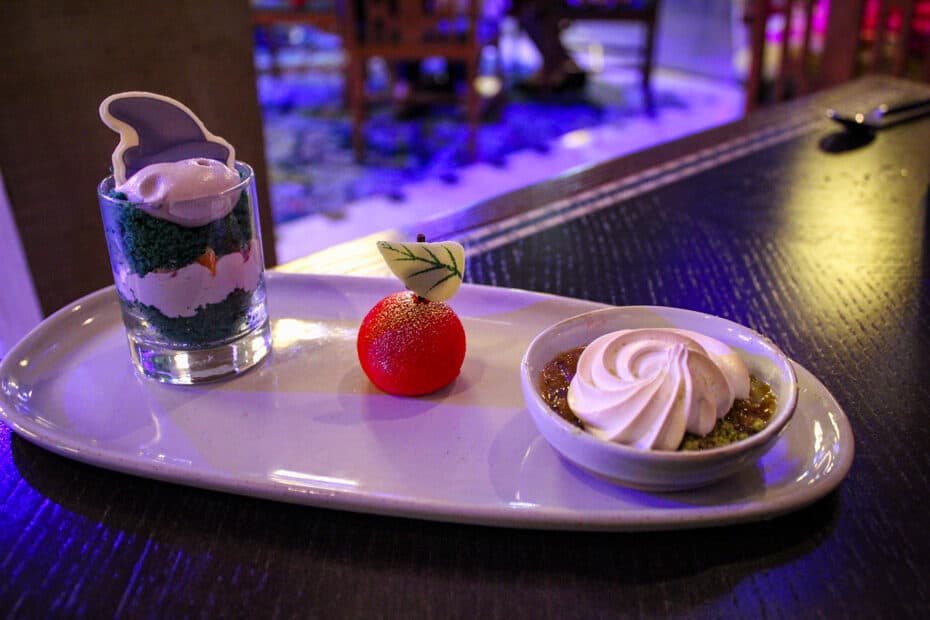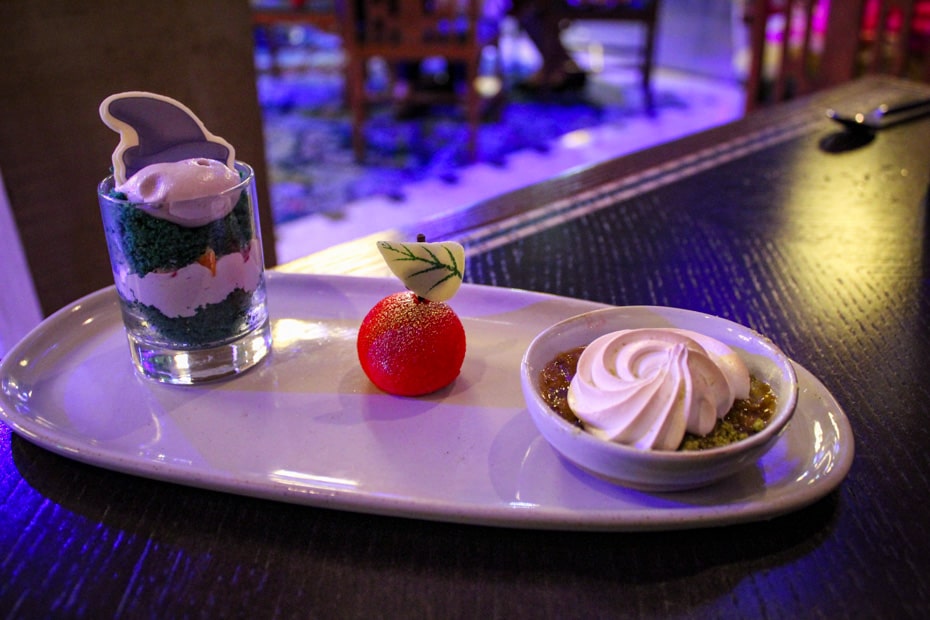 The dessert portion consisted of three small bites and a special presentation tableside.
Options for dessert included:
Miner's Treasure
Fairy Tale Gooseberry Pie
'Poison Apple
The Hunter's Gift to the Queen
The Miner's Treasure is "sponge cake, chocolate gems, and berry panna cotta." It's a darling presentation but extremely heavy on the sugar aspect.
Taste-wise this next dessert is probably my favorite of the three dessert options, the gooseberry pie. It features a bite of gooseberry with a meringue topping.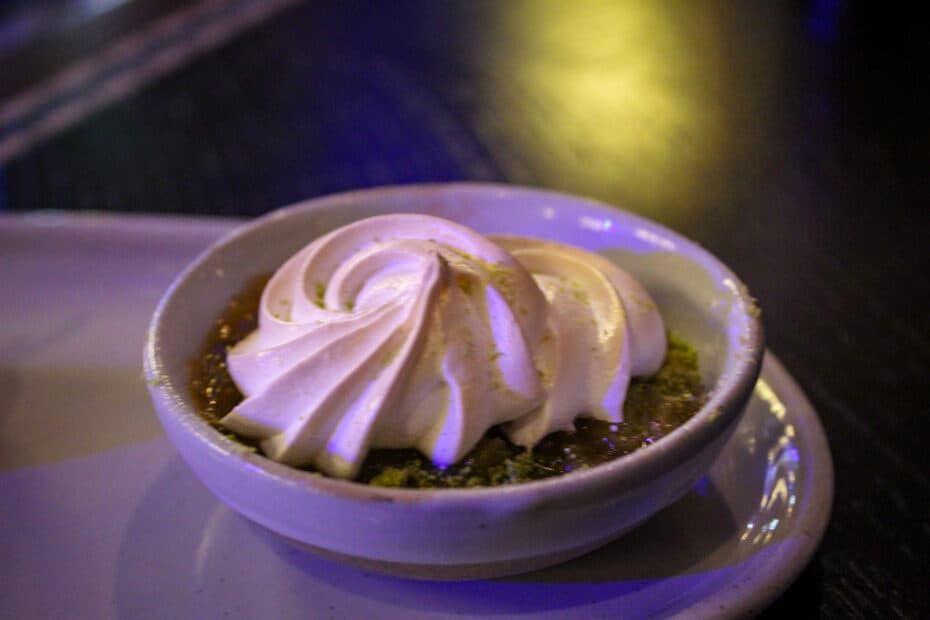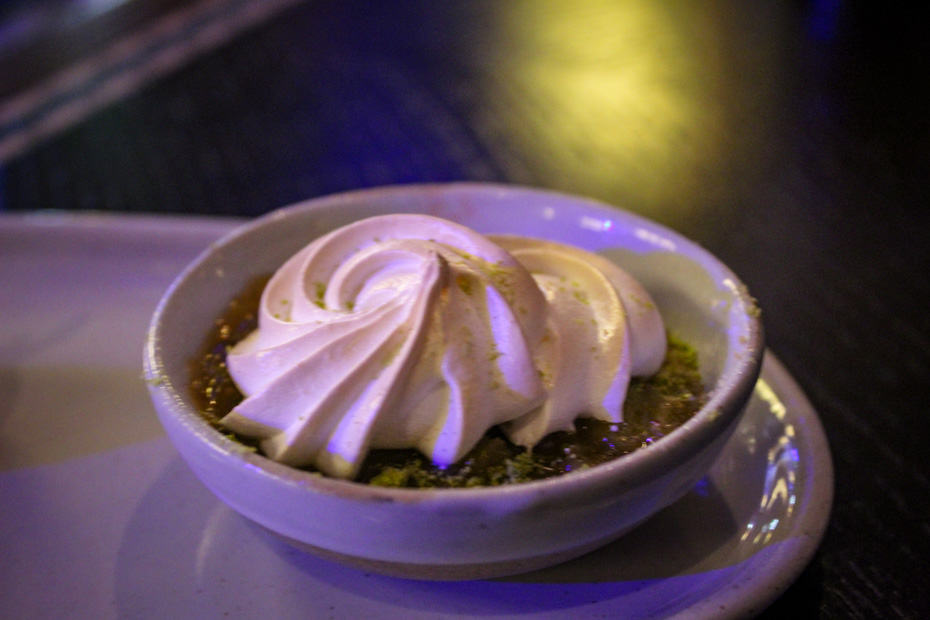 I don't know if I've had the opportunity to try gooseberry before this. It reminded me of a pecan pie filling with a little whip cream on top, less the actual pecans.
By far, the quaintest dessert you will find is the Poison Apple. It is a "white chocolate apple mousse with sour center."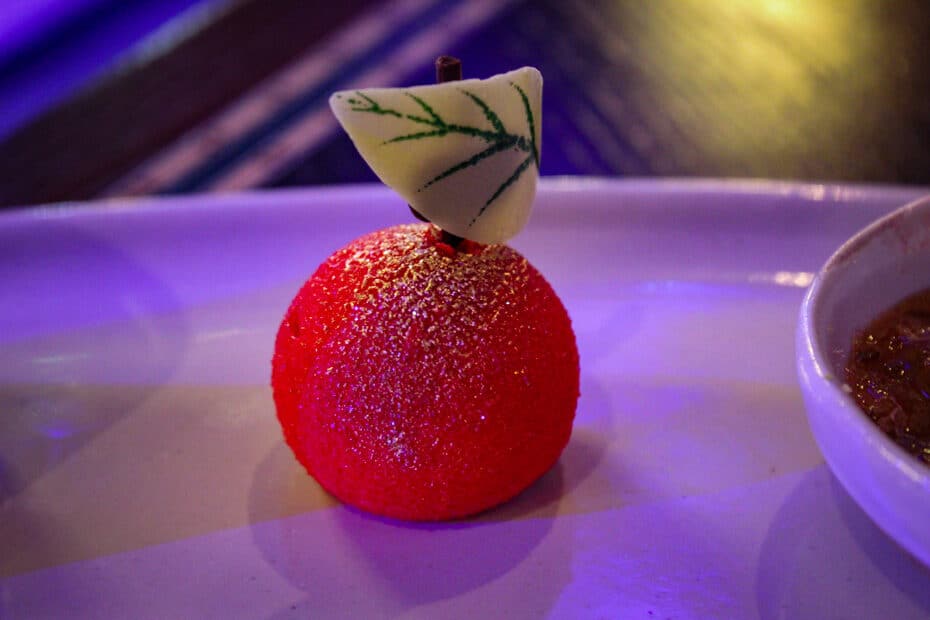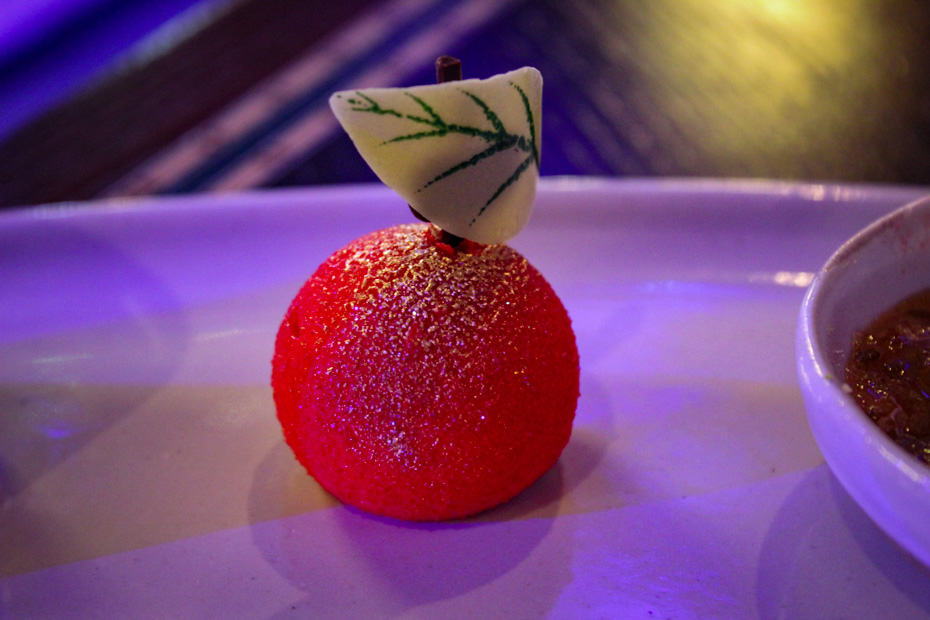 Personally, I'm not a huge white chocolate fan, and the center was sour. So I felt that this fit the description accurately. But it didn't give that authentic sweet and sour taste I was hoping for when I bit into it.
However, I do find it hard to argue the charm and photo-worthy look of this item. Especially considering it's one of three desserts.
Lastly, we'll take a look at one final bite that comes at the end of the meal, The Hunter's Gift to the Queen.
As embarrassed as I am to share this photo with you, it does give an idea of the presentation. This moment is over relatively quickly, and so is your photo option, as you can see.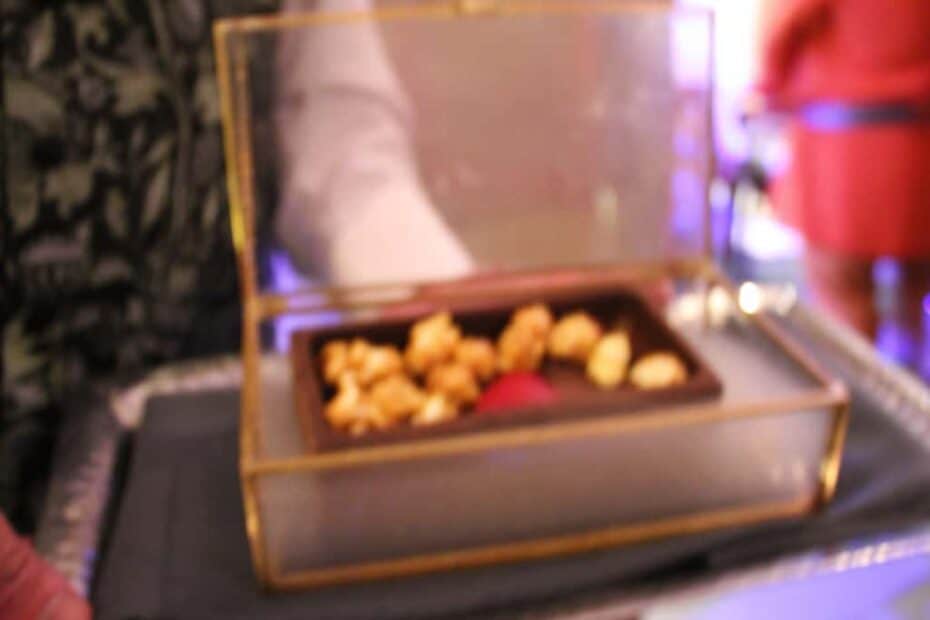 Toward the end of Storybook Dining at Artist Point, a box is brought to your table containing "crackled maple popcorn and a ganache heart."
When the box lid is lifted to reveal your treat, a little smoke is released, creating a fun moment for your party to enjoy. Again, I would recommend doing a video instead of pictures to capture the moment.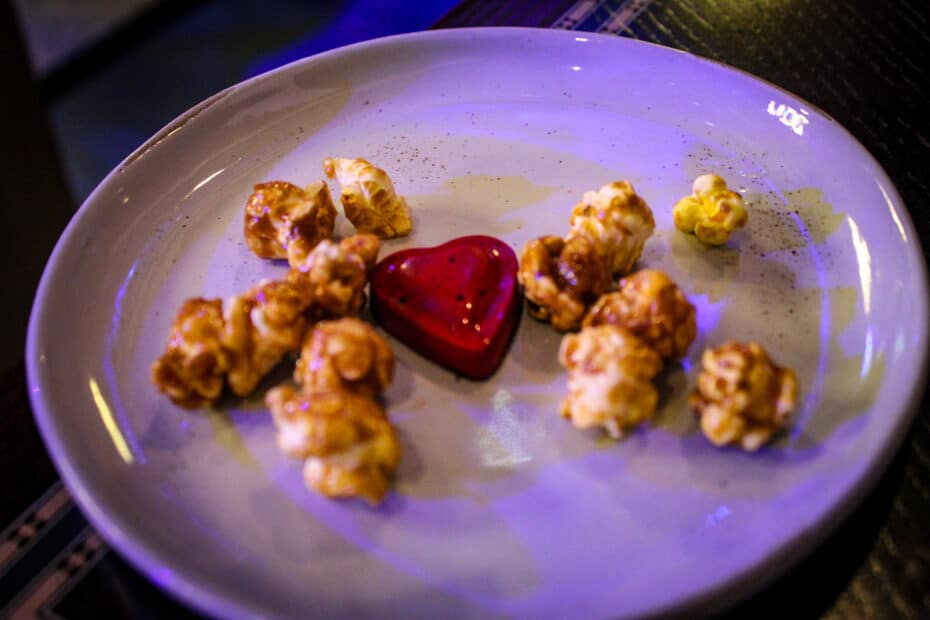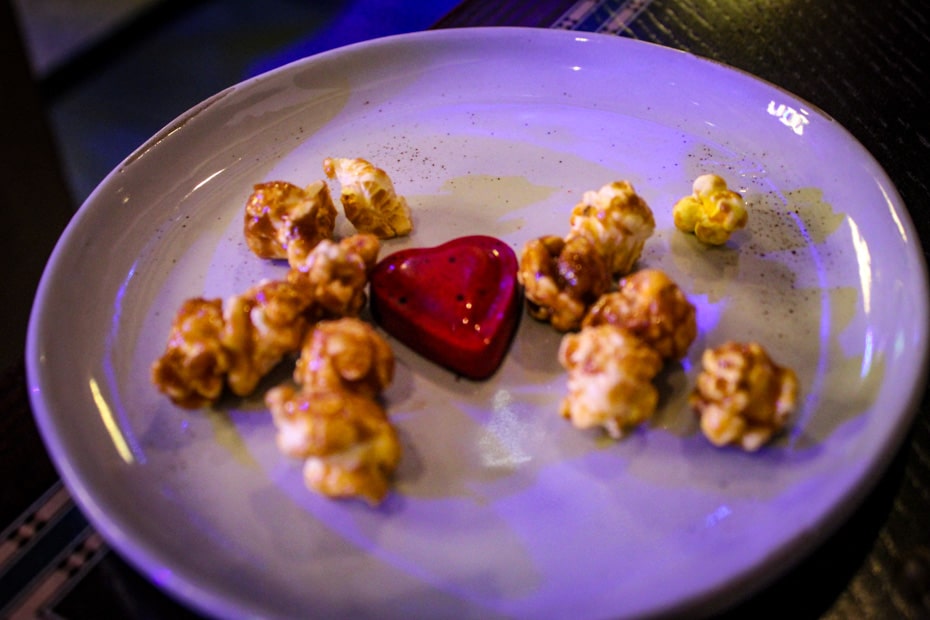 The server will then remove the cracked maple popcorn and chocolate heart from the box and leave them with you for enjoyment. There isn't much substance to the few bites, but it is a fun moment during the meal.
Characters at Artist Point Storybook Dining
Thankfully I did save the best for last. However, all is not lost on the experience, and we did have a good time. That good time can be attributed to receiving quality service and good character interaction.
During the course of the meal, you will be visited by three different characters. There will be a designated character attendee in the restaurant. At some point, they will check with you and make sure you have had the opportunity to meet all of the characters. The characters at Storybook Dining were:
Snow White
Dopey
Grumpy
The Evil Queen
Snow White is the first character we met at Storybook Dining at Artist Point. She was a lot of fun and very friendly. Make sure to have autograph books and anything used for pictures out and ready.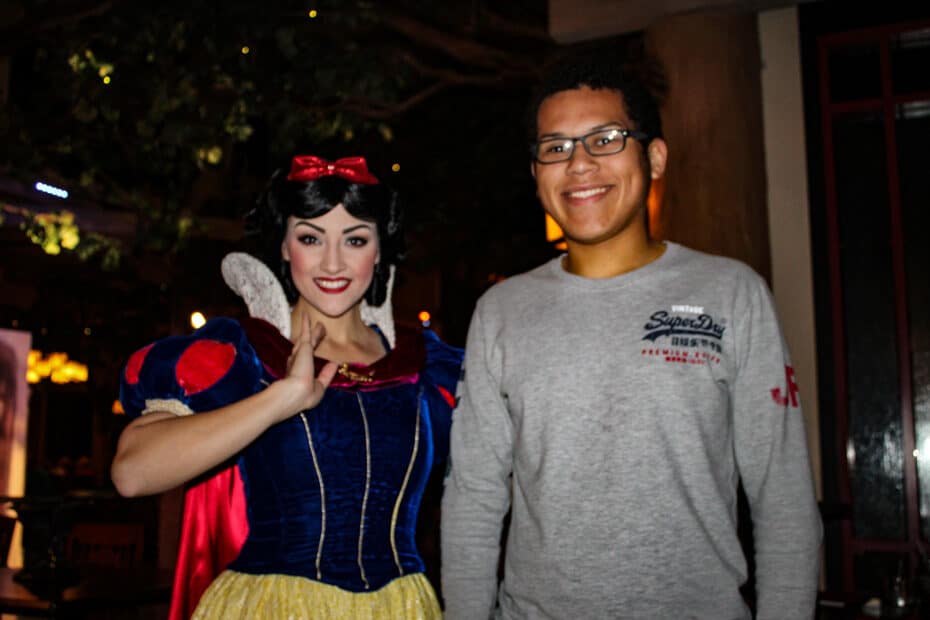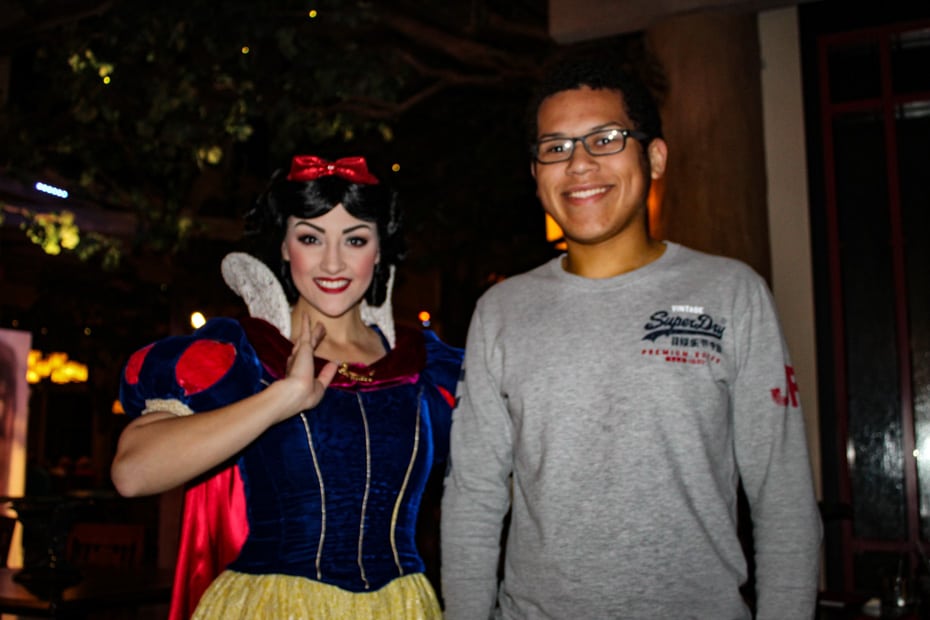 Additionally, Snow White meets for lunch and dinner at the Akershus princess character breakfast at Epcot. You can find her in the Germany Pavilion at Epcot in the afternoons. Or you might run into her at Town Square in Magic Kingdom.
Find out more in the Magic Kingdom Characters guide. Or you might like to read our review of where to meet Snow White at Disney World.
Snow White was soon followed up by Dopey, another rare character to find in the parks. The thing about the Seven Dwarfs is they are all very difficult to meet.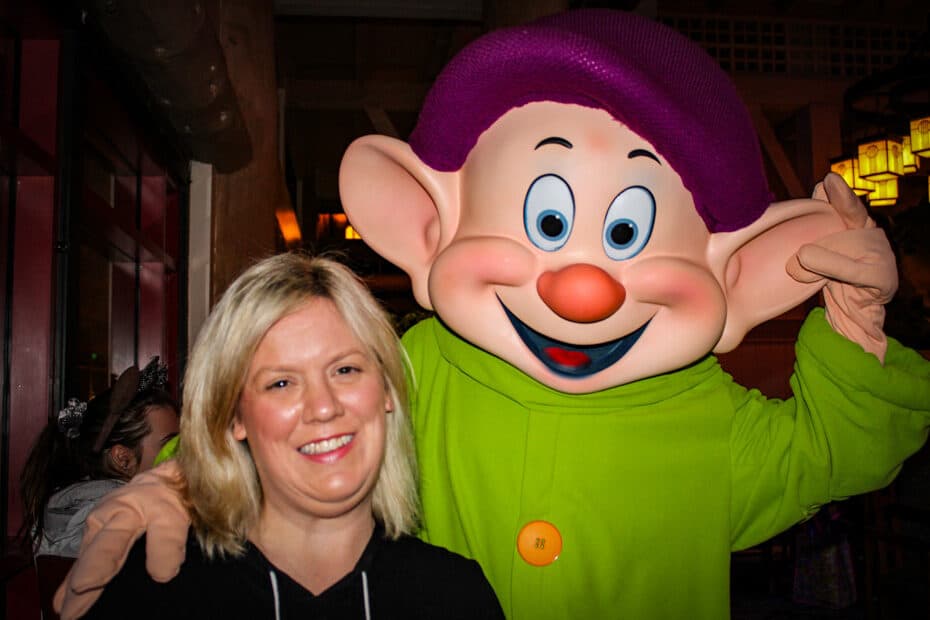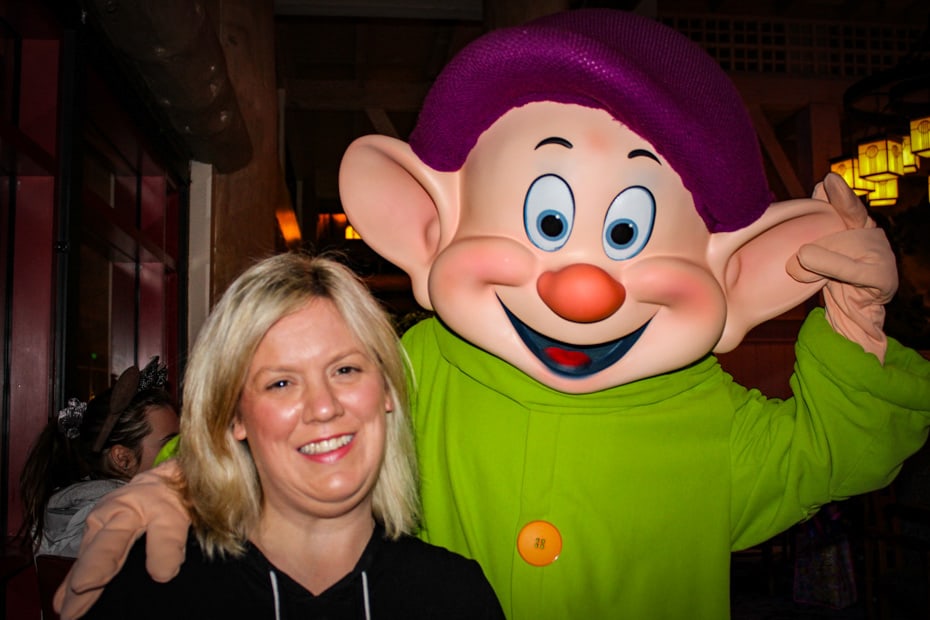 To my knowledge, they are in the Festival of Fantasy parade daily at the Magic Kingdom. Other than that, you have to be a ticketed guest of either the Halloween party or Christmas party at the Magic Kingdom to meet them.
Next, we have Grumpy, just call him dancing Grumpy, I guess. The characters have a little song and dance number that comes on during the course of the meal. The lights in the Enchanted Forest begin to flicker, and the characters all dance around the room.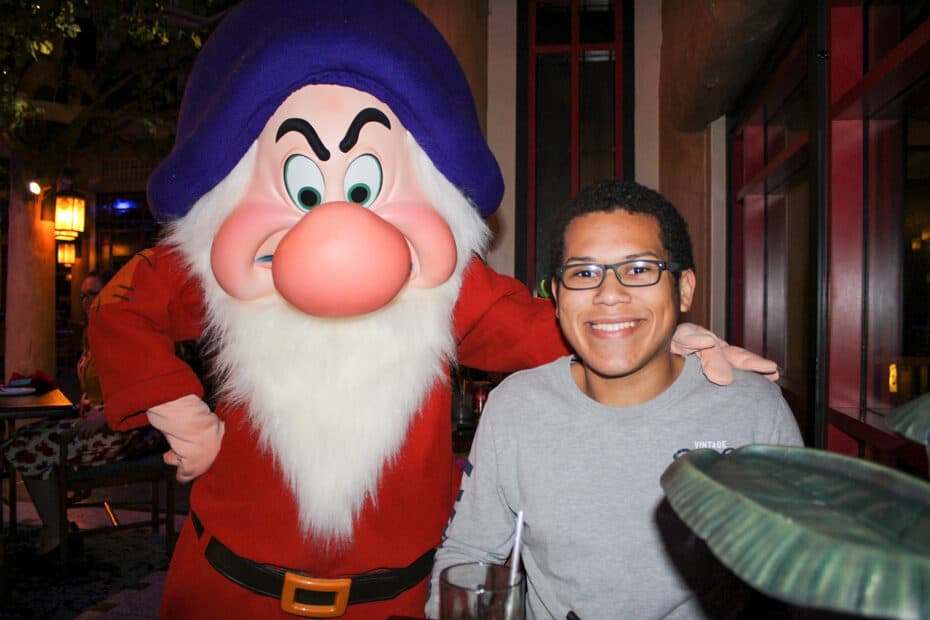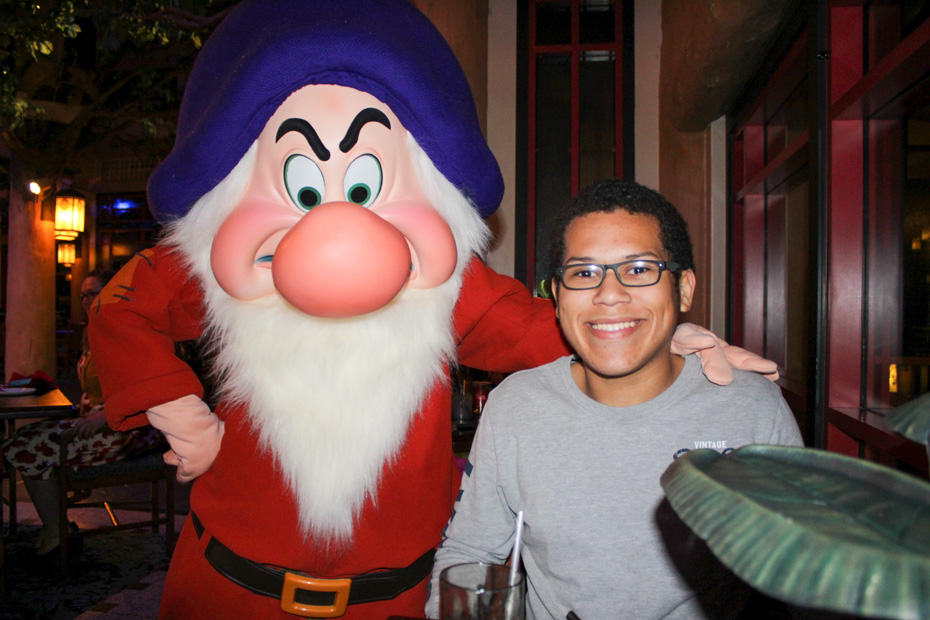 And let's not forget the villain! The Evil Queen is kind of the star of dinner at Storybook Dining.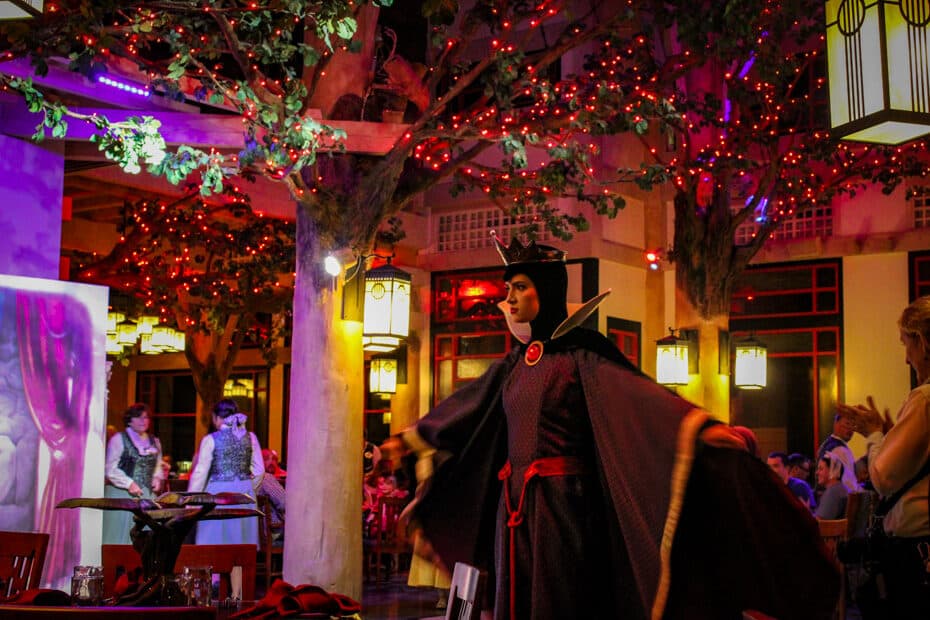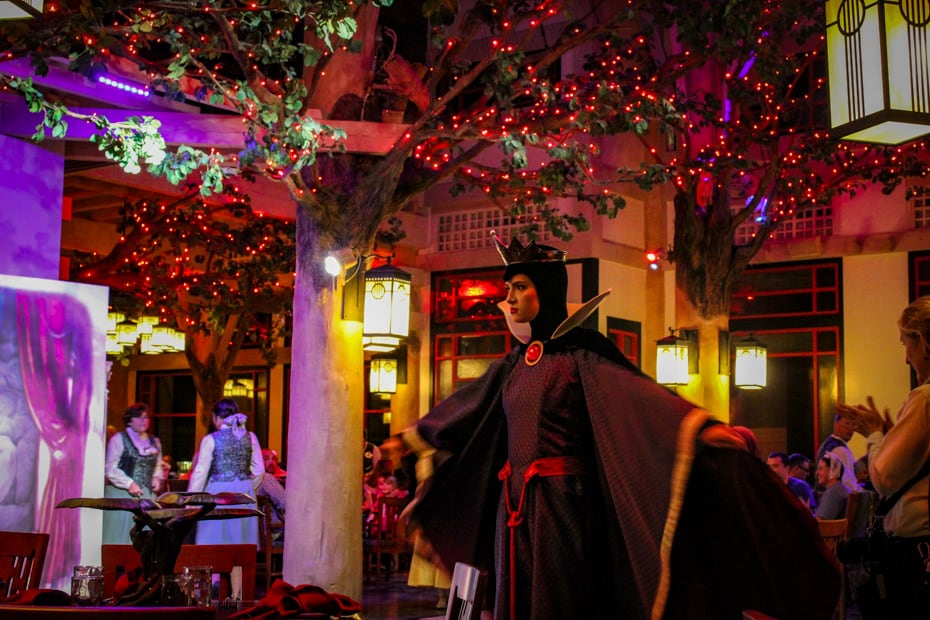 During the course of the evening, the room darkens and the lights on the trees begin to flash, signaling the entrance of the Evil Queen. Naturally, there's a music enhancement during this time as well.
It's a totally different feel from when Snow White, Dopey, and Grumpy enter the space. All attention turns to her as she makes her grand entrance and then heads to her special meet and greet area for a photo opportunity.
Here is a look at ours: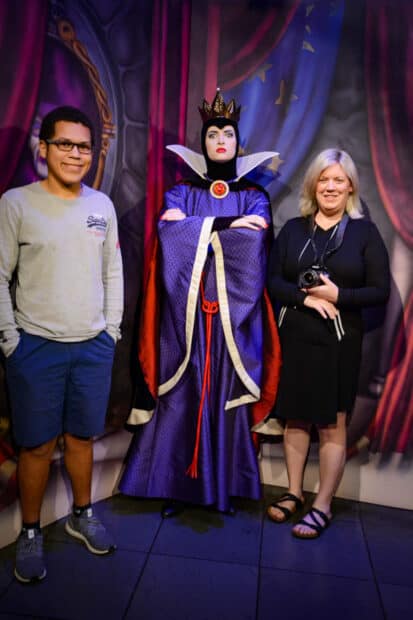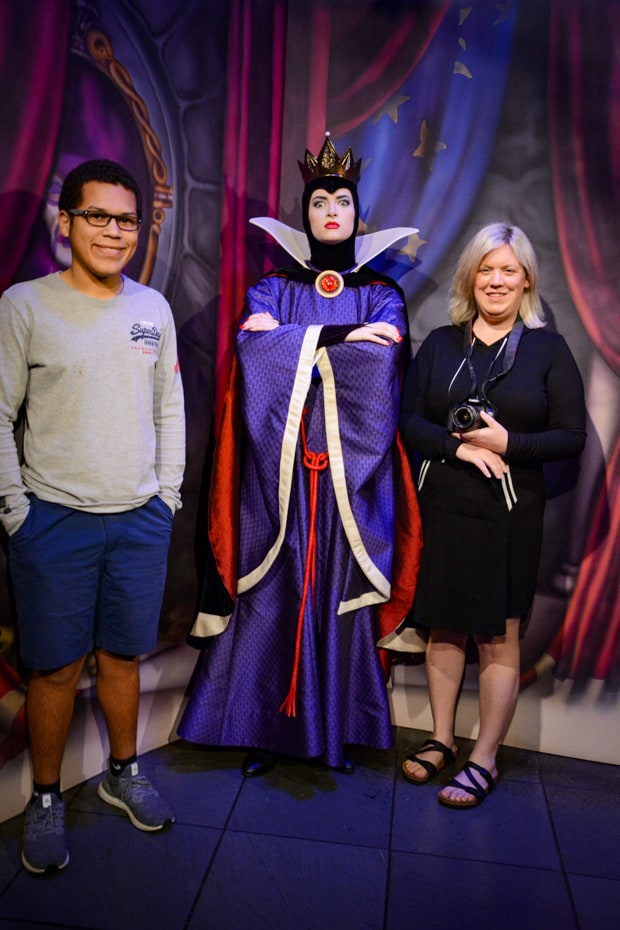 If you are at a good stopping point in your meal, try to get in line when she first arrives. A large line will form for her over the course of the evening. She is a lot of fun to meet and very true to her character.
There is a PhotoPass photographer with the Evil Queen to capture this moment. However, all pictures with Snow White, Grumpy, and Dopey will be tableside and need to be taken with your own camera or mobile phone. So don't forget to bring them with you or you might miss capturing a few special moments!
Overall, the characters are a lot of fun, especially for kids or fans of Snow White. And that is the saving grace when it comes to Storybook Dining at Artist Point.
In fact, the thing I loved most about this meal was being able to meet these original Walt Disney characters. Snow White was Walt's first big production, and it was a huge success. I hope they will always have a special home at Walt Disney World.
Final Thoughts on Storybook Dining at Artist Point
As far as how our Storybook Dining experience went, we did end up having a happy ending. Granted, the food was mediocre at best. I hate to admit it, but I would have gladly paid more for higher-quality food.
With that being said, I do recommend the meal for the experience and chance to meet characters in a lovely setting.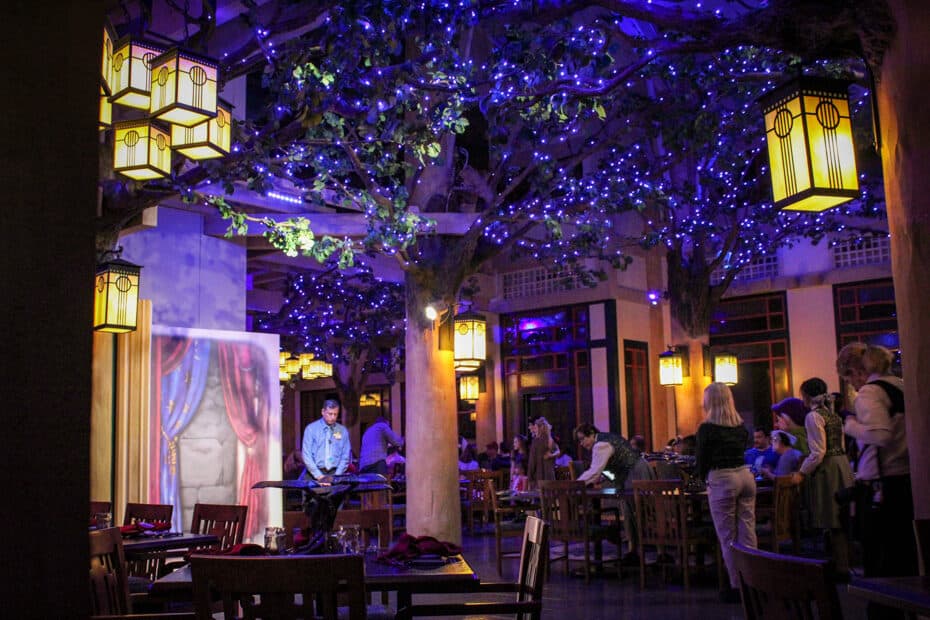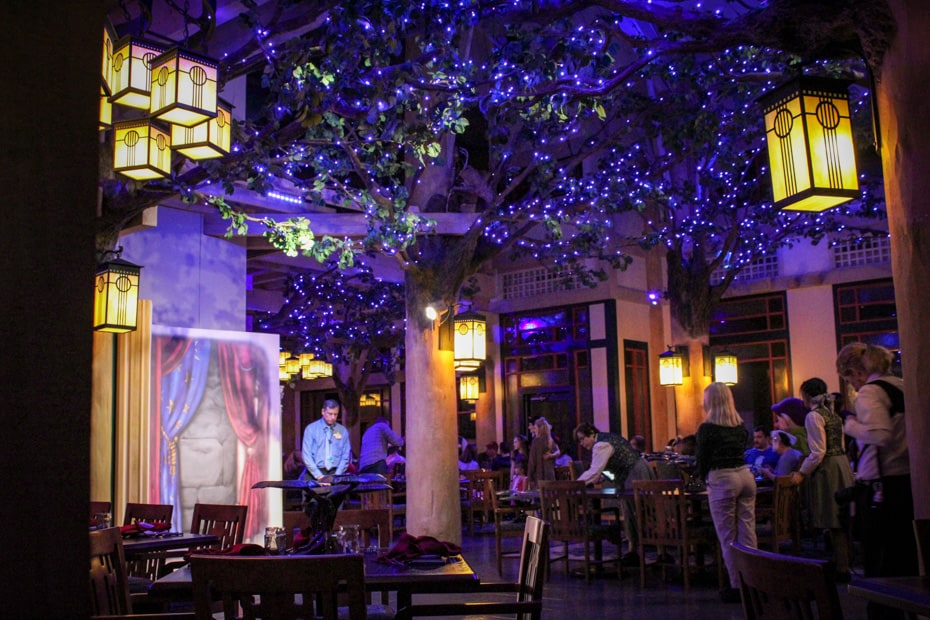 It's also fun to take a break from the parks and visit the Wilderness Lodge. There is a lot of exploring that can be done here if that is something appealing to your party.
Hopefully, the menu selections will improve over time. I feel confident they will, and I'll consider returning in the future. I, for one, am a Snow White fan and love any reason to visit the Wilderness Lodge.
There's even a full guide on the site that provides an overview of all the Wilderness Lodge Restaurants. Or you can preview every article we have for the Wilderness Lodge here.
Additionally, I have a huge guide on the site with Everything You Need to Know About Disney World Character Dining.
Those considering a meal at Storybook Dining might also be interested in Disney's newest character dining experience, the character breakfast at Topolino's Terrace. That meal comes highly recommended with excellent food options and classic characters.
And you might remember, we weren't crazy about the food at the 'Ohana character breakfast. So if you are thinking about doing a character meal, make sure to check out that review. We had a good time, but there are definitely better food options out there.
Additionally, you can browse all the Disney dining reviews here, or you might like these articles:
Are you planning a Disney Vacation? Then, don't miss our complete list of the Disney World Hotel Reviews.
As for Storybook Dining, the only thing I forgot to mention is that this experience is on the Disney Dining Plan when it's available. Usually, a character meal takes two credits on the Disney Dining Plan.
If you have tried Storybook Dining out, let me know your opinion in the comments down below. I'm also willing to answer any questions about our personal experience if you have any. Storybook Dining at Artist Point is worth a visit for most, at least once.