Lava Lounge at Disney Springs
Lava Lounge at Disney Springs is located on the far side of Rainforest Cafe in The Marketplace section. The easiest way to identify Lava Lounge is to look for the giant volcano.
It's kind of hard to miss the fire projections that happen on a pretty regular basis. It would be pretty hard to miss the volcano itself if you were looking for it.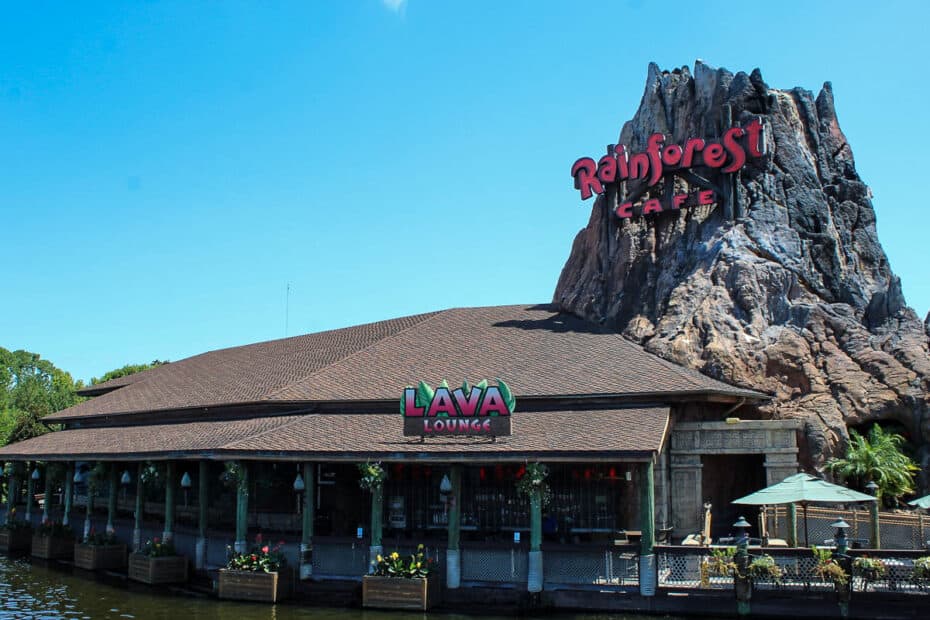 Lava Lounge might be one of the most overlooked outdoor dining venues at Disney Springs. And there are a lot of perks to picking up a meal, appetizer, or drink here.
First of all, Lava Lounge is reasonably priced. Secondly, they offer a nice variety of menu items. And lastly, it's relatively easy to get a seat here without a reservation.
Below is a look at the outdoor dining space at Lava Lounge. The area provides a beautiful waterfront view of Disney Springs and Saratoga Springs in the distance.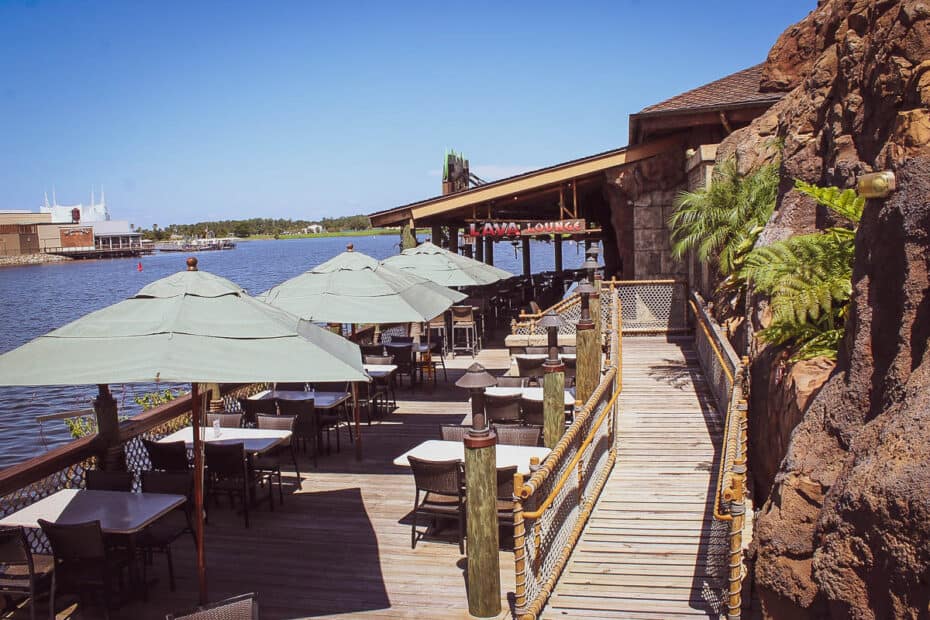 The table below highlights the need-to-know information for dining here.
| Disney Springs Restaurants | Lava Lounge |
| --- | --- |
| Location: | Marketplace |
| Type of Service: | Quick Service |
| Type of Food: | Appetizers |
| Price Range | $14.99 and Under |
| Disney Dining Plan | Unavailable |
| Tables in Wonderland | No |
| Annual Passholder Discount: | Ask Server, Rainforest Cafe at Disney Springs does offer 10% on non-alcoholic food and beverages, but Lava Lounge is not listed. |
| Menu | View Here |
Lava Lounge
I have enjoyed salads, sandwiches, and burgers here over the years as far as recommendations go. The menu ranges from simple items to house specialties.
Lava Lounge usually has a variety of appetizers like:
Chicken Quesadillas
Beef Lava Nachos
Spinach Dip
Mozarella Flatbread with Arugula
Shrimp Scampi Flatbread
Additionally, you can order any item from the Rainforest Cafe's menu when dining at Lave Lounge.
If you find yourself at Disney Springs on a busy day and want a meal without all the hassle, give Lava Lounge a try.
Another thing I would recommend is to pick up a Landry's Select card the next time you dine at any of the Landry's locations. There are many benefits, and while it costs $25 for enrollment, they refund the enrollment fee on that immediate visit. You then get to select a celebration date where you receive $25 off your meal.
Additionally, it's a lifetime membership and has many perks, including not waiting or needing a reservation when dining at any of the locations. My family has been Landry's Select members for over five years, and I can't say enough good things about the program.
You can apply or read more about it here on Landry's site if you would like. Again, I receive no benefit from mentioning this membership. It's strictly just a good deal.
Make sure to check out the complete list of restaurants in Disney Springs. Each one links to menus, location information, and reviews of items we've tried where applicable.
Related Articles:
Or you can view all of the Disney World restaurant reviews.
In the comments: Have you ever dined at the Lava Lounge? What do you like to order?