Morimoto Asia Review at Disney Springs
Morimoto Asia is an exceptional restaurant at Disney Springs specializing in higher-end Asian cuisine. If you have visited Disney Springs within the past few years, you know the venue is home to many dining options.
Those options include a few celebrity chef's dining establishments. In this instance, Chef Masaharu Morimoto is the name behind Morimoto Asia.
For us, Morimoto has become a staple, go-to dining location on our visits. The menu alone is worth more than just a glance over.
In this Morimoto Asia review, I'll share with you several meals we've had for both lunch and dinner. Additionally, we'll preview the exquisite interior and options for enjoying a meal here or sushi.
Chef Masaharu Morimoto is probably most popularly known for his presence on the Food Network and his Iron Chef winnings. He is also a recipient of a James Beard Foundation award for "Outstanding Restaurant Design," among many other accolades and mentions from notable sources.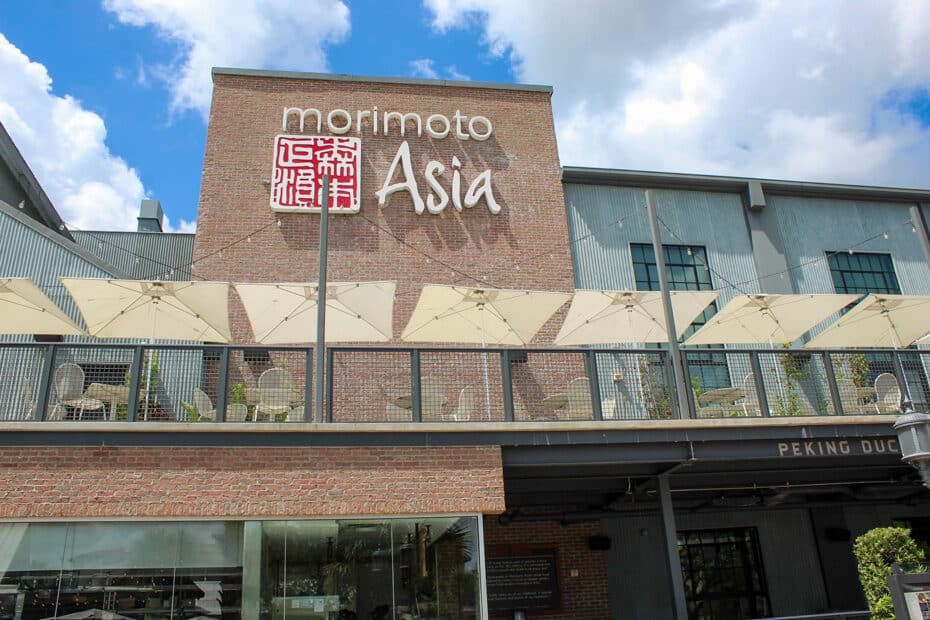 Morimoto Asia is located almost directly in the center of Disney Springs. If you are familiar with the "Springs Bottling Co" signage that lights up in the evening, you can easily find the restaurant.
The restaurant sits underneath the popular signage. I like to access Morimoto by parking in the Lime Garage and heading directly across the bridge at Sprinkles (cupcakes).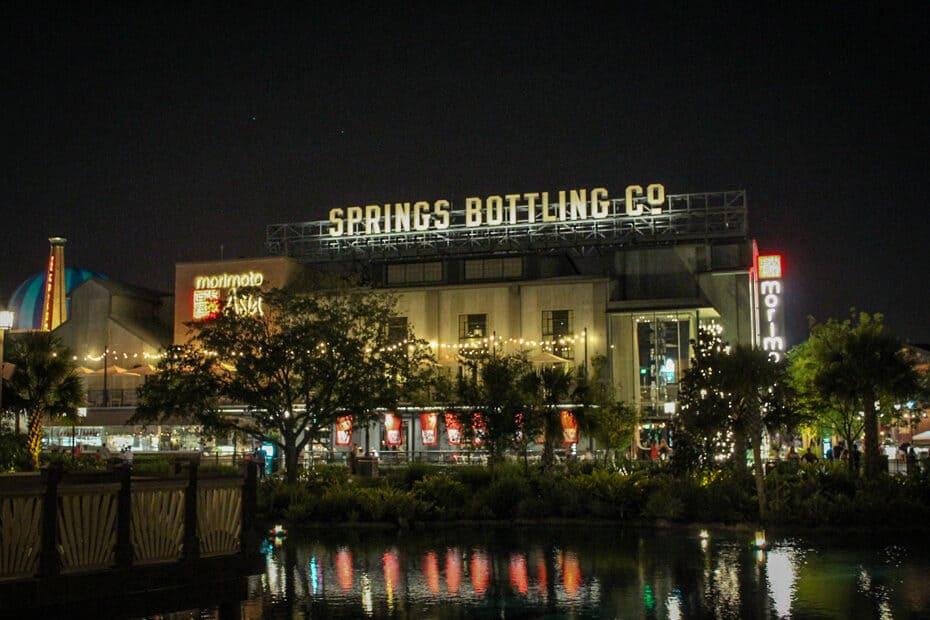 Additionally, you can find Morimoto directly across the bridge from Frontera Cocina and sideways across from Raglan Road. It is a large restaurant and relatively easy to find given its central location.
For those who have never visited Disney Springs or only occasionally, we have a guide providing tips for transportation to and around Disney Springs.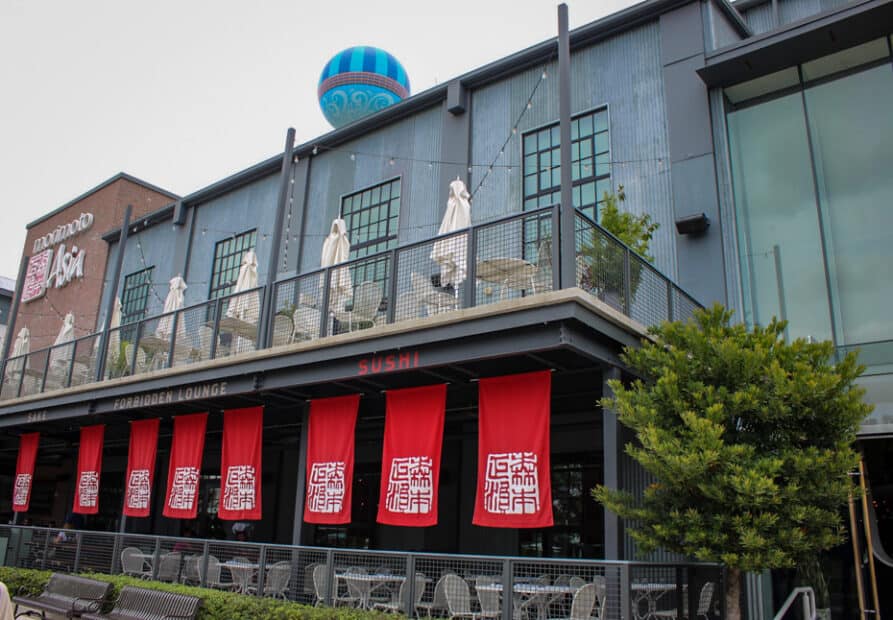 Morimoto Asia Review
Morimoto Asia is one of the website's favorite dining experiences on Walt Disney World property. With about six meals or so under our belt since the dining venue opened, we have been extremely pleased with the offerings, reservation ability, and service.
We are aware that Morimoto Asia is one of many choices to eat at Disney Springs. So I recommend trying it if you have an interest specifically in Asian cuisine, Disney signature dining, or are looking for something new to try.
I will be the first to admit that I was left really on the fence after my initial visit to the restaurant several years ago. However, I chalk that up to mainly a bad server experience trying to upsell a few higher-priced menu items. Since then, I've only had pleasant dining experiences at Morimoto Asia along with wonderful cuisine.
For starters, Morimoto Asia has a beautiful interior with a black and white color palette. It is somewhat similar to STK Orlando (review), except more family-friendly.
This chandelier display below is one of the commonly photographed items at the restaurant. I guess you can see why he won that award.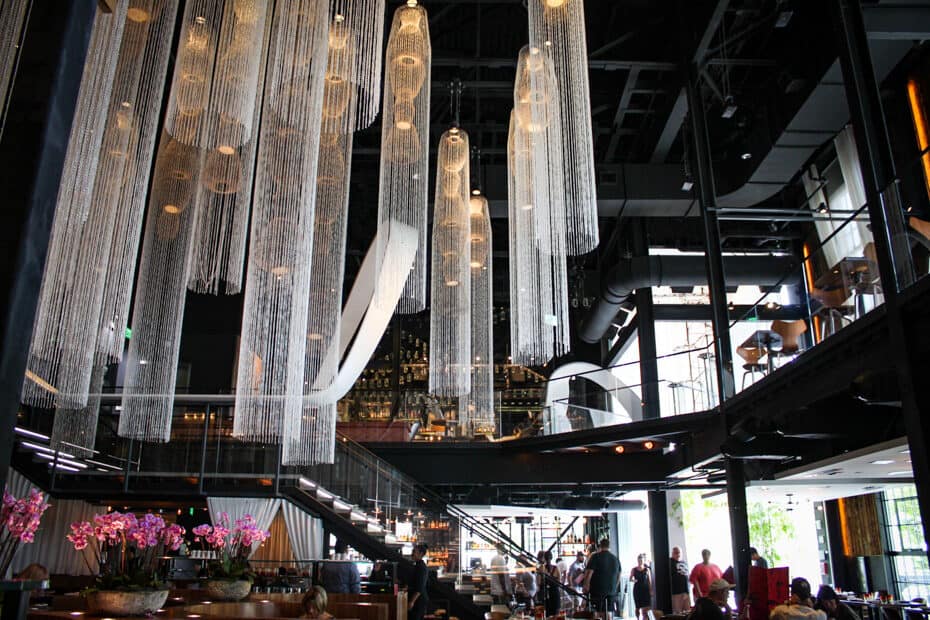 Before long, you might even find yourself dining underneath the lighting here at Morimoto Asia. So don't forget to look up! Each chandelier is about 20 feet long and hangs from the 2nd story open ceiling of the restaurant.
Here we have a little close-up view of the fixture. It is impressive.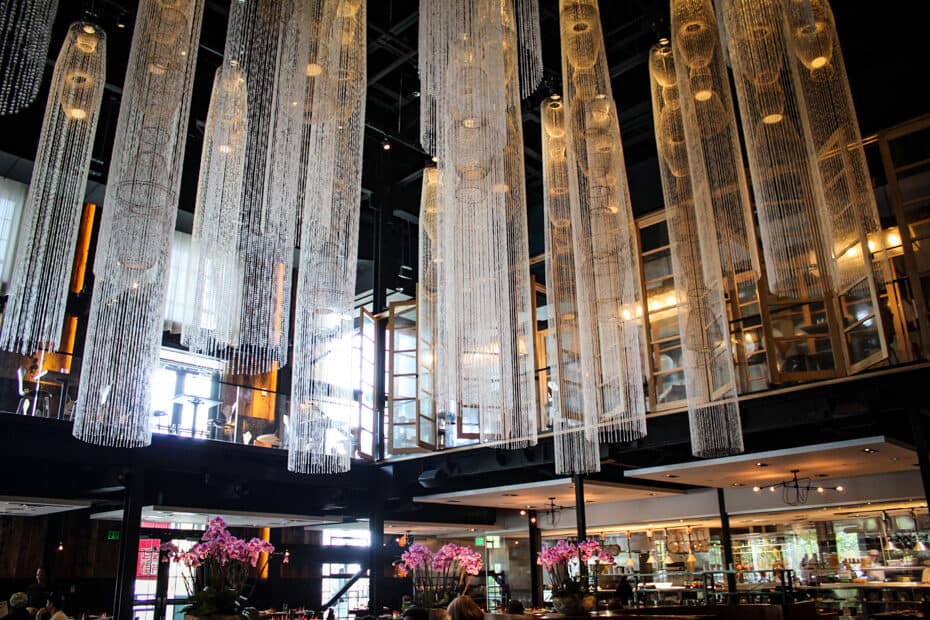 Along the far wall of the restaurant, there's a large photo display featuring Asian heritage.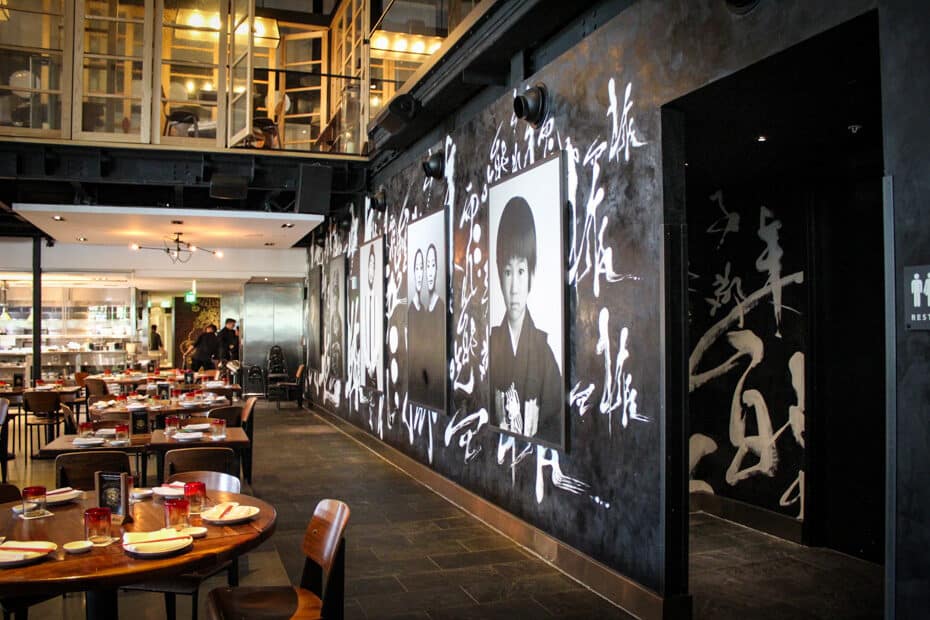 Coupled with the large, open sitting area, there are a few additional private seating areas. Most of the restaurant is out in the open, including the large, open kitchen in the back. I would recommend sitting as close to the kitchen as possible if you have any interest in culinary arts.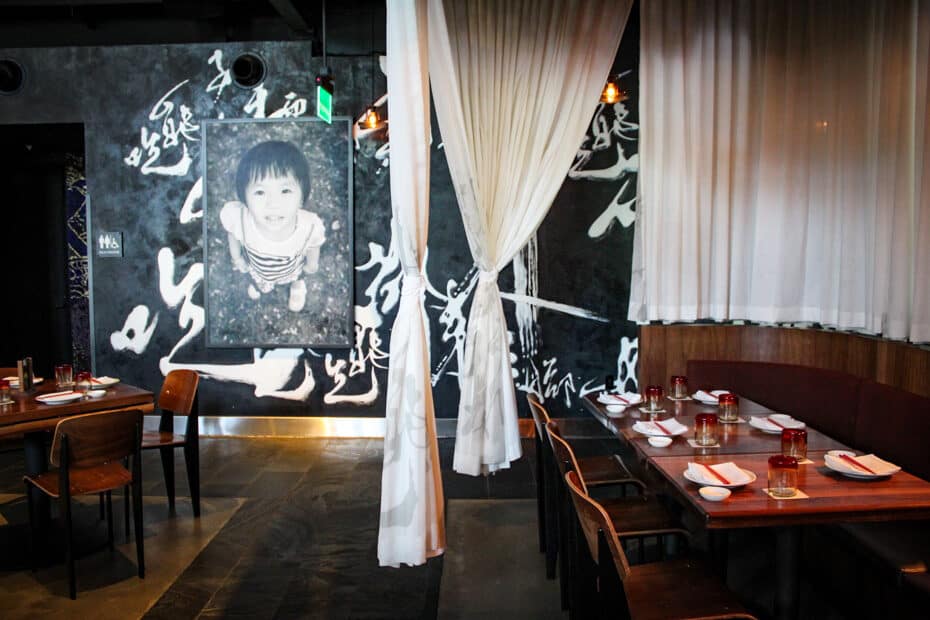 This row of tables is on the restaurant's front end and runs the length of the outdoor patio area.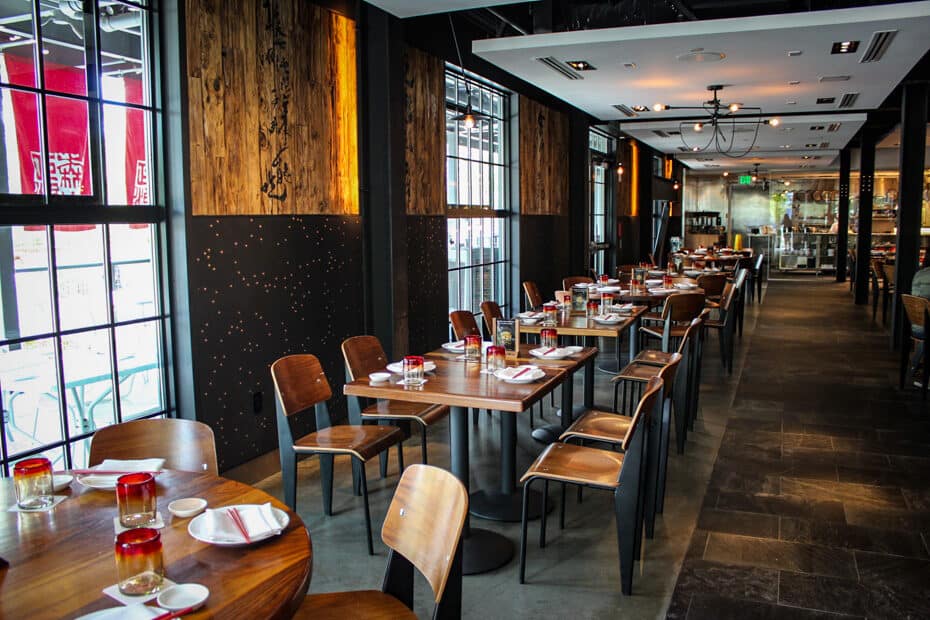 We were fortunate enough to be seated at Chef Morimoto's personal table on a recent visit.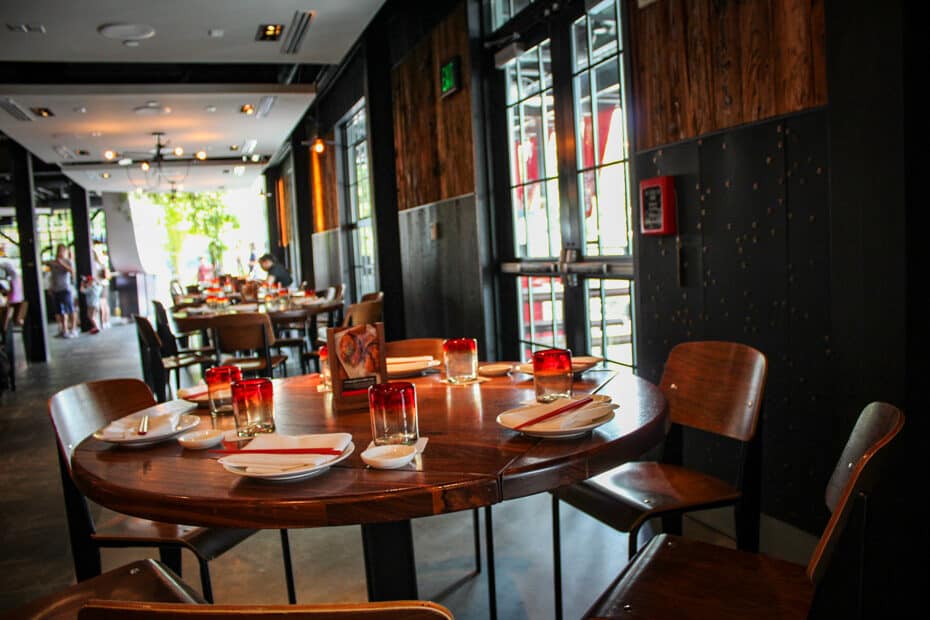 Here is the view from our table. Conversely, our server told us that Chef Morimoto always dines there when he visits the restaurant. There is an excellent view of the open kitchen and the restaurant in its entirety from this table.
I can only imagine it might be a little unnerving to have to wait on the Iron Chef himself when he visits. Our server told us that the chef commonly stops the servers and asks what ingredients are in a dish. He expects accurate descriptions of a menu item. This is a testament to the quality of service and food you should receive when dining here.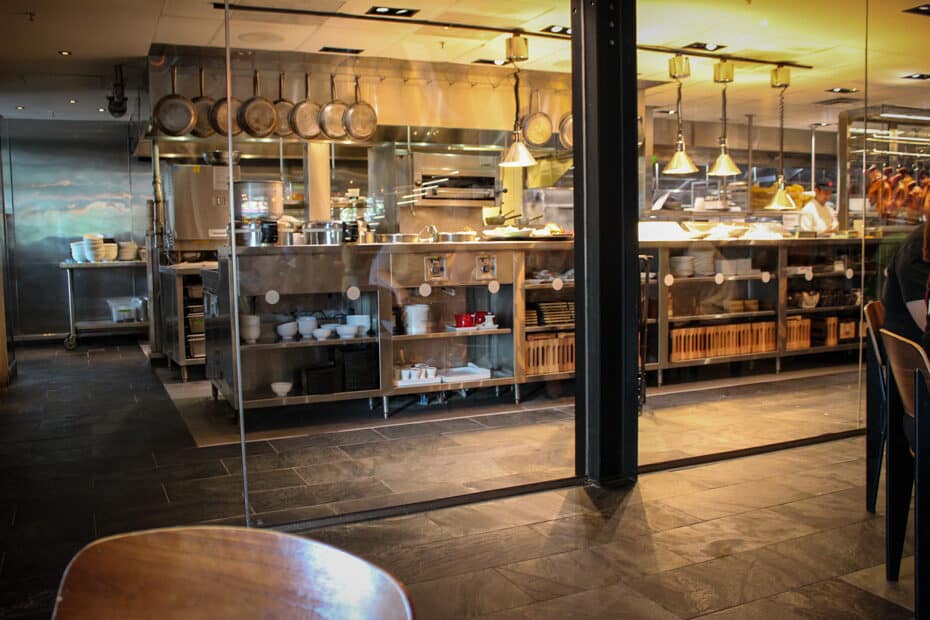 Here is a view of the open kitchen. You can see the line between the servers and the prep area on the other side. Those are also ducks hanging toward the left of the photo. Morimoto Asia has several popular duck items, including Morimoto Peking Duck (for two).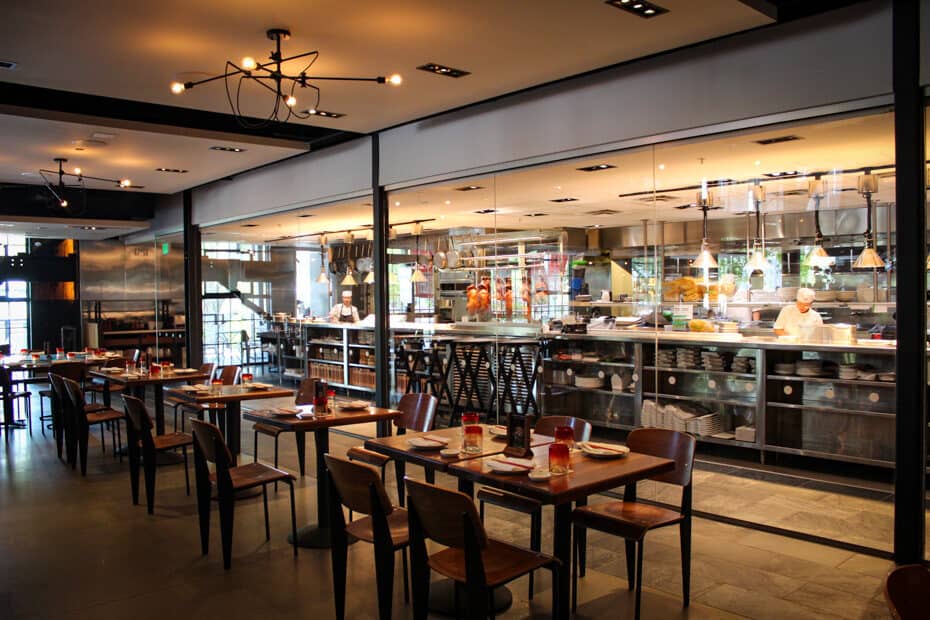 As a result of getting to sit so close to the kitchen, we were allowed to see many inner workings. The servers perform a lot of tasks here on this side of the line. Everyone was very busy, and teamwork appears to take place in getting meals out to diners. It is a gratifying experience to sit near the kitchen.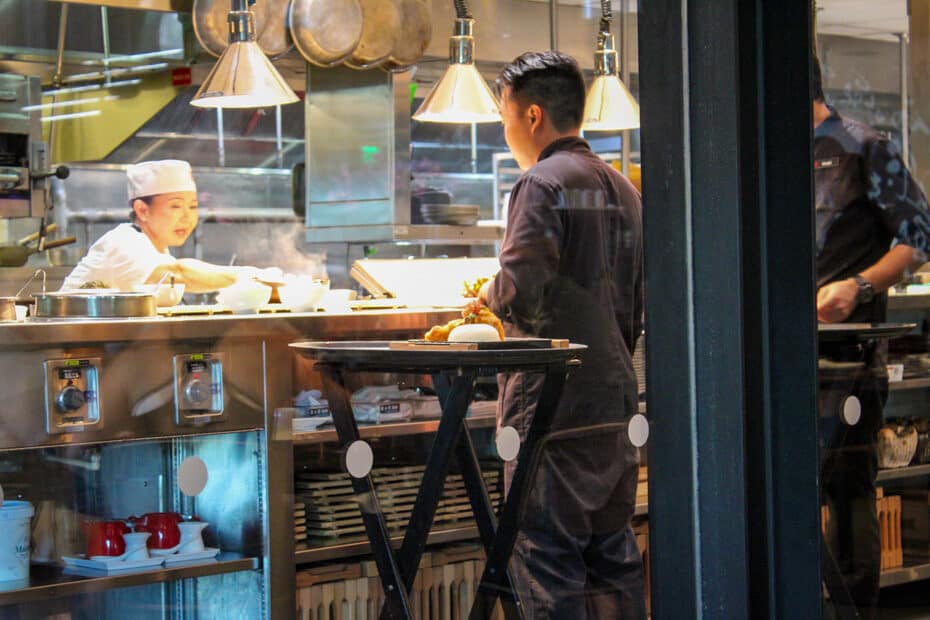 The restaurant has a walk-up bar on the interior. It features a unique design with a curvy bar top and wooden stools.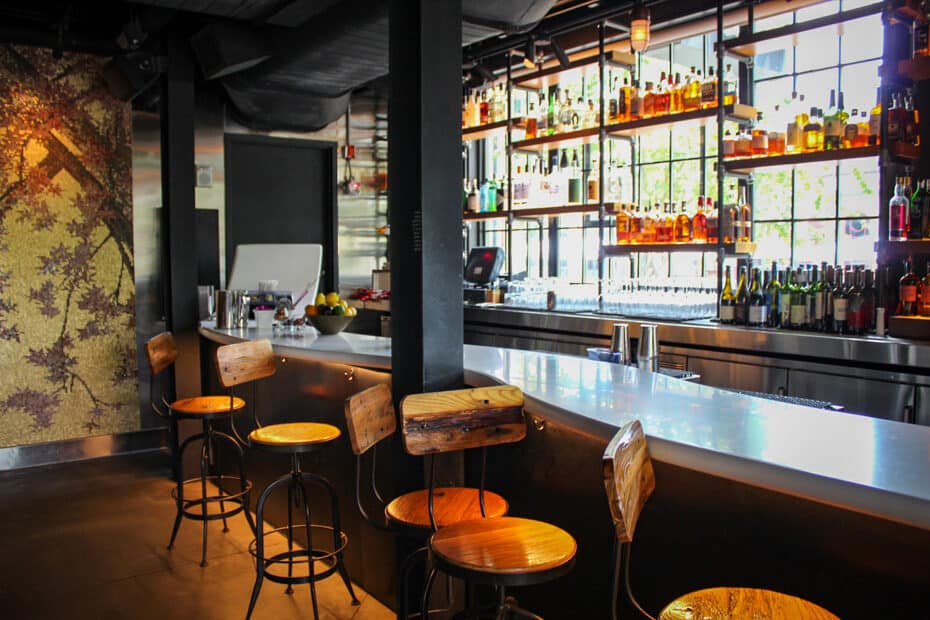 You can find accessible seating at the bar, as you can see in the picture below.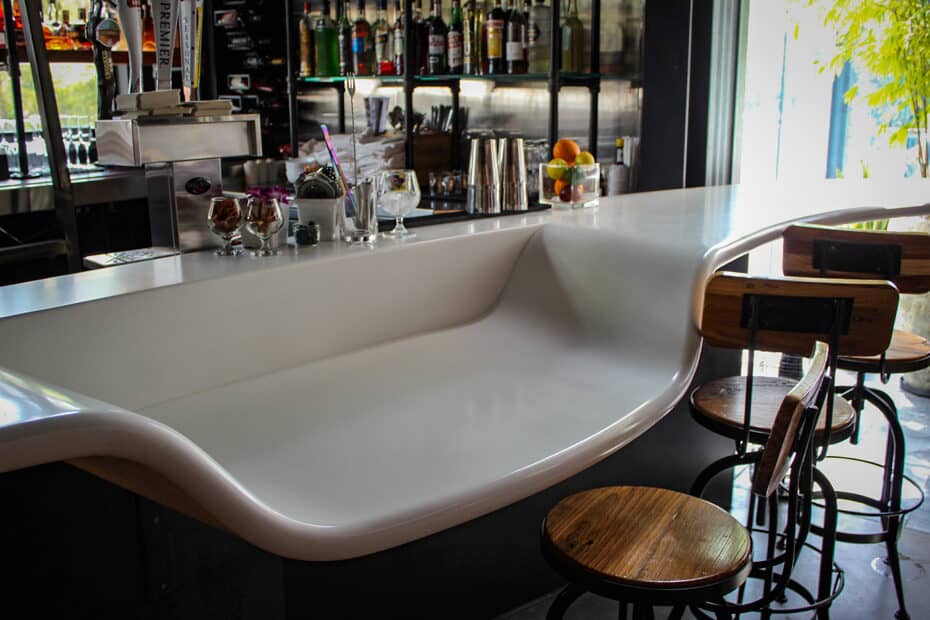 This mosaic tile wall in the bar area makes for a nice feature. The restaurant is primarily black and white, with pops of color here and there.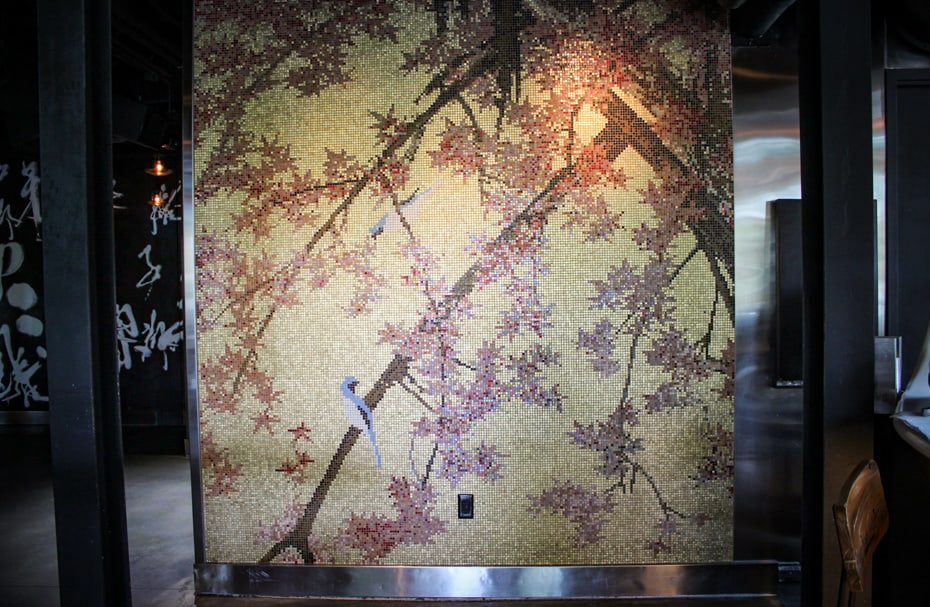 Below, we have our drink selections for this visit. I went with the Bruce Cost Ginger Ale in Blood Orange with Meyer Lemon flavor. The ginger ale on the Morimoto Asia menu piqued my interest. It ended up being not only a unique but extremely refreshing option.
The drink on the left is Morimoto Asia's house-made lemonade. This was also a good, fresh option. Both recommended.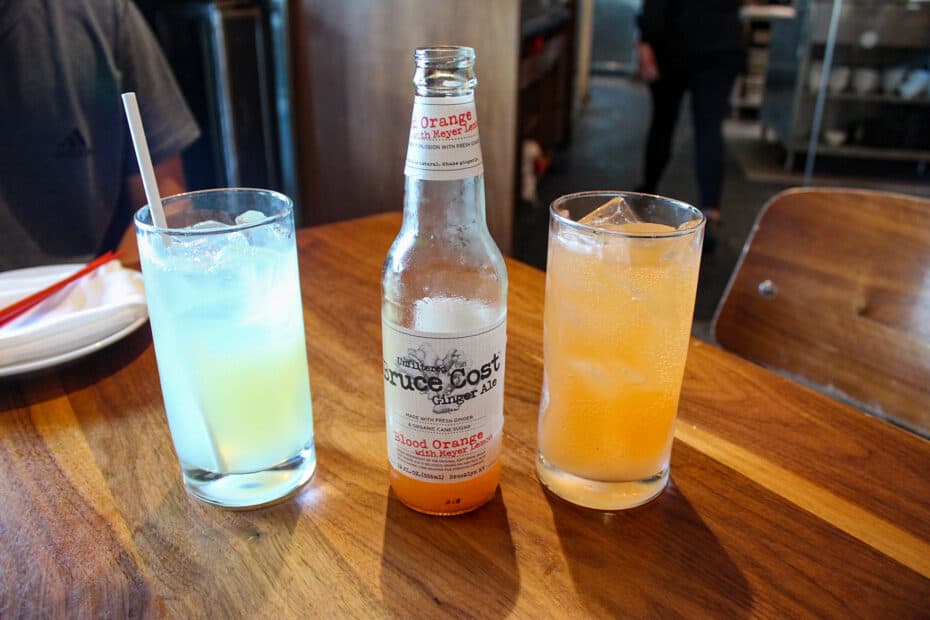 On a return visit to the Forbidden Lounge at Morimoto Asia, I was able to try a signature cocktail item. Below is the "Shirayuri" or White Lily. The Morimoto Asia menu describes this drink as hangar one kaffir lime, calpico, and yuzu served with a twist.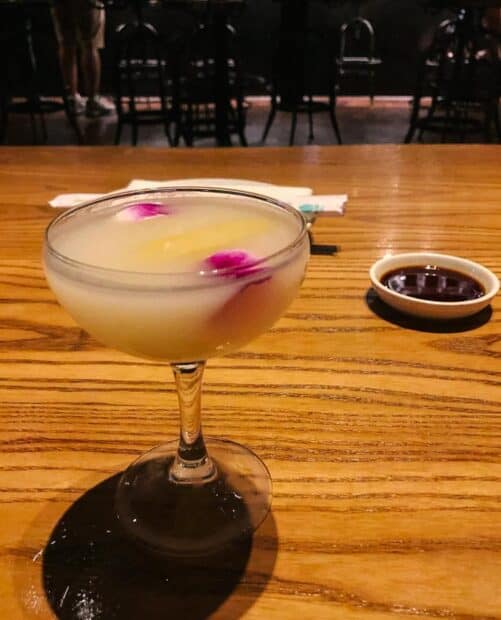 This was delicious. I'll be honest. They had me at kaffir lime on the menu. This was also a fairly strong drink option. I sipped on mine throughout the meal and found myself really enjoying it.
Below, we have a photo of my sushi order on this visit. I like to try different things and have previously had the Spicy Salmon and Spider rolls. Both are recommended. The server suggested I try the Spicy Yellowtail roll on this visit.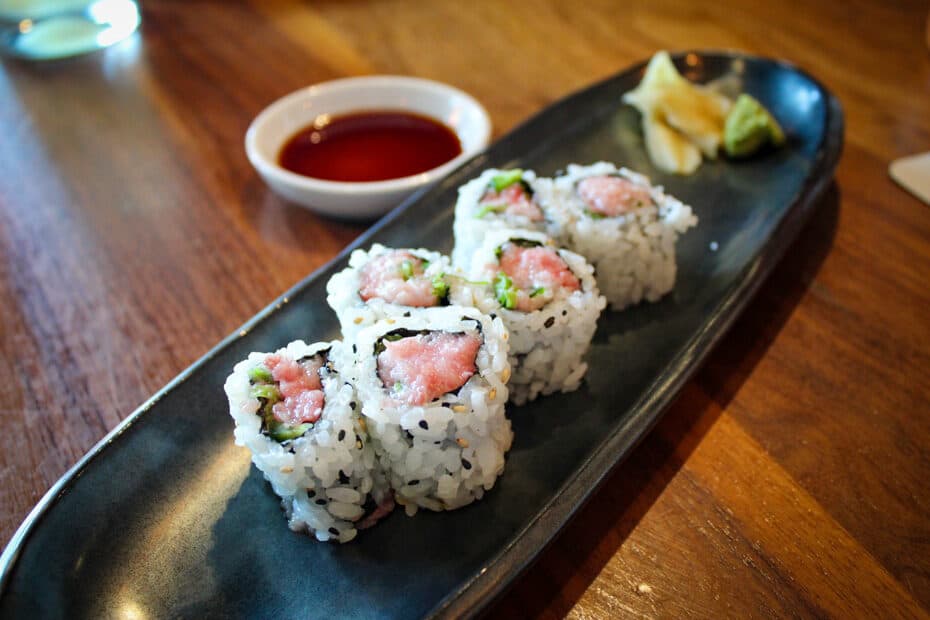 The yellowtail was really fresh and cut into small pieces, similar to a ceviche. I thoroughly enjoyed this dish, and my only complaint was this roll did tend to fall apart a little more than others.
I might be terrible at eating sushi properly, so I wouldn't let that keep me from ordering this dish. The fish was of nice quality, and there was a hint of spicy as promised per the menu. The Morimoto Asia menu actually offers some outstanding sushi options. Don't be afraid to ask for recommendations or let them know your likes/dislikes.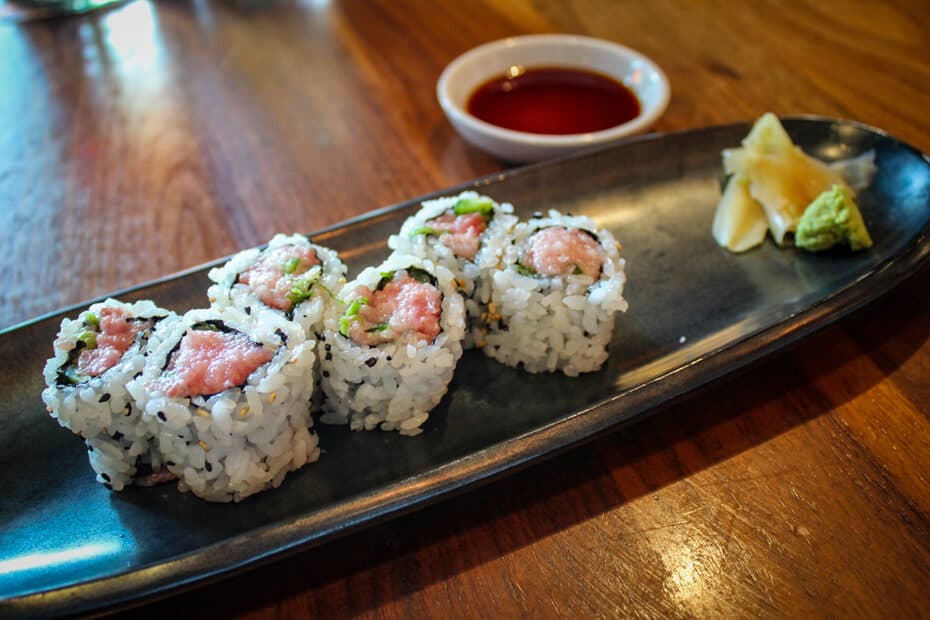 My last visit to the Forbidden Lounge at Morimoto Asia allowed me to try the Jyo Sushi Combo. These are nine pieces of nigiri and one sushi roll. They are all the chef's selection. If you like sushi, I would highly recommend ordering this as an entree or to share.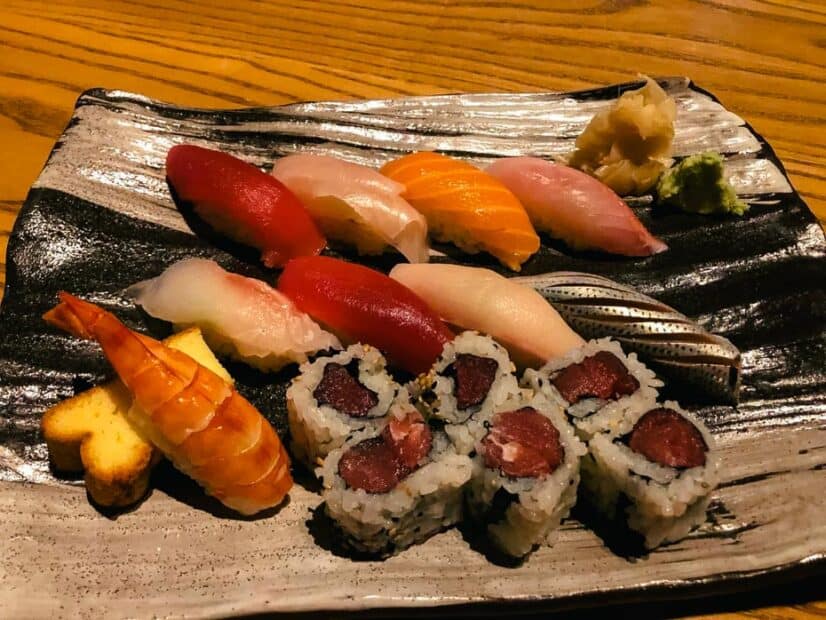 This sushi selection came in at $45, and I felt like it was worth every penny. I fail to remember all of the offerings on the platter. The one with the split skin is sardines, an option I had never tried previously. Also, Amber-Jack was one of the selections that I remember as something different and new.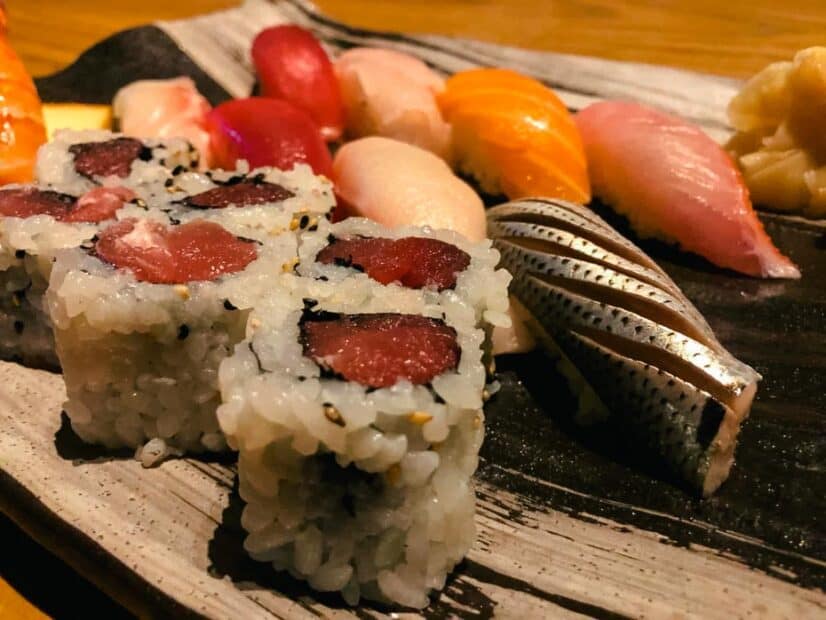 I loved every single minute of this sushi platter and was so glad I decided to splurge on it. It is pricier than the sushi platter over at the Polynesian, which is available in our Kona Cafe Review.
And it's different from the sushi offering that I loved over at Takumi-Tei (review). But the selections are nonconformist in comparison. I probably don't have to tell you that all of these sushi options are excellent. But the platter here at Morimoto Asia tops our list of best sushi at Disney World.
Here's that spicy salmon roll pictured below. This is another great choice and typically comes with sauce. I prefer to order mine without.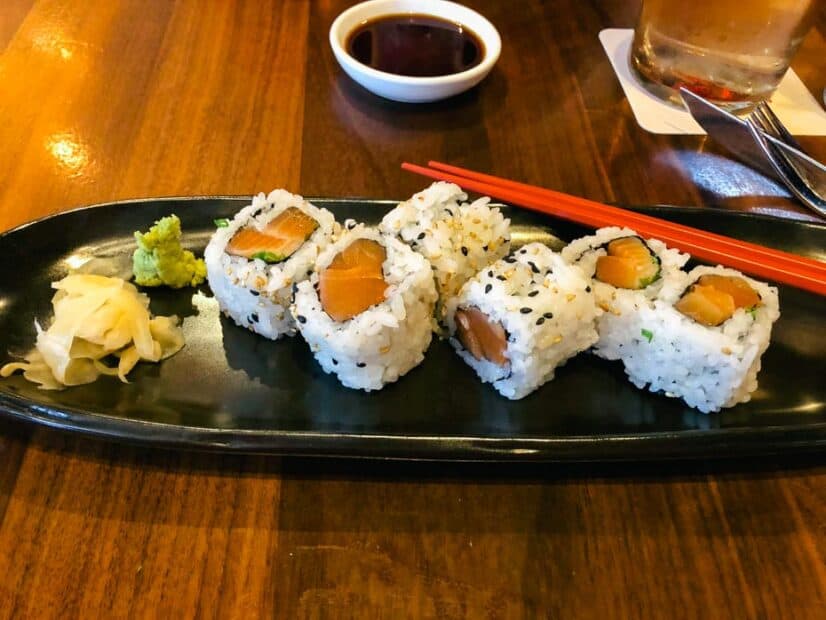 For my entree on this current meal, I opted for the Duck Ramen. This is a dish that I have wanted to try for quite some time. It seems like, though, something else always seems to take precedence on the menu when I get there.
As an example, on our last visit, I tried the popular Morimoto Buri Bop. A dish Chef Morimoto won against Chef Bobby Flay in the past. Another great choice! It comes to the table like this, and the server cooks it in the clay pot in front of you.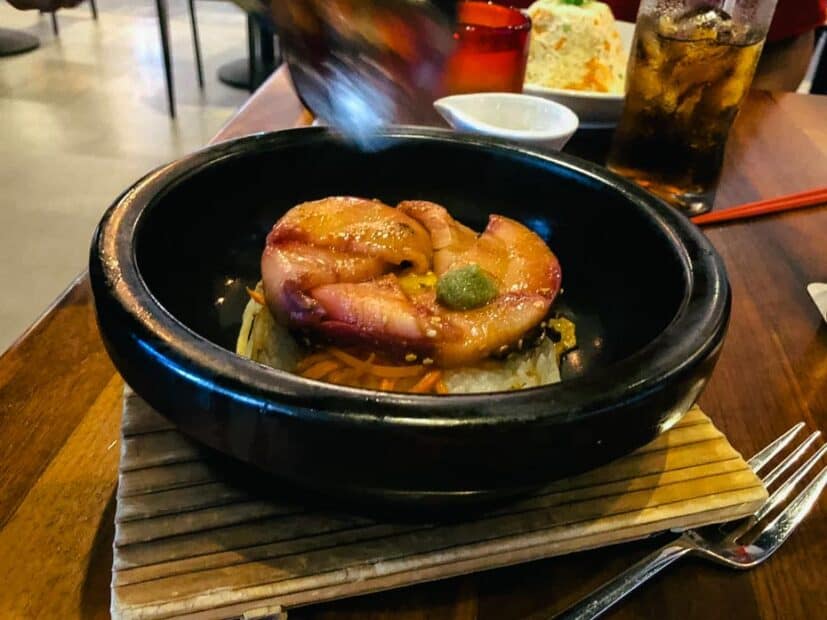 Here's the after picture a short minute later.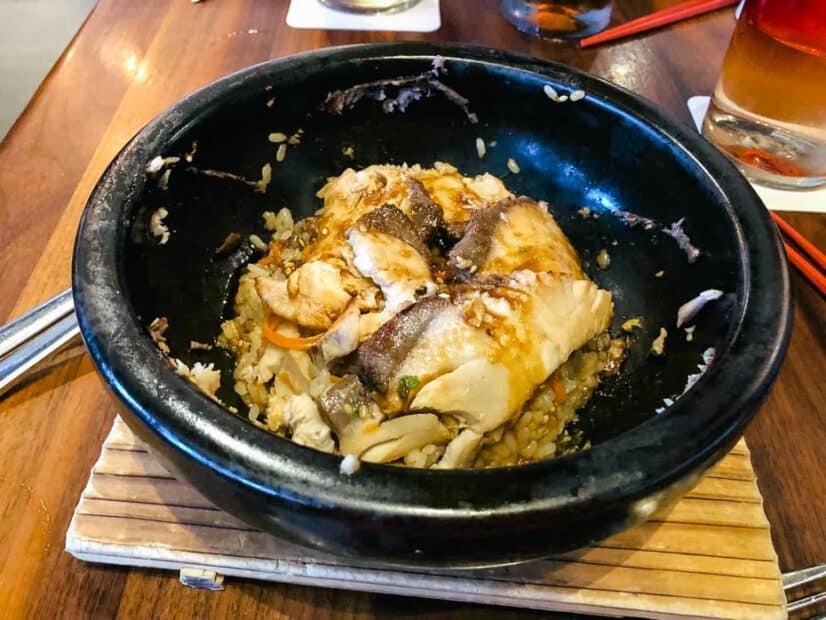 This dish is hot, so you have to be careful when you first venture in to try it. Nevertheless, it's a great option, and the presentation adds something a little interesting to your meal.
Back to this current meal, where I finally ordered the duck ramen dish.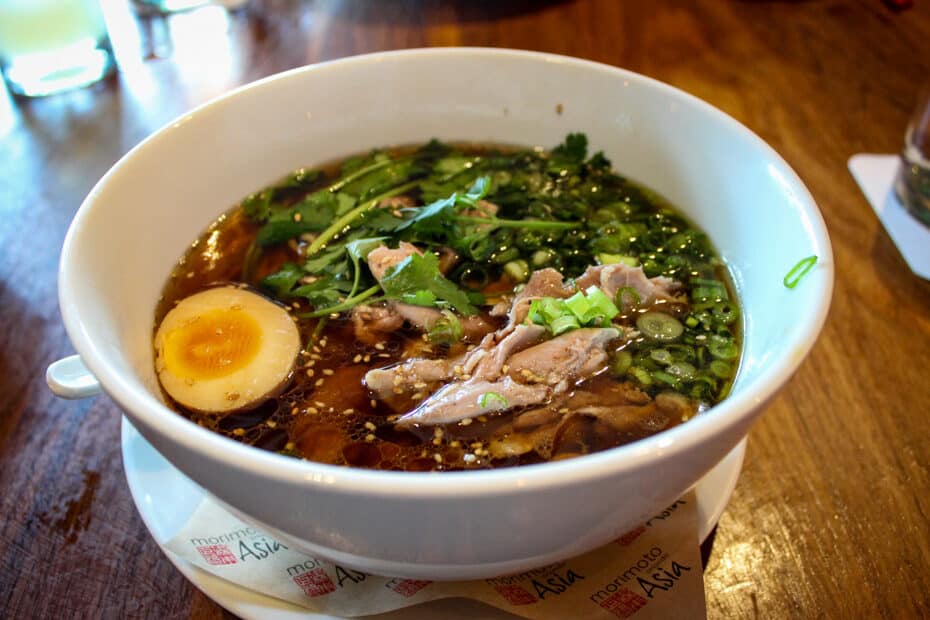 Duck Ramen-Peking duck broth, egg noodles, duck meat, scallions, soy-marinated egg, cilantro –$17.00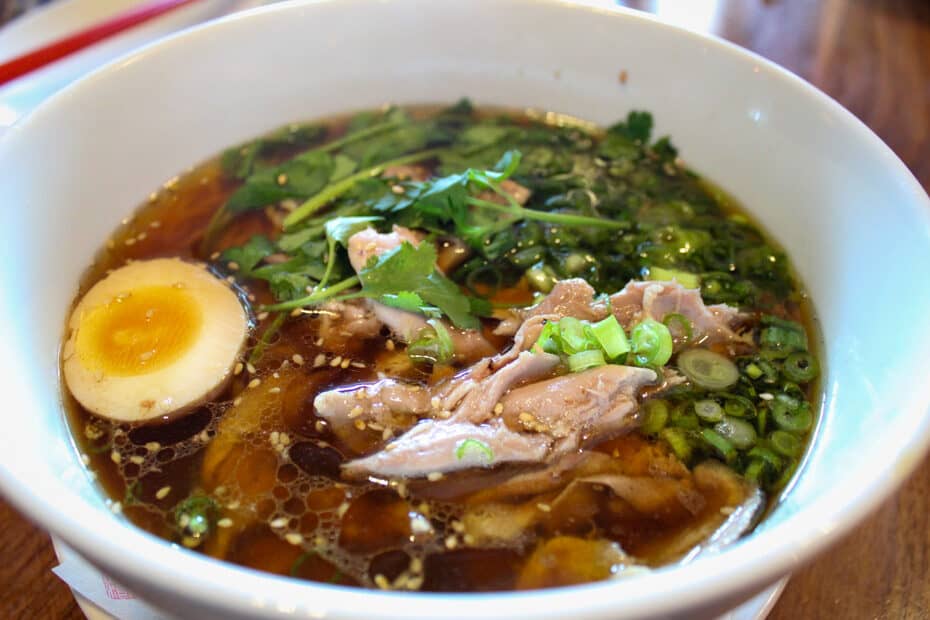 Here, we have a huge bowl of ramen. The picture above shows that the dish was packed with beautiful dark duck meat. I really like ducks, so I feel a little guilty about this now that I'm writing this review.
However, if you are looking for a nice, hearty meal, this would be it. The broth is very flavorful, and there is also an abundance of noodles. Unfortunately, I couldn't even attempt to finish this dish with the large portion size.
Suppose you are not a fan of cilantro (I'm not). You could order this without the garnish or easily remove it off the top tableside. It didn't affect the meal in any negative way.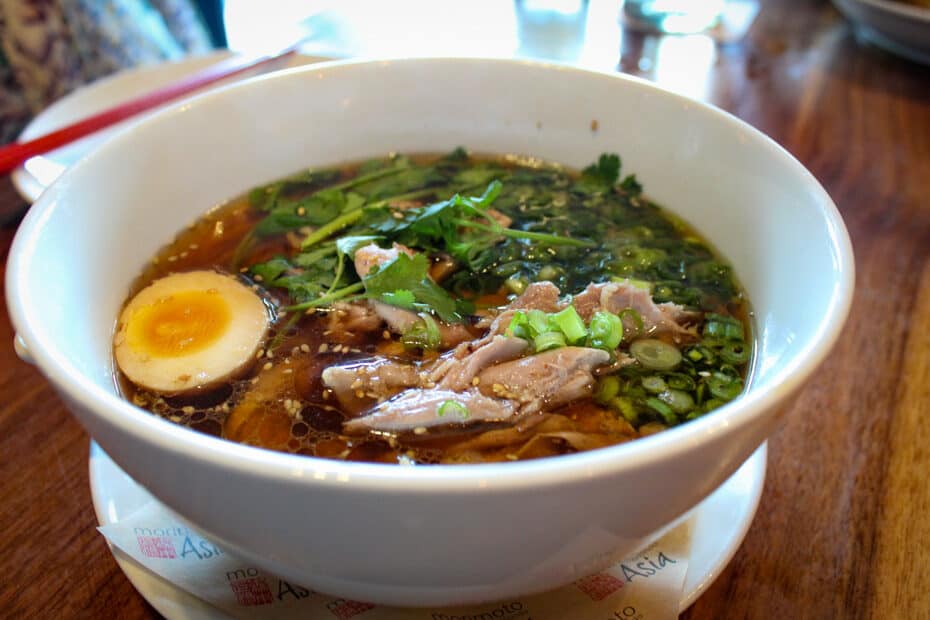 Morimoto Asia Fried Rice with Food Allergy Preparation
For you diners with food allergies out there. Here, we have the standard order of fried rice at Morimoto Asia. This is one of my son's favorite places to eat and the only place he has ever had Asian cuisine while dining out.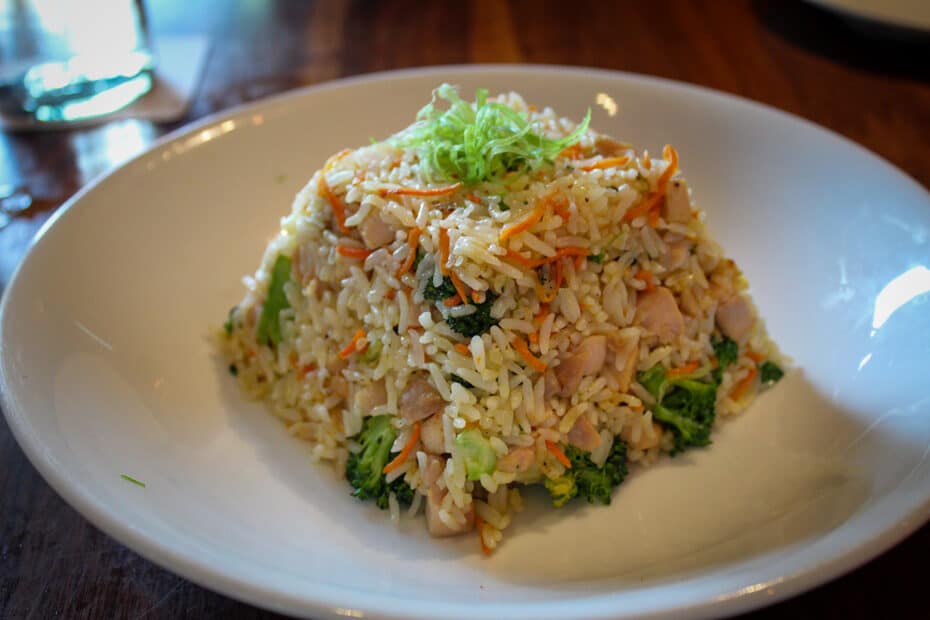 His food allergies include Dairy, Fish, Eggs, Tree Nuts, Peanuts, and Tomatoes. So they make him this special chicken fried rice that includes scallions, broccoli, and carrots. He really enjoys it and says it's so flavorful that he doesn't have to add soy sauce.
The servers are very knowledgeable in the ingredients and food preparation here. They consult with the chef to make sure your meal is handled properly. There is also a gluten-free menu available upon request.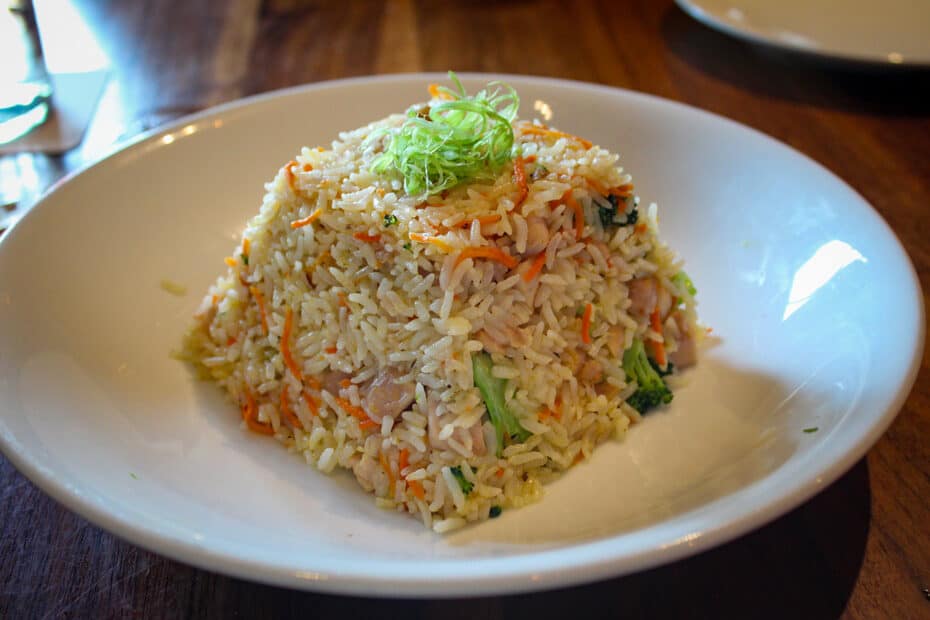 We have frequented Morimoto Asia since they opened a few years back. On one occasion, Morimoto was offering a box lunch set special. Here's a preview of what that meal looks like.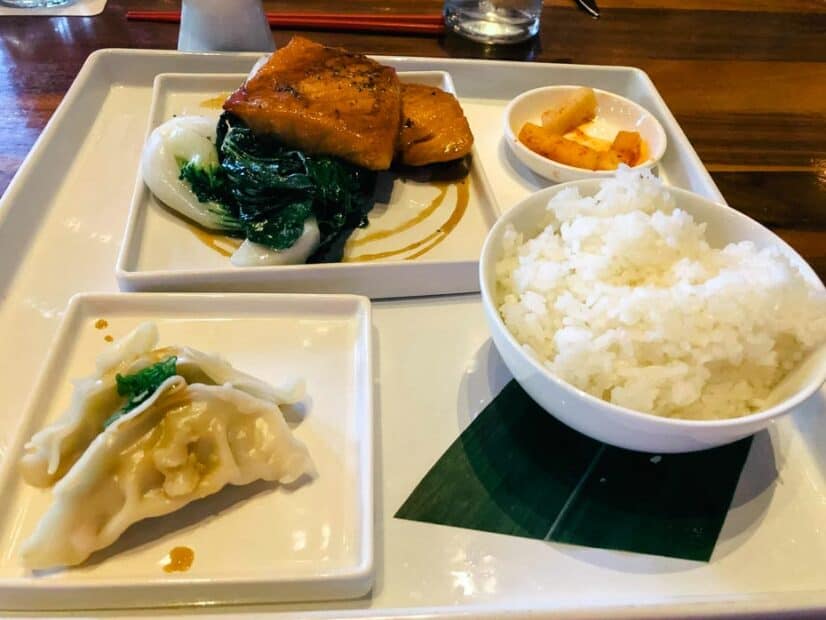 The lunch set came with a choice of soup or salad. I went with the miso soup pictured below. This was a substantial meal that came in at less than $30, and I remember being impressed with the amount of food I received.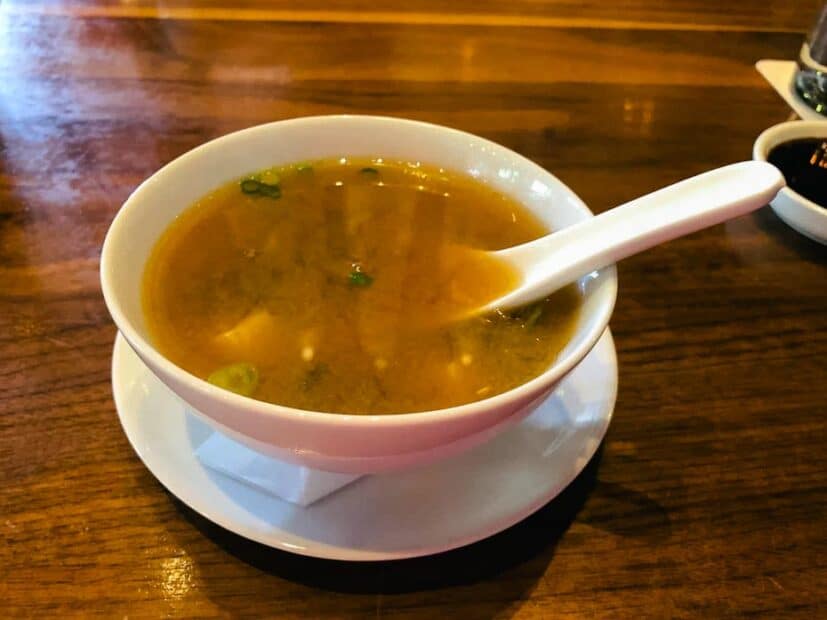 Here is a look at the spring rolls listed in the appetizer portion of the menu.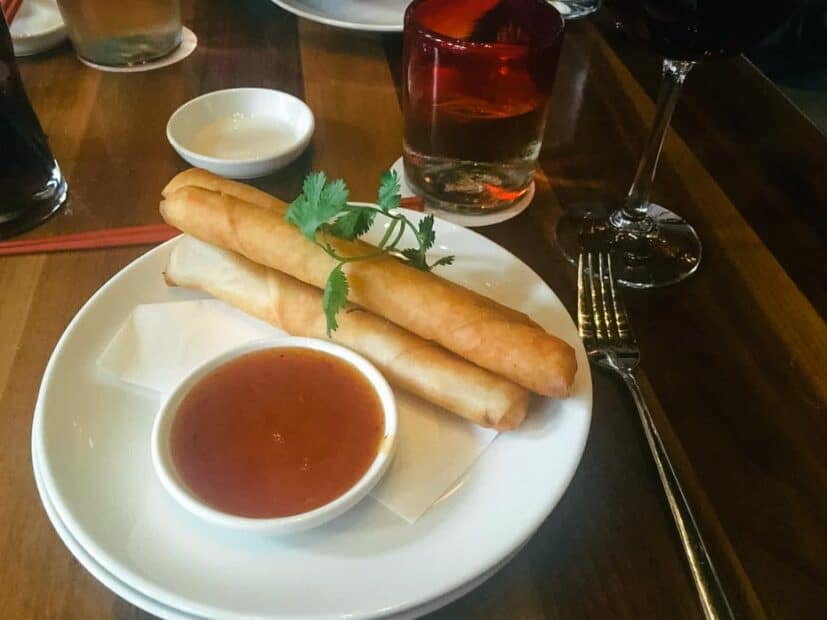 Since we've looked at several menu items, I wanted to discuss securing dining reservations at Morimoto Asia Orlando briefly. Unfortunately, the last time we decided to go to Disney Springs and have lunch here, the My Disney Experience app showed no reservations available.
Thankfully, I knew I could head over to OpenTable and easily book a reservation. So I pulled up the OpenTable website here, selected Morimoto Asia, and it provided a list of available times.
Next, I selected a time and gave them my name and email address. The great thing about OpenTable is they don't require any credit card info or personal information other than name and email.
Another thing I like about Open Table is they email you the reservation and follow up later asking for a review. From my experience, I don't continue to receive a lot of spam emails from them moving forward.
I wish this were something many other companies would take note of because I feel like I spend too much time unsubscribing to email lists that don't provide much value.
If you want to sample a taste of Morimoto Asia but can't get a reservation or don't have time for a full sit-down meal, try the Street Food option outside.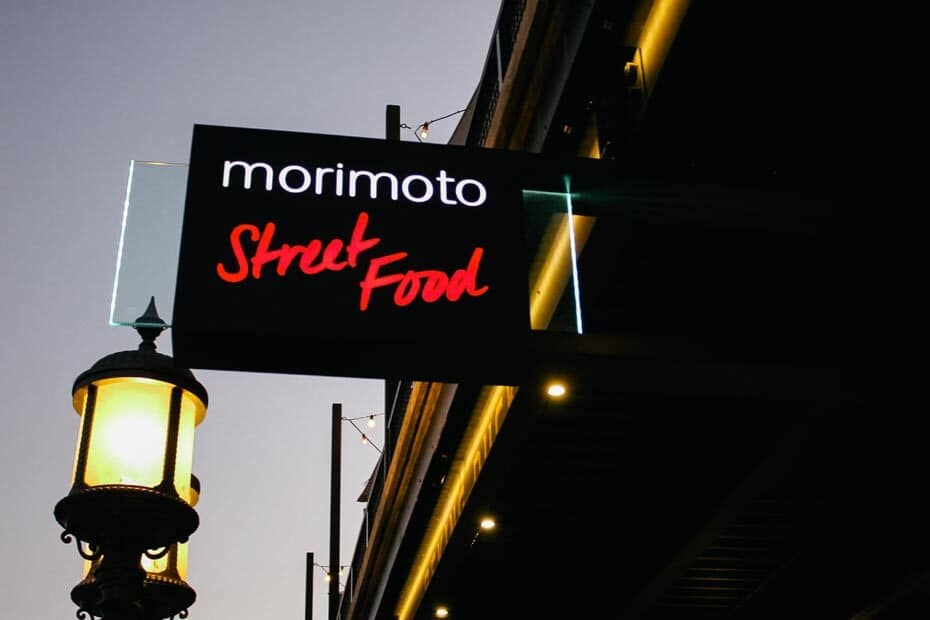 You can order at the exterior walk-up window and dine in the outdoor seating area. There is also the option to take it to go if you are heading back to your resort or home.
Here is a dish I had recently that I loved. It was so large that I couldn't have possibly thought about finishing it.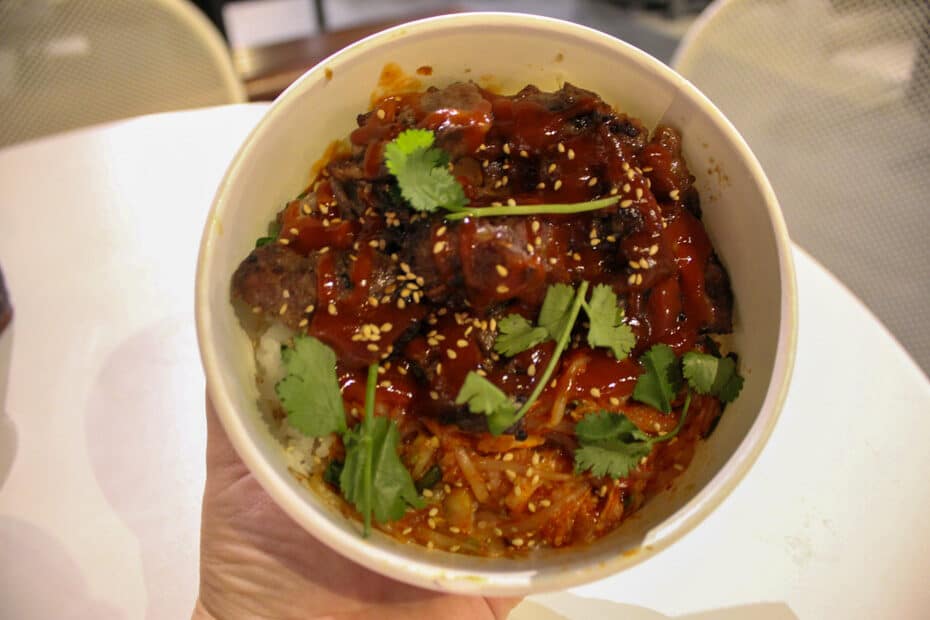 As common with most of the restaurants at Disney Springs, Morimoto Asia has a third option for dining called the Forbidden Lounge. This part of the establishment is intended for sushi, bites, and late-night dining.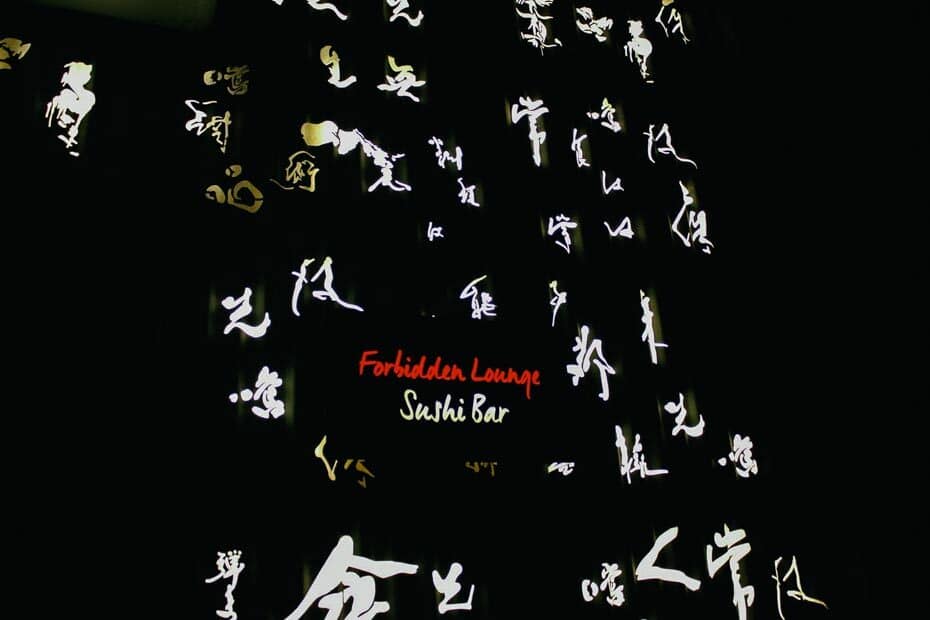 It is open later than the regular restaurant and even offers a separate entrance. You can find the entrance right under this sign in the picture below.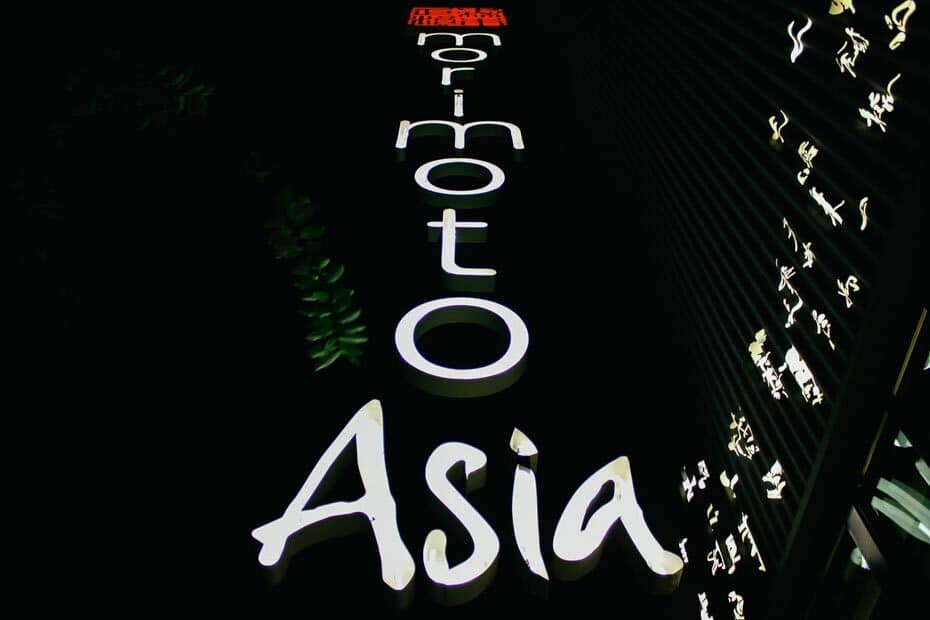 This is where I was fortunate enough to try that chef's sushi platter mentioned above!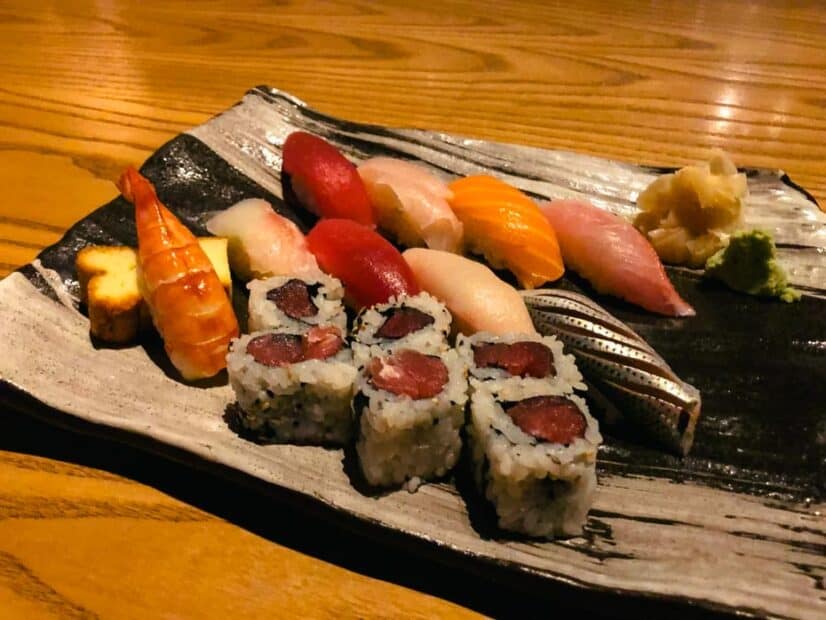 Final Thoughts on Morimoto Asia
Hopefully, this review of Morimoto Asia provided you with the information needed to decide whether to dine here or not. For me, the restaurant has a wonderful menu and is a great choice among the many of the best restaurants at Disney Springs.
It really depends on what kind of mood you are in as to which exact restaurant to choose. If you are in the mood for Asian cuisine, you really can't go wrong here.
Make sure to check out the full list of Disney World Restaurant Reviews, or you might enjoy these select locations:
Additionally, Resorts Gal specializes in resorts and hotels at Walt Disney World. If you are planning a trip, we have a variety of reviews, including these:
If you have any questions or thoughts about dining at Morimoto Asia, please leave them below in the comments.