Disney World Signature Dining Guide (The Best Ranked)
Signature Dining at the Walt Disney World Resort provides the opportunity to enjoy a classy meal at a high-end table service restaurant. Some of the most sought-after dining reservations at Disney include signature or fine dining experiences.
Disney signature dining experiences are centered around the restaurant's location and food preparation. If you are interested in culinary arts or consider yourself a gourmet, you'll want to secure at least one of these reservations for your vacation.
In this review, we'll go over a few commonly asked questions about signature dining at Disney. I'll then add my top five signature dining restaurant recommendations.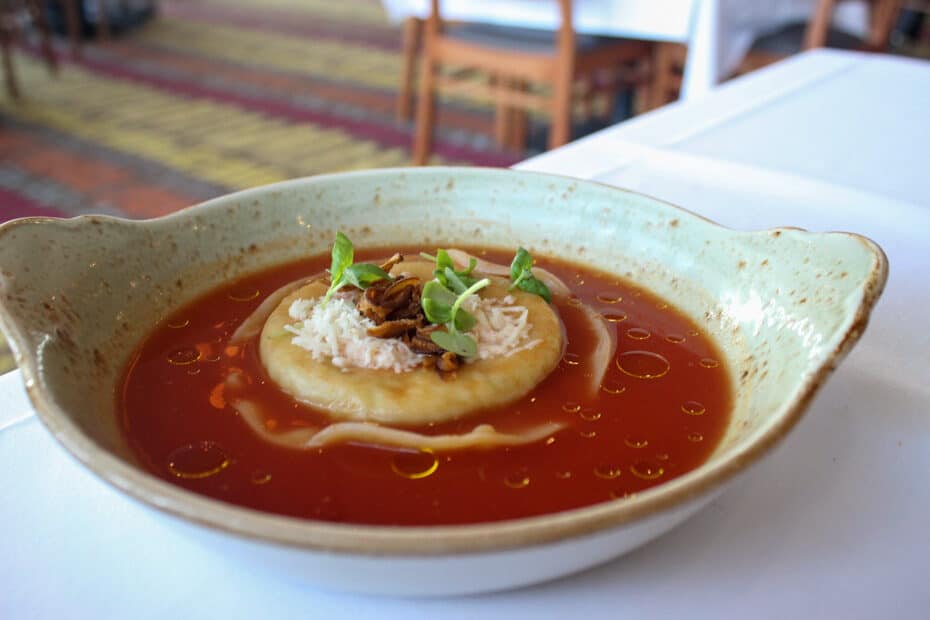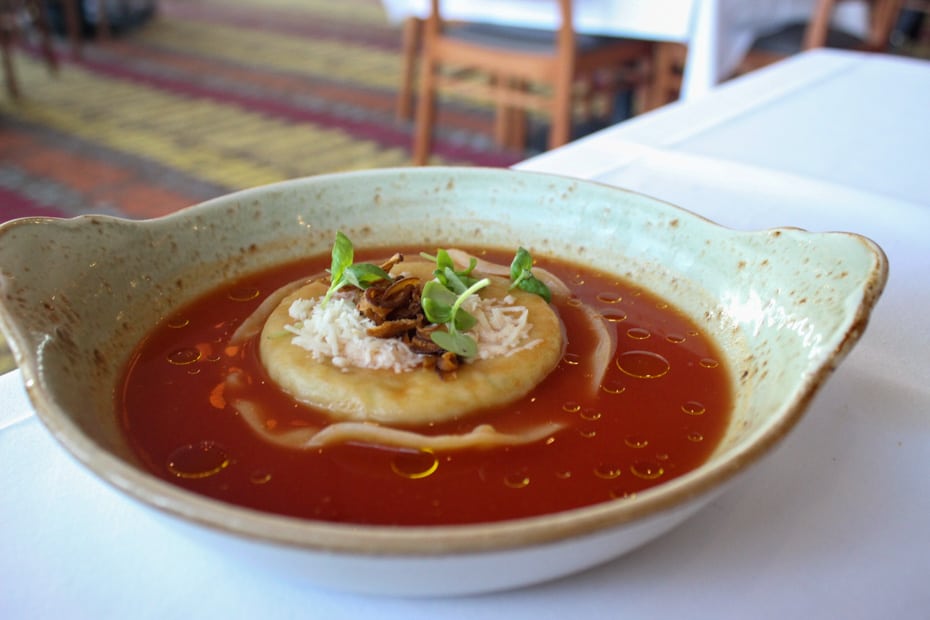 Toward the bottom, I'll provide a list of all the fine dining experiences available at Walt Disney World by location.
Questions about Disney Signature Dining
---
What does signature dining at Disney mean?
Signature dining is considered fine dining. In more simple terms, the fancy Disney World restaurants, or perhaps, five-star locations. Additionally, they will be your most expensive meals on vacation.
Is there a dress code at Disney signature dining restaurants?
Yes, the requirements are typically posted online and outside the restaurant's entrance.
For men: Khakis, Slacks, Jeans, or Dress Shorts with Collared Shirts. Sports Coats are optional.
For women: Capris, Pants, Skirts, Dresses, Jeans, or Dress Shorts
Not Allowed: Tank Tops, Swim Suites, Swim Suit Cover Ups, Hats for Gentlemen, Cut-offs, Torn Clothes, and no T-shirts with offensive language or graphics
Is signature dining available on the Disney Dining Plan?
When available, guests using the Disney Deluxe Dining plan can redeem two table service restaurant credits in exchange for one meal. Each meal includes an appetizer, entree, non-alcoholic beverage, and dessert.
Normally, the Disney Deluxe Dining plan includes the following for everyone in a group ages three and up:
Three meals per night of stay (Table Service or Quick Service meal)
Two snacks or non-alcoholic beverages per night of stay
One refillable resort mug
So it's easy to see how you might eat breakfast in your room for two days. Or even share a quick service meal with someone else in your group to rack up a few dining credits and exchange them for a signature dining experience.
*It is important to note at this time, Disney has canceled all dining plans. 
Do I need reservations for signature dining?
Yes. It is rare to find seating at a signature restaurant without advanced dining reservations. As soon as your reservation window comes open, it is best to immediately secure any desired dining reservation.
Best Disney Signature Restaurants
Now that we've covered the basics for signature dining, I want to share the best signature restaurants at Walt Disney World with you.
And if you were to ask for my number one choice, the answer is easy, California Grill. After that, the options get tough.
There are so many spectacular fine dining experiences available. My recommendation is to go with what type of cuisine most interests you.
For those fortunate enough to visit often, make a list of the signature dining options that interest you the most. Then pick a new one for each visit.
The only problem is, when you find somewhere you really love, it's hard to go somewhere new on your next visit. I guess that's probably not the worst problem you could have though.
Here's an overview of my top five choices for a signature table service meal at Disney.
# 1 Disney's California Grill
The California Grill is located at Disney's Contemporary Resort. The restaurant offers two dining options.
First, brunch is usually offered every Sunday morning until early afternoon. It is truly my favorite dining experience at Disney to date.
You can read more about the brunch here in my California Grill Brunch at the Top review.
*2022 Update: Unfortunately, this brunch has not returned to date.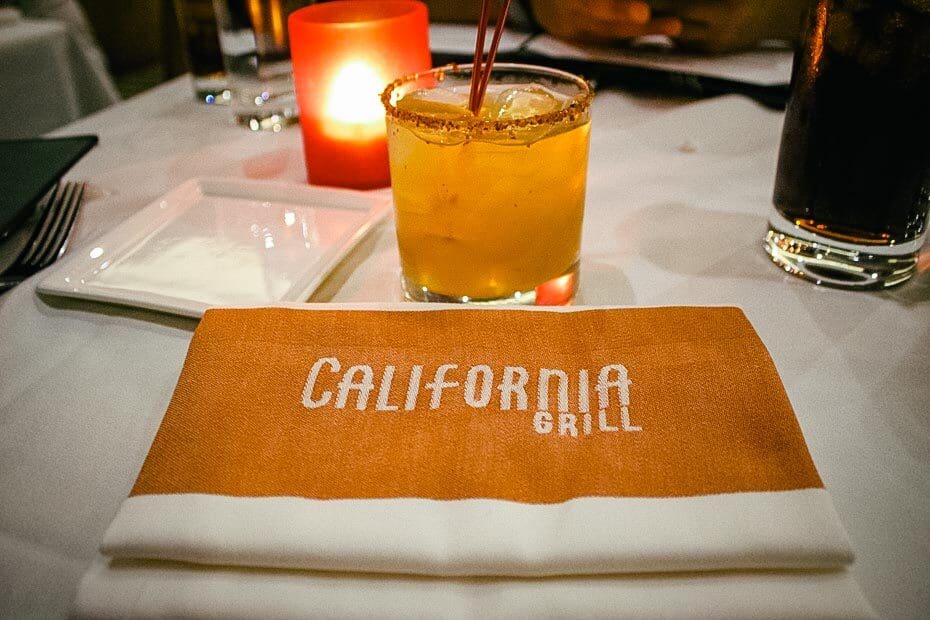 Additionally, dinner service is offered nightly. The menu is made up of American Cuisine with a focus on California and local ingredients. The thing that I love most about the menu is that it's constantly evolving with solid new dishes and classics that remain.
2022 Update: At this time, California Grill is offering a special 50th-anniversary prix fixe menu. The meal costs approximately $90.00 plus tax and includes three courses plus one non-alcoholic beverage.
Related: California Grill 50th-Anniversary Celebration Dinner Review
When you dine at this restaurant, there's the opportunity to return for a special viewing of Magic Kingdom's fireworks. You can bring back your receipt and will be allowed to go back up to the California Grill's rooftop observatory.
Between the ambiance, food, location, and overall service, I can't help but rank dining here as the best signature dining experience at Disney.
This restaurant is located next door (within walking distance) to Magic Kingdom. There is a second-floor check-in area where they'll escort you to the hotel's top floor for dining. So if you ever hear people discussing dining at the top or brunch at the top, this is the restaurant.
Related: California Grill Review
#2 Jiko, The Cooking Place
Jiko, The Cooking Place, comes in as our second choice for the best signature restaurant at Disney World. If the restaurant offered the entire dining experience as California Grill, I'd have a hard time picking a favorite. It's that good.
2022 Update: Jiko, The Cooking Place has reopened!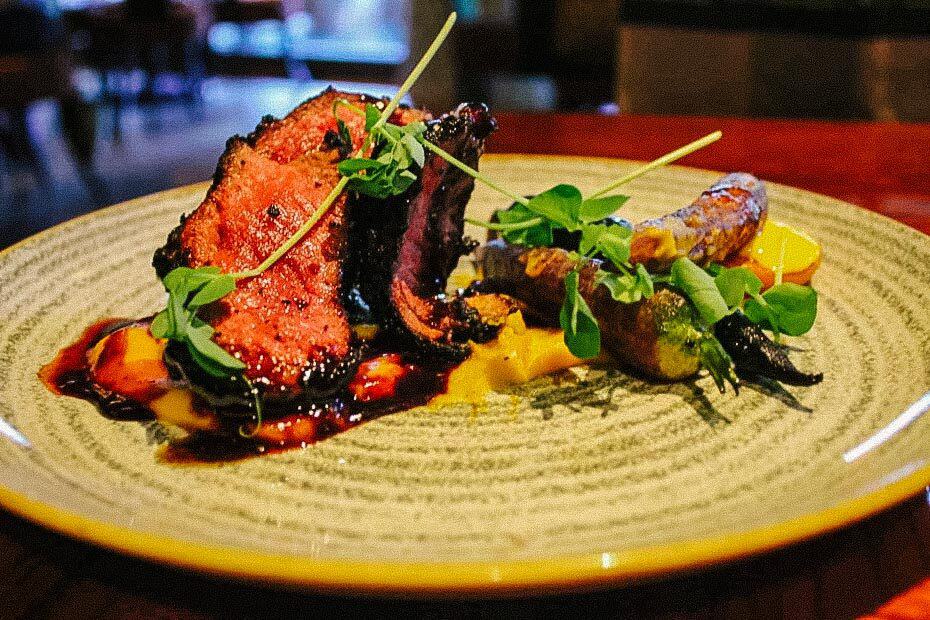 Jiko is located at the Animal Kingdom Lodge's Jambo House. The location is spectacular.
Related: Disney's Animal Kingdom Lodge Review
One of the perks of enjoying a meal here is that you have the opportunity to tour the lodge before or after your meal. You can explore the tremendous lobby or walk out and see what animals are on the savannas.
When it comes down to it, though, the food is what makes Jiko stand out amongst the crowd. Jiko offers completely unexpected food combinations and expertly prepared cuisine.
You can anticipate a mix of different African and Indian flavors while dining in this serene setting. Be prepared for a relaxing evening at this signature restaurant.
Related: Jiko, The Cooking Place Review
#3 Disney's Hollywood Brown Derby
My number three choice for best signature dining location at Disney is in a theme park, The Hollywood Brown Derby. Brown Derby is located in the heart of Disney's Hollywood Studios, just a few steps away from the Chinese Theater.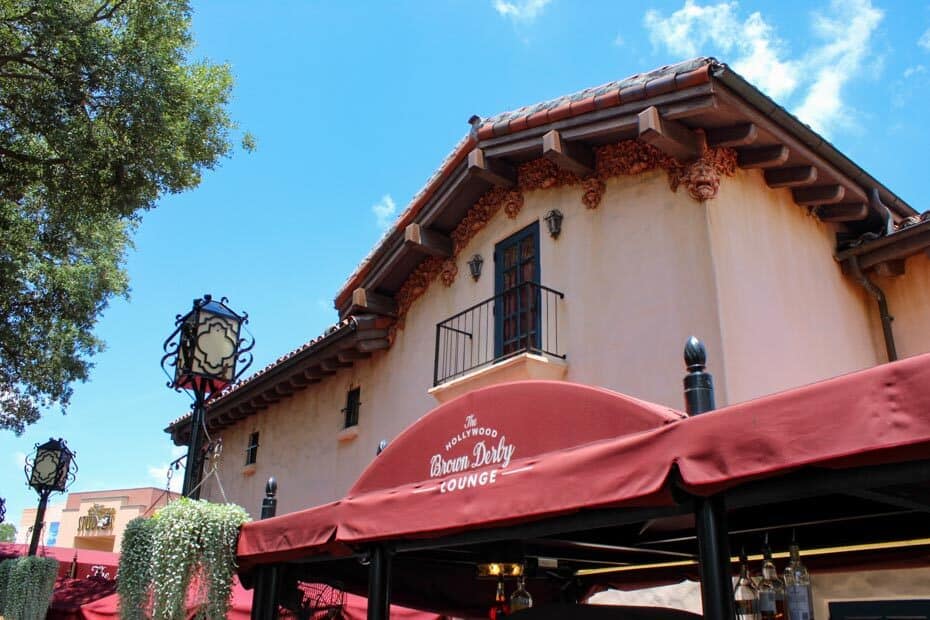 This signature dining restaurant is an excellent location to enjoy fine dining at lunchtime. The signature restaurants in the resorts are only open for dinner.
And if you can't get a reservation, the Brown Derby offers an outdoor lounge that takes walk-ups. You might have to wait for a seat, but they'll let you order off the full restaurant menu.
The Brown Derby restaurant provides the atmosphere you'd expect in an old Hollywood fine dining location. Everything is black and white with a mix of gorgeous wood tones.
The food at Brown Derby is divine. Pricing here runs from reasonable to high end, depending on what you are in the mood for that day.
The restaurant is famously known for its Cobb salad. You'll see quite a few of these being delivered to tables during your visit.
Related: Disney's Hollywood Brown Derby Review
#4 Yachtsman Steakhouse
Next up, we have Yachtsman Steakhouse. This signature restaurant is located at Disney's Yacht Club.
Yachtsman is oh so good! The only reason it ranks as my fourth choice for fine dining options at Disney is that the competition is tough.
Anyone that appreciates a quality steak, will want to secure reservations at Yachtsman Steakhouse. The restaurant even has its finest beef on display at a meat counter inside the restaurant. A hostess will walk you by on the way to the table and point out the cuts and different marbleizations.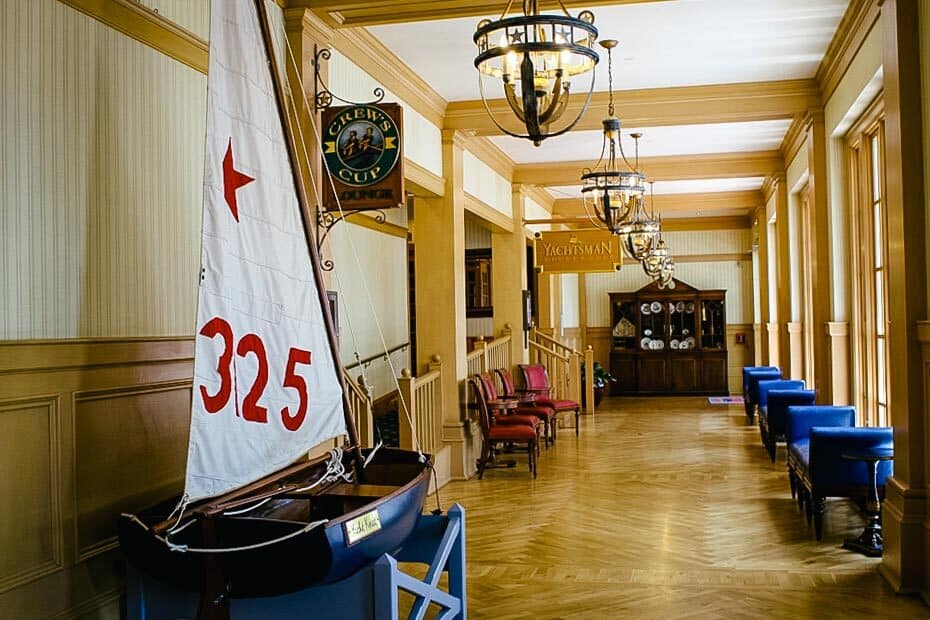 It's the perfect place to order a filet mignon. In fact, that is what I had the first time I dined there. On returning visits, we've enjoyed the rib eye steak and the prime rib. Both were delicious.
And don't get me started on the UH-mazing onion dinner rolls. They come with a plate of roasted garlic and soft butter sprinkled with salt. You can spread as much on them as your heart desires.
However, if you already have too many signature choices on your list for the week, you can still get the same rolls next door at the adjoining lounge. Crew's Cup Lounge is one of the most underrated places to grab a bite to eat on property.
Anyway, a meal at Yachtsman doesn't disappoint. Plus, there's so much to do in the area after dinner. So make sure you take a pleasant stroll around Crescent Lake and the Epcot Resorts Area.
Related: Yachtsman Steakhouse Review
#5 Tiffins Restaurant
Tiffins is Disney's Animal Kingdom's signature dining establishment. The restaurant also has the popular Nomad Lounge attached next door.
Tiffins is a place you can expect to try something new and still be delighted with your meal. The food here is expertly prepared, and the menu changes often.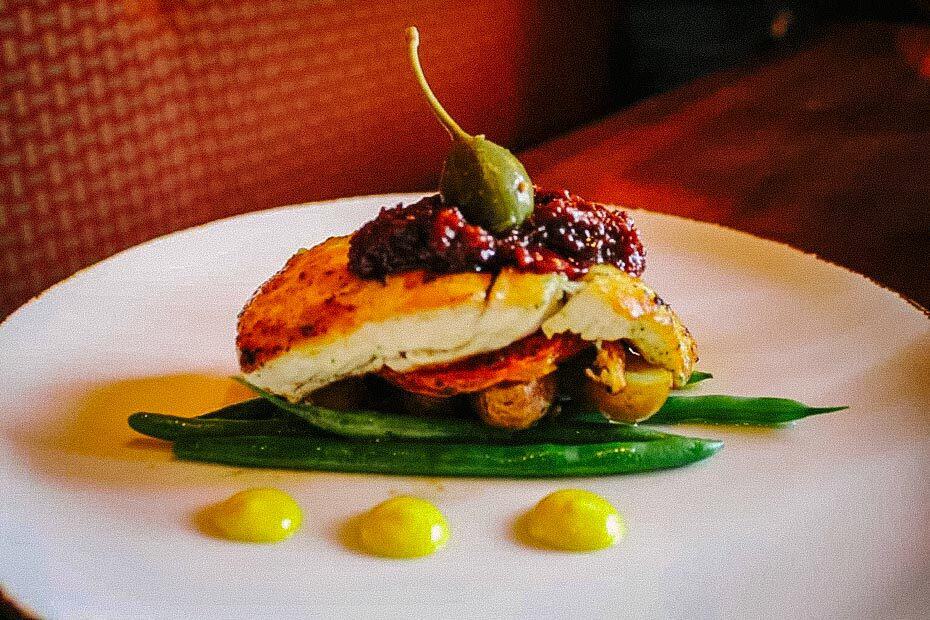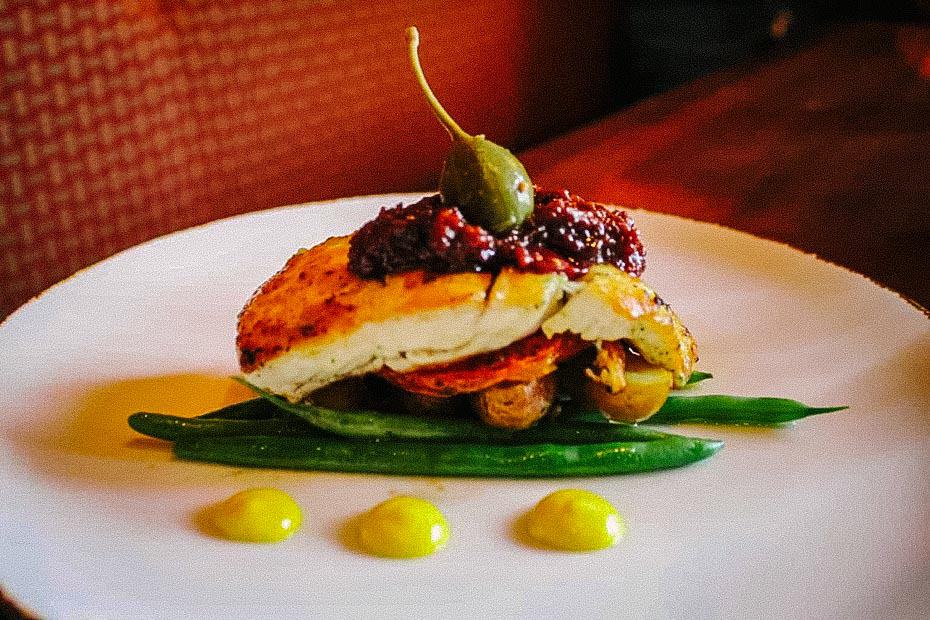 Even writing this now, I feel bad that it's number five. Because it has every right to come in as one or two, it's that good.
Similar to Brown Derby above, Tiffins is open for lunch and dinner service. It's always a nice option to enjoy signature dining at lunchtime when often there are a few lunch specials offered.
Be warned, Tiffins is the kind of restaurant that always keeps you coming back! So it is doubtful you'll be disappointed when you decide to try a meal here.
And if you can't fit it in, make sure to at least stop in at Nomad Lounge for a break during your day.
Related: Disney's Tiffins Review
List of Disney Signature Restaurants
Before we wrap things up, I wanted to share with you a list of all the signature dining options available at the Walt Disney World Resort.
We'll start with the theme park signature dining options. The majority of these do serve lunch and dinner, but not all. Make sure to plan a good one-and-a-half to two hours into your schedule when allocating time for fine dining.
Magic Kingdom
Cinderella's Royal Table (Serves-Breakfast, Lunch, and Dinner, Doubles as Character Dining)
Epcot
Le Cellier (Lunch and Dinner)
Monsieur Paul (Dinner Only)
Takumi Tei (Dinner Only)
Hollywood Studios
Animal Kingdom
Next, we have a list of all the available signature dining establishments at Disney Springs.
Disney Springs can be accessed using bus transportation from the majority of hotels and resorts on property. If you stay at a Disney Springs area resort, you can elect to take a water taxi to the venue. For those staying at Saratoga Springs, it's an easy walk over to Springs. For more information, check out our guide with tips for getting to and from Disney Springs.
Related: Disney Springs Transportation
Here are the different signature dining options at Disney Springs.
Disney Springs
Paddlefish
Wolfgang Puck Bar & Grill
This next section goes over the signature dining locations that are available at Disney Resorts.  For these, you will definitely want to plan in advance how you will get to the restaurant.  
You'll also want to allow enough time in your schedule to get to your dining reservation on time. Especially when relying on Disney transportation.
Disney's Boardwalk Inn
Contemporary Resort
Disney's Grand Floridian Resort
Citricos
Narcoossee's
Victoria & Alberts
Animal Kingdom Lodge
Swan and Dolphin Hotel
Il Mulino
Shula's Steakhouse
Todd English's Bluezoo
Riviera Resort
Topolino's Terrace (Dinner Only)
Yacht Club Resort
Four Seasons
Disney Signature Dining Package
From time to time Disney offers a few special dining packages at select signature locations. The following might be available:
Disney Signature Dining Final Thoughts
Hopefully, this review was able to provide you with a little fresh perspective on signature dining at Disney World. As a foodie myself, I look forward to each and every upcoming fine dining reservation I have.
As a refresher from everything we covered about these fine dining experiences, make sure to remember:
Most of these restaurants require two dining entitlements for guests on the Disney dining plan.
All signature restaurants do have a dress code.
Some of these reservations are harder to get than others. Make sure to reserve them as soon as your reservation window opens. Then check back later for cancellations if you desire to change your time.
This wraps up our Disney signature dining coverage. Make sure to read the individual dining reviews to preview what to expect per restaurant.
If you are looking for more information about dining you can browse the full list of Disney Dining Reviews.
You might also be interested in the other Disney Dining guides:
Resorts Gal specializes in providing detailed Disney World Resort reviews. If you are interested in learning more browse the list of Walt Disney World Resorts.
Have you made up your mind about which signature dining experiences are right for your next Disney vacation?